Hello lovely readers, and welcome to Tuesday.  Christmas creeps ever nearer, but sometimes a break from all the festive cheer is just the thing and I am moving house over the Christmas period, as is Annabel, so I'm very appreciative of any chance to sit back and think about something else at the moment- this gorgeous summer wedding (featuring a traction engine no less!) is the perfect tonic.
Lawyer Harriet married David, a teacher, on the most beautifully sunny day in July earlier this year.  The couple said their vows in church, in the village in which Harriet's family have lived for over half a century, and followed the ceremony with food, ceilidh dancing and sparklers at a vineyard nearby- just perfect.  Their brief was simple but charming:
"We met six years ago when David was interning at my church in London.  After a year of being close friends David met me with flowers at Heathrow after I had been travelling in India for a month and we became a couple.  He proposed at home about three and a half (very happy) years later and we got married eighteen months after that. We just wanted everything on our wedding day to be informal, fun and pretty."
Photography by Laura Debourde Photography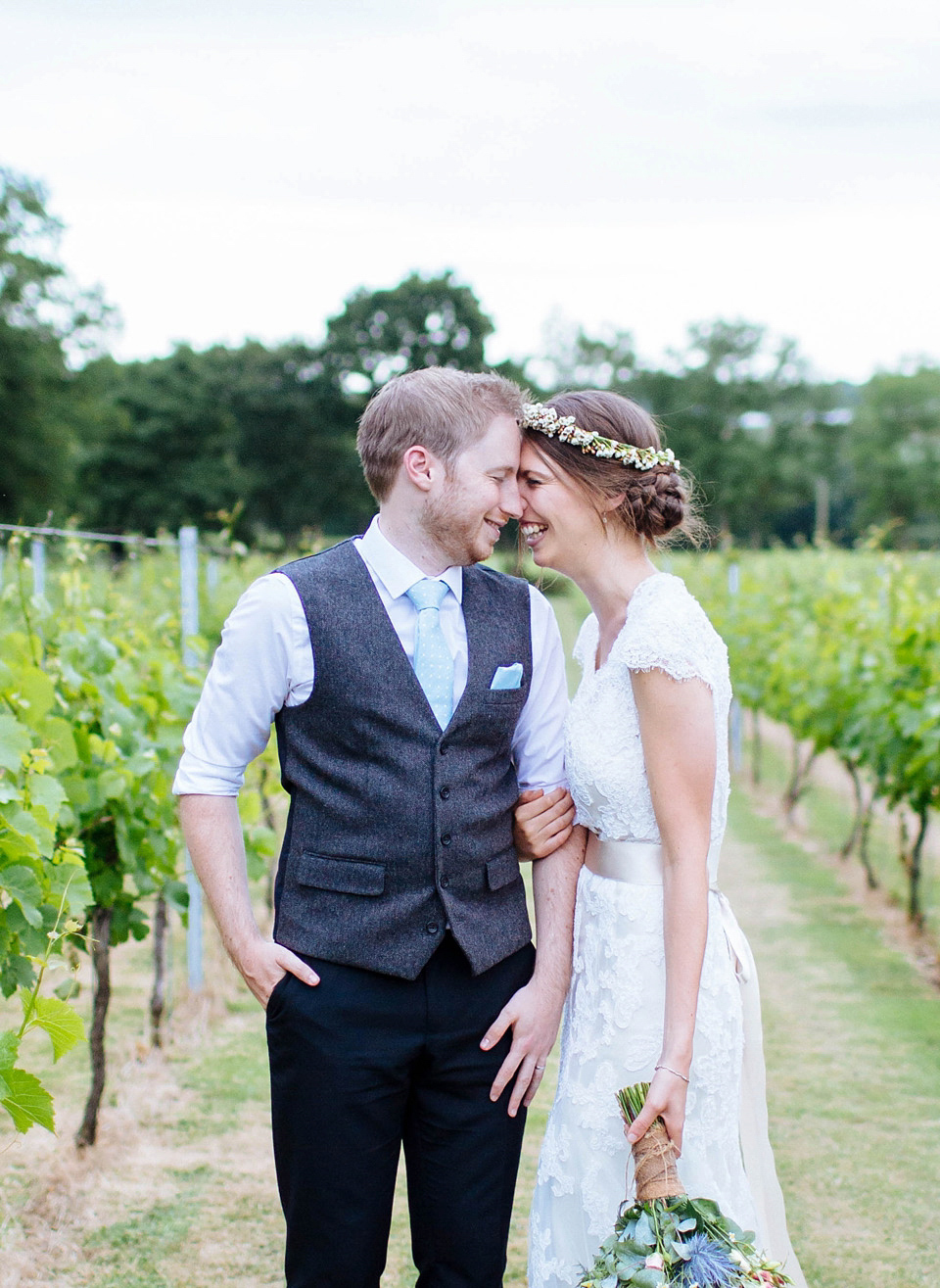 The couple chose Peamore Flora as their florists – what a spectacular job they did too.
"Peamore put together the button holes and bouquets, and we were given buckets and buckets of flowers to fill the jugs we'd bought.  In the end, it was one of my favourite parts of the planning process and the day itself.  We spent the day before the wedding setting up the venue – and filling jugs with flowers is a very happy way to spend the day before you get married. It was so exciting to see all the thought that went into planning the bouquets come to life on the morning of the wedding when they were delivered."
The day was captured by the wonderful Laura Debourde Photography, who we introduced readers to on the blog back in February and who we are very proud to say is a member of our beautiful new wedding directory, Little Book For Brides.
Laura's work is full of light and absolutely radiates her love for her job and her partner Simon filmed the day as well, so the newlyweds didn't miss a moment of the day's fun.
"Laura was absolutely amazing.  She and her partner, Simon, travelled all the way from London to Exeter twice for us – once for the engagement shoot and venue visits, and then a few months later for the wedding itself.  The pair of them were great fun and even joined in with the dancing at the end of the night."
"We are thrilled with the photos which, as two camera-shy people, we weren't expecting, but Laura was full of great suggestions which made the whole experience easy.  She was every bit as excited about the wedding and all the details as we were and we particularly love her focus on capturing fleeting special moments and ensuring all the guests were photographed at one point or another.  We have a lot of very special photos to treasure!
It was a last minute decision but we are so completely thrilled with our video.  I can't count how many times we have watched it. The day went so quickly and being able to relive all the love, laughter and happiness is such a joy!  We are so very grateful to Laura and Simon for capturing the day so beautifully."
"My dress was Bronwyn by Maggie Sottero.  I knew the sort of thing I wanted from having a little look online and found my dress on Preloved.  My mum came with me to try it on and loved it as much as I did.  It was the only dress I tried on, and was actually the first part of the wedding that we sorted.
I was worried that by the time the wedding came around, eighteen months later, I might have fallen out of love with it, but exactly the opposite was the case and it was even more beautiful for months of being excited about wearing it!  I loved that it was light and comfortable and elegant.  The lace was beautiful without being fussy and I loved the back. 
"The dress needed a few alterations and I found a seamstress based in London while searching online. She was great and knew exactly what to do to make the dress fit perfectly.  She is incredibly talented (and a lot of fun) and I honestly couldn't recommend her more highly."
I absolutely love this dress, and the style suits Harriet so well.  The neckline is a gorgeous shape and I adore the open back too.  It just screams elegance, but in an easy-to-wear sort of way which is perfect for the relaxed and fun wedding Harriet and David wanted.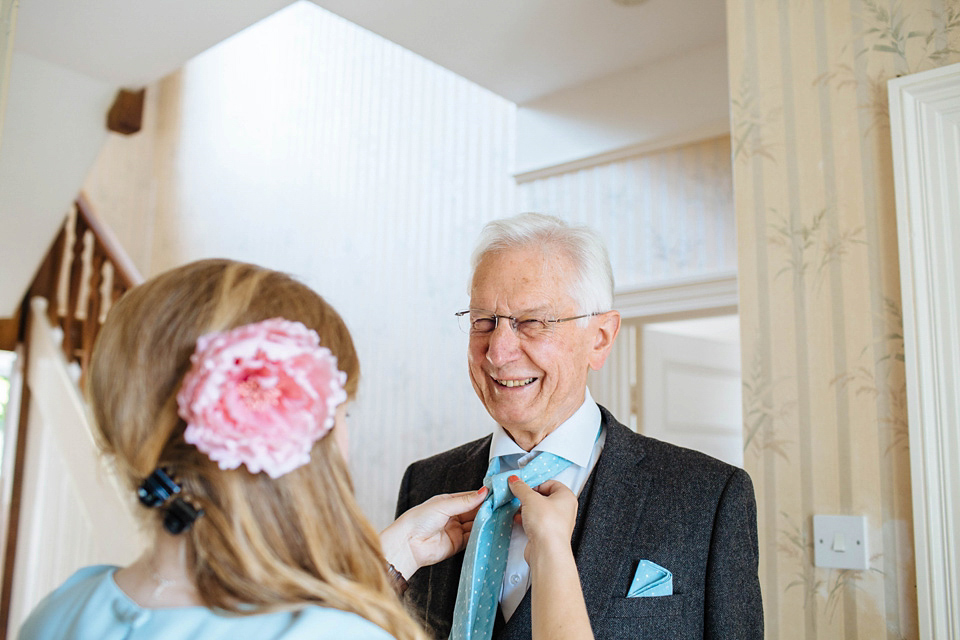 "My veil was a gift from the mother of a close friend, and was handmade by the seamstress who altered my dress.  Her studio is full of beautiful veils of every description and the one I chose was finger-tip length, single tier and edged with lace to match my dress.
I had decided that a flower crown would be too much but changed my mind fairly last minute and asked Josephine Baker Flowers to make a wax flower circlet. It was pretty and simple and I absolutely loved wearing it – I hardly took it off for the couple of days following the wedding!"
To go with her dress, veil and delicate flower crown, Harriet wore gold flats from Accessorize and very simple jewellery- just a pair of pearl drop earrings from H Samuel and her engagement ring.  The lovely quartet of bridesmaids chose their own shoes in shades of cream, pink, nude or coral and teamed them with pretty pale blue dresses from Kaliko.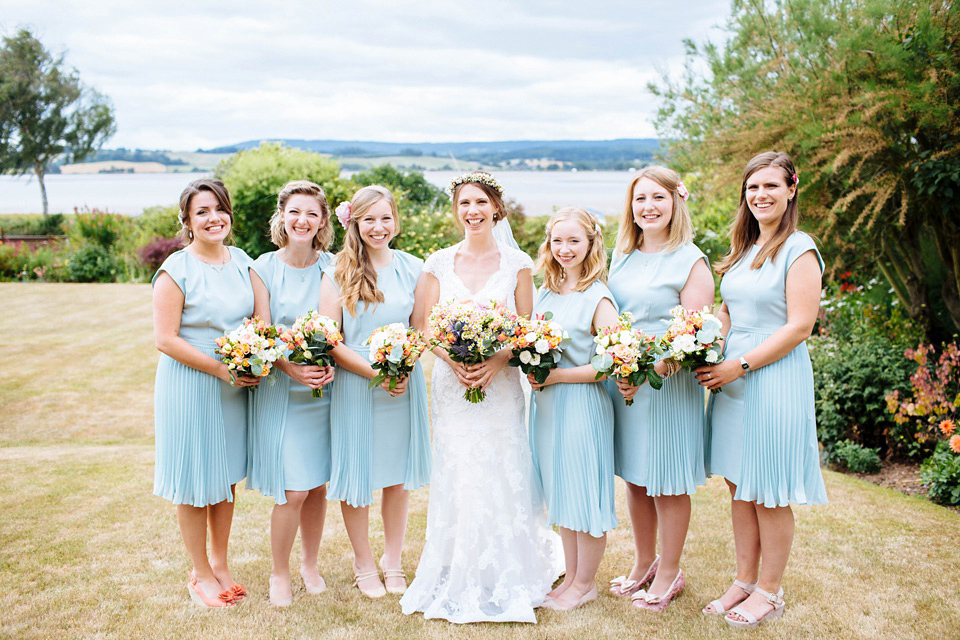 "We decided to use Peamore Flora as florists – they also offer a part-DIY service.  We chose all of our flowers ourselves (with a lot of help from my knowledgeable mum!) which was both fun and stressful – trying to work out how many stems of each you flower you need in a bouquet is not an easy task when you have so little experience, but an excuse to look at endless photos of flowers is no bad thing."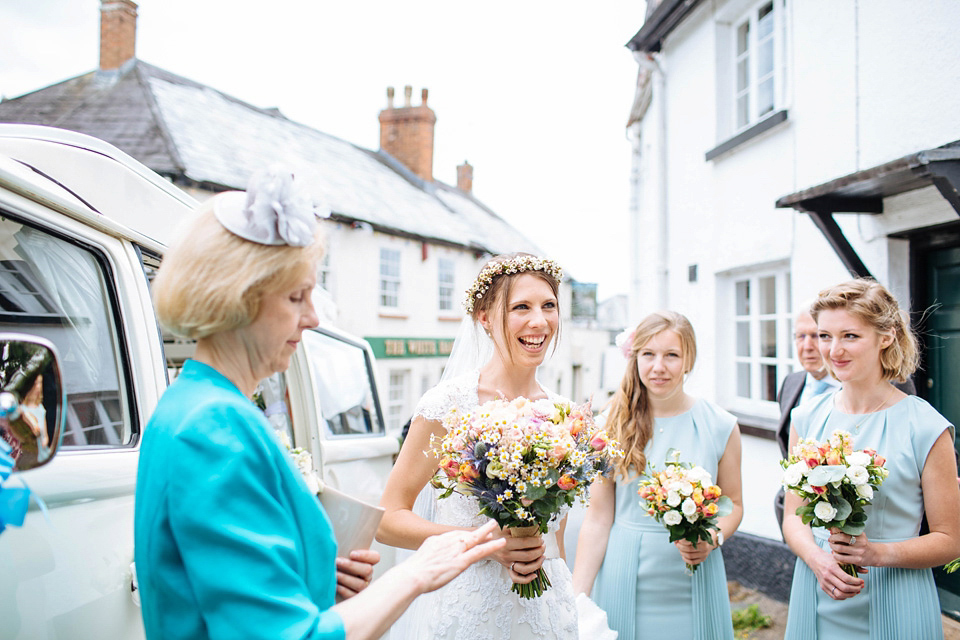 "We got married at St Swithun's, a lovely little church in the village of Woodbury, near Exeter.  We were living in London at the time but it was really important to us that my extended family and friends, some of whom wouldn't have been able to travel to London, were with us on our wedding day, and getting married in Woodbury meant that we could have everyone there.
My Mum grew up in the village and my Grandparents have lived there for over 50 years so it has felt like a second home for as long as I can remember.  David and I moved back to Exeter immediately after the wedding so getting married in Woodbury was a wonderful celebration of both our past and our future."
"I was walked down the aisle by both my mum and my step-dad.  I struggled with the idea of being 'given away' but by having them both walk me down the aisle, many of the potentially negative connotations were lost, and it was hugely comforting and exciting to have them both there."
(If you feel similar then maybe take a look at this article, which discusses a related issue.   There are a hundred different ways of making your choices to suit you)
"We used the traditional vows.  We loved that we were making the same commitment as so many millions of people before us and, for us, everything we wanted to say to each other is summed up so beautifully in those words."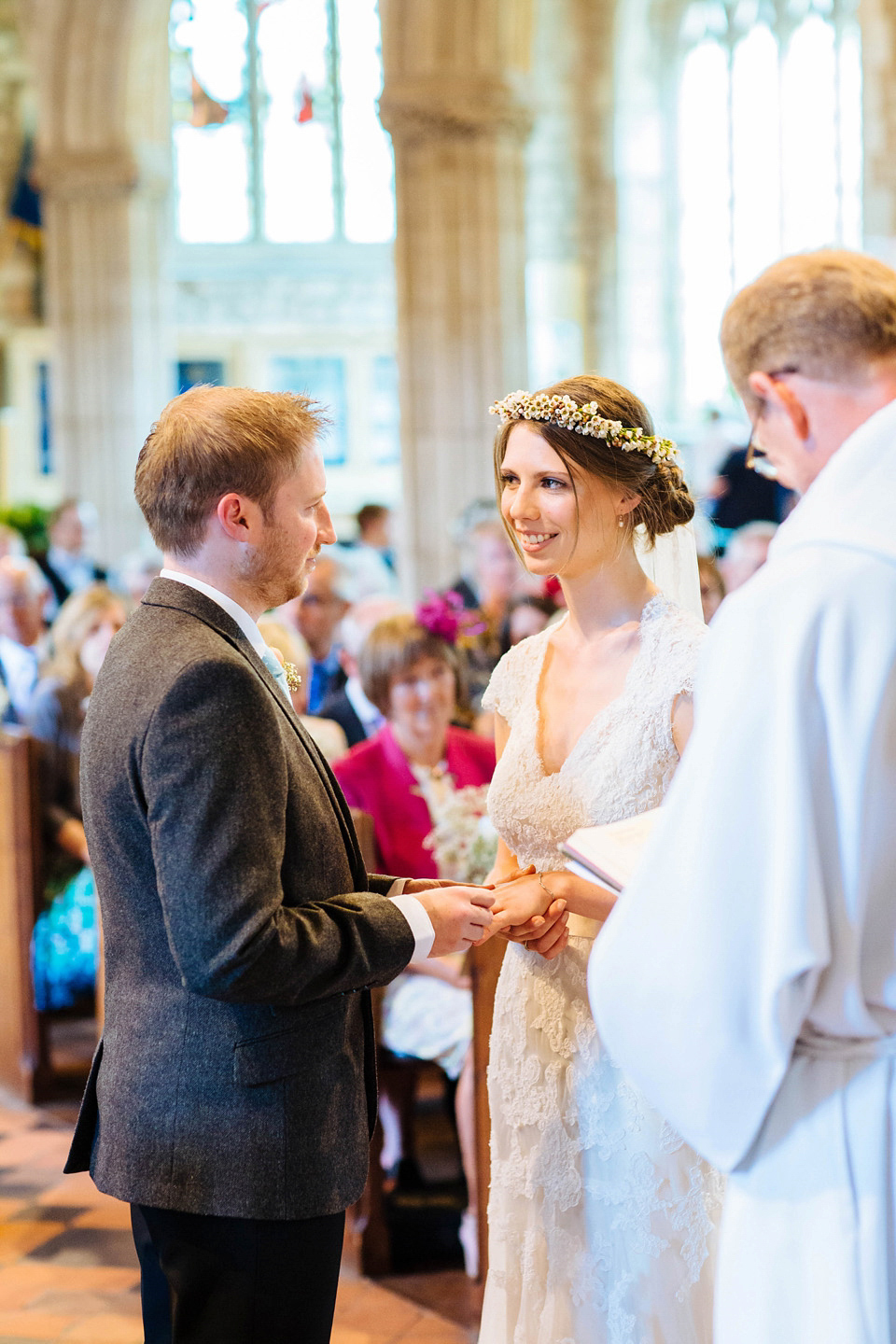 The couple selected two bible readings (Romans 8: 31-35 and 37-39 followed by Luke 8:22-25) and were married by a family friend, who is also a vicar, which made their ceremony even more special and personal.
"The readings we chose are not the most traditional readings for a wedding but, as Christians, these are two of our favourite passages. The second passage is all about relying on God however difficult things get and it was important to us that, on our wedding day, we were also making a commitment to rely on God in our marriage."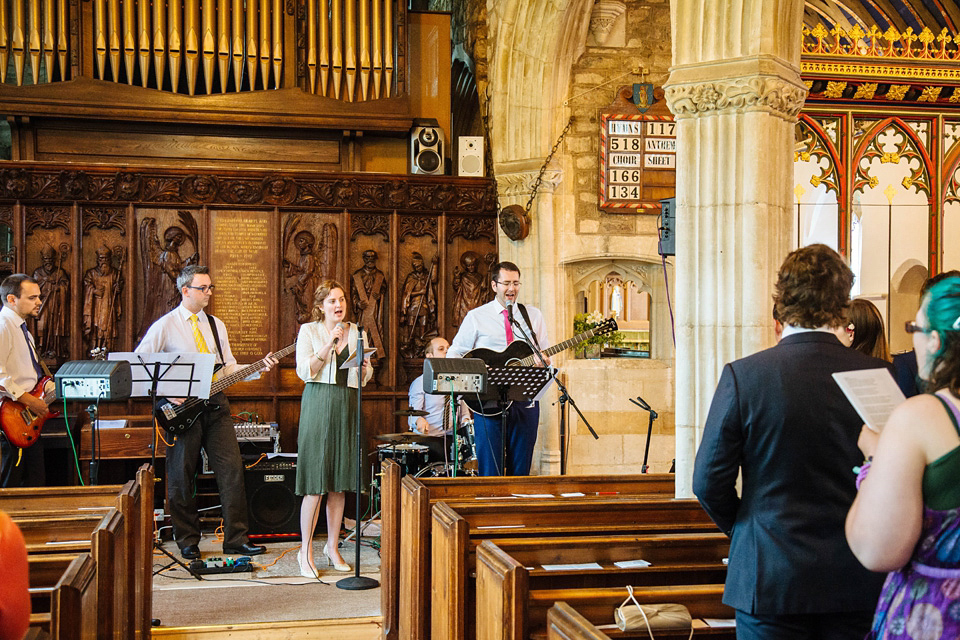 "David's vicar is also a close family friend (his son-in-law was a groomsman and his daughter lead the prayers during the service) and it was wonderful to have someone who knows us both so well and has watched us grow as a couple taking the ceremony.  He even shed a tear or two during the service!"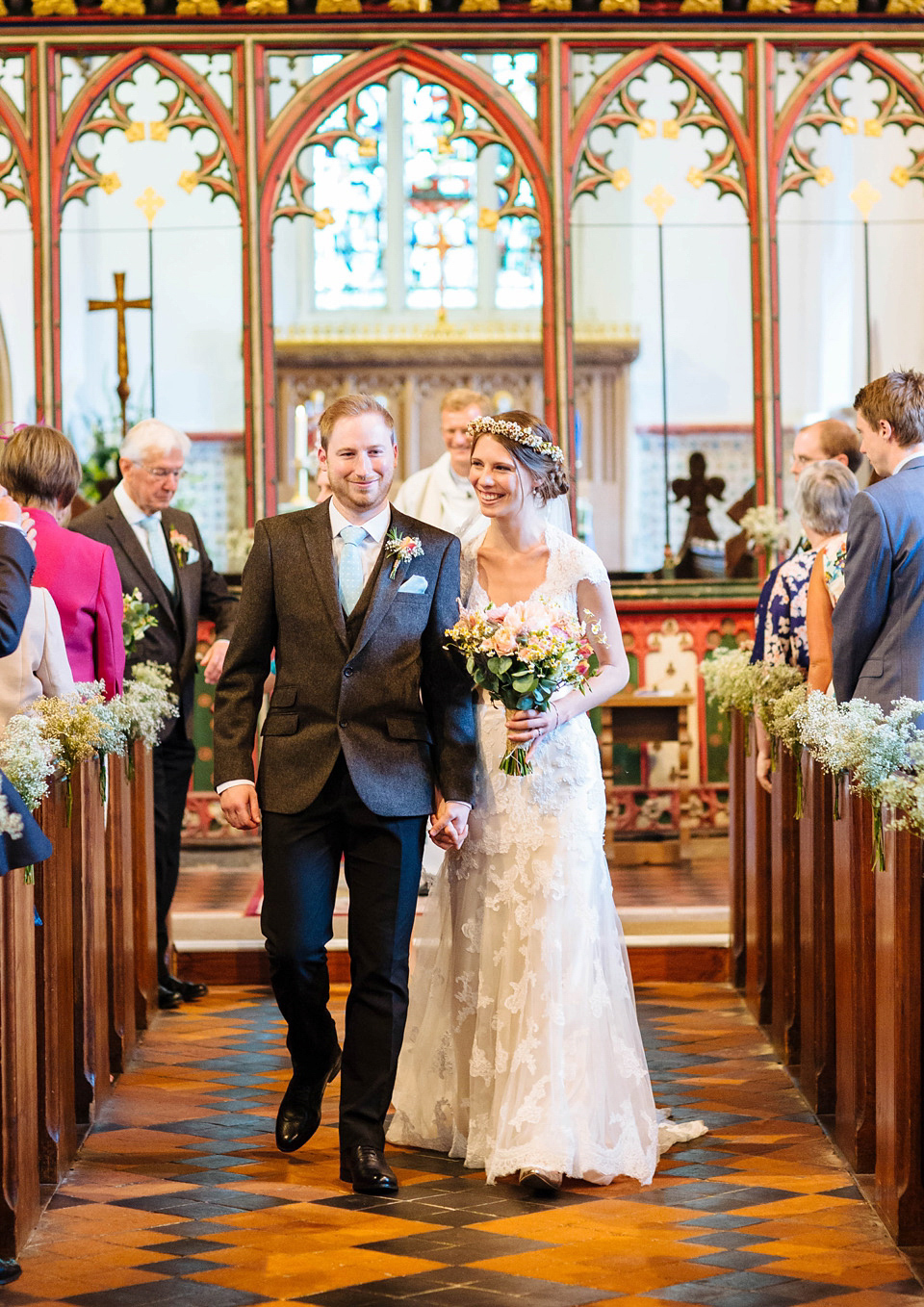 "We also made all of our own confetti. It cost us virtually nothing and just involved deadheading my parents' and grandparents' roses and peonies a couple of days earlier than we otherwise would have done, and drying them in sunny spots or between pieces of newspaper. We then made cones from parcel paper."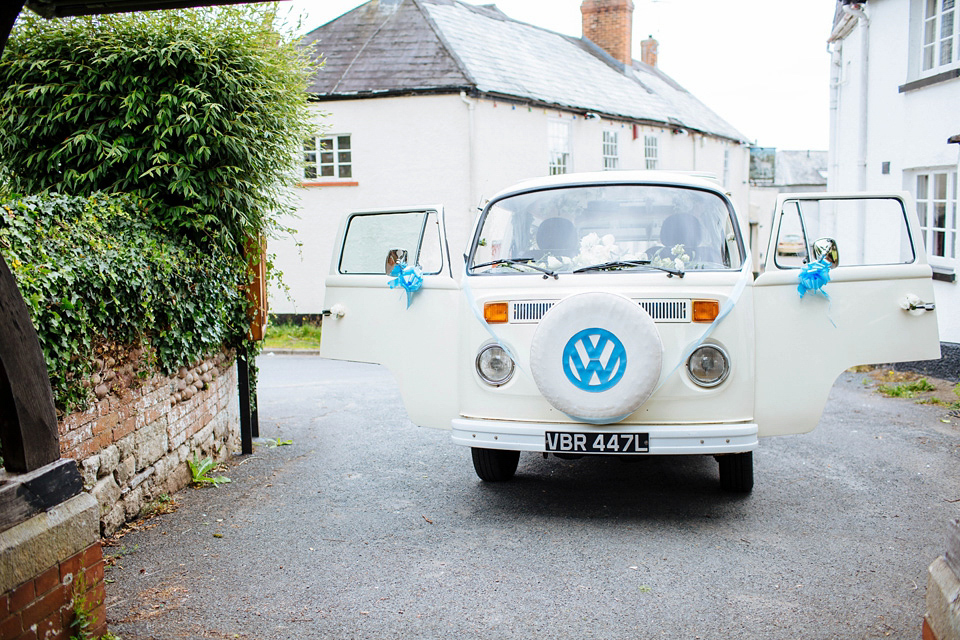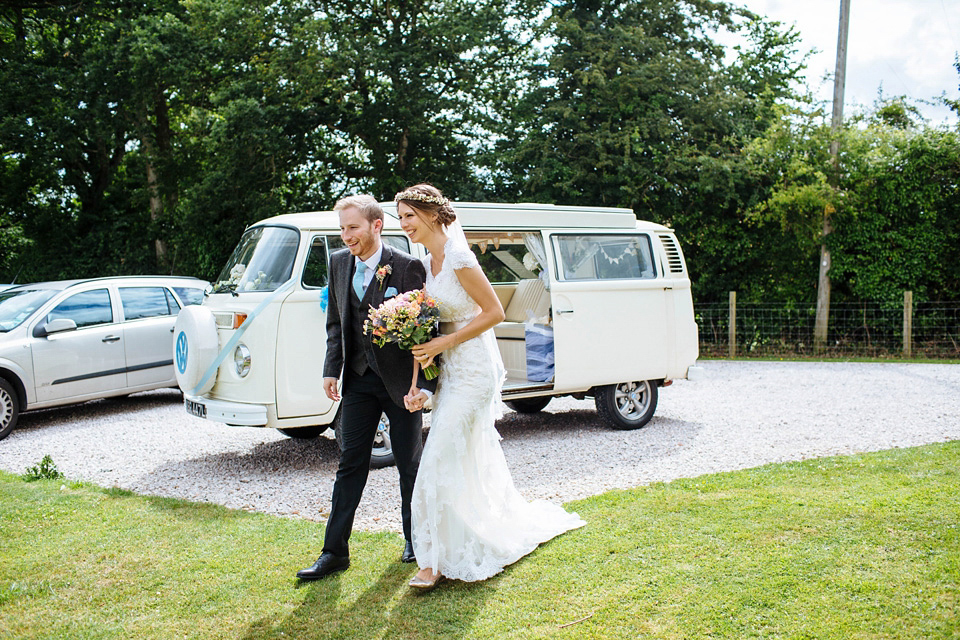 "Our reception was at Froginwell Vineyard, just down the road from the church.  The location is beautiful and the barn is full of character – there is a huge old traction engine at one end of the barn and the owner, Kate, has lovingly collected fairy lights and bunting and barrels and beautiful armchairs to make the place pretty and fun.  It really is a lovely space!"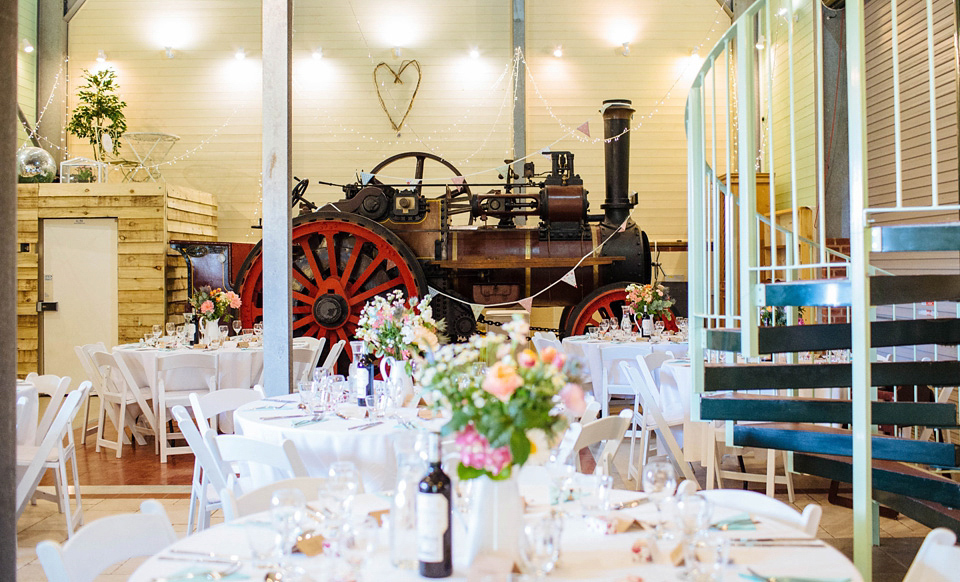 "One of our incredibly talented bridesmaids agreed to make our naked wedding cake.  She is well known for her baking and her ability to do just about anything she puts her mind to, and she definitely succeeded once again!  The final construction stage took place during the drinks reception and, despite the stress, worked perfectly.  She took inspiration from this Love My Dress wedding in particular and even got a tweet from Frances Quinn advising her on different types of icing!"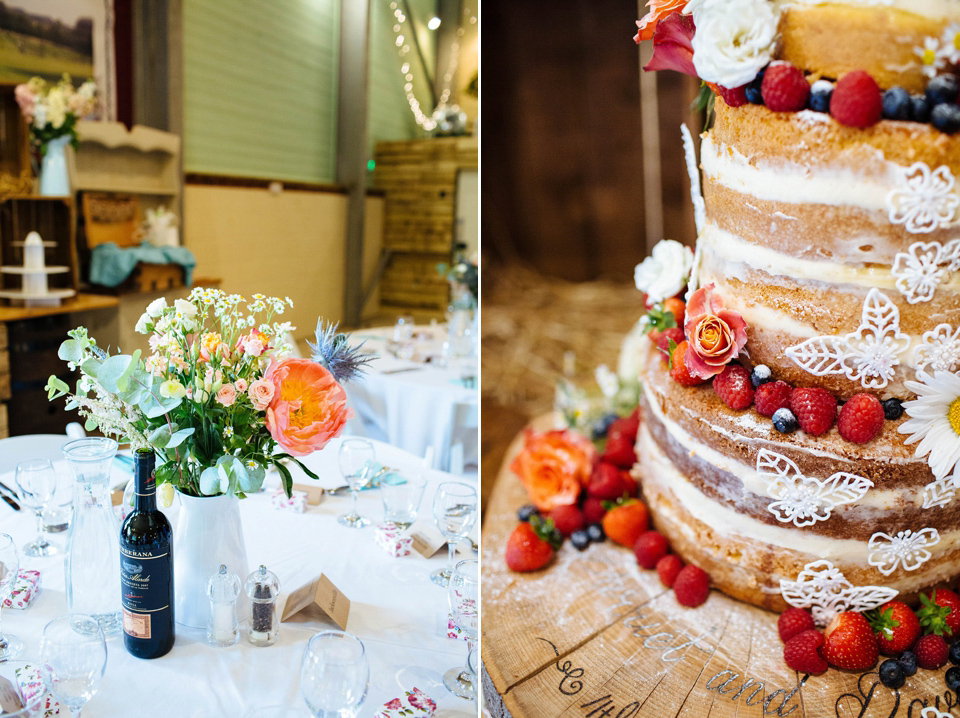 "The wonderful Will Torrent, a good friend and chocolatier, agreed to make and box a couple of truffles for each guest as a favour.  All of his recipes are in his book 'Chocolate at Home' and, after trying his chocolates, we can highly recommend them!"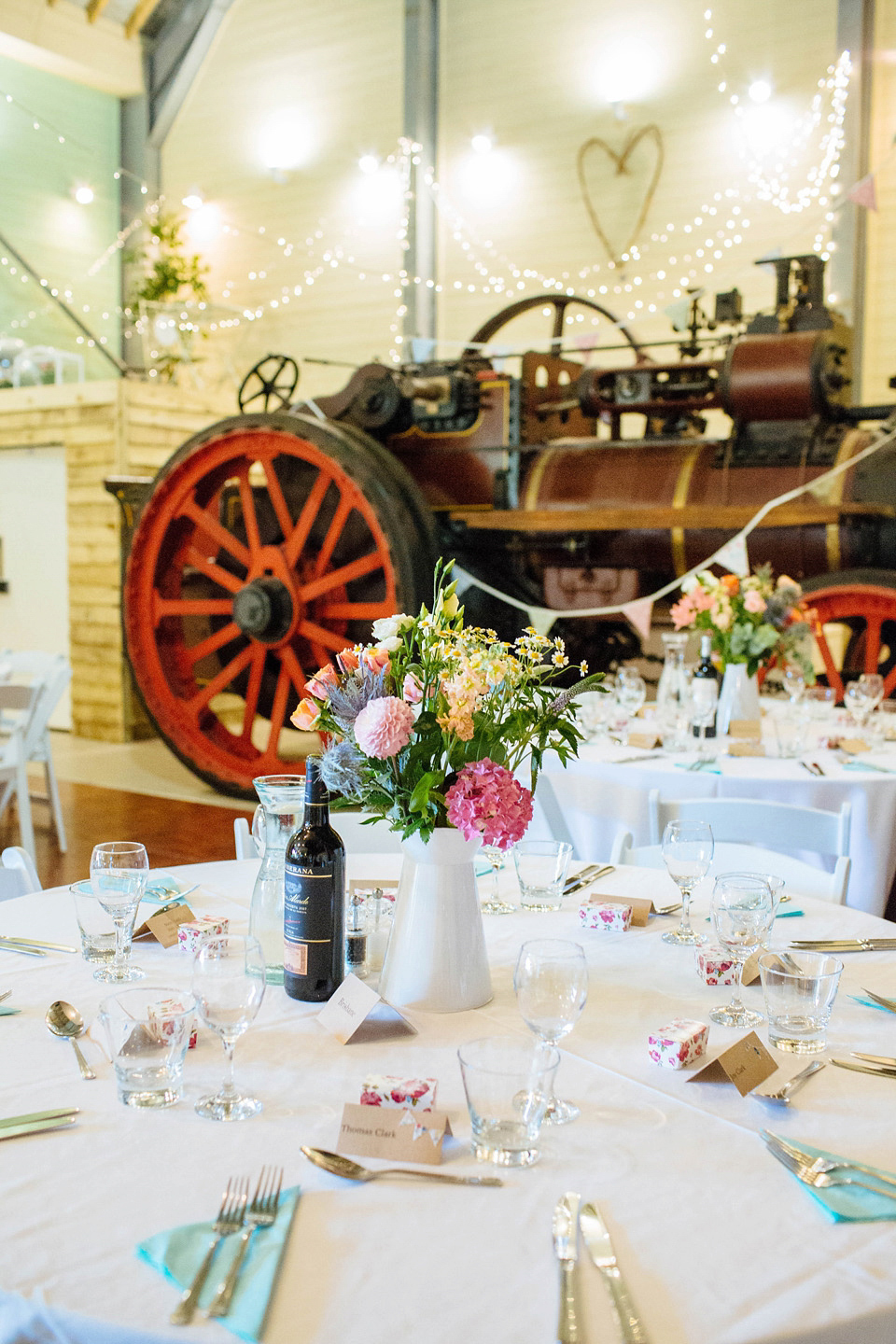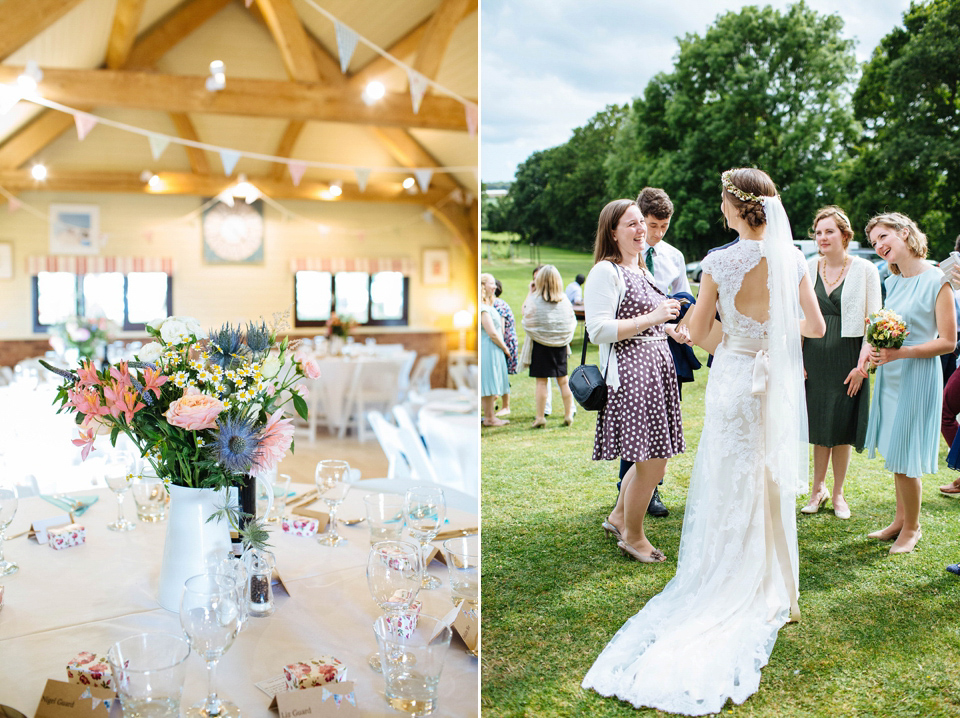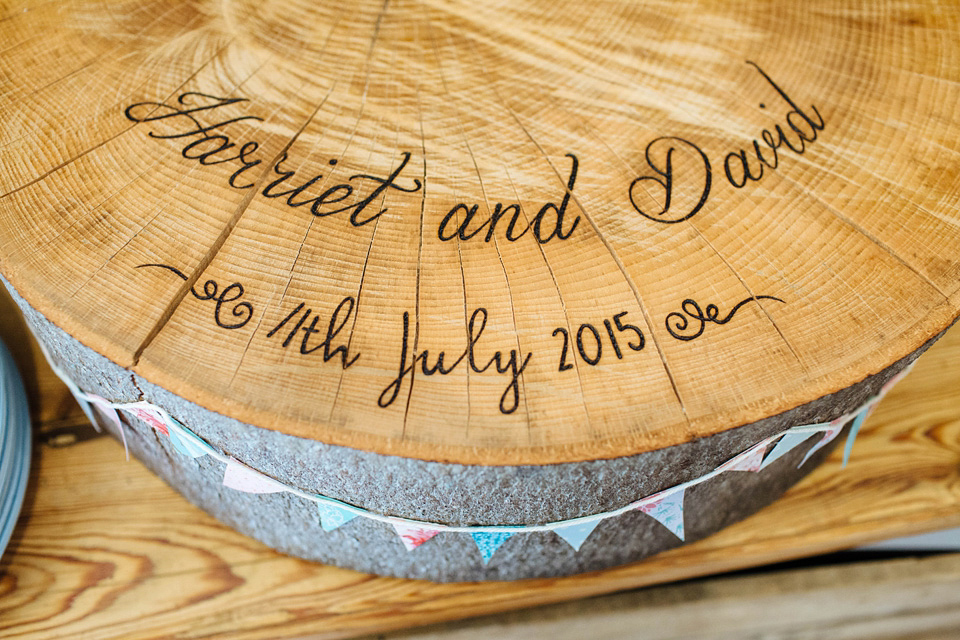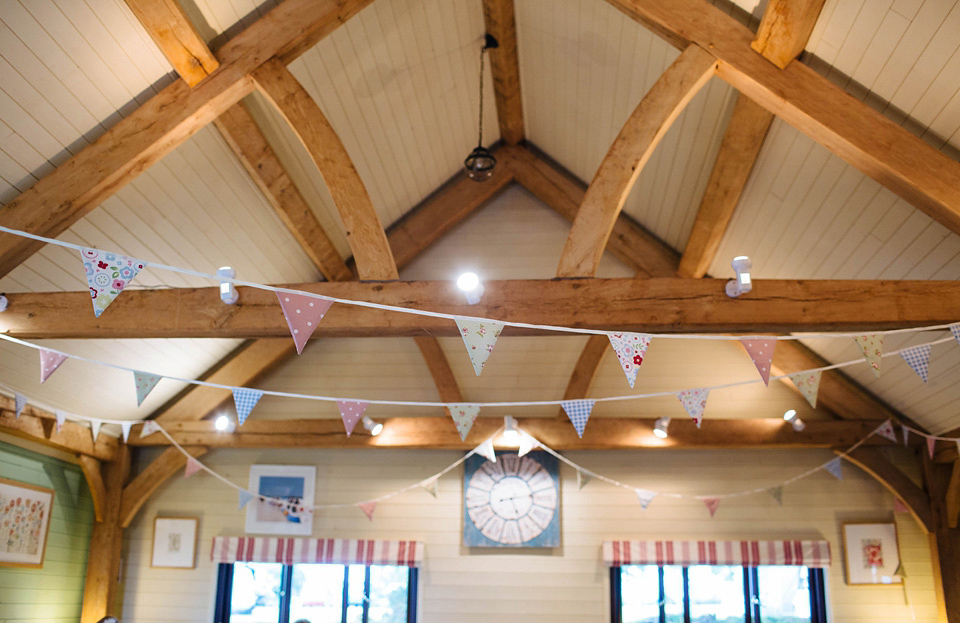 "The whole day was incredibly happy. We both loved ceilidh-ing with everyone in the evening because it meant we got to see and dance with all of our guests, if only briefly!  We also left for our taxi at the end of the evening through a sparkler arch and that was pretty magical.  When we reached the end of it and turned around to wave goodbye, there was definitely a moment of 'We've done it! We're married! And all these people smiling and waving sparklers are wonderful!'"
Words of Wedded Wisdom
"Keep everyone in the loop!  I was so worried about only talking about wedding planning that I went the other way completely and chose not to share what we were planning with people, or ask for help.  We left telling people about the running order of the day until very late on in the process and I think everything would have been a lot simpler if we'd discussed it with the bridal party at least as we went along.
Also, for those who do need to be convinced of your ideas before the day, use blogs and Pinterest.  Especially for parents, we found being able to show them pictures of someone who had done it before and how well it had worked was invaluable.
The only thing we would have done differently is remembered the guest book, but we've bound all our wedding cards together which is a great alternative."
A huge thankyou and congratulations to Harriet and David, and many thanks indeed to Laura Debourde for sharing her work with us today.  Do we have any other vineyard receptions, or any other Maggie Sottero brides?
I'm off to pack some more boxes, but do take a moment to look through the other Love My Dress weddings photographed by Laura, and maybe explore some of our other unusual wedding venues- we have pubs, museums, farms, forests, and treehouses to name just a few!
Shona x
Photographer – Laura Debourde Photography
Videography – Laura Debourde Photography
Venue – Froginwell Vineyard
Wedding dress – Bronwyn by Maggie Sottero
Veil – Made by Bridal Dress Alterations, Stratford
Wax Flower circlet – Josephine Baker Flowers
Seamstress – Bridal Dress Alterations, Stratford
Shoes – Accessorize
Accessories – Pearl earrings, H Samuel
Bridesmaid dresses – Kaliko
Groom – Jacket, waistcoat and trousers, all Next; tie and pocket square, Moss Bros
Florist – Peamore Flora
Rings – F Hinds
Catering – Lyme Bay Field Kitchen
Entertainment – Scallywag
Stationery- Made by the couple, with craft papers from Razzle Dazzle Rose
Transport – VW Camper from Vdubandaway
Favours – Chocolate truffles from Will Torrent
Festoon lighting hire – Sound Events