Good evening all – we've an extra most beautiful treat for you today, a second real wedding feature full of modern day elegance. Frances, a communications manager, married her groom Alex, a housing consultant, on the 9th of May this year at the beautiful Dewsall Court in Herefordshire.  Yet again this wedding is an example of couples doing things their way, which is wonderful.
"We both wanted something understated and stylish, but which had a touch of fun and very much represented us as a couple.  We were inspired by Dewsall too – we wanted a style that fitted with the venue and used the backdrop of the countryside as decoration in itself."
Photography by Benjamin Wetherall of BPW Photography 
I don't mind confessing that I actually gasped when I first saw the pictures of Fran in her dress- isn't she just the picture of elegance?  Granted, her frock isn't a traditional wedding dress, but it is exactly what she wanted, is utterly beautiful and she looks a million dollars- perfect! Her chosen gown was by Needle and Thread, purchased from Selfridges.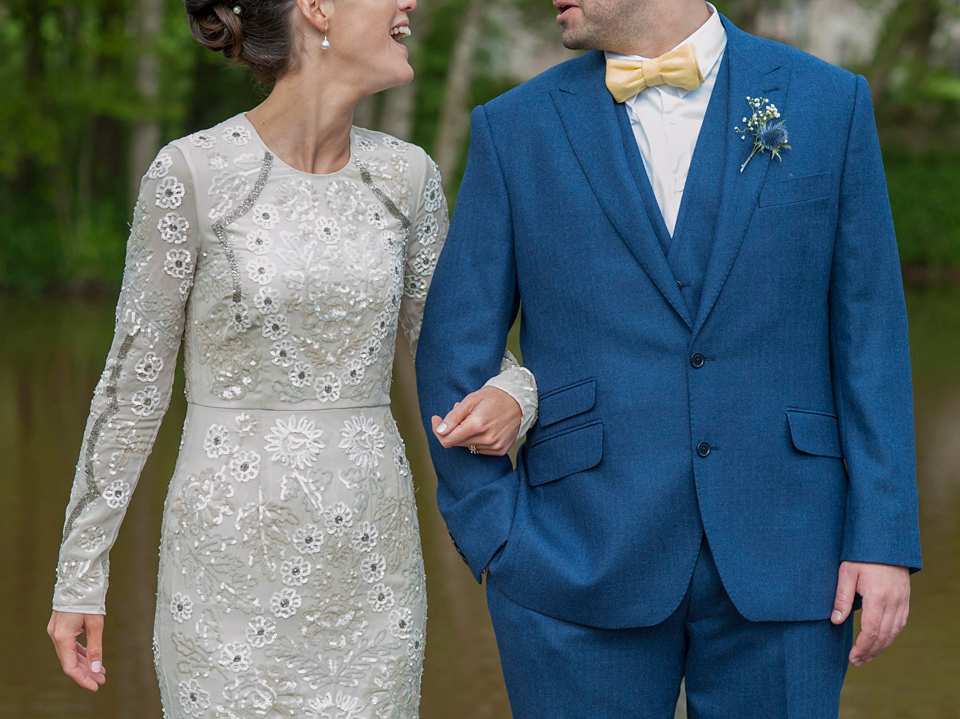 "I wanted something elegant and stylish, nothing too frilly or princess-like, and I didn't want a wedding dress – I wanted a gown.  As we weren't planning to be traditional, I wanted my dress to be a bit different too, so I didn't try any wedding dresses on or enter any bridal shops!  I looked on designer websites for ideas, and came across my wedding dress while browsing the Selfridges site."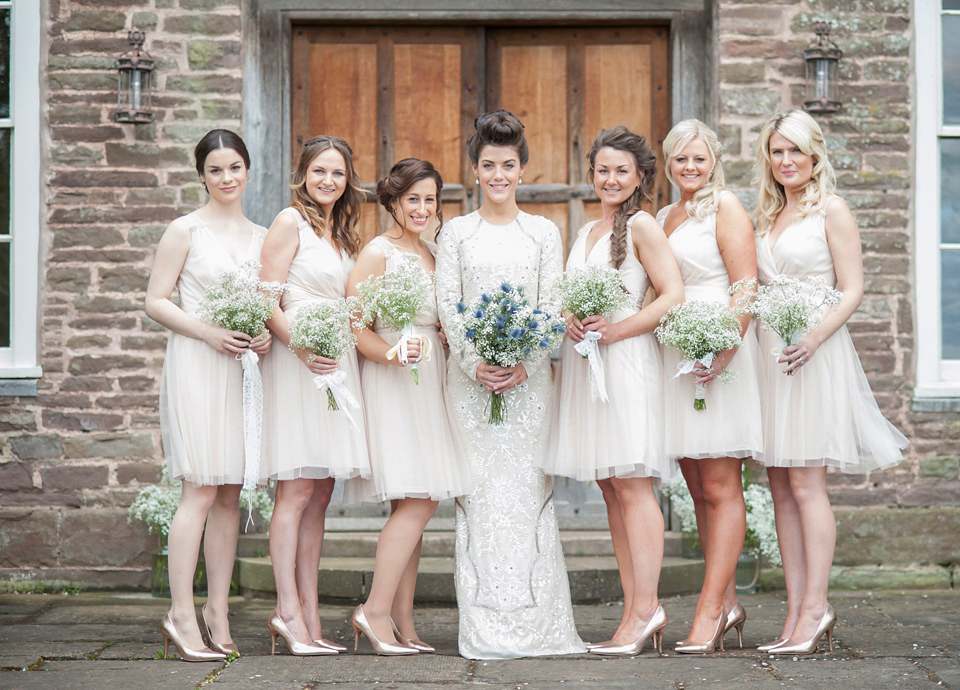 The bridesmaids looked gorgeous in dresses from Marks & Spencer, paired with rose gold pointy heels from SimplyBe.  They all decided on their own hairstyles and each bridesmaid chose to wear the rose gold hoops she had been given by Frances as a gift earlier that morning.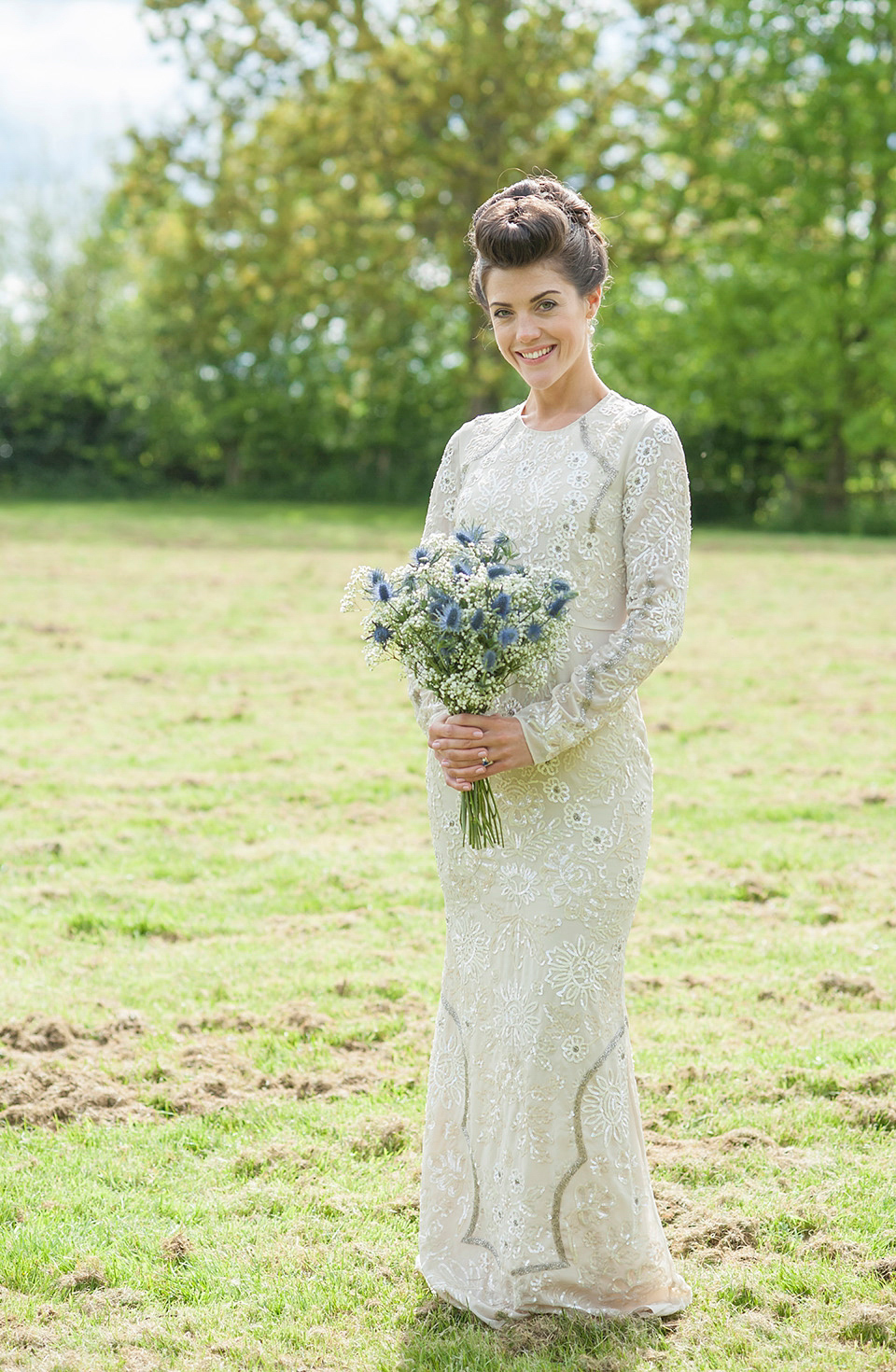 "I loved the fact that my dress was fitted, a really elegant shape and the detail on it was so intricate but without being over the top, and it was just the right length to wear flat shoes (my dad is 5' 8" and so am I so I didn't want to tower over him, plus I wanted to be comfortable and be able to dance!)
In the evening I changed into a dress by Self Portrait, which I bought online.  It's a great party dress – big lace, with thin straps, a low V and just past the knee – good for dancing in!"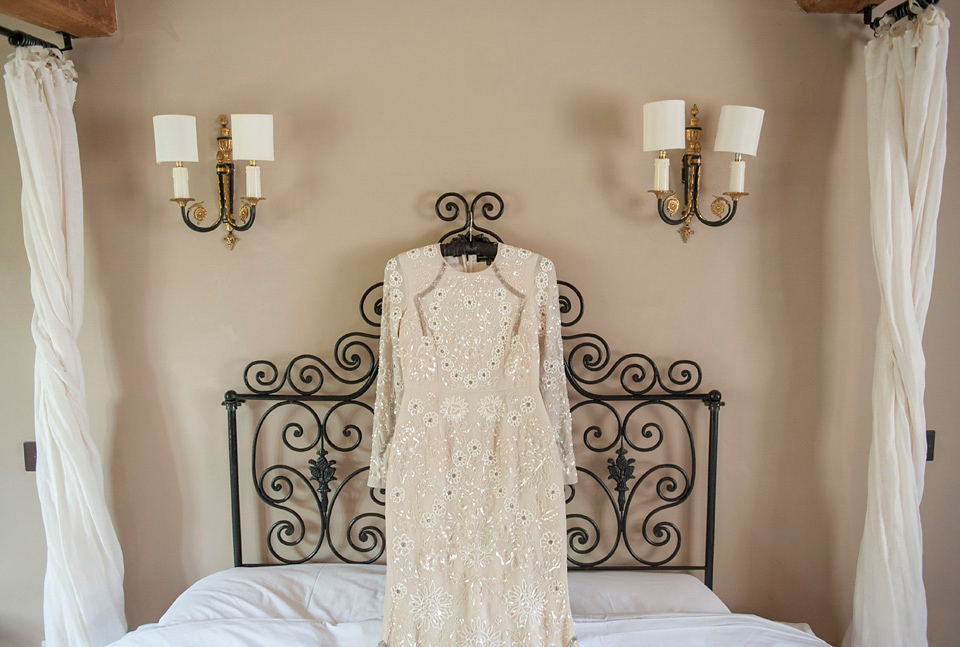 For her feet, Frances chose gold flat pointy shoes by Isabel Marant and her fragrance was Lime, Basil and Mandarin perfume by Jo Malone, which was the first perfume Alex bought for her.
"I chose only to have a hairdresser and Angie [from Le Glow] was really great. I went to see her for a trial with one of my bridesmaids and she did such a good job of creating the look I wanted –fashion hair rather than too bridal. On the day she was so efficient and worked so hard, arriving at 7am and doing six bridesmaids who all wanted different styles, plus me and my mum.  And my hair stayed in all day and night!"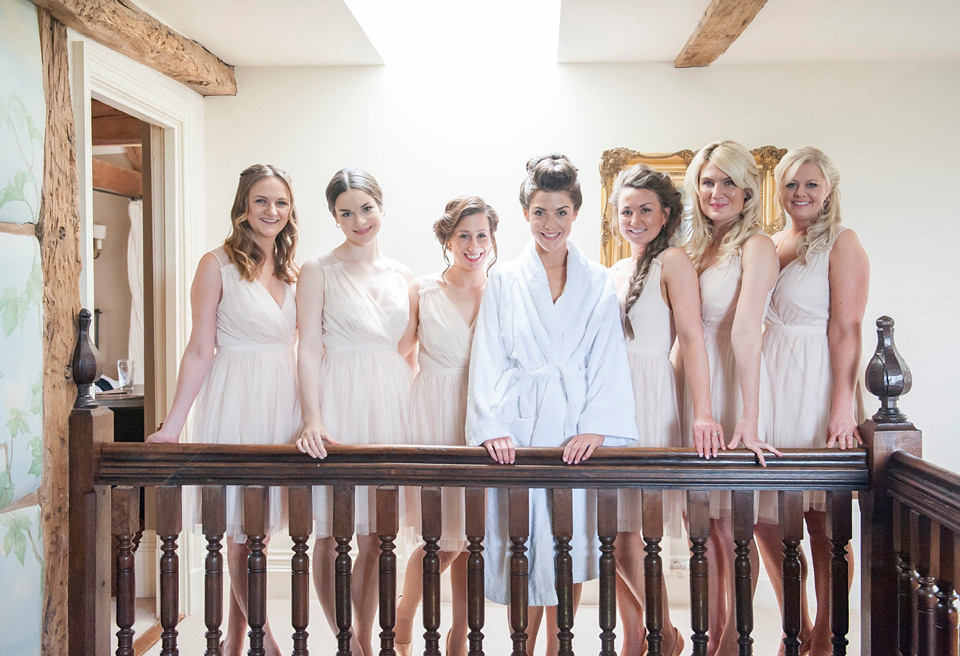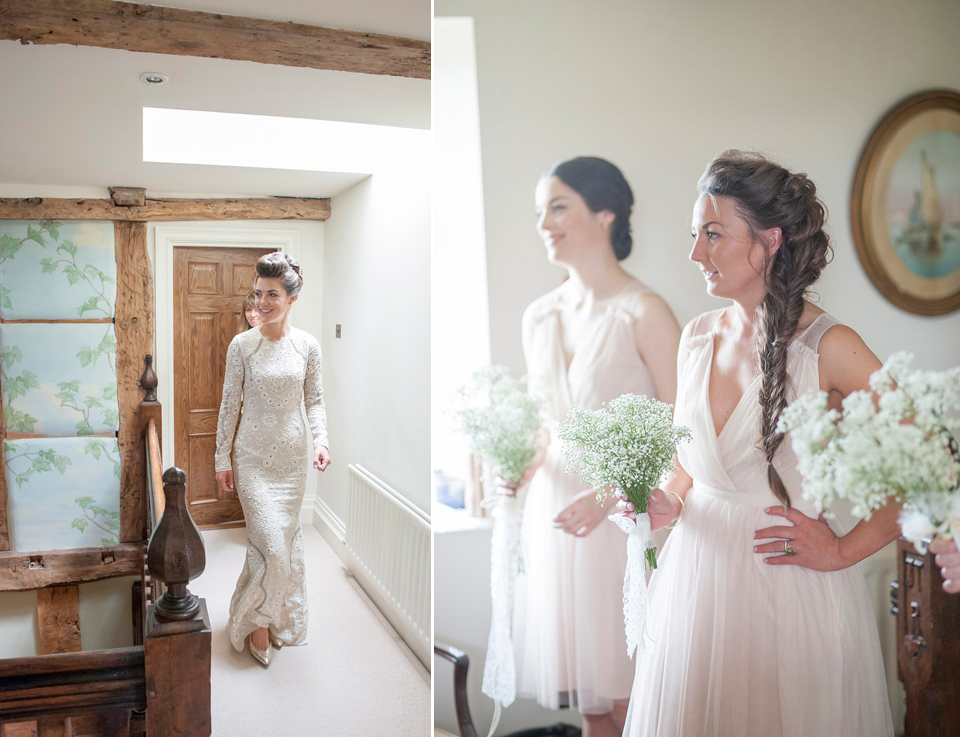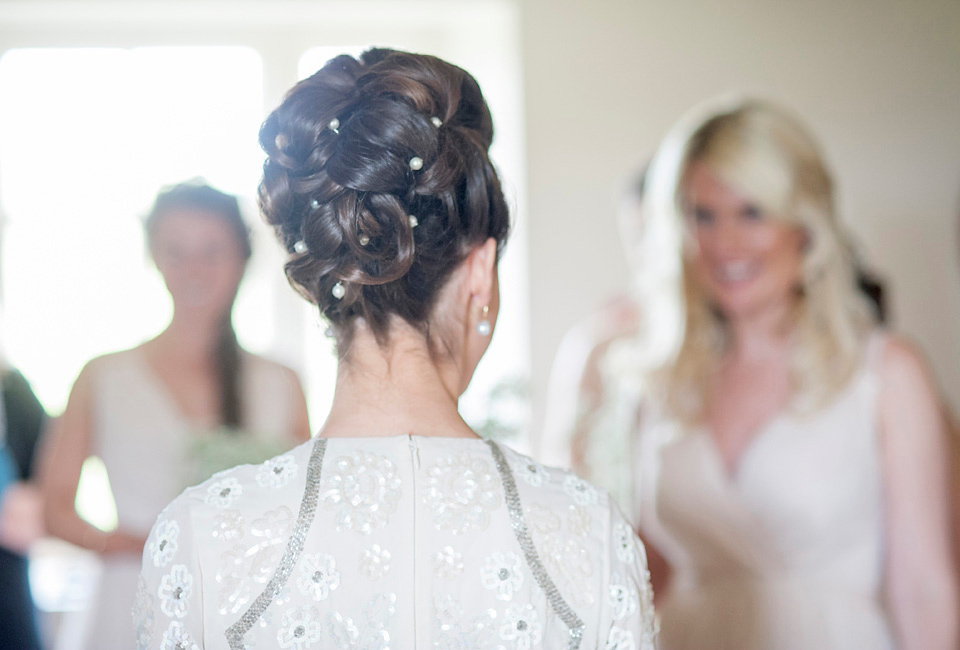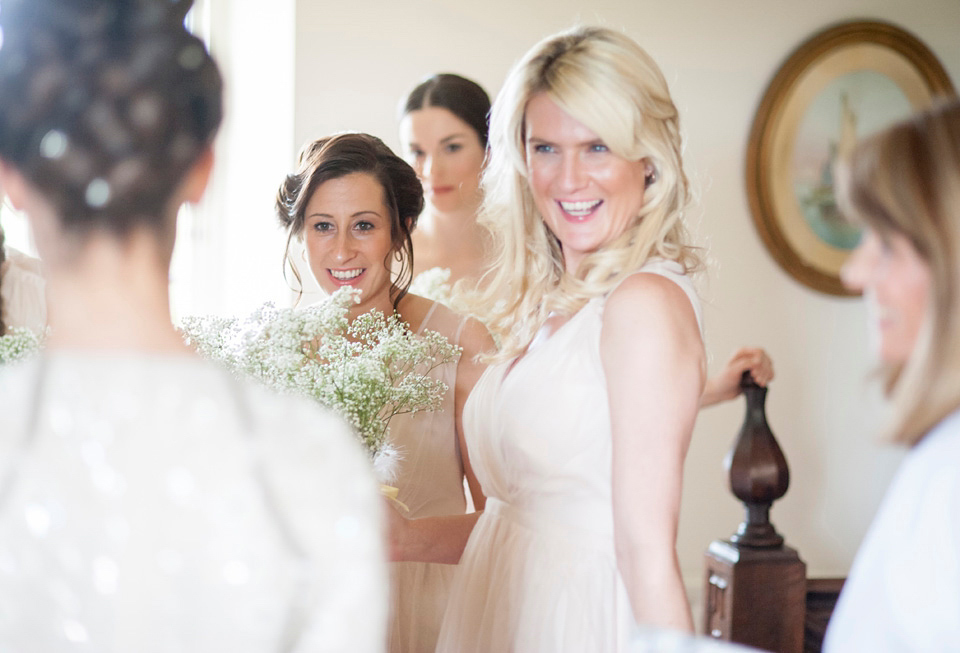 "I wore the earrings that my dad bought for my mum on their 30th wedding anniversary – big pearls on simple gold stems.  I was born ten months after they got married so it seemed to link well! I also wore my grandma's costume jewellery bracelet, which is pinkish crystals set into gold filigree bracelet links; it was passed down to her from her mum, and my grandma was too poorly to come to the wedding so I wanted to wear something of hers.  In the evening I put the matching necklace on."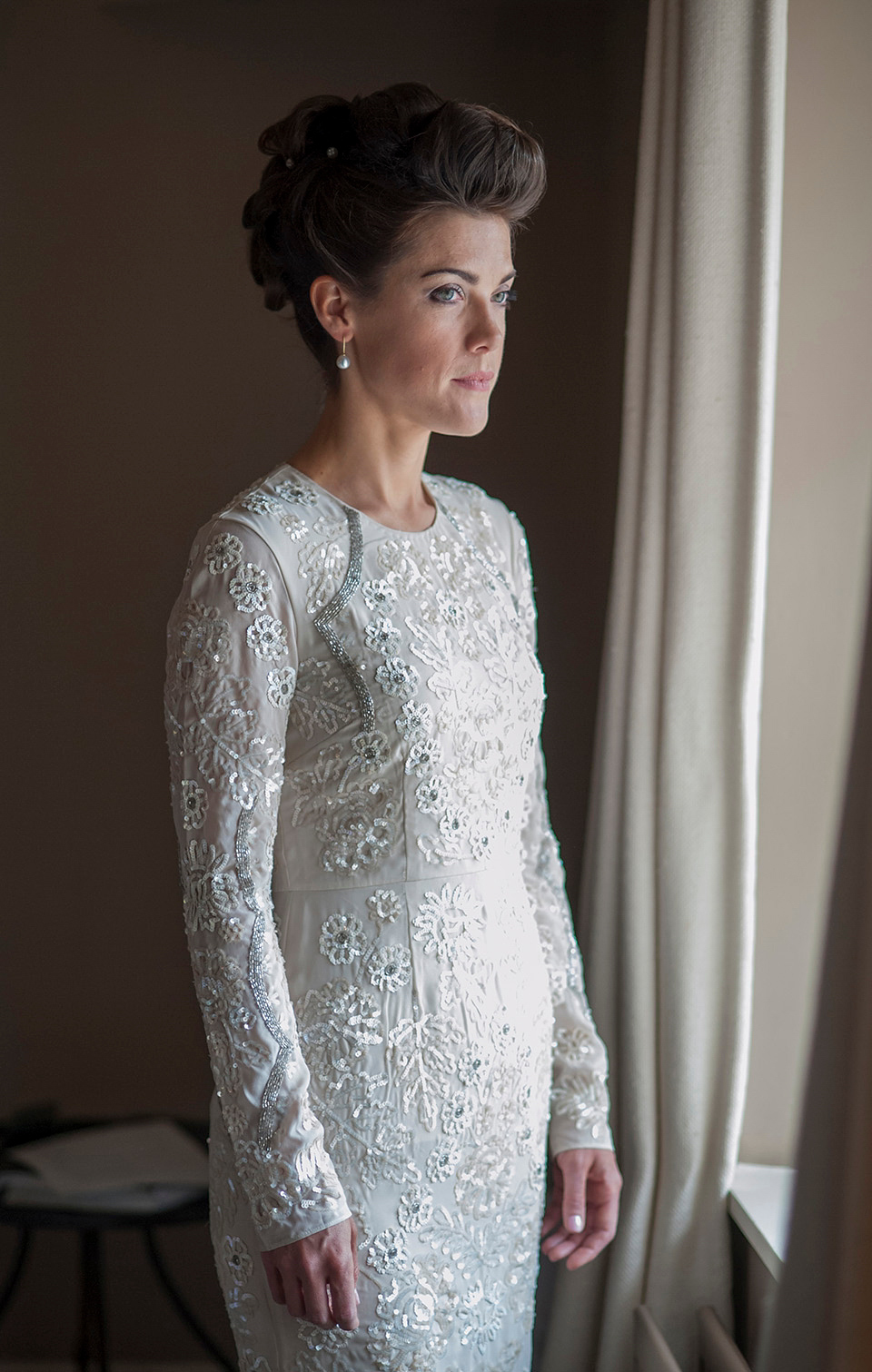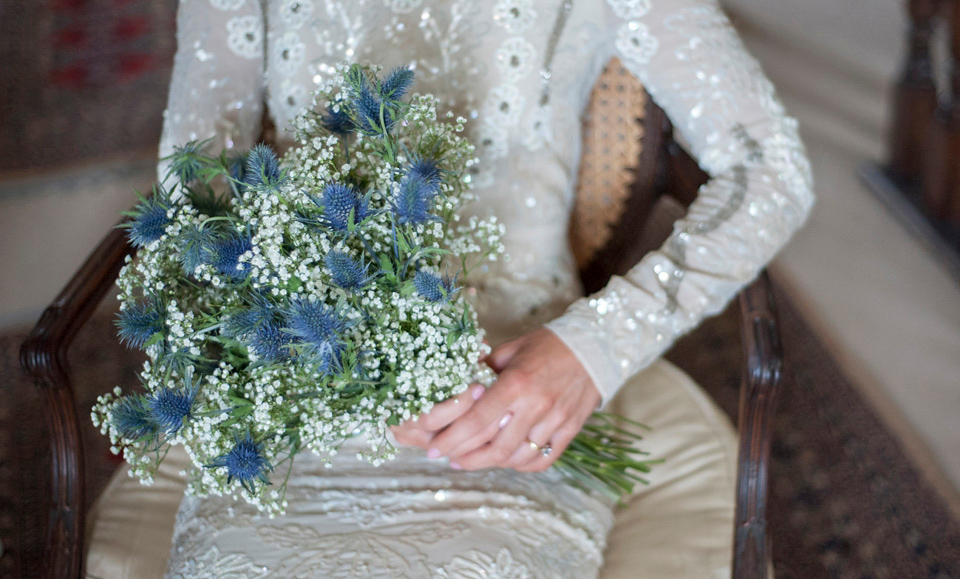 "Instead of a florist we ordered lots and lots of gypsophila from Just Flowers in Hereford, which we picked up on the Friday and then the wedding party worked very hard to use it to dress the venue.  We had bought loads of different sized vases and dotted them all around, full of gyp;  in the house, the conservatory, the wainhouse (where we got married and had the dinner and reception) and we had three little vases per table as a centrepiece, lots on the register signing table and anywhere else we could think of!  We also dressed the chandeliers with gyp and put it onto the posts in the wainhouse, as well as making all the bouquets which we tied with ribbon."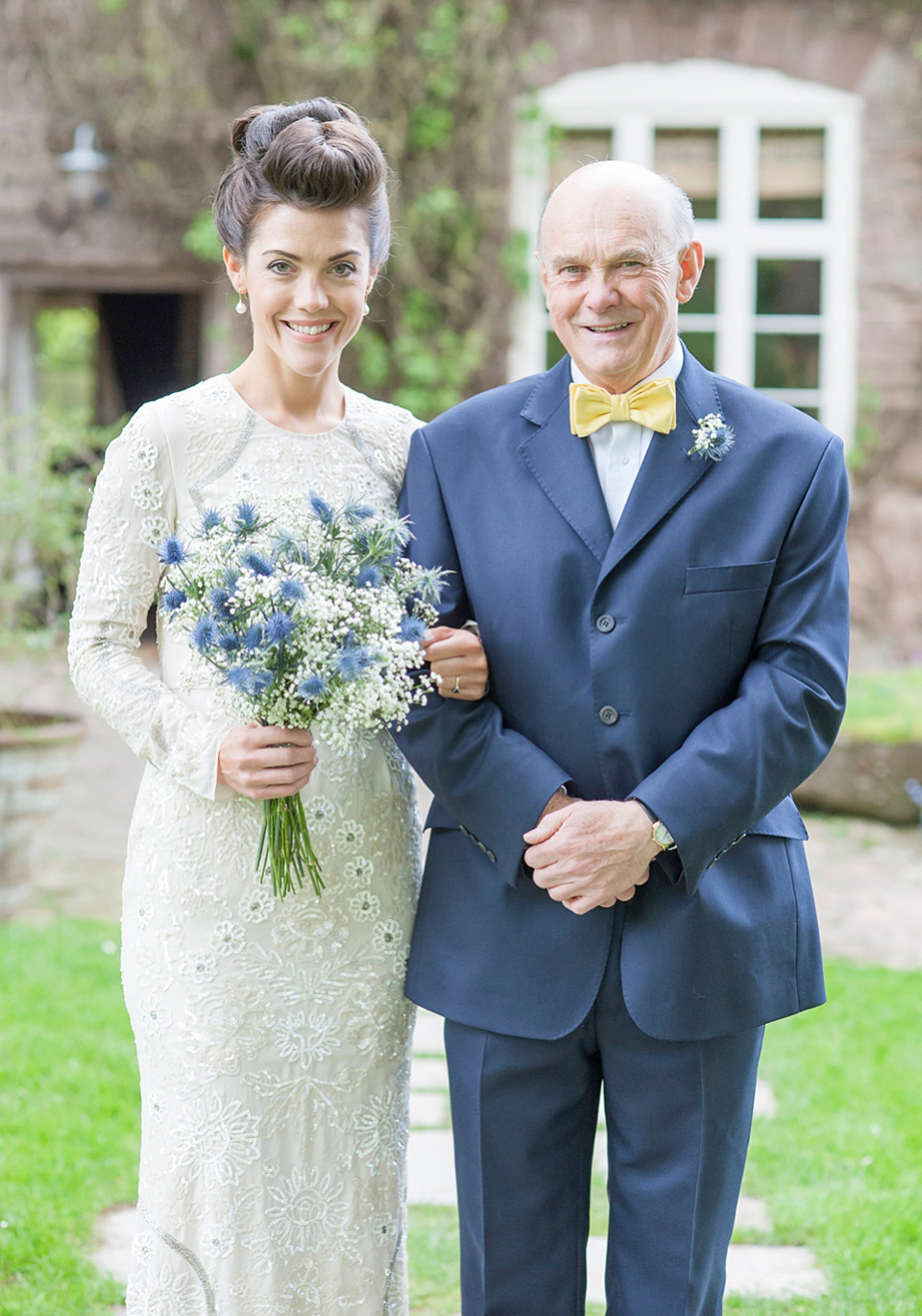 I love Alex's cheerful blue suit combined with those bright yellow accessories.
"Alex wanted a blue, wool three piece suit and we found a perfect one in House of Fraser that fit beautifully. His shirt was by Aquascutum, shoes and socks by Reiss and his bow tie was made by a tailor in the Jewellery Quarter in Birmingham, who made a bow tie for Alex and the father of the bride, and ties for the groom's dad and the two best men all from the same fabric."
"We met in a club in Birmingham, which wasn't a place either of us would usually ever go to, but it just so happened that (luckily) that day we did!  A first date followed about a week later and then seven months after that we moved in together.
We got engaged in August 2014.  Alex arranged a day of surprises in and around Birmingham where we live – first he presented me with a lovely dress from Whistles to wear that evening, then he made breakfast, then he took me to a wildlife centre, crazy golf and attempted to take me to a fair but it started raining…  In the evening we headed to a square near our home for a drink in one of our favourite bars before dinner and as we were crossing the square to the restaurant, Alex gave me an envelope with one last surprise – a poem he had written himself, and got down on one knee!   Of course I said yes!  Alex had arranged for the bar staff to come out onto the square with champagne and we sat on a bench, had a little cry and lots of smiles, then rang family with the news, before heading to one of our favourite restaurants for a wonderful meal of lots of steak and champagne. We were engaged for about eight months."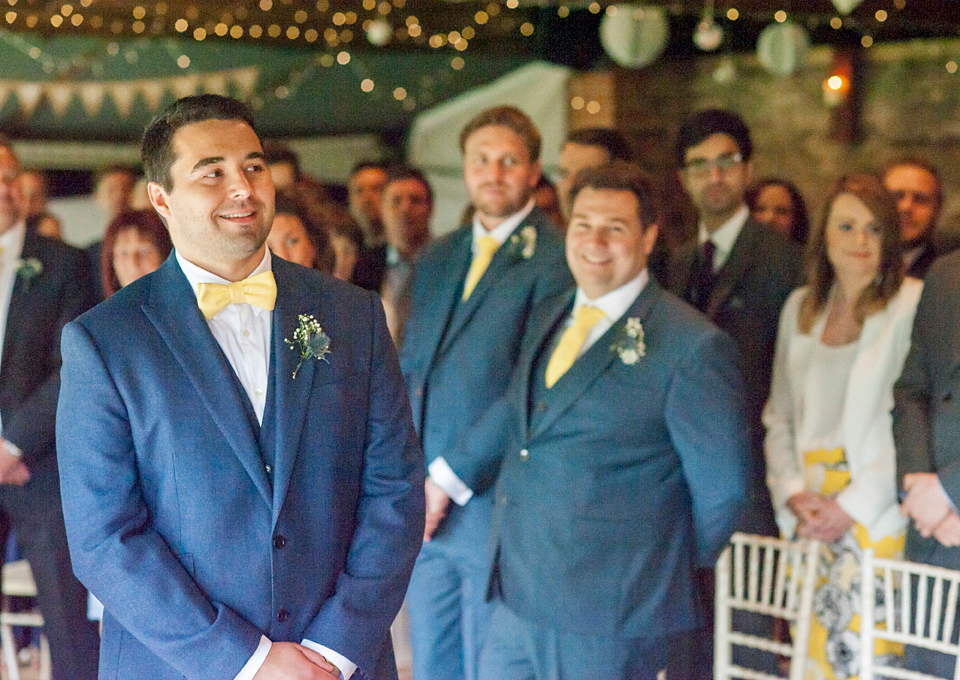 Frances walked down the aisle on the arm of her Dad, John, to 'Marry You' by Bruno Mars, chosen to keep the atmosphere upbeat and fun.   The couple chose the modern version of the vows on offer and although they didn't want a traditional reading, they asked Alex's Dad Graham to say some words:
"He did a great job of talking about love and family in a really touching and open way- there were tears by some gathered!  It was really nice to have something so personal."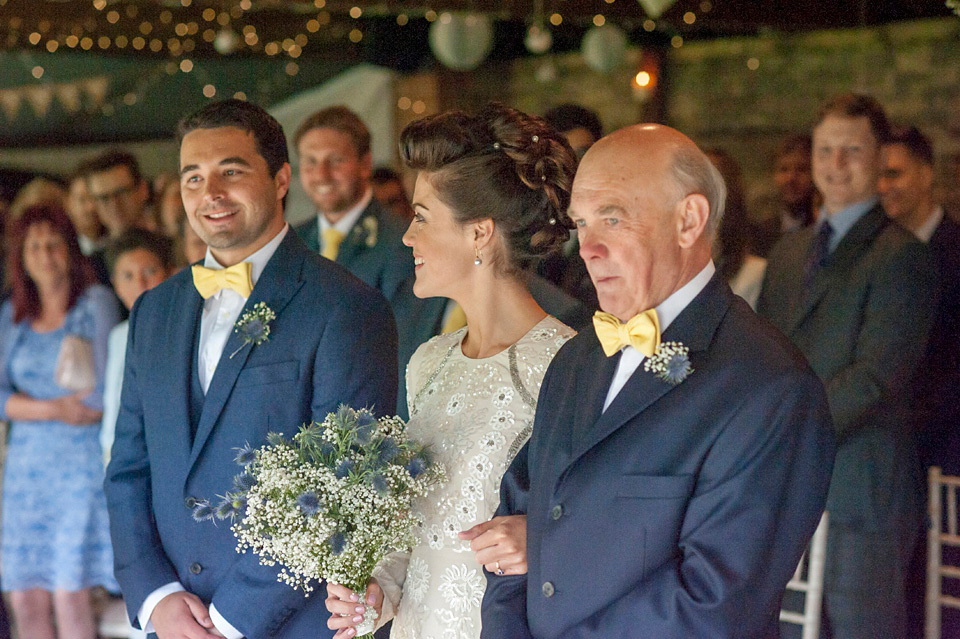 They also had a song, which is a lovely addition to a civil ceremony I think.
"One of the bridesmaids, Jess, has an amazing voice and sang 'Feel my love' by Adele.  Again, it definitely got people emotional and made the ceremony personal to us by having her sing."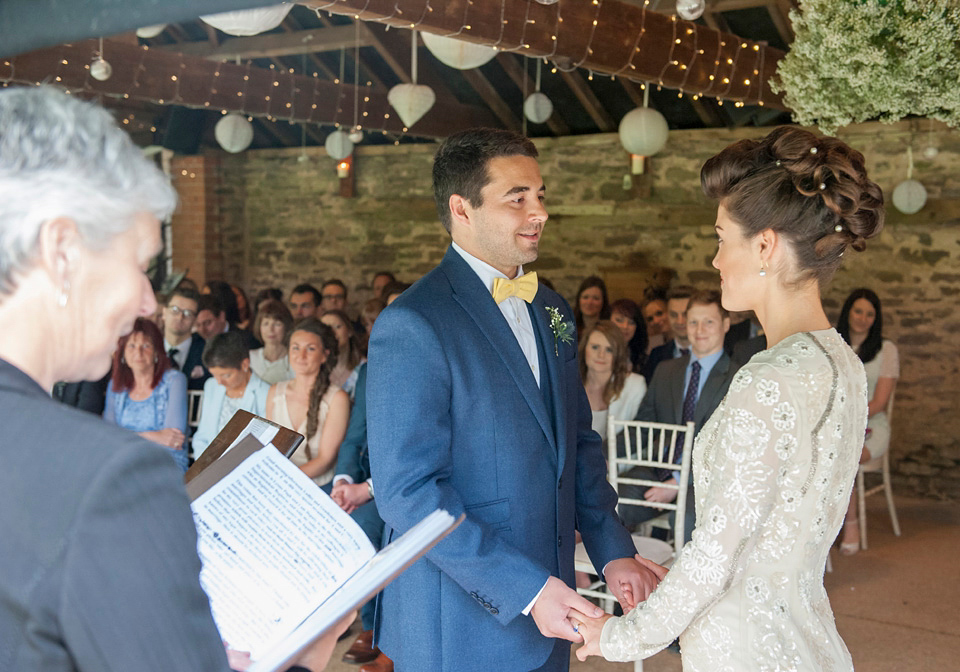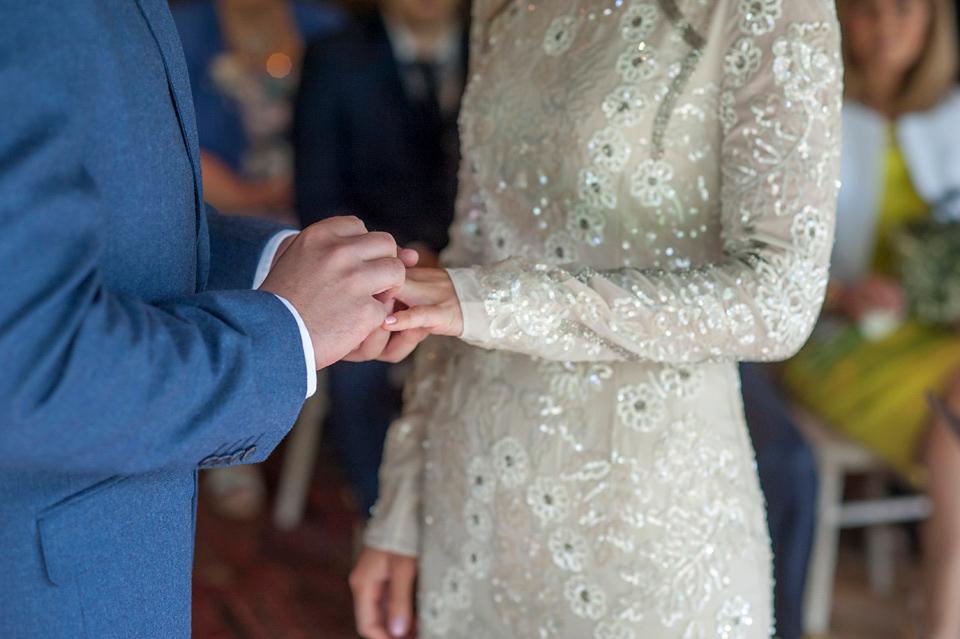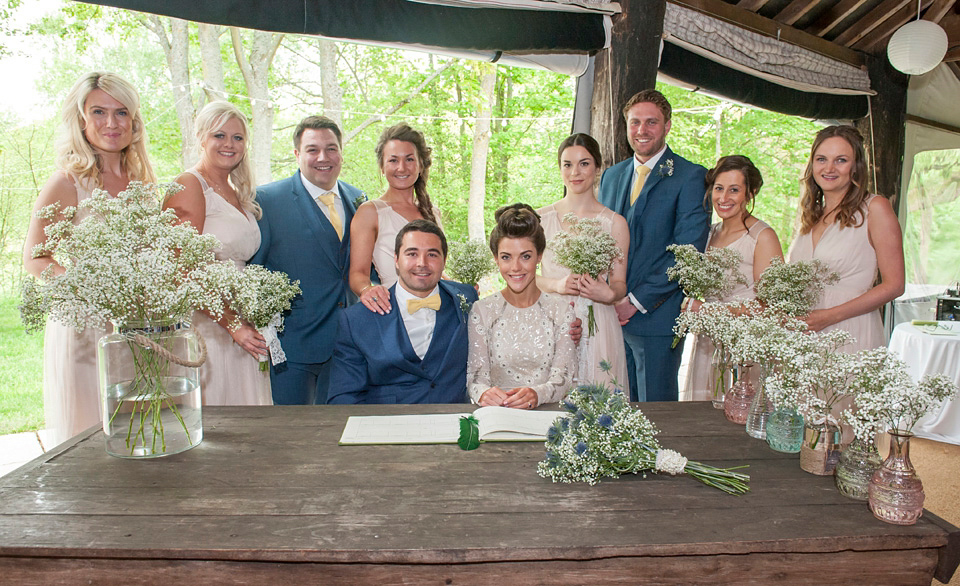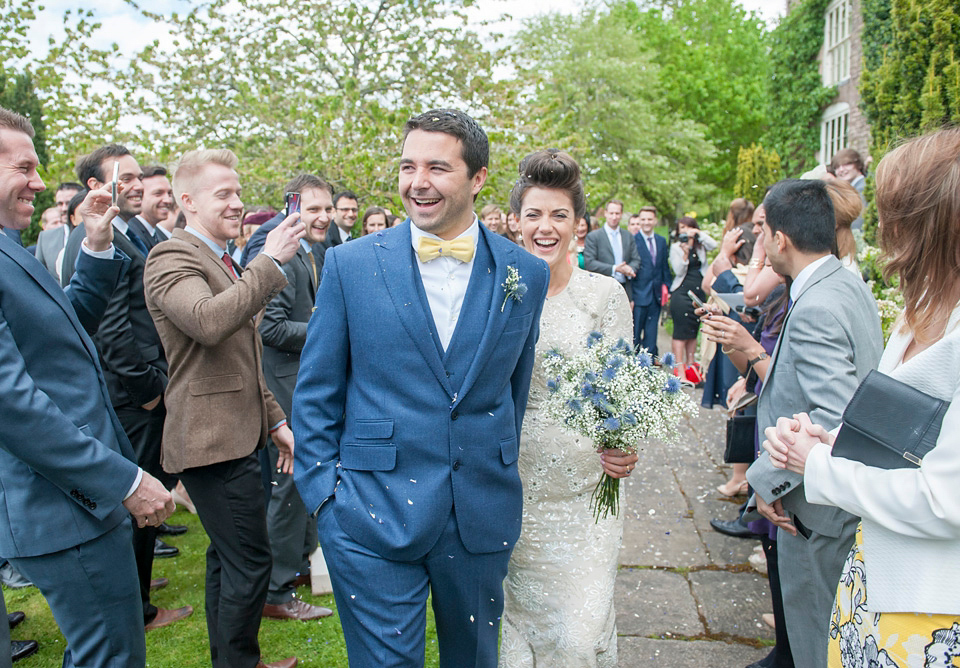 Dewsall Court looks like such a stunning place, with all the elegance of a country house but with the relaxed vibe of a barn style venue at the same time.  I love all the woodwork everywhere and just adore the photographs of Frances and her maids on the stairs as they make their preparations.
"We chose Dewsall because it was everything we were looking for: we're not religious so a church wasn't on the cards, and we wanted to recreate something we'd done for Frances' 30th birthday, where we hired a big house and spent a lovely two days with family and friends. It was also really important to us that we had the venue to ourselves, that there was enough room for the main wedding party to stay and we wanted to do the decoration ourselves to make sure it was our taste.  From the moment we got there we knew we wanted to get married there – it was so beautiful with amazing grounds and a really tasteful but homely vibe."
The couple chose photographer Benjamin Wetherall to catch every moment of the big day on film.  He managed to capture some wonderful moments, as well as a lovely set of portrait shots.  I especially like the use of evening light.
"Ben was amazing! We knew of him through one of my bridesmaids, and when we looked at his photos we were hooked.  We loved the way he used the surroundings to draw out the beauty in his photos, and that he didn't go for the traditional shots- he has a great reportage style, but equally the ones he took of us or groups of family and friends were fabulous too.  On the day he was great, not obtrusive at all and took wonderful photos, which show he has such a good eye.  We couldn't have asked for a better photographer."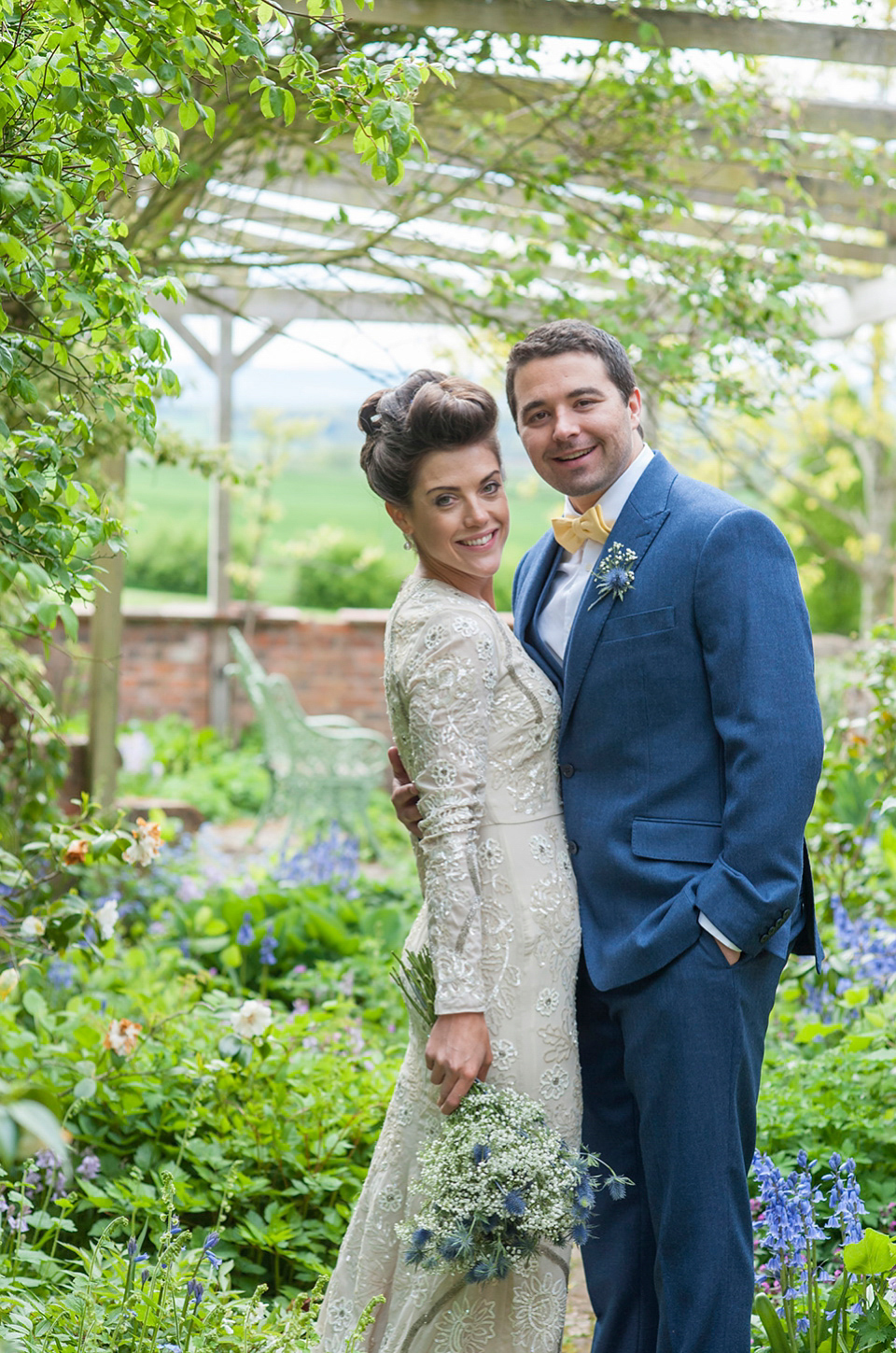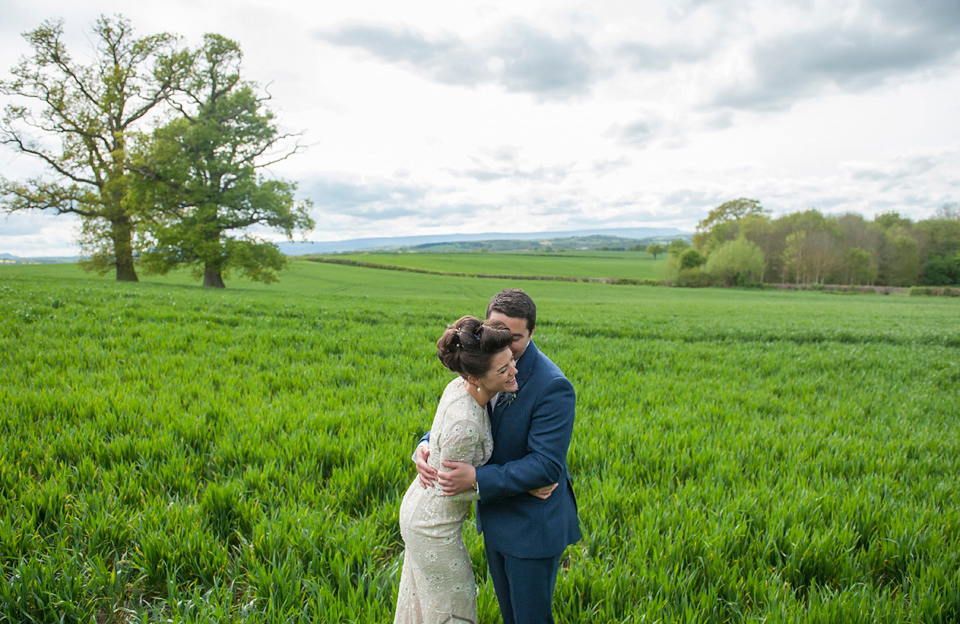 b
"We've been to lots of weddings where it's lovely to have a favour but it often gets forgotten – we didn't want to give food as we were providing so much, and didn't think a traditional keepsake would work so we got badges printed up saying 'I *heart shape* Team Alan' – (which is our shorthand for us as a couple of ALex and frAN). It created some fun and everyone actually wore them and took them home.
We bought lots of paper lantern lampshades and got some clear baubles which we filled with white feathers; we hung all of these from the ceiling of the wainhouse.  We also bought lots and lots of fairylights to wrap around the beams and to put outside for when the sun went down.  We bought little white doves to decorate our card basket and photo holder, and some tiny bride and groom doves from Paperchase to fit on the edge of the vases on the tables.  We went for white and cream with everything, to keep the neutral theme."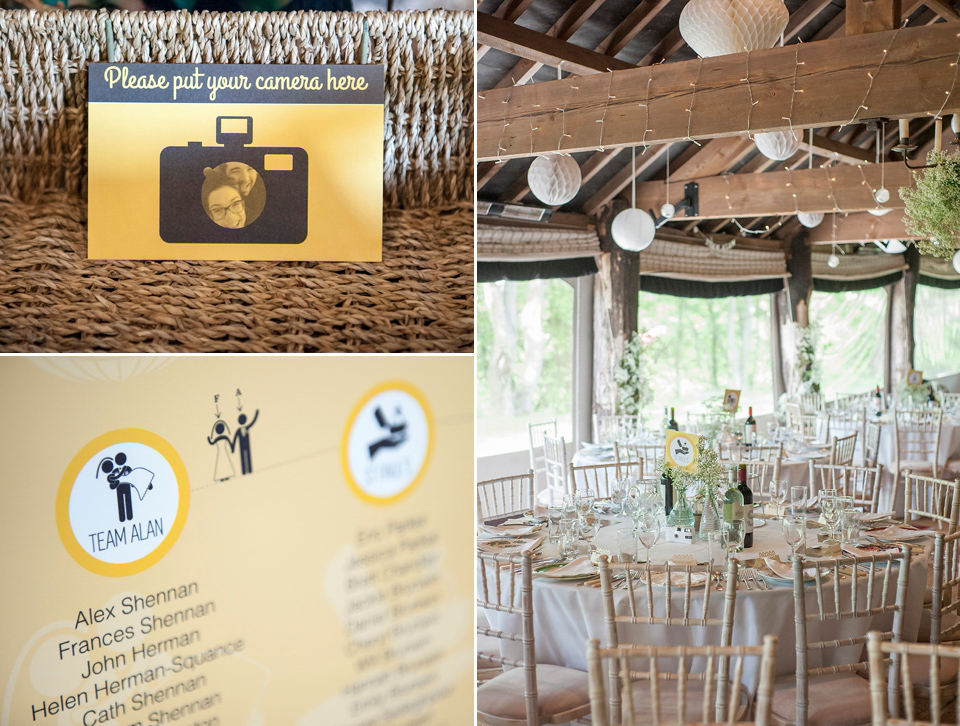 "Dewsall's talented in house caterers put together a wonderful meal of a British sharing board, BBQ chicken, salmon and harissa lamb kebabs served on a sharing platter with salads and bread, and then cheese and the wedding cake for dessert, with veggie options for those who wanted.  We then had bacon or falafel rolls later in the evening.
We were catered for the whole weekend – those staying in the house and a few others had a lovely meal of lasagne and lemon tart on the Friday, with a continental breakfast and light lunch on the Saturday, and then a much needed full English on the Sunday.
We got lots of compliments about the style and quality of the food from our guests."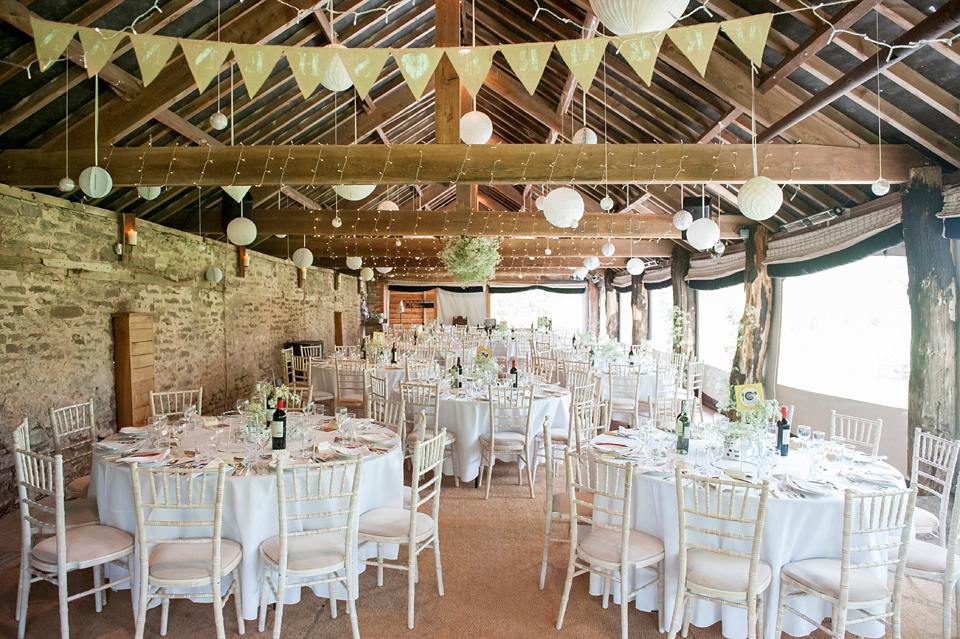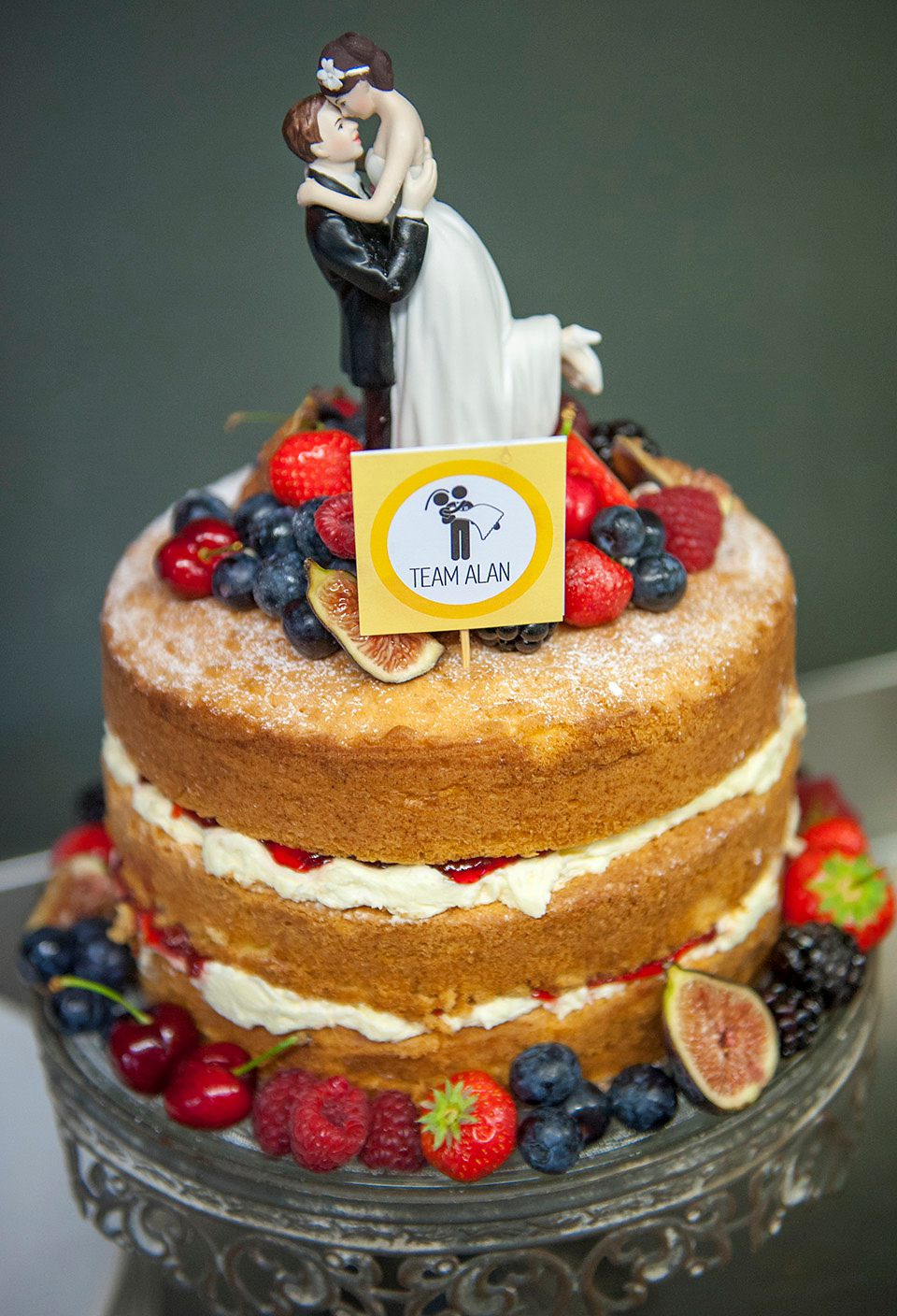 The wedding cakes were rather special- I love this idea!
 "We had ten identical Victoria sponges made, the top table's cake was dressed with fruit and put on a lovely vintage stand, but all were brought out at the same time, so that each table had their own to cut – complete with a table name cake topper.  For the top table, we went with a traditional bride and groom – that was an area we didn't mind tradition!"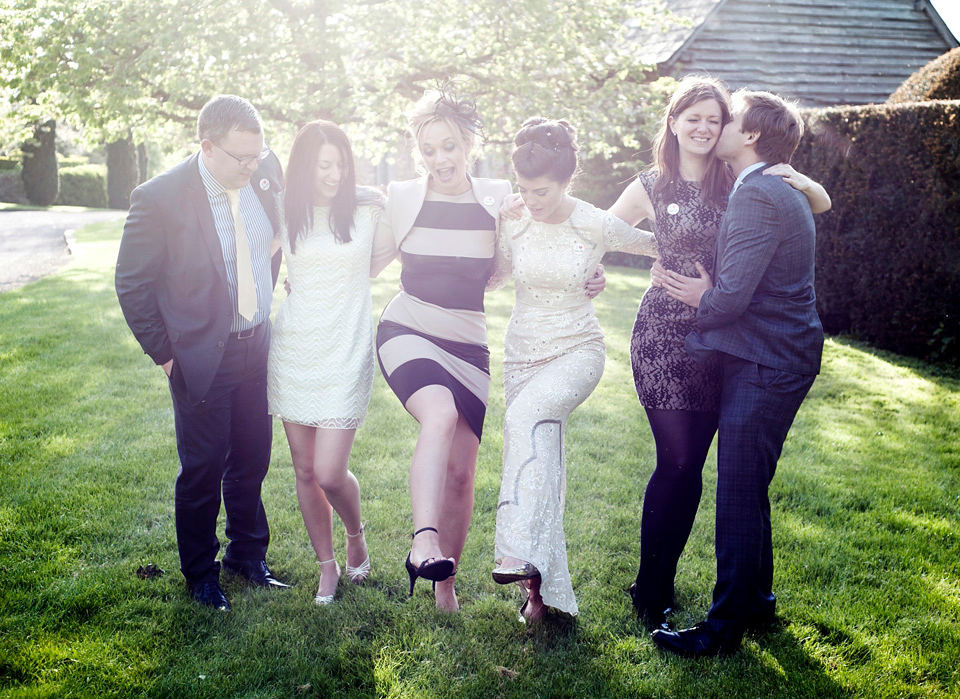 "Recalling my favourite moments of the day, I loved waking up in the morning and realising we were getting married; looking at everyone after we said 'I do' and realising they were all there for us; going off together to get photos done and spending some precious moments the two of us; seeing everyone smiling and happy and dancing at the reception and the moment we saw each other when Frances walked down the aisle."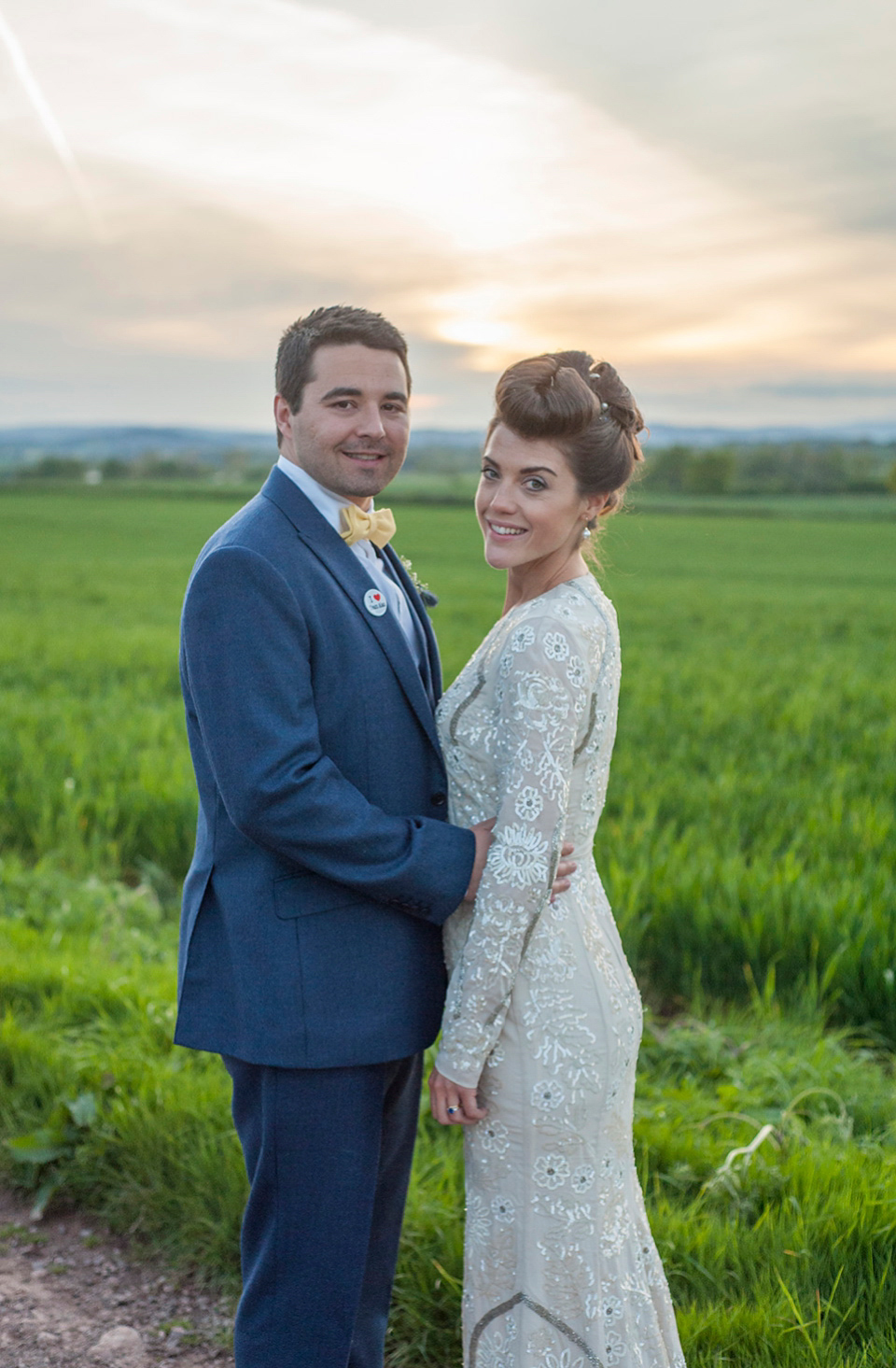 The couple had their first dance to 'Treasure' by Bruno Mars, echoing the song Frances walked down the aisle to, and the couple's favourite dancing track.  Judging by the photos they have practiced this one many a time!
"We had a band, The Distractions, who were really great.  They did a great mix of modern songs and some motown classics, which we picked from their song list, plus they learnt three songs of our choice. They were really accommodating too when the meal and speeches over-ran by about 45 mins!
 After the band we had got one of our friends who is a DJ to make a playlist, and a friend of a friend played the piano during the drinks reception – it was lovely to have some live music then too, and a nice touch to have him playing as the guests came in and grabbed their champagne."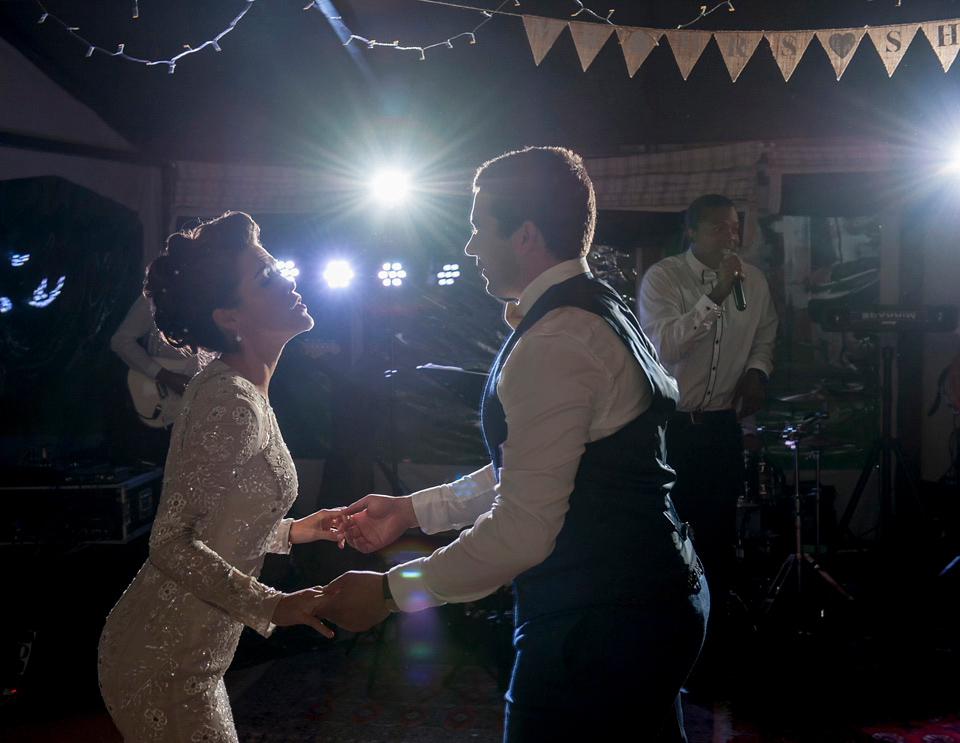 Words of Wedded Wisdom
Everything takes longer than you think on the day so leave enough time, and make sure you leave a few minutes here and there for it to just be the two of you
Enjoy the planning, don't let is stress you out – as long as there is food, drink and music, it'll all be fine!
It's your day so do what makes you happy and everyone else will be happy because you are
Go with a place which only charges for drinks on consumption if you can – that way you can make sure everyone had enough but you don't pay for loads left over
Go with a venue you feel comfortable in and if you can afford to stay there the night before, do it – it makes the whole experience last longer, gives you time to spend with people and means the wedding day is far more chilled
Don't be embarrassed about being emotional – we both were and have no regrets that our guests saw a few happy tears!
You can do a wonderful wedding that is perfect for the two of you without spending tons – the decorative touches can be done very effectively by thinking innovatively and doing some bits yourself. That means you can spend your budget on the important bits – the venue, the food and drink, the band and the photographer
Go off on your honeymoon the day straight afterwards – you'll be shattered but it means you'll stay on a high for a good couple of weeks
Thank you so much Fran and Alex, for sharing your big day with us and to Benjamin Wetherall for the gorgeous imagery- I look forward to seeing more of his work on Love My Dress in future!  Are any of our other readers planning a non-traditional wedding dress?  Do comment below and let us know- we love to hear about all your plans!
Much love,
Shona x
Photographer – Benjamin Wetherall of BPW Photography
Venue – Dewsall Court, Herefordshire
Wedding dress – Needle and Thread, bought online from Selfridges
Evening Dress – Self Portrait
Shoes – Isabel Marant
Accessories – Family jewellery
Perfume – Lime, basil and mandarin by Jo Malone
Bridesmaids' dresses – Marks and Spencer
Shoes – Rose gold heels from SimplyBe
Groom – Suit, House of Fraser, shirt Aquascutum, shoes and socks, Reiss
Best men – Suits from Slaters
Florist – None, Flowers ordered from Just Flowers in Hereford and arranged by the wedding party
Rings – Bought in the Jewellery Quarter in Birmingham
Cake – Via Dewsall
Catering – In house at Dewsall
Hair stylist – Angie Shorthouse at Le Glow
Entertainment – The Distractions (no website given)