Welcome to December! We can now legitimately start downing the mulled wine and scoffing mince pies- hooray! For those of you who are missing the summer months though, or looking forward to spring and summer weddings in 2016, let's wind the clock back a few months and visit the 2nd of May this year and the lovely Scottish wedding of Lianne and Robin, who married at Moorpark House in Ayrshire, Scotland. The day was captured by the fabulous Mirrorbox Photography. Creating a wedding day representing them as a couple was an important part of the planning process for our lovely pair.
"We got engaged at Yosemite National Park so were very influenced by rustic, simple, natural and woodland themed wedding decor with little hints of vintage so spent a lot of time browsing Love My Dress to help inspire how we wanted our wedding to look. The idea of bringing a little bit of the special place we got engaged to our wedding day really captured our imaginations. We were really keen to make our day very personal to us and so a lot of the decisions we made were fuelled by this."
Photography by Mirrorbox Photography
Mirrobox are a member of our wedding directory, Little Book For Brides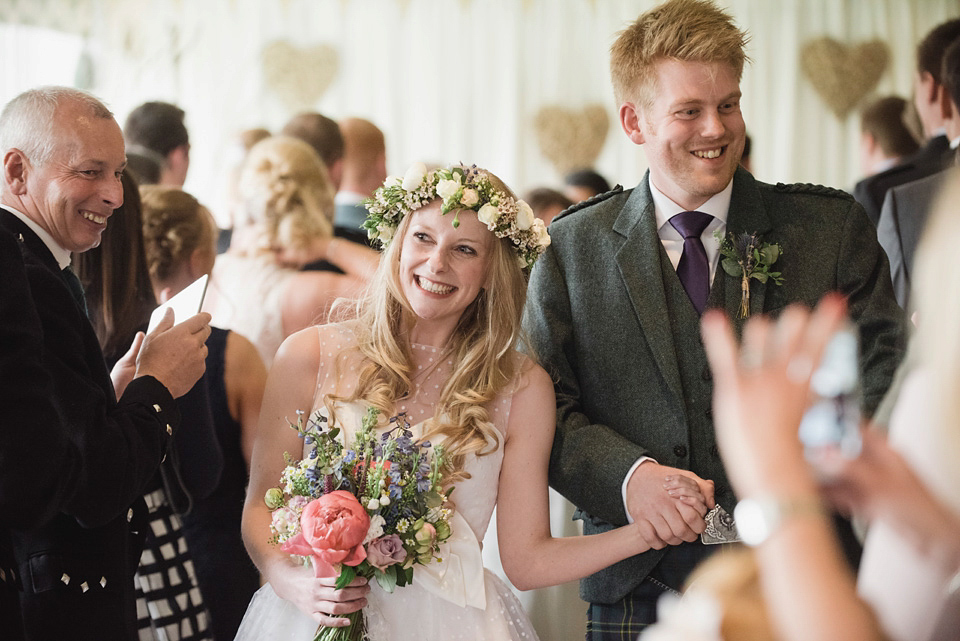 Lianne wore a short frock from House of Mooshki, purchased from Laura at Ribbons and Lace in Kilwinning, Ayrshire, who she found through the Glasgow Wedding Collective. Doesn't she look absolutely gorgeous? I love her relaxed hairstyle topped with that fabulous flower crown, all set off with her very own beautiful smile.
"I can't recommend Laura at Ribbons and Lace highly enough. She made finding my perfect dress so easy and fun. I knew from the start that my perfect dress was a shorter vintage style and so House of Mooshki ticked all the boxes. I chose a design and then altered it slightly so that it was perfect for me, reflected my personality and I felt happy and confident wearing it."
I just love the work of photographers Mirrorbox – they manage to do both portrait shots and natural reportage work wonderfully, and I love the interesting angles they find and all the little details.
"Our photographers were the very talented Mirrorbox Photography. We loved the simple, natural and relaxed style of their photography when searching online and are so happy with the photos of our big day- we have a great mix of group shots and candid photos and there are some truly special moments we can now treasure.
Sequoia made us feel incredibly relaxed the whole time and captured everything we wanted and more. We can't recommend Mirrorbox highly enough."
"I love how much fun a shorter style is, it's good for spinning and dancing in – two things that I really enjoy! I loved the flattering sweetheart neckline, the amazing polka dot lace and the lace back with the pearl buttons. Everything about my dress was just beautiful and I felt amazing wearing it."
On her feet, Lianne sported 'Florrie' by Rainbow Club, which she was drawn to because of the vintage style and all the glitter. Rainbow Club offers a dying service so she was able to customise the shoes too.
Lianne chose a flower crown rather than a veil, as she felt more herself and more relaxed this way. I absolutely adore a flower crown- they're just so romantic and girly! The rest of her accessories were equally carefully chosen, each representing part of the traditional 'Old, New, Borrowed' Blue'.
"My necklace was a present from Robin's mum and dad the night before the wedding and was Carolyn's mum's. It is just beautiful and I felt so lucky to be wearing it. It counted as my 'something old and something blue'. My gorgeous earrings were a present from Robin the morning of the wedding. They were simple and elegant and my 'something new'. I also borrowed my mum's garter from my parents wedding. It was just so special to be wearing it and was my 'something borrowed', as well as another 'something blue'."
Having her bridesmaids feel comfortable and happy in their dresses was very important to our bride, and she was keen to have something a little different to the norm. The beautiful dresses she found in Needle and Thread at ASOS were just perfect.
"I loved the pale green colour and the ballerina style of the dress and it was such a flattering fit on all the girls. One bridesmaid said she felt like a fairy, which can only be a good thing." (Agreed!)
"We met on our very first day at university in St Andrews and have been together and best friends since a few weeks later, so almost ten years now which is amazing. Time flies when you are having fun! We got engaged on a big American road trip in 2013 at Yosemite National Park.
After a mornings hike in the most beautiful surroundings we cycled to a meadow and Robin got down on one knee. It was just so perfect, special and romantic and such a surprise. We were engaged for just over a year and a half before our big day."
Robin meanwhile, looked extremely dashing in his kilt, worn with the traditional accessories and his own take on the formal jacket.
"Both Robin and I love kilts, so Robin wore his Kennedy tartan but mixed things up a bit with a green tweed jacket which just looked amazing and so handsome!"
"We had visited a number of venues but instantly fell in love with Moorpark House. As an exclusive venue it let us have our whole day in the one place and had the relaxed, fun, house party vibe that we were looking for. Moorpark also has beautiful grounds and is only a short walk away from the countryside, which we loved.
Our ceremony was held in the conservatory, so was lovely, bright and airy. We hung hessian bunting, put wicker hearts on the chairs and had branches from the tree that had fallen down in my garden at home in pots, which looked amazing."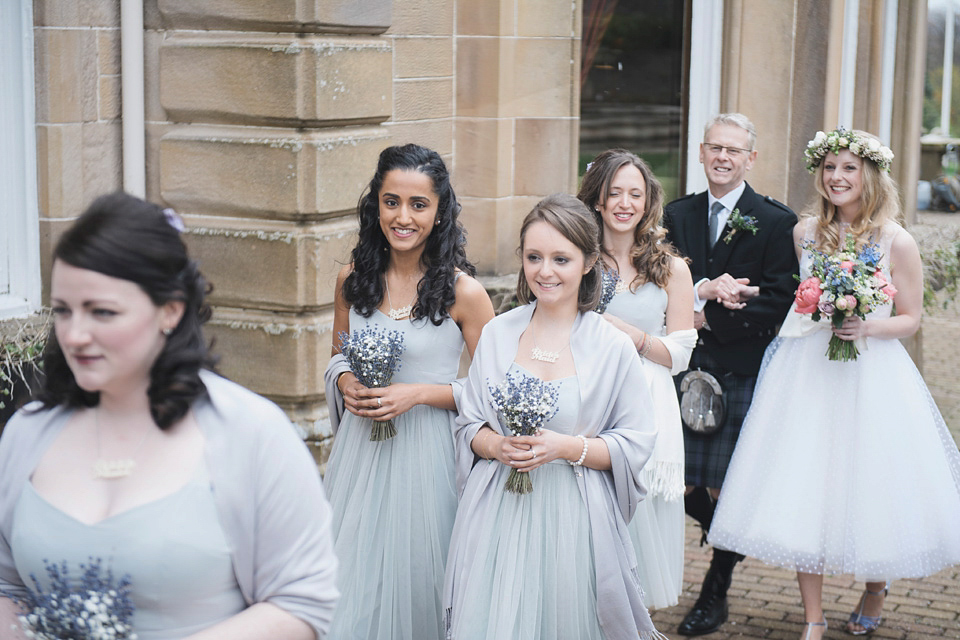 Lianne was walked down the aisle by her Dad (who she describes beautifully as a 'strong and secure presence') to Highland Cathedral, played on the pipes by Robin's brother. Robin's cousin also played the guitar while the couple signed the marriage register- such a musically talented family!
"Robin and I chose a humanist ceremony as we really liked being able to personalise our ceremony and make it our own. Our Celebrant, Stewart Struthers, was great fun and was so much help when we were putting our ceremony together."
The couple left the ceremony to Bon Jovi's 'Captain Crash and the Beauty Queen from Mars': "Bon Jovi is a guilty pleasure for us both and the song makes us smile – it's just so quirky."
I adore the fact that absolutely everyone is grinning from ear to ear!
"Our florist was the lovely Lisa at Sparrow and Rose.  After chatting with Lisa on the phone, we both had similar ideas and she knew exactly what we wanted from our flowers. We choose colourful wild flowers, roses and peonies in purples, blues, pinks and creams – my bouquet and the arrangements were natural and fun, with lots of hessian and twine. The flowers were just beautiful and really helped set the decor off.  I was so pleased with how they turned out."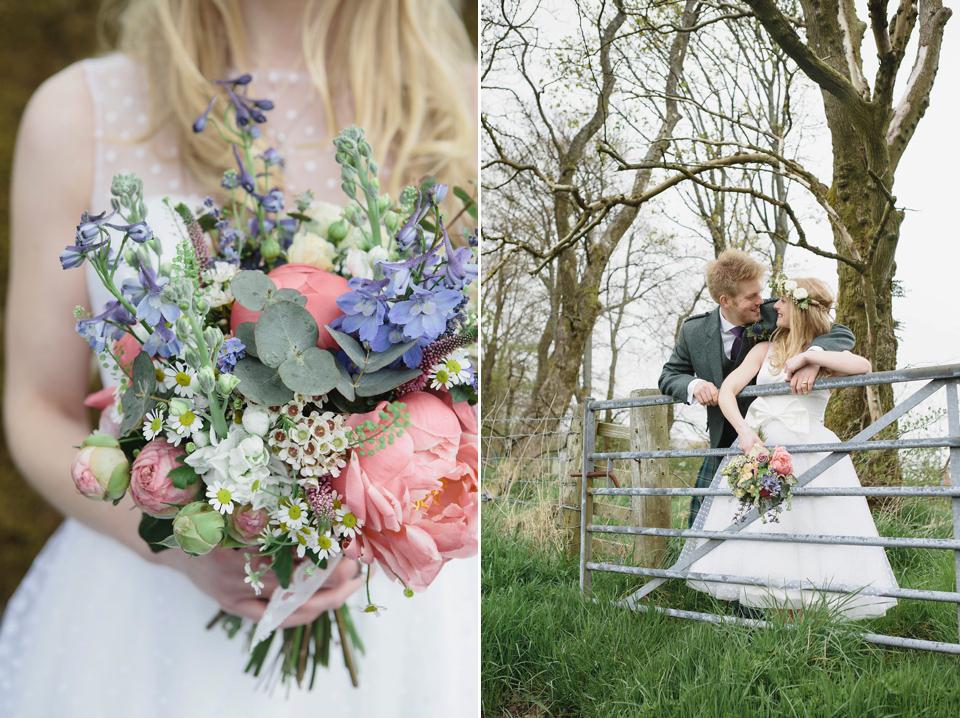 "I loved sneaking off with Robin for couples photos, running about in a field and having a laugh. It was really nice having some time just the two of us to let the importance of the day sink in and to be together."
"Around the venue there were handwritten notes in photo frames sourced from charity shops, with songs, quotes from movies and books that we love and mean something to us as a couple. We also made little tealights, putting candles in jars filled with moss and pebbles, hessian letter bunting to put above the fireplaces and display around the venue and mini bunting for the top of the cake, both of which looked great."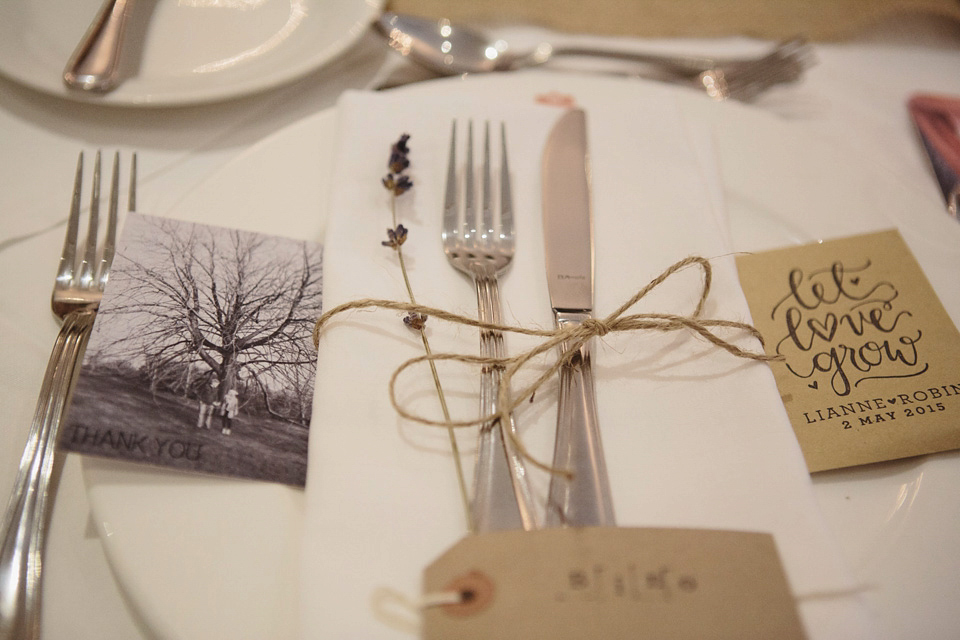 Every element of the day was carefully thought through, from decor to seating arrangements, to create the relaxed and rustic vibe the couple wanted.
"In the reception room, we had opted for long tables so it was intimate and fun. On each table were jars of flowers, decorated by my lovely bridesmaids, my mum and friends with hessian, lace, twine and paint. The table runners were hessian and there were pinecones and rounds of wood along the tables, in mismatched piles some of which were from the tree in my garden at home.
Our cake was made by one of my very talented bridesmaids, Stacey. Neither of us are big fans of icing so instead of a traditional cake, we chose a three layered naked cake, covered in strawberries, raspberries and blackberries. Each layer was a different flavour of sponge and all were delicious; when it was cut for the evening buffet it was gone in a flash!"
"One thing that was really special was to have framed photographs of our parents and grandparents on their wedding days as our guests walked into the reception room. It was so lovely to have those who couldn't be with us on our big day represented by these."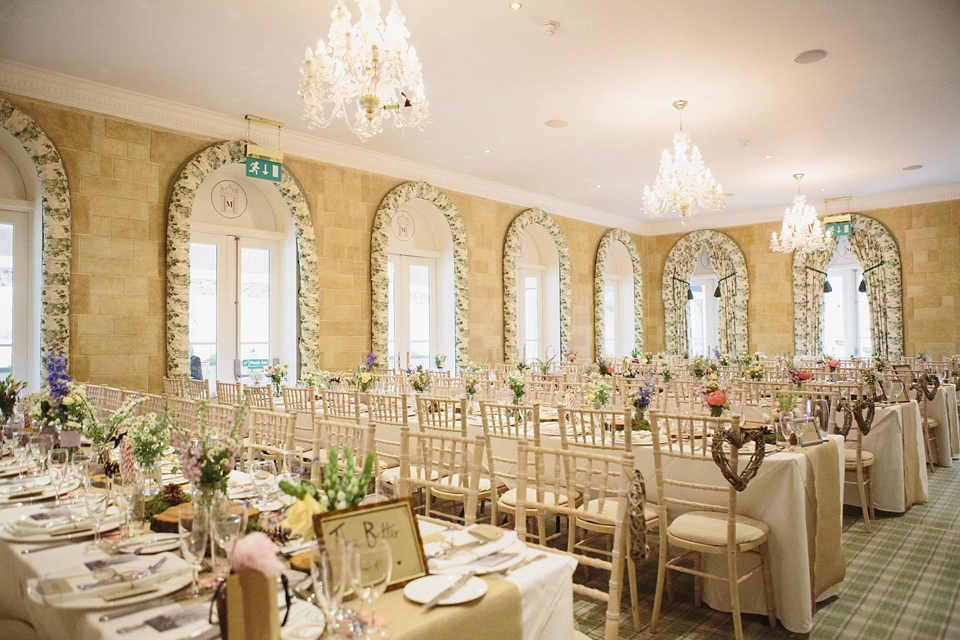 The Winnock Hotel in Drymen provided the catering, and it sounds utterly divine. I really like how much thought went into the menu here- food can be such a great way of expressing yourselves as a couple.
"Both Robin and I love food and enjoy cooking, so a good menu that our guests would like was important. The food was just delicious and we had a hard time choosing ourselves when we went for our menu tasting.
We tried to incorporate some of our favourite foods into the day. Our welcome drink after the ceremony was prosecco with raspberry Edinburgh Gin added, which was so tasty. We had mini thai fishcake, butternut squash curry and haggis balls for canapés, a choice of salmon or goats cheese and caramelised onion tart for starter, a beef fillet or vegetable tagine for main and a lemon tart for desert. We really wanted to provide a choice for our guests so everyone was happy and excited by what they were going to eat, as much as we were. Later in the evening we had bacon and lorne sausage rolls, with the cut wedding cake which was just perfect after lots of dancing."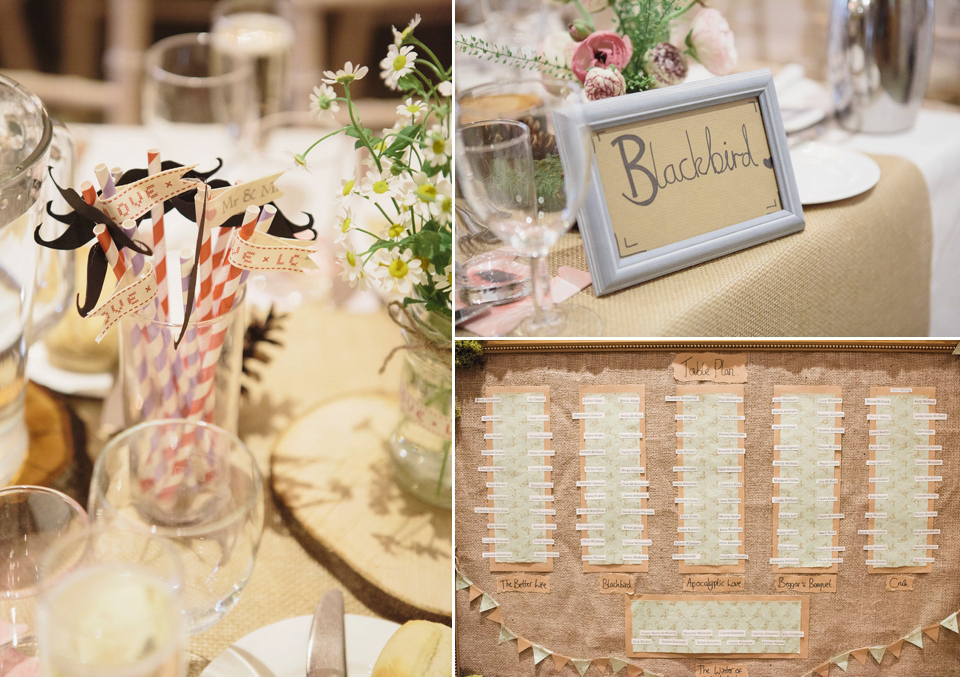 "Music is something that is very important to both of us; we enjoy going to gigs and there is always music on in the house, so we wanted a really good band to represent our tastes. We went to see Elwood play a set in Edinburgh and loved their mix of rock and pop classics. The dancefloor was full the whole night and all our guests said how good a time they had had! No one wanted the dancing to end."
Words of Wedded Wisdom
"My advice would be to enjoy every second of your day. Your wedding really does go so quickly, so cherish every moment, relax and be present. Enjoy the planning of your wedding and try not to let anything stress you – at the end of the day it's you and your partner's day so you can do things your way that reflect who you are as a couple and shouldn't feel the pressure to adhere to traditions or expectations. If you are planning on making elements of your wedding yourself, give yourself enough time as these things always take longer than you think they will.
Lastly, find some time to sneak away with your partner to really take in what's just happened. There are so many people to talk to that it's important to make sure that you see each other!"
The biggest congratulations to our lovely couple, and thanks also to Mirrorbox Photography for the wonderful images from the day. For more Scottish weddings, take a wee peek here, and for more gorgeous House of Mooshki frocks, step this way.
Love Shona x
Photographer – Mirrorbox Photography
Venue – Moorpark House, Scotland
Wedding dress – House of Mooshki, purchased from Ribbons and Lace in Kilwinning, Ayrshire
Hair accessories – Floral crown made by Sparrow and Rose
Shoes – Florrie, Rainbow Club
Accessories – necklace and earrings both gifts, garter borrowed from the bride's mum
Perfume – Ghost, Deep Night
Bridesmaids' dresses – Needle and Thread from ASOS
Accessories – Roses from Crown and Glory, necklaces from Bonnie Bling
Groom – No details given
Florist – Sparrow and Rose
Rings – Monaghans, Dumfries
Cake – Made by bridesmaid Stacey
Catering – Winnock Hotel, Drymen
Hair and makeup artist – Prana Hair and Beauty, Castle Douglas
Entertainment – Elwood