Happy Christmas eve, eve! This is the last wedding we'll e sharing this year (though there's a surprise post coming up later today) so I'll take this opportunity to wish all of you a very merry Christmas and a happy and prosperous new year. The images from today's wedding come courtesy of Peppermint Love and I'm sure you will agree that they are stunning. Alice who works in PR and her husband Ed, a physiotherapist were married on the 4th of July 2015 in the Pavilion at The Kings in Christchurch, Dorset. There is a slightly whimsical feel to some of the images which the surroundings really lend themselves to.
Alice and Ed both had a similar idea of what they wanted from a venue – good food, plenty of green space and a laid back feel. They were originally looking at another venue which let them down just six months before the wedding. Faced with the prospect of having to abandon their plans, they came across The Kings and luckily there was one Saturday free over the summer. The couple used plenty of flowers and pom poms to decorate the venue.
"Ed and I met online in 2010, back when internet dating was still new and scary. We were each other's one and only date and many of our friends were inspired to try it too, also with successful results. 15 months later we moved in together and began making plans to move to Australia the following year. A few months before we were due to leave my father died very suddenly. It was such an awful time for my family and I, but I couldn't have asked for anybody with more love, strength and understanding to help me through it than Ed."
Photography by Peppermint Love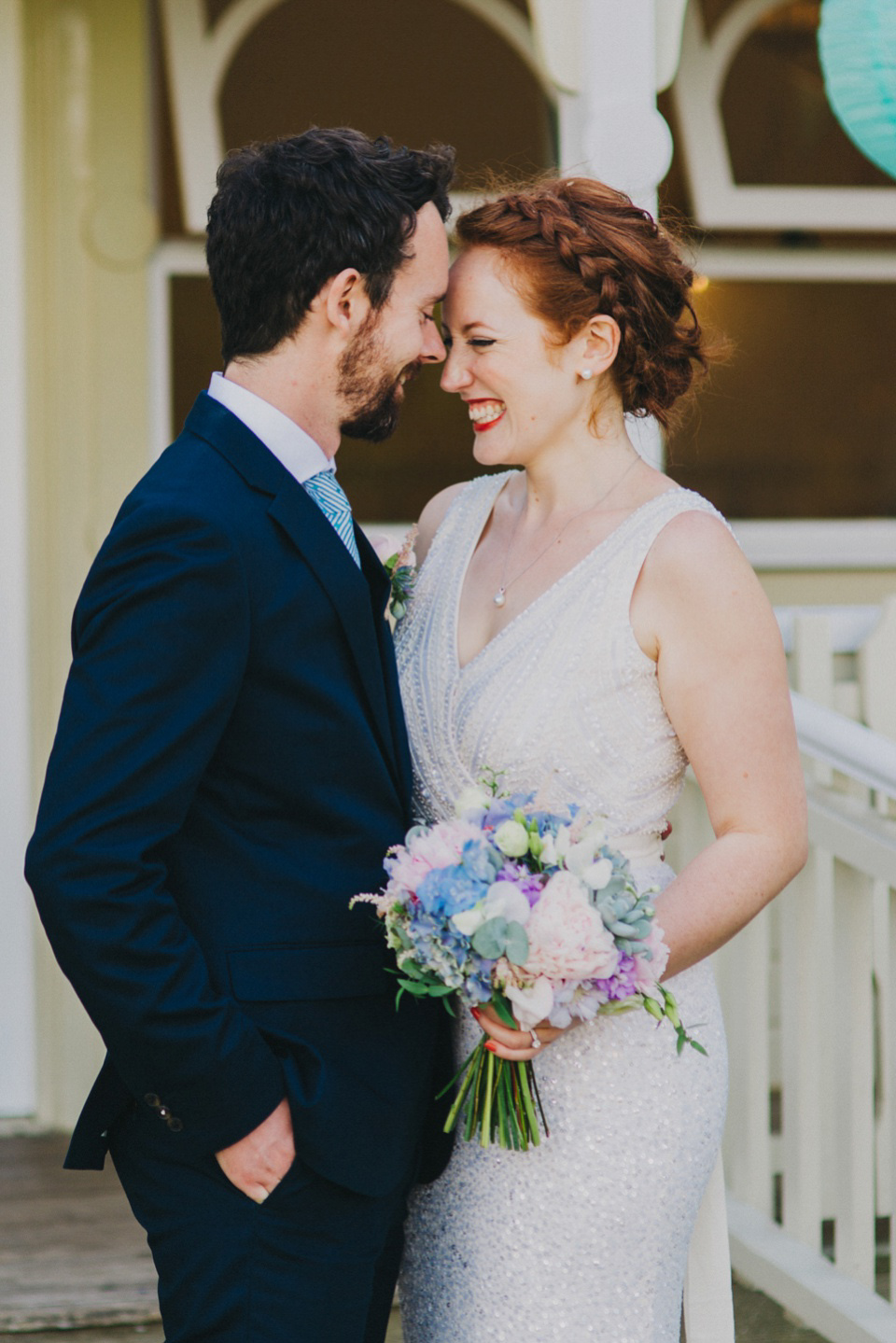 As luck would have it Alice's dear friend (and bridesmaid) Laura had started producing bespoke stationery under the name Polka and May, before the wedding. They came up with a floral design and Laura took care of all of the stationery from the invites to the stickers used on the confetti bags.
It was important to Alice that she could move around easily, dance and be silly with her friends on her wedding day, including sitting on a space hopper! She found her gorgeous Rachel Gilbert gown while still in Melbourne.
"Despite always dreaming of trying on a rail of Jenny Packhams, I decided I wanted to wear a piece of Australia on my way down the aisle. I always imagined I'd wear a delicate, floaty lace dress and actually picked my heavily beaded, sequinned one off the rail as a joke but I was convinced to try it on. It was slinky, glamorous and nothing I ever dreamt I would wear, but felt it so special and elegant."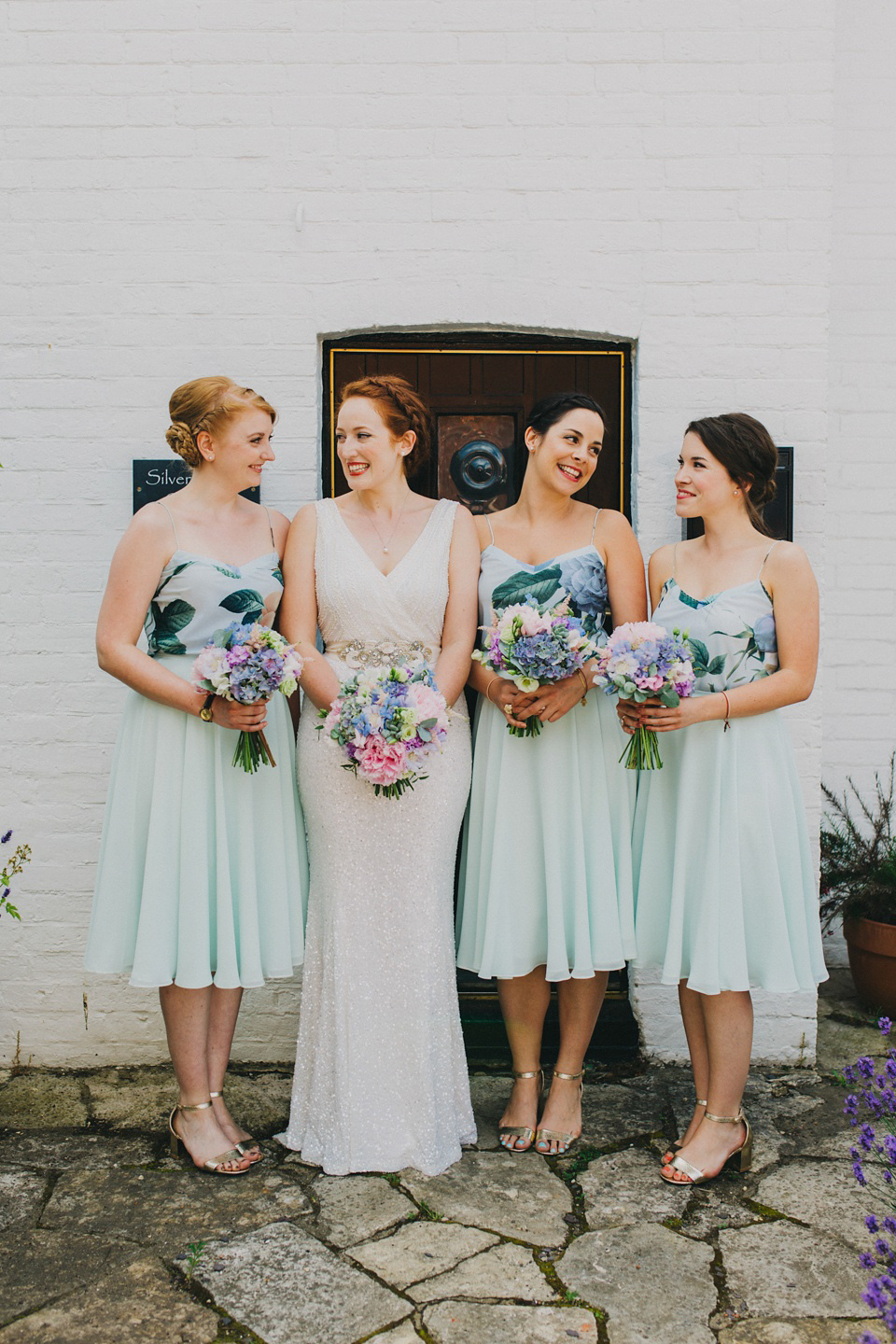 The couple knew they wanted Kasia from Peppermint Love to capture their special day as soon as they saw her images. The way she used the light and her focus on detail was perfect for them.
"I was so prepared for her to be unavailable or over budget so as soon as she said she was available, it felt like our stars had aligned and my excitement for the wedding really sped into overdrive. From start to finish Kasia was just perfect. We had only spoken on Skype but we felt as though we already knew her. Kind, helpful, calming and funny, she was the best person to have as you prepare for and celebrate your big day.
I genuinely couldn't recommend her enough, we've been left with the most incredible photographs to remember every last detail of our perfect wedding for the rest of our lives."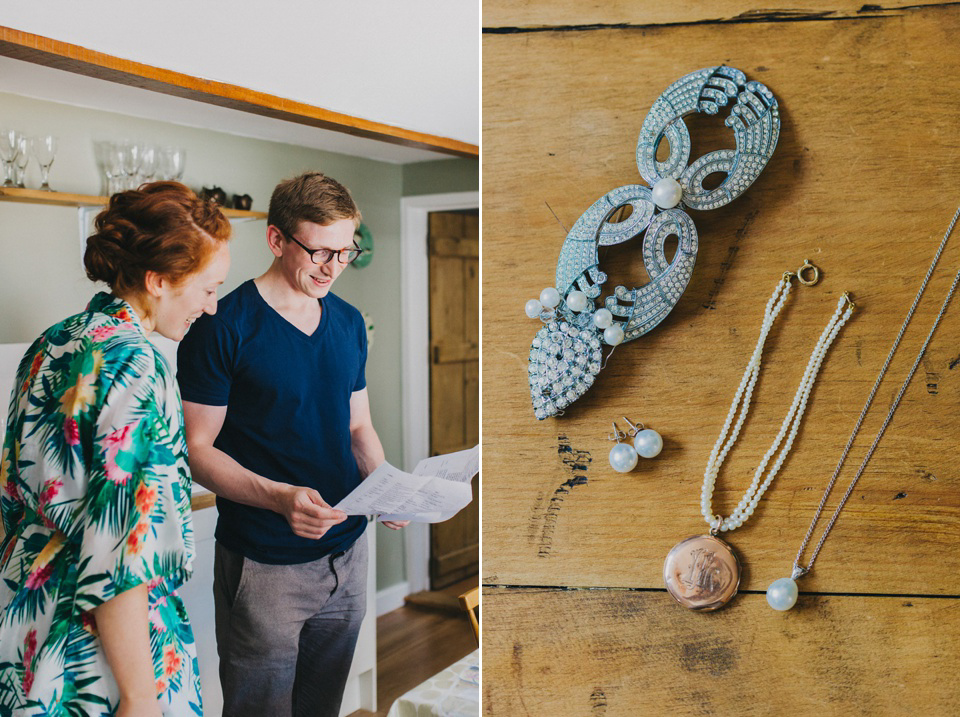 The three bridesmaids absolutely nailed their look in a mint skirt with floral cami from Ted Baker with a low block heel.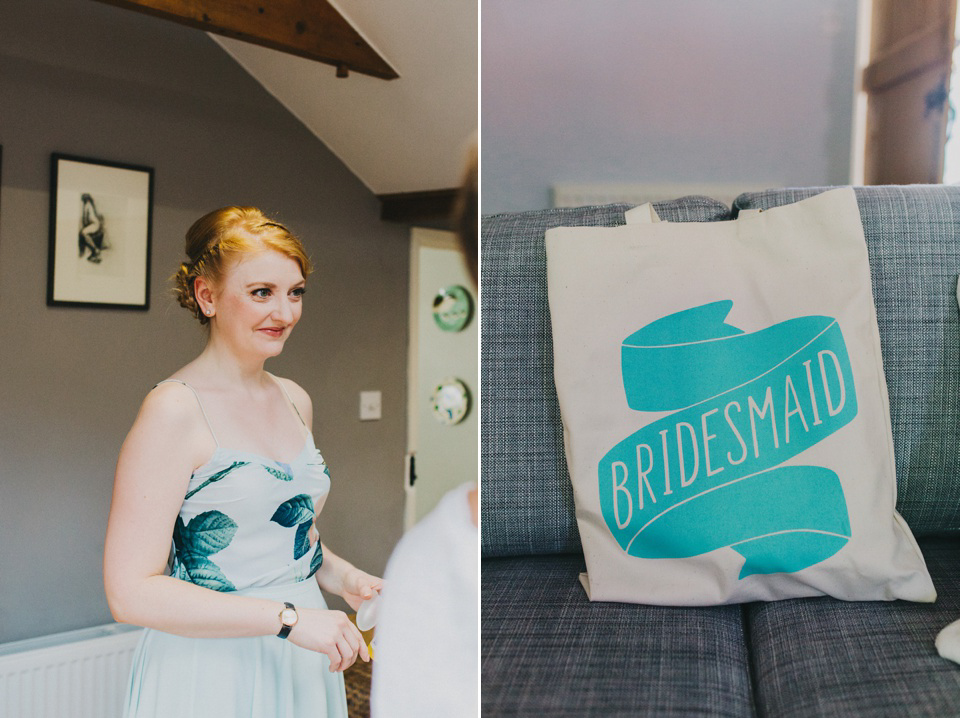 "Our make-up was done beautifully by Claire Bowring. I don't wear much make-up normally so having a full face of make-up was always going to look a little strange to me, but it looked absolutely perfect!
My beautiful, talented friend Rachel did our hair. I still have no idea how she pulled off four such intricate, perfect styles after being delayed by traffic for 2 hours! It was stressful but she was just incredible, and even took the time to sit with me when she could see I needed to for a minute. She could also keep touching my hair up when needed during the day!
"We used Arcade Flowers in Ringwood for our bouquets and buttonholes. We chose a variety of pretty pink, lilac, blue and light greens to match the bridesmaids' dresses and they incorporated some beautiful big peonies and succulents. We did the rest of the flowers ourselves the day before the wedding for a 'just cut' summer garden look. I also made a second bouquet of fake flowers to throw so that I could get my real one dried out."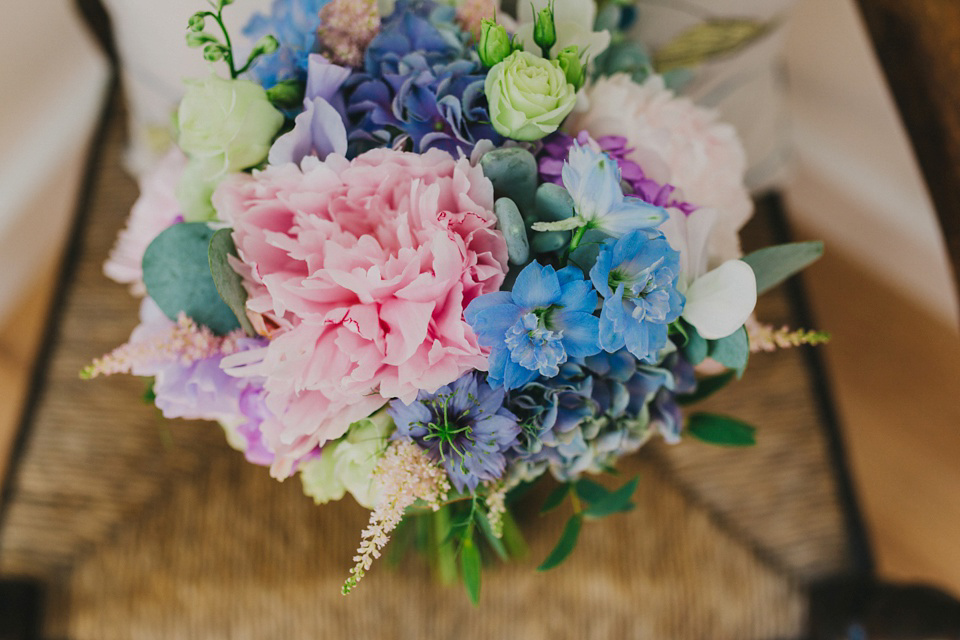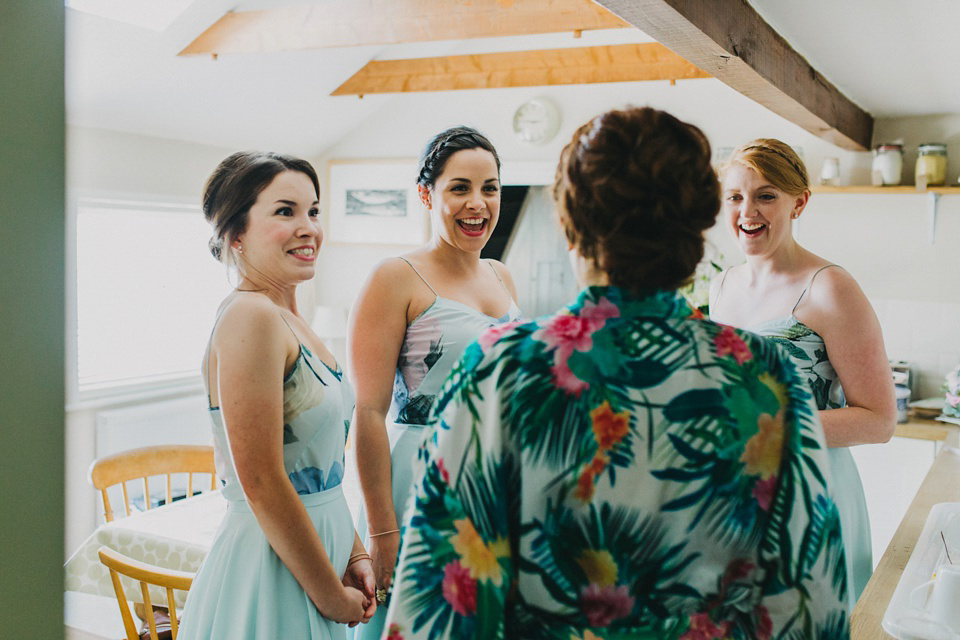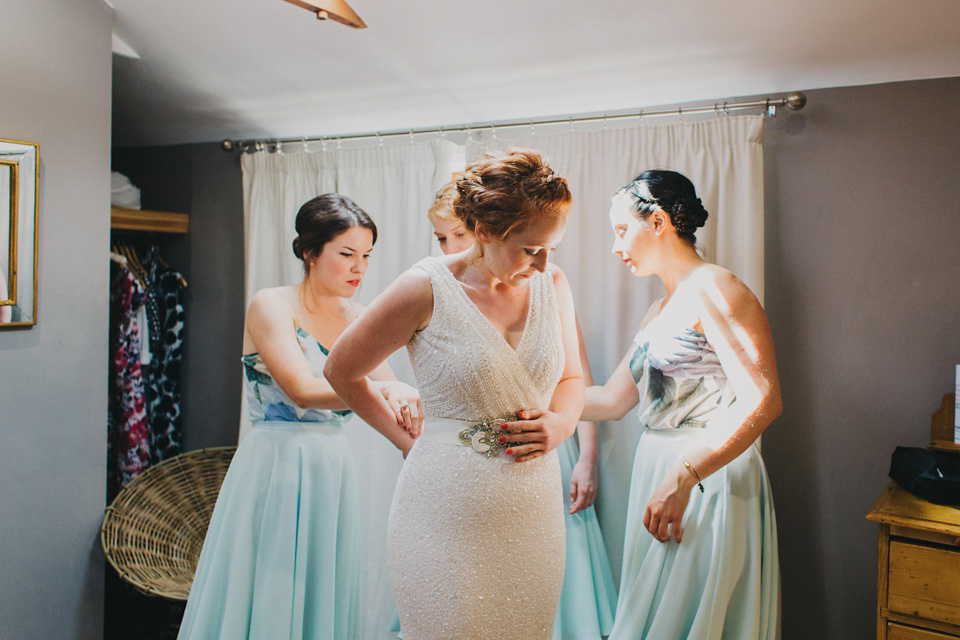 "I never did try a Jenny Packham in the end, a small regret of mine now, but at the time I was just so in love with my dress that it didn't cross my mind again!
I did find it incredibly frustrating that wedding boutiques don't allow you to take photos of the dresses. What it looks like in photos is incredibly important as that's how you'll be remembering the day for the rest of your life. I also feel it's impossible to make an informed choice purely from memory."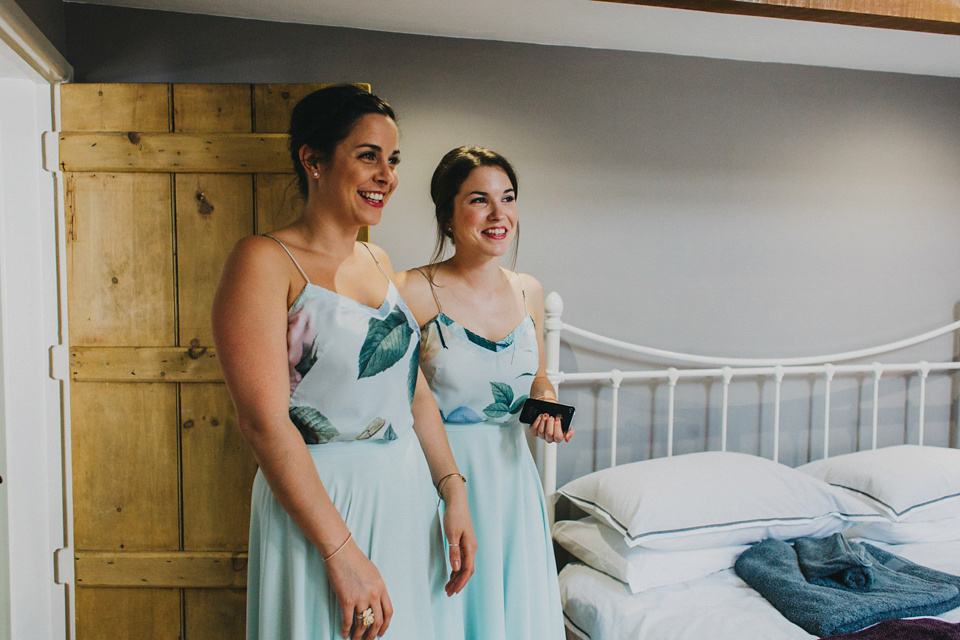 Ed gave Alice a pair of Western Australia pearl earrings on the morning of the wedding which she paired with her Aussie pearl pendant. She also wore Ed's great-grandmother's locket on a pearl bracelet with a photo of her dad inside. In turn Ed wore an antique pocket watch from Alice's family.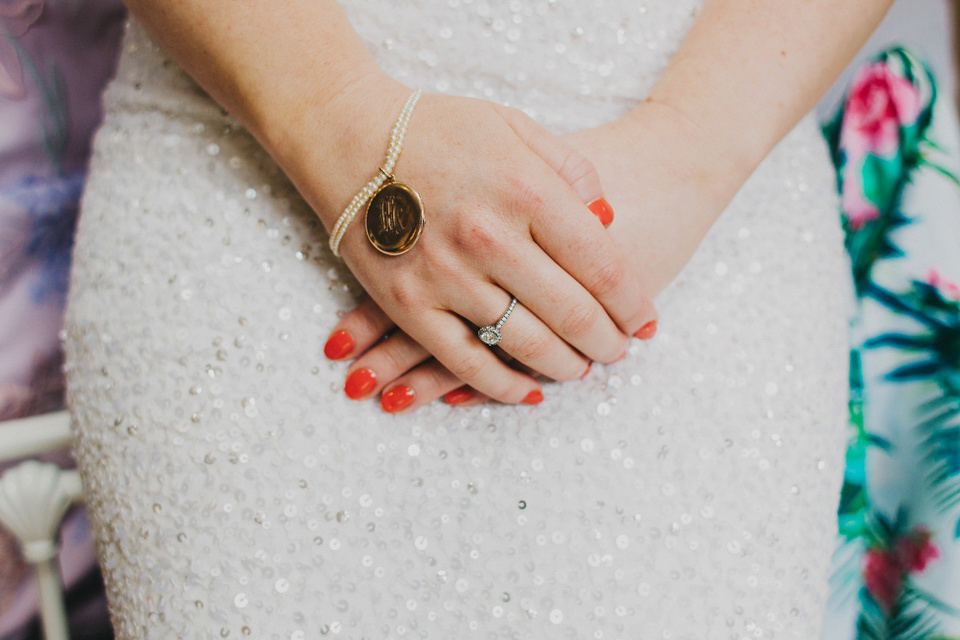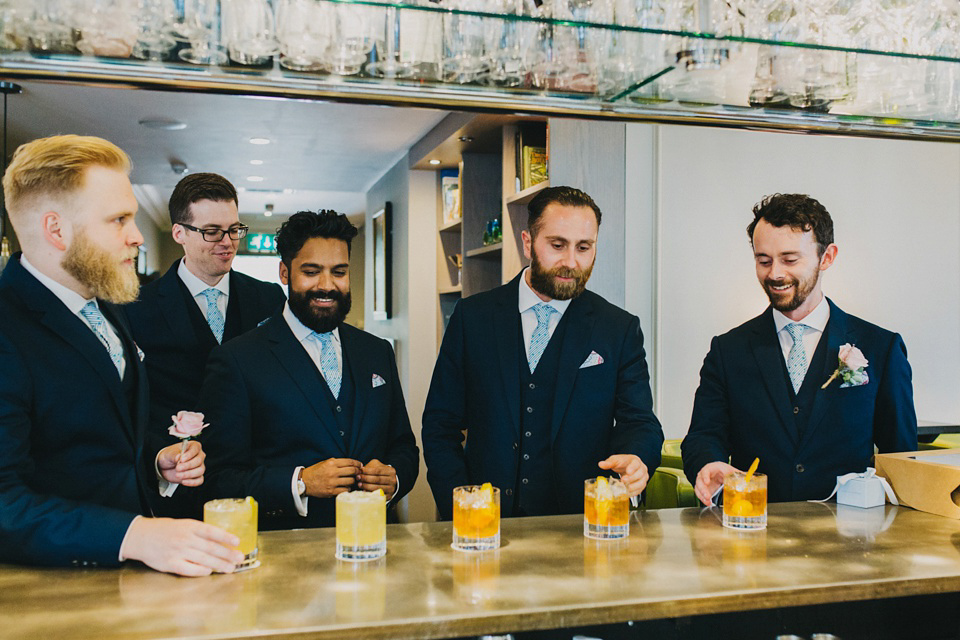 "I wanted a loose braid with a pretty head piece and was thrilled when my mum and I came across Michelle from Krausz Jewellery at a vintage wedding fair. She has a fantastic talent for finding pieces of vintage jewellery and turning them into stunning headpieces. I chose what was originally a gorgeous 1930s pearl and diamond belt buckle.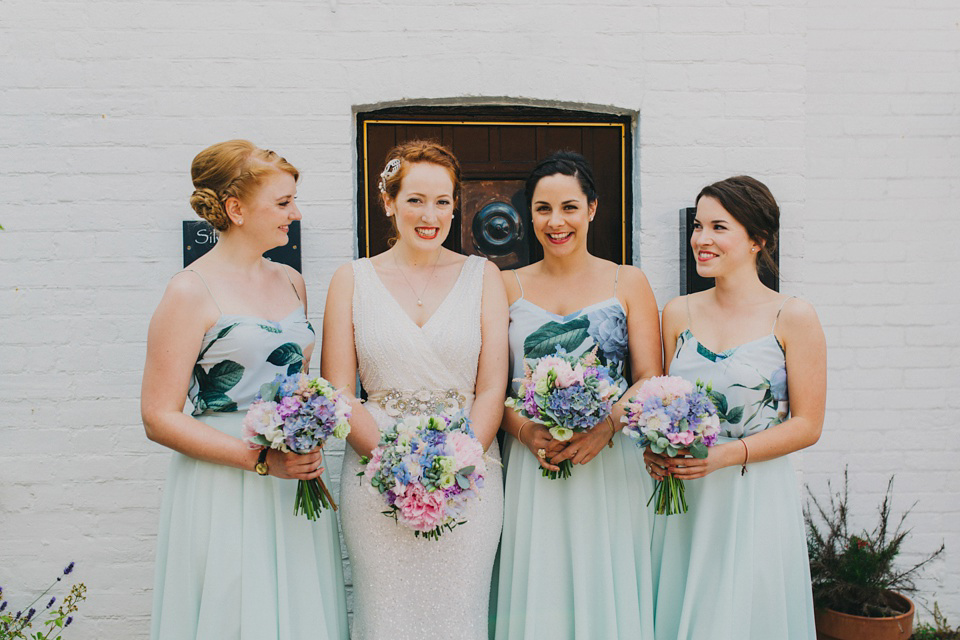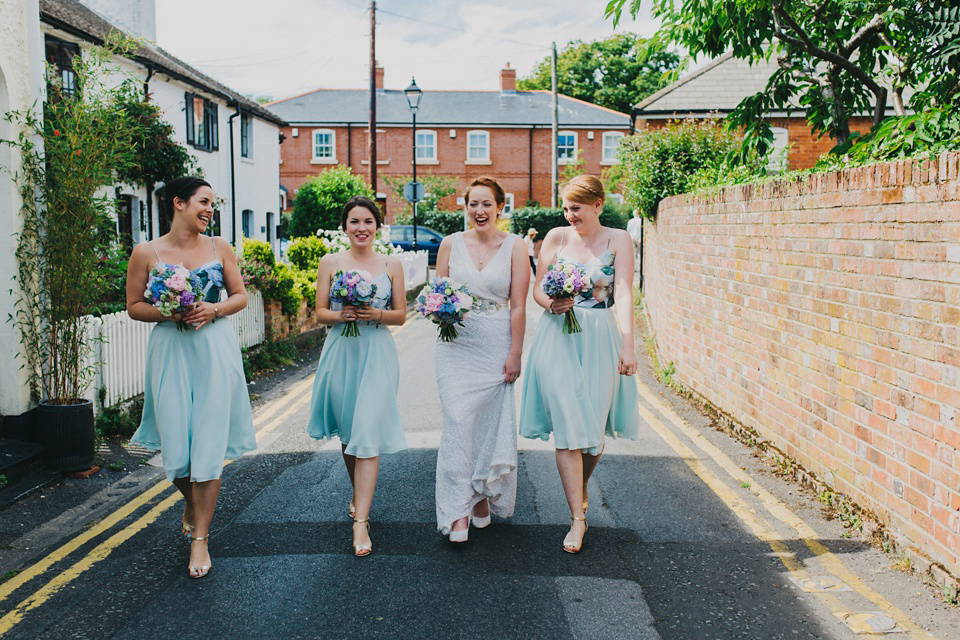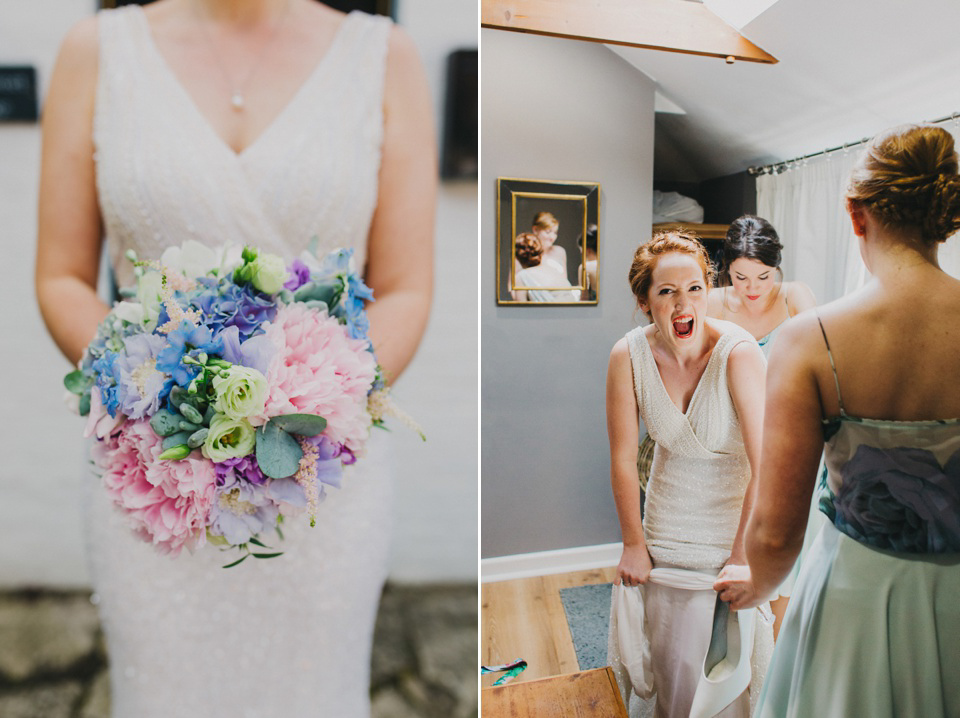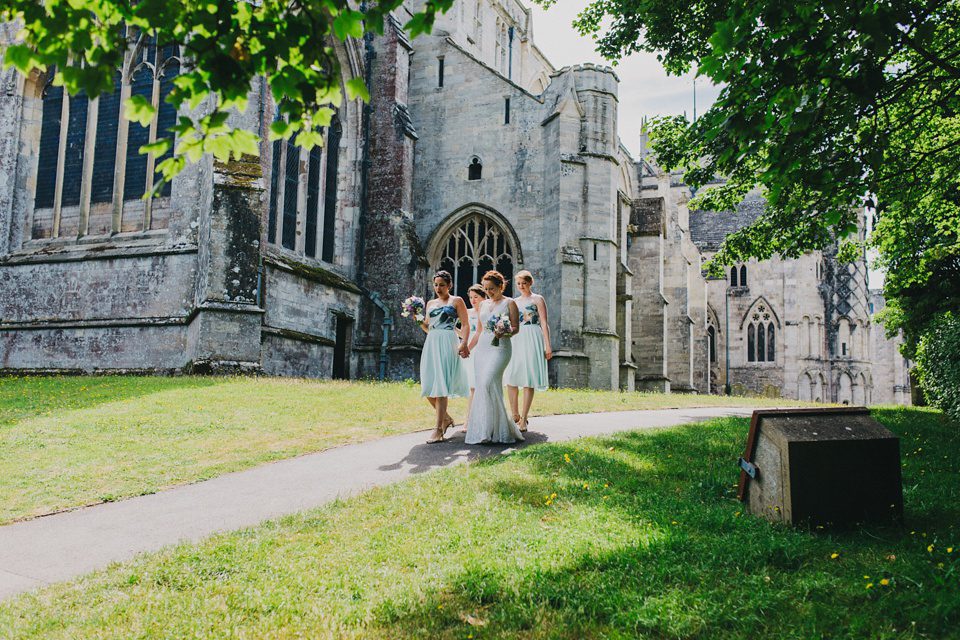 "Ed's usher Chrish works in buying and worked with his supplier to make gorgeous bespoke suits for the guys. Chrish even had a special label matching our stationery sewn into the jacket lining. Ed paired his suit with an incredible pair of Church's brogues."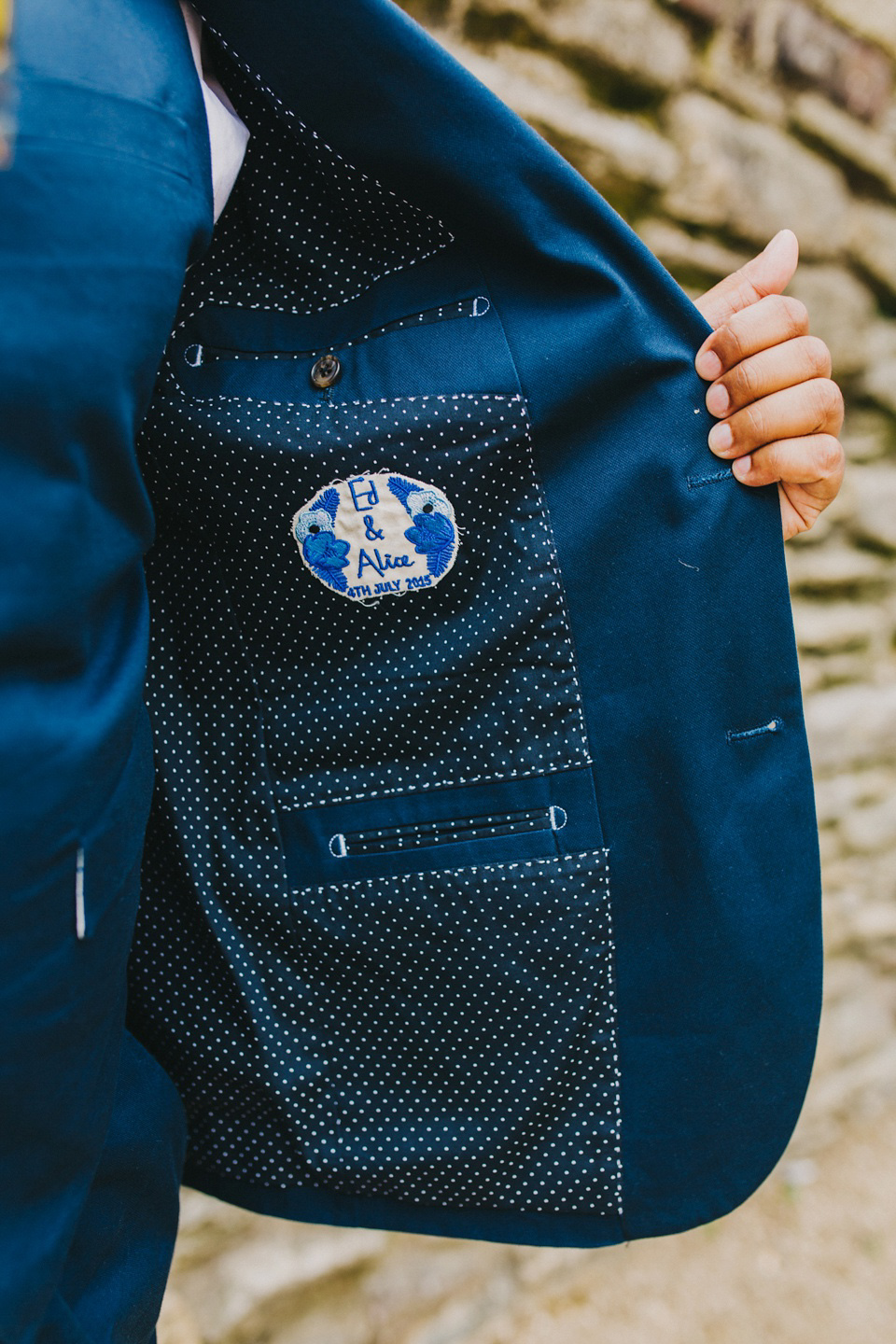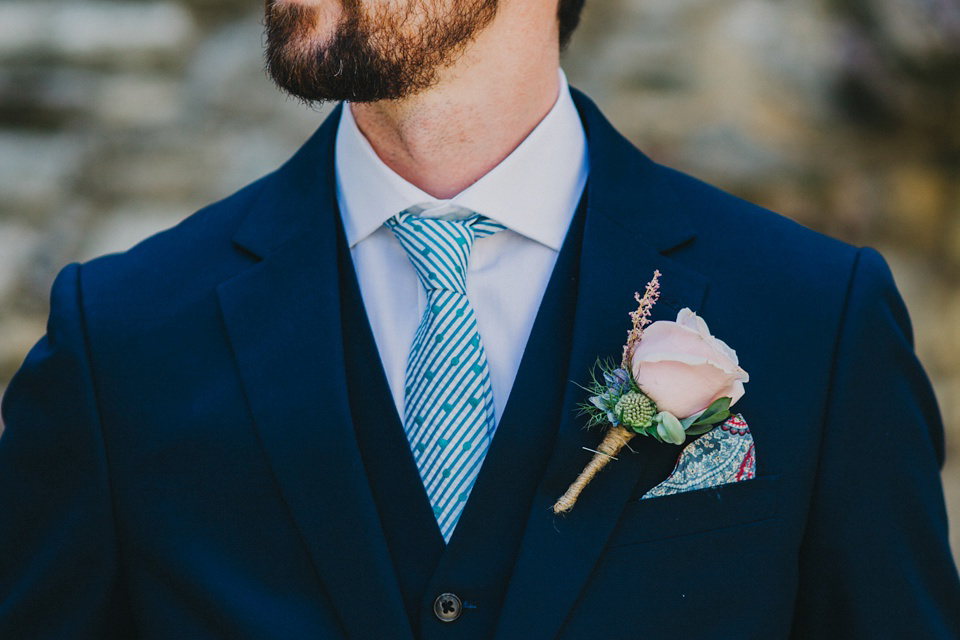 "Ed proposed while we were on holiday in Bali in May 2014. It was incredibly romantic. We moved back to the UK 6 months later but having lived in Australia, we were keen to emulate a laid-back, relaxed, fun atmosphere."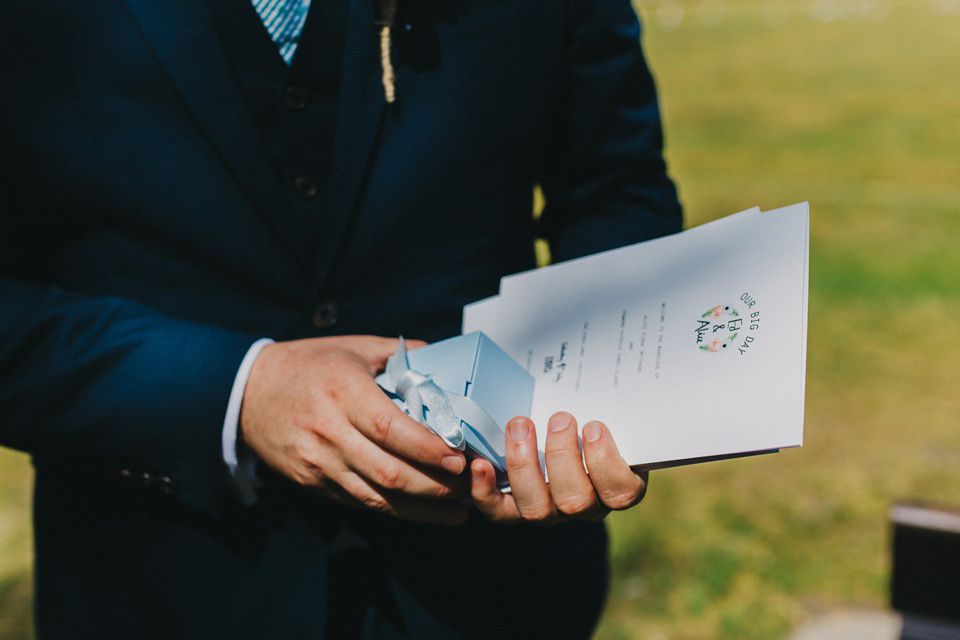 "Ever since my dad passed away in 2012, imagining walking down the aisle without him was always the hardest thing I could think of. It was heartbreaking to know I wouldn't see him looking at me with his proud eyes and shaking Ed's hand at the end of the aisle. My brothers were both happy to walk with me but I decided that instead I would walk alone with a photo of him, to the Vitamin String Quartet's instrumental version of Sigur Ros' Hoppipolla. I got a bit teary but all I remember is being in a state of euphoria as I walked towards Ed and smiling at my friend's beautiful baby Ruby but then the rest is a real blur. Strangely, considering how worried it made me for nearly three years, I'd actually do it again, it was such an incredible feeling."
Are you contemplating walking down the aisle alone too? You might want to read this feature if so.
We chose to have two readings. 'The One' is short but sentimental and was read beautifully by my school friend Fiona. The other was 'A Really Lovely Love Story' by Edward Monkton. Ed has loved dinosaurs since he was a kid and a lot of the poem actually felt very reflective of our relationship. Our friends Roxy and Ro delivered it with the perfect amount of humour and sentiment, and even Aussie-fied it a bit by acknowledging Ed's love of beer."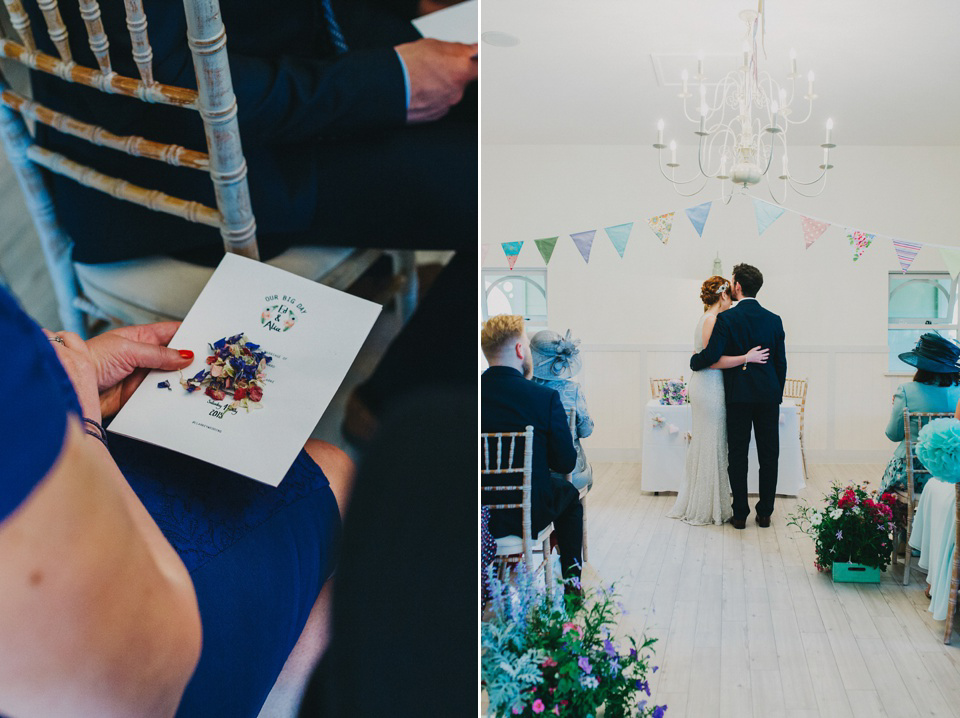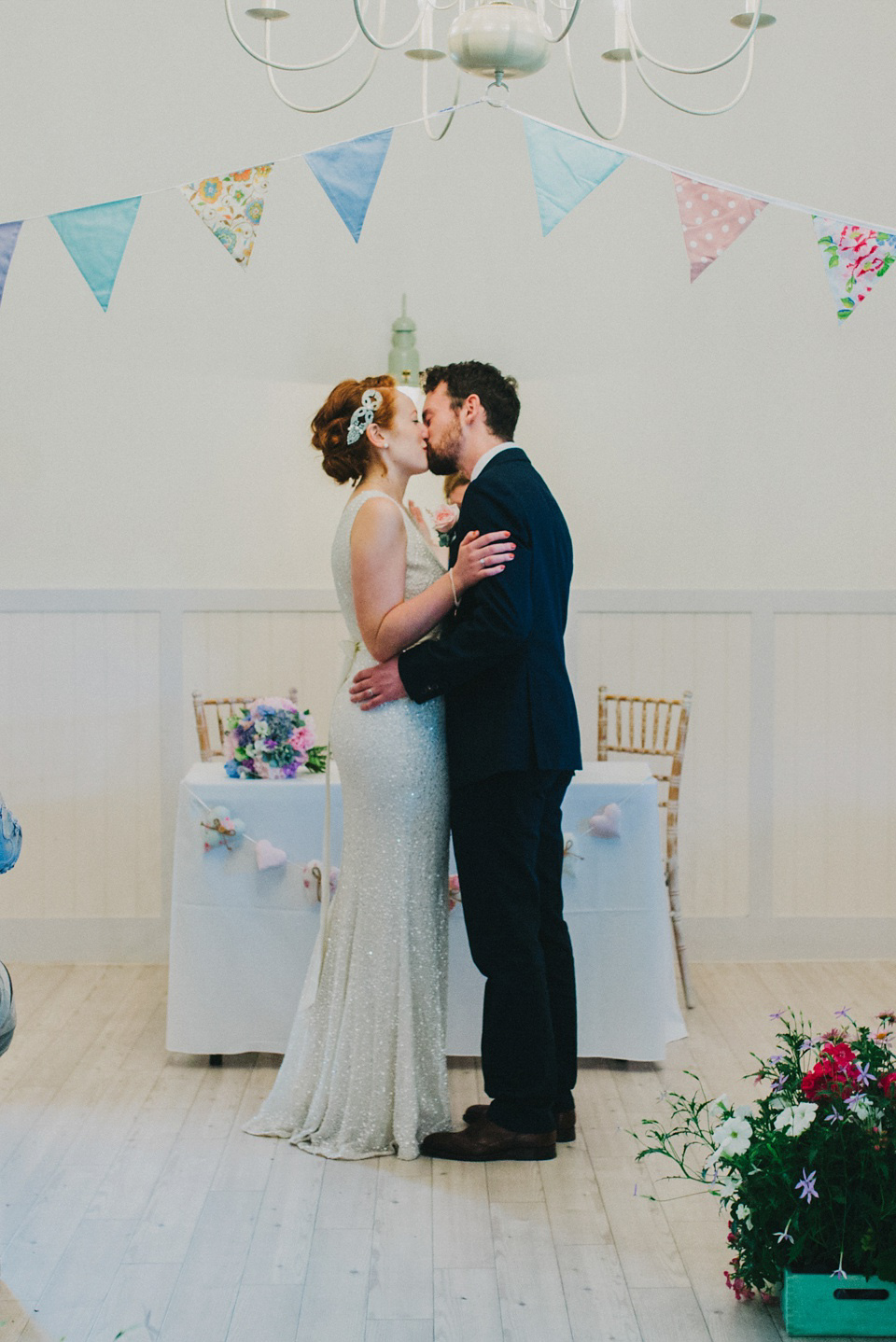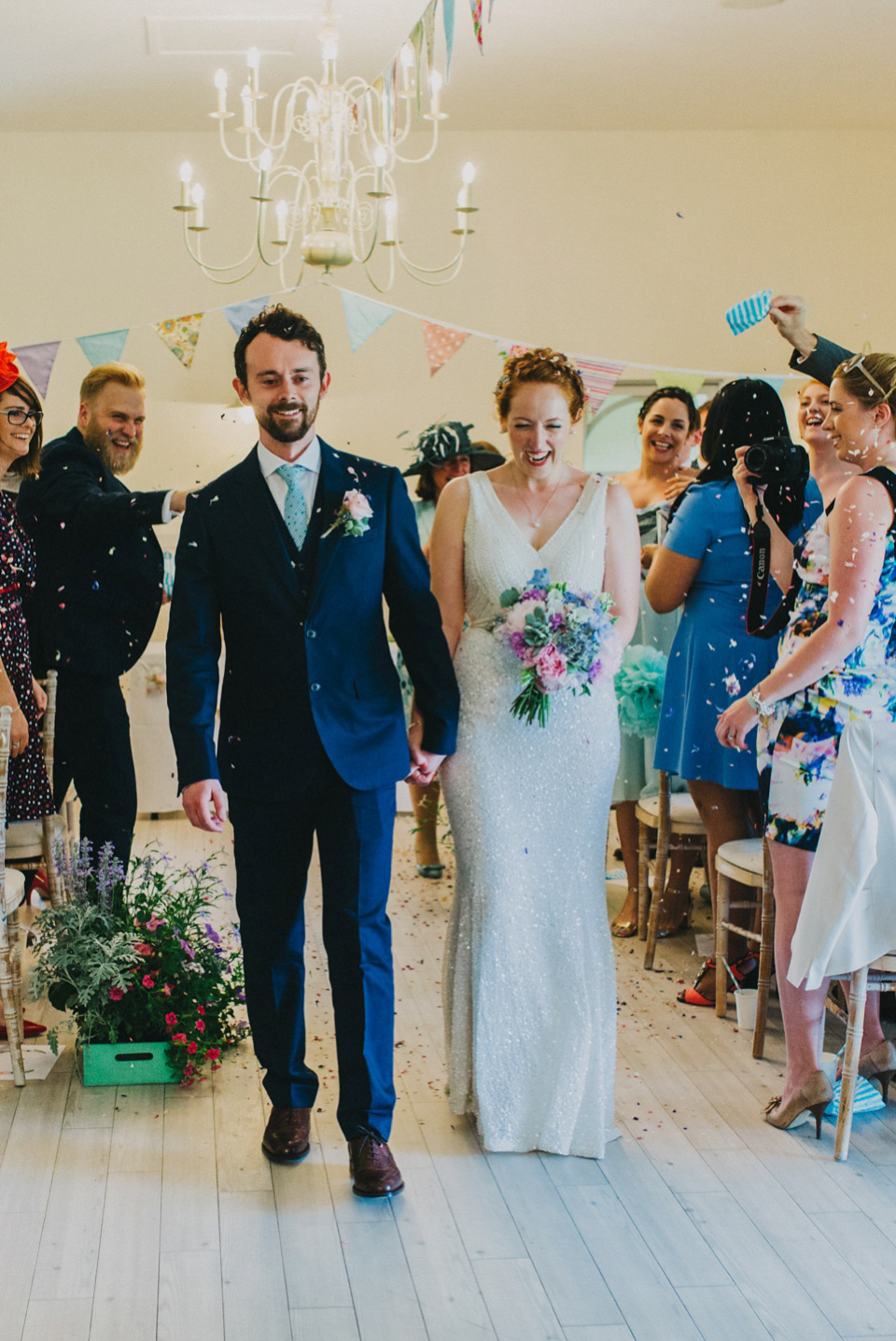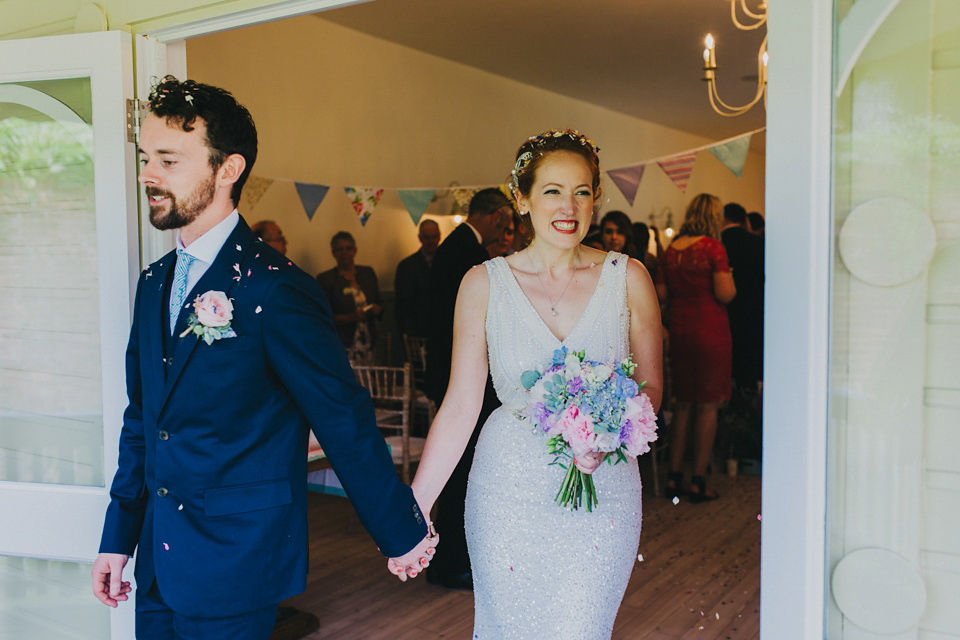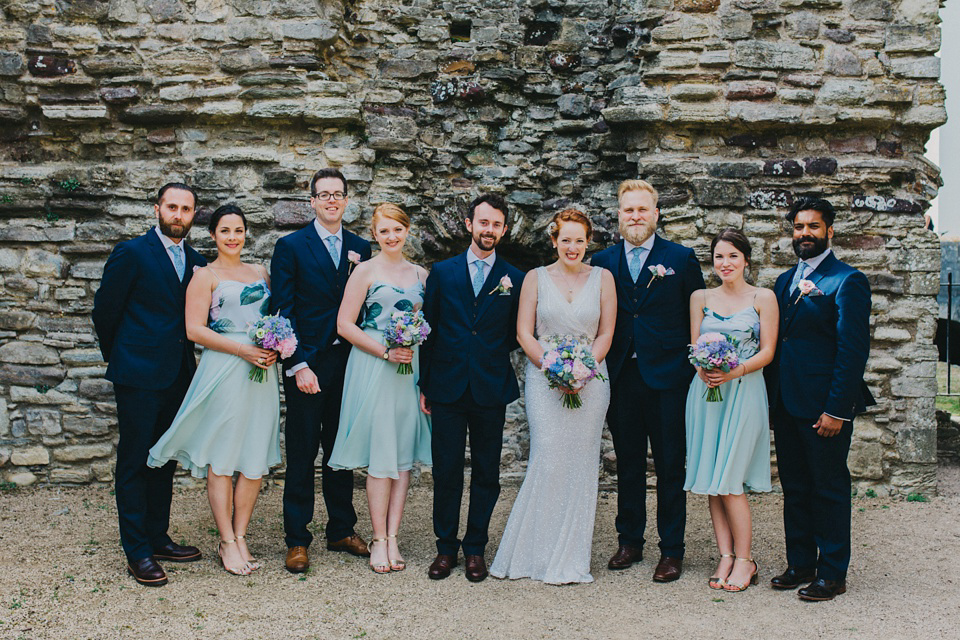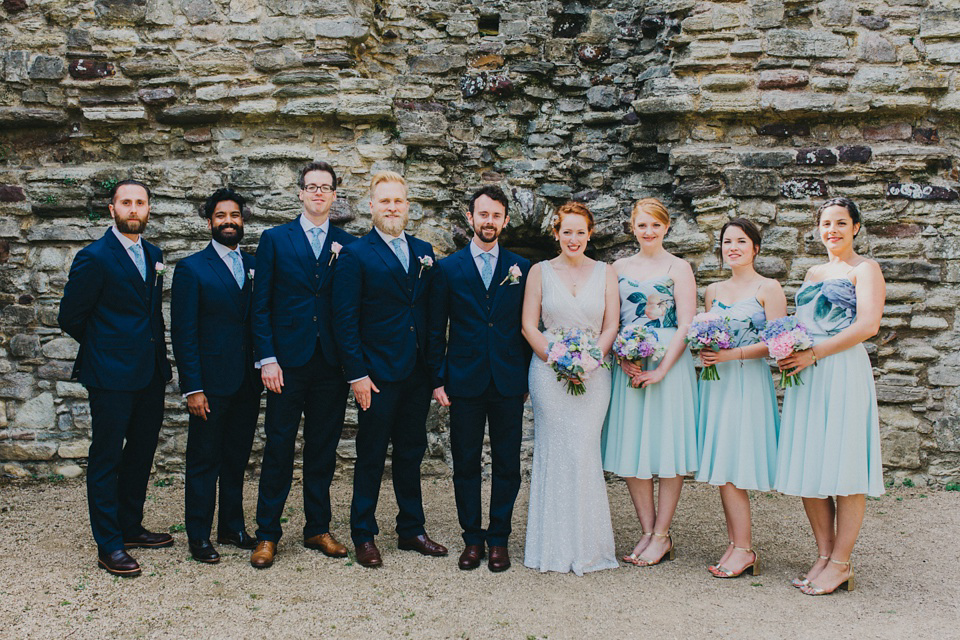 I adore these two cheeky shots below! So funny…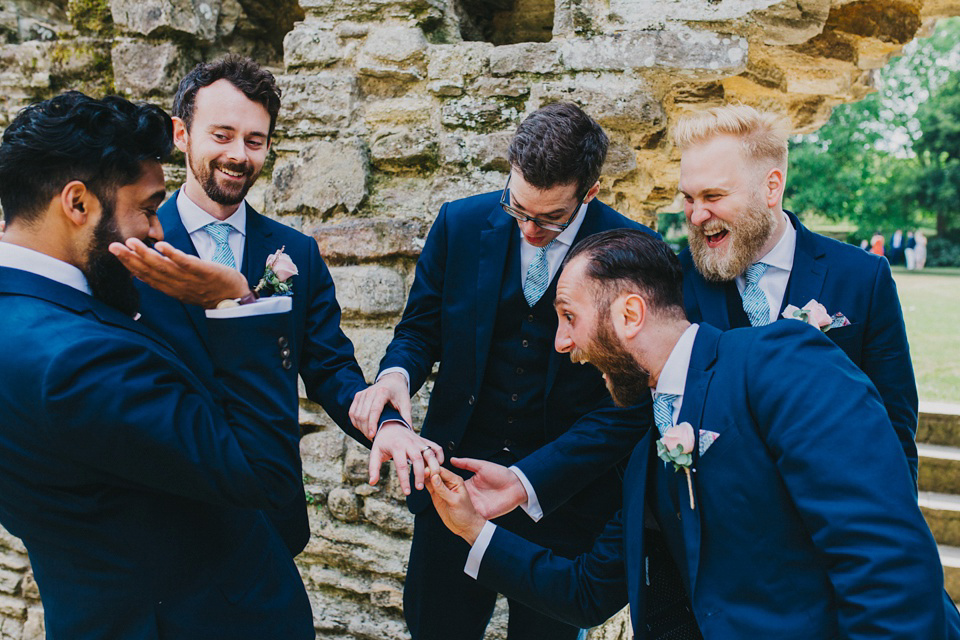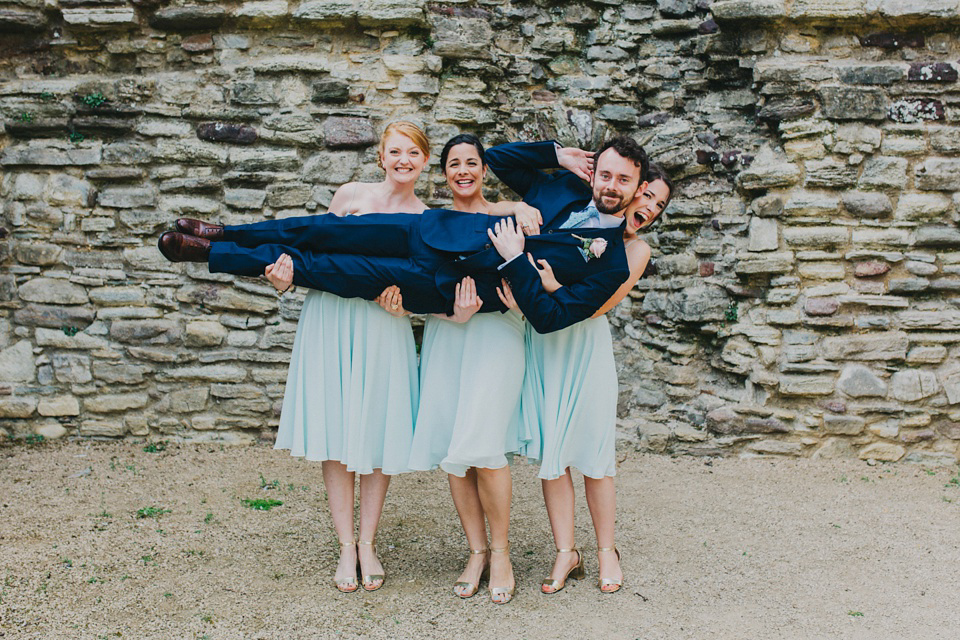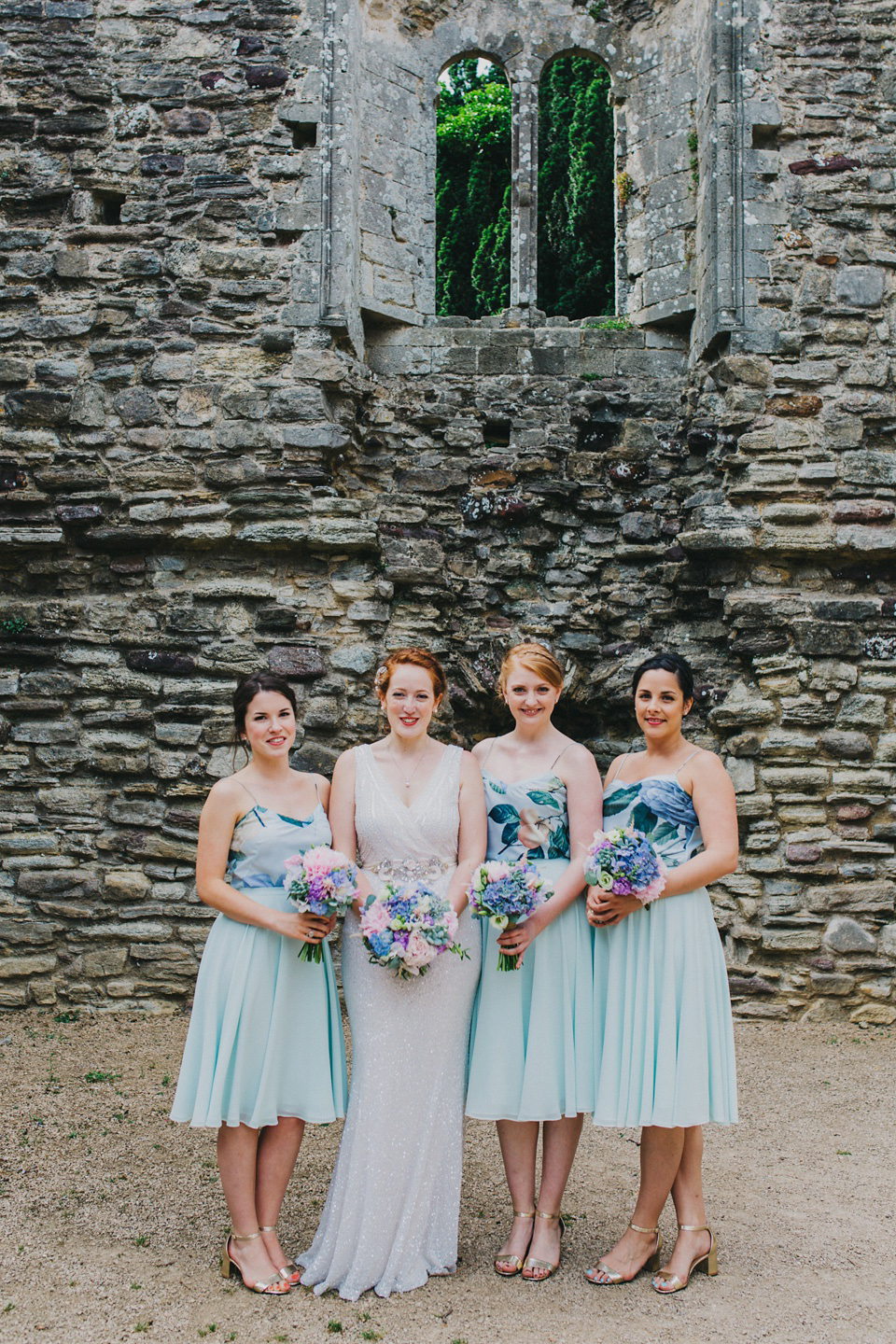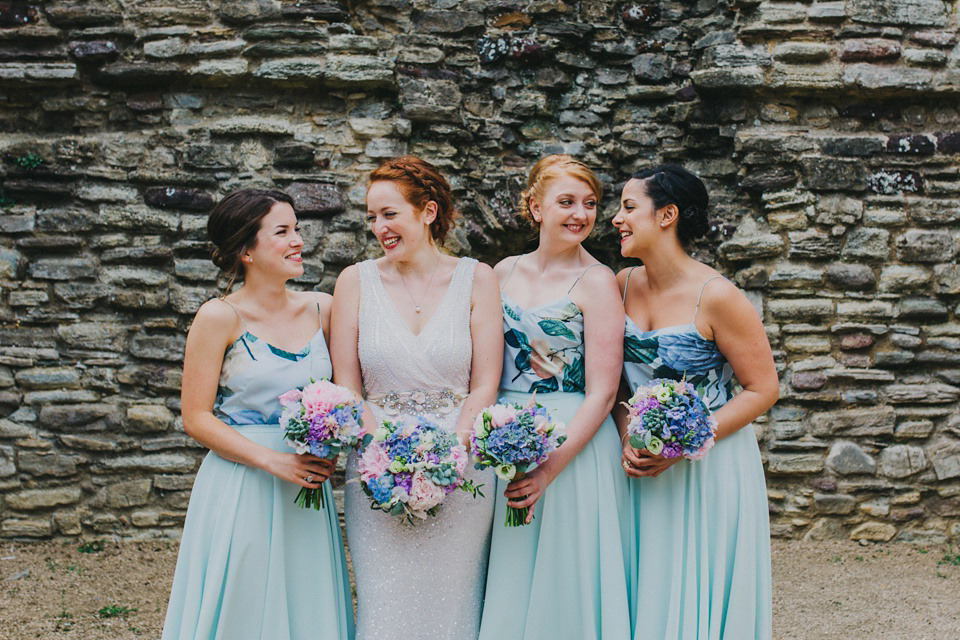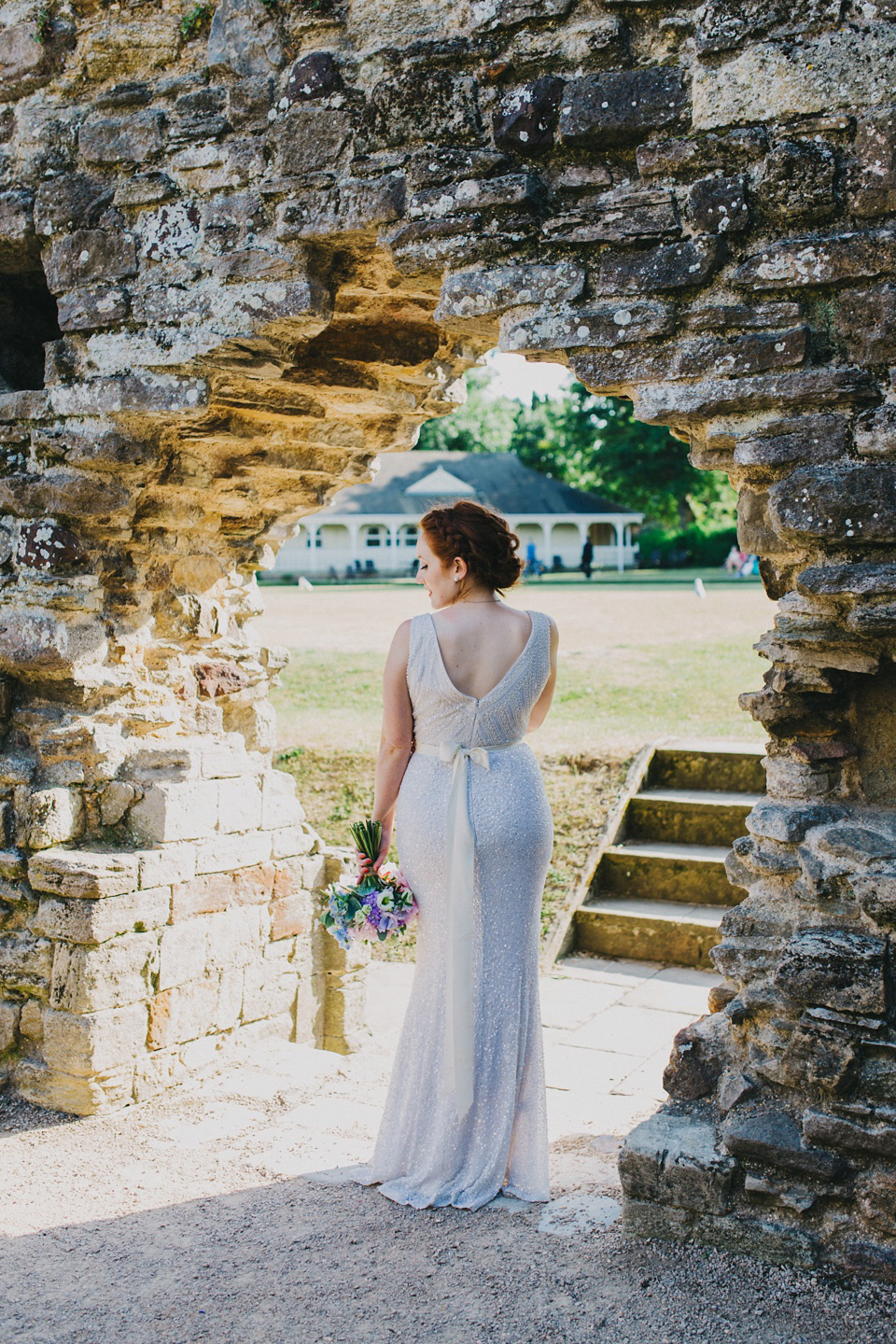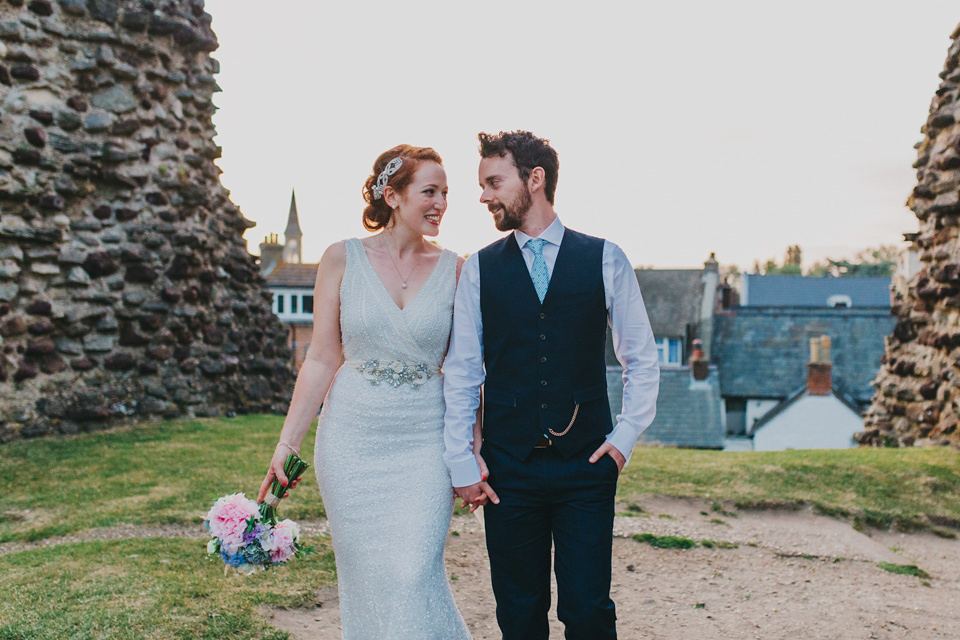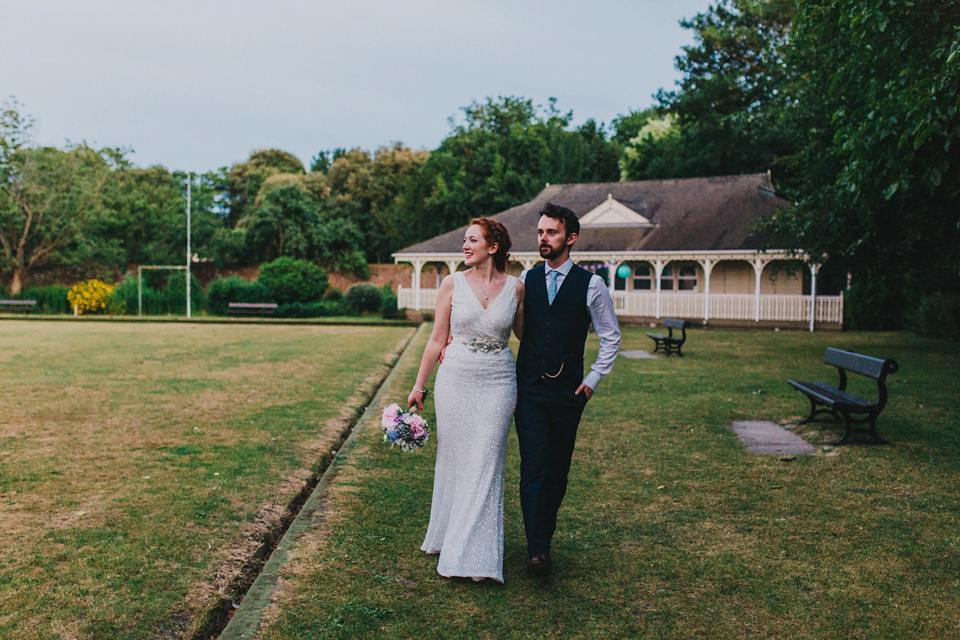 "We hung a string͟ of selfies telling the story of our relationship along the stairs, starting with a (slightly creepy!) caricature we had done in Central Park! It took ages for guests to make their way to dinner though!"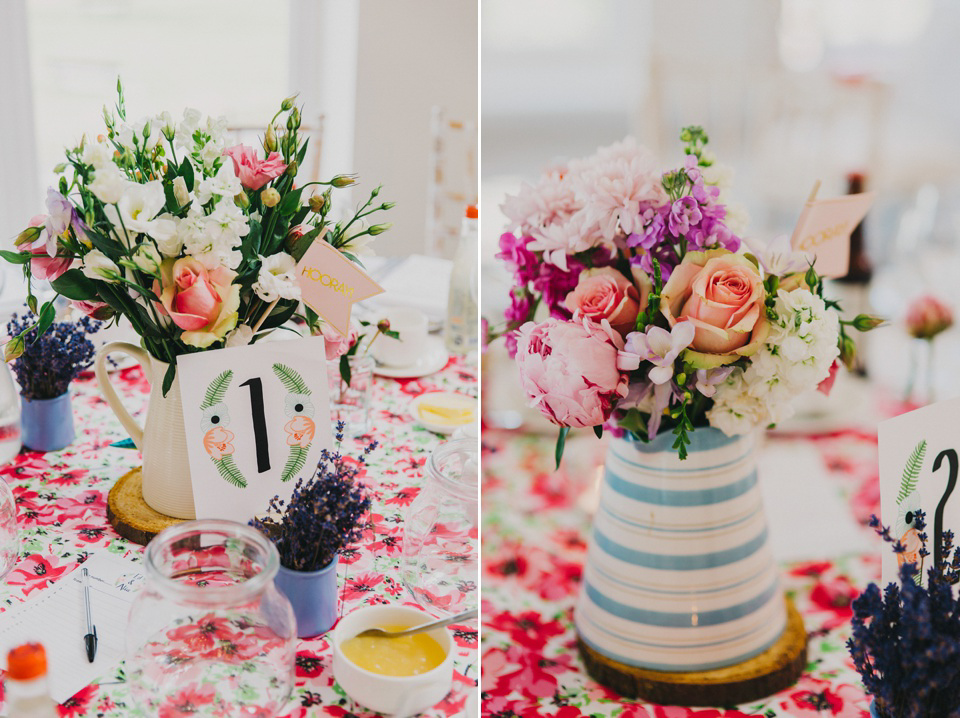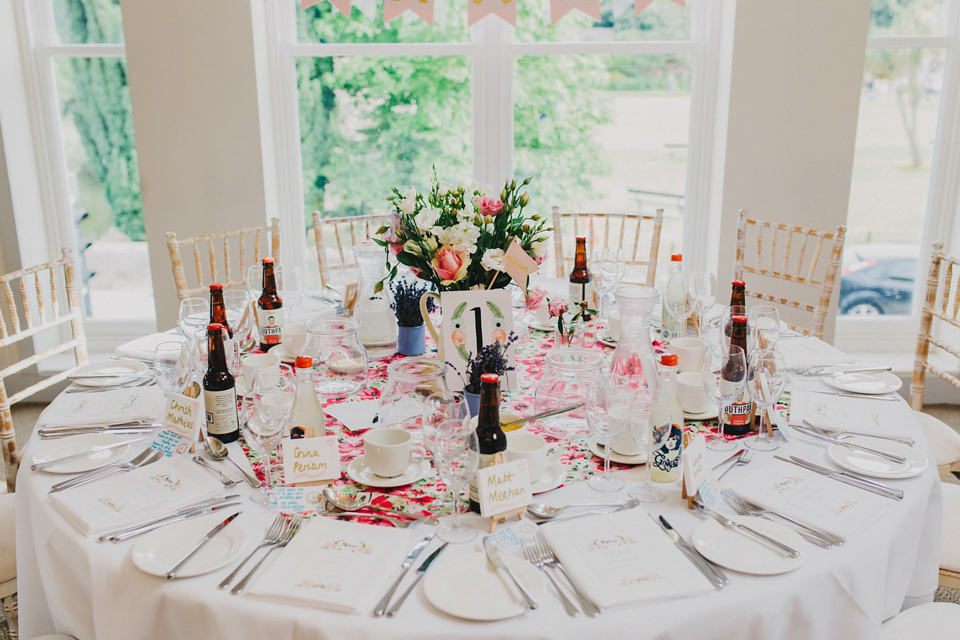 Ed's extremely talented Auntie Itty made our cake and we were blown away by how amazing it was! I sent her a couple of ideas but we didn't see it until the day itself and it was incredible! It looked amazing with our ͞Best Day Ever͟' cake topper."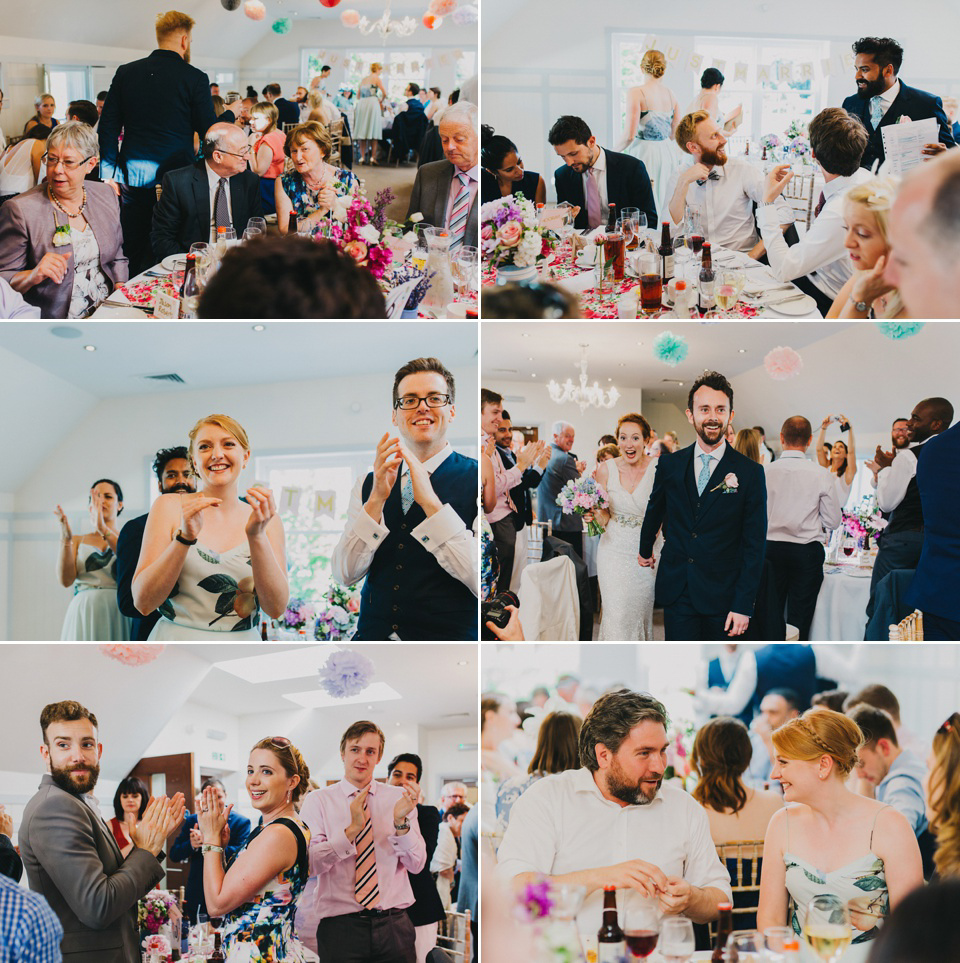 "My favourite part of the day was the speeches. Although not a big fan of public speaking, Ed blew everyone away with the most incredible, beautiful, hilarious, clever speech. Sneaking off after dinner for some dusk photos was also very special as it was the first proper time we got to reflect on the day so far together."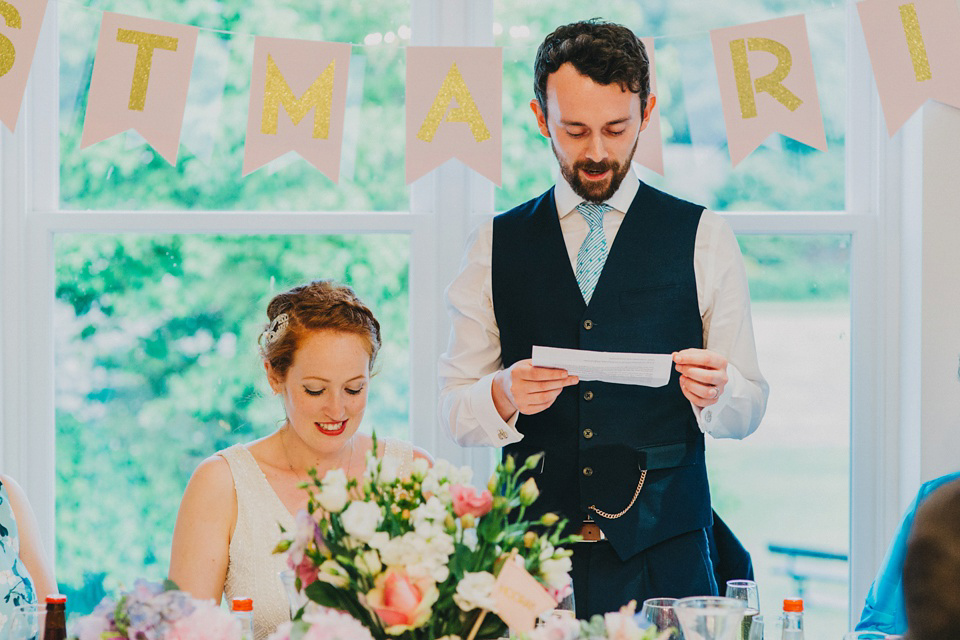 "Finding a band was quite difficult but in the end we chose a four-piece band called The MTs and were really pleased with them. They were very talented and even learnt 'Diamonds' by Rihanna especially for our first dance. We finished the night with Beyoncé's 'Halo' and an epic emotional sing-along that I'll always remember!
Everything came together so perfectly on the day and was so filled with love and laughter from start to finish. There are so many parts to pull out as highlights, from all the girly preparations to catching eyes with Ed for the first time on my way down the aisle."
Words of Wedded Wisdom
"We left it a couple of days before going on honeymoon. We arranged a picnic for the next day and it was so lovely being able to hear everyone's highlights. The wedding buzz continued for a good while afterwards and I'd have hated to miss out.
It's a good idea to understand how much you're prepared to spend on something before starting your search and stand your ground if you believe you're being overcharged."
Thank you so much to Kasia of Peppermint Love for the stunning images. Also big congratulations to Alice and Ed, thank you for sharing your day with our readers.
Love Caoimhe xx
Photographer – Peppermint Love
Venue – The Kings, Christchurch, Dorset
Wedding Dress – Rachel Gilbert
Headpiece – Krausz Jewellery
Shoes – John Lewis
Groom – Bespoke (through a friend) + Church's brogues
Bridesmaids – Ted Baker + Very Shoes
Florist – Arcade Flowers
Cake – Made by the Groom's Aunt
Entertainment – The MTs
Rings – Hatton Garden
Stationery – Polka and May
Makeup Artist – Claire Bowring