Two of the things that make me happiest in the world are books and crafts. I can happily spend hours with either so when Annabel offered me the chance to indulge two of my greatest passions at the same time, I have to admit that I was pretty excited. So, when Juliet Carr's new book Paper Pom-Poms & Other Party Decorations arrived through my letterbox, I was instantly in a very happy place and today, we're also giving you the opportunity to share the joy as we've got FIVE brand new and beautiful copies to give away to lucky readers.
Follow @paperpompom on Instagram
Unless today is your first time ever reading a wedding blog or if you've never ever strayed onto Pinterest, there is the tiniest possibility that you'll never have seen a paper pom-pom. Of course, being the fan of wedding pretty that you almost certainly are (you're browsing this beautiful blog for starters!), I'm sure you're already well aware that pom-poms, honeycombs balls and garlands are simply all kinds of fabulous for wedding decoration.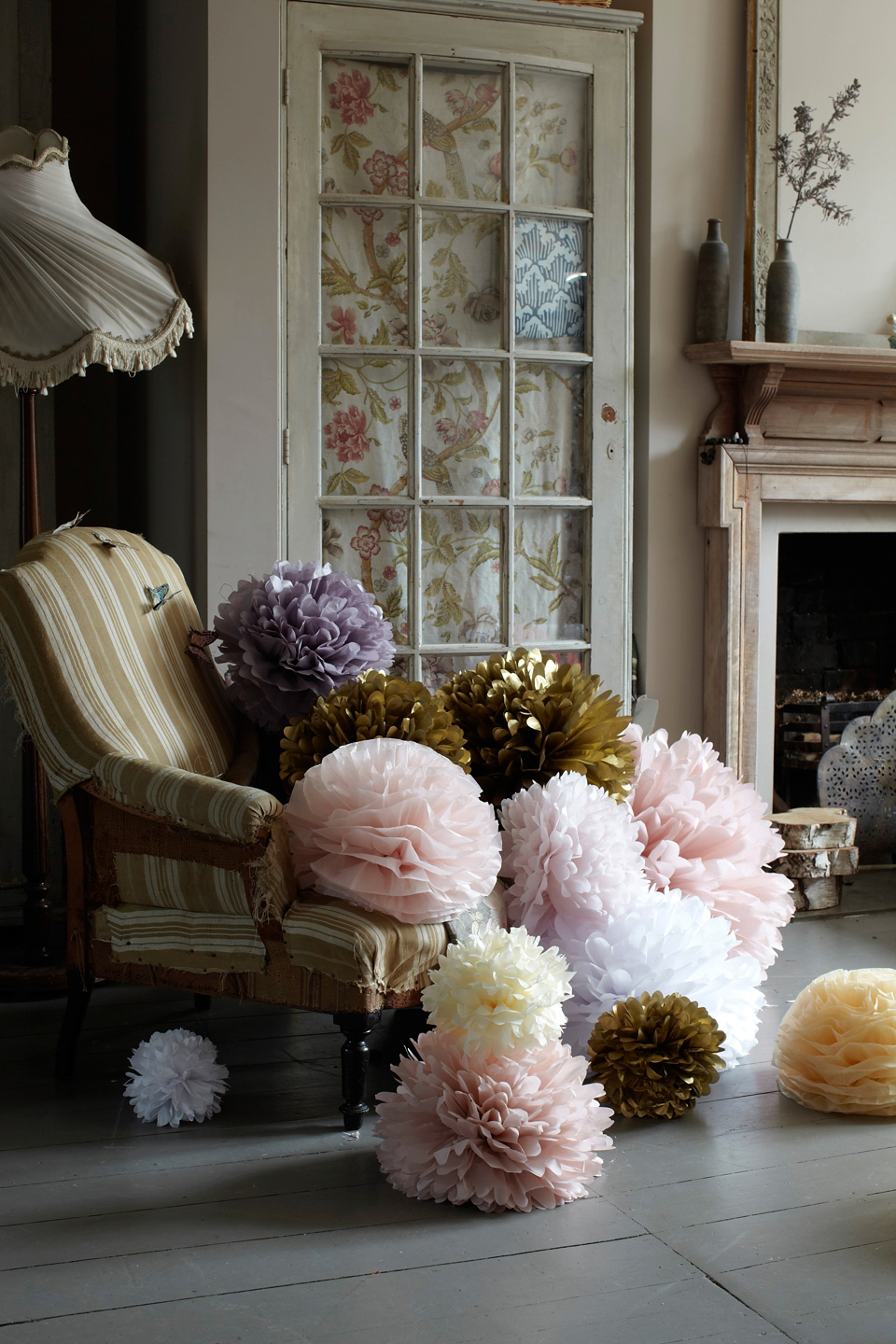 Paper Pom-Poms & Other Party Decorations is the ultimate how-to guide for DIY brides and lovers of creative decorative accessories. Inside, you'll find 35 step-by-step projects to make with tissue, paper and card. No previous crafting experience is necessary and all the projects are quick and easy with brilliant photos to guide you along your way.
Starting with the classic pom-pom, you'll also learn how to make garlands from cupcake cases, giant roses and daffodils, floral wreaths from coffee filters, vintage book bunting and many more brilliant decorations for weddings, parties and the festive season. What's absolutely great about this book is that it's literally giving you all you need to create those things you'll have seen online yourself. Tassel garlands, fringed bunting, mini pom cake toppers and more are all within your reach thanks to Juliet's wonderfully clear instructions.
Juliet herself is most certainly someone to listen to when it comes to paper creations. She launched her own business, Paperpoms UK in 2009 and was the first to make and supply paper poms in the UK. Her decorations have featured extensively in magazines and online and famous names such as Ralph Lauren, Keira Knightley and Jimmy Choo are on Juliet's client list.
As a seasoned crafter, Juliet certainly has the gift of making all of the projects in the book achievable and I have to say that looking through all of the tutorials in Paper Pom-Poms & Other Party Decorations, there isn't one I wouldn't try. The book gives you all of the templates you need plus lists of 'ingredients' for each project (that don't go on forever, thank goodness!) and the super-clear photography gives you oodles of confidence as you go along. If you need supplies, there's a full list of websites and resources too. It's all fantastic!
Images above from Annabel's Style Me Vintage Weddings book launch
Juliet and her Paper Poms team  helped style the event
I can tell you now that I might (ok, I definitely have) already tested out a number of the tutorials in Paper Pom-Poms & Other Party Decorations. I've made some scored stars from mirrored card that are currently hanging above our fireplace as well as 3-d star mobiles and a shooting star garland. My son is begging for a top hat piñata for New Year's and the snip shape streamers seem like a fab Christmas holidays project too.
Paper Pom-Poms & Other Party Decorations should really be your go-to guide for all things decorative. If you've ever swooned over all of those pretty paper accessories you've seen online, now's your chance to make them yourself and bring a big dose of personality to your wedding or party with paper pretty. All we ask is that you follow @paperpompom on Instagram and complete the simple form below.
Paper Pom-Poms & Other Party Decorations is published by CICO Books and is priced £12.99.
Love Tamryn x
Terms and Conditions
Only 1 entry per person

This competition will run from mid-day on Thursday 10th December to midnight on Sunday 20th December, with winners notified on the Monday – your books will be sent out the same day to ensure safe arrival just intake for Christmas.

No exchanges or returns accepted.

All emails entered into the form above will be maintained by Juliet Carr for Paper Poms and Love My Dress, for general communications purposes.
Except where stated, all images supplied by Cico.
This is not a sponsored post. We are supporting Juliet in her book launch in return for all the wonderful support Juliet provided to our founder and Chief Editor Annabel for her own book launch of April 2013.