Good afternoon dear wonderful blog visitor! Thank you for making time to pop by Love My Dress today.  We're sharing three posts today. Our first went live early morning and features a gorgeous set of images by SD Photography, our second feature is one for all you Scottish brides and contains details of the Wedding Collective event taking place in Edinburgh later this month.  Edinburgh also happens to be the backdrop to our third feature today too – the most glamorous of affairs where fashion designer and trend setter Alex married independent film distributor Hugo on 23rd May 2015.
The couple's wedding style was primarily inspired by the variety of styles and aesthetics within their reception venue. This included a 1930's influence in their outfits, and those glorious palm leaves, and a 1960's element such as kitsch pineapple decor. The wonderfully talented photographer Lisa Devine took these photographs – I'm proud that we are able to recommend Lisa through our Little Book For Brides.
"If anything, our theme was a playful twist on tradition. We definitely didn't want anything too formal but were equally very keen to stay away from anything twee or whimsical. I've always loved and collected vintage clothing and home wares, so vintage styling was definitely an influence."
Photography by Lisa Devine
See Lisa Devine in Little Book For Brides + follow Lisa Devine on Instagram
Lisa will be exhibiting at the Wedding Collective's Bridal Market on 16th January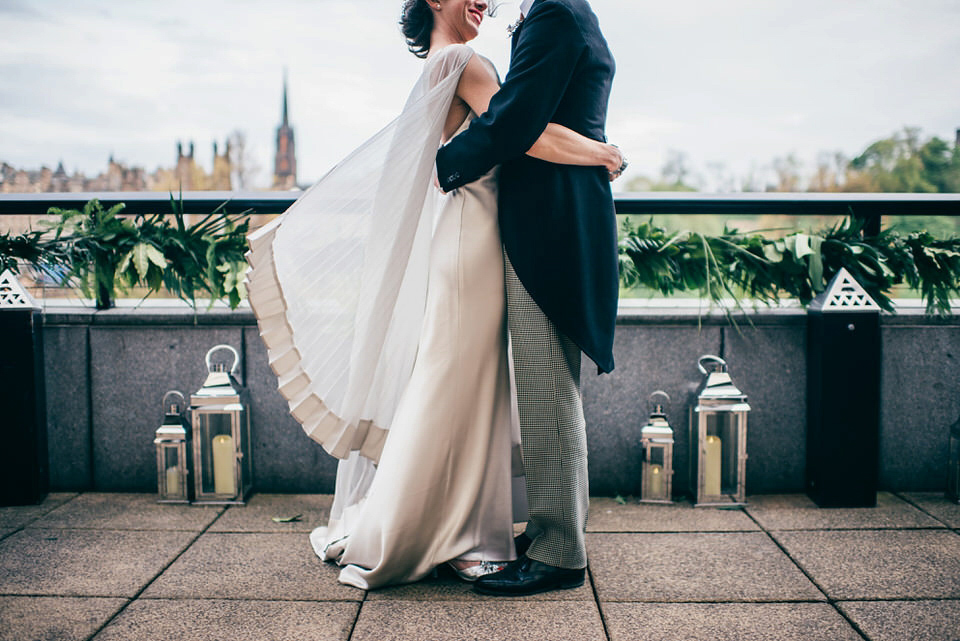 "Our florist was Laura Eberst, who works with the events company we used to style our reception – Carnival Chaos. Laura's flowers were probably one of my things about the wedding – I thought they were incredible! I had given Laura as much direction as I could in terms of colour and style, but not being a flower expert wanted to leave Laura the freedom to run with it and do her thing. The result was amazing, from my beautiful trailing Bouquet to the fruit and feather laden arrangements on the tables, I can't get over what a great job she did."
"We wanted to use lots of greenery which included mixed palm leaves – these were in the entrance hall as well as along the balcony and surrounding the DJ booth.  This greenery was also reflected in the wooden poles which made up the arch outside the church – I had hand-painted these with palm leaves.
We also used lots of cut glass, including decanters filled with mixers for people to make prosecco cocktails during the reception."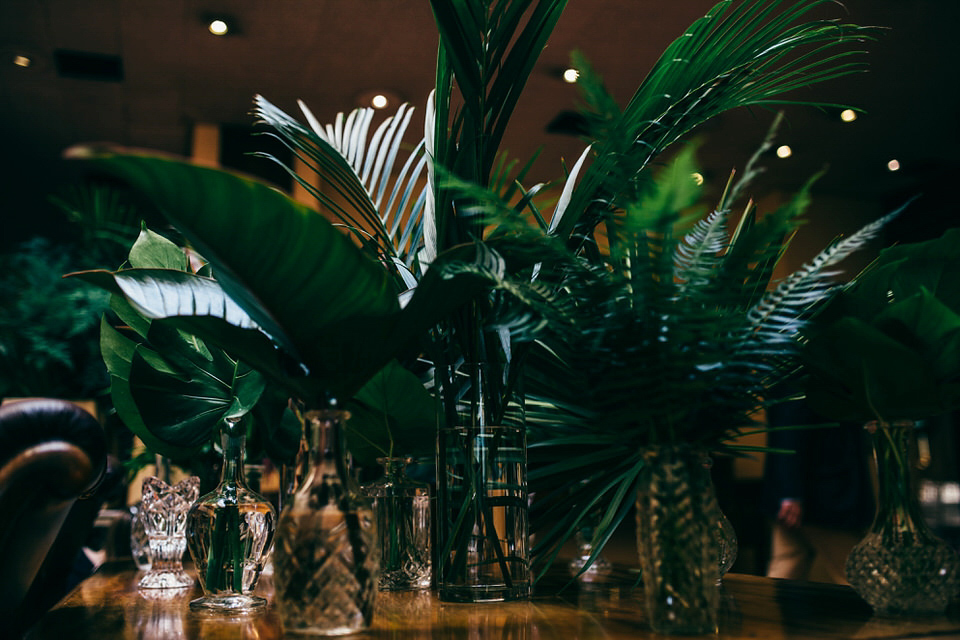 "The girls' dresses were from Ghost, a decision lead initially by my sister Fiona's dress which we bought first. I have always found the idea of dressing a group of girls in matching outfits quite strange, and even the task of picking something for someone else to wear quite difficult, so my main objective was to find something they'd all feel comfortable in. "The bridesmaids wore their own jewellery, apart from Monica Vinader 'Havanna' bracelets which I gave each of them on the morning of the wedding."
"It's so hard to pick one as each part of the day was great for different reasons, though I really loved getting ready at home with my family and bridesmaids. It was a beautiful sunny morning and the view from the bedroom window where I sat having my makeup done is incredible – I felt quite peaceful but also very excited looking forward to the day, and days ahead."
"I have a huge collection of vintage kimonos as part of a vintage brand I run, so leant each of the girls a kimono to wear over their dresses. I've spent a lot of time in Japan for my work, so incorporating the kimonos was great, and I guess added to the eclectic feel of the styling."
"My hair pieces are really special – they're two vintage German crowns – both are pre-twentieth century and are made from the most intricate silverwork. I discovered them whilst researching vintage tiaras – these myrtle flower headpieces were traditional in Germany and Austria, and come in beautiful display cases with matching pins for the groom. They're quite rare however and hard to find, so I had to put the hours in.
I found the small one first – the one which I wore on the back of my head, but having contacted a few dealers the opportunity to buy the big one came up a few months later and I couldn't resist it! It's so beautiful and will be something I'll have forever.
Hugo wore the matching pin in place of a flower on his lapel – it was my gift to him on the morning of the wedding, and I gave the second pin to my dad to wear."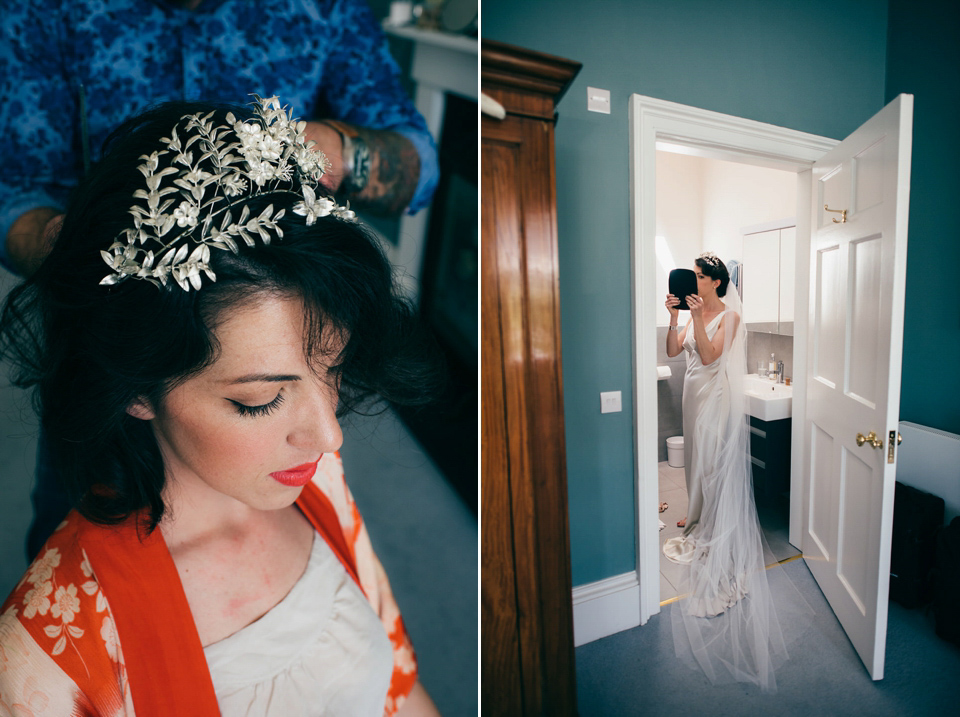 "My dress was by Sarah Arnett for Hope & Harlequin in Brighton. Hope & Harlequin are amazing – they have a beautiful collection of vintage-inspired dresses, and each is made-to-order.
"Choosing the dress was difficult; I had actually already bought a lace dress in a snap decision at a Charlie Brear sample sale, but after choosing the venue decided it wasn't going to work. Hope & Harlequin was the only other store I visited, and after trying on almost every style it was a toss up between my dress and an amazing Ossie Clarke remake. In the end, on advise of my mum and sister, the Sarah Arnett dress won out – I loved the high shine satin and the amazing pleated trains. It's modelled a 1930's evening dress, and I opted for a very pale silver-grey and had buttons added on the shoulders so I could wear the trains as a cape. I'll have save up for the Ossie dress!"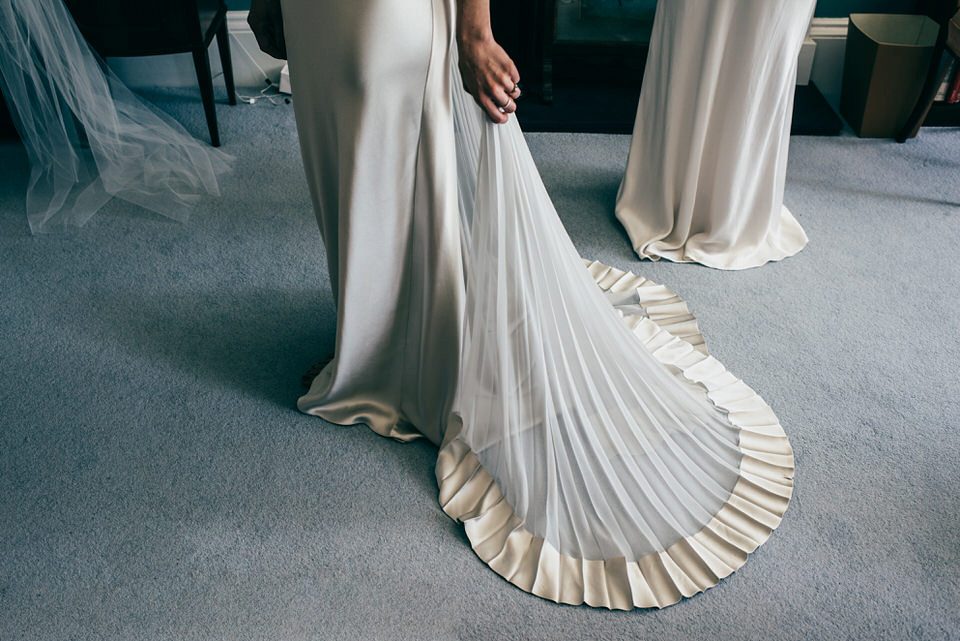 "My veil was also made-to-order by Hope & Harlequin – it was designed to fit my hair piece and was also super long.. something I opted for after having collected a number of original 1930s wedding photos."
I also wore a beautiful silver bracelet which I borrowed from my mum but had previously belonged to her grandma, so my great grandmother. It's a typical 1920s silver bangle and I thought matched my dress perfectly. My sister leant me her pearl earrings."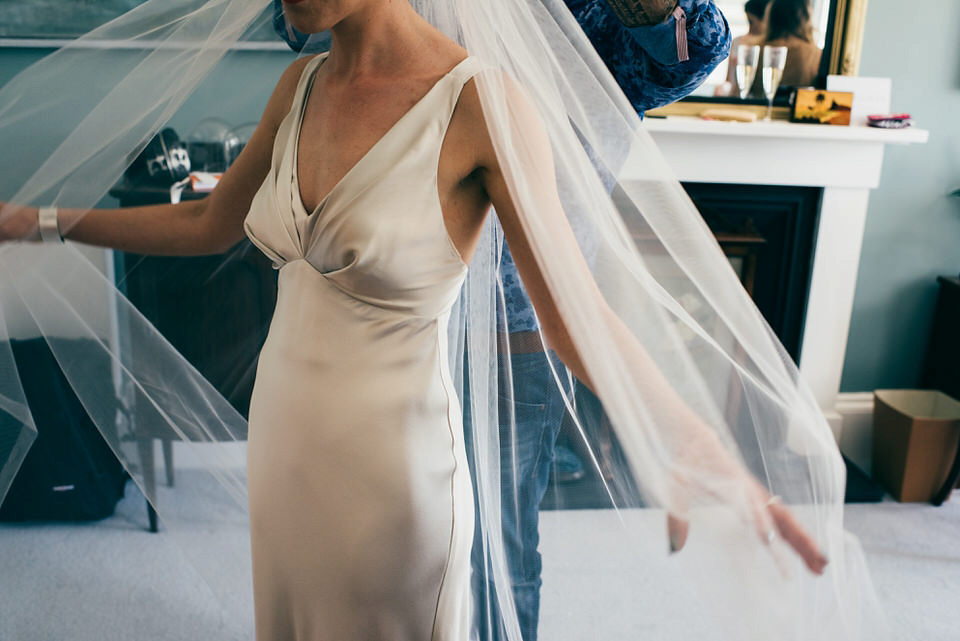 "I had two pairs of shoes – firstly I had a pair of silver swing dance shoes from Revival Retro boutique and later on in the day I wore silver Superga's, both of which were last minute replacements for a pair of Charlotte Olympia heels I had bought in a sample sale.
The story behind my footwear is actually a key part of the wedding, or at least the run-up, having broken my left foot exactly four weeks beforehand! I'd been advised I'd still be in a cast, on crutches on the day of the wedding, so was so lucky to be wearing shoes at all. My heels obviously had to be downgraded, and the Superga's offered welcome respite for dancing… I was in a bit of pain the next day, but there was no way I was coming down the aisle on crutches."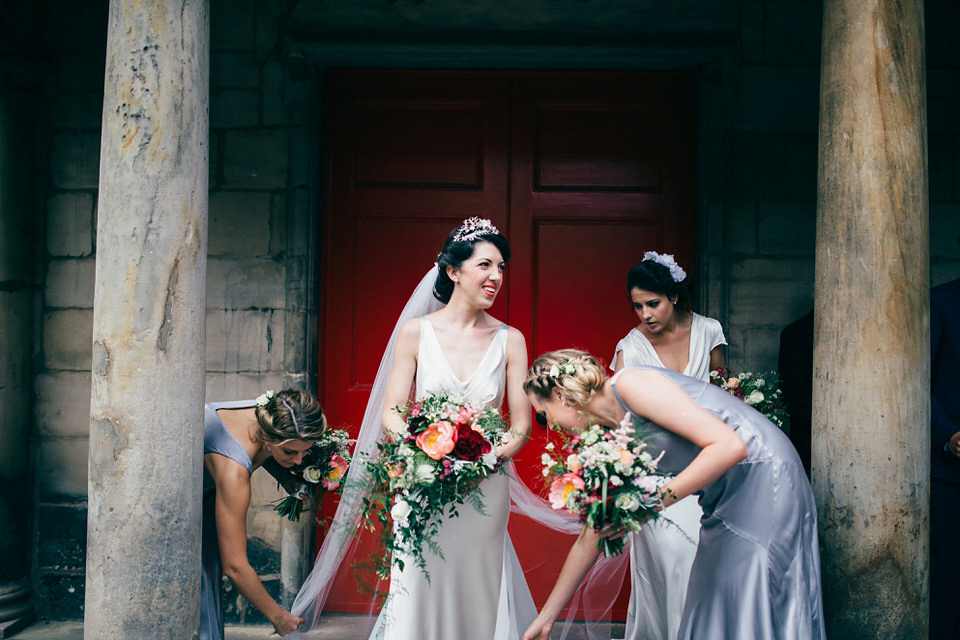 "Hugo and I met whilst living and working in London after university – he and his friends were looking for a fourth housemate, preferably a girl, to join their house share. After a mutual friend put us in touch I moved in, and six months later we broke all the house rules and got together. Having gone from 0-60 within a few months of meeting, it then took six years, several more houses and a breakup before we finally got engaged in December 2013."
"Hugo proposed just before Christmas, in characteristic low-key manner, by waking me up first thing on a friday morning with a speech and a ring. I certainly hadn't pictured my proposal wearing an old t-shirt with bed hair, but actually, it sums up our relationship perfectly. We took our time with an a 17 month engagement, with the assumption that more time meant a more relaxed build up. I now stand corrected! It turns out no matter how much time you have, you fill it."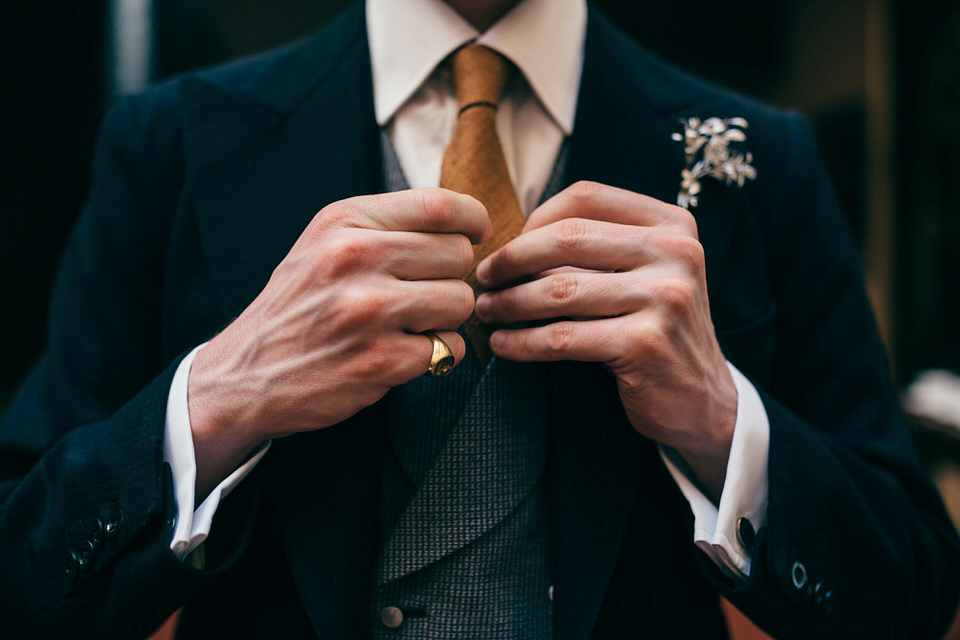 "We were married in Edinburgh, with the service at Canongate Kirk and the reception at The New Club on Princes Street. Although Hugo and I have always lived in London, my family are based in Edinburgh and we've spent many happy holidays in Scotland over the years so were more drawn to getting married in Edinburgh than London."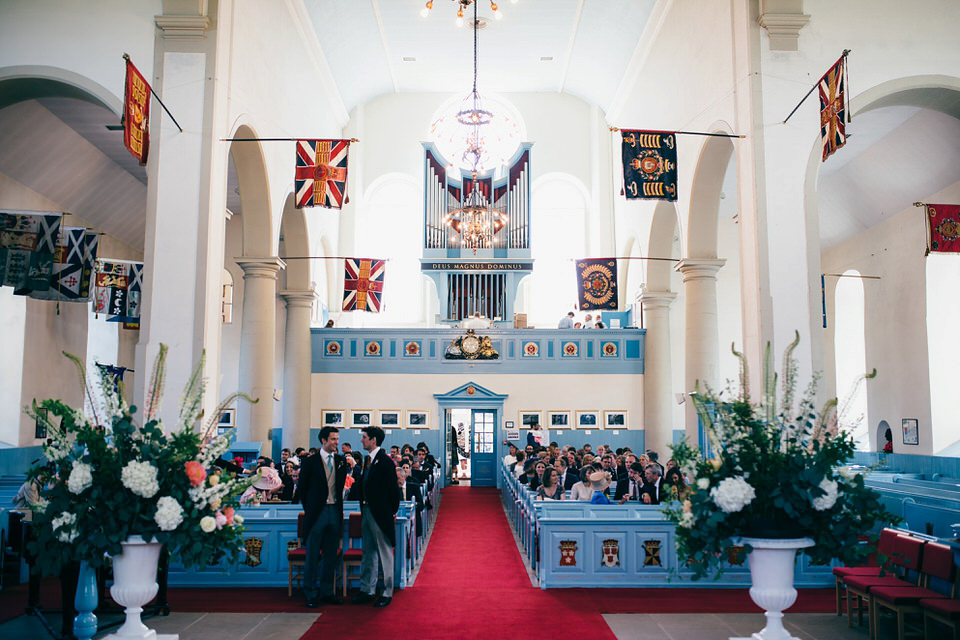 "My dad walked me down the aisle and gave me away. We spent a long time choosing the music for our service. We were very lucky to be put in touch with our choir,
Rudsambee, who specialise in a cappella and have an unusual repertoire, including interesting arrangements of folk songs. They helped us hugely with our decisions, and the piece I chose to walk down the aisle to was a choral arrangement of Yeats' poem The Cloths of Heaven – it was really beautiful."
"Canongate is my parent's local kirk, so it made sense to have the service there, though it's also an amazing building – I don't think I've ever seen another church like it.  We also  felt that Neil, the minister, understood us and our approach to the wedding which was important."
"Our rings are another good story – on hearing our decision to buy cheap stand-in rings until we could afford to buy ourselves 'proper' wedding rings further down the line, my mum decided to give me her mothers wedding ring, which is really special, and so much better than the ring I had originally wanted made. Then for Hugo, by some strange coincidence we stumbled across a very old ring in a curiosity cabinet at his parents house.
The ring turned out to belong to his great grandfather, and once we got it bashed back into shape and resized, makes for a very special wedding ring. We got a similar reaction from the jeweller as we had from the tailor – it turns out his innocuous looking ring is actually quite rare and special – made of Russian gold from 1919, with very unusual engravings on the inside which we've replicated in my ring."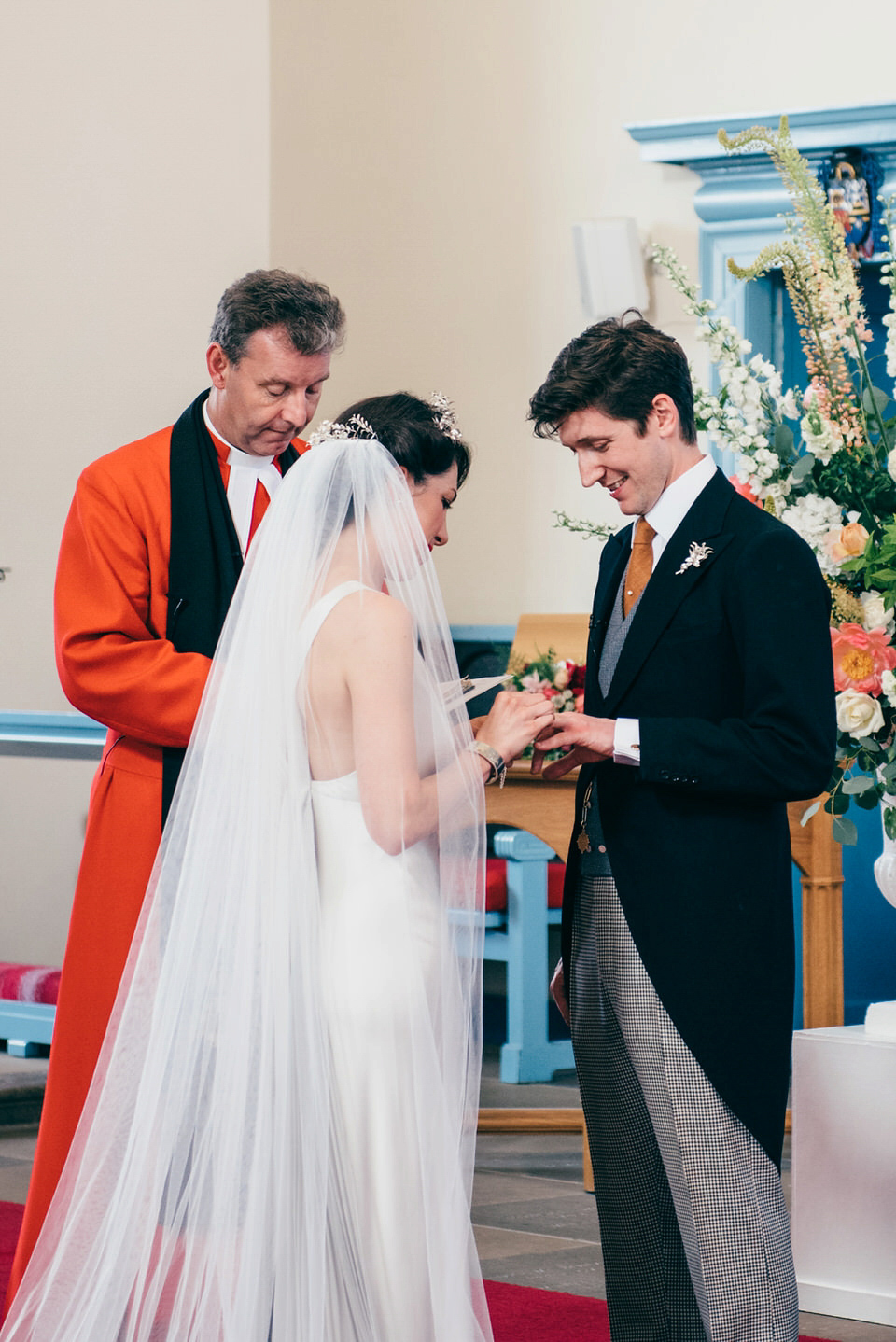 "We had two readings during the service – firstly an extract from Song of Solomon, and secondly Forever Young by Bob Dylan. I grew up listening to Dylan – my dad is a huge fan – so Forever Young is quite a sentimental song for me anyway, but the lyrics are also very wedding appropriate. He wrote the song for his then four-year-old son, Jakob."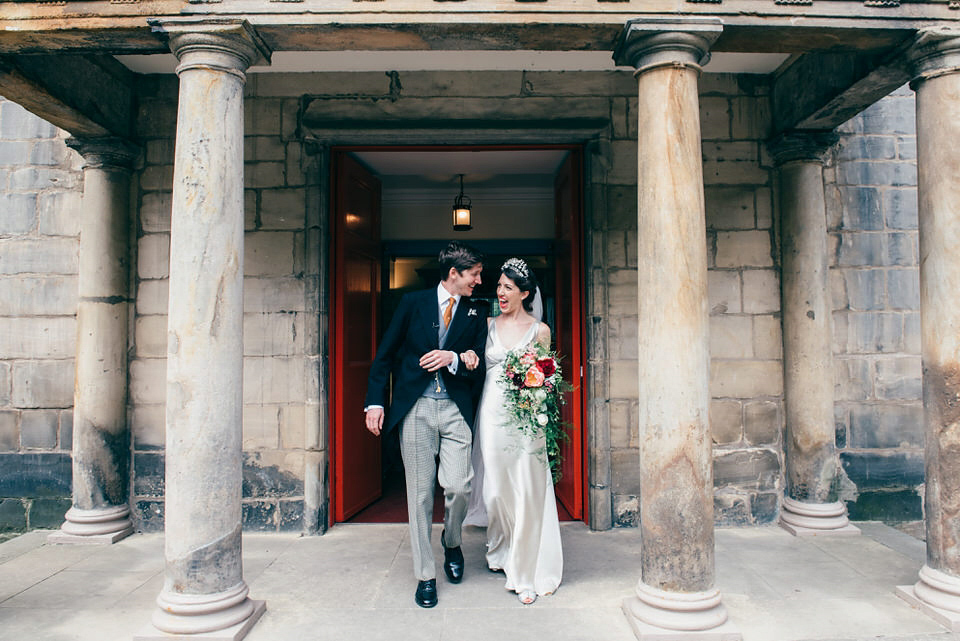 "Hugo's outfit was a labour of love! The trousers and jacket both belonged to his Grandpa – the trousers are 1920s, and the tail coat 1930s, so proper relics! Both are really amazing pieces but we were keen for the outfit not to look too traditional so we called on the services of Peckham Rye in Soho. Tailors for generations, these guys know there stuff, and did an incredible job orchestrating Hugo's outfit down to the tiniest details. There was a great moment when he first brought in his Grandpa's kit – true appreciation from tailoring aficionados, from which point the garments graduated from screwed up in Hugo's backpack to carefully carried in a suit bag.
Hugo's tie was from Drakes, and as a guy who doesn't really wear ties this was a serious investment – but worth it I think – it's beautiful."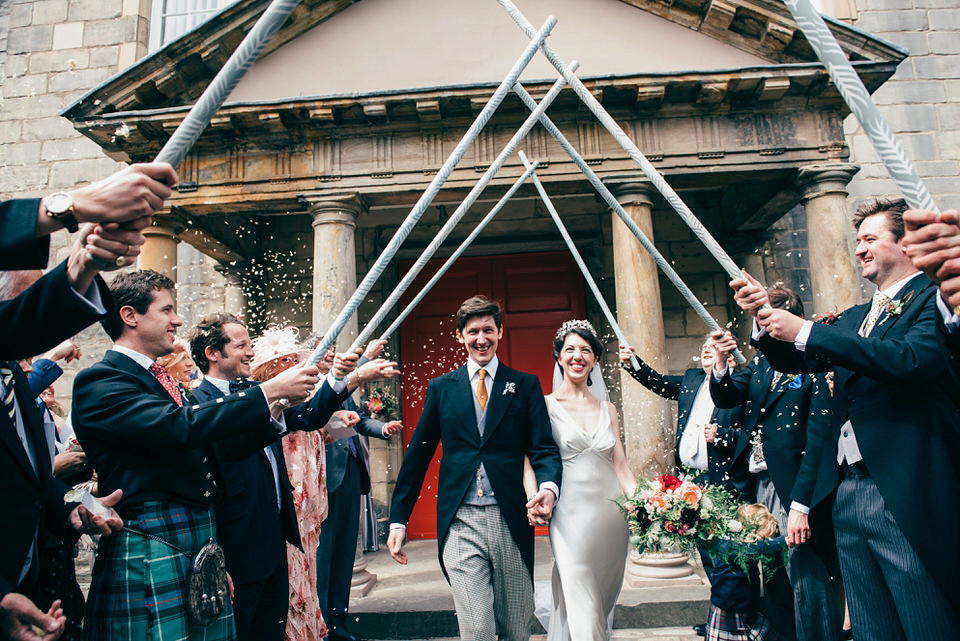 "As mentioned the silver lapel pin is the counterpart to my vintage headpiece and he also wore a watch chain which again belonged to his Grandpa, as well as a vintage pearl tie pin which we found on eBay. I also embroidered Hugo a pocket square, but in the rush of the morning he forgot to wear it."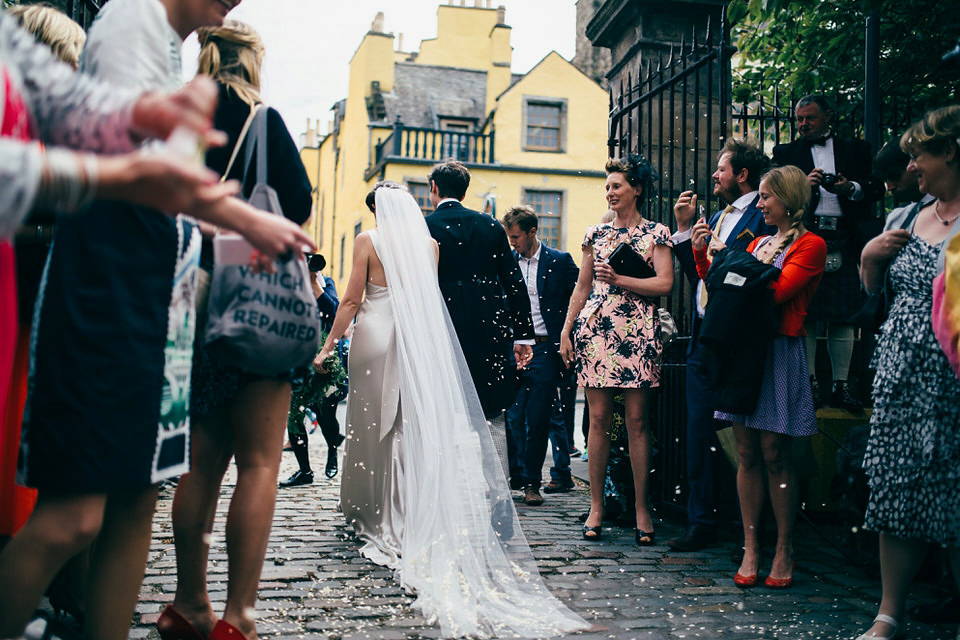 "We didn't like the idea of having ushers in matching outfits and just as with my bridesmaids, we felt that having the ushers feel comfortable and look their best was more important. So rather than select outfits, Hugo sent an email asking his ushers to come wearing their finest outfits, encouraging personal flair. We envisaged an eclectic bunch of dapper wingmen, and that's pretty much what we got.
Each of the ushers wore a different vintage tie pin which Hugo had spent a long time sourcing on eBay – he gave them as gifts, and wanted each pin to reflect the usher in some way."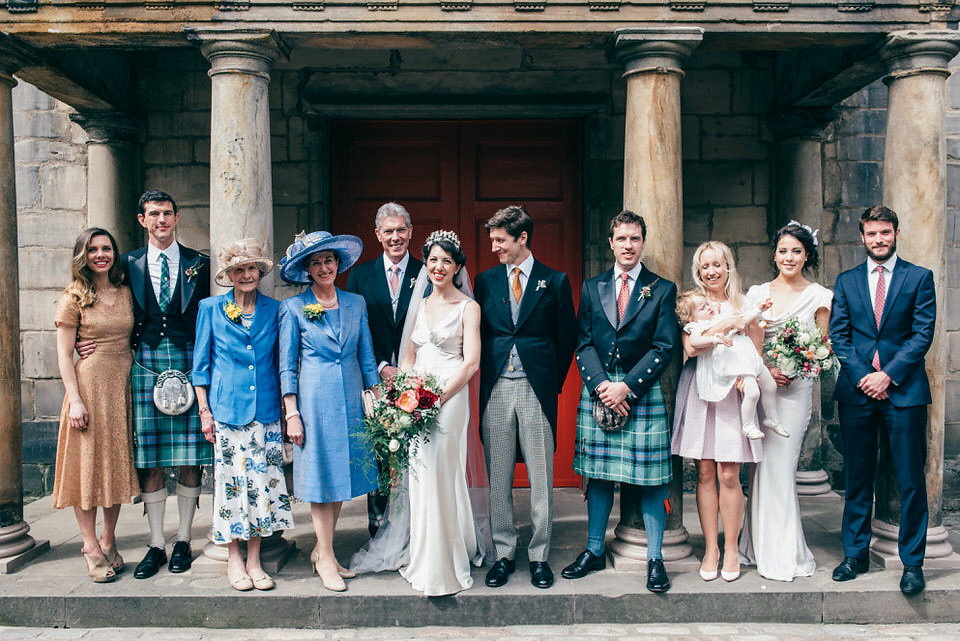 "We had one page boy – Hugo's nephew Archie, who wore, by popular demand, a mini kilt. We had the kilt made in a Macdonald tartan, to match my dads trousers and the ribbons on our bouquets. In the general 'more is more' spirit of my decor, I figured you couldn't have too much tartan. The kilt was made my Kinloch Anderson in Edinburgh. I chose the flower girl dresses as the pleats matched the back of my dress! I also thought they were a little different from standard flower girl dresses. They're by John Rocha for Debenhams.
I wanted to let my bridesmaids lead the choice, and since my sister loved the cream Ghost dress, my bridesmaid Rachel found the pewter ones to match. Both styles are also quite 30s inspired so complimented my dress quite well."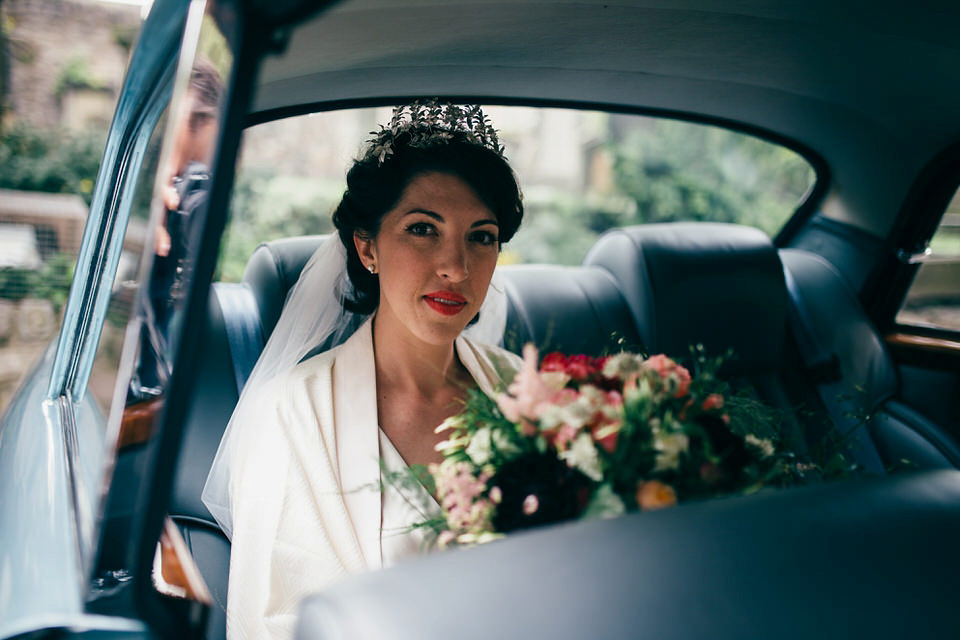 "Our photographer was Lisa Devine. Finding a photographer was one of the first things we did – as someone who's never without a camera myself, I found the thought of not being able to photograph on the day quite unnerving, so wanted to find someone who I'd know would do an amazing job. I was recommended Lisa by an ex-colleague, and we instantly loved the distinctive cinematic feel of her photographs."
"As someone who hates having their photo taken it was also really important to me to find a photographer that made me feel relaxed. After meeting Lisa for a test shoot in January we were really excited to have her shoot our wedding and are over the moon with the results – Lisa captured the day better than we could have hoped!"
"We also had a second shooter, Eric Penoy, who was also fantastic – an equally amazing photographer and great fun to have around on the day – Eric has so much energy and enthusiasm!"
"Our decision to book a videographer was quite last minute so we were lucky to find White Balloon Films were available for our dates. We're so happy we decided to book a videographer in the end, especially since so many people have since told us this is their one regret, and we know the film, like the photos, will become so much more special with time."
"I designed all the stationery myself, from the invitations to the menus and orders of service- again a labour of love. I was particularly happy with the invitations, for which I hand made all the envelopes to fold around the letter pressed cards, then the design for the order of service and menu cards etc. followed suit."
"The New Club as a venue for the reception was a bit of a wild card! We had looked at so many places, but as I'd always wanted something more relaxed, was totally put off by the 'wedding factory' feeling of a lot of venues we saw. The New Club, ironically, were the most laid back since they very rarely host weddings. As an traditional gentleman's club which was rebuilt in the sixties.
I also loved the odd mix of nineteenth century wood paneling, portraits and leather bound books alongside mid-century architecture and interiors. I thought, this venue is a bit of a risk, but I could have a lot of fun with it! The top-floor balcony over looking the castle was also a major selling point – it has to be one of the best and least known views in Edinburgh."
"Another of my favourite touches were the tattooed bananas we used as table names! And the pineapples we sprayed gold as props for the photobooth. We wanted to play up the grand surroundings by creating a decadent 'feast' feel with long dining tables, gold candelabra and cut glass bowls and brass cups packed with fruit and richly coloured flowers."
"Whilst our wedding was 100% self planned, we did work with an amazing company called Carnival Chaos for the venue dressing – they did an incredible job and interpreted all my (sometimes slightly barmy) ideas better than we could have hoped."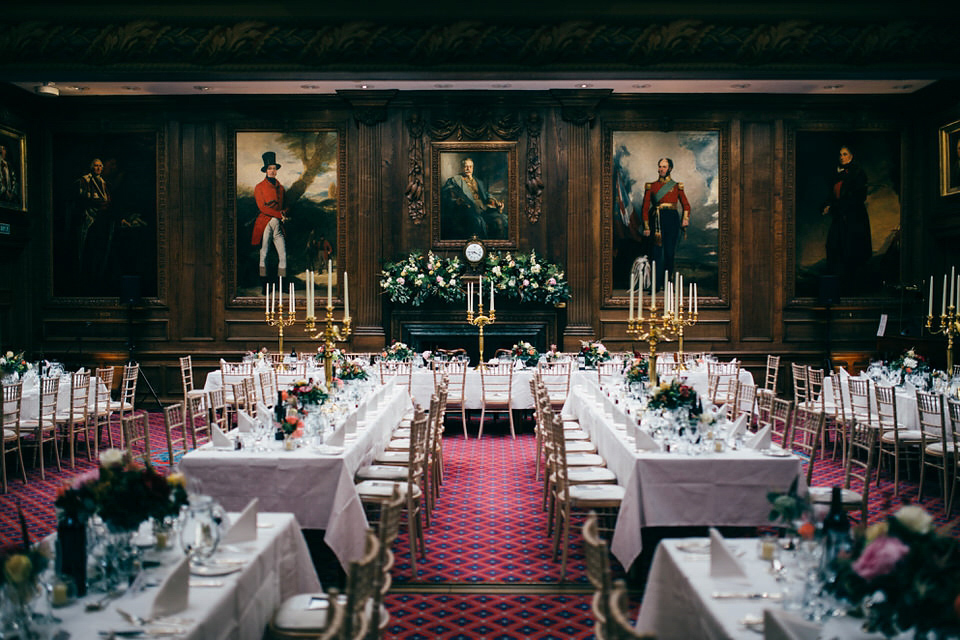 "As favours we opted for home-brew sloe whiskey, which Hugo was in charge of concocting. We christened the brew 'Geoffrey's Sloeshine' in honour of Hugo's Grandpa who was a keen sloe gin maker, and I had a lot of fun sourcing the bottles and designing the labels. 'Product of Peckham', our sloshine was presented as 'Ceilidh Fuel', designed to fire up our guest's dancing feet. Pretty effective, all in all.
In addition to the whiskey, we also left vintage postcards at each of the place settings, together with envelopes. Over the months I had collected 130 old postcards to take the place of a guest book – the idea was that everyone write us a card – whether a message, quote of drawing.. and incredibly we got almost 130 back – an amazing memento of the day and something we'll treasure forever."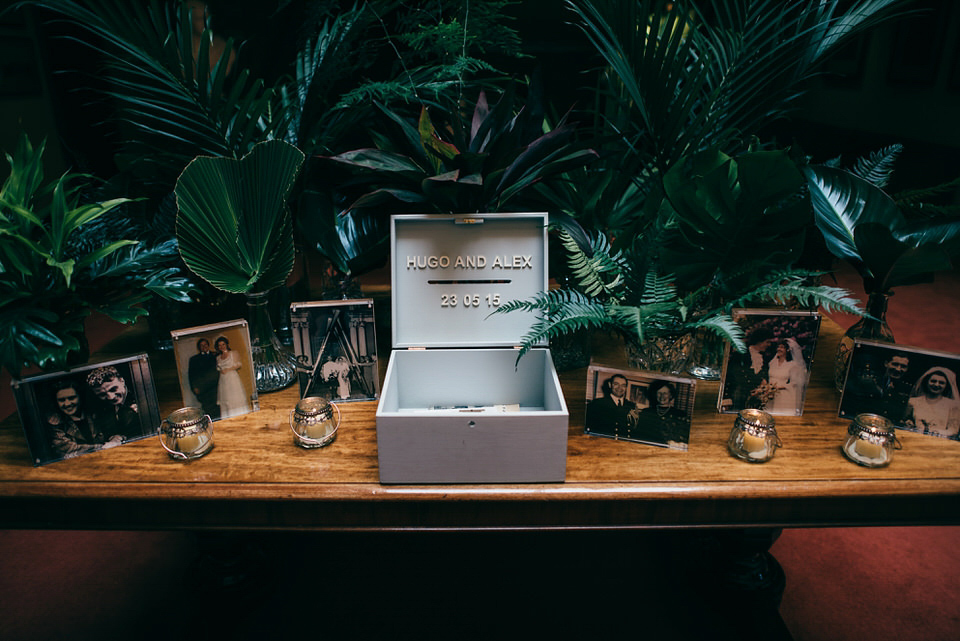 "Our cake, or 'cheese tower', was bought from Edinburgh's favourite cheesemonger, Mellis. We had a lot of fun selecting the various layers, and Laura our florist did a great job decorating it with fruit and flowers.
We opted for cheese as we wanted something which would be eaten and enjoyed on the day. Neither of us like traditional wedding cake, and cheese makes for a universally popular late night snack – we didn't have much left to take home."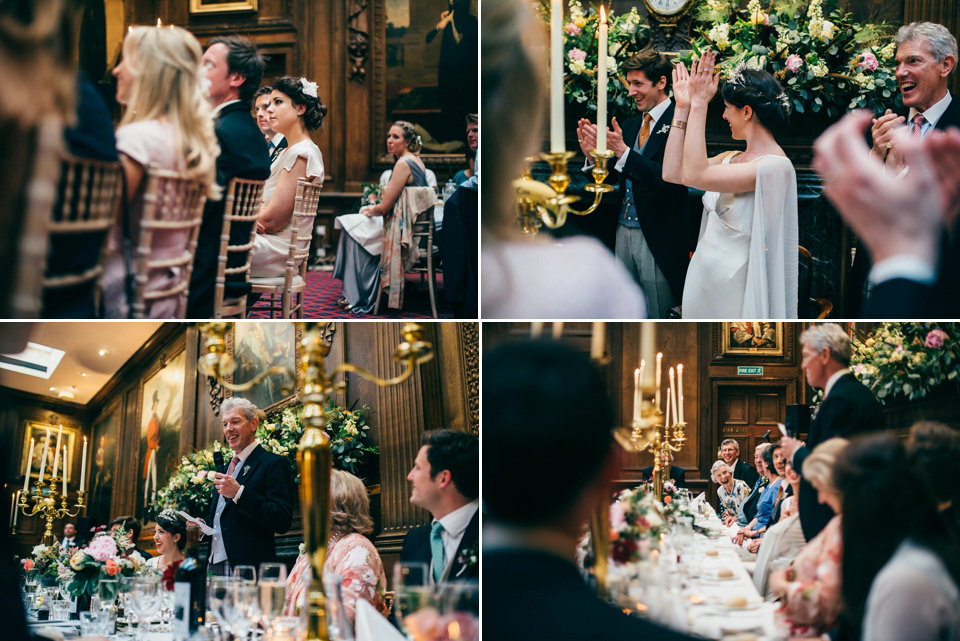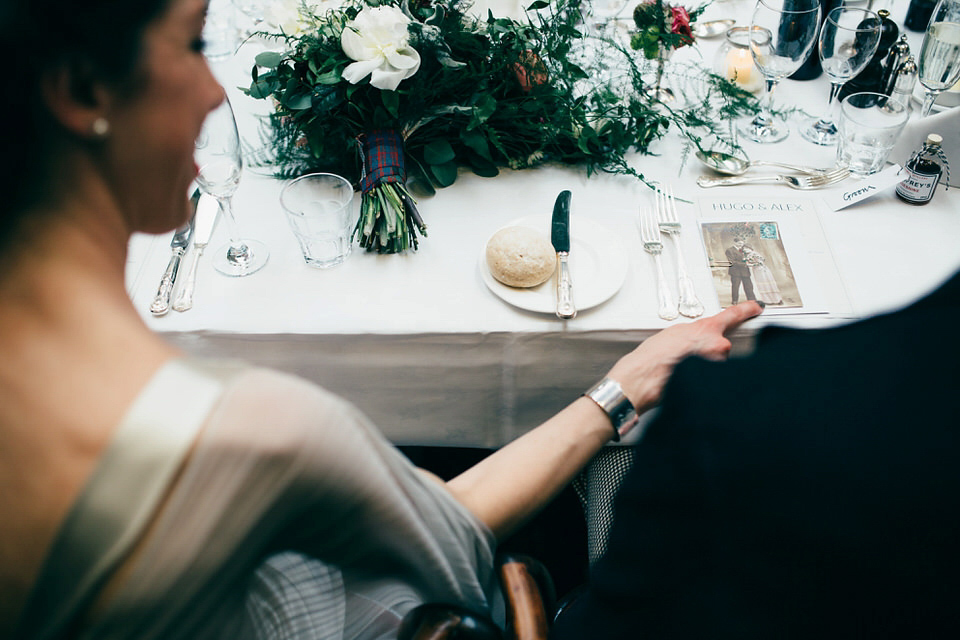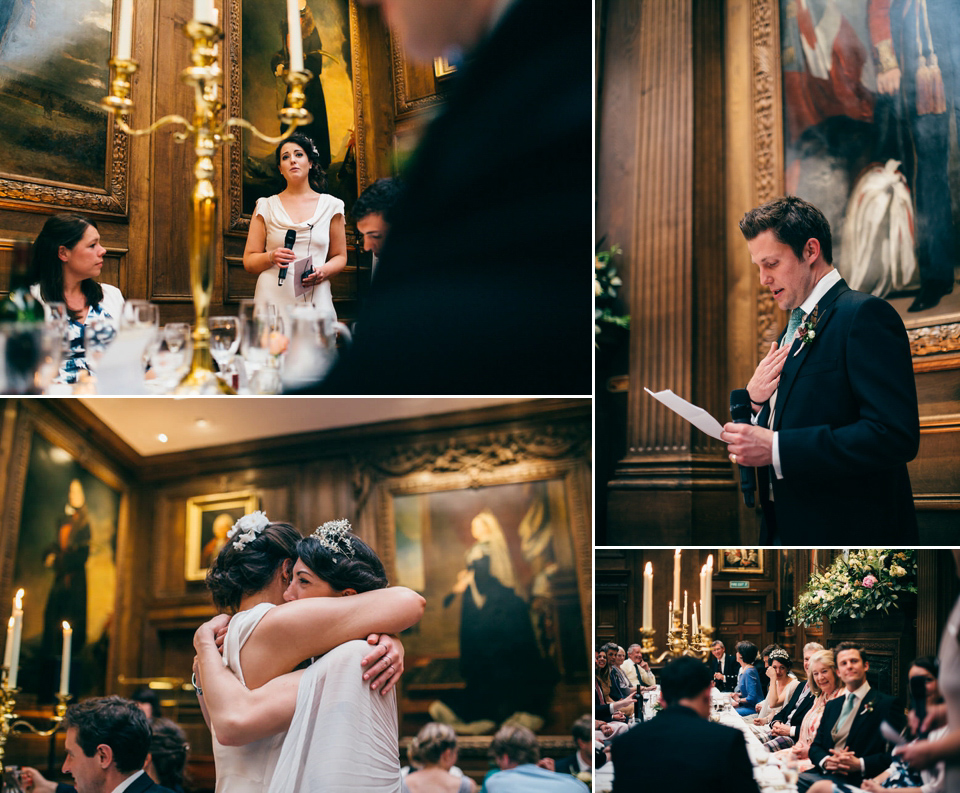 "We were lucky enough to be able to call on friends and family for most of the entertainment – firstly my uncle and two cousins lead a bagpiped procession from the kirk to the New Club, up the Royal Mile with all of our guests in tow. My friend Ollie did a great job DJ'ing for us during the drinks reception then my younger brother and his wife performed a song for our first dance which was really special. We then had a Ceilidh band which a family friend pulled together for dancing straight after dinner, before everyone moved upstairs later in the evening when Edinburgh DJ Wendy Schofield, aka, 'Trendy Wendy' played.
After my younger brother and his wife offered to perform a song at the wedding we asked if they'd perform a piece for our first dance. They came to us with the idea of singing an acoustic version of La Vie En Rose, which they'd composed themselves. My brother played the guitar and my sister in law sang – they were amazing and we felt very lucky to have such a personal first dance."
Words of Wedded Wisdom
"I'd say.. try to relax and enjoy yourself, during the lead up and the day itself. As I mentioned, not taking time to relax is my one big regret, and we both woke up the day after the wedding wanting to do it all again, feeling as chilled out as we did at that moment.
Then in the same vein I'd say try to maintain perspective and remember what's actually important. It's so easy (especially these days with all the inspiration available) to get carried away with the details and forget about the life changing promises you're about to make — by far the most special part of our wedding was being surrounded by all our friends and family, and that would have been just as special had we got married in jeans an t-shirts in the middle of a field.
I'm not sure there's anything we would have done differently – it was all planned very organically so everything felt right for the time, even if I might do it all totally differently given the opportunity again. But one thing I really wish was that I hadn't been so stressed the weeks before; breaking my foot combined with huge deadlines at work meant the weeks preceding were far from serene. If I could have had a week of total R&R for two weeks before I'm sure that would have made the world of difference. So that would be my one, totally unrealistic piece of advice to future brides then!"
What an incredibly beautiful day – the glamour and elegance oozing from these images is perfection! My love and thanks to photographer Lisa Devine and my huge appreciation to you both Alex and Hugo – what a day! You two know how to pull off a wedding in style, that's for sure. I hope that 2016 brings you the loveliest of first wedding anniversary celebrations.
Just a little note for any Scottish couples – photographer Lisa Devine will be exhibiting at the Wedding Collective's Bridal Market on 16th January – click the image below to find out more.
Love Annabel x
Photographer – Lisa Devine
Reception Styling  – Carnival Chaos
Venue  – Canongate Kirk + The New Club on Princes Street
Wedding Dress – Sarah Arnett for Hope & Harlequin in Brighton
Veil – Hope & Harlequin in Brighton
Headpiece – antique silver German crown
Shoes – Revival Retro boutique and later on in the day I wore silver Superga's,
Perfume – Narciso Rodriguez
Groom's trousers and tailcoat (heirloom/his Grandpa's) + Peckham Rye waistcoat + Drakes tie
Bridesmaids – Ghost
Flowergirls – John Rocha for Debenhams.
Page Boys – kilt via Kinloch Anderson
Florist – Laura Eberst via Carnival Chaos
Cheese Tower – Mellis
Entertainment – Rudsambee Choir + Trendy Wendy
Rings – Heirloom
Stationery – DIY
Hair Stylist – Keith Marshall
Makeup Artist – Rebekah McVitie