Happy late afternoon folks! As if we haven't spoilt you enough already with this exquisite alternative style wedding and look at the latest Claire Pettibone collection, this afternoon, we're treating you to the wedding of Children's Fashion Editor Carly and her Film Edit Assistant husband Ross. The couple tied the knot on 11th October last year at The Ace Hotel in Shoreditch, London and their wedding oozed all kinds of East London cool. I adore Carly's elegant Belle & Bunty gown with it's fluted sleeves and look of effortless elegance.
These photographs were captured by French photographer, also a close friend of the bride's Alain M – Alain is a new photographer on my radar and one whose work I'll be watching most closely from hereon – these images are everything!
"We chose the Ace Hotel because Ross had proposed to me there. When they contacted me to say that they had just got their wedding license and we could hold the ceremony and reception there it felt like fate. We also loved the idea of getting married in east London, near to where we live – as it made it easy for all our friends and family to get to. It was incredible having such an amazing view of the city when we were saying our vows and the roof terrace looking out over Shoreditch High Street is an amazing place to have a party."
Dress by Belle & Bunty
Find Belle & Bunty in Little Book For Brides
Follow Belle & Bunty on Instagram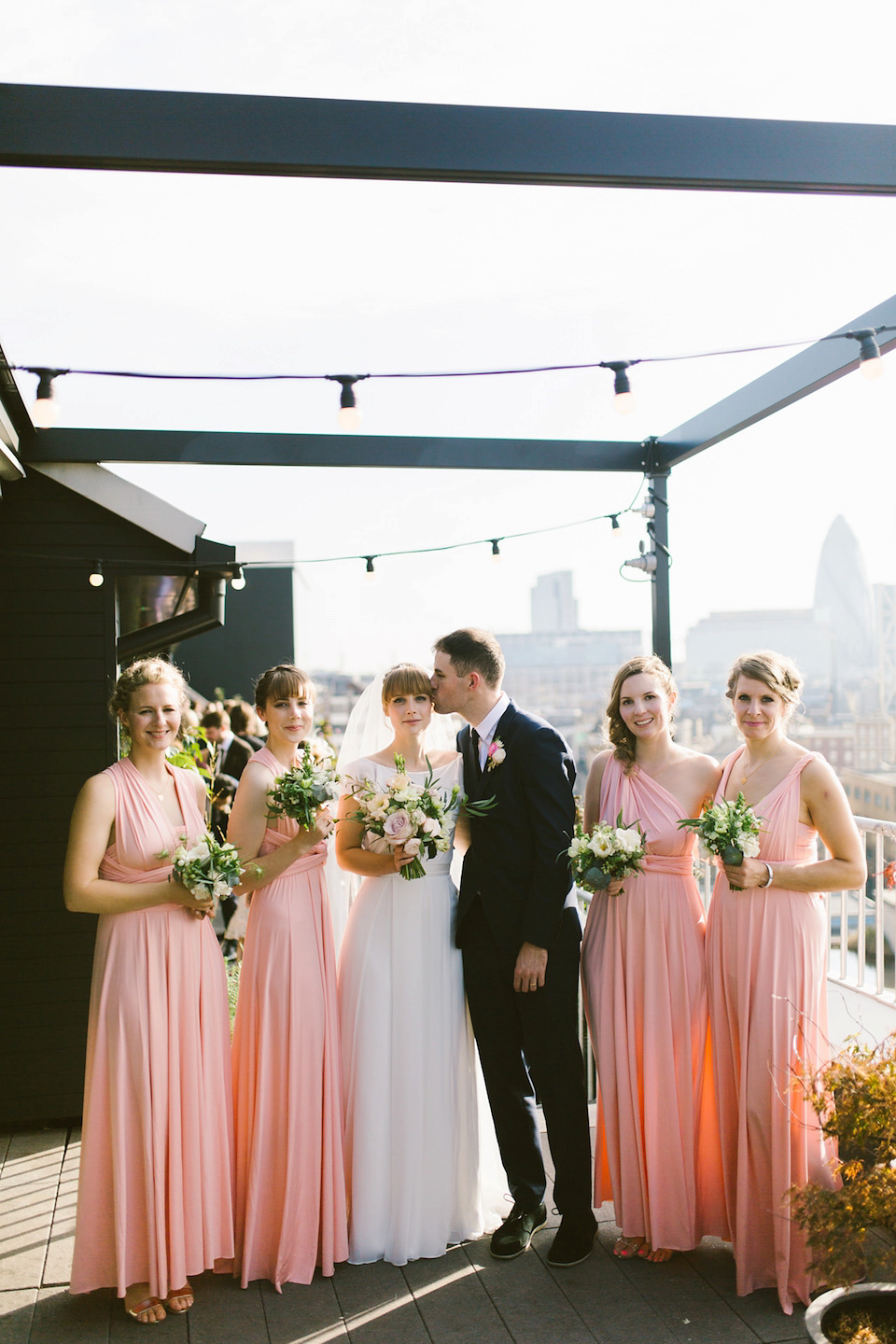 "I handmade a lot of the decorations myself, as I love making things, but we also picked up items from the design shops we visit frequently. We sourced things from Scandi brands such as Hay, Ferm Living and BXXLGHT, but also from House of Hackney and other shops in east London we love such as Monologue and Mast Brothers. The minimalistic aesthetic of The Ace Hotel provided the perfect setting for everything."
"I wore a Belle & Bunty gown (from their 2016 collection) which was purchased at their store in Kentish Town. I spent a long time searching for dresses online and couldn't find anything I liked. I really wanted something romantic but simple. I eventually came across a gown from Belle & Bunty so got in touch with them. Their studio manager Tara was so lovely and helpful and I loved that all their dresses were designed and made in Britain. I didn't end up with the original dress I liked, but I fell in love with these separates from their 2016 collection. The silk was absolutely beautiful and I just loved the soft ruffles and low cut back. So dreamy!"
"Every wedding is personal to the couple and we wanted our day to be about our lives in London. I'm a huge design nerd so I wanted it to reflect our own style, rather than be about a traditional wedding look. I actually started with my Stella McCartney Kids flower girl dresses as I work for luxury kids retailer AlexandAlexa, and they were one of my first purchases. The colourful metallic polka dots on the blush netting inspired a soft colour palette with lots of pops of colour worked in."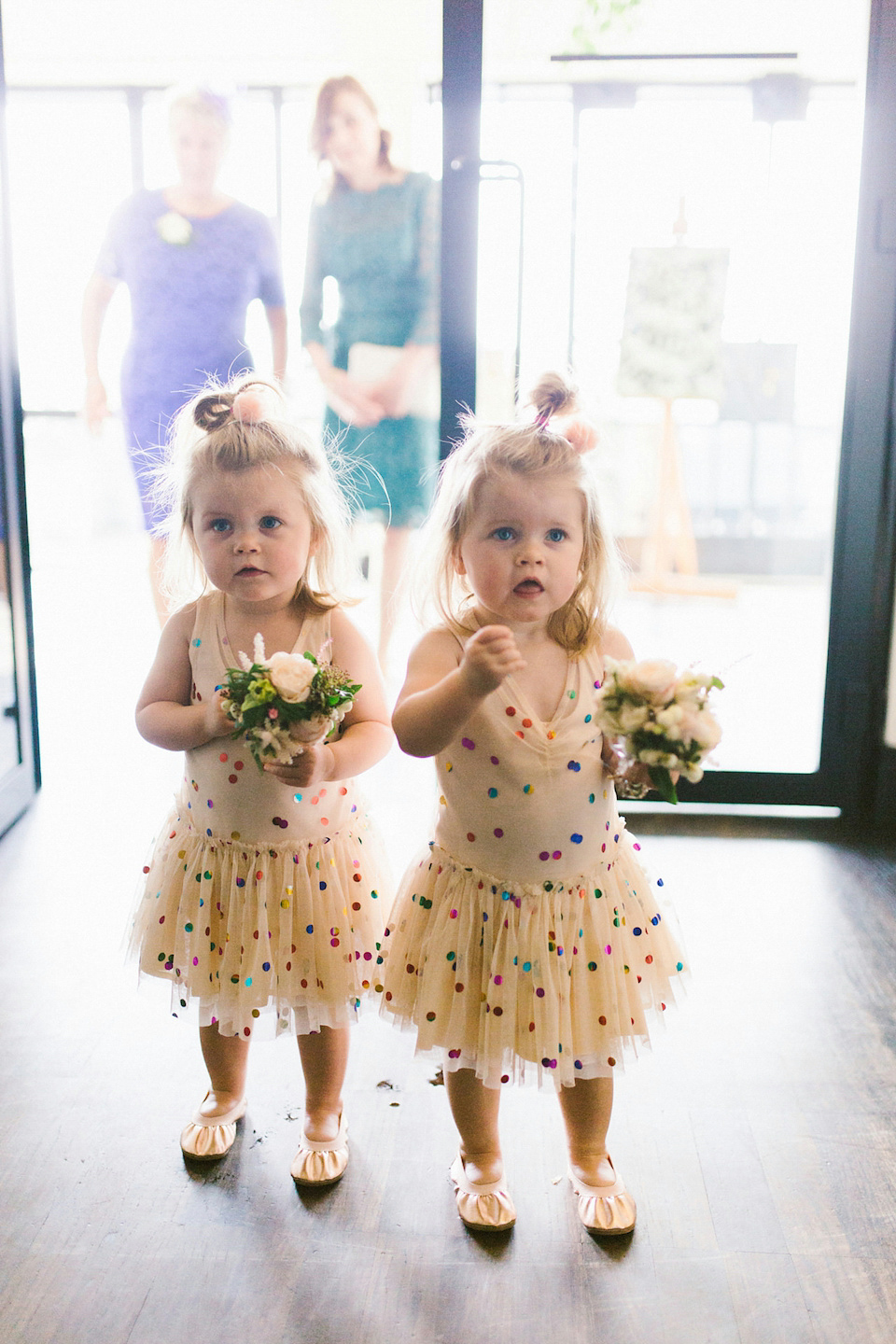 "I designed all the stationery myself. We used Paperless Post for printing invitations and save the dates and the English Stamp Company to make a stamp with the logo I designed for our menus and tags."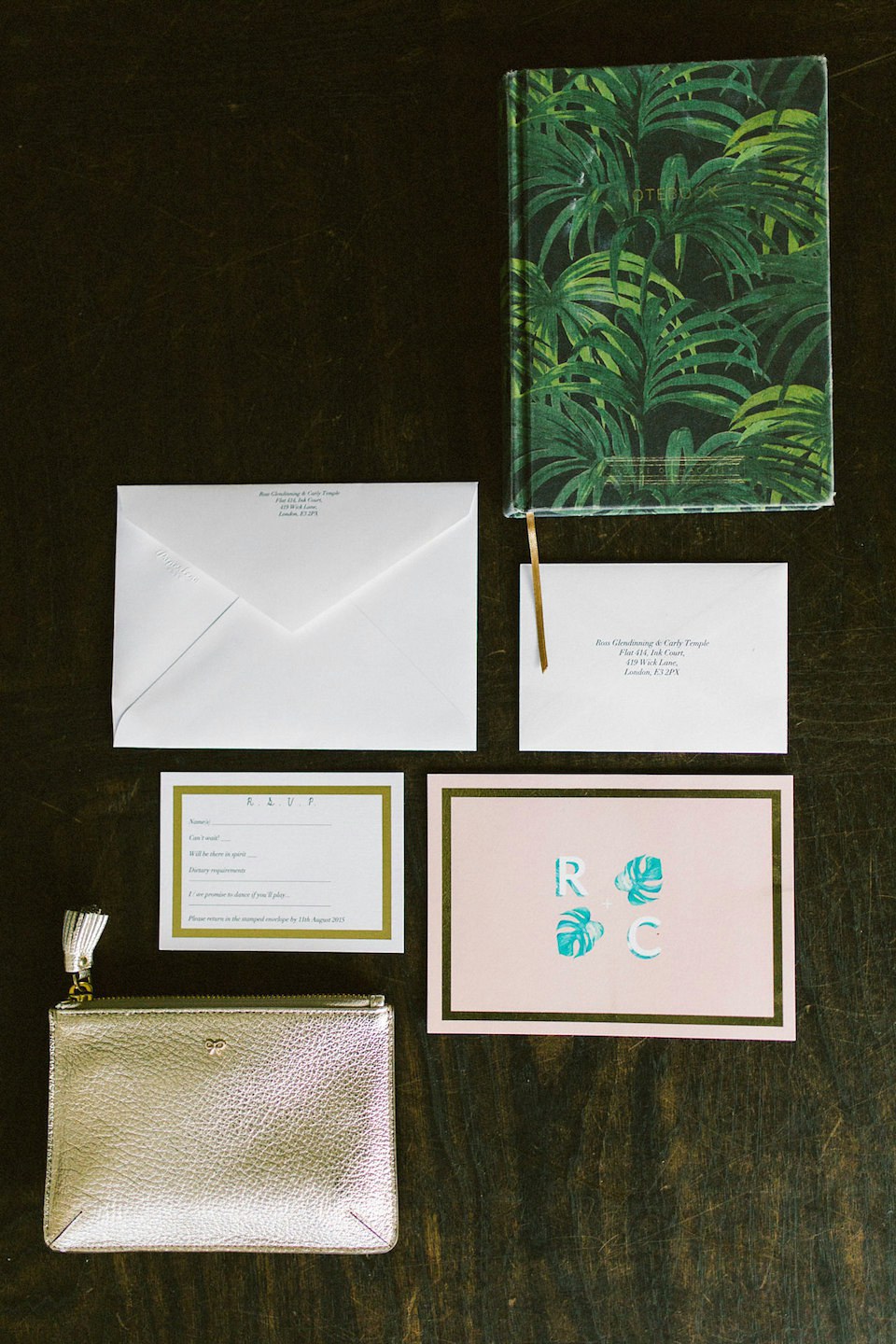 "My shoes were by Aperlai from Net-a-porter. I added the ribbons myself to keep them on…"
"I wasn't sure if I wanted a veil at first, but I was so pleased that I ordered this simple tulle style. I think it really finished my outfit off and made me feel like a bride!
The only jewellery I wore was the gold bee necklace by Alex Monroe my parents gave me for my 30th birthday (I never take it off). I added my Granny's sapphire and diamond engagement ring to the chain to be my something old, borrowed and blue."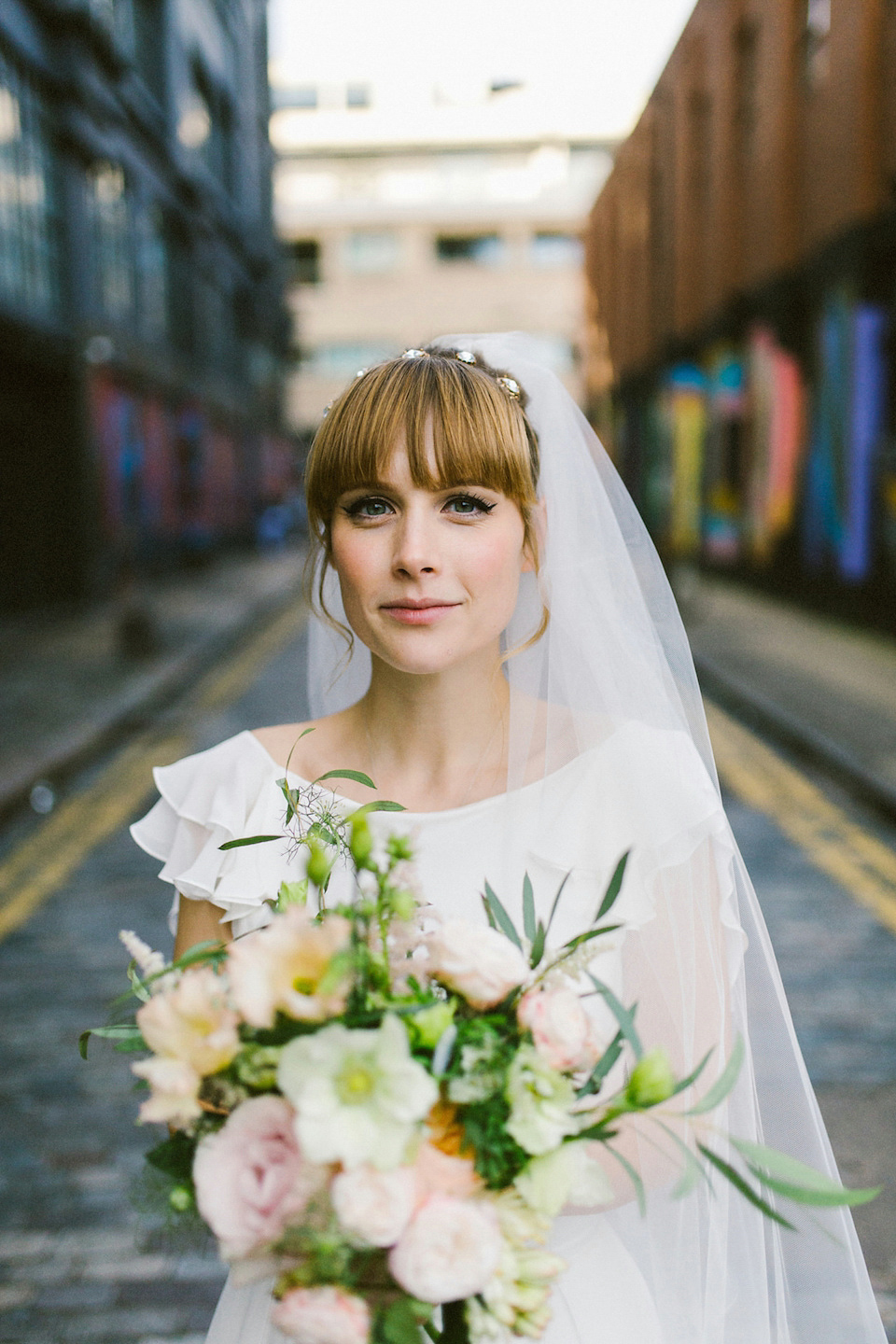 Carly's bridesmaids wore pretty pink gowns from Isabella Bridal.
"The girls loved the way they could wear the twist and wrap style in different ways."

"The bridesmaids had their hair styled at Cheeky on Redchurch Street (which is somewhere I go with my girlfriends a lot). They had their make up done at FaceBar, also on Redchurch Street.
I gifted all my bridesmaids personalised 'Sweet Nothings' necklaces from In God We Trust – which they put on before the ceremony. They all said 'girl gang' on the front and had individual messages on the back."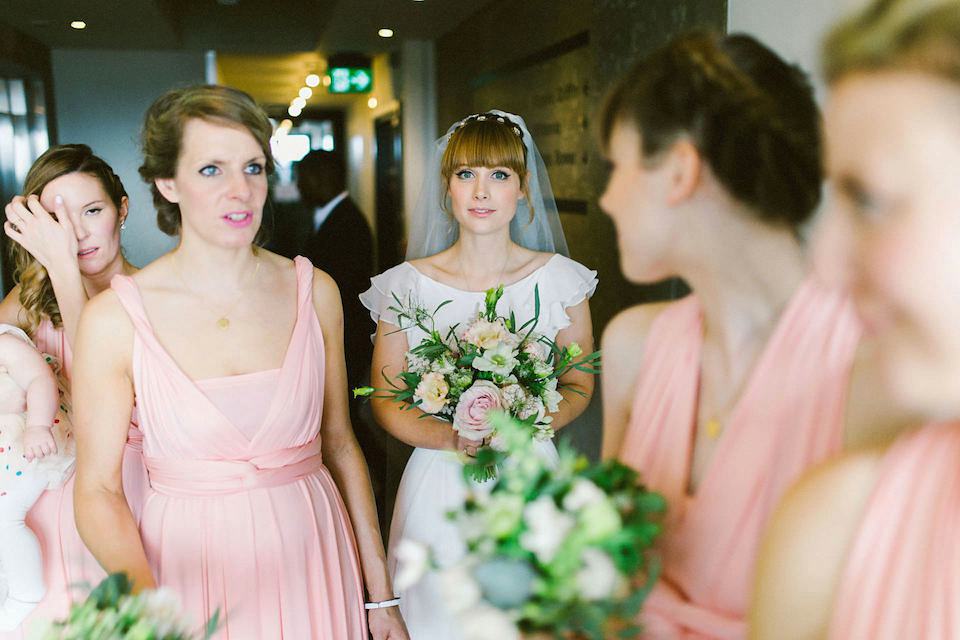 "My good friend Alain M. is a super cool wedding photographer and he contacted me as soon as Ross and I got engaged to say that he was going to take our pictures. I think his work is amazing and he's always really creative with the shots he takes, so I was very excited and happy. It was also so lovely to have him be a part of our day in such a special way. We'll treasure our pictures just that little bit more because he took them."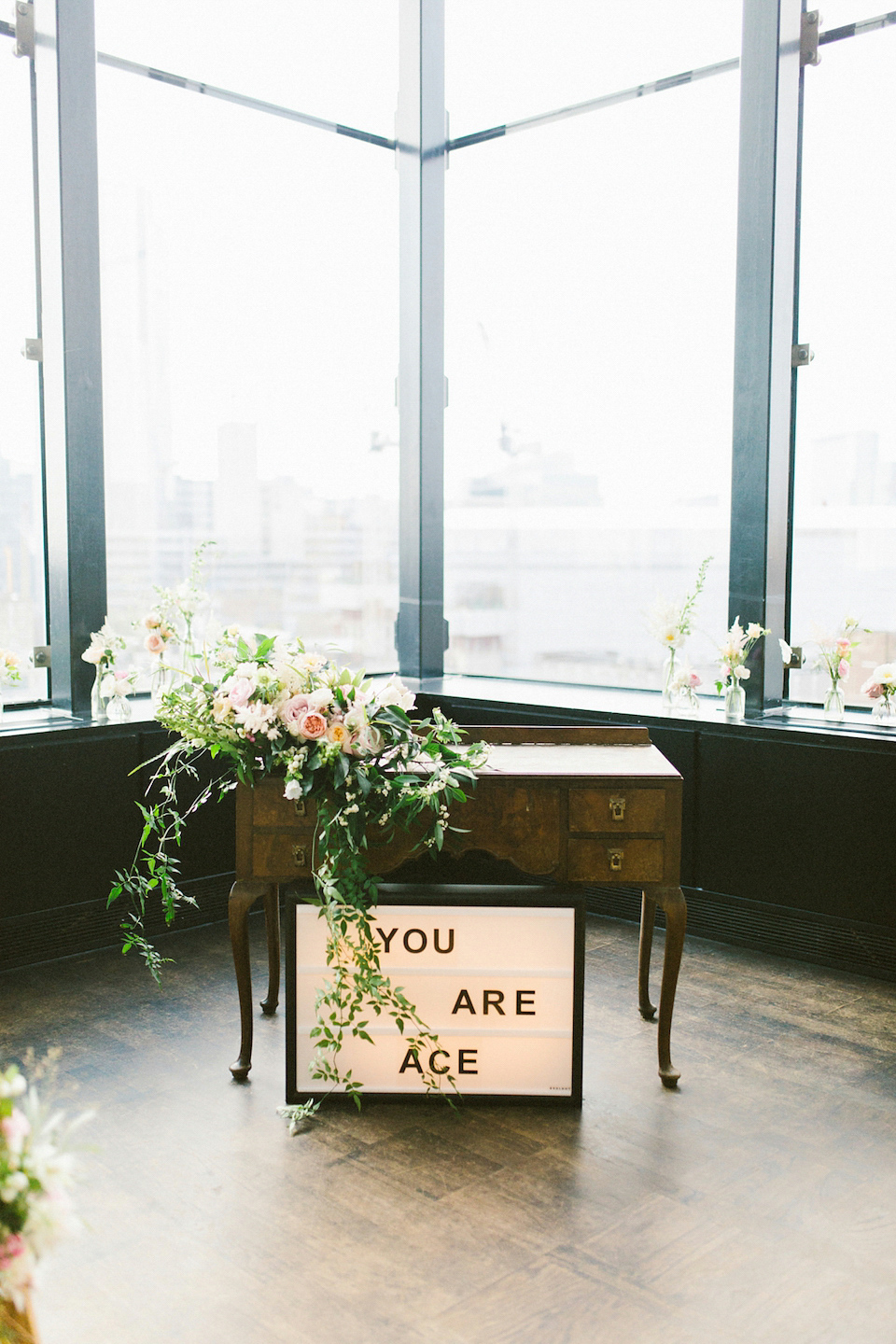 "Ross is a skateboarder and his style is always very pared down. We both love the Danish store Cos, and it was really easy to find a beautifully cut suit, shirt and tie there. We had it tailored to fit Ross perfectly."
"Ross had two best men – his two best friends Harry and Sam. We wanted them both to have a role in the ceremony, so Sam had our rings and Harry had the cards with our vows written inside. We asked his friends Tom and Ben (Sam's older brother) to be our ushers. The boys wore blue suits from Cos to coordinate with Ross's. They added the braces themselves – which looked great in the pictures of the groomsmen walking down the street in Shoreditch."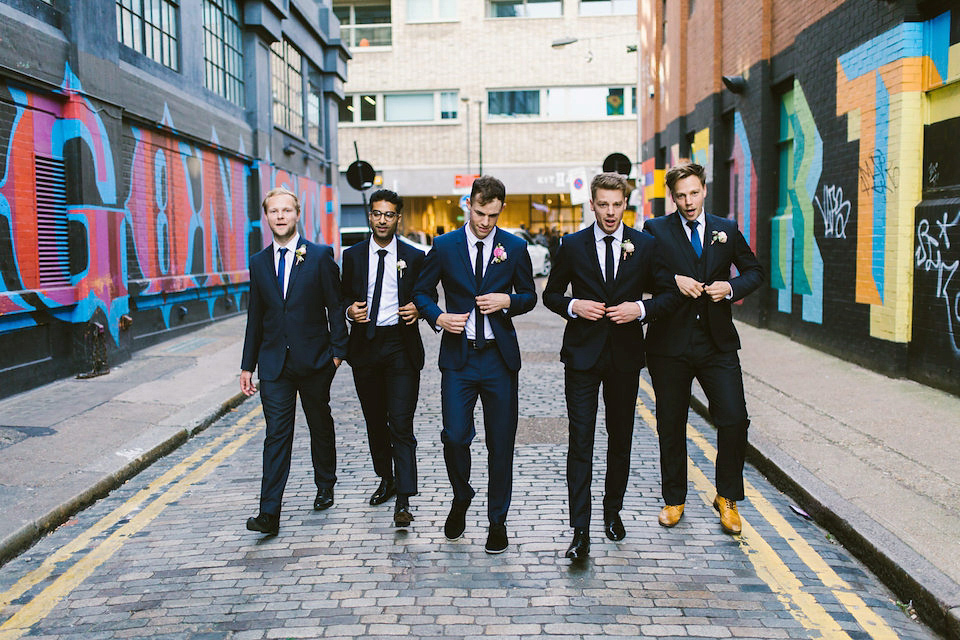 "We did everything for the wedding ourselves. The events team at the Ace Hotel were awesome though. I loved being able to hand everything over to them on the day and I didn't have to worry about a thing. They made sure the day ran perfectly."
"We actually met in the street, which sounds strange – but it's true! We were both out in Dalston, East London (near where we live), having drinks with our respective friends. Journeying between bars, we walked past each other and our eyes met. I remember thinking that guy is so hot and he's looking at me! And in that split second, feeling sad that we wouldn't get to talk to each other, as he was a stranger on the street. And then suddenly, everyone stopped and I was so confused! It turned out our friends knew each other. Ross and his mates were on the way to the bar that we had just come from, so we decided to go back there. He started chatting to me, and the rest (as they say) is history."
"Ross proposed in January this year. One evening, he just casually asked me if I'd like to go to Hoi Polloi (the restaurant at the Ace Hotel in Shoreditch) for a free dinner, which is a place we really love to eat. I said yes of course, but asked him how come it was free. He told me that his boss's girlfriend's brother was the head chef there and his boss had arranged for us to go on the Friday evening (I later found out that this was not the case but was just a ruse to get me there…). When Friday rolled around, I popped home to get ready and then headed the Ace to meet him."
"I arrived first and texted him to say I was waiting at the table and he replied to say he was just finishing a drink with his best friend and would be there shortly. When he sat down at the table, he poured some water and I noticed his hand was shaking – which I thought was strange! We ate dinner, and I proceeded to order everything on the menu (as I thought it was free!)."
"A little bit tipsy after a few bottles of wine, he asked me if I wanted to try to sneak in the lift up to the hotel (where only guests were allowed to go) and have a drink on the roof. We followed another couple in and got out on floor 5 (the roof is on 7) and I asked where we were going. He said there was a secret staircase up to the roof and then he led me around the corridors until we got to a room. He handed me a key card, and said "I think this is for you…". I entered, a little confused by now, and found he had set up the room with champagne. When I turned around, he was down on one knee with the ring box. I said yes (of course!) and we excitedly FaceTimed our family and close friends and then had lots of champagne to celebrate! We were engaged for eight and a half months before we got married."
"My Dad walked me down the aisle to the sound of Van Morrison's 'Crazy Love'. Ross chose it and it was so perfect.
We incorporated our own personal vows into the legal ones we were required by law to say. We wrote them in little cards to help us recite them in the ceremony. Mine said 'You Make My Toes Tingle' and Ross's said 'You Are Awesome'. We also included a group vow in the ceremony, so our guests had to promise to support us through our married life."
"We spent a long time searching for readings and it was really difficult to find anything we liked. We wanted something sweet but not sickly, but also clear and well written. We found the reading for Ross's mum together. It was called 'Marriage', by an anonymous writer. We thought that it set the tone for the ceremony beautifully.
We had also asked my grandma, who is a writer, to do a reading as we were getting married on my granddad's birthday."
"My grandfather is sadly no longer with us, but he and my grandma used to send each other pictures of blackbirds on special occasions. They also used to sing a lullaby called 'Blackbird' to my mum and her siblings when they were little, so my grandma suggested that she read the words to the song as a poem. It definitely brought a tear to my eye when she recited it in our ceremony."
"My rose cut diamond and gold engagement ring was by Anna Sheffield – my favourite New York jewellery designer and Ross bought it from Liberty in London. I wanted a matching chevron diamond band to go with it, but Liberty didn't stock it. So my friend Zoe (who lives in the US) went to Anna's shop in Manhattan and brought it back for me when she was visiting London."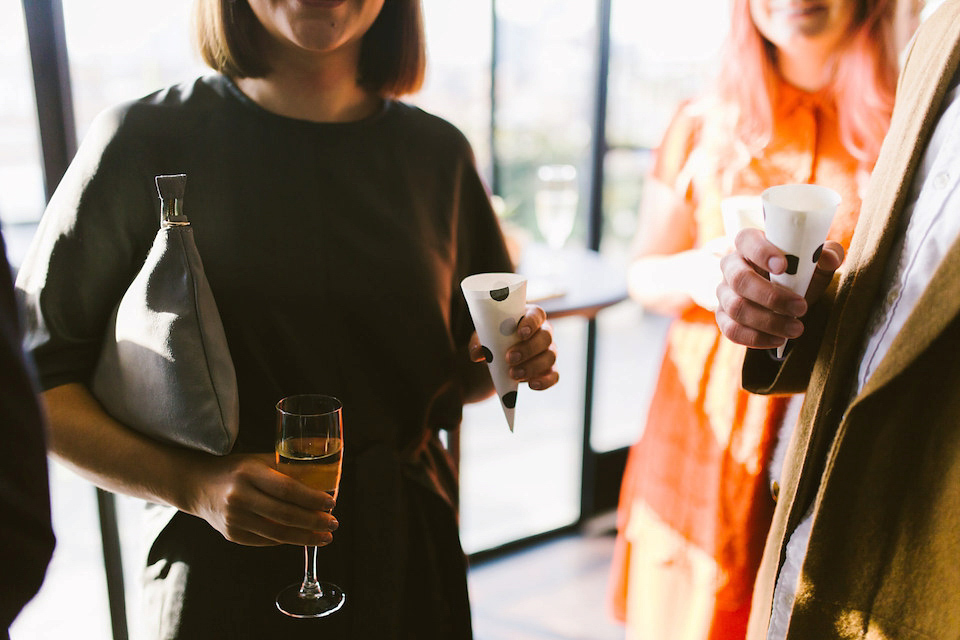 =
"My lovely makeup artist and hair stylist Jennifer Howson was absolutely amazing on the day. We had so much fun getting ready in the morning and when I had an underwear crisis just before putting on my dress, she saved the day!"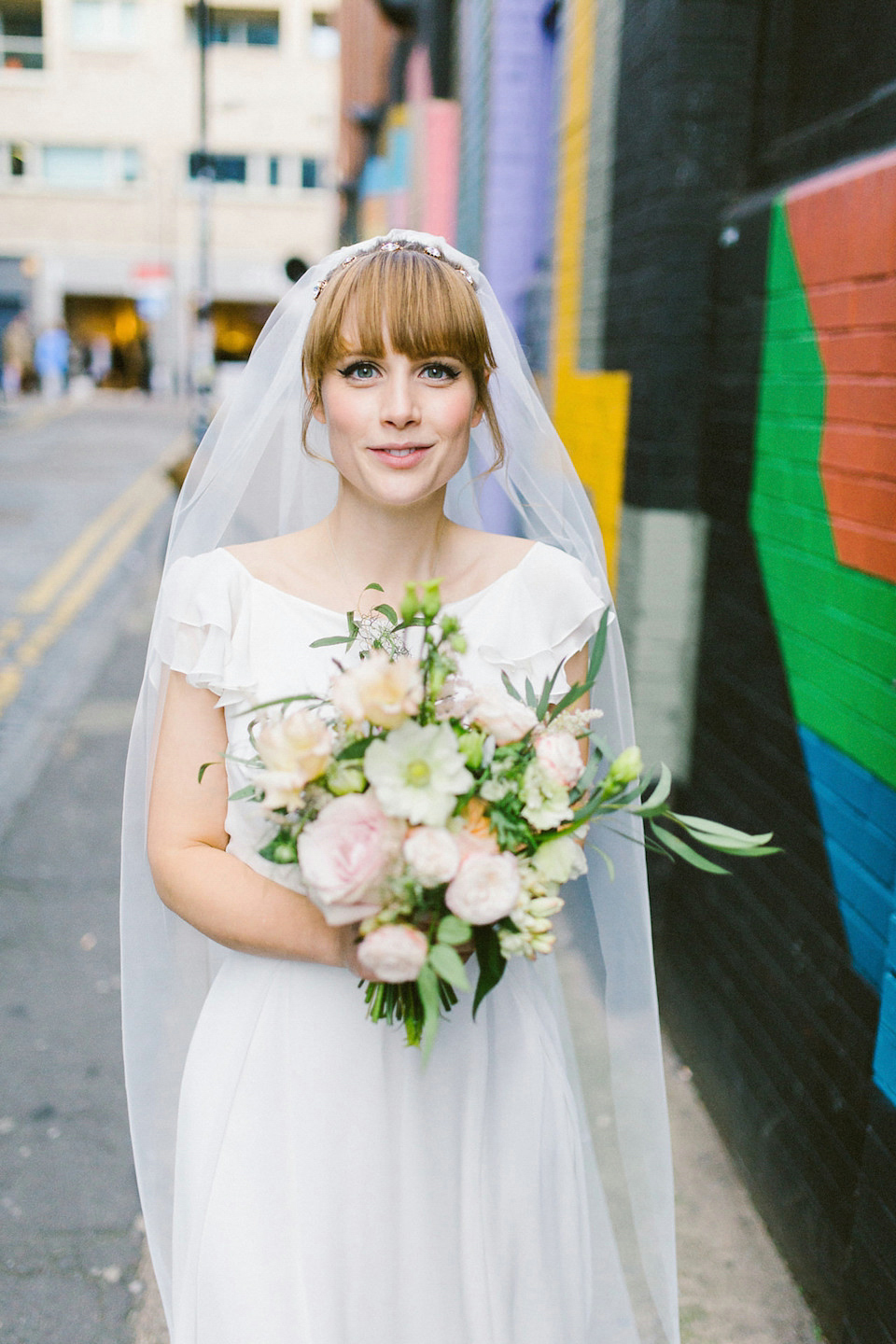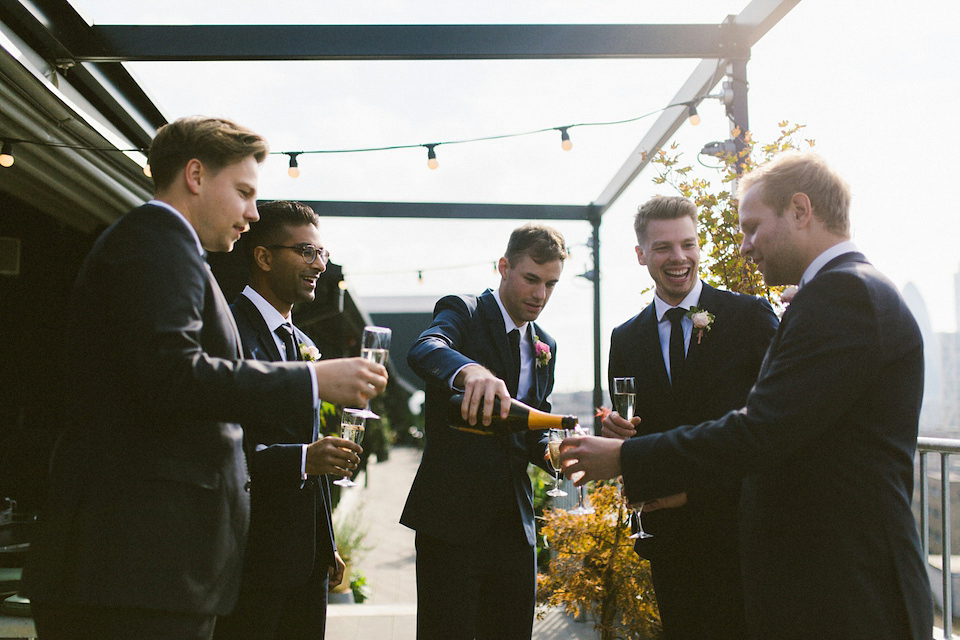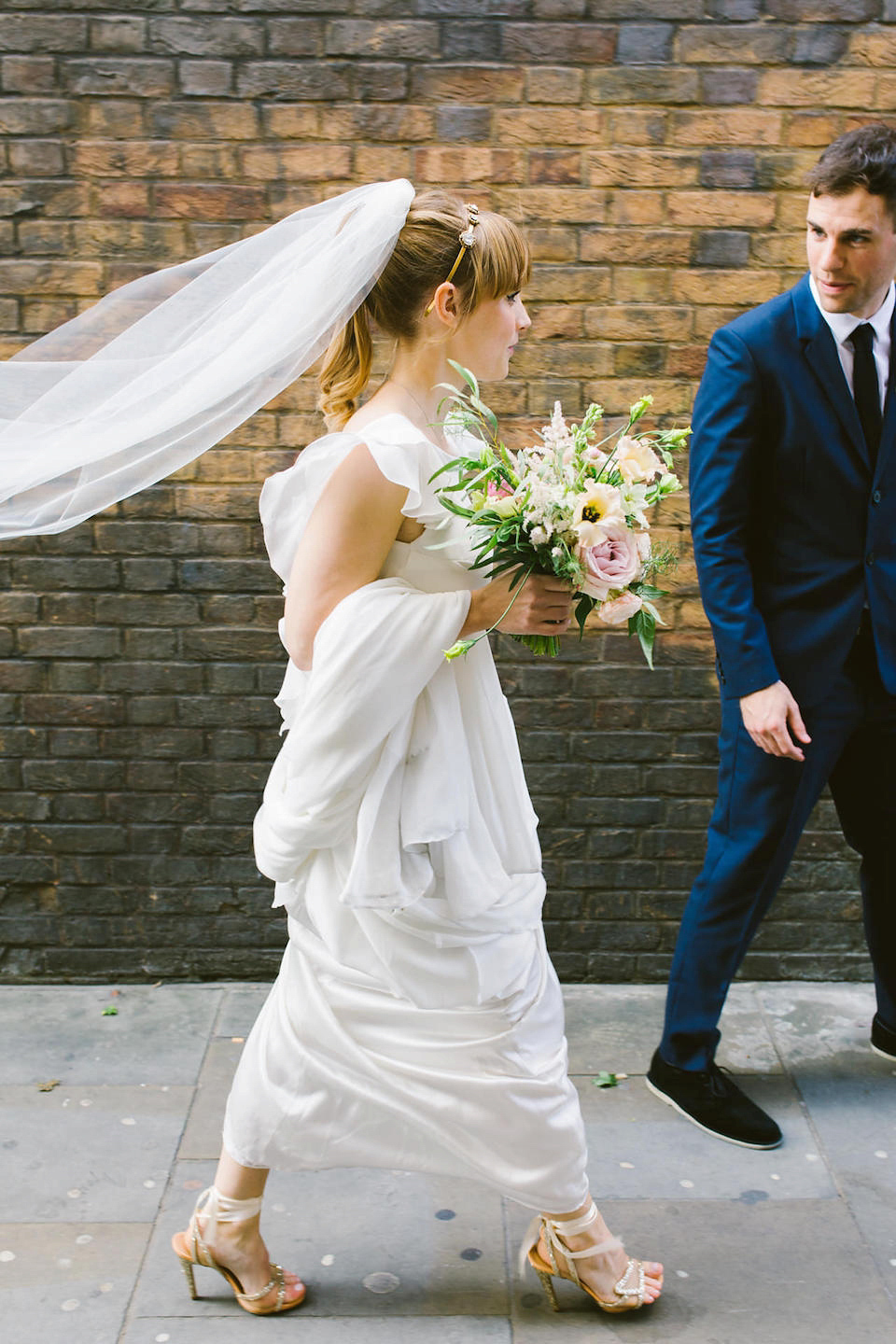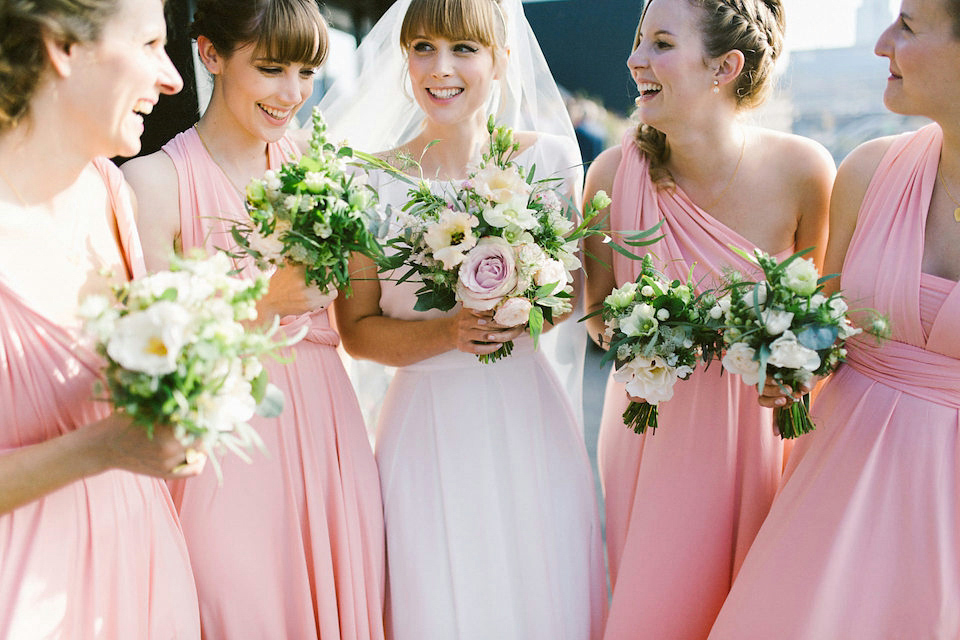 "It's so hard to choose one favourite moment from the whole day, but it would probably have to be when our bridesmaids and groomsmen joined us on the streets in Shoreditch to take photos after the ceremony. They were so giddy as they'd been running around trying to find us, and Alain, our photographer got amazing shots of us all messing around. Alain is a really good friend and it was so amazingly special to have him take our photos!
I wouldn't change a thing – it was such an amazing day and we were really happy with everything."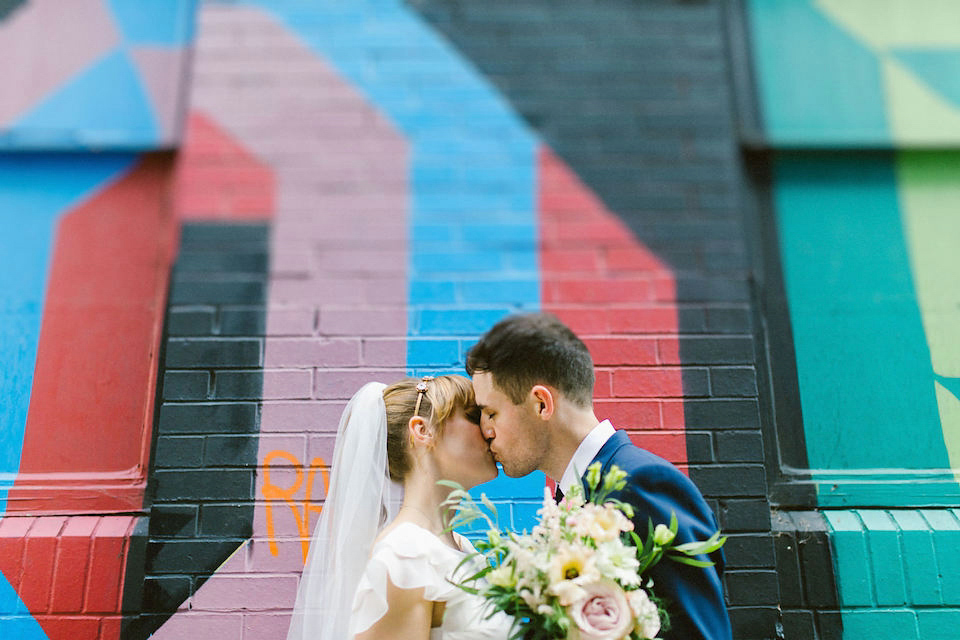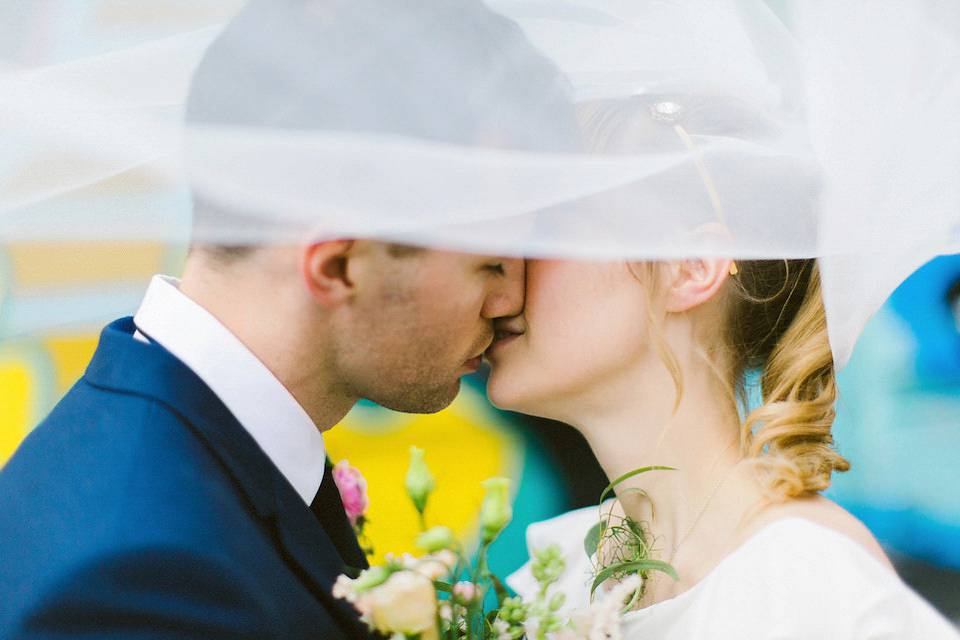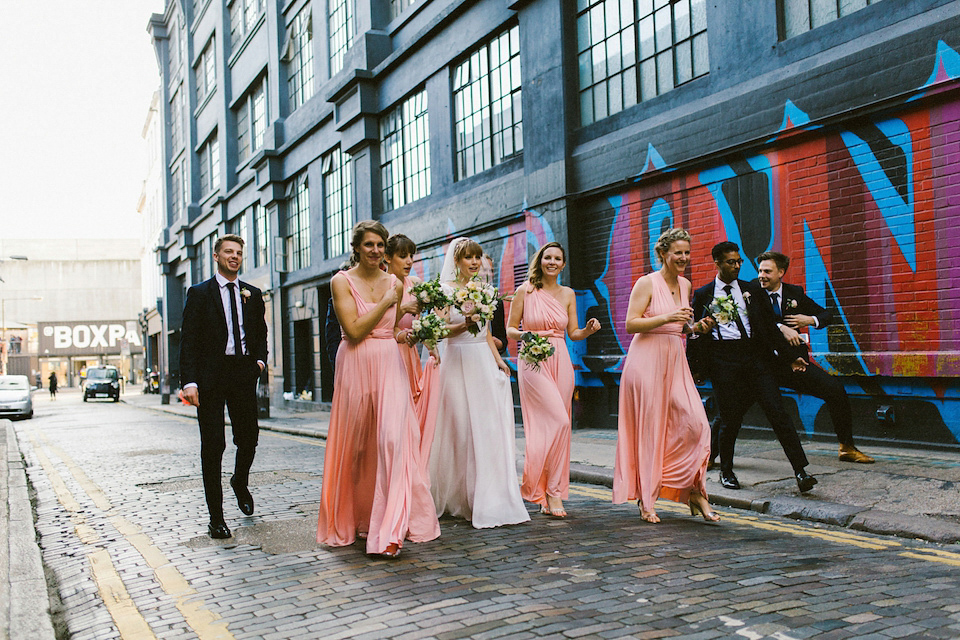 "Instead of choosing traditional wedding decorations, we wanted to incorporate things from our life in London. Plants were a recurring theme and our invitations (designed by me) featured leaves from the cheese plant in our home. We picked up things as we went along from shops in east London. For favours, we had chocolates from Mast Brothers on Redchurch Street (as I love the packaging design). The Palmeral print from House of Hackney (where my friend works) was on our guest book, garlands and order of the day sign. Even the confetti cones were handmade by me using beautiful polka dot paper from our favourite home shop, Monologue, also on Redchurch Street."
"Our florist was Hattie Fox at The Flower Shop. I love Hattie's work and she was the natural choice as she has a shop downstairs at The Ace Hotel. It was great working with her as she knows the venue so well. We chose to do a mixture of plant cuttings to echo our botanical theme and seasonal flowers mirroring the colours of the bridesmaids and flower girl dresses. I really wanted to have a peach rose in my bouquet, as my mum had had one in hers when she got married. I'm having the rose from my bouquet made into a paperweight to preserve it."
"Our caterers were Hoi Polloi who are resident at The Ace Hotel. Our wedding breakfast and evening food was absolutely incredible. The highlight was definitely the melting chocolate sphere dessert – quite honestly the best pudding I've ever tasted!
We had chocolate bars from Mast Brothers on Redchurch Street at each place on the tables. We chose them because we're huge fans of their amazing colourful packaging (and their chocolate is incredible). On the Friday afternoon before our wedding I sat in Shoreditch House tying stamped nametags to each one with the green bakers twine we had used on our invitations."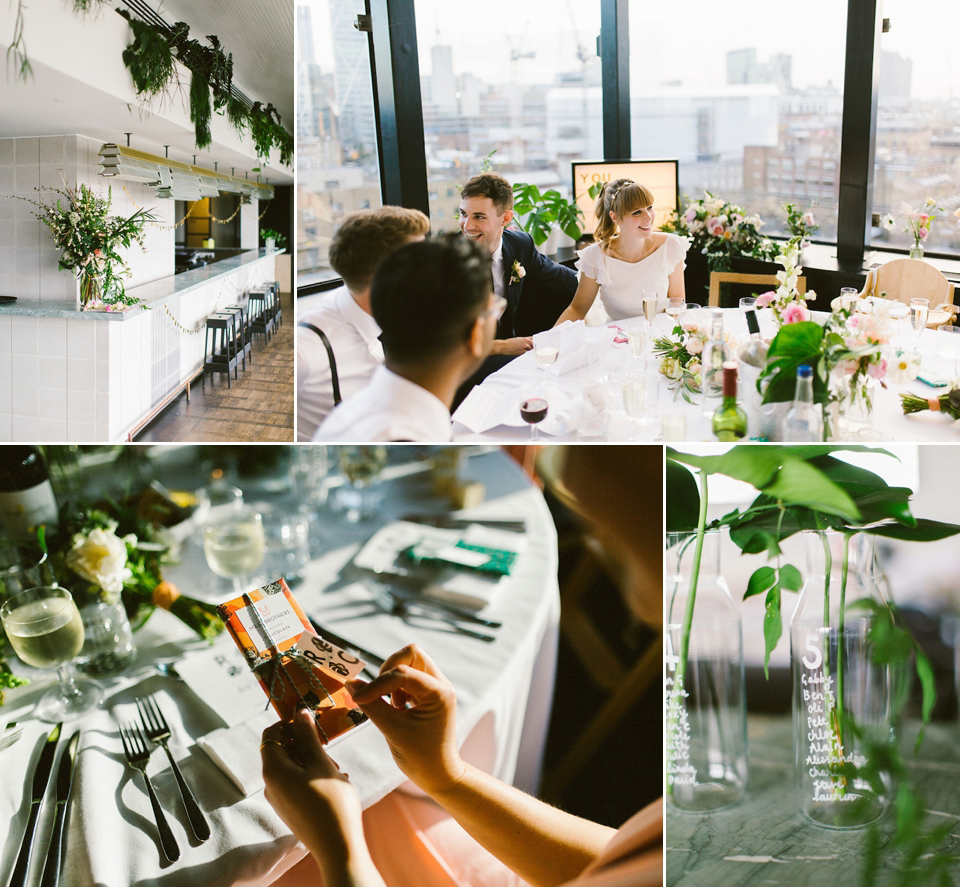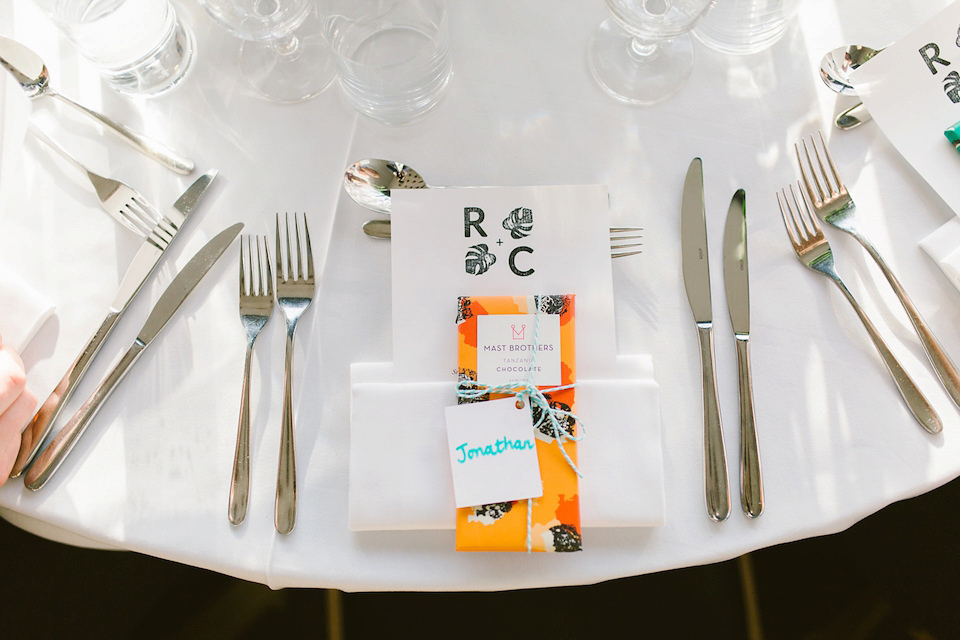 "Our salted caramel chocolate wedding cake was made by Sophie, the amazing patisserie chef at The Ace Hotel and decorated with flowers by Hattie Fox at The Flower Shop. I'm a such a sucker for chocolate and it was absolutely incredible. Each layer of chocolate icing oozed with gooey salted caramel and it also dripped down the side of the cake. You could definitely only eat one slice though!"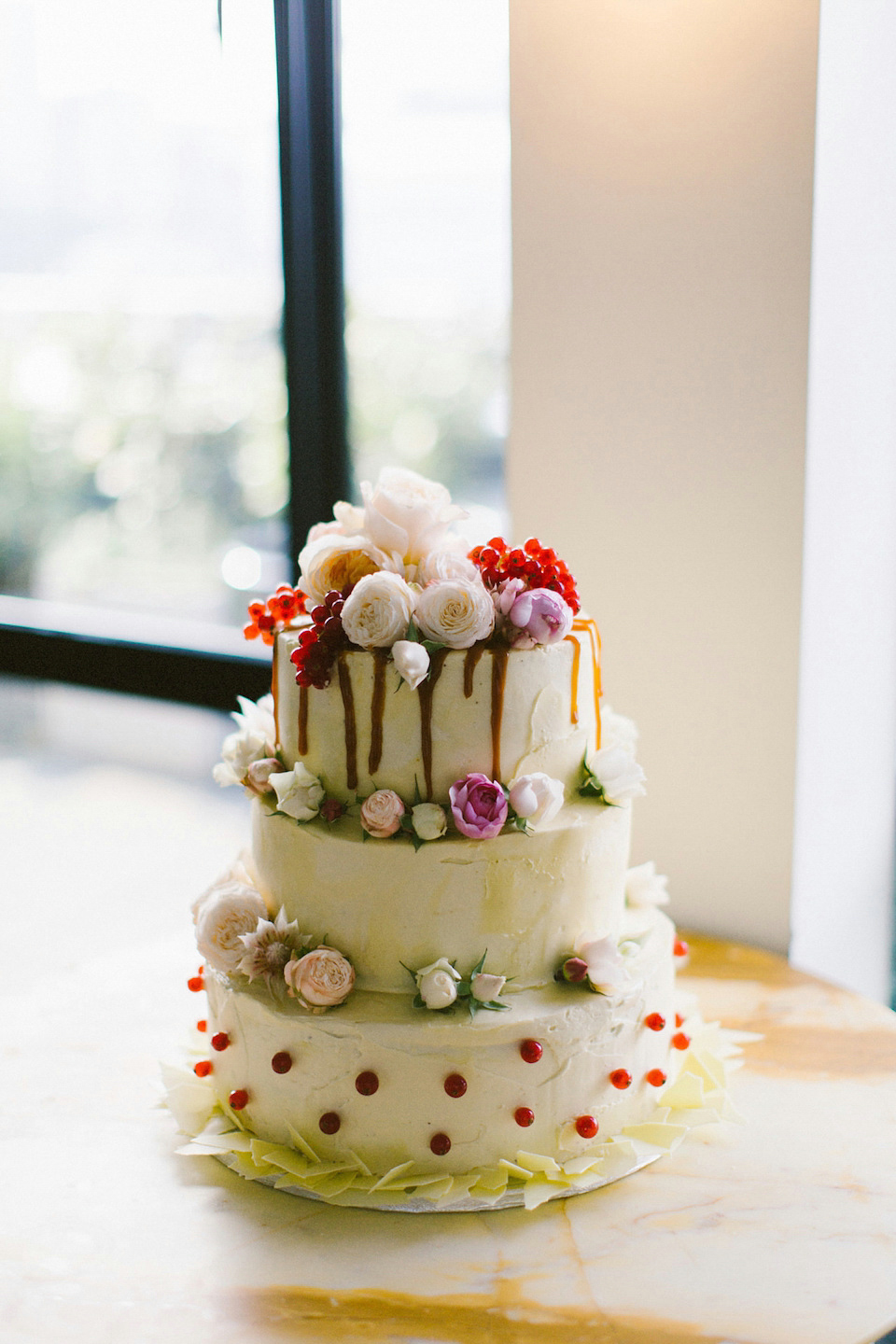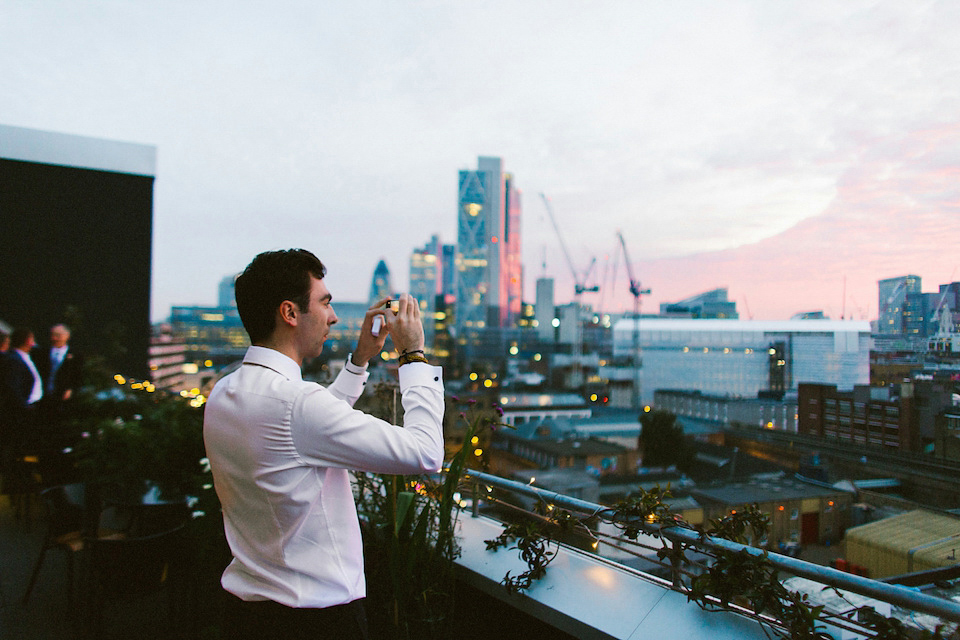 The couple's first dance was to Al Green's ' Let's Stay together'.
"We have always loved it and when I suggested it Ross said it was 'a jam'!"
"One of Ross's best men, Harry, DJs regularly, as does one of his ushers and my maid of honour and her boyfriend. Between them, they manned the decks all night and it was so much fun. We loved the idea of our friends DJing as we knew it would be a great party."
Words of Wedded Wisdom
"So many people said it to us, but it was so true. Try to take a moment out in the day just the two of you to take it all in. You're so busy all day it's easy to forget to step back and look at what you've created! We escaped to a private terrace to share a piece of our wedding cake and gaze at the city lights. It was magical!
Also, I always loved reading the real weddings posts on Love My Dress. I was always searching for 'cool east London weddings' for inspiration. I did love the one at the Crate Brewery in Hackney Wick too as we used to live right by there."
What a super, super gorgeous wedding, in every single way – Carly you have incredible, effortless style and indeed I'm pretty sure there are going to be a few brides out there keen to steal it! Love, congratulations and thanks to you and Ross for allowing us to share your beautiful day on Love My Dress today. I can't picture another gown looking quite so beautiful on you.
You can find more from Belle & Bunty by visiting the website, or checking out the Belle & Bunty page in Little Book For Brides.
Love Annabel x
Photographer – Alain M
Venue  – The Ace Hotel in Shoreditch, London
Bride's Dress – Belle & Bunty
Veil – Britten Weddings
Bride's Hair Accessories – Oscar de la Renta from Net-a-porter
Shoes – Aperlai from Net-a-porter
Perfume – Chloé, Love (scent worn when they met)
Grooms Suit – Cos + Clarks shoes
Bridesmaid's Dresses – Isabella Bridal
Flowergirls –  Stella McCartney Kids via AlexandAlexa
Florist – Hattie Fox at The Flower Shop
Cake – Chef at The Ace Hotel decorated by Hattie Fox at The Flower Shop
Entertainment –
Rings – Anna Sheffield
Catering Company – Hoi Polloi
Stationery – DIY using Paperless Post + English Stamp Company
Hair + Makeup –  Jennifer Howson
You Are Ace Boxlight – BXXLGHT