Well hello again and I don't know about you but this morning, I'm all wrapped up against the cold. Secretly, I love the opportunity to get cosy but there's no doubt about it, I'm definitely looking forward to warmer, longer days. But right now, I'm feeling sunny despite the weather and it's thanks to the brilliant Brooklyn Bridal, a new and exciting online boutique that's full of bold and wonderfully colourful décor and accessories. So, let's bring the brightness to Monday with these fantastic bespoke details…
Photography by Anneli Marinovich
Brooklyn Bridal should certainly be your first port of call if you're looking for a great selection of decorative accessories for your wedding day. Inspired by wedding trends from around the world, this is the place to find those luxurious ribbons, handmade pom poms, hardwood parasols and paper paddle fans that will all make your wedding day pop.
I have to say that I LOVE the shoe bows, ribbon walls and personalised tote bags – I can imagine filling them with goodies for bridesmaids and then seeing them used for a long time after your big day.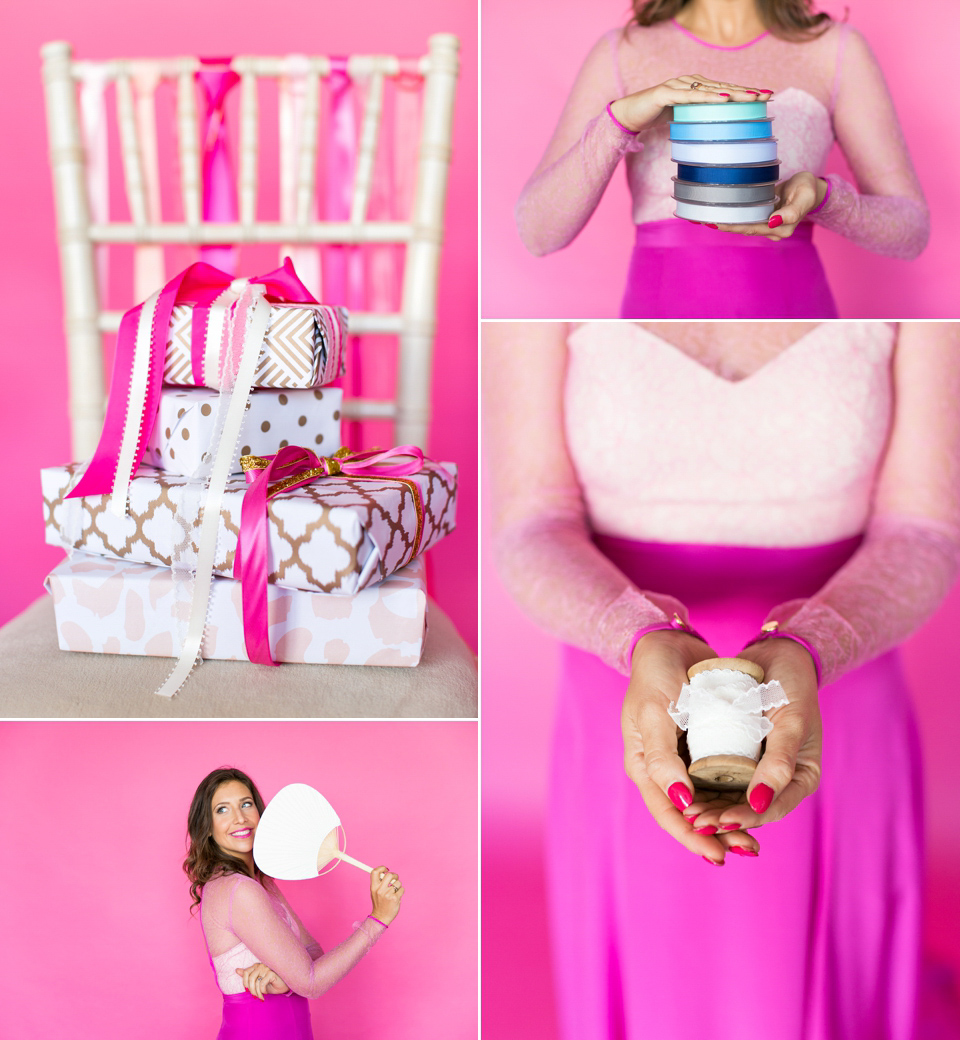 Leanne Meaney, the stylish founder of Brooklyn Bridal, was inspired to launch the company after her own bohemian wedding in Ibiza. Thanks to her extensive knowledge of the textile industry, a bulging little black book of contacts and a great understanding of what works at weddings, she set about sourcing and selecting a rather brilliant edit of handcrafted pieces in a huge range of colours that will suit every style of celebration.
"I really struggled to find beautiful decorative items to inject fun and colour into the day – there seemed to be far too many paper products and not enough class!" says Leanne. "Not one to be deterred, I set about sourcing and developing a variety of unique and handmade items for my wedding day, all of which came together perfectly in an explosion of colour- think luxury satin and sheer pom poms strung from pine trees, monogrammed cotton pouches stuffed with natural rose confetti and a beautiful, bright pink, hand- strung ribbon wall, against which we took all of our group photos."
"Guests loved the handmade details and so did we. After the excitement of the big day died down, I started to receive emails from brides requesting similar items for their weddings and I realised there was a huge gap in the market for beautiful wedding decor. In essence, what started as a personal project has now become a fully-fledged online boutique!
Every product in the boutique is curated by Brooklyn Bridal's dedicated in-house team and is designed to compliment the other pieces within the collection. Confetti pouches, handwritten place cards and name tags with coordinating ribbons and pom poms – you can be sure that everything you order has been handcrafted with love.
"Our company philosophy is that weddings preparations should be fun and easy," says Leanne. "As a result, Brooklyn Bridal aims to offer brides instant access to the best products to accentuate their wedding day. The team has done the leg work, sourcing and creating products to ensure that we always present our brides with the very best!"
And the Brooklyn Bridal ethos mean the team also loves bespoke orders. If you're looking for a custom luxury ribbon backdrop or a one-off tote bag design, the team is on hand to create exactly what you want to your precise brief. There's also a great mix and match toolkit available in the online boutique that will help you bring your whole look together by suggesting products that work within a specific colour palette or those that give a more playful look using a wider range of shades.
"Our signature style is uplifting and eclectic, drawing inspiration from different cultures around the world. We aim to put a smile on our brides' faces with an injection of colour and fun."
Well, I don't know about you but I'm certainly feeling much brighter already!
Wedding décor and accessories from Brooklyn Bridal start at just £1 for ribbon tags and range upwards to £265 for one of the luxe handmade bridal sashes. You can also create your own wish list to save all your ideas and orders over £100 come with free tracked delivery within the UK.
If you'd like any styling advice or if you'd like to discuss a bespoke project or custom order, you can contact Brooklyn Bridal via their website or [email protected]. You can also find the team on Facebook, Instagram, Pinterest and Twitter.
Love Tamryn x
This is a sponsored post
Photographer – Anneli Marinovich
Dress – Belle & Bunty
Styling – Louise Beukes Styling
Makeup Artist – Leanne Hodson