Welcome and thank you for joining us on this chilly but utterly beautiful Saturday here in the UK. I do adore a touch of  escapism, especially when ti feels like the warmth of summer is so far away – and the wedding of Chloe and Alexander on the 6th of June last year is just that. The ceremony was held in St James' the Church in Shere village, where Chloe spent the majority of her childhood and the reception was held in her parent's paddock in the Surrey countryside. Her father spend most of the year before making sure the paddock would be at its best and their family and friends all pitched in too.
The beautiful thing images are by Dasha Caffrey, her slightly daydreaming style is just gorgeous and works really well with the pink and cream flowers Chloe chose with her florist Hannah Berry.
"The countryside was our main inspiration as we wanted to compliment the surroundings. The Church service, the piper and the military uniforms were all traditional elements but we also really wanted a relaxed, informal day and for our guests to have a great time. I really couldn't imagine getting married anywhere else. Shere is beautifully picturesque and we were so lucky to have it on our doorstep."
Photography by Photographer – Dasha Caffrey
"I have to give Alex credit for the dusky pink bridesmaid's dresses from Coast. I was having a slight meltdown and he helped me to scout them out. My Bridesmaids are all lovely English roses and have an ethereal prettiness in common, these floaty dresses really suited them."
Chloe got her stunning Suzanne Neville dress and cathedral veil at Miss Bush Bridal (last week we featured a shoot and very personal written feature from Miss bush founder Emma – if you missed it, it's here) which she teamed with a pair of glittering silver shoes from Blue Velvet.
"It was the first dress I tried after it instantly caught my eye in the shop. I am pretty thorough with my clothes shopping generally, so I wanted to visit every designer's boutique and try on every style, but my thoughts kept on coming back to that dress. It was the perfect combination of structured and ethereal, with the nipped in waist and billowing diaphanous skirt. Miss Bush were brilliant and gave me lots of honest and sincere advice."
Gown by Suzanne Neville via Miss Bush Bridal
Find Miss Bush Bridal in Little Book For Brides
Chloe and Alex chose the inimitable Dasha Caffrey to capture their special day. The images have a very natural feel to them with a softness around the edges which suits this elegant wedding perfectly.
"Dasha was wonderful and I knew instantly upon meeting her that she was the right person for the job. I was very particular about the photography as I wanted someone whose work would complement the style of our countryside Wedding. I loved Dasha's style from the beginning and she is great at using the light to her best advantage. Her images are flattering without being overly airbrushed and have a dream-like whimsical quality too."
"Dasha also has a real knack of capturing great moments and I love all the photos of our guests laughing and enjoying themselves. On the day Dasha was not only professional, but also great fun, instantly putting everyone at ease. I really like the fact that the group shots are all relaxed and not stiff and formal and that is testament to Dasha's ability."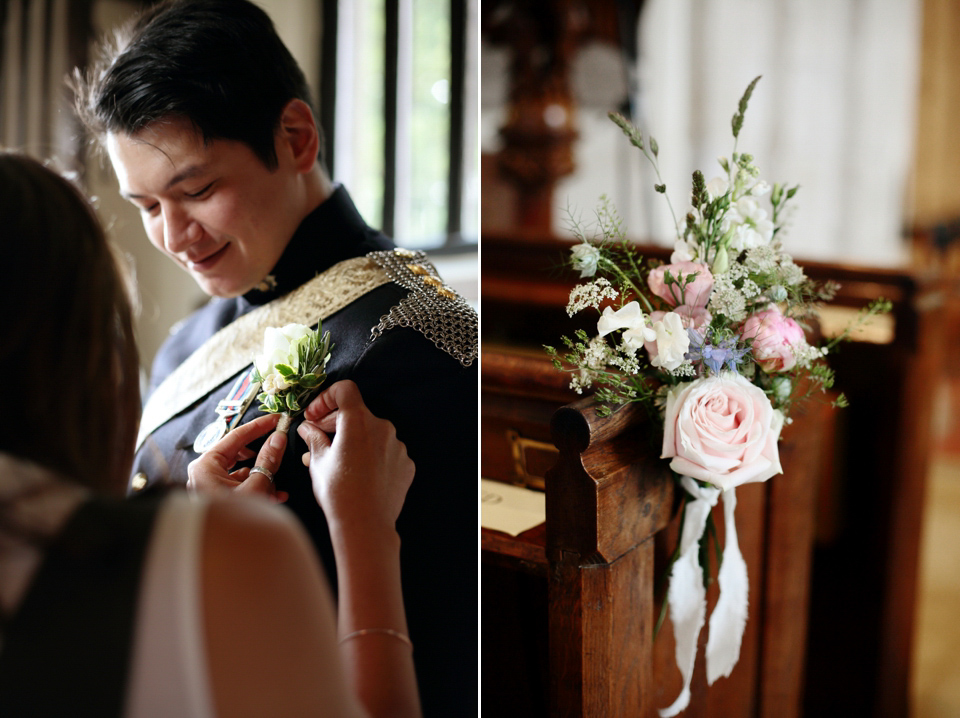 "I walked down the aisle with my father to 'Zadok the Priest' by Handel. I was reluctant initially, as I thought that it was very regal, however it is my father's favourite and on the day I loved it as the introduction is so beautiful and really echoes the anticipation mingled with excitement that you feel as you walk up the aisle."
The couple met when Chloe gatecrashed Alex's rather fancy dinner party.
"I turned up clutching a bottle of Prosecco and was rather alarmed to find everyone in black tie. He cooked the most amazing three course dinner and we became friends. We started going out a few years later. Alex proposed at the end of March 2014 as we walked back from the village to my parent's house. He got down on one knee right next to a tree that my brothers and I always used to climb as children. I was so excited that I rather inelegantly rugby tackled him before he had even managed to put the ring on."
"My favourite part was definitely the ceremony, standing up in front of the people we love most and saying the vows to each other was incredible. I don't think that anything prepares you for the sheer gravity of the moment when you both finally say 'I will'. The church was full to the rafters and there was a lovely warm atmosphere as we knew everyone there was entirely rooting for us."
"Alex has a pretty smart uniform and his ushers all are in various regiments, so they all wore their uniforms. The best men wore their own morning suits and silk top hats. Alex changed into his own jacket with regimental tartan trews for the evening."
"Our friend Vic and my Dad constructed an arch out of silver birch and ivy, which was later augmented by posies from the church and it's still standing at the entrance to the paddock as a constant reminder of the day."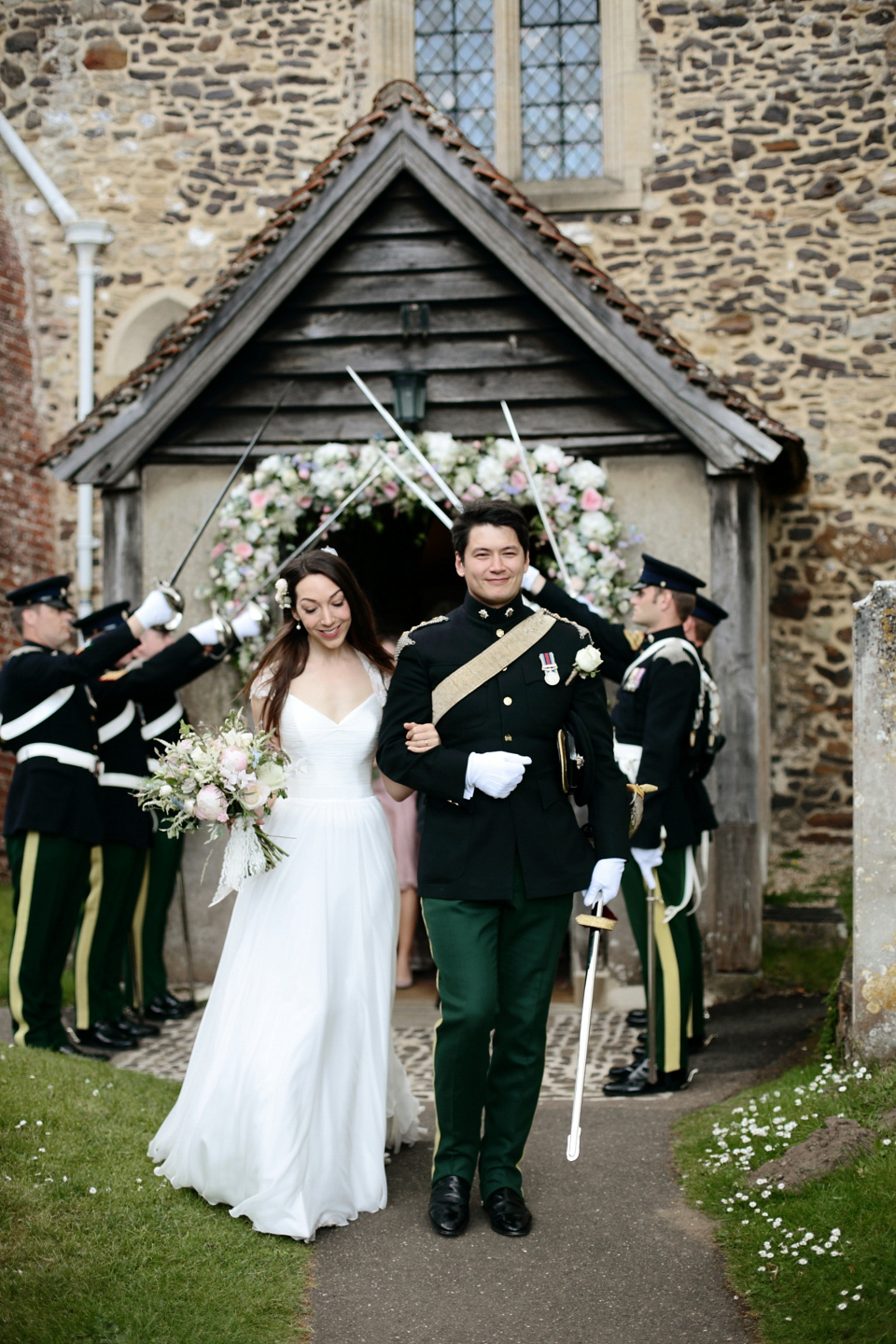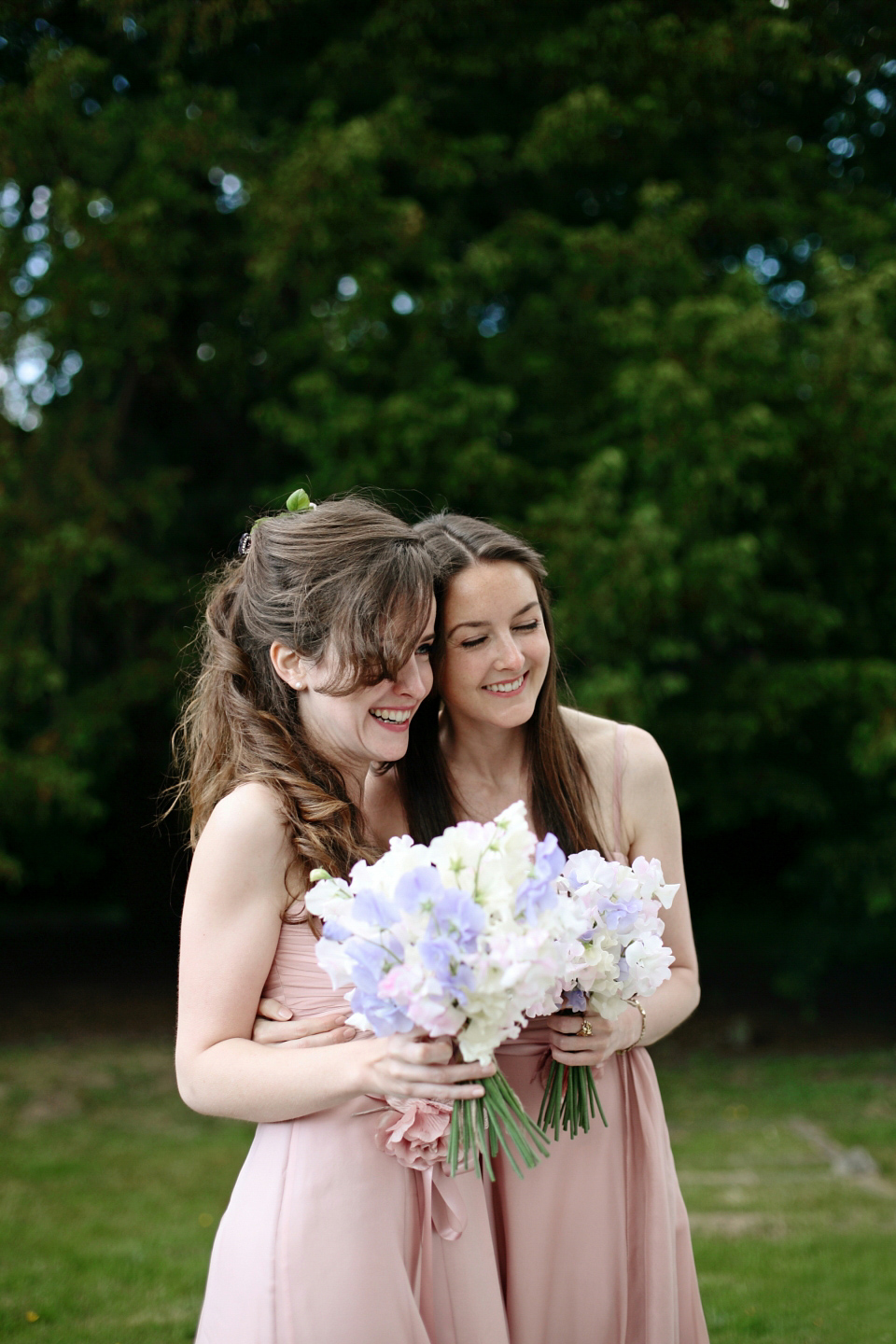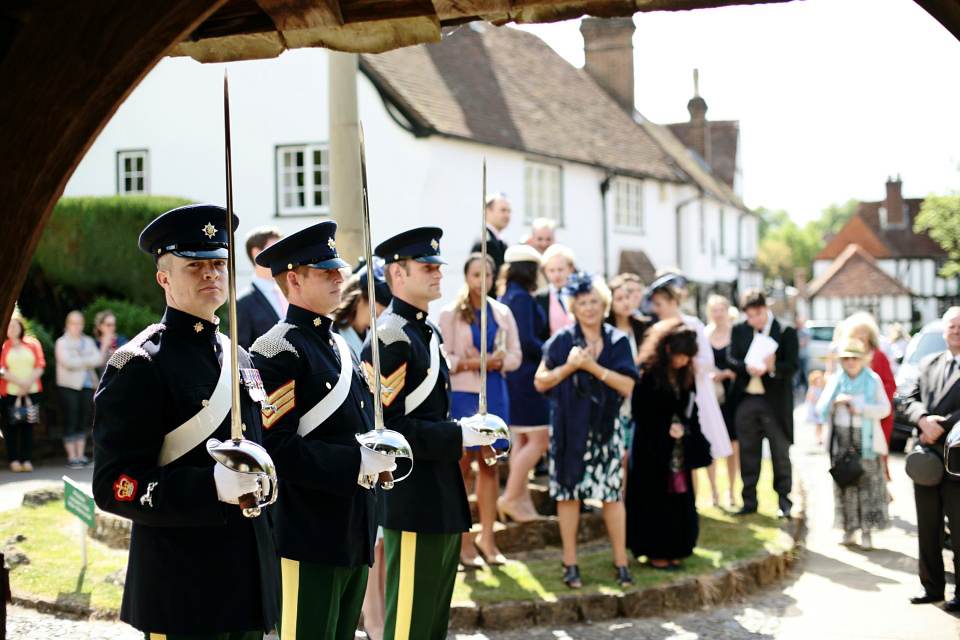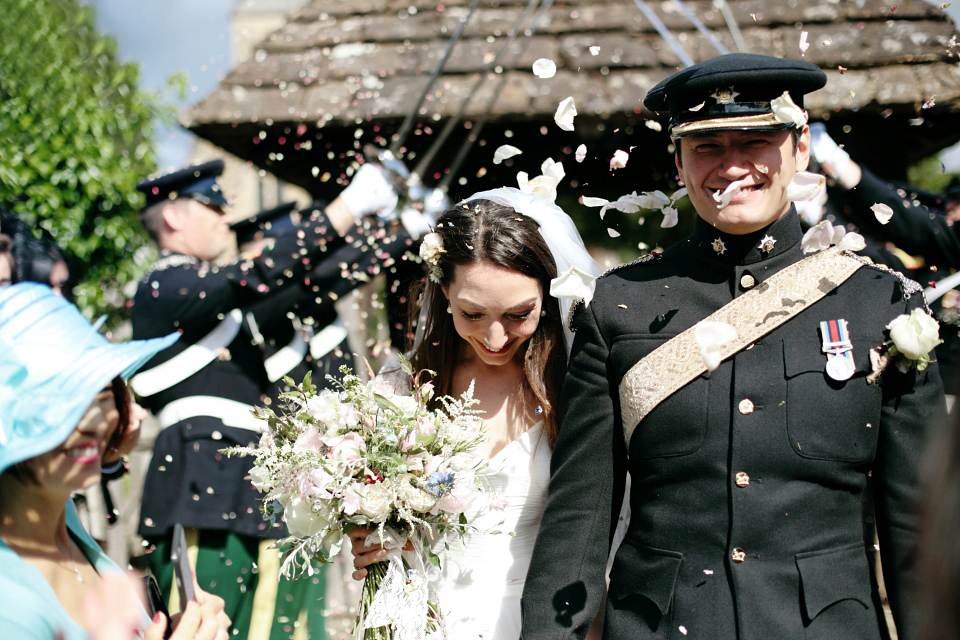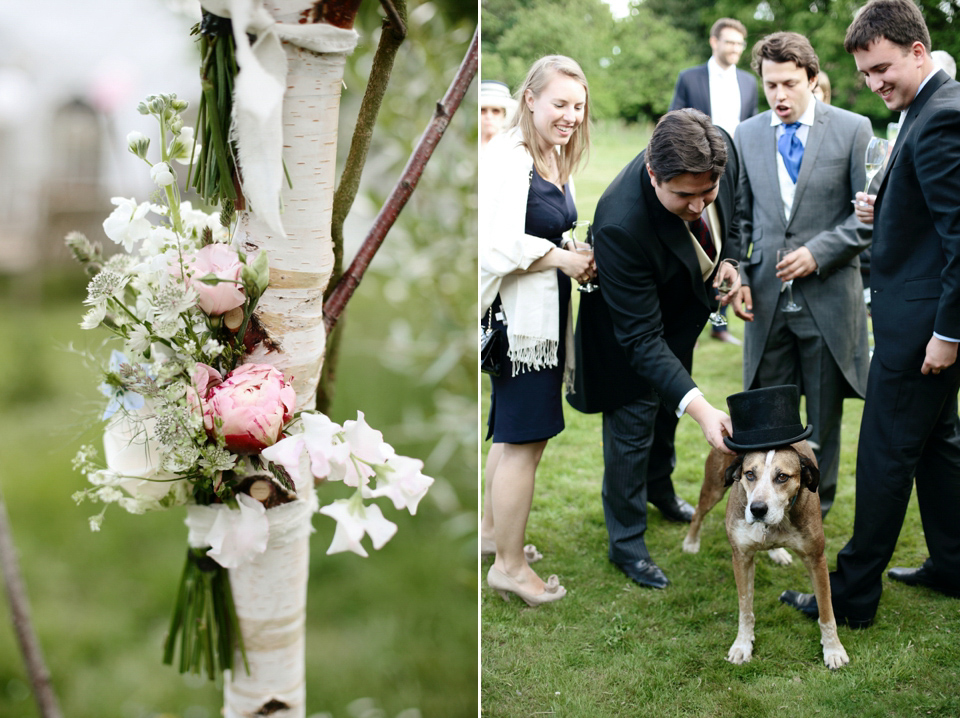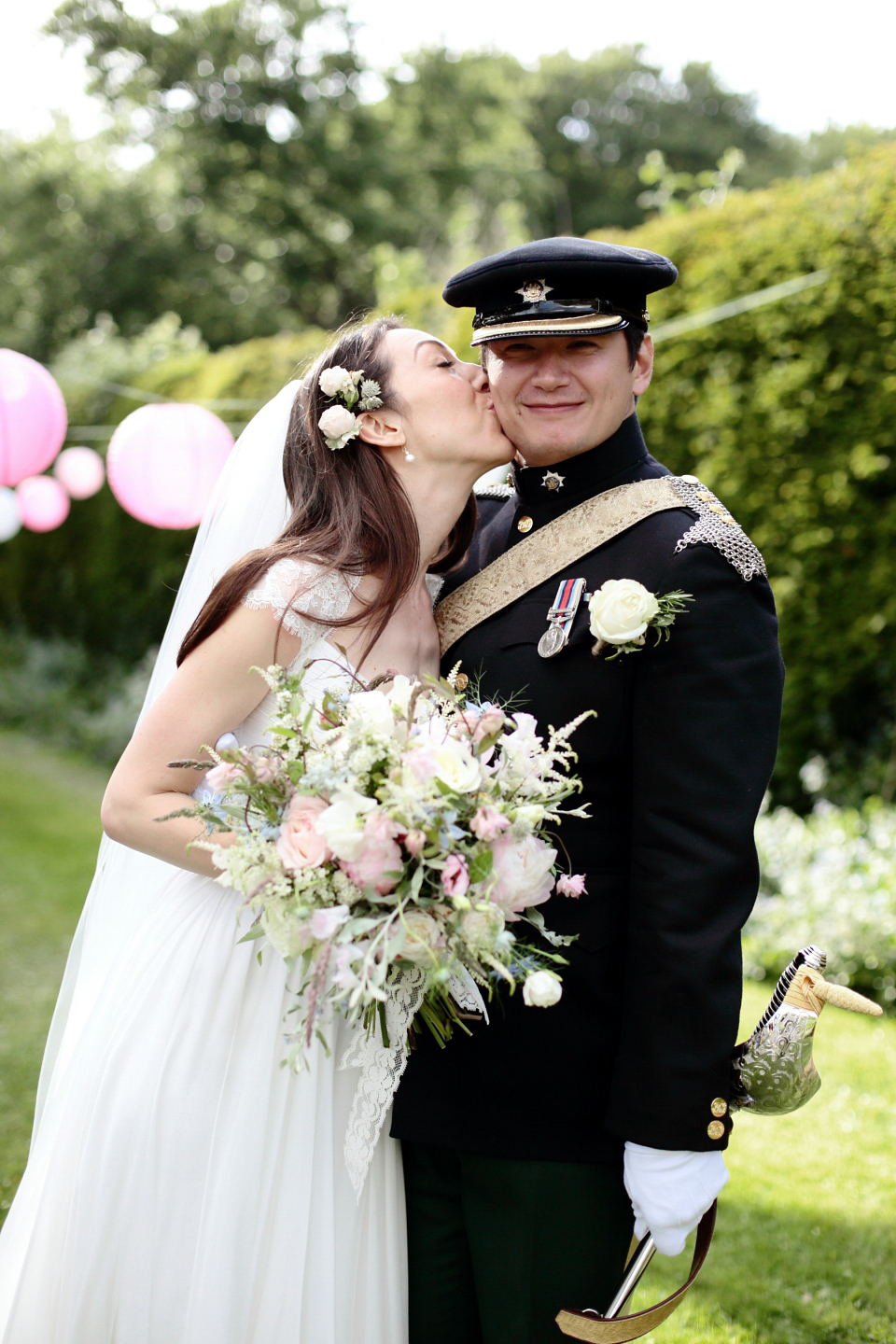 The ladies wore flowers plucked from a wild rosebush just before the ceremony, in their hair."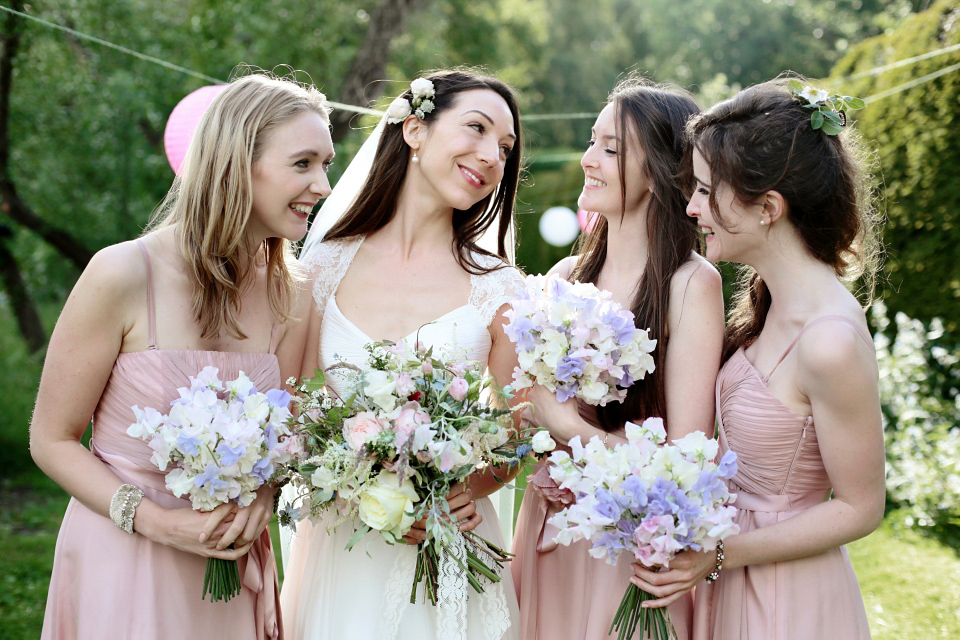 Chloe also wore some flowers in her hair mixed with wax flowers from her great grandmother's wedding headband, such a lovely heirloom to have.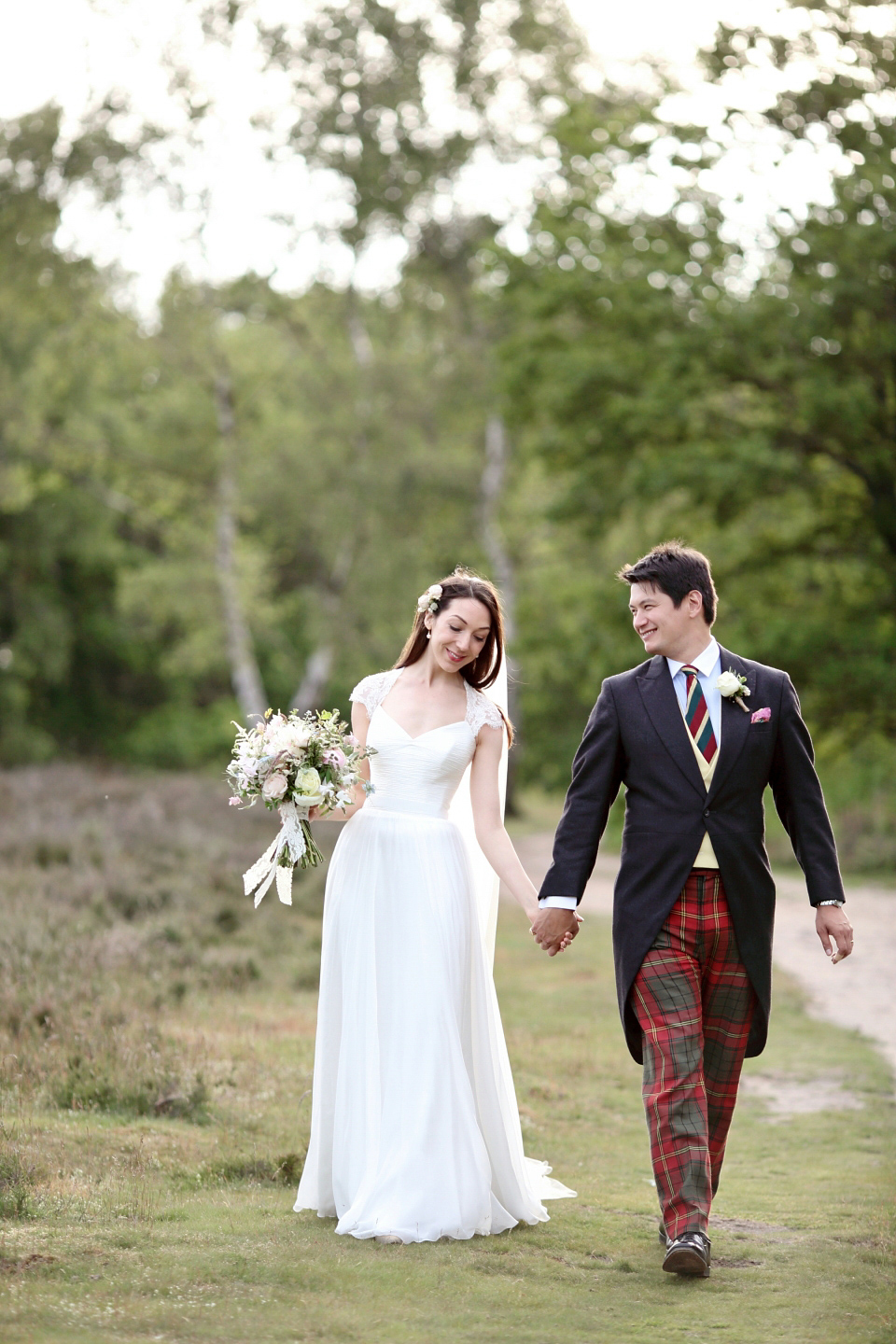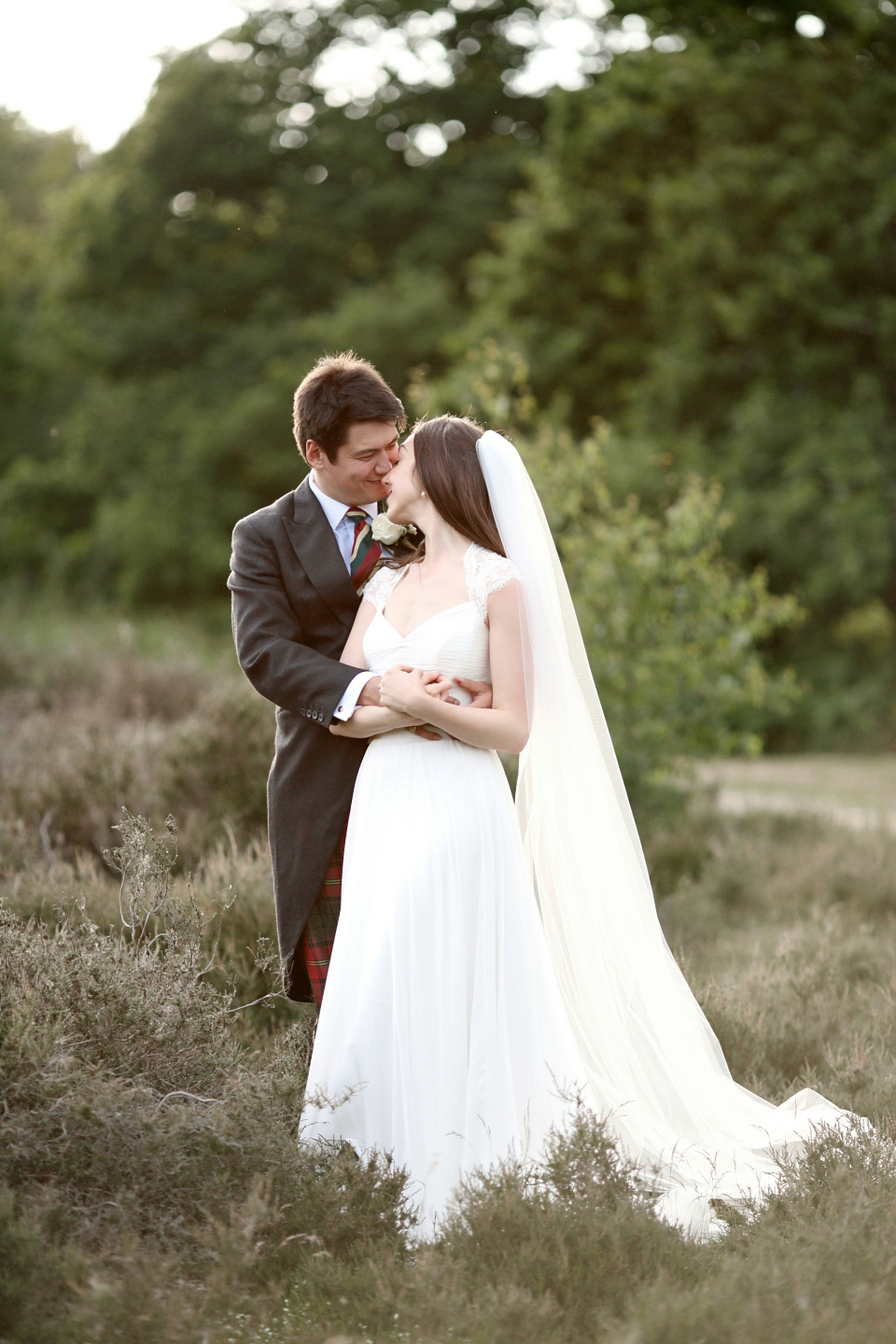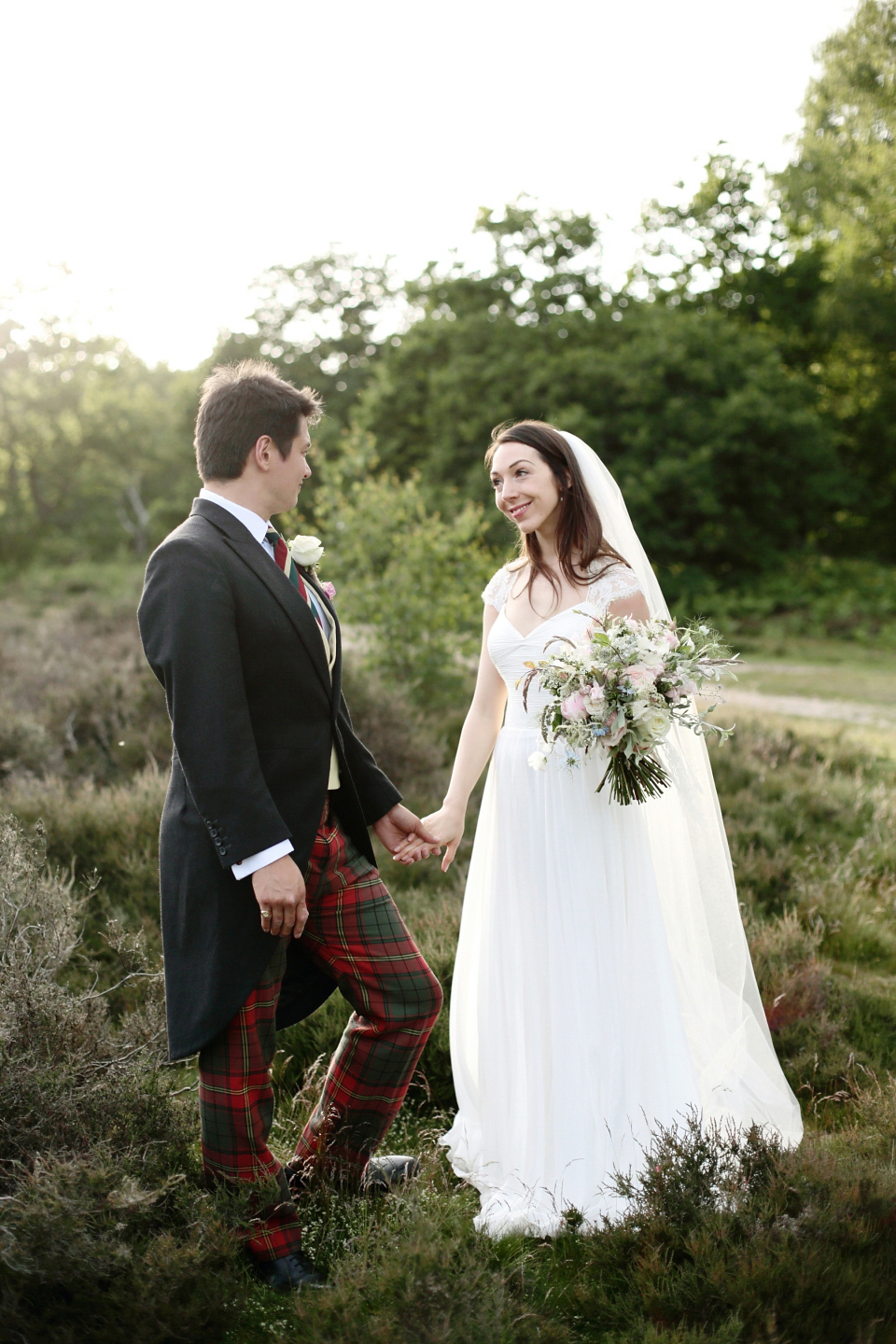 "Words can not quite sum up how wonderful our florist Hannah Berry is! She is such an enthusiastic person and this is instantly contagious. She is also incredibly talented and with a brilliant eye. There is a slight vintage aesthetic to her arrangements and I liked the loose and unstructured feel. If I am honest I was a bit confused about the flowers before meeting Hannah but she patiently listened to my vague ideas and together we came up with a cohesive and detailed plan of blousey, unstructured arrangements in dusky pinks and creams with lots of verdant
foliage. The arch over the church door was a thing of beauty and she even left a basket of fresh rose petals to use as confetti, it was so thoughtful and appreciated."
"Alex' Uncle Piers Williams is a very talented artist and has painted a beautiful flower series which includes peonies and roses in monumental and macroscopic scale and he kindly gave us permission to use them for the tables. Alex made a silver birch stand for each one and they looked beautiful amongst the wild flowers that surrounded them."
The newlyweds wanted a fairly informal wedding breakfast so opted for Bricks Catering. They provided a scrumptious array of seasonal salads with a main course of barbecued lamb that guests could share between themselves.
Chloe's mother was an enormous help with everything from collecting antique crystal vases, making 180 miniature bottles of sloe gin, limoncello and damson gin to crafting the cake. She spend hours painstakingly crystallising fresh rose petals and mint leaves to decorate the delicious chocolate cake.
"My father gave the most incredible speech. It was wonderfully free from saccharine schmaltz and sentiment and was hilariously deadpan and funny. It has received cult classic status amongst my friends and they still speak about it."
Chloe was reticent about a first dance, fearing it would be shuffling and awkward but the couple chose 'L-O-V-E' by Frank Sinatra and she admits that it ended up being great fun!"
Words of Wedded Wisdom
"It's very easy to advise people to relax and enjoy it, and I certainly was guilty of ignoring this, but I think it is really important to try and enjoy the process as much as possible. Also, save yourself stress by not leaving too many things until the last minute. We were pretty organised, but we left the place names until the morning of the wedding, which meant my (very accommodating!) family were slaving away in the marquee when they should have been relaxing and getting themselves ready."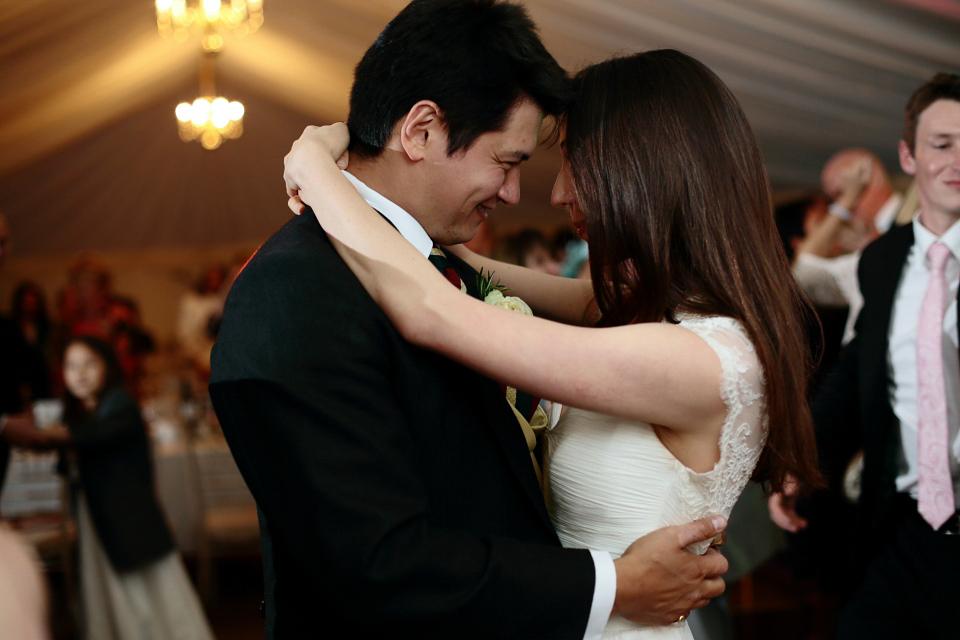 What a pretty wedding don't you agree! Are any of you planning a wedding at home? We would love to hear how your plans are going.
Thank you to Chloe and Alexander for sharing your beautiful wedding day with our readers. Our appreciation also goes to the superb Dasha Caffrey for the gorgeous images.
Love Caoimhe xx
Photographer – Dasha Caffrey
Venue – St James' Church, Shere and the Bride's Parent's Paddock
Wedding Dress – Cherish by Suzanne Neville from Miss Bush Bridal
Veil – Miss Bush Bridal
Shoes – Blue Velvet
Groom – His Own Uniform
Bridesmaids – Coast
Florist – Hannah Berry
Cake – Mother of the Bride
Catering – Bricks Catering