As a bridal boutique owner, many brides-to-be apologise to me. They think 'they' are not what I am used to. They are too something; fat, thin, hippy, busty. They are not something; rich, virginal, decisive. Their love story is not 'pure;' perhaps they are not marrying their childhood sweetheart, their University partner or any number of ex-lovers. If they are marrying their childhood sweetheart there are apologies that they are not more worldly or sophisticated. They feel sure that they haven't given me enough time or are wasting my time.
Photography by Nick Tucker
The couple are  Emma, owner of Miss Bush Bridal, and her fiance, Marshy
Follow Emma and Miss Bush Bridal on Instagram
A great deal of my day is spent reassuring brides that whatever career-oriented, feminist, Pilates-toned version of Elsa from Frozen with a budget of a Rich Kid of Instagram they think I am expecting  – along with the combined wedding taste of K-Middy a handful of Delevignes and a Pinterest board prize for the most artful collection of plaits – they are wrong.
My working life is filled with everyday love stories with couples that quite often like a cup of tea and a box set, scraped back hair and have a healthy overdraft.
I have been married before. I have children, or more accurately, I have adults that used to be children but are still my babies. I have grey hair, naturally grey, not out of a Pixie Lott packet. I am taller than my partner. I have been all sizes from plus to puny. I work for the 'Wedding Industrial Complex' (Insert links to US blogs). I have a lot to apologise for. Yet I am confident around my products.
Flick through the Miss Bush Instagram feed and you will find (heavily filtered) selfie versions of me in all manner of wedding related products and scenarios. Working some sparkle, choosing some gowns, dispensing wisdom.
Not exactly out of the blue but as a complete surprise back in the summer my rather wonderful boyfriend of nearly nine years proposed. We have already endured and enjoyed a lot of wedding vow promises. Sickness, health, richer, poorer, better and worse times. I feel committed already, we co-parent, we co-habit, we co-work. The Lovely Marshy is already my plus-one, my significant other and very definitely my better half.
So, yay, choosing a dress for me won't be encumbered by all the body shaming/anxiety/hell that terrifies a great percentage of lovely brides. Every staff discount and possible perk will be milked to the max as I roll out The Greatest Bridal Show on Earth right?
Wrong. Getting actually engaged changed everything. I was no longer simply the larger than life Miss Bush hiding behind a logo and a log-in to a decent sized social media following. In front of real people, in real life I barely mentioned being engaged unless someone asked about my very splendid ring. I actually hated to mention it. It felt like queue jumping or pushing myself forward. It felt a bit like going in to Top Shop and browsing hotpants. I had become a member of a club for young women. I apologised constantly and made light of being engaged because I am 'not young.' I had fallen prey to one of phantoms of the imagination of a real bride to be.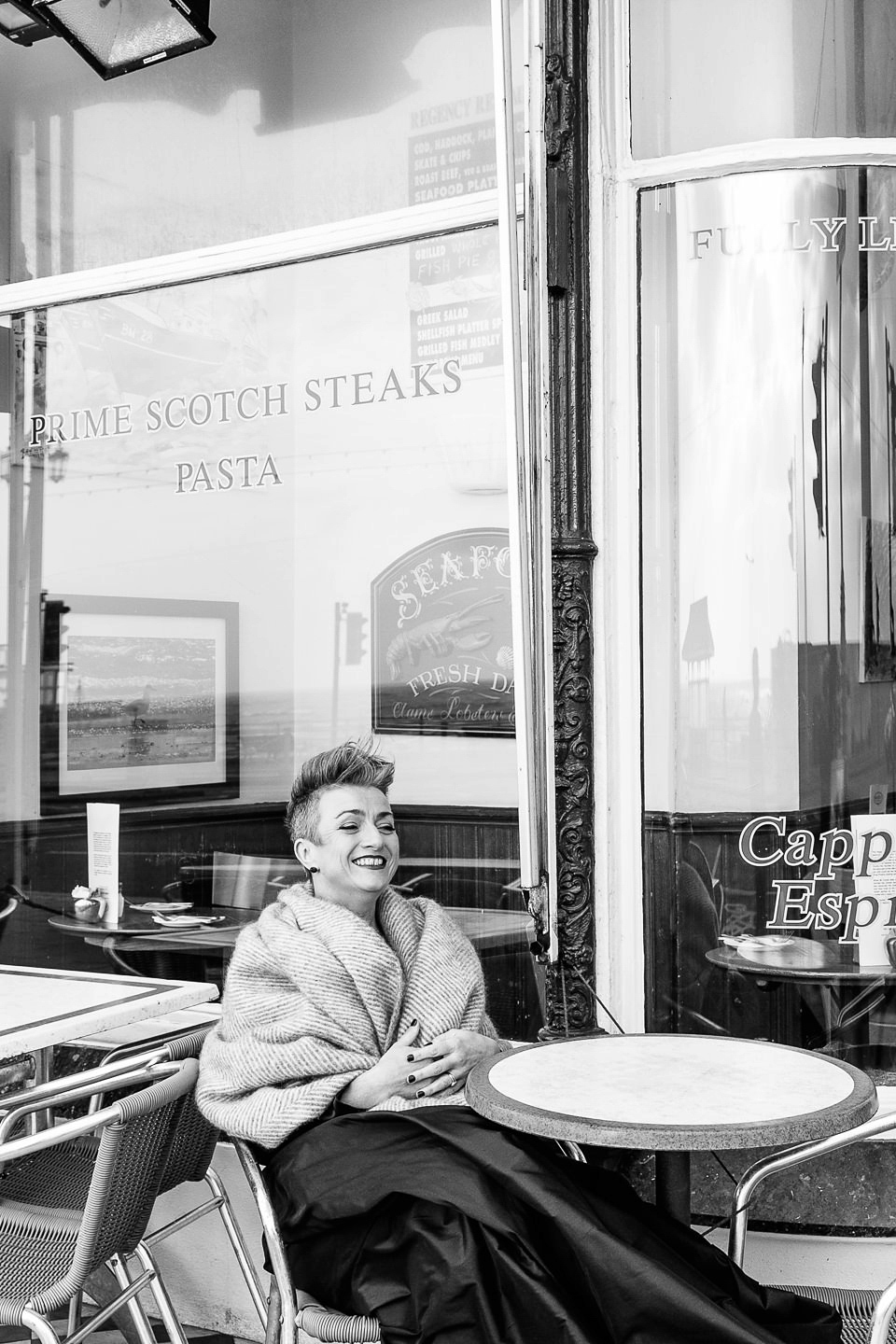 One of the first things one is asked on engagement is have you 'set the date' and for one domestic and financial reason or couple of dozen others The Lovely Marshy and I are thinking 2017 which is now technically only next year. As the surprise engagement 'happened' at Marshy's 50th birthday party an Engagement Party seemed a bit repetitive so at some point I happened to mention an engagement shoot. Something to celebrate us as a couple and another excuse to nip off to Brighton for some sex and shopping.
After an unscientific straw poll among wedding friends asking which photographer I should work with the name that was most often thrown at me was Nick Tucker. I have seen Nick's incredible work for some of our brides but the appealing aspect was what my friend and project collaborator Carolanne Armstrong's husband succinctly described as 'war photography for weddings'.  There are character studies in Nick's work. A sense of time, place and story. Beauty without mandatory youth and blondeness and an indie attitude from the man described by his advocates as providing 'no drama, no bullshit.' Also as I had never met or spoken to him I was hoping that he wouldn't have ever heard of me and any of the dramas and bullshit I have been party to in the circus of the 'Industrial Wedding Complex.'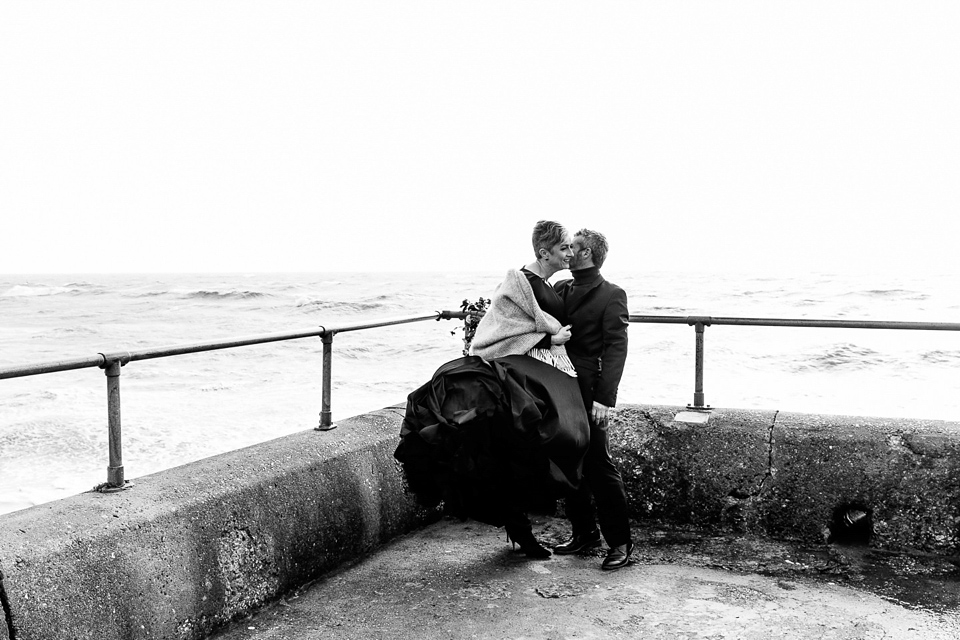 I phoned Nick, we talked, I booked. I apologised for being old, grey, taller than my boyfriend, argumentative, in the industry, you name it , I was classic angst-ridden bride I also then realised I hadn't even discussed with Marshy the choice and had made my first unilateral wedding decision. This could be a worrying precedent…
Then like all wedding professionals, ever blasé about their own projects, I didn't set a date or plan any damn thing until the 11th hour.
In my head weddings start with clothes, it's a very shallow way to go about things but dressing up is what I am good at.
Sharon Hoey is a well established Dublin based designer but very new to Miss Bush. Sharon flew into to see us with a selection of her luxe separates and I was smitten. As 2015 was a year of clean living and much sweating I have shrunk to a 12/14 so now feel super confident enough in a pair of 100 deniers and a reinforced bra to whip my clothes off and try on a few frocks for real.
The high waisted skirt and wrap blouse in silk slipper satin are from her separates collection and are at Miss Bush sampled in top-of-the-milk cream.  As soon as I was swirling in the big taffeta skirt, hands in pockets, I was sold. The long sleeve blouse with its raglan sleeves is a no brainer for the full of bust. No side boob, no awkward crossroads of flesh at the side of the bra, under arm and bodice top. It is the ultimate easy glamour outfit and available in all sorts of colours apart from my default black. I can't tell you the speed at which Sharon turned the outfit round for me but fast doesn't come close (Top tip brides, buy European made if you are time poor!)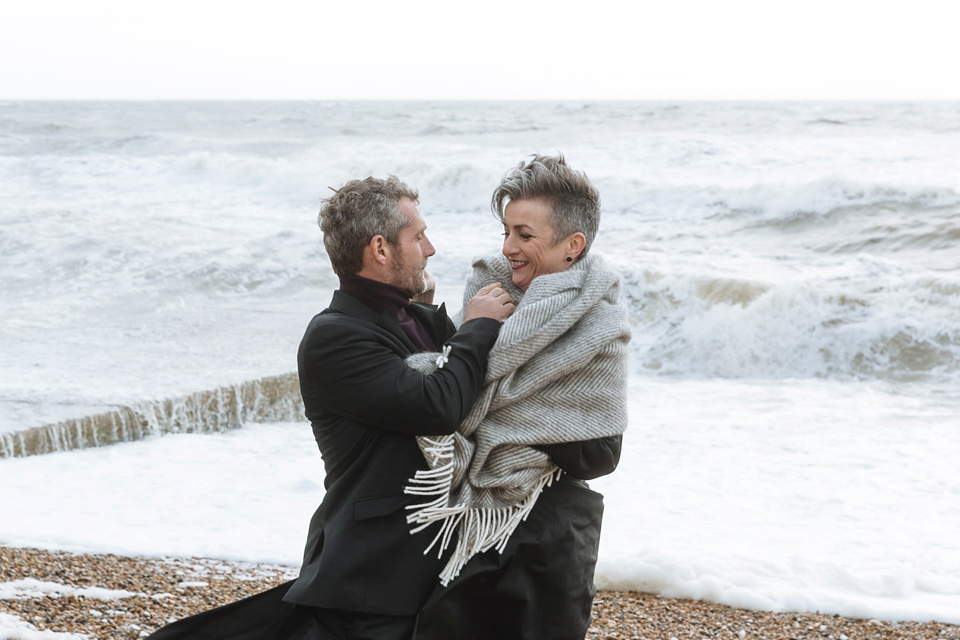 Also, brides are often scared of volume. Don't be! Instant fabulousness, pockets to hide both sunglasses and prescription glasses in with no bulges. You can take yourself to the toilet unaided and wear jeans underneath when battling Storm Barney in Brighton! A big skirt is far too much fun to be left to the Disney brigade, it's all about how you wear it, not your age, size or social class. Also teaming it with a relaxed blouse, cinching the waist and chucking an on-the-day necklace purchase from TopShop adds to the insouciant look. It is a bit of a conundrum, this is an outfit that takes all of my years of experience not to over think yet I have been thinking about my whole life…
The wool wrap, and whisper this very quietly, was the blanket from the bed of our hotel room, draped with stylist precision by Carolanne Armstrong who insisted I couldn't look like an olden days peasant while battling hypothermia.
The evening outfit, for this was how I was thinking an engagement shoot worked, a kind of real-time fashion shoot, was the Sharon Hoey skirt teamed with a beautiful Jesus Peiro top from their 2016 collection. Made to measure from the most exquisite hand beaded pewter/gold lace, the top may well be reappearing on the day itself and will be a good 'price per wear' justification purchase.
The Lovely Marshy was 'supposed' to wear his custom made Gresham Blake suit which was a 50th birthday present. Again the curse of the wedding pro was he hadn't tried it on since joining me at the gym and had shed inches! Our lovely friend and formal wear supremo Stephen Bishop jumped in at the 11th hour (Monday afternoon when we were leaving for Brighton on Tuesday!)  and sorted a classic black tux. As the saying goes, do as we say not as we do…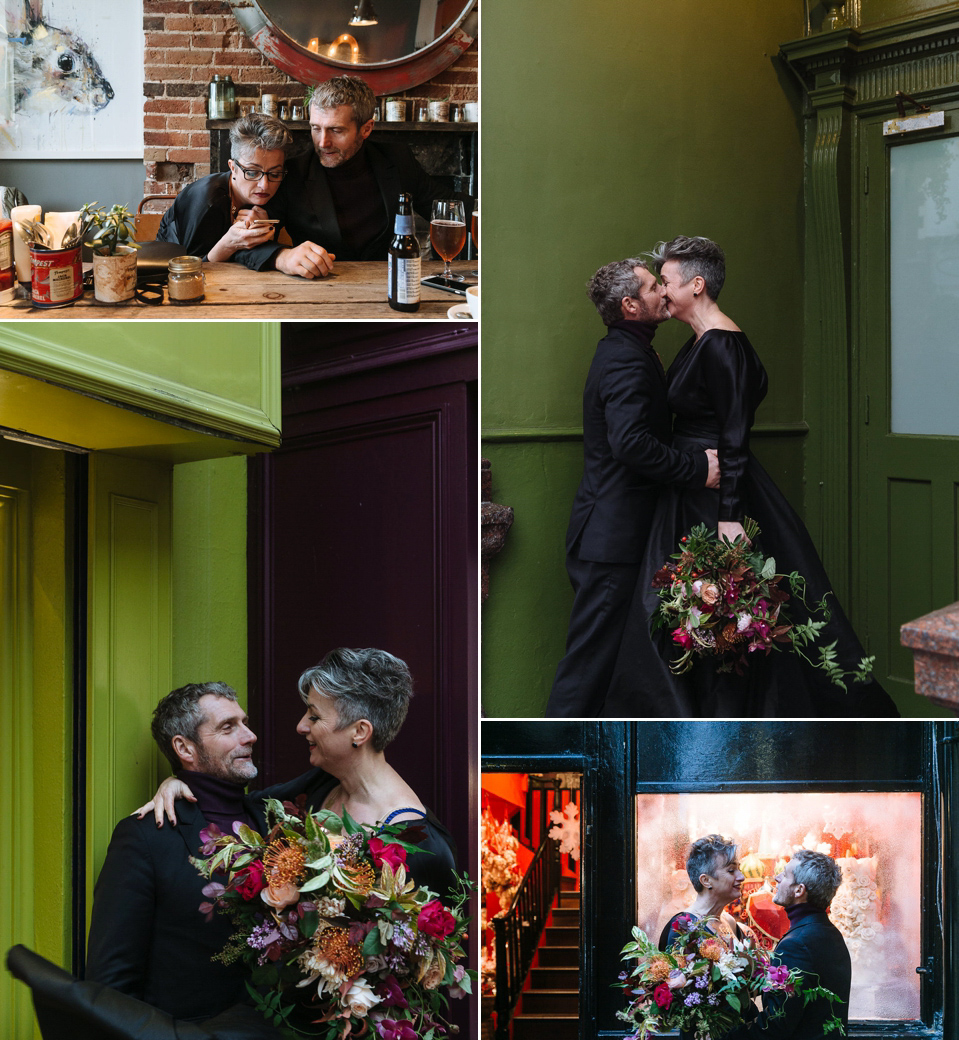 We arrived at The Artists Residence in Brighton, our base for this epic over thought, under organised shoot in a rather confused state. I knew what I wanted to achieve from the photos; a mantelpiece shot, some illustrative images of how to be an older bride, a blog post, a head shot for the Miss Bush website. All sorts of commercial and practical considerations. What seemed odd when we arrived was it still felt like a vanity project.  I worried that the images I am used to collaborating on and heavily critiquing feature much younger, more beautiful creatures front and centre.
As I sat in the restaurant sharing drinks with Marshy and Nick I wondered at the folly of the idea and then both Marshy and I comforted ourselves that we only needed one shot to make it worthwhile. Nick then produced a genius image to privately share with us. A very high profile older couple that looked rockstar cool yet realistically craggy. "That. We just need one image like that." We then headed out into Storm Barney for drinks.
The morning dawned, breakfast, shopping and a hideous bout of nausea. "Hangover?" suggested Nick. Me?  I am a worryingly professional drinker. Carolanne ventured it was nerves. I refuse to believe it, I am fearless right? Not in front of a camera…
The day progressed a little like a pretend wedding. Getting ready shots against a cool jazz soundtrack whilst being draped in achingly gorgeous Violet & Wren silk loungewear with a vague fear I was about to descend into some kind of panic attack. I tolerated the makeup chair because I had no other people to command as I would usually at a major event or photo shoot. The classic wedding day cock up of florist Gayle's van failing to want to drive the flowers to Brighton happened and Nick was drifting around asking when we would like to start taking photos. I was shyer than I thought I would be. I wriggled into my dress like an actual blushing bride as opposed to my usual habit of wandering around naked to the eternal consternation of my family.
The Godsend of the day was the extreme weather. Not only do I have a not-too-secret addiction to extreme weather footage, Marshy and I had to struggle to stay upright so any worries that we would be doing schmaltzy eye gazing were vanquished in our attempts at self preservation.
We were mad enough to have the beach to ourselves and our absolute folly was pointed out to us by a beach side restaurateur that evening! It did occur to me standing on a cob, next to one of those cellophane wrappers of flowers where someone has clearly died by being swept into the sea, whilst wearing a giant sail was not sensible but, hell, do I love the photos.
As I was getting to an almost cryogenic state it was decided that we should return to the hotel, have lunch, warm up and wonder what next.
Craft beers, dirty burgers and an eventual van load of flowers later we were ready for takes 2 and 3. Marshy was determined to get to The Lanes. Our first really inappropriate lost weekend was in Brighton. We were virtual strangers and we wandered the town and enjoyed in equal measures bouts of awkward silences, drunken laughter, terrible dancing, questionable purchases and new couple sex. Striding off I was by now hiding jeans under my skirt and brandishing a magnificent bouquet that was shredded by gusts of wind at every turn. Onlookers sadly wondered where this black-clad bride's friend or bridesmaids were as they helped me with my skirt train.
It was milling through crowds that I had a lightbulb moment. Carrying a bouquet and wearing a long dress makes you a bride. The often asked question in the boutique 'is it wedding-y enough' wasn't relevant. Head to toe in black in Brighton, I was probably the least interesting or varied bride ever seen in the pioneering lgbt, eco, alt capital of Britain. People smiled and said 'congratulations' and I was ok to accept the pretence that I had just got married. Nobody questioned whether I was the right age; there was simply 'great dress' approval and goodwill.
The interior shots at the hotel were hard to do, less landscape more us. Twigs in the hair, bronze metallic eyes are all good.  Kissing on camera?  I'm still not comfortable with that. I actually got a 'wow' from a guest as I swept downstairs "that is the best wedding dress ever…"
I polled some Miss Bush brides on the benefit of an engagement shoot and they all cited being relaxed in front of camera and getting to know your photographer. These are both brilliant and valid points and I now know the way to Nick's heart is with a decent Single Malt or a well mixed cocktail and Patti Smith tickets. Relaxed is not something I will ever be about the camera being on me but I can relax in the knowledge that a brilliant photographer will get some killer shots while you get on with your wedding or simply try and stand up in heels in gale force winds.
The greatest achievement of the shoot, beyond the fun, dramas and dressing up, was that Marshy and I got our passports to fiancé/fiancée land. The place where people are happy for you, turn up and make you centre of attention. It is not age specific, there didn't appear to be any side-head nodding like Help The Aged had sponsored our shoot.
Age appropriate dressing? "I'm not your typical bride …" extends to being over 40 too, or facing 50 to be more accurate. If you are given to dancing like a robot from 1984 because that is precisely what you did in 1984 or you brought a new shirt every weekend to go night clubbing in you are hardly going to change into a vision of apologetic 2nd wedding dressing. Being able to wear a proper bra though and have sleeves is just a good idea at any age.
At work I am always going to focus on my clients wedding plans over mine. I resisted the temptation outside Choccywoccydoodah shop to say '"everyone has those" or "seen that" because not everyone spends 28 years talking about weddings, studying the details, spotting the trends and sweating the small stuff. A wedding is not about novelty it is about the familiar, spun differently and executed well.
When asked my profession previously I would have said I sold wedding dresses. I was wrong. On a good day I sell unapologetic confidence, I just had to buy some myself.
Emma x
Photography – Nick Tucker
Make Up and Styling – Carolanne Armstrong
Flowers – Bloomingayles
Silk loungewear – Violet and Wren at Miss Bush
Black Wrap bouse and skirt to order – Sharon Hoey at Miss Bush
Beaded lace top – Jesus Peiro at Miss Bush
Gold Necklace – Freedom at TopShop
Shoes – LK Bennett
Suit – Stephen Bishop Suiting
Location – Artists Residence Brighton
Hair – Macco
Nails – VII Beauty