Welcome to Wednesday and hurrah, we've almost made it to the end of January! If you'd like to just slip away from the grey winter weather and the bareness of Mother Nature for a little while then I have the most perfect feature for you today. I'm thrilled to introduce you to the brand new 2016 wedding hair accessories collection from the amazingly talented Debbie Carlisle. Named Secret Garden, it's every bit as enchanting as you would imagine…
Find Debbie Carlisle in Little Book For Brides
Follow Debbie Carlisle in Instagram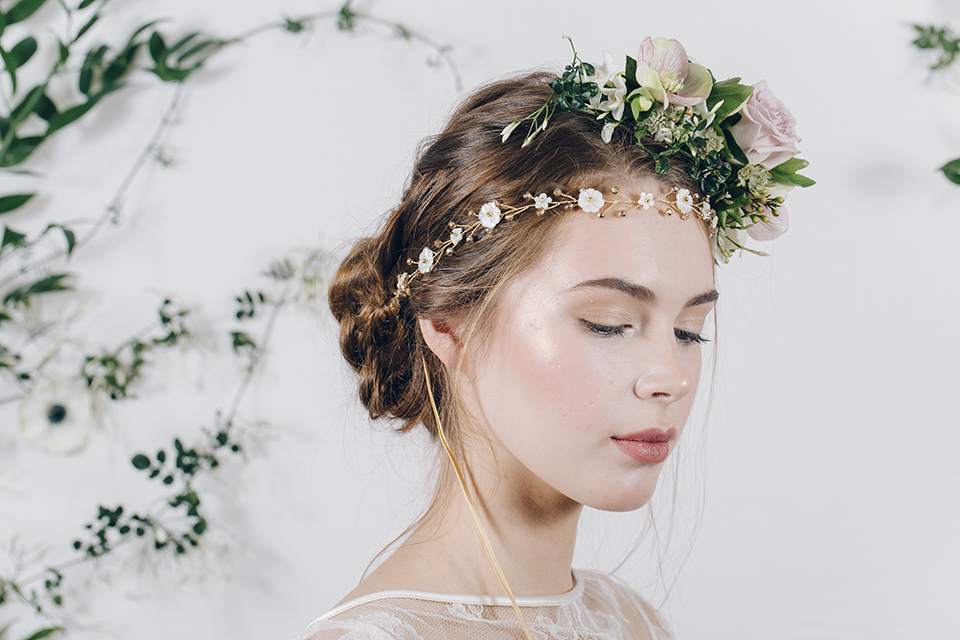 Inspired by wild flowers and trailing florals, viewing Secret Garden is just like taking a step into the most perfect spot in all the English countryside. The collection blends influences that include ancient walled gardens and glasshouses to overgrown meadows and ethereal forests to perfection.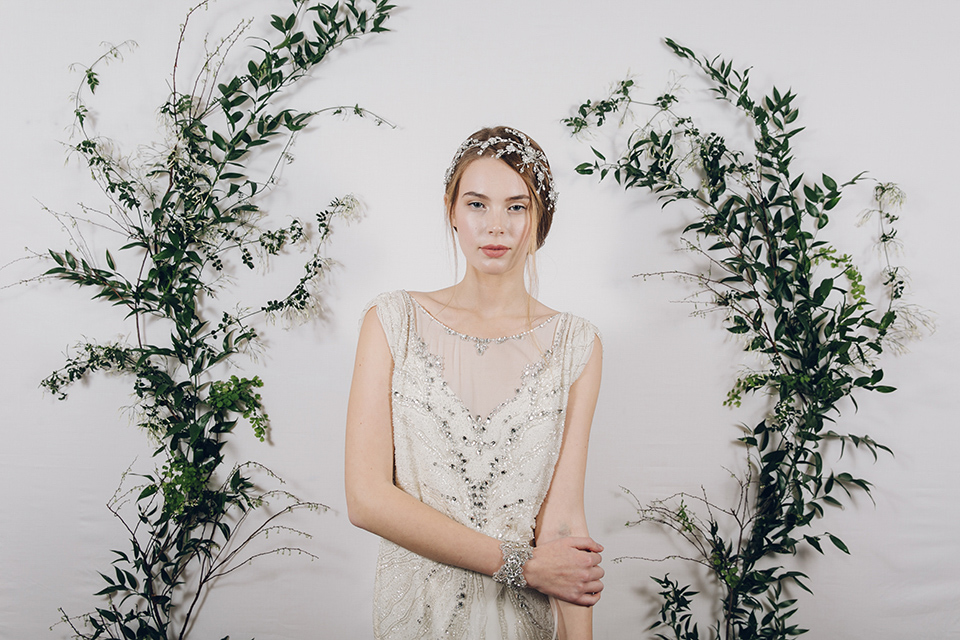 The sparkling gathering of silver and crystal wildflower accessories range from delicate trailing floral hair vines to more traditional bridal headbands, combs and hair pins.
"The collection is perfect for the vintage-loving bohemian bride," says Debbie. "Each piece is equally at home in relaxed rustic settings and elegant black tie affairs. Like all of my designs, these new styles mix a classic vintage sensibility with a contemporary fashion-forward edge."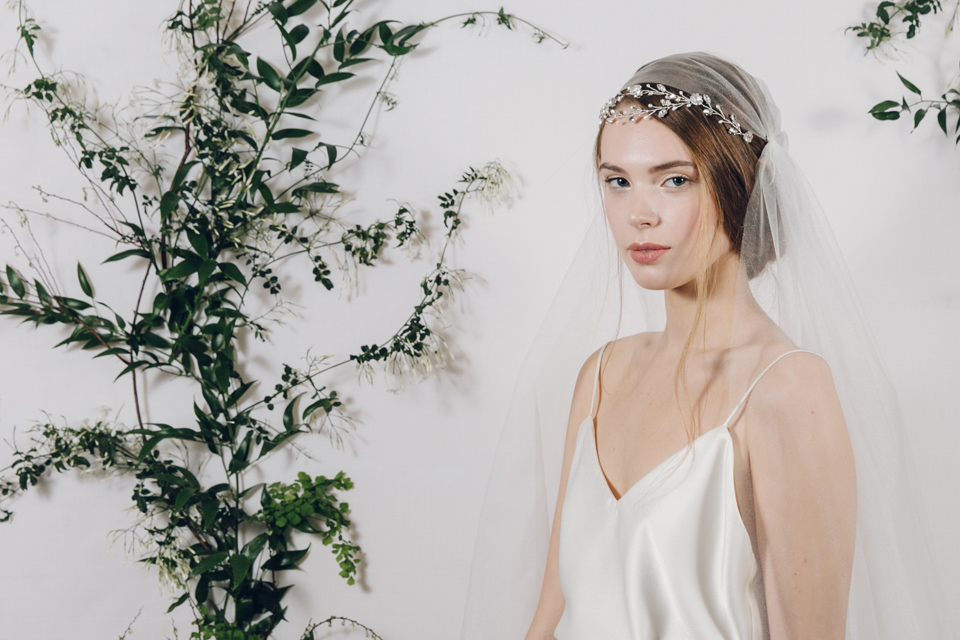 "I've also updated my ethereal Enchanted collection with some new key designs which are designed to be worn alone or teamed with other pieces from the same collection to create your own deconstructed wildflower designs."
I do so love this element of Debbie's work. Being able to mix and match pieces to style your own unique look is just fabulous and I adore the flexibility – delicate hair pins just dust your hair with a touch of whimsical sparkle or you can build your own new headpiece by wearing a number of pieces together. Each design is made to be flexible and every piece, hand wired in Debbie's UK studio, can be gently twisted and worked around your own hair style.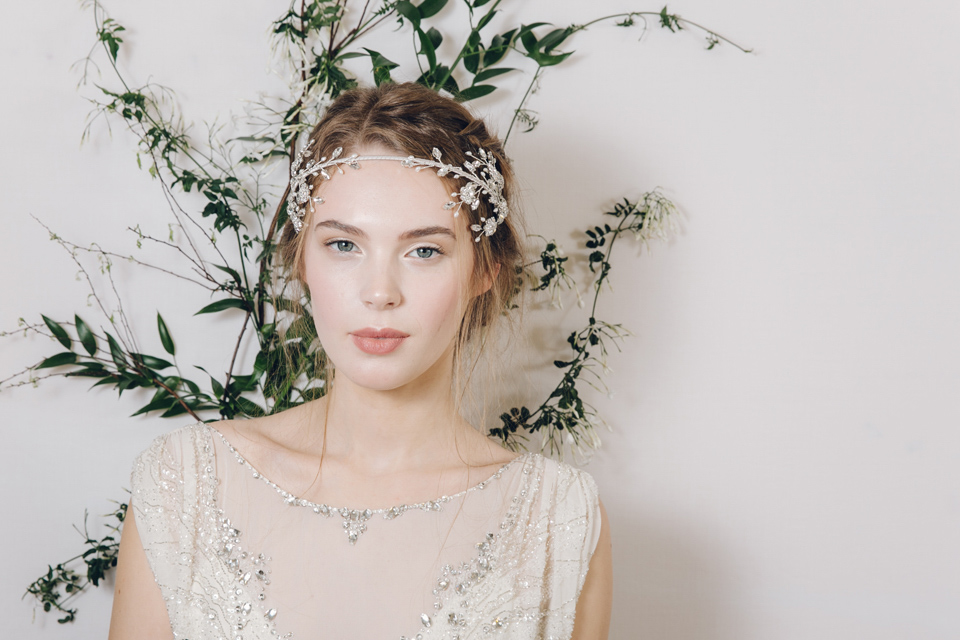 re, sparkling flower and navette shaped crystals, and tiny ivory freshwater pearls which are all intricately wired together to create the smallest hair comb and hair pins to the most dramatic of hair vine combs which trail around the head to create a different look from every angle.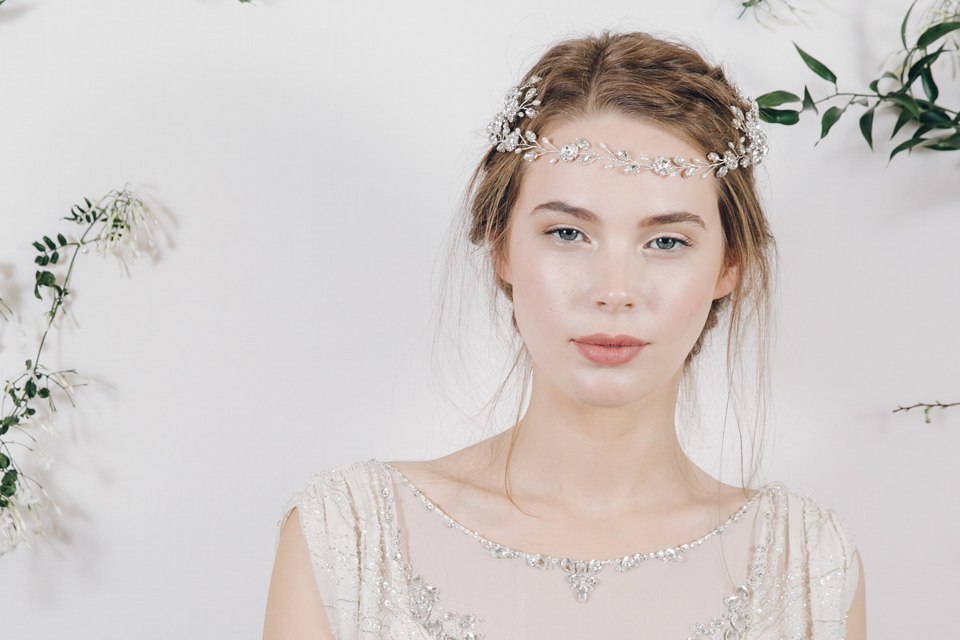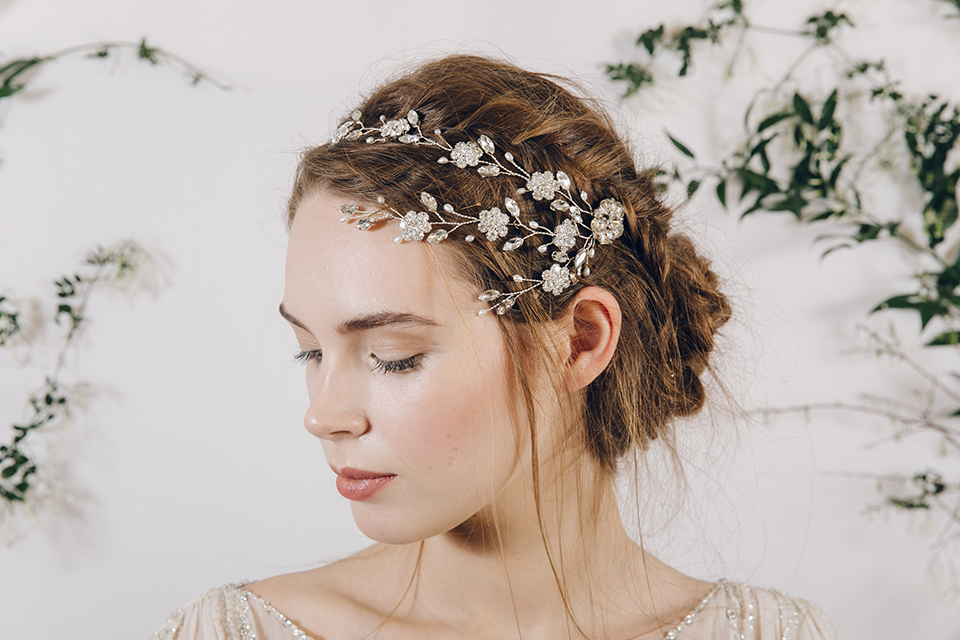 The Enchanted collection meanwhile mixes delicate carved ivory mother of pearl flowers with gently shimmering crystals and freshwater pearls. Every design is available in silver or antique gold and a new addition to the collection is the delicate blush pink Isabella mother of pearl headband.
Both collections from Debbie Carlisle include headbands with ribbon ties that are simply threaded through small hidden loops at each end of the piece. You can tie the headpieces into place or choose to make a feature of the ribbons by pinning them to the side of the head to create a more bohemian, almost elfin look or remove them completely and use the headpiece as a vine that can be pinned at the back of the head.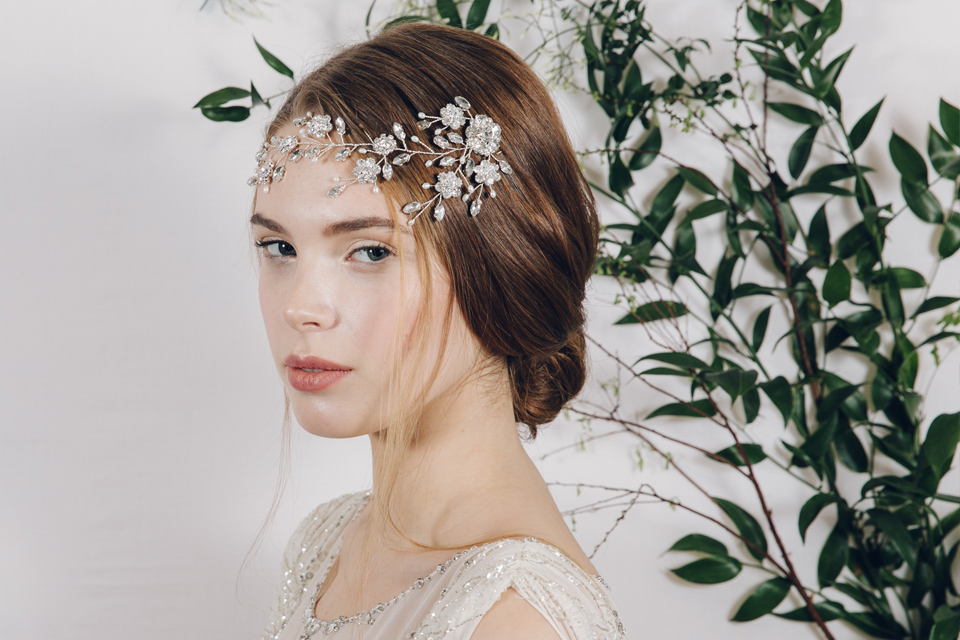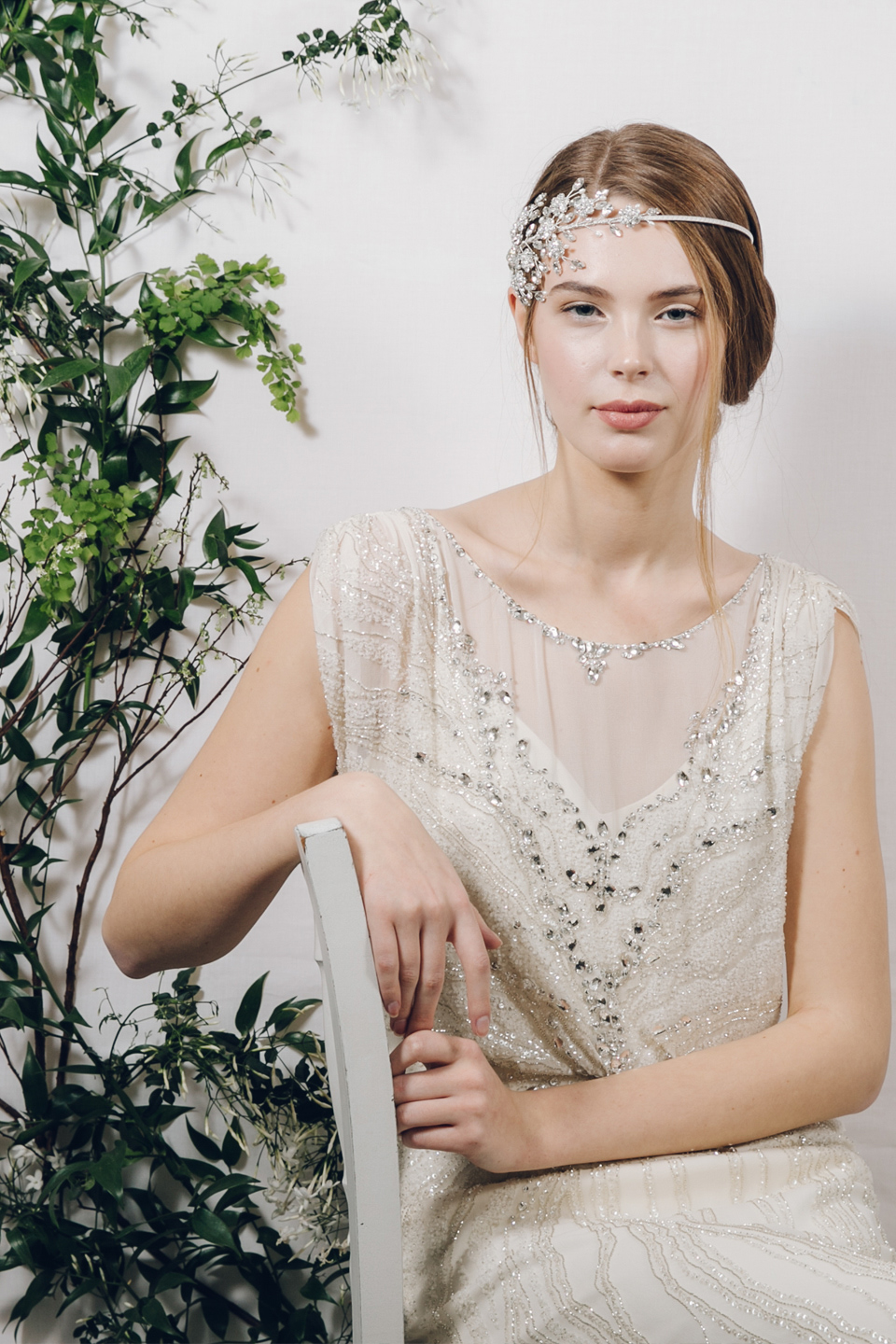 The flexibility of the designs is shown off to perfection in Debbie's latest shoot:
"We shot lots of photos of my pieces worn in many different ways but really only scratched the surface of what can be done – the possibilities are endless! We also used the shoot to show the different ways you can use hair pins and vines to dress up an intricate braided style but also created both simple floral looks and super sparkling jewel-encrusted styles."
"The collection also offers a really easy way for brides to quickly transform their daytime look into a more glamorous evening style. The Saffron hair pins can be added to any of the other Secret Garden pieces to add extra sparkle. Adding just two or three pins to your daytime hair accessory will quickly transform it into a new, more dramatic evening look. We did this by adding pins to the Scarlett hair vine to create a more ornate evening look."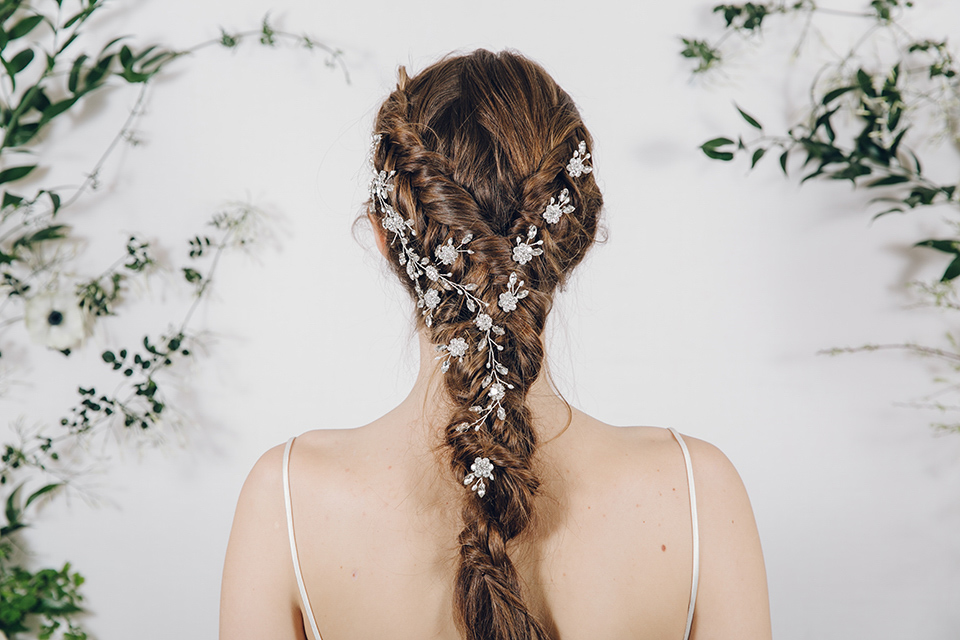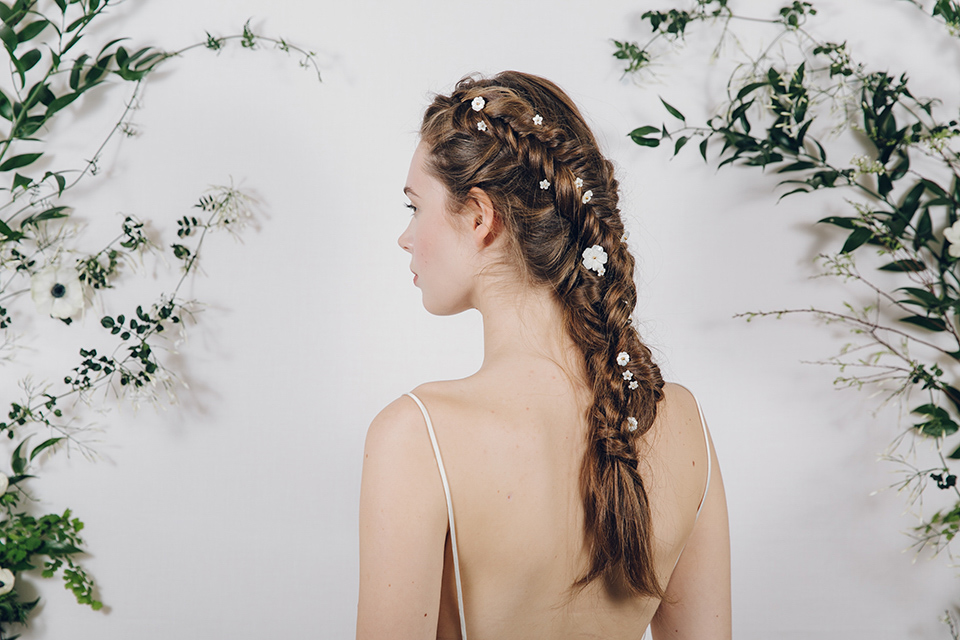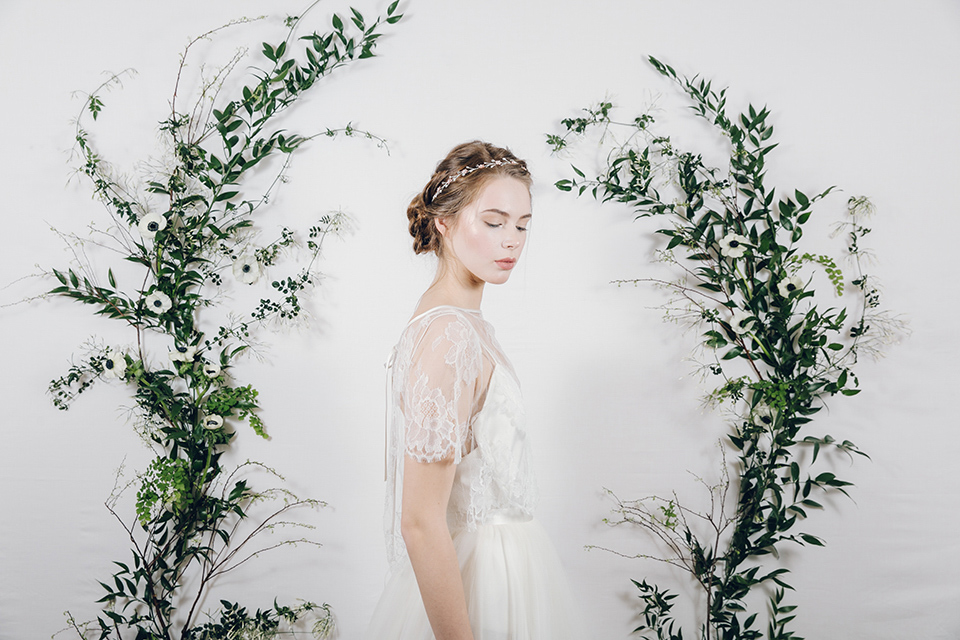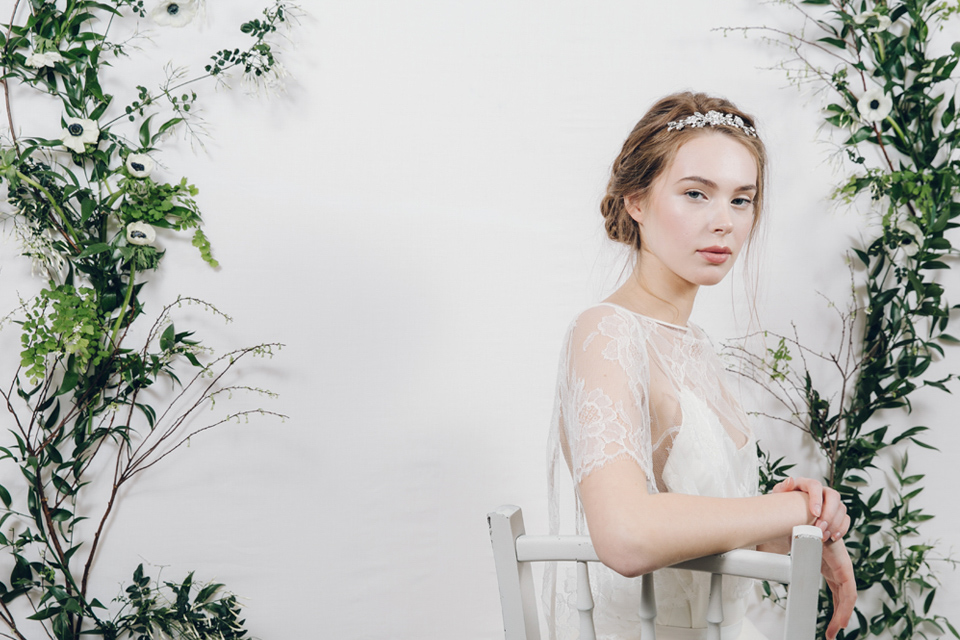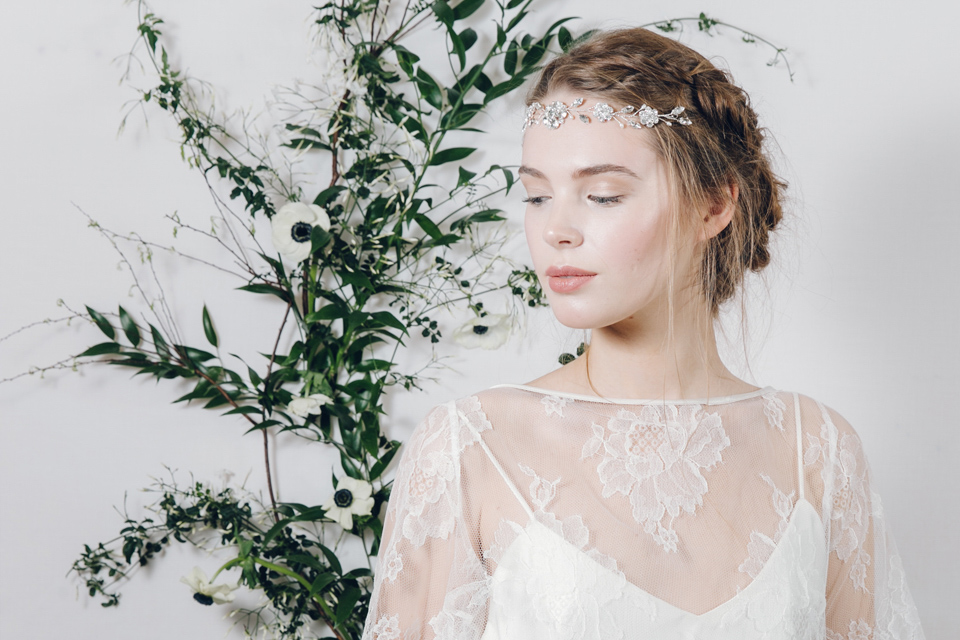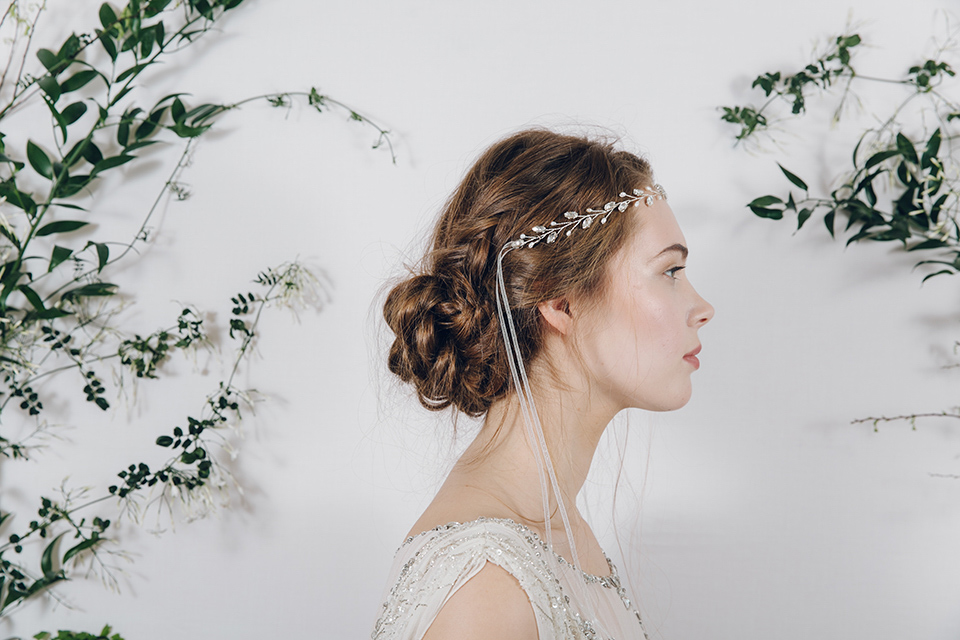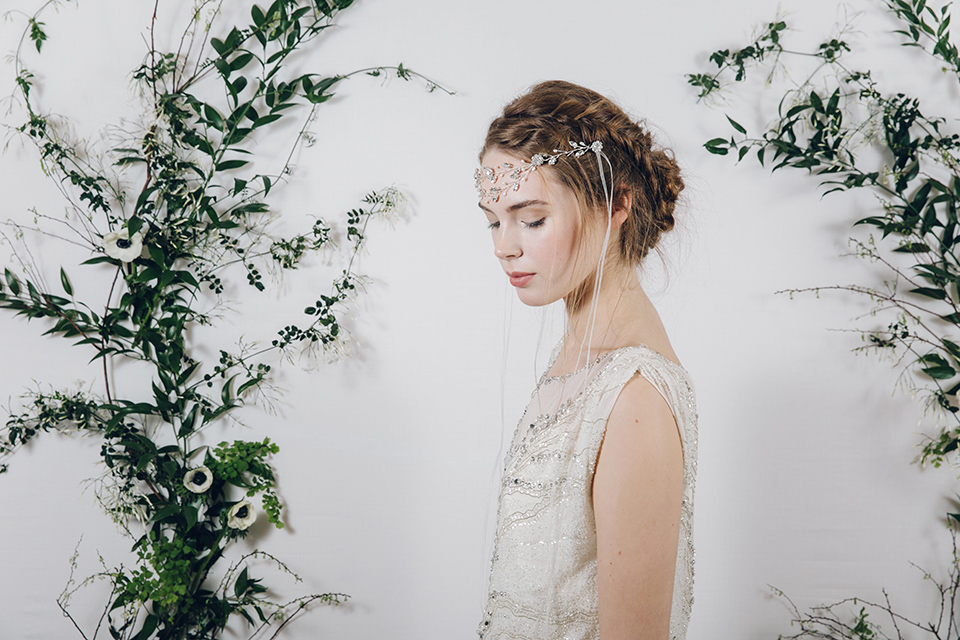 Just like any secret garden, the more you look, the more delights you find.
Pieces from the new collection by Debbie Carlisle range in price from £10 to £275 and all are made with Debbie's signature attention to detail. Light and comfortable to wear, all the headbands are wrapped in soft sating ribbon to make sure they don't pinch or rub.
Debbie's headpieces are shipped all over the world and are available to buy from her online shop – debbiecarlisle.com. Selections of accessories are also stocked in a carefully selected number of beautiful boutiques in the UK, US and Japan where you can see, try on and buy your chosen piece in person.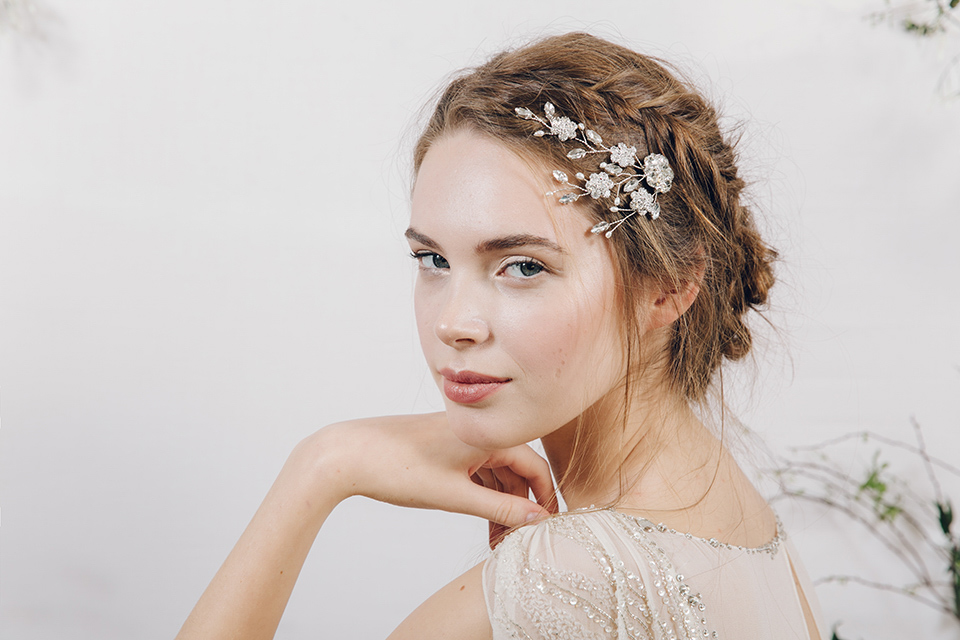 Every headpiece is made to order so you can request any bespoke changes that you require. Debbie also offers private consultations in her Sheffield studio if you'd like a little extra help in selecting the perfect piece for your gown and personal style – simply contact Debbie to request your appointment.
For more information, do take a look at debbiecarlisle.com and stay in touch with Debbie on Facebook, Twitter, Instagram and Pinterest. You will find  a full list of stockists and client feedback on Debbie's Little Book For Brides listing.
Love Tamryn x
Accessories – Debbie Carlisle
Photographer – India Hobson
Hair and Make Up – Jenn Edwards
Flower backdrop and crown – Swallows and Damsons
Dresses: Halfpenny London and Jenny Packham via The White Room
This is a sponsored post