Hello, I'm hoping to lift your mid-week spirits with the gorgeous wedding of Emma and Ryan at Crear, in Scotland. They tied the knot in a ceremony conducted by their New York ordained friend on the 19th of September 2015. The beauty of Crear, photographed by New Zealand Photographer Alex De Freitas is plain to see in every image, from the men's wedding day football match to the couple's walk on the beach.
"We met in New York in 2007, Ryan was living there and I was travelling with some friends. We met in a bar, got chatting and kept in contact when I went back to Australia. A year later we decided to give it a shot so I moved to NYC, Ryan popped the question on the Brooklyn Bridge, before we moved to London and were engaged for a year before our wedding."
Photography by Alex De Freitas
Emma wore the gorgeous Maricel dress by Pronovias with a simple veil which she paired with a wool wrap from BHLDN.
"I loved the shape of my dress, it made me feel beautiful and 10lbs lighter! I also loved the simplicity of the dress, the neckline and it had a stunning train."
"Ryan has always loved VW Golf GTI's so we wanted the cake to reflect that and it was AMAZING. It was so good that Ryan refused to cut it and we now have the entire car sitting in our freezer!"
The couple left it up to Mel at Crear to put the beautiful floral arrangements together.
"I always wanted autumn/fall inspired flowers that injected some colour into the day. Ryan chose a burgundy tie which influenced the flowers. I also asked Mel to represent Australia, Ireland, England, Scotland and America in the flowers since all countries had been so important in our lives. The flowers were amazing, a total highlight of the day!"
"I am Australian, Ryan is Irish, we met in the US but now live in London so there were lots of places we could have got married. Scotland has always been special to us and provides neutral territory so we drove up one weekend in November to look at a couple of venues. As soon as we stepped into Crear we knew we wanted to get married there and booked it on the spot, we loved the house, cottage and beach (which would be ours for 3 days) and the views over to Oban and the isles were breathtaking."
I had tried it on at Windsor & Eton Bridal and fell in love, but it was a little more than I wanted to spend. I purchased another dress that I wasn't happy with at my first fitting. I lay awake that night stressing and decided to just buy the Maricel dress. Luckily I found one being sold second hand online, the only one and in my size, and she lived 10 minutes down the road! Meant to be! I sold my original dress at a steal and made another bride very happy so it all worked out!"
"My grandma is 97 so couldn't travel to the wedding but I wanted her to send a token of hers that I could wear on the day. She sent her wedding ring that neither I nor my Dad could ever remember her taking off. I tied it around my bouquet and it was such a special thing."
"I wasn't going to wear a veil but it was important to my Mum so I just got a basic veil from a bridal store in Australia. I'm glad I wore it in the end – apparently Mum's ARE always right"
"Ryan got his tweed suit and waistcoat from Walker Slater. We decided to celebrate the Scottish location!"
The couple chose Alex De Freitas to capture the day. His images of the day are stunning and really show the beauty of the surroundings.
"Alex was fantastic, I found him through another photographer. He is a really well known wedding photographer in NZ but had just moved to London and was happy to travel to Scotland (and anywhere else in Europe!)"
"I honestly can't speak highly enough of Alex, we first met up with him for a drink (which turned to several drinks) and by the time our wedding day came it was as if a friend was taking the photos. He captured moments we didn't even see and didn't tell us to do anything posed or fake. Both Ryan and I hate being centre of attention and Alex did a fantastic job of capturing the natural moments between us, our friends and family."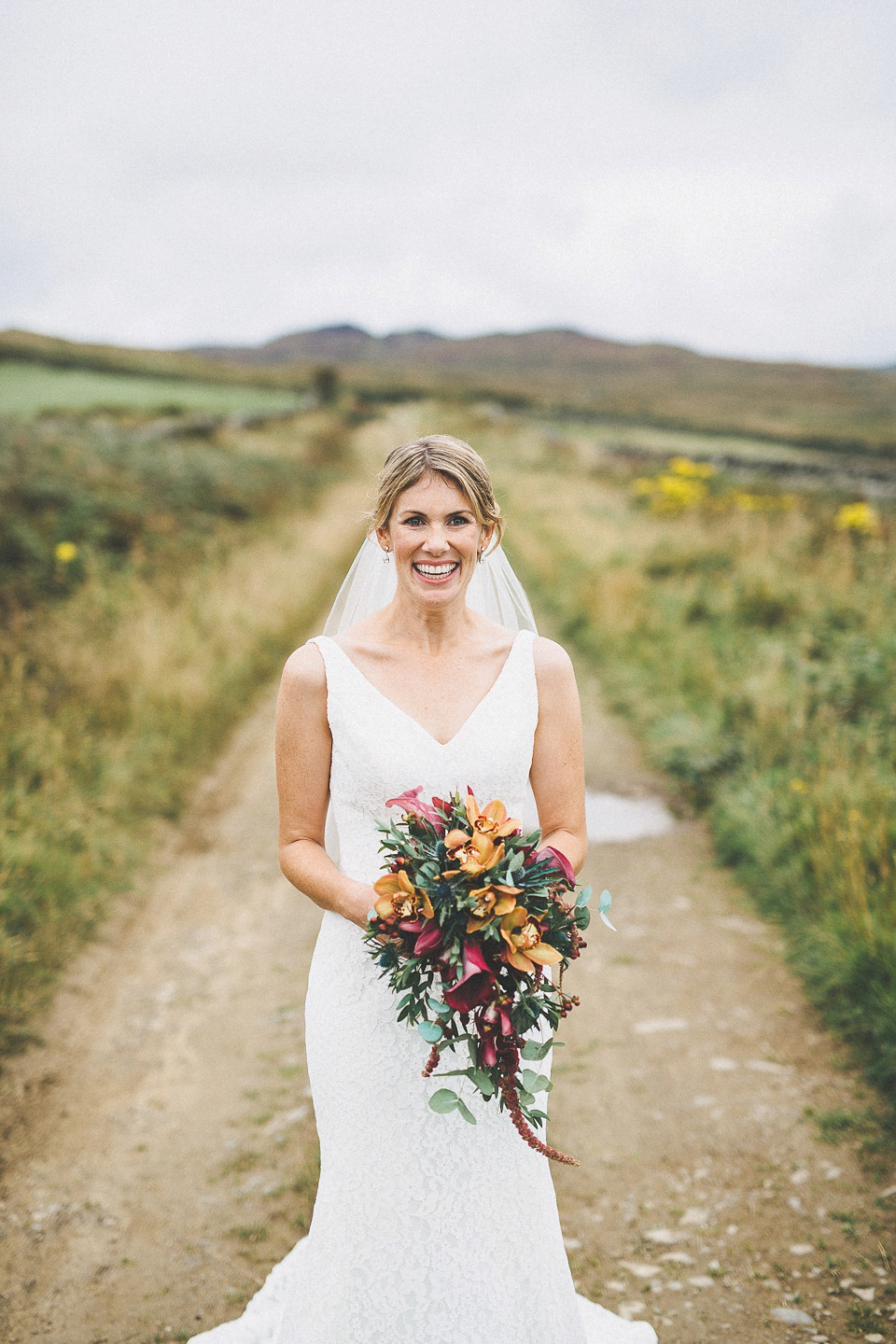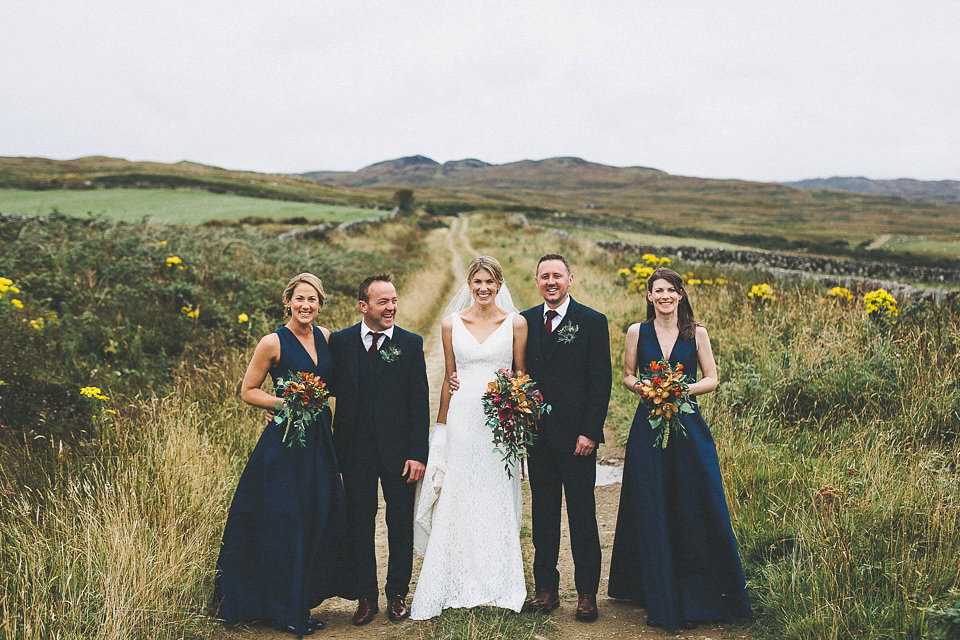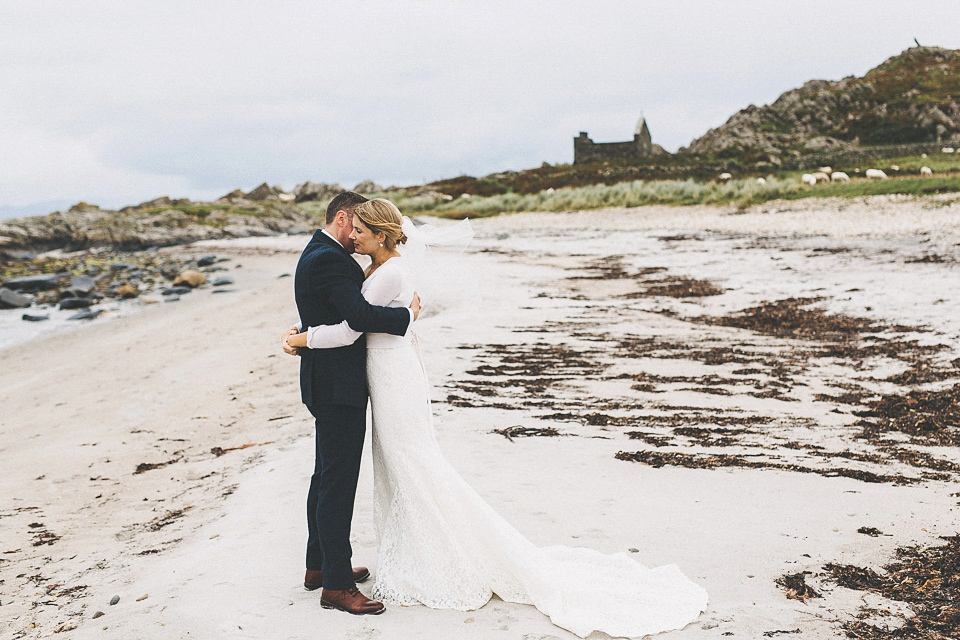 "We asked one of our close friends from New York to marry us. He became a minister in the state of New York and this also gave us a chance to write our own ceremony. We didn't do personal vows but we both read the following when we exchanged rings…"
I give you this ring as a sign that I choose you to be my partner and best friend. On this day I affirm the relationship we have enjoyed, looking to the future and to keep and strengthen it. I promise to laugh with you, go on adventures with you, support you through life's tough moments, be proud of you, grow old with you and find new reasons to love you every day. Wear it, think of me, and know that I love you.
"We chose extracts from 'Captain Corelli's Mandolin' by Louis de Bernieres, 'The Art of Marriage' and an 'Excerpt Blessing for a Marriage' as readings as we wanted readings that reflect what a real relationship is – respect, unconditional love but also hard work!"
"We left the ceremony to 'Don't Stop Believin' by Journey which sounded amazing played on strings!"
"We got the stationery through Minted and my sister used her calligraphy skills to write the place names. We gave a donation to the Parkinson's Society instead of favours."
"I created a photo board with a Polaroid of every one of our 74 guests. I put it next to the seating cards so it took 20 minutes longer for everyone to get seated than planned!"
"Music was a key element that we wanted to invest in, as we always remember a great wedding band. We had 3 different suppliers and I would highly recommend them all!"
Capella String Quartet played during the ceremony and cocktail hour. Emma and Ryan kept the Mid Argyll Pipe Band a secret from their guests until they played walking up the driveway to the delight of their guests. Finally, Whiskey Kiss did a fantastic job of keeping everyone dancing into the wee hours."
"We had our first dance to 'Home' by Edward Sharpe. Ryan and I have moved around so much together the lyrics are really relevant, it doesn't matter where in the world we are, as long as we are together (with our dog!) we are home."
"All the little moments were amazing, the emotion of the speeches, dancing with my nephews and seeing everyone laughing and having fun."
Words of Wedded Wisdom
"Stick to your guns! I knew hair and makeup wouldn't take long but I listened to others and started prep at 9am and we were ready much earlier than needed. If you know what you want, and you have had a trial, make sure you set the timing for the day.
Take time for yourself, a quiet moment in the morning to reflect on the day. I ended up taking my dog for a walk after I got my hair done, it was exactly what I needed not to feel overwhelmed and just enjoy everything! Ryan and I made a pointed effort to spend time together as well, we went for a walk with our dog, looked out across the water and took a moment to realise we were officially husband and wife."
Thank you so much to Emma and Ryan and also to Alex De Freitas for the breathtaking images of the day. We have featured some of Crear's most beautiful weddings right here on these pages, including one last week, do take a look around.
Love Caoimhe xx
Photographer – Alex De Freitas
Venue – Crear, Argyll, Scotland
Wedding Dress – Maricel by Pronovias + Wrap from BHLDN
Shoes – Paradox London Pink
Accessories – BHLDN
Bride's Scent/perfume – Gucci Premiere
Groom – Walker Slater
Bridesmaids – supplier not named
Florist – Mel at Crear
Transport – West Coast Motors
Entertainment – Capella String Quartet + Mid Argyll Pipe Band + Whiskey Kiss
Rings – New York's Diamond District
Stationery – Minted
Hair Stylist – Lidia Attino Volume Hair
Makeup Artist – Alexis Miller
Marquee – Central Marquees