Good morning beautiful – it's Friday – hooray! I have been so very much looking forward to sharing this particular wedding with you. The bride has written the account of her day with such joy.
Textile designer Lauren tied the knot with builder Andrew on 11th July last year at the sublime Crear – a Scottish wedding venue we have featured many times already on our wedding blog. These nuptials are no exception to the gallery of beautifully captured celebrations at Crear that we have already shared.
These photographs by the way were taken by one of my favourite ever wedding photographers – a lady I've enjoyed supporting since I started out blogging in 2009, the one and only Caro Weiss. But before I share the images she documented from this lovely wedding day, let us first enjoy a sweet and moving little film.
"We got married at Crear on Scotland's west coast overlooking the isle of Jura is a location that transmits magic and an energy that instinctually felt right from the moment we crossed the threshold on our first and only venue visit – a wild landscape enveloping a beautifully crisp white space creates a balance that invites its occupants to bring their own life to the magical setting. Immediately, Andrew and I knew that regardless of our wedding details, we had found an inspirational space to make our promises."
Film created by Sugar 8
"With a preconceived and unfounded aversion to all things 'bridal', I think I was a member of the 'no inspiration' inspiration club – basically spending more time deciding there would be 'no style' and 'no theme' and naturally of course."
Photography by Caro Weiss
Find Caro Weiss in Little Book For Brides
Follow Caro Weiss on Instagram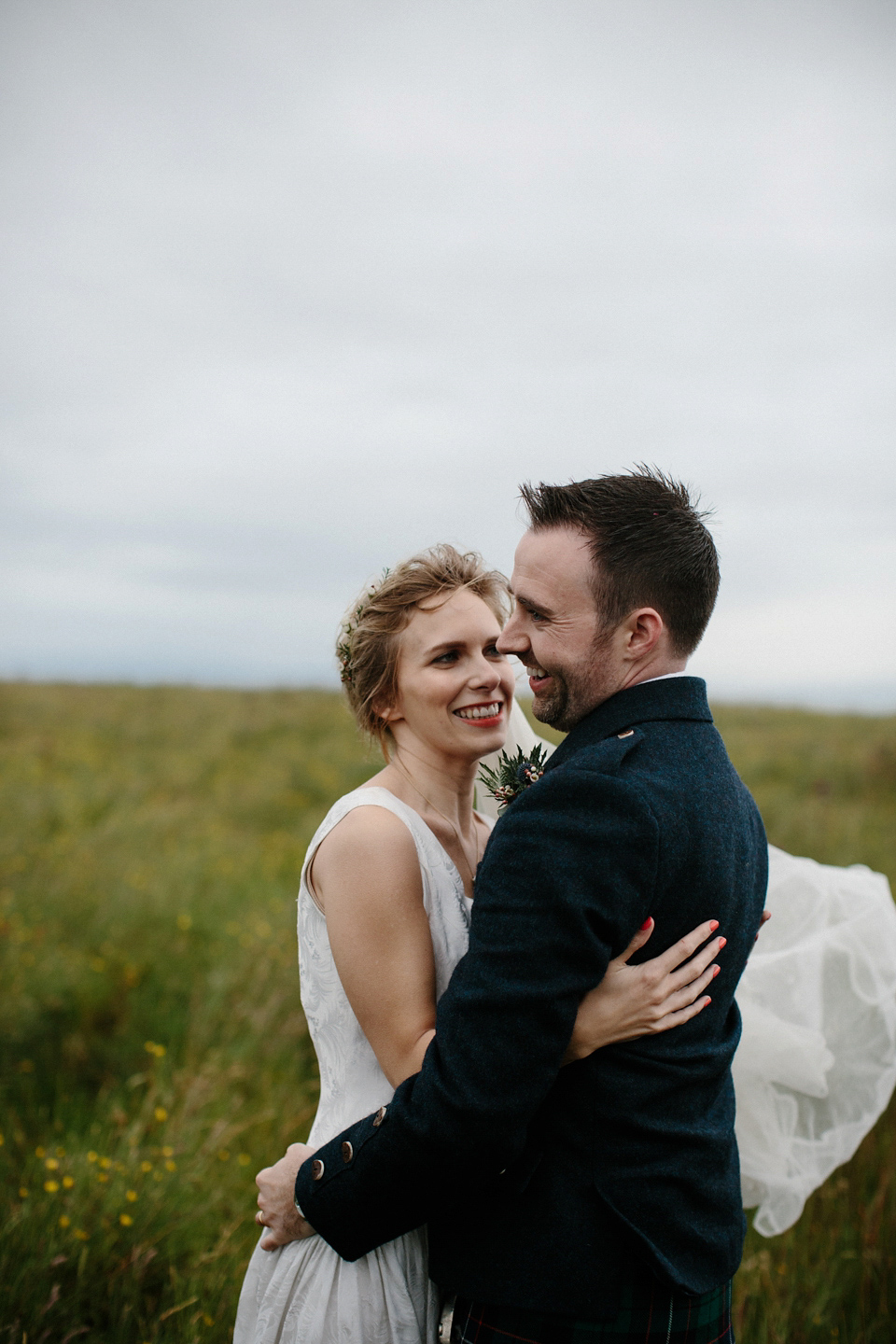 "This philosophy is a wonderful contradiction, and like almost every other wedding, the day was just a true reflection of Andrew and I."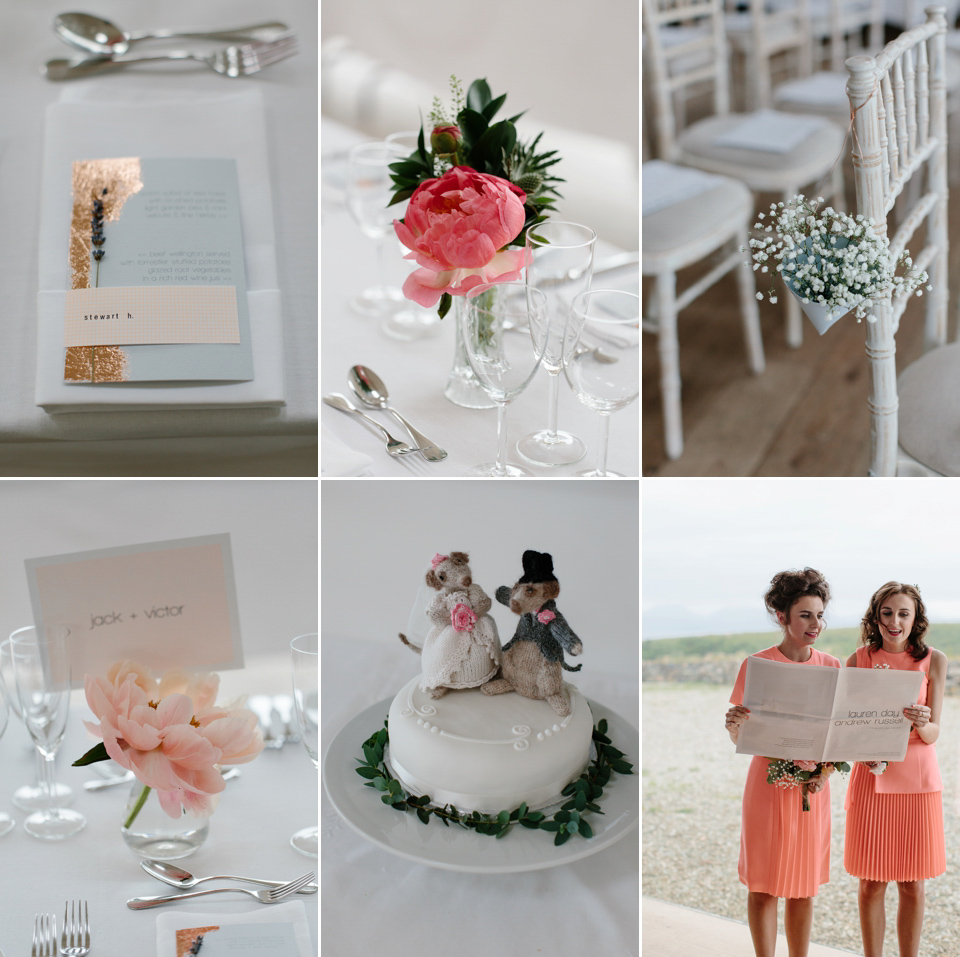 "Essentially, my dress fell out of a tightly packed rack of nighties/smocks in an amazing vintage shop in Paris, as I skimmed through the rail – crushed, dusty, and frankly a very odd shape on the hanger due to the volume of fabric on the skirt."
"From the beginning, for some reason, I fancied myself in a veil – the lady brought it from the back storeroom of the vintage shop in Paris, just as an example to try on, with an old flaky floral headband. Like the dress, it too looked like a dusty rag, but once I placed it over my head, the whole ceremonious aspect just came alive (in an instant, I admit that I, the anti-bride, began feverishly channelling my 5 year old self – bed sheet as a veil dragging along the patio in mums high heels)."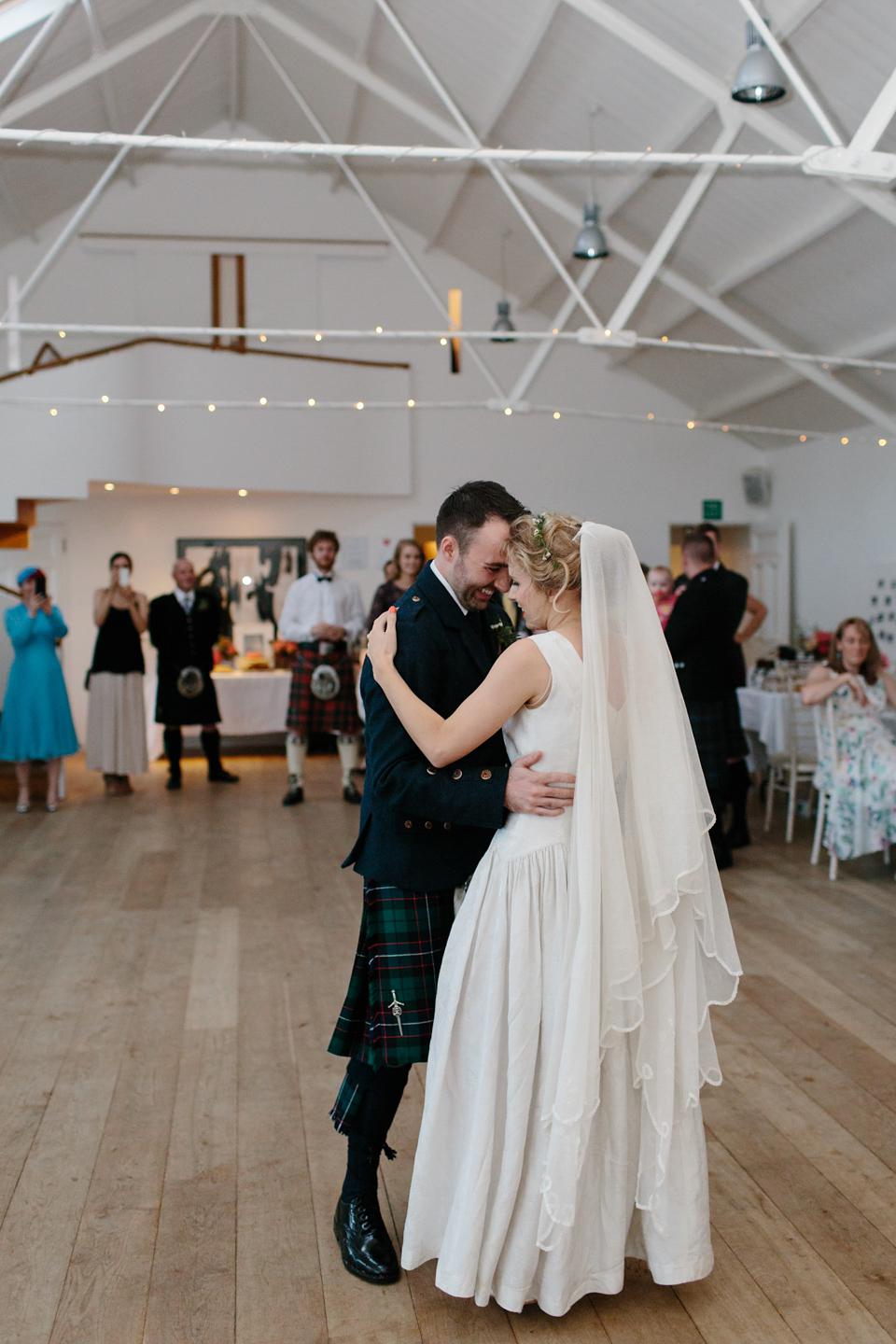 "Our photographer, Caro Weiss, is an incredibly talented individual with the instinctual ability to capture the precise essence of the moment in each frame. Her photography tells our story with such honesty and emotion and we feel very lucky to have such a beautiful set of images to treasure. Caro's approach on the day is so perfectly laid back, it is impossible not to admire her effortlessness and wonderful spirit. Andrew and I felt completely at ease and feel very grateful to have Caro capture our wedding day."
"Eileen at Sugar 8 created a truly beautiful film (see above) of our day combining Super8 and digital film. An absolute joy to spend the day with, like Caro, Eileen is relaxed, kind and so natural in her approach to filming. Each time Andrew and I watch the film, we feel transported back to the day and all the wonderful memories it sparks.
We think Eileen's attention to detail and wonderful connection between the music and visual makes it feel really special. We are delighted with the trailer and the full film."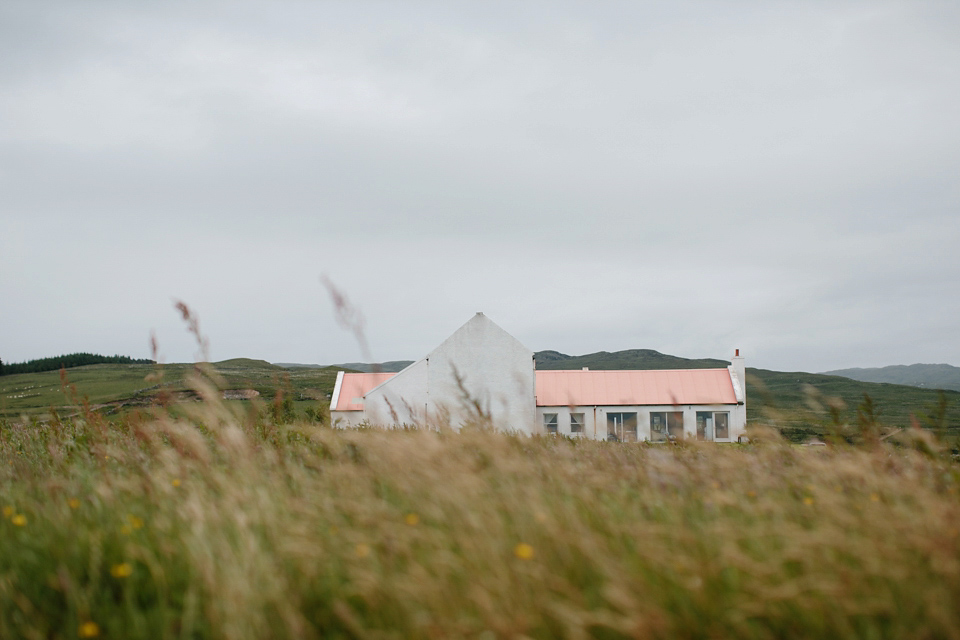 "Andrew and I have known each other most of our lives as we went to school together. In 2003 when I was 14 (caked in an orange glow of foundation) and Andrew 16 (awash with Calvin Klein aftershave and rigid hair gel), our friendship blossomed and we became 'an item' as my gran would say.
From the high-school dining hall, we can fast forward [(hrough a decade of laughter, some dodgy eyebrow/tummy piercings, way dodgier outfits (namely a string vest and selection of pastel velour tracksuits), a couple of university degrees, a bit of travel, and most importantly a sincere and honest friendship] to the Alhambra Palace Garden's in Granada, where Andrew proposed in the moonlit rose garden.
An incredibly busy sixteen months later, on a typical Scottish summer day, blowing a gale and pouring from the heavens, the view to Jura obliterated by thick mist, we shared our ceremony with close family and friends in a truly magical wedding day."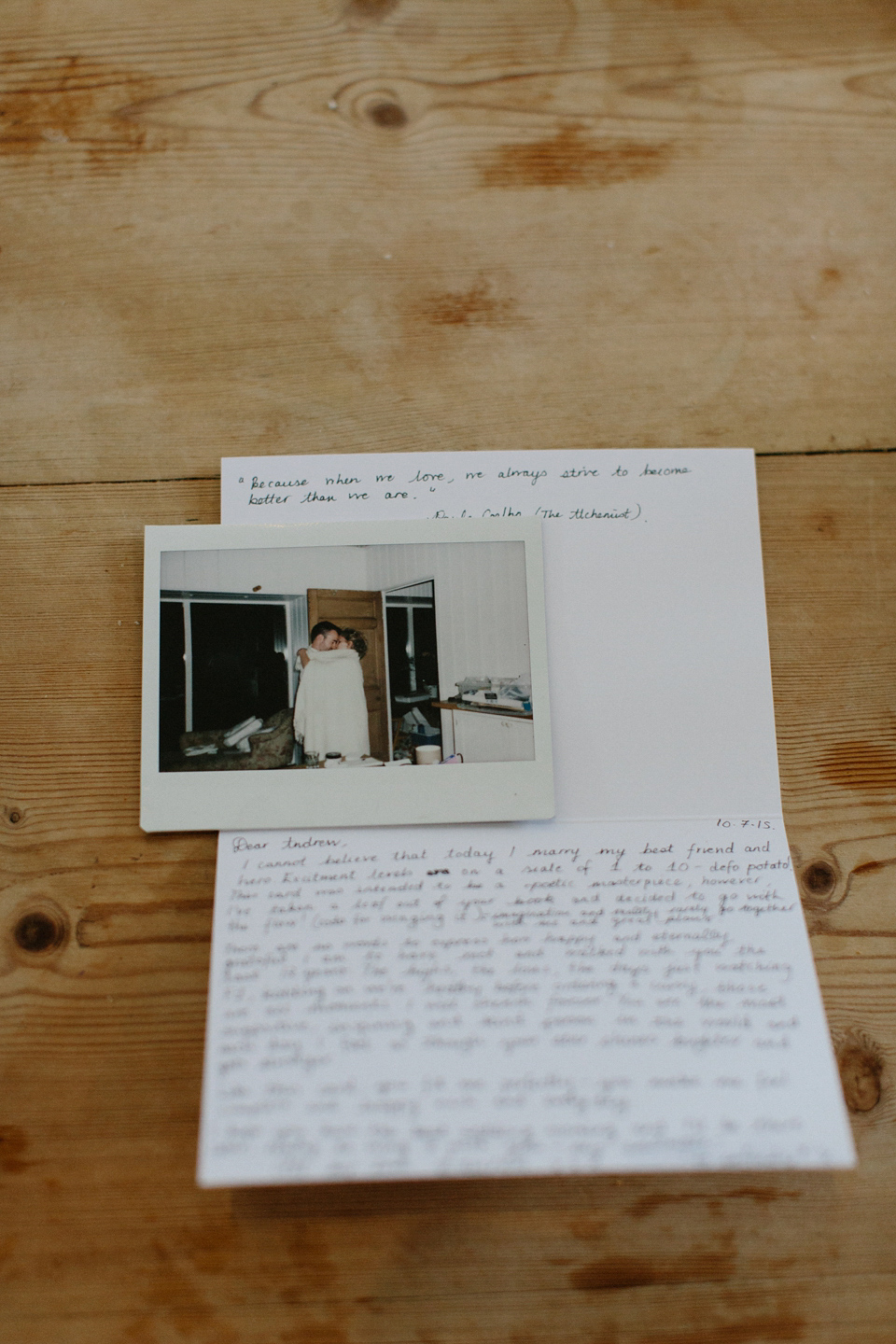 "Our hairdresser on the day, Leigh Ferguson, and make-up artist Ana Cruzalegui, are both amazing at what they do and created perfectly the laidback style I had hoped for. Their presence added such a wonderful atmosphere to the hectic morning with such a relaxed and happy approach to getting ready. Despite the beach / rock jaunt in torrential rain and strong winds, my hair and make-up miraculously remained intact throughout!! (the veil and dress took quite a beating in such wild Scottish weather!).
My younger sister Alana did a wonderful job the night before, manicuring my nails and finishing with a bright coral OPI gel (we did this after midnight and still had a great laugh)."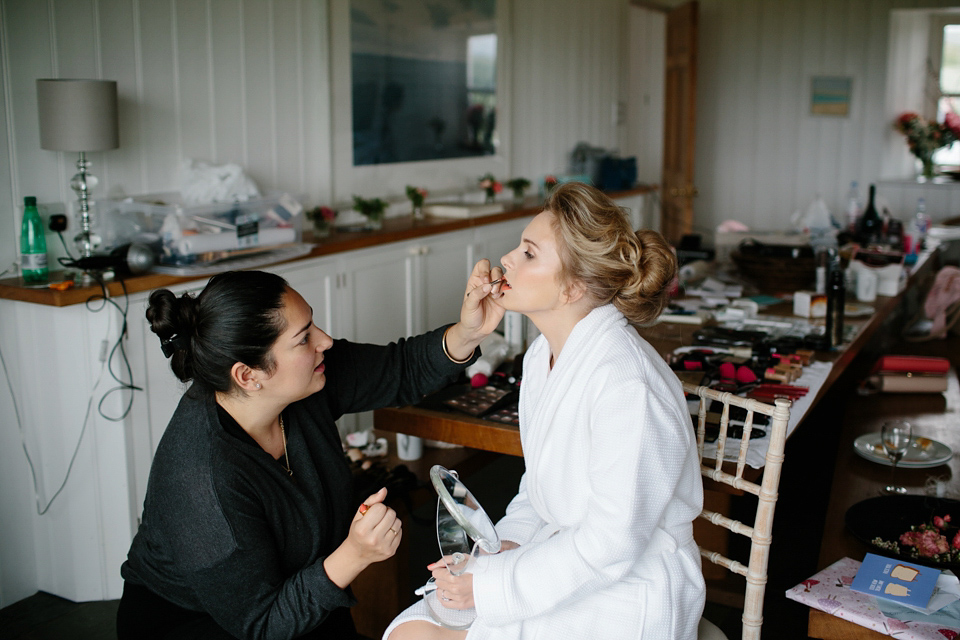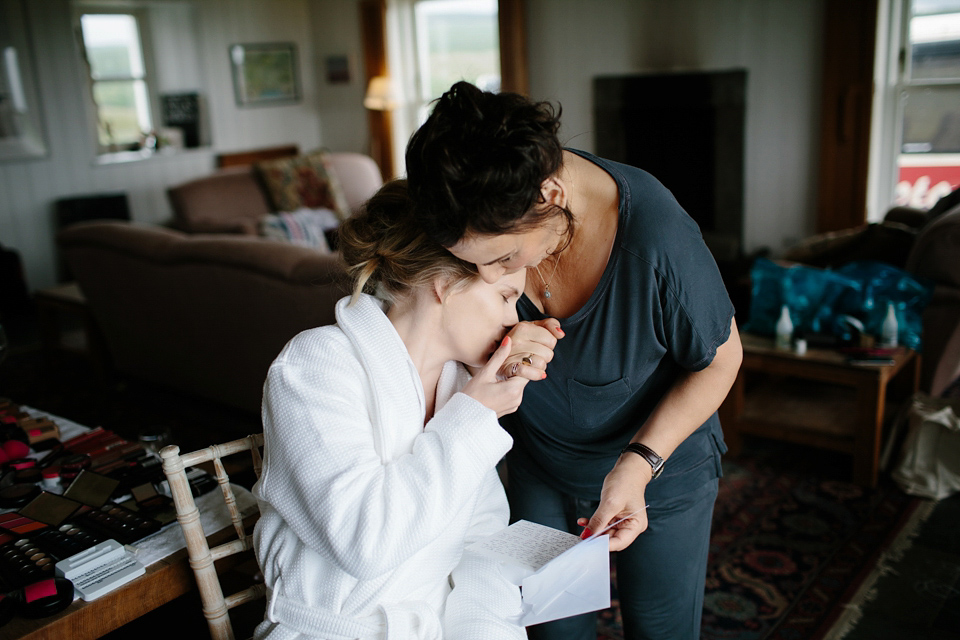 "The fact my veil had holes in it, a few stains, and looked grey from the dust seemed really unimportant – this was going to be my veil."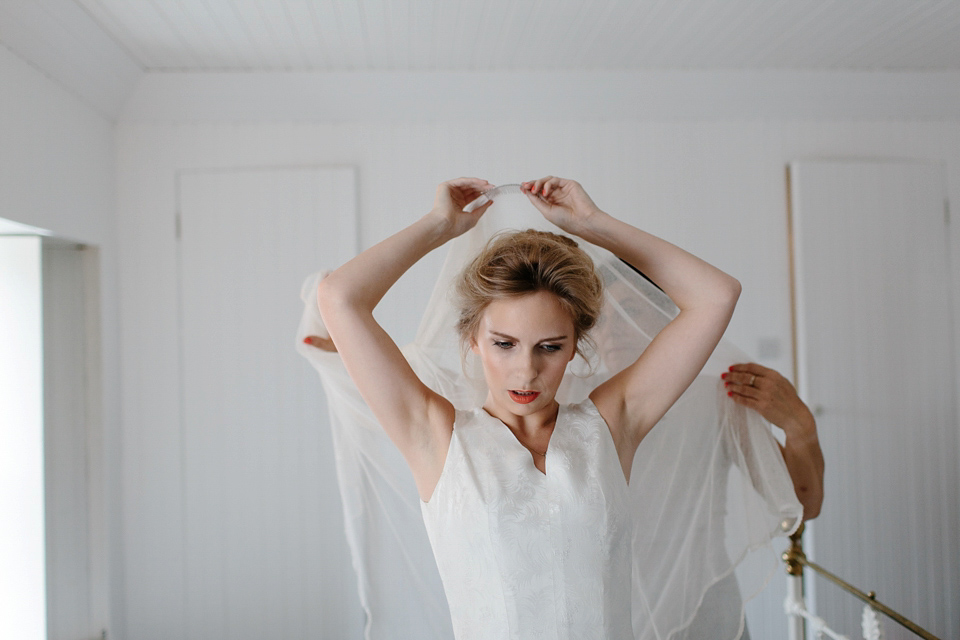 As a textile designer, at the time studying Haute Couture Professional Training at Lesage, surrounded by exquisite craftsmanship and breath-taking examples of fabric, it was precisely the unexpectedness of this simple, honest piece of clothing that appealed."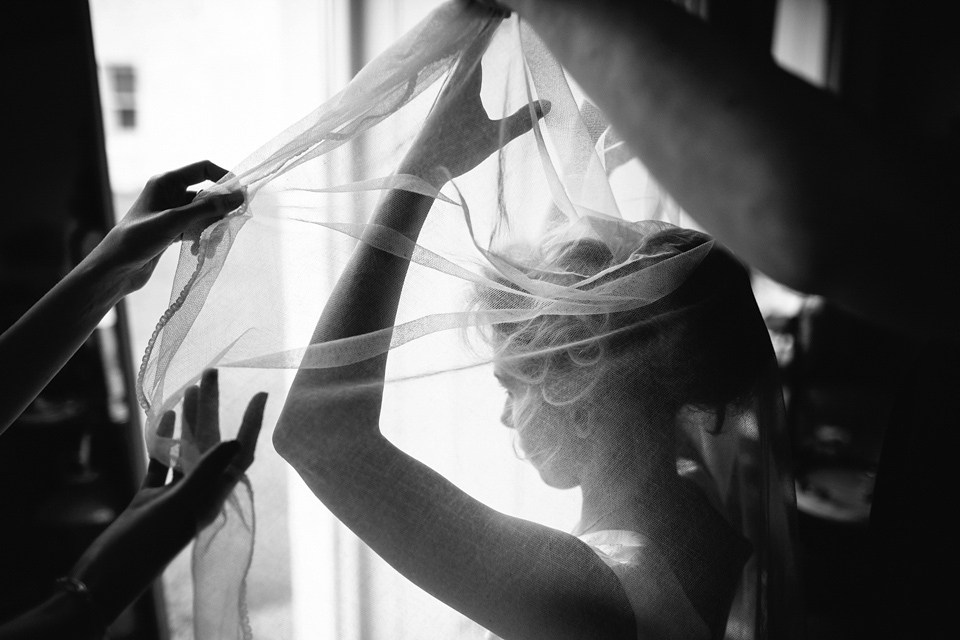 "My close friend Sarah created the most delicate floral crown the day before the wedding. I loved wearing it so much I put it on again for the Sunday BBQ."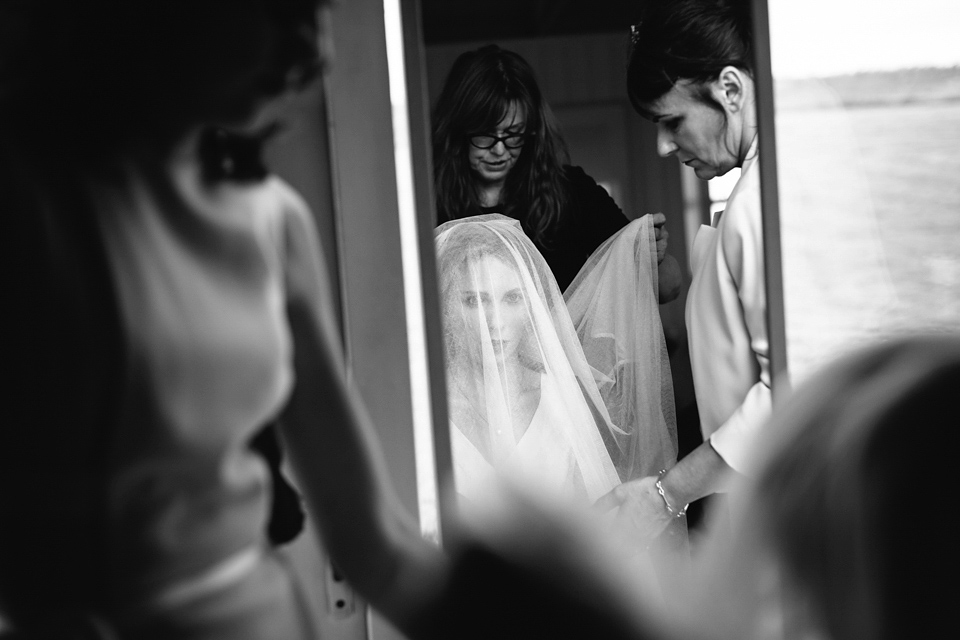 Lauren's younger sister of Ilk and Ilka Beauty painted everyone's nails a beautiful coral colour.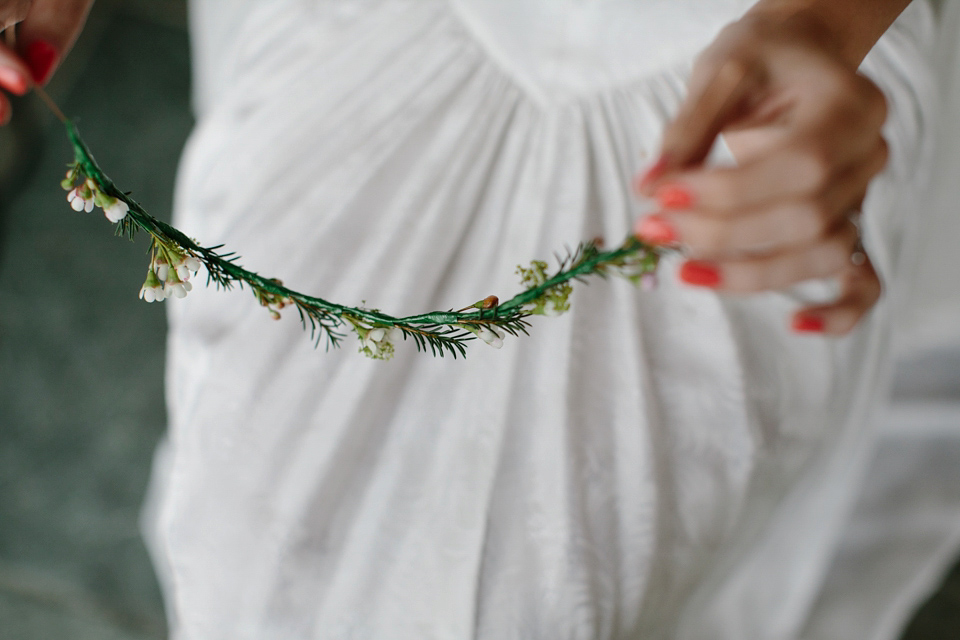 "Andrew's mum kindly offered to lend me her beautiful diamond pendant necklace. This was the only piece of jewellery I wore on the day, although I forgot to take off my engagement ring in the crazy morning rush so I actually had it on until the ring exchange when I noticed it sparkling away (laughing, I threw it to my mum)."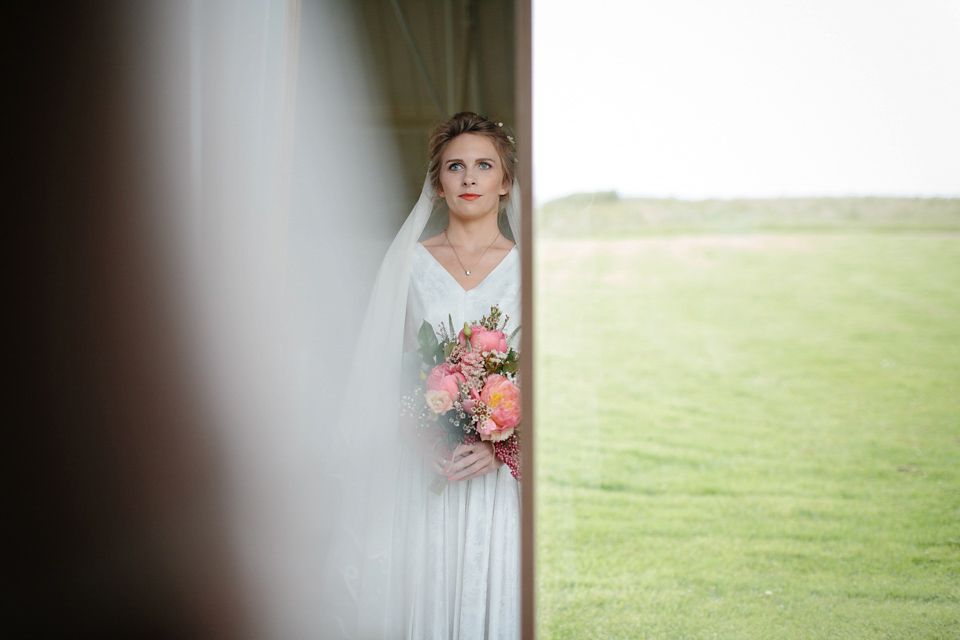 "Knowing the shoe would be visible with the ankle length dress, and looking to add sharpness to the look, I went with mum to Christian Dior in Galeries Lafayette and indulged in a pair of beautiful creamy pearlescent stilettos.
I also however knew that as an avid whinger of sore feet and my propensity to get blisters in a pair of slippers, I would wear comfy boots for any outdoor adventures. A ceilidh requires full comfort at all times to maximise speed, bounce and high kicks, so there was never a doubt that the shoes/boots would be coming off later."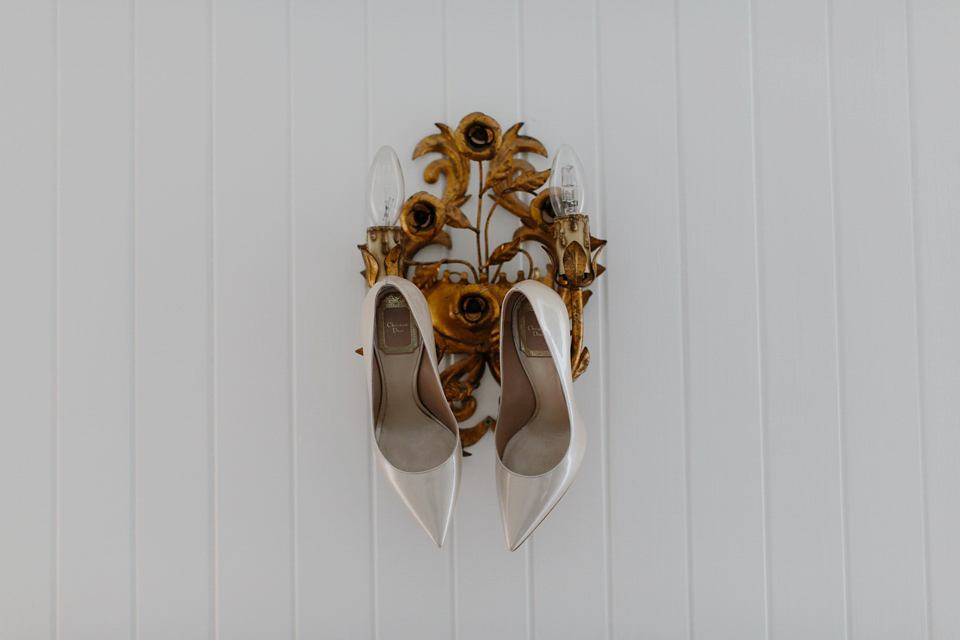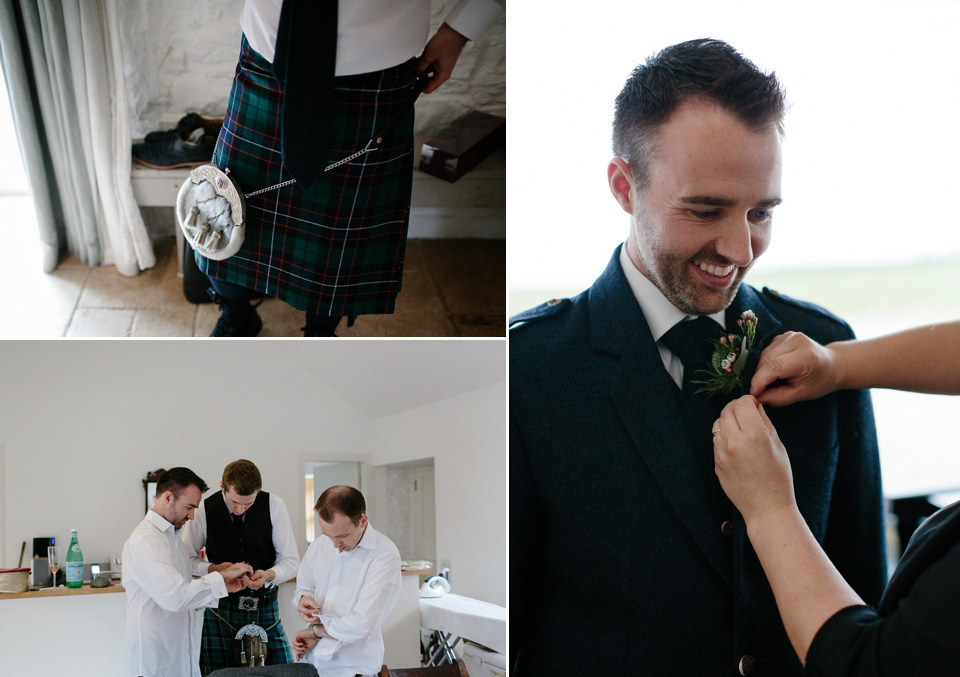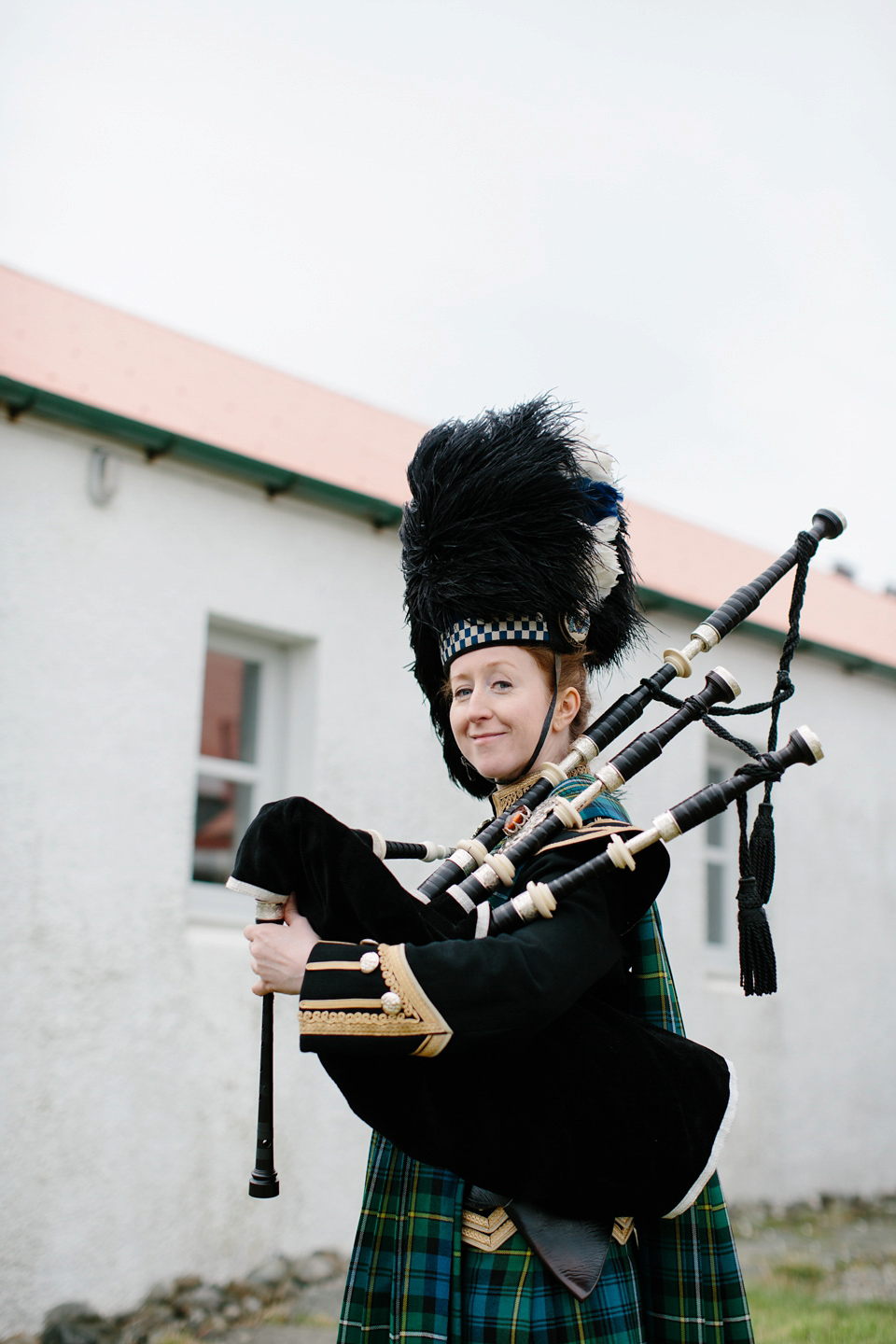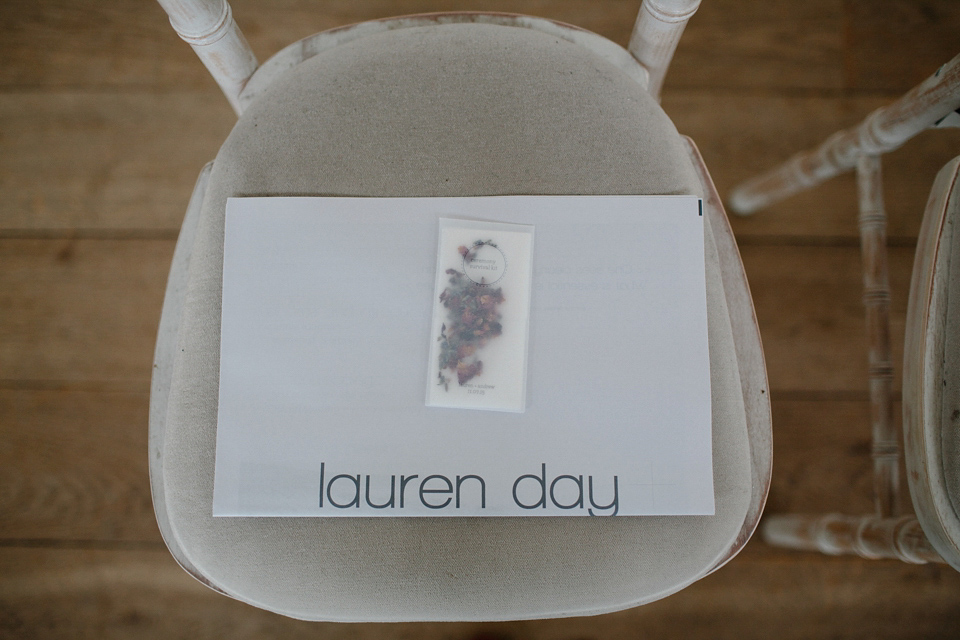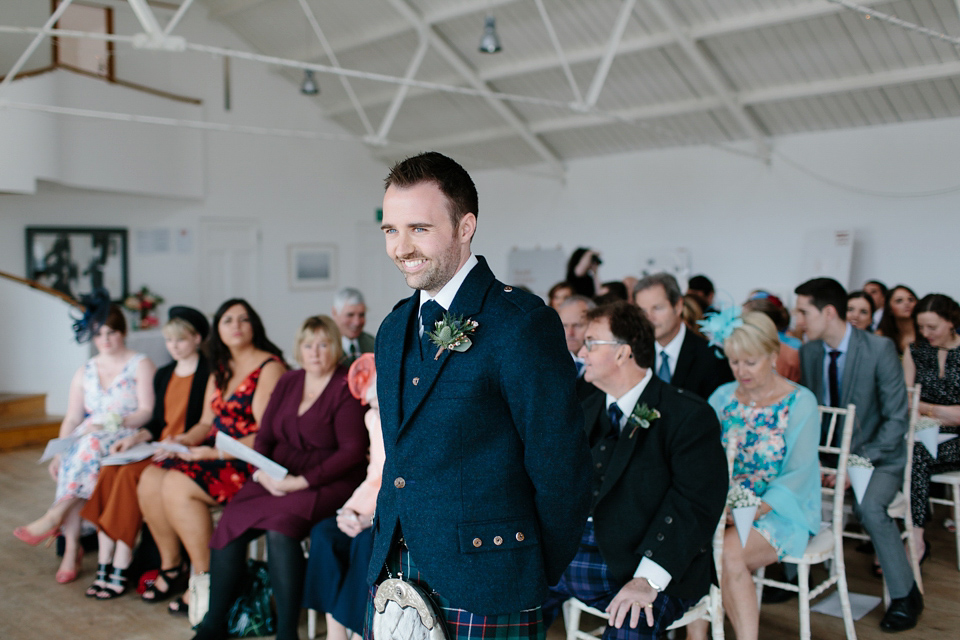 "My sisters' bridesmaid dresses were a perfect accident from a visit to a Christopher Kane sample sale. I bought the two dresses without thinking of the wedding, instead just drawn to the pleated wool fabric, colour and size. It was only on the walk home from the sale I realised that instead of giving one to each of my sisters as a Christmas present, I may have just found their bridesmaid dresses! Fortunately the girls really liked them and they fitted beautifully.
The colour was very unexpected and not at all what I would've picked had I been looking for bridesmaid dresses. I thought my sisters looked beautiful!"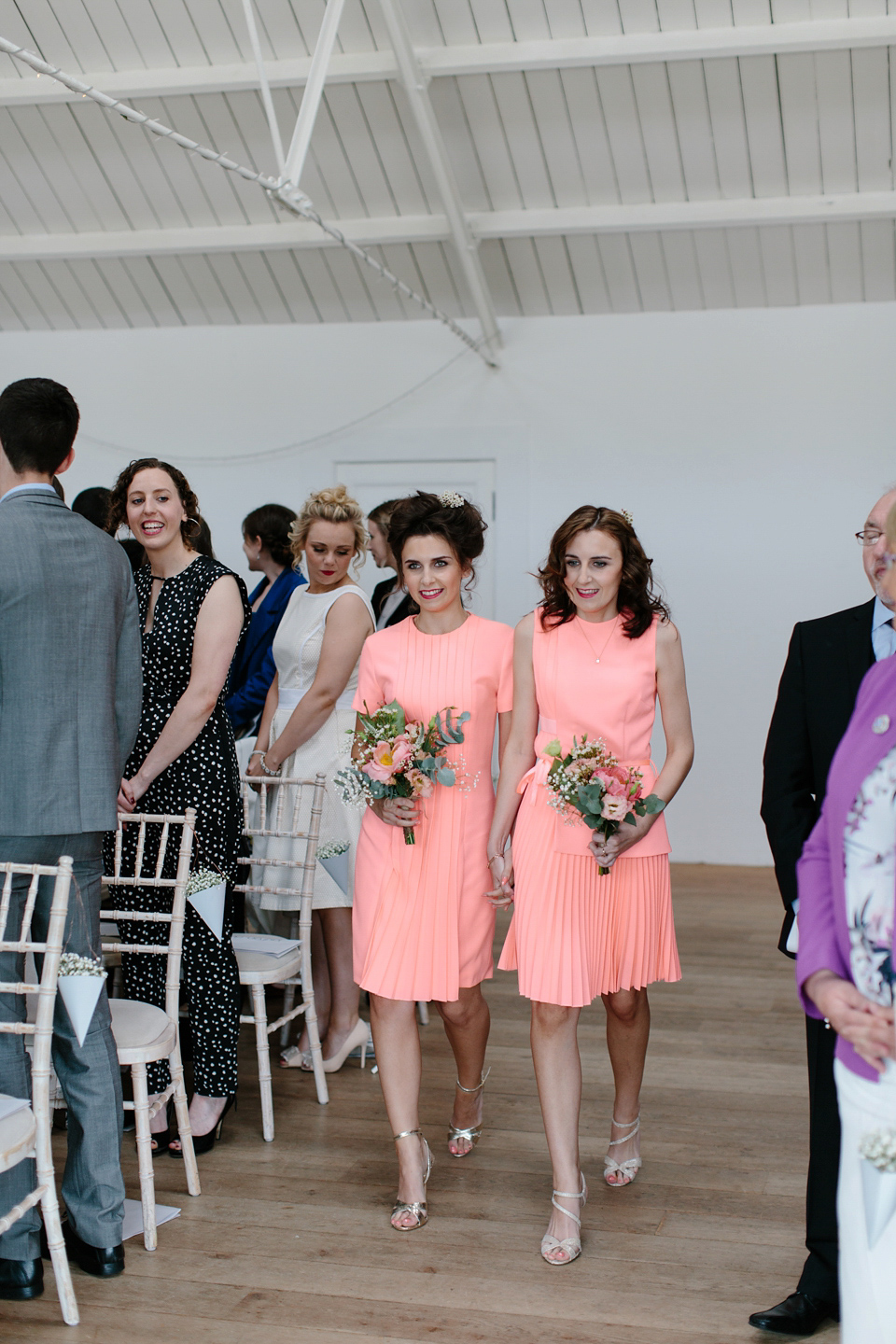 "Our fantastic piper Jean Morrison (no website) played Highland Cathedral as I walked down the aisle – a song I have always loved and which holds significant meaning. I underestimated how emotional this would feel, although it is one of the most vivid parts of the day that I will forever treasure."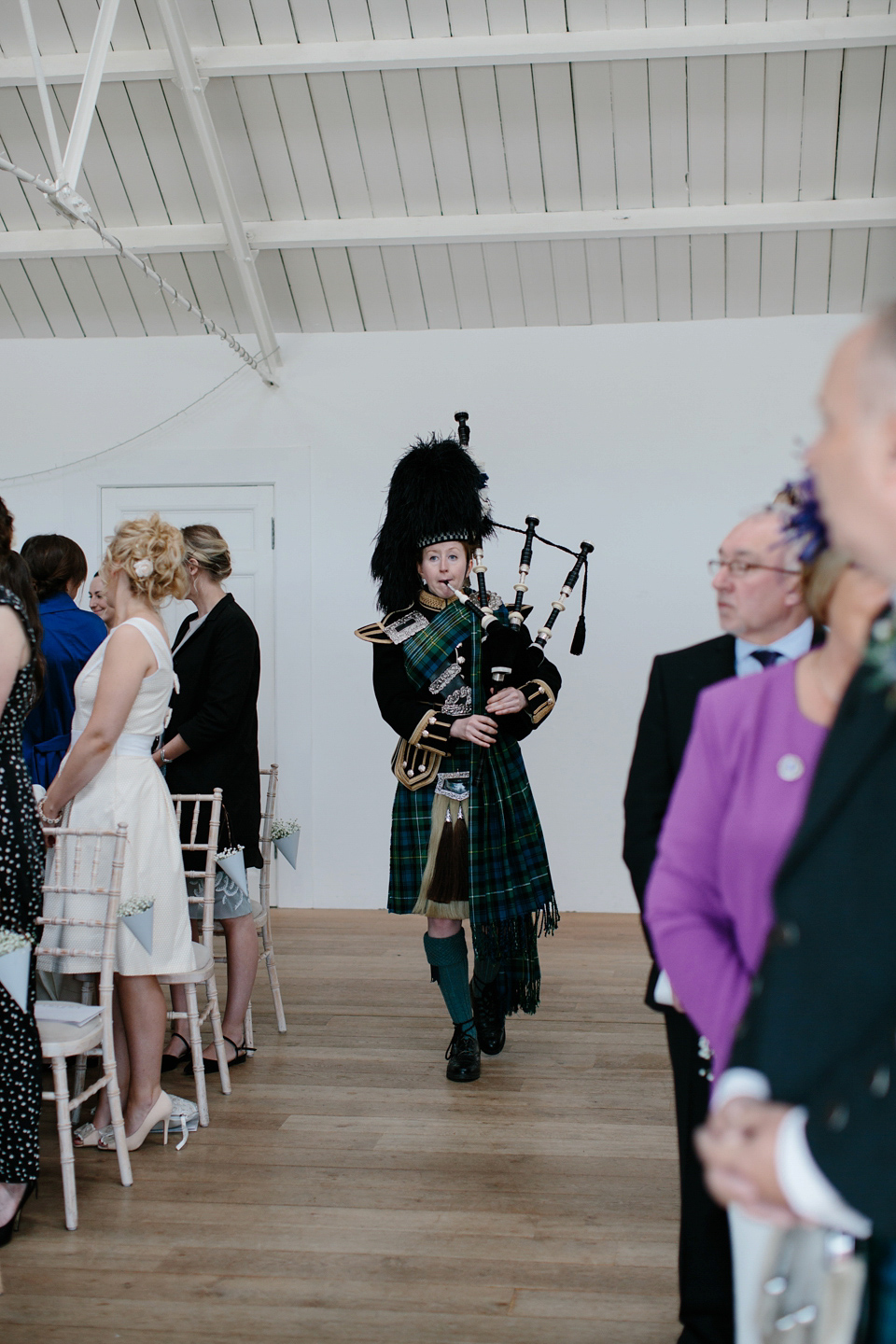 "I decided that the most natural decision was to walk by myself towards my best friend. I have felt incredibly supported by all my family my whole life, but on our wedding day, personally I just felt excited to walk towards the next chapter as me. I asked my two sisters to walk together, followed by my mum and dad who walked together, then the piper, and finally me."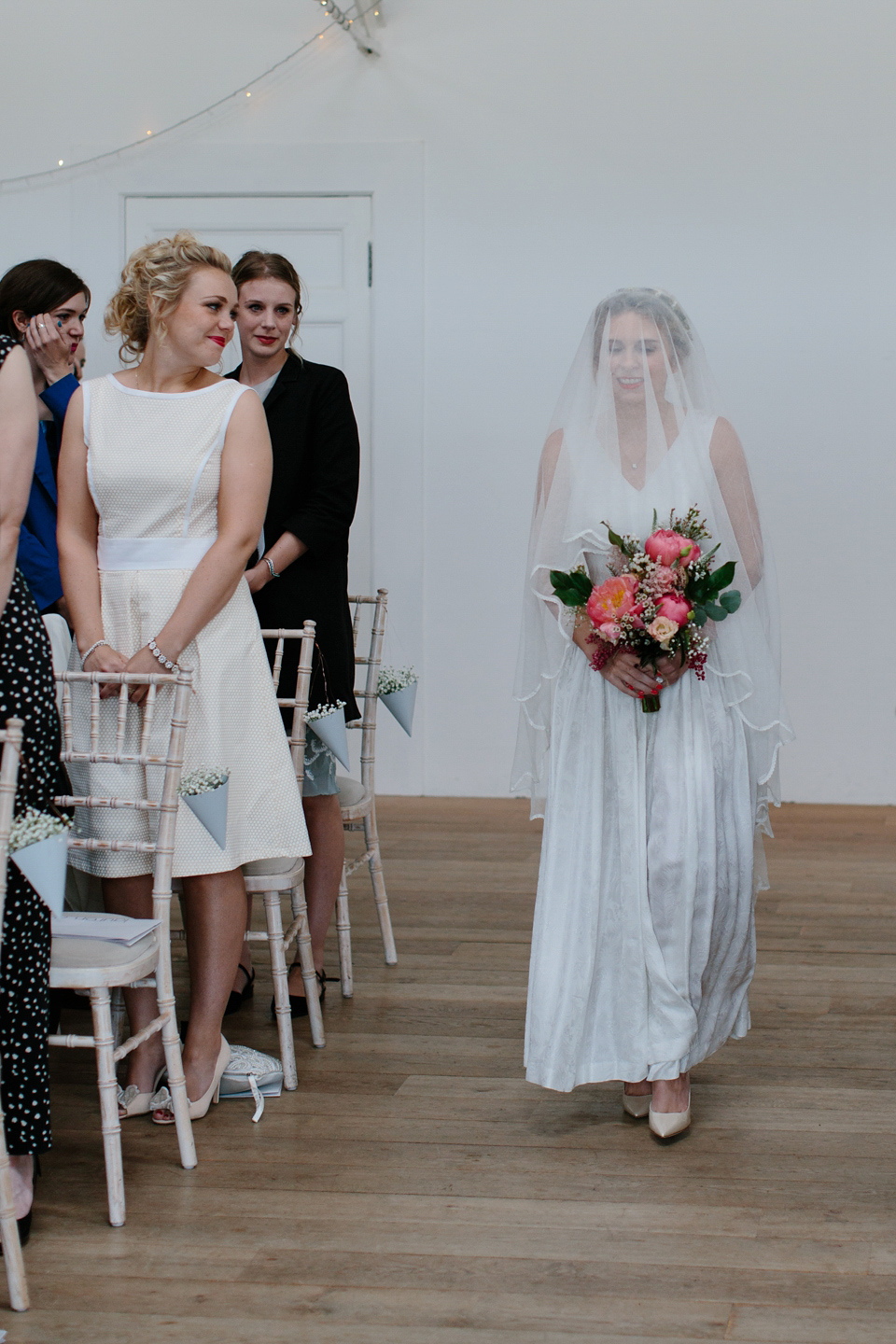 "We opted for a humanist ceremony, focusing most of our of planning around this, writing parts of it with our celebrant Annie Loughlin (an amazing lady), thinking a lot about the experience of the ceremony and trying to create an outline that was right for us. This process led us to inspiration from location, people and memories, but mostly it helped us to edit the things we love from the things we like."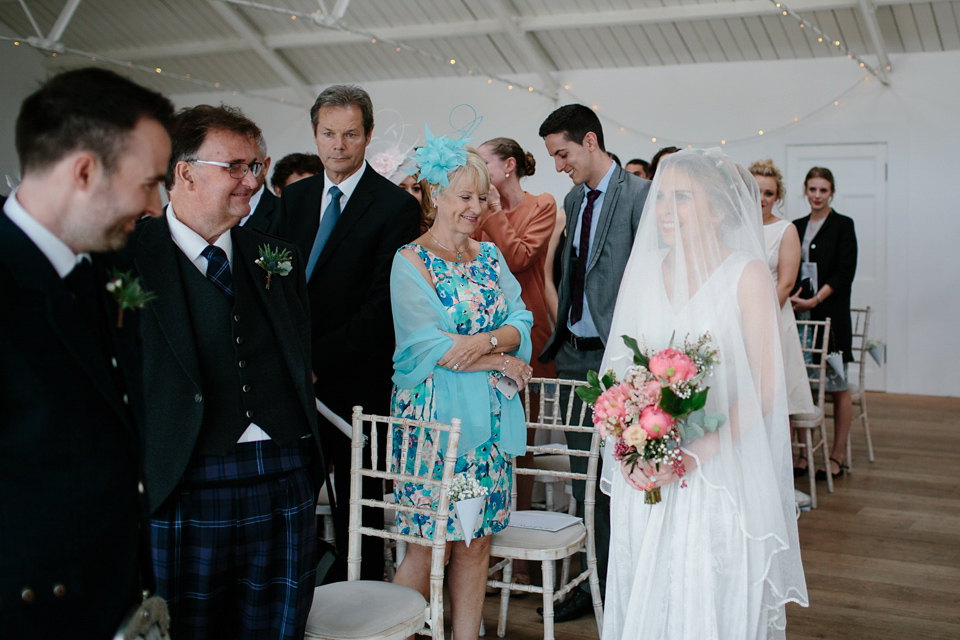 "Andrew and I wrote our vows together at Crear during breakfast the day before our wedding. Honest and instinctual, we each read the same vows. We kept them simple and decided to finish with traditional Scottish vows, as we feel they summarise so perfectly the reciprocal nature of marriage."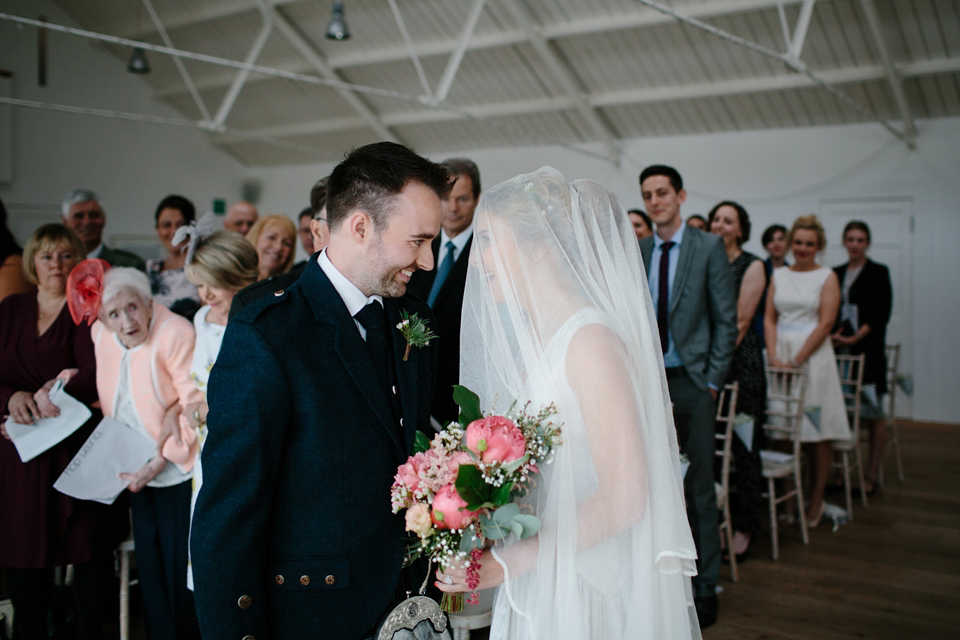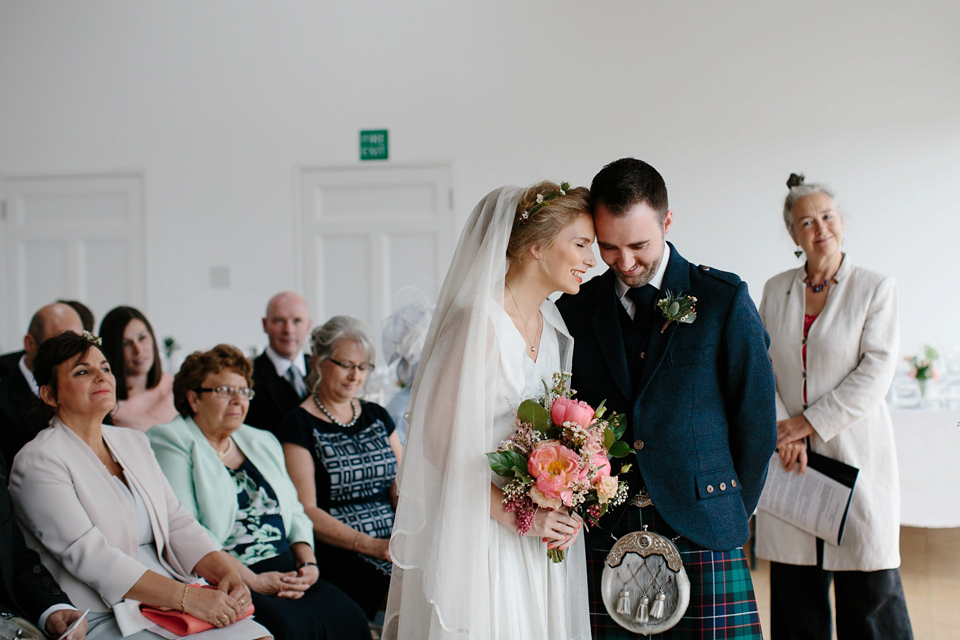 "We had a hand fasting ceremony during which we read our vows (both our mum's each bringing forward a piece of fabric that was wrapped between us and tied in a knot to symbolise the joining of our lives). This created a strong connection (physical and emotional), which I think helped us to really engage with the words.
Our rings were made by a local jeweller, Martin at The Jewellery Workshop our rings have the inscription 'to infinity' and our wedding date."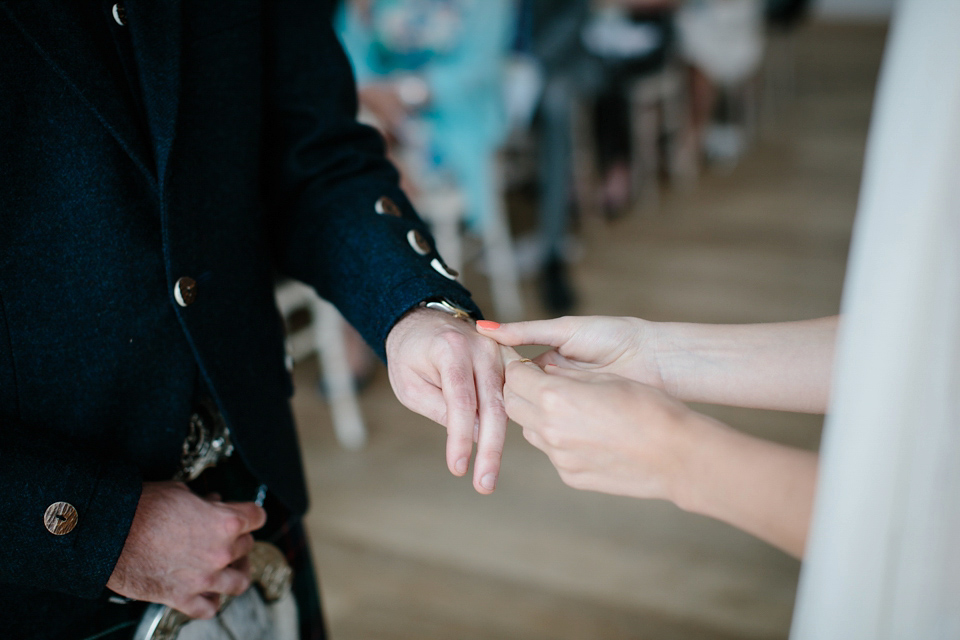 "We asked two close and trusted friends to select and perform a reading during our ceremony. The readings were a surprise, which added even more excitement to the ceremony for Andrew and I. We were so happy with their choices and also the sincerity and happiness they brought to the room as they read to everyone."
I adore the expression of 'wow' from the elderly relative on the left. What a magical photograph…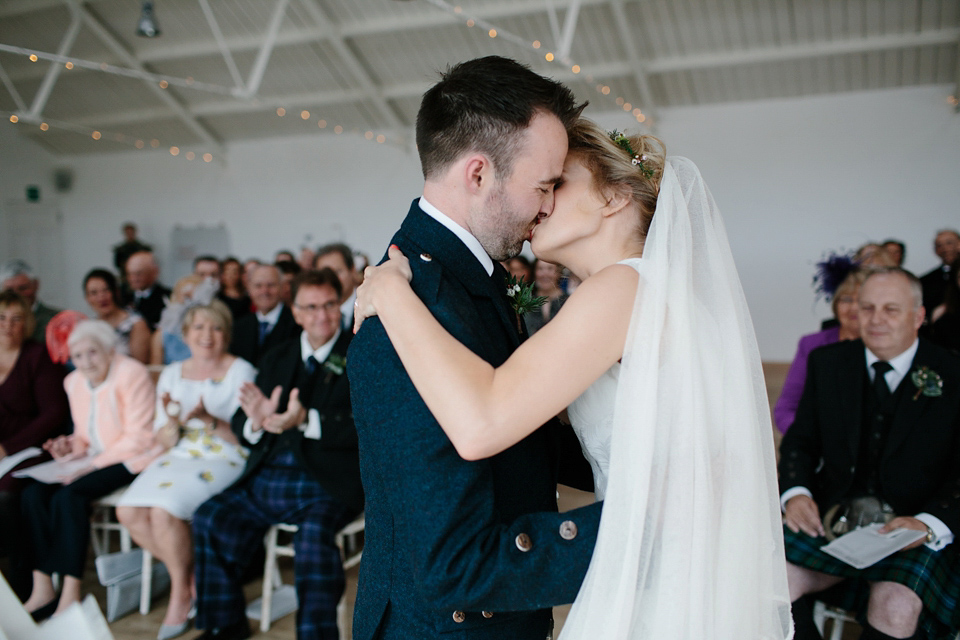 "The ceremony was definitely our favourite part of the day as it felt so precious, flowed beautifully, and we both felt completely present. We also loved going out to play in the rain on the beach after dinner. As you can see from the photos and video, although we were soaked through and blown about like crazy, we laughed so much, enjoyed every moment, and had the most fun ever!"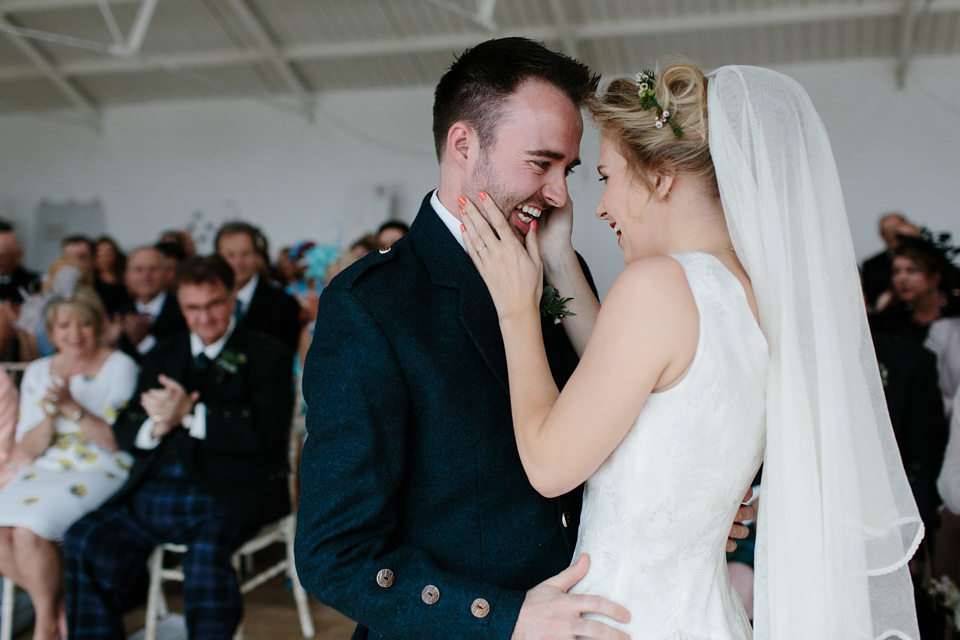 "During our ceremony, Andrew's brother/best man, Colin, played (and totally nailed) a beautiful, emotional piano piece (Ludovico Einauldi) as we signed the register. Our talented piper Jean also played the piano – a version of Wild Mountain Thyme, which we asked guests to sing along to almost like a non-religious hymn."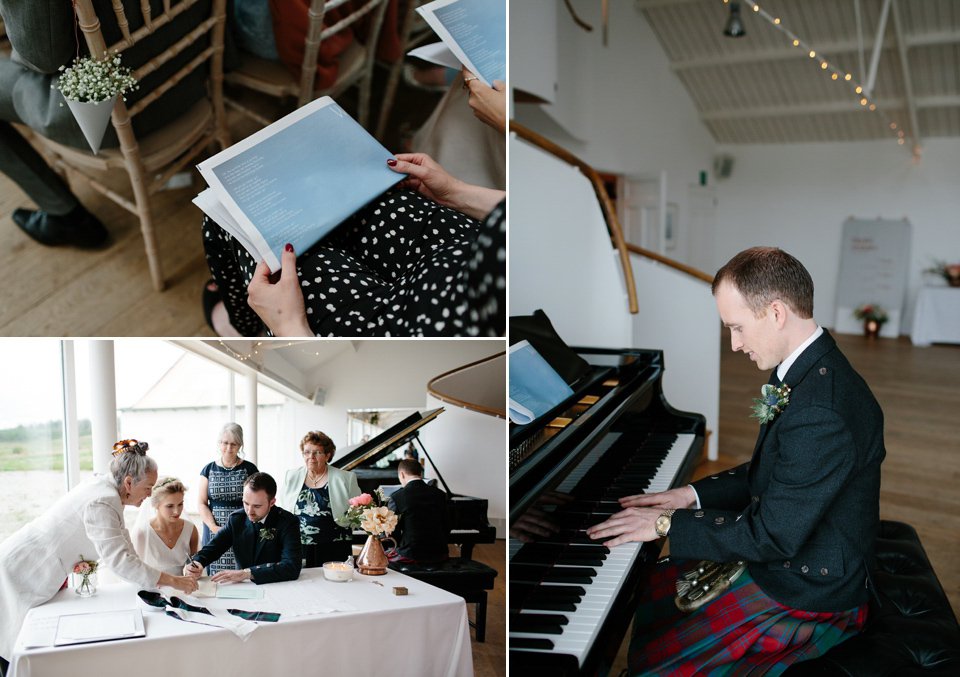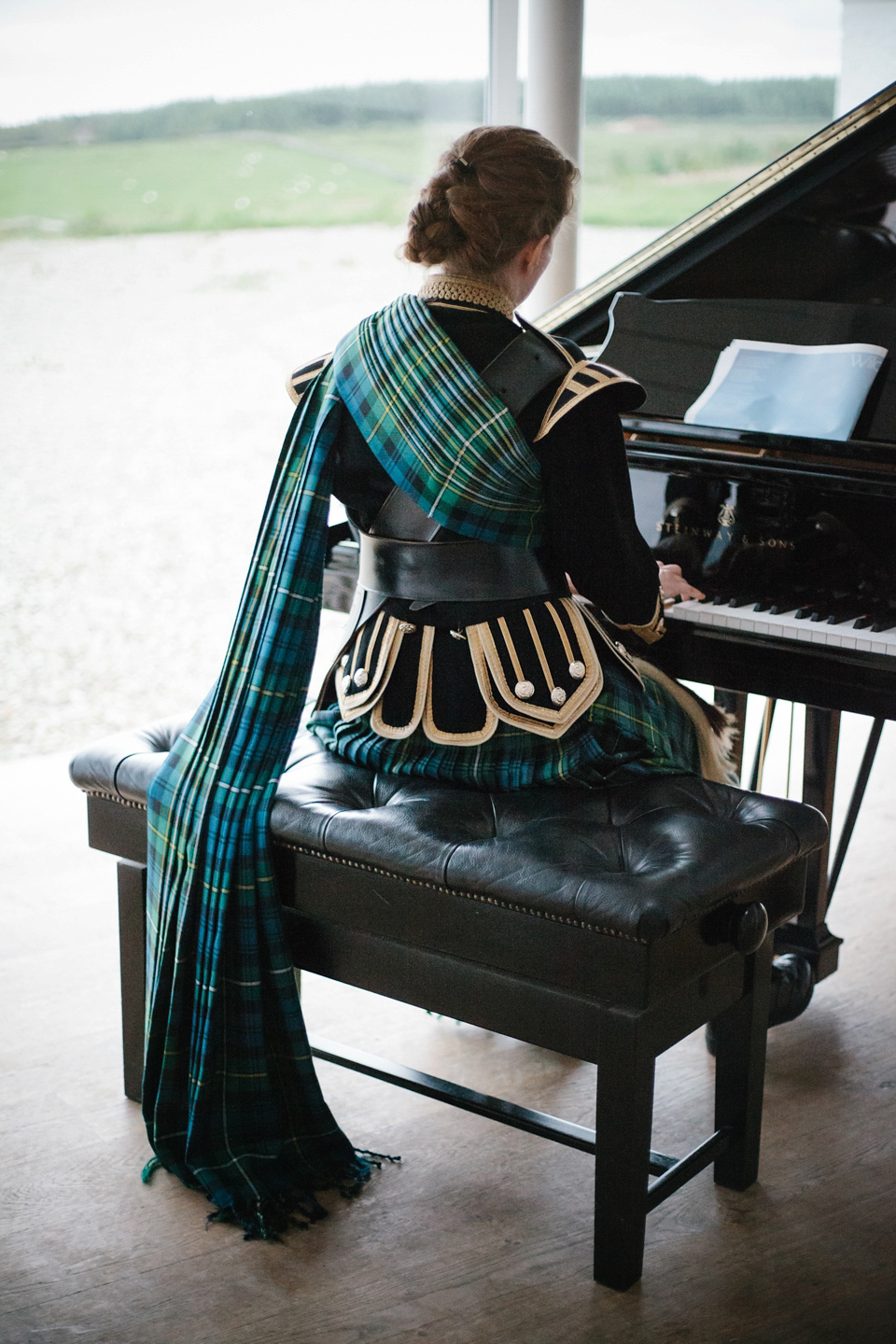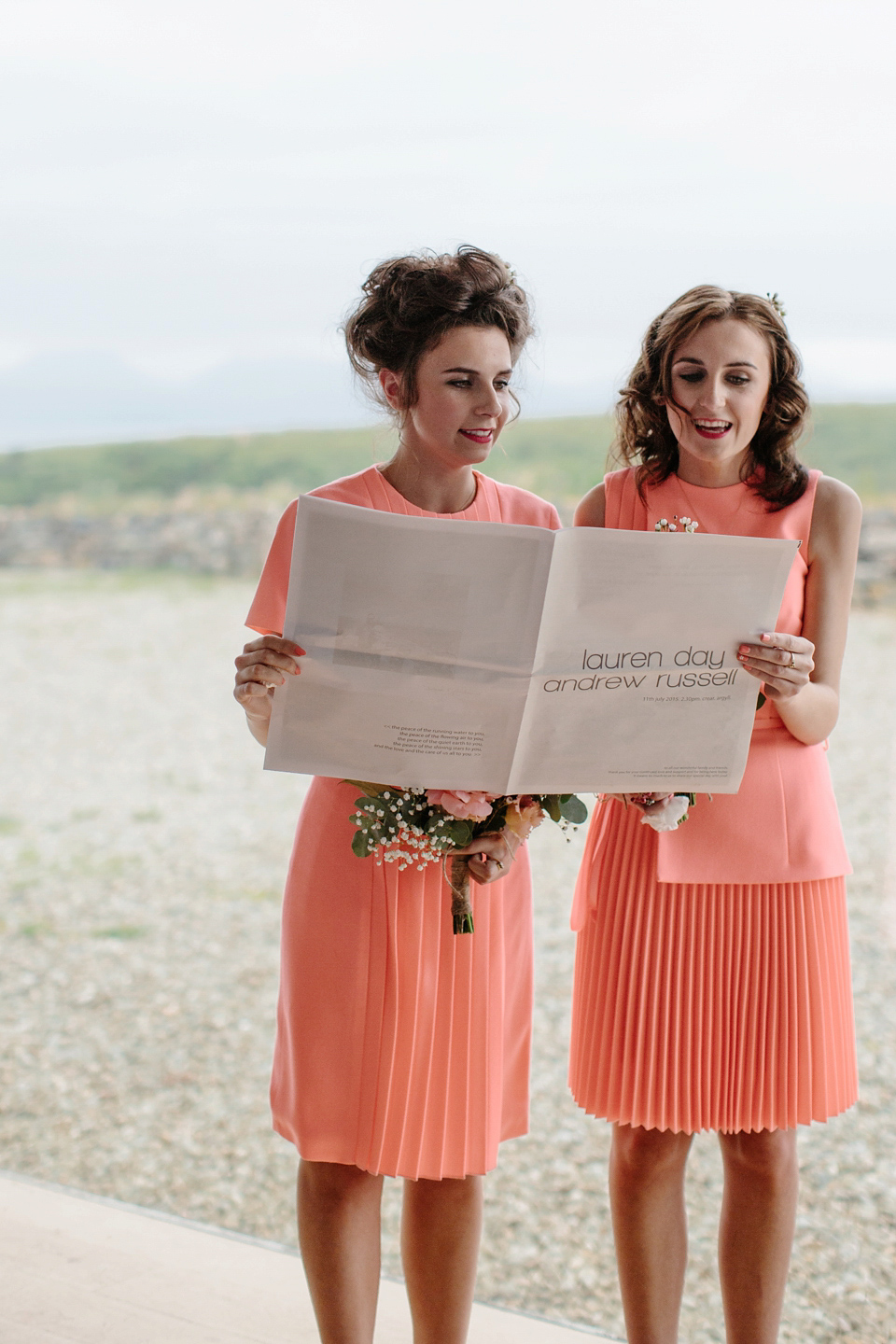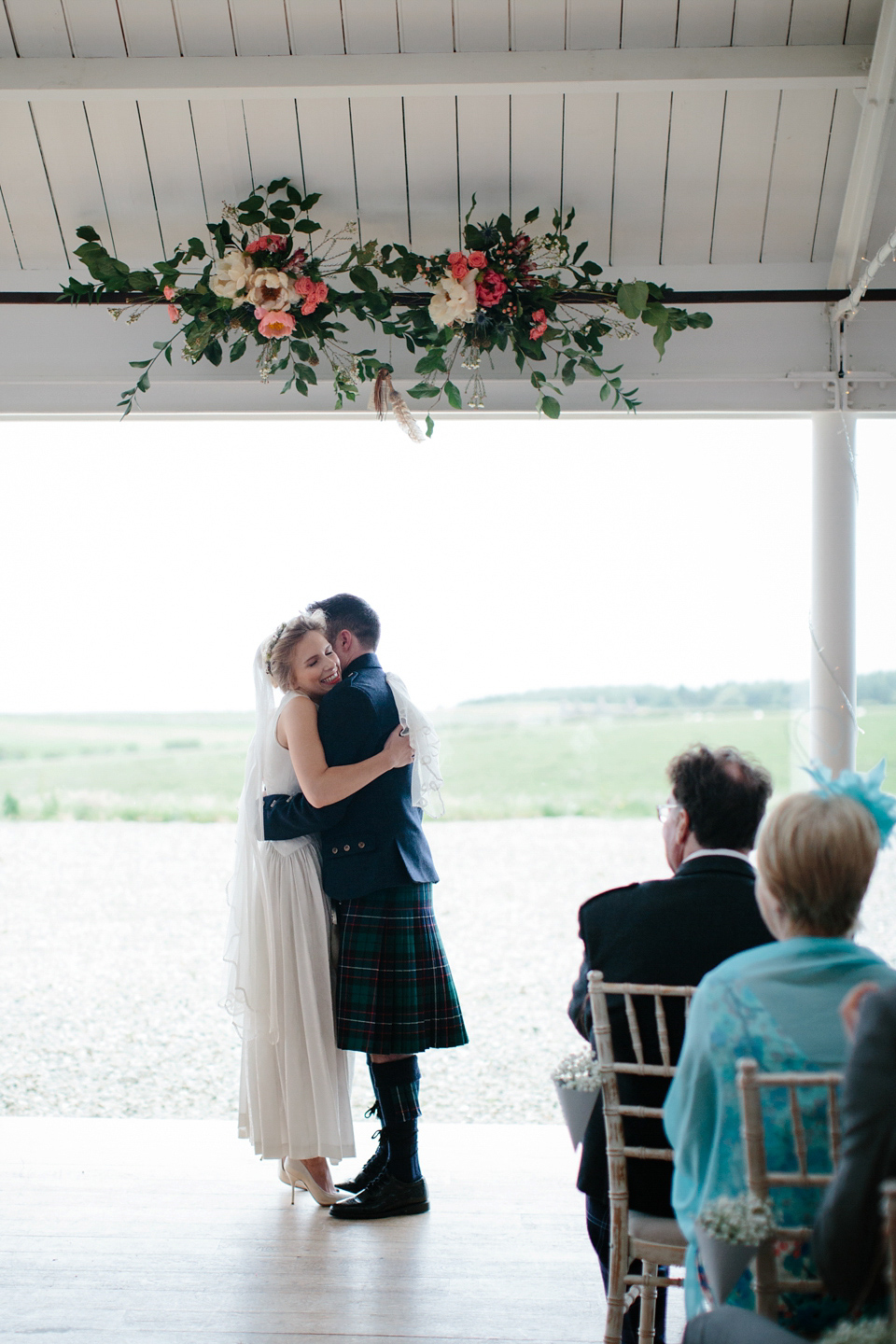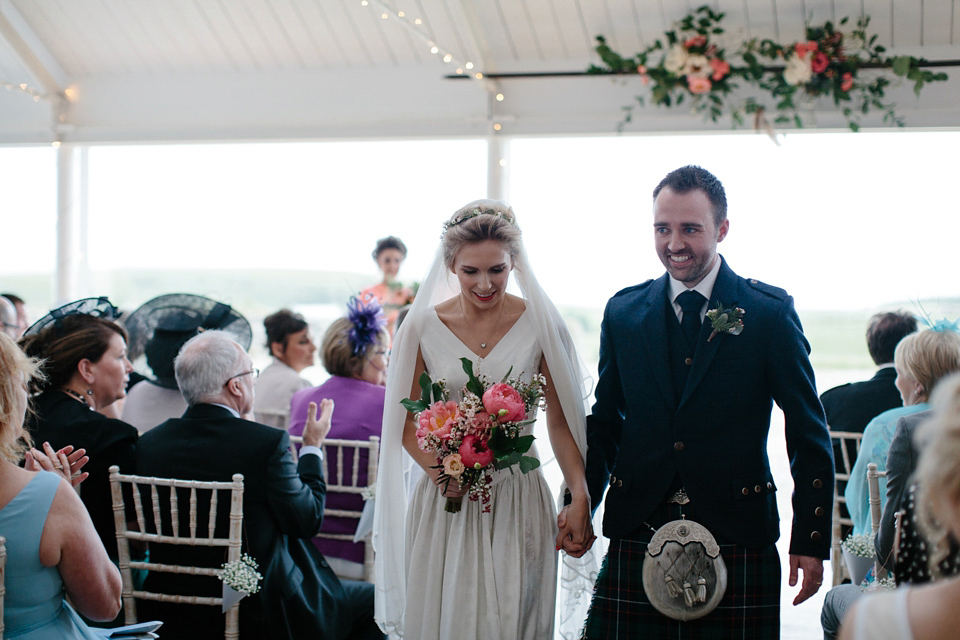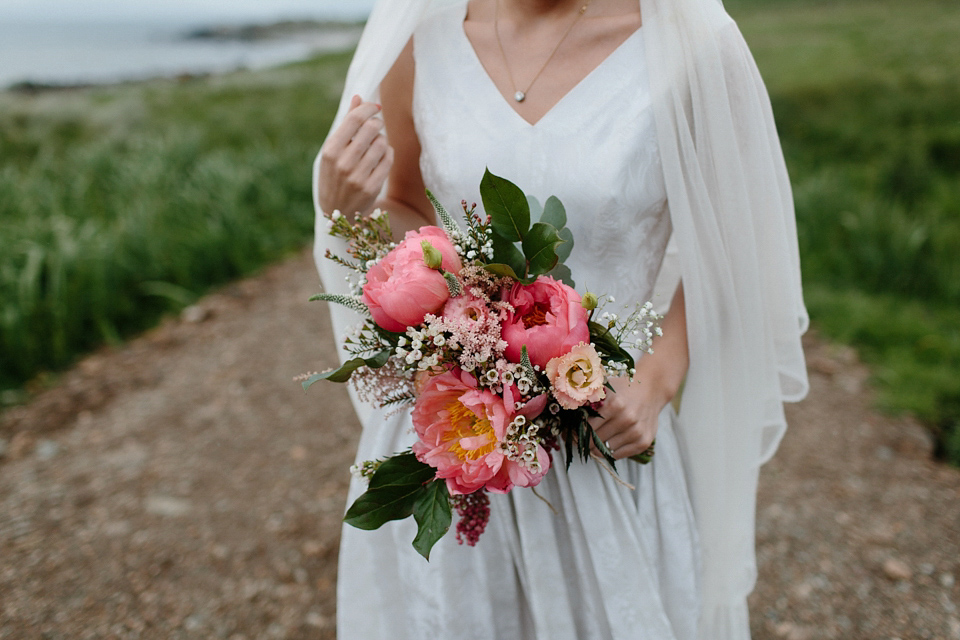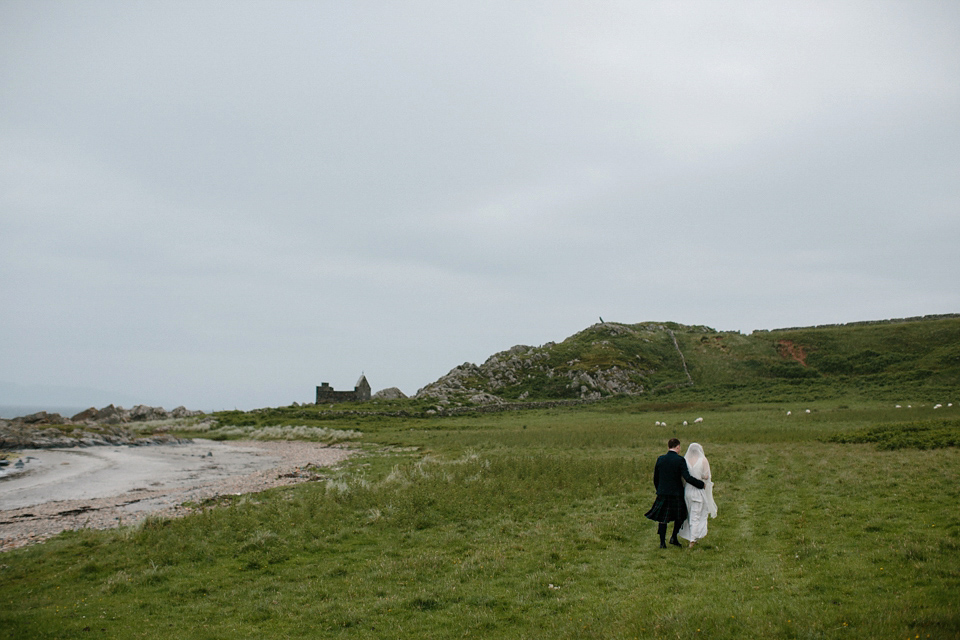 "Once I'd found my dress in that little Parisian shop, intrigued, I tried it on and it fitted perfectly. Instantly, I knew this was my dress. Absolutely nothing like what I envisaged I would wear, but an impulsive excitement to furiously swish in circles."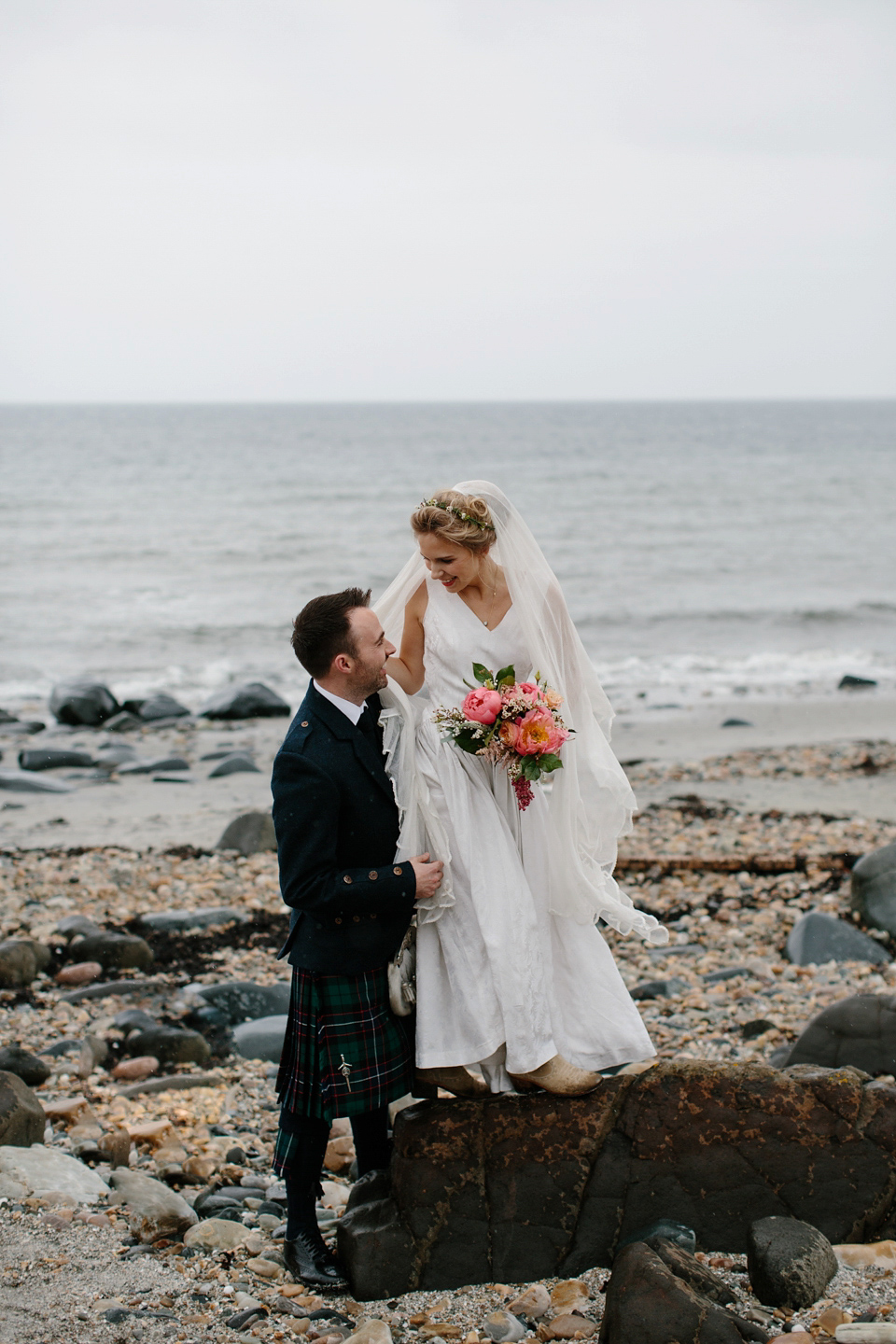 "The bridal dress shopping experience I was certain not to have, I was actually having. Floating up and down the shop clasping an imaginary bouquet."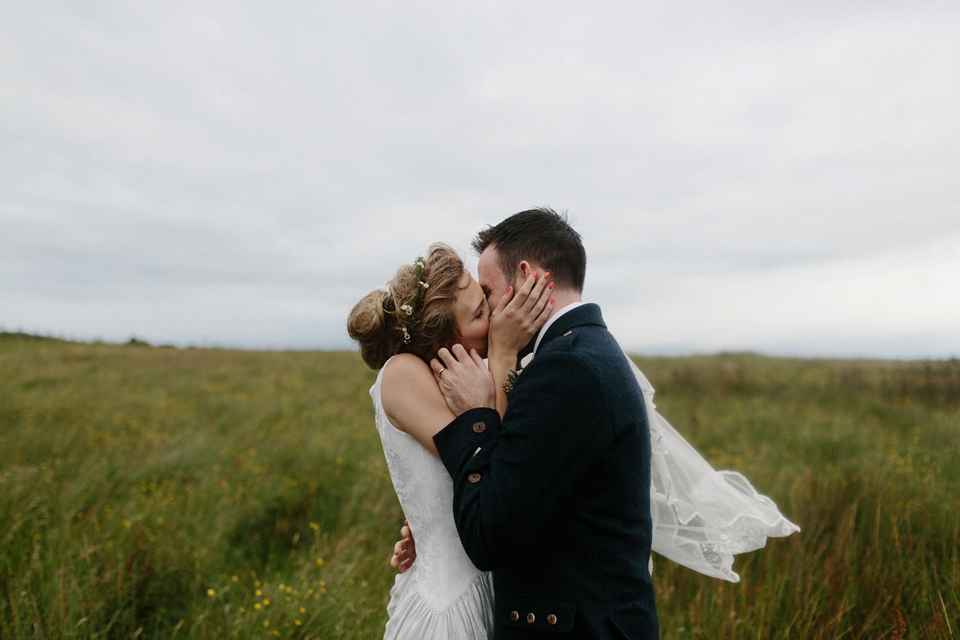 "I had originally picked a beautiful cream top and skirt from the Isabel Marant boutique in Marais during a lovely shopping day with mum months earlier when she visited me in Paris in January. However, when I returned briefly to Scotland in March to visit my wee gran who had a sudden stroke, I tried the outfit on in my bedroom at mums and instantly knew it wasn't quite right."
"My gran passed away the day after I returned to Paris and so I went back to studying and forgot all about the dress and the wedding. A few weeks later at the end of April, mum flew back to Paris for a short break and on her last couple of days we went to the market in the north of the city and stumbled upon my wedding dress (as described above)."
"Andrew wore his own kilt, which he already owned and decided to get a new jacket and tie made in navy blue wool tweed."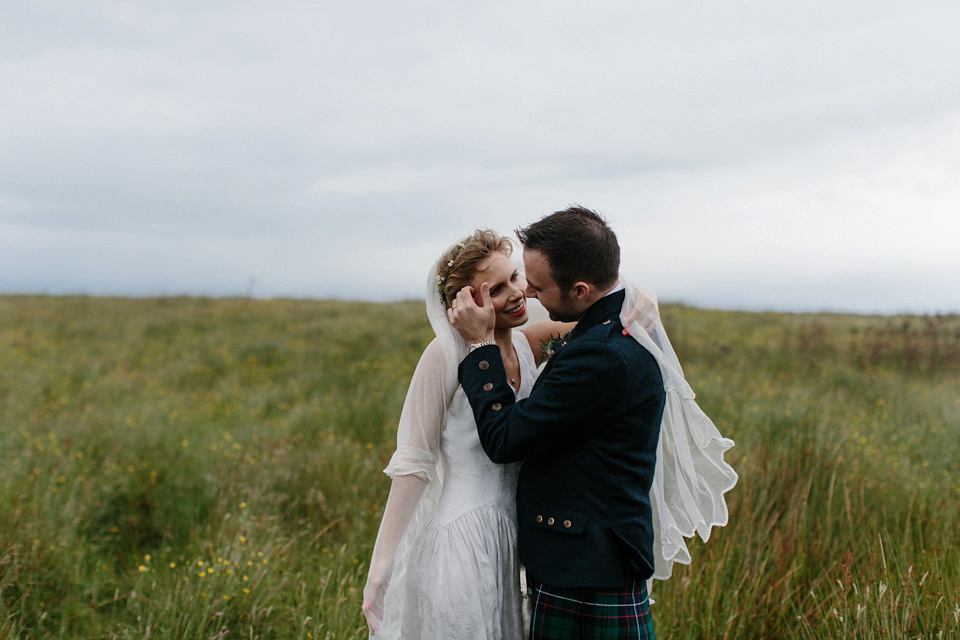 "I bought Andrew a hand-carved sgian dubh from Scottish knifemaker Jake at Skye Knives, and gave it to him on the wedding morning. The date of our wedding was engraved in roman numerals along the edge of the blade."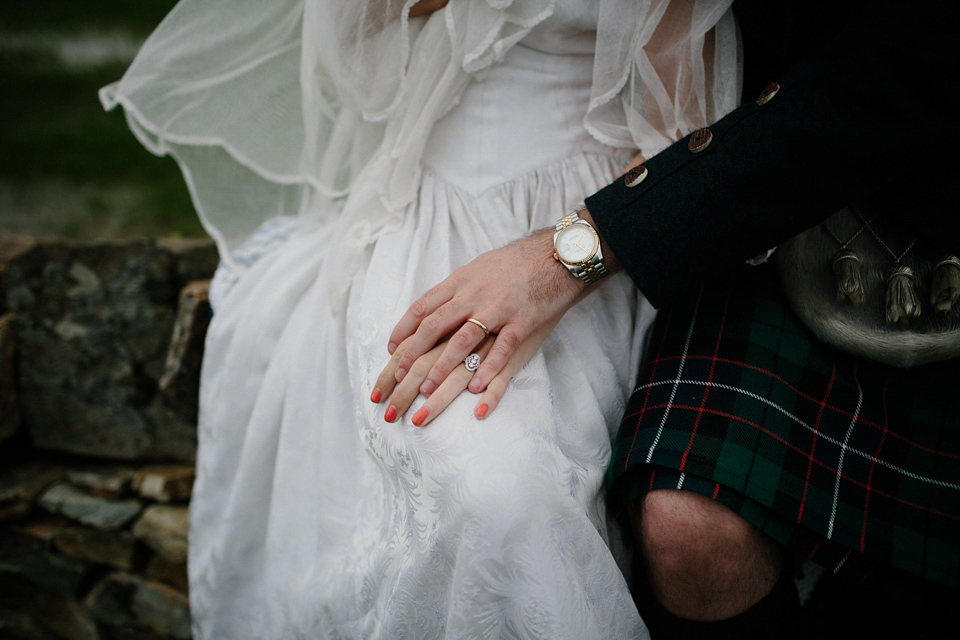 "My mum gave Andrew her late dad's gold cufflinks, which my gran had given to him on their wedding day in 1947. (My gran was very fond of Andrew and would've been so happy to know Andrew was wearing something so precious to her, on his wedding day). Mum got Andrew's initials engraved on them to add to the original monogram.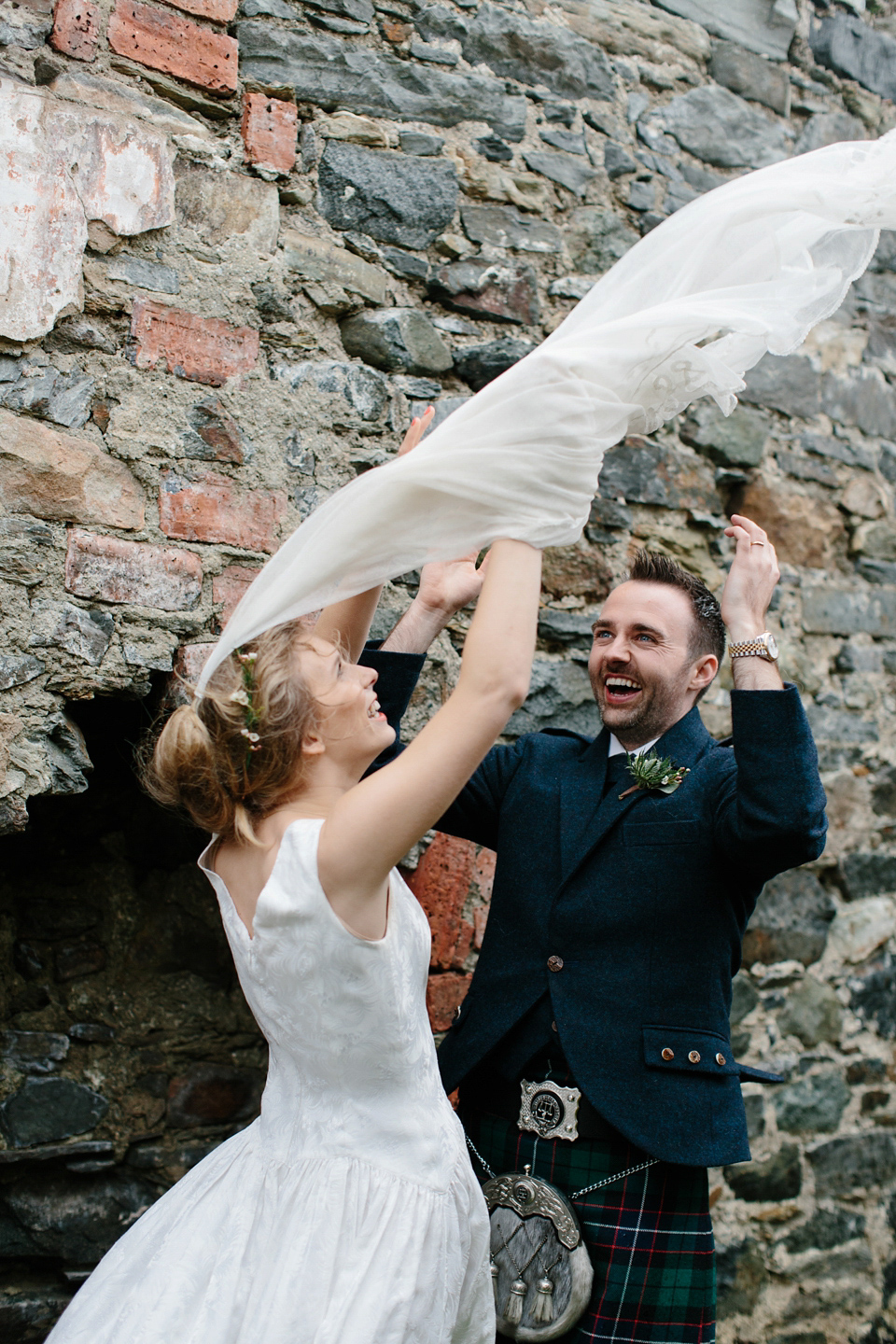 "The table plan, menus and place names etc. were all made in the three weeks before the wedding with massive help from my sister Jill and friend Sarah. We crammed in some screen-printing, some hand painted and foiled menus and some frustrating lettraset to name a few."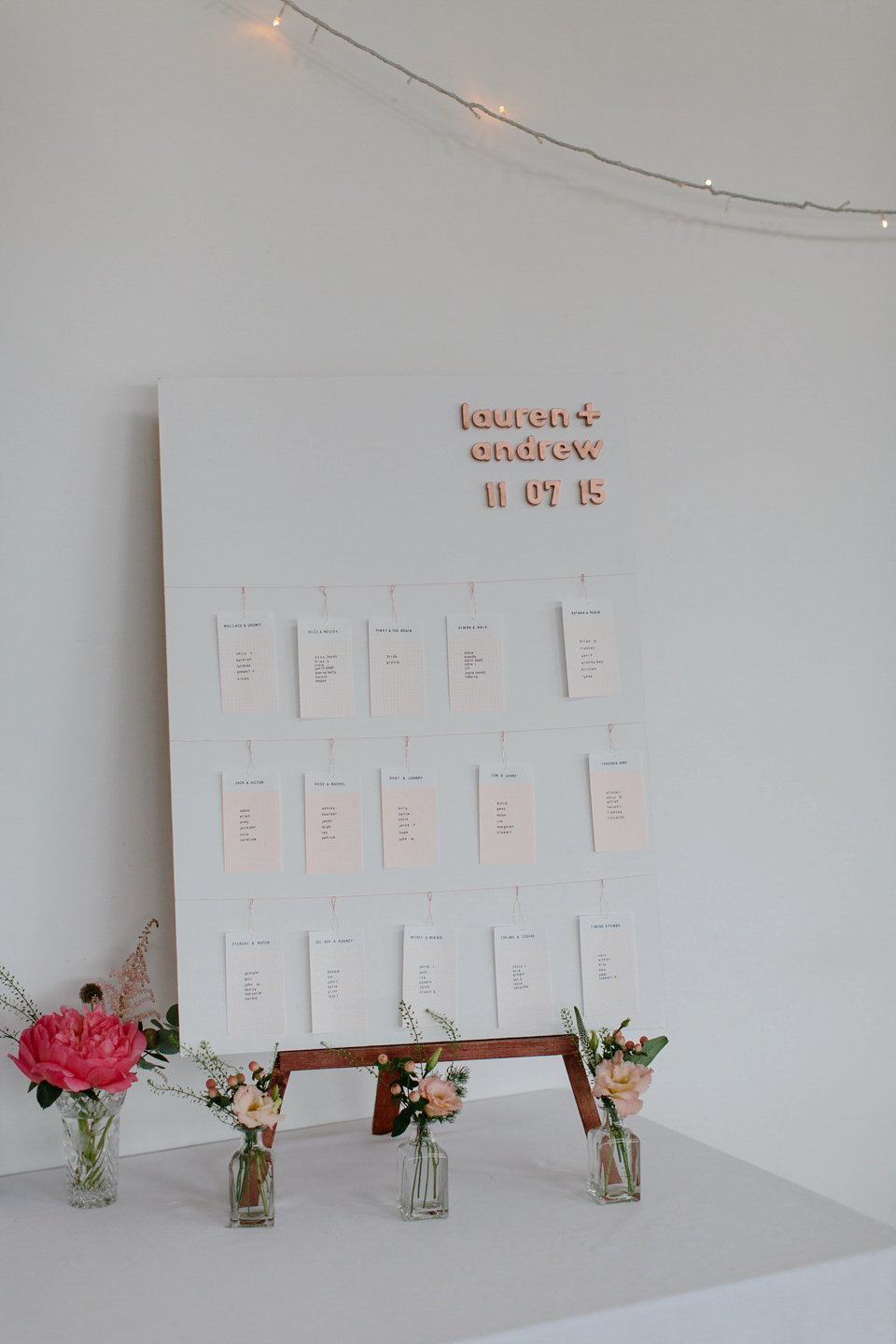 "My incredibly creative Mum crocheted a life-size Llama mascot to welcome guests and a beautiful blanket, which she completed on the morning of the wedding."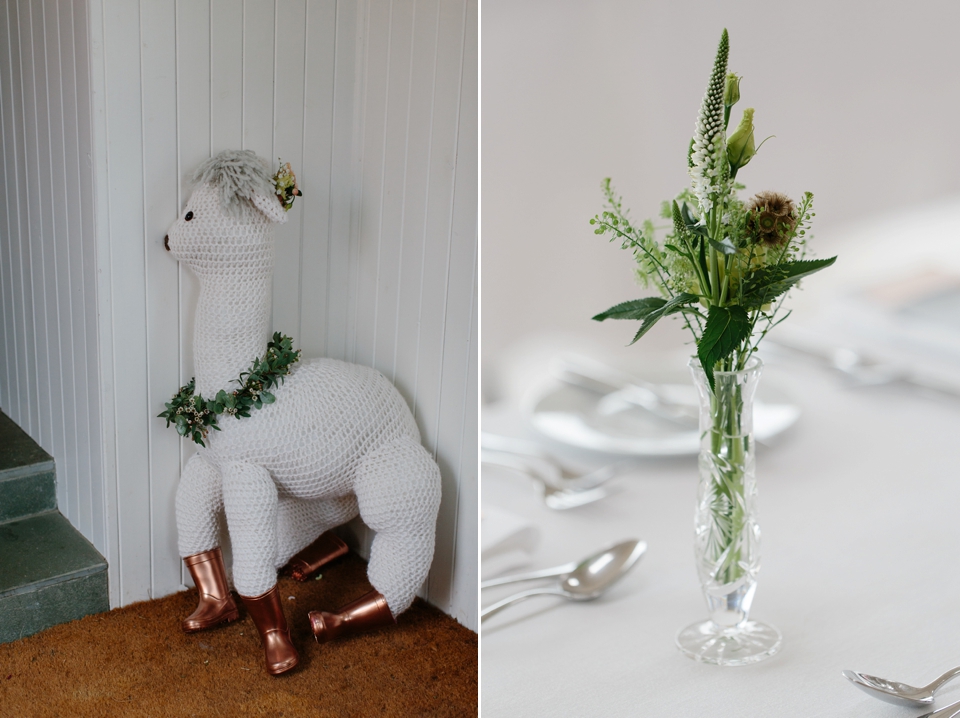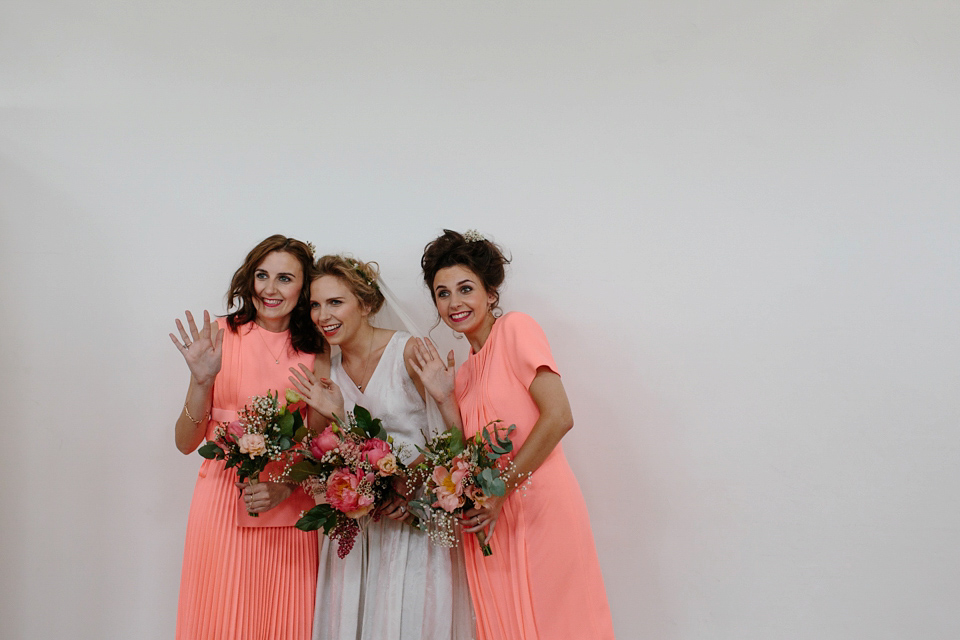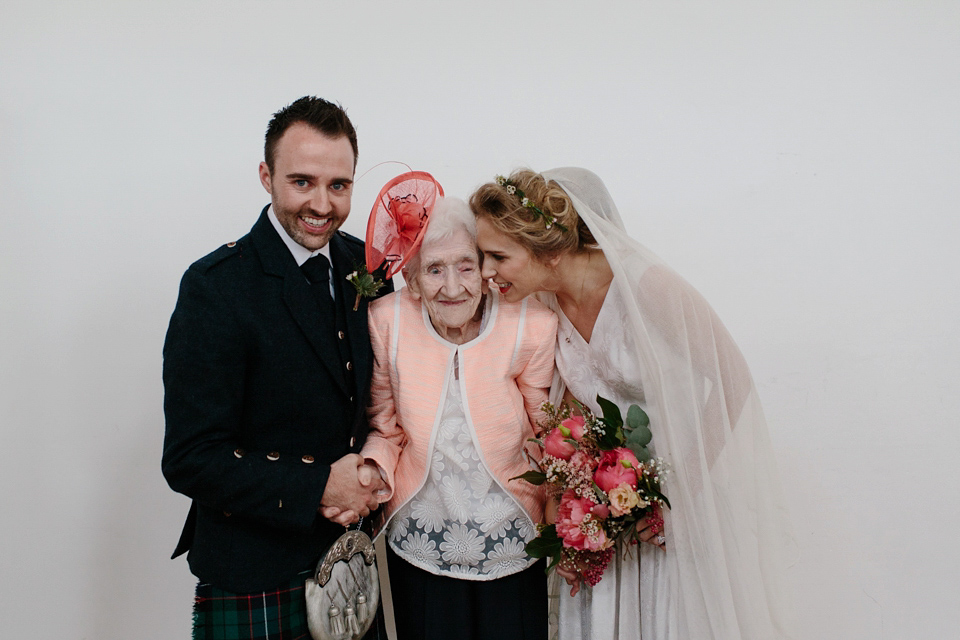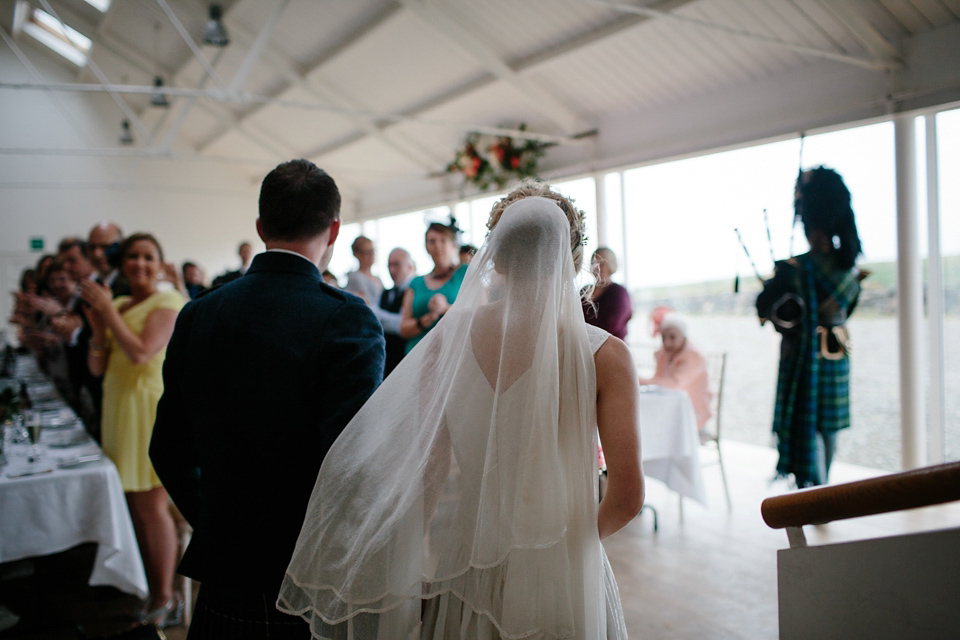 "Mel at Crear Flowers worked her magic across our whole venue, bouquets and buttonholes, creating exactly what we wished for and went way beyond our expectations. Working with Mel was a wonderful experience as she truly listened to our vision for a beautifully minimal background with vivid colour in the space coming from the natural but bright peonies and delicate foliage. Floral displays for our antique copper pots looked stunning."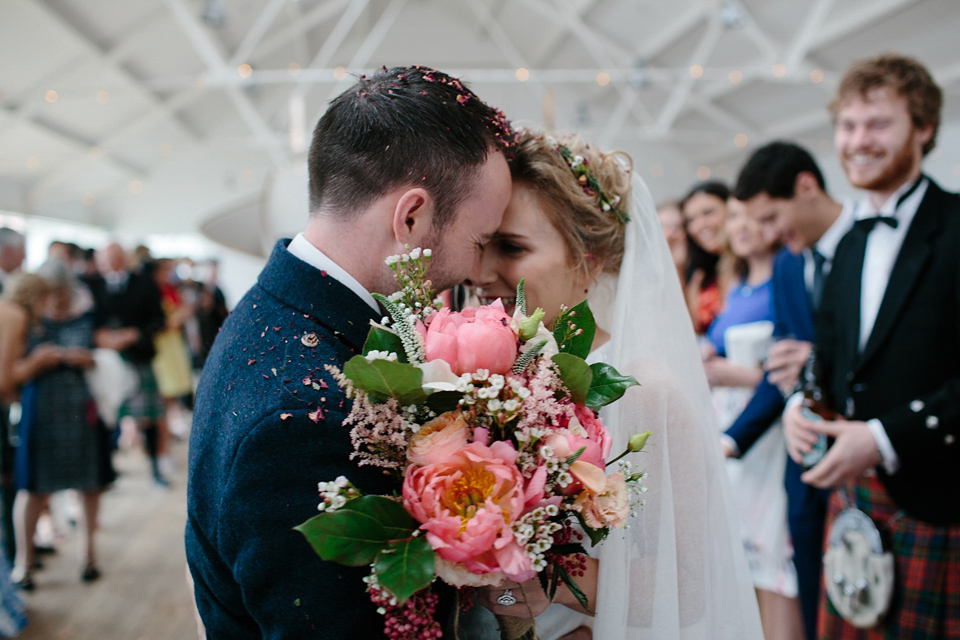 "The exquisite floral arbour for the end of the aisle played an important role for me, as I wanted to ensure two special guests who are sadly no longer with us, would remain part of our intimate ceremony. Thus, I was able to suspend a friendship feather belonging to my best friend Vicki, and also my gran's rainbow glass necklace. Mel created this perfectly and seeing it for the first time was very emotional in the best possible way."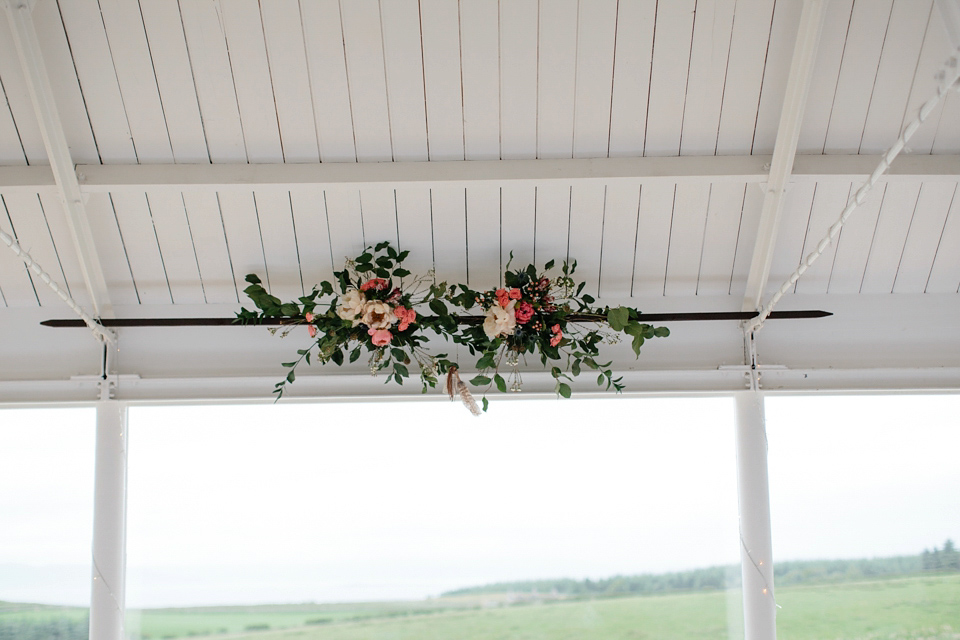 "I'm well known for doing everything last minute and was already pushing it when I got back from Paris 8 weeks before the wedding with everything including the décor/order of service/menu/table plan still to do. However, Andrew's dad took suddenly and very seriously unwell at this time and for a further four weeks we put all wedding plans on hold. Fortunately, he made a full recovery, and with only four weeks to go, we launched into all the creative bits that we hoped to include (although knew were not necessity).
Everyone got involved and the team effort was uplifting."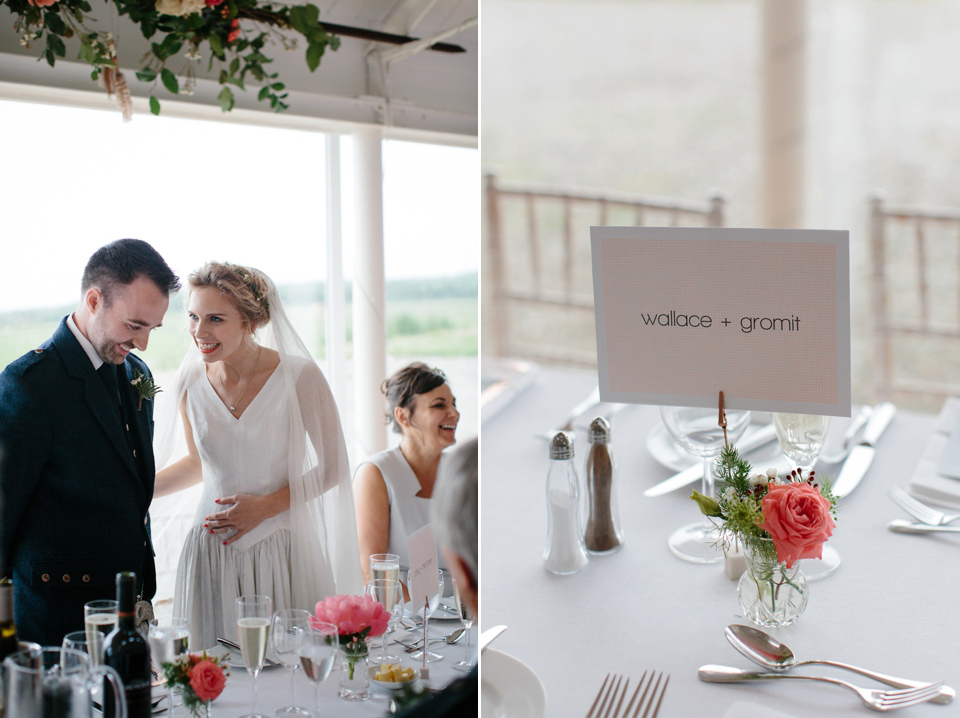 "I designed all of the stationery with help from my friend Sarah. I wanted to keep the save the date and invitation very minimal, including two personal and meaningful quotes (one from ToyStory and one from Le Petit Prince). We got the designs printed at Glasgow Press using rose gold foil pressed on GF Smith pale blue card.
For our order of service, we designed a newspaper from NewspaperClub that allowed us to add some beautiful images and the song words for our Wild Mountain Thyme sing-along. I loved the idea of everyone with their papers open singing together!"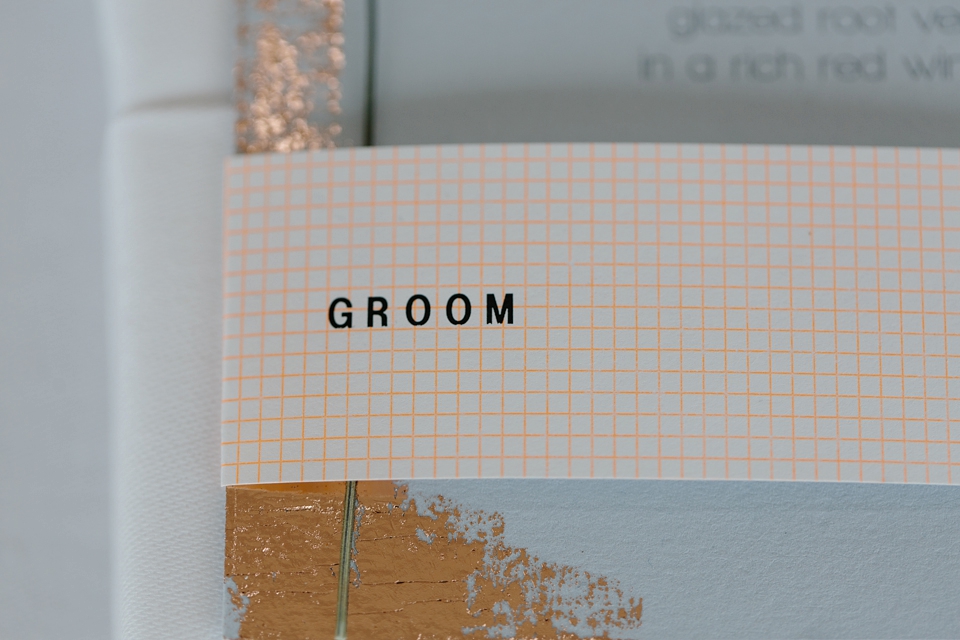 "Alan Boslem and his team at Crear produced a tremendous meal that was complimented by so many of our guests! The quality and attention to detail was outstanding and we are very grateful to have had such a wonderful kitchen and front of house team who created a thoroughly seamless experience. Alan catered for the BBQ on Sunday too and it was absolutely delicious! Alexander Wines provided our wine and offered an outstanding service and incredible choice."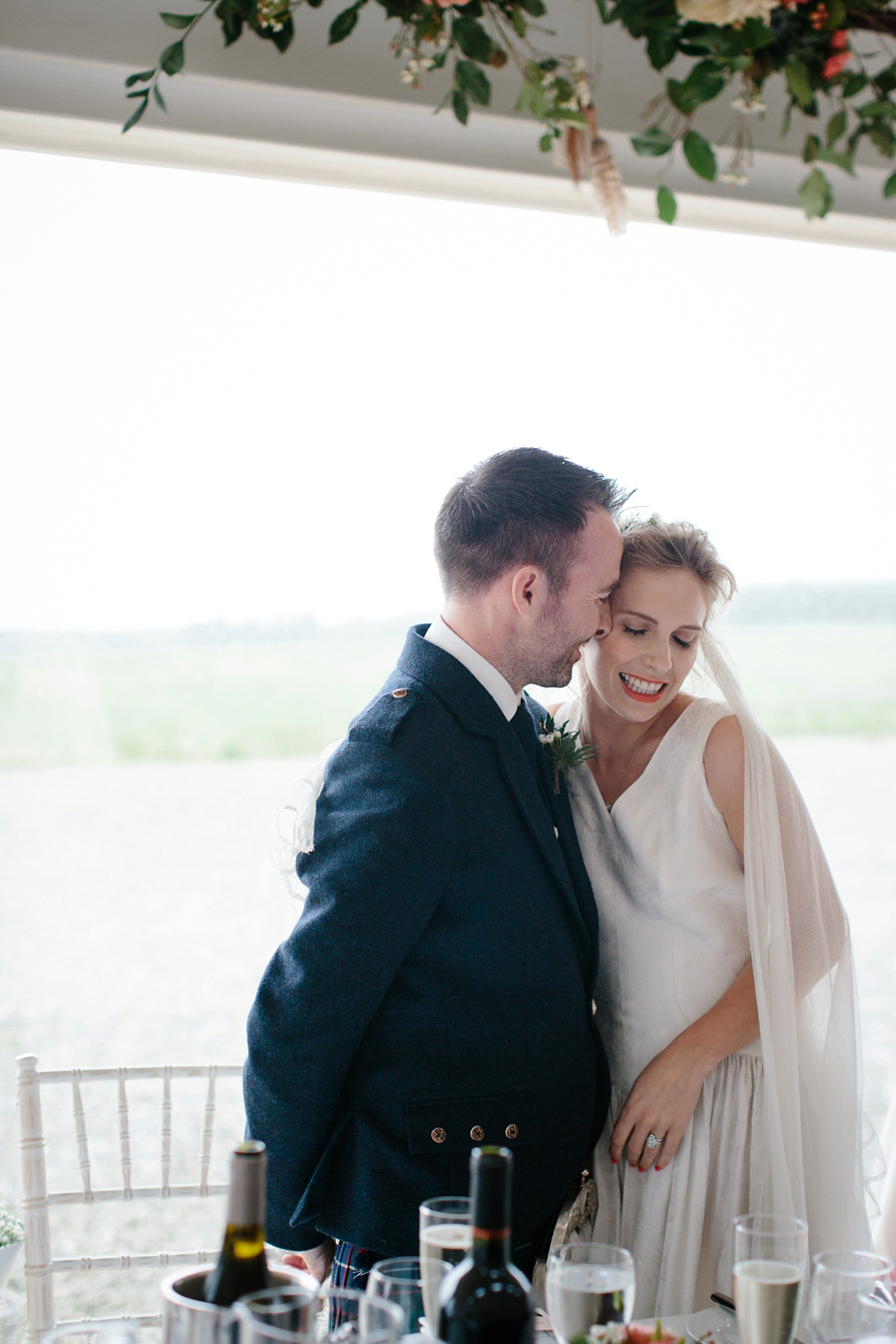 "Our cake was a laugh – my sister Jill baked a large cake the day before the wedding (while simultaneously helping me with a million things) and then iced it on the wedding morning between hair / make-up / oldest sister duties. Once complete, Jill simply couldn't bear for it to go on display as she felt it wasn't her best, so although we thought it was wonderful, we drafted in the tiny back up M&S fruit cake that we had purchased for a joke (purely because my mum was devastated not to get a bit of traditional wedding cake after dinner)."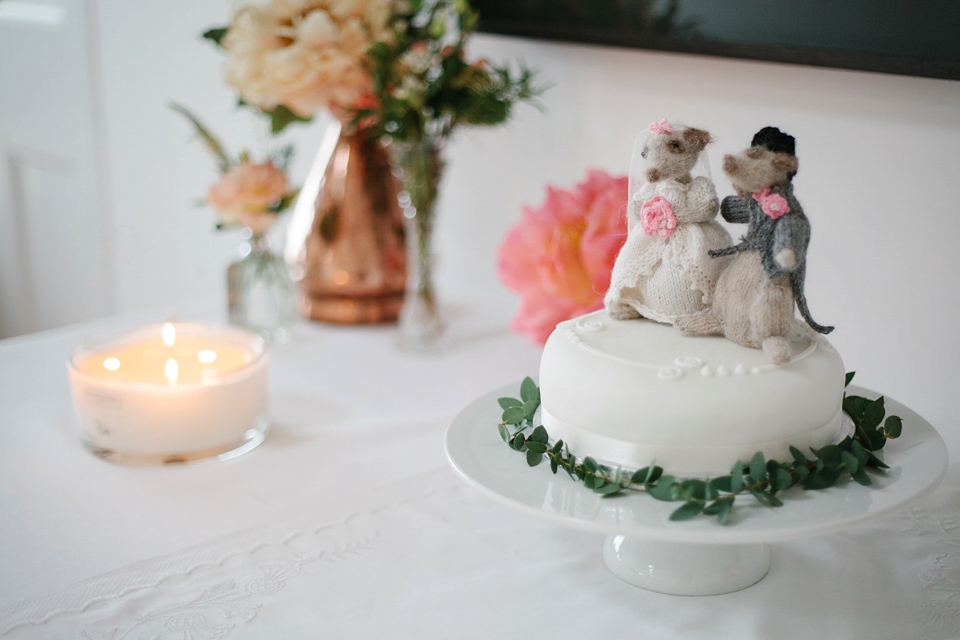 "For us though, the cake was always about mum's magnificent hand knitted Meercat toppers and we thought they looked perfect plonked atop the modest wee fruit cake. (NB. Jill's sponge was indeed delicious –demolished by our guests during the ceilidh!)."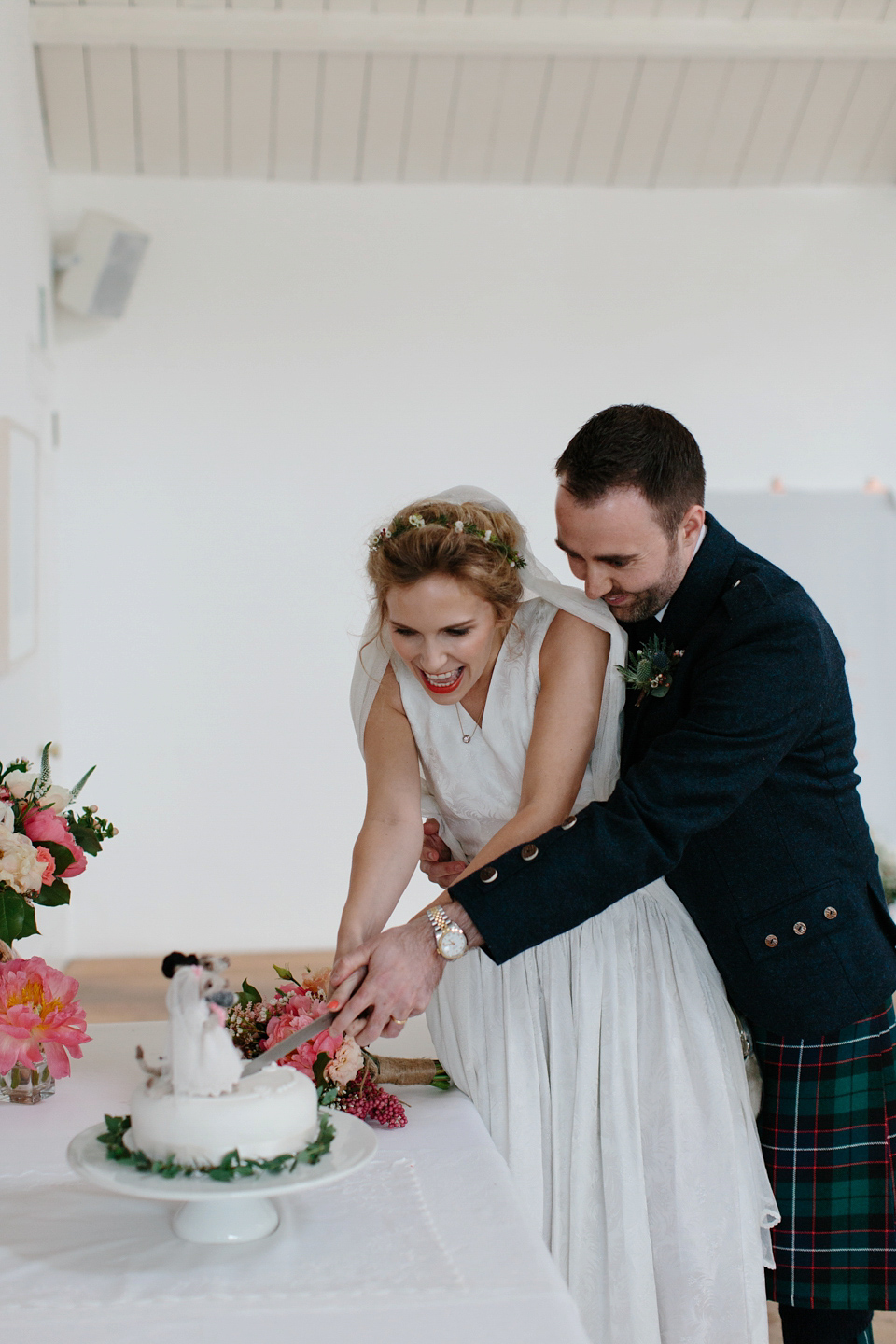 "We didn't hire an event planner, although the staff at Crear leading up to and during the whole wedding weekend went above and beyond to ensure the day unfolded beautifully. Julie, the venue manager, helped in a way you may expect from a trusted friend – committed, kind, and incredibly effortless. We admired her natural approach to helping throughout the whole process (especially as I was unexpectedly living in Paris for the first half of this year and communicating in less than ideal dribs and drabs)."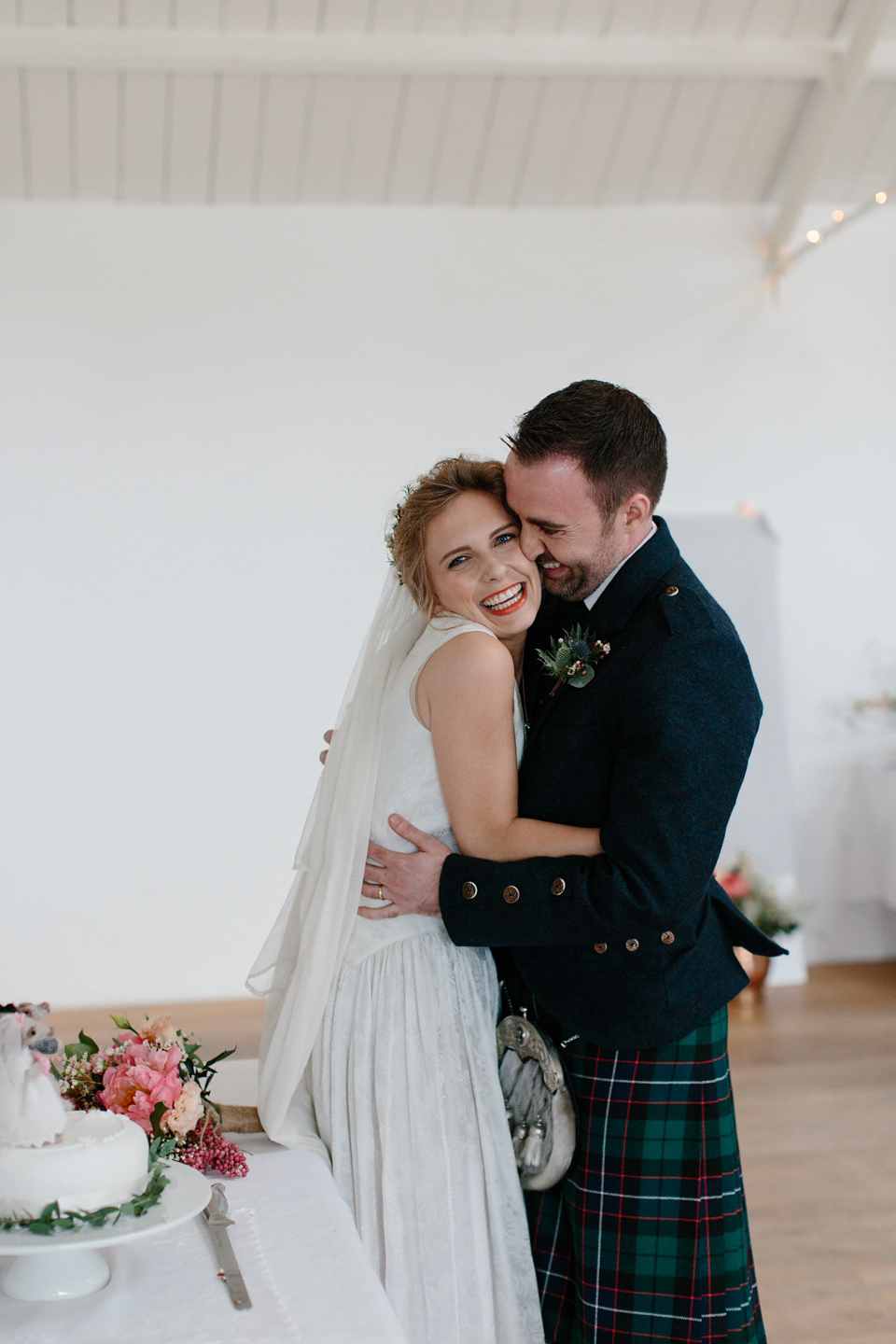 "The overall attention to detail from Crear created such a positive experience that we thoroughly enjoyed getting to know everyone. Jean and Julie both helped enormously on the wedding morning (which was frantic) in a way that we appreciate so much."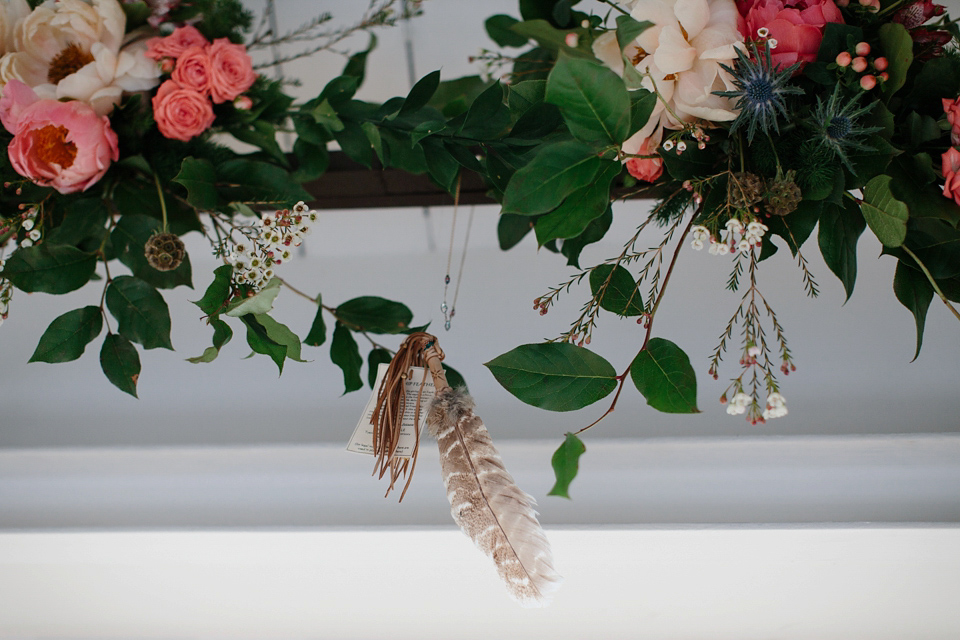 "The amazing Whisky Kiss (exceptionally talented musicians creating traditional and modern ceilidh music) provided the evening entertainment. They surpassed all expectations and created the happiest, most lively atmosphere we could ever have wished for. After the ceilidh (our limbs and lungs close to breaking point), Whisky Kiss provided/endured our cringe-tastic disco, playing all of our favourite hits (S-Club anyone?)!
Our first dance was to Randy Newman's 'You've Got A Friend In Me'. Andrew picked this song as soon as we got engaged! We both love ToyStory but mostly we just love the simple lyrics to this song about the value of friendship!"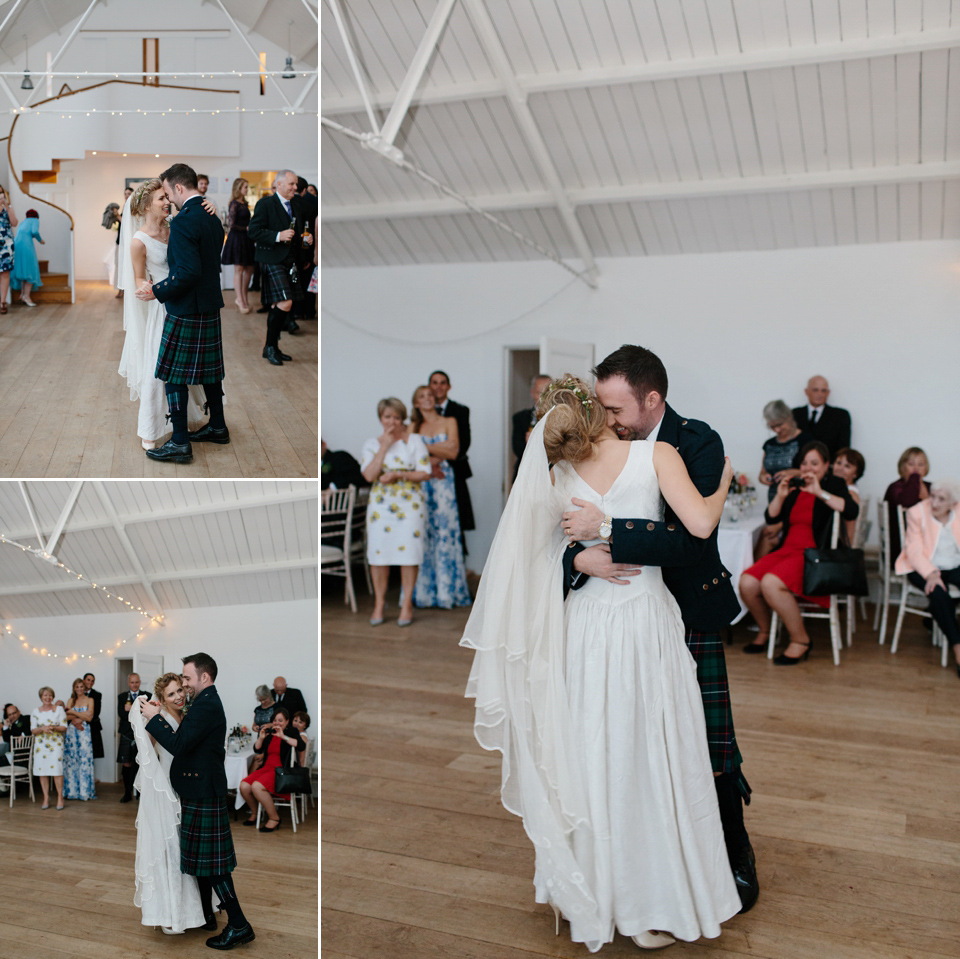 Words of Wedded Wisdom
"Just feel your way along, do what you love, forget about expectation, and simply share your love and commitment to each other in the way that feels right for you at that particular moment of your lives…
The day was truly the happiest Andrew and I have ever felt so although the could/should/would list can easily be created, there is a certain joy in its natural unfolding, and the stark realisation afterwards that you noticed everything and nothing! It's amazing to reflect on the laughing, crying, eating, dancing and being with those you love."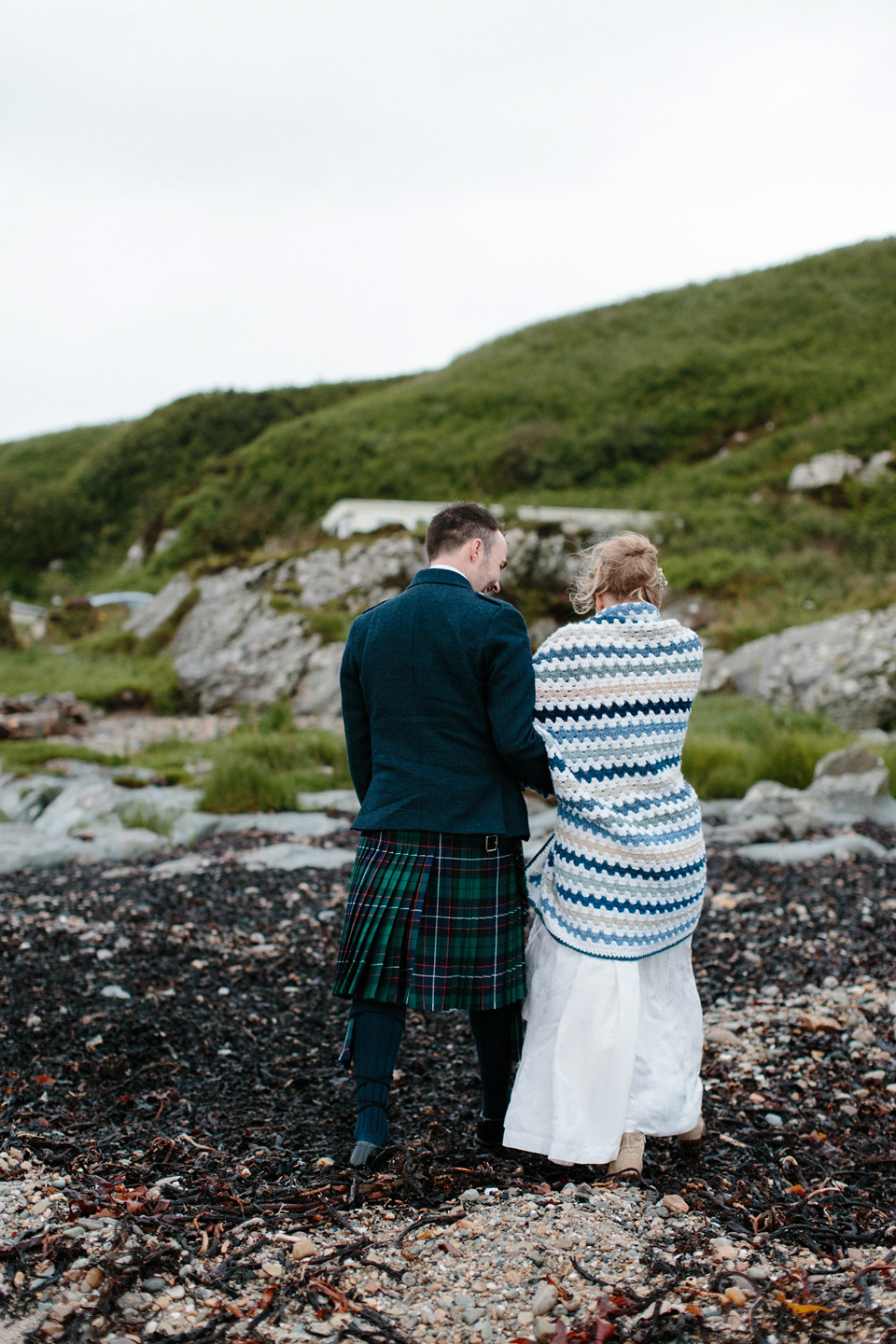 Sometimes I feel lost for words when it comes to summarising a beautiful wedding like this one – all the usual adjectives just don't hit the mark. I love my job so much but sharing such joyous images and such a passionately written account of her wedding day by the pride is such an immense pleasure. I truly hope you have enjoyed this wedding as much as I have.
My love and thanks to the wonderful Caro Weiss whose photography I'm the biggest fan of. You will find lots more from Caro on Love My Dress here. I'm also incredibly proud to be recommending this talented photographer through our beautiful wedding directory, Little Book For Brides.
Love Annabel x
Photographer – Caro Weiss
Celebrant – Annie Loughlin
Film – Sugar 8
Venue – Crear
Wedding Dress – 1940s Vintage via a shop in Paris
Veil – Vintage
Shoes – Christian Dior
Groom – his own kilt +hand-carved sgian dubh via Skye Knives
Bridesmaids – Christopher Kane
Florist – Crear Flowers
Cake – M&S
Entertainment – Whisky Kiss
Rings – The Jewellery Workshop
Stationery – DIY printed at Glasgow Press
Hair Stylist – Leigh Ferguson
Makeup Artist – Ana Cruzalegui
Catering – Crear + Alexander Wines
Manicure – Ilk and Ilka Beauty