Lovely readers, I hope you are all rugged up in lots of layers and drinking hot cups of tea to keep warm, as the weather channels are currently informing me that it's incredibly chilly in the UK right now. I so wish I could send you over rays of sunshine from this heat wave we are currently experiencing here in Oz to counteract the freeze; even it out a bit for both of us! This gorgeous Summer wedding I'm sharing today will definitely help to warm you up.
Nick, a Property Developer, and Michelle, Area Manager at Arbonne International, held two celebrations for their nuptials; a small and intimate church ceremony and sit-down meal at St Leonard's Church and Northcote Manor in Langho on Friday 28th August 2015, then a festival-style party that doubled as a house-warming two days later in the field at their new house in Dinckley, Lancashire. We've featured many a bride in fabulous bridal separates on this beautiful blog – this one here is one of my all-time favourite outfits! – and due to their two different celebrations, wearing a separate top and two skirts totally suited Michelle. Jean Jackson Couture helped the stunning bride create her attire, also sorting a veil for one and a lovely hair accessory for the other.
"We wanted to have a weekend celebration that we could share with friends and family. We decided to have a small, intimate ceremony on the Friday – only 30 guests – followed by a big festival in our field on Sunday. We have recently relocated from Manchester to the Ribble Valley, so the weekend was also a house warming!"
Photography by Kerry Woods 
Find Kerry Woods Photography in Little Book For Brides
The sublime florals were provided by another of our Little Book For Brides members, Fletcher & Foley.
"Florists Fletcher & Foley were recommended to us by our wedding planner and were just incredible. We wanted a 'festival meets midsummer nights dream' feel for the Sunday that was ethereal, dreamy and colourful. The moss covered candelabra with wild flowers were so striking."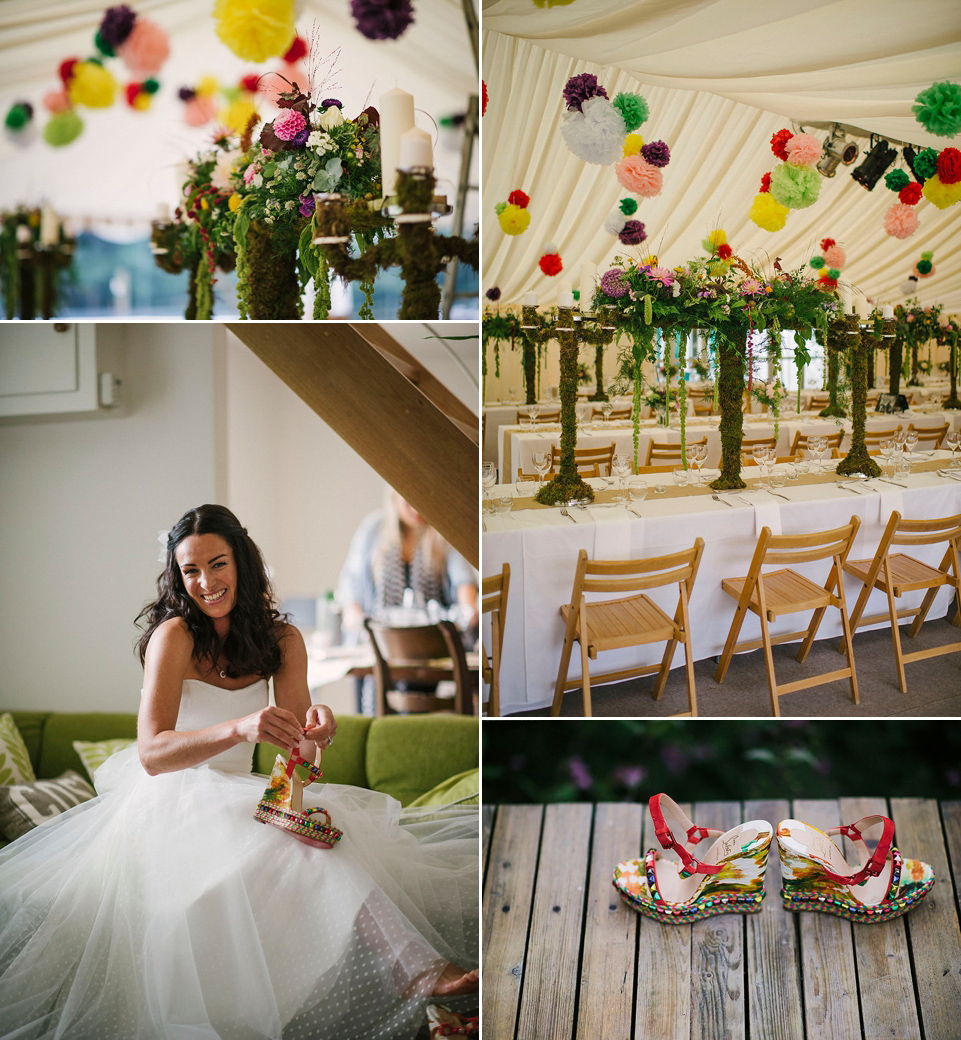 The two little flower girls wore pretty floral crowns with white roses, to match the bride's stunning bouquet, and super cute BHS frocks in white, found on sale for a bargain, whilst the wee male helper donned an adorable Marks and Spencer outfit in pale blue. And would you look at their shoes? Sooooo sweet!
"I chose vintage-looking Converse high-tops for all of the little ones."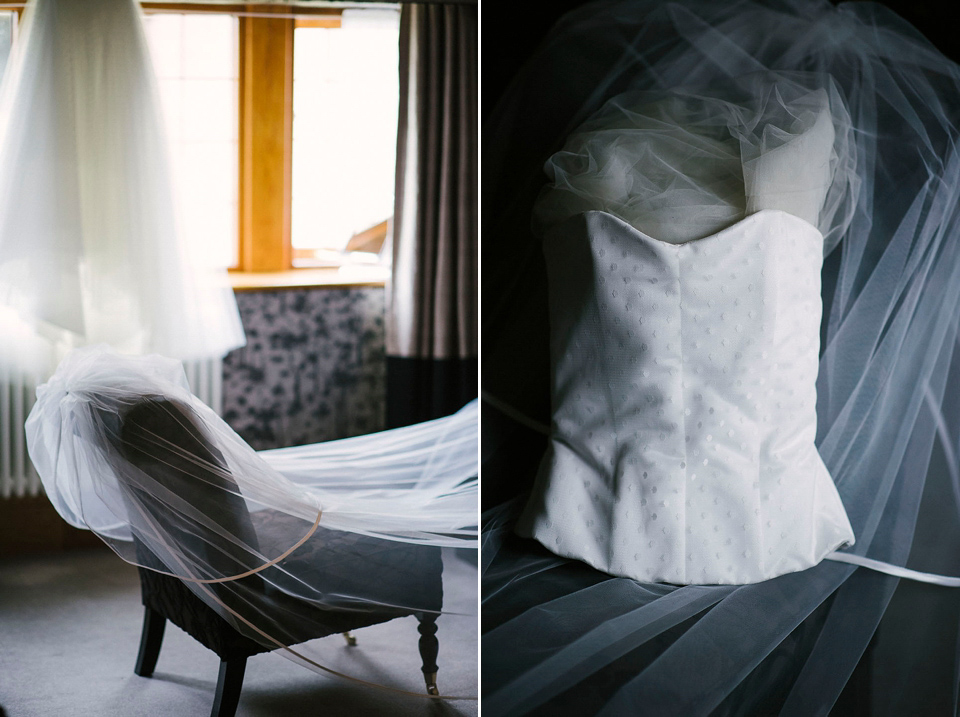 "As we were having two celebrations, with very different vibes, I wanted to create two different looks. Jean suggested having one top and two skirts, which worked perfectly. To be honest, I was very much led by Jean on the style – she's so talented and I trusted her to create something incredible! I particularly loved the spotty tulle – I'm not a fan of lace and it was a stroke of genius by Jean to use spots. It created a slightly more contemporary feel."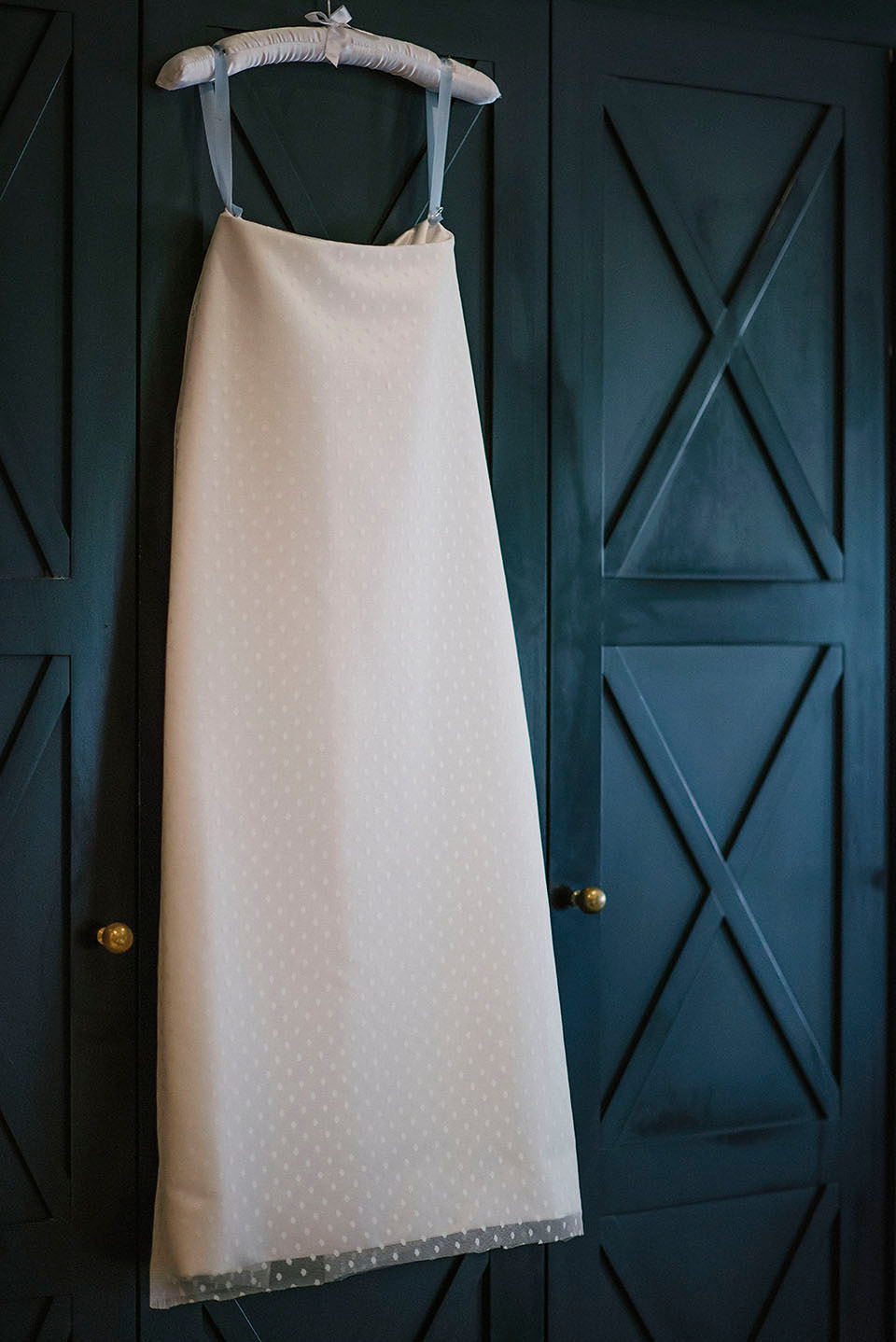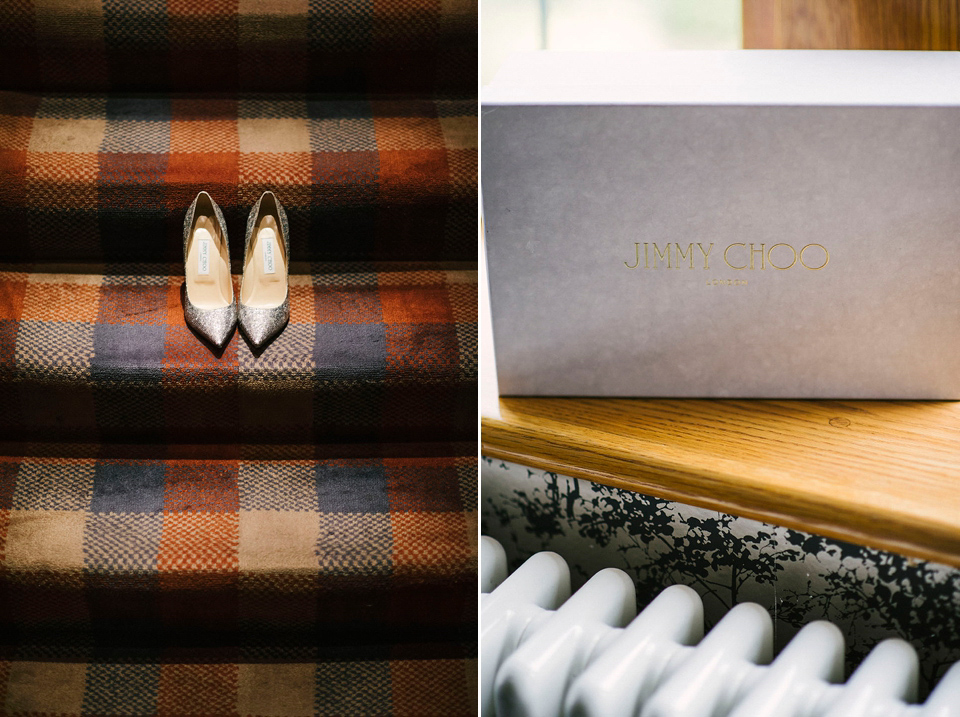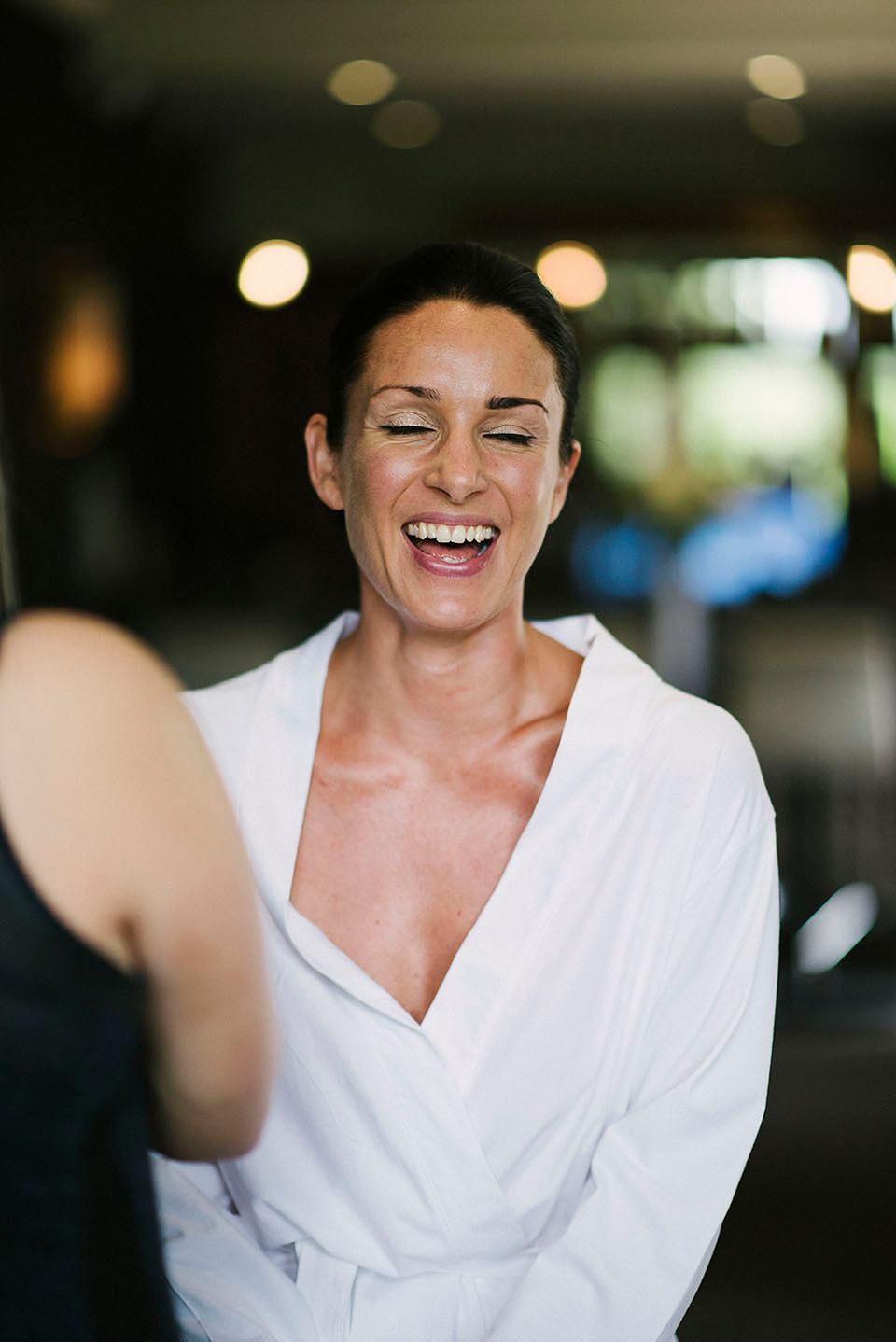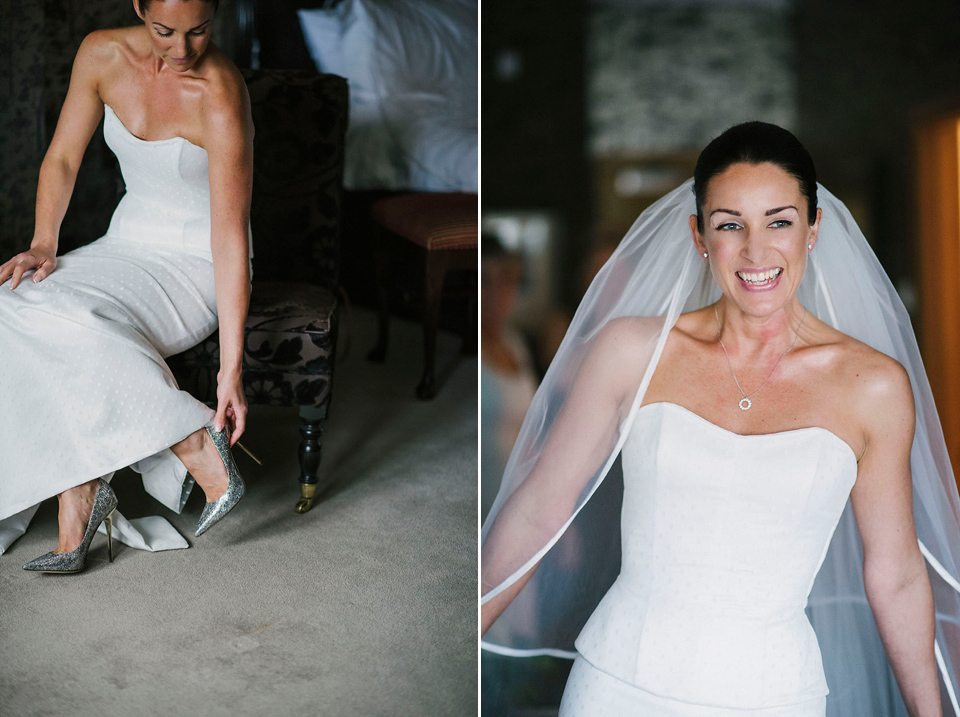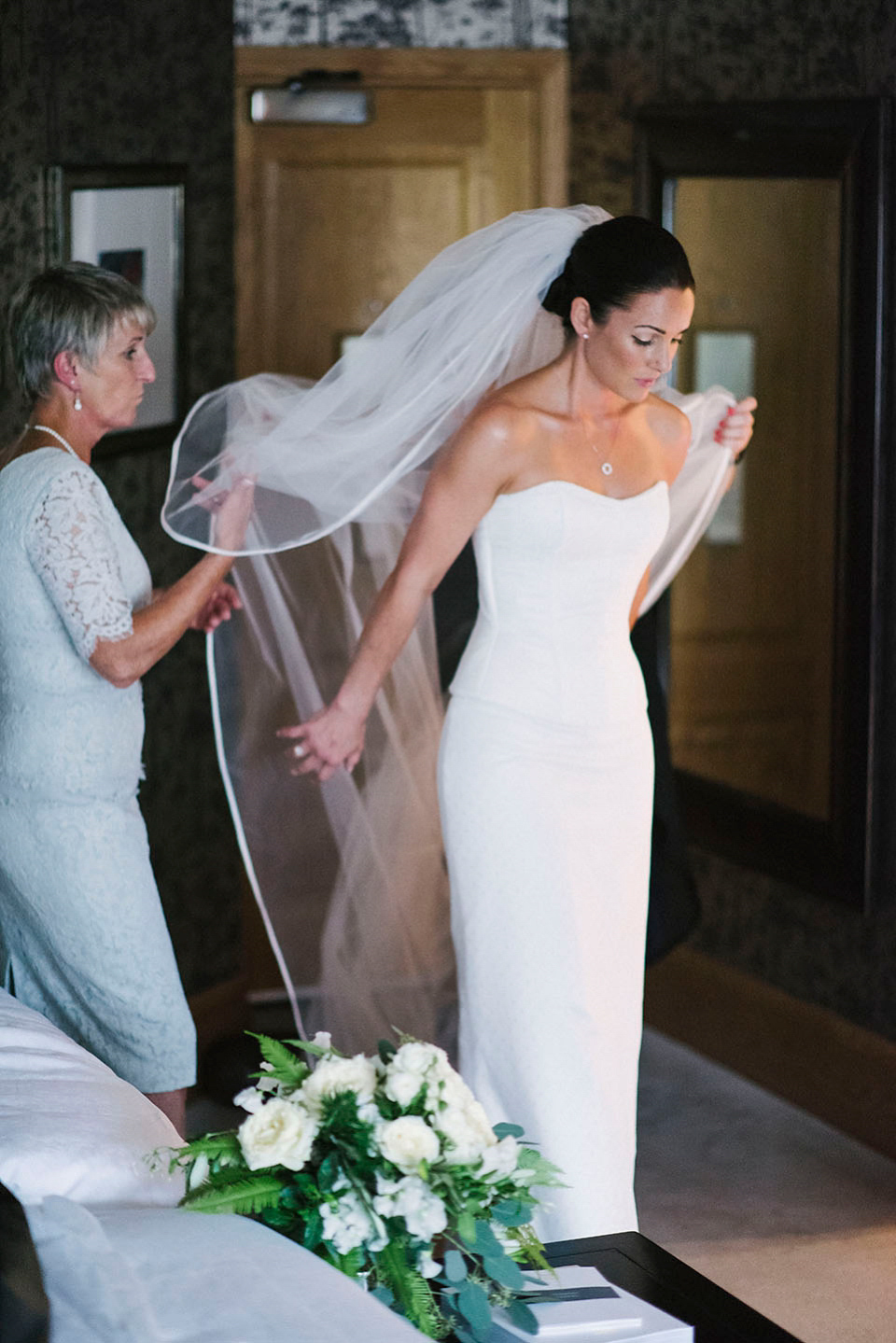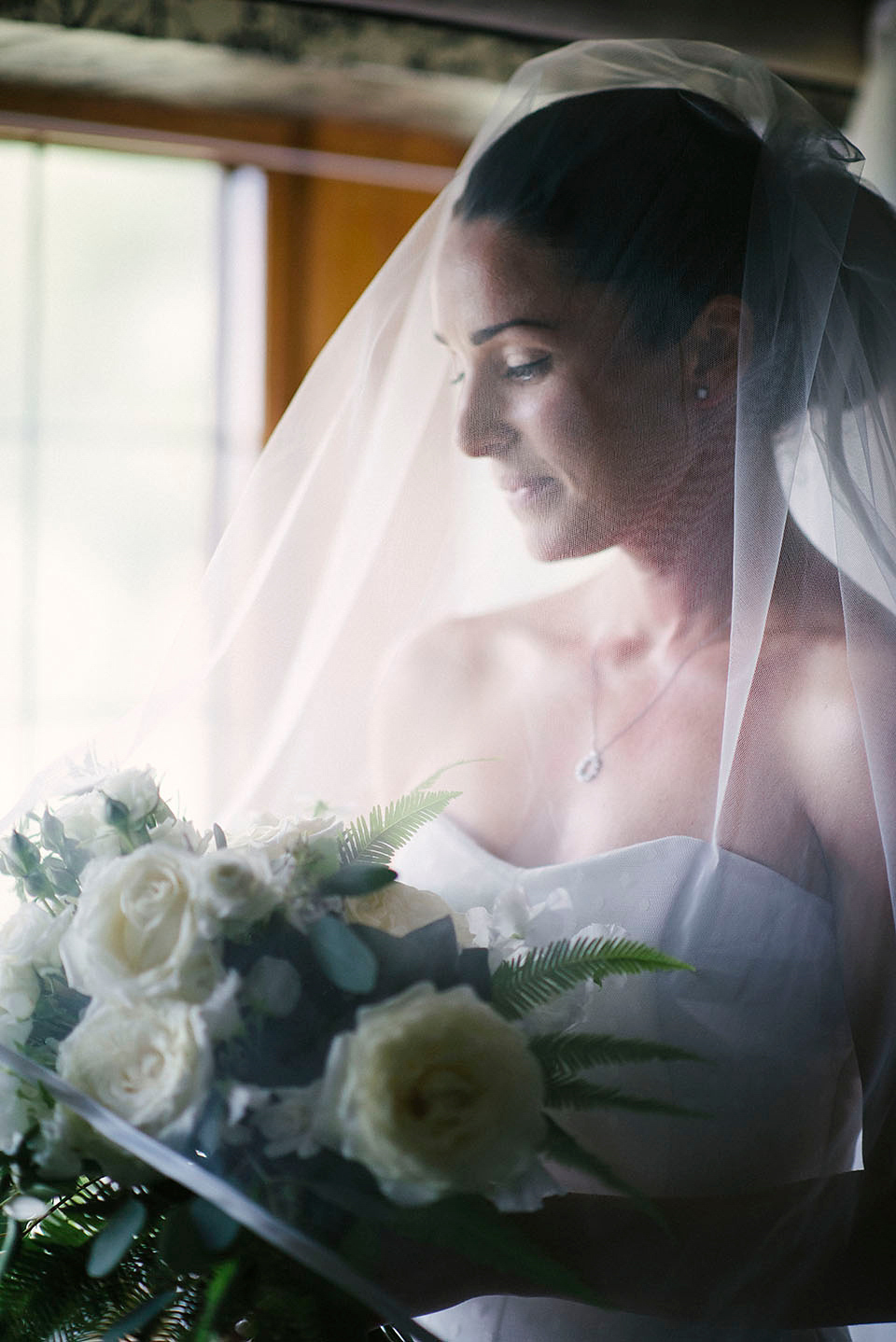 For the church festivities, Michelle wore the veil and more fitted skirt – the two-piece separates style really does work beautifully. She added a pair of high Jimmy Choo heels, 'Café Rose' scent by Tom Ford and diamond earrings and necklace from Christopher James Jewellers in Manchester.
"My necklace was a present for my birthday, so was 'something new'."
Nick wore a stylish Pal Zileri at Harvey Nichols blue suit and Jeffrey West shoes as his attire for the church, and then went for a relaxed look in a pale blue suit for Sunday's activities.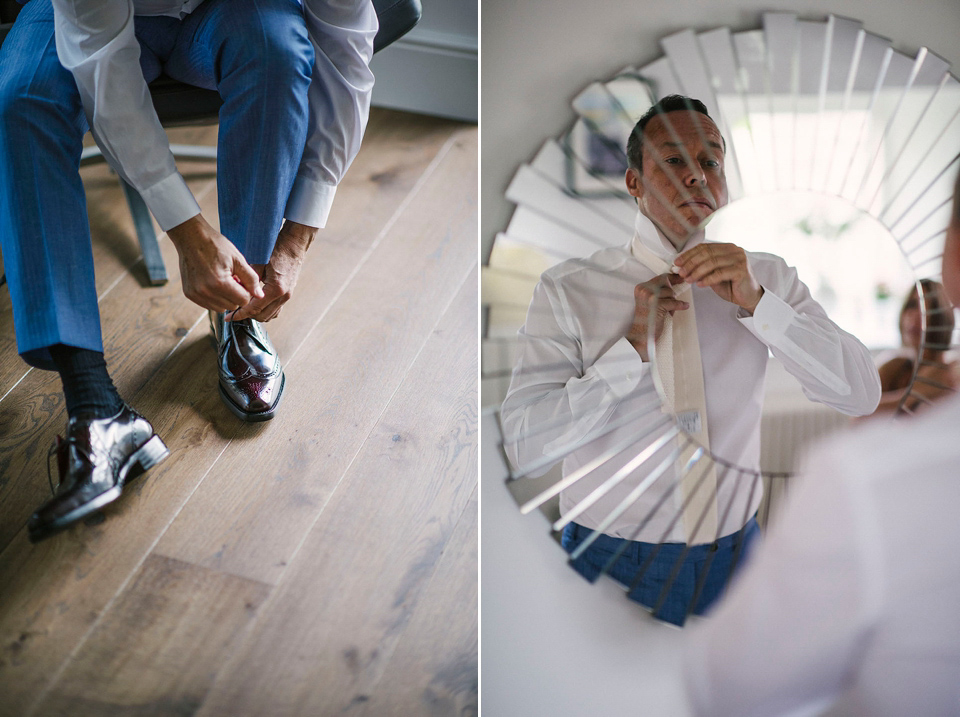 "My mum walked me down the aisle. My dad passed away 11 years ago, but I had his old St Christopher sewn into the corset of my top, so he was with me!"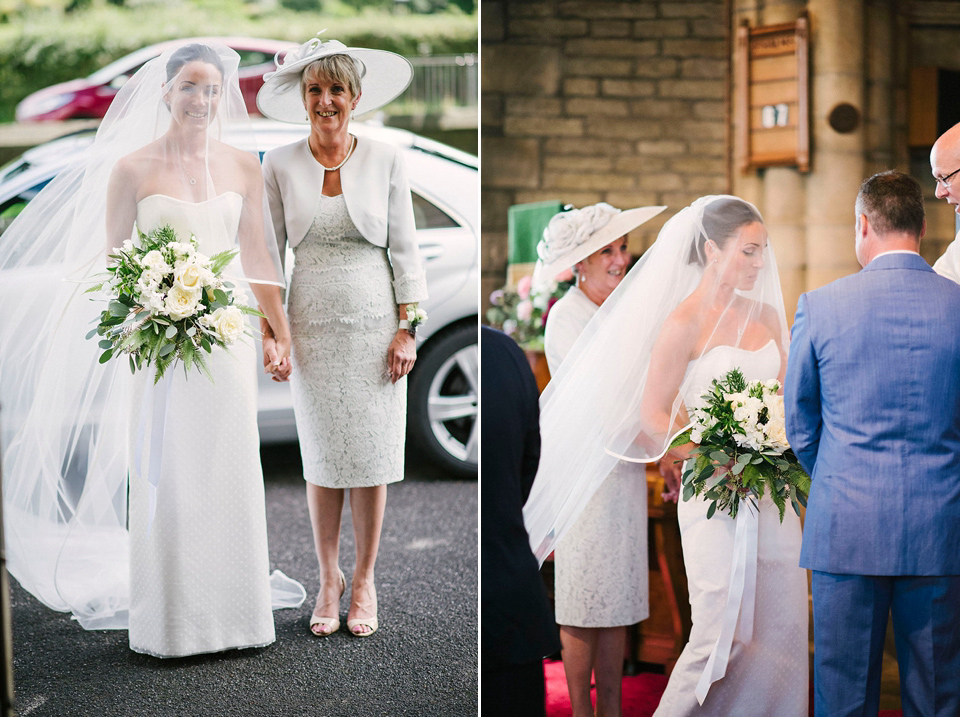 "Our vows were very traditional, as the church where we married was pretty strict on it, so no tailoring was allowed. We had two readings. Rogers Govender, the Dean of Manchester, read 1 Corinthians 13 and my sister-in-law read a more contemporary reading chosen by my grandmother. Rogers chose his own reading, and Grandma chose hers. She was supposed to do the reading herself but she had a fall a few days prior to the wedding so my sister in law stepped in."
On Your Wedding Day
Today is a day you will always remember
The greatest in anyone's life
You'll start off the day just two people in love
And end it as Husband and Wife
It's a brand new beginning the start of a journey
With moments to cherish and treasure
And although there'll be times when you both disagree
These will surely be outweighed by pleasure
You'll have heard many words of advice in the past
When the secrets of marriage were spoken
But you know that the answers lie hidden inside
Where the bond of true love lies unbroken
So live happy forever as lovers and friends
It's the dawn of a new life for you
As you stand there together with love in your eyes
From the moment you whisper 'I do'
And with luck, all your hopes, and your dreams can be real
May success find its way to your hearts
Tomorrow can bring you the greatest of joys
But today is the day it all starts.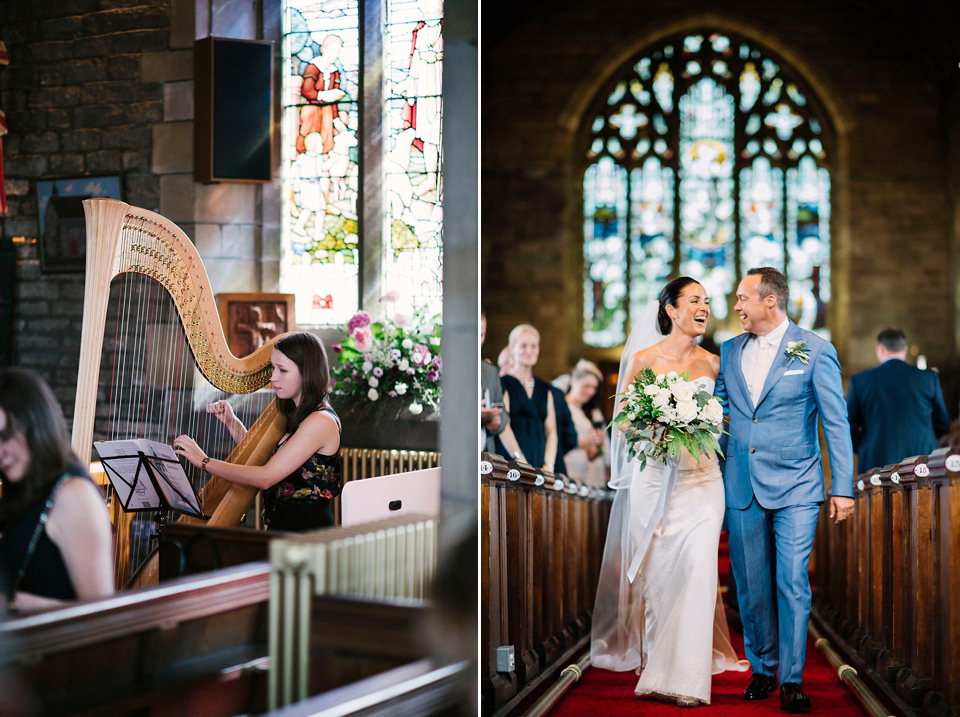 "Nick and I say that it was divine intervention that brought us together! We were both attending a business awards at Manchester Cathedral and we were actually introduced by the Dean of Manchester. Nick proposed two years later on the steps of the Sydney Opera House – it was very romantic and a real surprise!"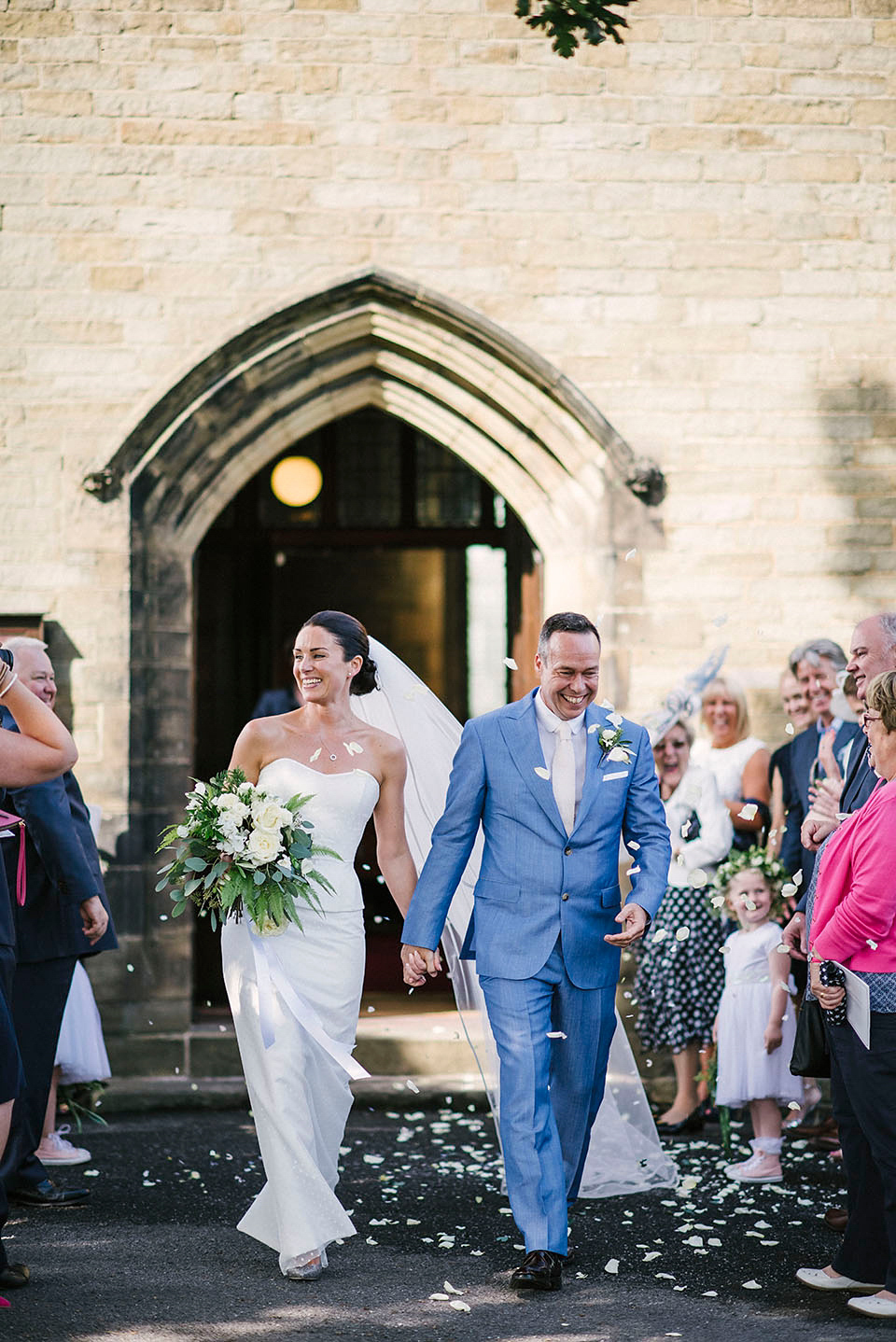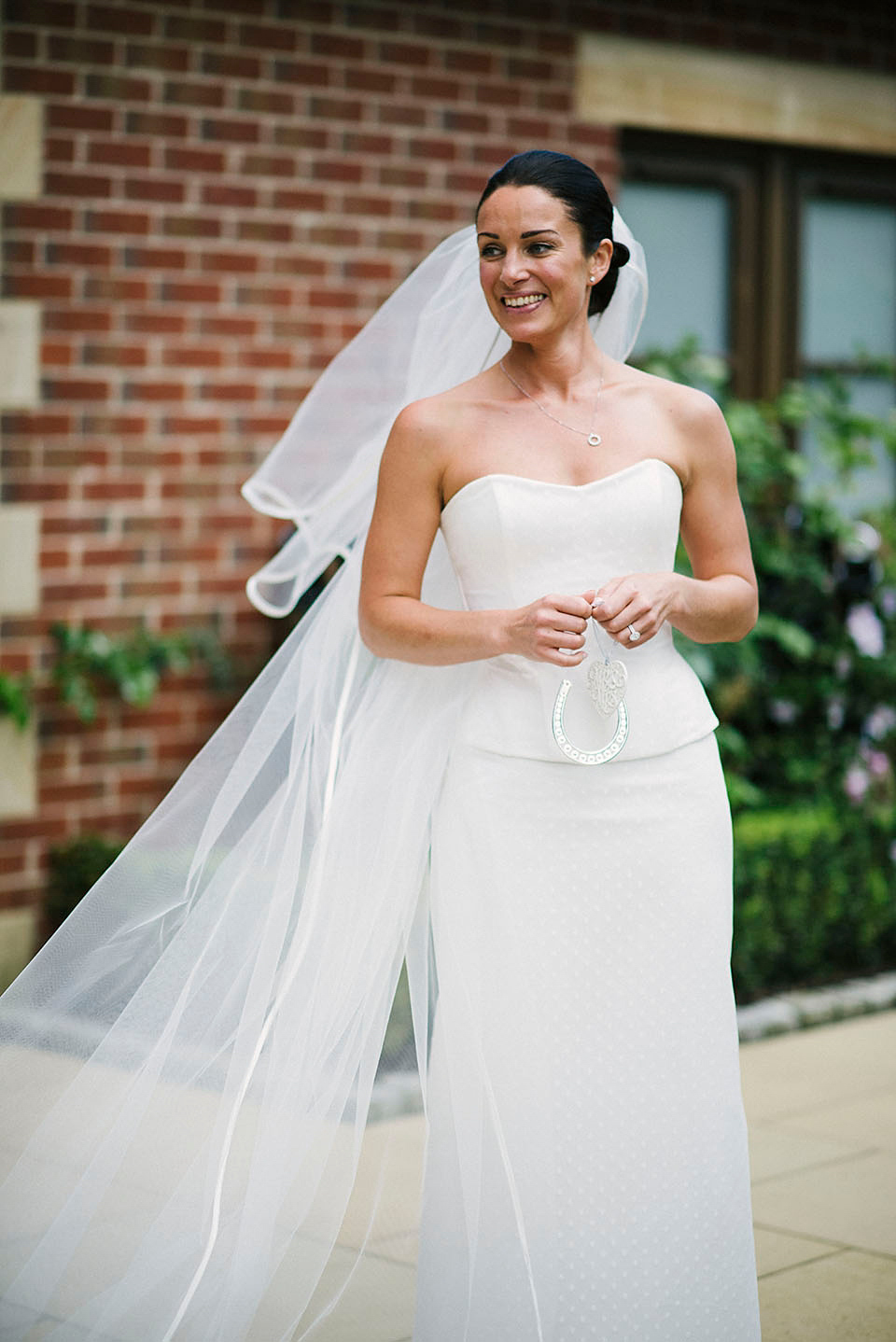 "Kerry from Kerry Woods Photography was just incredible – she was more like the bridesmaid I didn't have. Her pictures captured perfectly how much laughter, emotion and fun we had over the weekend.
We had my engagement ring made, sourcing the oval diamond. My wedding ring was made at the same time by Christopher James Jewellers, and so fits perfectly alongside the engagement ring. Nick chose a very simple, elegant rose gold band.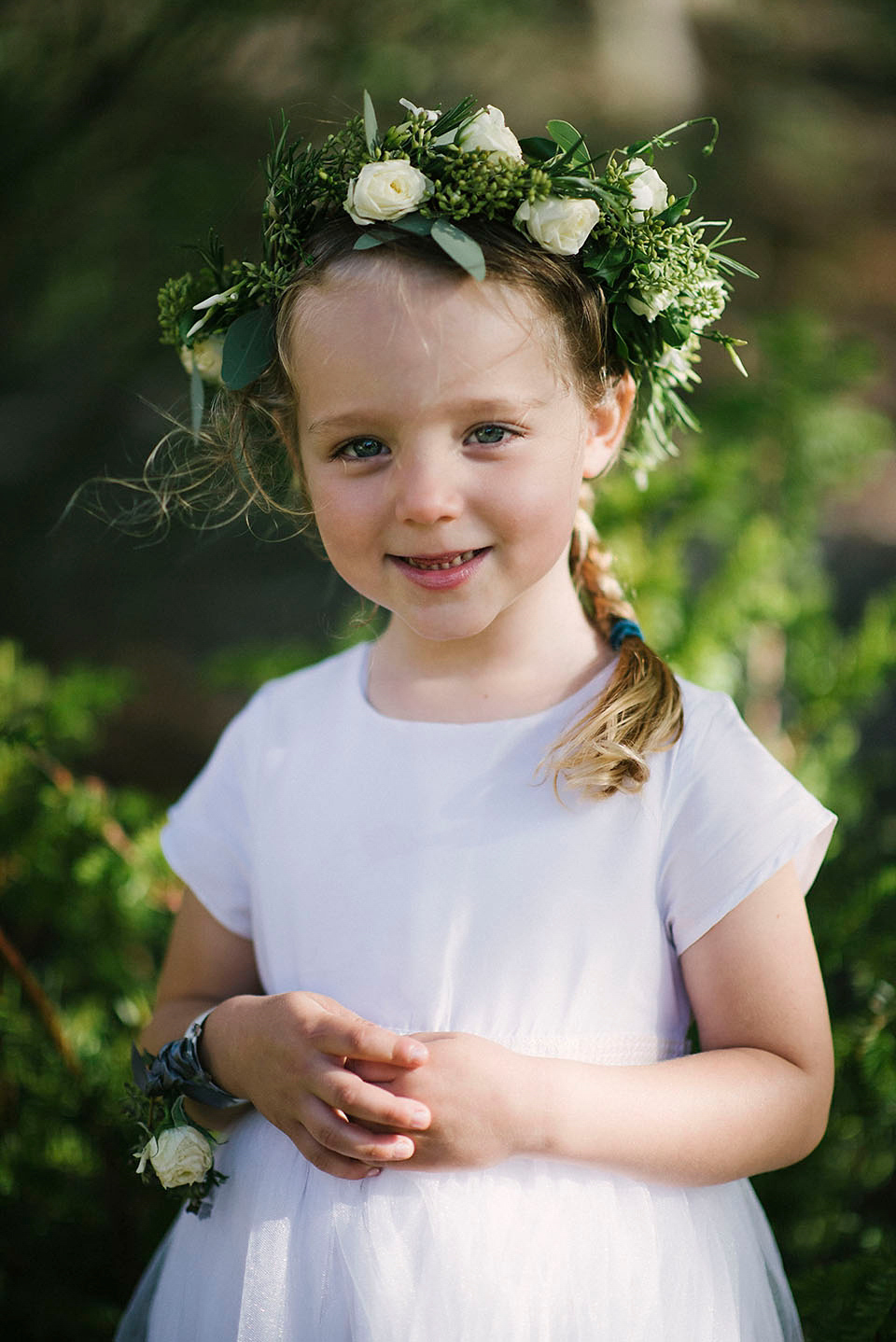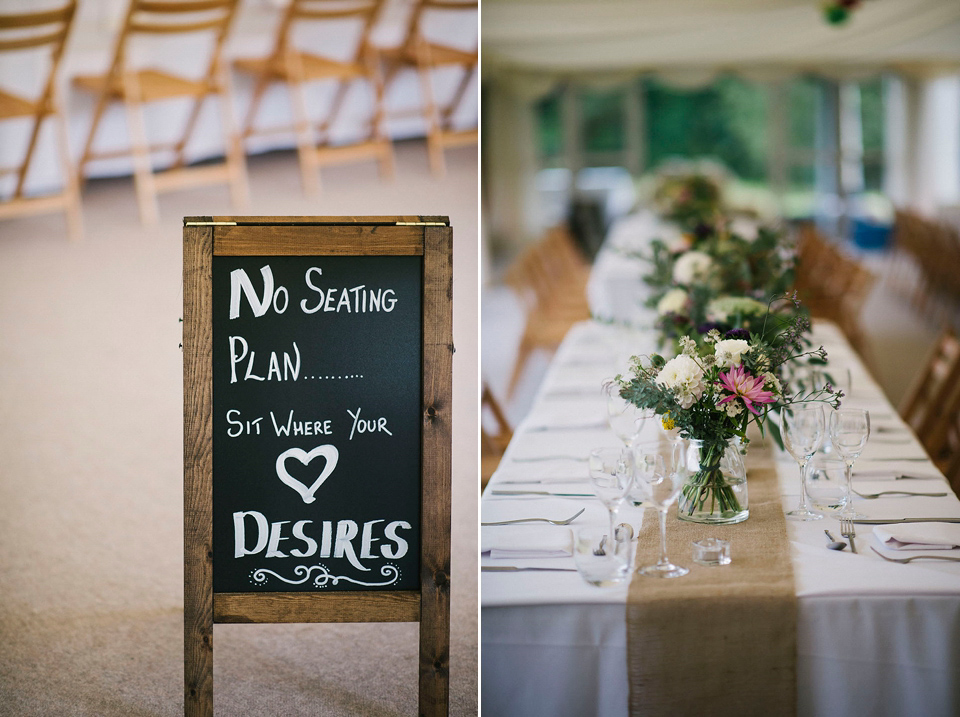 For the Sunday festivities, and with the same top, Michelle wore the second skirt, a beautiful floaty style, with fabulous colourful Christian Louboutin wedges to top off her stylish ensemble. And she let her hair down for this occasion, in pretty boho waves, adding the lovely hair accessory. Hair and makeup was by Laura Grogan from Nala and Knot.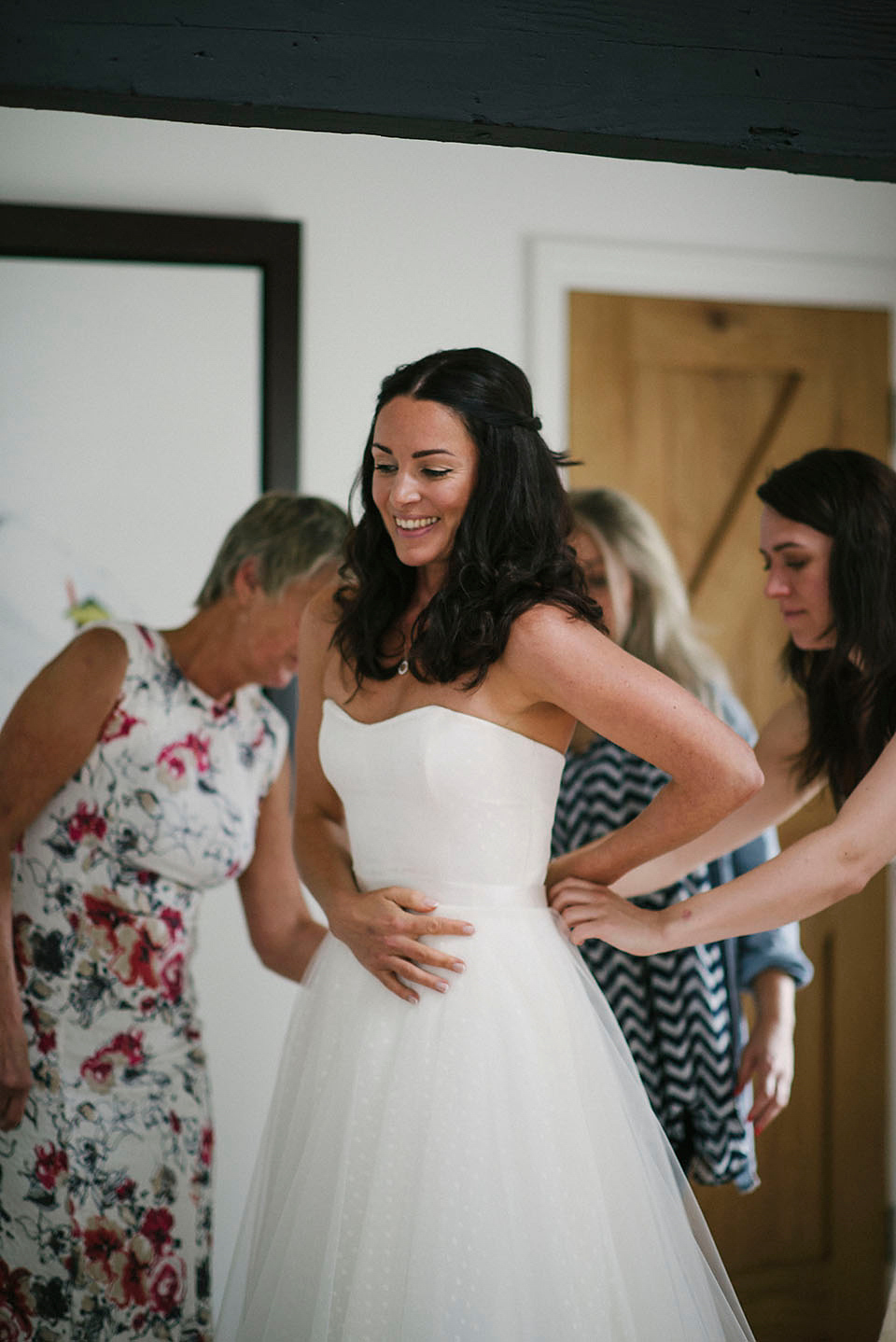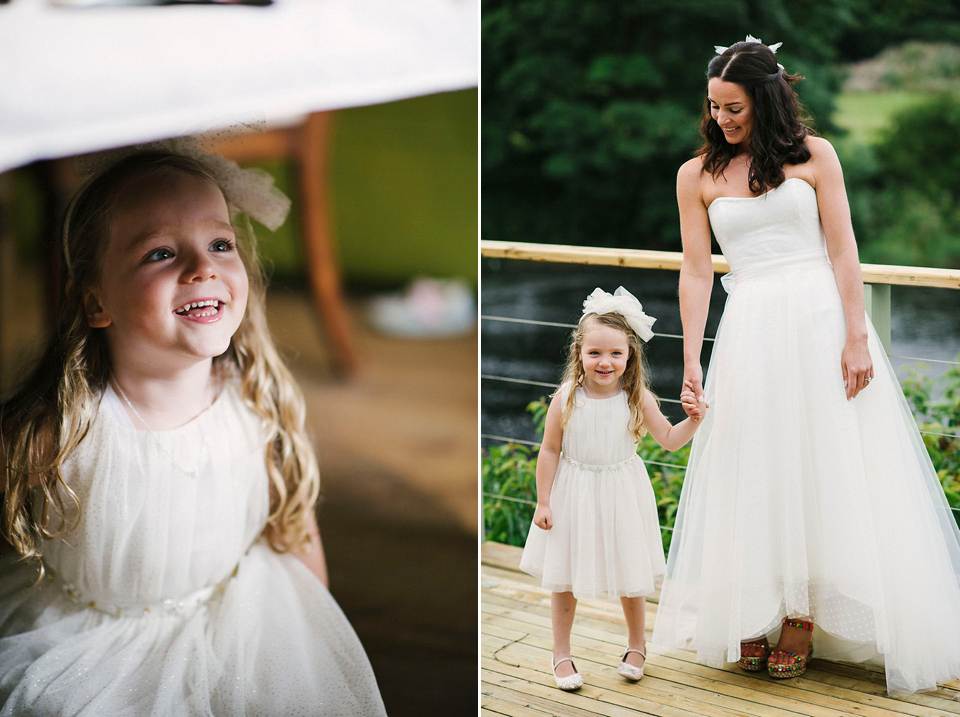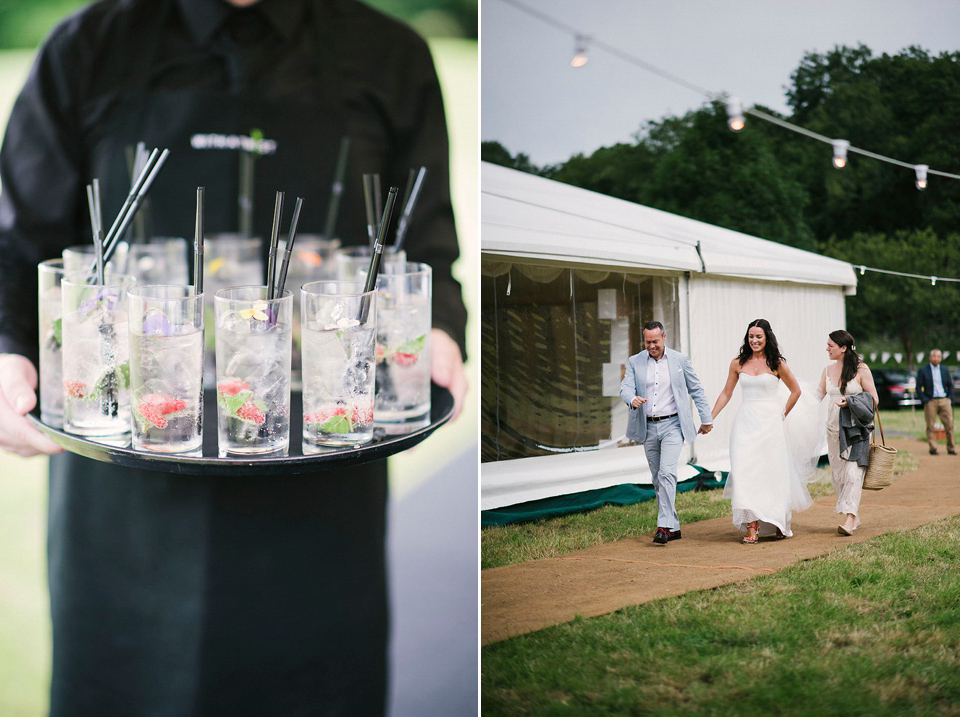 The festival food by With a Twist Catering looks absolutely delicious, don't you agree? And musical entertainment for the evening was by Actual Music.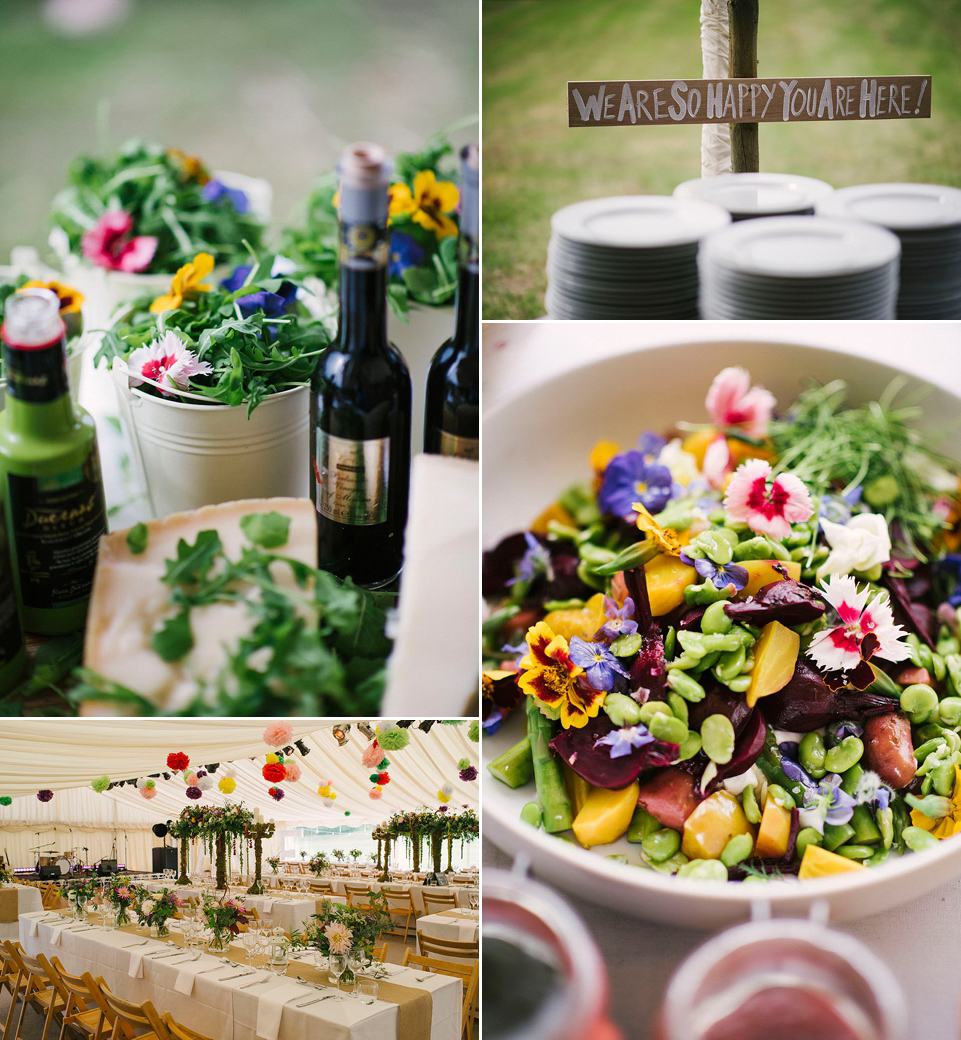 The stationery for Friday's event was by AndMark Graphic Design, with Wedfest crafting the festival-styled stationery for Sunday. And the couple enlisted the help of Andrea Swift from Fabulous Day to help out with all the wedding planning. With stunning floral displays, hessian runners for the long tables at the Sunday festival, a "sit anywhere" rule for the seating plan and colourful pom poms, there were also games for guests … and even an aerial display!
"Friday was very simple and understated, with no room dressing. For the Sunday, we sourced straw bales from a local farmer, plus the giant 'dance' letters really gave a wow factor and looked amazing in the pictures. Our big surprise of an aerobatics display was just amazing, and we were so lucky with the weather!"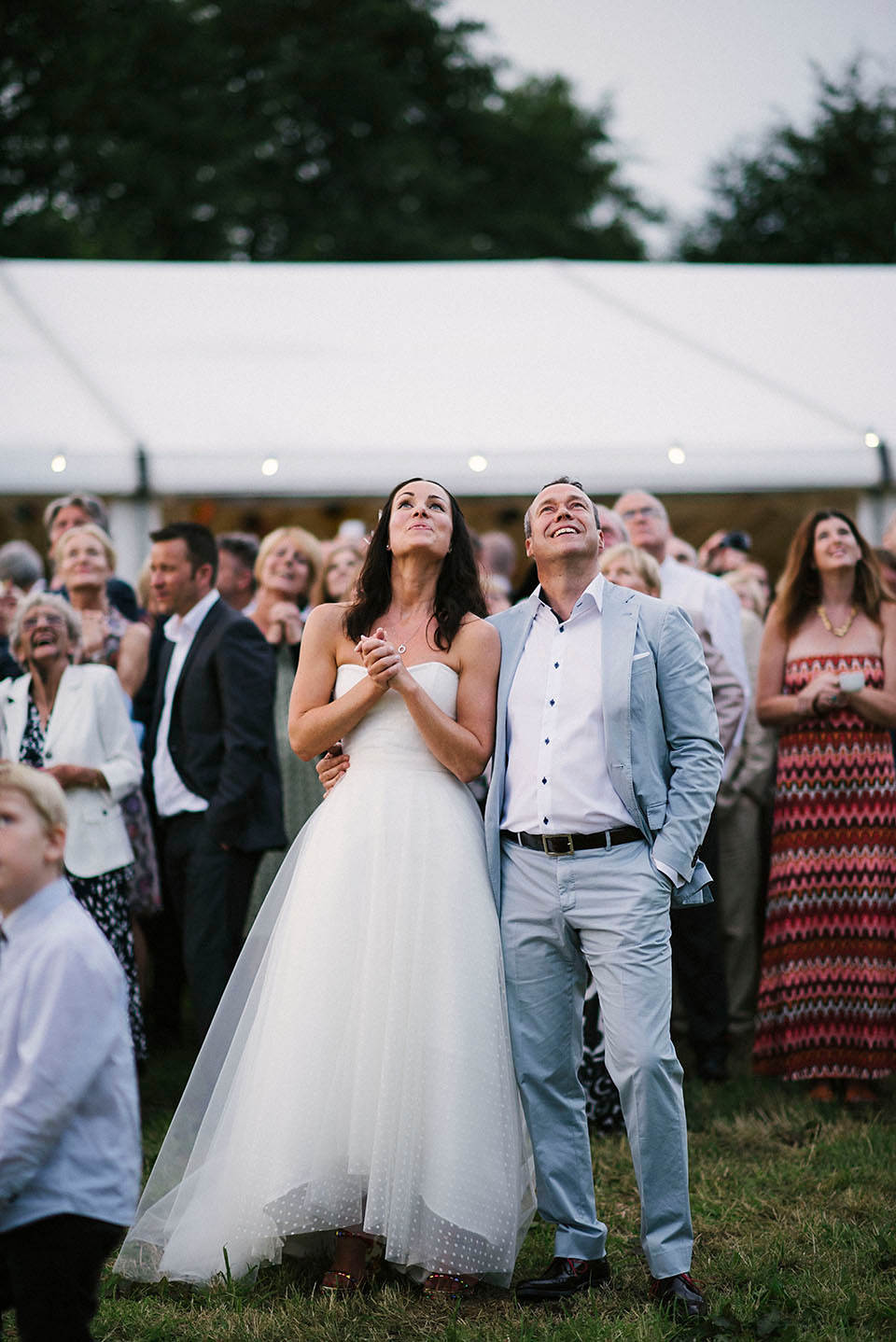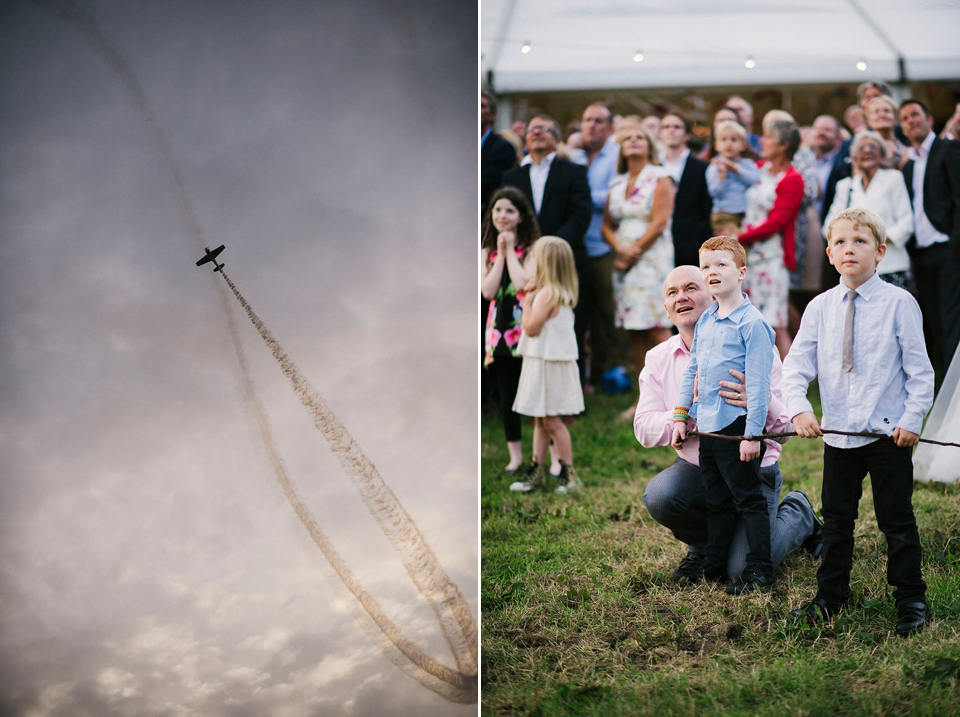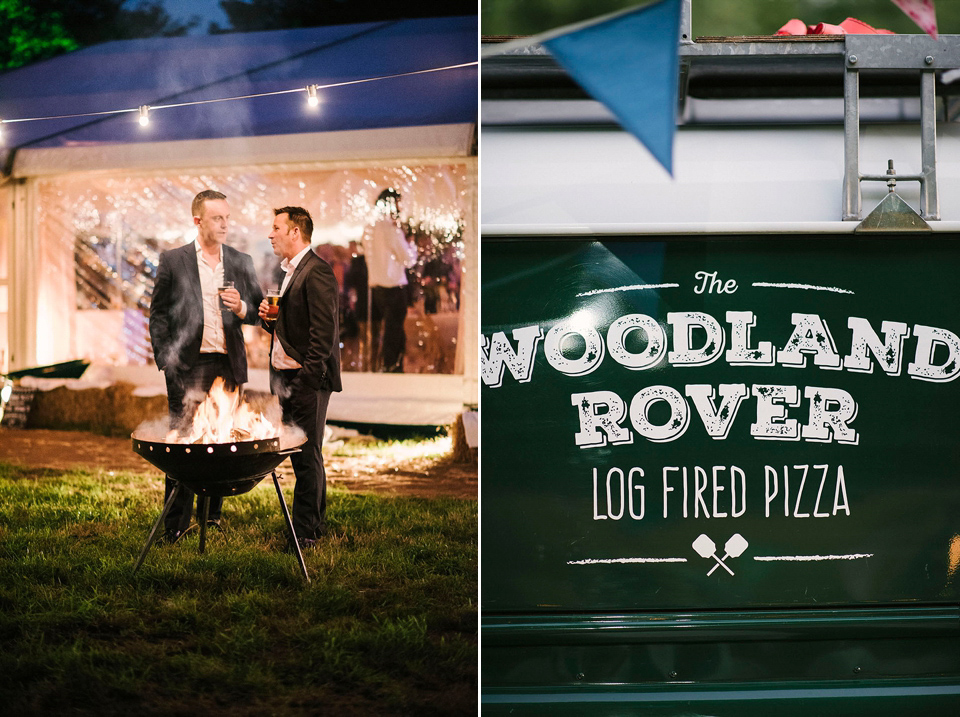 "I really can't pick a favourite part of our wedding! From the sheer nerves getting ready on Friday morning, walking down the aisle, and enjoying our wedding breakfast, through to getting things ready on Saturday for the Sunday party – it was the best weekend of our lives."
"We did a first dance for the Sunday celebration. We chose 'Fly Me to the Moon' by Frank Sinatra. This was actually a song that we played at my father's funeral and it's always a happy song, which means a lot to us."
The giant light up letters were provided by Typical Type.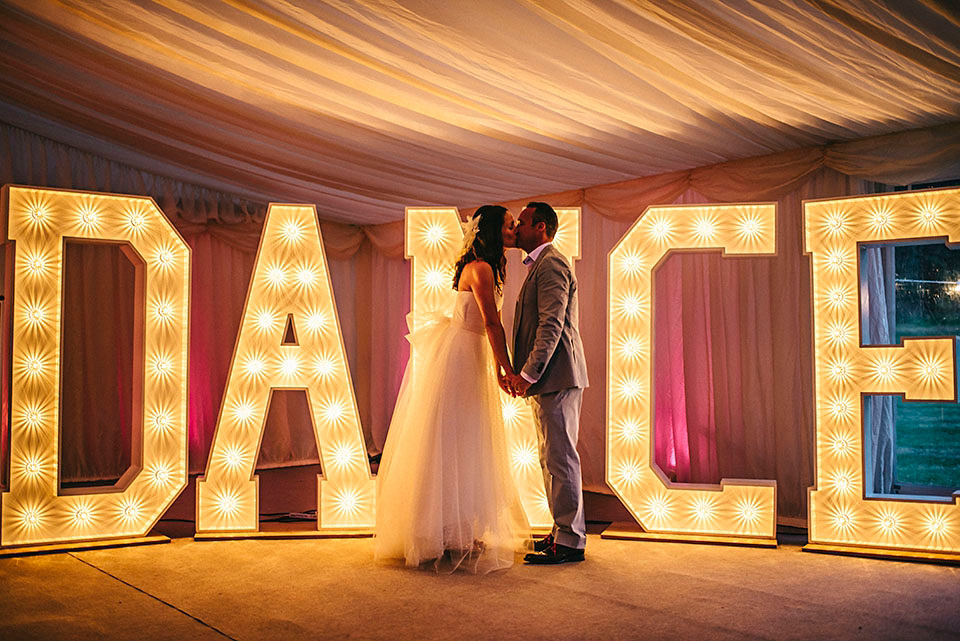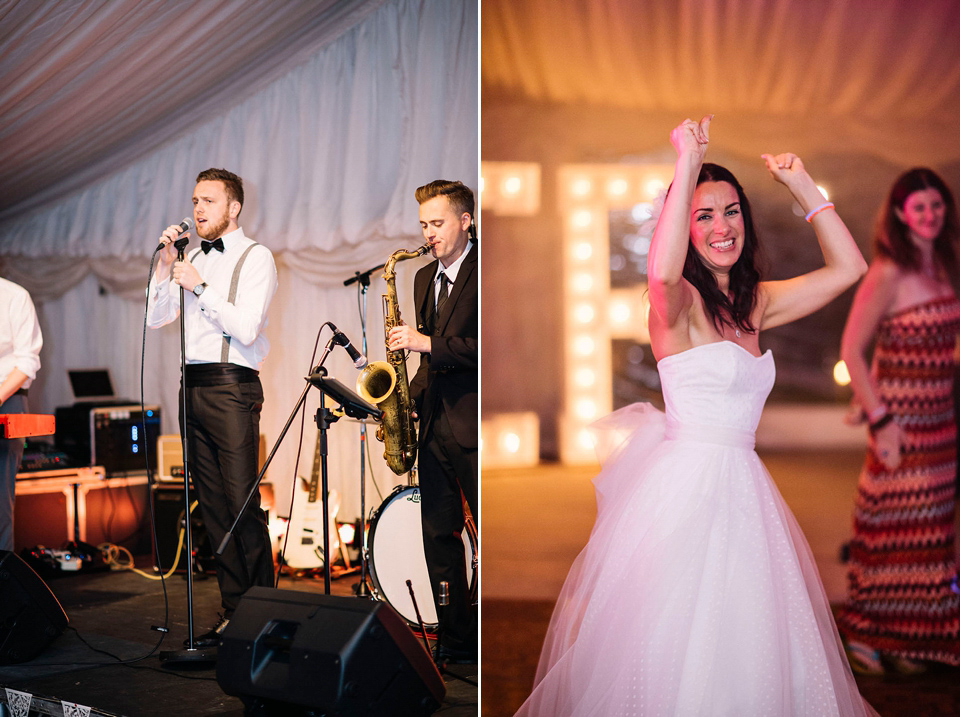 Words of Wedded Wisdom
 "I know that it has been said a million times before, but it will go so fast. Try and get some time to reflect and observe during the craziness – enjoy all of your hard work!"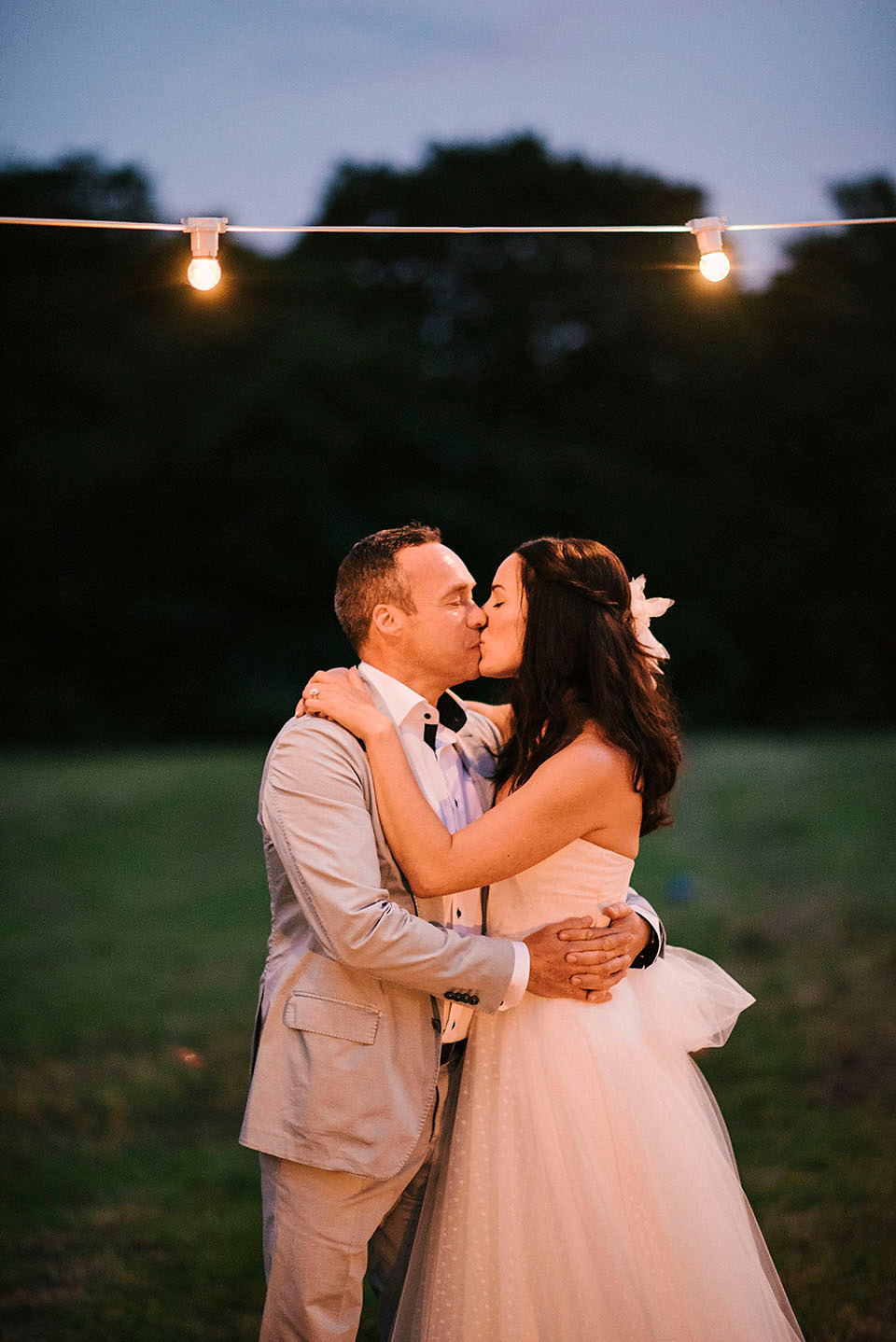 Many thanks to Kerry Woods Photography for sharing the couple's two delightful celebrations with us – you can view another beautiful wedding with a polka-dot dress here that features Kerry's fantastic work.
And wishing Michelle and Nick loads of fun, laughs and exciting adventures ahead. You've found such a lovely spot to make your home and will have such fond memories each and every anniversary.
Enjoy the rest of the week lovelies!
Love Jo -x-
Photographer – Kerry Woods Photography
Venue – St Leonard's Church in Langho + the couple's home in Dinckley, Lancashire
Wedding Planner – Andrea Swift from Fabulous Day
Top + Skirts + Veil + Hair Accessory – Via Jean Jackson Couture
Shoes – Jimmy Choo + Christian Louboutin
Jewellery – Christopher James Jewellers
Scent/Perfume – 'Café Rose' by Tom Ford
Groom – Pal Zileri @ Harvey Nichols suit + Jeffrey West shoes
Flower girl dresses – BHS
Pageboy outfit – Marks and Spencer
Rings – Christopher James Jewellers
Florist – Fletcher & Foley
Catering – Northcote Manor + With a Twist Catering
Stationery – AndMark Graphic Design + Wedfest
Hair and Makeup – Laura Grogan from Nala and Knot
Entertainment – Actual Music
Giant light up letters – Typical Type