I can barely even begin to tell you how completely smitten I am with this whole thing – it simply has to be one of my favourite weddings blogged ever on Love My Dress. I adore the sense of personality and style, the exquisite florals, the way photographer Christopher Currie has so beautifully and expertly captured it all on camera and that sublime Richard Nicoll dress and jumper combo is just too perfect.
This very stylish bride and groom tied the knot at Tullibole Castle in Scotland last Autumn.
"Our inspiration was the venue and its surrounding countryside. We wanted to create something that respected its beauty. We also wanted to make sure that drinks and dancing played a key role. After all, a wedding is a party not a catwalk show. Flowers wise, I love the way the streets of New York are lined with purple cabbages in Autumn. This was an early source of inspiration that served as a launch pad for lots of other stuff. Anything that we felt too cliched was out for us. As if foraged from the grounds, from the bouquet to the table settings, the décor mirrored the raw Scottish countryside setting."
Photography by Christopher Currie, Planning + Styling by Knot & Pop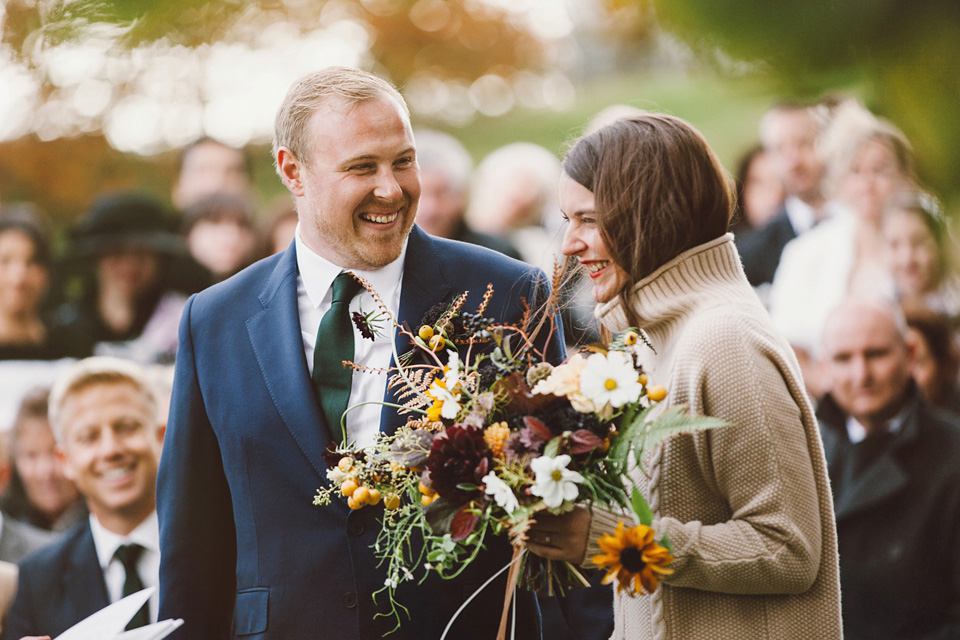 This was a wedding planned with the support of many friends, who made the stationery and provided the entertainment, but it was one particular friend Susie who really pulled out all the stops to make everything look so utterly beautiful.
"My friend Susie runs a wonderful events and productions business called Knot & Pop, and was invaluable to us. A calming force with an inhuman eye for detail, Susie helped us realise an end result we loved but also felt comfortable with. We never set out to create 'the perfect wedding' – for us, having all our friends celebrating together was always the goal, but working with Susie allowed us to achieve something wonderful and a day everyone really enjoyed."
"The planning was a collaborative process with all three of us very much involved – having someone who knows what they're doing alongside felt like a godsend.  With Susie in the driving seat, we worked tirelessly to create something beautiful. It was lovely to have both of our families so involved.  It was also amazing to have Susie, a very good friend, at my side throughout the whole process. I felt very lucky."
"We chose our venue, Tullibole Castle, because it was typically Scottish but in a rugged, unpolished sort of a way. The grounds of Tullibole are beautiful, hauntingly so. The venue also offered us the level of freedom we were after. They were also big enough to cite the Tipi we had our hearts set on by Highland Tipis.
It was important to us that we were able to do what wanted within a venue – and long into the wee small hours. Lord Moncrieff, who lives and runs Tullibole, doesn't deal in finishing times. This sealed the deal for us."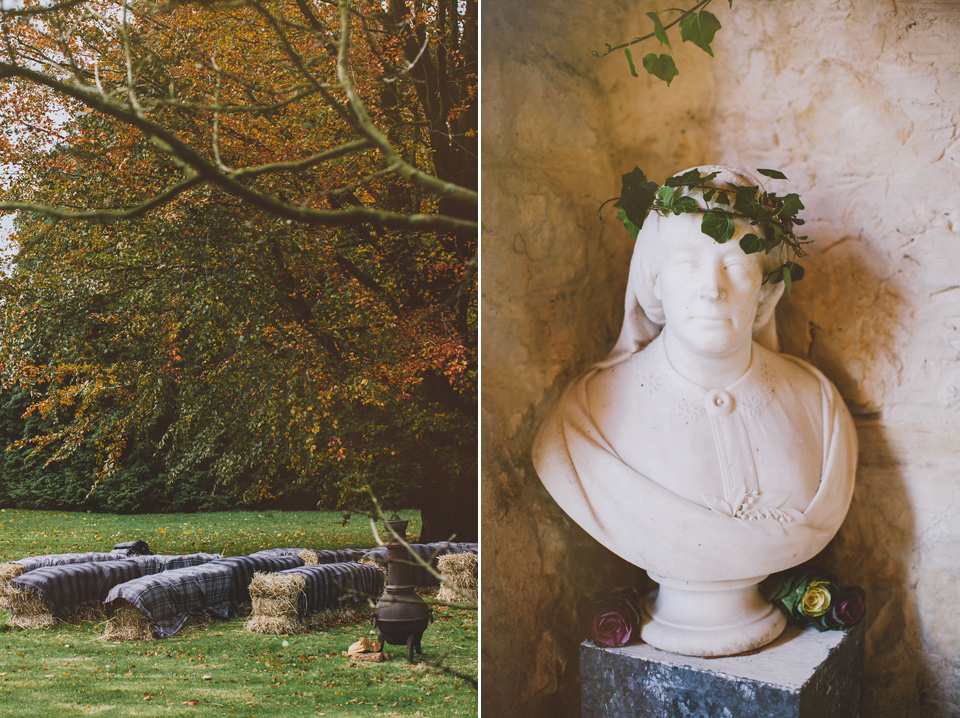 "We were together for seven years before getting engaged and eighth before we were married. We met through mutual friends."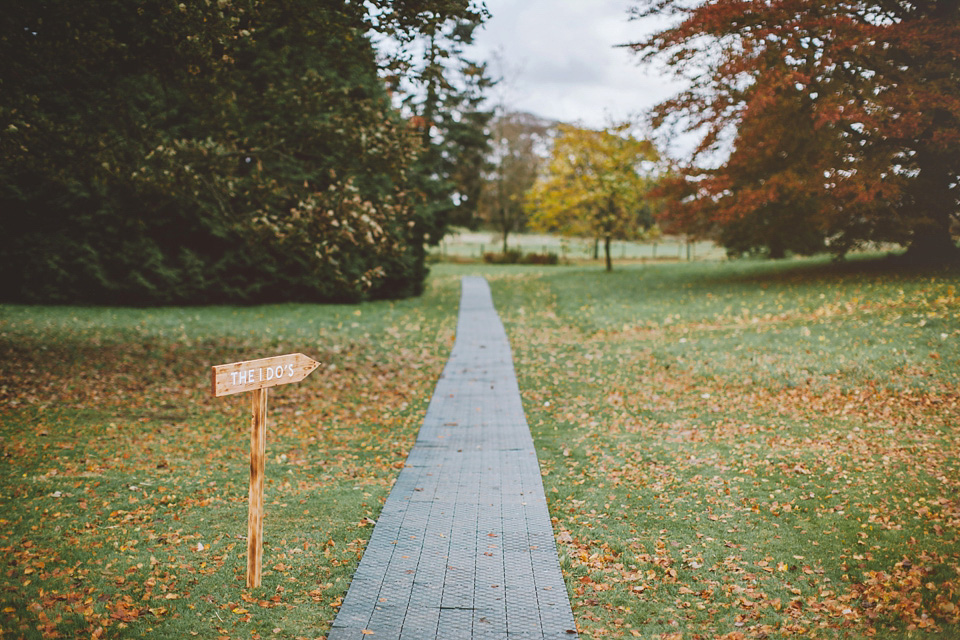 "London based designer Richard Nicoll made my dress and jumper. I am a huge fan of his effortless aesthetic and was thrilled when he agreed to do the dress. We had a lot of fun."
"I didn't want to look like a princess or a character in a Disney film, I wanted to look like me – at my best. The dress, a simple bias cut gown with a slight train, was cut from silk. I felt like me in it. I could breath, I didn't feel I was dressed up as someone else. The jumper, crafted from Italian cashmere and based on my favourite 'sofa' sweater, was about keeping me warm. But it also served as a security blanket."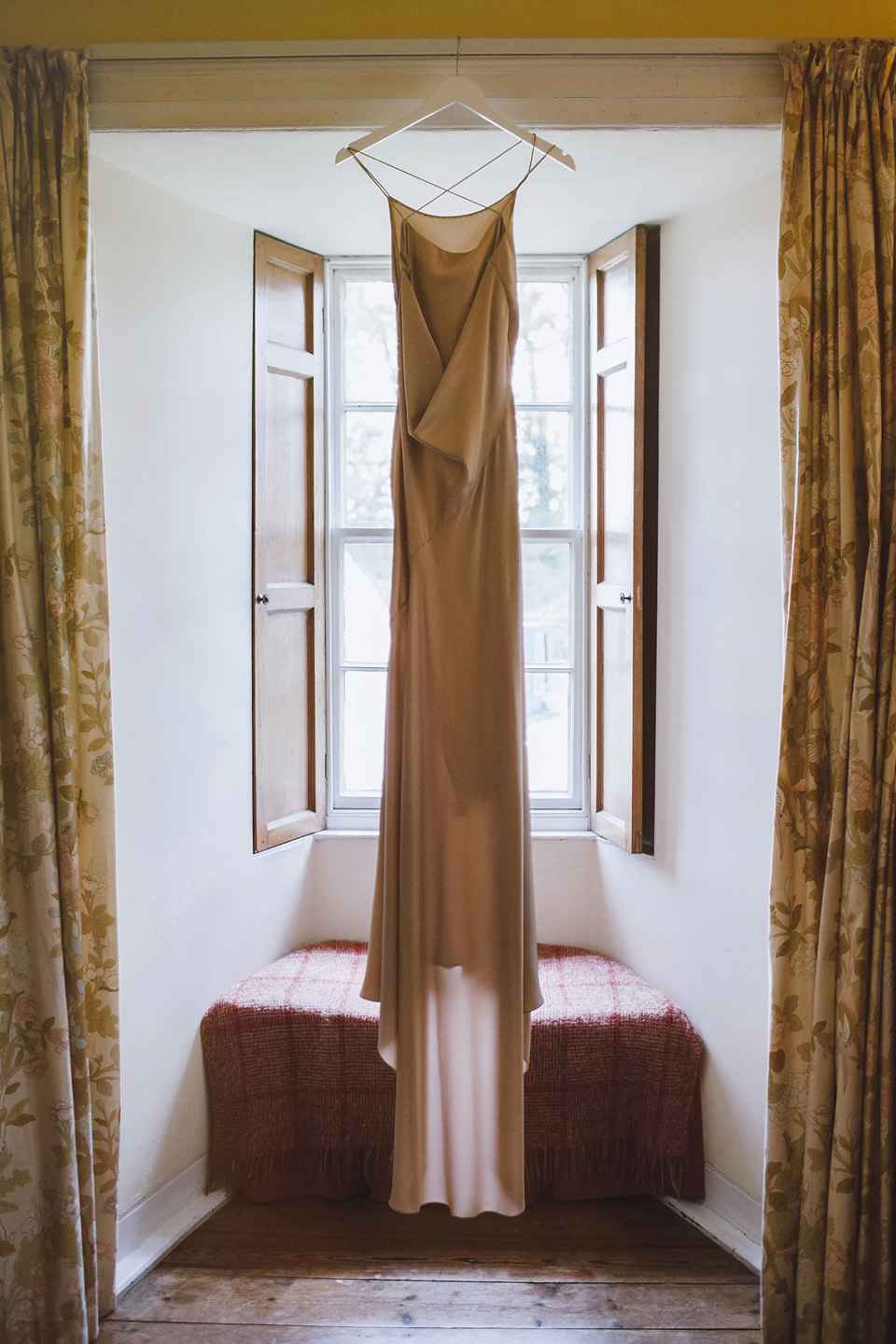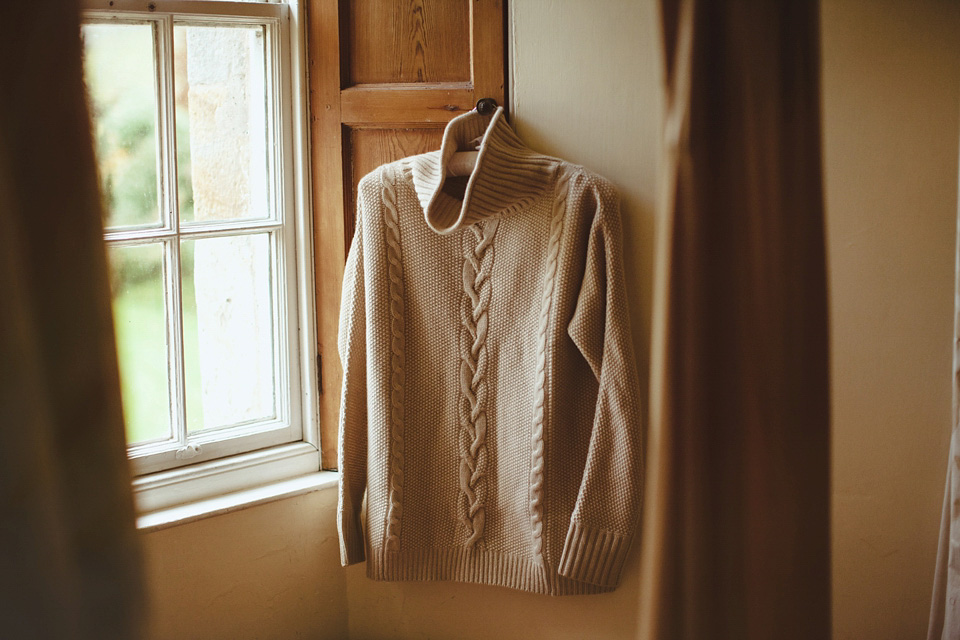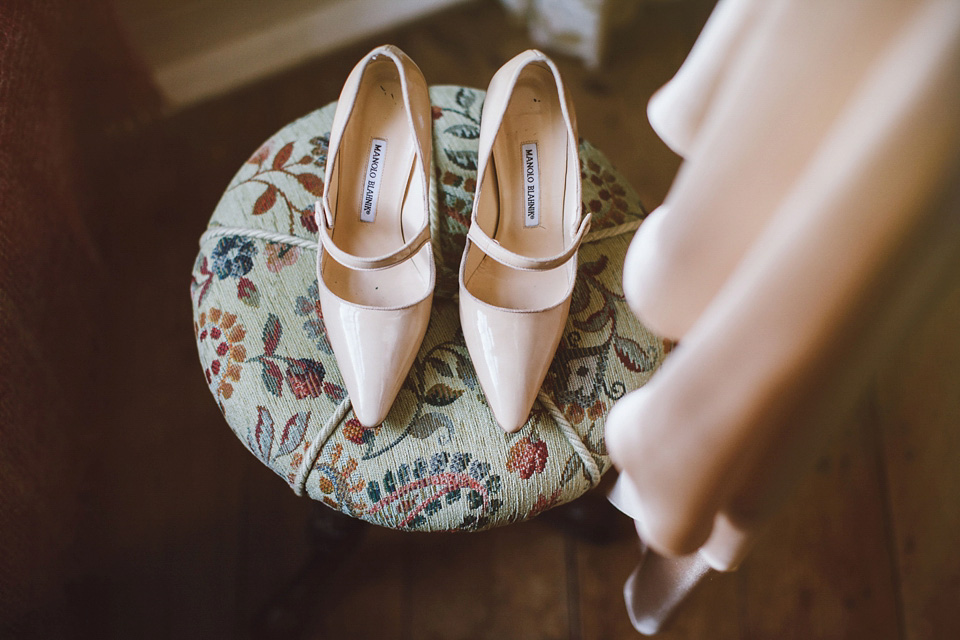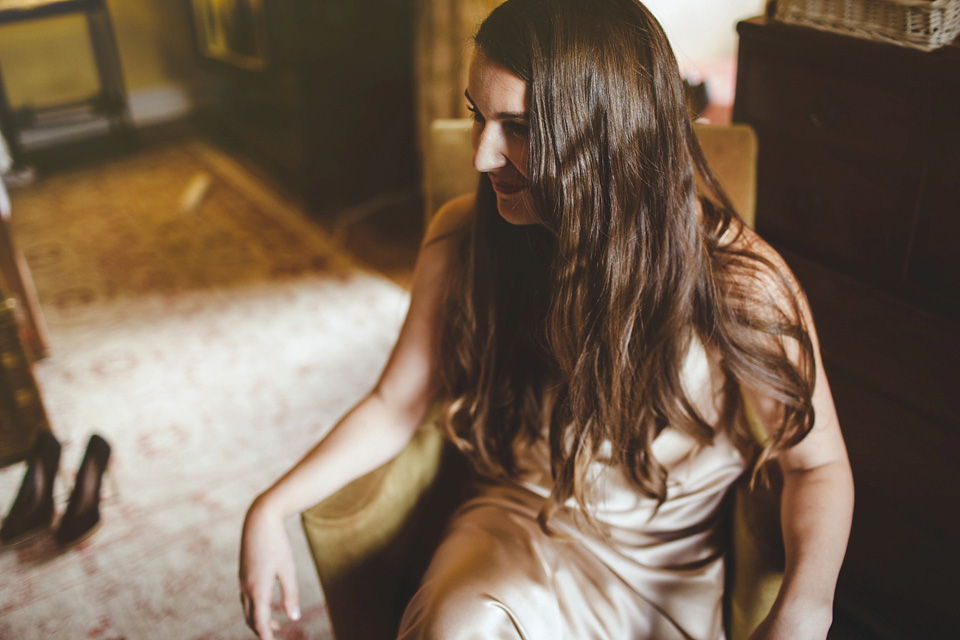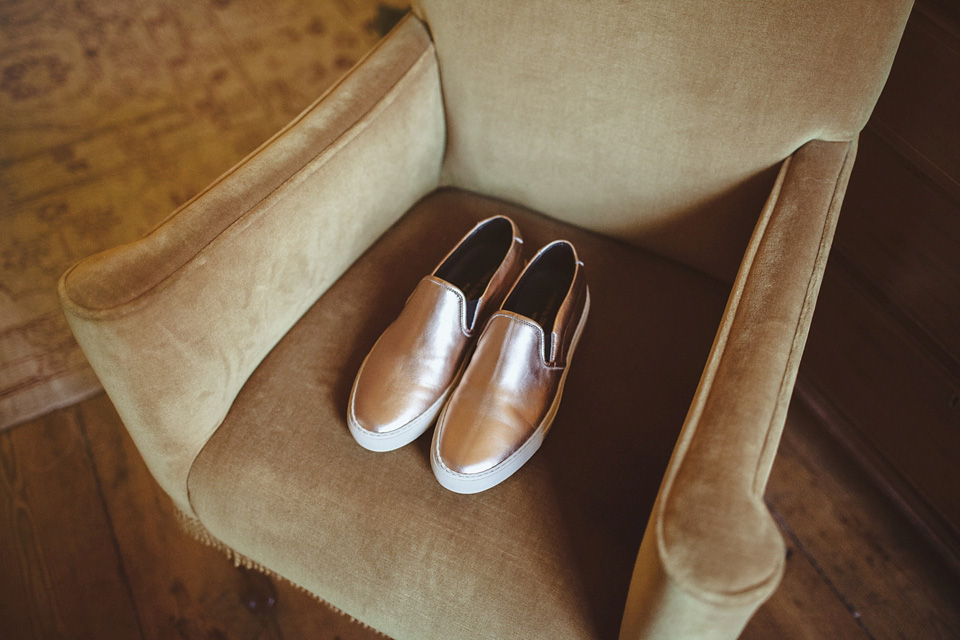 "Our florists were Pyrus.  They are wonderful, talented, creative masters of all things green who do awe inspiring things with flowers. Both Natalya and Fiona are artists first – they met at Edinburgh College of Art and this shows in their work – it's about making an atmosphere not a boring bouquet. I also love their dedication to locally grown, seasonal flowers."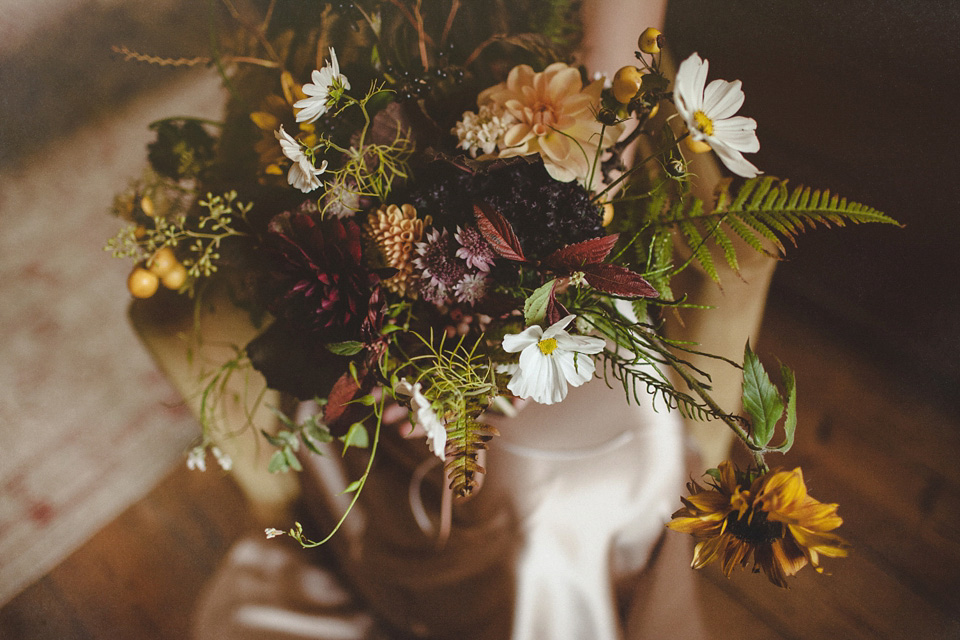 "Susie from Knot & Pop knows Pyrus well and produced a few scene setter mood boards for me that included the Autumnal colours and my weird affection for the vegetables in New York."
"Pyrus got what we were after and in turn, added their own magic to create an end result we both adored."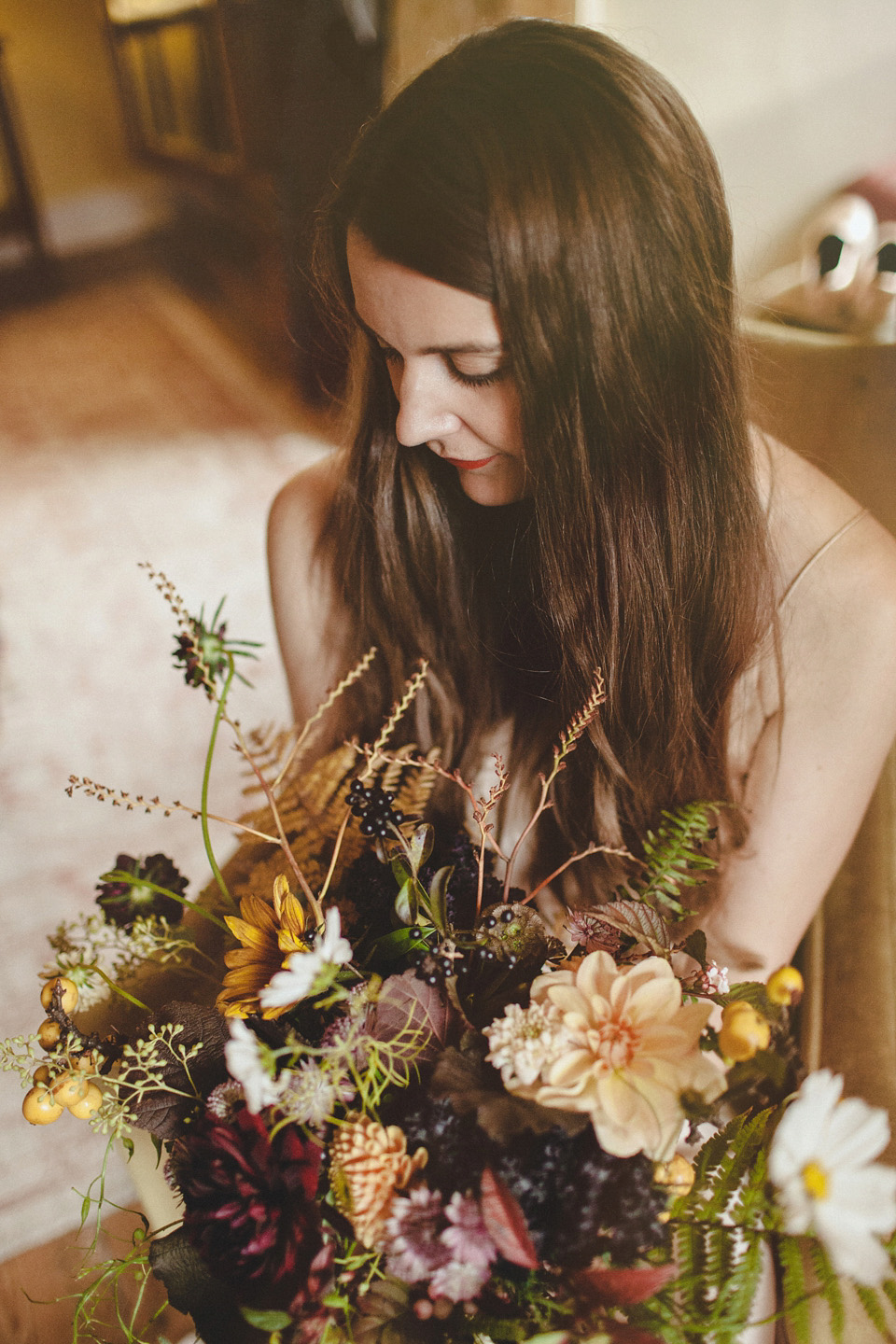 "My bouquet mixed flowers with crab apples, sunflowers, seed heads and dried bracken, whilst buttonholes were made from curly kale, crab apples, thyme and seed heads."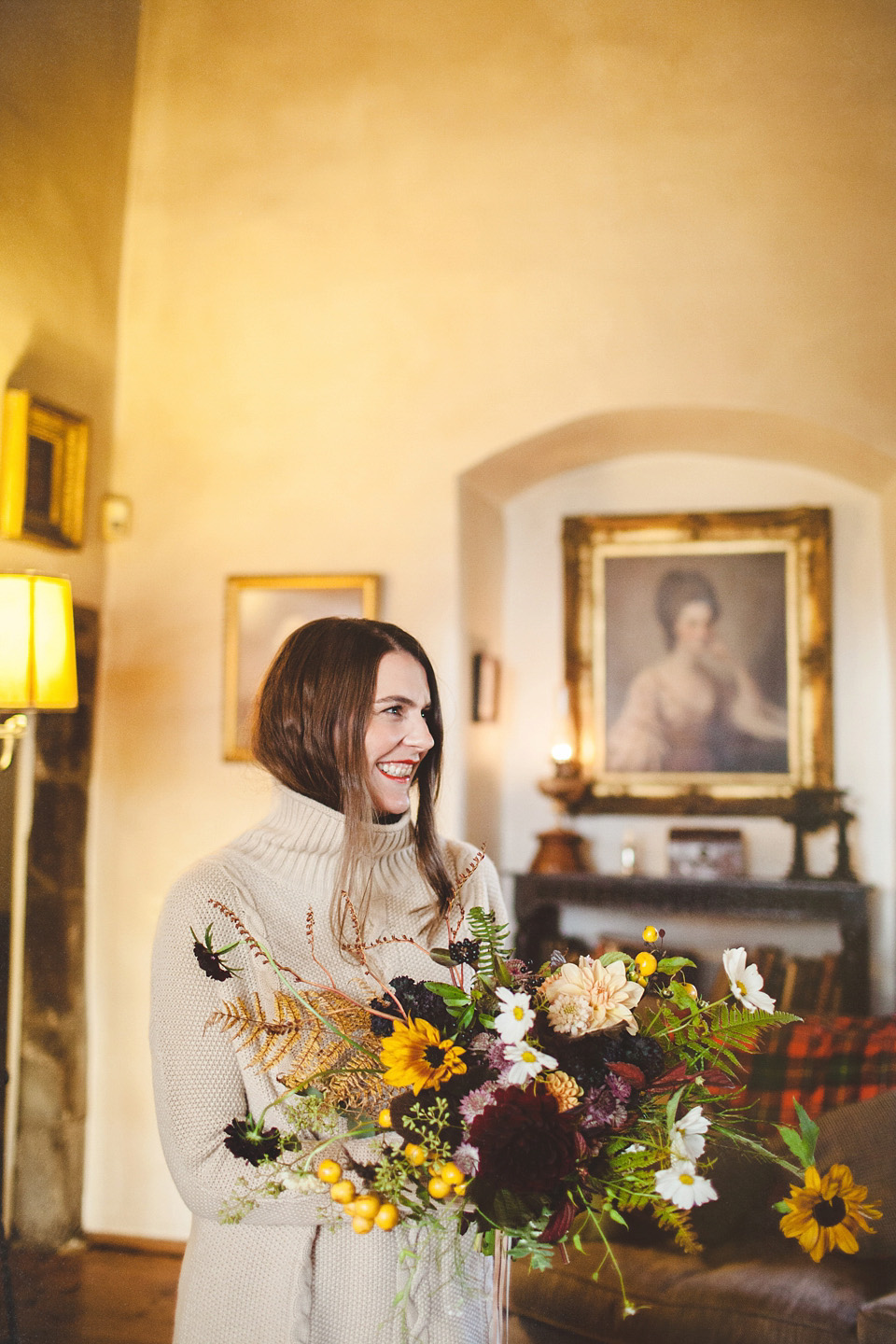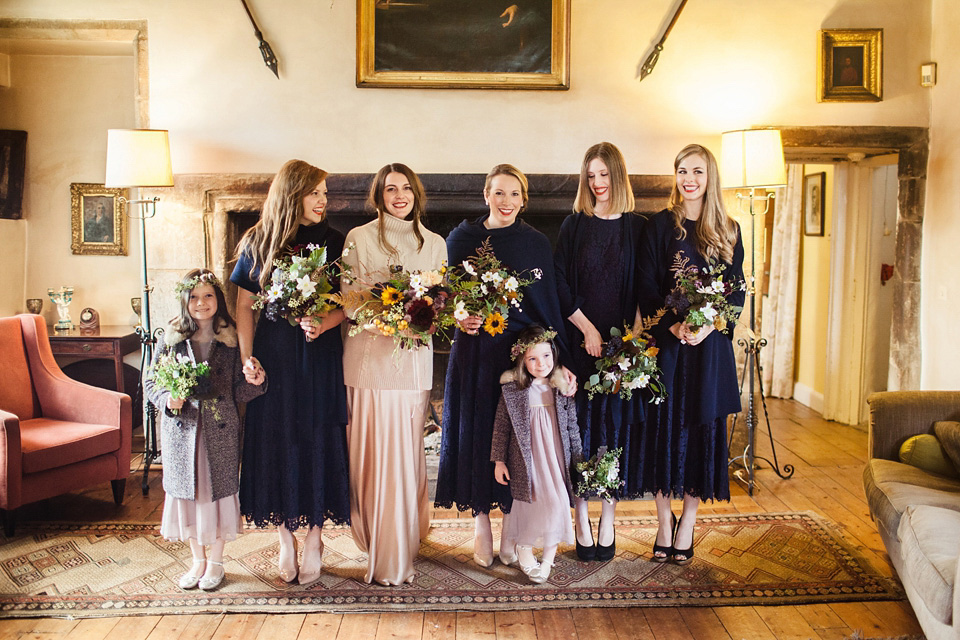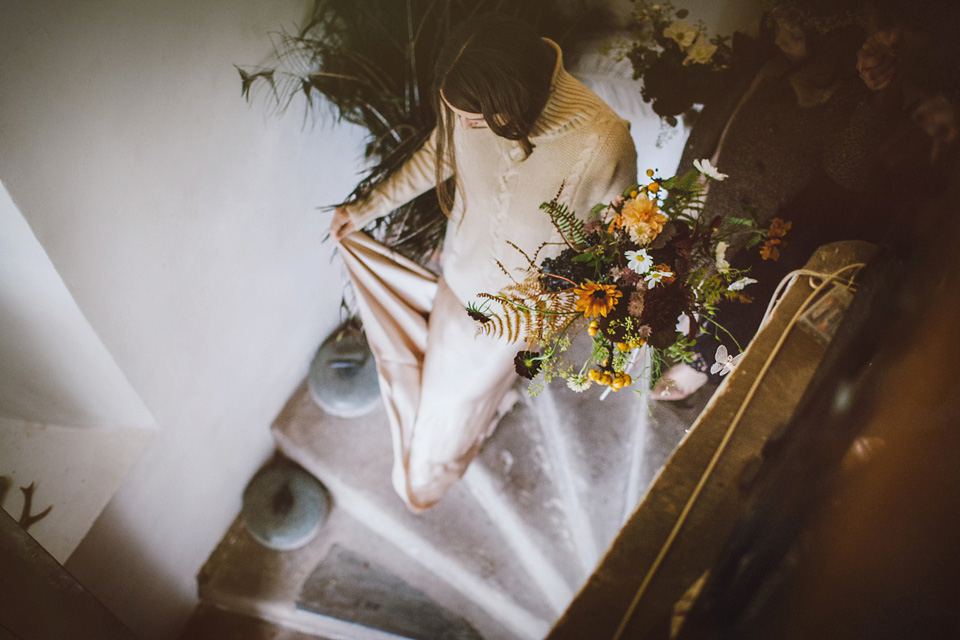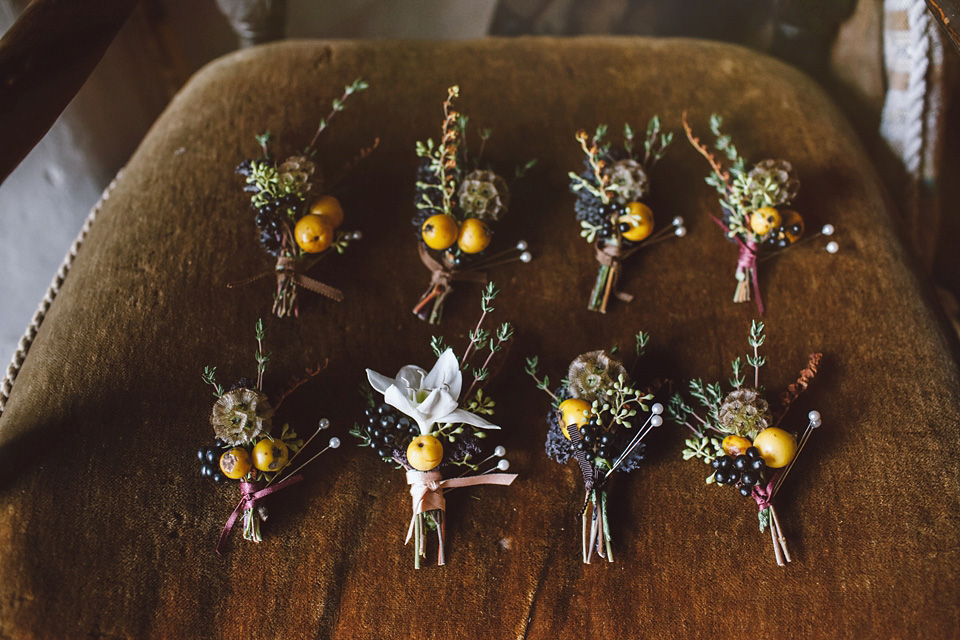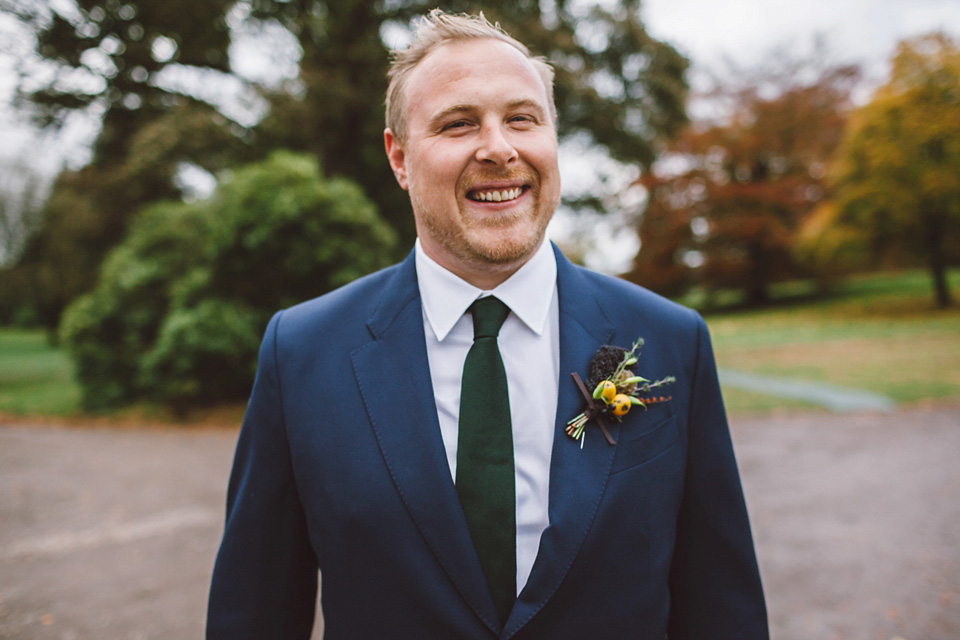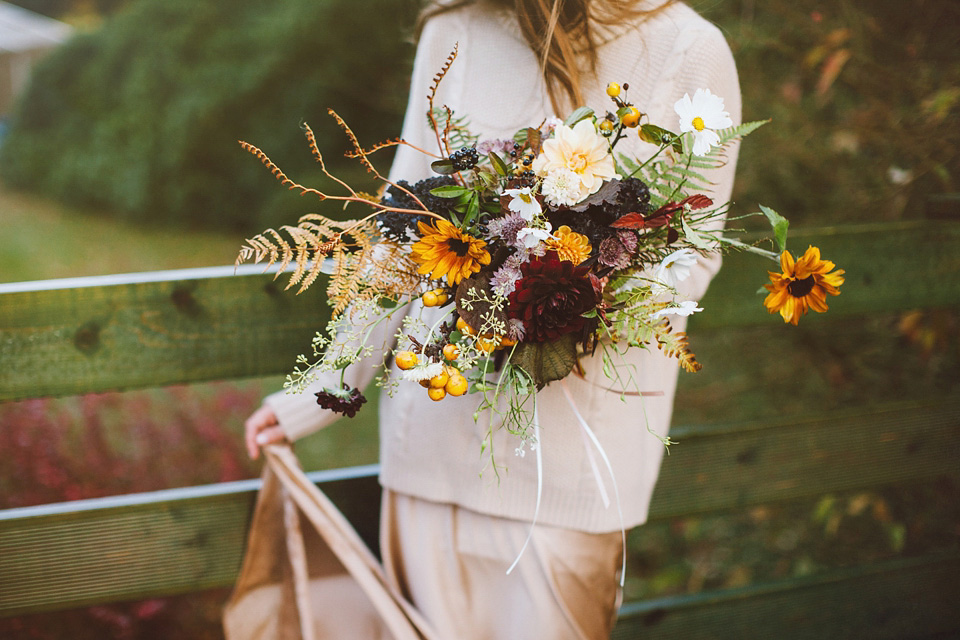 "Our photographers were Chris and Gillian of Christopher Currie – a duo based in Glasgow that Knot & Pop couldn't recommend highly enough to us. Chris and Gillian are amazing. Firstly because there are two of them (double the volume of pics) and secondly, because their pictures are wonderful. We didn't want loads of line up shots – we wanted to be able to look back and see our friends and family in the throws of the party. They gave us that – and so much more."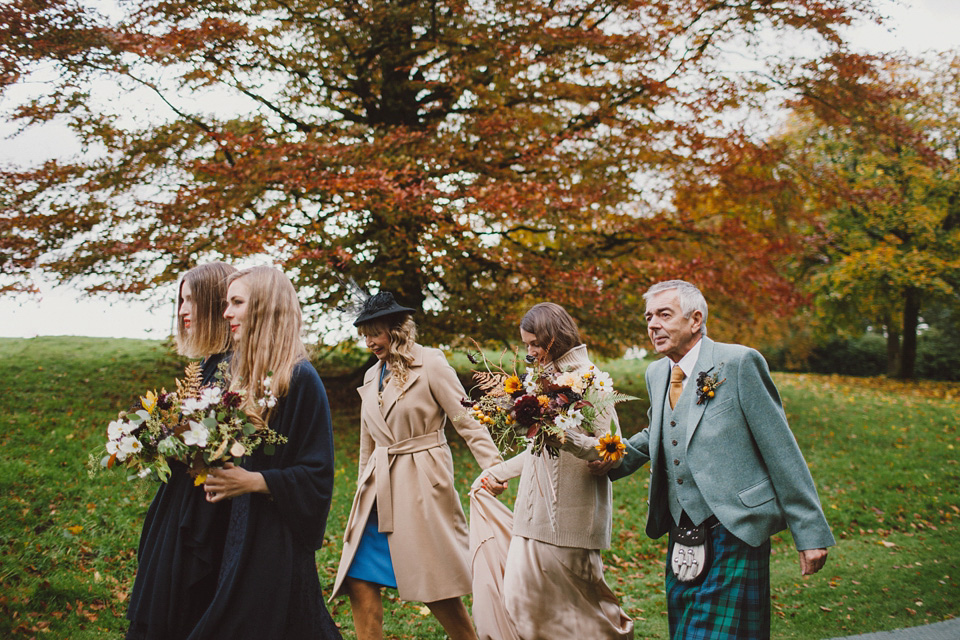 "Chris and Gillian are also lovely to have around which helps a lot. I was terrified of the weirdness of having a photographer but was instantly at ease with them."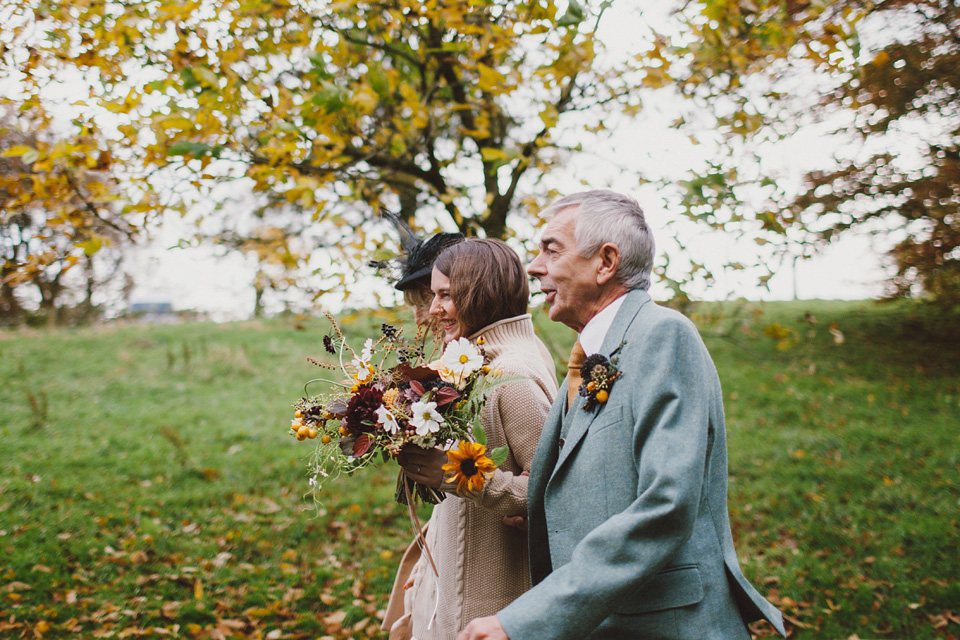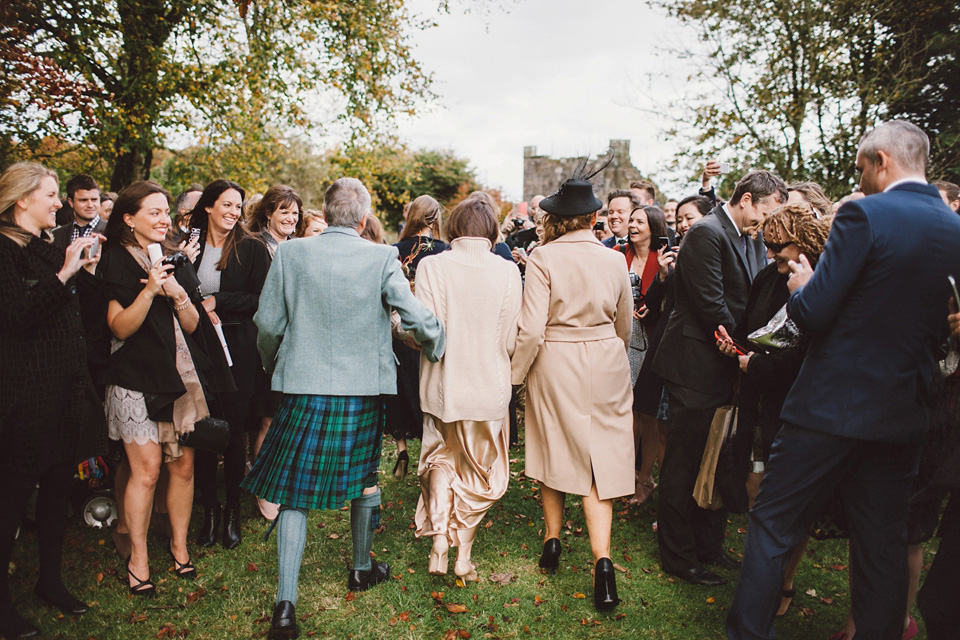 "We didn't have a traditional aisle. Instead, Knot & Pop created a cosy ceremony spot lined with purple cabbages and bales covered with tartan blankets. We kept guest warm with chimneas and the weather behaved itself for long enough for us to get married against the perfect Autumnal backdrop."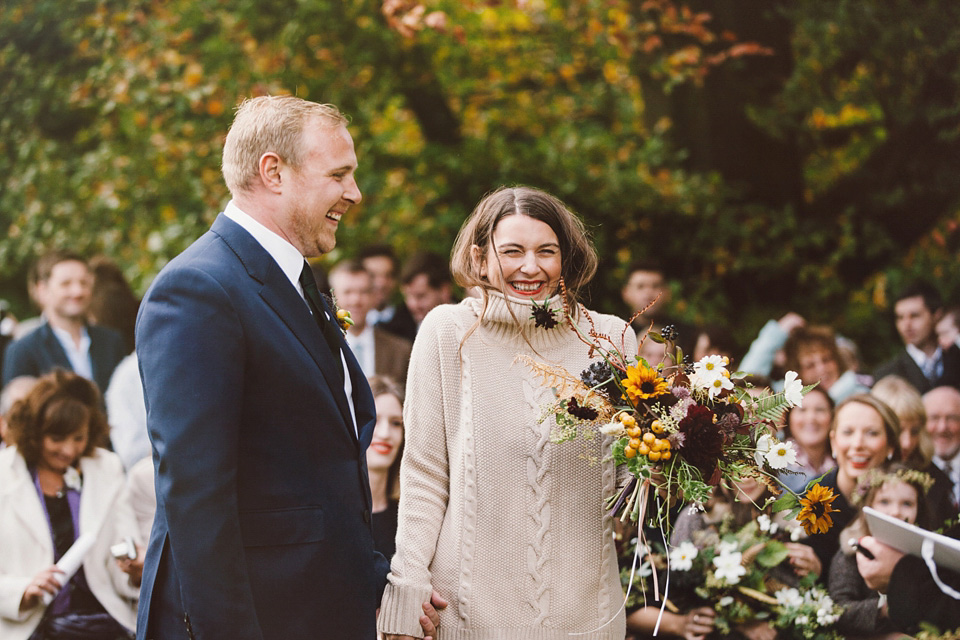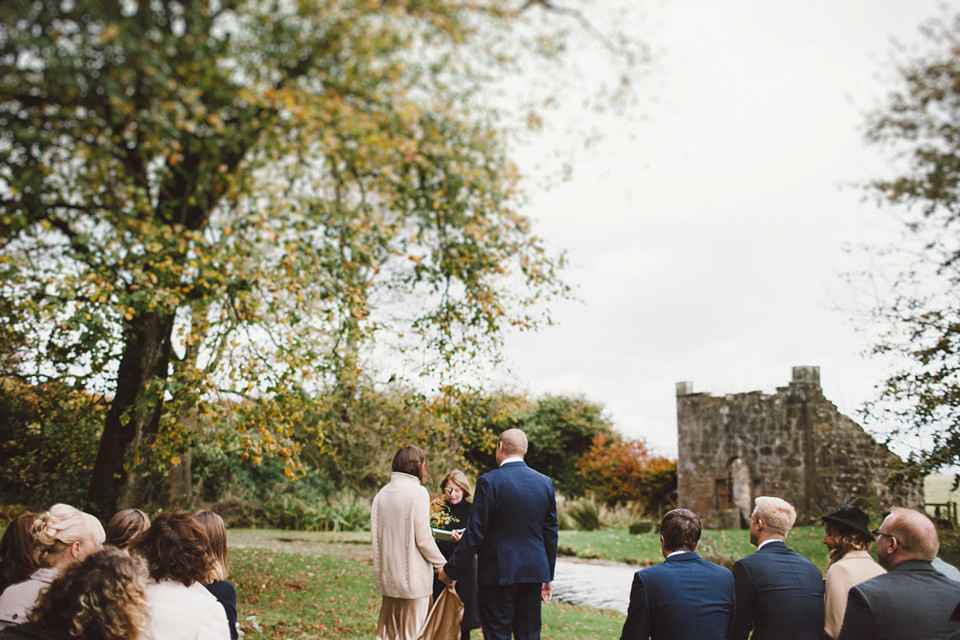 "Our readings included 'I Wanna Be Yours', by John Cooper Clarke and 'Forever Young' by Bob Dylan."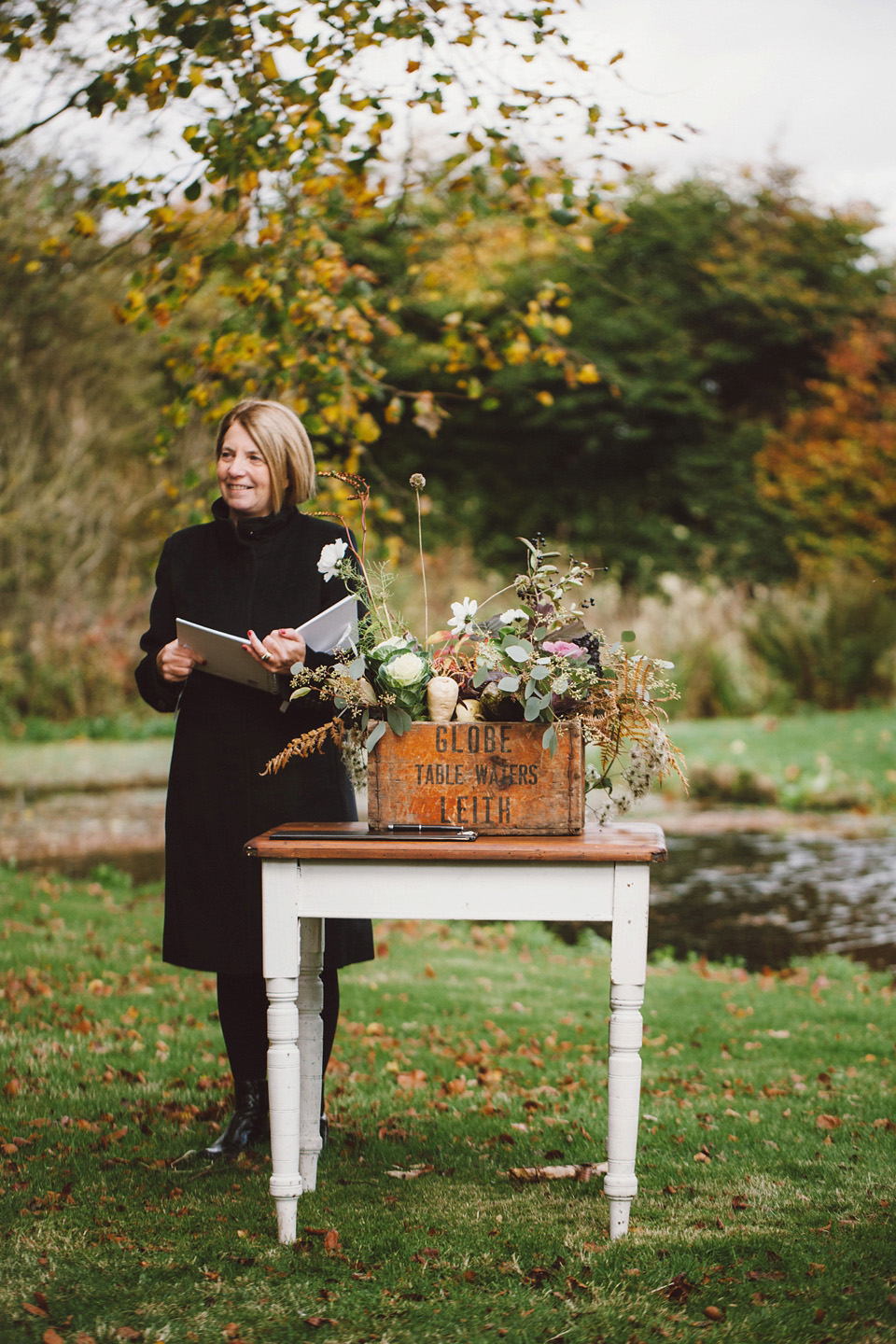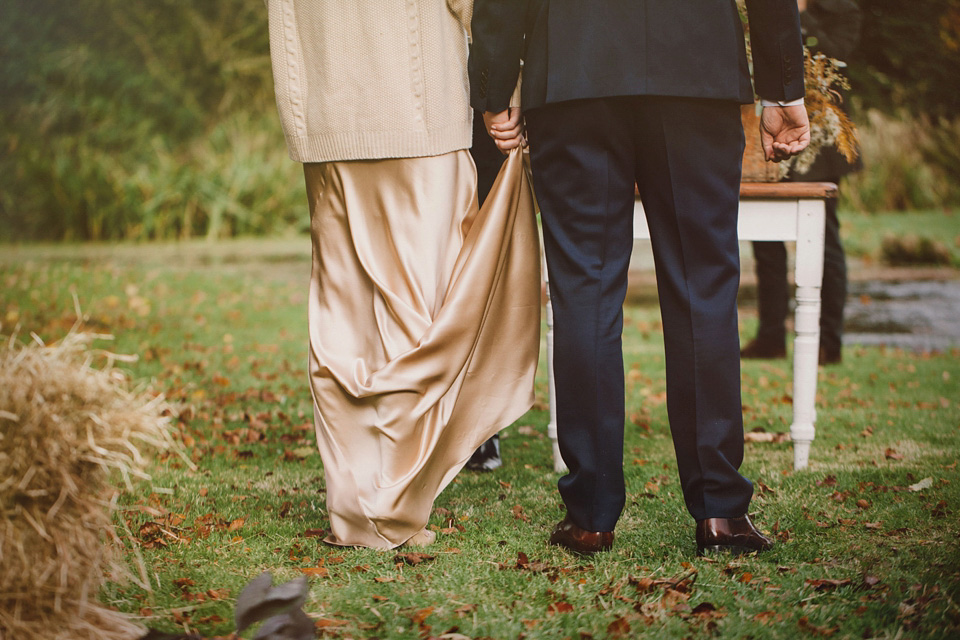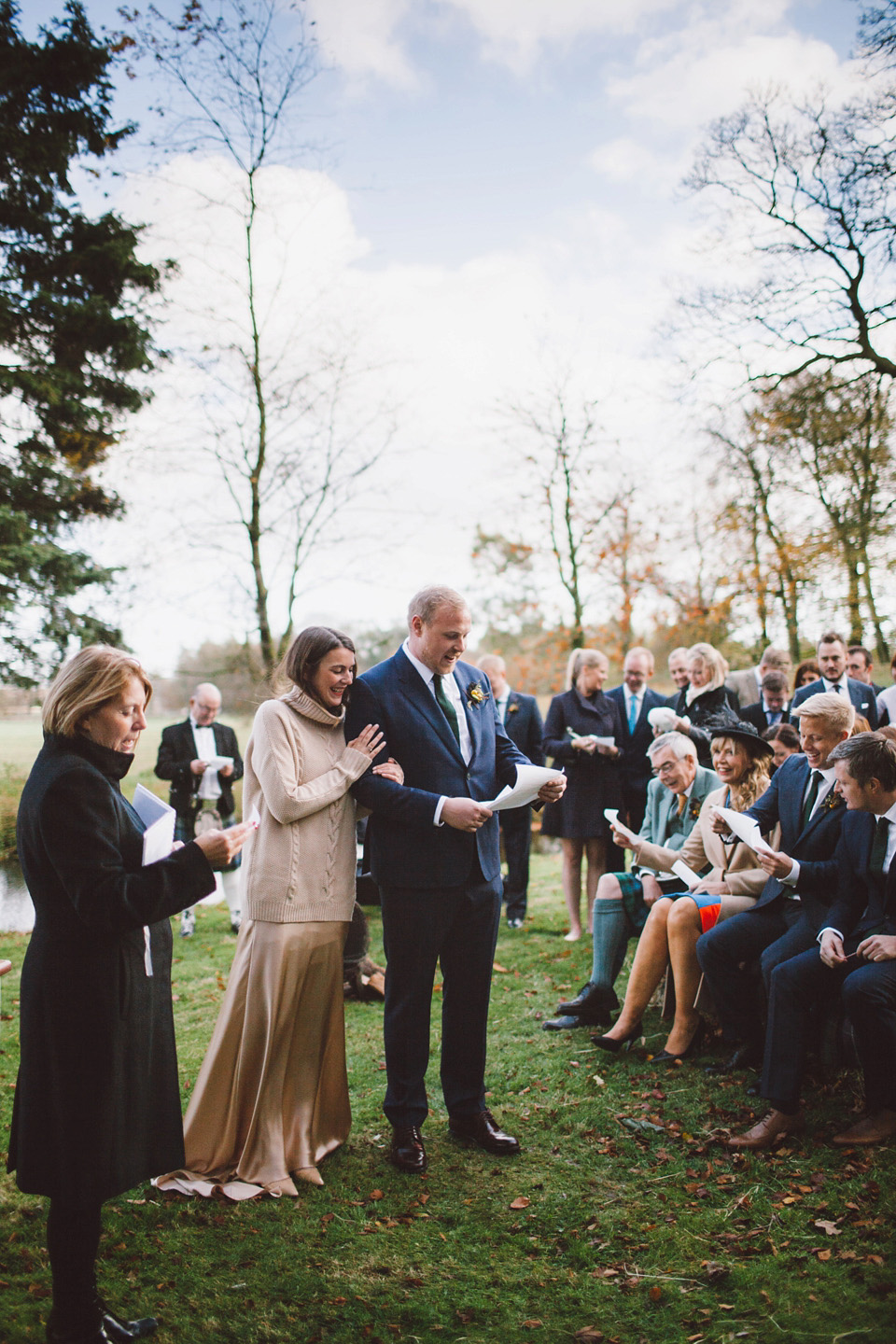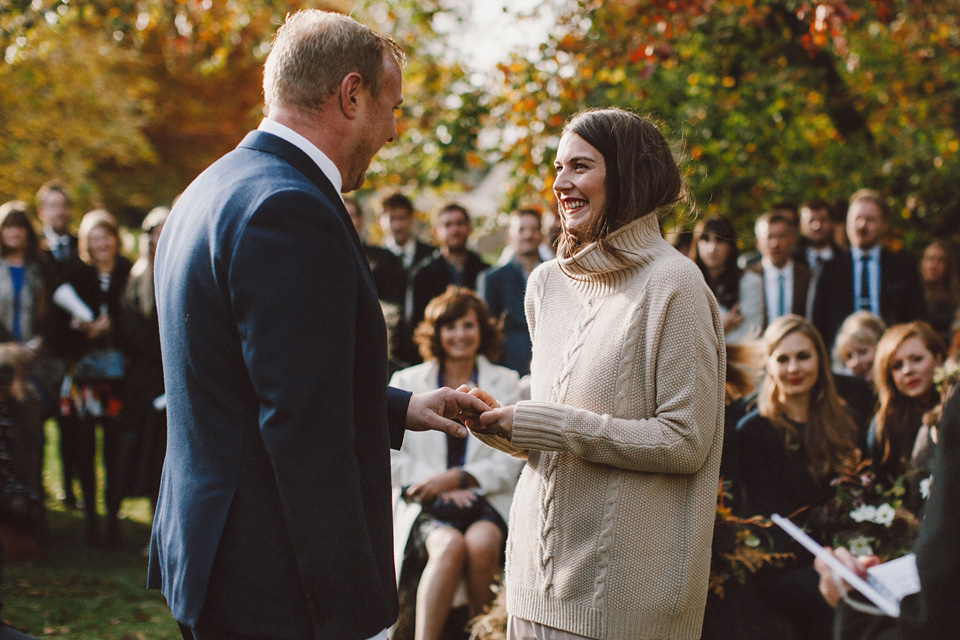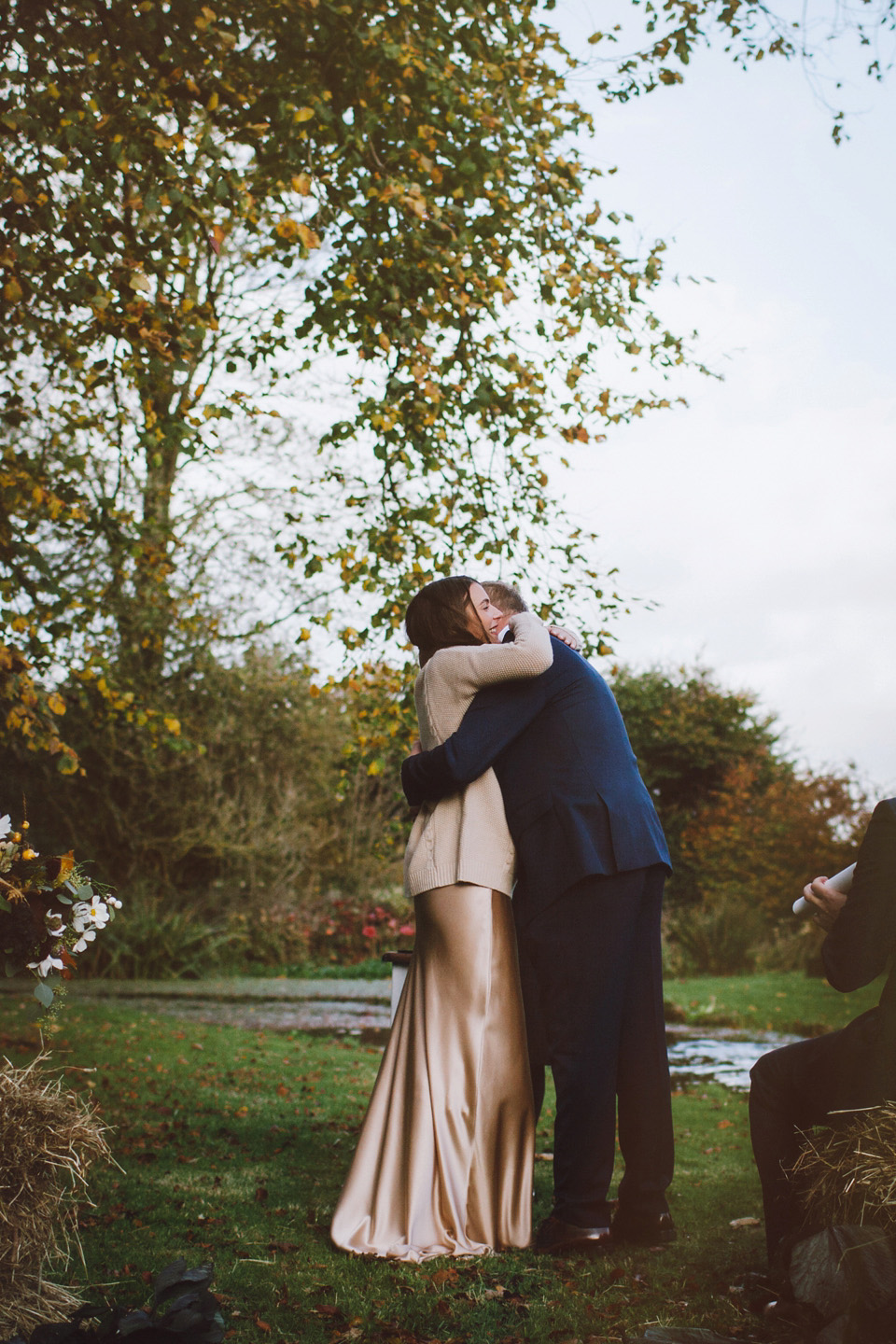 "My ring is a rose gold band from Tiffany and Mark's was £30 from Amazon (simple tastes!)."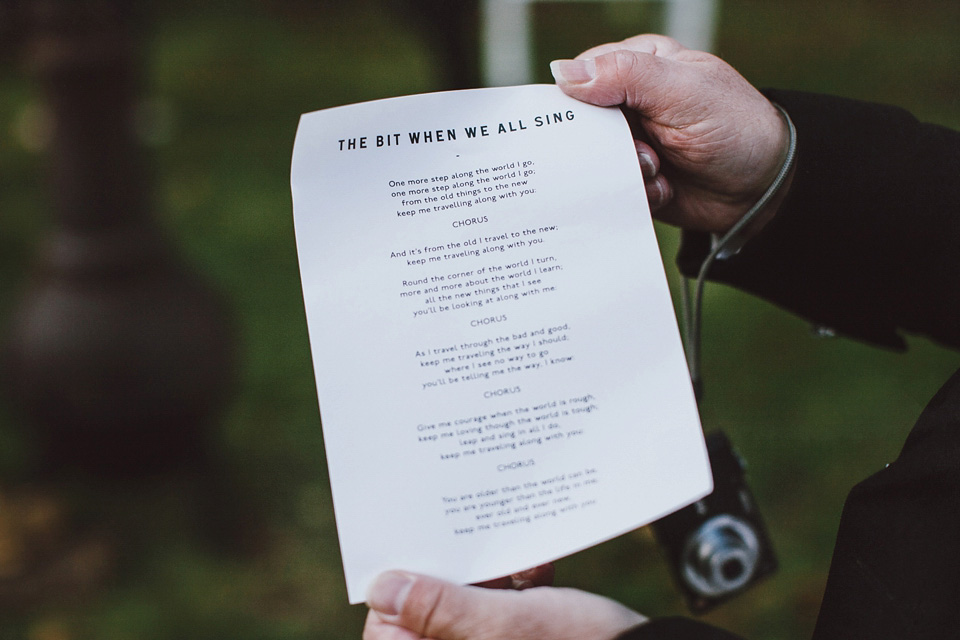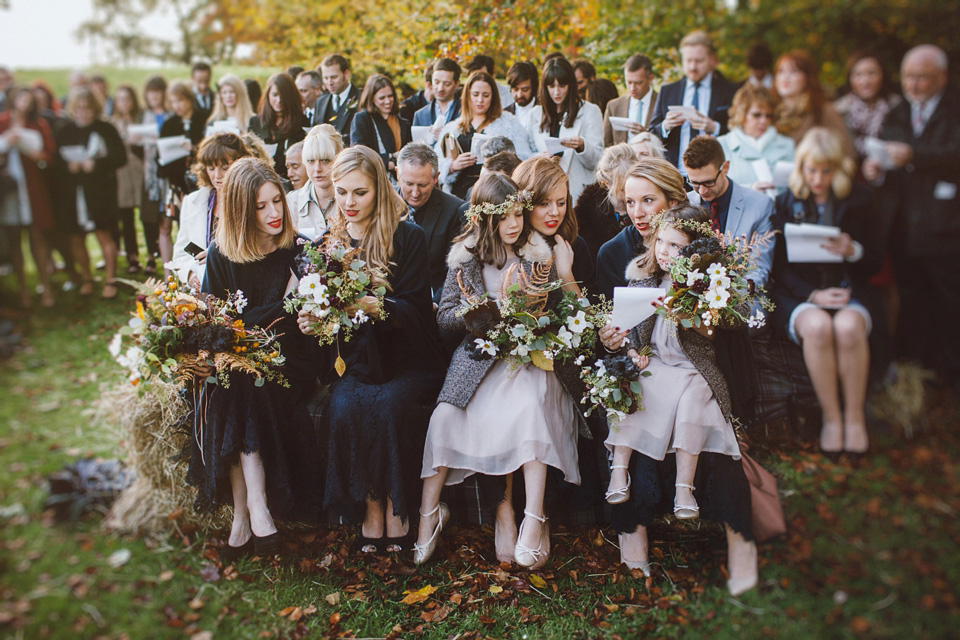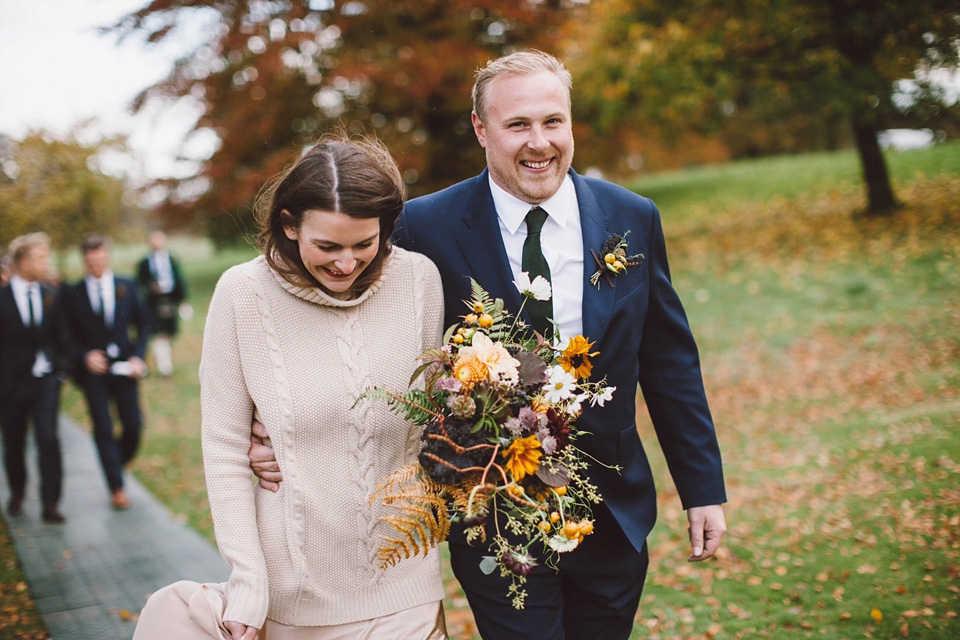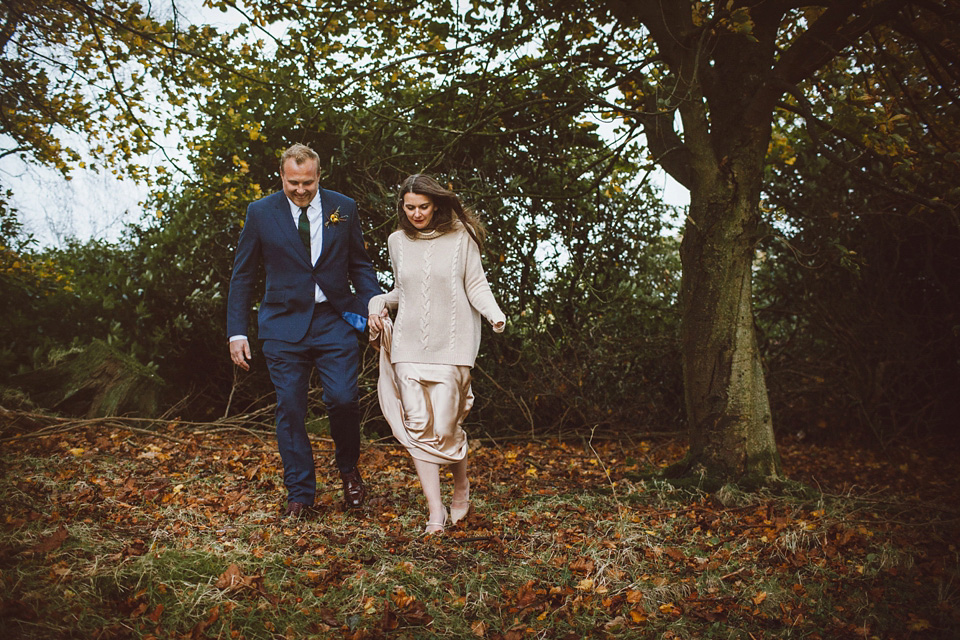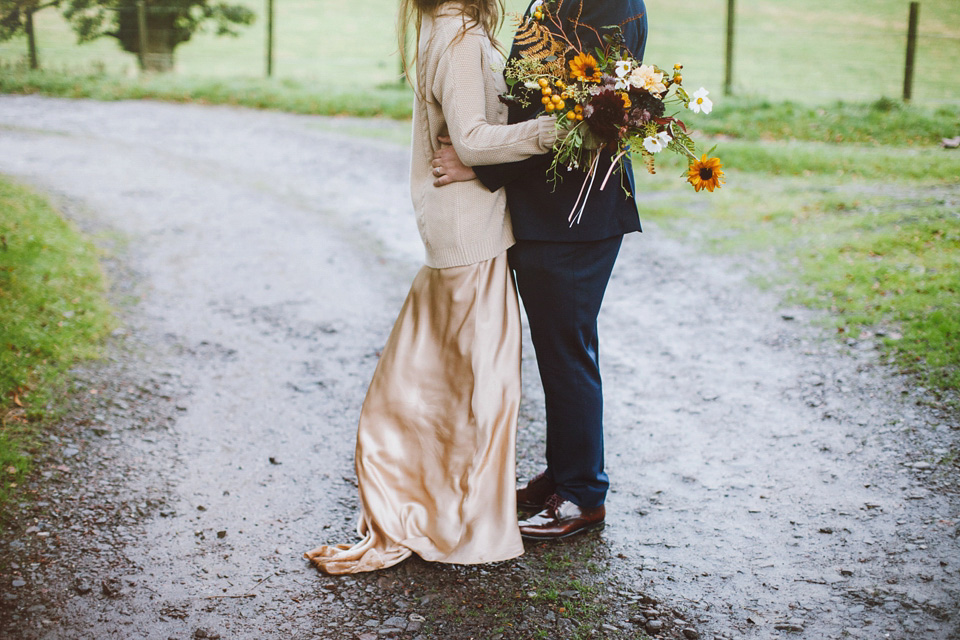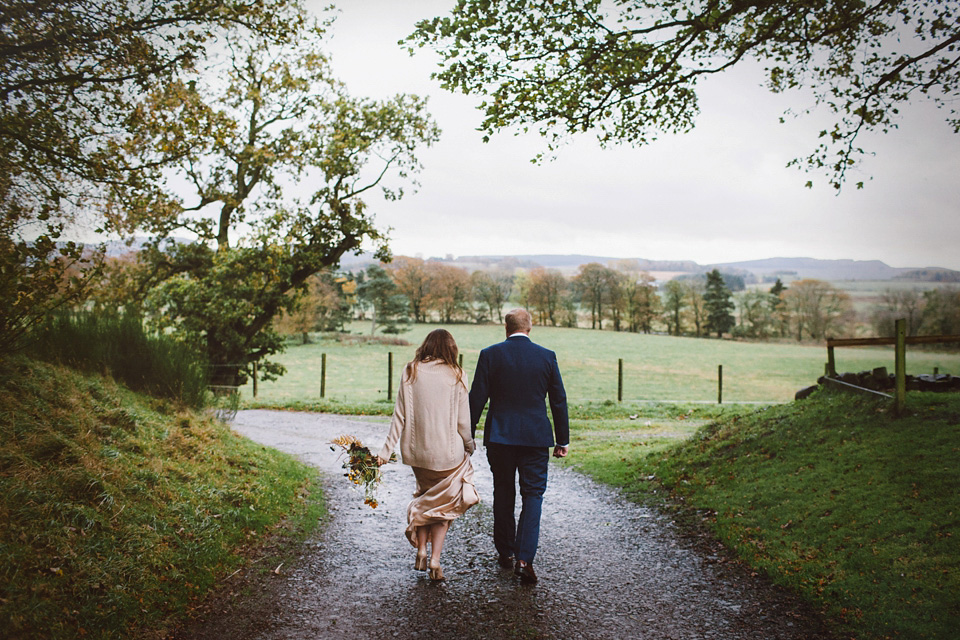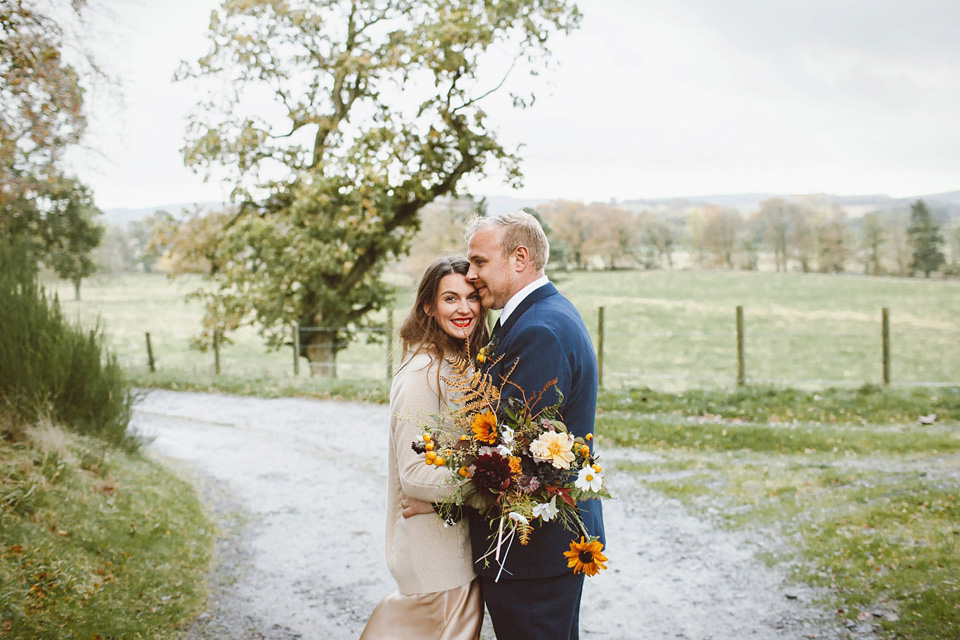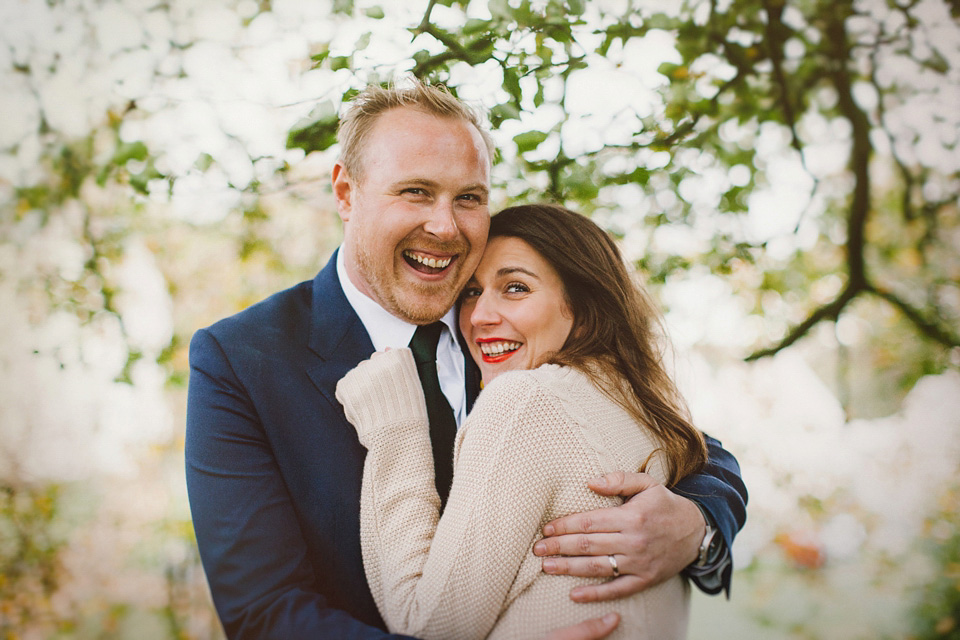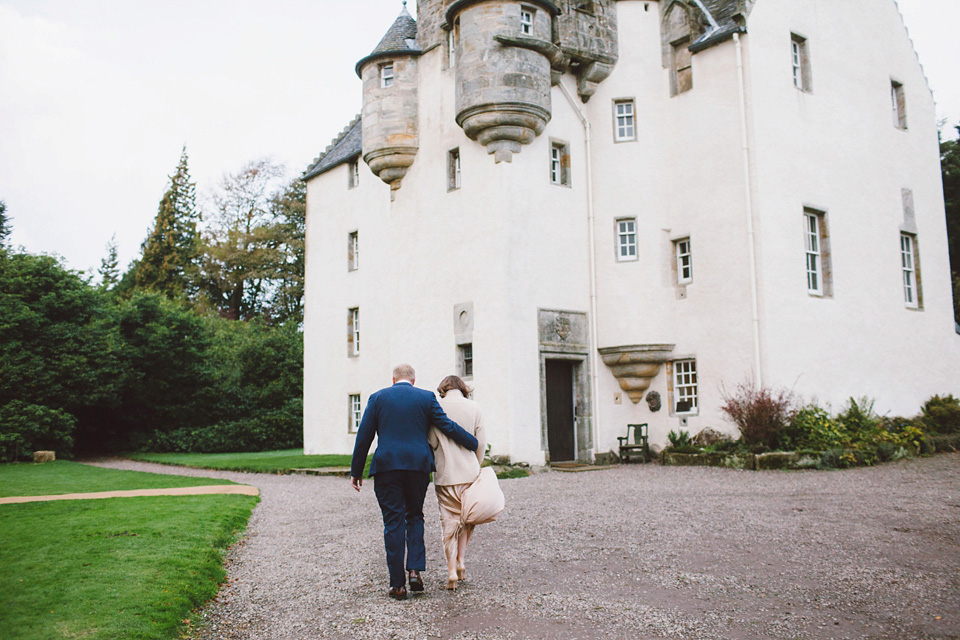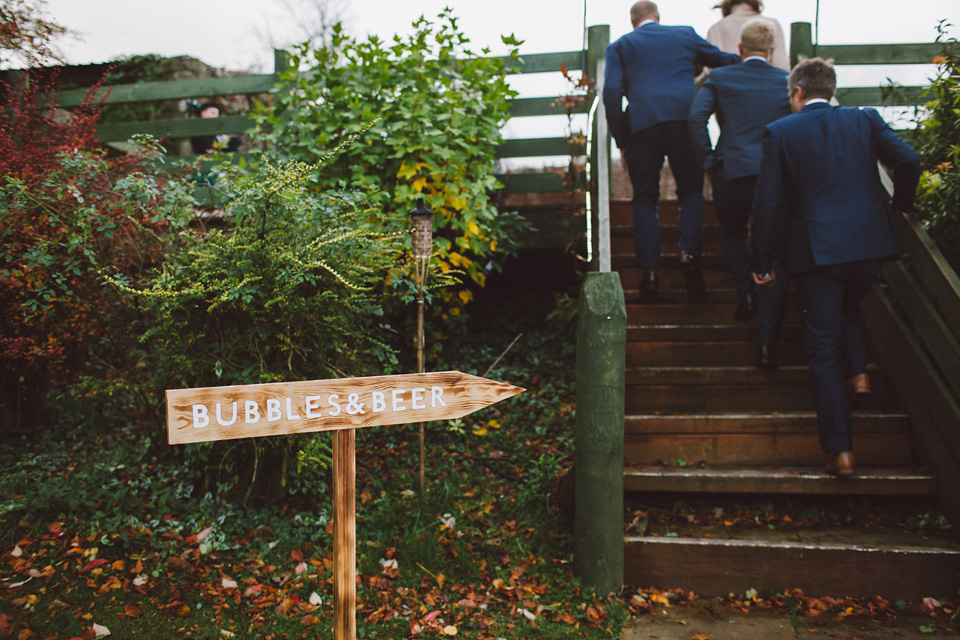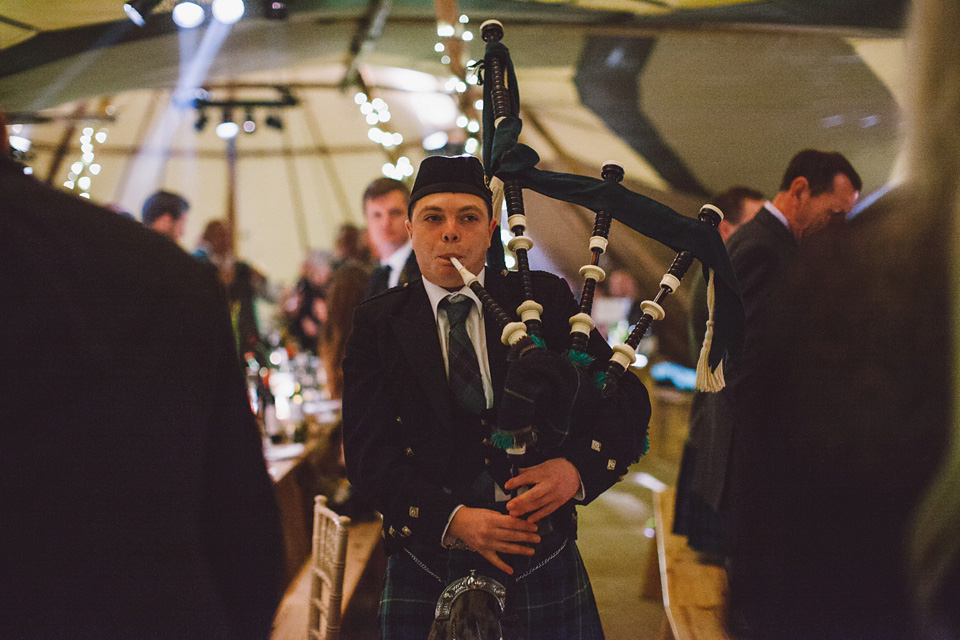 "I loved seeing everyone's smiling faces for the first time – it's an amazing moment, but the best part was being piped into the tipi and being announced by our gorgeous usher Ben."
"Seeing everyone in their seats smiling up at us was just wonderful – it was the moment we'd been waiting for – magical."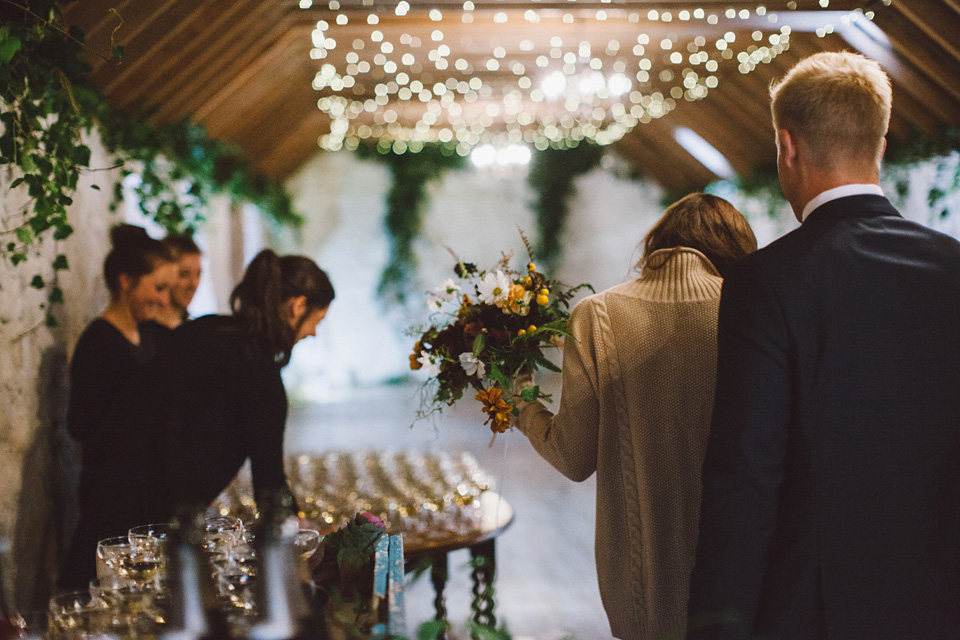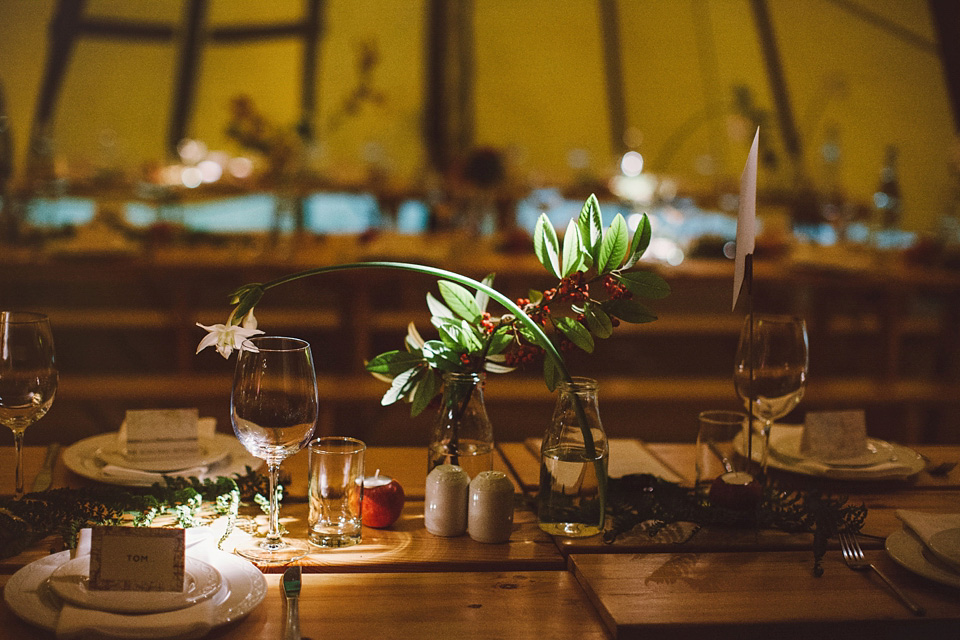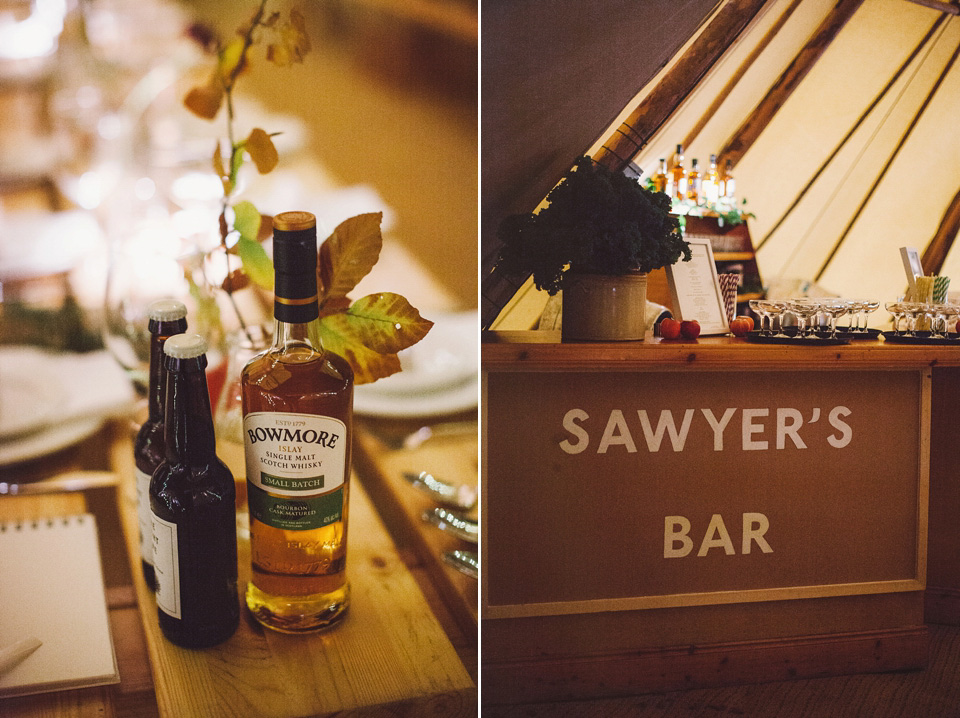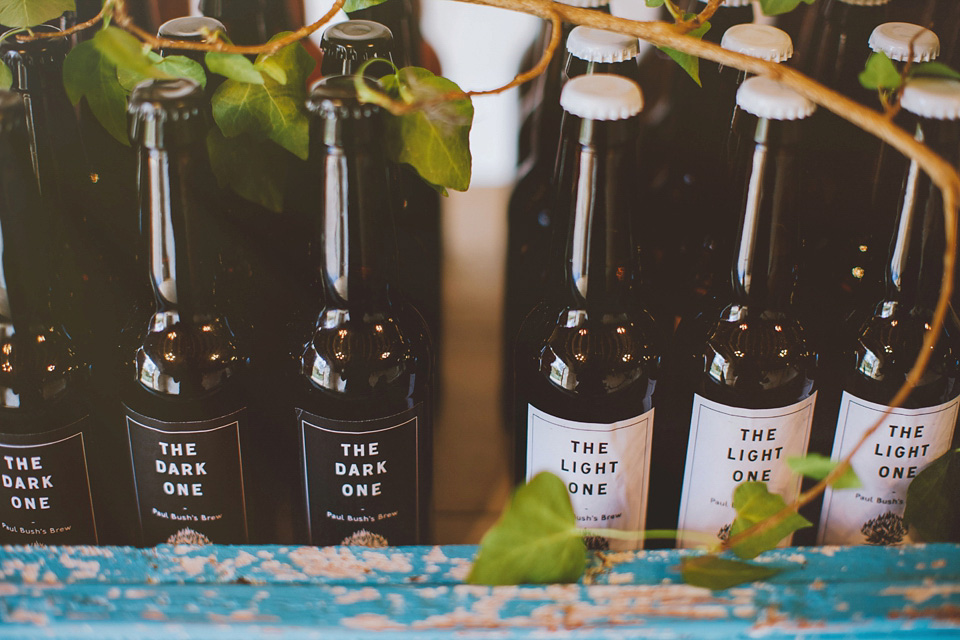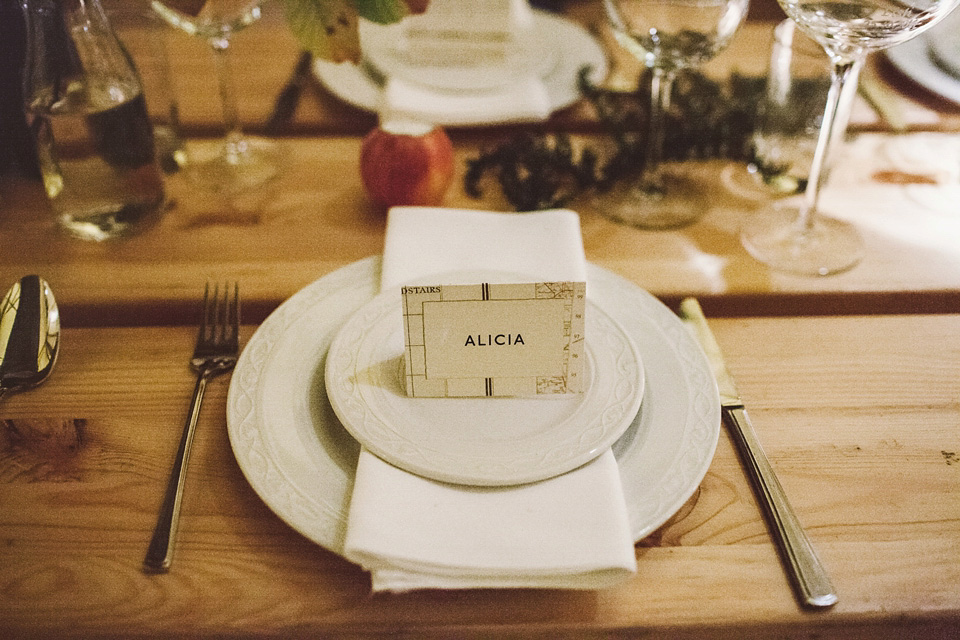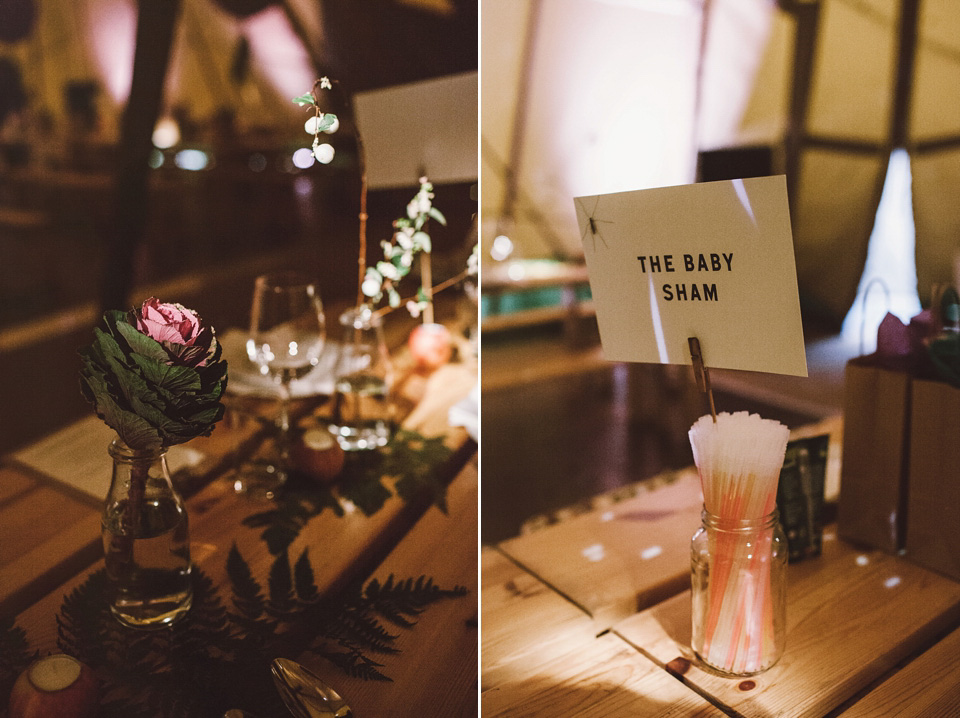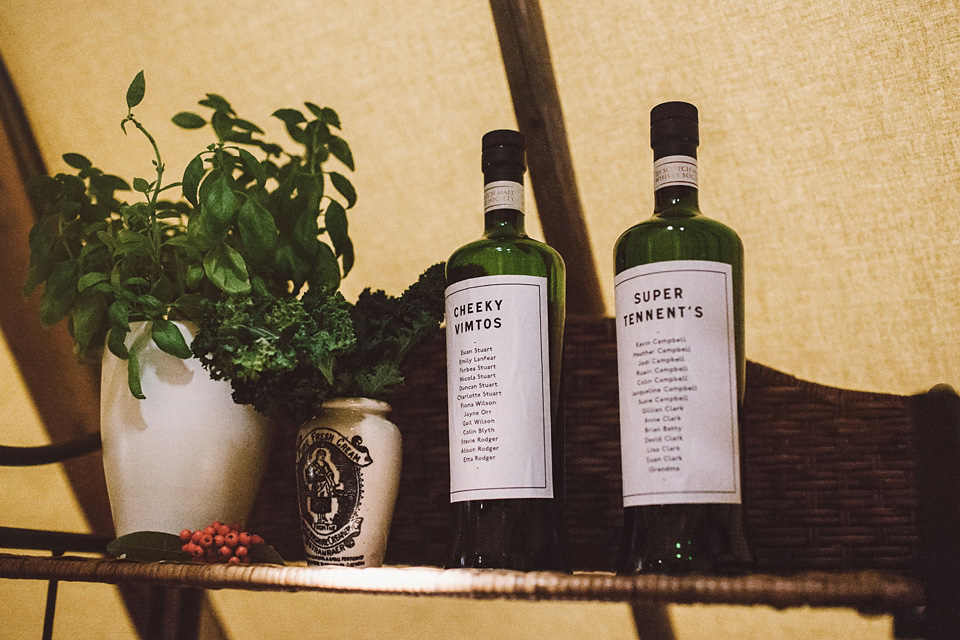 "Ordnance survey maps of Kinross and Margate, sourced from the 1960's and 70's, were used as inspiration for our invites with sections of the maps then used for place-cards."
"The original maps were placed on an easel for guests to sign and doodle on during the wedding day. This doodle boards are now a keepsake. The messages are hilarious – a lovely thing to hang on to."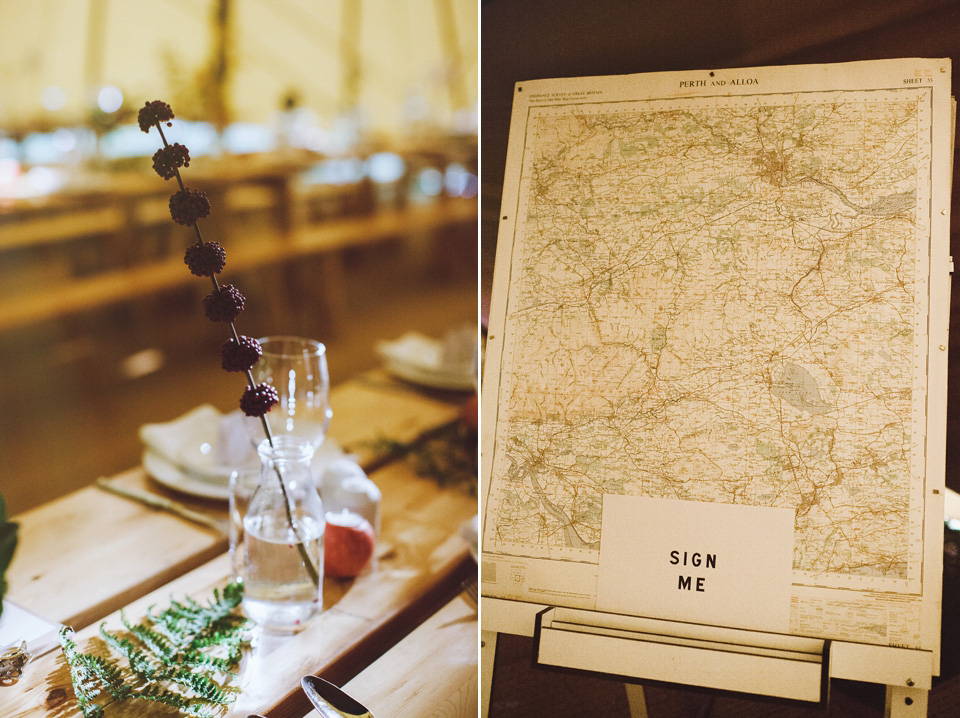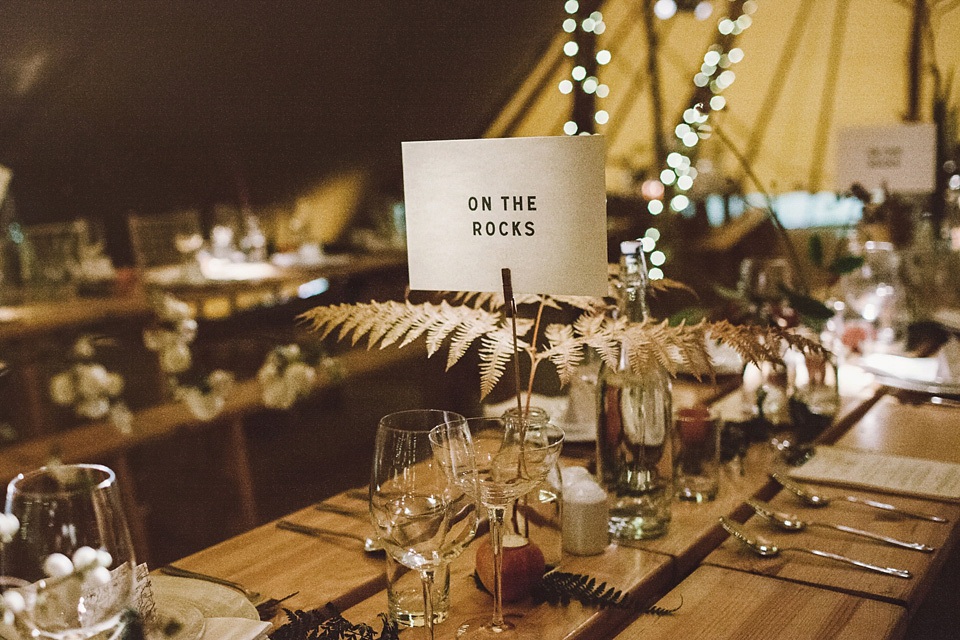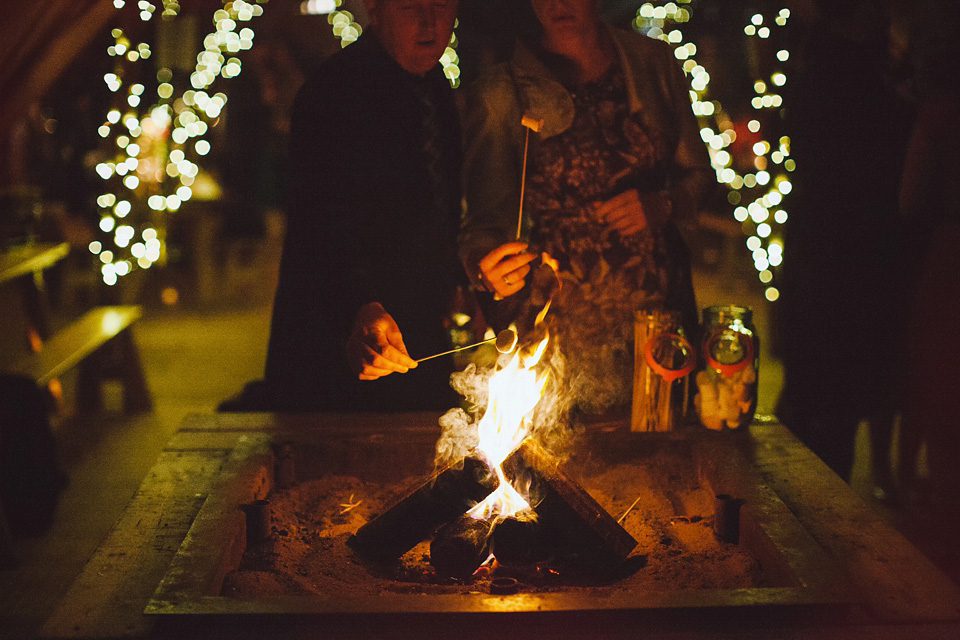 Words of Wedded Wisdom
"Don't be pressured into doing things you don't want to do. Stand firm and do it your way. There are no rules. It's your day. Surround yourself by the best people in your life – especially the calming, practical ones. I'd also suggest that you think long and hard about who'll help with packing up the next day – the clear up seemed to go on forever."
Just utterly beautiful.  A complete wow factor of a wedding if ever there was one.  Expect to see this one in my round-up of my favourite 2015 weddings.  Kudos to all the suppliers who worked on this wedding – you are all super talented and wonderful and I'm really proud to be showcasing your designs and work on my blog today.
I'd like to thank the bride and groom for allowing us to share their precious wedding day, as well as Susanna Young of  Knot & Pop and of course, photographers Christopher Currie for gracing our pages with the most stylish and inspirational photographs.
Readers, is there any aspect of this wedding you are planning on pinching for your own, or has anything in particular inspired you? I'd absolutely love to hear your thoughts.
A wonderful wedding to inspire you this Tuesday – have a good start to your day everyone,
Love Annabel x