Copywriter Lucy married Leadership Coach Jindy on 16th October 2022, at Barton Hall in Nrthamptonshire.
There is such an incredibly special and touching story behind Lucy's dress, which she shares in full below. The couple chose to marry close to where they both grew up in The Midlands and both wanted an Autumn wedding to make the most of the beautiful, natural, seasonal light. Their main focus was on creating a loving, intimate family wedding, which photographer Anna Rose Heaton captured beautifully. Enjoy.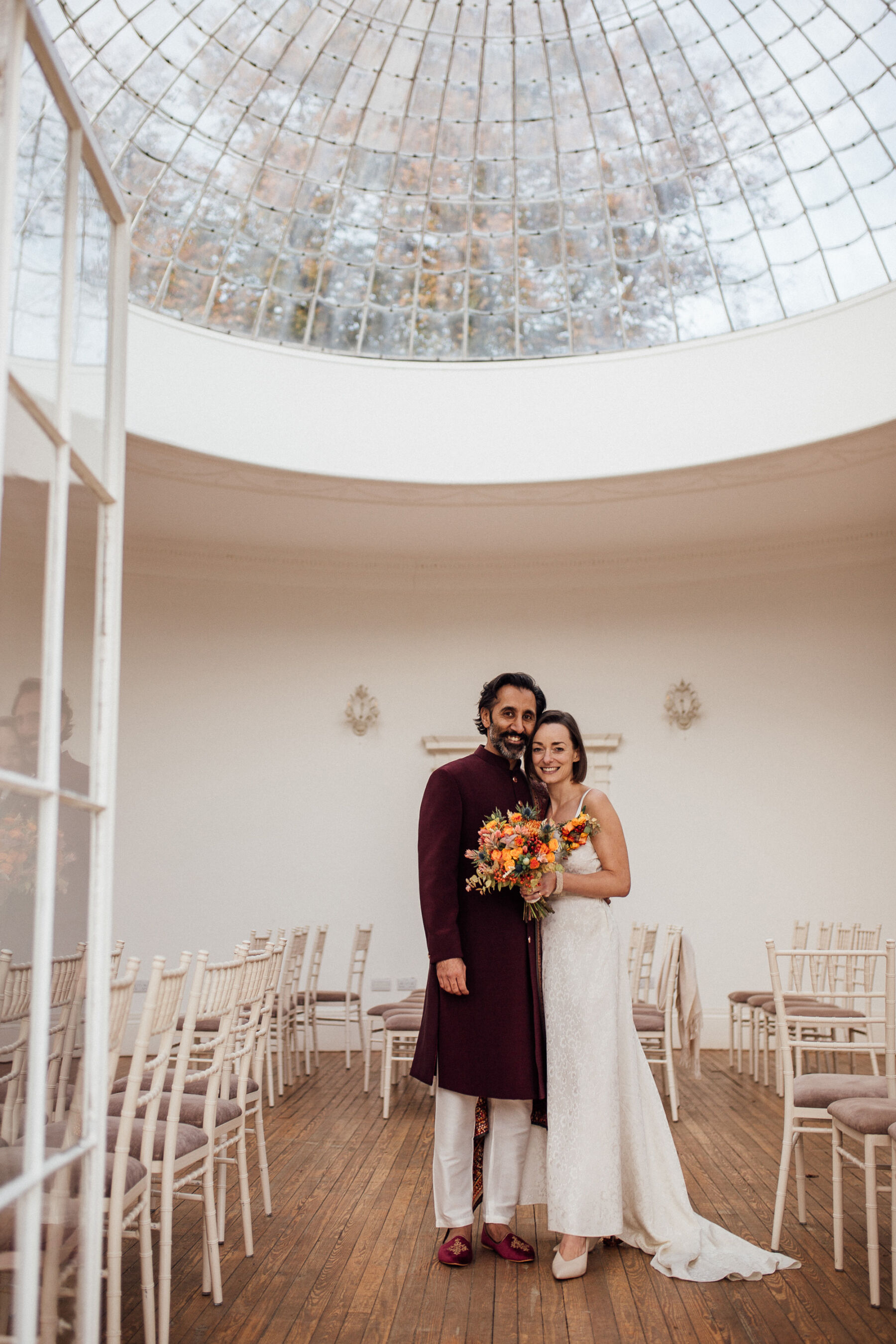 Barton Hall
We got married at Barton Hall. We chose it because we were looking for somewhere close to both our family homes.
We loved the orangery and surrounding grounds and thought it would be perfect for an Autumnal wedding as you can be inside whilst having the view of a garden wedding!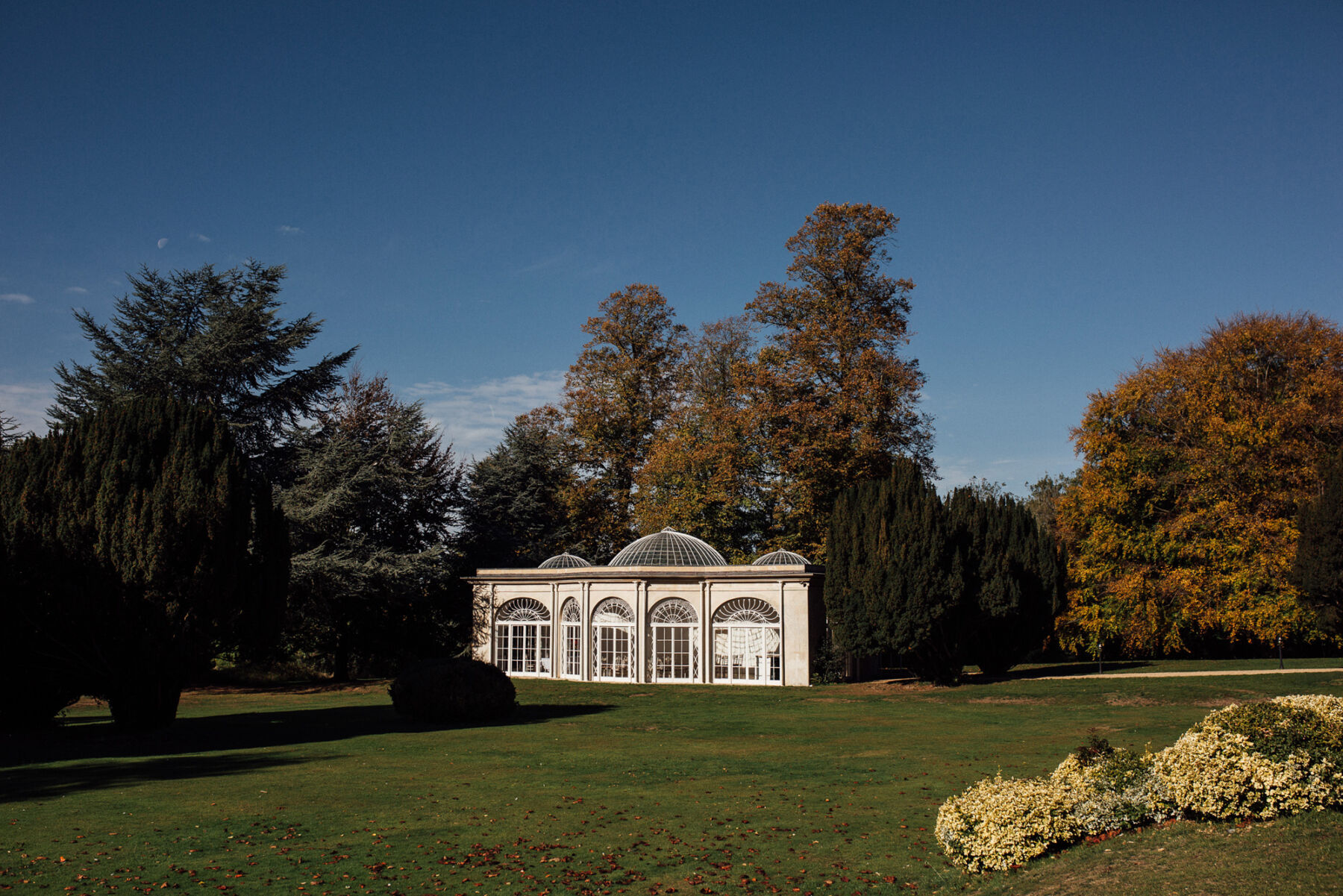 A 1950's Wedding Dress worn by the Bride's Gran
My dress was vintage and by a 1950's label called 'Romney'. It came from a department store called Coates & Sedgwicks in Darlington.
When we started planing our wedding, I wanted to incorporate Asian elements into my outfit, as a nod to Jindy's Indian heritage. But then I received this message from my Gran…
Hi Lucy, I have heard the news! A wedding in October! Do you remember saying that you would wear my wedding dress one day? It is hanging in my wardrobe. The bride's Grandma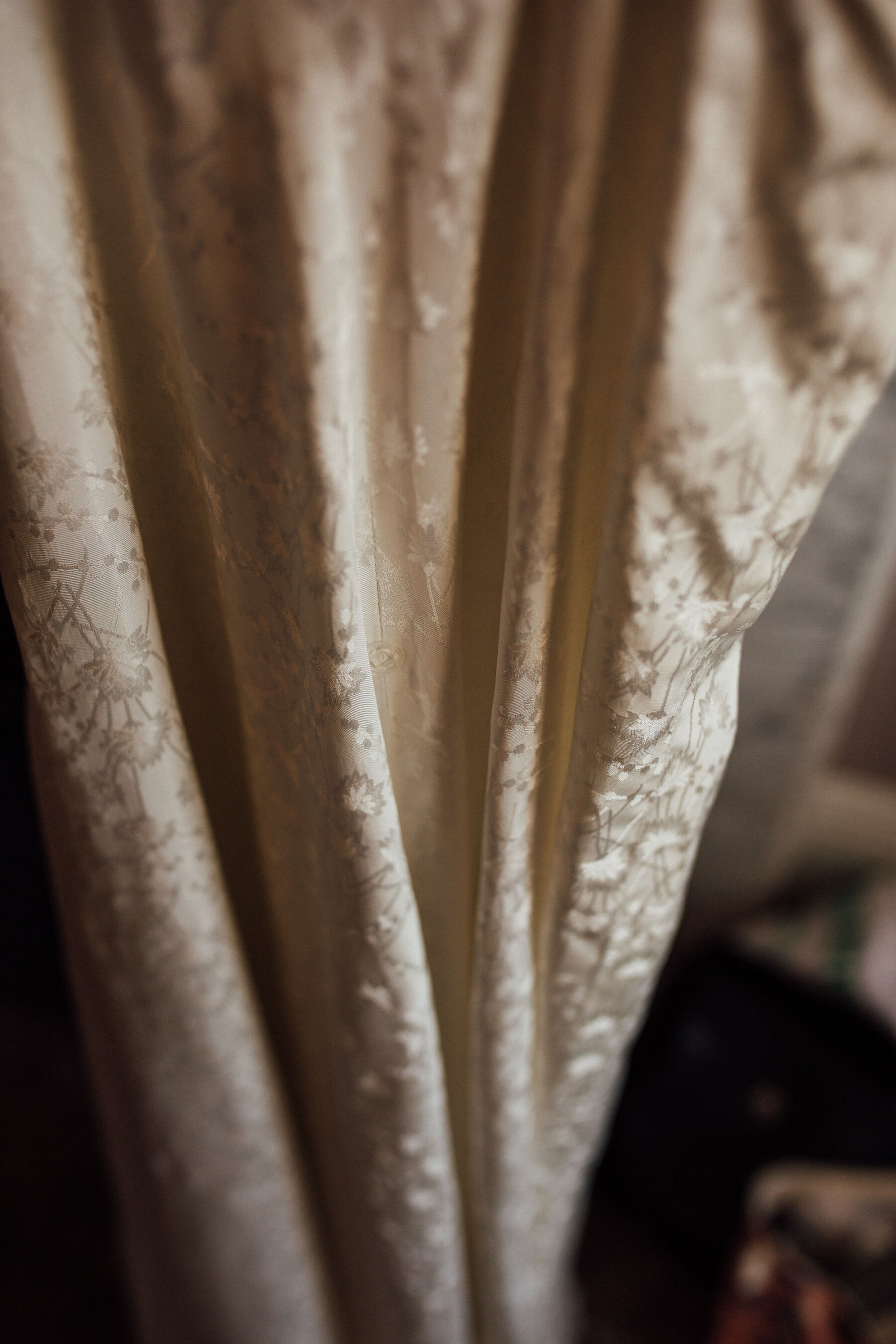 I had no idea what it looked like or whether it would fit. But I'm a sucker for a story and really wanted to make it work.
The next time I was up in Yorkshire, I saw the dress. It was beautiful. My Gran revealed to me that my Grandad, Leslie, had chosen the dress. Apparently, he saw it in the front of a department store and pointed it out to my Gran.
But there was one problem – 70 years of storage had left its mark.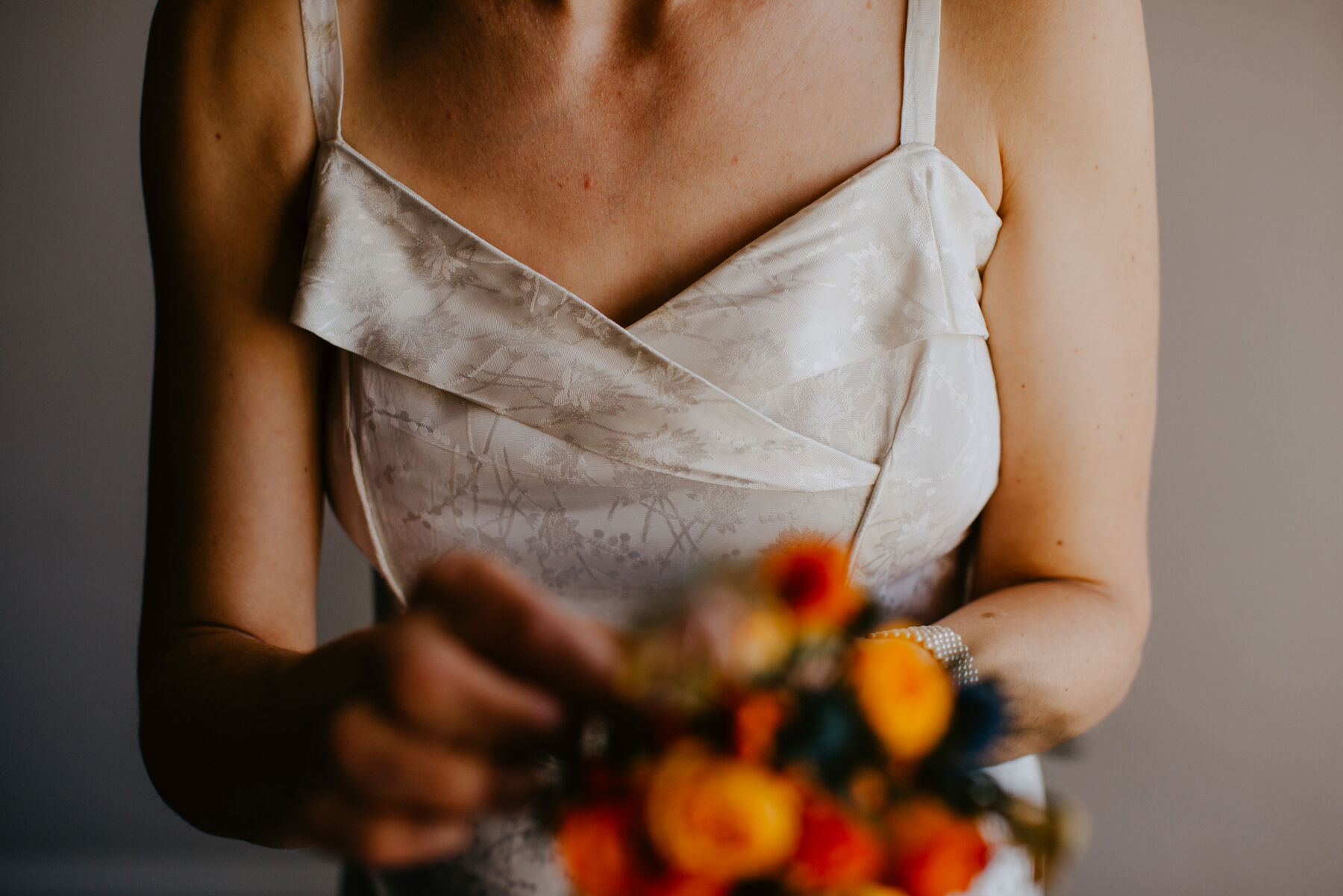 I searched for a fabric specialist to remove the stains, but the dress was so old, nobody would touch it. I had to reset to good old fashioned Google, which suggested – vinegar!
Over the next month, I applied vinegar to it seven times, each time leaving it out in the sun. It was a painful process, but finally all of the satins came out. Success!
Discover our Directory Members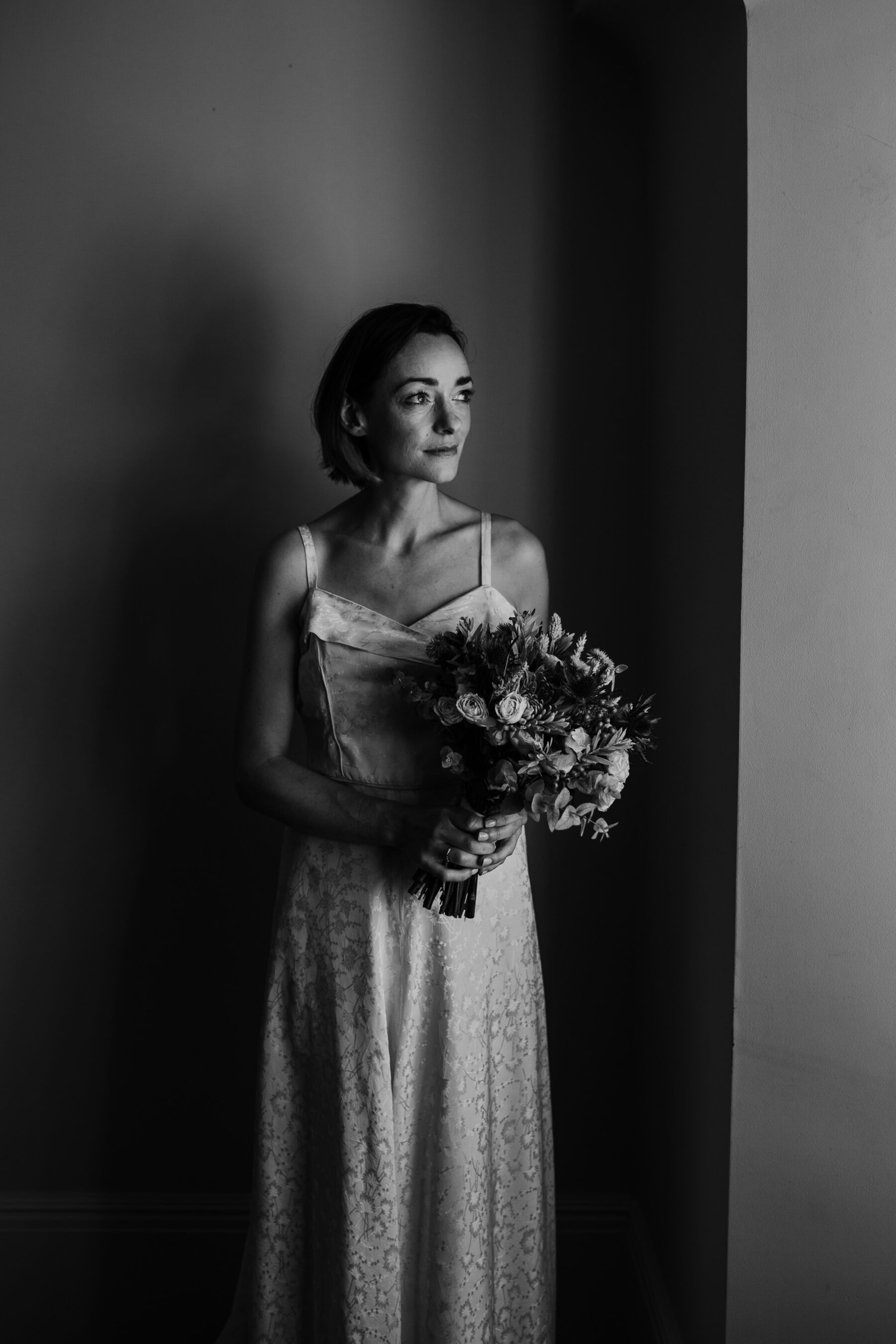 Next stop was the tailor. Despite the language barrier, my tailor did an amazing job in carefully refining the dress. Danke, Ala! Finally the dress was ready for the big day.
Thank you Gran, for letting me carry on your story.
I wonderful who'll wear it next?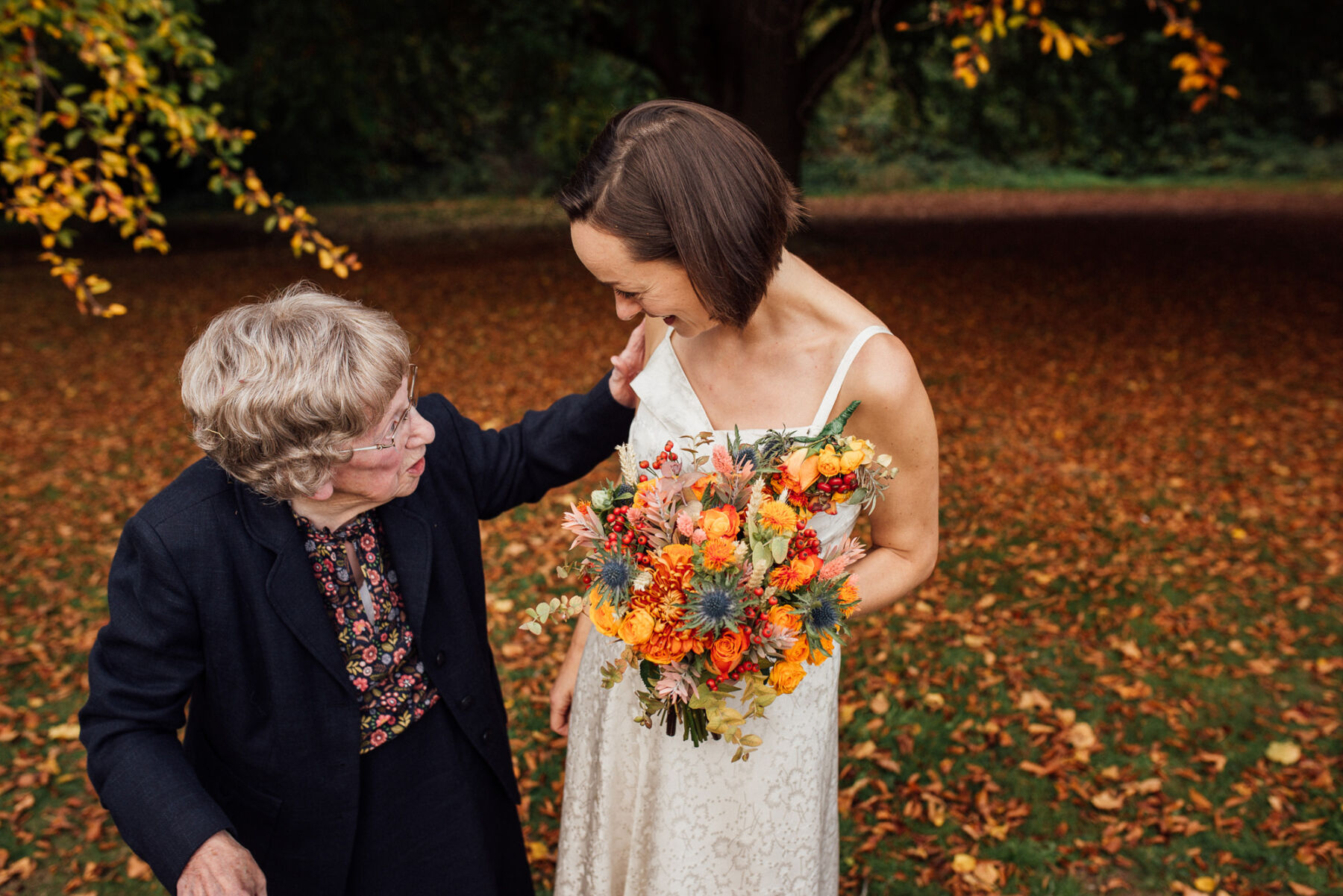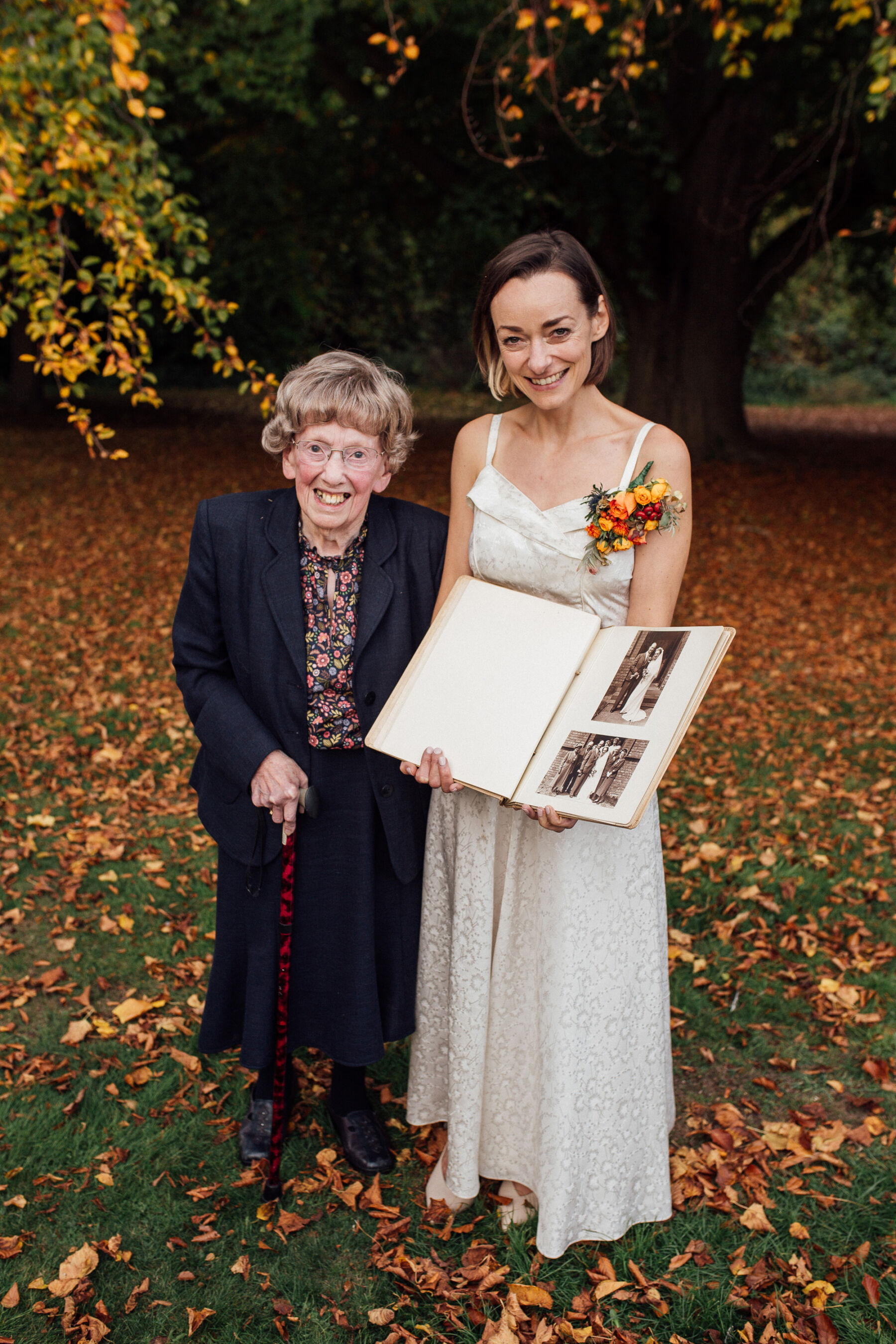 Shoes, Veil & Accessories
I wore a corsage, supplied by our florist, Flowerworks and a pearl bracelet lent to me by my mum.
My shoes were cream pointed court shoes from Marks and Spencer.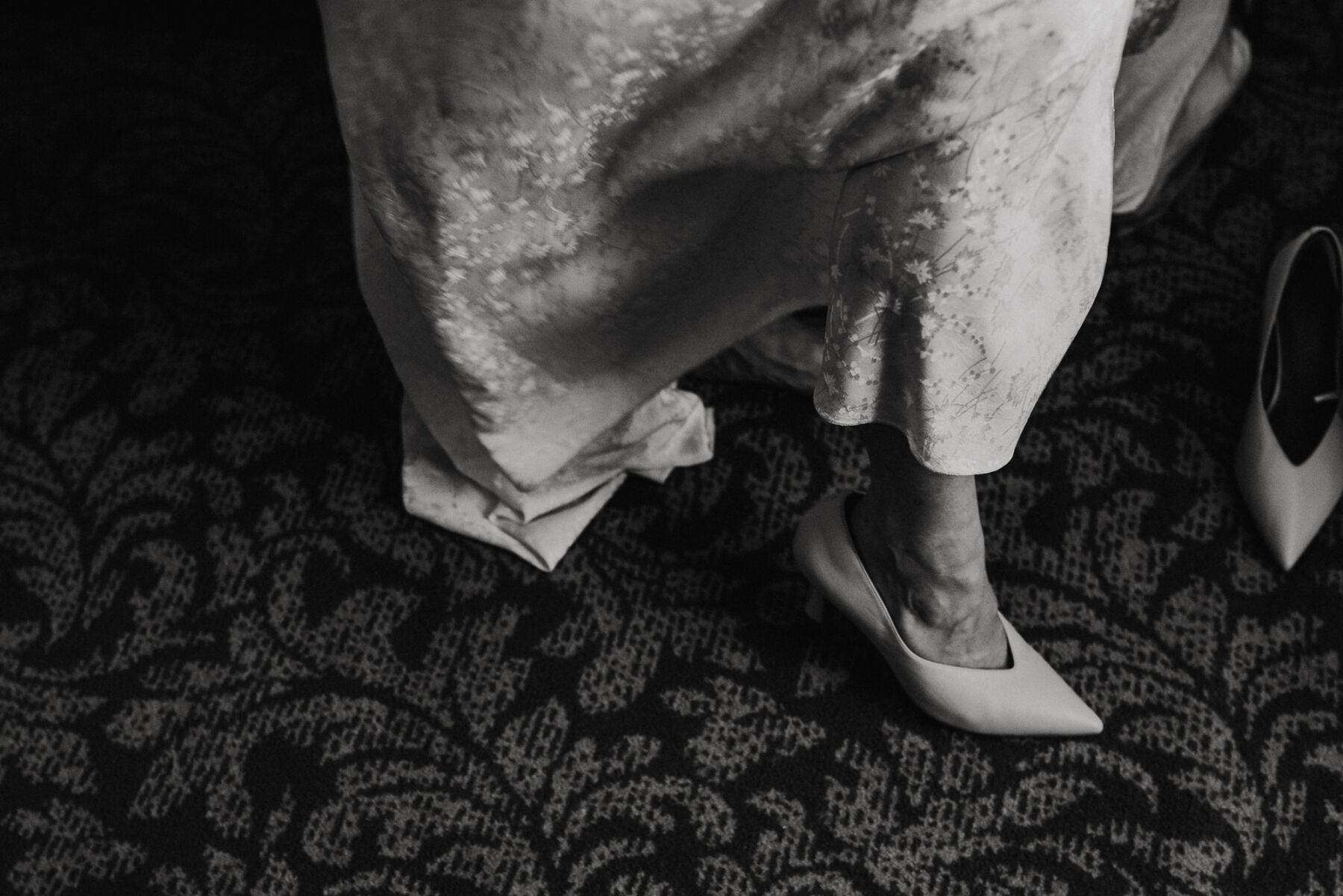 The Groom
Jindy has Punjabi/ Sikh heritage and wanted to wear something that reflected this. He found a made to measure Sherwani suit, Dupatta (shawl) and Kurta pajama trousers online from a seller in India.
They did a digital fitting and sent the outfit over from India. It was quite stressful because it arrived the day before Jindy flew to the UK! We had a contingency plan in place to get one of our friends in Berlin to send it to the UK by express delivery, but luckily we didn't need to do this in the end!
His shoes were chosen by his sister and bought from an online seller.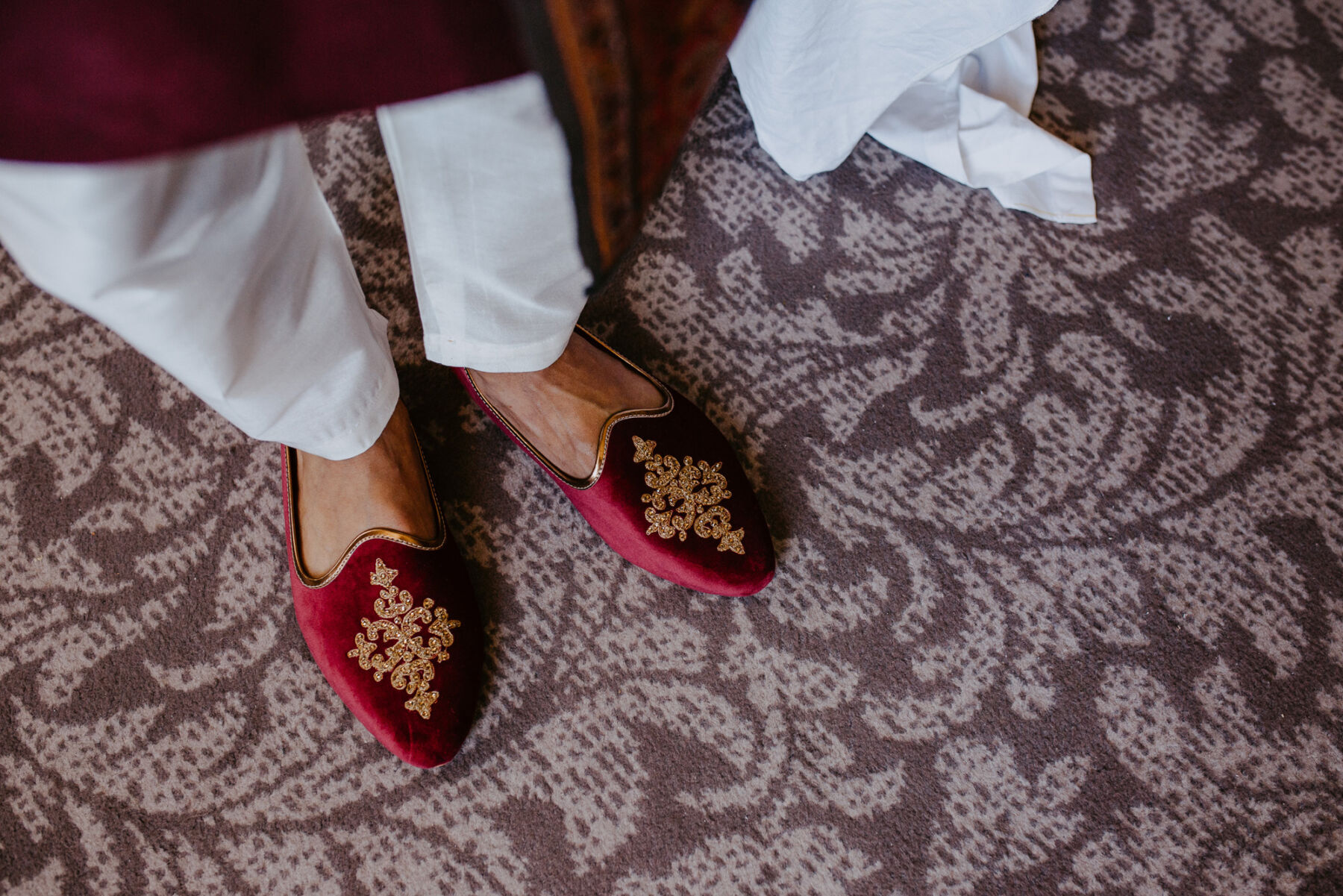 The Ceremony
I didn't like the concept of being given away by my father, so asked my brothers Tom and Matthew and sister Lizzie to accompany me down the aisle. Jindy also had his siblings walking him down the aisle – he also has two brothers, Sat and Bal and a sister, Manjit, so it had a nice symmetry to it!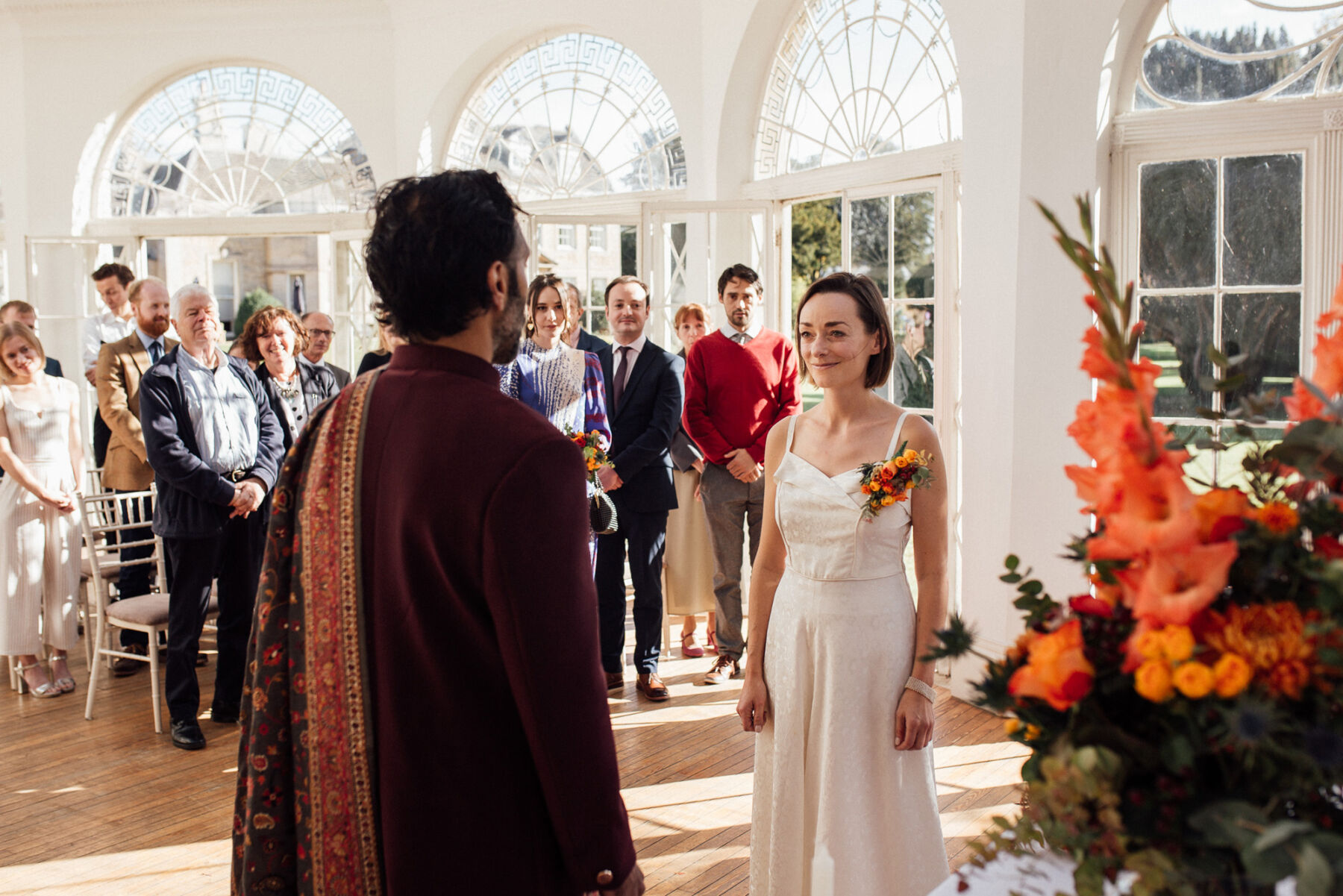 Some years ago, I had inherited a gold ring from my great auntie which was too small for me. As we were preparing for the wedding I had the idea to try to enlarge the ring. I liked the idea of wearing something from the family, as well as the fact that this would be a sustainable option.
We found a local jeweller in our neighbourhood in Berlin called Johanna Gauder. After a really nice chat we felt confident that she would able to enlarge the ring in a way that retained its integrity.
She had to experiment a little with the composition in order to match the colour of the existing ring but she did a great job and it turned out perfectly!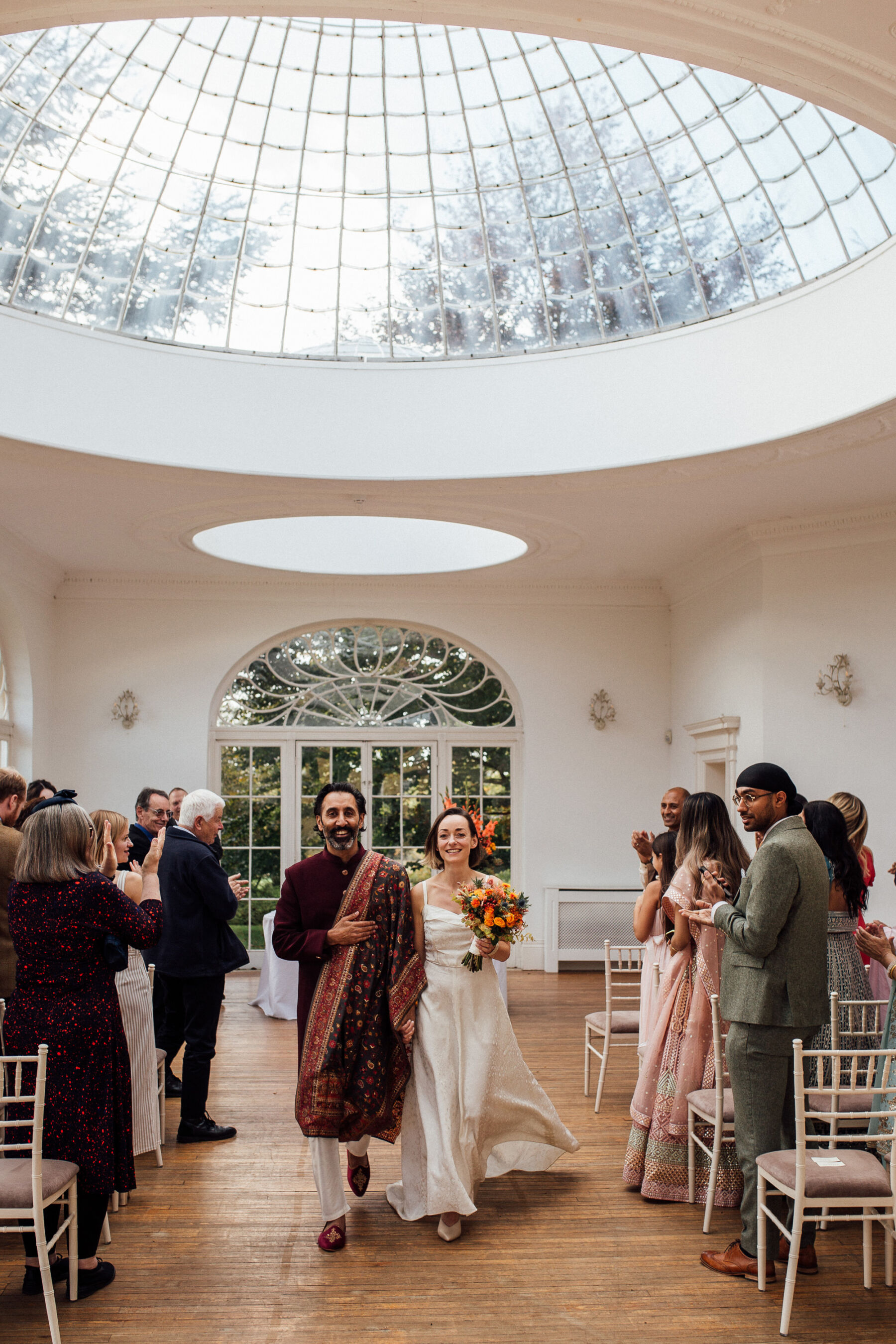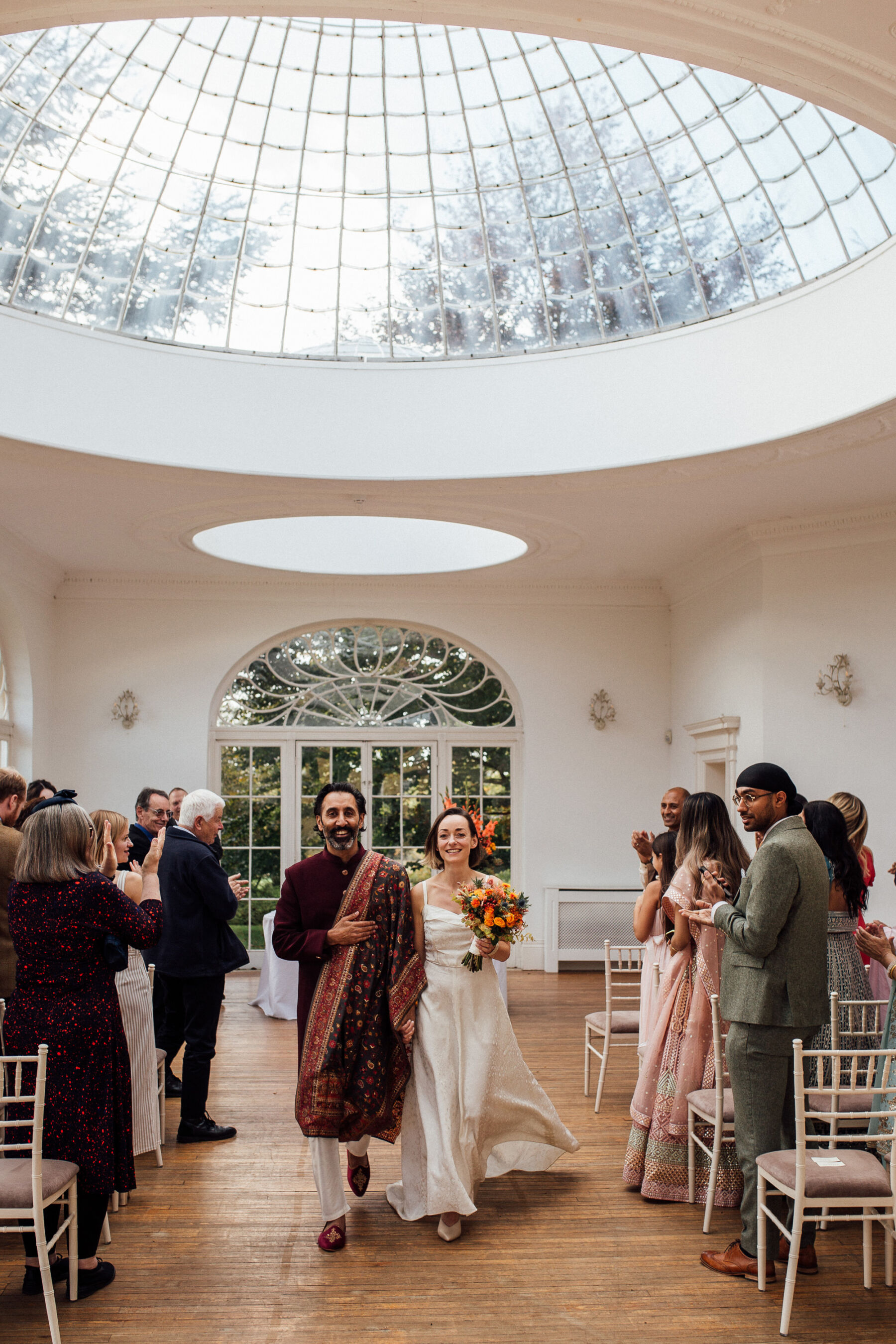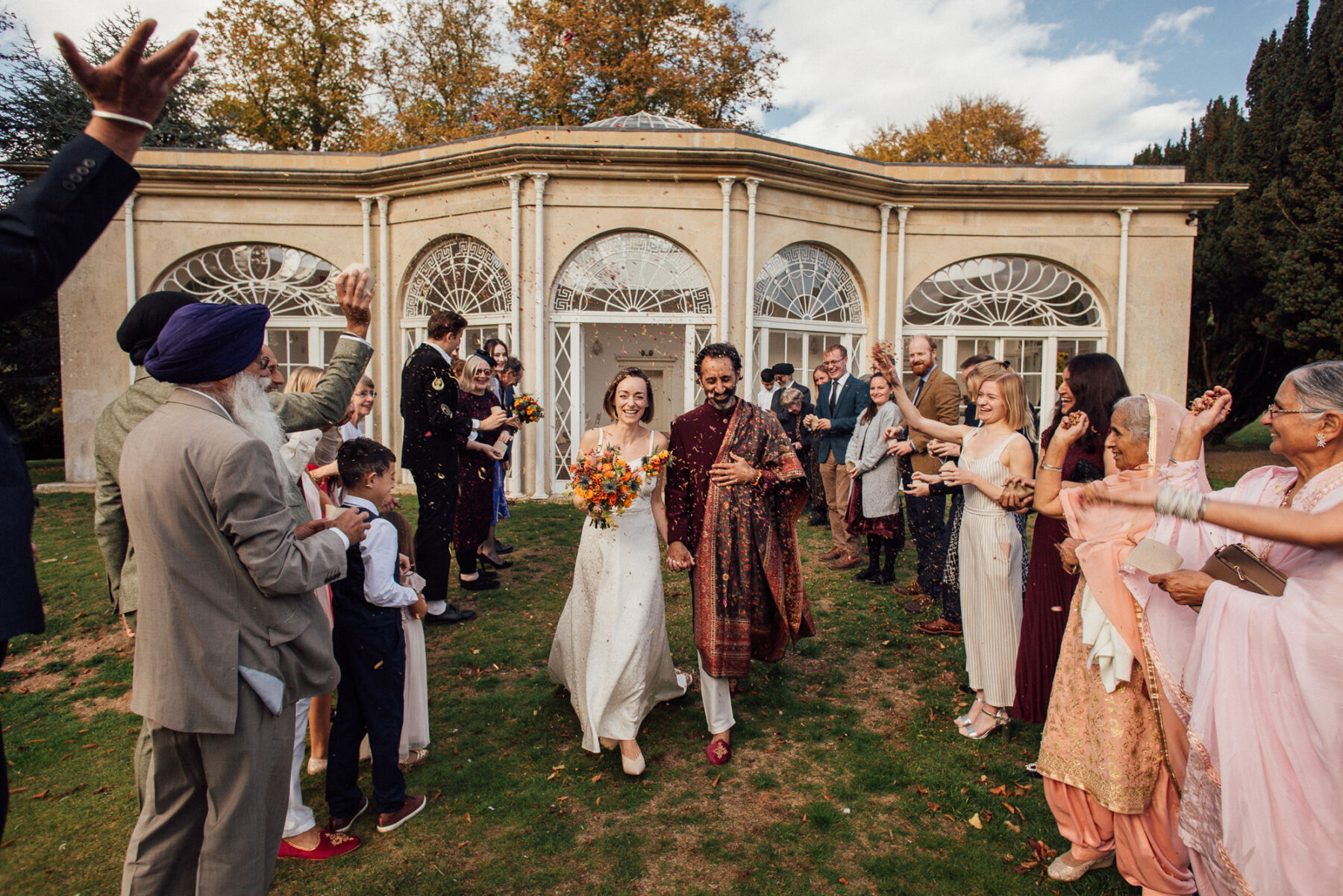 Photography
Jindy had been to a wedding in August 2021 where Anna Rose Heaton had been the photographer and he loved her manner on the day. He loved the way she engaged with guests and the positive energy she brought. He loved the way she got right into the action without getting in the way.
When we looked at her website we fell in love with her natural, documentary style. We had never wanted anything that felt too staged so Anna's style was perfect for us.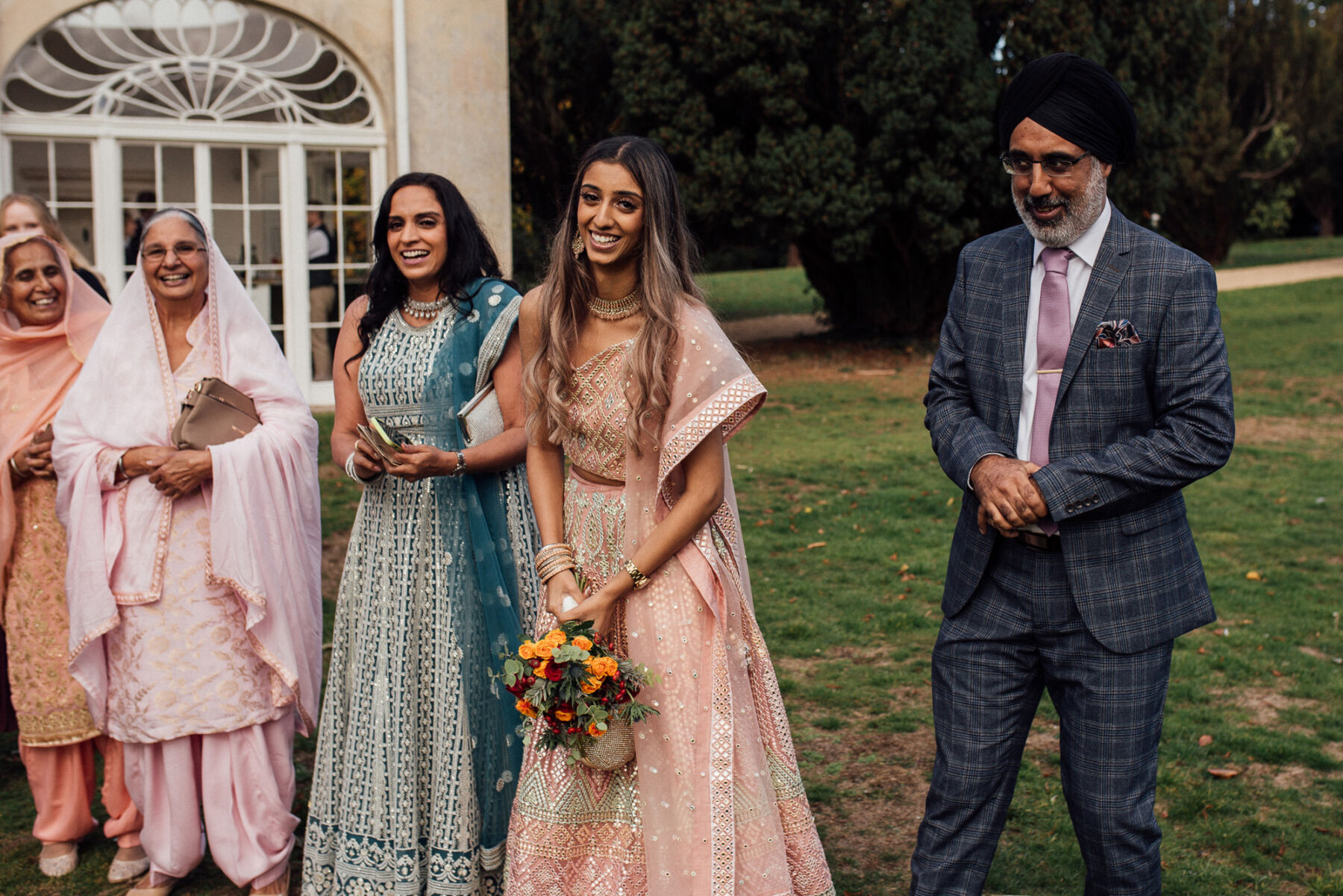 Flowers
We went with Flowerworks in Leicester. They had a beautiful website and a nice founder story. An important factor was their flexibility and can do attitude. We didn't actually sort out flowers until 3 days before the wedding!! When I popped into inquire and told her that my wedding was at the weekend, I almost gave Parveen (the owner) a heart attack.
However, she took it in her stride and made it all happen. I had put together a detailed moodboard of colours and styles that I wanted. We were quite clear about what we wanted – autumnal vibes but with plenty of vibrancy. And we wanted the colours to match Jindy's outfit.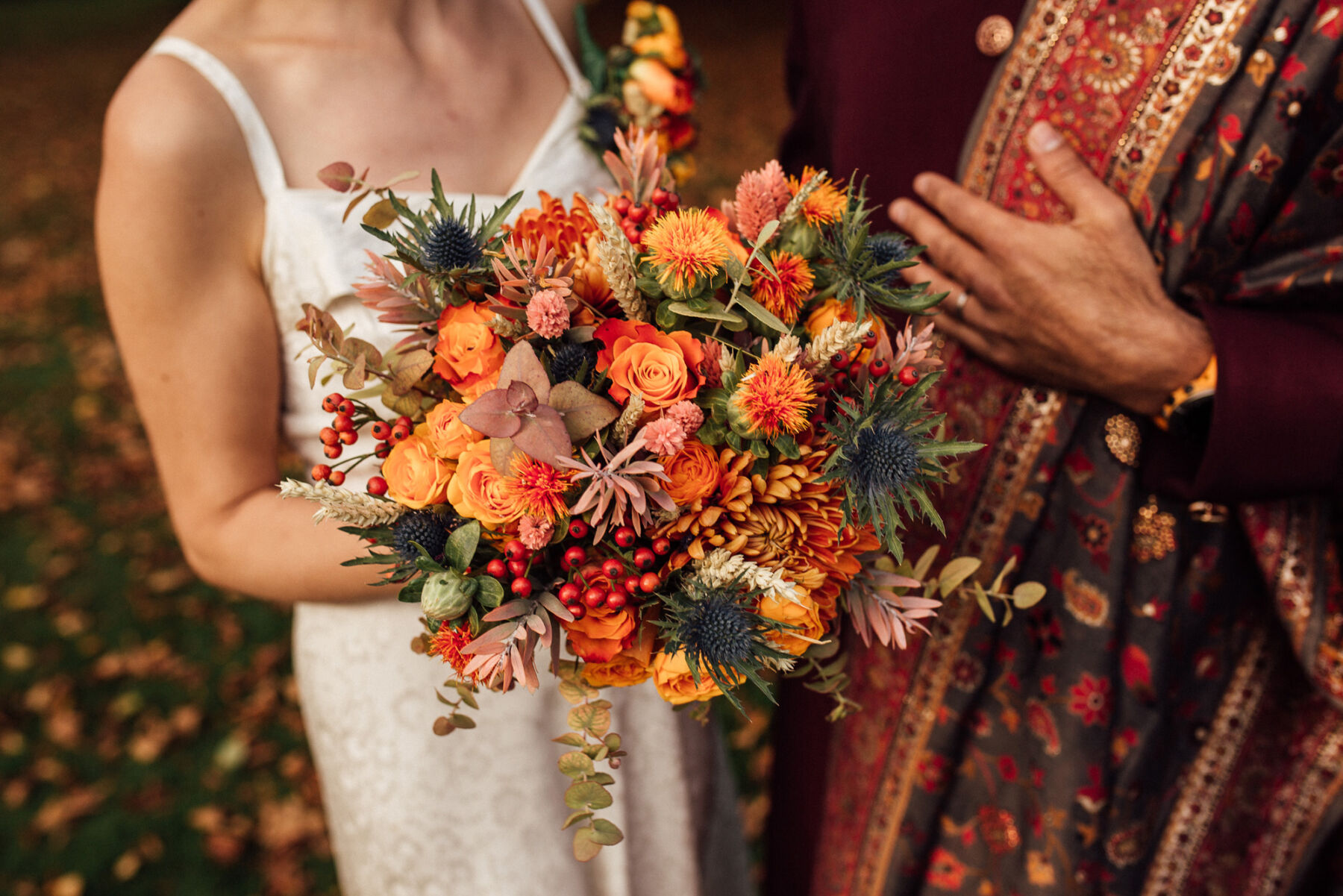 How They Met
We met in Summer 2021. I was living in Berlin, but back in London for a month. I decided to see what was going on with the London dating scene, and met Jindy on my first Bumble date in the UK.
We instantly hit it off, and I spent much of that month back in UK living with Jindy in his flat in Brixton. Within three months, we decided that Jindy would move to Berlin to be with me.
He moved in January 2022. In April 2022, we proposed to each other – Jindy first, whilst skiing in Morzine and me in our favourite nature spot in Berlin. As my Gran was 95 at that point, we decided to try to make the wedding happen as soon as possible, so that she could be there.
Reception, Decor & Detail
We are randomly both from the Midlands (I'm from Leicester and Jindy is from Kettering), so we were looking for a venue that was near to both of our hometowns. We knew that the wedding would take place in autumn and that the weather could be a bit unpredictable so we wanted to find somewhere with a lot of natural light, so it would almost feel that we were outside in nature, even when we were inside.
We hoped that by October, all of the trees surrounding the Orangery would have turned red and orange, and luckily we were right!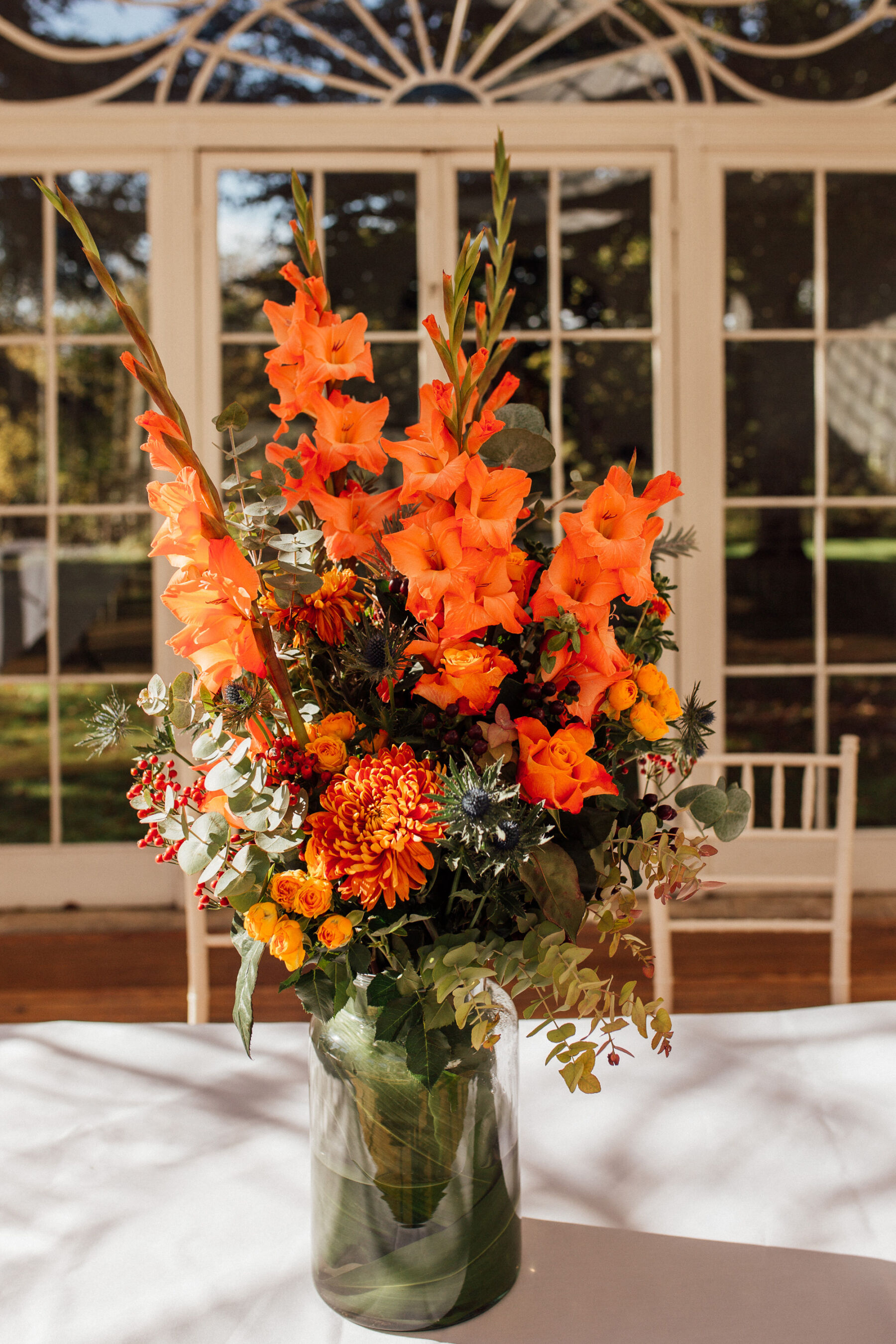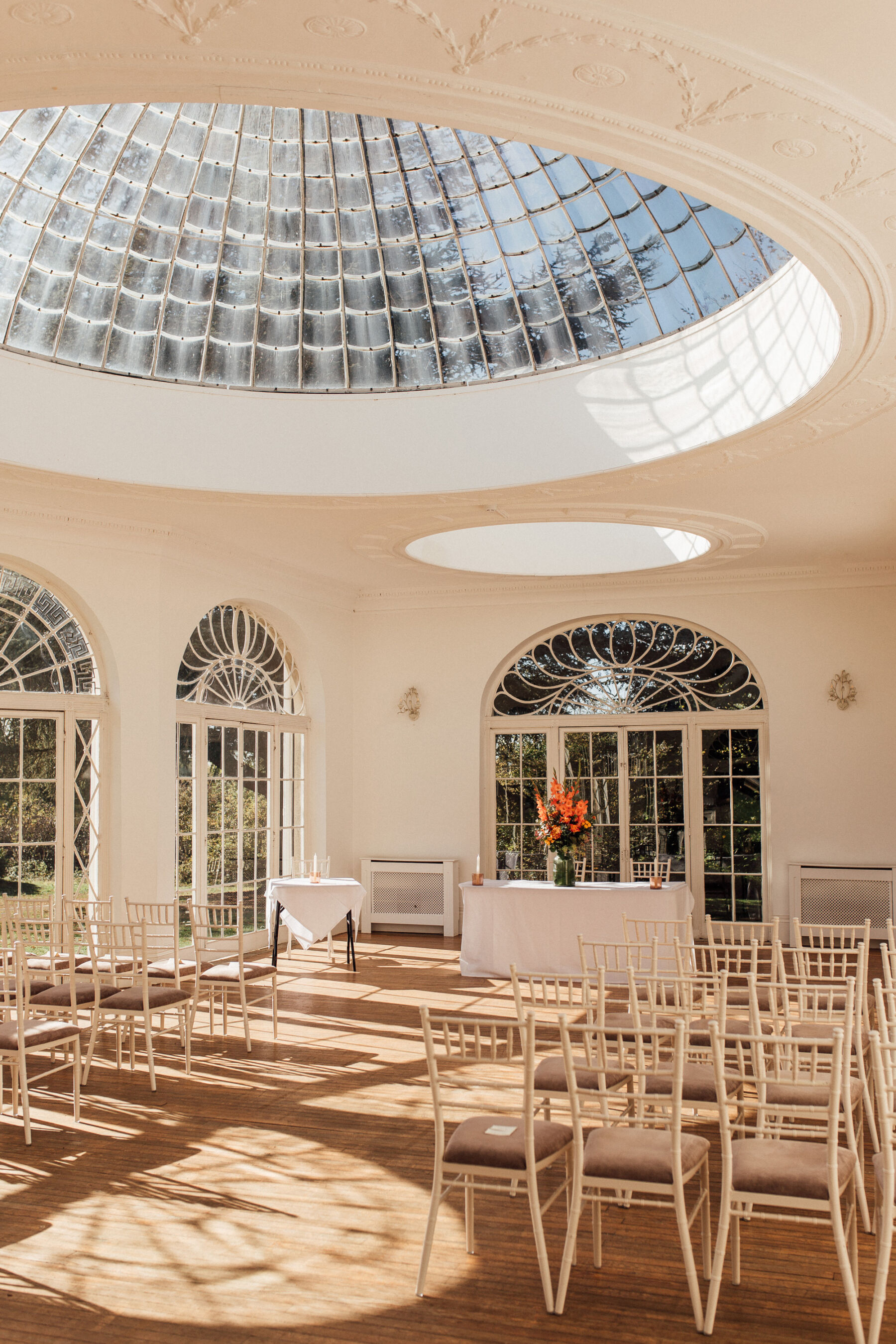 Re type of venue, we didn't want a religious building as neither of us are religious. We just wanted a venue with atmosphere, character, history etc, but without being too grand. Somewhere intimate suitable for the small family wedding that we were planning.
Jindy is vegan so wanted a vegan supplier. Unfortunately we count really find the quality in the midlands so we went with a well-established, well reviewed supplier in London called Ruby's of London, and got help from my sister and her partner Owen to bring it up to kettering.
We went with a chocolate cake decorated with beautiful petals!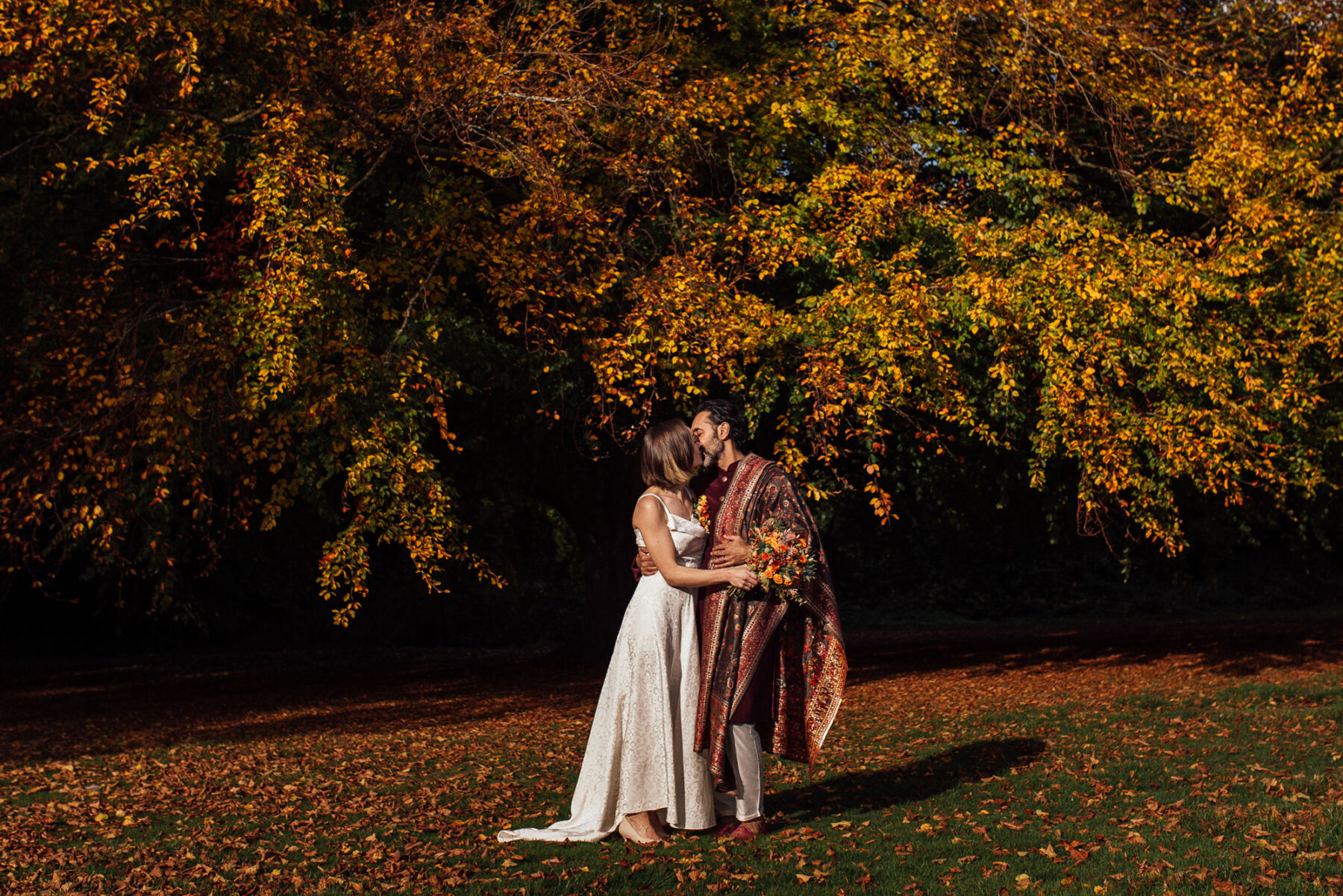 Favourite Moments
We have so many memorable moments! Like going for a run together in the sun on the morning of the wedding and Jindy pointing out places that had been significant in his childhood.
Getting ready with my sister in her hotel room- she had prepared the room really beautifully with alcohol free fizz (I was a few months pregnant on the day).
Entering the orangery – it was so full of light and the energy was electric in there! Looking into each other's eyes and the intensity of the moment.
Reading our vows to each other and meaning every single word!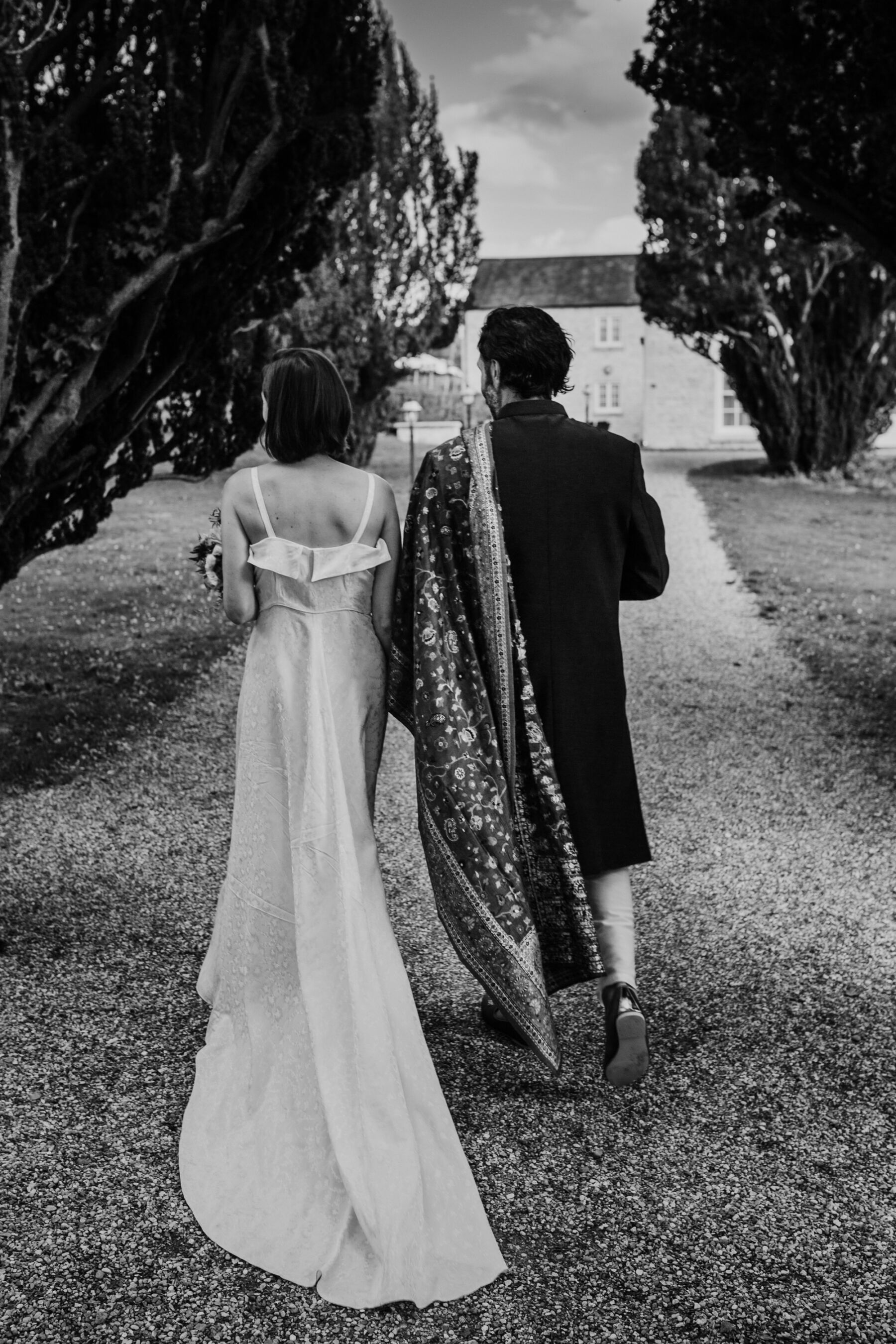 Words of Wedded Wisdom
Don't be too swayed by how you think you should do the wedding. Of course, get inspiration from external sources, but only go with ideas that genuinely excite YOU and your partner.
Don't be afraid to do things differently. Listen to your intuition – if something doesn't feel right, or you, then challenge it.
For us, being aware of gender roles was important to us. We both gave speeches, and I was walked down the aisle by my siblings, rather than being "given away". I also wanted to propose to Jindy as well as being proposed to, so I brought this up with Jindy when we first discussed the idea of getting married. A double proposal takes a bit of planning, and it's best not to tell anyone until both of you have proposed (otherwise it takes the significance away from the second person's proposal!).
Discover our Directory Members
I think that having a small wedding (max 40 guests) also really helped with remembering the day, as we weren't running around trying to talk to hundreds of people.
Lastly, try to get every single little thing sorted before the day so that there isn't anything that you're worrying about on the day. What we loved about our wedding was that we were able to be totally present, as we trusted all of our family and employees at Barton Hall to execute everything for us. Being totally present meant that our memories of the day were really strong. Neither of us had a feeling of the day 'whizzing by' or being a blur.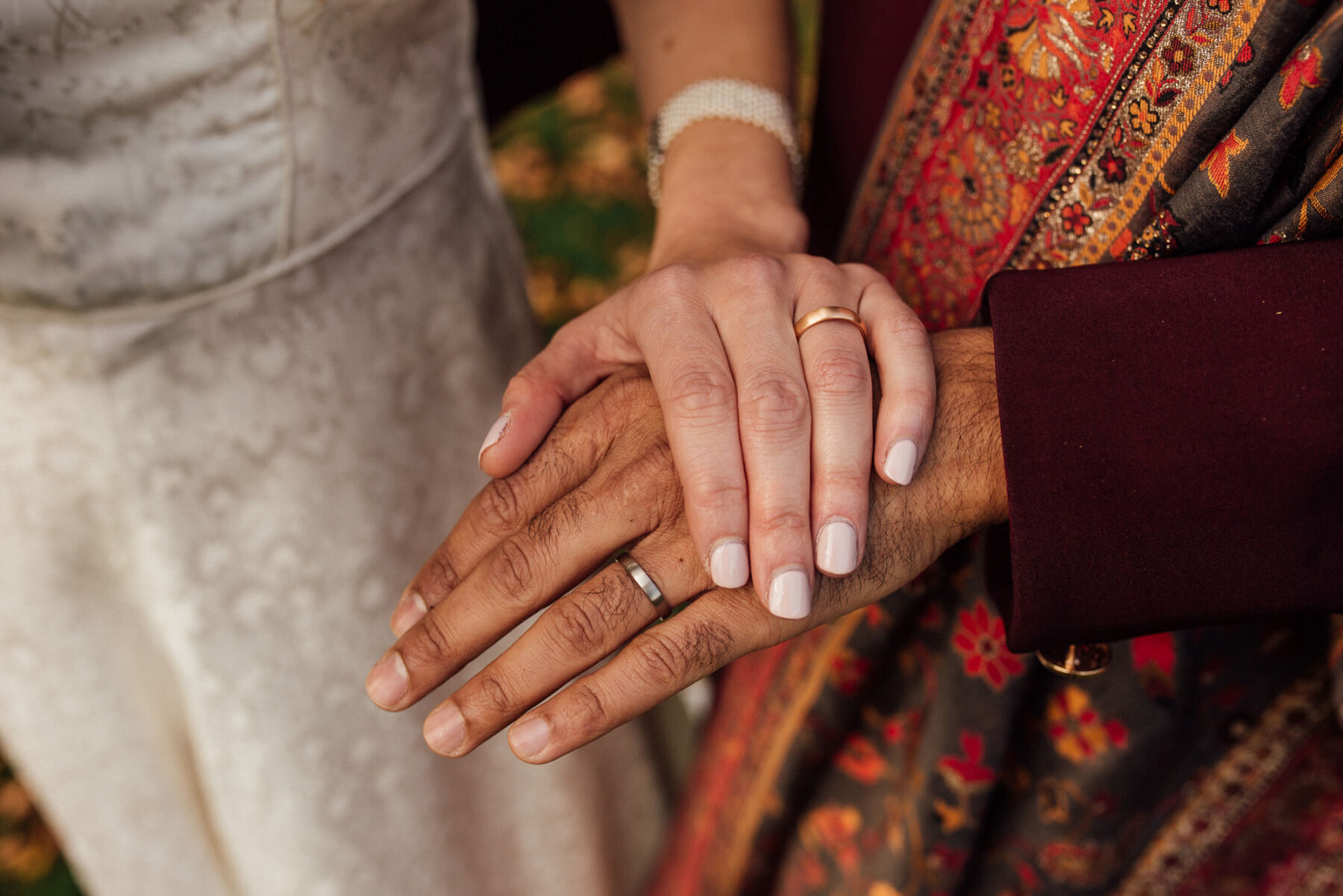 Explore our wedding directory