Happy Wednesday all! Here we are at the middle of the week already and practically – the middle of January. How did that happen!? Today's wedding is a lovely one, with a  beautiful barn setting and a mini festival feel and also features the most beautiful bespoke dress, made for the bride by her maid of honour- seriously special.  Enjoy.
Fiona and Rich married at Cogges Manor Farm, Oxfordshire on Saturday 15th August 2015 surrounded by beautiful English flowers and friends and family- many of whom had travelled from the other side of the world to be with them. These photographs were taken by our long-term sponsor Tom Ravenshear – you can find out more about Tom by visiting his page on our beautiful wedding directory, Little Book For Brides.
"We chose the venue as it was so naturally stunning.  We really could have done half of what we did with lighting and decoration and it still would have looked beautiful."
Photography by Tom Ravenshear
Find Tom Ravenshear in Little Book For Brides
"There were no rules and the venue was very flexible so it was fun to create everything for the day and to show my family who are from New Zealand the quintessential English Countryside."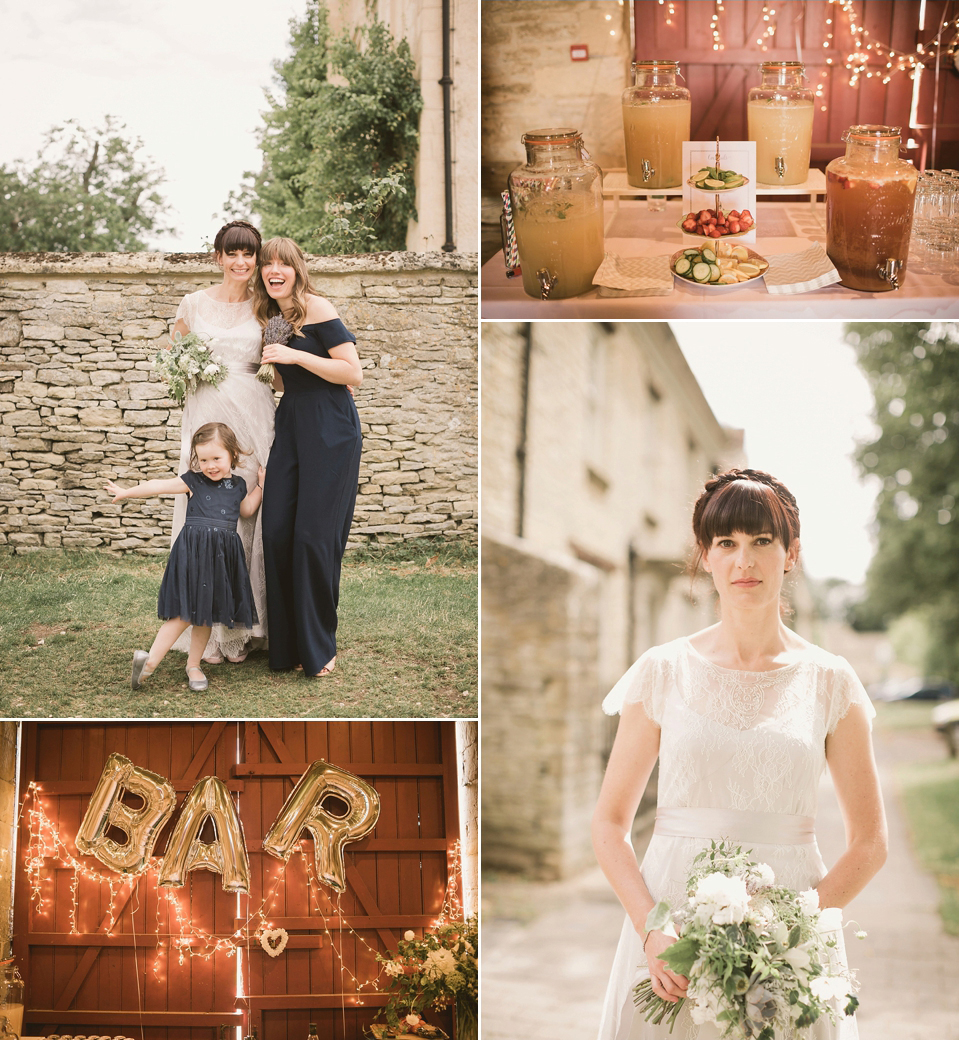 Fiona is very good friends with a talented dress designer, Sienna Von Hildemar, who she had already asked to be her maid of honour.  When Sienna offered to make Fiona's wedding dress there really was no other response than 'yes please!'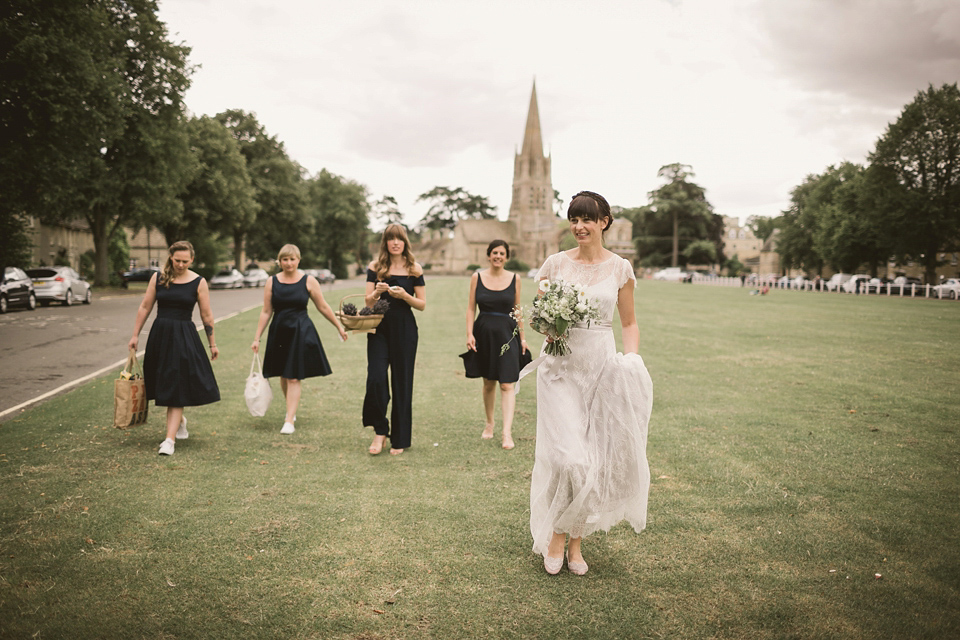 The dress was in two parts, and I love the colour of the soft dove grey underdress- it's traditional but different, and a very flattering shade.  This beautiful frock has both the romanticism of the regency period, but the practicality necessary for a barn wedding- perfect!
Tom Ravenshear was the photographic maestro of the day, taking in every moment with his lens and capturing the most wonderful shots.  Aside from the gorgeous portrait shots of our couple, my absolute favourite is one of the little flower girl peeping through a crack in the barn door- it has such an air of expectation about it.
"Tom was great! He was everywhere and all our friends commented on how he was capturing such fine detail but also joining in; he was as much a guest as the photographer and we loved that. If he heard a giggle he would be there to capture it. We were so pleased and we chose Tom as we wanted photos that captured the small detail without being formulaic or cheesy.  He really listened to what we wanted but I think more than anything he just has a fantastic eye for detail."
Hair and makeup were the work of Zara and Jo of Portraits Bridal.  I just love the pretty plaited style Fiona chose for her hair.
"I found Zara at A Most Curious Wedding Fair and liked her immediately.  Both she and Jo were both very professional but also personal.  I feel like they were our friends and I was so tempted to invite them along to the wedding as it was a bit hard to say goodbye after the fun of getting ready.  I would definitely recommend them if you're looking for a team who really understand what you're looking for and with a relaxed and fun manner."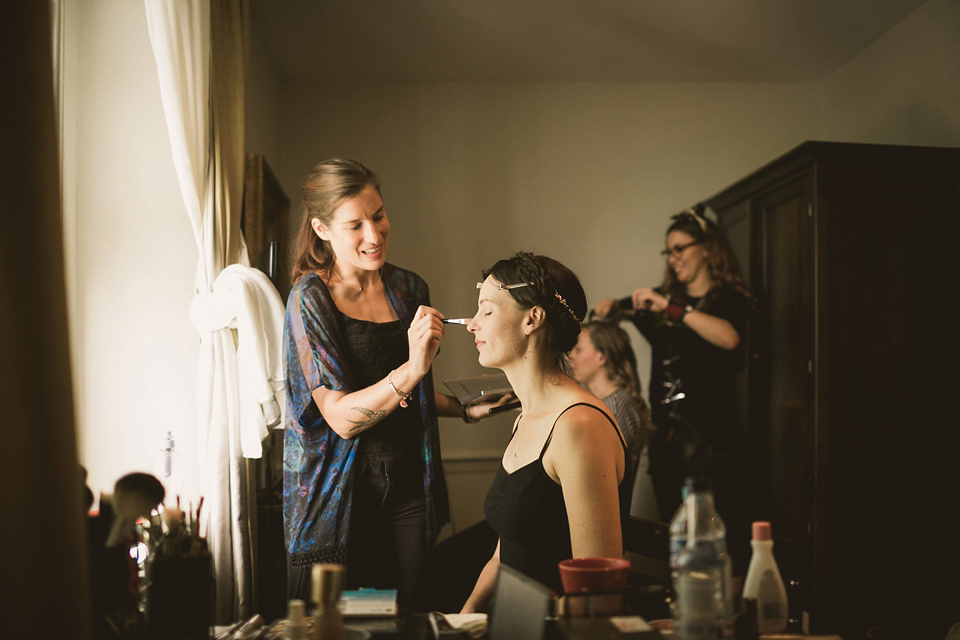 "My dress maker Sienna had made a few other friends dresses which were stunning and so I was delighted when she offered to make mine.  I had an idea of what I wanted initially but we actually went for something completely different in the end and it was a perfect match to the venue- a grey silk slip with Chantilly lace over dress.
 I chose this dress because I thought it worked so well with the country setting and I wanted to be relaxed and not too restricted.  I am not very girly usually but this made me feel really pretty without being too traditional."
The couple chose florist Hannah from Bride Bloom to provide all the floral arrangements for day, including a wonderful hoop of flowers and foliage to hang above them for the ceremony and meal.
"Hannah is a good friend of mine, she used to work in fashion and she left London and started her own bridal floral business (I am so fortunate to have so many creative friends).  We had a few meetings over wine and she totally got what we wanted- simple green and white that was sympathetic to the country setting.  All the flowers were British and she went above and beyond with the table settings.  We are so grateful to her and Jeremy her husband who did the hanging of the ceremony hoop and loads of lifting!"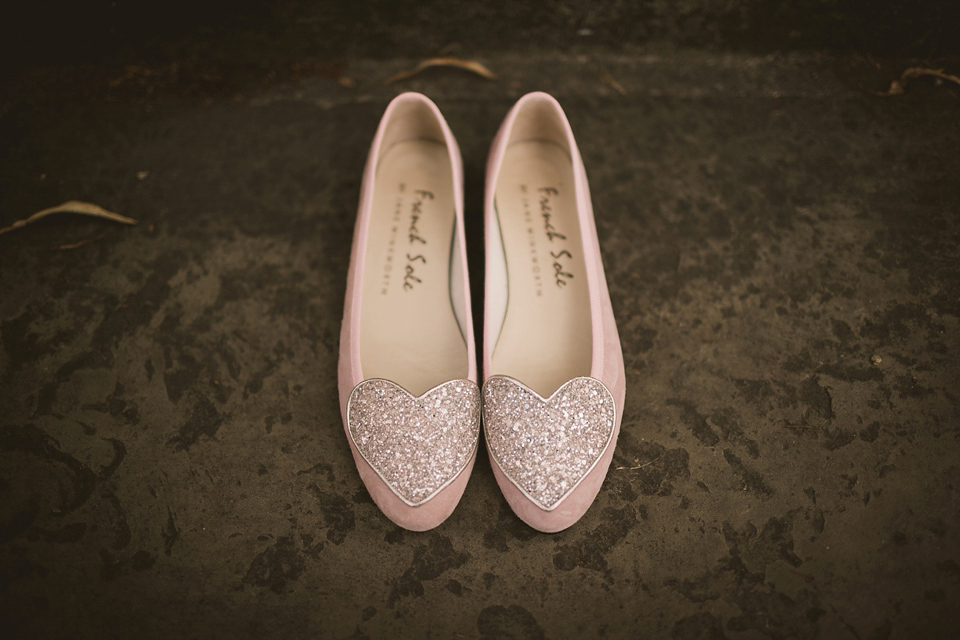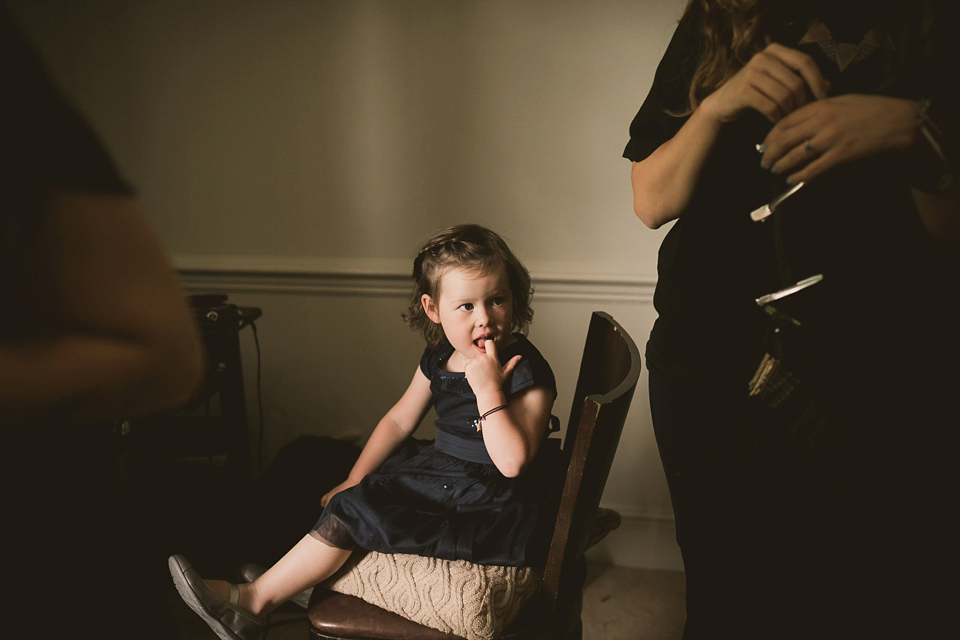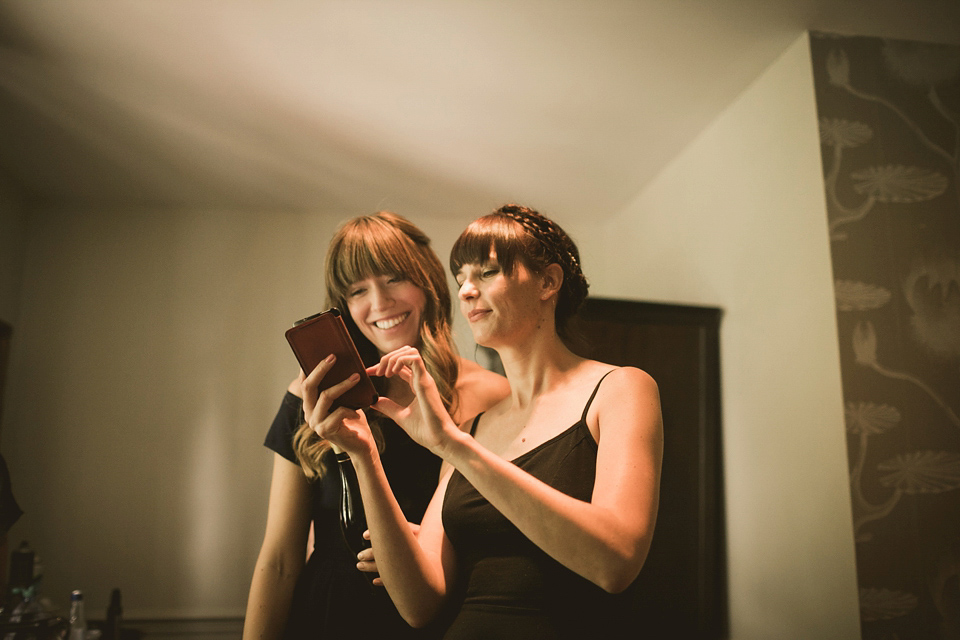 Fiona found her hairpiece on Etsy and Sienna created the beading on the dress to match.  As her dress was so decorative, she kept her jewellery simple with teardrop studs and a vintage chain bracelet.  On her feet she sported the cutest French Sole flats in dusky pink with glitter hearts which she had to hunt high and low for as they were out of stock.  Luckily the lovely team at FS found some for her, so she could go to the ball after all…
The bridesmaids looked classically beautiful in mismatched navy dresses with nude coloured shoes.
"I simply asked the girls to wear navy and they chose their own dresses as I wanted them to feel confident.  There is nothing worse than wearing something that is not your own personality and my friends all have their own distinct style so it just seemed the right thing!  It was very lucky they all matched really well and bought the same tone of Navy.
Our flower girl Mia also wore navy and I bought a little bracelet with a star pendant and engraved her name and date of the wedding on it. She was so excited about the day and did a wonderful job."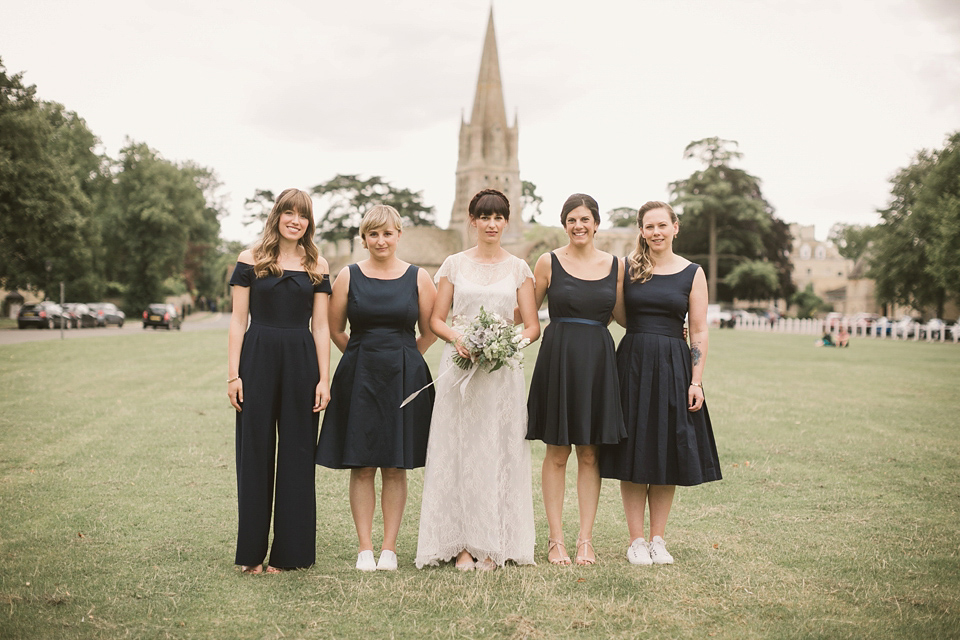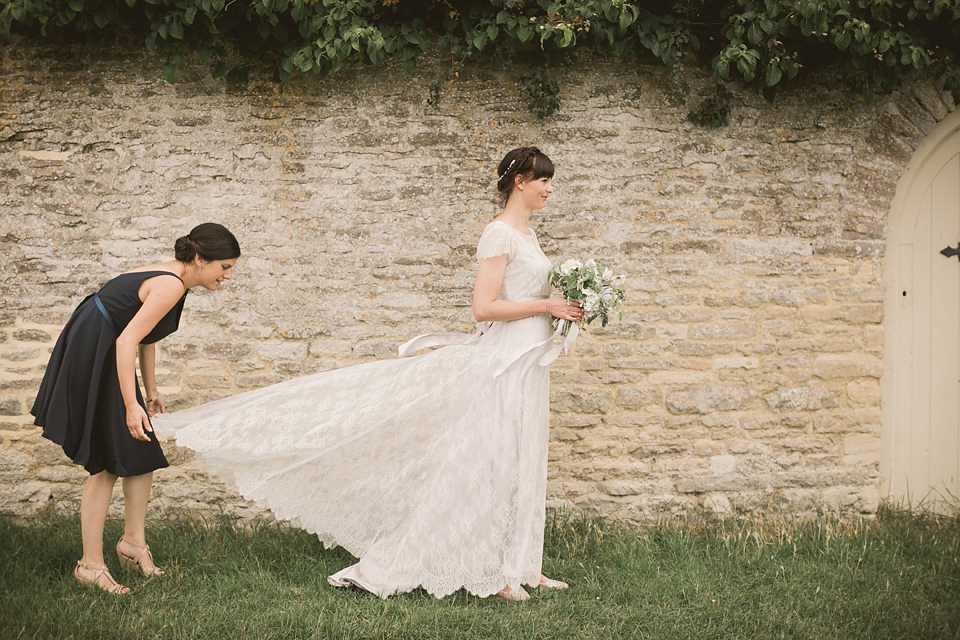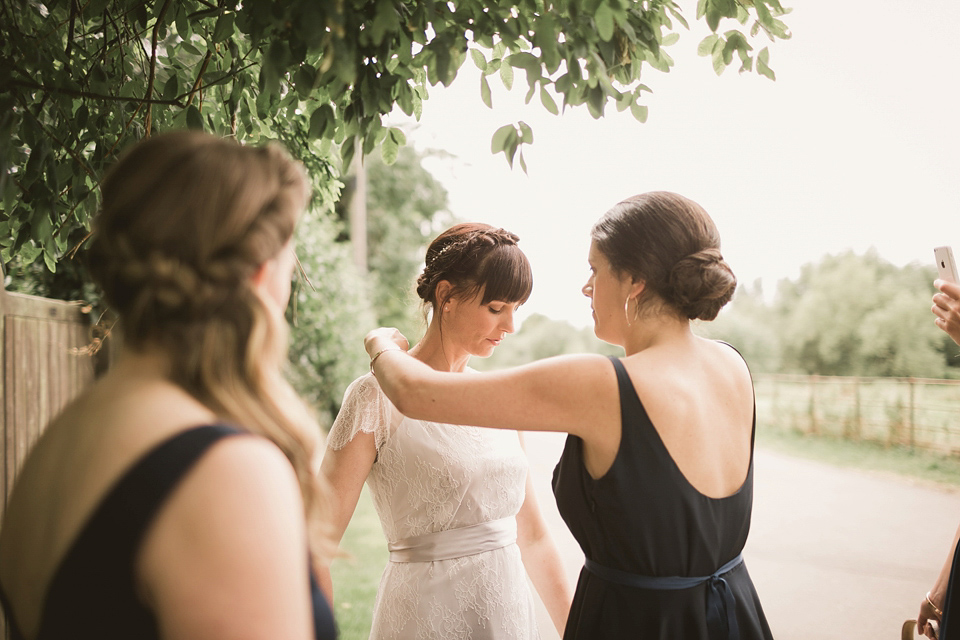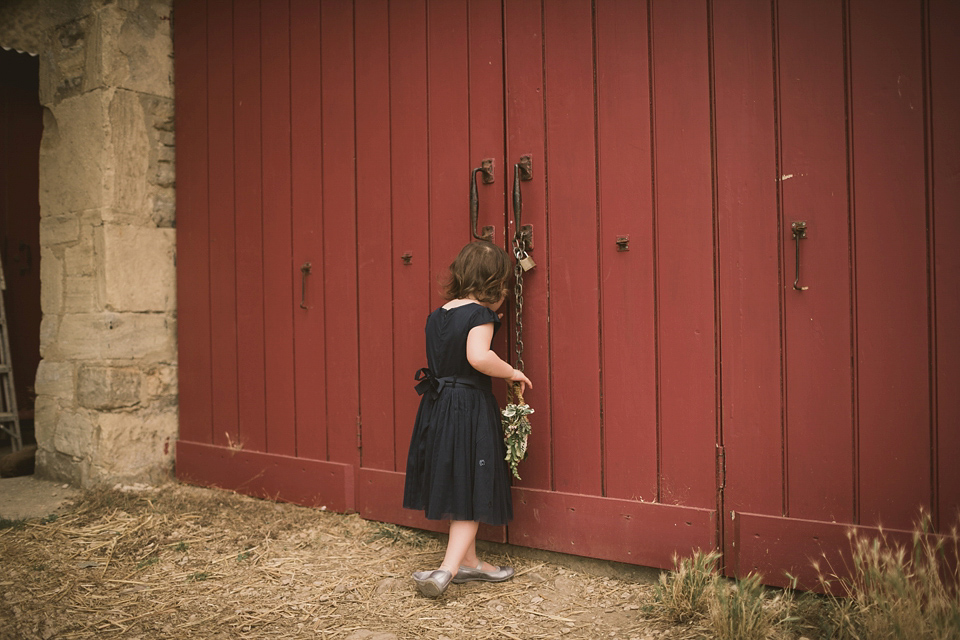 Rich looked extremely dapper in a three piece suit purchased from Reiss, worn with shoes from Nigel Hall.  He finished the look with a watch from Daniel Wellington which Fiona gave him as a gift on the morning of the wedding, engraved with a song lyric from what would be their first dance song.
"We met online in 2008 through mysinglefriend.com, before internet dating became more popular.  I only had a few days left on my trial when Rich got in touch so I still call it fate as I was going to let the subscription go.  We moved in together a year later and got engaged in 2012 in Sydney, on the way to New Zealand, one day before he met my entire family!"
Fiona walked down the aisle with her Dad to Neil Frahm's 'You', chosen by Rich.
"My Father travelled from New Zealand for the wedding and it was the first time he has been on an international trip further than Australia.  I have lived in the UK for ten years so it was just so amazing having my family on my side of the world together for the first time."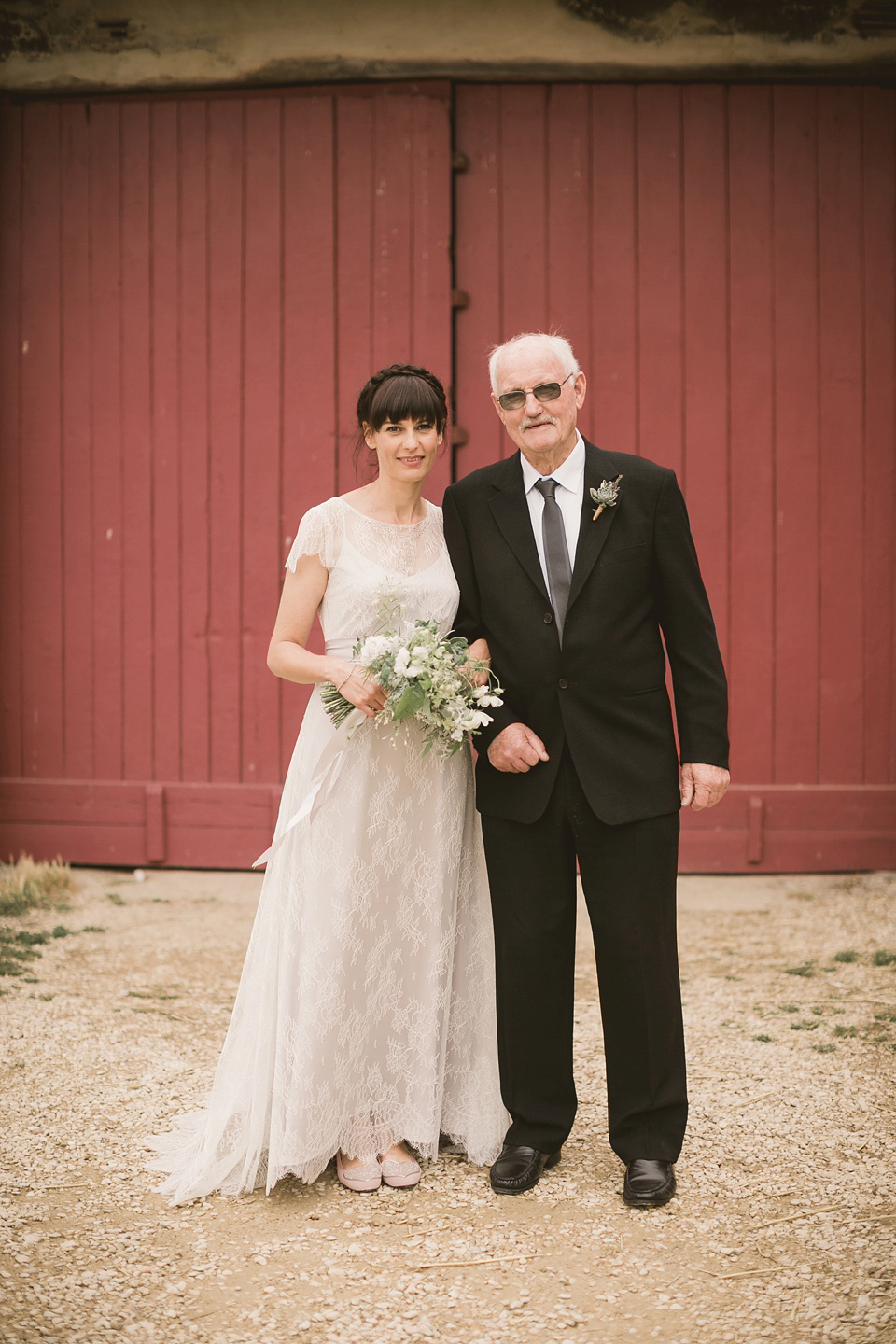 I'm thrilled to be able to share some of Fiona and Rich's personal vows with our readers today- hopefully they'll inspire those of you who are hoping to write your vows for your own ceremony; "We had quite a quirky ceremony; we had a candle lighting ceremony which included all of our guests as we wanted everyone to feel part of the day in an intimate setting. It was so pretty looking back at everyone holding up a candle in the dimly lit barn."
Rich to Fiona – 'I had literally searched for ever to find you, Now that I have found you I know it's exactly where I want to be. I promise you a life of fun and happiness:  filled with flowers, morning hugs and kitchen cuddles.'
Fiona to Rich – 'I want you to know that I love you, fancy you and adore you all at once and I know that I will feel this what no matter what tomorrow or any day after brings.'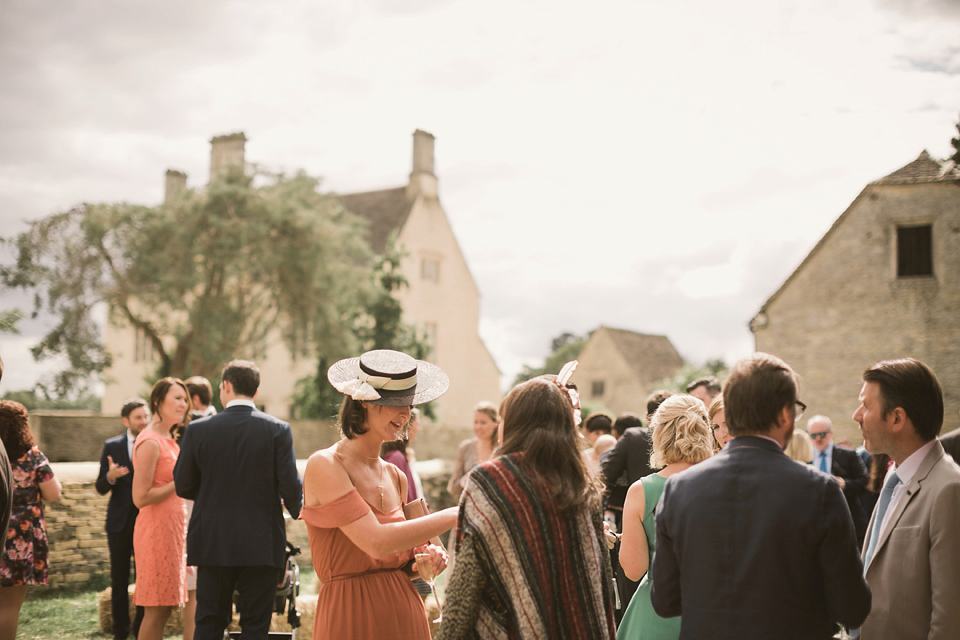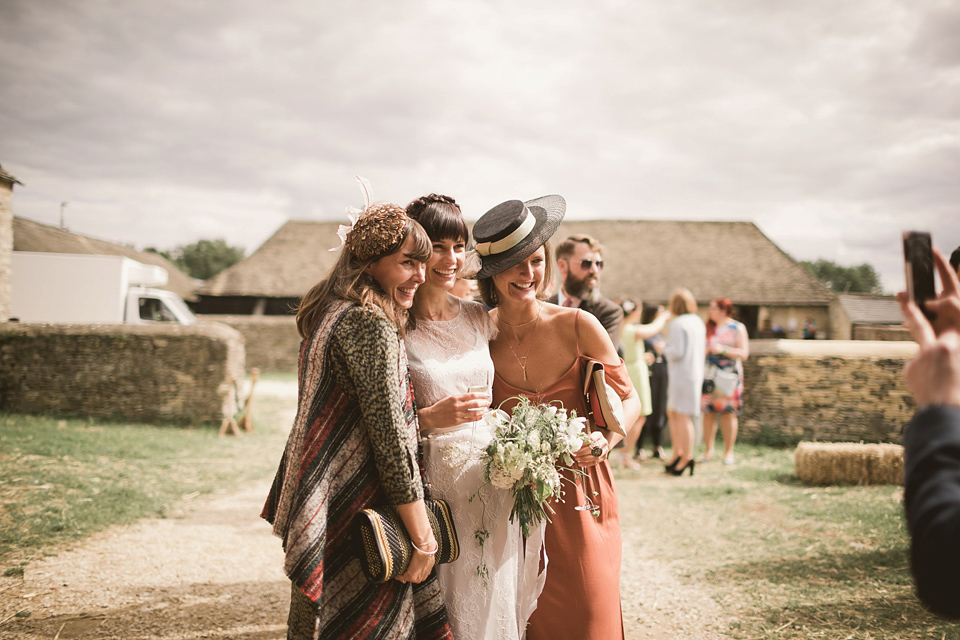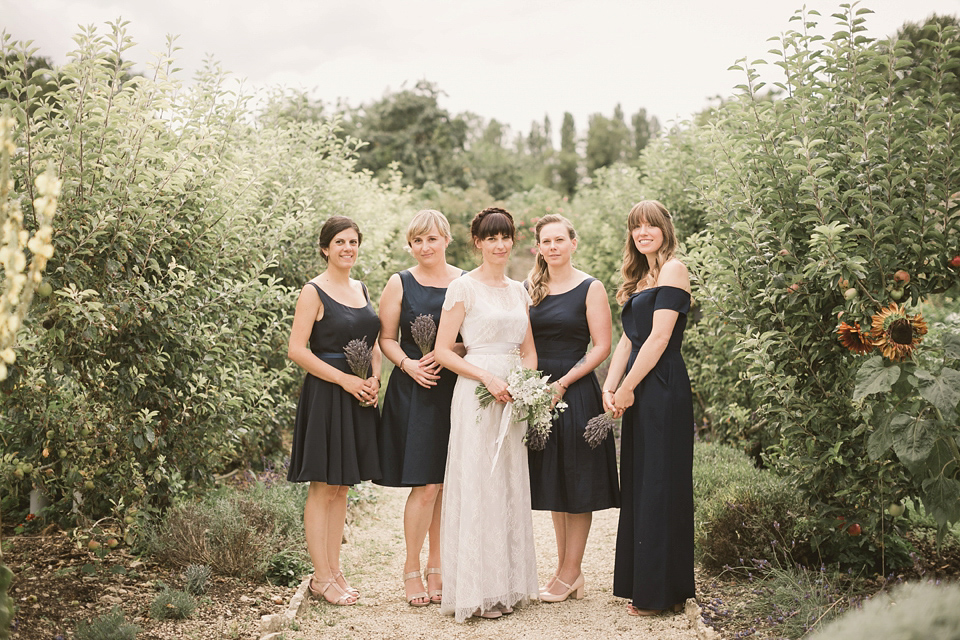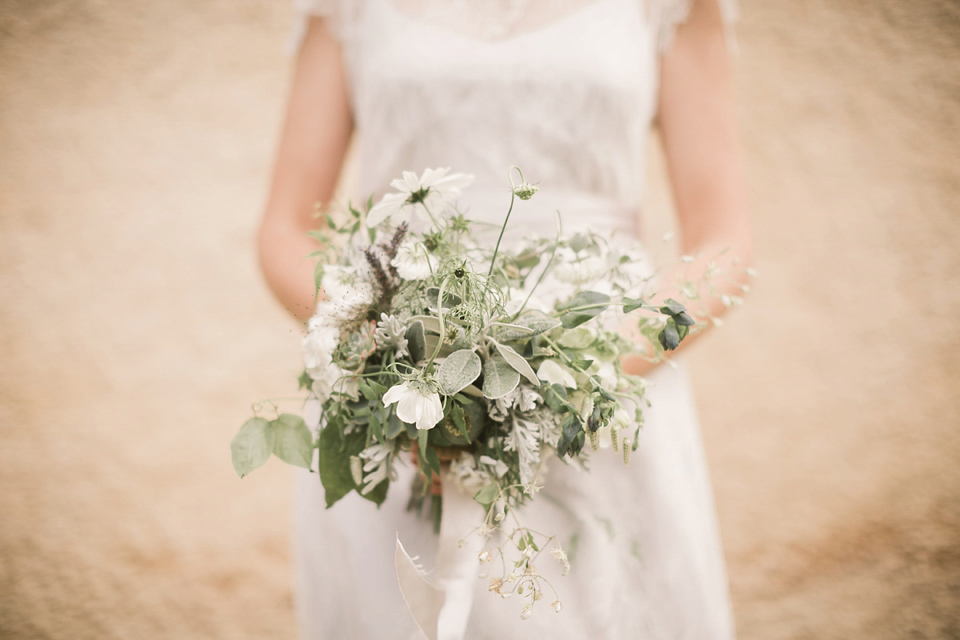 "We hired Events Tag for the evening and would highly recommend this; it was such a talking point and gave people license to go a bit silly.  People could tag our # and images would instantly show up on the wall behind our DJ which created some very funny moments!"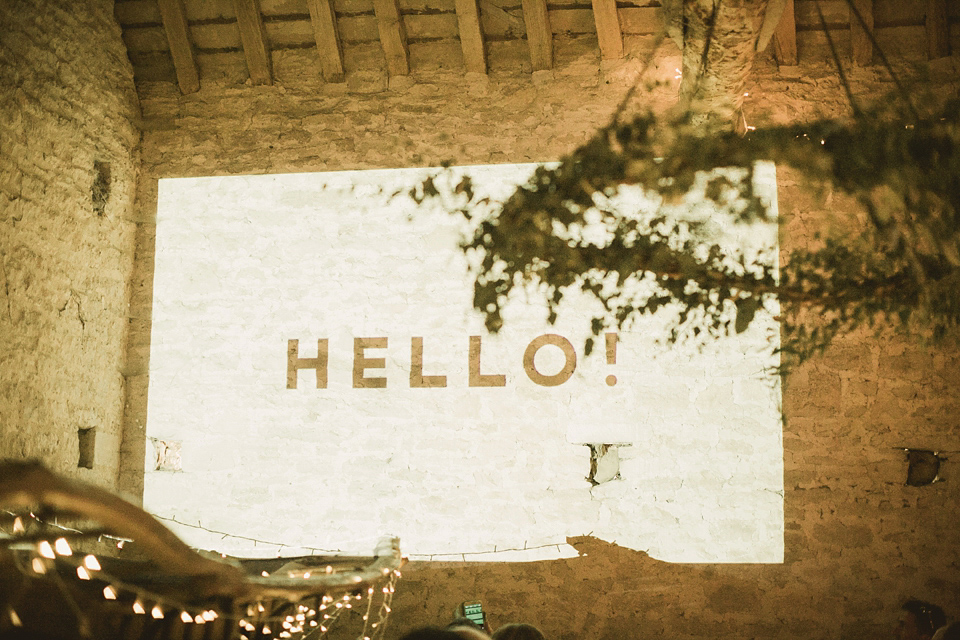 "Rich's best man Matt is an extremely talented illustrator and he very kindly offered to gift all of our guests a gorgeous bird print in copper ink.  We have received many photos from friends of their now framed prints."
"The whole day was so much fun, I can't pick a moment. But I was really touched by my father's speech and Rich's was just so sweet and sincere I was blown away.  
I enjoyed the day so much, I can't think of any negatives. Perhaps it would have been good to have hired some help with the set up etc so we could have relaxed a bit more in the lead up, we felt bad that our friends did so much and we are really thankful for all of their amazing help!"
Food for the day was provided by NG Catering, and it looks mouth-watering.
"Caroline was so great and we went for a rustic pulled pork, salmon and BBQ prawns, loads of salads and just easy relaxed feel.  On the day of set up right till the end, everything went without a hitch. My glass was never empty!"
"We went for a simple white tier cake, with sponge chocolate and fruit layers from M&S.  My Mother decorated for us on the morning of the wedding and did a beautiful job."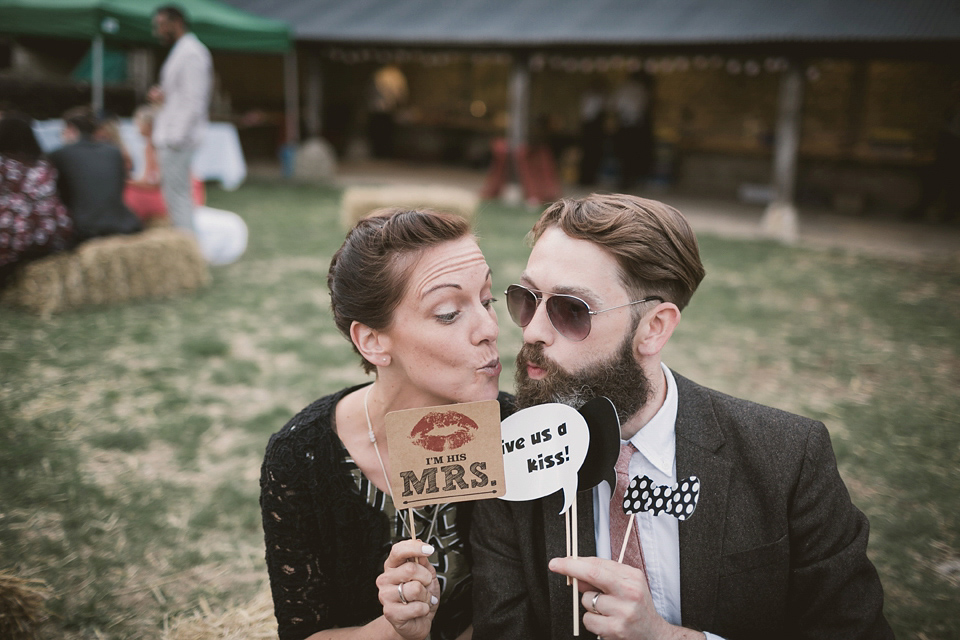 The Bonfire Band provided music during welcome drinks and canapés and also for the newlyweds' first dance, while one of Fiona and Rich's friends played the musical set for the evening celebrations.
"We used to go to Columbia Road and Broadway Markets on the weekends when we lived in Hackney they were always playing on the street corner.  Rich remembered them and thought they would be perfect for the setting. They have a song called 'My Love For You Is Just Superglue', I had this engraved on the back of a watch I gifted Rich on the wedding morning. It just seemed too perfect a saying not to."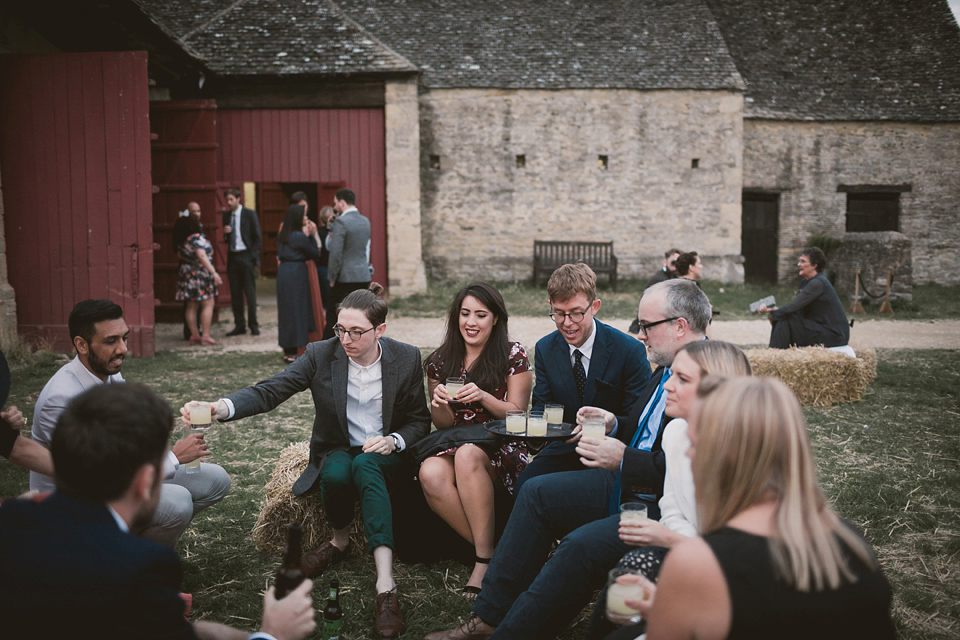 "We used an awful lot of fairy lighting on the ceiling rafters which was about setting the mood and it was lovely outside in the evening with a small festival feel with the hay bales and candle paper lanterns.  For the tables we used foliage to bring the outdoors in and I handmade all the napkins from a charcoal linen duvet cover.  I got a bit crafty to save money."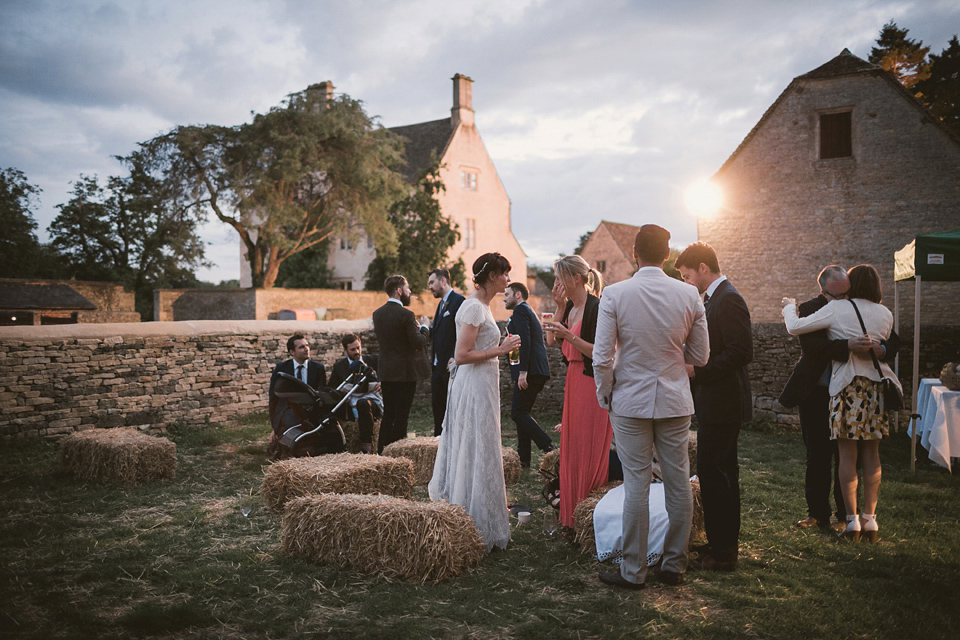 "Our friend Andy played an amazing set for our reception, the dance floor was full for the rest of the night and our best man and bridesmaid made a disco ball head which came out half way through the night.  I have never laughed so much at sweaty guys in dishevelled suits fighting over who would wear it next!"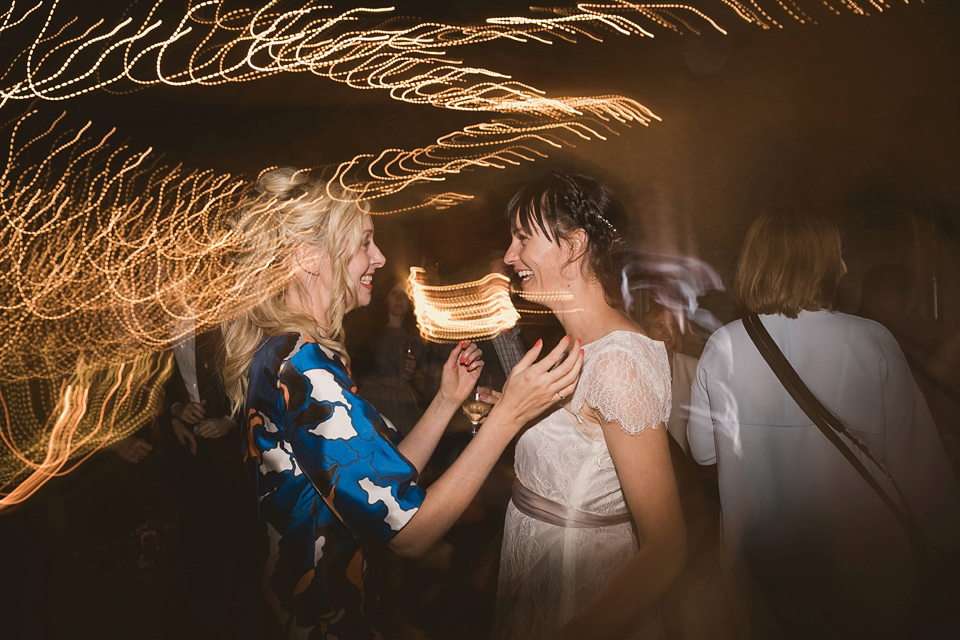 Words of Wedded Wisdom
"It can be daunting, especially when you go down the route of a wedding like ours where I even handmade the linen napkins!  Just remember on the day all the hard work is worth it and just have fun. I was surprisingly relaxed and easy going on the day.  I think I was just so excited and everything went without a hitch so I had nothing to worry about, so don't sweat the small stuff."
Thank you so much to Fiona and Rich for sharing their beautiful summer wedding with us.  I feel all warm inside now, despite the gathering clouds outside!  Many thanks of course are also due to Tom Ravenshear for his gorgeous images.  Have a look here if you would like to see more of Tom's work.
Much love,
Shona x
Photographer – Tom Ravenshear
Venue – Cogges Manor Farm, Oxfordshire
Wedding dress – Sienna Von Hildemar
Hairpiece- Etsy
Shoes – French Sole
Accessories – stud earrings and vintage bracelet
Perfume – Elie Saab – Le Parfum
Groom – Suit, Reiss, Shoes, Nigel Hall, Watch, Daniel Wellington
Florist – Bride Bloom
Catering – NG Catering
Cake – Marks and Spencer
Hair stylist and makeup artist – Portraits Bridal
Entertainment – The Bonfire Band and a friend for a set in the evening
Favours – Hello Von Illustrations