Hello and a very happy new year darling readers old and new! My name is Annabel and I'm completely head over heels in love with weddings – so much so, that after my March 2009 wedding, I set up this wedding blog  and for the past six years I've been sharing love stories of all kinds and glamorous and elegant photography with our readers. You can read a little more about me and the team who now help to support Love My Dress over on our about page, and you absolutely must go bookmark our Christmas and New Year magazine if you haven't already – it contains 25 of my favourite weddings from 2015 alongside some wonderful promotional offers and money saving opportunities from our sponsors and advertisers – without whom, we simply would not exist.
So, onto our very first wedding of 2016! This feature was written by our team member Shona who I'll hand over to in just a few seconds. I just wanted to show a little love to the photographers who shot this wedding as they are long-term supporters of Love My Dress and I absolutely love supporting them. Aside from being the most drop-dead beautiful but refreshingly down to earth twin sisters, Caroline and Kelly, aka, 'The Twins' are two incredibly talented and award winning photographers and I'm pleased as punch that we're able to open up 2016 with one of their weddings. You will also find the Twins proudly listed in our beautiful wedding directory, Little Book For Brides.
Over to you Shona! Love Annabel xx
Photography by The Twins
Follow The Twins on Instagram
View The Twins in Little Book For Brides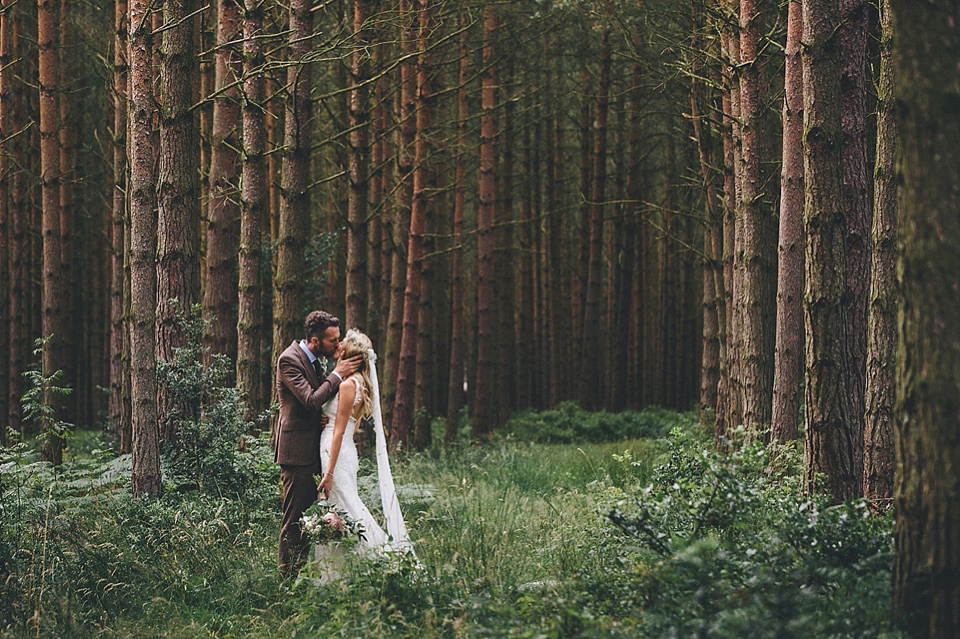 Happy New Year! I hope you all had a lovely Christmas. A very warm welcome to those new readers who got engaged over the festive period as well- its lovely to have you with us, we hope you're looking forward to being part of the wonderful world of weddings! Heather, a footwear buyer (dream job or what?!) and Mike, a menswear retail director married on the 21st of August 2015 at the beautiful and only recently opened Healey Barn, Northumberland, surrounded by their friends, family and hundreds of gorgeous candles.
Flowers by C&C Floral Design
"We wanted our wedding to be rustic, romantic and relaxed. It was important the day wasn't too formal and we wanted all our guests to feel comfortable and just have a great time! Although we didn't have a specific colour scheme in mind the barn was the perfect backdrop for muted tones which included blushes, greys and green shades."
We all adore photography by The Twins here at Love My Dress – their use of light and dark, the way they pick out features, the angles they see things from – everything image is simply beautiful.
"Our photographers were the first thing we booked for our wedding, even before finalising a venue! We loved The Twins' previous work and knew we wanted them to document our day as their style is beautifully unique, creative and captures hidden moments which you do not realise are happening on the day."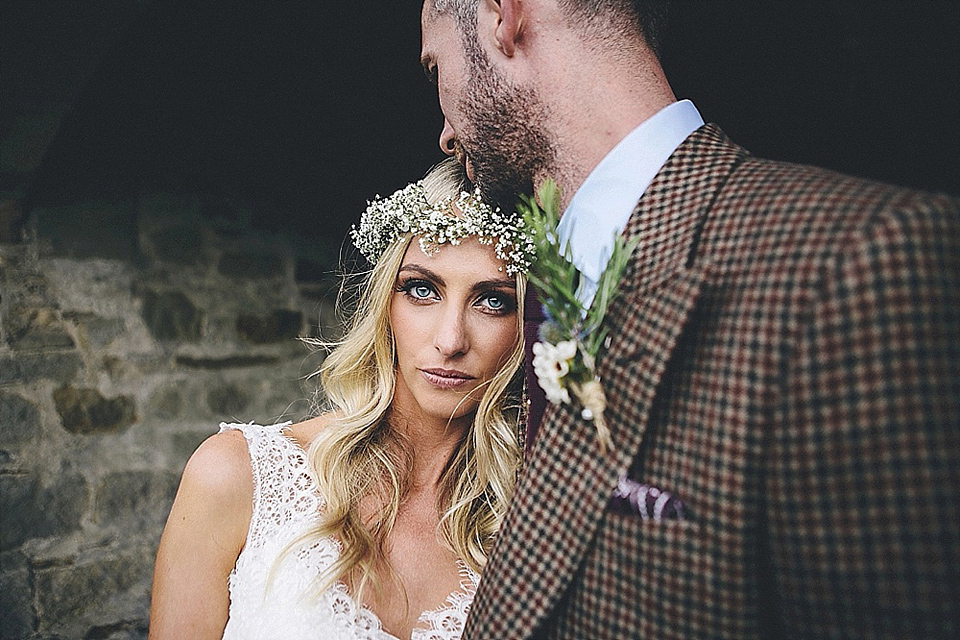 "Asking Kelly and Caroline to take our pictures was our best decision! We have hundreds of amazing photographs to share with our friends and families; it will be difficult to choose which ones to include in the album."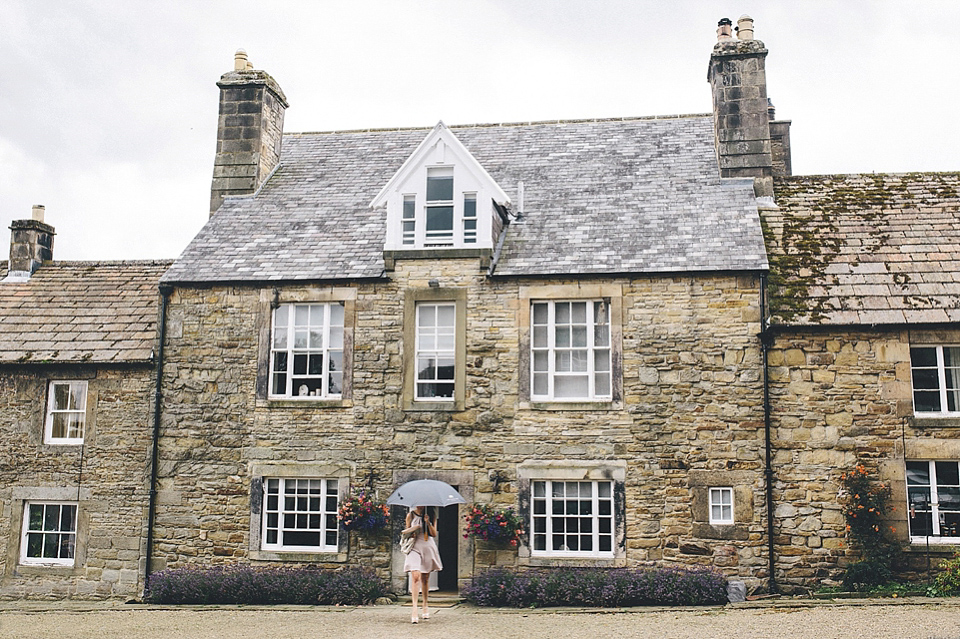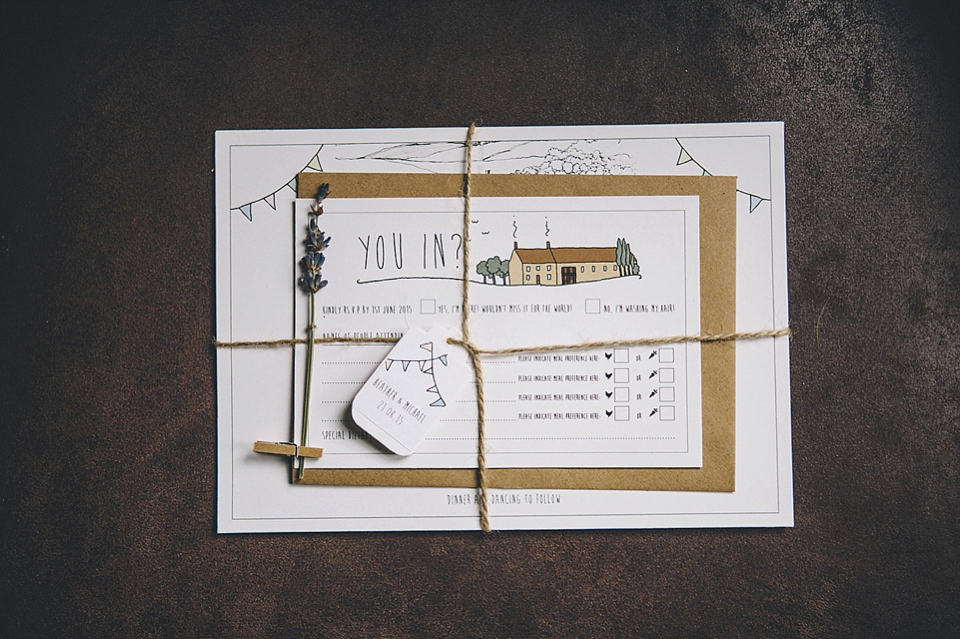 "Mike surprised me with a beautiful pearl bracelet from jeweller Laura Lee which helped finish off my look- it was stunning, very delicate and I will cherish it forever. I also wore my Grandma's 1920's sapphire ring as both my 'Something Old' and 'Something Blue' and as a treat I decided to splash out on some beautiful lingerie and invested in a stunning bridal set from Agent Provocateur."
Heather wore a beautiful fitted lace dress by Essense of Australia, purchased from Angelica Bridal in Islington, London. I absolutely adore the lace and that shape is so lovely on her.
"I tried on around forty different dresses over three months and in the end decided to choose the second dress I ever tried on – always the way! I knew I wanted a full length slim-fitting lace dress which was backless so my ivory coloured Essense of Australia creation was the perfect choice for me. I loved the dramatic long glass train and delicate eyelash lacing on the sweetheart neckline as well as the satin gown underneath which created an amazing fitted silhouette."
"As my bridesmaids varied in heights and skin tones I decided to choose two different types of dresses which would work well together in two different shades of dusky grey. I thought they all looked beautiful.
I was lucky enough that another one of the suppliers I work with kindly offered to make all of my bridesmaids' shoes and I chose a silver strappy sandal with feature metal heel which worked well with both style of dresses worn. Again, a mid heel height was chosen and most of the bridesmaids took their shoes off for dancing in the evening anyway!"
"As I buy shoes for a living I knew I had a lot to live up to when choosing my footwear. I am quite tall and did not want to be restricted by high heels for the entire day so the design I chose for one of my suppliers to create was an elegant mid heel height lace-tie sandal in metallic silver leather. The team in Spain were great at understanding my ideas and even added little extra features like printing 'Mrs Hardy' on the insock and adding a 'HH' metal stud on the leather soles to really personalise them."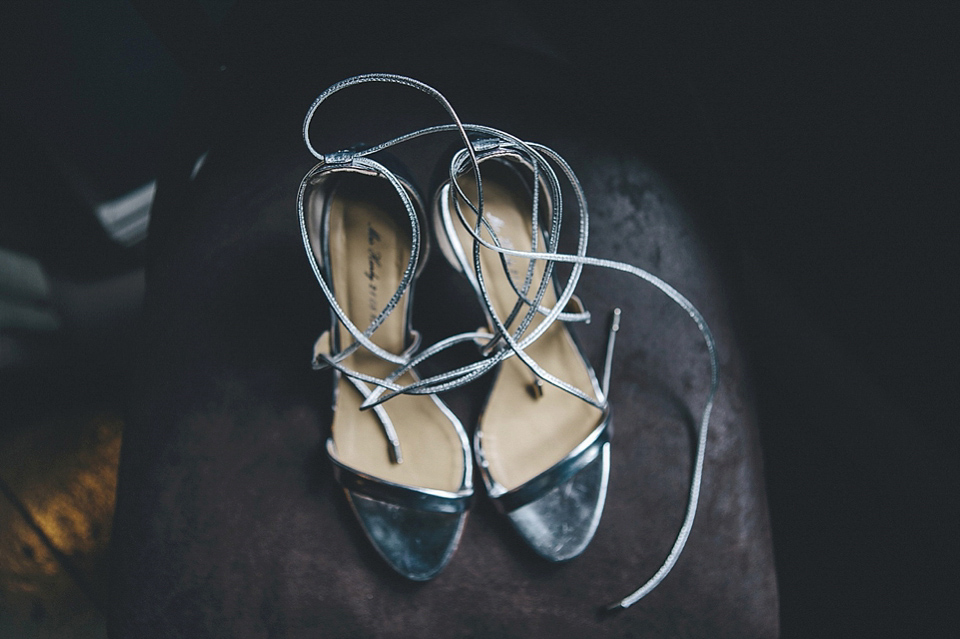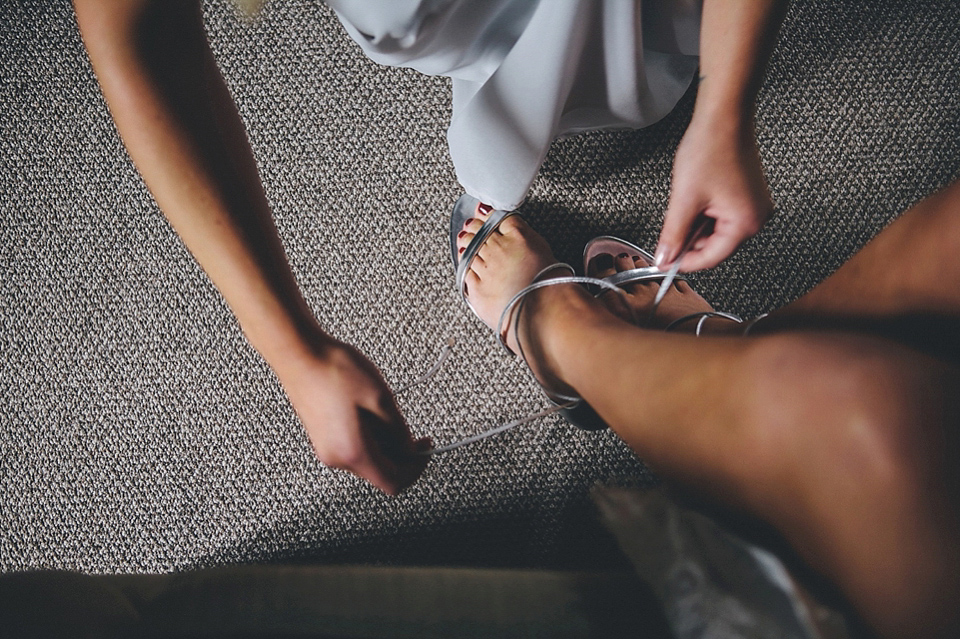 "Beth and Kerry from Saks Hairdressing in Morpeth were fabulous at creating the hairstyles for my bridesmaids, flower girls and I. We all wanted very natural, loose styling and were great at offering their advice whilst we got ready on the morning of the wedding.
My make-up was done by Irene Roozbayani who did an amazing job. I asked for a natural look with emphasis on my eyes and she did just that. I got a lot of compliments throughout the day and was thrilled at how my make-up stayed on all through the night."
Heather's cathedral length silk veil, which was edged with Chantilly lace, was a wedding gift from her best friend Sam, what a star! She wore her hair loose and wavy, similar to her everyday style, and topped it with a delicate flower crown of baby's breath.
"Our florist Catherine from C&C Floral Design was amazing from day one and really helped us by offering advice and suggestions. I knew I wanted wild, rustic flowers in dusky shades with hints of blushes and greens and Catherine was brilliant in recommending seasonal flowers and ferns which would do this job. My bridal bouquet was perfection and was exactly what I had hoped for. I used Pinterest to collate my ideas and Catherine was great in translating these into real life flower arrangements.
The bridesmaids' bouquets were baby's breath tied with rustic jute and the button holes featured dark grey thistle contrasting with delicate white and green flowers. The venue flowers looked beautiful and helped to make the barn look stunning, particularly the large arrangement above the fireplace featuring hydrangea, roses and astilbe blooms."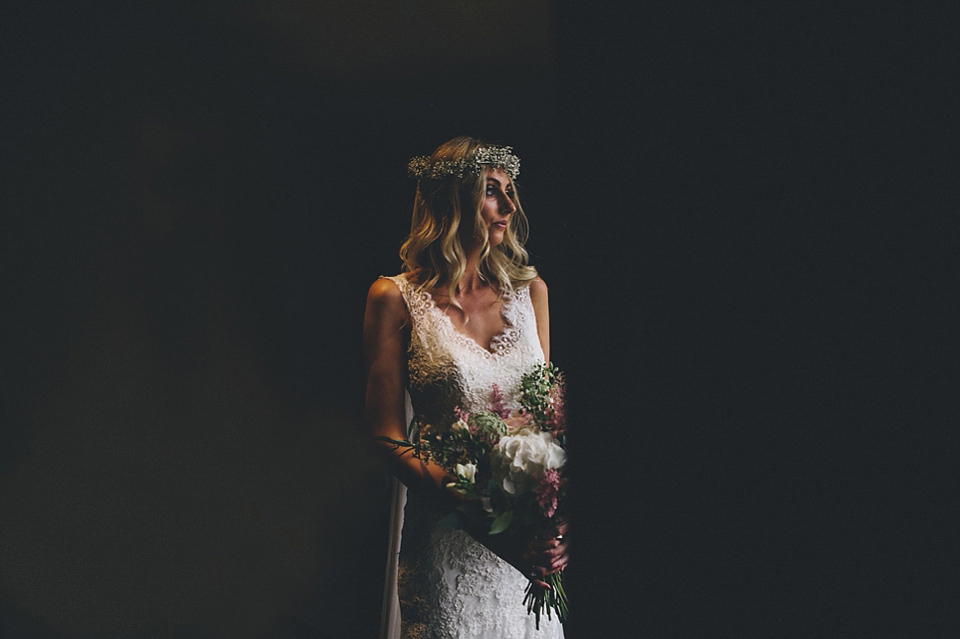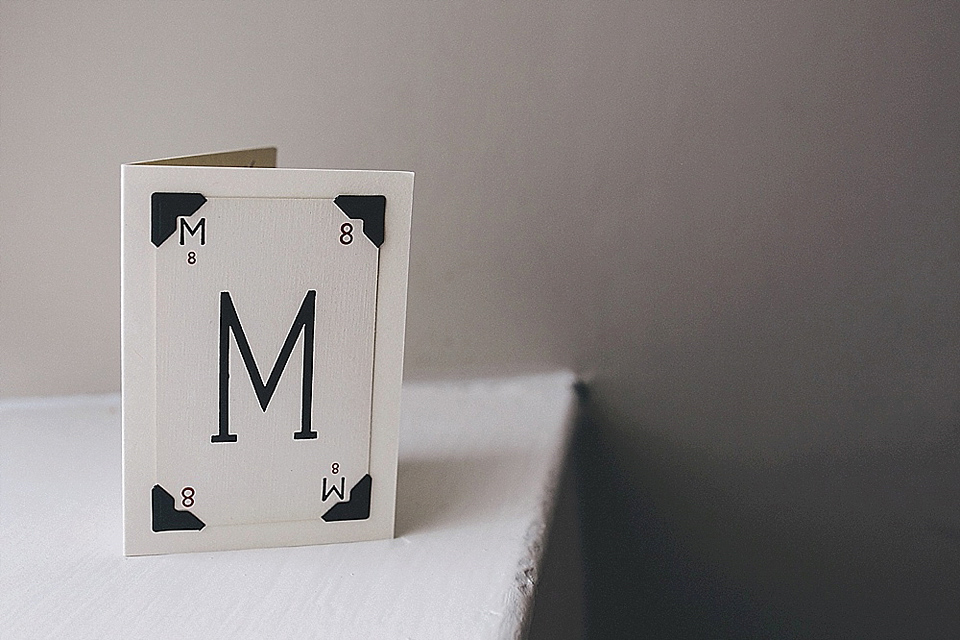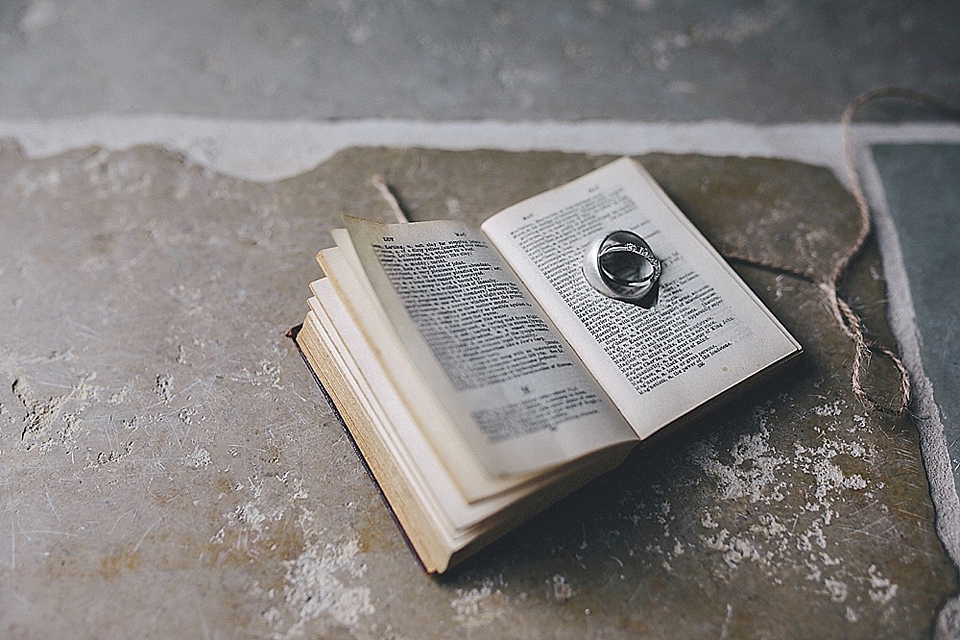 Working in menswear Mike was always going to put a lot of thought into his outfit, and it was well worth it as he looked extremely smart, don't you think?
"Mike chose a bespoke 3-piece brown checked woollen suit tailored at Carnaby Street's Peckham Rye boutique. After sourcing high quality Italian fabric Mike was able to work with the tailors at Peckam Rye to fine-tune each detail of his suit, even down to the shape and angle of each pocket! He looked every inch the dapper English gent and it worked well with the rustic barn setting."
"We were looking for a barn venue which offered a relaxed yet beautiful location to get married in. Healey Barn was perfect for us as the main barn was candle-lit throughout the ceremony with impressive chandeliers hanging from its high ceiling and an amazing original fireplace created both a dramatic and romantic atmosphere.
The courtyard provided a great area for our guests to relax and enjoy the drinks and canapé reception whatever the weather, with its fairy-lit covered seating area and pretty rose-adorned walls."
"Our wedding breakfast was served in the long dining room which was great for our guest numbers and featured a very stylish copper-topped bar to one end – which was often frequented by my Dad! The main barn then became a great space for a big party in the evening with our band set up near the barn doors allowing plenty of room for some creative dancing!
Being close to Mike's family also played a part in choosing this venue with the rolling fields of the Tyne Valley and wooded areas nearby creating the perfect backdrop for our amazing photographers to do their work."
To complete his look, Mike accessorised with a burgundy knitted tie from Nigel Hall, matching pocket square from Peckham Rye and handmade leather shoes from Dr Martens.   A vintage gold tie pin and an antique pocket watch which were (gifts from his father) added a very personal touch to an already wonderfully bespoke outfit.
"We decided early on during the planning that we didn't want our wedding party to wear traditional wedding suits as we preferred the look and feel of more casual suiting.  Mike's two best men, Simon and Lee, wore matching navy blue waistcoats and tailored checked trousers from Topman and accessorised with ties from a Saville Row boutique and pocket squares from Nigel Hall Menswear."
"My father gave me away which felt both very special and emotional as we have a close relationship; I think we both had a tear in our eyes as we got to the end of the aisle. We decided to play 'People Help the People' by Birdy as we walked down the aisle which was chosen for its beautiful piano intro and the haunting voice of the singer; it echoed around the high ceilings of the barn and created an amazing atmosphere."
"Mike and I walked back down the aisle to 'Friday I'm in Love' by The Cure – I love the song and it seemed appropriate for the happy occasion!"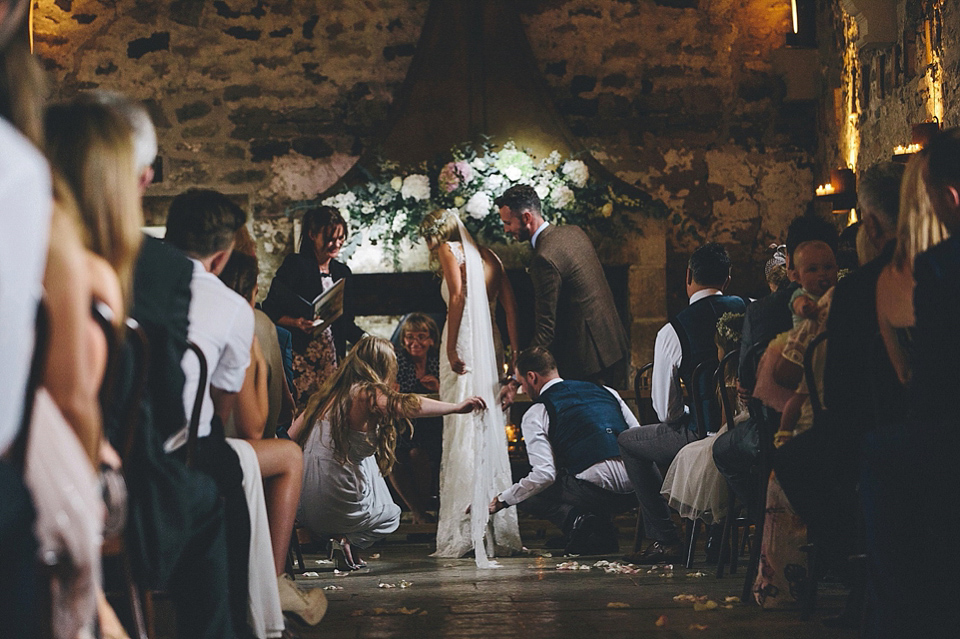 "Mike and I were set up by a mutual friend who thought we'd be perfect together – and she was right! We had our first blind date in a bar in Leeds City Centre on a snowy December evening back in 2009, but I unfortunately had to cut the night short to rush to make my last train home at 11pm."
"We then met the next day for breakfast and four dates later I had moved to London to live with him- we moved quite quickly as we both knew we were perfect for each other! After five years together we went on a short break to Seville in southern Spain where Mike proposed to me over a private dinner in a candle-lit courtyard, it was just us two and it was perfect."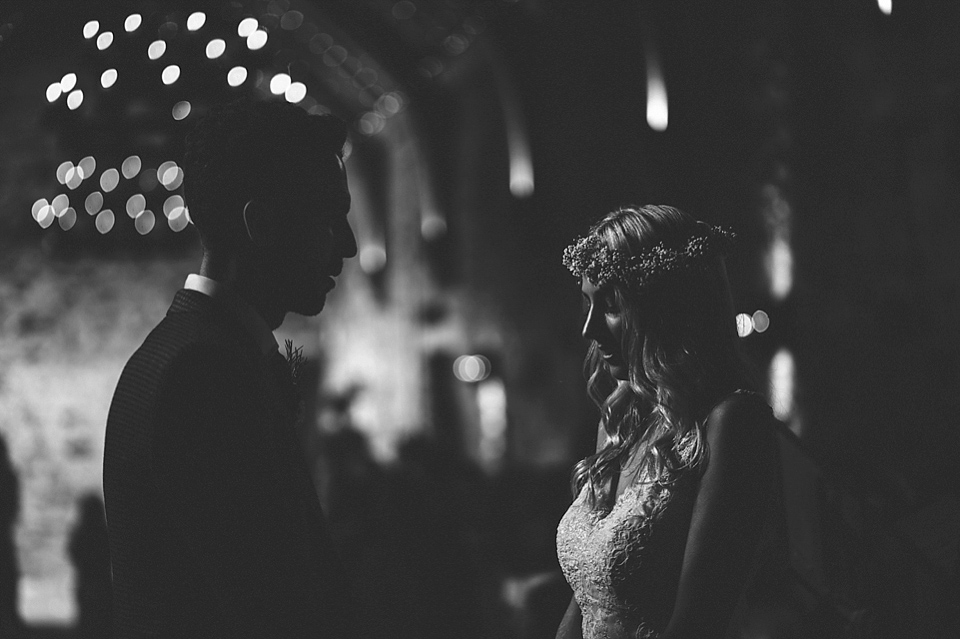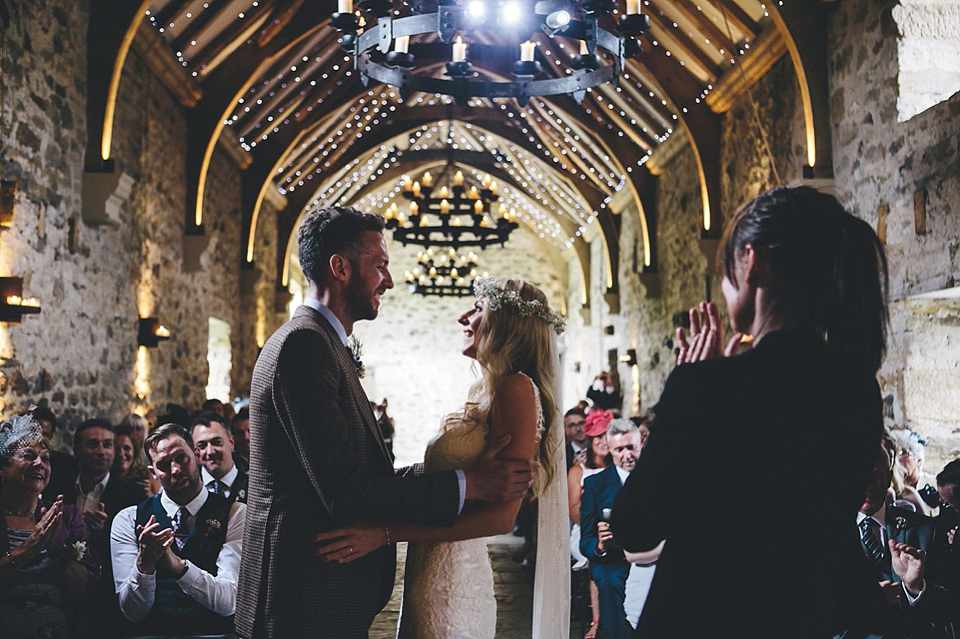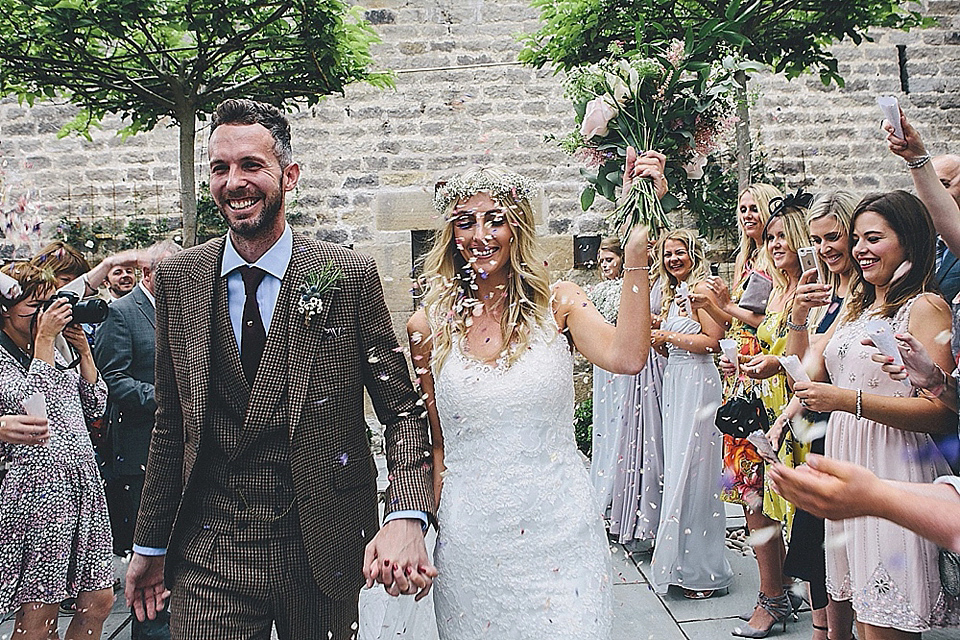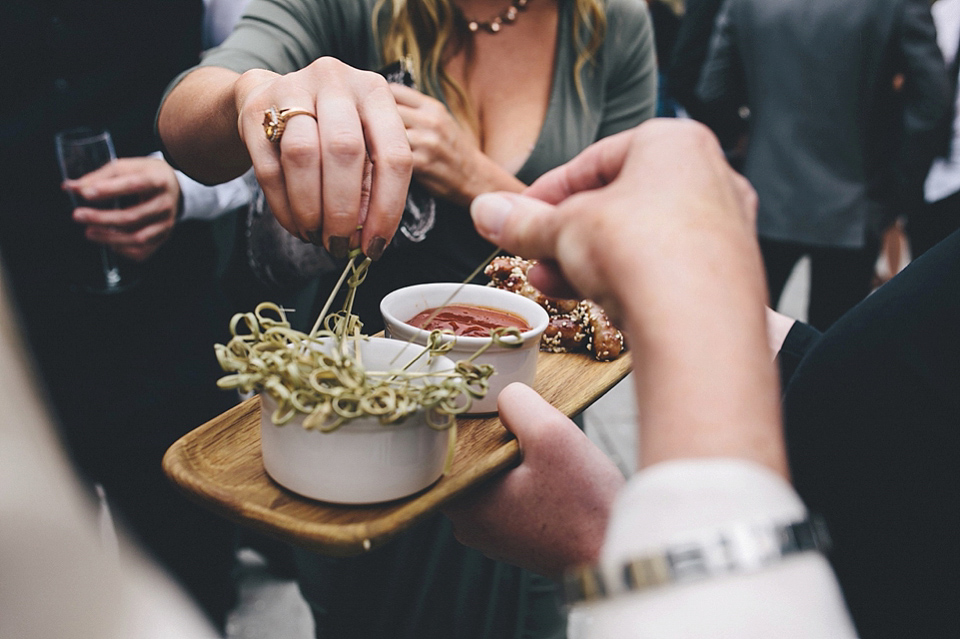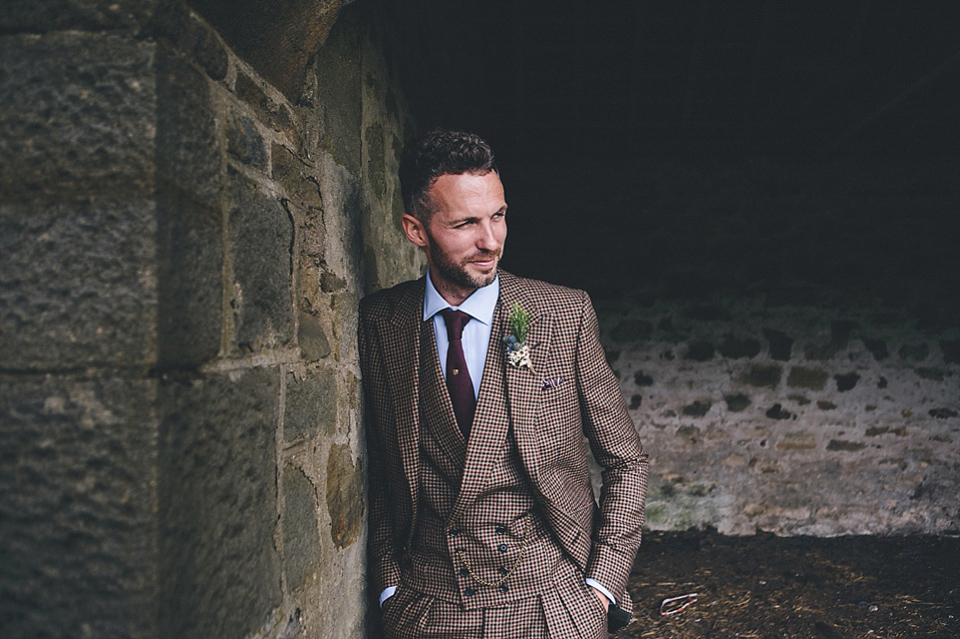 "We wanted to emphasise the raw beauty of the barn by adding rustic decorations that helped create a romantic atmosphere. We spent many weekends visiting our village charity shops to pick up cut glass vases and brass candle sticks as well as buying copper jugs and milk churns to hold flowers. We borrowed as many items as we could from friends and family and Mike's Aunt and Uncle let us use their vintage bicycle which we filled the basket with bright hydrangea and positioned it at the front of the venue.
Our guest book was personalised with childhood images of Mike and I and we used an iPhone to allow our guests to take silly selfies on throughout the day – looking back at the pictures was hilarious!"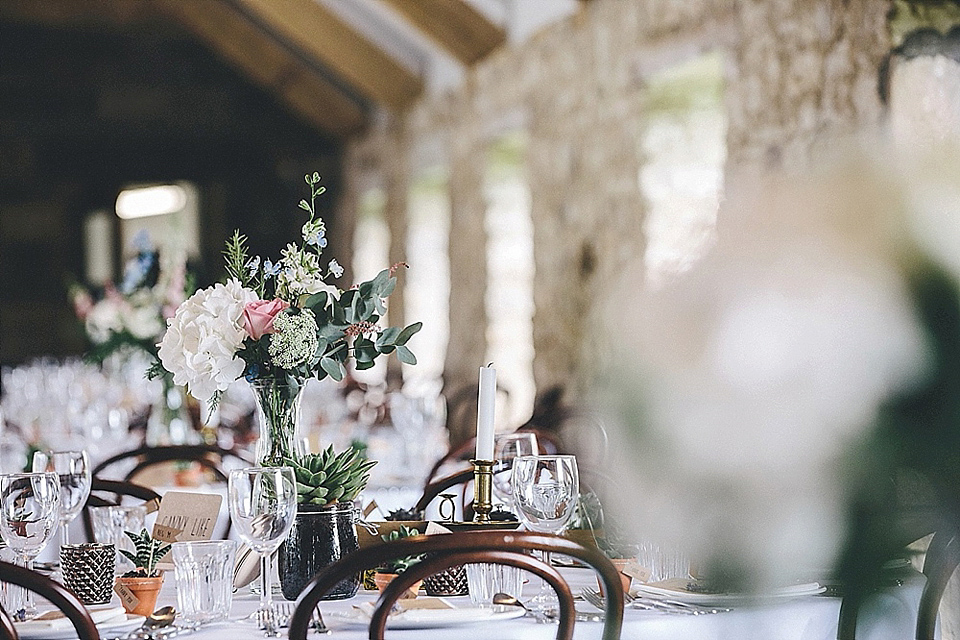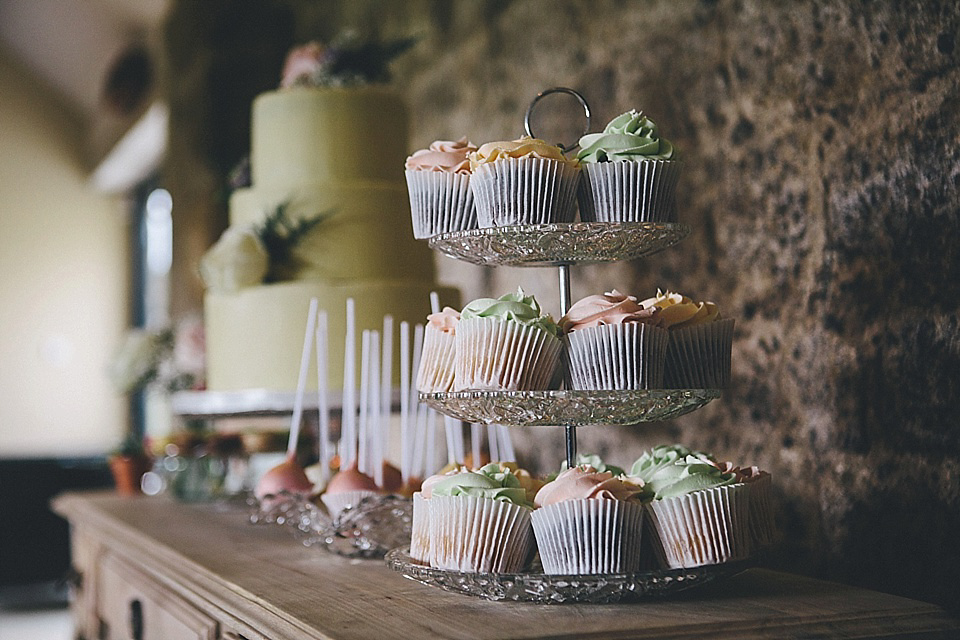 Our couple chose a 3-tier white chocolate ganache cake in lemon, vanilla and chocolate sponge layers from Daisy Cupcake, as well as pastel cupcakes (from the same baker), glitter covered chocolate cake pops by The Ivory Cake Company and pastel coloured macaroons. Unsurprisingly there weren't many left by the end!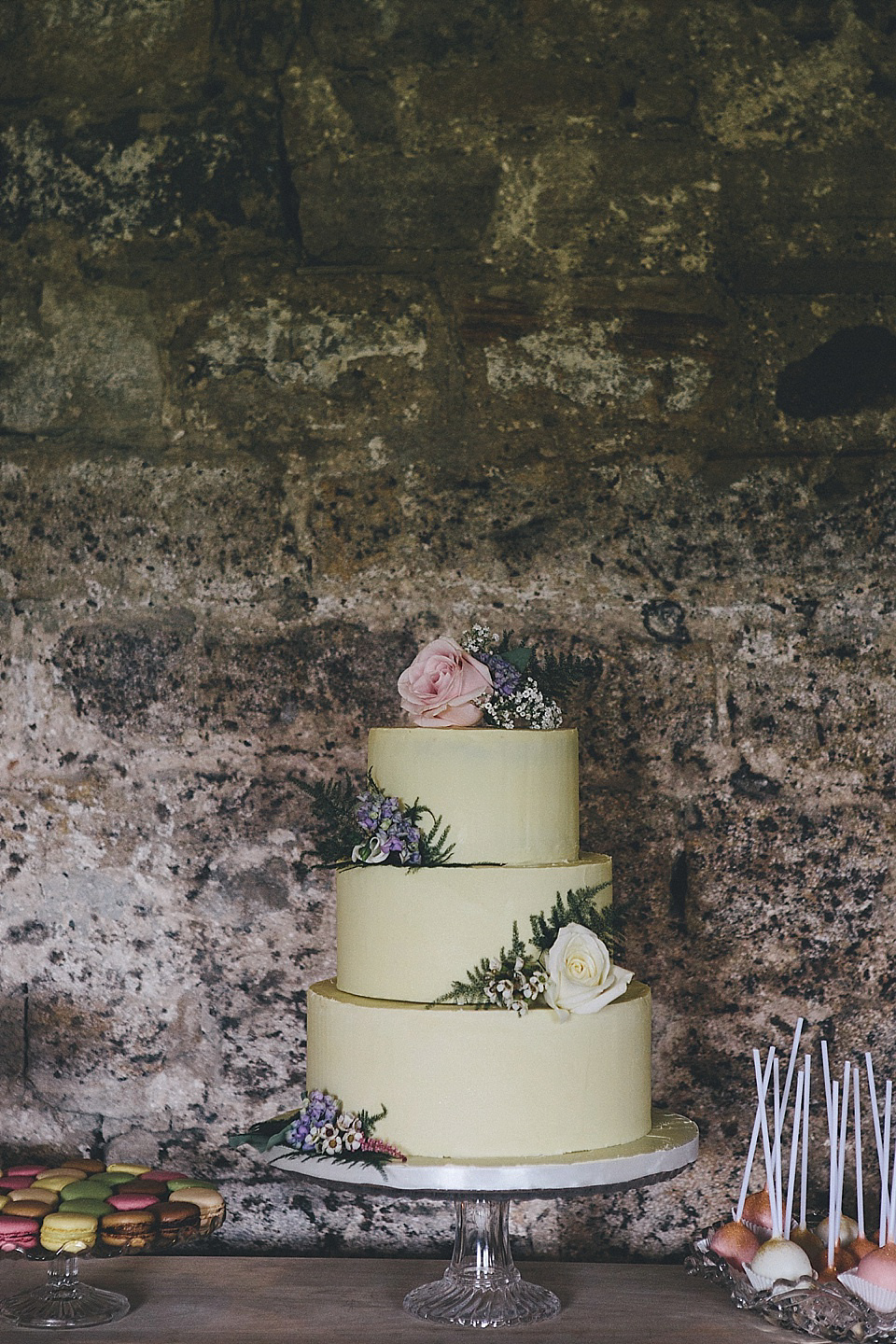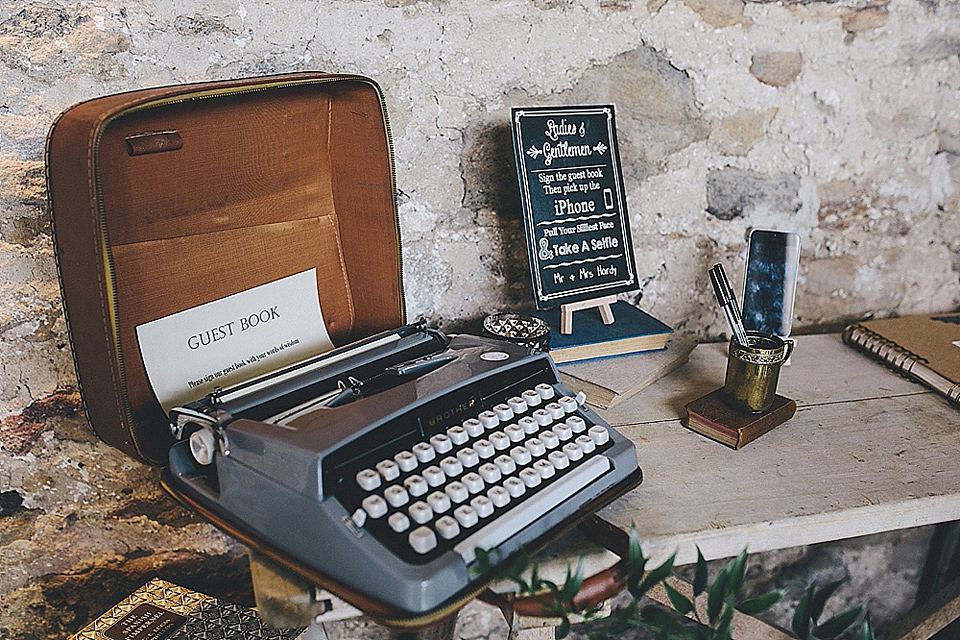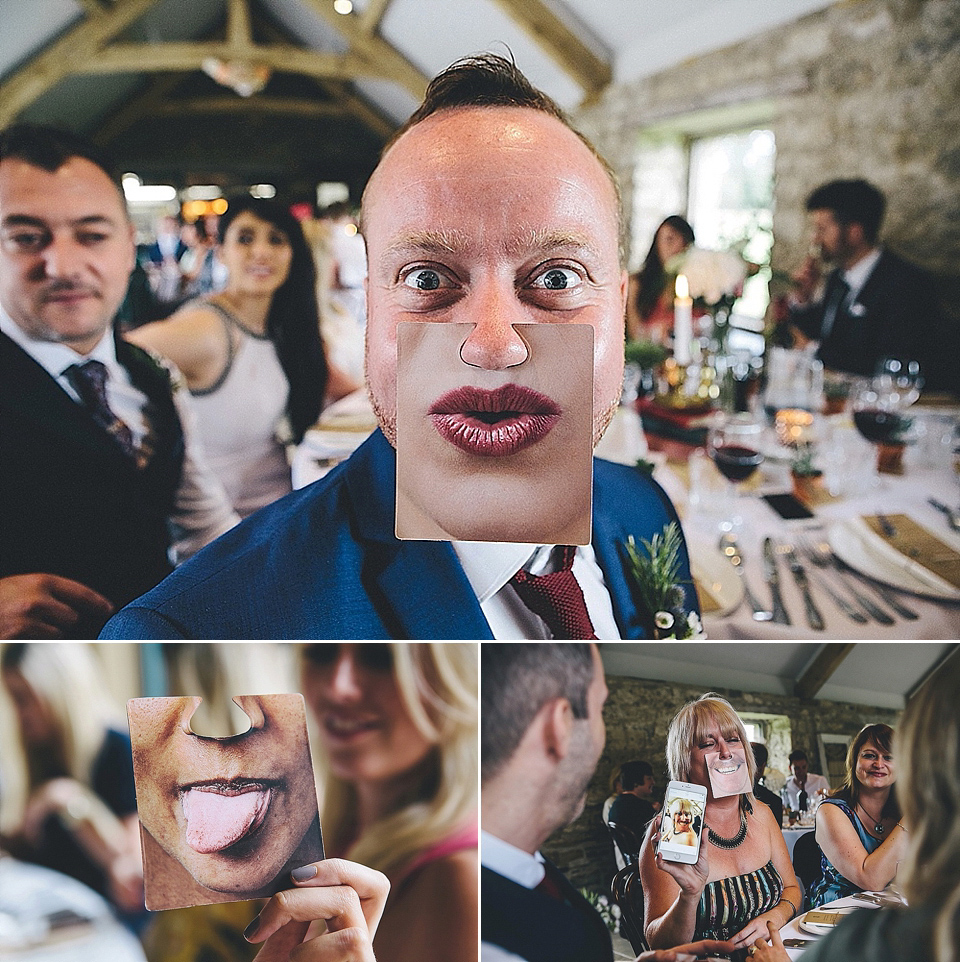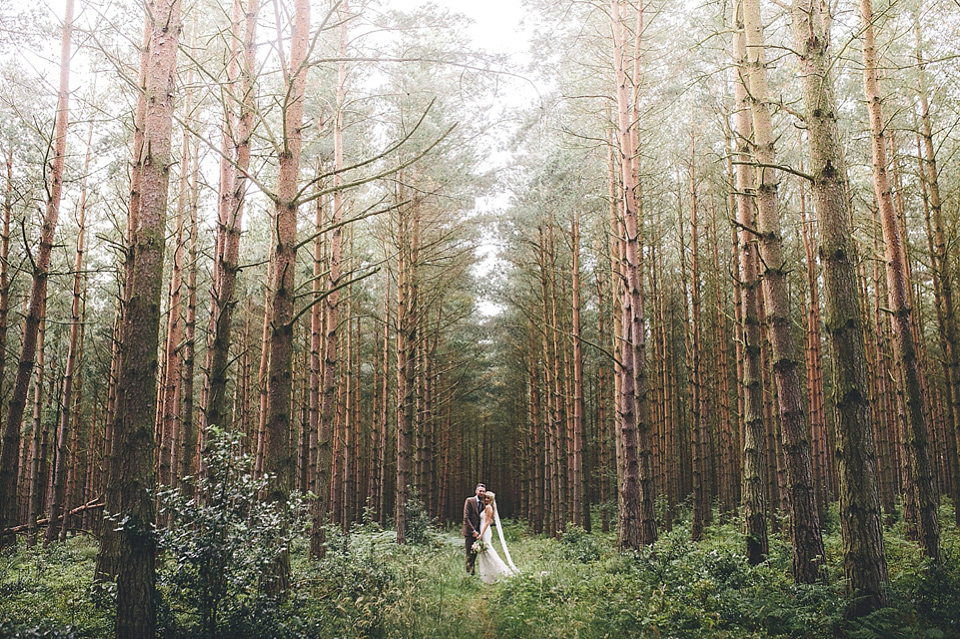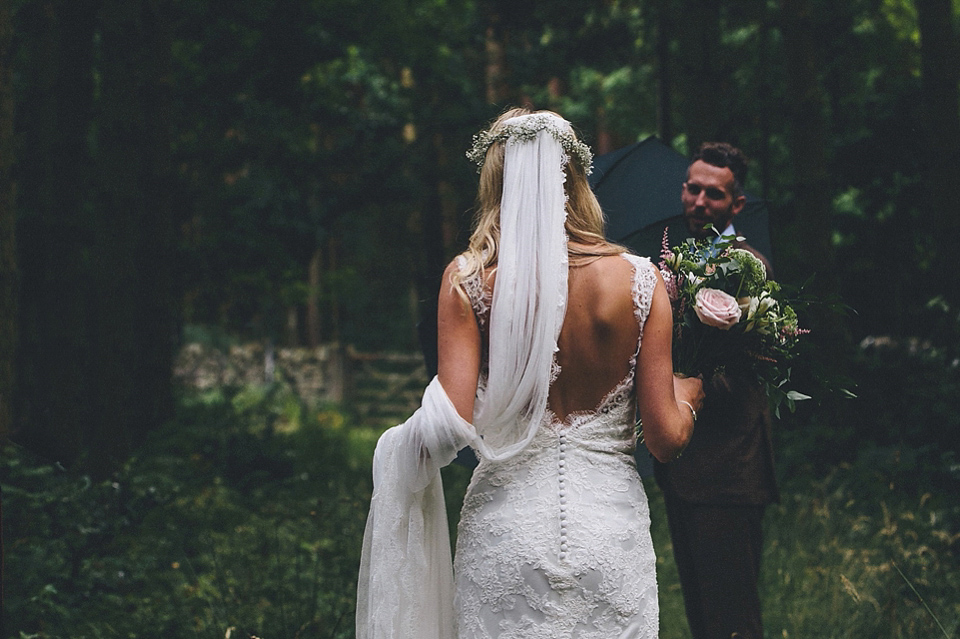 "After much online searching we booked 1950's rock 'n' roll band 'Alex Graham and the Concords' to play during our evening celebrations. They were great and really got the party started playing classic tunes as well as their take on modern hits. The dance floor soon filled up when they began playing and they really got the night off with a swing! We then hired a DJ to play out to the end."
"The best part of the day for me was seeing all of our friends and family laughing and smiling, making new friends over dinner and having a great day. I was told by many it was the best wedding they had been to which made all the hard work and effort we put in totally worth it!"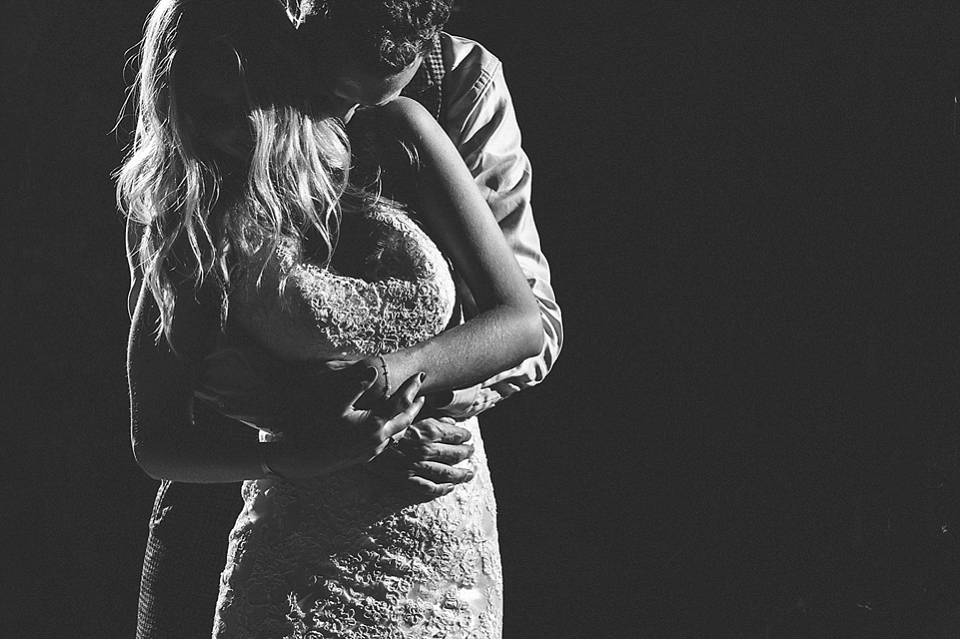 Words of Wedded Wisdom
"My advice to any future brides would be to ask for cheeky favours wherever you can; my job is to negotiate prices and this also applies in wedding planning! We managed to stick within budget by borrowing items where possible or asking for discounts, you never know where you might save a few pounds!
Also ensure you take 5 minutes at some point in the day to stop and take a look around at all your guests enjoying themselves. I did this during our dinner and it was great to see people smiling and laughing knowing they are there to celebrate your special day.
If I were to plan our wedding again I would probably have worried less in the morning and tried to relax more as I walked down the aisle; I looked very nervous in the pictures during the initial part of the day."
Very many congratulations to our happy couple- I hope you had a wonderful first married Christmas together. Thanks also to the wonderful Twins, Kelly and Caroline, for their stunning photos (take a look here for more of their work).
Is anyone else marrying in a barn venue? Let us know! (New readers may like to know that we love to read your comments on the blog and our various social media spaces- talk to us, we love to chat!)
Much love,
Shona x
Photographer – The Twins
Venue – Healey Barn, Northumberland
Wedding dress – Essense of Australia, purchased from Angelica Bridal, London
Veil – Katie Carter, London
Shoes – Bespoke by a contact of Heather's
Accessories – Pearl bracelet from Laura Lee, antique ring
Perfume – Love Story by Chloe
Bridesmaid dresses – ASOS and Sabo Skirt
Flowergirls – John Rocha for Debenhams
Groom – Suit bespoke by Peckham Rye, tie Nigel Hall, shoes Dr Martens
Groomsmen – Trousers and waistcoats Topman, pocket squares Nigel Hall Menswear
Florist – C&C Floral Design
Cake – Cake pops from The Ivory Cake Company
Catering – Provided by the venue
Rings – Heather, Tomfoolery, London; Mike, Gill Wing Jewellers, Islington
Hair stylist – Saks Hairdressing, Morpeth
Makeup artist – Irene Roozbayani (no details)
Entertainment – Alex Graham and the Concords
Transport – Heather was driven by a friend of Mike's father in his classic burgundy Daimler
Stationery – Designed and made by the couple