Good morning lovelies – how's this week been so far? I really trying ever so hard to slow the pace of time in January a little, be more 'present' and not wishing my life away (or the weekend to be here). January usually feels like it's gone in the blink of an eye for me, but this year I want to savour what this oft derided month can offer; not just an opportunity for tidying and cleaning in the physical sense but renewing and refreshing from inside too – decluttering my thoughts, enjoying being with my children and savouring the small moments. It's easier said than done and hard when it feels like you are up all hours working for yourself, but I'm doing OK so far. I hope January brings you an opportunity to create some positive memories of your own.
This morning's wedding is one I've been very much looking forward to sharing for sometime now. The bride is Rachael, founder of Object Style – a creative concept store dedicated to artisan design for the house and home – and which now also caters for brides too. Rachael married her beau Alex, who is the designer and owner of menswear brand Otterwell Clothing, on Saturday 29th August last year at an undisclosed venue.
Photography by Lucy Little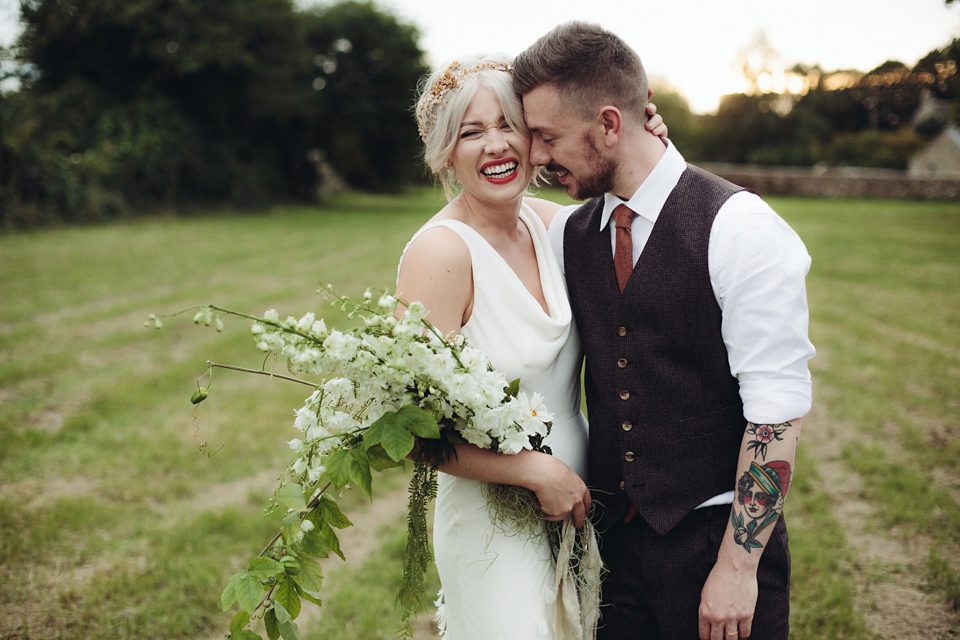 It's a delight to see that several members of our beautiful wedding directory Little Book For Brides were suppliers for this wedding – they include the super-talented Michelle Kelly of Pocketful of Dreams, who styled the couple's day to reflect their personalities and lives – think bright and colourful yet minimalistic and Scandinavian inspired.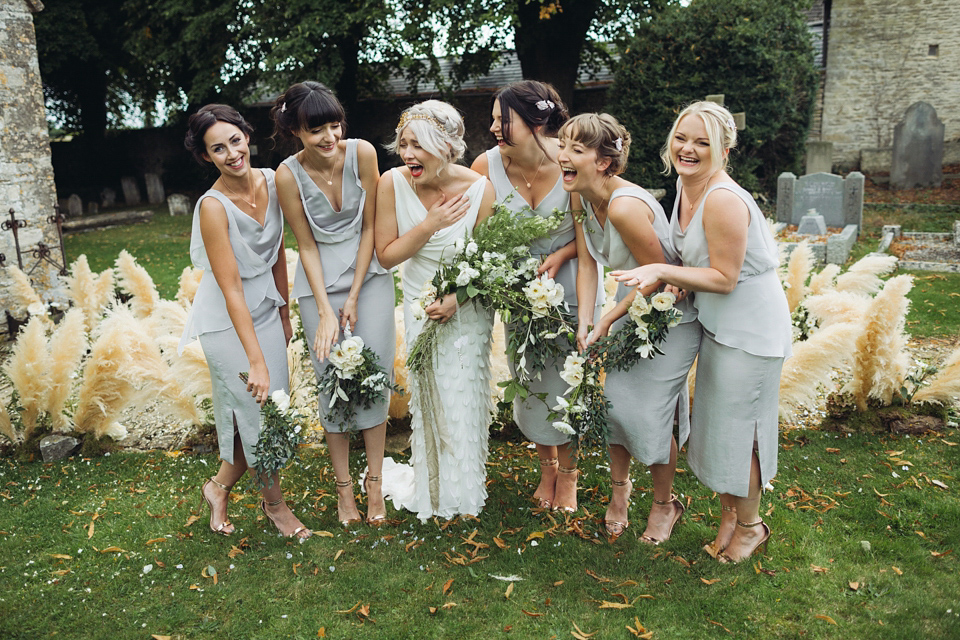 "We wanted our wedding to be an extension of our life. To reflect our home that we have spent a good few years renovating ourselves, handpicking mid-century furniture and geometric prints."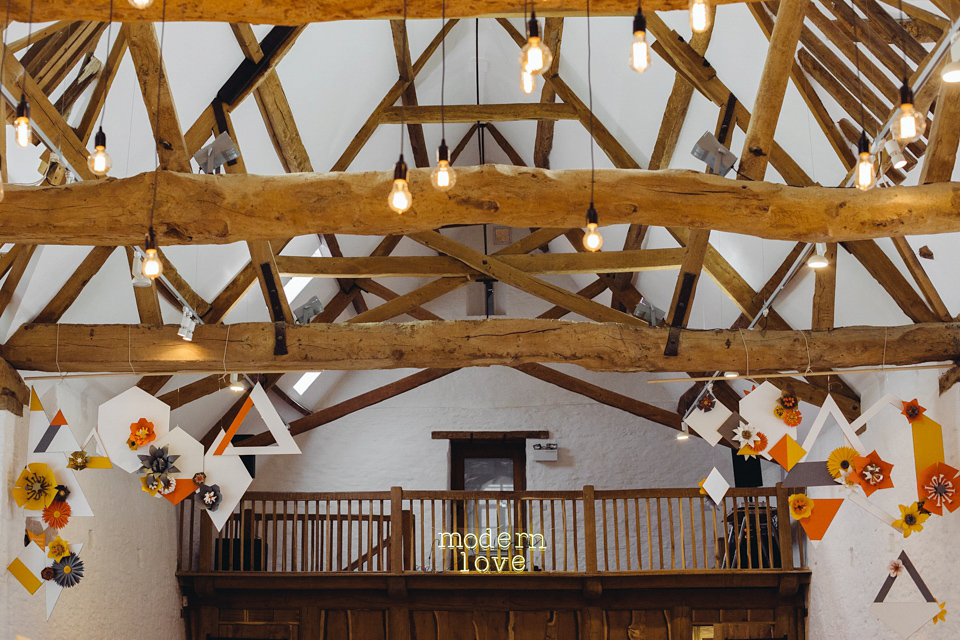 "Our wedding was also influenced by the places we like to visit, most Scandinavia, with minimalist, simplistic design seen in the clean lines of the bridesmaid dresses, my own dress and table settings. Most of all we wanted our wedding to be a true, equal reflection our relationship, not a fairytale production many couples favour."
Can anyone colour match this lipstick? Rachael says she wore a Nars lip crayon on her wedding day but lost the crayon on her honeymoon. I'm in love with the shade so any Nars lovers out there, please step forward and let us know what colour you think this might be??The couple turned to the talents of photographer Lucy Little to document their day in images. Lucy's work only recently featured on Love My Dress- I love her relaxed and honest style of image-making.
"Lucy didn't miss a single thing. Every happy tear, every toothy smile, every stray hair, every laugh, every tiny detail we may of missed but we now know the full story. Like her name, she is pint-size, like a dainty pixie fairy who has this wonderful skill of camouflaging herself into the background and capturing the emotion. Lucy, from the bottom of our hearts these pictures are beyond anything we could have ever wished for, thank you."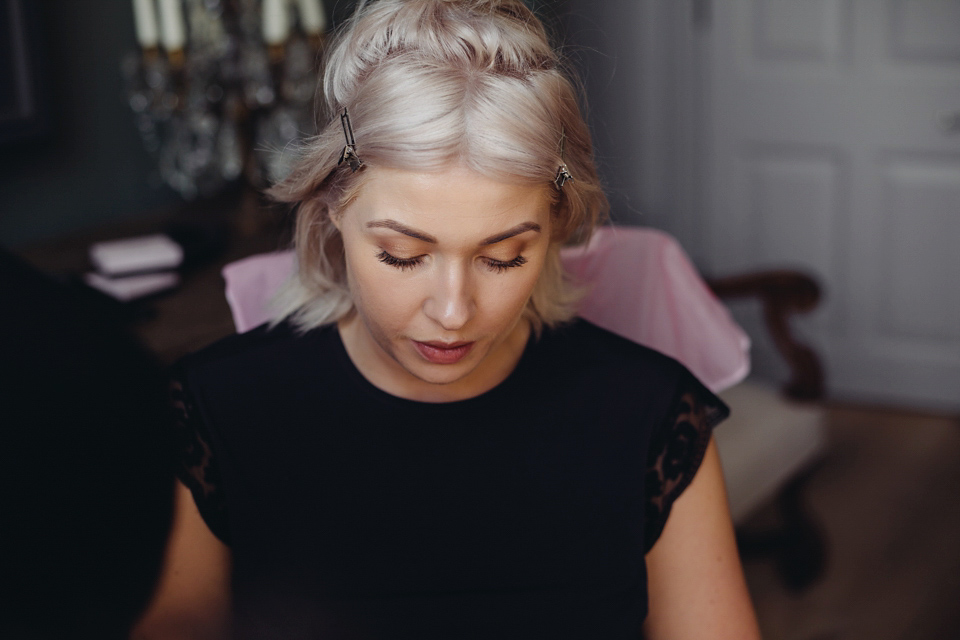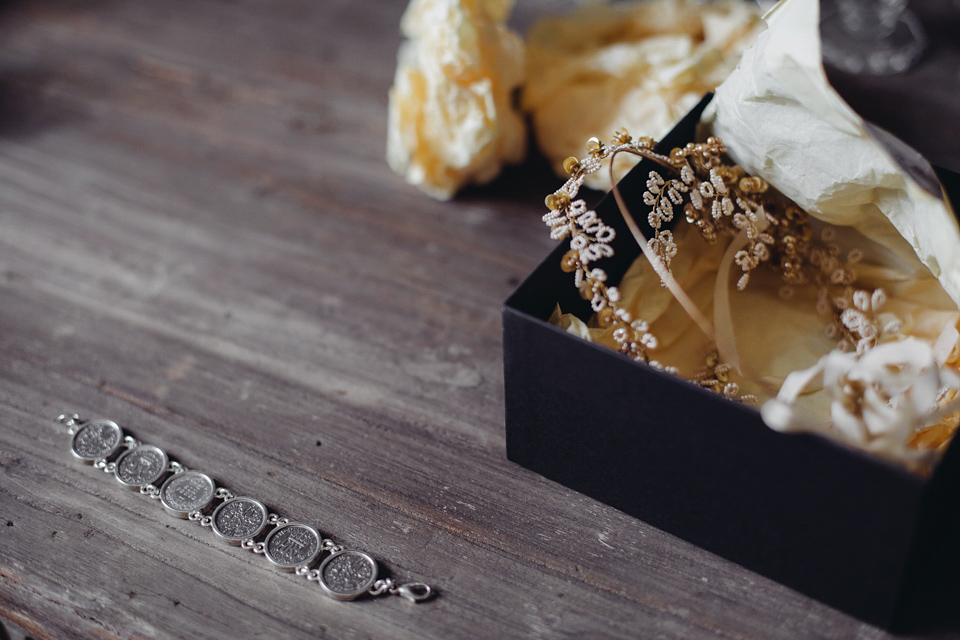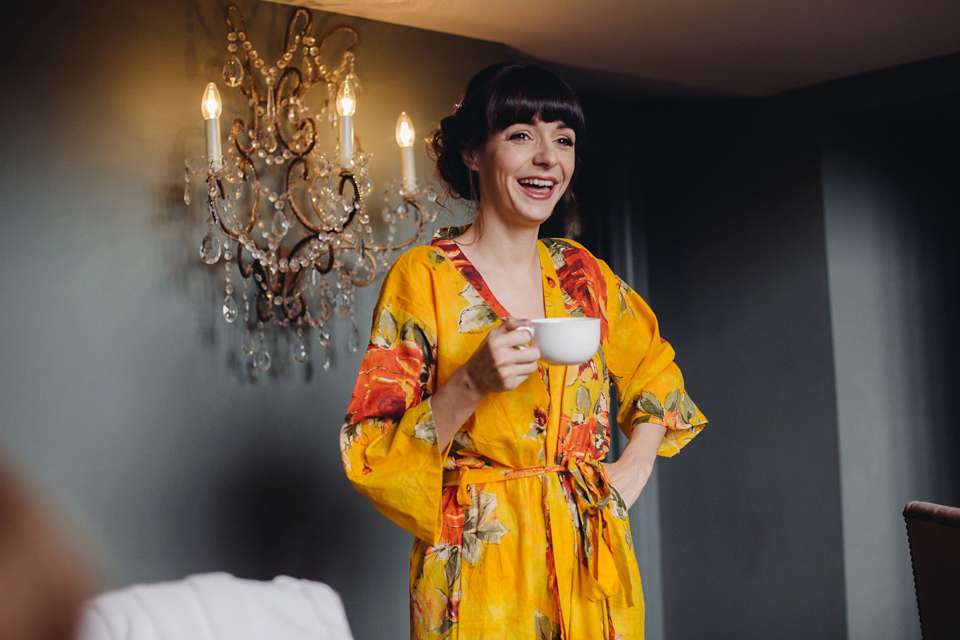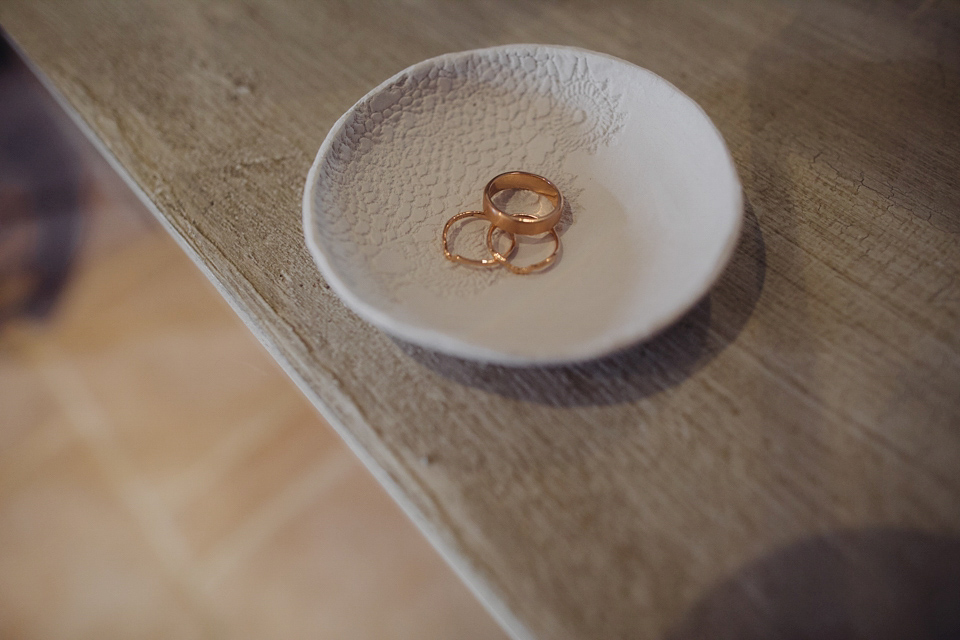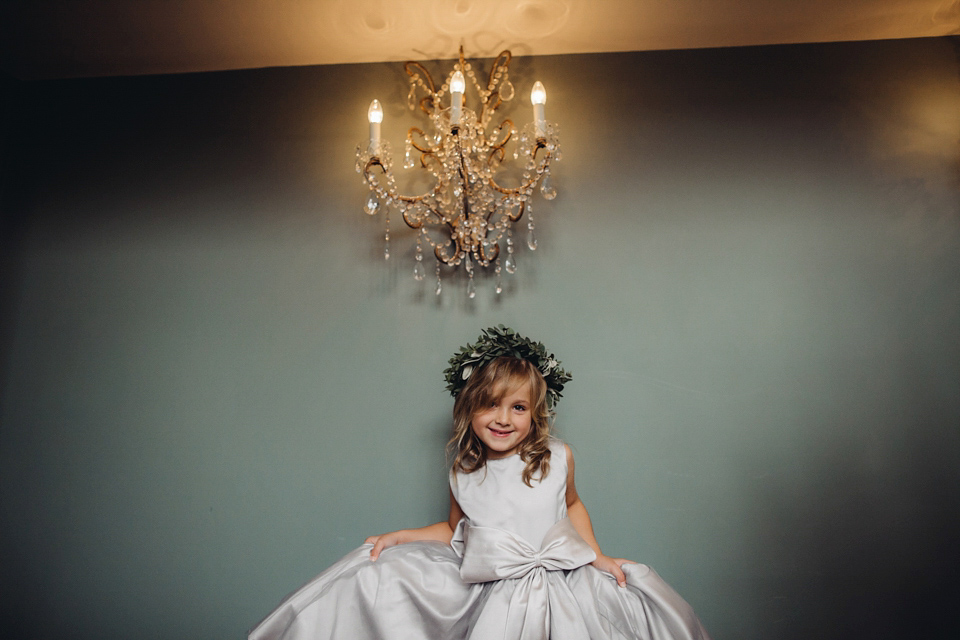 Rachael's incredible dress which featured a slinky and incredibly flattering cowl necked bodice and feathered skirt, was a design by Valentine Avoh.
"I discovered Valentine's beautiful designs via Trendy Le Wedding blog and made the trip to her home in Brussels, Belgium to see the dress in person. I am the first bride to wear 'Iris'.  I adored the simplicity, the unusual use of feathers and the distinct lack of sparkle!"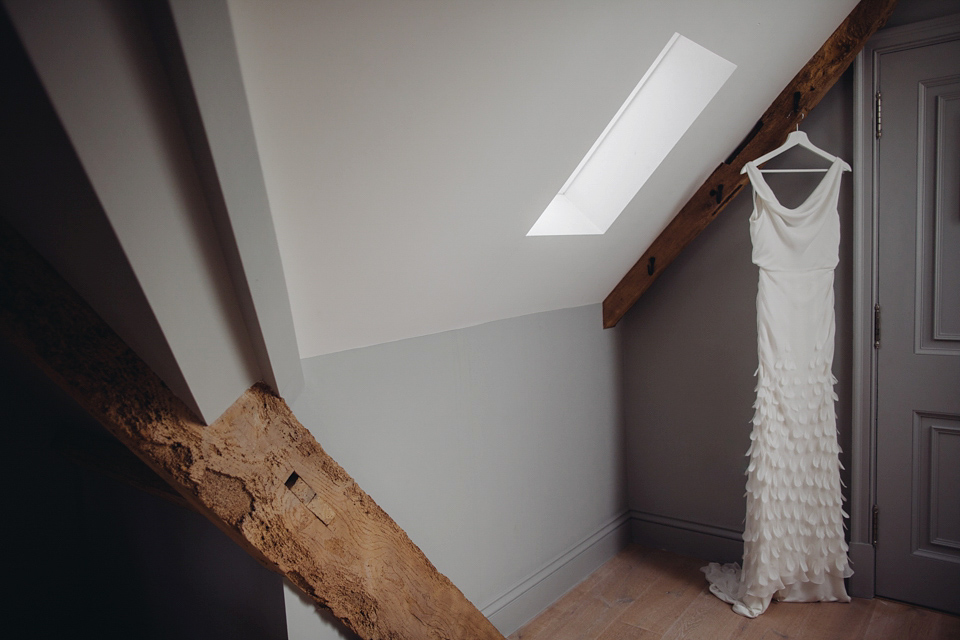 Rachael's perfume of choice was Chloe.
"I wore it when we first got together. Alex surprised with a bottle on the morning of our wedding."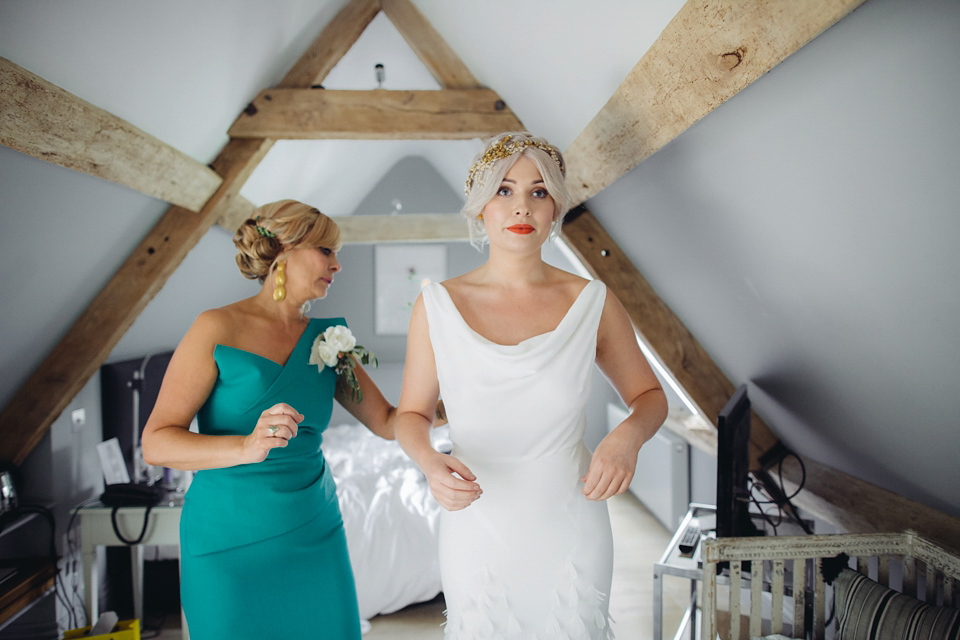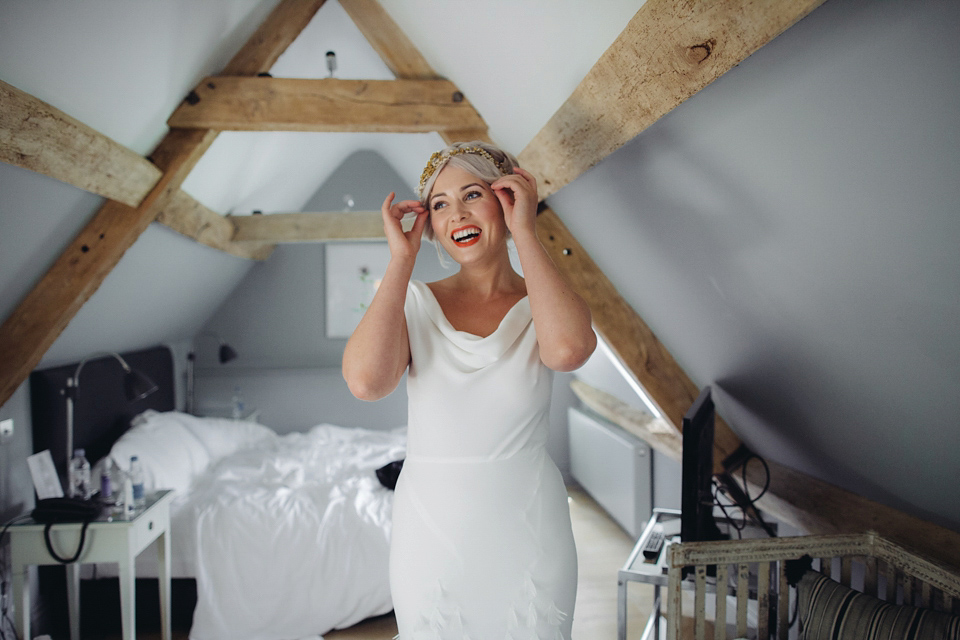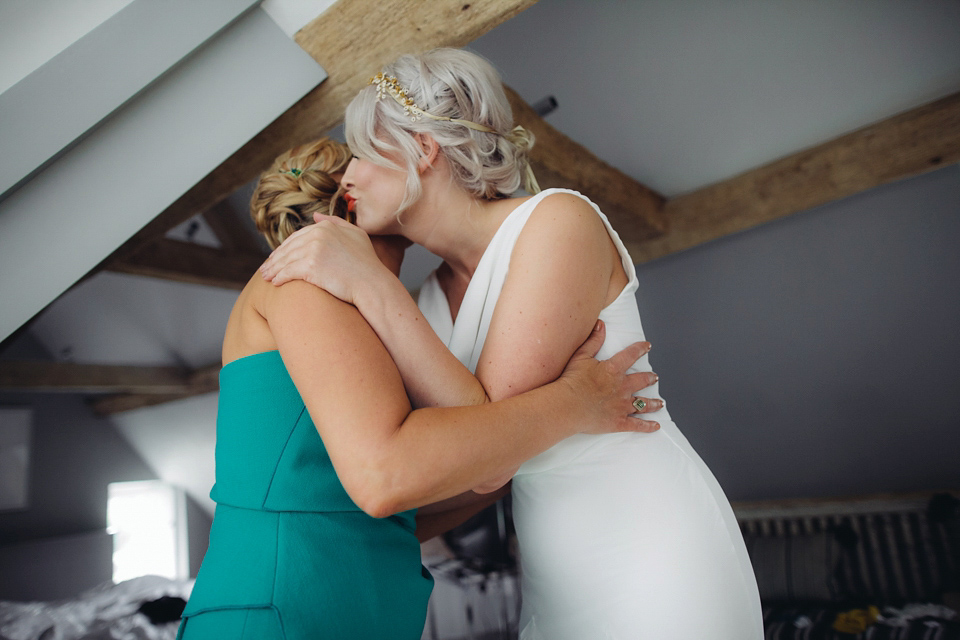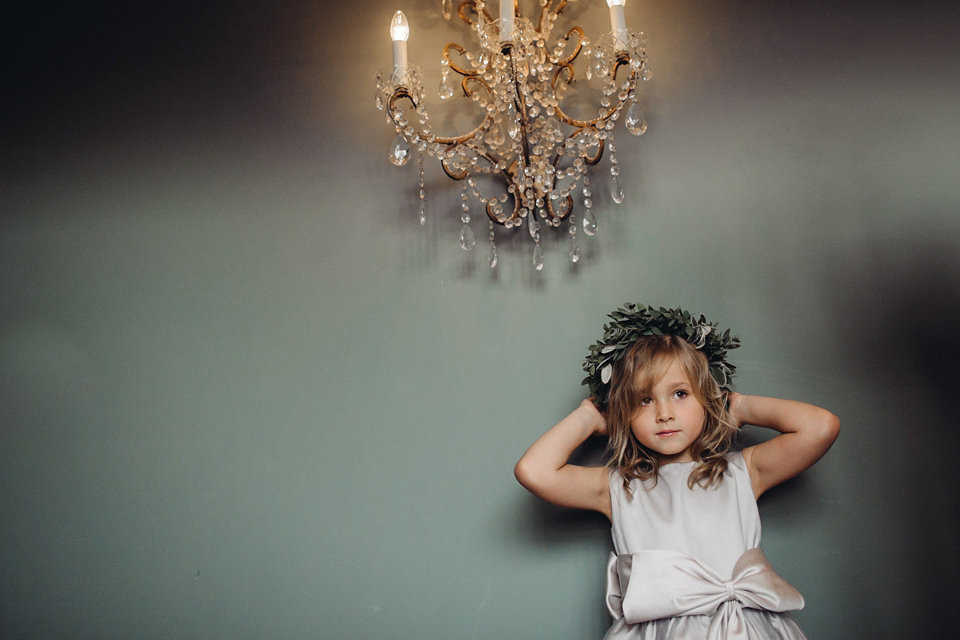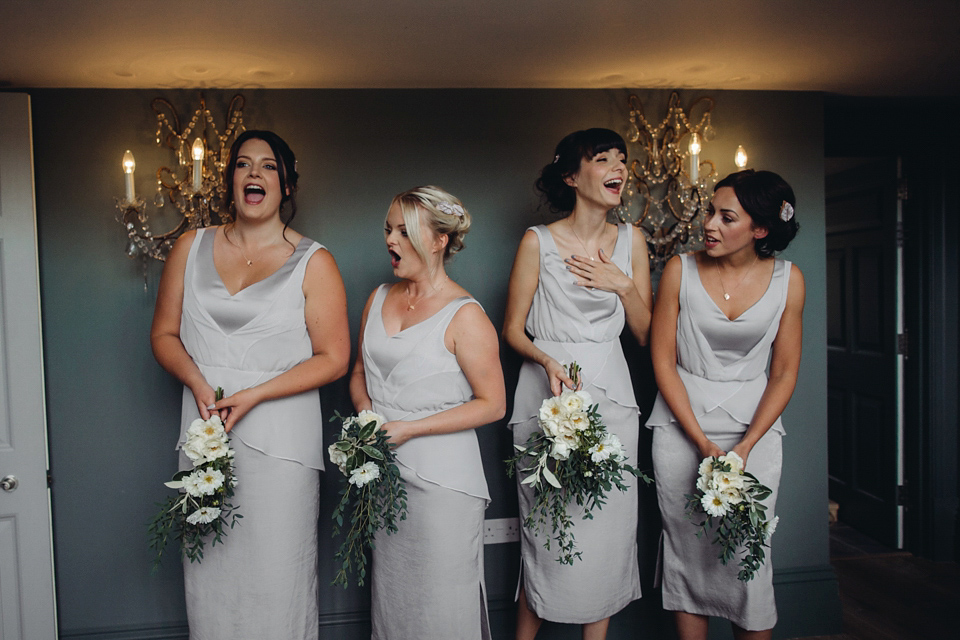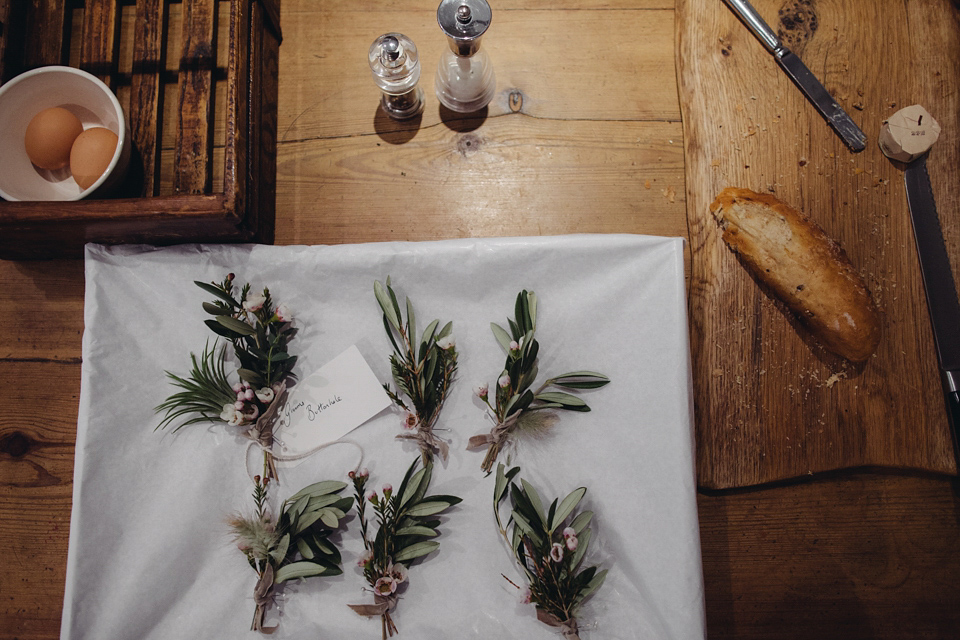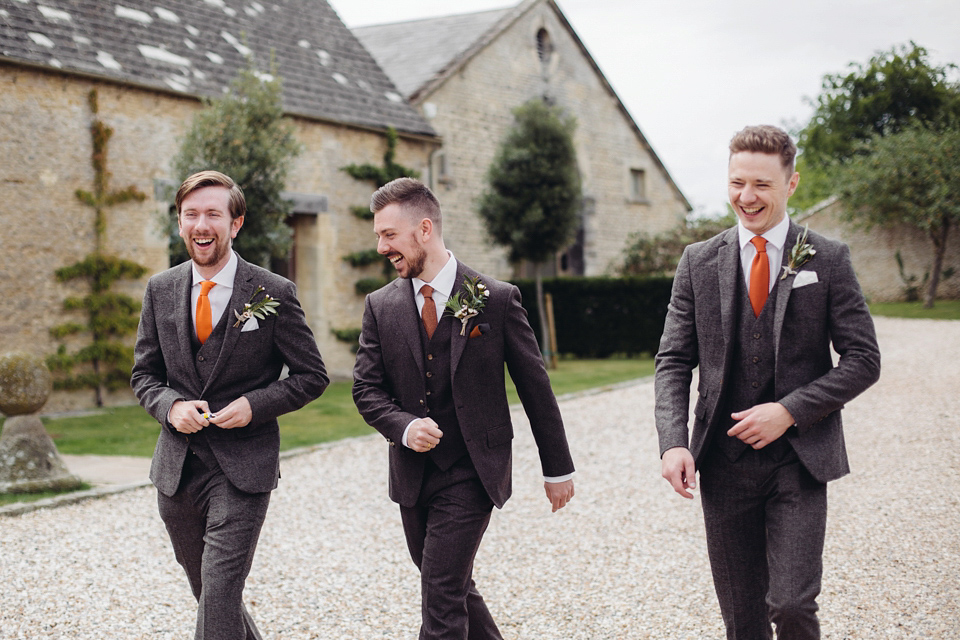 "We hired Westwood Design to provide our florals and opted for rustic, wild blooms arranged into an elegant, long bouquet secured with frayed edge ribbon and a 'something borrowed' gold locket with images of my grandparents who passed away when I was in my teens."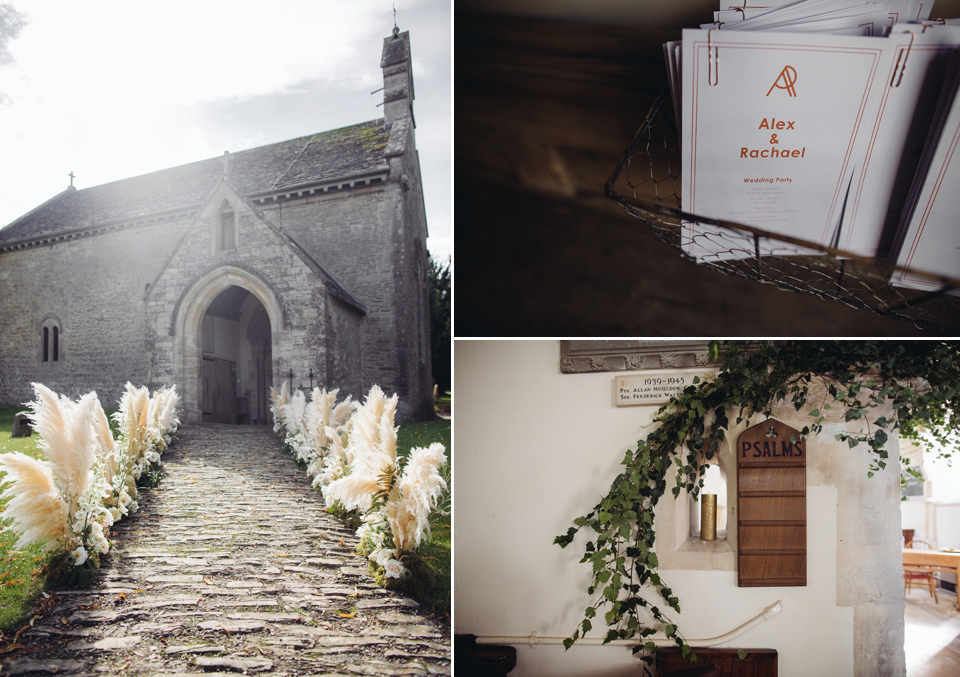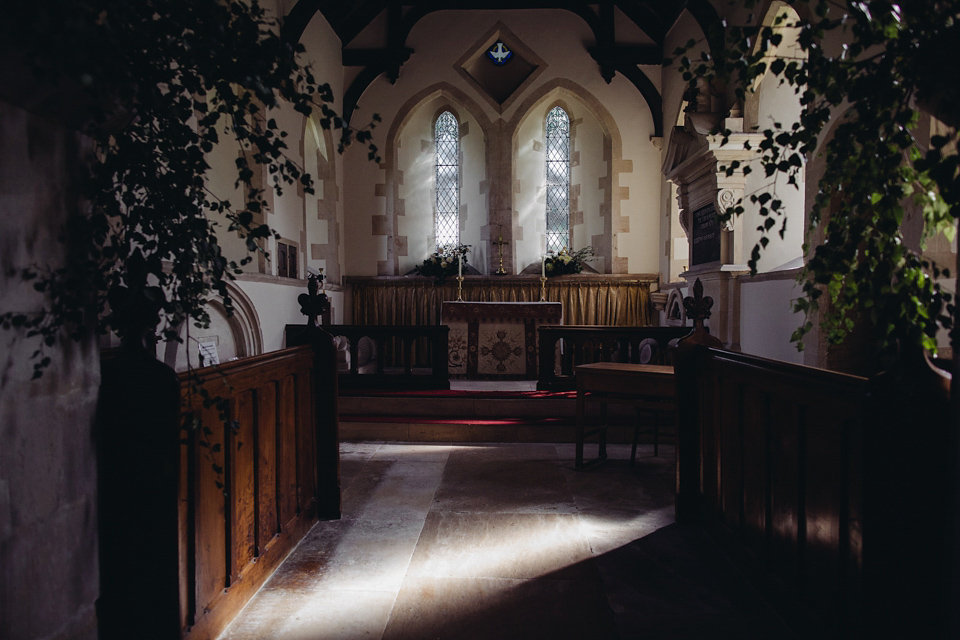 Rachael's father walked me down the aisle to the sound of Paul Weller's 'You Do Something To Me' – one of my all time personal faves.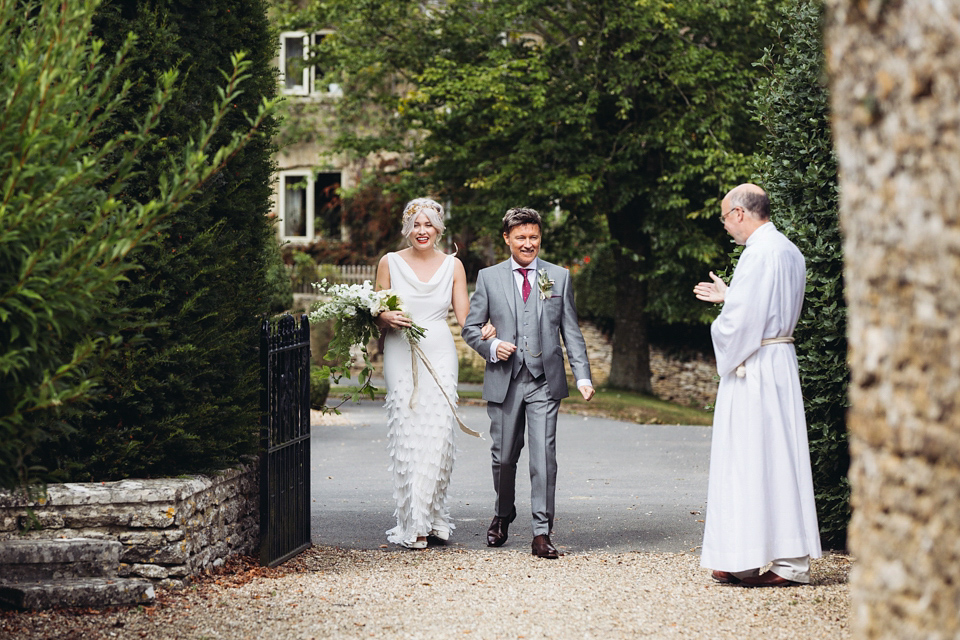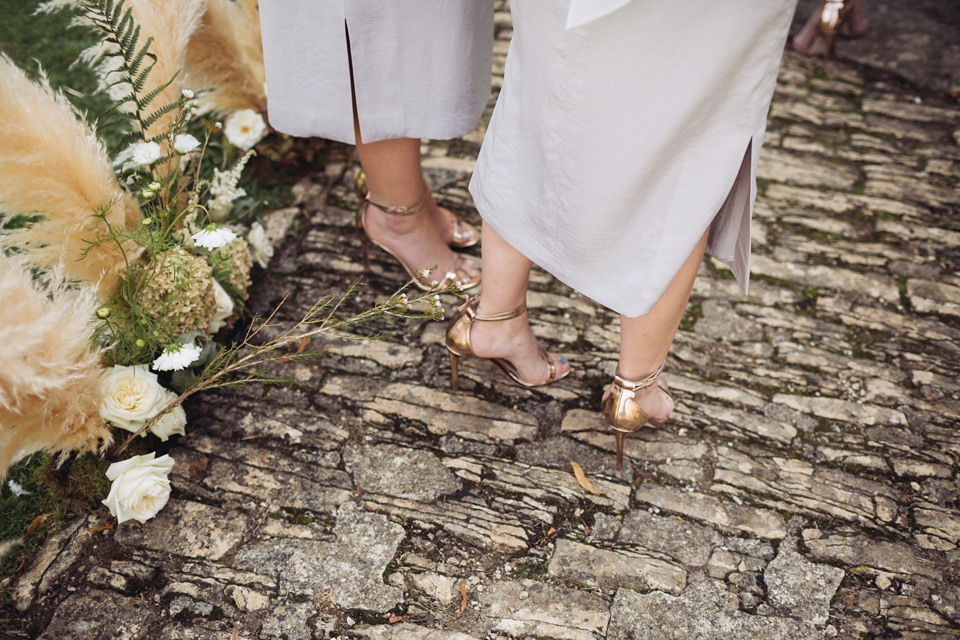 The couple had met in 2007 at Manchester University – both were studying Fashion Buying at the time. They became engaged at Christmas 2013.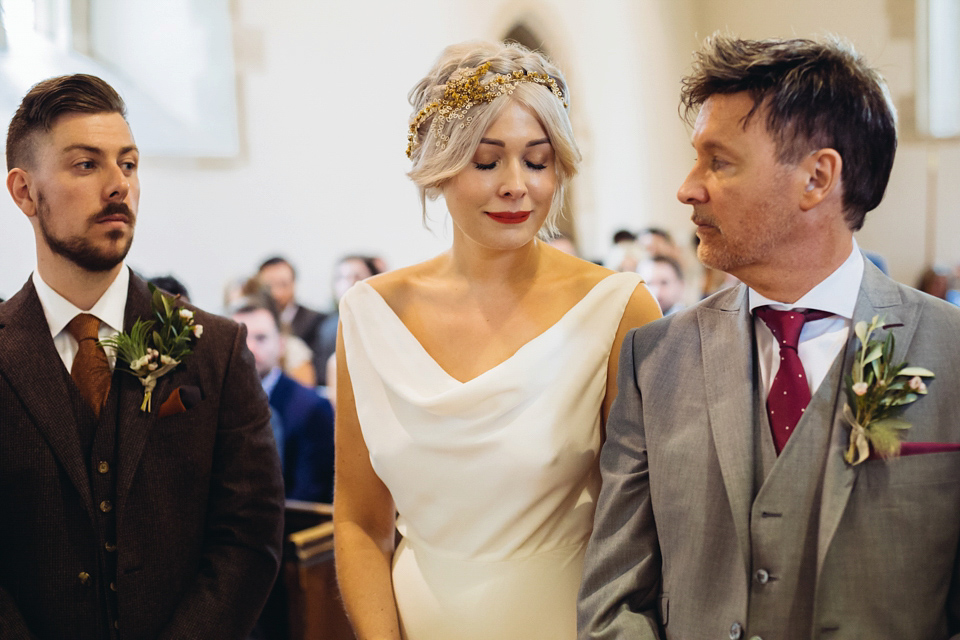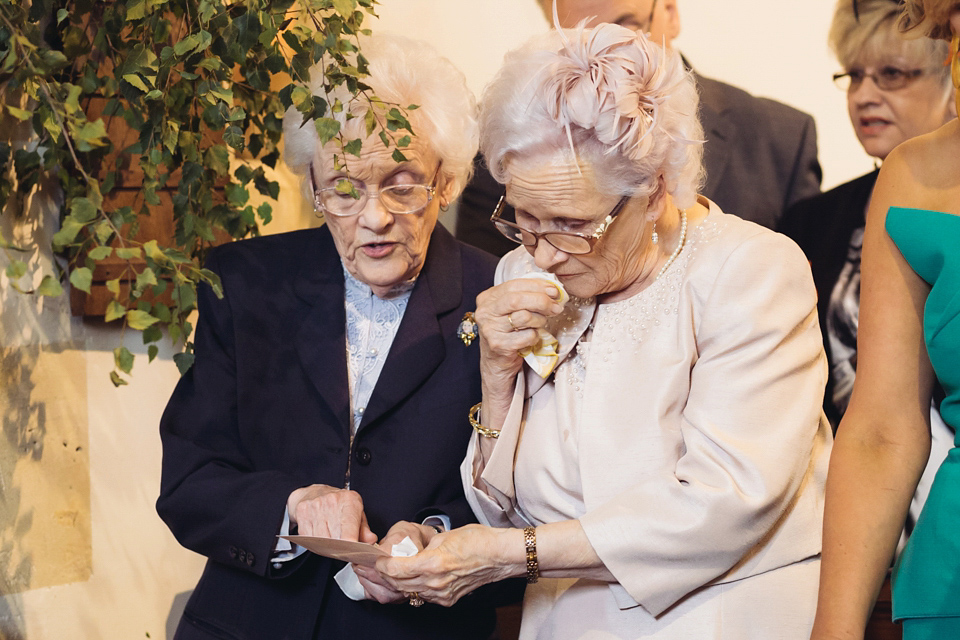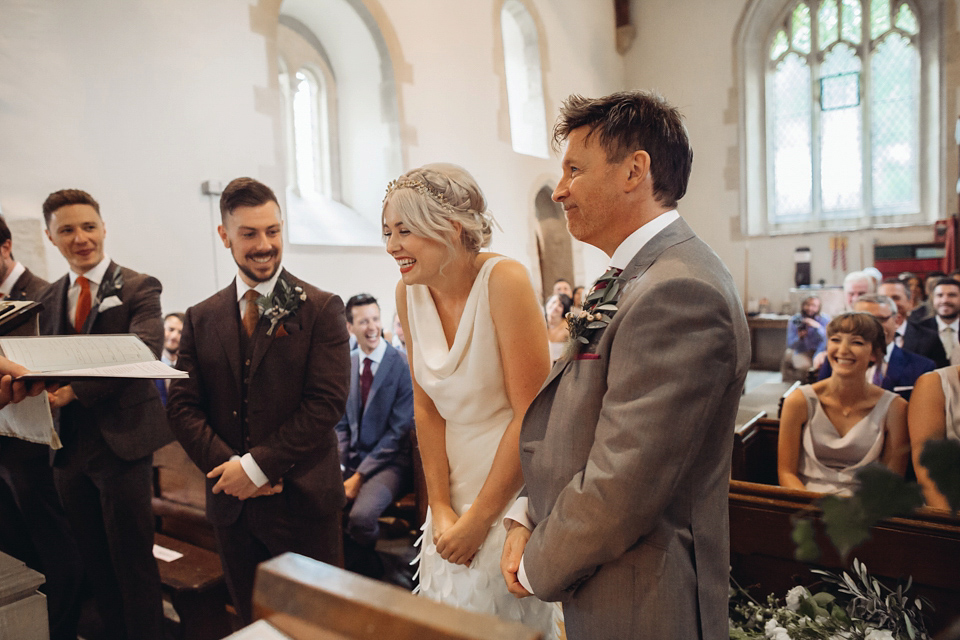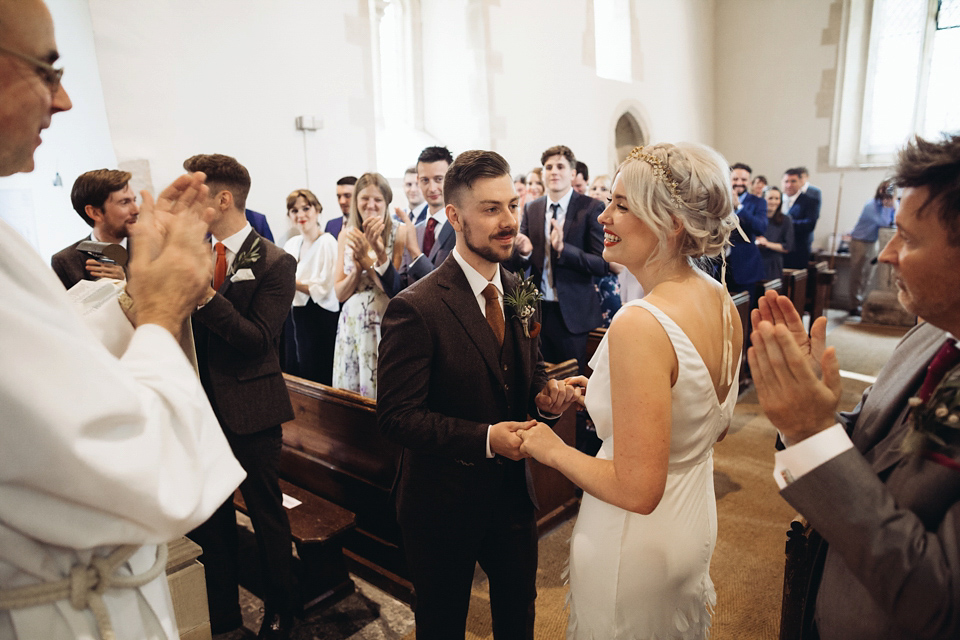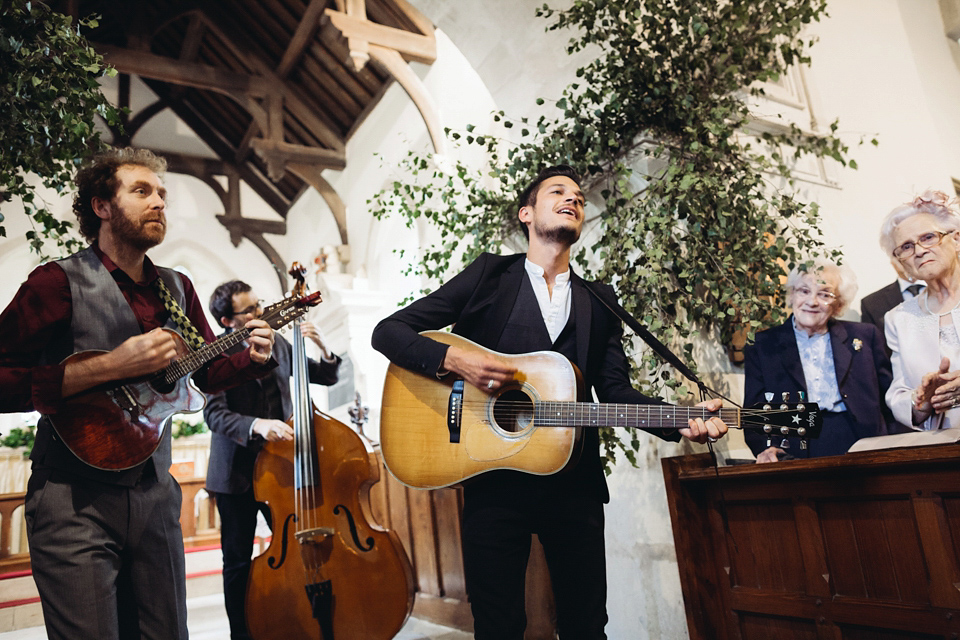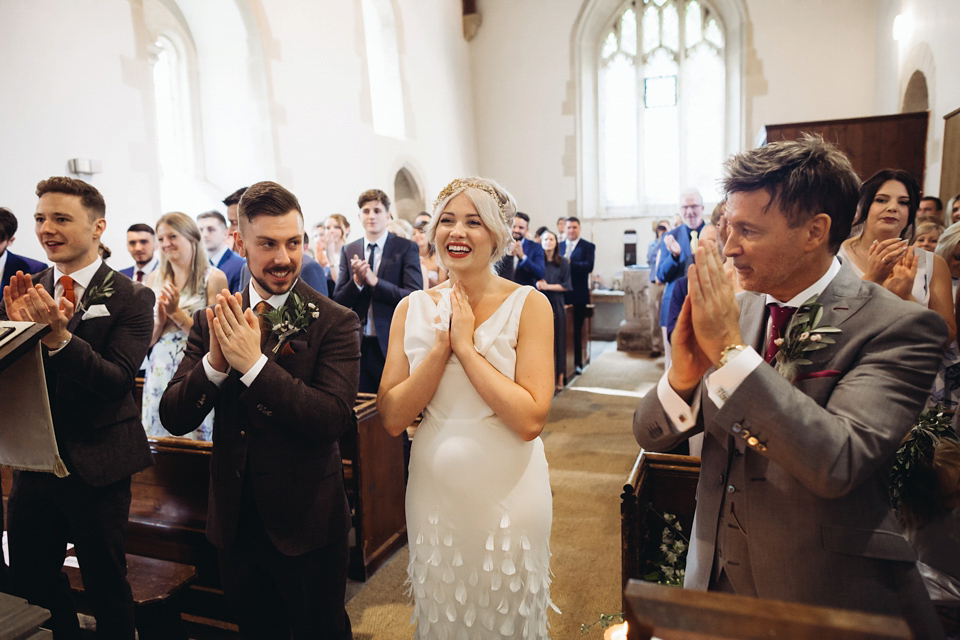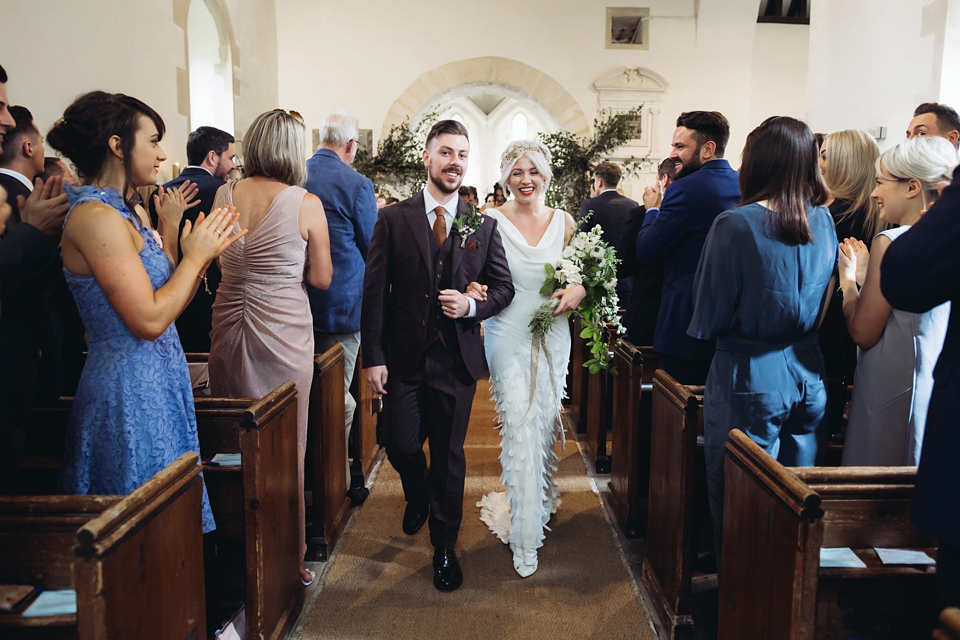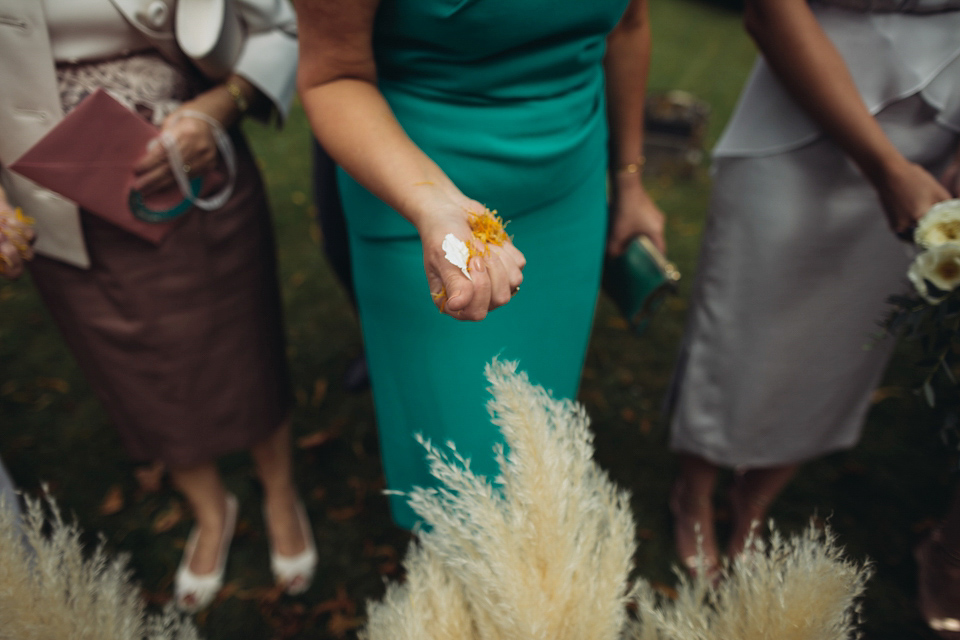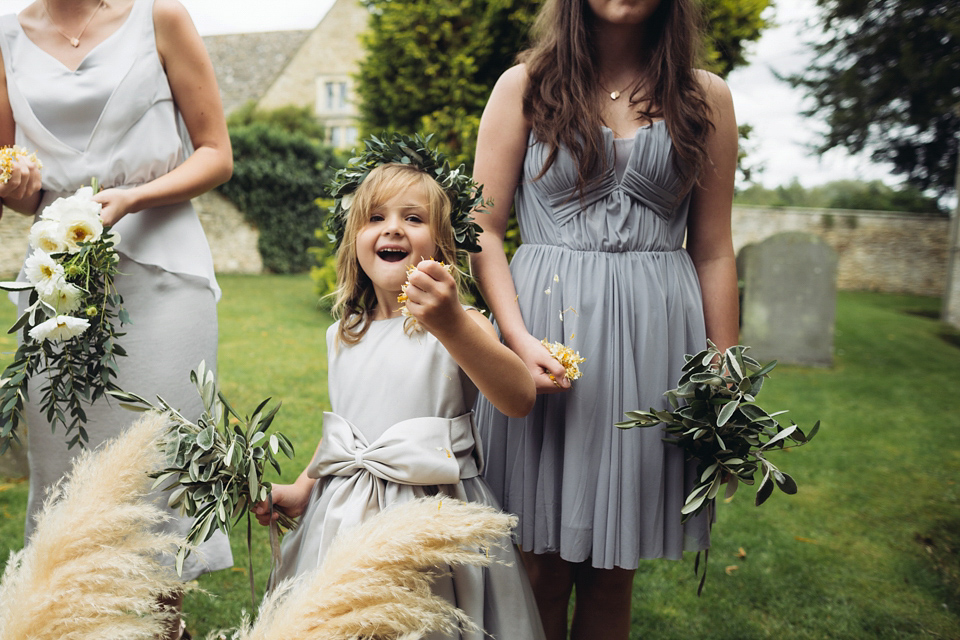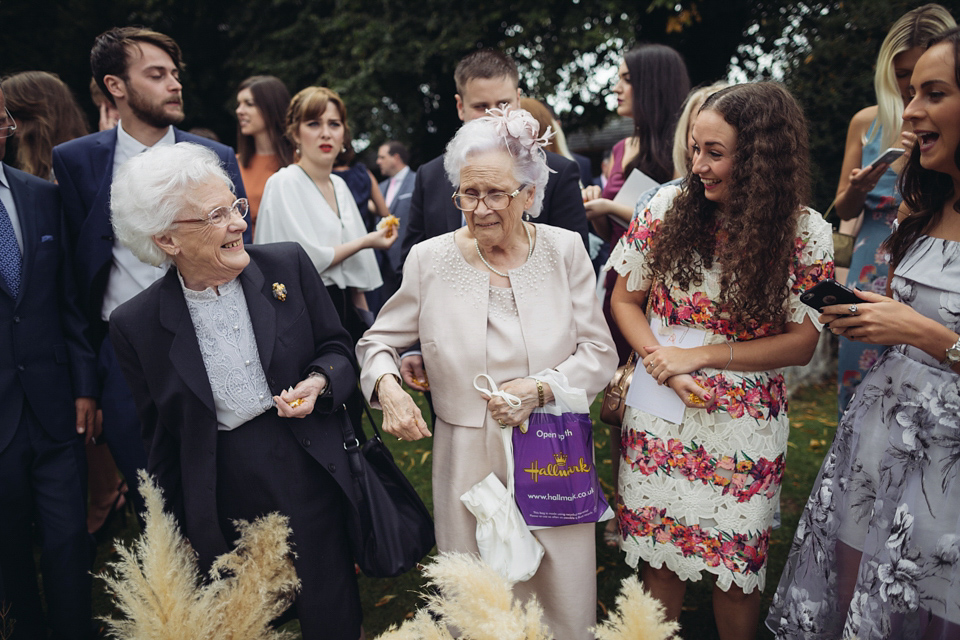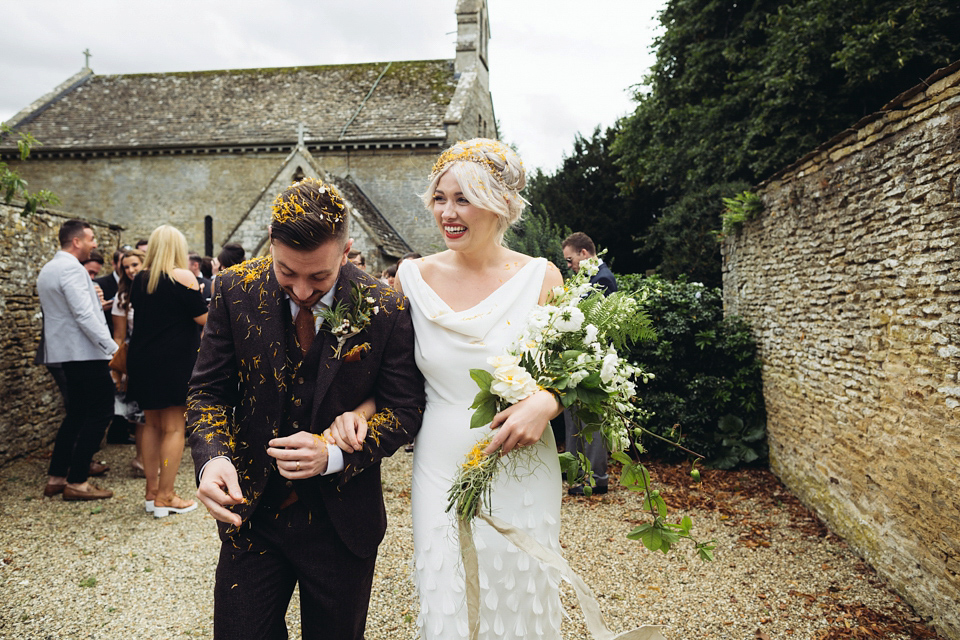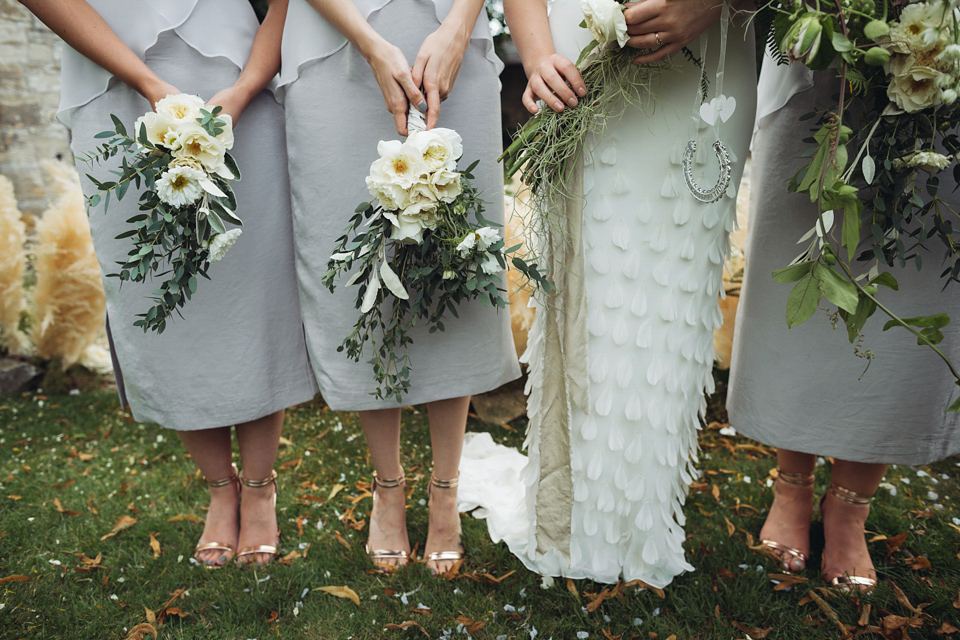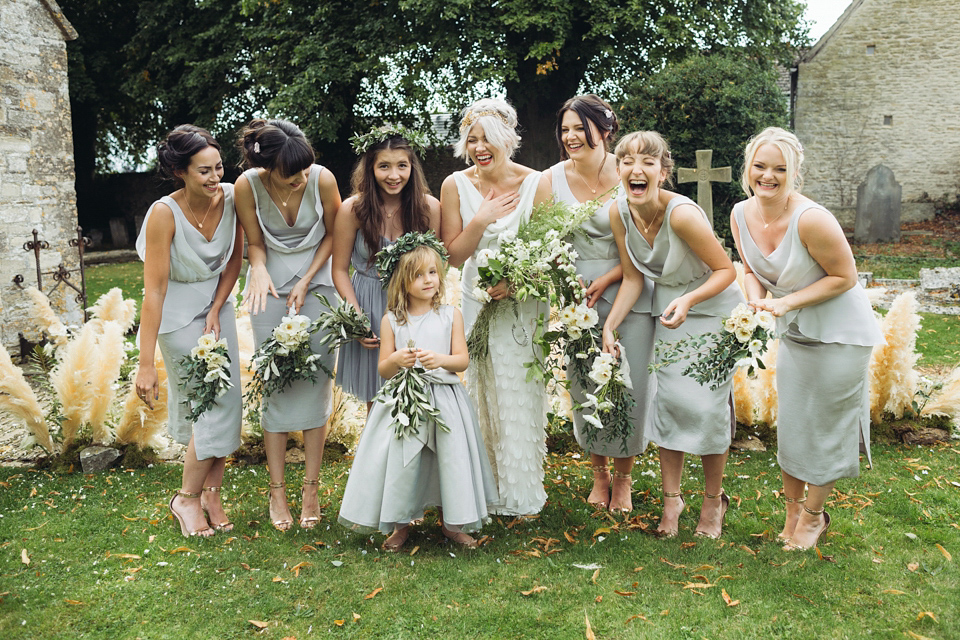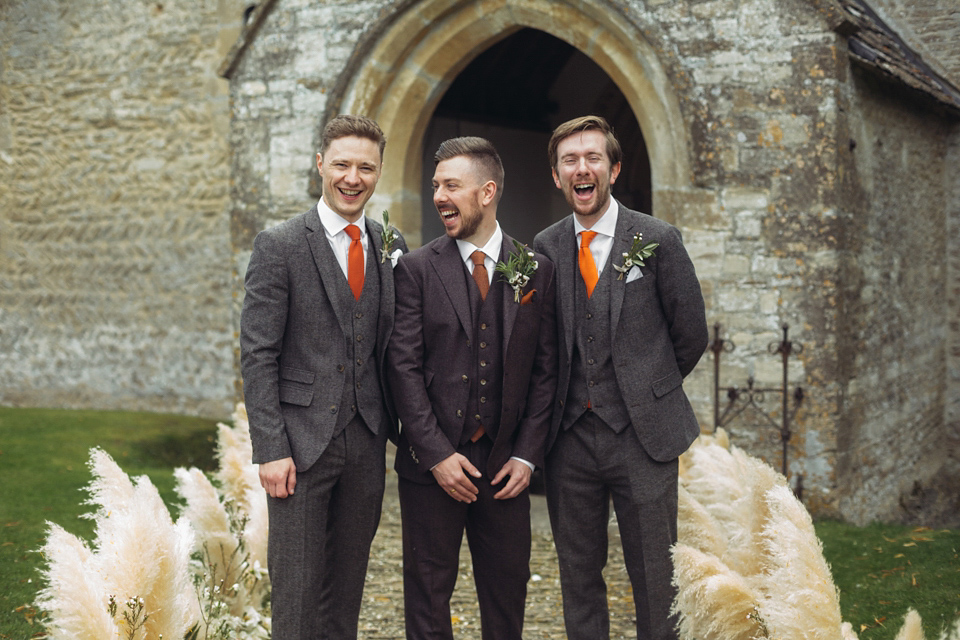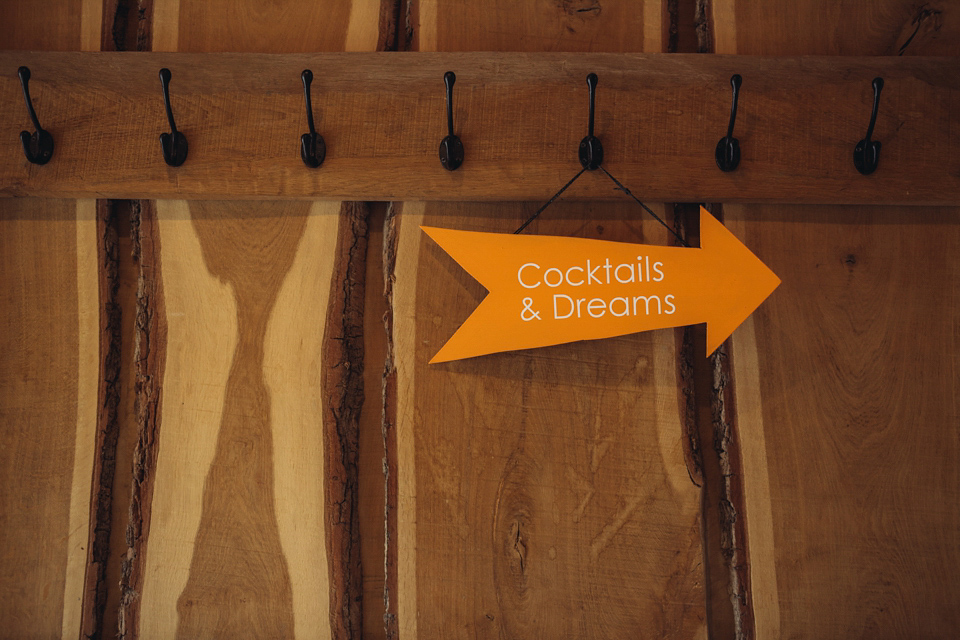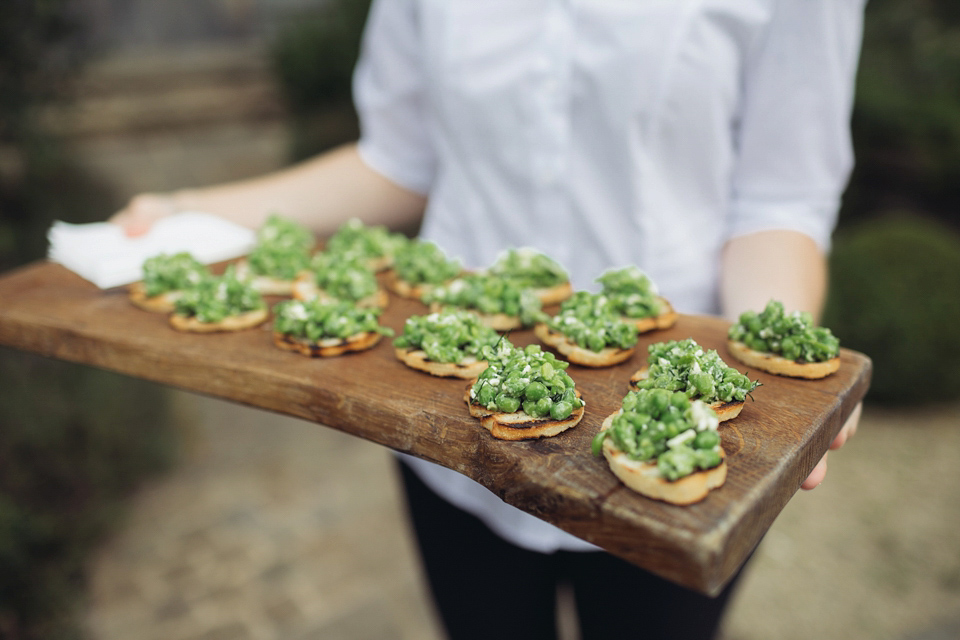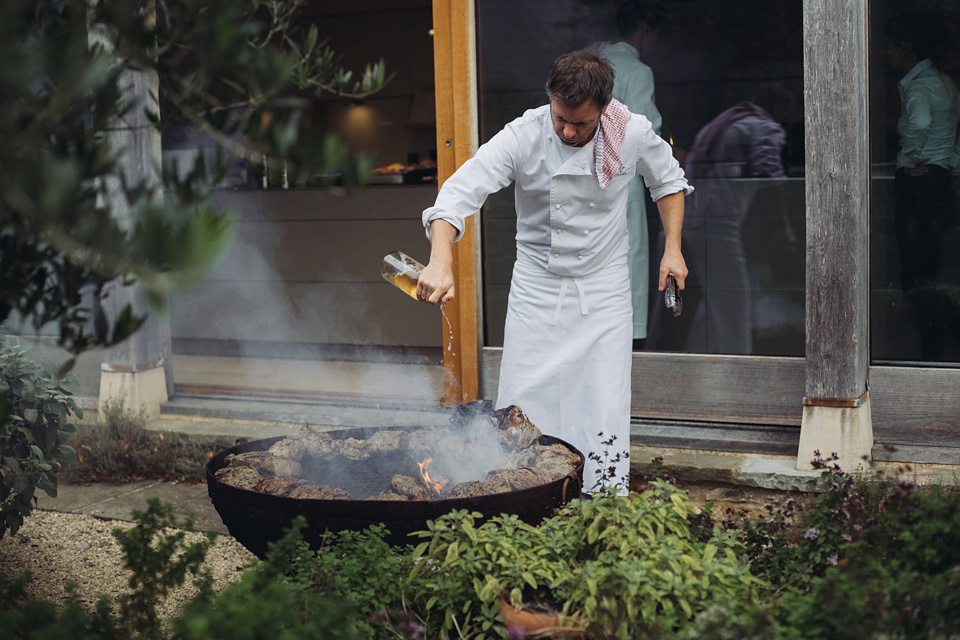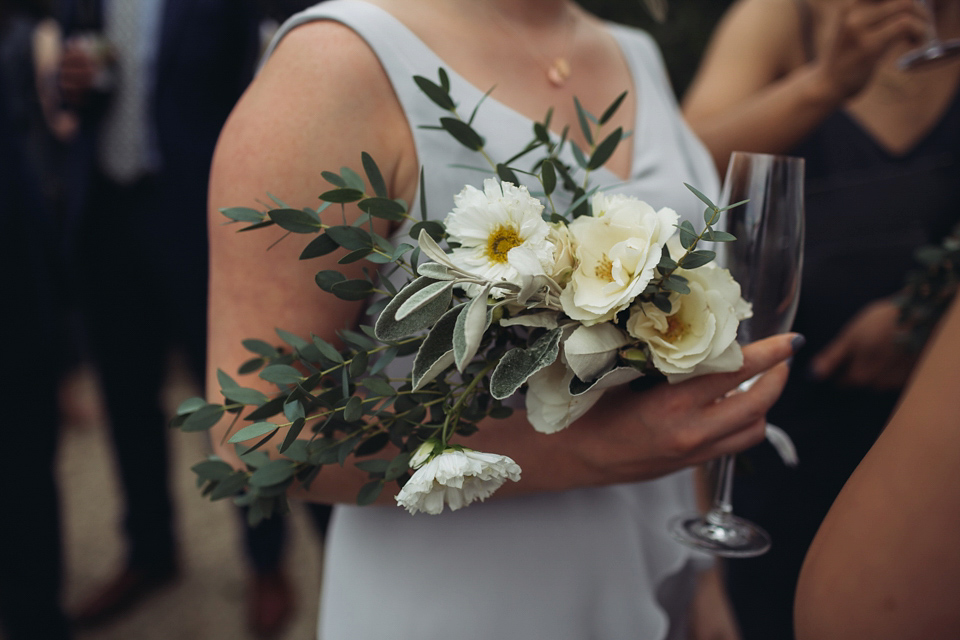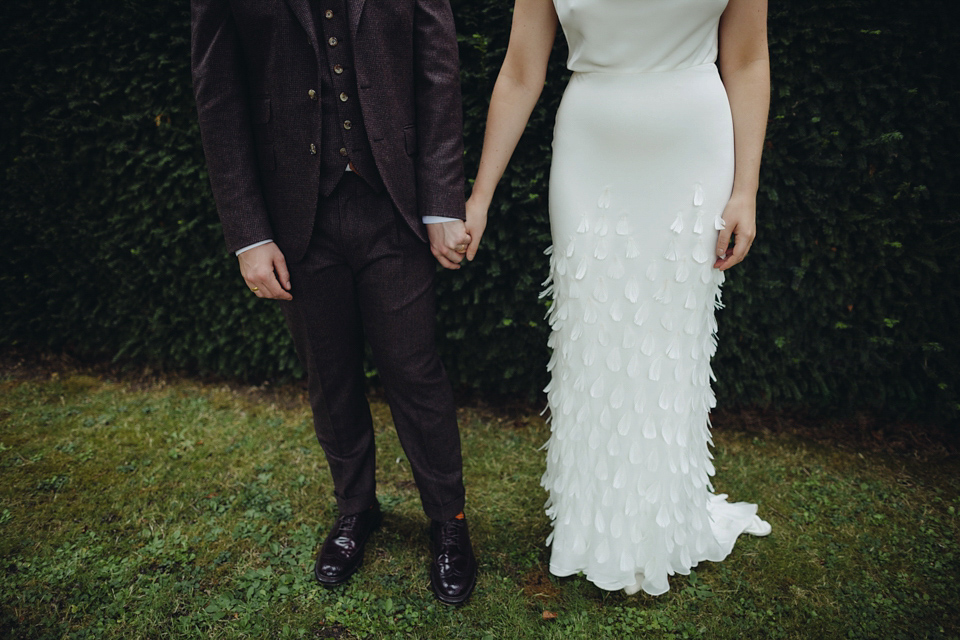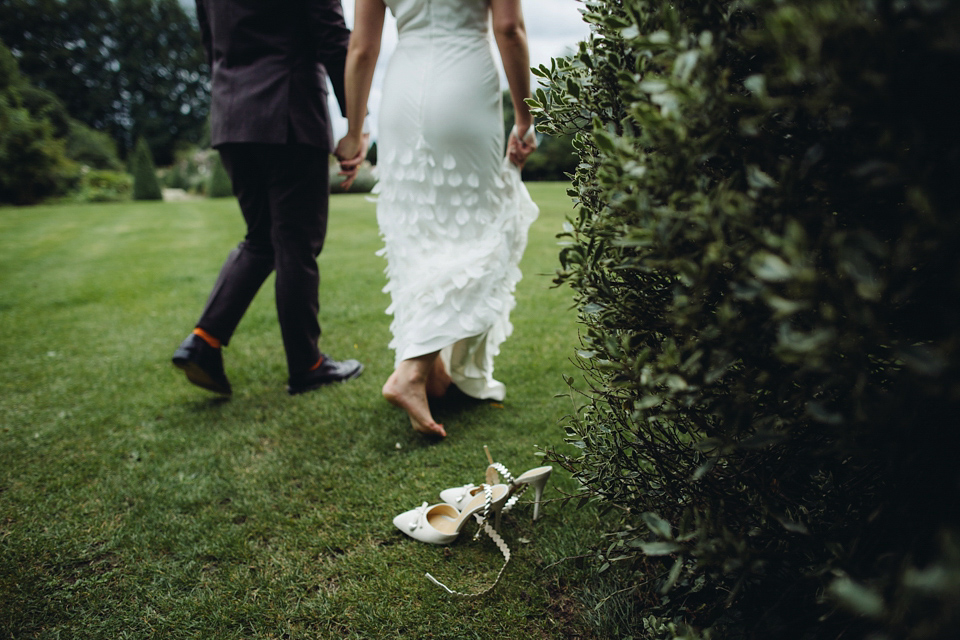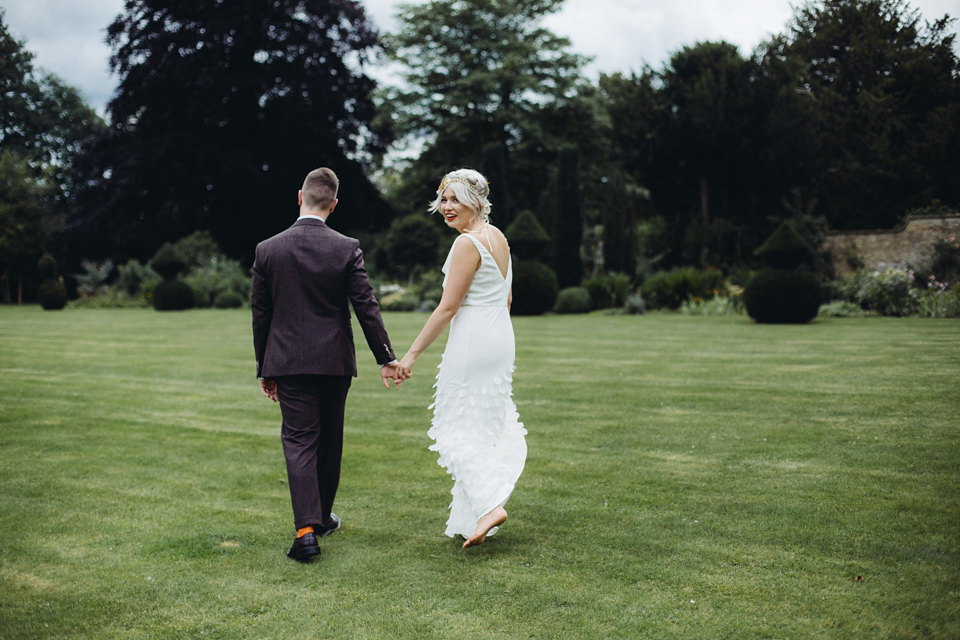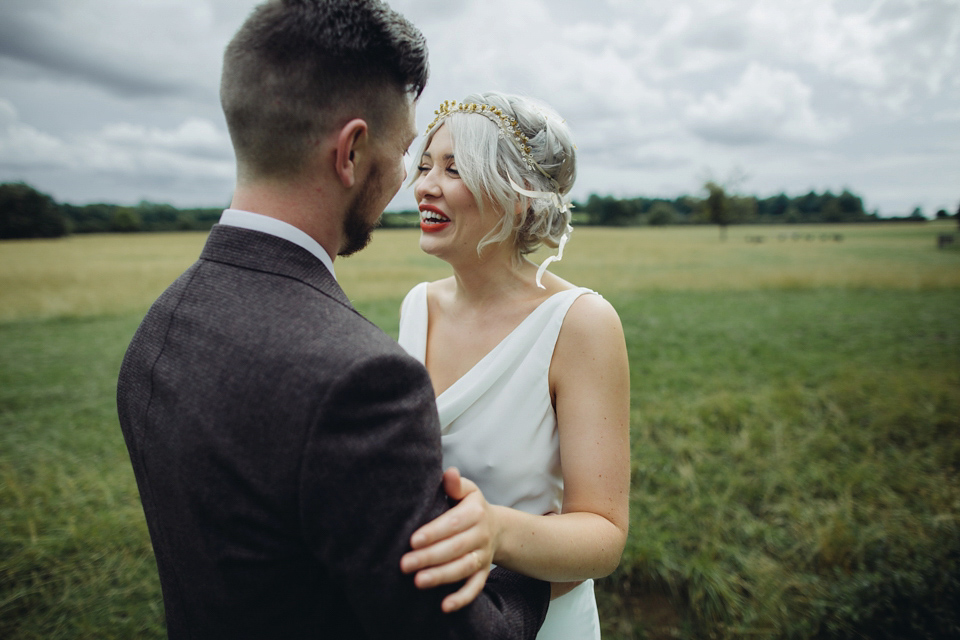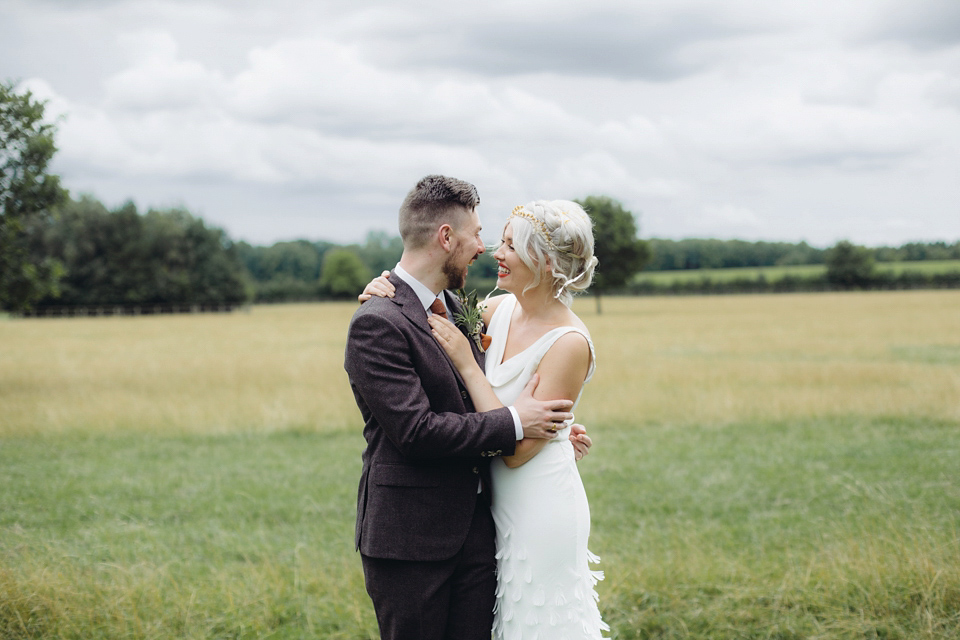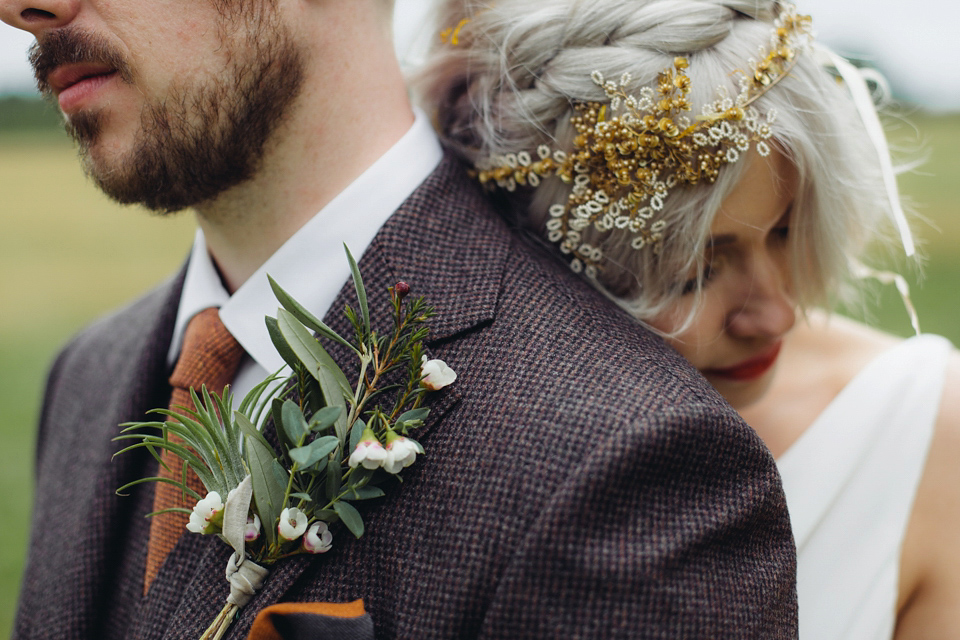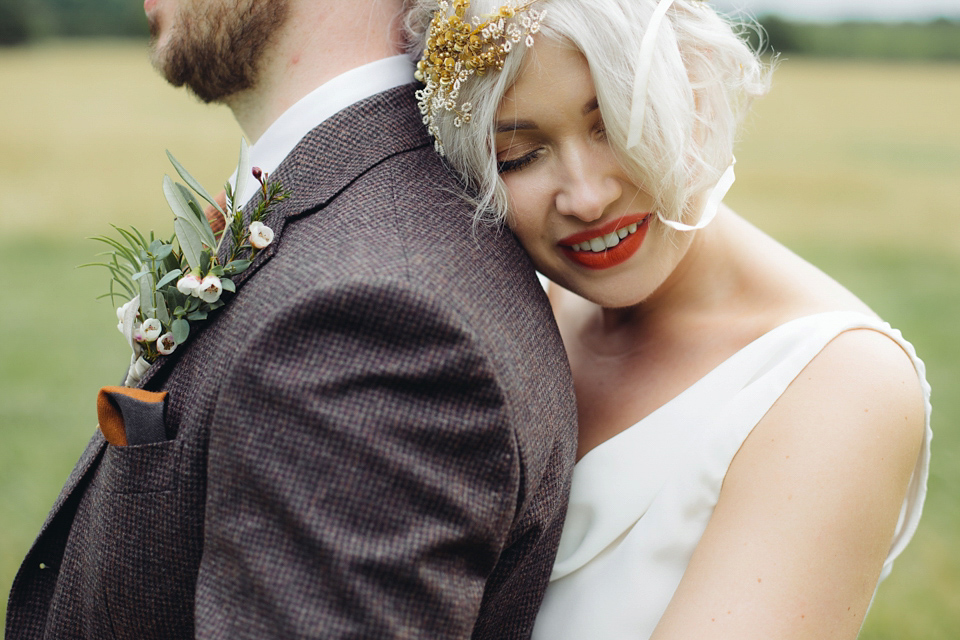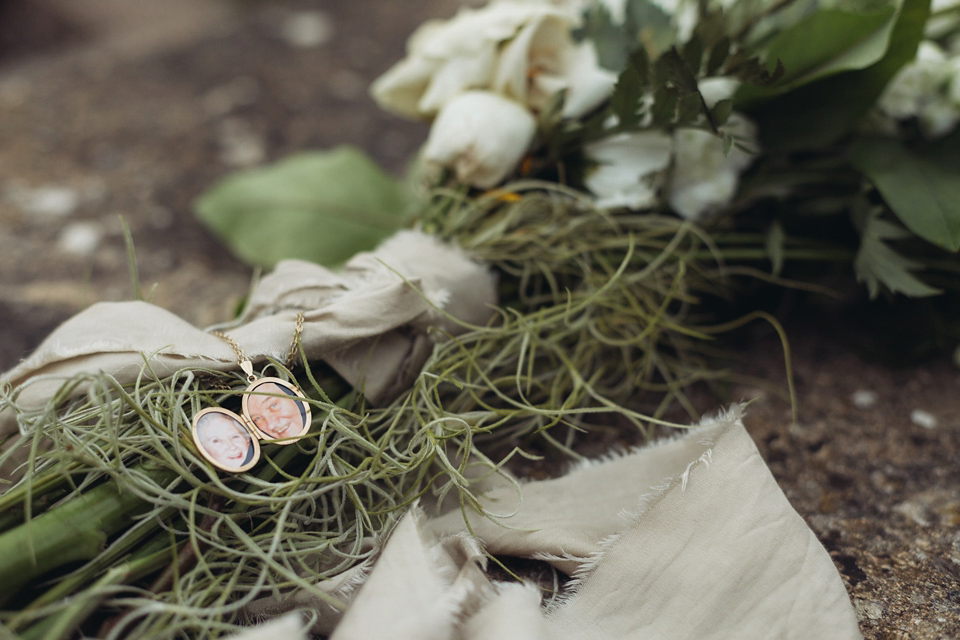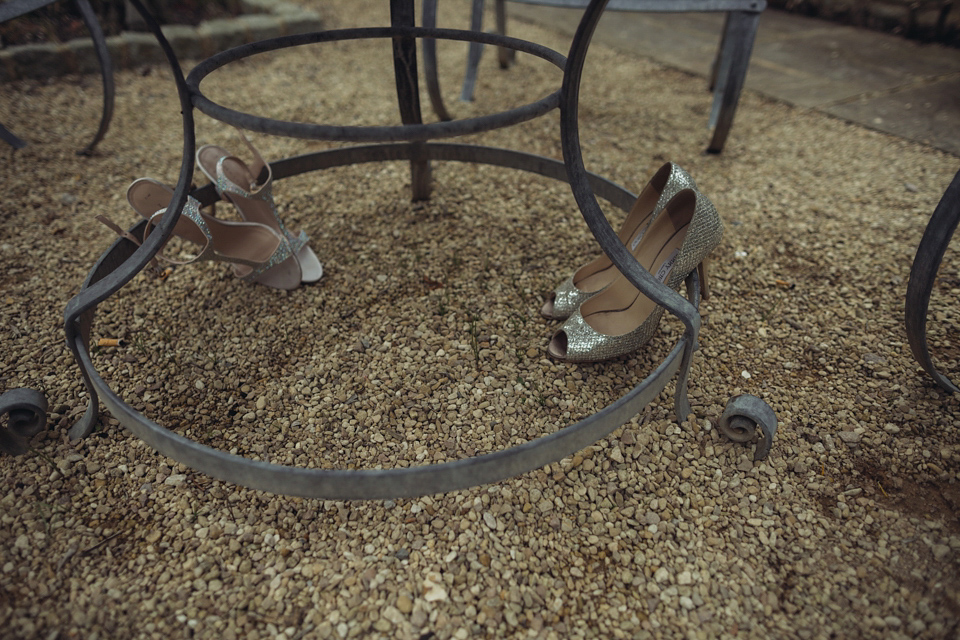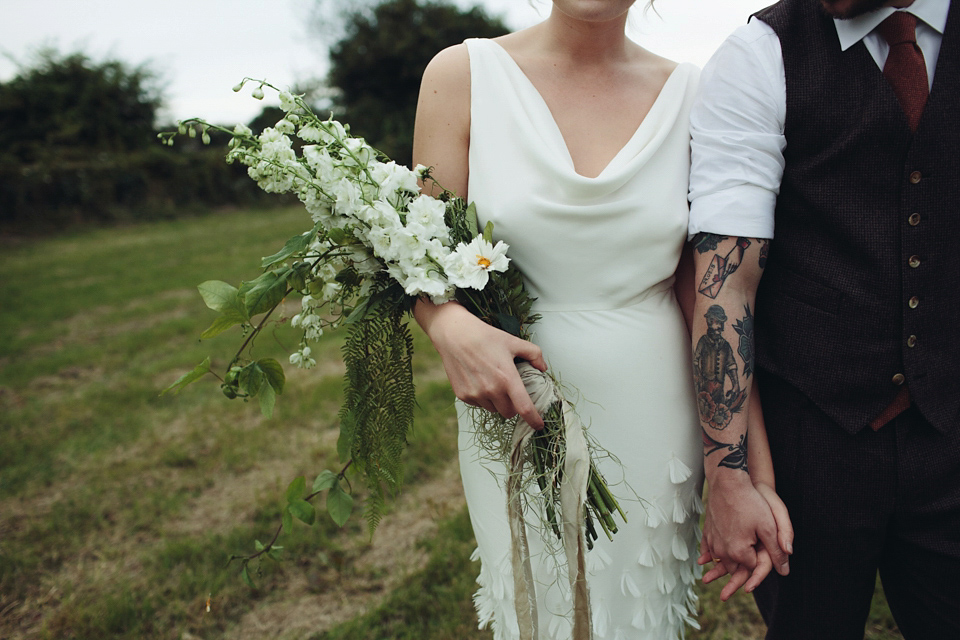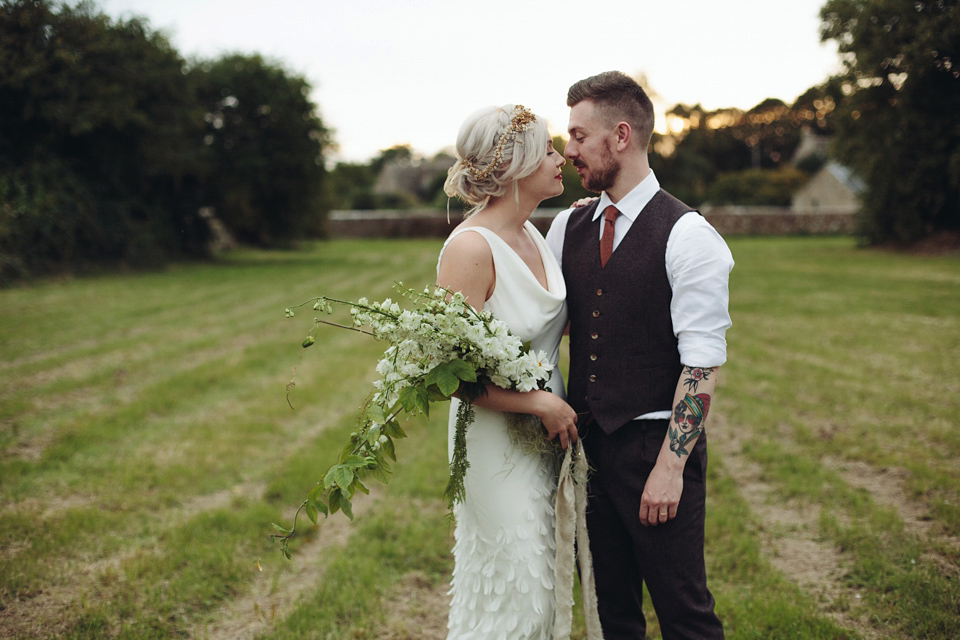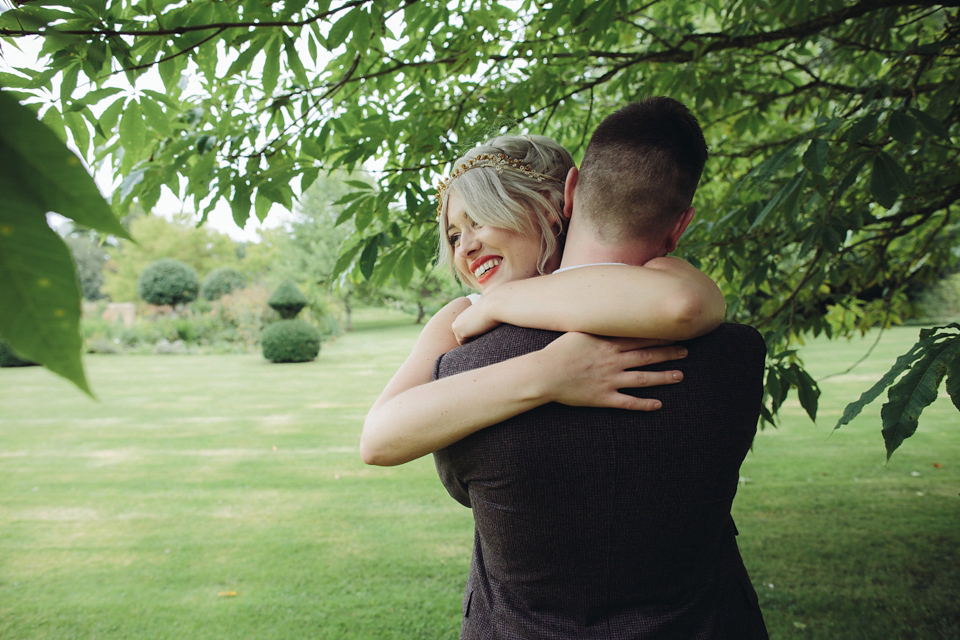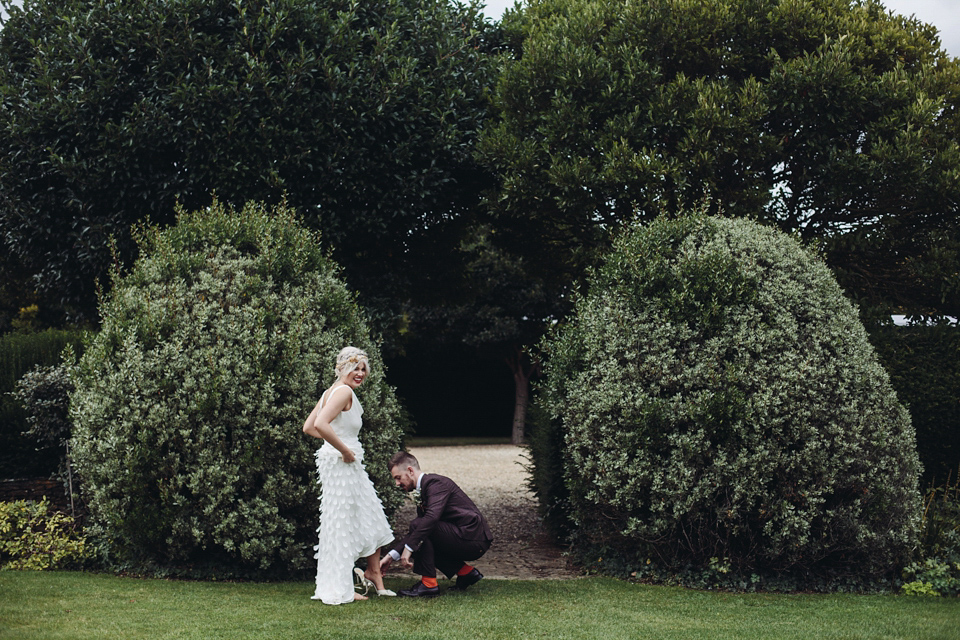 Rachael and Alex filled their reception with hanging decor and paper table sculptures. They also used geometric shaped paper boxes all of which were created by hand by Things by Laura.
Rachael says that one of her favourite moments of the day was the speeches…
"They went own for almost 2 hours as so many people spoke including my Dad, Alex, myself and the two best men. It felt like the whole room, all 95 of them came together and laughed and cried together!"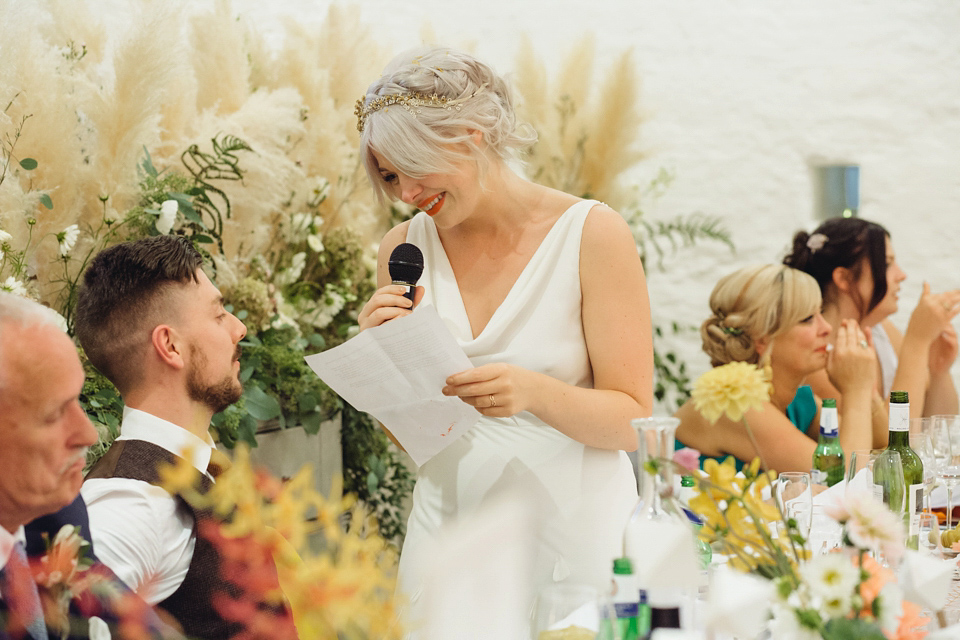 "Our cake was by Olofson Design. We went for a minimalist, architectural design. All white featuring an inner rose gold edging on the top layer. Each layer was a different flavour! All of our favourites, include chocolate orange, banana and white chocolate."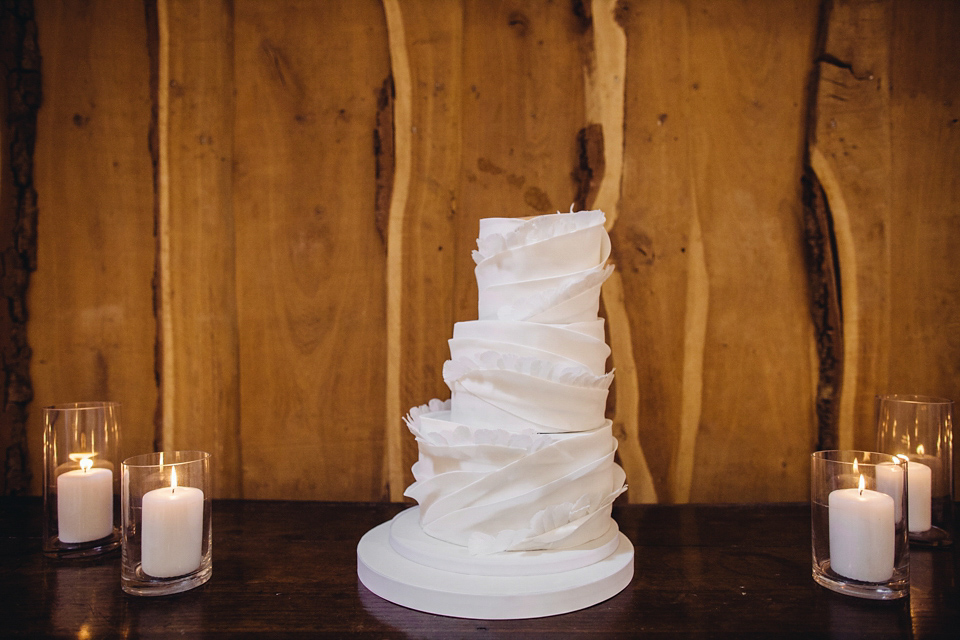 The couple danced to The Smiths' 'There is a light that never goes out' for their first dance.
"They are our favourite band! We used to go to night in Manchester every month, called 'The Smiths Disco' at a run down, sticky carpet boozer called The Star and Garter whilst at uni and for most of our relationship!"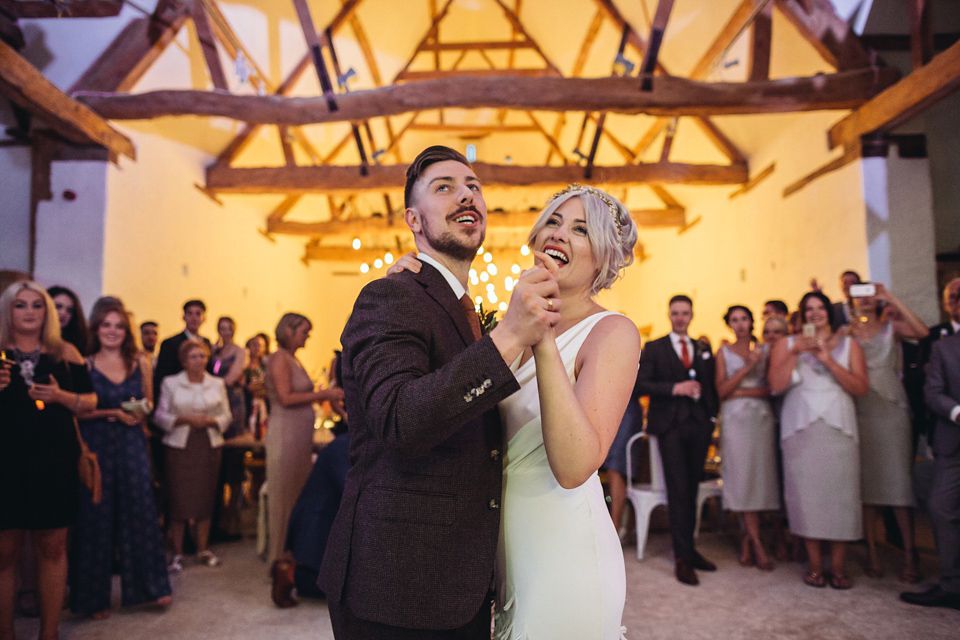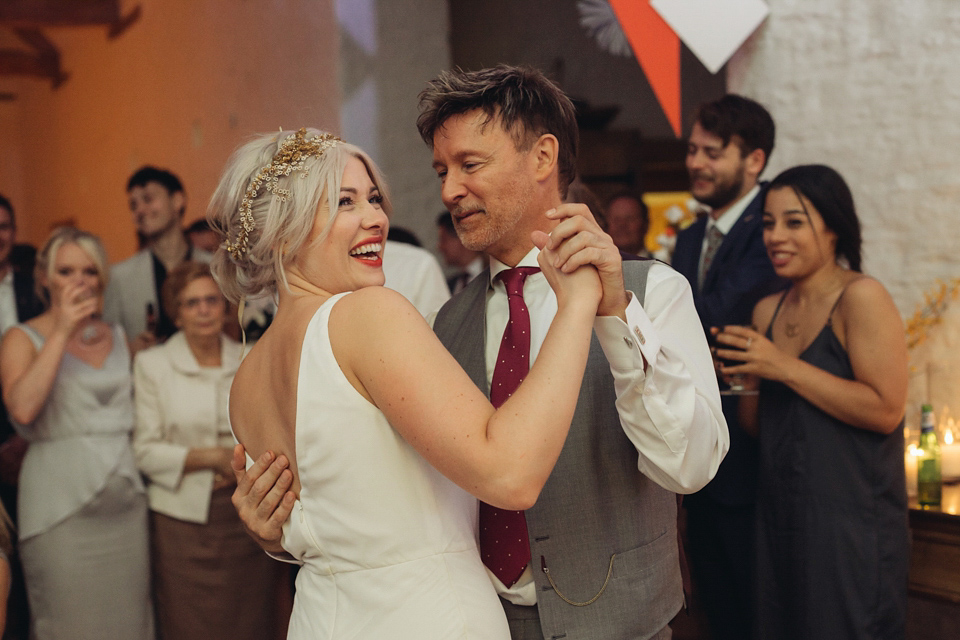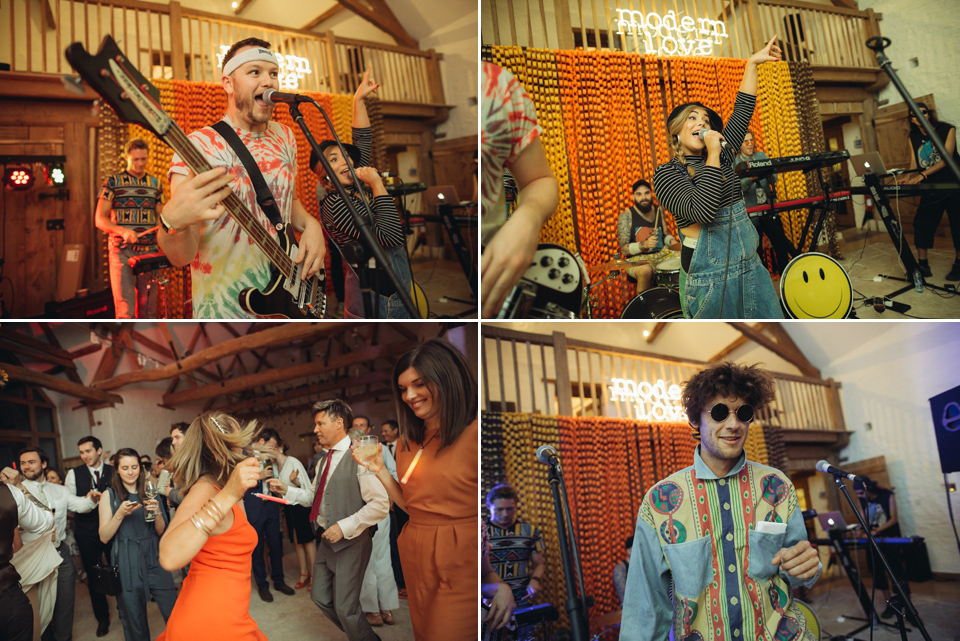 Words of Wedded Wisdom
"There's not a word in the world that describes how you feel on your wedding day, at points it kind of feels like you might simultaneously combust! It's a whirlwind, no wait, a hurricane, these raw emotions come out of nowhere and take you by complete surprise, even if you think you're feeling relatively calm.
If there's one piece of advice I'd give to a bride, it's make sure you and your partner take 20 mins to step back, look around the room and take it in. Even sneak off and take a little stroll together and just think that this is it, this is your wedding day."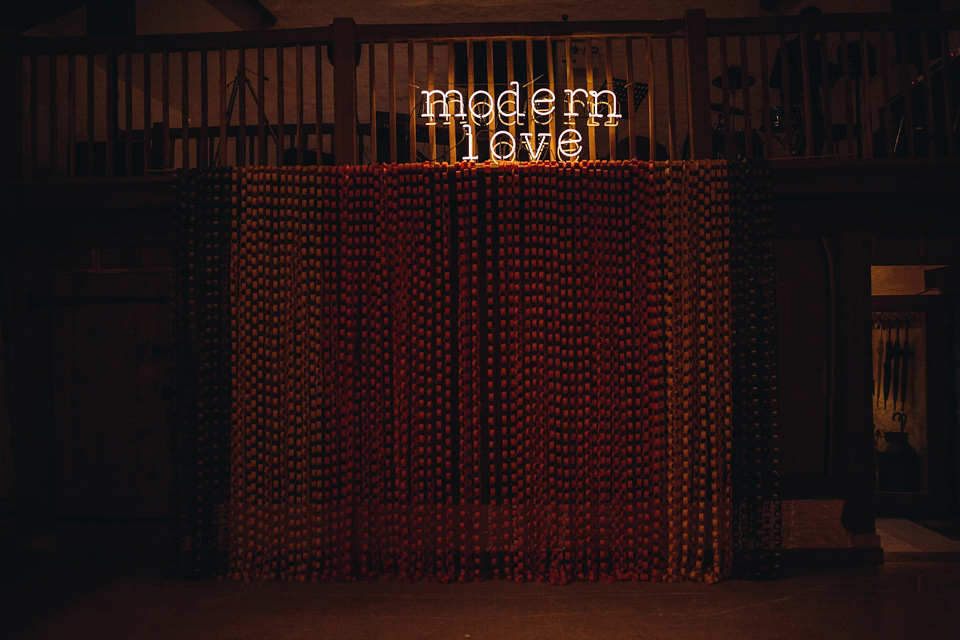 Advice we hear time and time again ladies  – make a mental note to slow down in the day and take a few precious moments out if you can.
My love and thanks to the super-talented Michelle of  Pocketful of Dreams for sharing this beautiful wedding – Michelle, your styling talents know no bounds! Thank you too, to photographer Lucy Little for sharing her beautiful images. Readers, you can follow Rachael and her designer husband on Instagram at @object_style and @otterwell.
Have a beautiful day all – I really hope this gorgeous modern wedding has inspired you.
Love Annabel xx
Photographer – Lucy Little
Film – Cinereportage (film not yet available)
Planner/Stylist – Pocketful of Dreams
Venue – Undisclosed
Wedding Dress –Valentine Avoh
Shoes -Charlotte Olympia – 'Runaway Bride'
Headpiece – Isobel Hind Couture
Accessories – Silver Sixpence in her Shoe +Erica Stacey Bridal + Kirstie Maclaren
Perfume – Chloe
Grooms suit – Doherty, Evans and Stott
Bridesmaids – Erica Stacey Bridal + ASOS shoes
Flower girl Dresses Etsy/ASOS
Florist – Westwood Design
Cake –Olofson Design
Entertainment – The Rivera (church band + first dance) + Rhythm of the 90s + Danny Lewis Design
Rings – Kirstie Maclaren
Hair + Makeup – Bethany Jane Davies, The Vintage Beauty Parlour
Bespoke Table Linens – Annabel Perrin
Catering – Baz & Fred's Pizza Van + venue (undisclosed)
Decor – Hanging installation, table centre trees, table names, paper chain back drop and the favour boxes handmade by Things by Laura, styled by Pocketful of Dreams