Are you ready, lovely readers, for an extra special treat today? I've been dying to see this wedding in full, ever since Annabel teased us with a snippet of the stunning bride on Instagram and I'm so thankful to be tasked with sharing all the details of the happy couple's day. It's time to get comfy with a cuppa and prepare to be whisked away to the USA as you view these breathtaking images by Carrie Wildes Photography.
Lyani, an interior designer, married her beau Darren, a real estate investor and retired NFL player, on 14th August 2015 at Bella Collina, a beautiful Tuscan-esque setting in the rolling hills of Montverde, Florida.
"I had always wanted an elegantly rustic wedding with me barefoot under a huge tree and then partying it up in barn. Well, that's what I always wanted until I visited Bella Collina, then I couldn't see getting married anywhere else. It was perfect – the classic lines, the landscaping, and the intimate atrium was exactly what I wanted, even though I didn't know it until I saw it."
Photography by Carrie Wildes Photography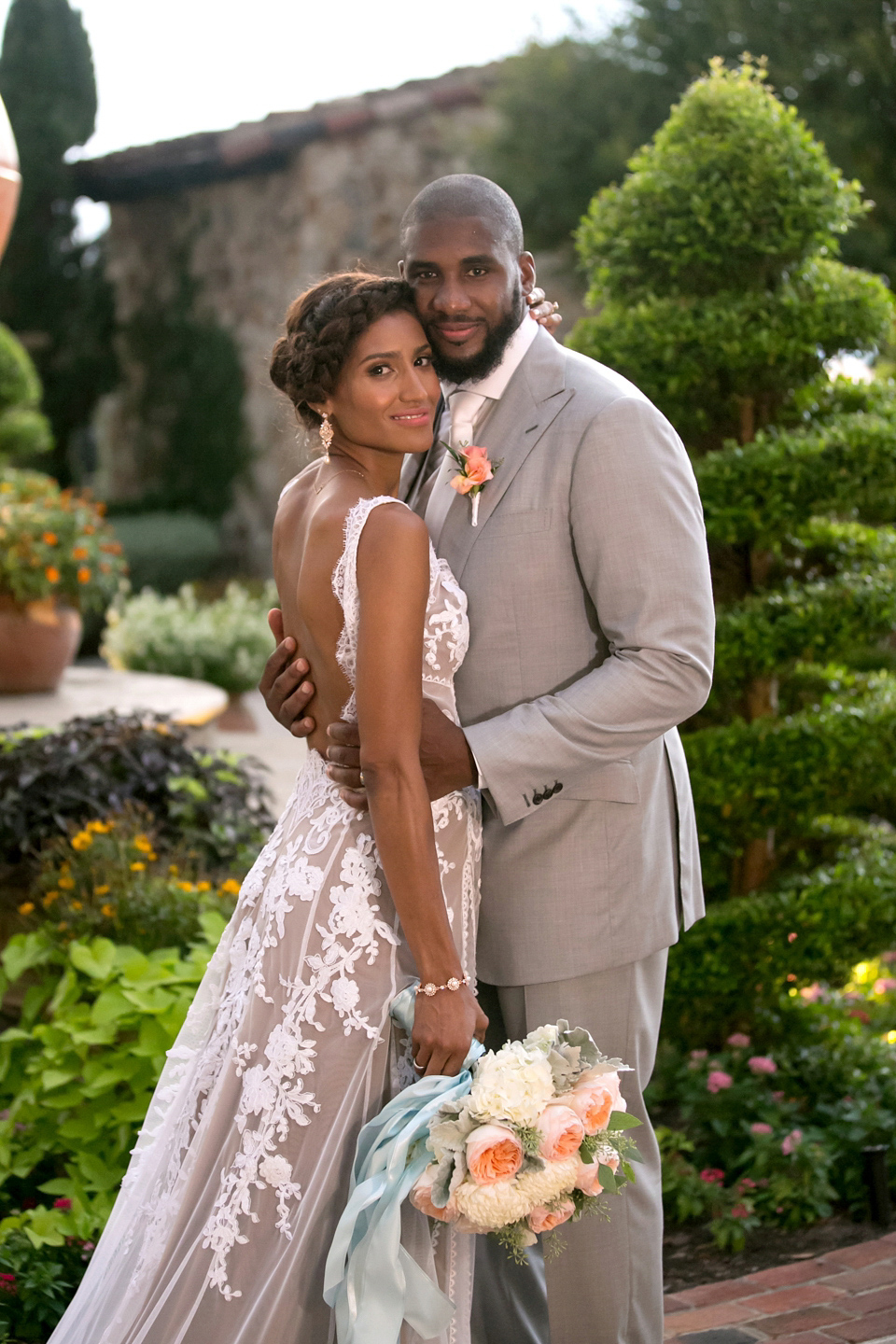 "I always knew I wanted to create my dress. I wanted it to be personal and a product of my community. Ashaka Givens was someone whose work and draping I had always appreciated."
"I hired Carrie from Carrie Wildes Photography to shoot our engagement pictures. I had developed a shot list and mood board before we met and she executed it perfectly."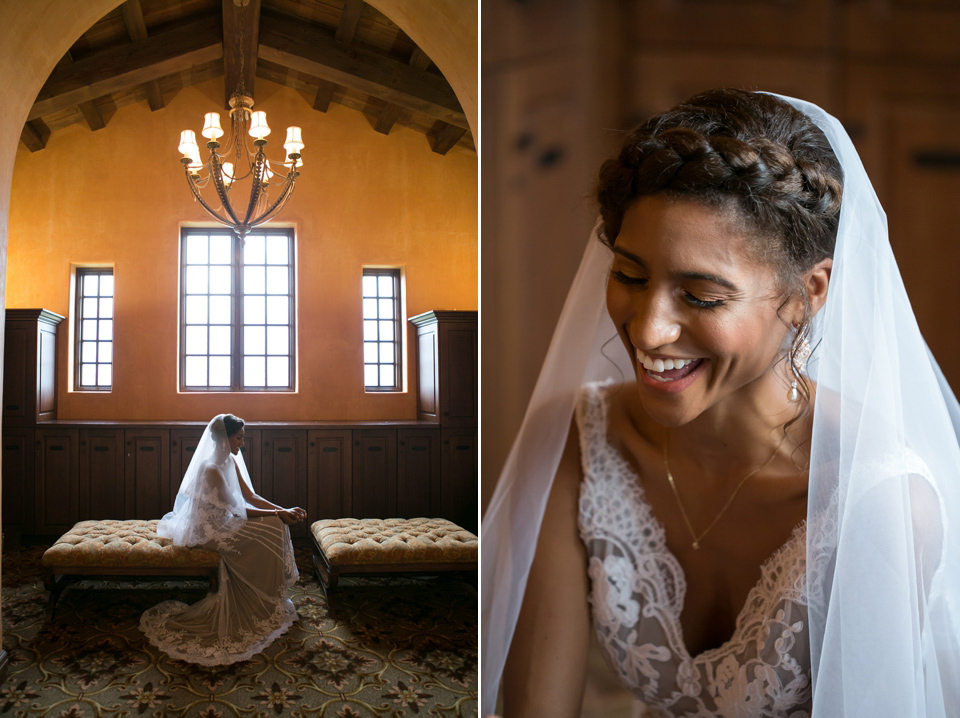 "Carrie made us feel at ease in front of her camera and I felt the familiarity and relationship that one session built eliminated every other photographer I could consider for our big day."
"I knew every stitch would carry a piece of Ashaka Givens in it and I really didn't see how it could be designed by anyone else. We started by picking the lace and then we created the pattern together, with Ashaka tediously cutting out florets and hand stitching them to the base. She listened to my every worry and suggestion, and even dealt with last minute alterations like it was no trouble."
I am absolutely speechless. These pictures of Lyani are simply stunning and I am in awe of her lacy gown. I do love it when a bride has input into the creation of her dress to craft something unique and Ashaka is one talented designer – over 100 lace appliqués were individually placed and hand sewn to complete the dress. Just incredible! To compliment her gown, Lyani added an equally divine veil, a pretty hair accessory, and bejewelled flats (for ease of dancing!), all gifted by her mother. The beautiful bride then added special jewellery pieces and garters and finished with a spray of her favourite scent.
"The bracelet was given to me by my father. I bought a tiny little gold elephant on a chain for all of my bridesmaids so they would never forget how much they are loved and I wore one to match. My earrings, which I loved, were from Crystal Avenues on Etsy and my garters came from GarterQueen on Etsy.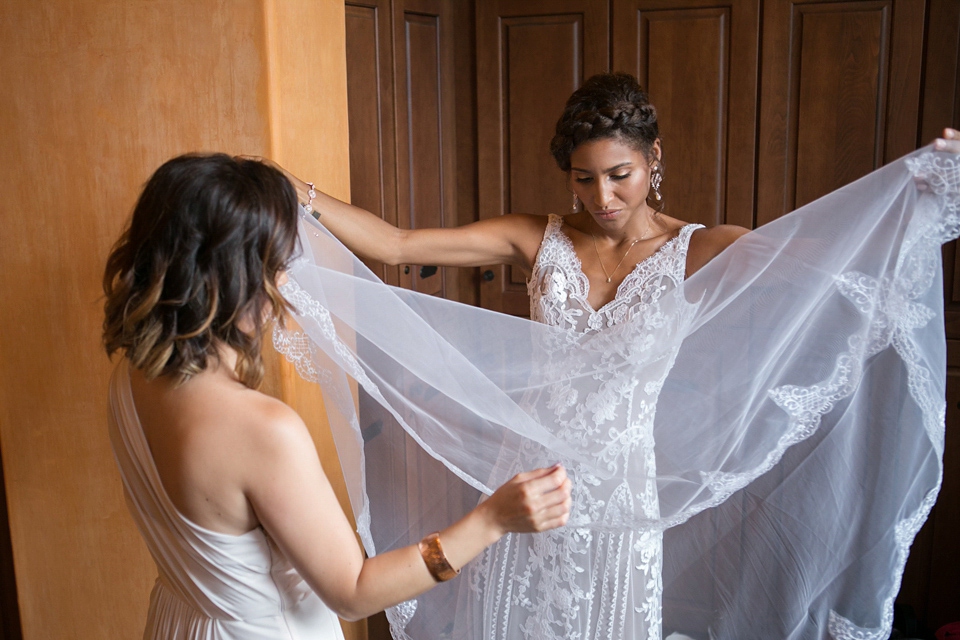 "I chose Hanae Mori perfume, a long time favourite that I only wear on super special occasions, so that when I smell it I'm flooded with all kinds of great memories."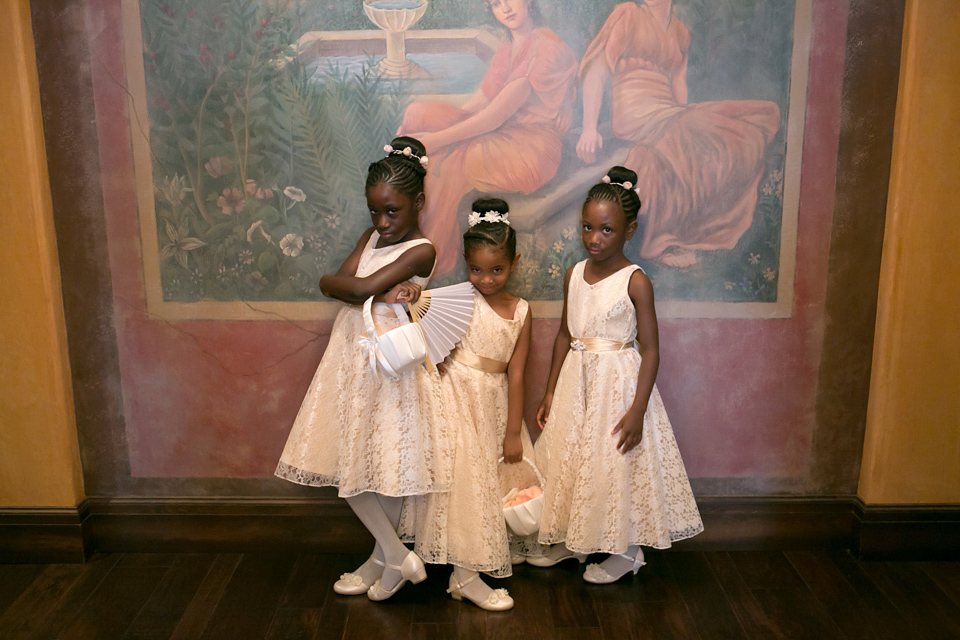 "We chose Lee Florist Designs to create the gorgeous florals. I wanted corals, whites and eucalyptus green. I found images on Pinterest and forwarded them to Lee. He used the inspirations and created something even more beautiful than I had requested."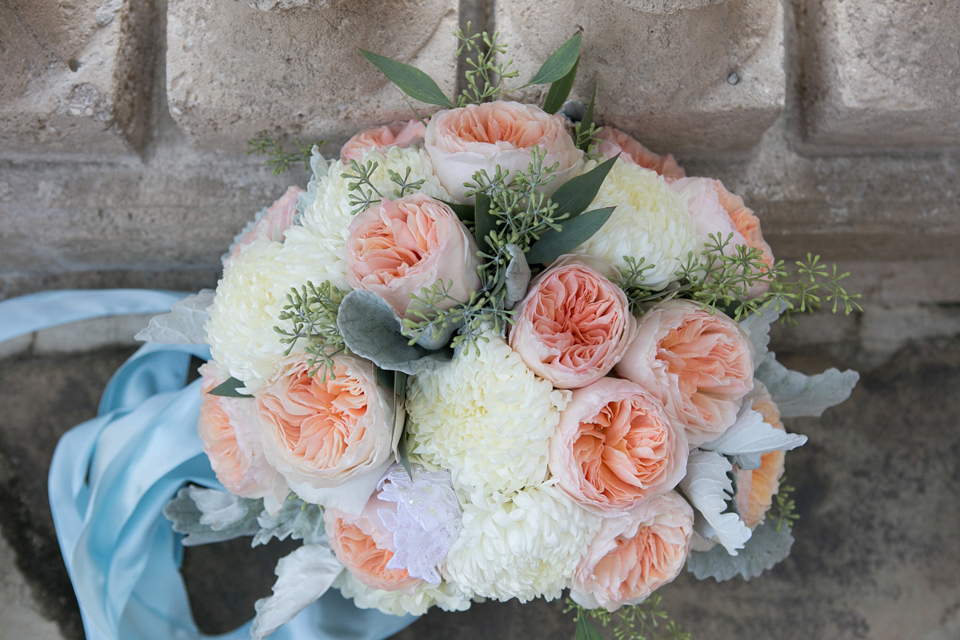 "Darren and I met through a mutual friend and the timing was just right. We became friends and started talking (and good old Facebook made it easy). All of a sudden there was this guy that was making me laugh every single day. Our friend threw another party and when we saw each other again I knew. He asked if he could call me sometime and I agreed. Then he set about the business of courting me, swept me off my feet with his thoughtfulness and it was just easy and natural to reciprocate. We fell in love and it was the best and most natural decision I have ever made."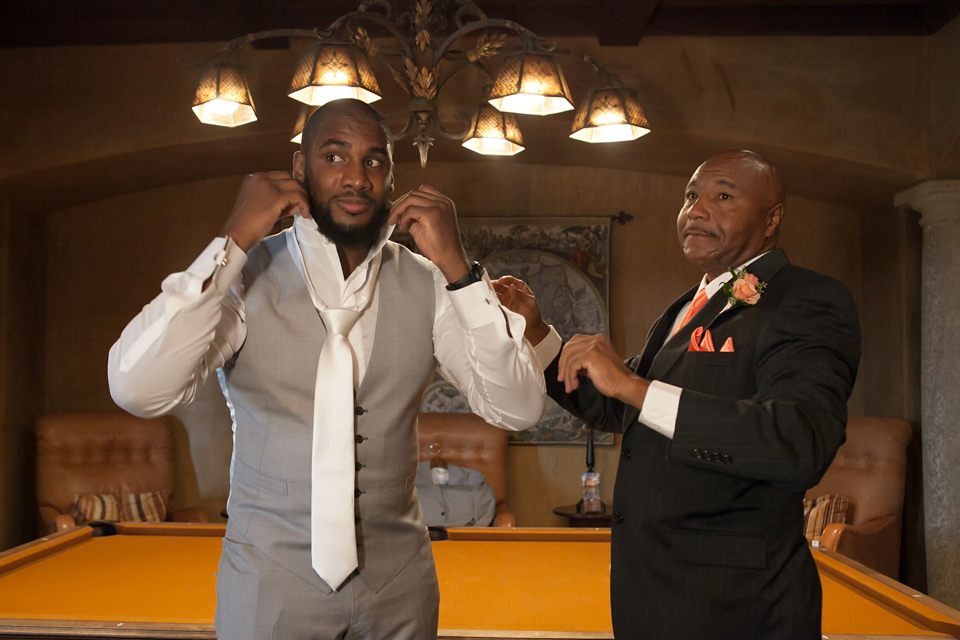 "My man looked amazing in that grey suit! We went to Beckenstein Bespoke and chose super lightweight fabrics and a slim cut for the summer. My heart melted when I saw him at the end of the aisle."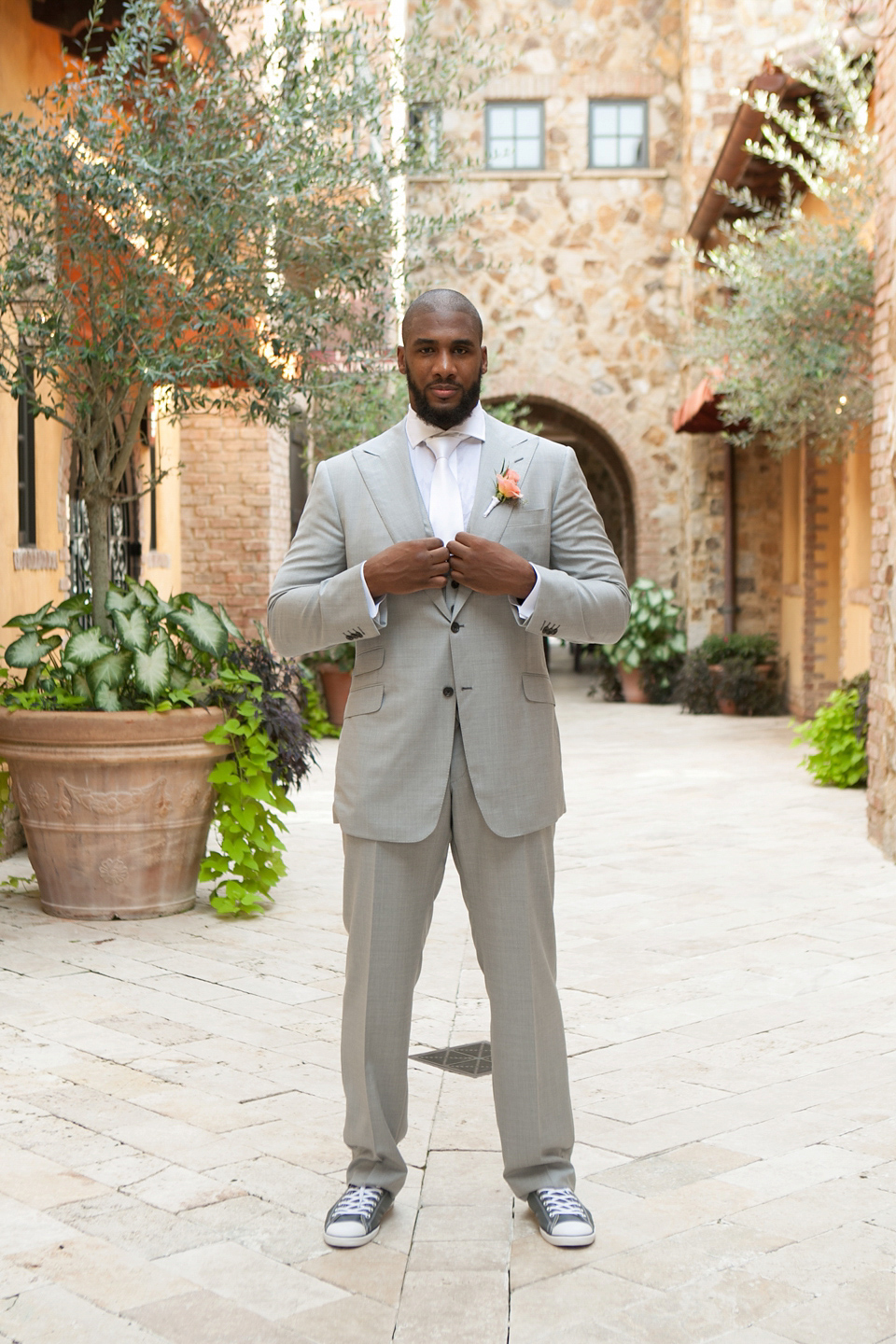 For most of the signage, I sourced it on Etsy. However, I did have some custom calligraphy pieces made through Little Carabao Studio on Etsy.  I loved what she did, it was so elegant and her turn around was amazing. I had our signature cocktail menu made on elli and thank-you cards were placed on each plate matching them."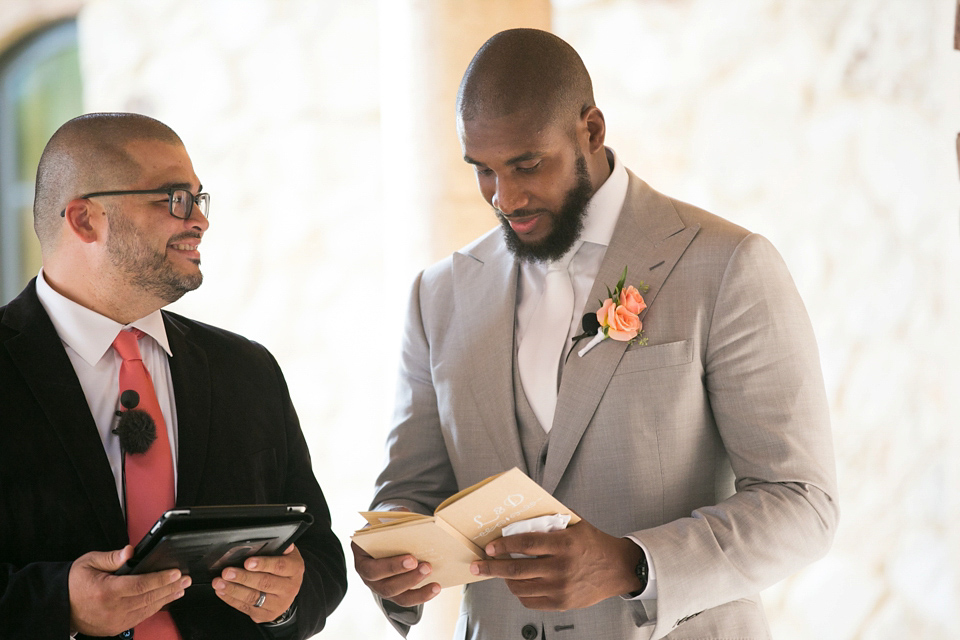 Lyani's father walked her down the aisle, which was a very special moment for both of them. The couple wrote their own vows and they each had custom designed rings.
"My father walked me down the aisle. I am his only child and he has always been my world and the keeper of my secrets, so it was a very very emotional moment."
"I had a family friend play a piano solo of 'All of Me' by John Legend and for the recessional I played the instrumental version of 'International Players Anthem by Andre 3000 and UGK'! And as a reading, my rockstar friend Malene sang 'At Last' by Etta James."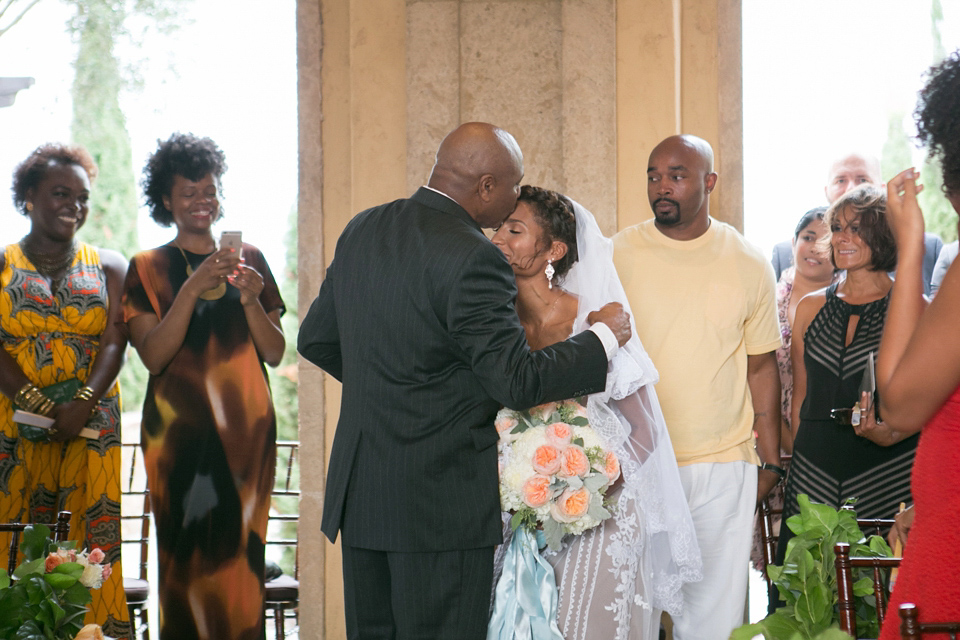 "We wrote our own vows and took the opportunity to express where our love comes from for each other, the things we appreciate and the promises we intended to uphold … forever. There wasn't a dry eye in the joint."
The sweet flower girls wore pretty little frocks found online (supplier unknown) and the very adorable pageboy's outfit was from Sears. I just love the addition of his tiny Converse shoes to match the groom and groomsmen! And Darren looked stylish in a bespoke suit in grey.
"Darren designed my Tacori ring with Magnon Jewelers. I do a lot of woodworking and he wanted something that I could wear while holding a power tool. His ring had to be custom designed due to a football injury. I found a designer, Jeff McWhinney from McWhinney Designs, who specializes in custom convertible rings."
Lyani's bridesmaids wore nude or gold heels of their own choice (with one criteria: they must be able to dance in them!), pretty blush-coloured gowns and the little gold elephant chains that were a gift from the bride. Make-up was by Geeta Khanna, with hair by Tierra Ross.
"I chose a mix of blush dresses from J.Crew and David's Bridal that would flatter my bridesmaid's different body types and budgets."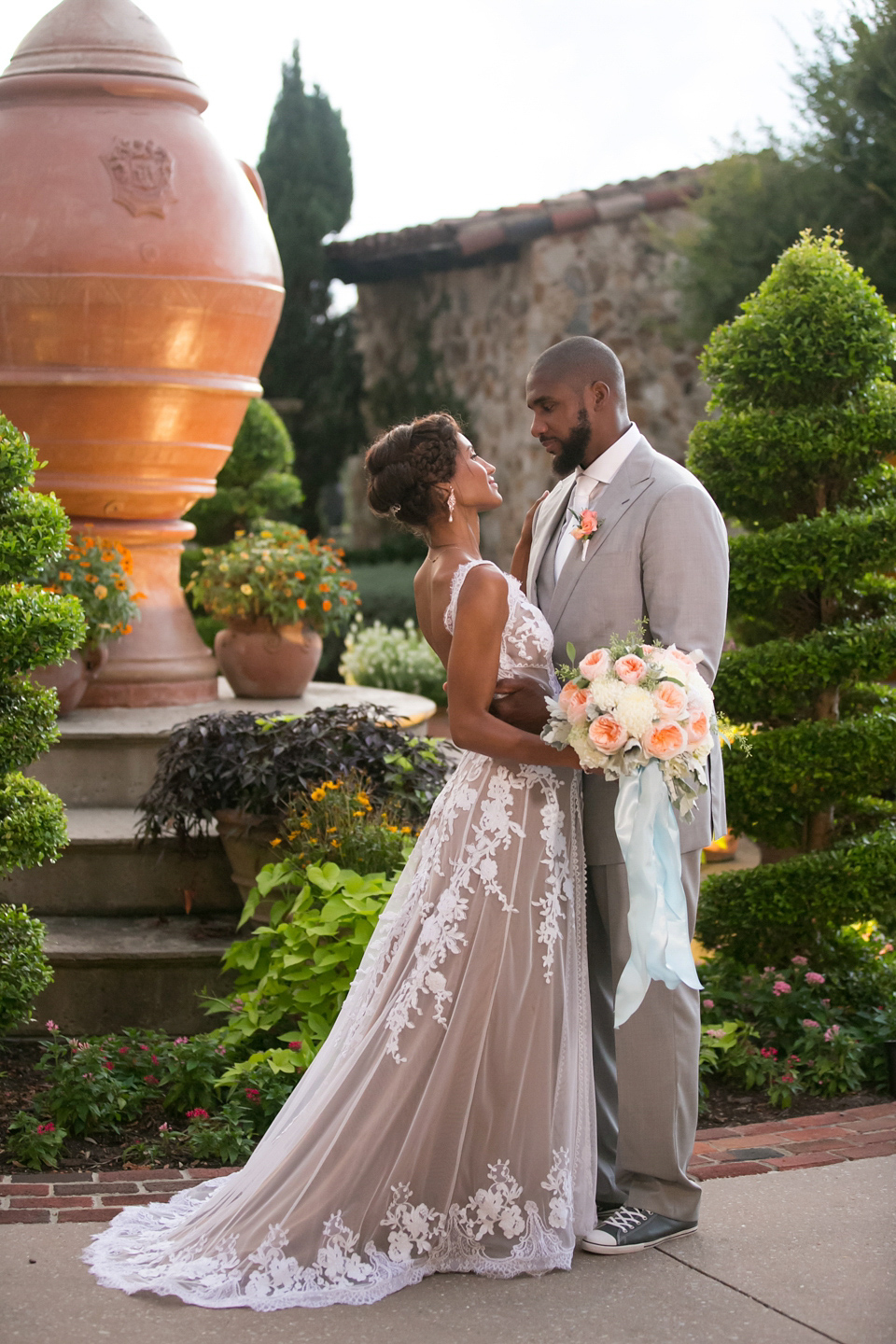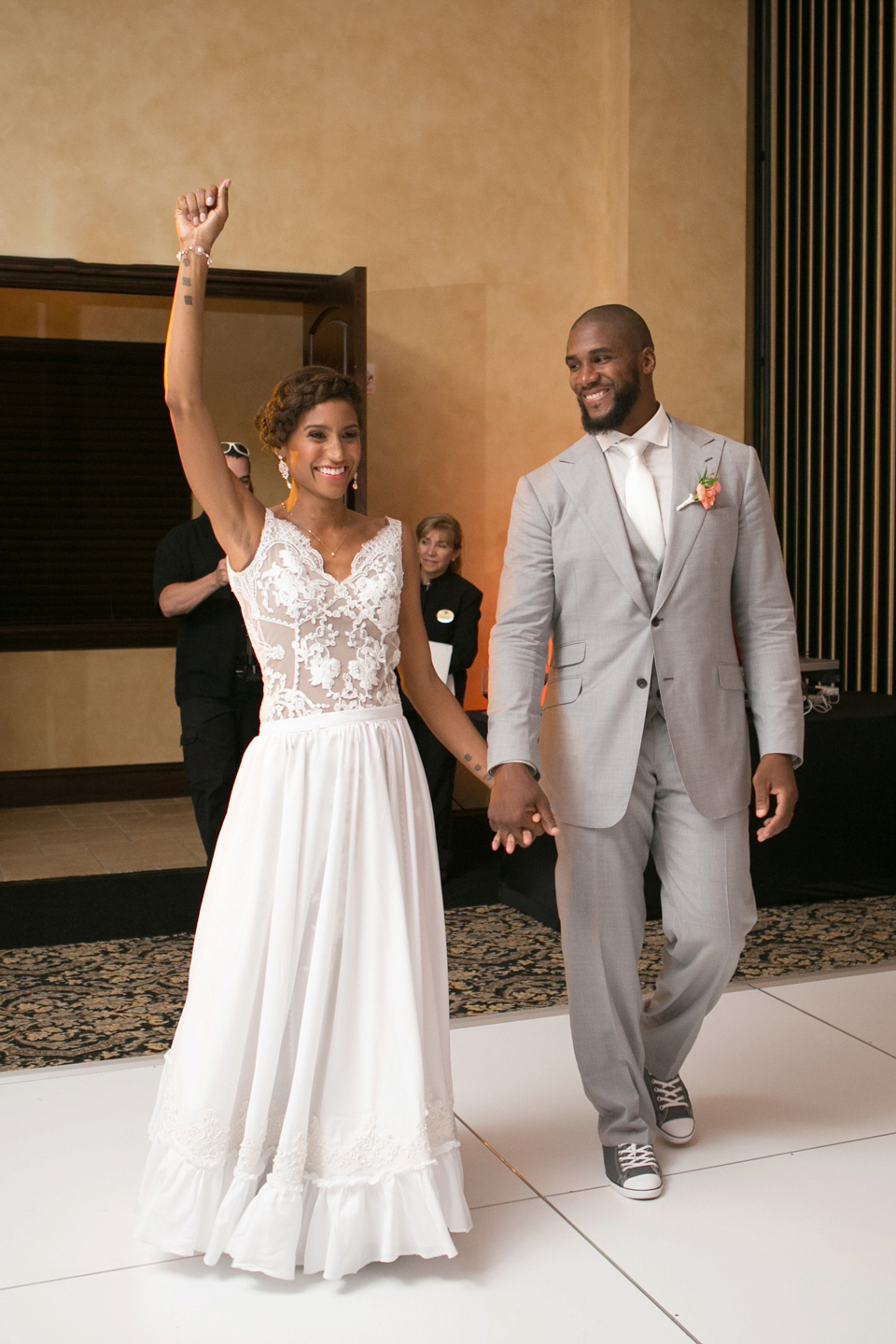 The couple didn't need to add much in terms of décor, but what they did add was very sweet and symbolic, as Lyani explains.
"The ceremony location was so beautiful that I only had to add a few touches of décor here and there and the flowers did the rest. I did a glass cloche with a little birds' nest and gold eggs symbolizing our future and I had little cards with our initials and a phrase on each table. My favourite was "with my whole heart for my whole life" – a line from my vows.
"My friend Veronica told me about Noemi from L'Artisan Cake Atelier, a local baker who makes wedding cakes that were pretty, but more importantly delicious. I scheduled a tasting and was blown away (Darren even went back the next week for more!). Our cake was cream cheese buttercream with vanilla and orange liqueur fondant."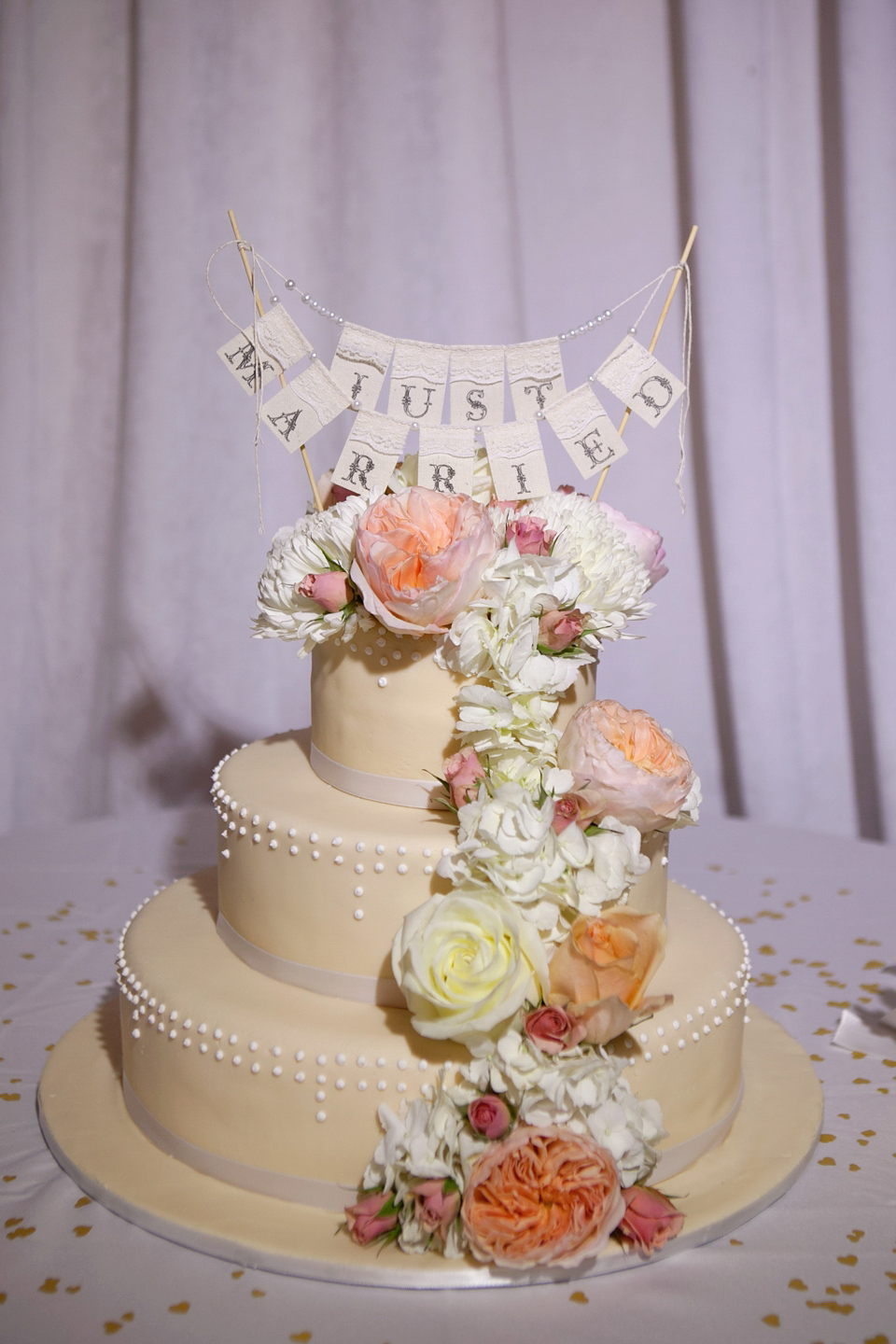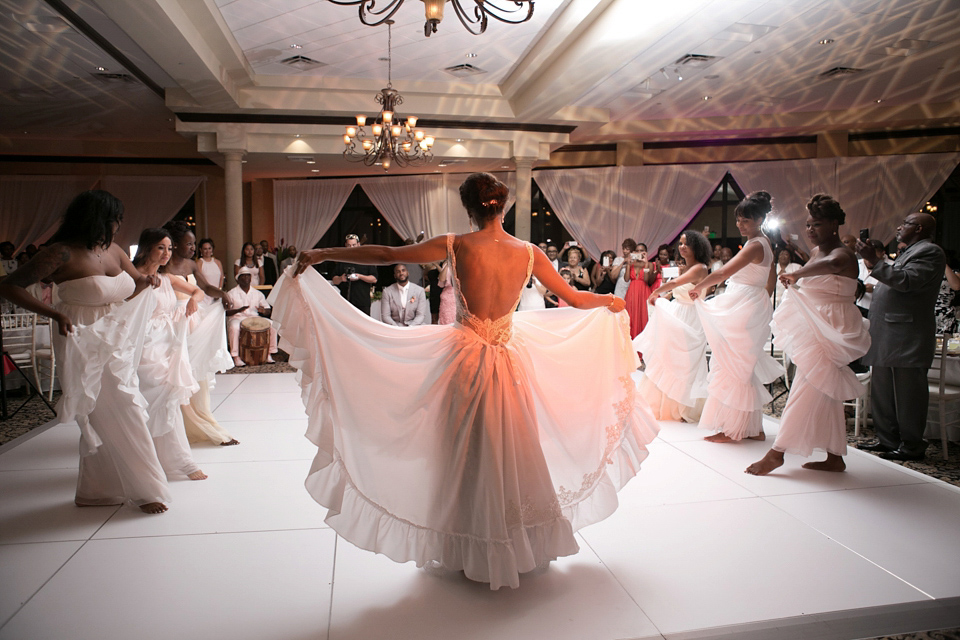 The bride gave a fantastic treat to Darren and the wedding guests when she danced Bomba – a traditional Puerto Rican cultural dance – at the reception. And a DJ friend provided the groovy beats to keep the party going well into the night.
"My favourite moment was the fireworks! I love fireworks and immediately turn into an excited 5-year-old.  When I was planning the wedding I had looked into having them, but the venue said it was not available. I was crestfallen so I decided to just have sparklers for the exit. After the ceremony and during the reception, Darren pulled me outside for some nighttime photos and boom!  There was a huge fireworks display. I was so surprised, touched, and emotional. Even now, I tear up just thinking about it. The man knows how to make me smile."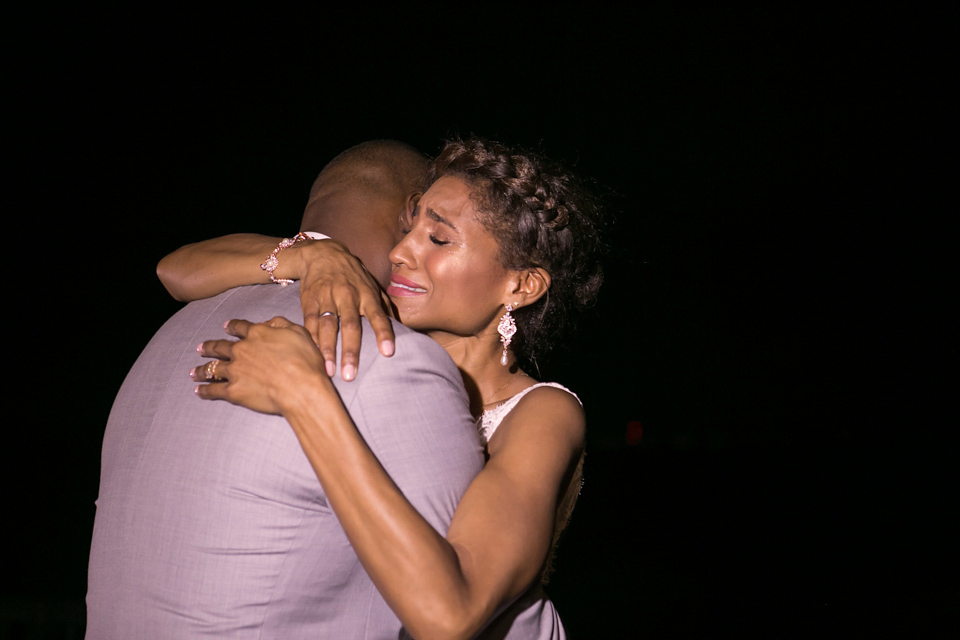 "DJ Hard Hitting Harry, a long-time friend from New York, is known for his ability to mix different music from all over the globe and with my Puerto Rican family mixing with Darren's Southern Soul and my New York and West Indian friends; I needed someone who could rock the house for everyone. I wanted everyone dancing, no excuses!"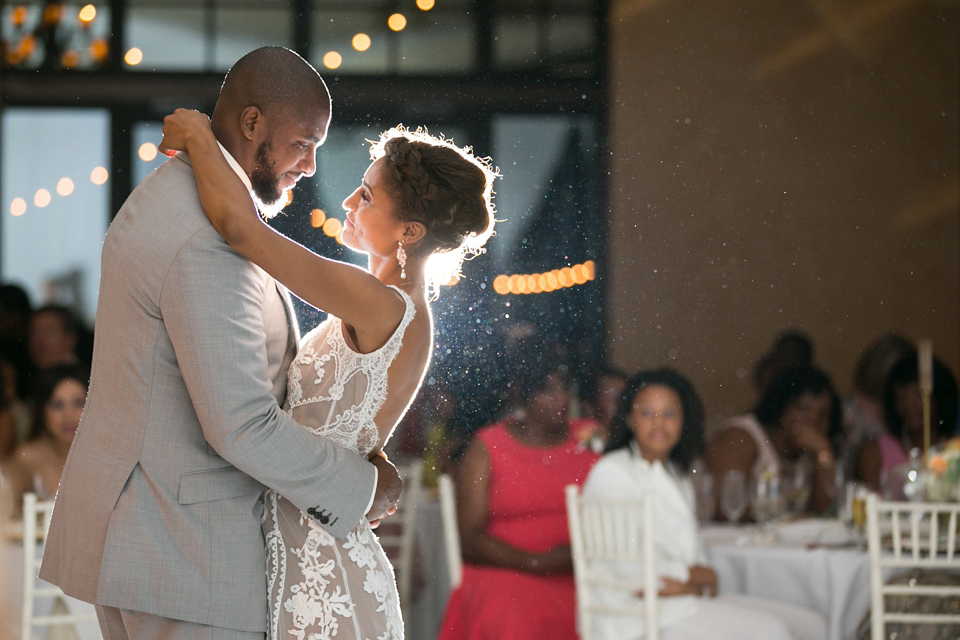 "Our first dance was to "My Everything" by Mary J Blige. It had the vibe of an old school love song and the words summed up how I felt about my husband and the beat was something we could actually dance to." 
I adore this tender Father and Daughter shot…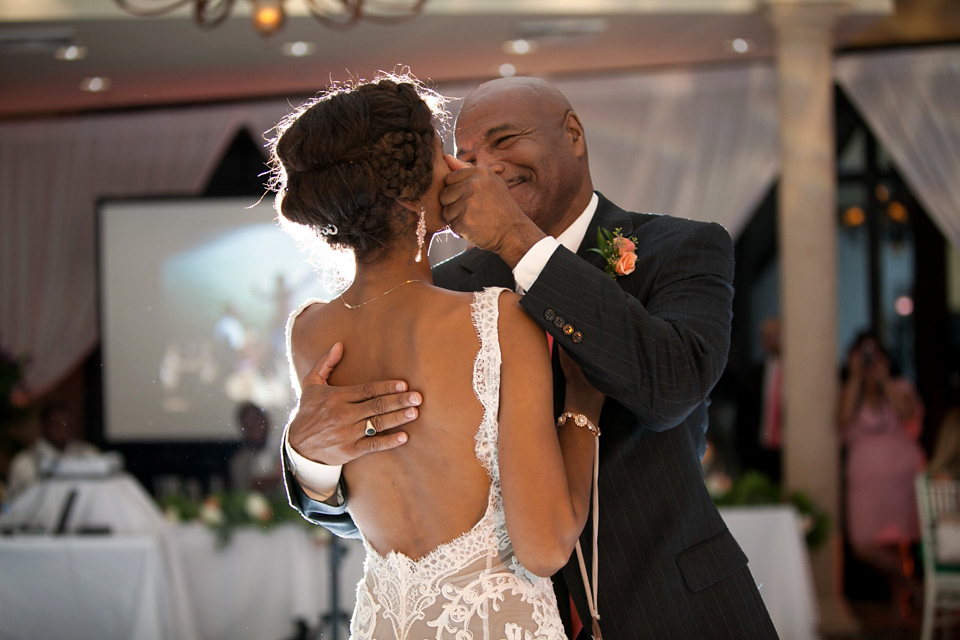 Words of Wedded Wisdom
"Remember to enjoy the day. The best advice I was given that I can pass on is right before you walk up that aisle, pause and take it all in. I suggest you look to see the faces of those you love and realize that that's the moment before it all changes. It's the cliff of the transition, so honour yourself for a couple of split seconds and then put one foot in front of the other.
If there was anything I could have done differently it's that I would have booked the venue for even longer so I could dance even more. Oh, and I would have eaten more on the morning of – I was starving!"
I know how you're all feeling right now, at a total loss for words from the sheer beauty of lovely Lyani and Darren's incredible day, just like me? Many many thanks to Carrie for sharing these utterly beautiful images – the portrait profile shot of Lyani is one I will never forget. Wishing the wonderful couple a lifetime of happy adventures and be sure to keep dancing.
Here's to a jolly rest of week everyone!
Love Jo -x-
Photographer – Carrie Wildes Photography
Videographer – Castaldo Studio
Venue + Catering – Bella Collina, Florida
Dress – Ashaka Givens
Veil + Shoes + Hair Accessory – Gifted by the bride's mother
Jewellery – Bracelet, a present from bride's father + gold elephant chain necklace (supplier unknown) + earrings from Crystal Avenues on Etsy
Garters – GarterQueen on Etsy
Scent/Perfume – Hanae Mori
Bridesmaid Dresses – J.Crew + David's Bridal
Bridesmaid's Accessories – Gold elephant chain necklace (supplier unknown), a present from the bride
Groom – Beckenstein Bespoke
Flower girls dresses – Found online (supplier unknown)
Pageboy – Sears
Florist – Lee Florist Designs
Rings – Magnon Jewelers + McWhinney Designs
Cake – L'Artisan Cake Atelier
Stationery + Decor – elli + signs and calligraphy pieces via Etsy
Makeup – Geeta Khanna
Hair – Tierra Ross
Entertainment – DJ Hard Hitting Harry + equipment and lighting via Power Entertainment