Hello again and yippee – we're edging closer to the weekend! I don't know how you find them but to me, the last few days of January always seem like a bit of a drag. However, this feature has been in my diary since before Christmas (doesn't that seem like a long time ago?!) and I have been simply itching to write it because I am a huge fan of the designer that's in the spotlight today here on Love My Dress. So, let's take a long and lingering look at the unstructured beauty of wedding dresses by Katya Katya Shehurina…
Katya Katya Shehurina is a London-based label that has been successfully breaking the mould in the world of bridalwear for a few years now. The designs are fresh and eye-catching without ever losing that sense of elegance that we all want in a wedding dress.
Vintage styles are given a twist of modernism and the fabrics such as French laces and Italian silks are the perfect pairing for the unstructured lines of these simply stunning gowns. Katya Katya Shehurina wedding gowns are often seen with their signature coloured slips and these subtle sweeps of colour are just all kinds of heaven.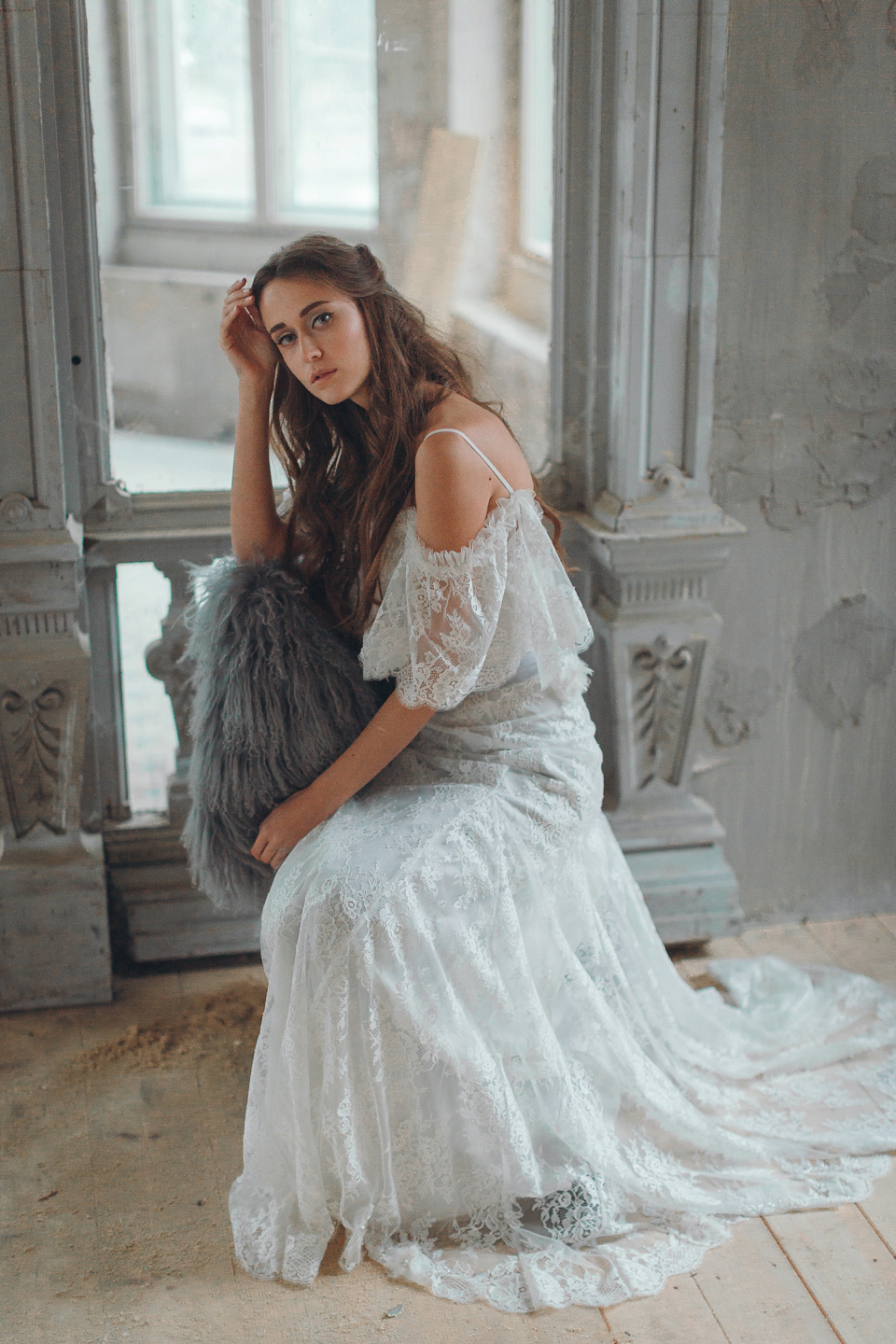 "My unique design style reflects a modern vintage aesthetic, impeccable craftsmanship and a lightweight, ethereal finish," explains Katya. "In our collections, we use vintage styles mixed with a modern silhouette and we believe that your dress should reflect your personality perfectly and changes of colours and designs are things that we love to do. Our brides are strong individuals who take pride in the fact that they feel comfortable within themselves and are wearing a piece that mirrors this."
Wedding dresses by Katya Katya Shehurina certainly are personal garments and both made to order and bespoke services are available. The team want nothing more than for you to be super comfortable in your chosen gown and can make any changes to help you achieve exactly what you want. If you don't like the neckline, the sleeve length or an embellishment, it can be changed and they know that quite often, it's the small changes that make the biggest difference.
Katya Katya Shehurina is, as I mentioned earlier, also well known for their slips and these are a design detail that brides just adore, allowing even more personality to be poured into the finished gown:
"Our slips aren't attached to the dress so a lot of our brides purchase two and say have a white slip for that traditional church wedding and then change into a nude or blue slip in the evening. We can make a slip in any colour so if you have a colour scheme in mind, we can work to find a fabric close to that and we also offer a dying service where bridal dresses have been dyed blue or have had a dip-dye."
"I get ideas from all over the place," continues Katya. "But some of my influences come from the brides themselves and their needs and I get a lot of ideas from historical costumes too. In the past, dress makers paid incredible attention to the detail of clothes which is incredibly inspiring."
I can certainly recognise the historical references in the designs from Katya Katya Shehurina and I love the seamless blending of the traditional with the contemporary. The way that the romantic, old-school laces are used in modern designs and accessorised to perfection by hand with Swarovski elements is just fabulous. The mix of design styles from the fuller skirts and shorter dresses to the straight column gowns and boho designs with more than a hint of 70s styling are all utterly delightful and the design, the fabric choice and the finish of the gowns are all truly outstanding.
Katya's stated aim is for her brides to be comfortable on their wedding day while still looking beautiful and shining with confidence and given how absolutely amazing these wedding dresses are, there's no doubt that she's achieved this in the most wonderful style.
Wedding gowns from Katya Katya Shehurina range in price from £1350-£3500 with bespoke designs starting from £2000. You'll find the flagship London boutique at 7 Smiths Court, W1D 7DP in the heart of Soho just two minutes from Piccadilly Circus tube station. To book your appointment, contact the boutique on 020 7734 1272 or via [email protected].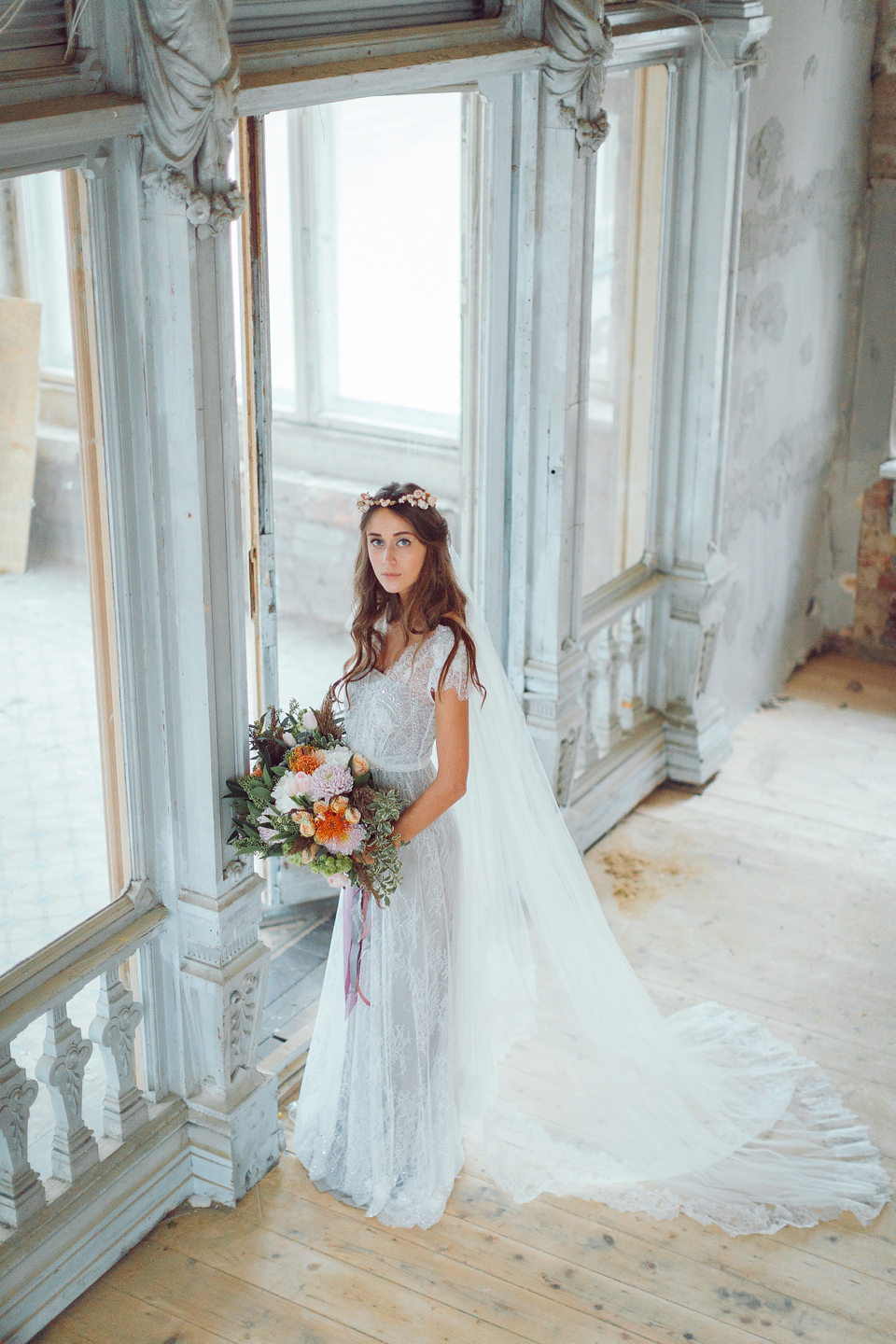 For more information on the latest collection, stockist information and more, do take a look at the Katya Katya Shehurina website or connect via Instagram, Twitter, Facebook, Pinterest and Google+ for all the latest news and snippets of behind the scenes brilliance.
Love Tamryn x
Photography – Marka
Dresses – Katya Katya Shehurina
Shoes – Freya Rose
Model – Nastya Choo
Make up – Julia Oh
Hair – Diana Payton
Accessories – Lila Accessories
This is a sponsored post