Good morning all – how did Thursday arrive so quickly? Let's waste no time helping it along it's way as we edge that bit closer to the weekend – hooray! This morning's wedding takes us to the other side of the world for a wedding with a very British influence. Personal Assistant Alycia tied the knot with business analyst Sam on 1st August last year at The Kings School Chapel in Sydney Australia.
The couple met through the eHarmony dating site. It's incredible really – back in 2009 when I first started blogging, the idea of sharing the wedding of a couple who'd met online would have been a rarity. Now, research proves that one in every three new marriages is between a couple who met online and data suggests that in 20 years time, half of ALL couples tying the knot will have met online. How society has changed because of the wonder of the Internet!
"Sam is originally from London, we got engaged in Hyde Park on a trip back to London to see his family in 2014. We were engaged for a year as we wanted to give his family and friends as much time as possible to save up and be able to attend the wedding. We both live in Sydney and wanted to have the wedding here, though we had a London themed reception to include Sam's home town, it was a nice way to tie both cities, Sydney and London, together."
Photography by Zee and Cee Photography
Alycia wore the Margeaux gown by Tadashi Shoji from BHLDN.
"I also had a tulle overlay made from a local dressmaker to go over the top. It's a look I had seen online and I loved the idea of using tulle in that way, it was just something a little different and added a little something to the dress. I then took the tulle skirt off for the reception and replaced it with a belt.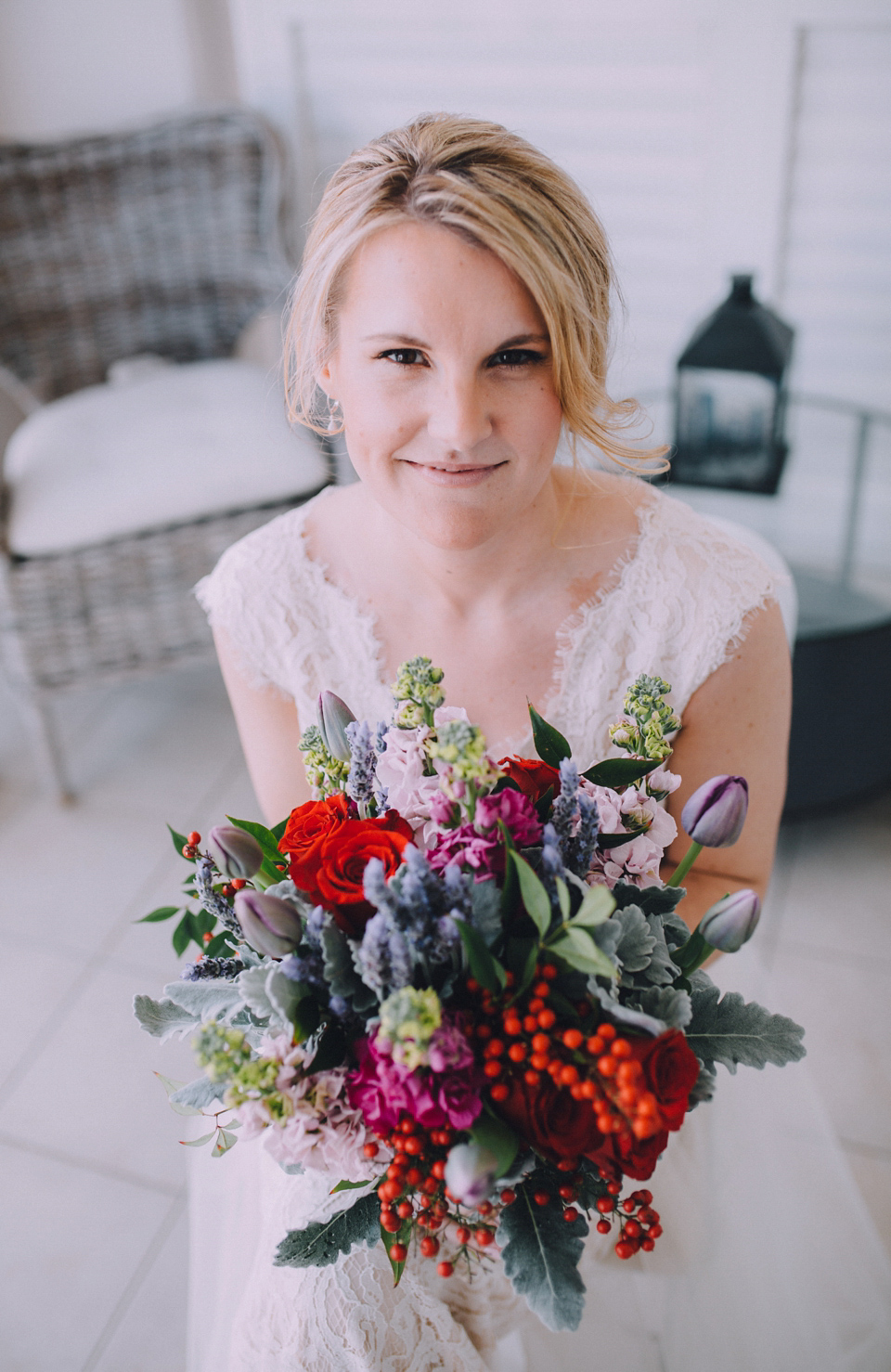 "I had always wanted a lace dress and originally I wanted one with long sleeves. However when I saw this dress I loved the off white colour and the flattering silhouette that it created when you put it on. Plus it was so incredibly comfortable."
"I wore diamond drop earrings that my parents had given me for my 30th birthday."
"My shoes were from an Australian designer named Alan Pinkus. I had them on all day and my feet never hurt! Amazing for such a high heel. He makes amazing shoes I actually went back and bought a pair in another colour."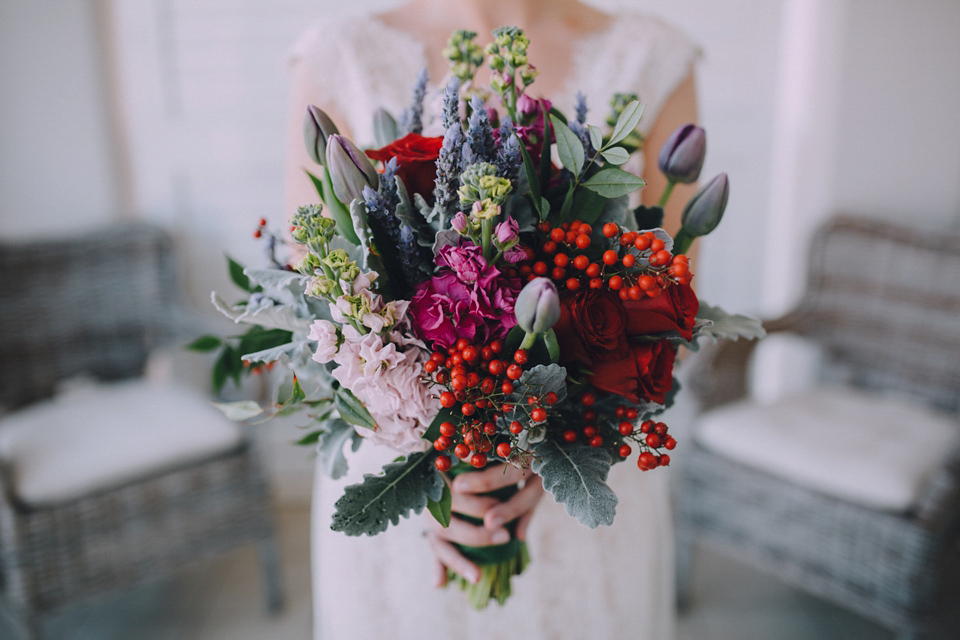 "I opted for burgundy as our main colour which was lovely for the winter season. It also was a colour that I felt complimented the setting for the wedding."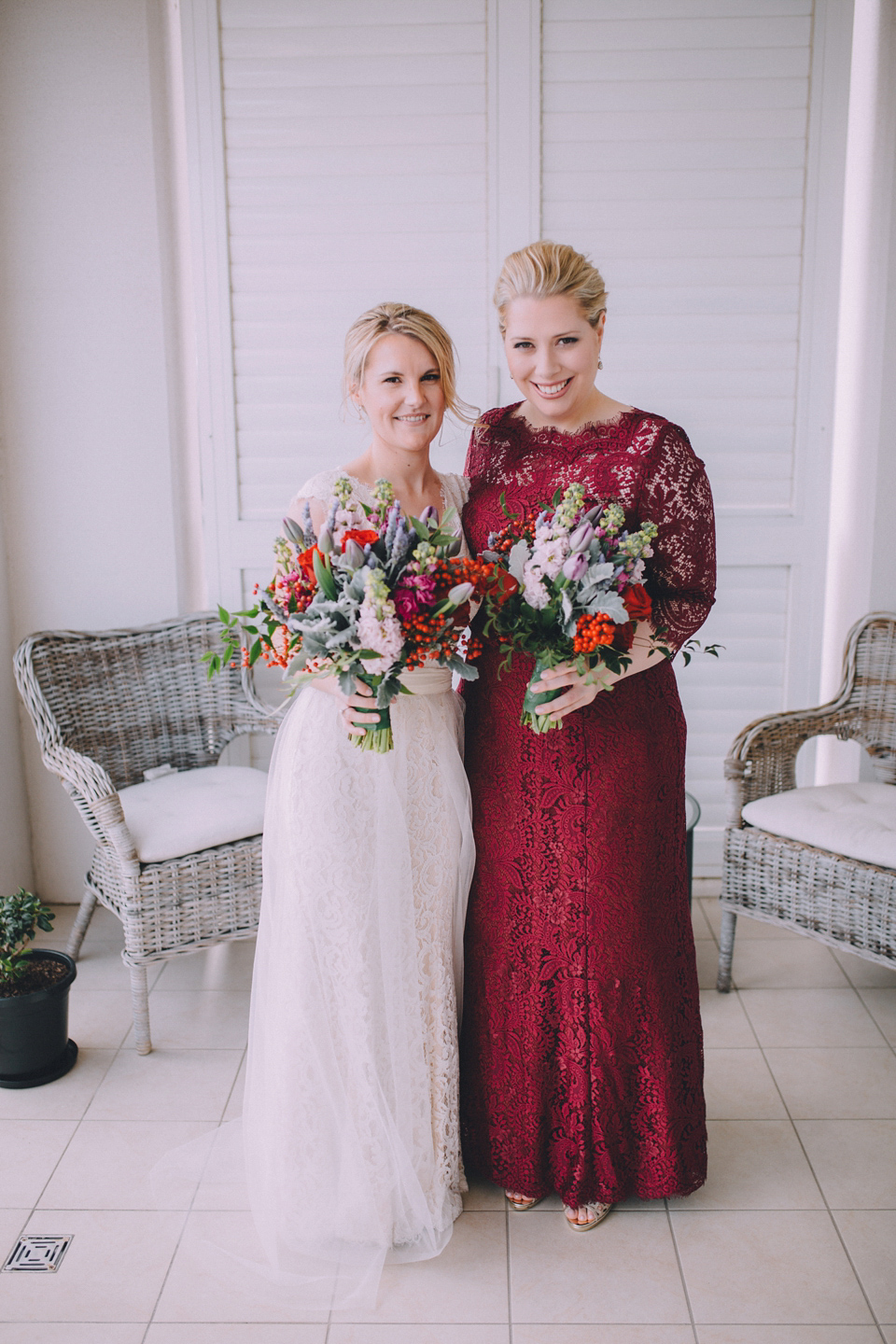 Alycia's maid wore gowns created by a local dressmaker.
"My Maid of Honour wore a Kate Spade bangle that was her gift for going along the wedding journey with me! Kate Spade has fantastic gifts for bridesmaids. She also had gold versions of the same leaf pins I had in my hair."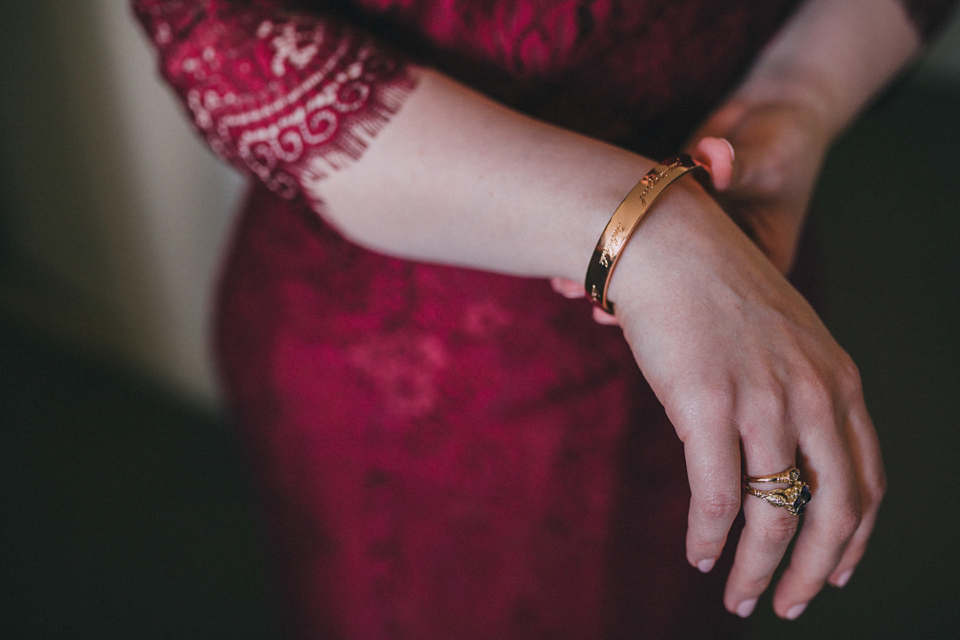 "I chose simple leaf pins to wear in my hair. I wanted the accessories to be quite minimal and I thought they added a nice touch whilst being subtle."
"The Suit Shop made the Best Man his suit based on measurements sent over from the UK. He didn't try it on until the week of our wedding, luckily it fit perfectly.
The irony is Sam is a Brit living in Sydney, his Best Man is an Aussie living in London!
Sam's tie was bought from TieObsessed on Etsy who have a huge range of colours available.  His cufflinks are of the clock that hangs in the stadium of his favourite football team – Arsenal – they were purchased from SheWore."
"We both have a Christian background and the church we were able to get married in is one of the oldest in Sydney. We kept things quite simple as the venue and the grounds were lovely enough on their own. 
My father walked me down the aisle to the sound of Henry Mancini's 'Moon River'. We wanted to keep things traditional and elegant for our ceremony." 
Ahhh, such an elegant song – I too walked down to a version of this song played on the harp.
"We had a Christian service, we kept it to 30 minutes and instead of singing hymns we had a string quartet play the church music while we signed the register.
Our readings included Philippians 4: 4-8.  We also had a piece from Les Miserables…"
You can give without loving, but you can never love without giving. The great acts of love are done by those who are habitually performing small acts of kindness. We pardon to the extent that we love. Love is knowing that even when you are alone, you will never be lonely again. The great happiness of life is the conviction that we are loved. Loved for ourselves. And even loved in spite of ourselves.' (Les Misérables)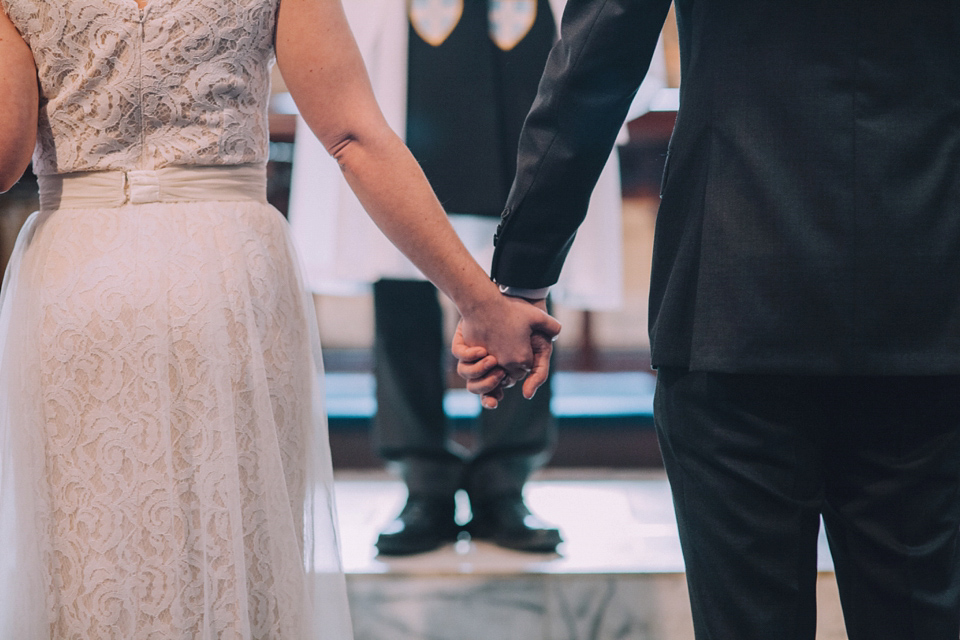 "Larsen Jewellers had created my engagement ring and we thought their quality of work was really excellent so we went back for our wedding bands so we could get them made exactly how we wanted."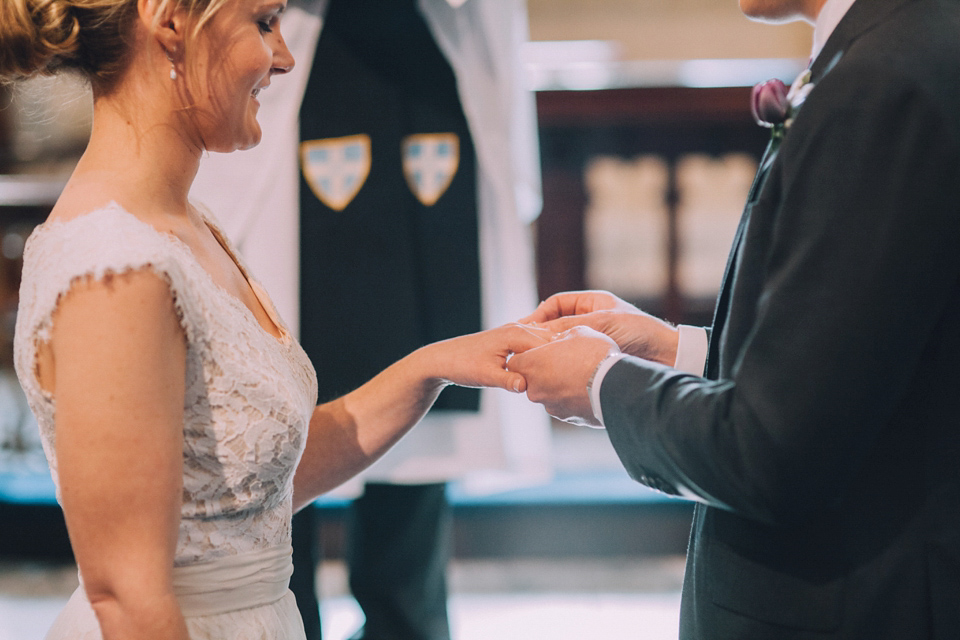 "Our favourite part of the day was walking out of the church as husband and wife."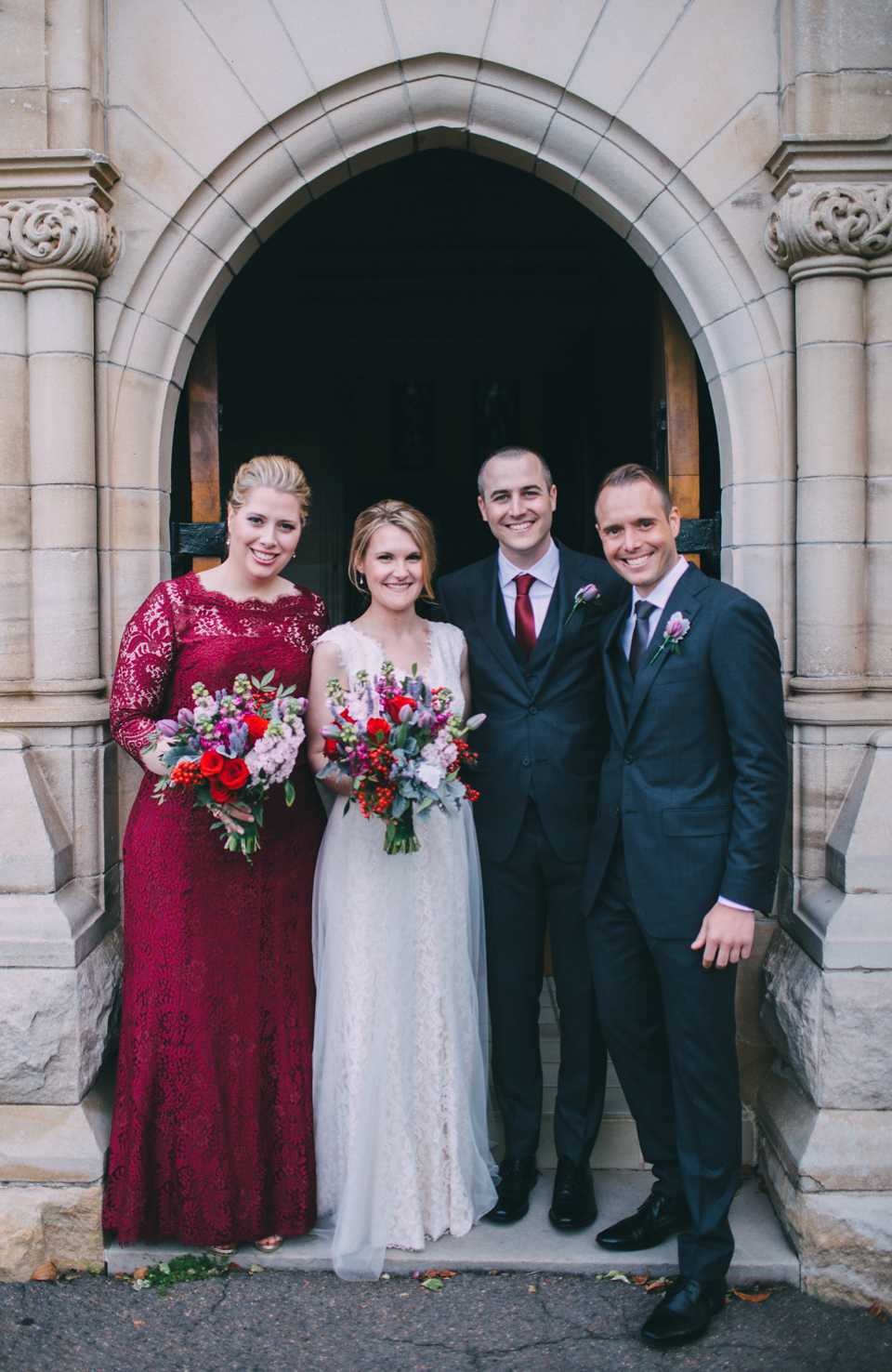 "Out photographers, Dean and Rebecca of Zee and Cee Photography were amazing and we were really happy with how natural all the photos were. They captured every piece of the day beautifully and they love what they do which makes them fun to be around."
"Our florist was Jodie McGregor Flowers. I wanted a blend of colours and nothing too structured. What Jodie created was better than I had ever imagined it would be. I wanted the flowers to compliment the burgundy in Eliza's dress but be bright and unique. I absolutely loved them."
"For our reception we wanted something a little different. In Sydney it is easy to find a venue with a great view of the water but we chose a museum which was fun for the guests (they had drinks in the dinosaur exhibit!) and had a fantastic city view that showed off a lovely part of Sydney that not many people tend to appreciate."
"We had bar coasters made by Evermine that had the London tube stations on them, each guest got a pack of coasters relating to their specific table as well as a couple of fun ones that everyone had in their little pack.
Our guests loved the little touches like our London postbox where they could post us notes in lieu of a guestbook. It also meant we kept to the red colours that had been used throughout the day flowing through to the reception, they just got a little brighter as the day went on.
"Our cake was by Gracious Honey. We wanted a simple cake and opted for white chocolate and raspberry for something a little different. 
Our cake topper was the highlight for our cake. We got Novelty Cake Toppers to create a topper that was fun and something unexpected for the guests. I think most people took a photo of it!"
"Our table plan was made up of London Tube stations. I used an Etsy store called STNstationery who created the table plan and table signs."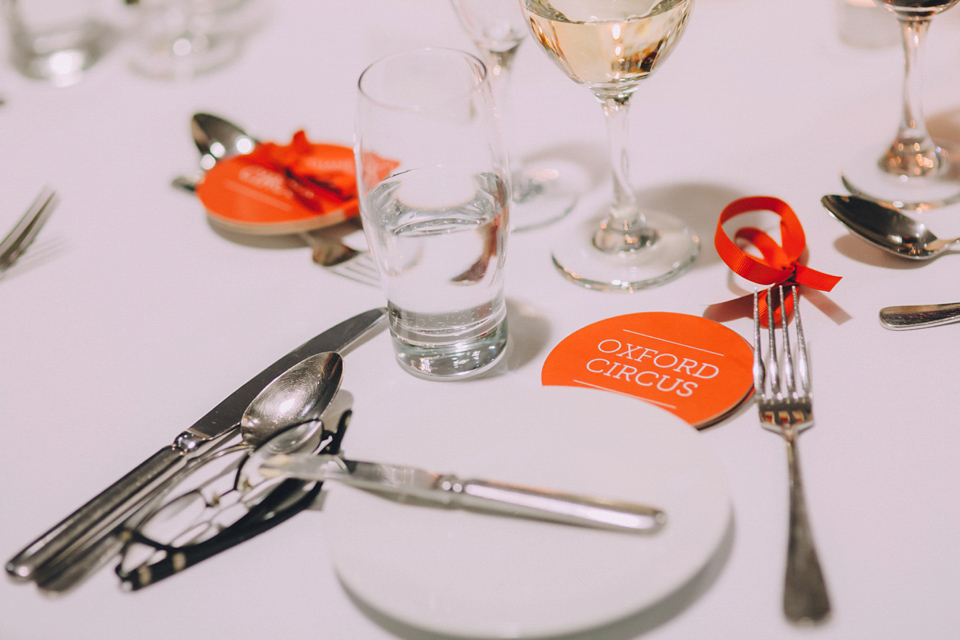 "The table decorations were simple glass cloches with some flowers inside, and tea lights – I went to a wholesale store in Sydney called Koch & Co, purchased everything and I made these up the week before the wedding. I enjoyed creating all the finishing touches myself, it made it more personal and it also kept the cost down."
Words of Wedded Wisdom
"I would say create a wedding that really reflects who you are as a couple, don't be afraid to do things a little differently, and keep things simple.
I think having the time to plan things out really helped and there is not much that I would change at all.
Finally, I found Love My Dress a few months in to planning my wedding and it became my absolute favourite. I love all the different types of weddings that are featured and it is the most 'real' blog in terms of great ideas, great vendors and fantastic editorial pieces."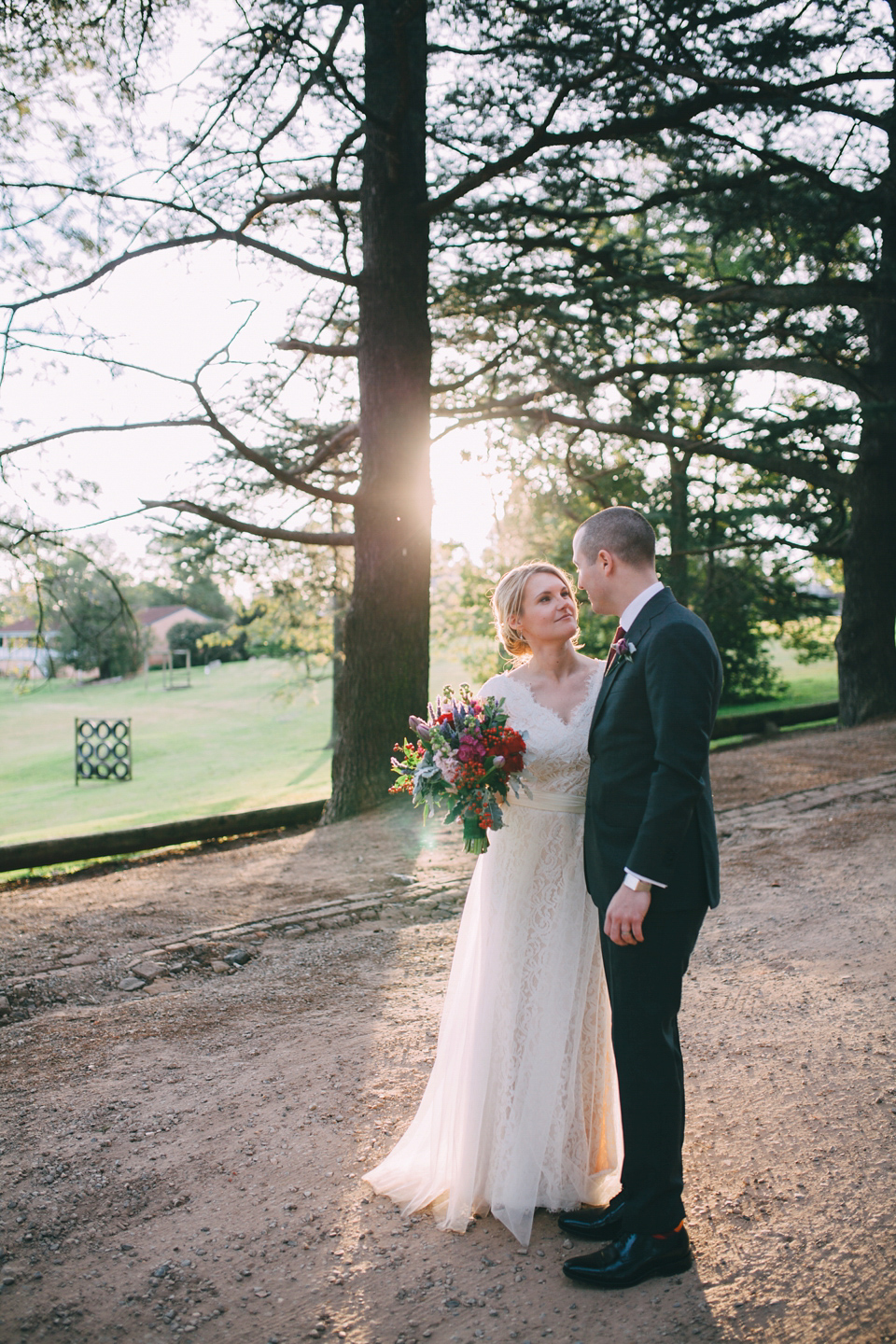 Huge thanks to you both Alycia and Sam, I've loved sharing your wedding today and hope that your photographs and that knock-out wedding dress will inspire many of our readers Alycia.
Have a beautiful day everyone.
Love Annabel xx
Photographer – Zee and Cee Photography
Venue  – The Kings School Chapel in Sydney Australia
Wedding Dress – Alycia wore the Margeaux gown by Tadashi Shoji from BHLDN
Shoes –  Alan Pinkus
Grooms Suit – The Suit Shop + cufflinks via SheWore
Bridesmaids – Made by a local dressmaker
Florist – Jodie McGregor Flowers
Cake – Gracious Honey with topper by Novelty Cake Toppers
Entertainment – Impressions DJs
Rings – Larsen Jewellers
Hair + Makeup – Sandra from Eternal Elegance
Favours – coasters by Evermine