Remember summer?  That glorious time of the year when the sun shines, the air is full of the scent of roses and the tinkle from an ice cream van drifts on the wind… a time when you don't get up in the dark and have to wear a thick jumper at work, and the long evenings are spent in pub beer gardens… Unfortunately, as we all know too well, British summer isn't usually like that at all, and the days tend to be damp more often than not.  However, I can assure you that whether you marry in summer like today's couple, or in the depths of winter, you can't control the weather and at the end of the day it really doesn't matter, as your day will be wonderful no matter what the weather does.
Let me introduce Annie, an ecommerce assistant at White Stuff and Ross, a sales director for a digital software company, who married at Upwalthamn Barns, West Sussex on the 12th of July 2015.  Their wedding took place on a typically damp UK summer's day, but the whole thing is still completely full of beauty, laughter and personal details.  Enjoy.
The couple also made the decision to have a film made of the day- something which I have said many times I wish we had done- so if you're still deciding, go for it! Annie and Ross used Dan and Hannah from Dan Dolan Films.
"Having a video was the last decision we made, but by the far the greatest one of the whole planning! Hannah is my cousin and her and Dan were coming to the wedding anyway, so when we were 'umming and arring' about whether to have a video, as soon as we looked at their previous stuff we knew we just had to have it."
"Dan is just amazing. There was no cheesiness about the video (which is what we were worried about) and it was as if he was literally another part of me and Ross, knowing exactly what we would want. Hannah and Dan have the perfect way together of capturing those perfect moments and I really can't thank them enough for a video (which makes me cry every time I watch it)."
Photography by Dimples and Daisies Photography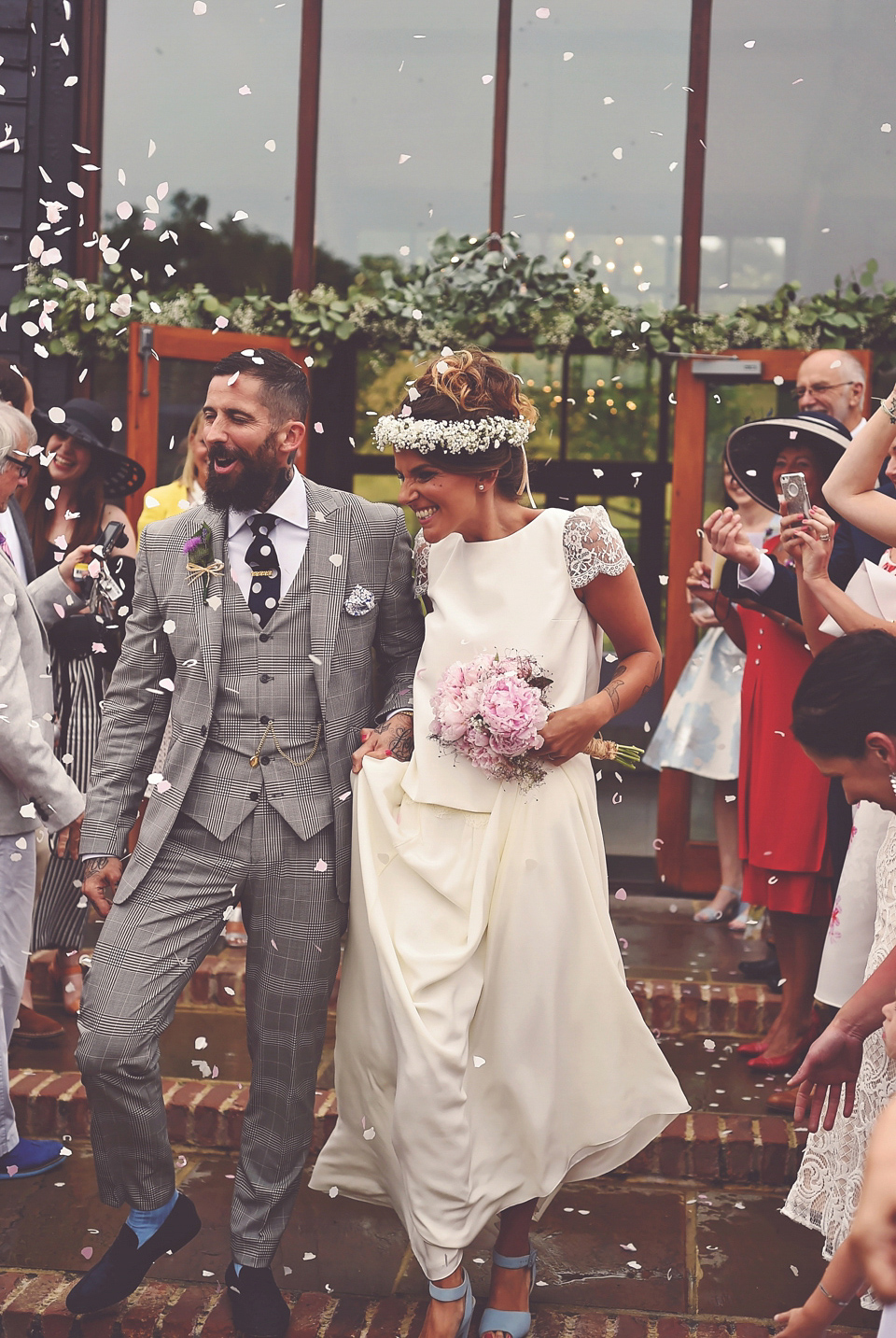 I adore Annie's separate skirt and top by Laure De Sagazan – a purchase from The Mews of Notting Hill. Bridal separates are becoming increasingly more popular as an alternative solution to a wedding dress and are the perfect option for the more modern bride who might be open to alternative but none-the-less chic ideas for her outfit. Take a look here for some more wonderful examples.
"I really didn't want to look too traditionally bridal.  I had tried on a few dresses but they all seemed a bit too formal and obvious, so the idea of a skirt and top was just perfect for me. From the moment I put the two pieces on I knew it was the one.  It had just enough detailing to be a bridal outfit with the beautiful lace cap sleeves and pearl buttons, but edgy enough to make me feel like me!"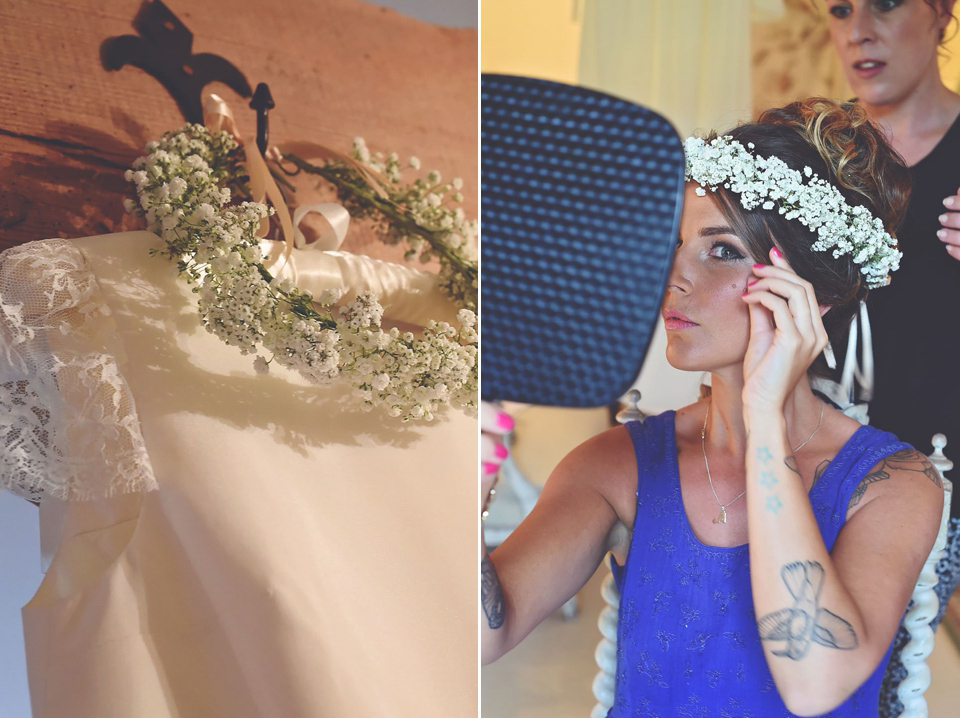 To complete her outfit, Annie wore blue shoes from Hobbs, Chance by Chanel, a pair of earrings borrowed from her Grandma and a bracelet which belonged to her Nan.  On her head she wore a crown of gypsophila purchased from Rose Cottage Flowers, which added a lovely romantic touch and set off the lace sleeves of her dress beautifully.
"Ross was working in Dublin and I was in Dublin with my friend for a girls weekend.  We had booked a table at a restaurant but when we turned up it wasn't ready, so we were advised to go in to the bar next door for a drink and when the table was ready they would come and get us.  As were standing outside having a drink, one of Ross' friends got talking to us and said we should go in and meet the rest of his group as they realised we were English too. This is still an argument to this day of who spoke to whom first, but it was definitely Ross who spoke to me!"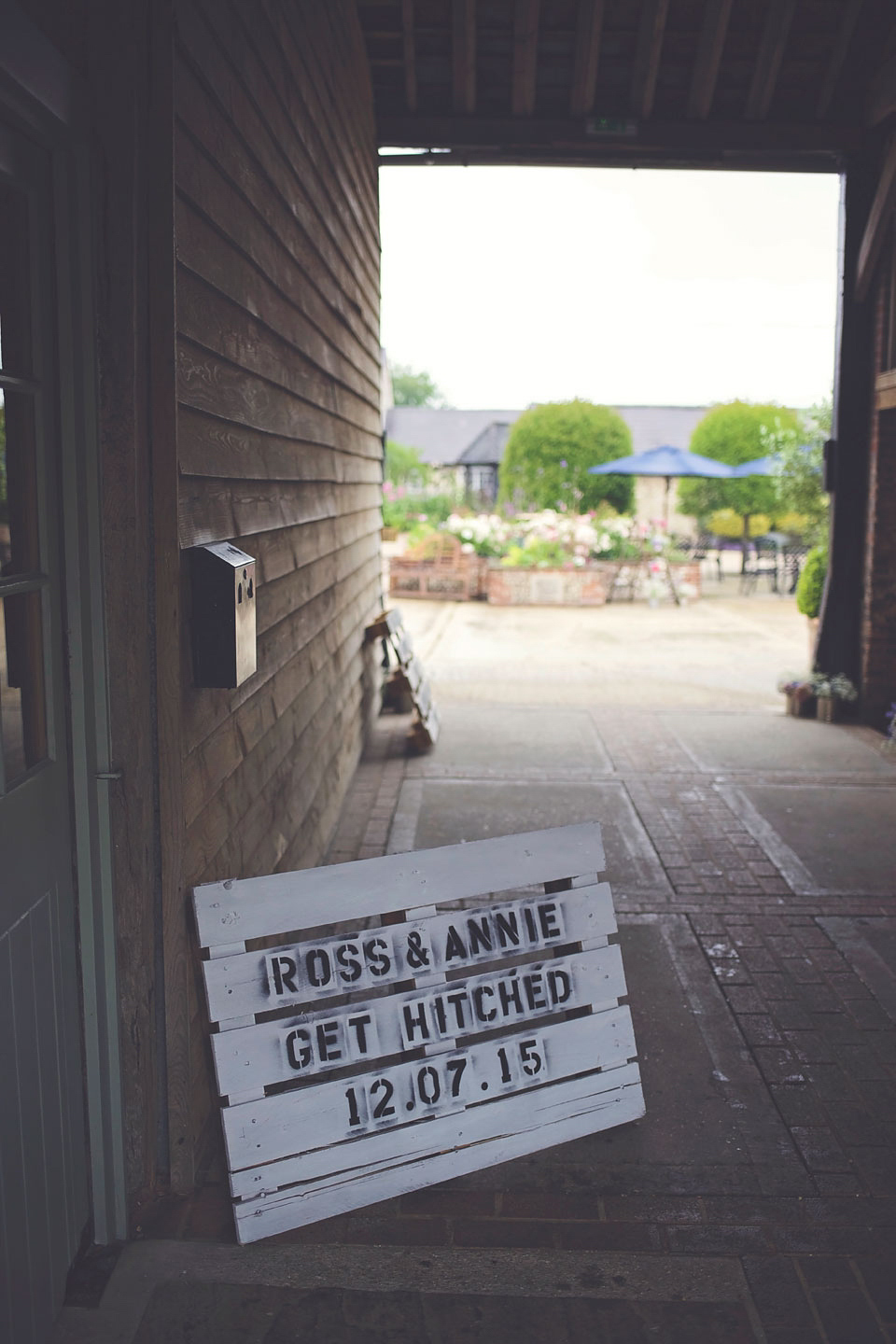 "We did all the flowers ourselves.  I really don't like anything that looks too perfect, so to avoid that, to keep costs down, and most importantly to have something which I could do with my mum and sister in law, was really important to me.  I decided on hydrangeas as they've always been my favourite, and added the gyp for a bit of a delicate touch! We went round all my mum's friends' gardens a few nights before the wedding, and collected an amazing array of colours and hydrangea varieties."
Ross looked super smart in a tailored grey suit by William Hunt of Saville Row, suede loafers, a spotted navy tie, a classic pocket watch and socks to match those worn by his groomsmen.
Annie walked down the aisle to Elvis Presley's 'Can't help falling in Love' holding hands with her Dad, who is a massive Elvis fan and looks so thrilled to be doing the honours.
"I was petrified of walking up the aisle, and crying or getting too nervous in the ceremony, but I think this was actually the part that I enjoyed the most. It was the most sentimental and I think the part I cherish most. 
We wrote our own vows. Not wanting anything to formal or pre written, we thought this the best way to get across to people what our relationship was about.  We've been through quite a lot as a couple and personalising this part of our day was really special to us.  It definitely brought a tear or two to the room! My cousin Hannah read 'A Lovely Love Story, by Edward Monkton. It is such a lovely, light hearted reading, which describes Ross and I to a tee, so we thought it was just perfect for us. Ross' daughter also read for us during the ceremony."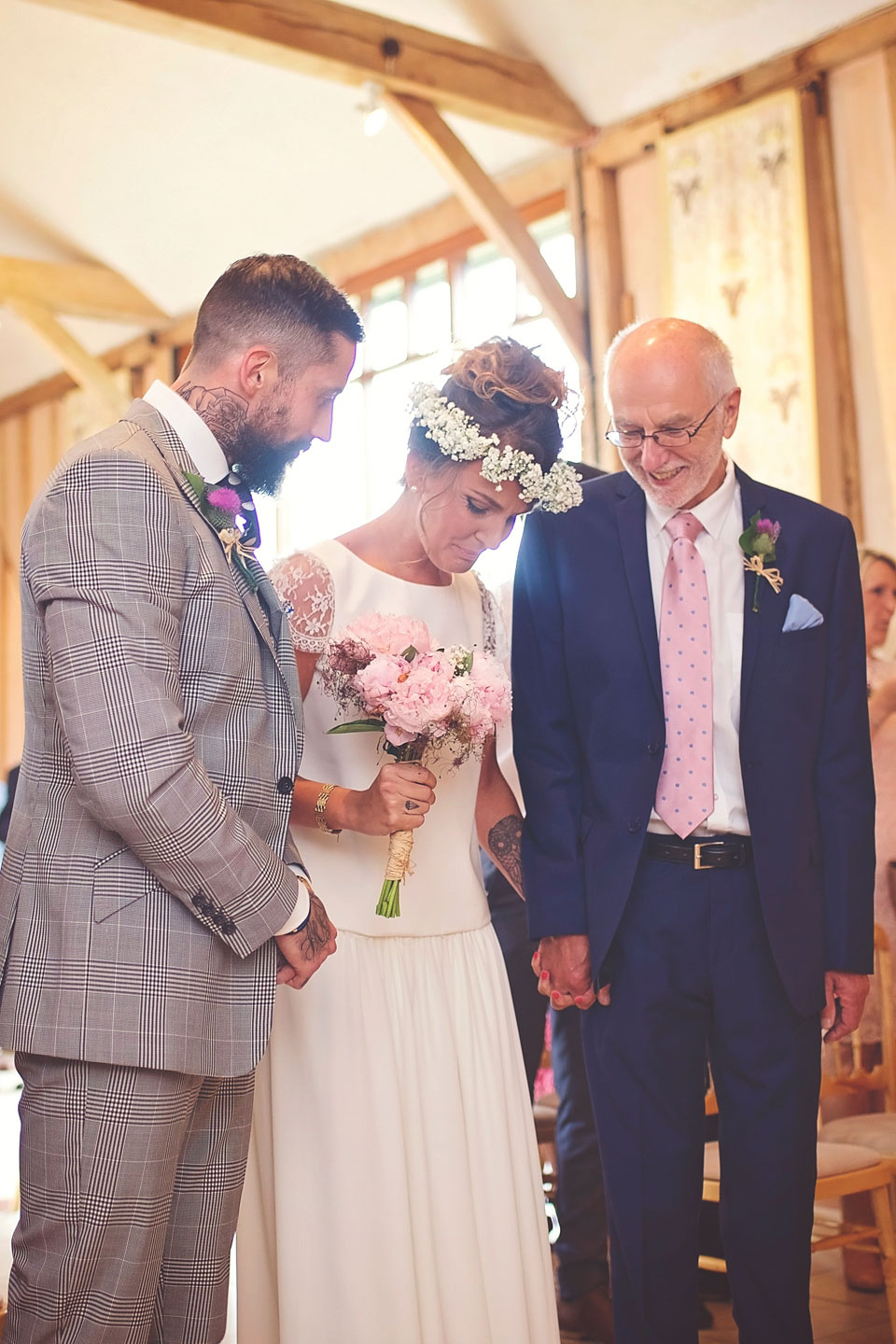 "Our rings came from a jeweller in Hatton Garden.  My engagement ring is vintage French 1920's and I really wanted a wedding band which complemented this.  I had researched online and found some beautiful old bands but none which were either in my price bracket or in the UK!  We found both our rings in a jeweller's window on a sunny Sunday stroll through Hatton Garden. Mine is a platinum orange blossom etched band, and Ross has a plain 18ct gold band."
Annie and Ross chose Jenni of Dimples and Daisies Photography to capture the day on camera.  I love how relaxed everyone looks in these photos, and the way the happiness is so obvious in every shot.
"Jenni was the perfect choice for us.  Ross has known her for a long time and we knew how amazing her photography even before she started doing it as a full time job; she seems to have the perfect balance of knowing what you want, but doing it to suit each person.  We didn't want anything staged or posed and she managed to get all the photos we wanted with just the right vibe about them.  She was also brilliant at capturing those moments that Ross and I missed from being so manic on the day."
"Just to be a bit different and because we're not massive fans of cake, we chose to have cake pops!  These were from The Pop Bakery in London, and my wonderful dad made us a cake stand."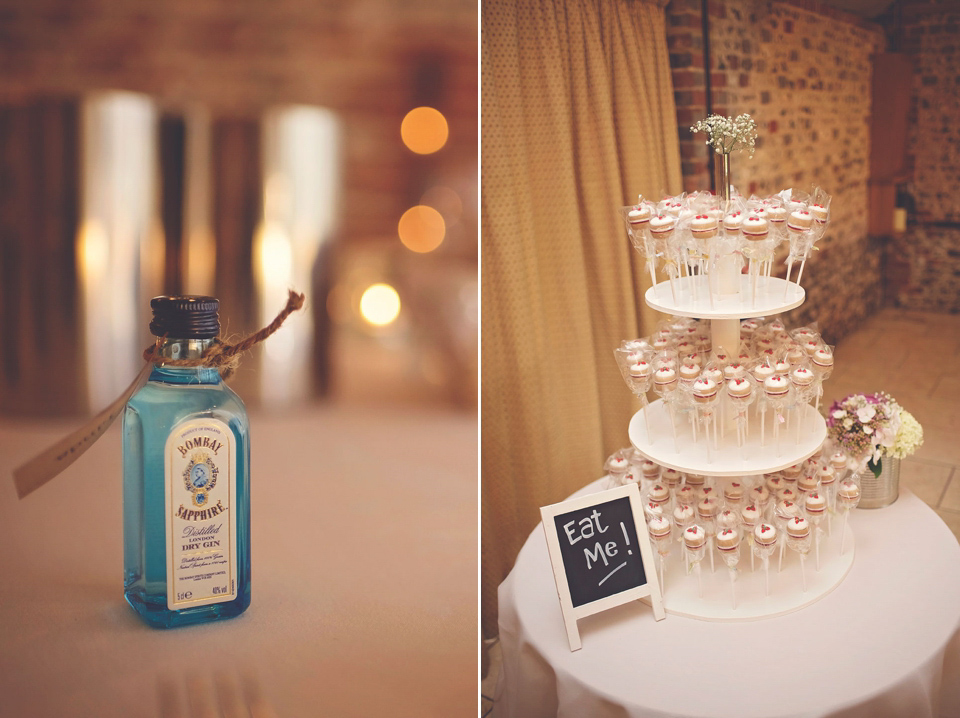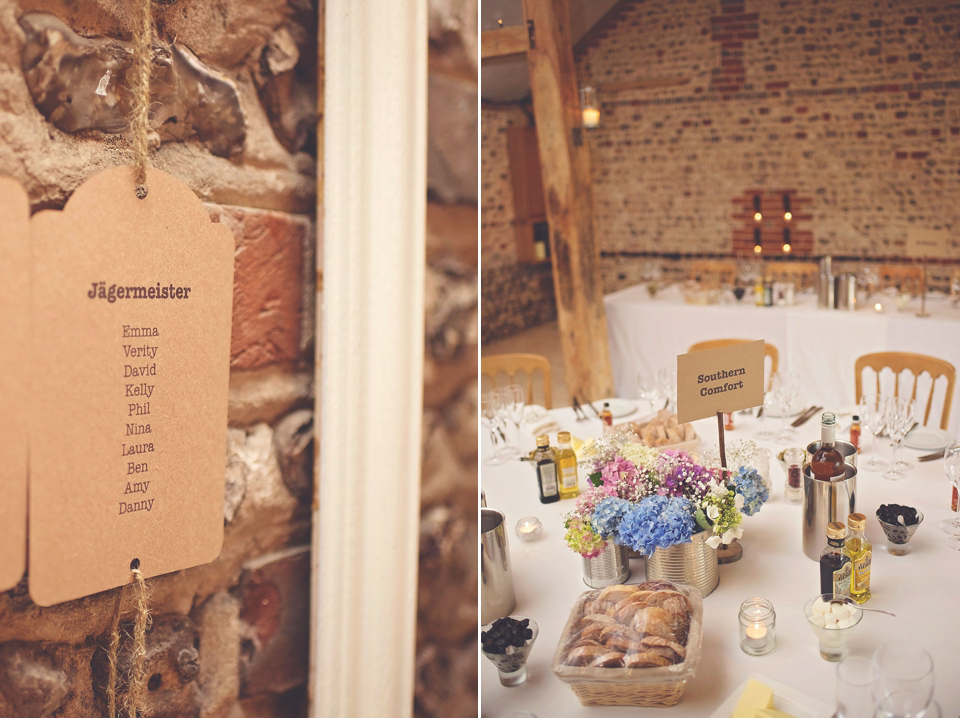 "We put together the decor ourselves. For the outside areas we spray painted two whitewashed wooden pallets, which served as our welcome to guests, and then inside the courtyard we had one which gave directions.  We then had ivory pompoms and festoon lights in the main barn and eating area.  We kept things quite simple and then had as many flowers in tin cans around the venue as we could!"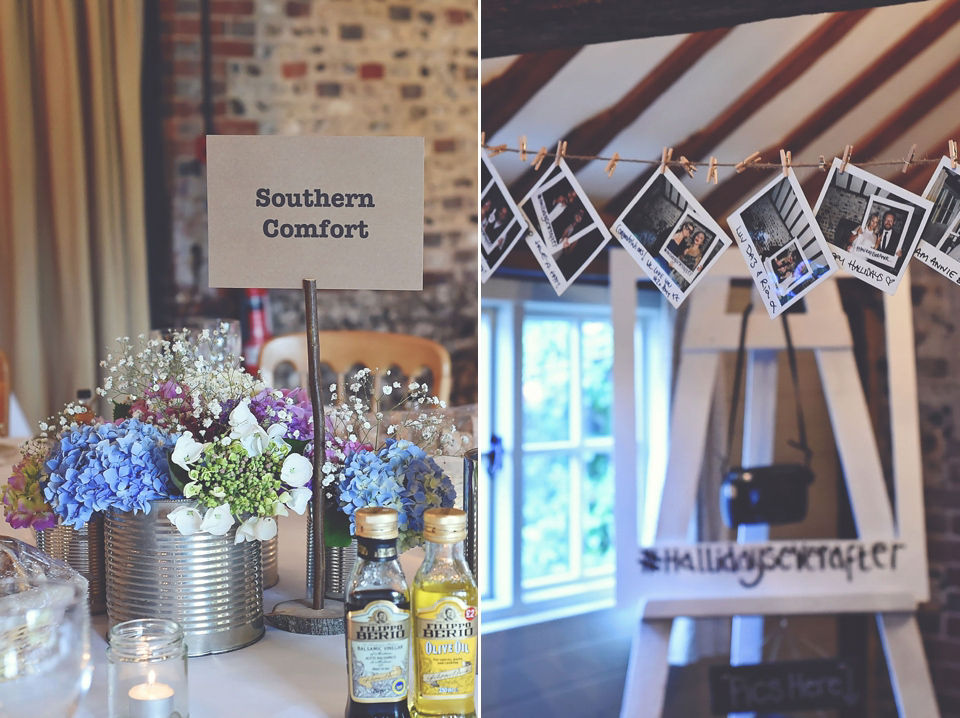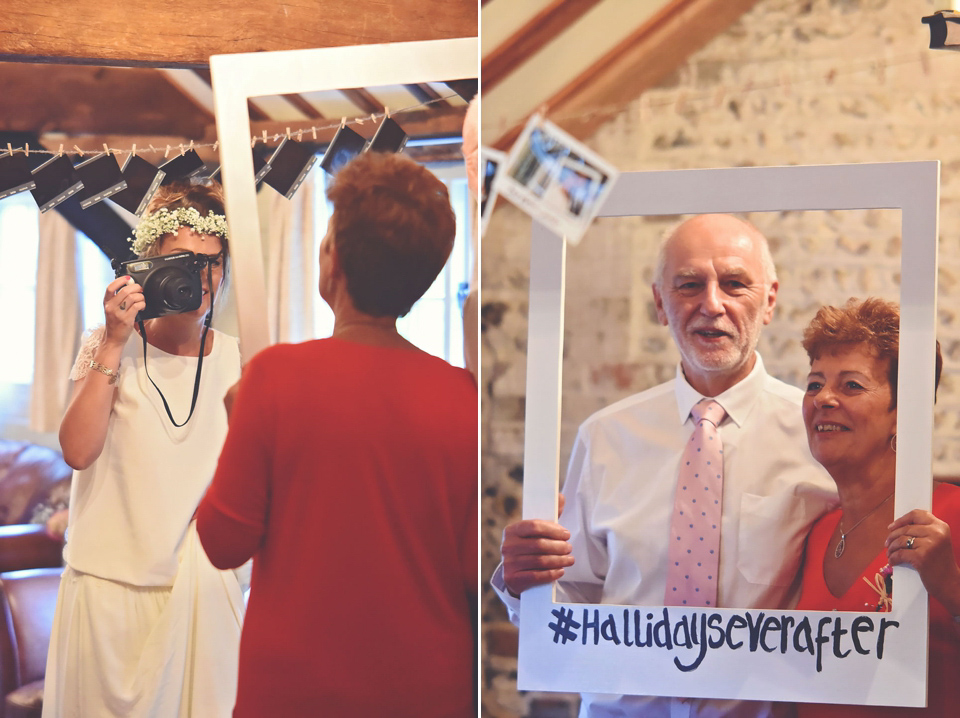 Words of Wedded Wisdom
"Don't over think the little things. Unfortunately your guests probably won't appreciate how much time and effort goes in to these things, so in the end just went with what was on my 'essentials' list.
Get a video!  This is the one thing we were both so pleased about. We can look back on this in years to come and enjoy the day as much then as we did at the time. It's also a great way to share your wedding day with those people who couldn't make it.
Lastly, don't do it for anybody other than you two. Don't worry if one person doesn't like your menu choice, or if aunt Mable won't like sitting next to your friend from work, if it works and makes your life easier, then do it.- it's your day!"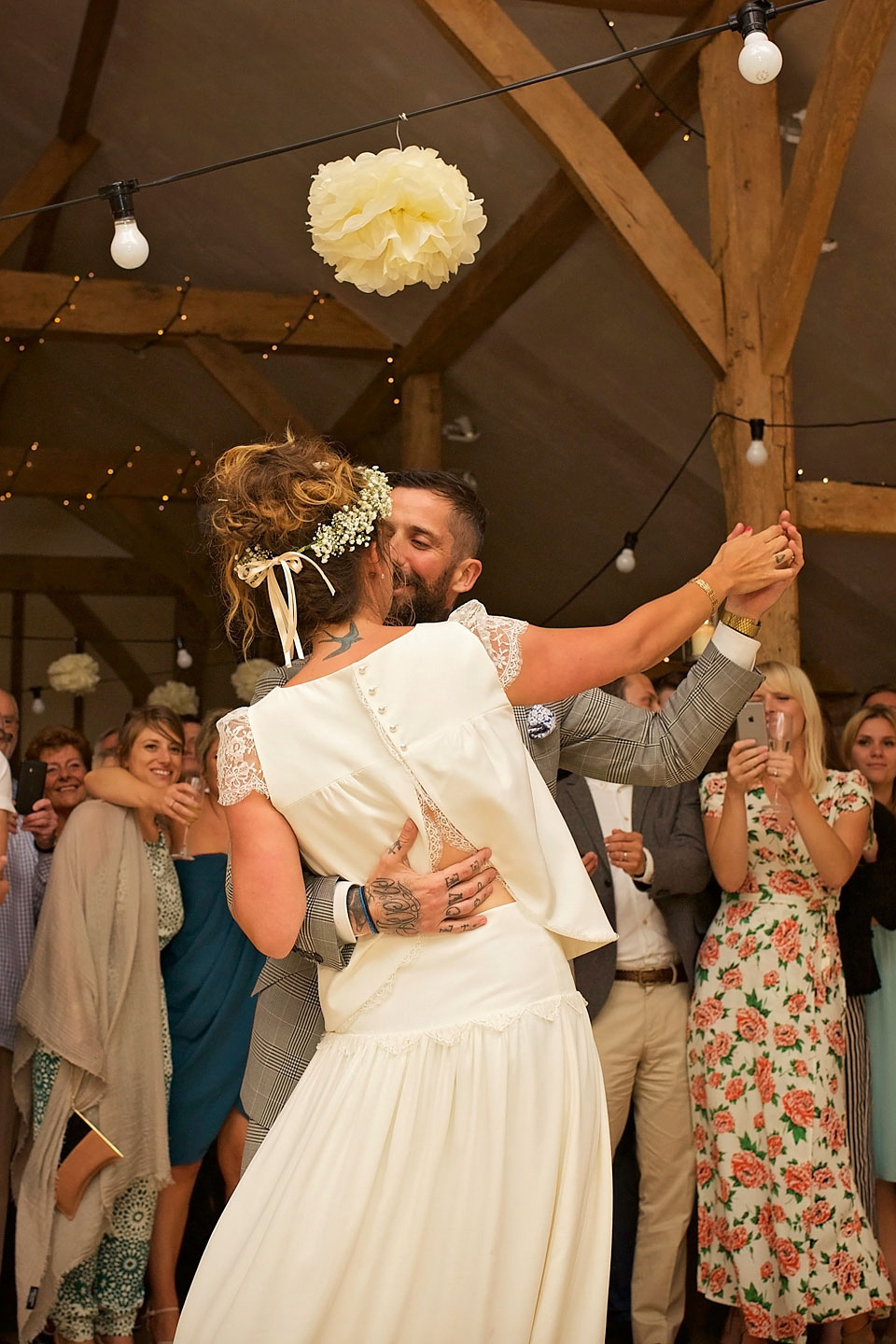 Thank you so much to Annie and Ross for allowing us a glimpse into their very lovely wedding day, and of course to Jenni of Dimples and Daisies Photography for sharing her work with us all. I do love a barn venue, and there are many beautiful ones to choose from.  If you haven't booked your venue yet but fancy something similar to Ross and Annie, why not take a look through some of our other barn wedding features to get some inspiration?
Much love,
Shona x
Photographer – Dimples and Daisies Photography
Venue – Upwalthamn Barns, West Sussex
Wedding dress –Laure De Sagazan, purchased from The Mews, Notting Hill
Shoes – Hobbs
Accessories – Family jewellery
Hair accessories – Floral crown from Rose Cottage Flowers
Perfume – Chance by Chanel
Makeup – Rosie-Lee (no website details)
Groom – Suit, William Hunt of Saville Row; loafers, H by Hudson; tie from Duchamp; shirt by Emmett London; socks by Ralph Lauren; watch, a gift
Catering – Nibbles 2 Nosh
Cake – The Pop Bakery
Rings – Hatton Garden
Stationery – Rebecca McMillan
Entertainment – The Shakeout Band