Good morning to you – I hope that you had delightful weekend with a chance to switch off from work and do some of the things you love. It's been a quiet weekend in our house – my parents were over and left Sunday and after a busy busy January it was lovely to spend Sunday chilling out and choosing colours and new interior decor for our new home.
This morning's wedding is full of English country charm, and I'm so delighted that we were asked to share it with you. Sarah, who works in exports, shipping Contemporary Art around the globe married Josh, a Cost Plan Manager for a construction company (which Sarah says was mighty helpful when budgeting for their wedding!) on 8th August 2015 with a beautiful garden wedding in North Norfolk.
"We got married in North Norfolk, in the Norman church of St Mary's, in South Creake and the reception was held in the garden of Josh's family home in West Barsham. We're both quite traditional, and it meant a lot to us that we had the reception in a place that was personal and that we had an emotional connection to. Josh and I just wanted the day to be an extension of ourselves and our relationship, and for it to be a real celebration. We really wanted as much to be handmade as possible; I made masses of origami stars and these were hung all around the garden and in the wood."
Photography by Ronlima
"It was really important to us that the day had a very personal touch, wanting as much to be handmade and handpicked by us as possible. Also, we are very fortunate to have some super talented people in our family whose crafts we wanted to use for the wedding."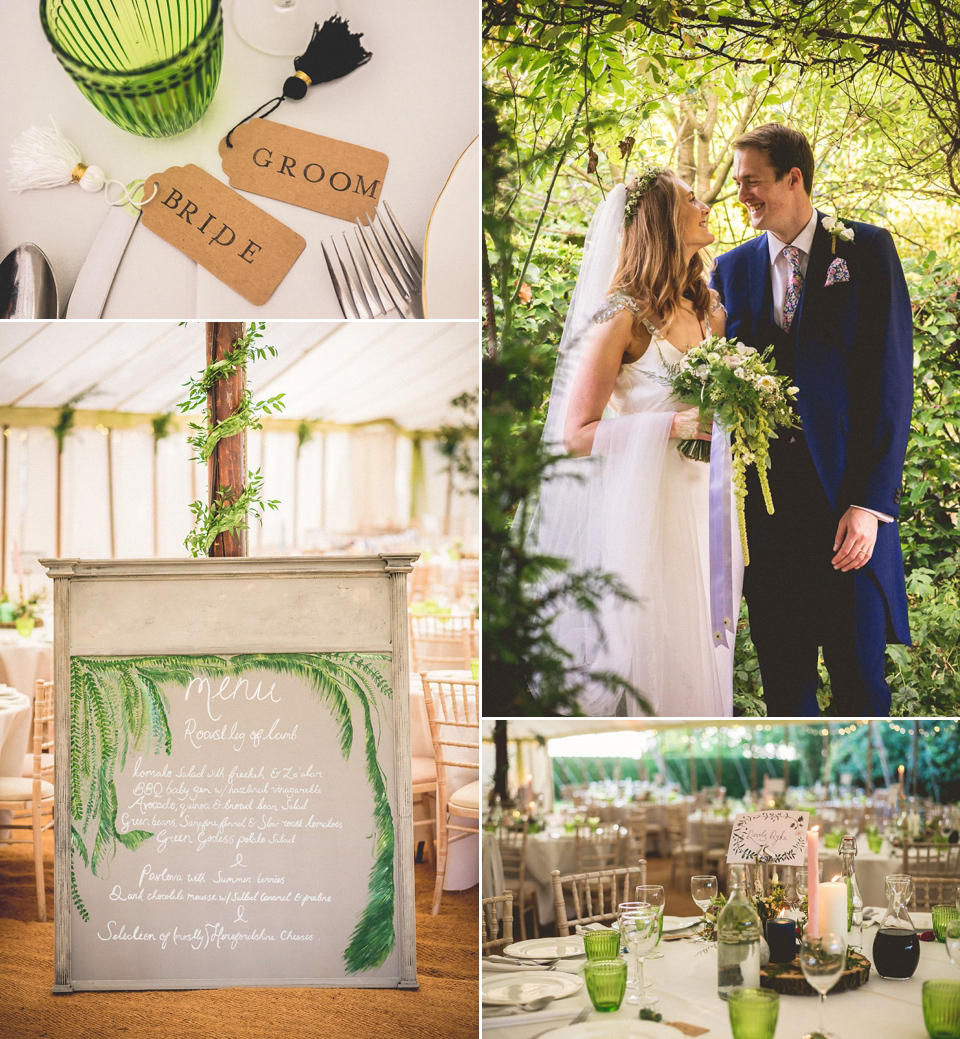 "My dress is by Sanyukta Shrestha and was purchased at their Fulham Boutique. It was the first dress I ever tried on, in the first bridal shop I'd ever been into."
"The dress itself is quite simple, so I decided I wanted some really out there shoes; I didn't want cushioned, kitten heeled, slipper like things, but I did want something untraditional and that would make me unashamedly tower over everyone else. I saw these Steve Madden shoes on Selfridges Online; they were appalling; diamante encrusted, gold, snakeskin open toed stilettos – absolutely the opposite of tasteful and I LOVED them. I also very much enjoyed describing them to my friends and seeing their faces fall into an expression of insincere appreciation as they tried to hide their apprehension (I think it was the gold snakeskin that really did it!).
I'd also bought some Indian slippers from Etsy to wear on the grass during the drinks reception, but didn't really need to wear them."
"I had a bit of a nightmare as the lady I had booked to do my hair and make up, cancelled on me six weeks before the wedding, the evening before I was due to have my trial! It worked out as completely for the best however. We registered our gift list with John Lewis and this included a complimentary make up trial.
I took the make-up trial at a time before the artist I'd actually booked had cancelled.  The makeup artist who undertook the trial said that he was from Burnham Market in Norfolk, which is just up the road from where we would be having the wedding! He did a great job with the make up and I joked that if the lady I had booked cancelled, I would be giving him a call. And as it happens, I ended up doing just that.  It worked out wonderfully as he said that he had been planning to come to Norfolk that weekend anyway – it was meant to be."
"We had our hair done at Six Apple Yard in South Creake and the girls were so wonderful! I explained the situation to them and they opened the salon early for us. I showed them some photos of what I had in mind and they knew exactly what to do. My hair, although I have masses of it, is very soft and babylike, so it never holds a style! The girls however spent a long time making sure it was perfect and it held all day (without being caked in hairspray), which I have never experienced before.
They were so great I have ditched my London salon and will be returning whenever we're back in Norfolk!"
"Josh's aunty Vanessa is such a talented lady and runs her florist business alongside working at the local school, and being in charge of three boisterous sons. She never stops and is a complete perfectionist. She works tirelessly with the help of her super-dooper husband Gavin. They are the absolute perfect team and took complete charge on the day and on the run up beforehand!"
"Vanessa listened carefully to what I had in mind for the bouquets, marquee and the floral crowns for the girls and got up at some completely insane time to go to the wholesalers to make sure she could have first pick of the crop for us. The amount of care, love and thought she pours into her work make her bouquets and arrangements so wonderful and special.
Vanessa also made a beautiful floral crown with white ribbons; we picked the flowers for it together and looked wonderful. I have kept it and have dried it so I can keep it forever!"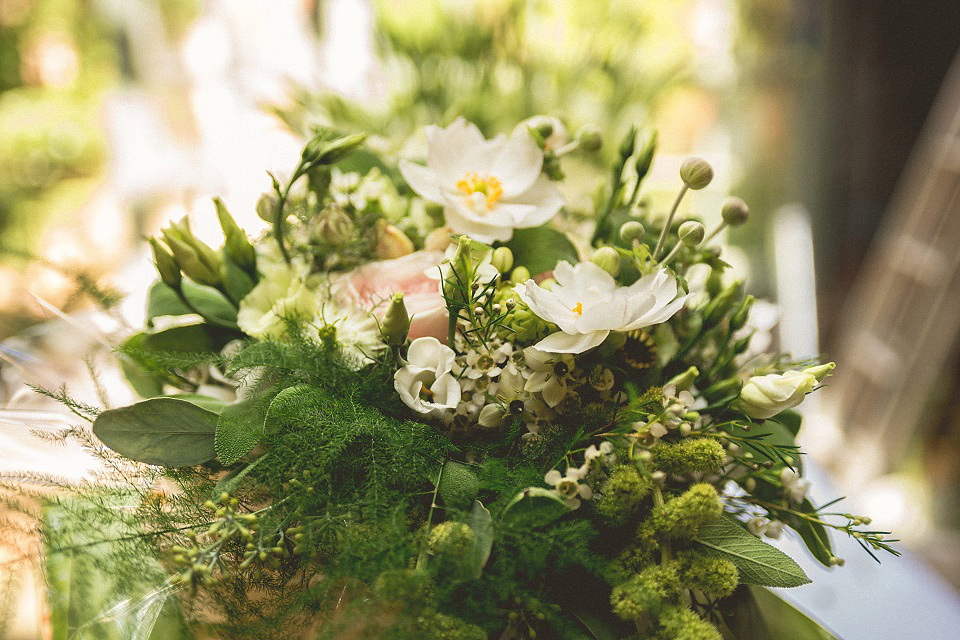 "Josh hired his suit from Moss Bros. Being 6ft 7", its always a bit of a challenge finding things which are the right fit for him, but the suit he picked was just what we had in mind and he looked amazing."
"I've got a real affinity with the arts and craft movement, and the philosophy that everything should be beautiful and useful is something I really subscribe to. I so adore Liberty Print, and I'd spotted Kate Temple's beautiful Liberty print ties at the Etsy Art Fair earlier this year. Once I'd persuaded Josh that they were a necessity for the wedding I got in contact with Kate. It was a bit last minute and she was due to go away for some weeks and would return after the wedding, leaving her with only a few days to make seven sets of ties and pocket squares for the groom, best men and ushers. She rose to the challenge was wonderfully responsive and helpful and the result was beautiful!"
"I'd said that the girls could wear whatever shoes they liked; we couldn't afford to buy shoes for them, so left it up to them to decide what to wear. The dresses were from Frock and Frill, I loved the flowing, slightly bohemian feel to them."
"I wore Jo Malone's Lime Basil and Mandarin; I wanted a new scent for the day; one that I could always associate with the special day. It's quite a masculine smell really, but very sensual; I love it.
I wore earrings and a small delicate bracelet from Beholden in New York, of which Anthopologie US is a stockist. One of my colleagues recently visited New York for work, and I'd sent him on a mission to pick up the jewellery and also as many candles as he could physically fit in his suitcase! I wanted the marquee to smell heavenly and LOVE anthropologie candles (it worked our as much cheaper to buy them in NY than in the UK)."
"My parents are divorced and my dad, through his own decision, isn't involved in my life. It seemed insincere then, that I uphold the tradition of being 'given away' by the father of the bride, when my wonderful mum is the one who I always turn to, and has by far been the dominant and supportive force in my life. When I asked her to give me away she was so happy and this experience has brought us even closer together."
"I also particularly resented the tradition that no female voice is heard at the wedding; you hear from the groom, the best man and the father of the bride, but its not traditional for a woman to speak. Both my mother and I spoke at the wedding to give our thanks and it was important to me that this be the case."
"Walking me in was a classical guitar version of Cannon in D; it's a bit unoriginal, but beautiful. Singing us out however was 'You and Me Song' by the Wannadies; we wanted the first song we heard as husband and wife to be a happy, sunny, lively song, starting as we mean to go on."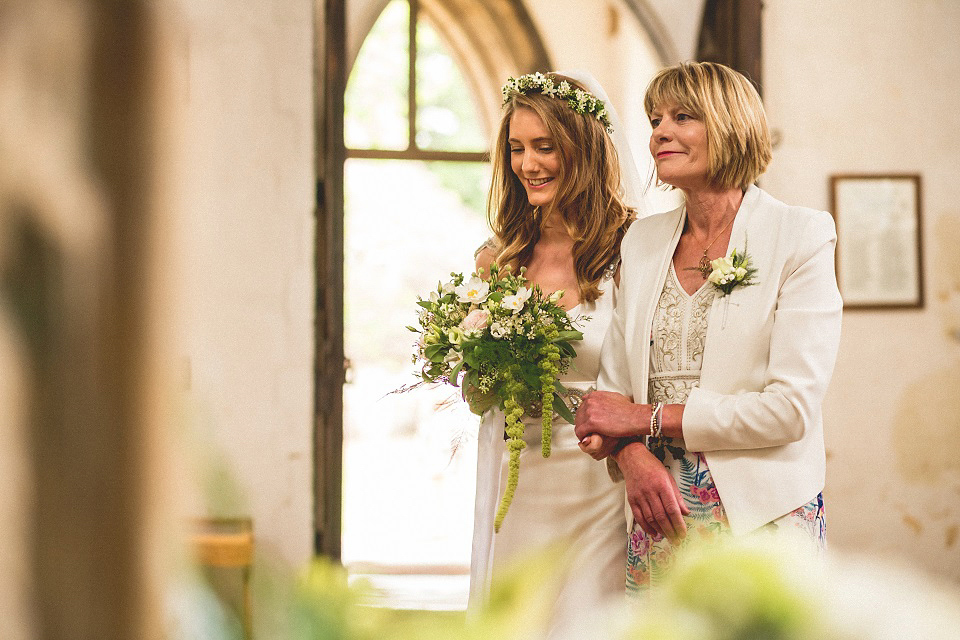 "We had a little quote on the back of our order of services, by C.S Lewis, which was 'Now they were beginning Chapter One of the Great Story which no one on earth has read: which goes on for ever: in which every chapter is better than the one before', and I really felt like this was the beginning of something marvellous.
Kate Cronk, at Kate Peggy Cronk designed our invitations, table cards and order of service sheets; she was wonderful and so very helpful! I can't recommend her highly enough and the suite was just what we imagined and fitted so well with the feel of the day."
"Choosing the right readings was very important to us; we wanted to keep things light hearted, but sincere. For our secular reading, we were both agreed not to have Corinthians, as it's pretty ubiquitous. Josh's sister Rosanna read an extract Song of Solomon and it was very beautiful. The words took on a real resonance in a way they never had before. For our second reading, we had "Fox Trot from a Play" by WH Auden, which is very funny and sweet. Auden is also an alumnus of Josh's old school, so we liked the little extra link here.
Our third reading, and my favourite, was an extract from a letter written by John Steinbeck to his son, on hearing that he has fallen in love for the first time. It's a very simple, yet emotive description of love and when I asked my friend Melissa if she would be happy reading it, she said she got shivers down her spine when she read it through for the first time – that's how I knew it would be an effecting reading."
"My favourite part of the day was the service (as well as the drive back to the reception). Although a Christian, I'd seen the service primarily as a formality; on the rehearsal the day before, I'd completely got the giggles and couldn't keep a straight face – maybe from nerves, but on the day, I was completely walking on air- making our declarations in front of our friends and family was such a tremendously powerful experience.
As we stood next to each other in the service, holding hands and exchanging sly glances it really did feel deliriously wonderful to be marrying the person I had loved fiercely for the last eight years and who I would have children with and be joined with for the rest of my life."
"A friend of the family leant us their immaculate baby blue Triumph to drive from the Church to the reception in and I had asked Josh's dad to drive the girls, my mum and I to the Church as it seemed like a waste of money to pay for a one way journey in a posh car that no one would see." 
"When Josh's parents bought the house 15 years ago, it was a bit of a wreck and the garden was in tatters. Josh's parents have lovingly and tirelessly worked on the house since and as Josh's father, Patrick, is a joiner by trade, everything from the staircase to the windows was lovingly made in his workshop! The house is also a place of so much love and laughter as Josh has a very, large, close knit family and it really was the only place either of us had ever considered! Since our engagement in January, Patrick, worked like billy-o making sure the garden was up to his exacting standards for our special day, and it looked absolutely phenomenal."
"We have a friend who hand makes beautiful wooden canoes and as the route also wound past a big pond, we couldn't resist asking him to bring one along to put in the pond and it looked great, especially at night with some pretty candles in it! The walk led straight into the marquee and in the evening, when all the candles were lit, it looked nothing short of magical."
The couple realised the importance of having their day photographed beautifully but initially struggled with the cost of a professional wedding photographer.
"We were discussing this with a friend of ours who recommended her friends Ron and Rafa. I checked out their website and gave Ron a call and immediately felt at ease. We discussed the natural look we wanted from our photographs and he was completely on board. He asked us questions about the photos that we had never considered and he was so thoughtful, attentive and well prepared, it was wonderful! The pictures look great and capture the day very well. I can't recommend him and Rafa highly enough."
"The dress was over my initial budget, so I really needed to make some compromises elsewhere; Sanyukta placed a very simple, unadorned, cathedral length veil on me when I tried the dress on, and the simple veil looked great with the flowing & statuesque lines of the dress, however there was no way I could afford it! I went into a department store and looked closely at some veils and thought they looked quite simple to make, as they didn't need seams, and I preferred a single tier, so resolved to make my own. I bought the tulle for £6.00 a meter from a shop on Berwick Street in Soho, and the comb for a tiny amount from John Lewis. I looked at tutorials online, got a couple of girls over (bribing them with prosecco) and gave it a go.
Years and years ago I bought some beaded embroidery from Macculloch & Wallis in London, and hadn't got around to using it, so dug it out and sewed it onto the veil. I also bought some simple embroidery to go around the base of the veil, again from Macculloch and Wallis. It was with immense satisfaction that I made the veil, it felt like such an achievement, especially as I have no particular talent with a needle and thread!"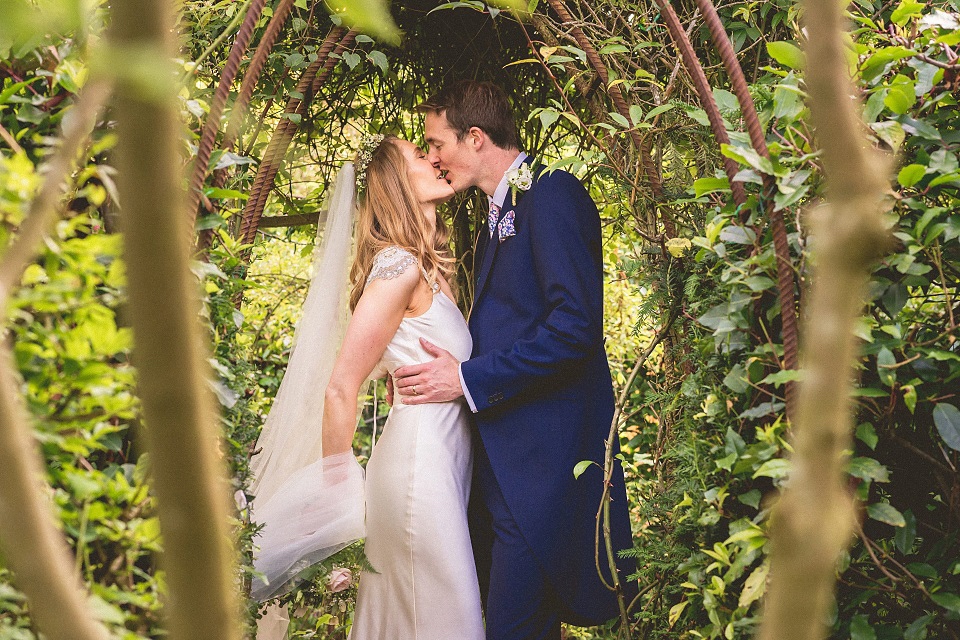 "For some preliminary investigation shortly after I got engaged, I Googled 'sample sales in London', just to get an idea of the sort of thing I might like, having literally no idea. I booked an appointment with Sanyukta and last minute asked my London based bridesmaids if they fancied coming along, iterating that I had no intention of actually getting a dress. Sanyukta was great and when I explained it was my first attempt at dress hunting, she asked me to pick three dresses I liked the look of, just to get us started and we could go from there. Two gowns in particular caught my eye, and after that I was lost, so took one at random off the nearest hook. Sanyukta handed that one to me first, and when I put it on, I really did fall in love with it.
I loved the cool, smooth, fluid feel of the silk and could tell it was of exceptional quality. I wanted something to emphasise my shape and height and the simple lines of the dress did that. The detail of the beadwork on the shoulders and belt were uncluttered and intricate, but resplendent and elegant. I did love it immensely, but part of why I immediately decided on the dress was a very conscious belief that you shouldn't keep thinking there is one and only one perfect dress out there, and that you shouldn't give yourself too much choice, otherwise you'll never make a decision. The notion that the dress has to be a perfect extension of yourself is crazy; at the end of the day, its just a dress and you need to feel great in it, but its not the most important thing- I think probably the hardest thing about planning a wedding is managing your own expectations!"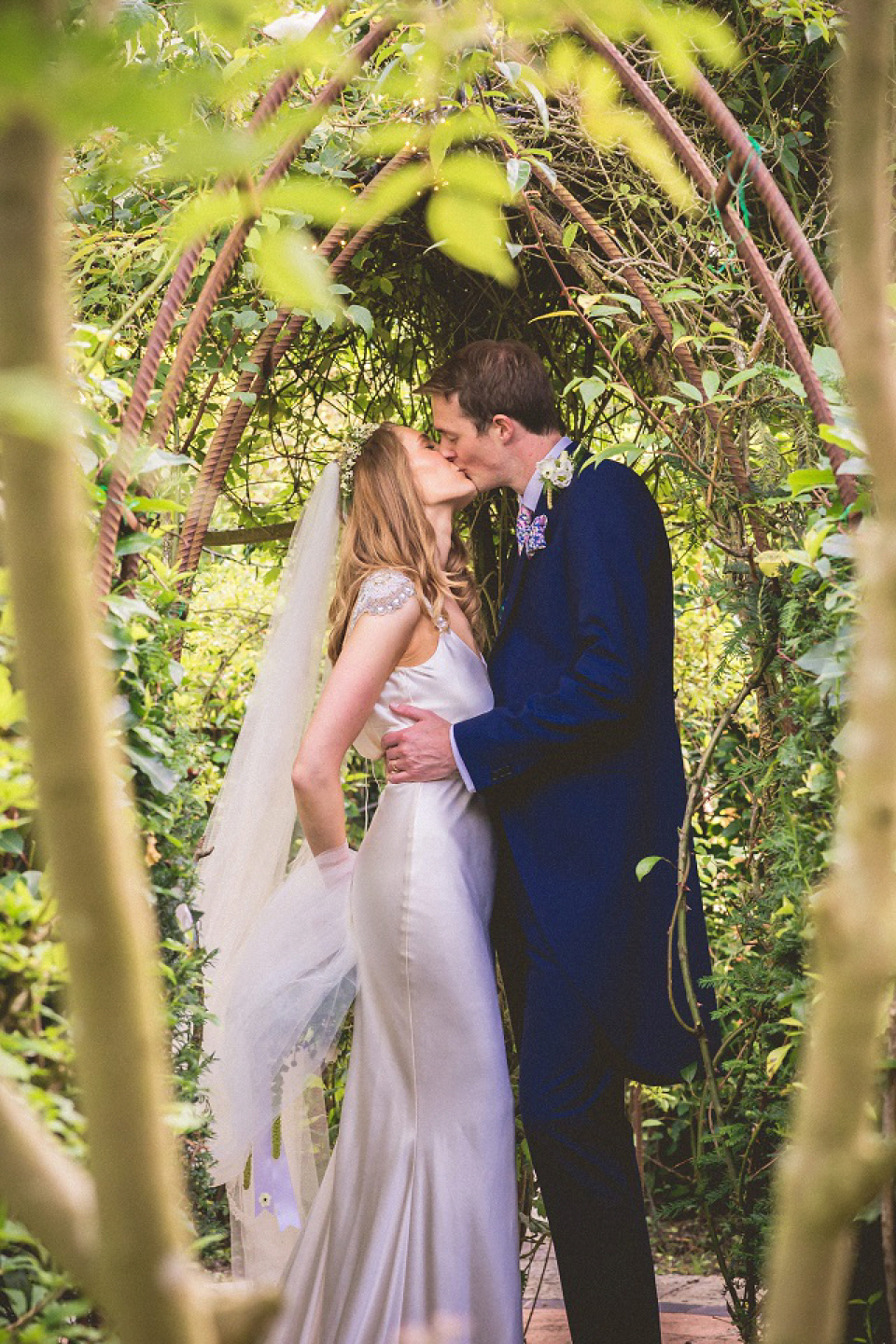 "We used a Norfolk based company called Little Lending Co to hire some bits and pieces for the day, like brass candle holders, lawn games and water bottles for the tables. They were little touches which I think made a big contribution to the day and it was great to be able to use a local company. Penny at the Little Lending Co was terrific and very helpful. For the reception, we led everyone into the garden and round to the marquee (hired via Marquee Hire) through a little wood. This was lined with candles and bamboo torches which would be lit in the evening. 
When hunting around for bits and pieces to use, we found some beautiful, wooden, old mirror frames from Josh's dad's workshop. We painted these up and added a backing and used them as a welcome sign and to display the menu in the marquee. I got so sunburnt in the weekends before the wedding as I would be out in the garden all day in the sunshine painting the boards."
"My sister in law Eliza (see email link in credits below) used to work in London as a busy chef running pop ups and various other culinary operations. She lived on a houseboat, which I just thought was so very cool and romantic! As the family extended, she and her husband (Josh's Brother) very recently moved to Norfolk with their two girls and is relaunching her catering business from there.
Eliza was completely fantastic; there was a real emphasis on the food matching the feel of the day, and not just tasting out of this world, but also looking completely beautiful. Eliza worked extraordinarily hard and triumphed as ever. All our guests said how wonderful everything tasted, and my biggest regret of the day is that I didn't get to taste many of the canapé myself."
"We didn't do favours as we felt like it was a bit of an unnecessary cost, but I handmade little tassels for all the guests as the name placements on the tables instead."
"In addition to all the gorgeous things Eliza and her team prepared, we arranged a lamb spit roast, cooked over a fire pit in the garden. This was from a local butcher, H.V. Graves in Holt. Instead of a bacon sandwich round we got in masses of pork pies from Graves, and they were the most amazing pork pies I've ever had! If you happen to find yourself in the area, you must get your hands on one. These were pulled out alongside some homemade sweet chili jam and some cheeses from Herefordshire, which I where I am from. It was important to me to get as much produce from Hereford as realistically possible.
I liked the idea of having cocktails at the wedding so we bought some 5ltr Kilner jars and made up some cocktails for guests to help themselves to; these were champagne & rhubarb, and apple, elderflower & gin. The rhubarb and elderflower was made from fruits and flowers I had picked from the garden earlier in the year and made into syrups. These were decorated with edible flowers and looked beautiful in the champagne saucers."
"I work with a superbly talented lady who is asked to make a cake for the whole office, every time it's someone's birthday. I'd found on Etsy some stunning rice paper edible pansies and thought these would be perfect for the cake! She made us a three tier lemon sponge cake, with lemon curd buttercream and used edible glue to carefully arrange the flowers."
"Josh's mum had spotted some buskers in Fakenham, the local town, playing Folk songs. She took their details and we asked them to play on the day during the drinks reception. It was quite random, but added a nice touch."
"The table decorations were fantastic; I am a big fan of Edmund De Waal porcelain and she somehow wanted to incorporate this into the decorations – Vanessa did so by hand making tiny, delicate wax containers for the flowers and fixed them to wooden log rounds in the centre of each table. Genius!"
"We chose 'Dreaming of You' by the Coral for our first dance – When we first met, Josh tried to find me out on Facebook, although I wasn't signed up; I did however have a MySpace account which he managed to find."
"For those who don't remember MySpace, you can chose to have a song play on the page when you open it. This was my favourite song at the time and whenever we hear it, it reminds us of that really exciting time. I'm immediately transported to my tiny room at university, with its tiny single bed, feeling excited very about seeing Josh."
Words of Wedded Wisdom
"Its what everyone says, but its completely true; the day goes by in an instant and it's a shame that the married couple can't be a guest at their own wedding! In my experience, it was things I hadn't really considered which gave me the most happy memories, so if things don't work out completely how you planned, which is inevitable, don't dwell on it! Oh, and make sure you get to try ALL the canapes.
My only regret on the day, is that when I did my speech, I lost my place and stumbled and forgot to thank some people I really meant to. I keep thinking about it and although I've said it since, its not the same. So many people came together from all over the world to make our day what it was, and it would not have been the same without this help. From simple, and thankless tasks like pressure washing the garden path to finding napkins hidden in odd spots and lighting candles, the day was a success because of the many people who made it so."
What an exceptionally beautiful day, and I adore how much detail bride Sarah has shared with us too – in fact there are words of wedded wisdom peppered throughout this entire feature – take note brides!
Huge thanks to photographers Ronlima and to bride Sarah for sharing such a beautiful wedding day story. If you would like to learn more about the designer behind Sanyukta's gorgeous gown, please visit the website of ethically responsible bridal fashion designer Sanyukta Shrestha.
Have a great Monday morning all – we can do this!
Love Annabel xx
Photographer – Ronlima
Styling – Little Lending Co + Western Canoes + Glassware & Crockery
Venue – Family garden using Marquee Hire
Wedding Dress – Sanyukta Shrestha
Veil – Handmade
Shoes – Steve Madden via Selfridges
Perfume – Jo Malone's Lime Basil and Mandarin
Groom – suit hire via Moss Bros + Kate Temple Liberty print tie
Bridesmaids –  Frock and Frill
Flowergirls – Zara
Florist – Family  member
Cake – Family member
Transport – Family member
Eliza Rooney Catering – email [email protected] + Mouse Trap Cheese
Stationery – Kate Peggy Cronk