Happy Saturday darlings! And Happy New Year! I hope this finds you well. I know that many of you landing upon this page today are maybe discovering Love My Dress® for the very first time. If that is you and you became engaged over the festive period, may I offer you the warmest of welcomes! It's genuinely so lovely to have you here. You can read more about me and my team over on our About Page and may I also recommend our Christmas/New Year magazine – it's full of time limited, money saving offers ready to be snapped up by you, and includes a collection of 25 of my favourite weddings blogged on Love My Dress in 2015 – a must read.
I know that for many of you setting out to plan your wedding, that the very first thing you'll want to secure is your venue. Talking of which, have you explored the venue and other pages of our beautiful wedding directory, Little Book For Brides yet? There are many other things to think about in these early stages too – not least the dress and accessories, and it's with the latter in mind this morning that I've chosen to share details of the new collection from Lila with you today.
Photography by Katy Lunsford for Lila
Claim a 10% saving on all orders placed via lila-lila.com by 31 January 2016, using quote 'LMD2016'.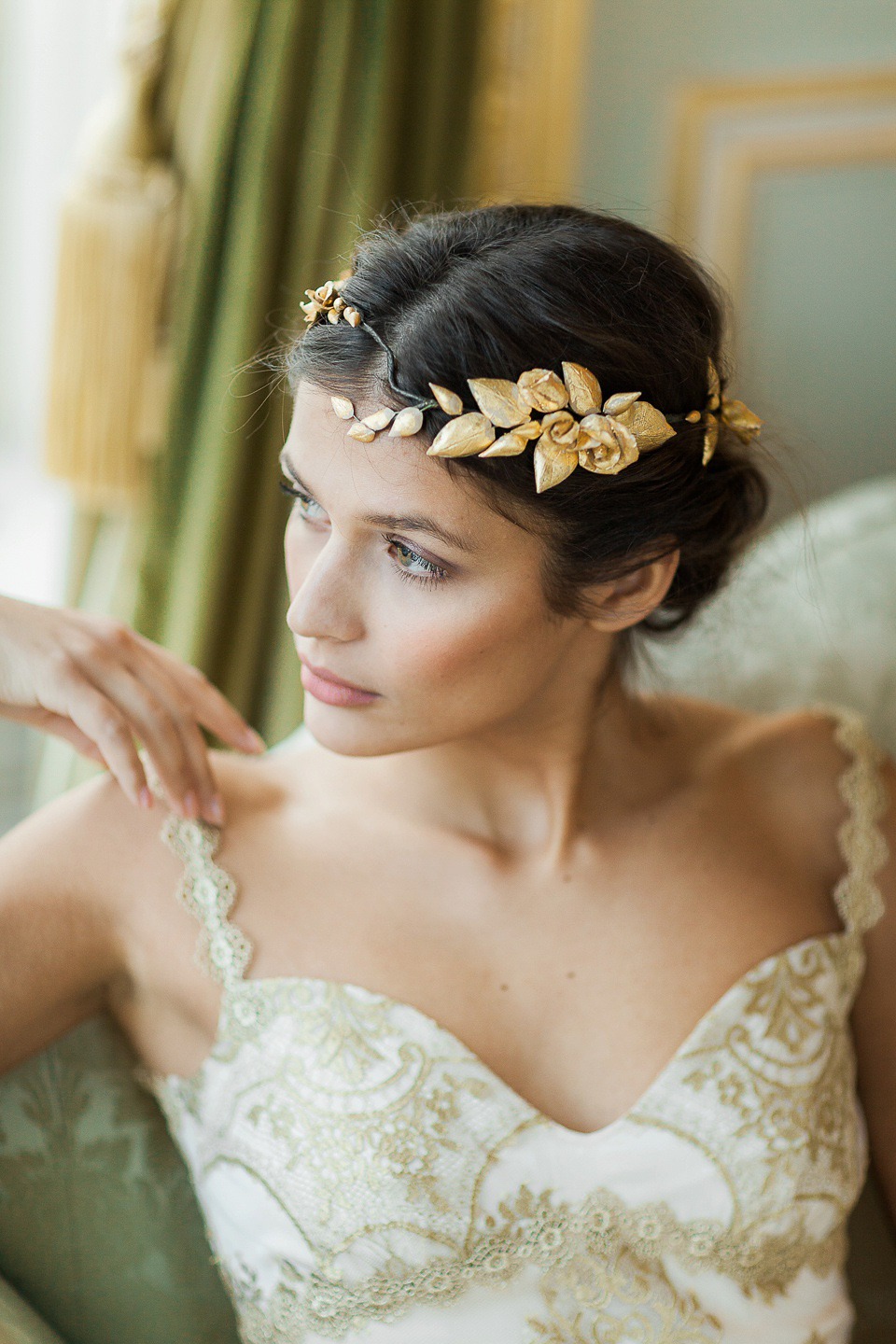 Designer Sophia, the founder and creative genius behind Lila, creates the most beautiful, hand-crafted floral headpieces, which I've been completely head over heels in love with for a few years now. Sophia's pieces truly are exquisite – both myself and my two little girls are proud owners of a headpiece by this immensely talented artisan craft designer.
Lila's collections are renowned for their outstanding craftsmanship and truly original designs that are all created from clay. I know! Isn't that amazing? The complex, lengthy process involved in producing these delicate, life-like blooms, demands that each petal be sculpted by hand, resulting in startling detail and a most exquisite distinctive finish.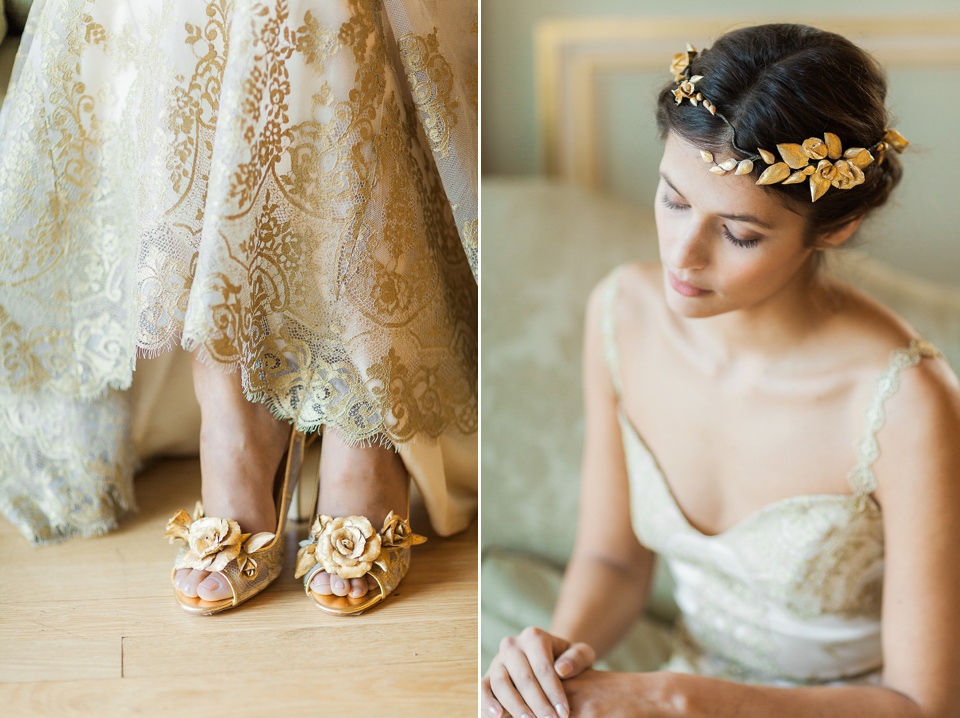 Each flower is unique. Her striking gold designs are hand-gilded with pure 24ct gold leaf, using a technique that makes the gold look 'worn-off' creating a deep, warm sheen and a luxurious, old-time feel.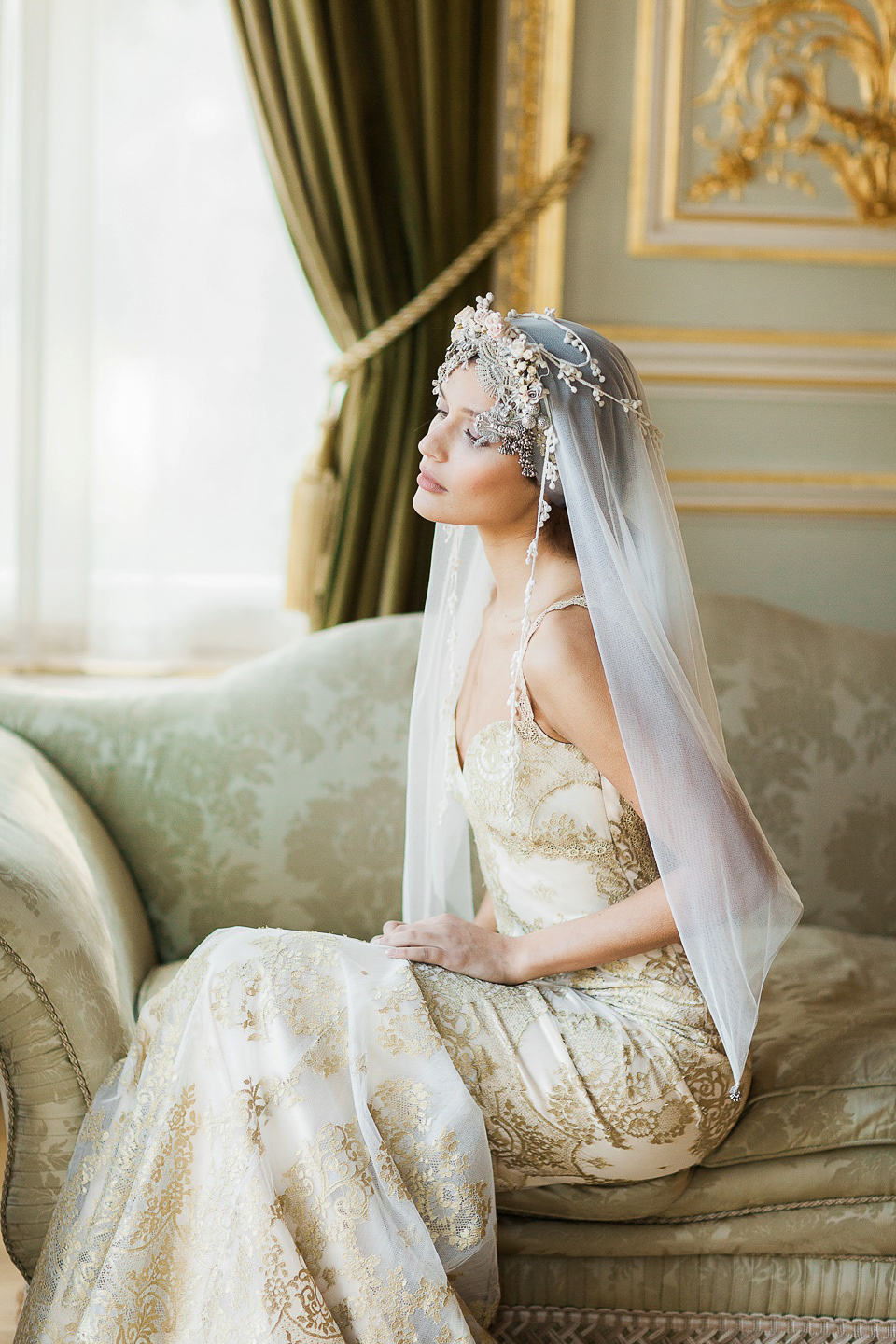 "Our new collection features beautiful designs with our signature handcrafted flowers" says designer Sophia. "It also features jewel-like pieces made with crystals and pearls, as well as a little preview of our stunning new veils to be launched soon."
"The collection is filled with muted metallics (inc pieces hand-gilded with pure 24ct gold leaf), pastel 'antique' tones, as well as some lighter, playful pieces, all being very delicate and with intricate detailing. They are beautiful and feminine, romantic, soft, yet with an underlying tone of opulence and an antique feel."
Lila's artistic flair and creative strength at responding to bespoke commissions, has seen her regularly collaborating with designers and stylists on catwalk and editorial, while her work is worn by celebrities and regularly featured in fashion and bridal press including Vogue, Brides, You and Your Wedding among others.
With Lila's brand new collection in mind (pictured here today), bringing these carefully selected suppliers together made just complete sense. Adding her signature 'magic' touch, the master of light Katy Lunsford captured the feel and style of the headpieces beautifully, all shot in a mise en scene of striking details and sophisticated elegance of the stunning Fetcham Park. Claire Pettibone's romantically feminine gowns set the tone, accessorised by the most luxurious shoes by Freya Rose and Emmy. Tassilia Varda, senior stylist at Michael Van Clarke and fashion catwalk and editorial aficionado crafted such graceful hairstyles showcasing the versatility of the headpieces and Jessica Hurley created the most natural, flawless make up. Couldn't have wished for more!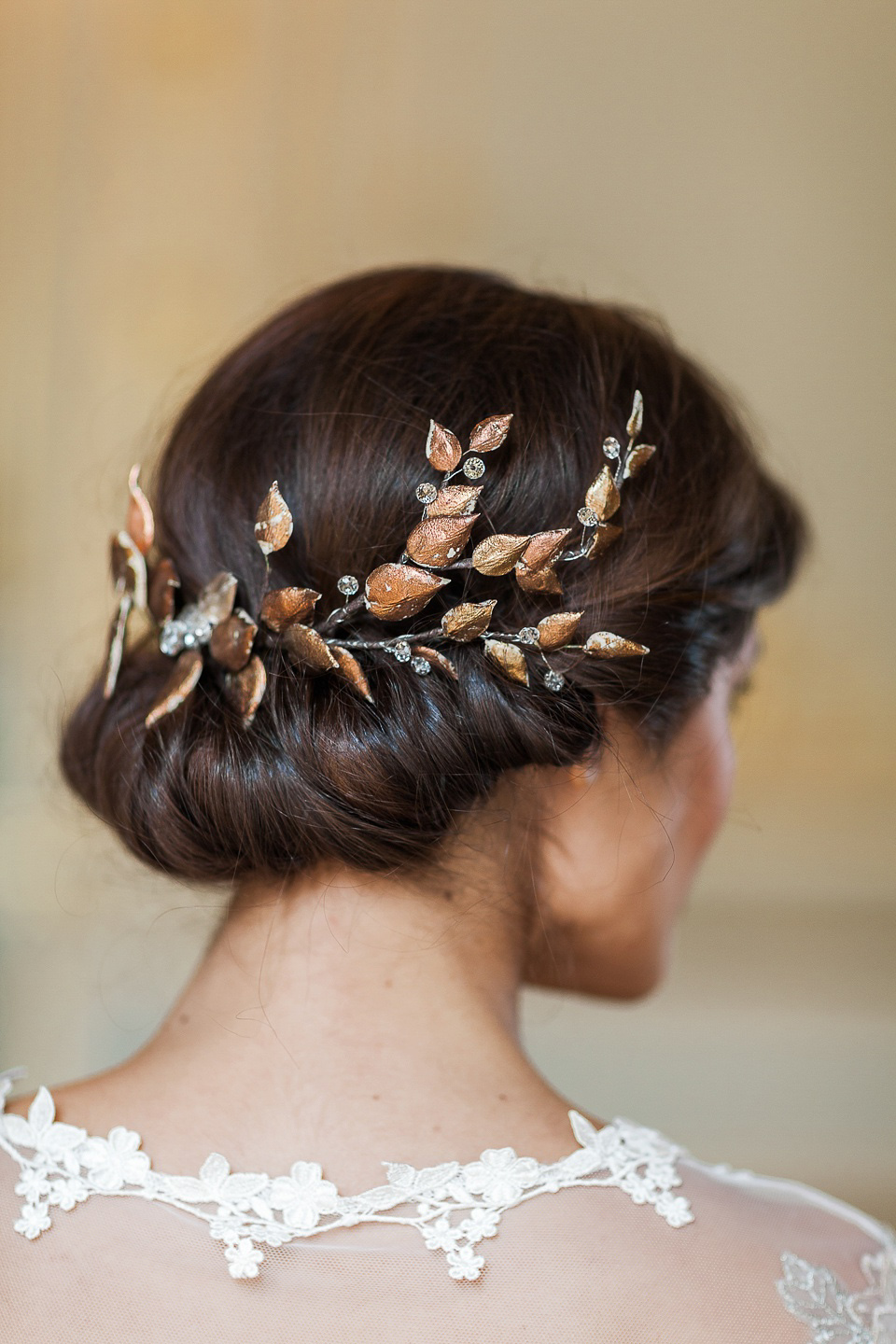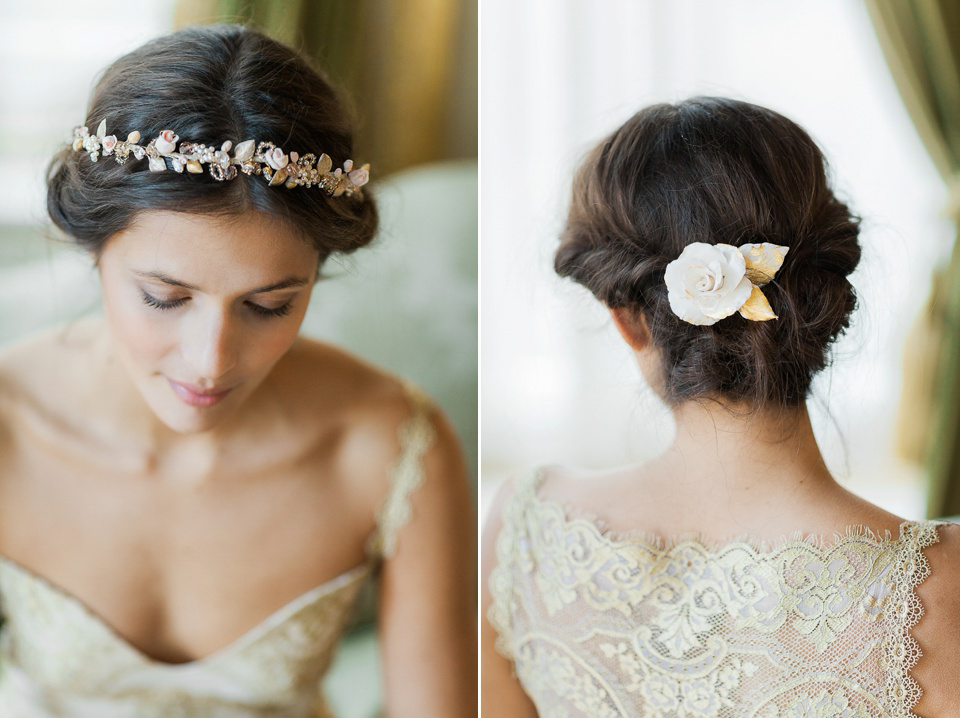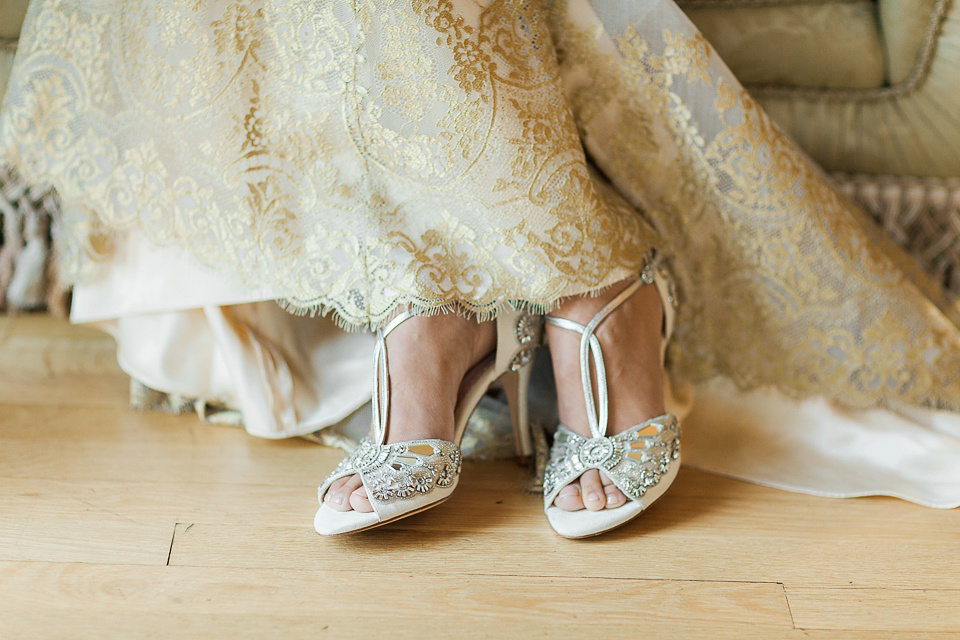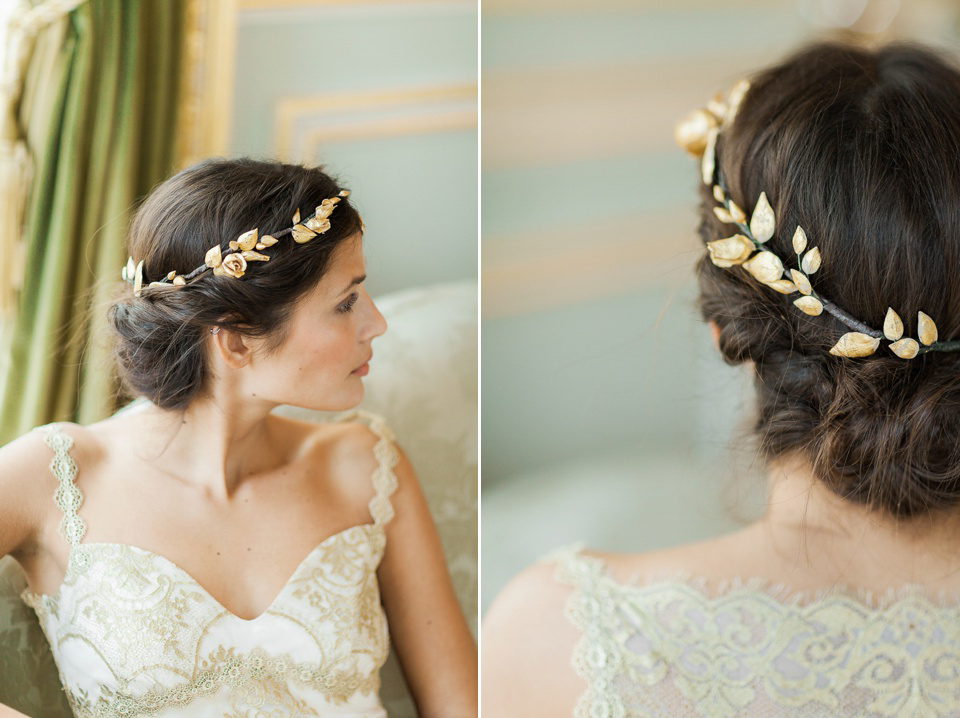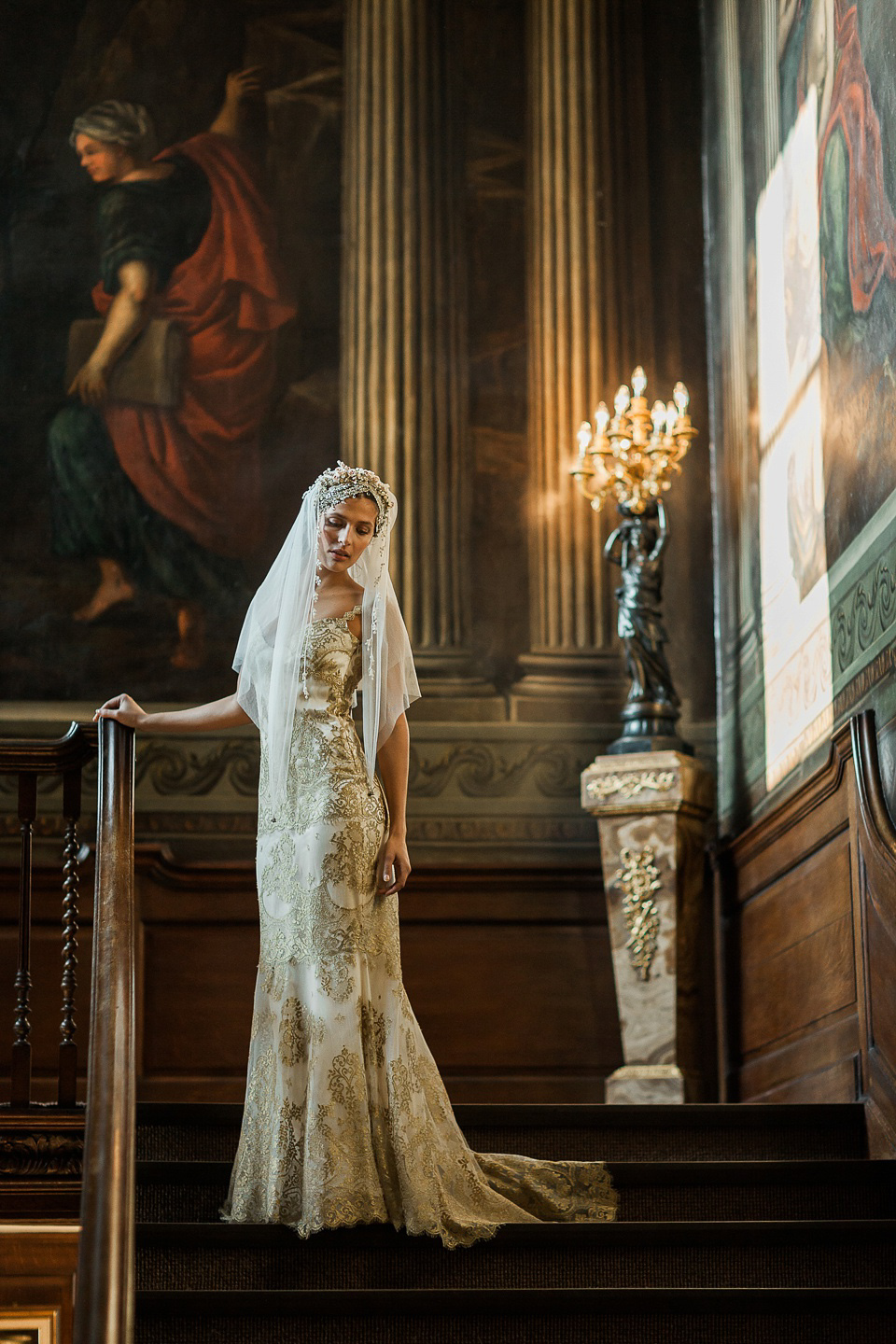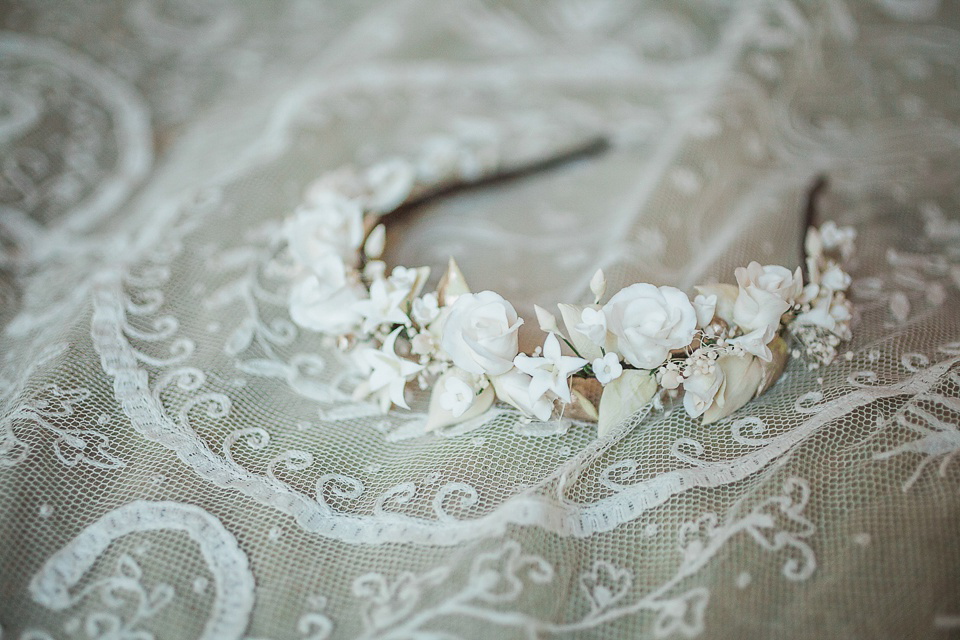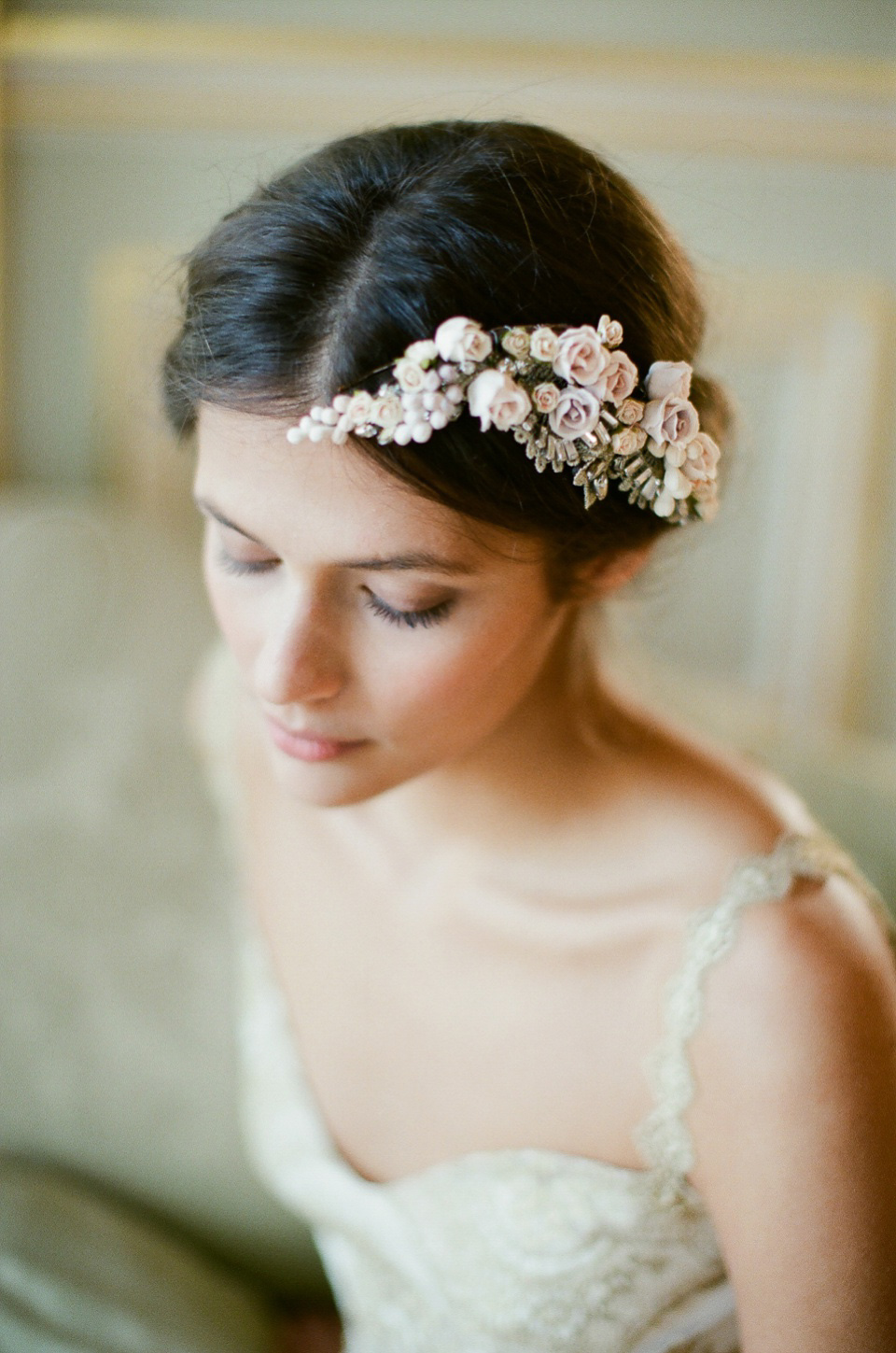 Lila headpieces are extremely versatile, suiting any style: from elegant, classic and understated, to opulently antique and romantically bohemian.
Each design evokes the delicate nature of actual fresh flowers – they carry the character and individuality of artisan creations, making these the ultimate heirloom pieces. longside her floral headpieces, Lila's newest collection includes exquisite designs created with crystals, pearls and gemstones.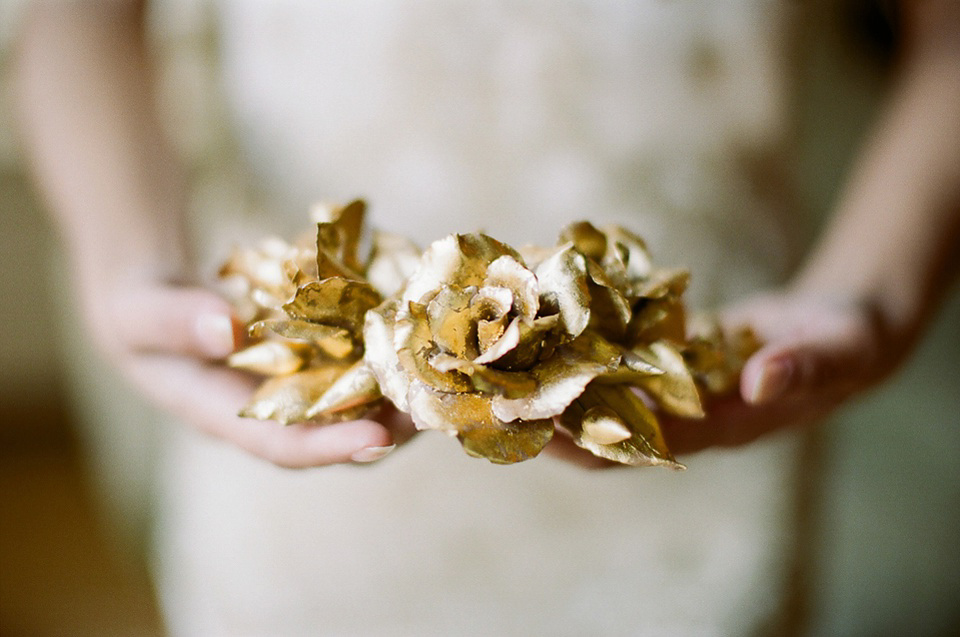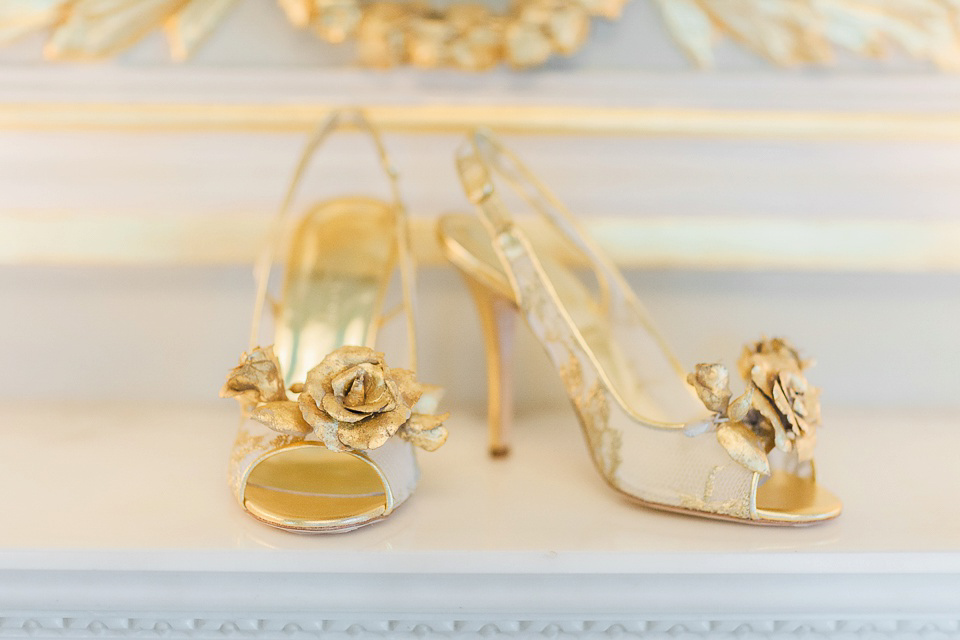 As every individual piece is created to order, maintaining the quality of a couture means that Lila is not available on a wholesale basis – Lila's headpieces are available directly from the Lila website, with each piece handcrafted to order in her London studio.  Sophia has however recently developed a small number of special collaborations that reflect the exclusive nature and versatility of her work, with designers including Claire Pettibone and Freya Rose. A limited collection of her designs can also be found in the beautiful new shop of Nicki Mcfarlane and soon, at the Sassi Holford boutique.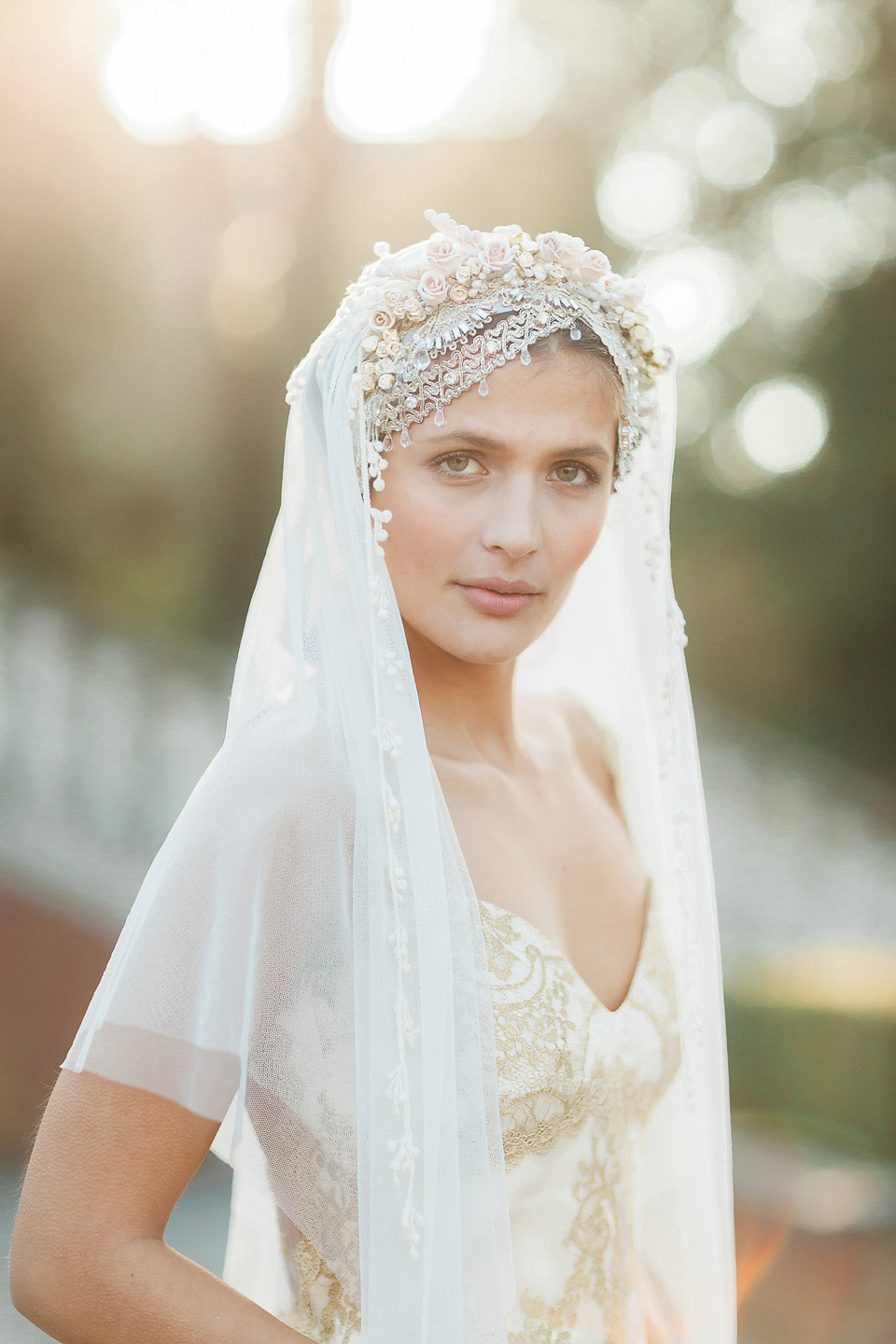 Sophia is thrilled to be launching her new Lila headpiece collection on Love My Dress. To mark the occasion, she is offering 10% off all orders booked by 31 January 2016 – simply quote 'LMD2016' at checkout. 
Ladies, I hope hope you love these headpieces as much as I do, they really are something special.
You will also find Lila on Instagram, Facebook and Twitter.
Love Annabel x
Accessories – Lila
Photography – Katy Lunsford
Dresses – Claire Pettibone
Shoes – Emmy and Freya Rose 
Hair – Tassilia Varda
Make up – Jessica Hurley
Venue – Fetcham Park
Model – Jo Renwick
A note for the curious – this is not a sponsored post. All sponsored posts (that is content we are paid to publish) is clearly marked as such. We will only ever receive payment to publish content that I personally love myself and that I know will resonate with and add value to our reader experience. Love Annabel xx