A very good morning to you! Thanks so much for stopping by our beautiful wedding blog this morning. If you're back at work this morning after the festive holiday, then I'm feeling your pain! I adore my job but had rather gotten out of the habit of getting up at the crack of dawn to work. That said, I'm so keen to get back into a good routine after what feels like such a long break, so let's crack on shall we with our first wedding of the week. By the way, if this is the first chance you've had to visit the blog since before Christmas, then you might want to take a look at our new magazine, view our first real wedding feature of 2016, make a note of this in your diary, see these sublime headpieces and find out how you can save yourself £500 on a Halfpenny London wedding dress.
Pip, an Architect married Lou, a set designer,  and Lou tied the knot on 15th August 2015 at Hermitage Farm in Herefordshire, her parents own beautiful apple farm. The couple were supported in planning their wedding by Any of  LA Bespoke Event Styling, who helped provide and style the Moroccan inspired seating. These photographs were also taken by one of my absolute fave British photographers, the brilliantly talented Jon of S6 Photography (I adure his work).
"We met six years ago through friends and got after having been together for  five years. Our wedding was inspired by the rustic country setting that was our farm venue."
Photography by S6 Photography
"We didn't want to get married in a church, so we used the top lawn for the service above the orchards looking over the Malvern Hills. The rest of the wedding was held on the bottom lawn with a yurt and Moroccan seating linked together with festoon lighting."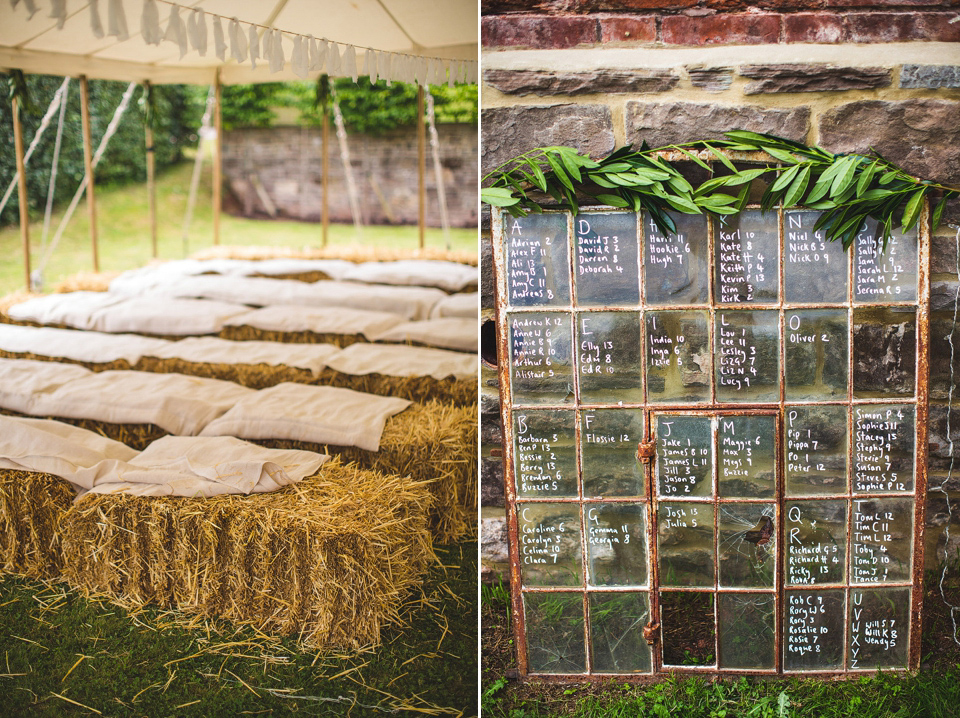 "We hired a yurt from Henry via Yurt Maker – his company makes the most beautiful yurts.  We decorated the yurt with hops and wild flowers, wooden tables and chairs."
"Our photographer was Jon Dennis of S6 Photography I have recommended him to all my friends who are getting married. He makes you feel very relaxed and we couldn't have been happier with the shots. His natural style was exactly what we wanted – he captured all the moments we wanted to be documented"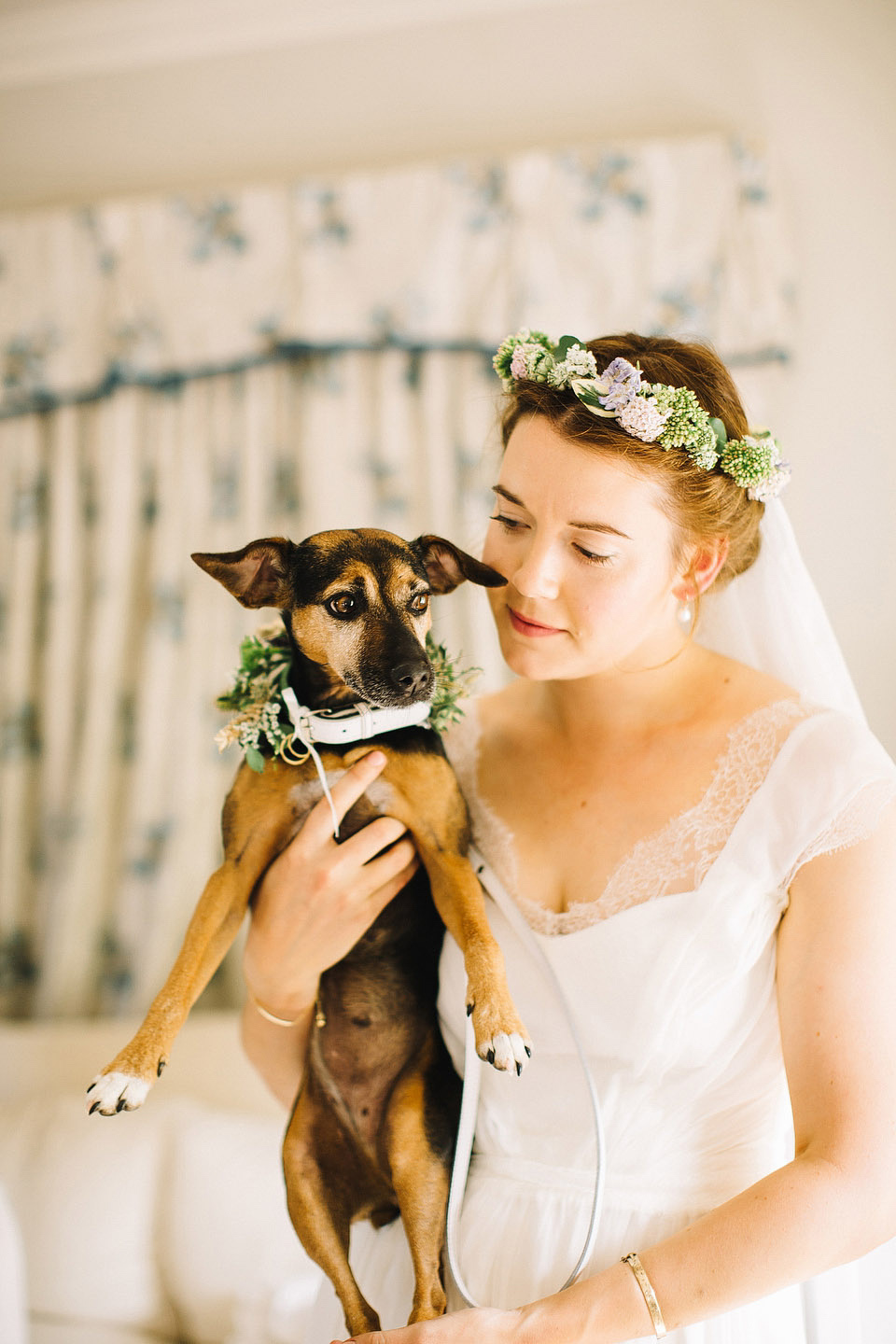 I love to see pets at weddings! Are you planning on having your own pooch be present on your wedding day?
"lle the manager from One St Peters in Hereford did my hair and Victoria Jones did my make up. Both two of the nicest girls you'll meet and very good at what they do!"
Pip's delightful dress was handmade by a lady in the neighbouring village to her Mum and Dad's.
"I had a few designs I knew I liked but not being a dress person, we built it together as we went along."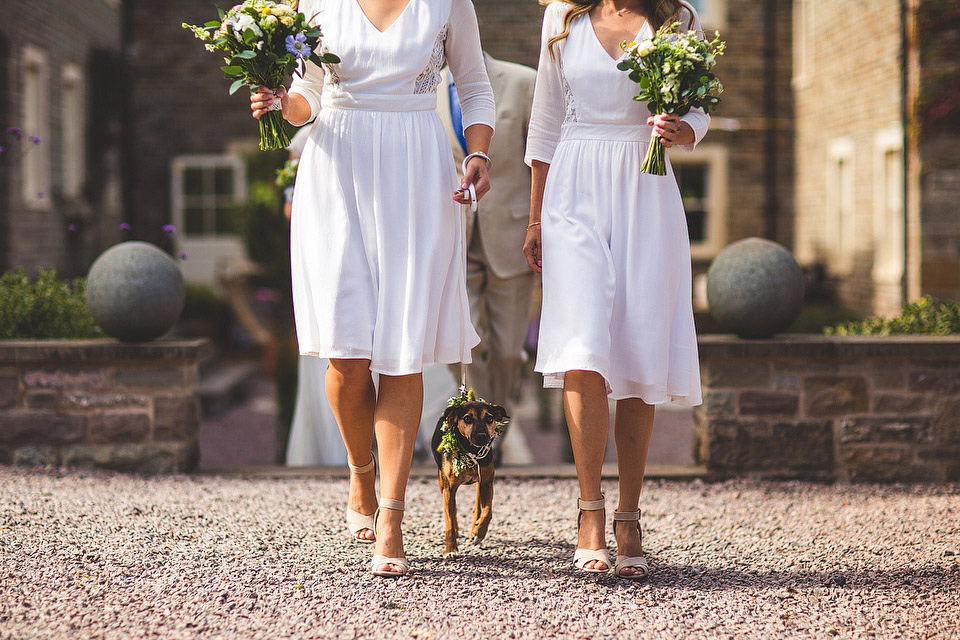 "My wonderful illustrator friend Sam Usher did the artwork for our wedding stationery. I then produced all the layouts, place names, table plans and menus etc."
"My Daddy walked me down the aisle to the sound of Bon Iver's 'You can't make me love you'. It's our favourite song. The title isn't so fitting but we didn't care! The pianist played it live, which was very moving."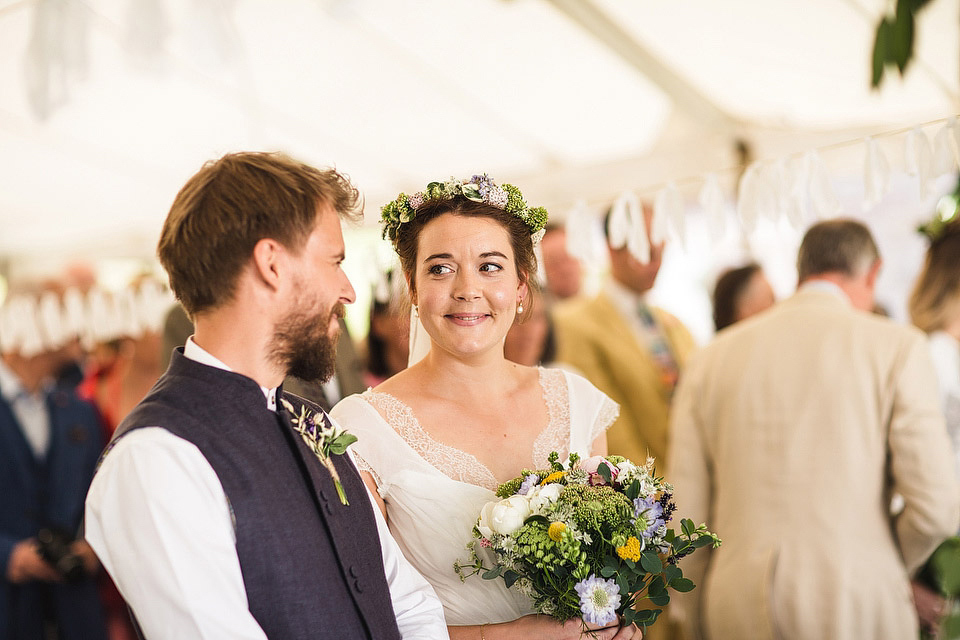 My best friend and my maid of honour read 'The Future' by Emma Salmon – a beautiful poem and my favourite reading). My sister and my mother in law also read.
The Future, by Emma Salmon

In my future I see you and me,
And a house and garden filled with trees.
I see dinner parties surrounded by friends,
And a vegetable patch we love to tend.
I see cosy nights in front of the fire,
And a four-poster bed for when we tire.
I see our kitchen which will be the heart of the home,
And a Victorian bath brimming with foam.
I see nights in the garden eating under the stars,
And shelves full of mismatching local jam jars.
I see family picnics outside with the dog,
And a little blue shed containing the logs.
I see us sat by the window watching the snow,
And reading the papers and learning to grow.
I see laughter, pain, kisses and tears,
And helping each other to confront our fears.
I see you as my friend and also my lover,
Your confidant and your children's mother.
I see a wonderful future for you and I,
And it's cloaked in love until we die.
Did you choose a 'first dance' track? Please share what it was, and why, only if you are happy to do so…
Mr Blue Sky! We love it.
"We actually had quite traditional vows.  Our celebrant. Samantha Brown, was amazing – she tailored the ceremony around 'our storey'. We had hand fasting as well with hand dyed silks that we have kept still tied in a knot as a memory.
We made our rings with the help of my friend's mum who is a wonderful jewellery designer based in Surrey called Liz Hancock. We spent a Saturday afternoon with her making our simple gold bands. I made Pip's and Pip made mine. They are very special."
"Our florists, The Great British Florist, were wonderful. Initially I wanted just greenery from the forest next to the house, but they helped me create the natural look I wanted with a mixture of wild flowers that worked perfectly with the rural farm setting."
"My favourite part of the day was after the ceremony. The sun came out and everyone was so happy. And I could have a glass of champagne!"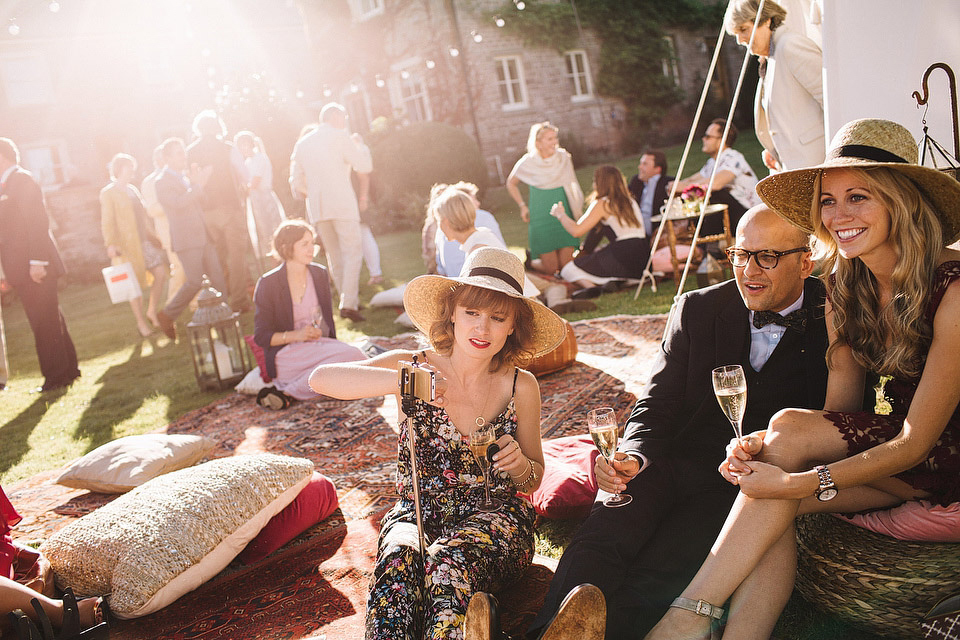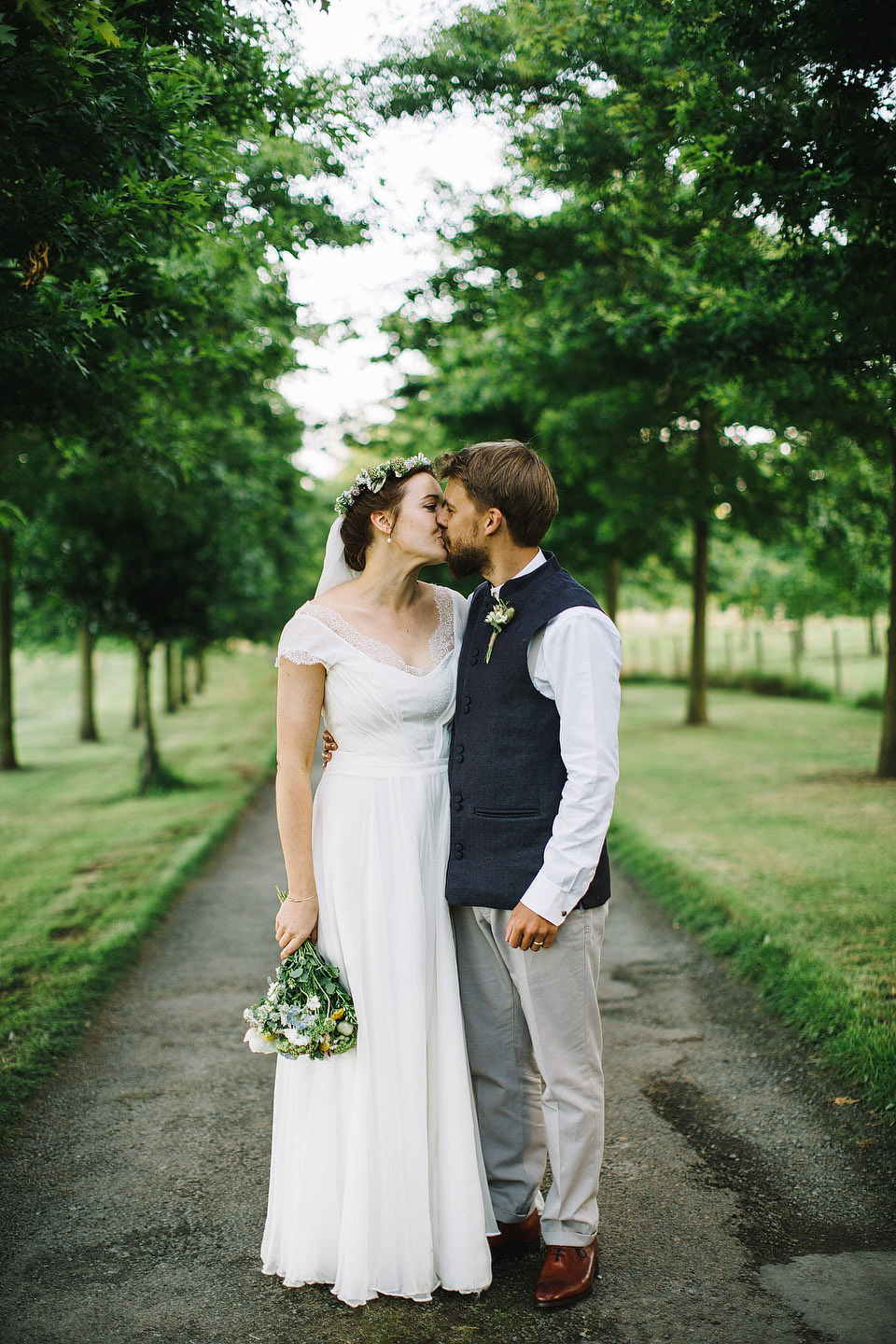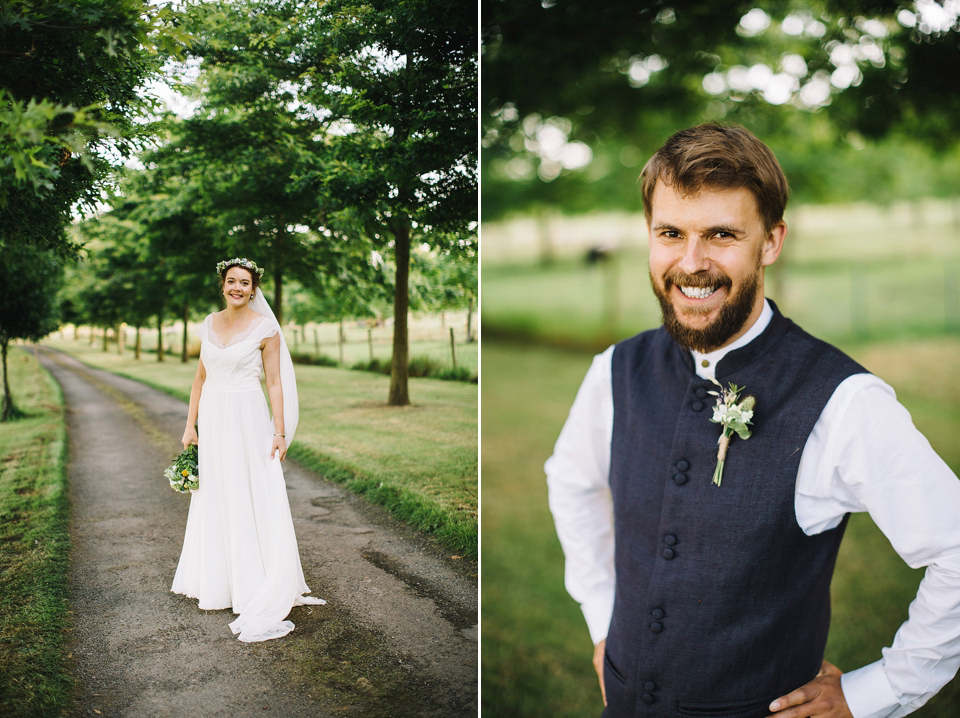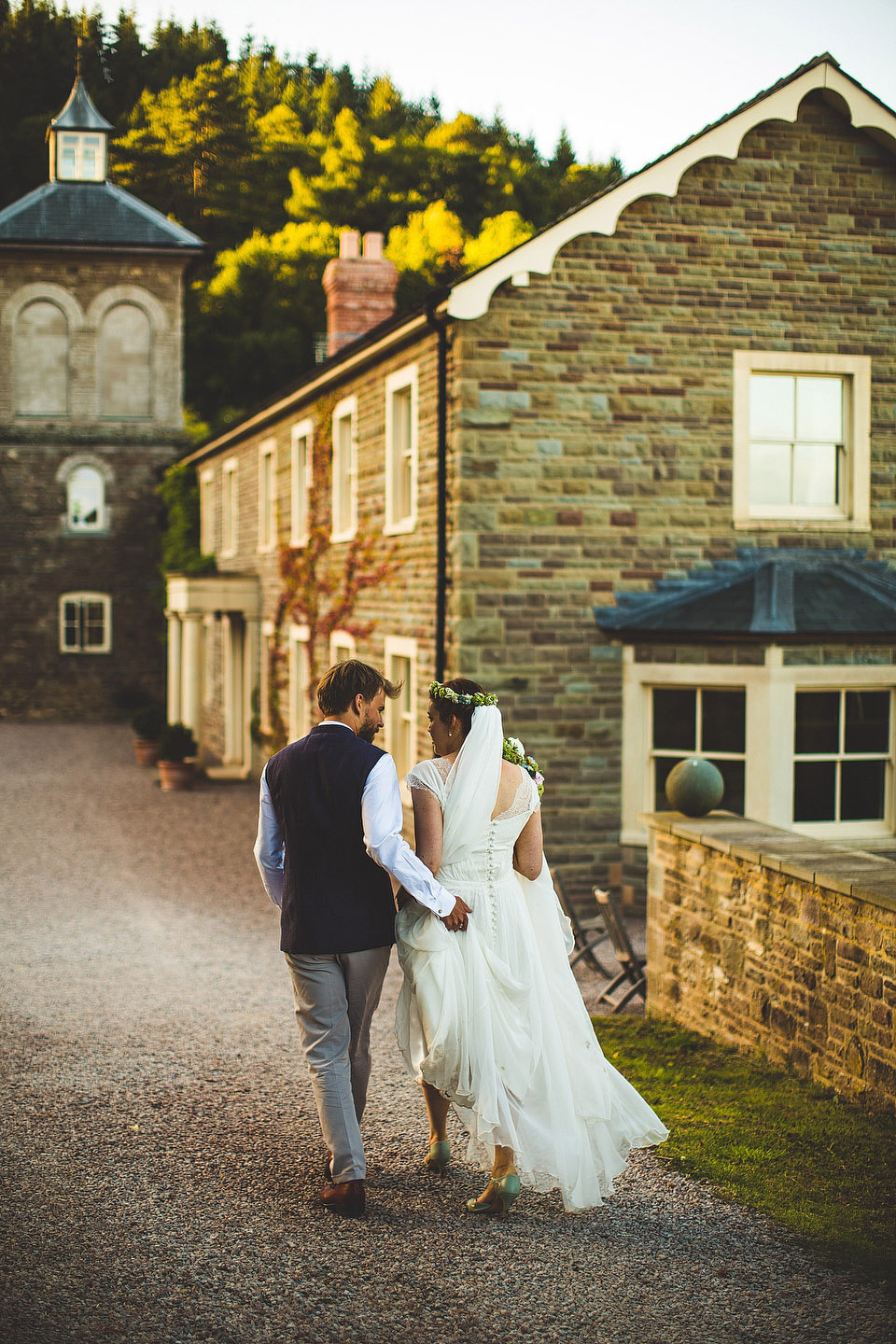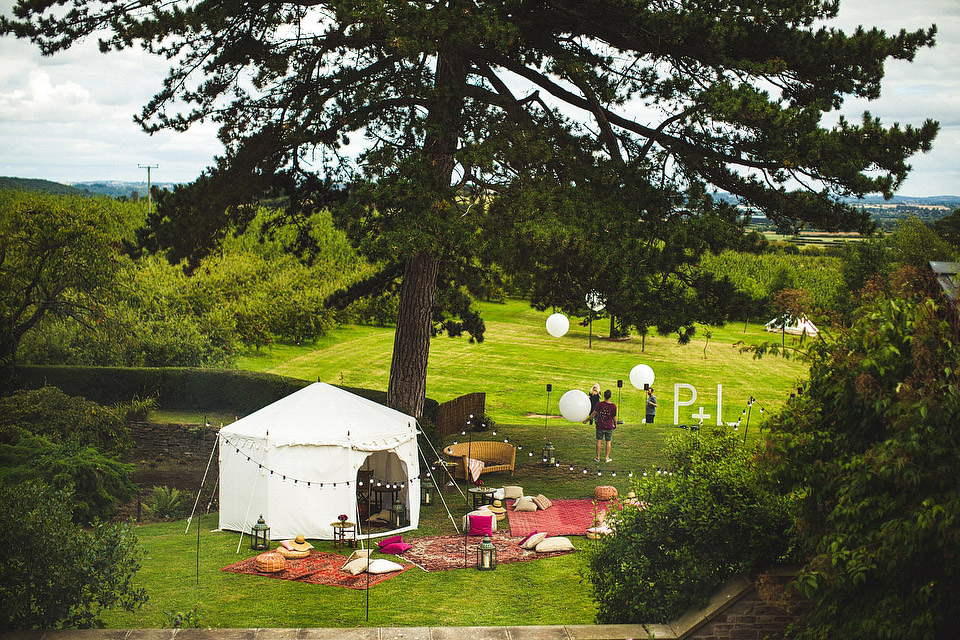 "A Rule Of Tum were our caterers – they provide the best burger you'll ever taste! 
My good friend Tim is a great cocktail maker. He ran the bar and on the place setting I made a token for a strawberry Daiquiri for after dinner."
"Our cake was made by my sister! She's amazing and works as a food stylist, so she couldn't have been more perfect for the job. She create the most beautiful wedding cake I've ever seen. I didn't want a white traditional one so she did a colourful rustic version with three layers (chocolate, lemon and carrot)."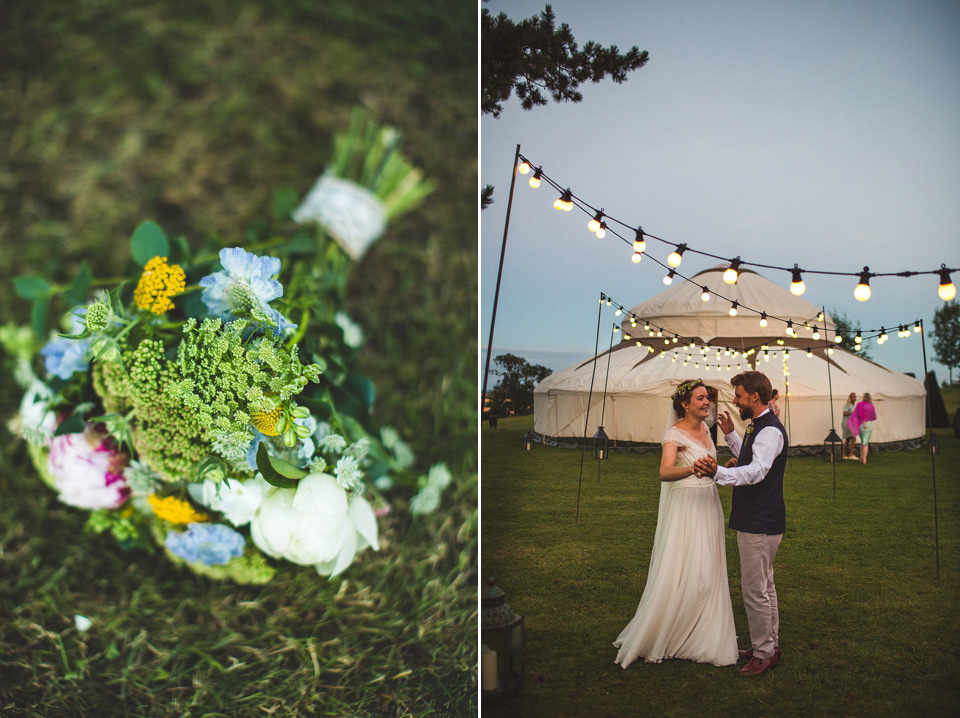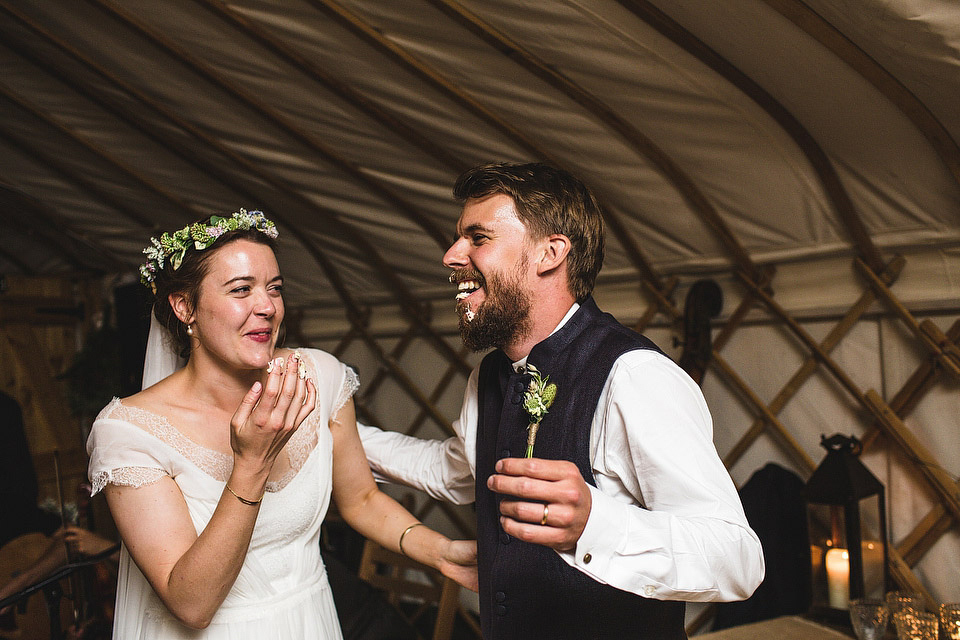 As the guests arrived and during supper too, they were entertained by Accordian player John Slater. During the ceremony, pianist Tim Sidford played and the Gypsy Rhythm Swing Band and a DJ entertained the guests in the evening.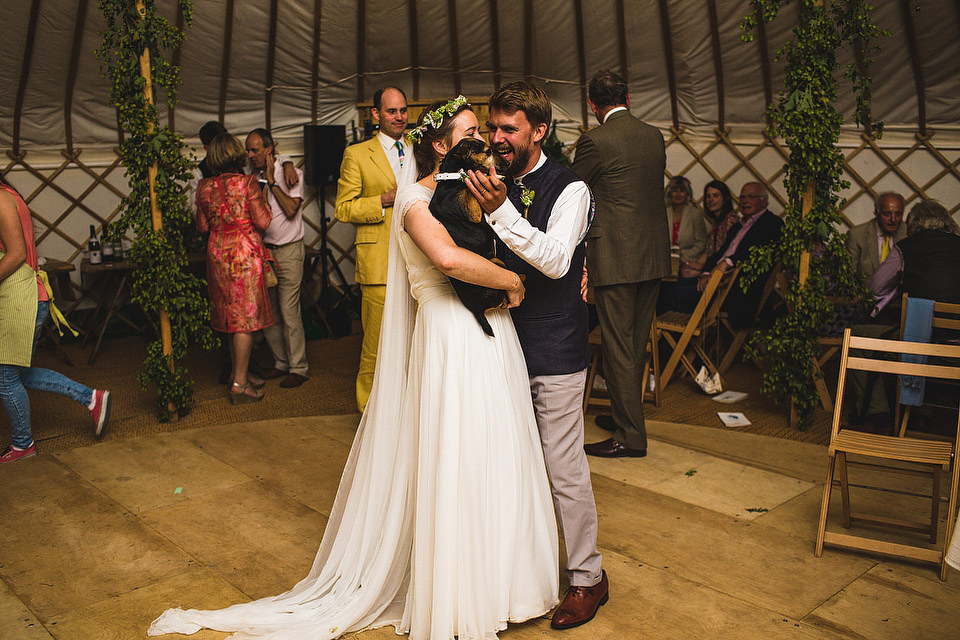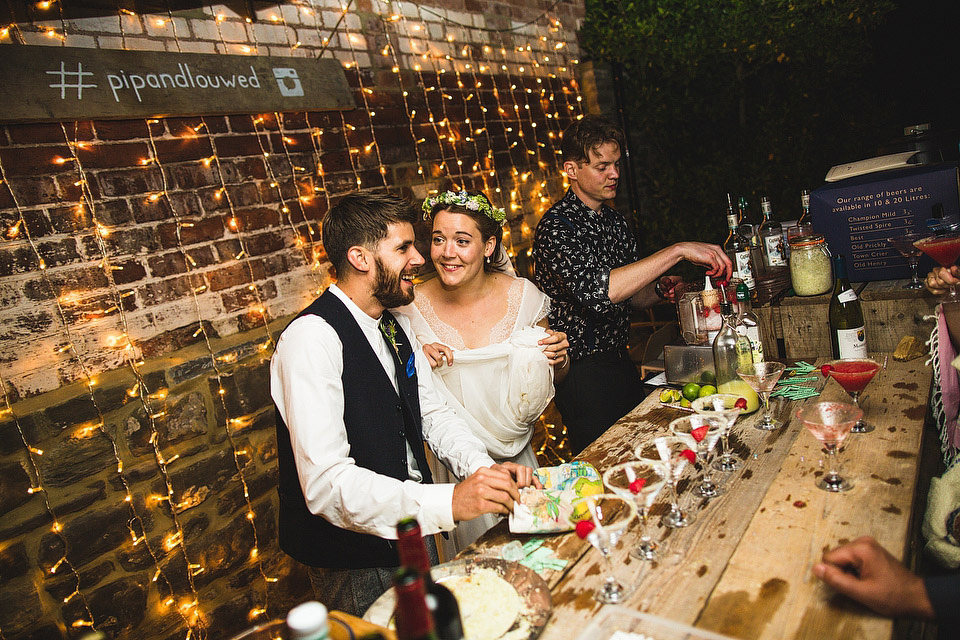 Words of Wedded Wisdom
"Stick to your guns. Don't let others try and dictate (they only care, but it's your day) Have an early night before (I didn't) and stop and pause on the day just for a moment to absorb whats happening, you wont believe how quickly it goes.
My only other comment is, I might have got a wedding planner to help organise the whole day (rather than just help to style some of it), so that I didn't have to worry about it."
Such a beautiful, fun, relaxed day – and one I really hope has inspired you today.
You can see many more weddings all beautifully documented in images by S6 Photography here on Love My Dress.
Have a lovely morning all,
Love Annabel xx
Photographer – S6 Photography
Planner/Stylist – LA Bespoke Event Styling
Venue – Hermitage Farm in Herefordshire,
Wedding Dress + veil – handmade/bespoke (local dressmaker)
Bride's Shoes – Rachel Simpson Mimosa in pale mint
Bride's floral crown – The Great British Florist
Grooms Suit – handmade waistcoat by the same lady who made Pip's dress
Bridesmaid's Dresses – ASOS + floral crowns by The Great British Florist +  New Look nude suede strapless heels
Florist – The Great British Florist
Cake – Made by the bride's sister
Entertainment – Accordian player John Slater + pianist Tim Sidford + Gypsy Rhythm Swing Band + DJ
Rings – Made by the bride and groom via Liz Hancock
Catering Company – A Rule Of Tum
Stationery – artist friend + DIY
Hair Stylist – lle the manager from One St Peters in Hereford
Makeup Artist – Victoria Jones