Hello readers and happy Friday to you! To help celebrate the imminent arrival of the weekend, we are pleased to be sharing a romantic, English country, pub wedding featuring a beautiful Maggie Sottero bride. Following a short, three month engagement, Chris, a plasterer, married Sam, a social worker, on the 26th of September 2015 at St George's Theatre in Great Yarmouth, followed by a reception at the Duke's Head in Somerleyton, Suffolk (the pub where the couple spent their second date!).
"We knew from the start that we wanted our wedding to have a relaxed, natural and fun atmosphere. I love the colour pink and my favourite flowers are roses, so both of these elements featured throughout. We opted for a loose rustic/vintage theme overall."
Photography by Emily Tyler Photography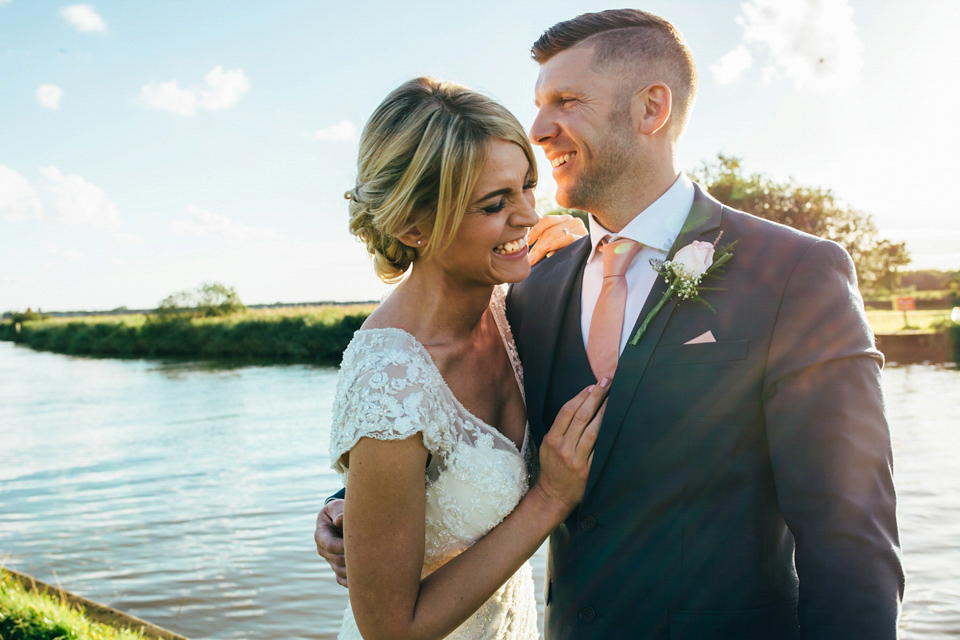 Our bride purchased her beautiful, lace, Maggie Sottero gown and fingertip length veil from Pure Bridal in Norwich.
"By the time I went dress shopping, I only had eight weeks left until the wedding. It was quite stressful, as most dresses were not available in such a short amount of time. I hadn't planned to visit Pure Bridal but it was raining and we had hours before our next appointment so I rang up and asked if we could have a look.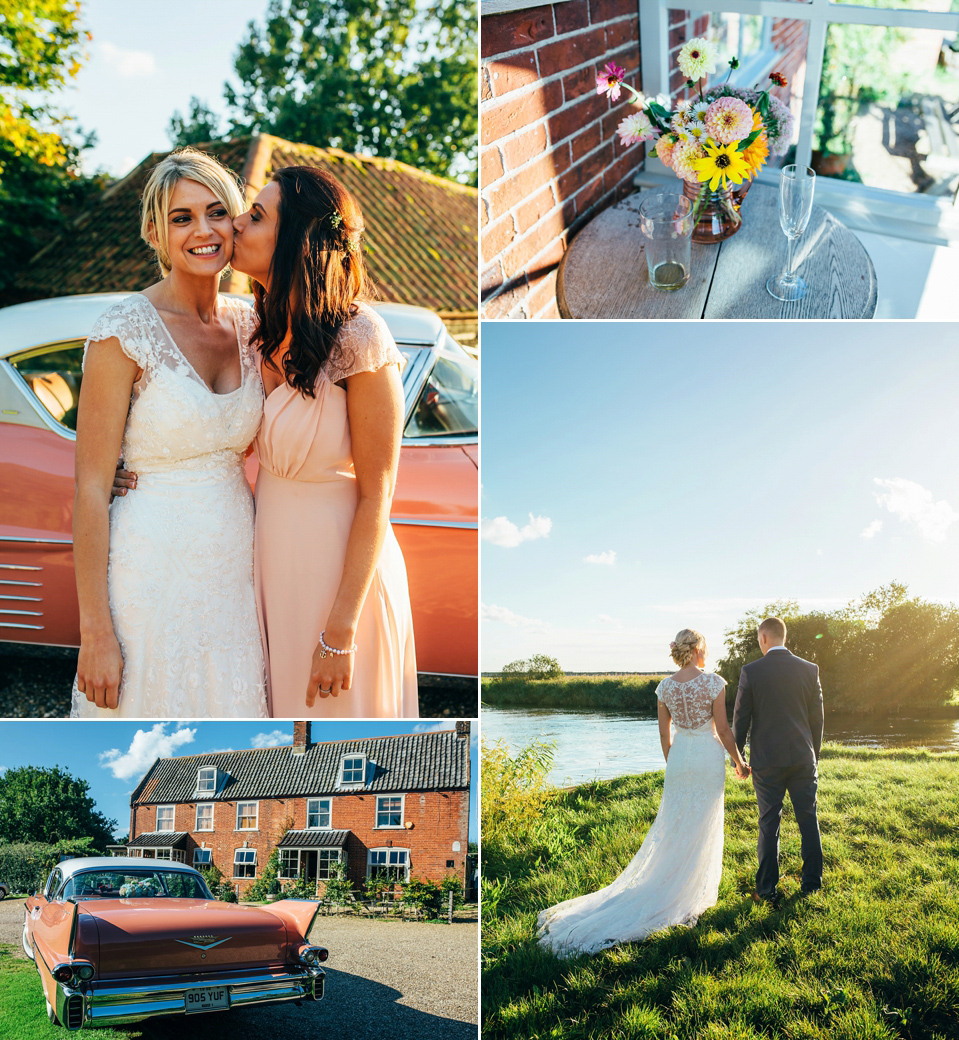 "Our 2ft tall, naked wedding cake was made by my friend's mum, Tracey Edmunds, as a wedding gift. I don't like icing and wanted a cake I could actually eat! It looked amazing and tasted great and there was plenty to go around."
"The sales assistant at Pure showed me the two rails that I could pick from and the second I saw my dress I knew it was 'The One'. I loved the way it sparkled on the hanger and had a vintage elegance to it. I fell in love with it as soon as I tried it on and bought it straight away. My favourite part of the gown is the lace back and crystal buttons – I absolutely loved wearing it and felt so beautiful."
"My makeup was applied by Lily Rose Titcombe who works for Urban Decay. I was quite nervous about having my makeup done as I don't usually wear very much. On the day, Lily was calm and did exactly what I wanted. I was so pleased and lots of people complimented me on it."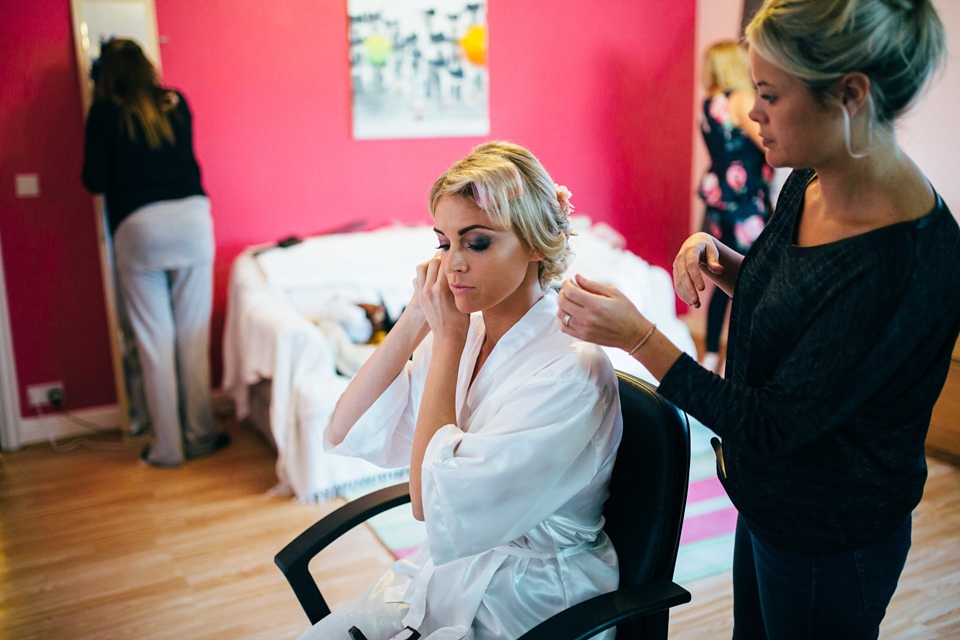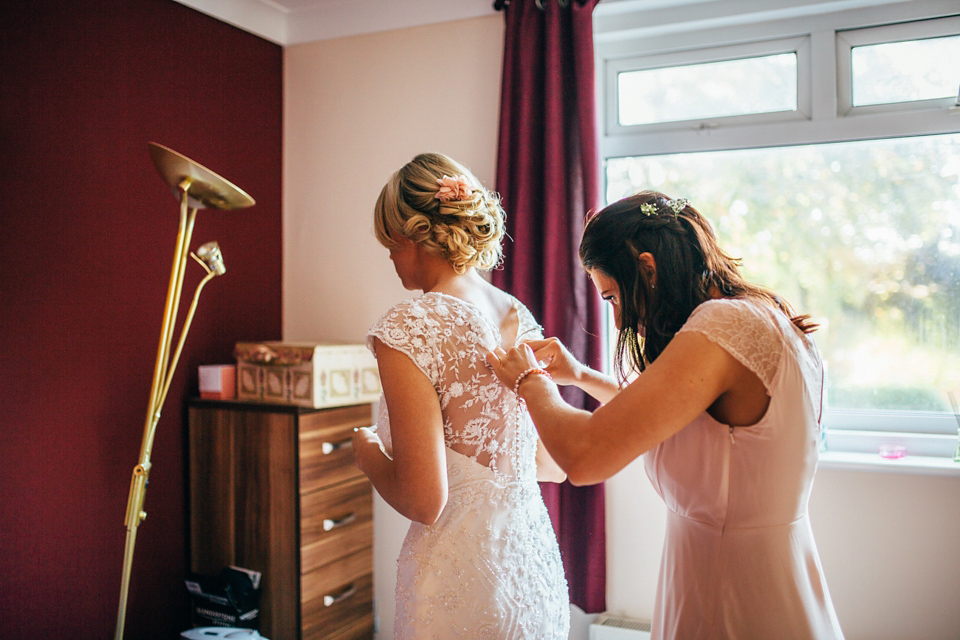 Our elegant, 5ft 11" bride wore a pair of flat sandals from Accessorize and diamond stud earrings from Alba Rose (a wedding day gift from her groom).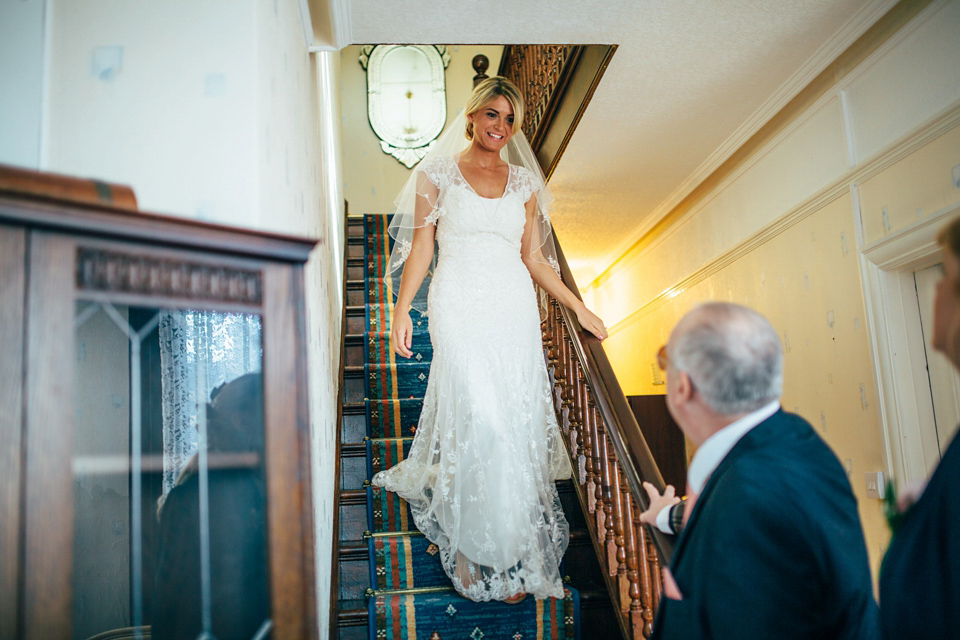 Our bride arrived at the theatre in style in a 1958 pink Cadillac, which belongs to a friend of Sam's dad.
"My grandad owned a Cadillac when I was a child and I always imagined being driven to my wedding in one."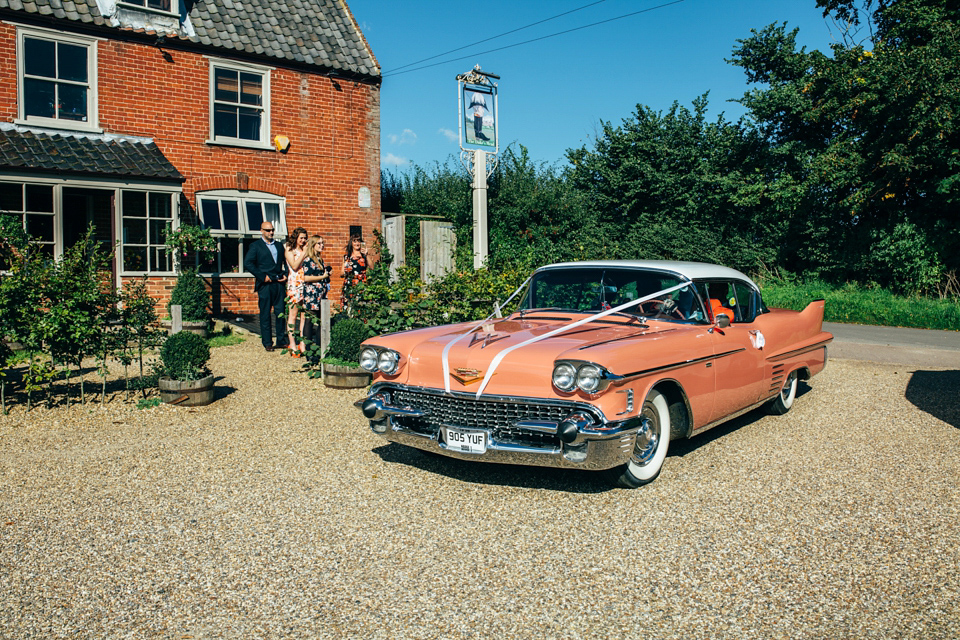 "We decided to get married so quickly because we were excited and didn't want to wait until the following summer. We opted for a date in September as we wanted the chance of a sunny day and early autumn weather has been better than August for the last few years and, luckily for us, it was again on our wedding day."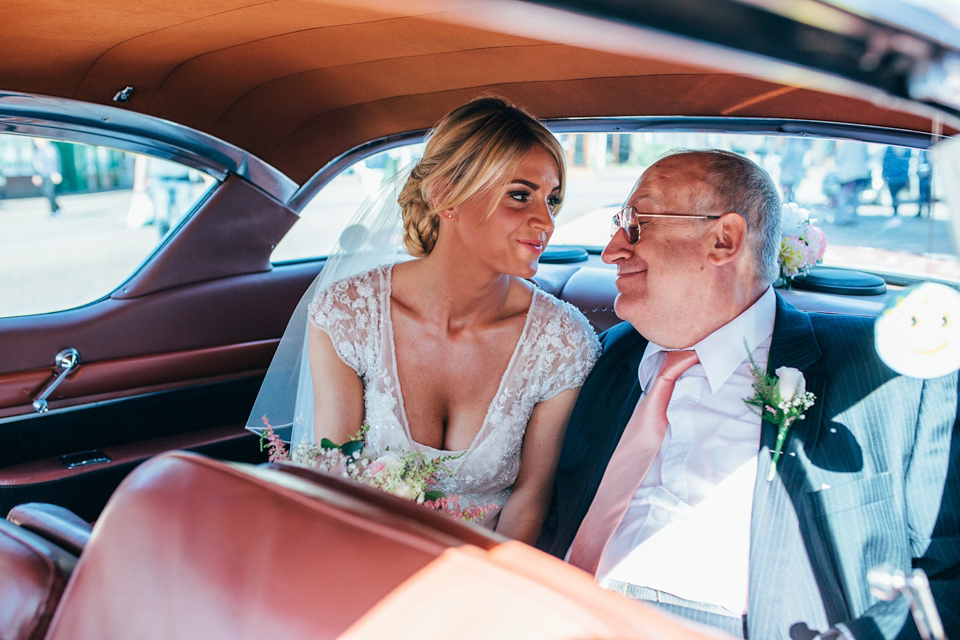 Our dashing groom wore a three piece, navy blue, suit from ASOS, paired with a pink tie and pocket square purchased on eBay.
"Chris and I met through mutual friends in April 2010 and got engaged at the end of June 2015 during a romantic trip to London."
Our couple held their ceremony at St George's Theatre in Great Yarmouth, the town where they both grew up and still live. The historic building dates back to the 1700s and was once a chapel…
"St George's is a charming building with a high wooden beamed ceiling and large windows. Ours was the first wedding they have held since it became a theatre – the last one would have been around 1951 when the building was still a chapel."
Our bride walked in to a piano version of 'Chasing Cars' by Snow Patrol and her father gave her away. Our couple opted for two readings: 'Union' by Robert Fulghum and a poem written by Carrie in Sex and the City.
"I love SATC and watched it as a young girl dreaming of finding my own Mr Big. We liked that the poem was short and sweet and not too soppy, plus we had not heard of anyone else having it at their wedding."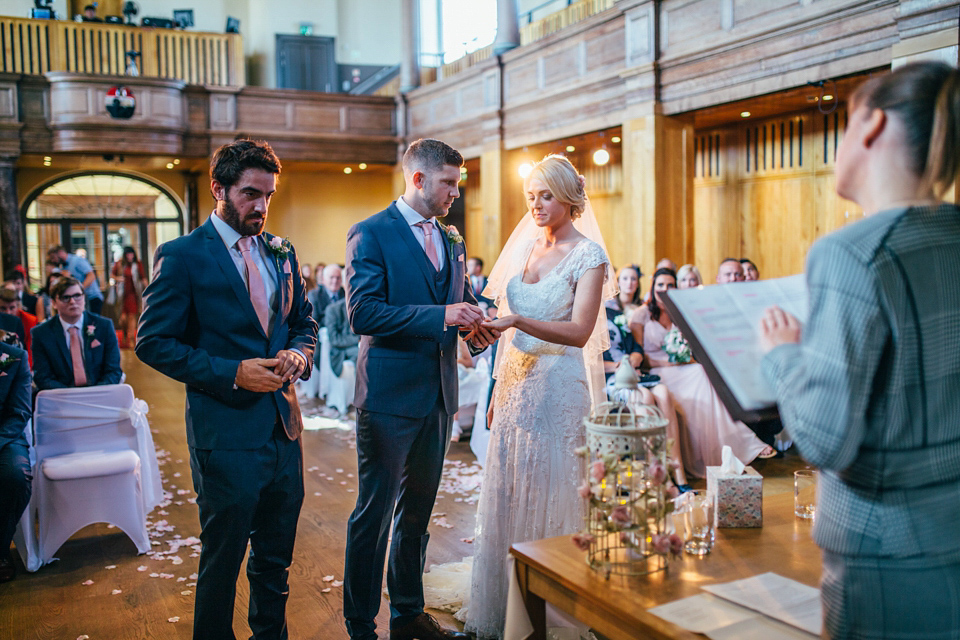 "My favourite part of the day was walking back down the aisle as husband and wife. We had both felt so nervous during the morning and it was a bit of a relief once the vows were over. The best part of the day for Chris was the twenty minute car ride from the theatre to the reception as it gave us a chance to be alone and take everything in."
Sam and Chris scattered rose petals along the aisle and decorated the theatre with bird cages draped in flower garlands.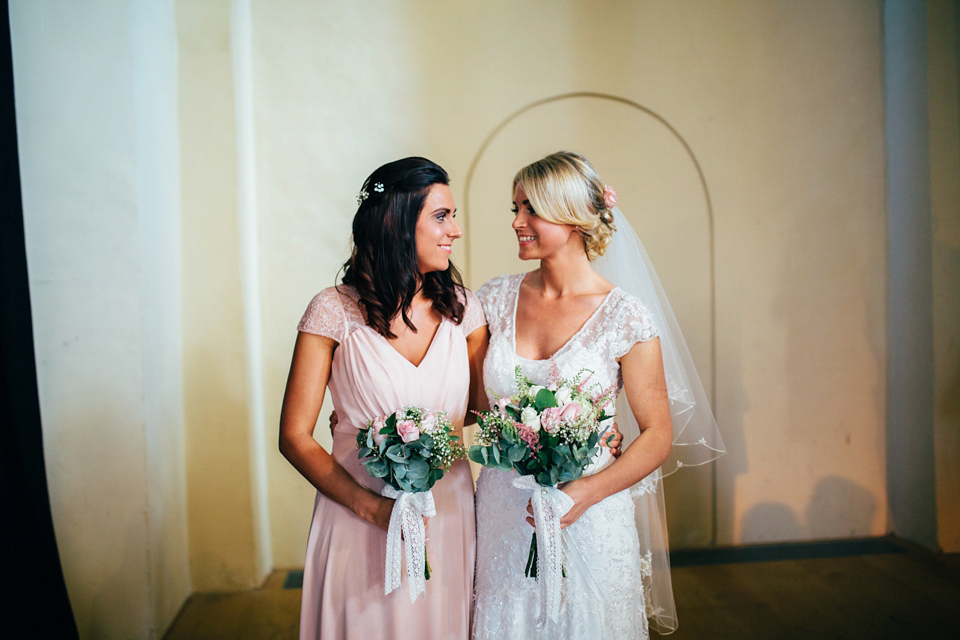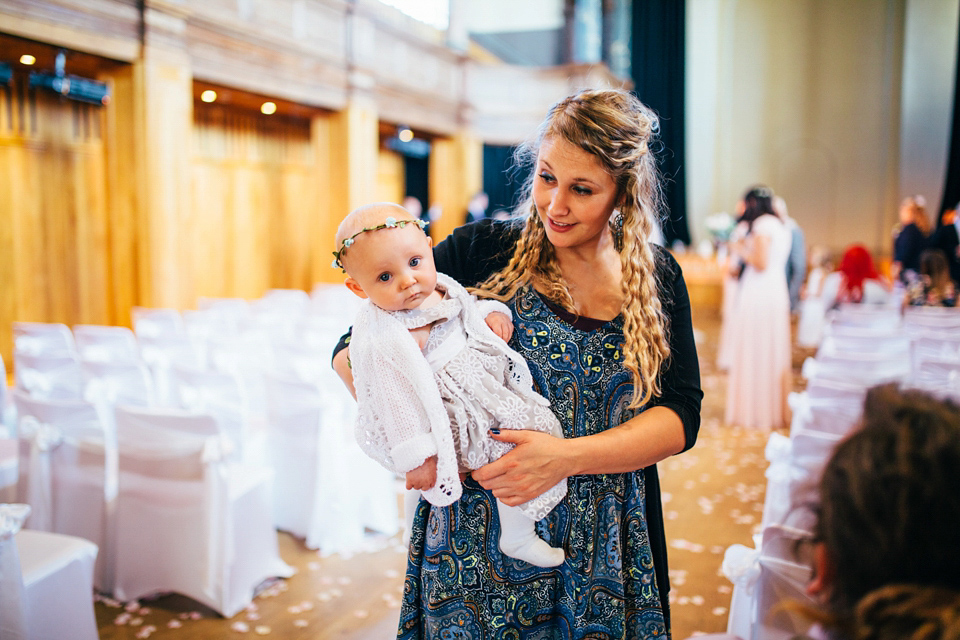 Our couple's big day was captured beautifully by Suffolk based photographer Emily Tyler…
"We wanted creative and candid wedding photographs with a relaxed feel and were drawn to Emily after finding her online. Emily was great during the run up and very discreet on the day itself whilst capturing some absolutely amazing shots. We love looking through our photos and it was so nice to be able to enjoy the little extras she sent, such as a cute thank you card with Polaroid pics and the video slideshow she sent with the USB stick. We would recommend her services without hesitation."
Sam's bridesmaid's looked lovely in pale pink maxis from ASOS , with little pieces of gypsophila woven into their hair. Our bride's little flowergirls wore ivory dresses and pink shoes from Next, with the pageboys rocking navy suits by Roco Clothing.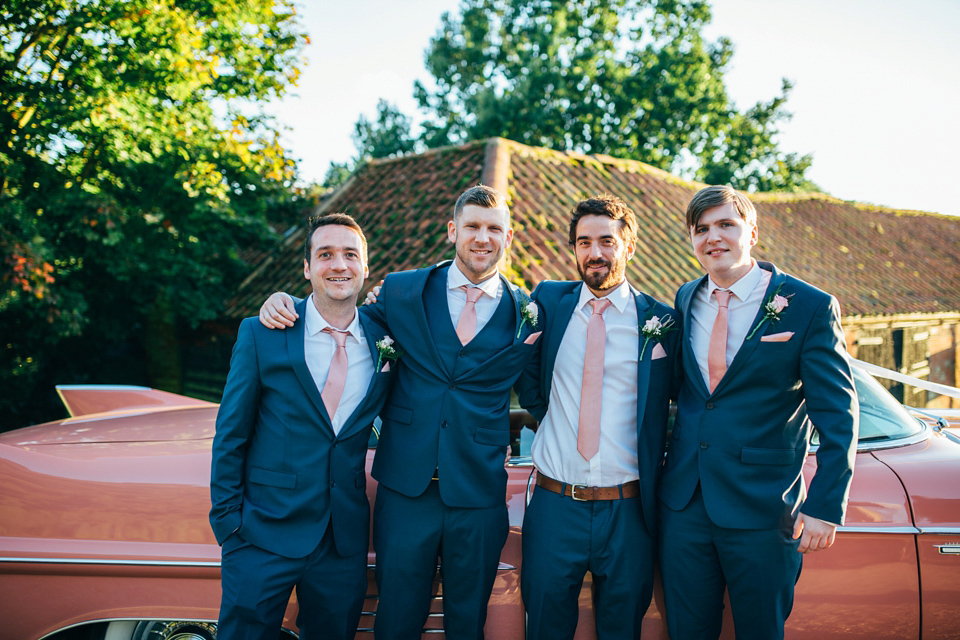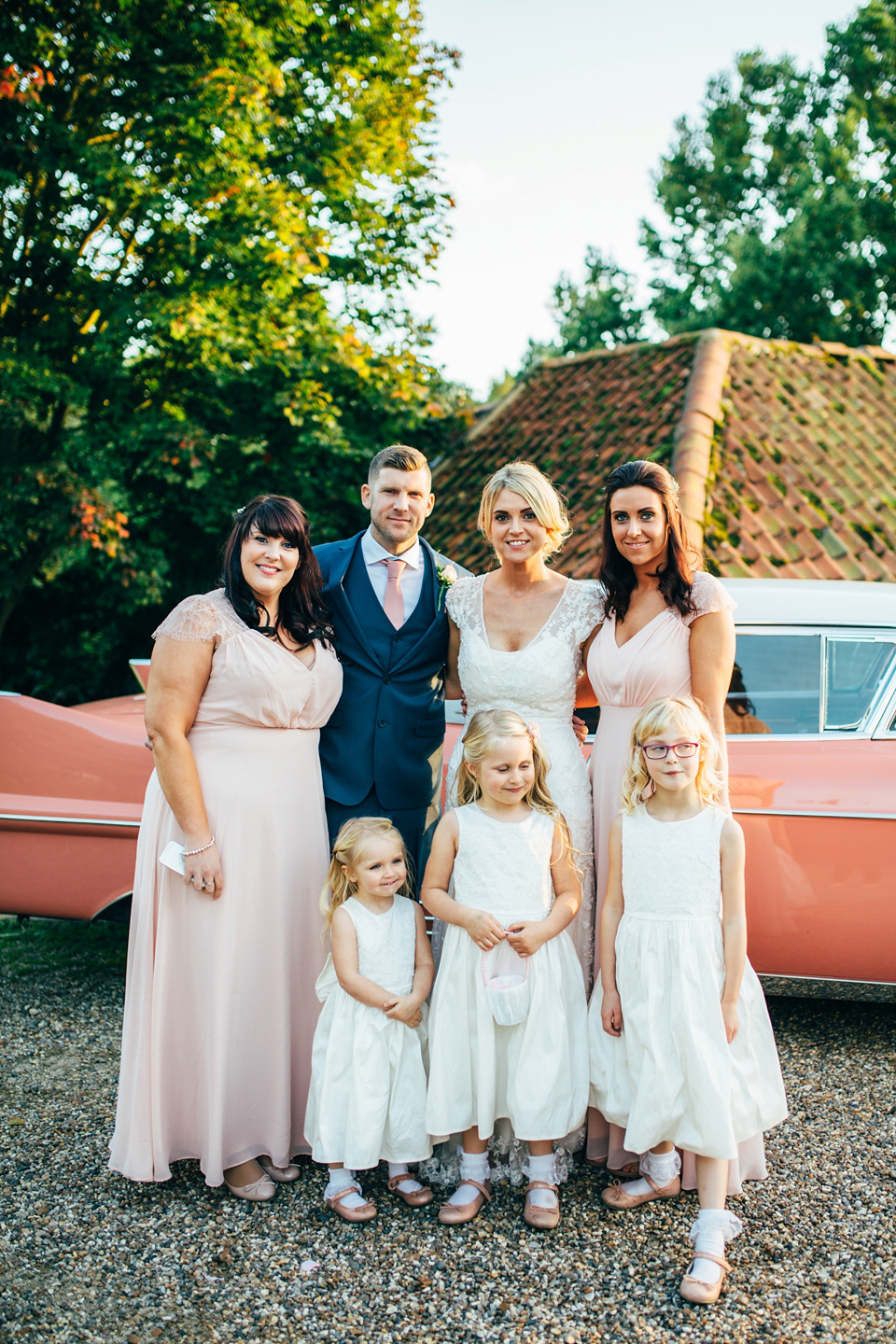 Romantically, our couple held their reception at the country pub where they spent their second date – The Duke's Head in Somerleyton.
"The Duke's Head do not normally host weddings but after we explained the sentimental reason for wanting the wedding there they said 'yes' and closed the pub to their regular customers for the day."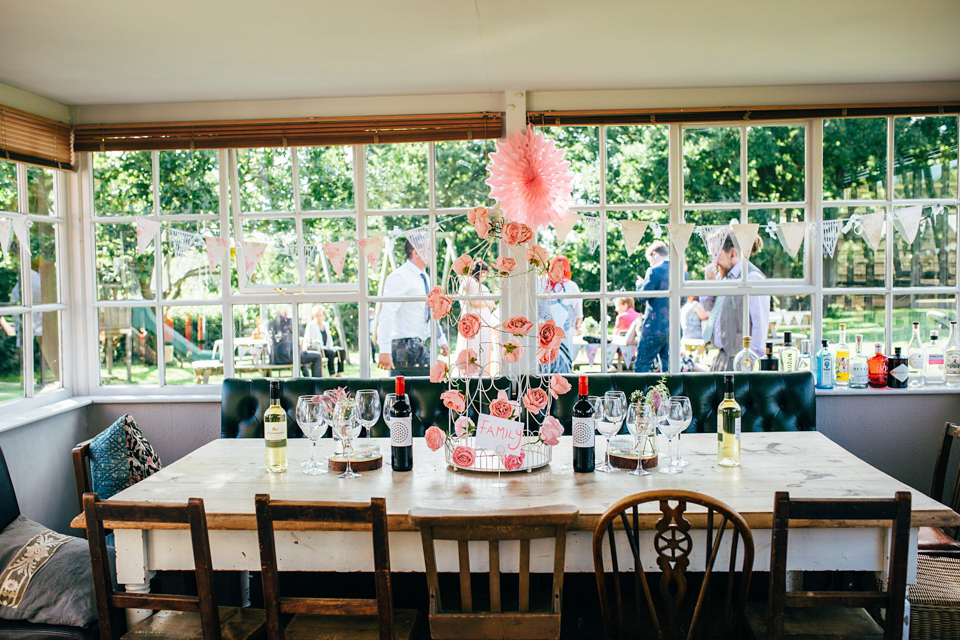 Sam and Chris styled The Duke's Head with lots of bunting, pink rose garlands and paper fans.
"We made our table decorations by decorating jam jars with lace and filling them with flowers. We bought the flower garlands and logs for the jam jars to sit on second hand on Gumtree and my aunties made bunting out of wallpaper to decorate all the tables outside."
"We also made a decorative photo frame with pictures of our parents/grandparents on their wedding days. It was a talking point for guests and made us feel that those who are no longer with us were still part of the day."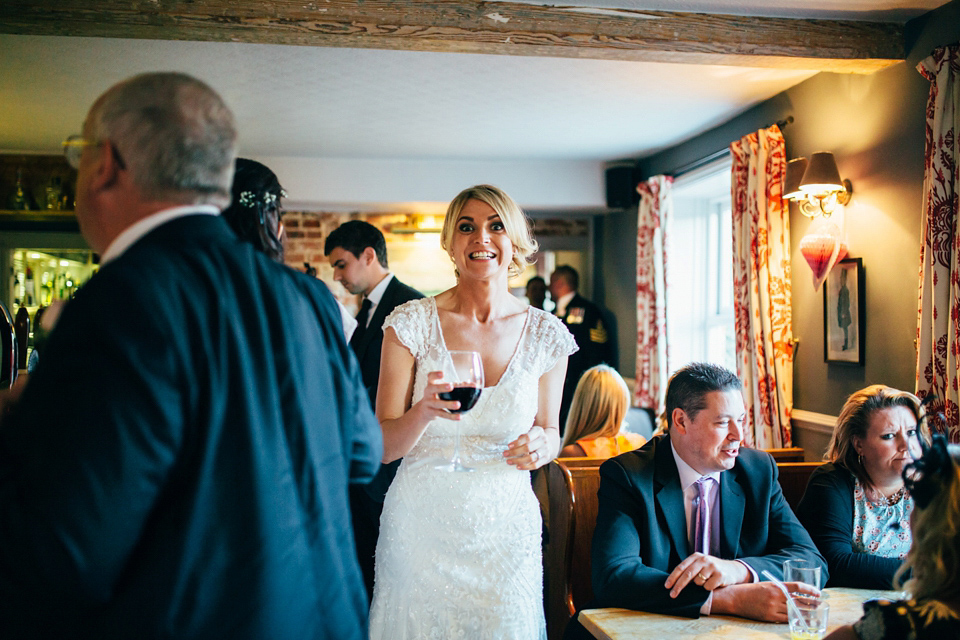 Our couple kept things relaxed and informal with a buffet style wedding breakfast followed by an evening hog roast.
"All our food was made by the chefs from the Somerleyton Estate (which The Duke's Head belongs to). We chose to have a buffet style meal to encourage a relaxed feel. There was no seating plan apart from a couple of reserved tables for family and we chose not to have formal speeches. Chris said a few words and my dad thanked everyone for coming. He and our best man enjoyed not feeling the pressure of having to do a speech!"
With the help of a magician, a bouncy castle and some sweet filled piñatas our couple ensured that guests of all ages were entertained…
"We hired magician Tyler Harris to perform close up card tricks for two hours and he was fantastic – a real hit amongst our guests."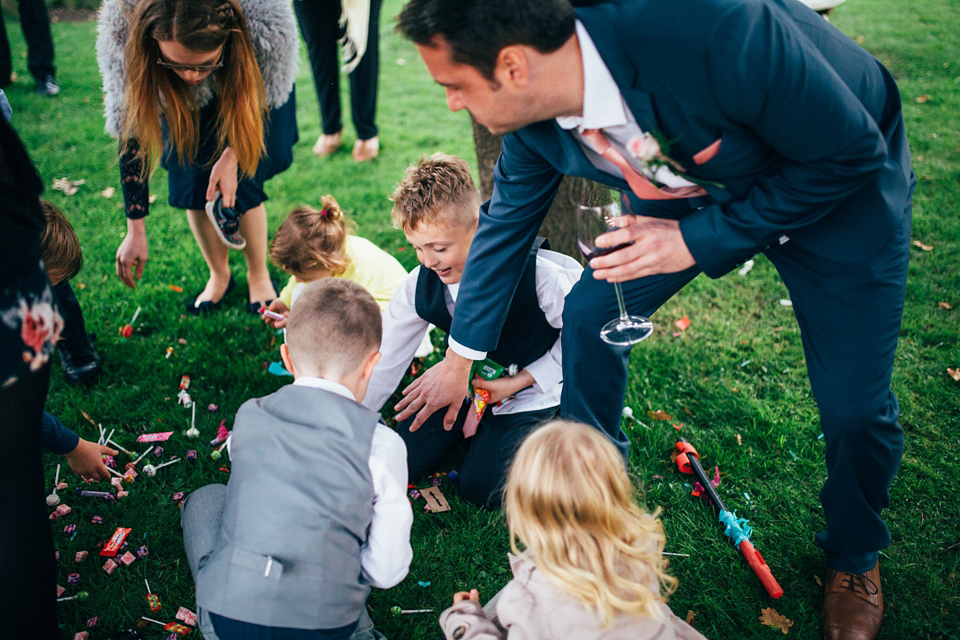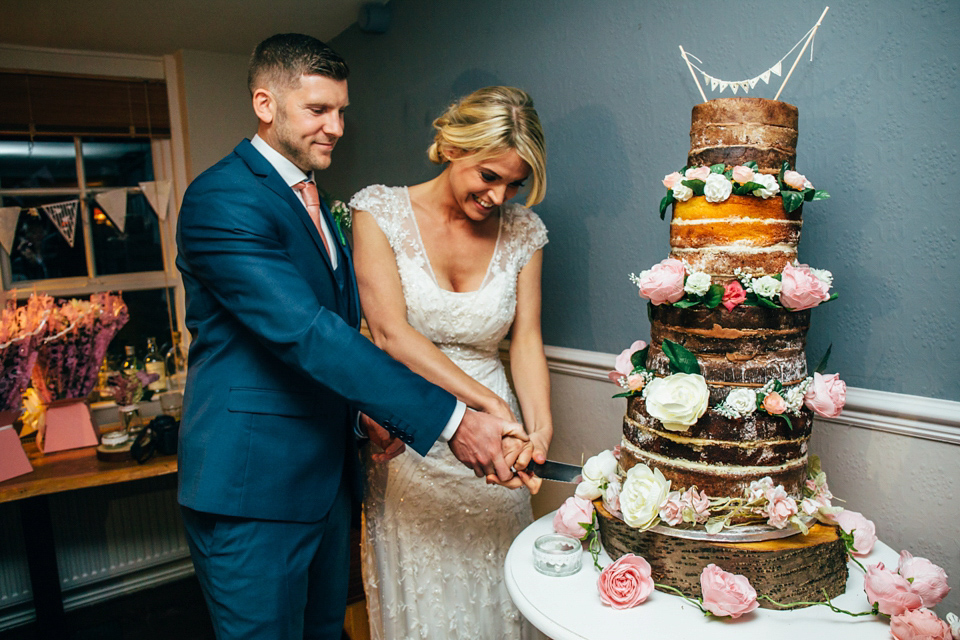 "For our evening entertainment we chose local indie pop band, The Anyones. The Anyones really got the party started and played a fun mix that everyone enjoyed. Our first dance was to 'Love Goes Down' by Plan B. We picked this song because it was in the chart when we first starting dating and reminds us of that happy time."
Words of Wedded Wisdom:
"Don't let things worry you on the day. My flowers were not what I ordered, but I took a deep breath and decided that in the whole scheme of things it was not important. The wedding is just one day; the real part is the marriage.
I really enjoyed reading about other real brides and seeing the gorgeous photos on Love My Dress  during the planning process."
Congratulations Sam and Chris! A huge thank you both to our couple and to Emily Tyler Photography for the lovely images. If you'd like to see other wonderful pub weddings on the blog, please follow this link.
Have a great weekend folks!
Annora x
Photographer – Emily Tyler Photography
Venue – Ceremony at  St George's Theatre in Great Yarmouth, followed by a reception at The Duke's Head pub in Somerleyton, Suffolk
Catering – The Duke's Head
Wedding Dress – Maggie Sottero's 'Tuscany' gown, purchased at Pure in Norwich
Veil – Richard Designs
Shoes – Accessorize sandals
Accessories – Diamond stud earrings from Alba Rose in Norwich
Bride's Scent – Hugo Boss
Groom – ASOS suit, tie + pocket square from eBay
Bridesmaids – ASOS dresses, pink pearl earring +bracelets from Lisa Angel, Norwich Flowergirls – Ivory dresses + pink shoes from Next
Page Boys – Roco Clothing suits
Entertainment – A band called The Anyones
Rings – Cox & Son in Great Yarmouth
Hair Stylist – Chloe Sharman of Cottage Cuts
Makeup Artist –Lily Rose Titcombe