Good morning lovely readers.  We have such a treat for you today – the perfect antidote to dreary January days! This wedding is so picturesque- the dress, the flowers and the beautiful Italian garden venue. Let me whisk you away this morning to the sun soaked hills of Tuscany, where bride Ana, a pharmacist, married Rik, a scientific engineer, on the 12th of September 2015 at the utterly stunning Villa Catignano, Italy.
"We were looking for a nice location in Italy where we could have the ceremony in the garden and host a dinner afterwards and a friend of ours recommended going to Tuscany and visiting some locations. Villa Catignano was exactly what we were looking for. From the beginning we wanted the wedding to be natural, organic and simple, in line with the wonderful location.  Decoration was natural and organic, with white flowers and olive branches."
Photography by Jules Bower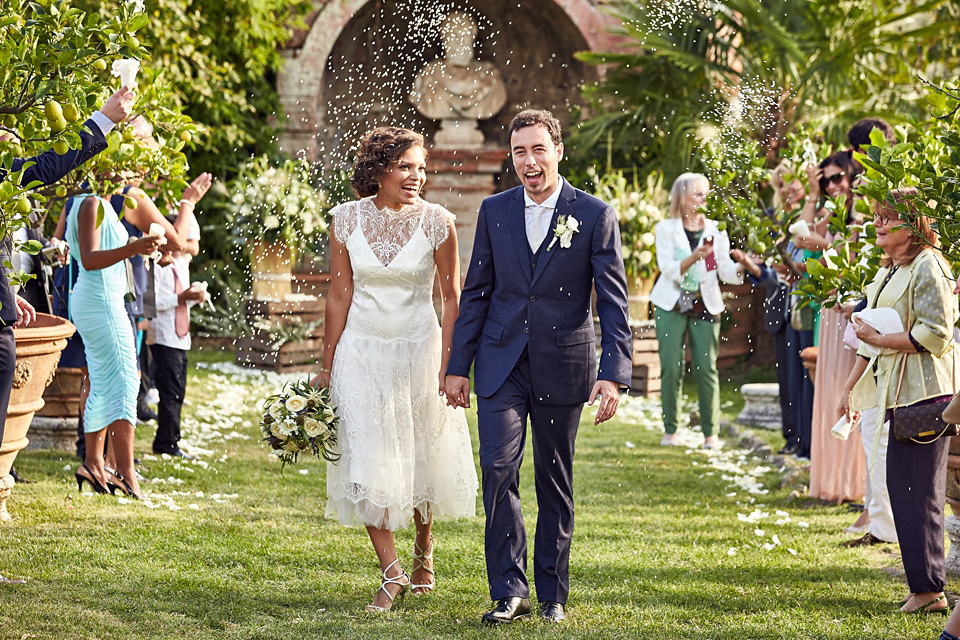 Ana wore the very beautiful Angelique by Rembo Styling, bought from Liluca in Zurich.  I just love the lace detailing and the almost 1920's twist in the dropped waist.
"I never dreamed about the classic wedding dress and I was quite afraid I would never find a dress for me.  It took me weeks of searching to find a style I liked- retro, romantic and not conventional but still bridal (white was mandatory) but I arrived by chance on the web site of Rembo Styling.
As every bride with a short dress knows, wonderful shoes are a must-have and Ana certainly did not disappoint with her beautiful Jimmy Choo sandals.  In her hair, she wore fresh flowers, and for jewellery, a bracelet belonging to Rik's late grandmother (a gift from his aunt) and Brazilian opal earrings which were a gift from Rik's mother.  She finished her toilette with a spritz of Chloe, her favourite perfume.
"I loved the idea of having something short to show my legs and some glamorous shoes but at the same time wanted something bridal and romantic.  Luckily one of the wedding shops in Zurich stocked this dress and it was definitely the one for me."
"Stiatti Fiori was recommended by a friend.  After looking on Pinterest and other different wedding web sites, we provided a series of pictures of all the details we liked and the style we wanted. The flowers and decoration were quite a surprise since we never met the florist and we did not choose the individual flowers but they were fantastic!"
Our bride and groom walked down the aisle together, to demonstrate the fact that their wedding was a celebration of them as a couple and their love for one another.  I think this is wonderful.
They struggled to choose an arrival song, but eventually went with the Janis Joplin's version of Summertime– untraditional, but perfect.
"The vows were kind of free style for both of us.  Considering the beauty of the place and the joy and emotion of the moment, we just decided to get inspiration from that very unique moment and say something original and spontaneous.
A church ceremony was out of the question since neither of us is religious, but we wanted a ceremony which could reflect our love, our lives, and our new family.  We decided for a blessing with a high-qualified officer who did a fantastic job."
The couple used Blessings from Italy to create their ceremony- one of our Little Book for Brides® members.  Giuseppe Rossi led the ceremony and Ana and Rik were ecstatic about the words and ceremony he created for them as it was so personal and meaningful.
"We decided we wanted a special text about happiness during the ceremony- not about love, because we are not such a romantic couple, but happiness.  We chose a quote from 'The Alchemist' by Paulo Coelho because we recognise ourselves in those two drops of oil in the spoon: we are living intense lives, travelling around the world and enjoy life and what surrounds us every day. The text finishes with 'The secret of happiness is to see all the marvels of the world, and never to forget the drops of oil on the spoon.' Additionally we asked our witnesses to participate during the blessing with their own words. They were fantastic!"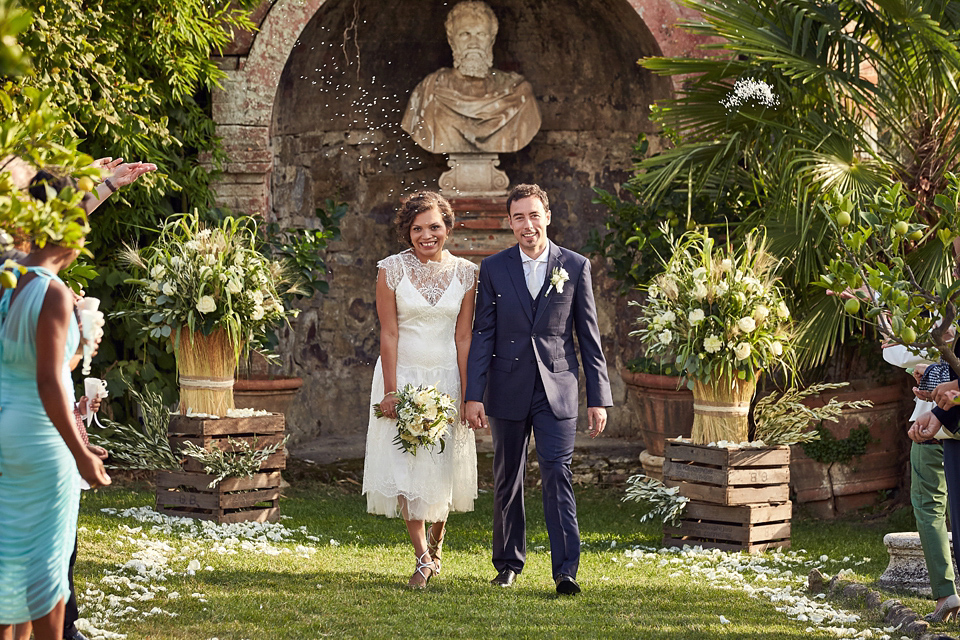 Ana is half Brazilian and half Swiss while Rik is Italian; they met at the University of Geneva in 2003.
"We were both students newly arrived in the city and not speaking French and we met casually because we were speaking Italian. We start dating very quickly and have been together ever since.  We finished university and moved in Zurich in 2008 and in January 2014 we went to Thailand for a diving trip.  Rik proposed while we were walking on a white sandy beach on an isolated island.  We decided to get married in 2015 because Ana was pregnant and due in September 2014."
As favours, the talented couple created their own 'Wedding Edition' soap, which also doubled up as placeholders.
"We have made soap for years and have our own soap brand ARTE SOAP. Family and friends know that they will get their annual soap supply from us at Christmas, so it was a must to have a wedding edition."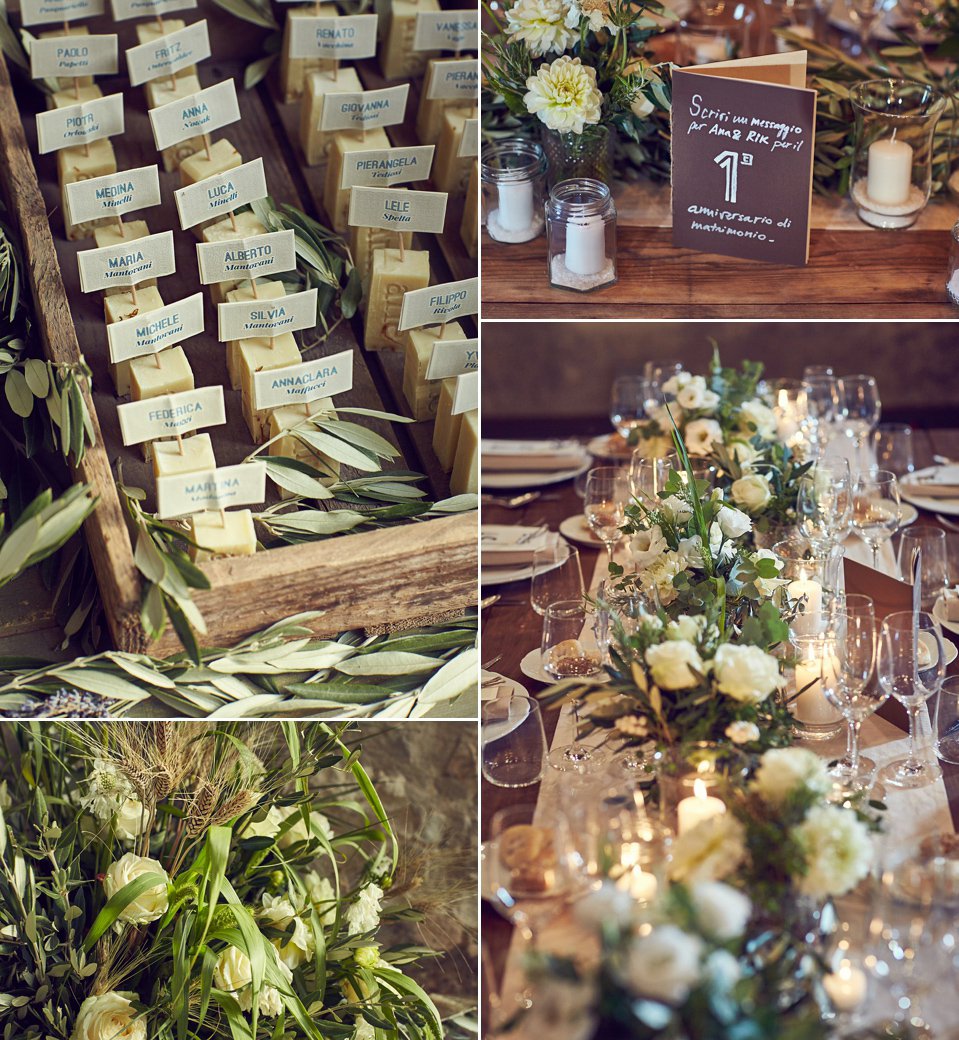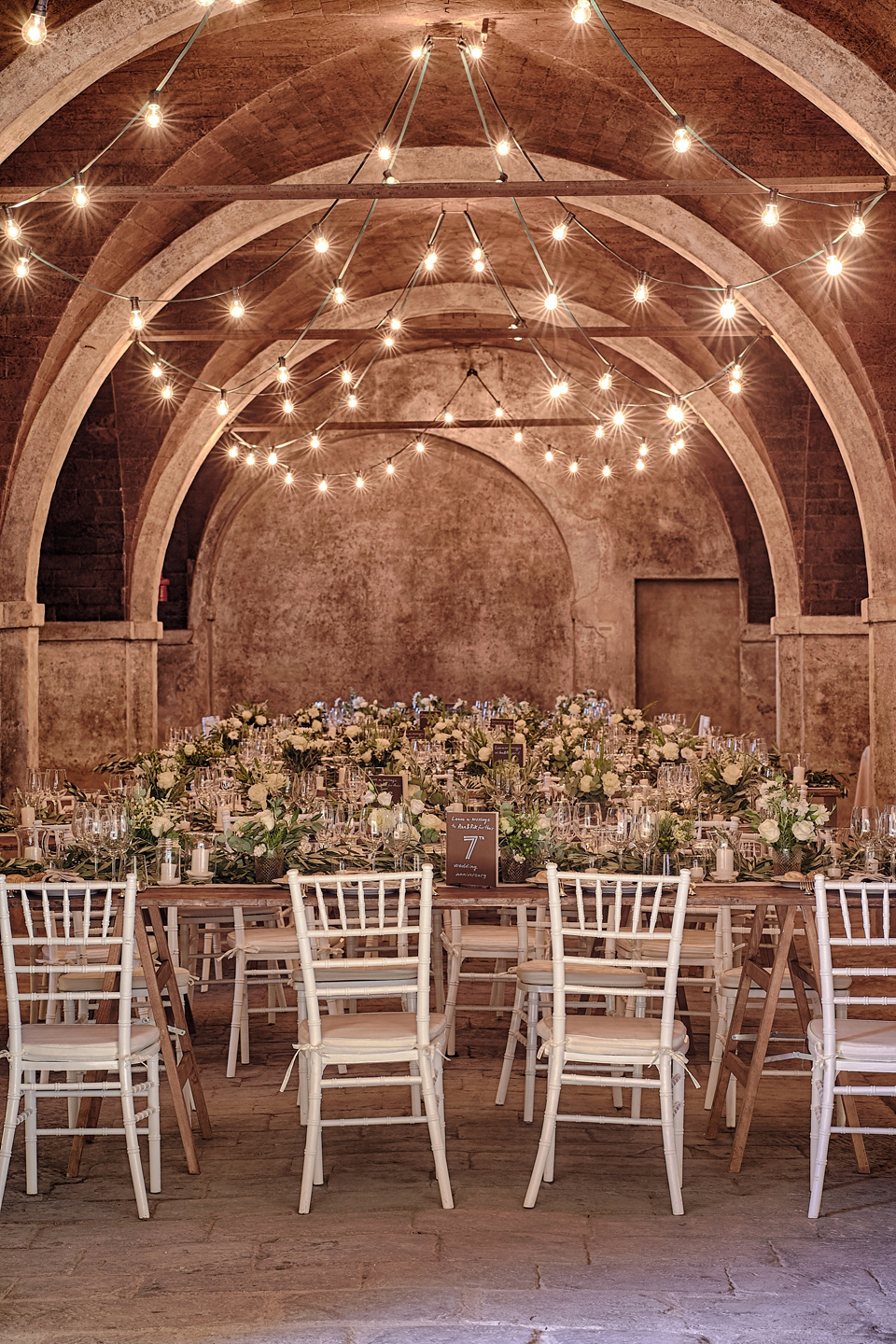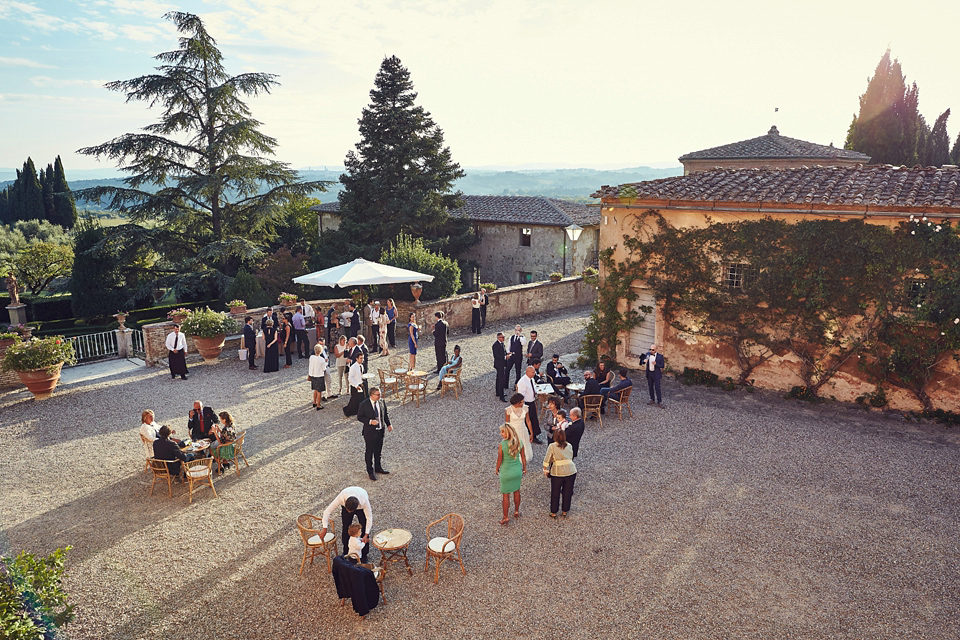 The talent behind today's wonderful images is English-born but Italy-based photographer Jules Bower.  I can't tell you how much I love this set of photos- they capture the day so incredibly well and really evoke a sense of place- so much so that you can almost feel the September sun on your skin, and the smell of wild herbs drifting by on the breeze…  Ana and Rik were understandably thrilled with the outcome.
"High quality pictures were a must.  We knew of Jules thanks to a friend of ours and we knew his high standards and the fantastic work he does.  It was an easy choice and he was one of the first suppliers we booked."
When asked about their favourite moments of the day, Ana responded as follows…
"I loved makeup and hair preparation and the photo session before the blessing.  I was laughing and chatting with my witnesses during the preparation; a very good moment with my best friend.  I also loved the photo session with Riccardo before the blessing because it was only the two of us (and the photographer) and a special moment of intimacy before the big event."
Rik also shared his favourite moments of the day…"I liked the ceremony in the Italian garden. There was a sense of peace and intimacy around us and I really appreciated the words that our witnesses said and the vows that we exchanged.  Everything was extremely sincere and each one of us gave a touch of beauty to the moment.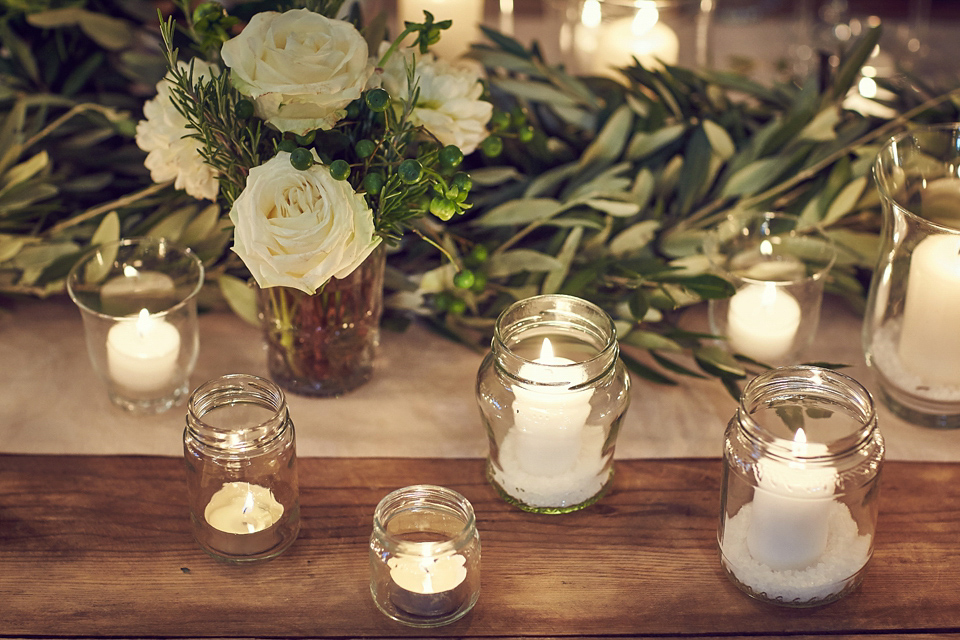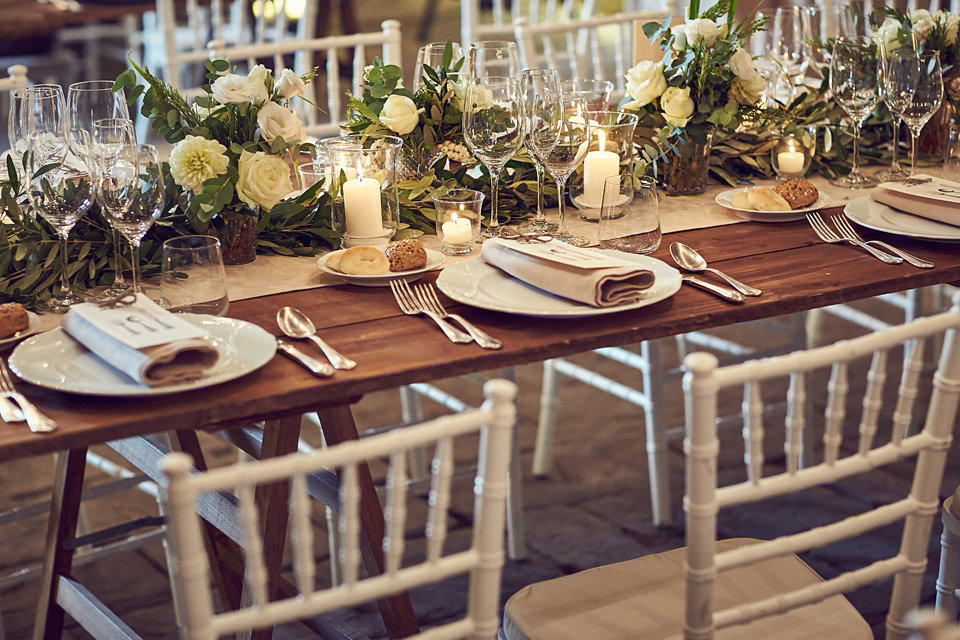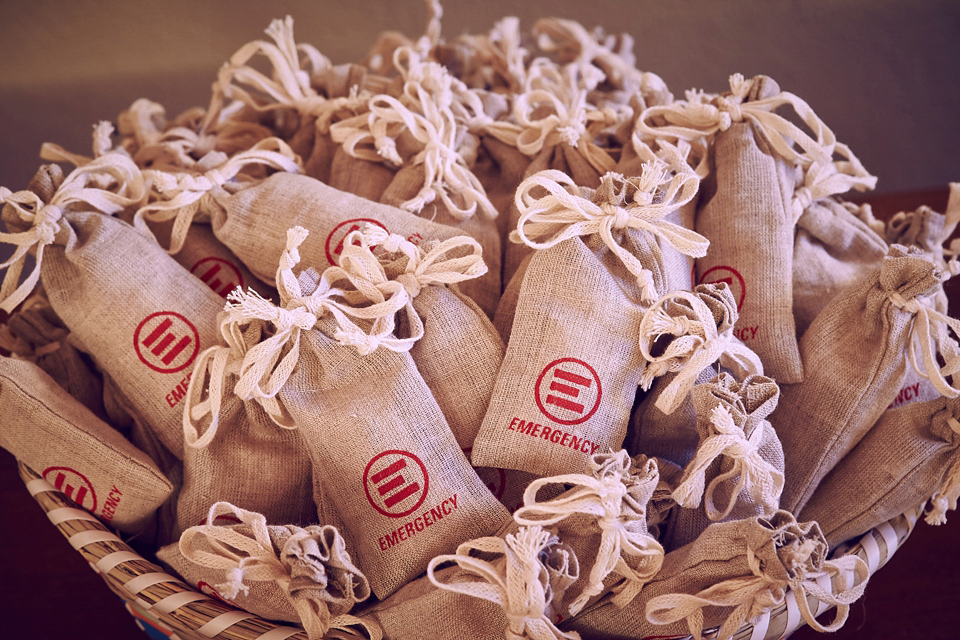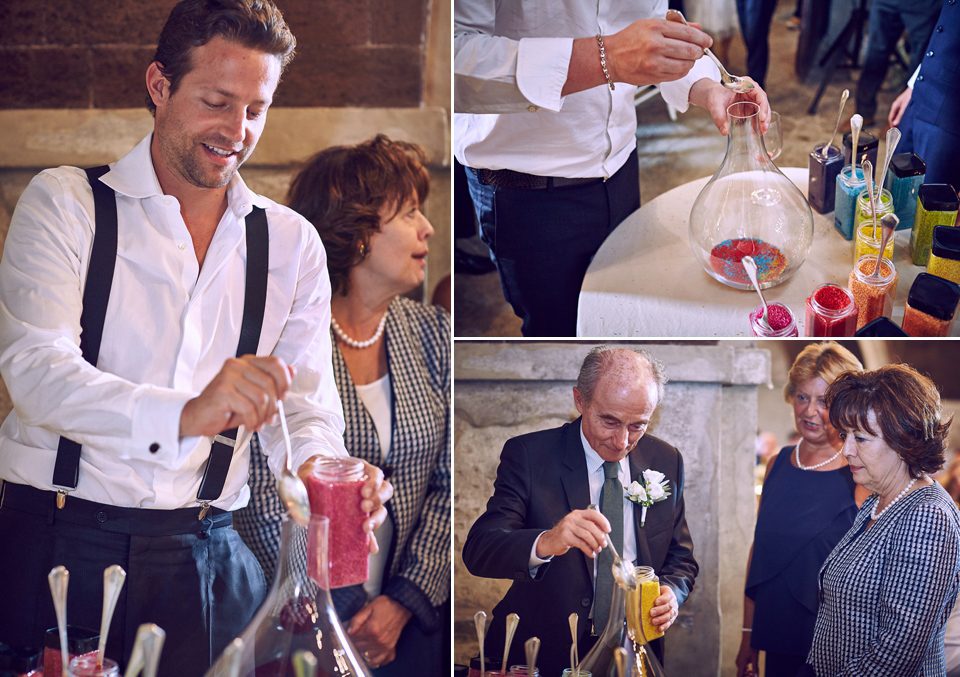 Words of Wedded Wisdom
"Take your time. We are not anxious and nervous people and we had a very clear idea on what, how and who we wanted and were not too focused on all the little details. Despite all of this, there are a huge amount of things to think about and if you have time, you can choose everything without stress.  Also if you plan to have your wedding outside, don't focus yourself too much on a beautiful sunny day… at the end of the day, you can be as rich as you want but the blue sky still remain a thing you cannot buy! 
I think that it may be pretty easy to go from the most beautiful day of your life to something you will remember for the stress, the tiredness and the anxiety.  So take your time and take it easy!
We were afraid of excesses in general, we didn't want to exaggerate in any of the aspects characterising our wedding and we wanted to have people enjoy two days with us. I think that we got it right and therefore if we had to do it again, we would do it in the same exact way!"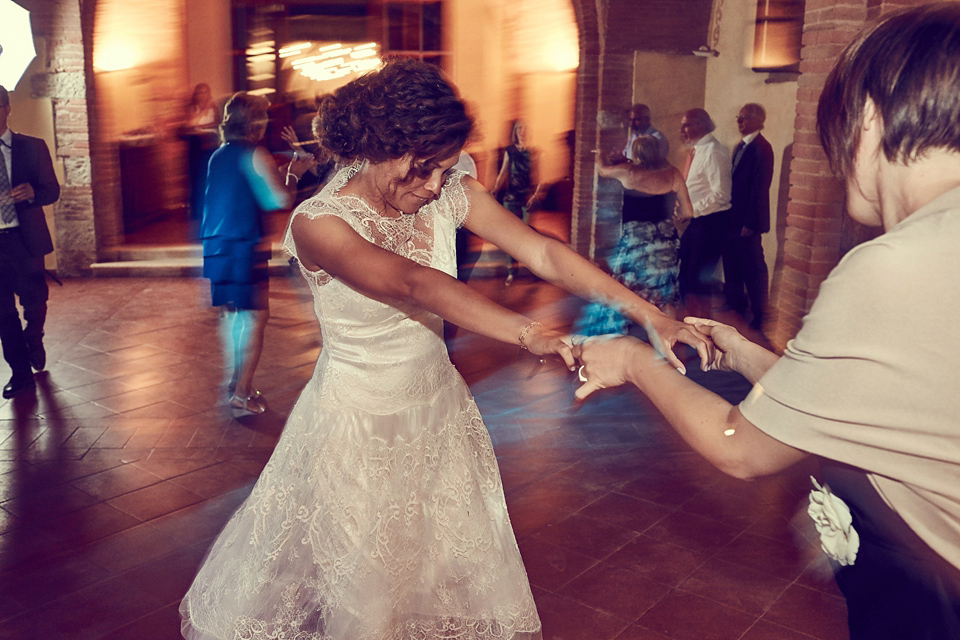 Thank you so much to today's happy couple- it's been an absolute pleasure to look through your beautiful photographs- many congratulations!  Thanks of course are also due to the talent behind the pictures – Jules Bower.
Are any of our newly engaged readers inspired to get married under the Ital;ian sun after seeing these pictures?  I know I'm tempted to go and look at holidays in the region!
Much love,
Shona x
 
Suppliers
Photographer – Jules Bower
Venue – Villa Catignano, Comune di Castelnuovo Berardenga, Siena
Wedding planner – SposiamoVi
Celebrant – Giuseppe Rossi- Blessings from Italy
Wedding dress – Angelique by Rembo Styling, purchased from Liluca, Zurich
Shoes – Jimmy Choo
Accessories – Family jewellery
Hair accessories – Fresh flowers
Perfume- Chloe
Bridesmaids' dress – Bespoke
Makeup  and Hair – Andrea Gennaro
Groom – Suit, bespoke made in Italy, Tie, shoes, belt and shirt by Giorgio Armani
Florist – Stiatti Fiori
Catering – Galateo Catering
Rings – Gübelin
Stationery – Designed by the couple, with support and help from Lucas Design (Ana's father)