Hi there. I hope that you're settling into your Friday evening nicely! We have a stunner of a wedding to show you today which should perk up your day. Hayley, a Sales Manager for Next married David, an Accounts Assistant on the 10th of October 2015. They chose their venue, The Out Barn at Clough Bottom Farm, Clitheroe, Lancashire because of the freedom to create the relaxed, fun day they envisaged. Their photographer Kerry Woods, a Little Book For Brides member did a wonderful job of showcasing this beautiful wedding.
"The outdoors inspired us the most. We love being outside and wanted to bring it inside. Autumn is also our favourite season so we used this to create the overall colour scheme of the wedding."
Photography by Kerry Woods Photography
Find Kerry Woods in Little Book For Brides
Follow Kerry Woods on Instagram
Hayley wore the Alexis dress from Phase Eight's bridal collection with Rachel Simpson silver ginger shoes and a Katie Carter pearl vine headband.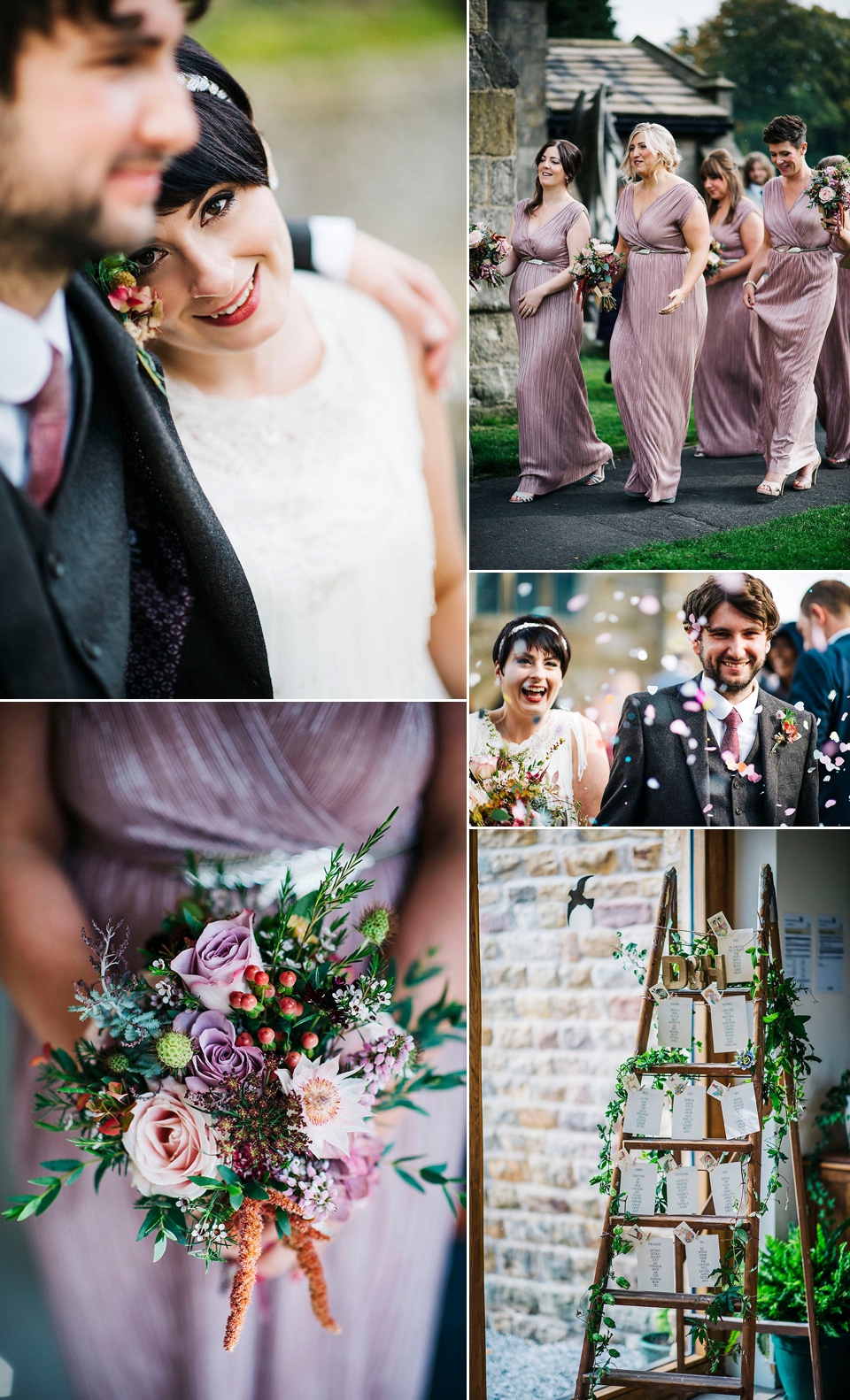 "I must admit the thought of finding a wedding dress was very daunting for me. I wanted something that would show my personality and style, but could also dance the night away in! I've always been a big fan of vintage so knew it would have to have an element of this."
"Having visited wedding dress shops I was concerned that I wouldn't find the 'right' one. I came across Phase Eight bridal while browsing the internet one afternoon and thought I'd have a look. I saw the 'Alexis' dress and instantly fell in love. It was the perfect balance of vintage with its flapper style tassels but also ever so slightly different from other bridal dresses. When it arrived it fit perfectly and I loved how I felt wearing it.
I had to ring my bridesmaid to come round and help me get out of it and when she saw me, she said "Well that's it, you've got your dress" and that sealed the deal!"
The couple asked Petal and Twig to create the amazing floral arrangements.
"I had seen Angela's work for Nina Marika's wedding on Love My Dress and it was a huge inspiration. A close friend then recommended her friend and it turned out to be Angela! I knew I wanted seasonal flowers, nothing too 'put together' and Angela is amazing at presenting flowers in their natural beauty so I left her to do what she does best."
"She immediately got the feel and the look of the wedding. When the flowers arrived I couldn't help but cry, they were the most beautiful bouquets I had ever seen and everything I had dreamed of."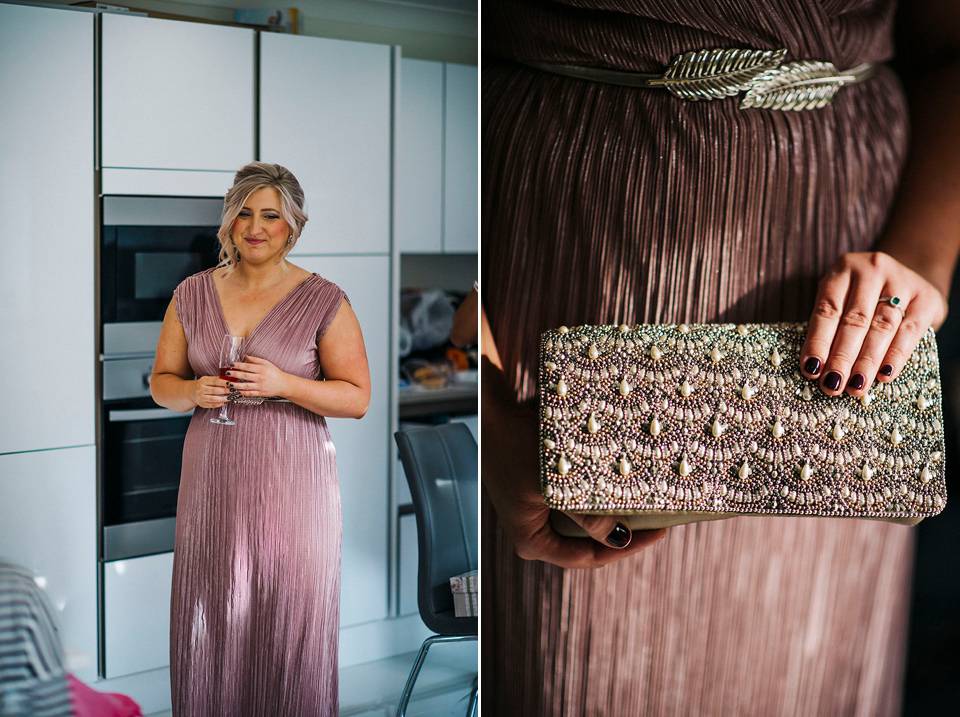 "My amazing dad walked me down the aisle. My auntie Julie read 1 Corinthians 13. I was bridesmaid for her when I was younger and she had this reading at her wedding. I love how it explains there is no greater emotion than love."
"We met at our local nightclub in Preston in July 2008. I'd recently come back from Glastonbury and still had my wristband on so this gave David the opportunity to spark up a conversation at the bar! As we chatted 'A Young Love' by The Mystery Jets came on, who we both love, so we ended up spending all night on the dance floor. Little did we know that this would be our first dance at our wedding!"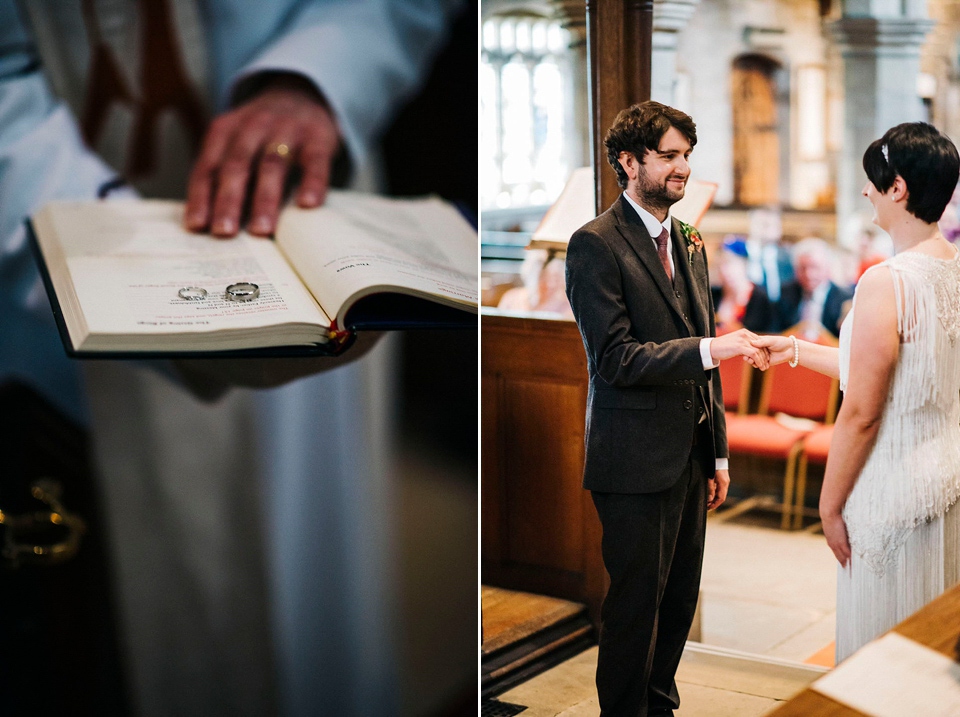 The handsome groom chose a dark Next suit and burgundy tie in keeping with the autumnal flowers.
"We went on a few dates before David went travelling for 6 months. We stayed in touch and here we are now! David proposed in Barcelona on the 26th of February 2014 at Font Màgica de Montjuïc (Magic Fountains). We always plan a city break after Christmas so it wasn't out of the norm to go away, however when he got down on one knee I was completely shocked, it was the best feeling in the world!"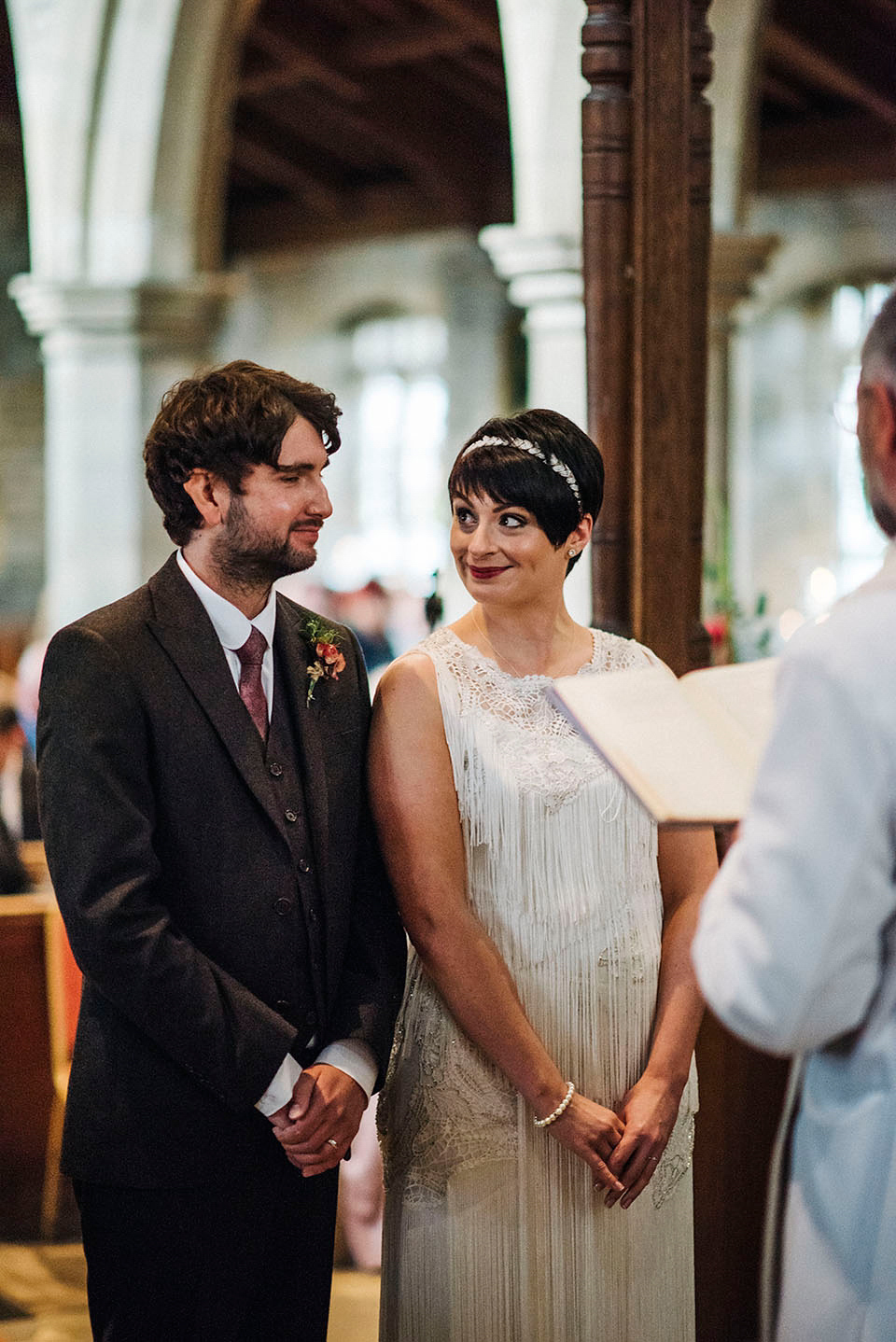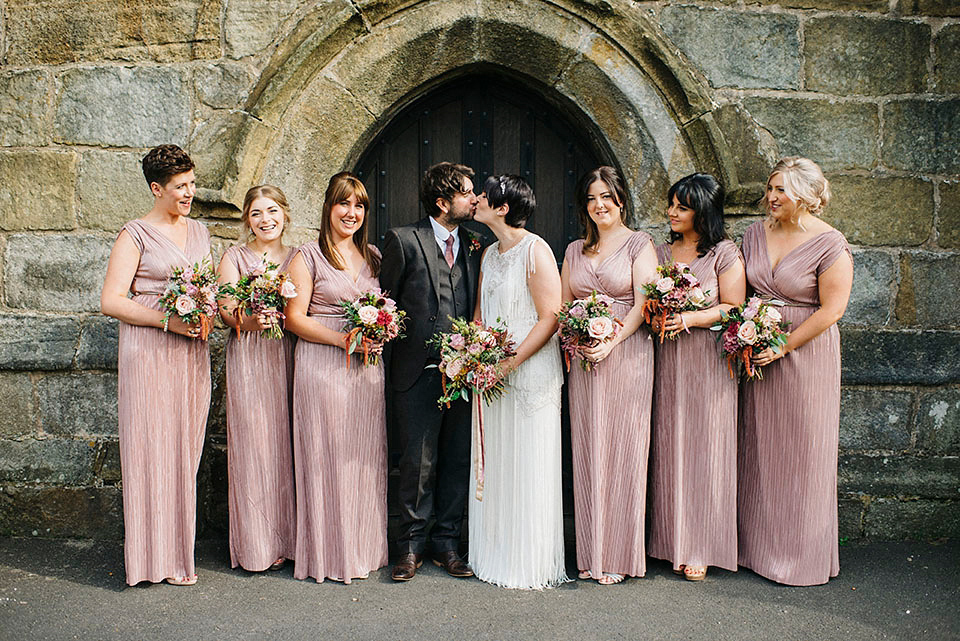 Hayley let her bridesmaids choose their own dresses. They all look fabulous in their rose gold dresses from Oh My Love and leaf belts.
"The fantastic Kerry Woods was our photographer. I came across Kerry on Twitter and loved the relaxed and documentary style of her photos. We were delighted when she said she was free to do our wedding. Kerry was wonderful to work with and we couldn't be more delighted with our pictures. She captured the day perfectly, taking time to capture all the little details that may be forgotten in years to come."
"Kerry really captured some tender moments between us and our guests that we will cherish forever. We both don't really like having our pictures taken but Kerry made us feel so comfortable and I think it shows."
"The setting and exclusivity of The Out Barn was the big reason we chose it. It's in the most beautiful surroundings overlooking Pendleton Hill and does feel like you're in your own little world as nothing surrounds it. It was great for the kids as they were able to run through the fields all day.
I have always loved the Festival Flags at Glastonbury and decided they would be a nice feature around the venue. They added the final touch to the barn and looked great blowing in the wind."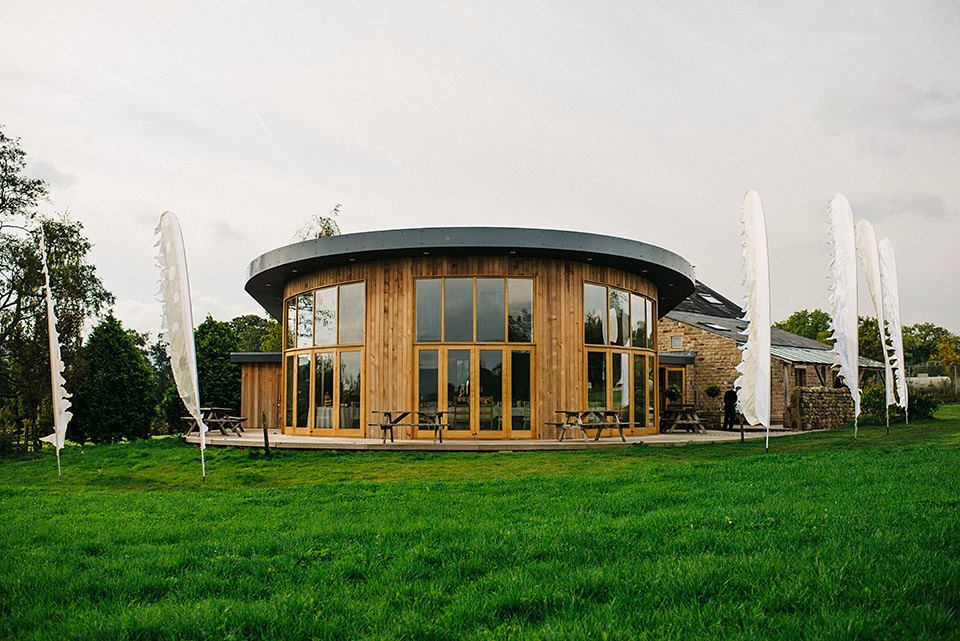 "The barn is also a stunning building with huge bi-fold doors which provide an outside-in feel. It was perfect because we had a lot of guests and we didn't want them to feel cramped inside. As soon as we viewed The Out Barn we knew it was the one, everything just felt right. Chris the wedding co-ordinator and the team helped us to create our perfect day."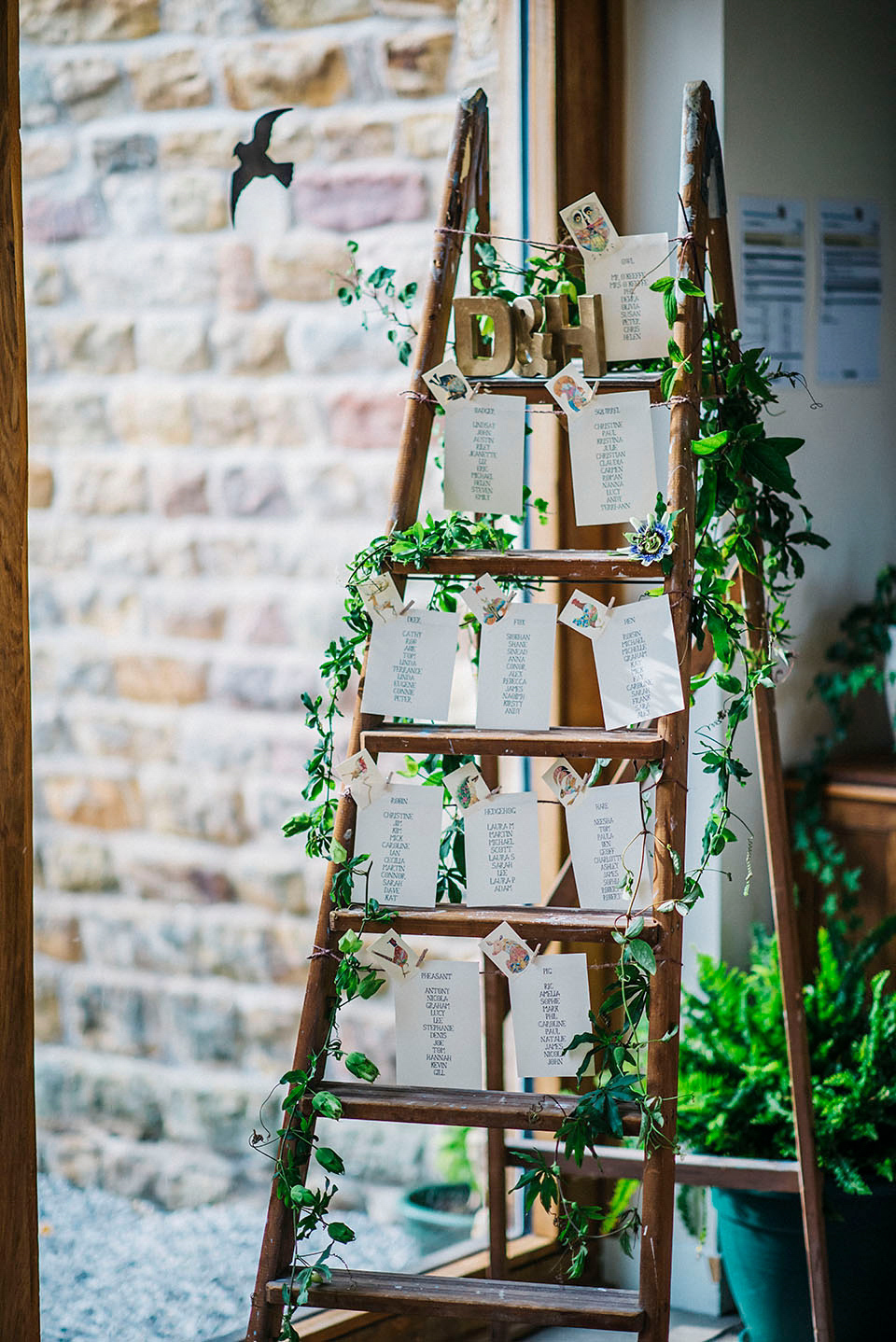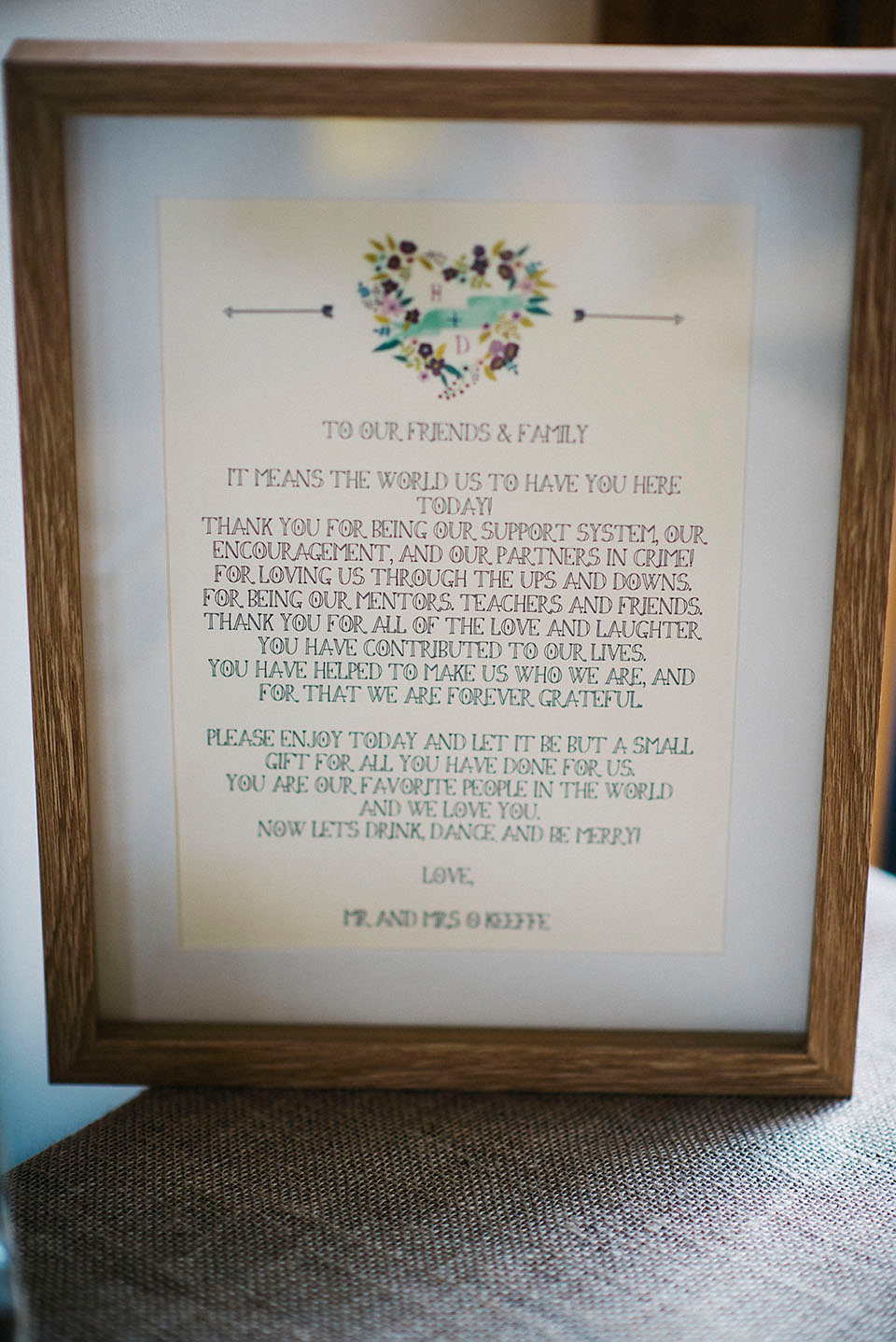 "We gave Tunnock's tea cakes as favours. One of my all-time favourites, they always remind me of going around to my nana's."
"We didn't want speeches so substituted them for a pub style wedding quiz. Sitting at the top table, seeing all of our friends and family running around frantically and laughing made our day!"
"We were going for an informal day so chose James from Absolute Hog-Roast. He also created an amazing afternoon tea.
Our naked Victoria sponge cake was made by my good friend Christine. She's an amazing baker and I knew she would make the tastiest wedding cake. When I asked Chris she did a big gulp but said she would be delighted. She did a great job and it tasted even yummier than it looked."
"There is not a single thing we would change about our day, it was everything we had dreamed of and more, we couldn't believe we actually pulled it off!"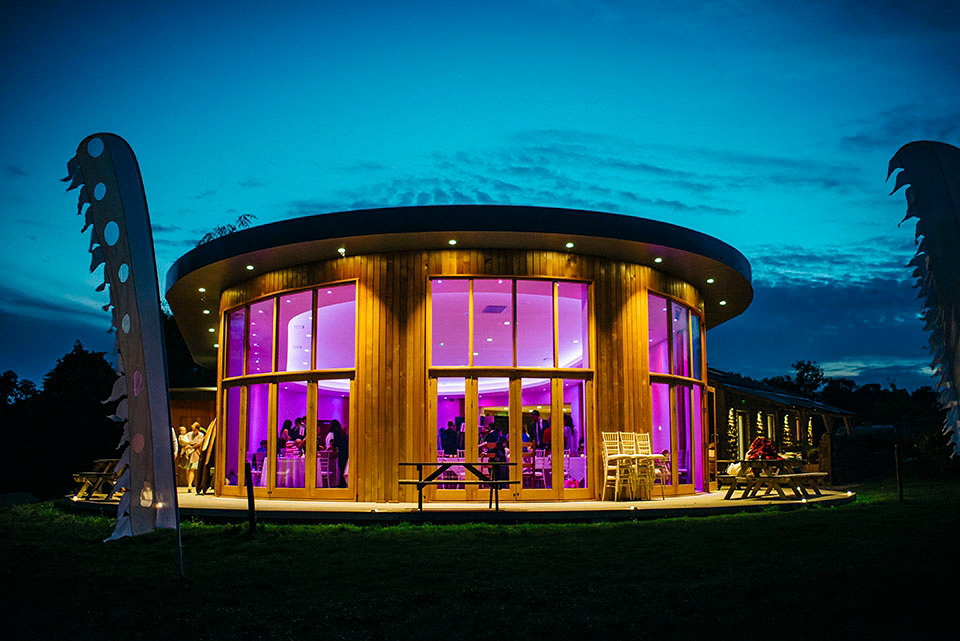 "Our best man Chris introduced our first dance and recited a poem he had written for us. It was the funniest and most heartwarming thing we had ever heard.
As massive music fans, we knew we had to get someone we could trust. The man for the job was my former students union DJ Karl Yates of Deckheds. Karl used to run the weekly indie night. We've known Karl for years so were delighted that he could play at the wedding and knew he would have all our favourite songs. Before I had even met David I joked that if I ever got married Karl would DJ. It came true!"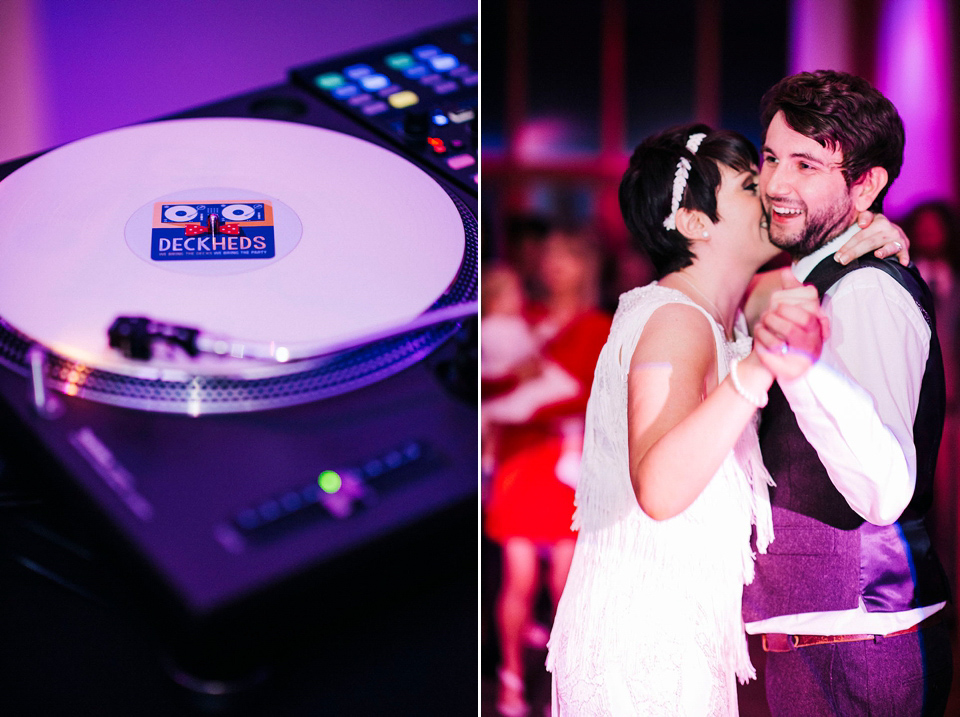 Words of Wedded Wisdom
"Stick to what you want and go for it. It doesn't matter if you don't stick to tradition as long as you do what makes you happy and reflects you as a couple. Also don't get too caught up in the finer details, it won't matter that you forgot to do that final chalkboard. What matters is marrying the person you love surrounded by your friends and family. I didn't do loads of stuff I had planned, but looking back it wouldn't have made a difference on the day."
Thank you ever so much to the new Mr and Mrs O'Keefe for sharing your gorgeous wedding with us. Thank you also to the wonderful Kerry Woods, the photographs are absolutely beautiful.
Love Caoimhe xx
Photographer – Kerry Woods Photography
Venue – The Out Barn at Clough Bottom Farm, Clitheroe, Lancashire
Wedding Dress – Phase Eight
Headpiece – Katie Carter
Shoes – Rachel Simpson
Accessories – Tiffany & Co. + Marks and Spencer
Groom – Next
Bridesmaids – Oh My Love
Florist – Petal and Twig
Cake – Made by a friend
Transport – LMC Transport
Entertainment – Deckheds
Rings – Beaverbrooks
Catering – Absolute Hog-Roast
Stationery – Designed by the Bride
Hair Stylist and Makeup Artist – Sarah Flowers
Festival Flags – Festi Flags