Good morning wonderful readers and a very happy weekend to you.  If this happens to be our first visit to Love My Dress® then welcome! Congratulations on your engagement! And if you're an industry supplier looking for inspiration – you'll find lots of it here.
There is just so much that I adore about the wedding I'm sharing this morning, which first came to my attention through the 'Share The Honest Love' social media campaign, (also see here) that I worked on with my friend Laura Caudery last year.  The bride, Nina, has invested so much love and passion into every tiny little detail.  I also admire the way she made the celebration so child-friendly and incorporated so many personal, family elements in to the day. The whole thing is a delightful, joyful celebration of love.
Nina, Senior Wallpaper Stylist at Graham & Brown, and creator of relaxed, handmade, seasonal weddings and gatherings at 'Nina Marika', married her fiance Paul, who also works at Graham and Brown, on 18th October last year in Lancashire.  The couple held their wedding ceremony at St Anne's church, Chapeltown and followed with a reception at the nearby The Wellbeing Farm in 
"We wanted a relaxed day with the importance on the church service, and a fabulous relaxed celebration afterwards surrounded by all our favourite people in the world.  We also wanted a mix of vintage glamour and seasonal rustic details and styling – allowing nature and elegance to come together. And of course, because of my job, I also wanted to incorporate wallpaper in to the day!"
Film Production Copyright (c) 2015, Silver Sixpence Films
"It was important to us both that we sourced as many Lancashire, Northern based, local suppliers as possible.  I'm a designer so I wanted to handcraft and source everything myself. I used Pinterest to keep all my ideas together which I shared with my suppliers.  I then created my 'Bible' with the most important visuals and many lists and checklists which I took everywhere with me – it's all about the detail and creating a magical story!"
Photography Copyright (c) 2015, Jo Bradbury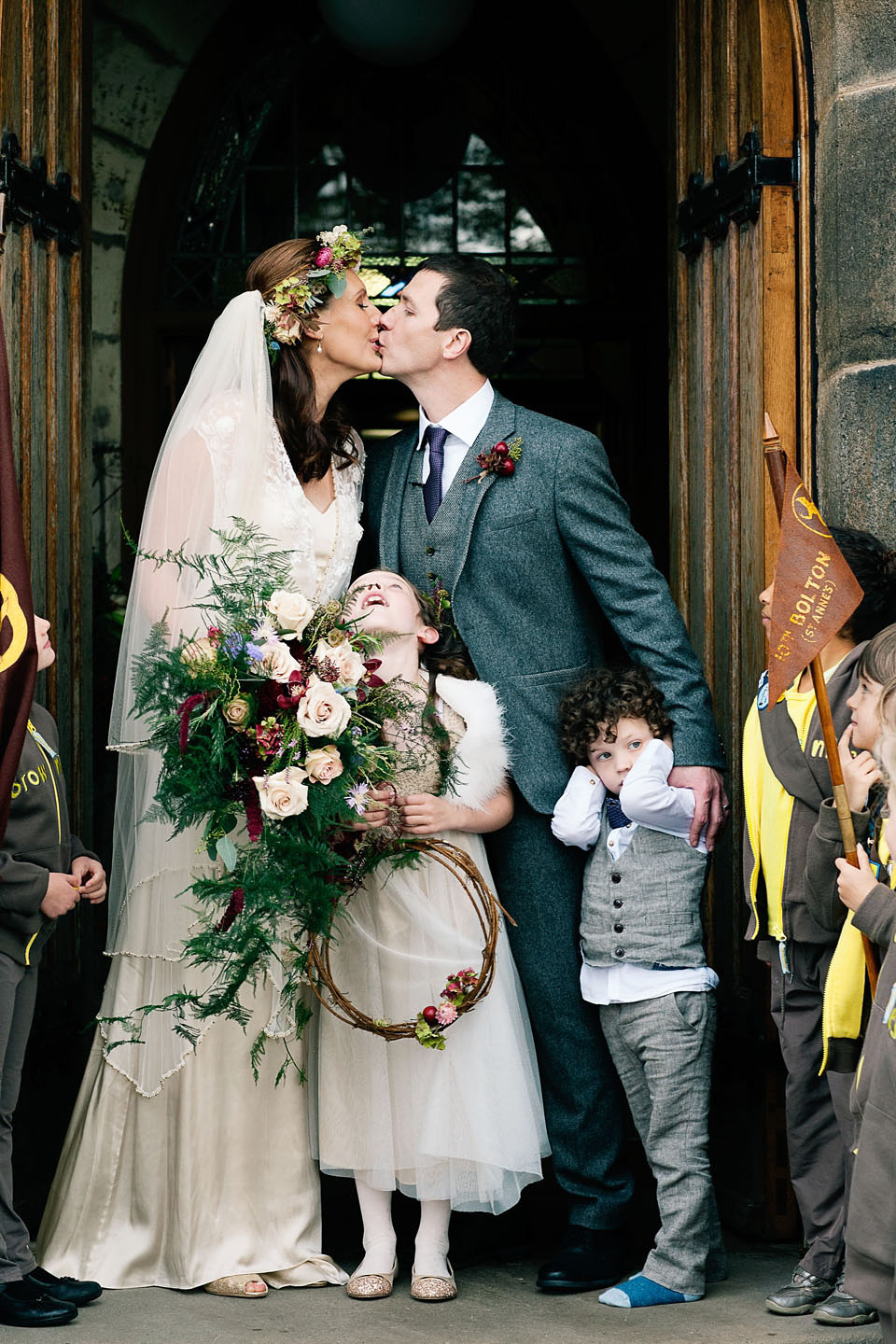 "With eight weeks to go before our big day,  we changed our wedding reception venue to The Wellbeing Farm, and we are so happy we did.  It was completely perfect for us.  I love everything rustic, handcrafted, foraged, seasonal and eco-friendly, and this venue gave us the most wonderful blank canvas to work with – a very adaptable space with endless potential.  
You can let your imagination run wild and that's what Celia and her team allowed me to do.  I also planned the entire event myself, with the help of two fabulous creative friends, who assisted in dressing the barn on the Thursday – we had so much fun!"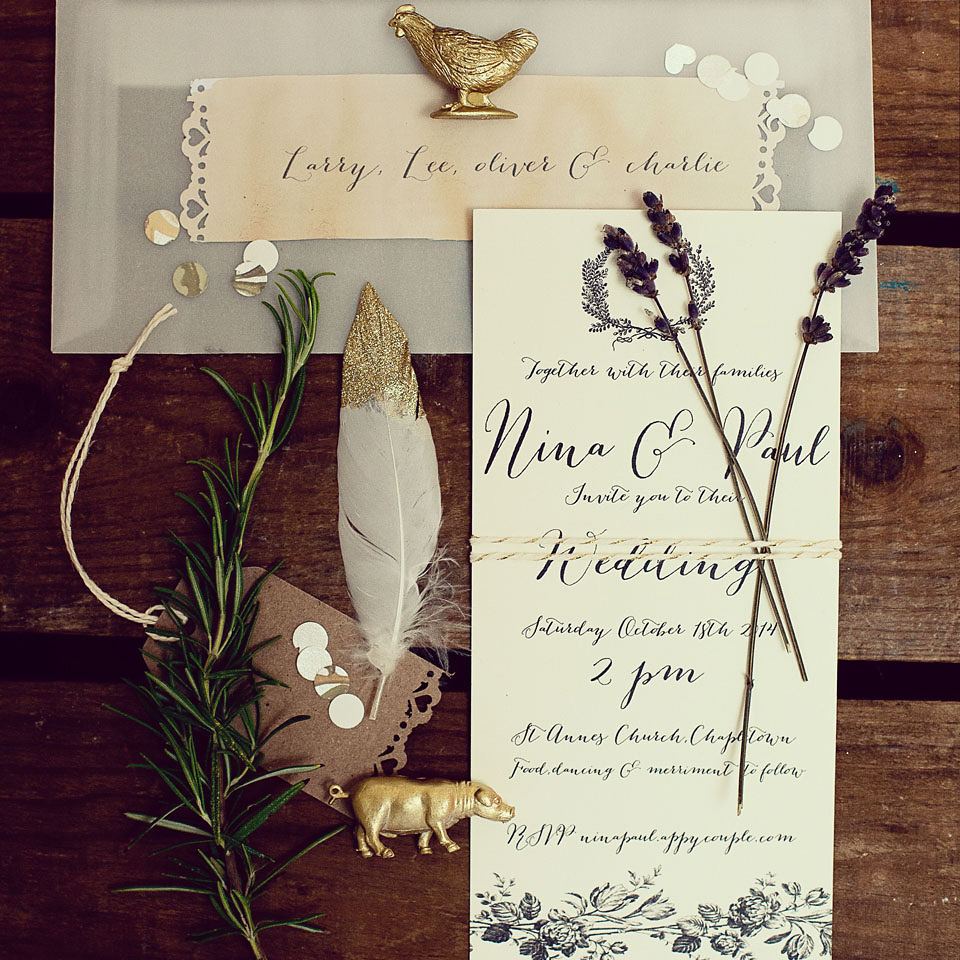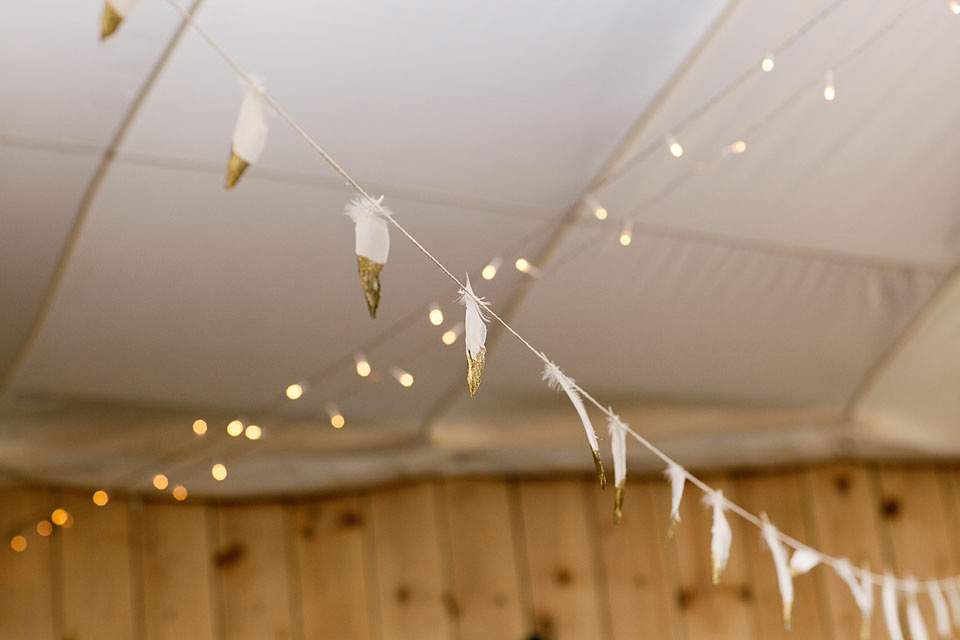 The couple's florist was Angela Coulson of Petal & Twig…
"I chose Angela of Petal & Twig because I fell in love with her wonderful garden in Tarleton, Lancashire and her vision for UK grown flowers. She is a member of 'Flowers from the Farm', the network of growers and florists promoting British grown, seasonal flowers.  She is also inspired by garden plant material and the changing seasons.
Petal and Twig is based in Tarleton, Lancashire and is the continuation of a family business started thirty years ago as 'The Flower Studio' in Longton by her Mum, Ann Coulton.  She began work for a Constance Spry-trained florist in the 1960's – Such an amazing talented duo. 
My bouquet was styled on my Grandmothers lots of fern and faded parchment roses."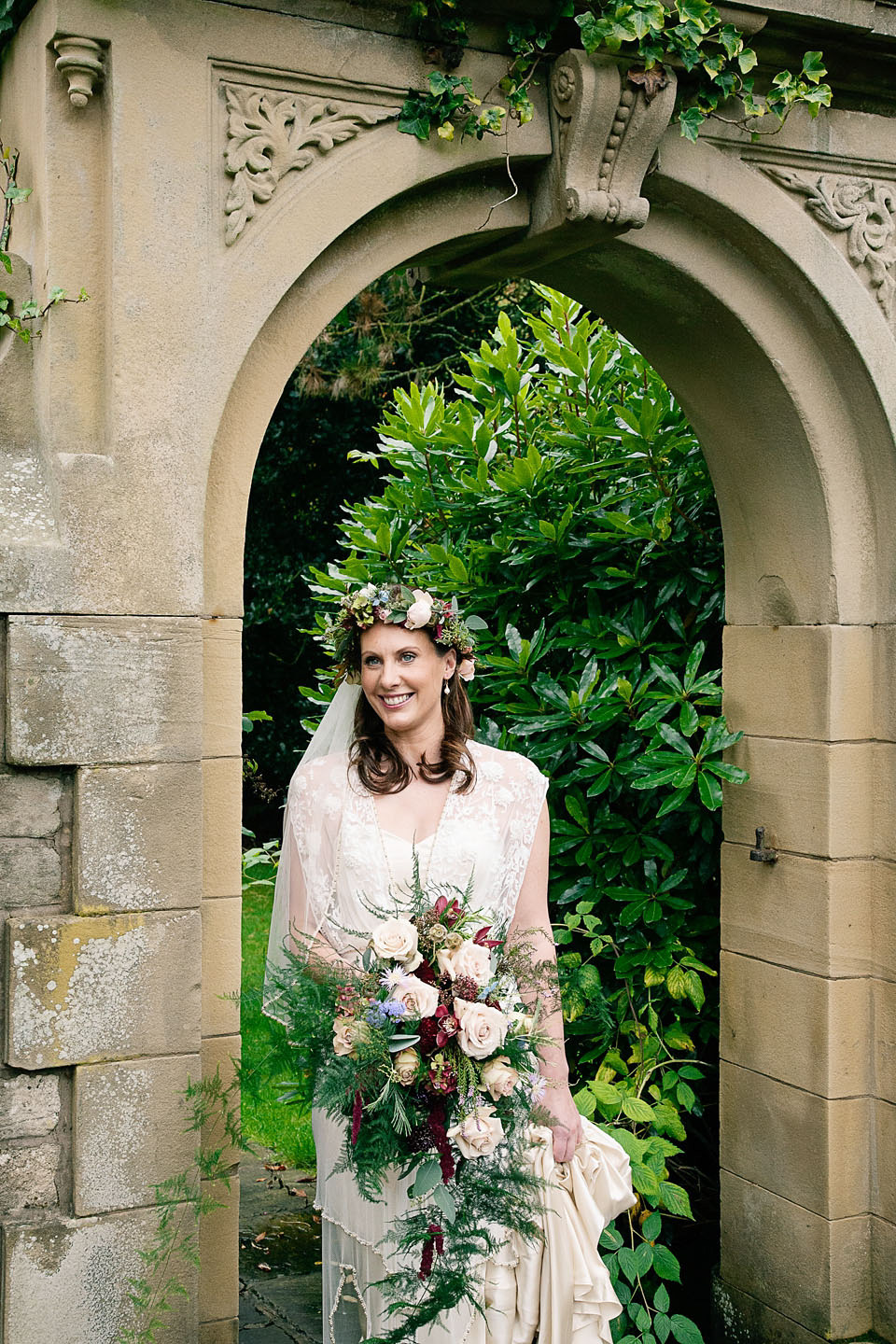 Nina wore the divine 'Lita' gown by designer Catherine Deane.
"I spotted this dress on Pinterest and fell in love with it immediately.  I only tried on four Catherine Deane dresses after visiting her showroom in London – I loved how it was ready to wear – no endless dress fittings needed.  The dress was so wearable and I also loved her ethos, traditional techniques with a modernist twist – the juxtaposition of combining historic craft with future vision births a product which is a time honoured contemporary classic.
My Lita dress is feminine and unique, and a complete dream to wear."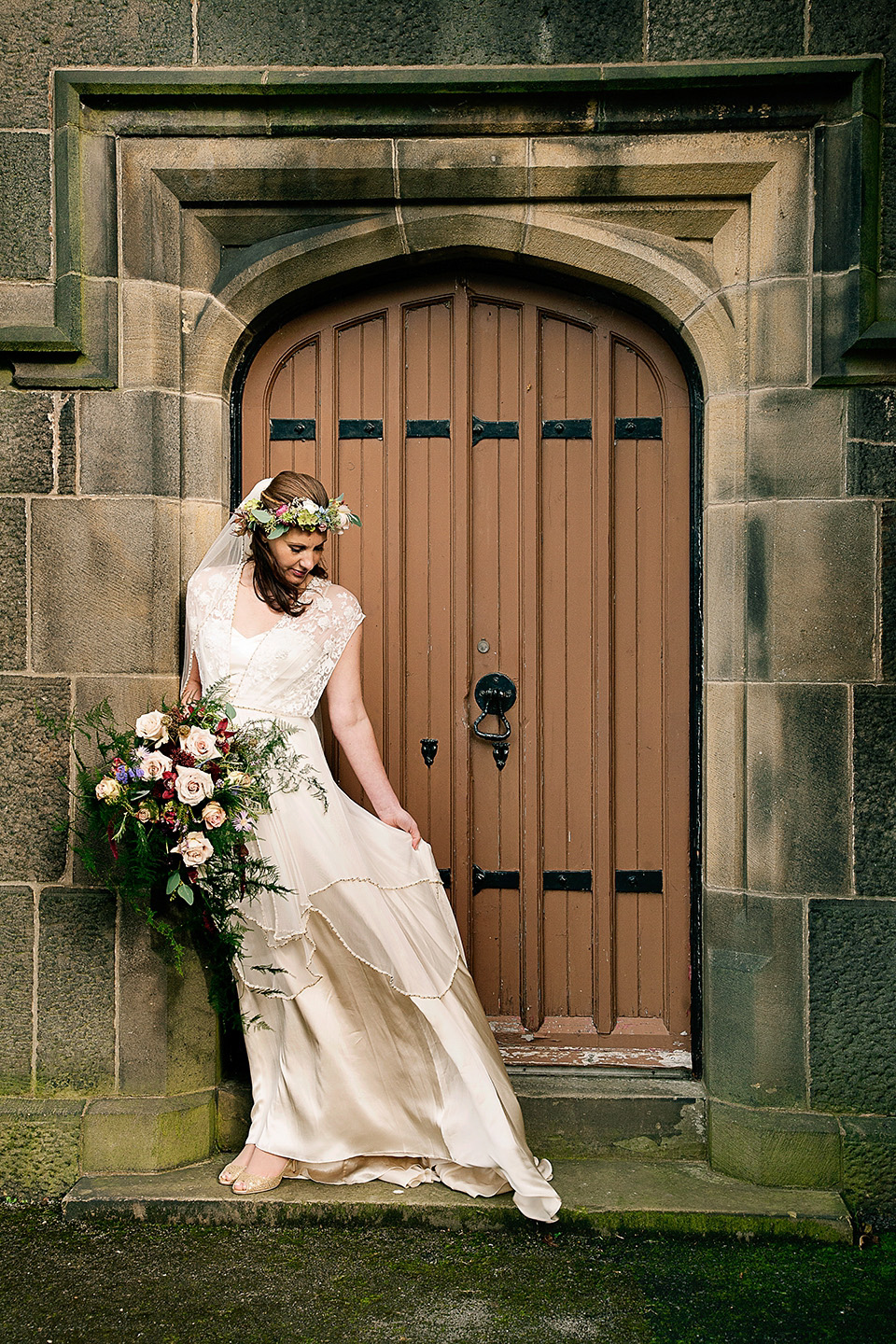 Nina's beautiful floral crown was created by Angela Coulson of Petal & Twig.
"I love flower crowns, and this one was made entirely from garden plant material including a few late Clare Austin rose and traditional herbs. I will always remember the smell as I placed my veil over the flower crown."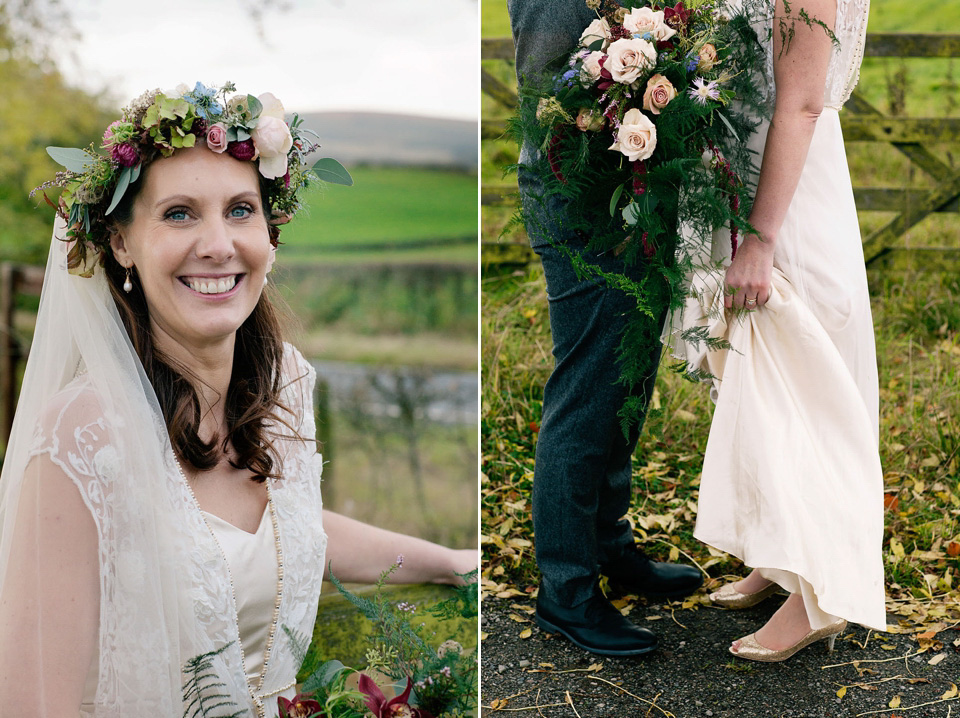 "We didn't have place cards as you could sit 'wherever your heart desired', and instead of menus on the table, we had some of my personal favourite poems which I had hand-stamped and tea stained to provide a vintage, Autumnal feel."
"Our photographer was Jo Bradbury who was amazing on the day and in the run up to the wedding.  Jo photographed the reception venue the day before and spent all day with us on the day she was a joy to have around she's amazing.
Penny and Ed of Silver Sixpence Films are also a joy to be with we – are so happy with our wedding film and trailer.  The film was important as we wanted to capture the children faces on the day and all the special moments – Silver Sixpence Films have pulled this off through a beautifully presented film with a handwritten note – and it was a quick turnaround too – our trailer arrived two days after our wedding!"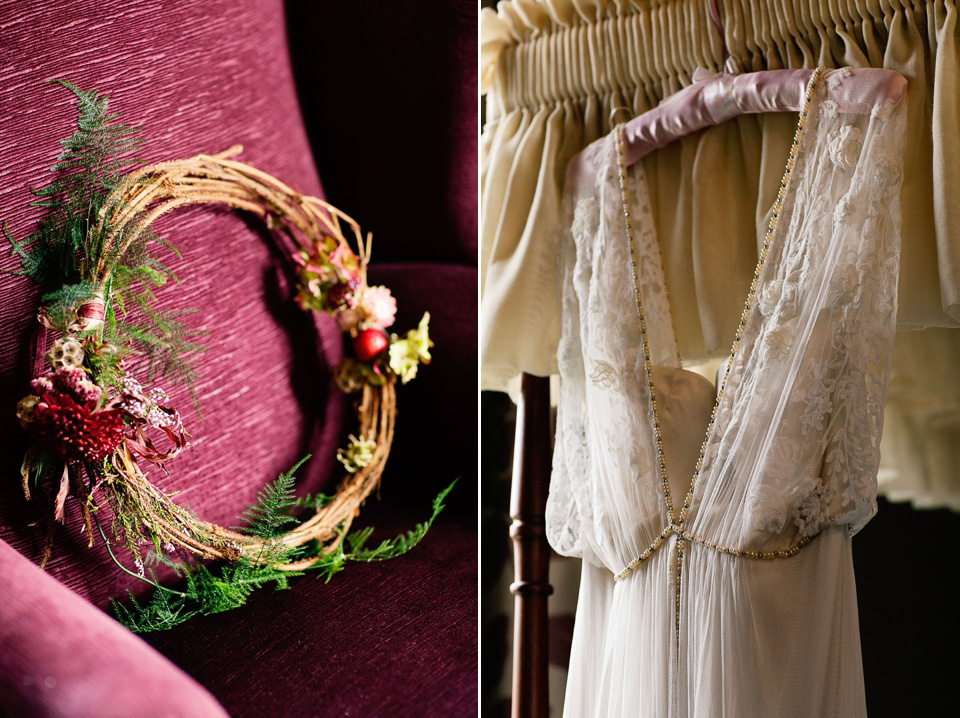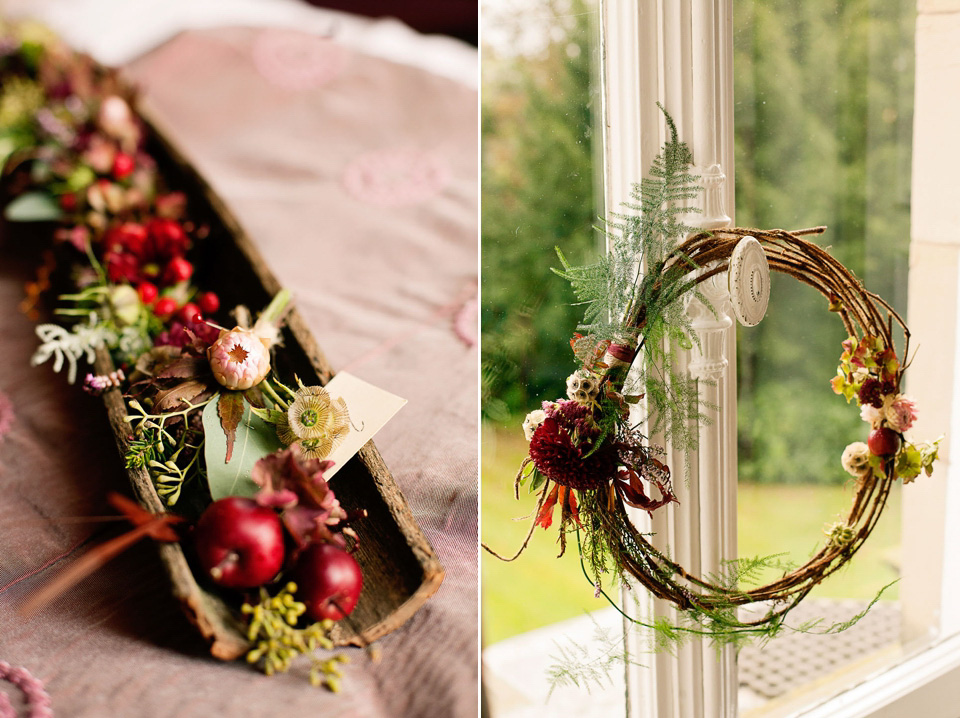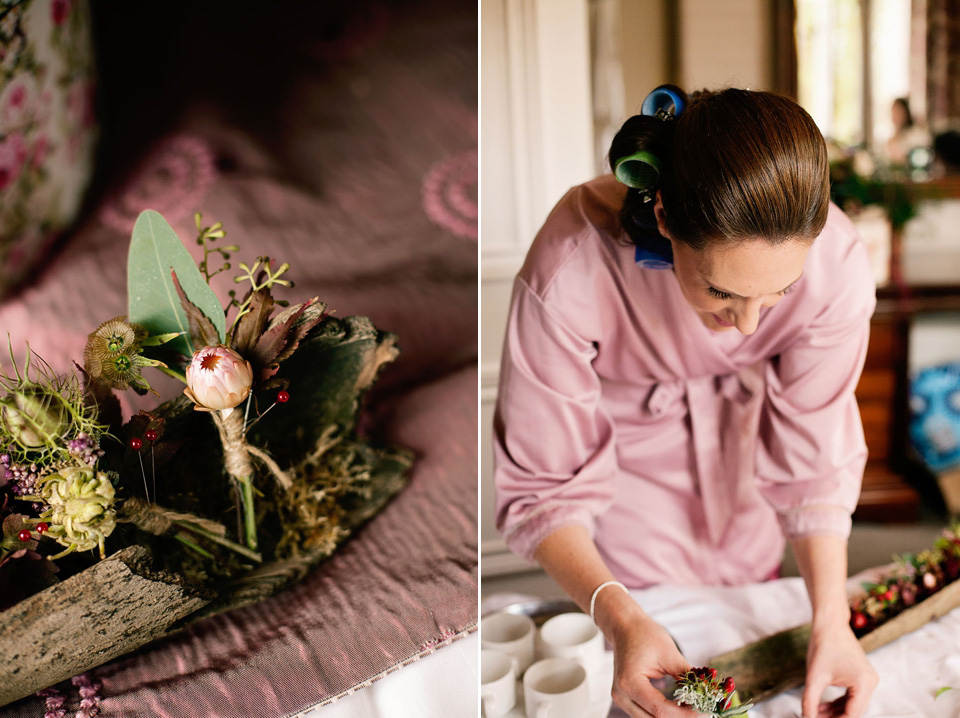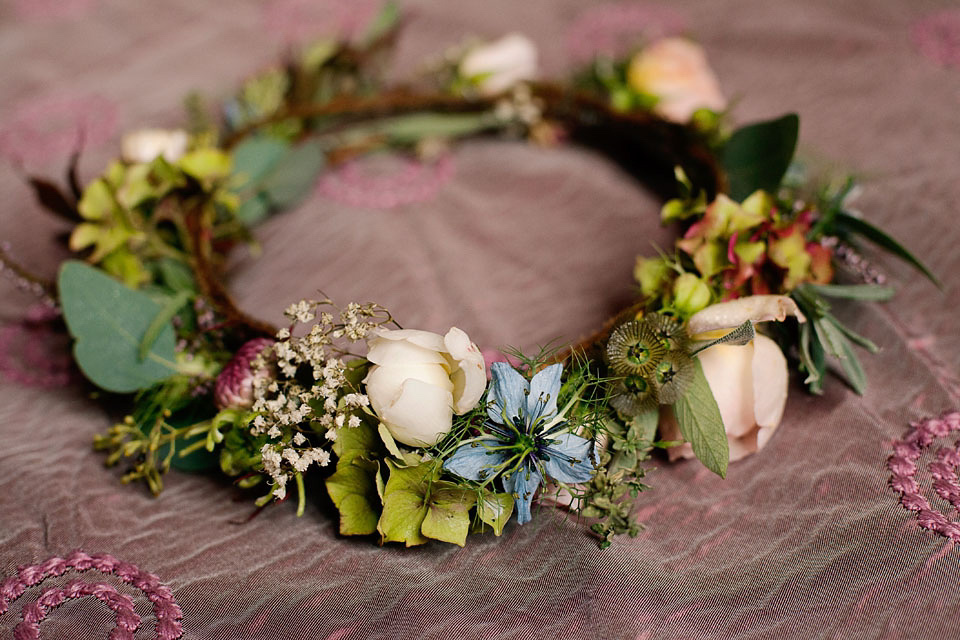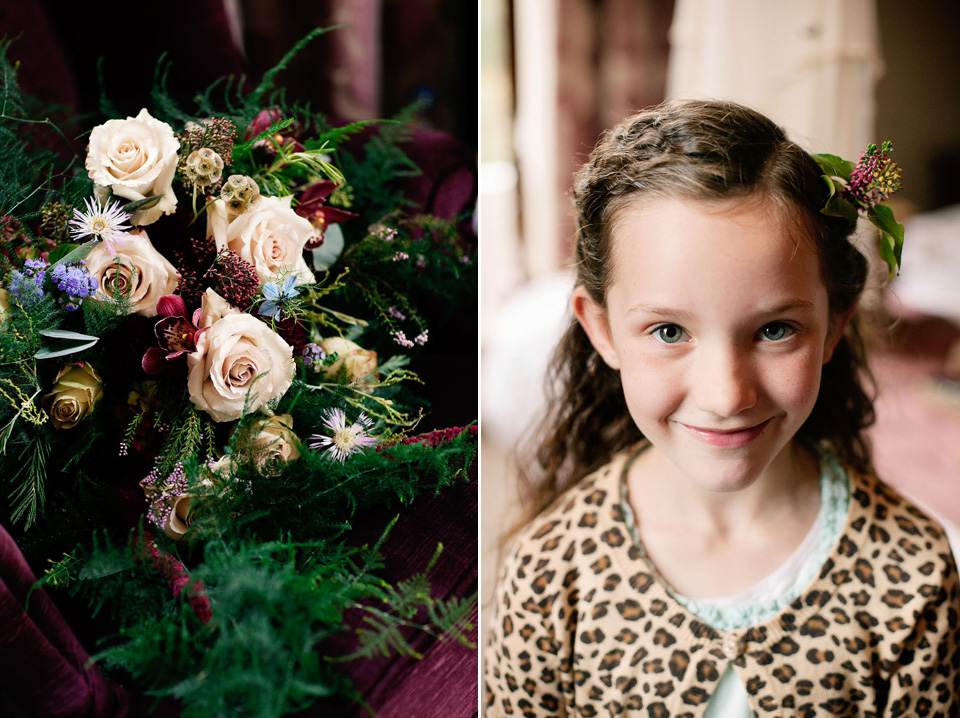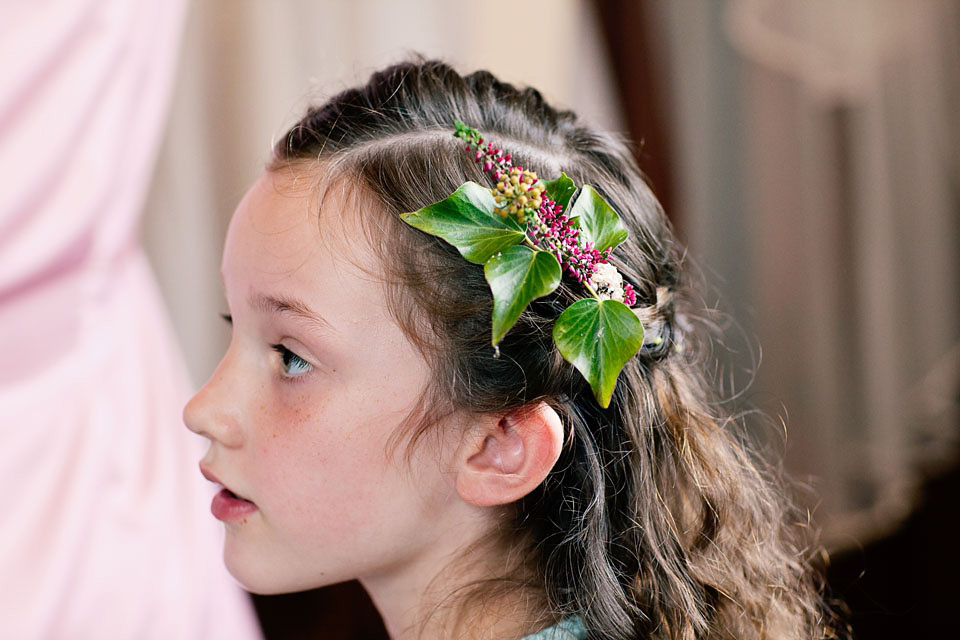 "I didn't have bridesmaids – our 7 year old daughter Ava was  flowergirl.  She wore the Estella Sparkle dress in gold from Monsoon."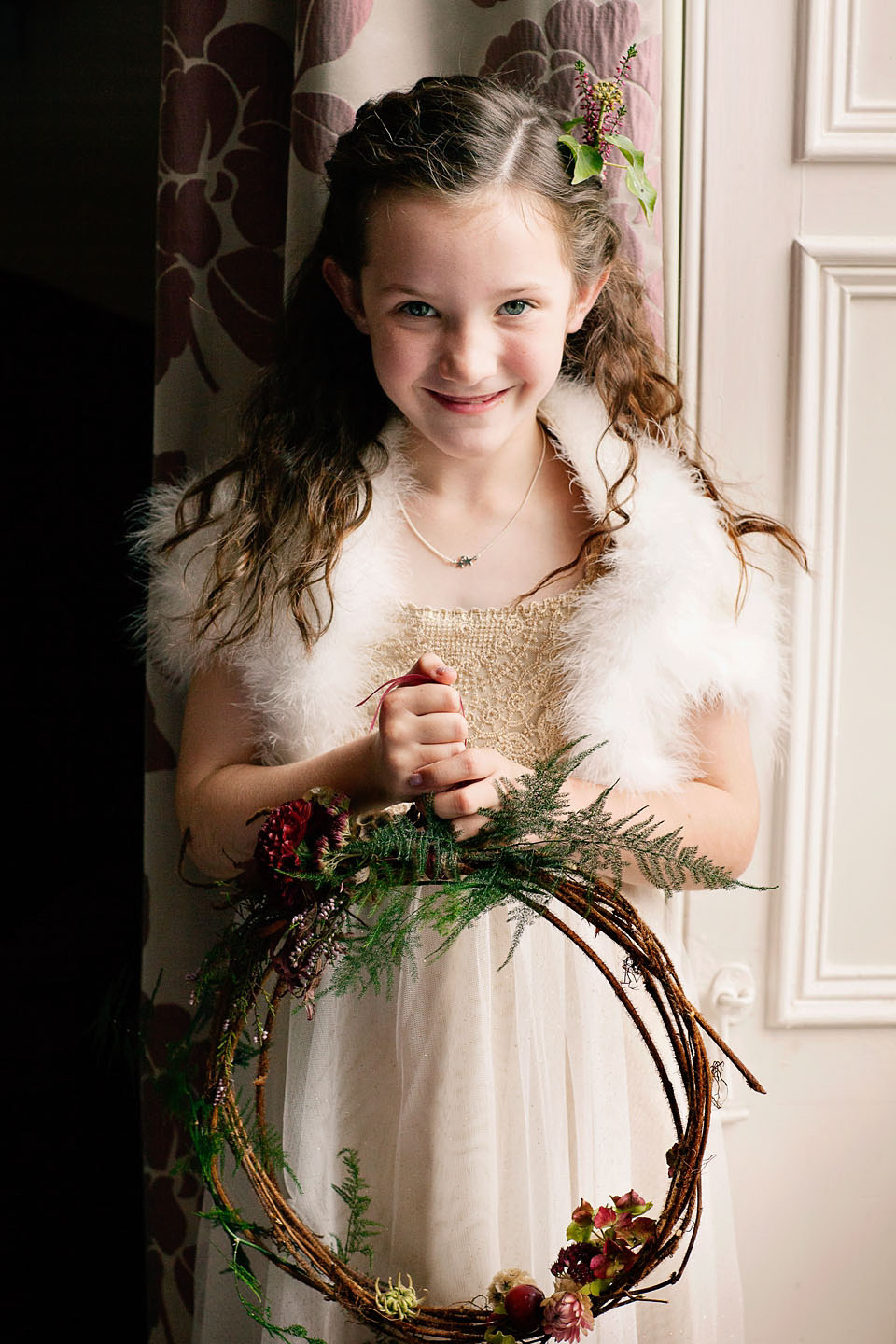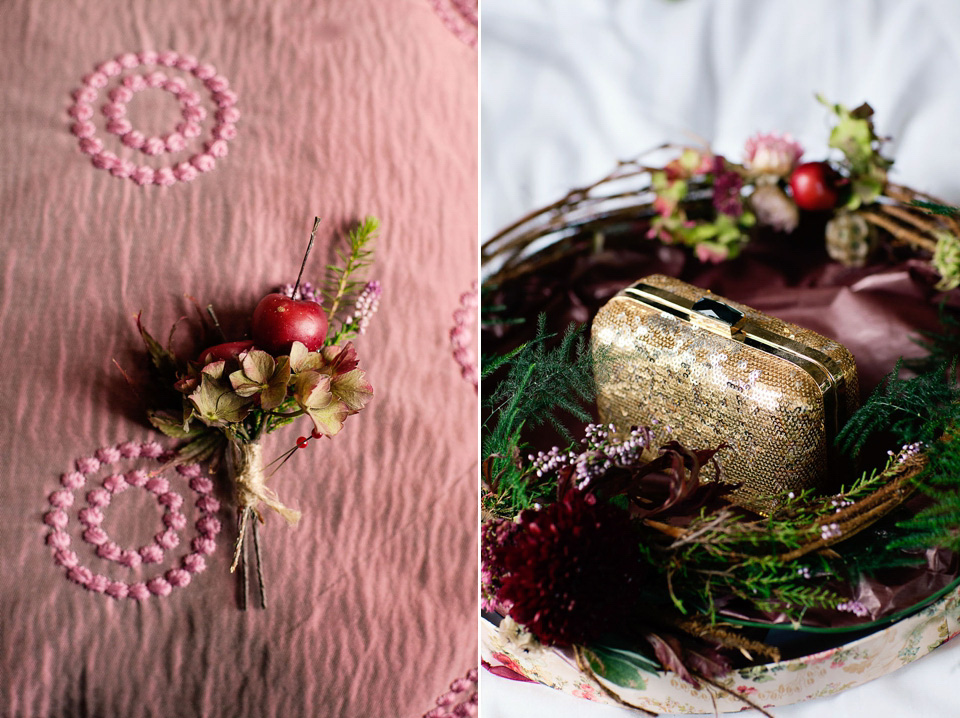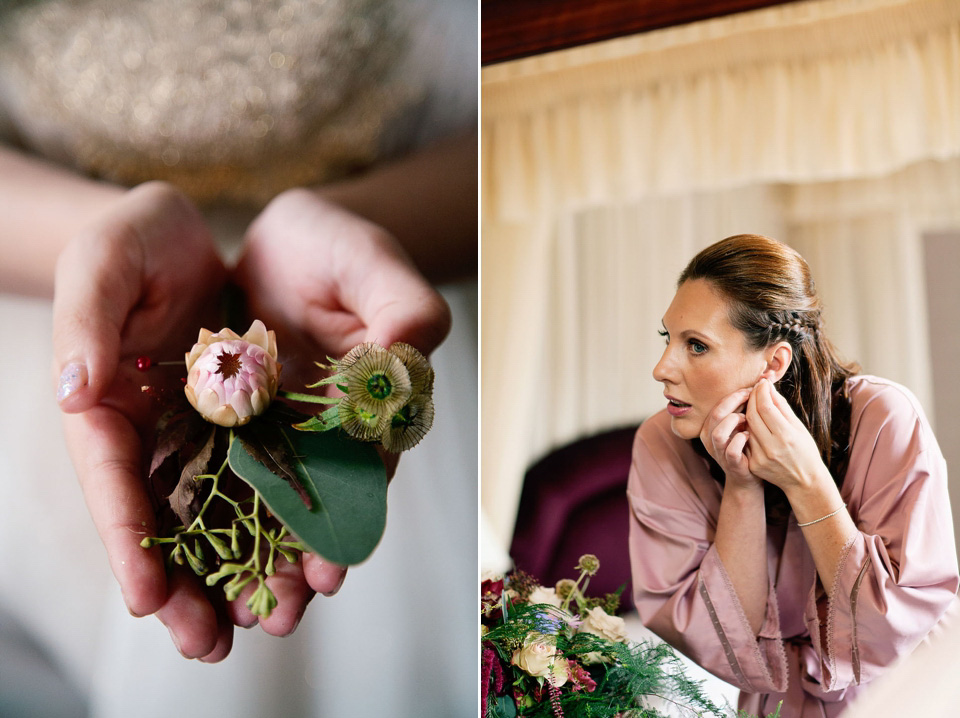 "For perfume, I wore Jo Malone's 'English Pear and Freesia' – freesia was my Grandmas favourite flower and the pear fitted the rustic autumnal theme."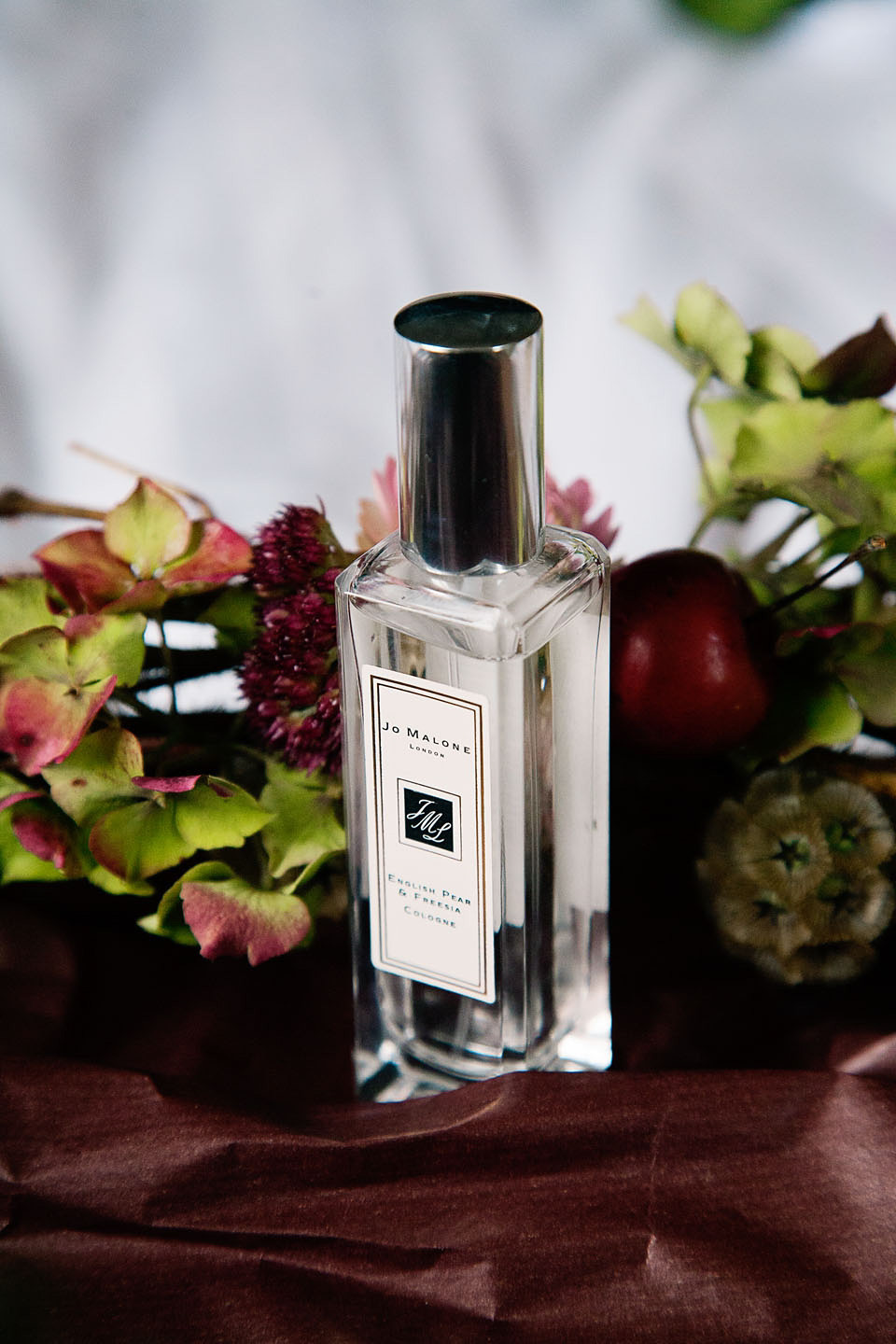 "I also wore pearls by Sarah Hickey Jewels, which were a present from my parents for my 40th birthday two weeks before the wedding."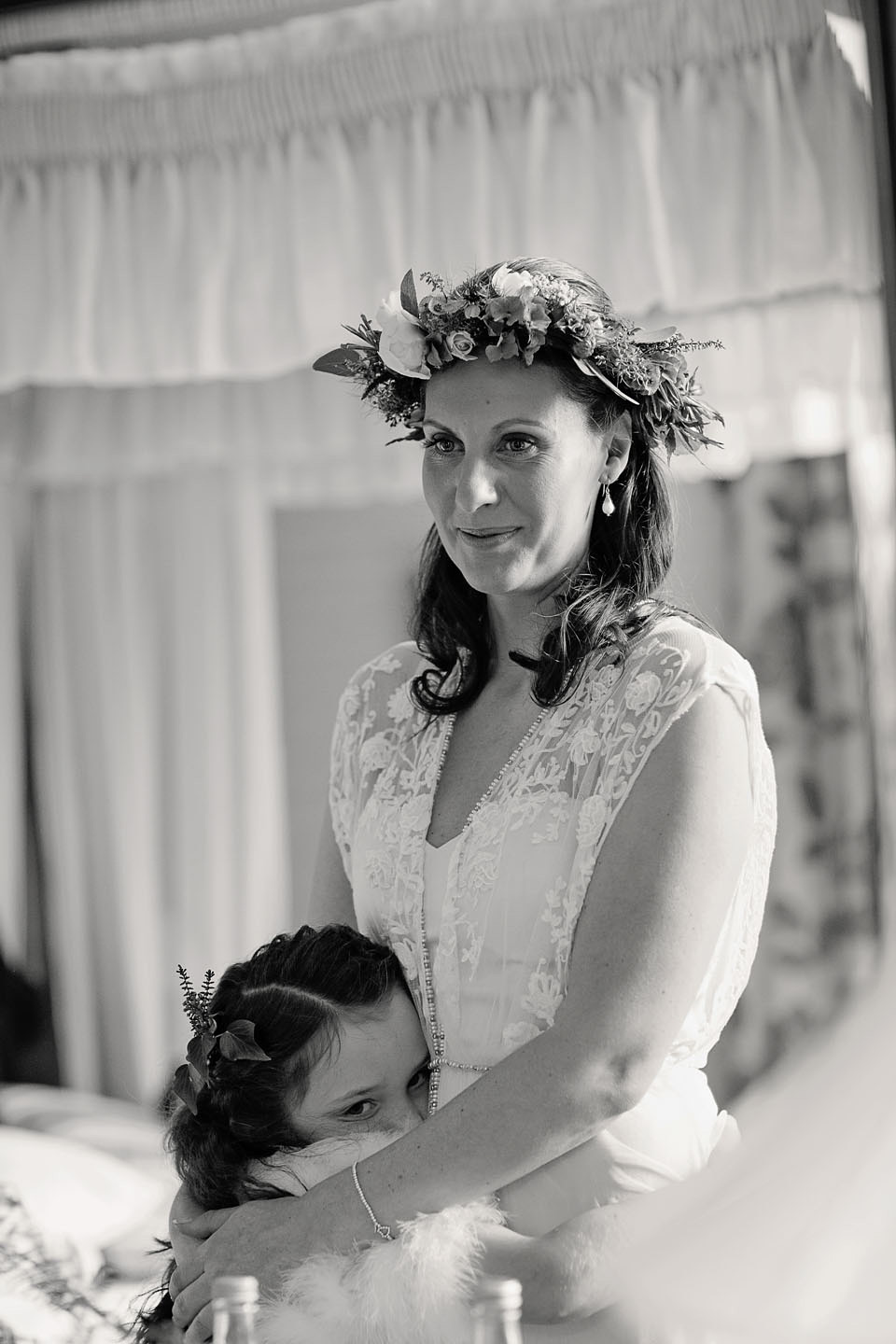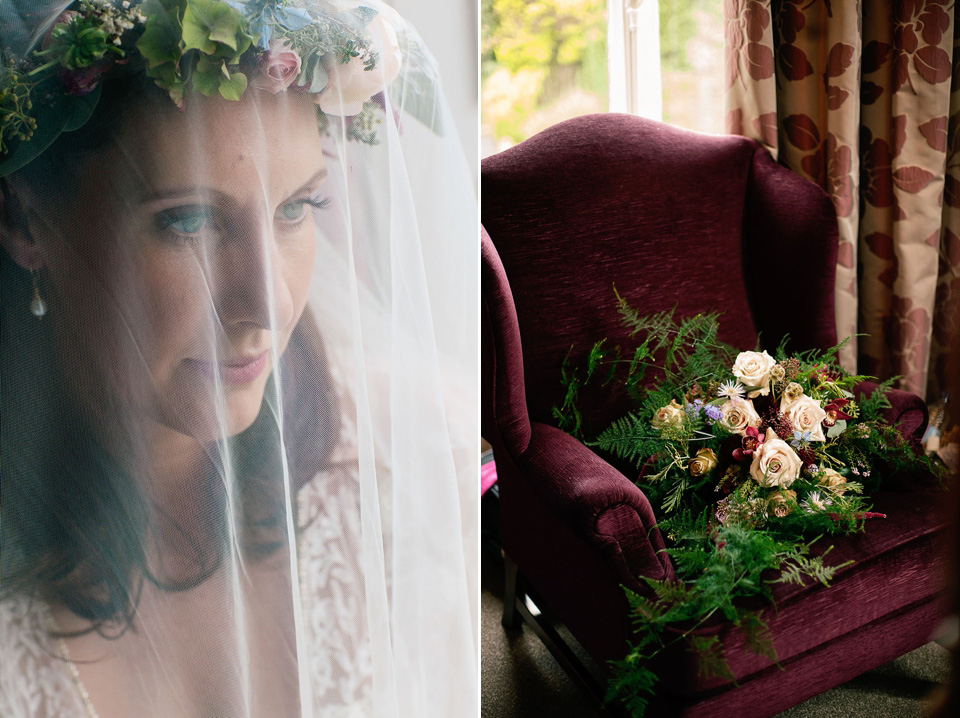 Nina and Paul met at Graham & Brown twelve years ago…
"We got engaged on a snow covered, blue skied Christmas day when our daughter Ava was three."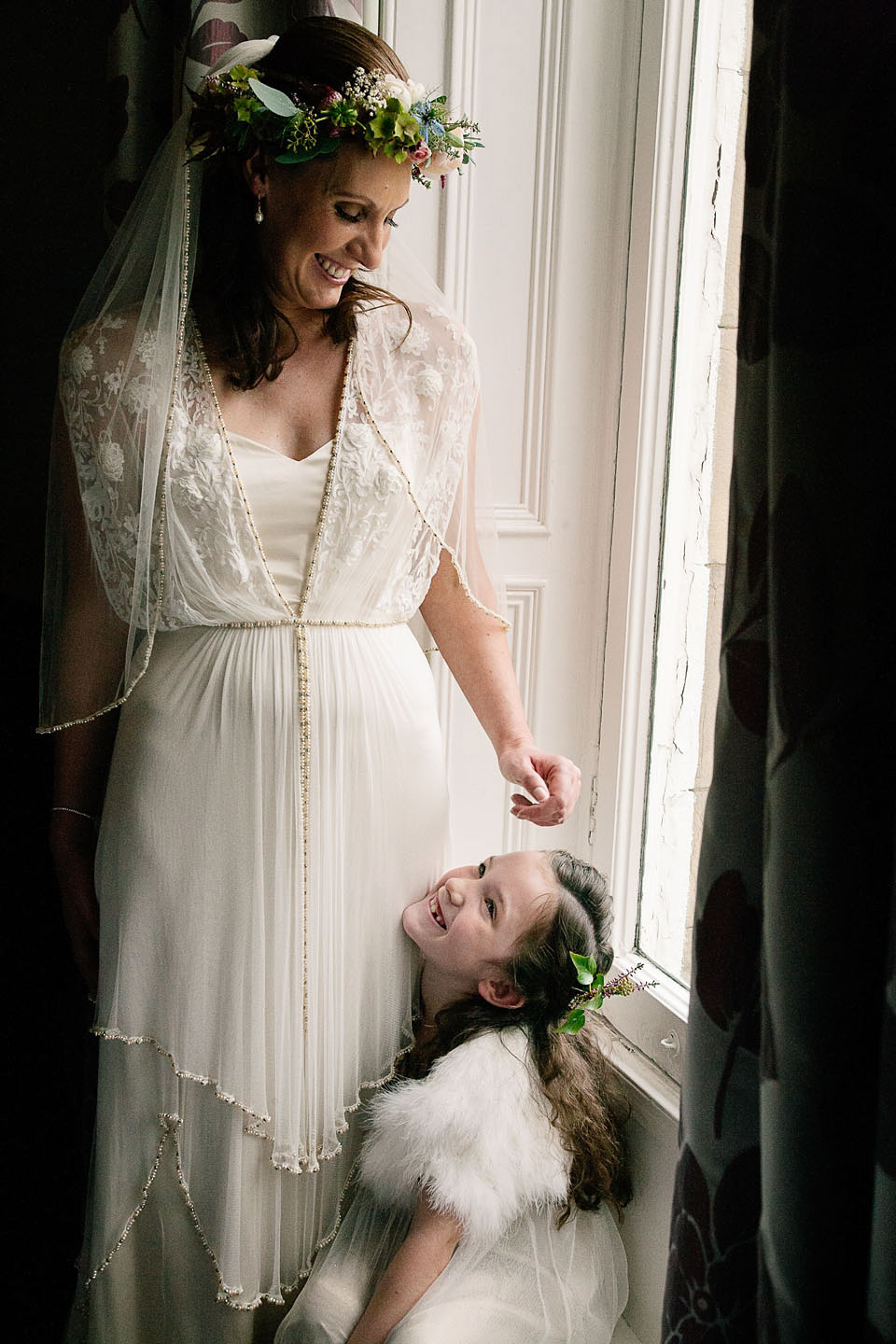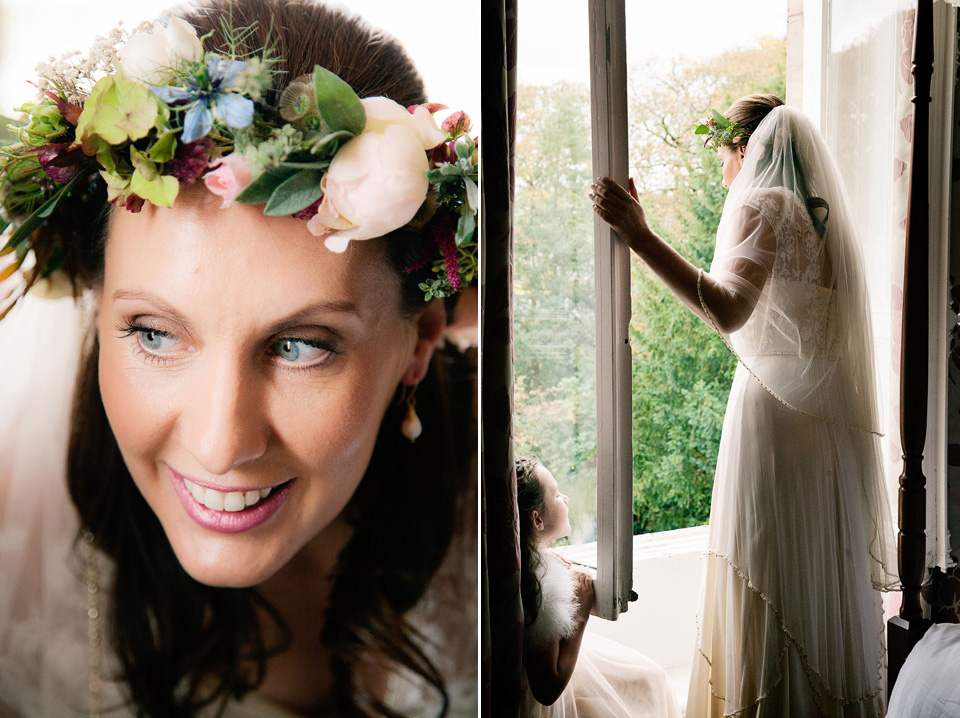 "I designed and handcrafted all our stationery myself. The children helped me make wallpaper confetti in heart,  circle and star shapes in glassine bags from Peach Blossom.
The 'Order of Service' booklets were created from wallpaper using the 'cottage garden' design from Graham & Brown."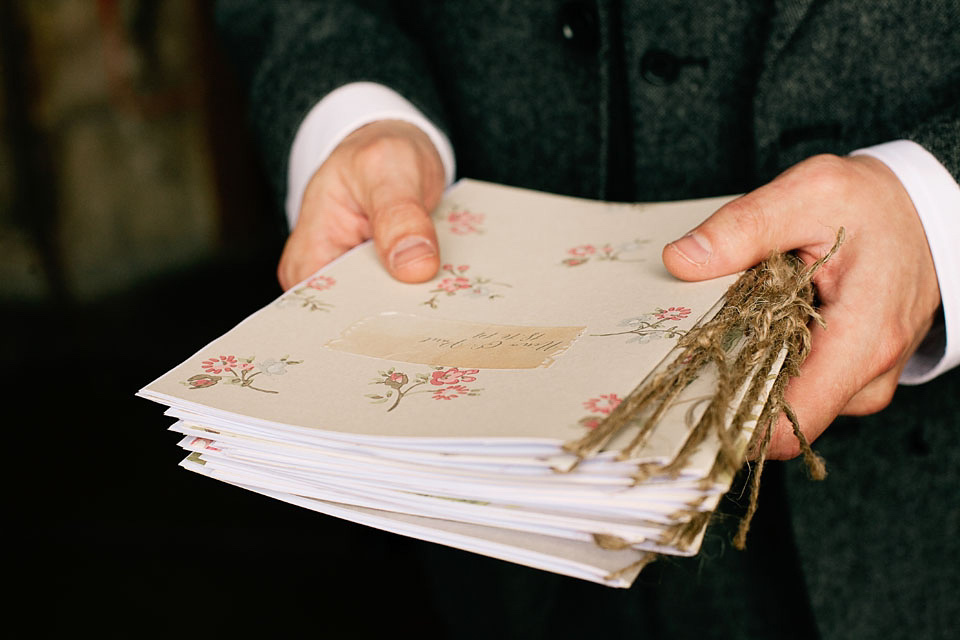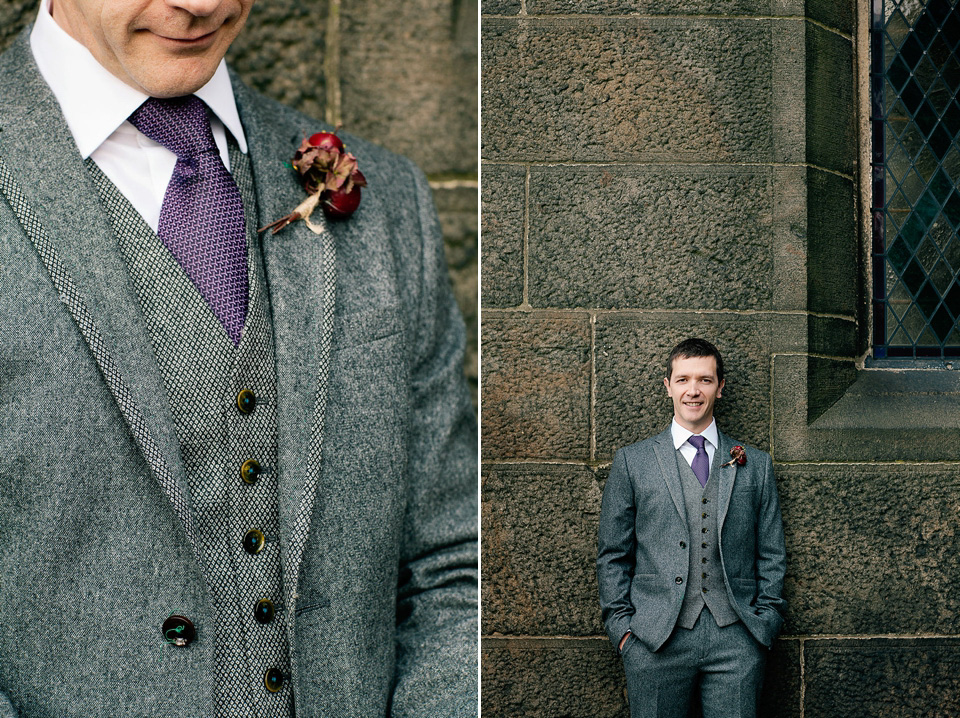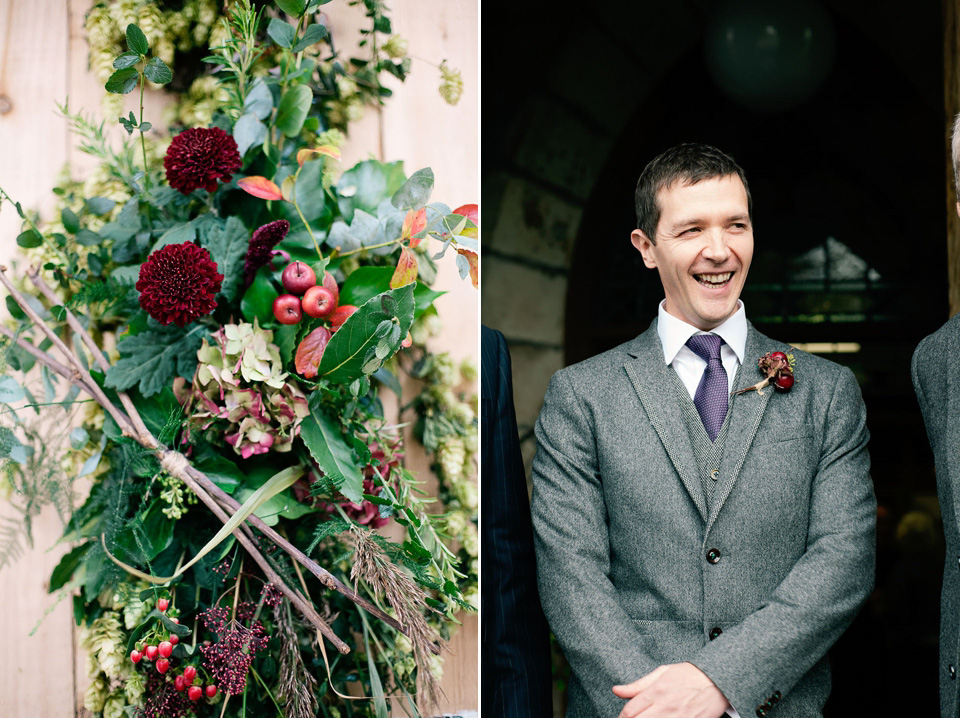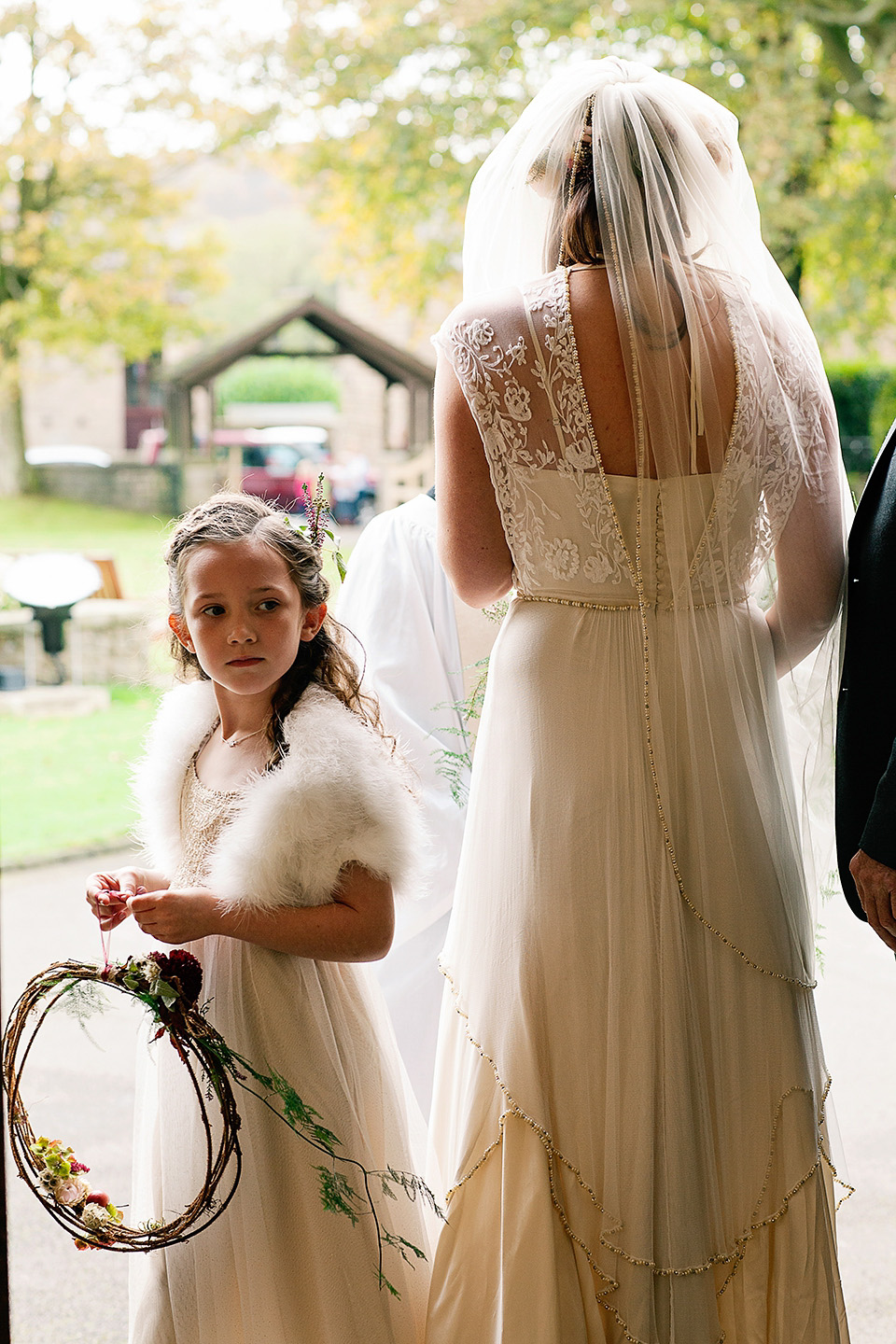 "My dad David walked me down the aisle – it was a very special moment.  We were accompanied by the sound of Debussy's 'Clair de Lune' – this tune reminded us both of the sound Ava and Oscars baby mobile used to make!
Three generations of my family have been married/baptised at St Anne's. The christening alter used to be in my family home The Mission house (chapel)."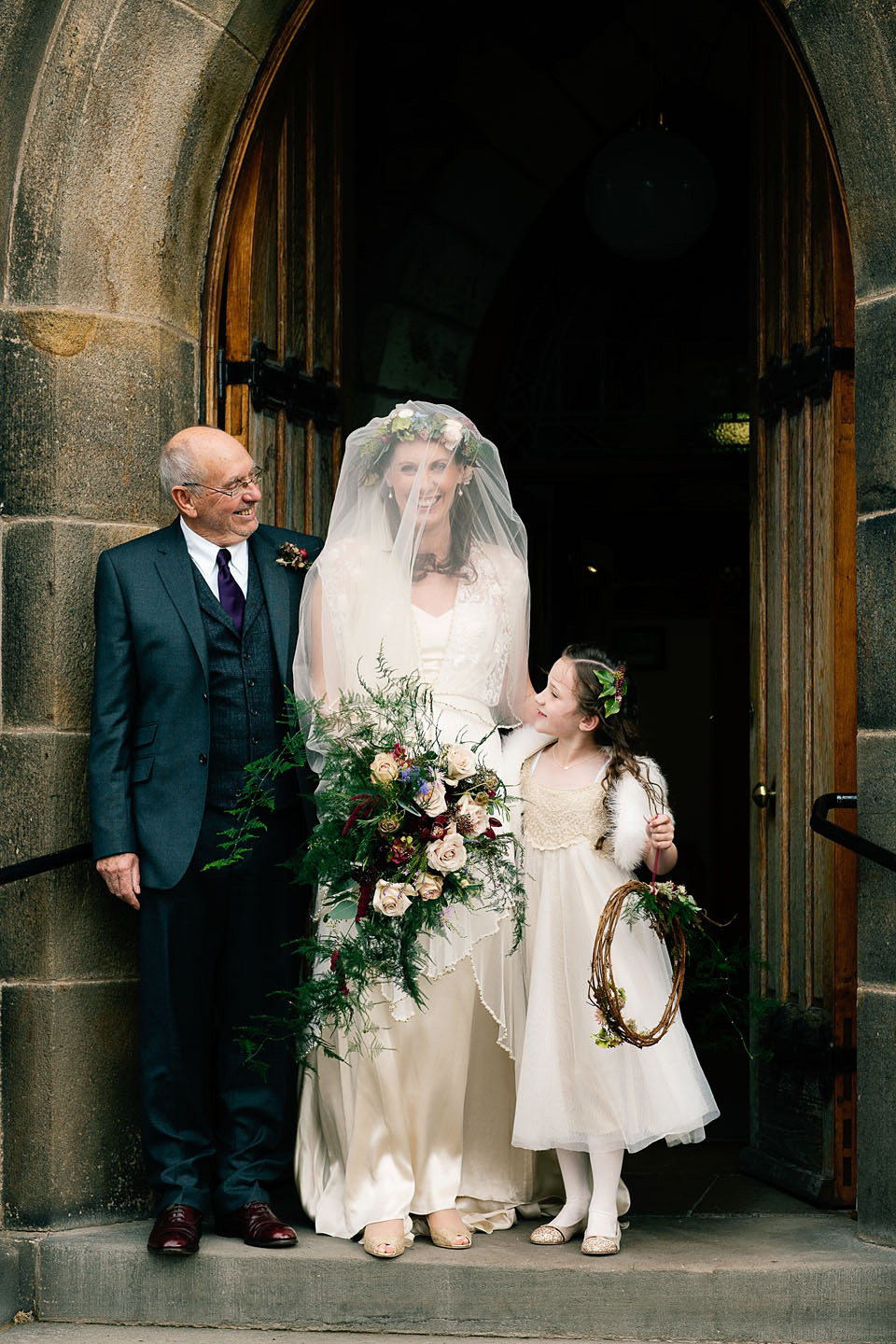 "We had a church of England service – we had children blessed as part of the service which was just perfect -they were with us throughout the service the majority of the time.  Oscar actually spent most of that time sat under my dress – which was very amusing to all!
Paul and I spent hours deciding on the music for our wedding – we had quite a few meetings with our church who were fantastic letting us have music that was special to us both.
Paul choose all the prelude music for our ceremony, which included 'Rhubarb' and 'Lichen' by The Aphex Twins, 'Slow Moves' and 'Love Stain' by Jose Gonzalez, 'Peacock Tail' and 'Everything You Do is a Balloon', by Boards of Canada.
For the ceremony itself, our daughter Ava chose the hymns, which included 'One more step along the world I go' and 'Give me joy in my heart'. For the signing of the register, a choir sang 'We pledge to one another' and we also had Canon in D played as an instrumental. Finally, for the recessional, we had Pharrell Williams's 'Because I'm Happy' song. The kids loved this and we didn't put it in the Order of service so it was a complete surprise for everyone!"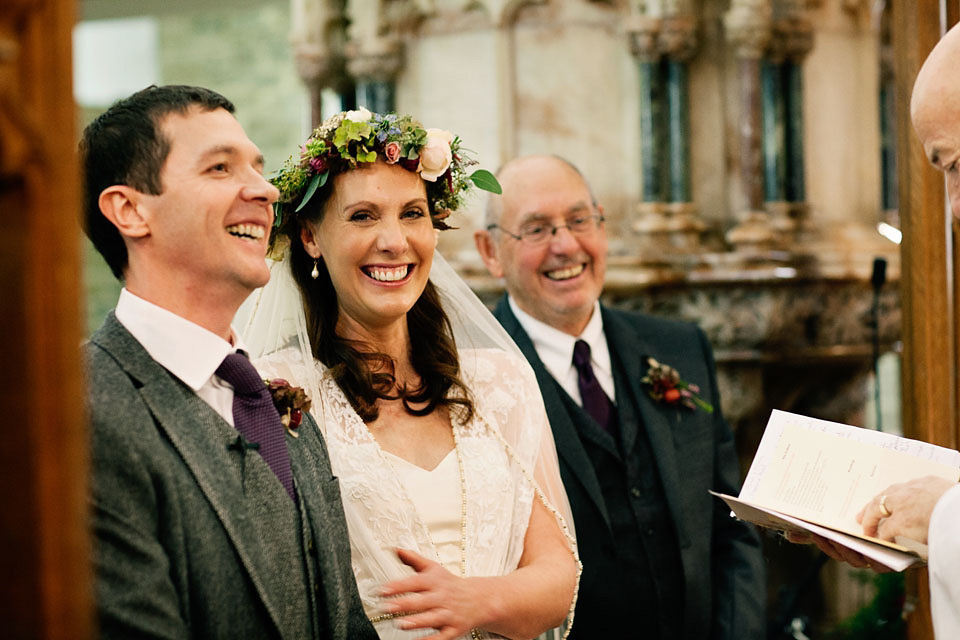 "Our readings included 'Colossians chapter 3 Verses 12-17' and 'Lovely Dinosaur Story', by Edward Monkton, which is perfect for the children and just utterly fabulous as we are both in our 40s and loved the 'growing old' bit.  
We also had 'I promise you', by Bobette Bryan which is such a beautifully written piece.   I was originally going to read this out myself, but my Cousin Sammy did a wonderful job.  It was read out during the prayers at the end of the service."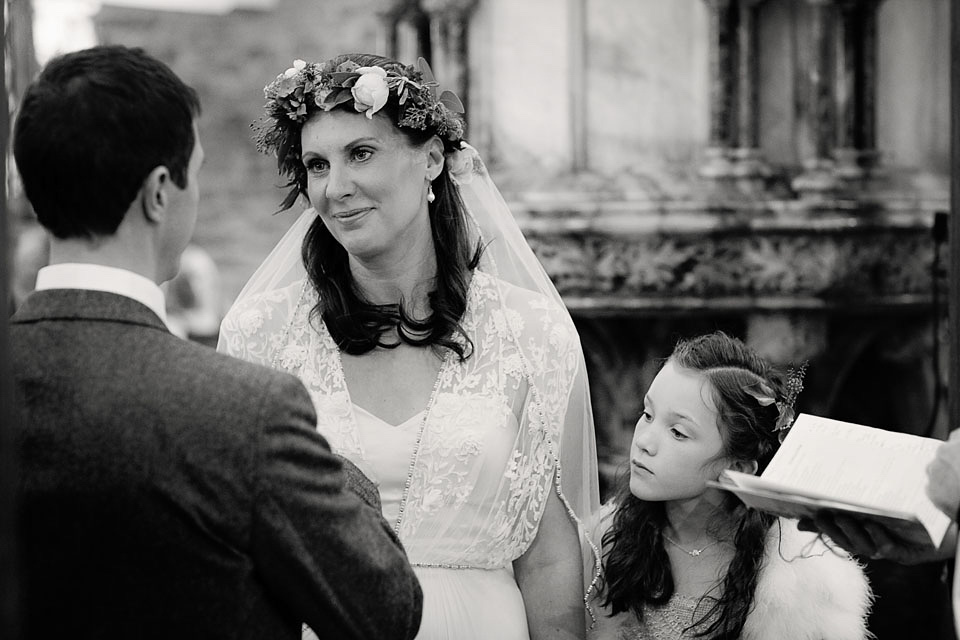 "Our rings were handcrafted by Kirsty Stewart – I have photos of the entire creative process.  I met Kirsty at the New Designers London Graduate Show."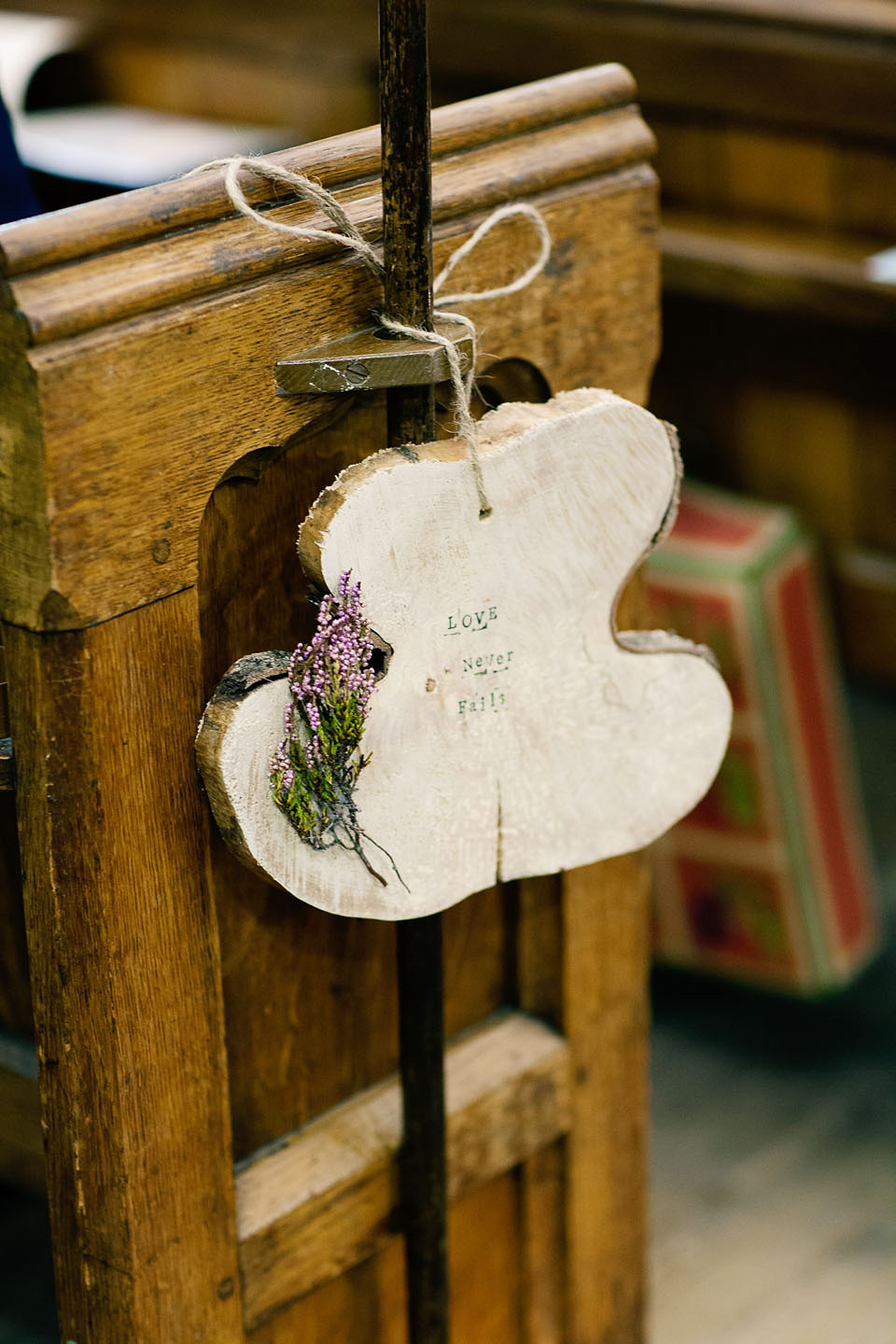 "The service and the four of us being together throughout the entire service was my favourite part of the whole day. During our vows, it felt like we were in a bubble of our own – and looking back at the film and photographs, Ava and Oscar were so close throughout everything – it was all just perfect."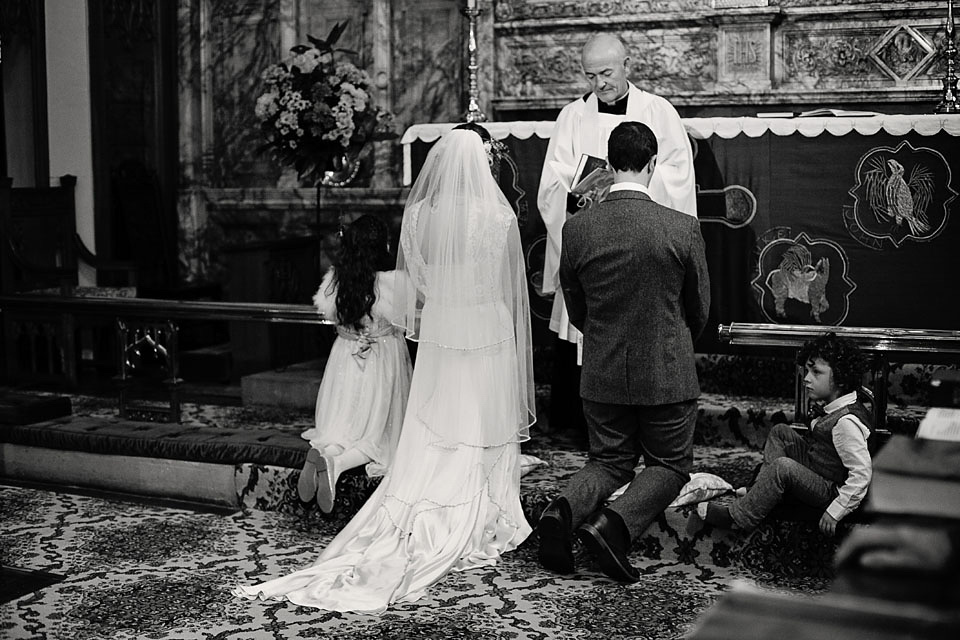 "Our 3 year old Son Oscar wore a Next waistcoat and trousers and a bow tie by Baker Boys.  He also wore a pair of Grey Converse pumps."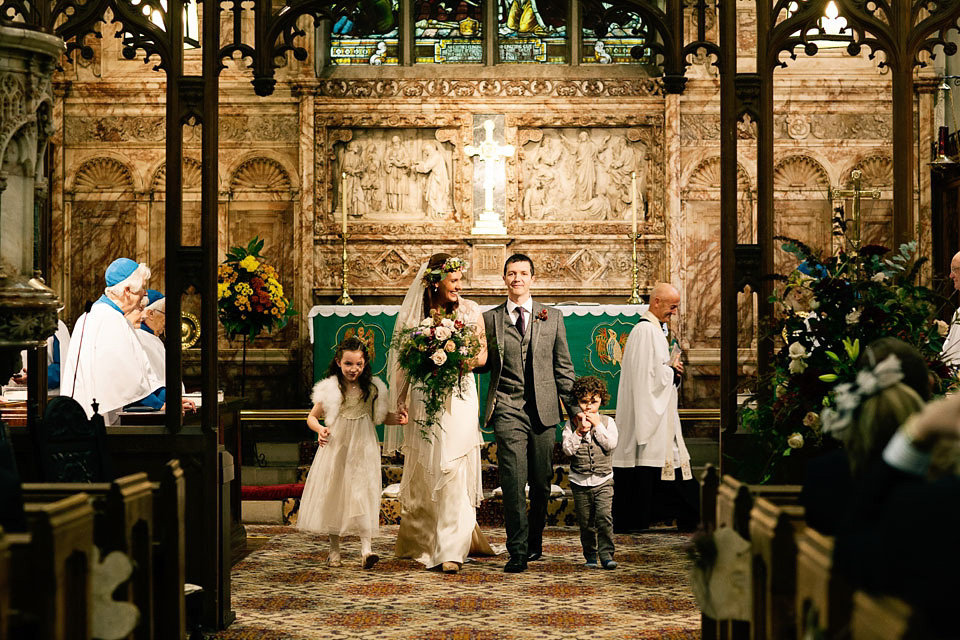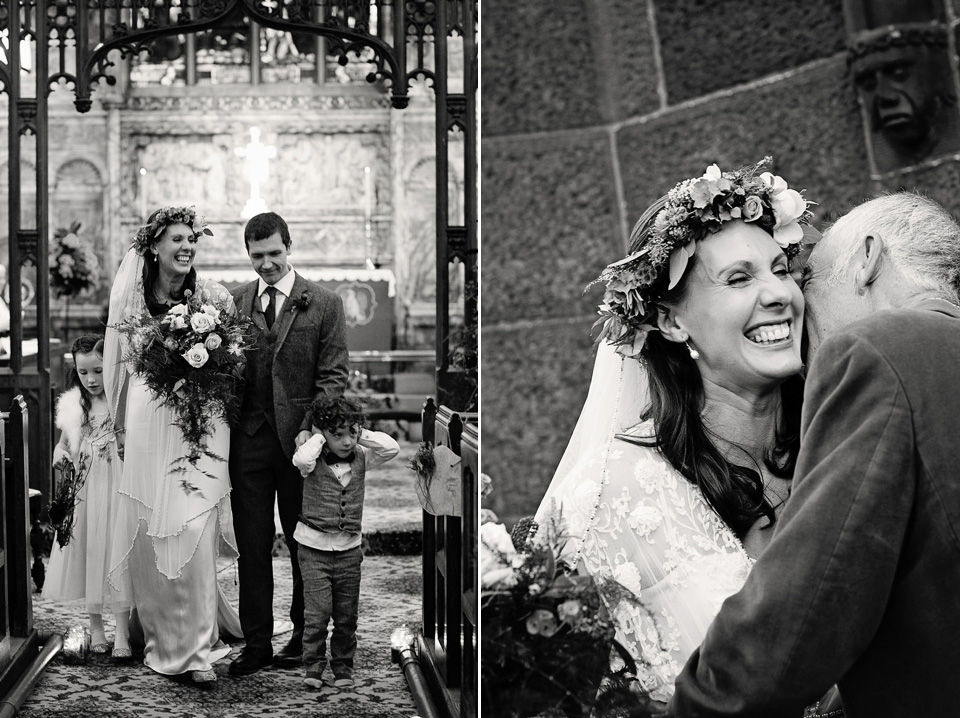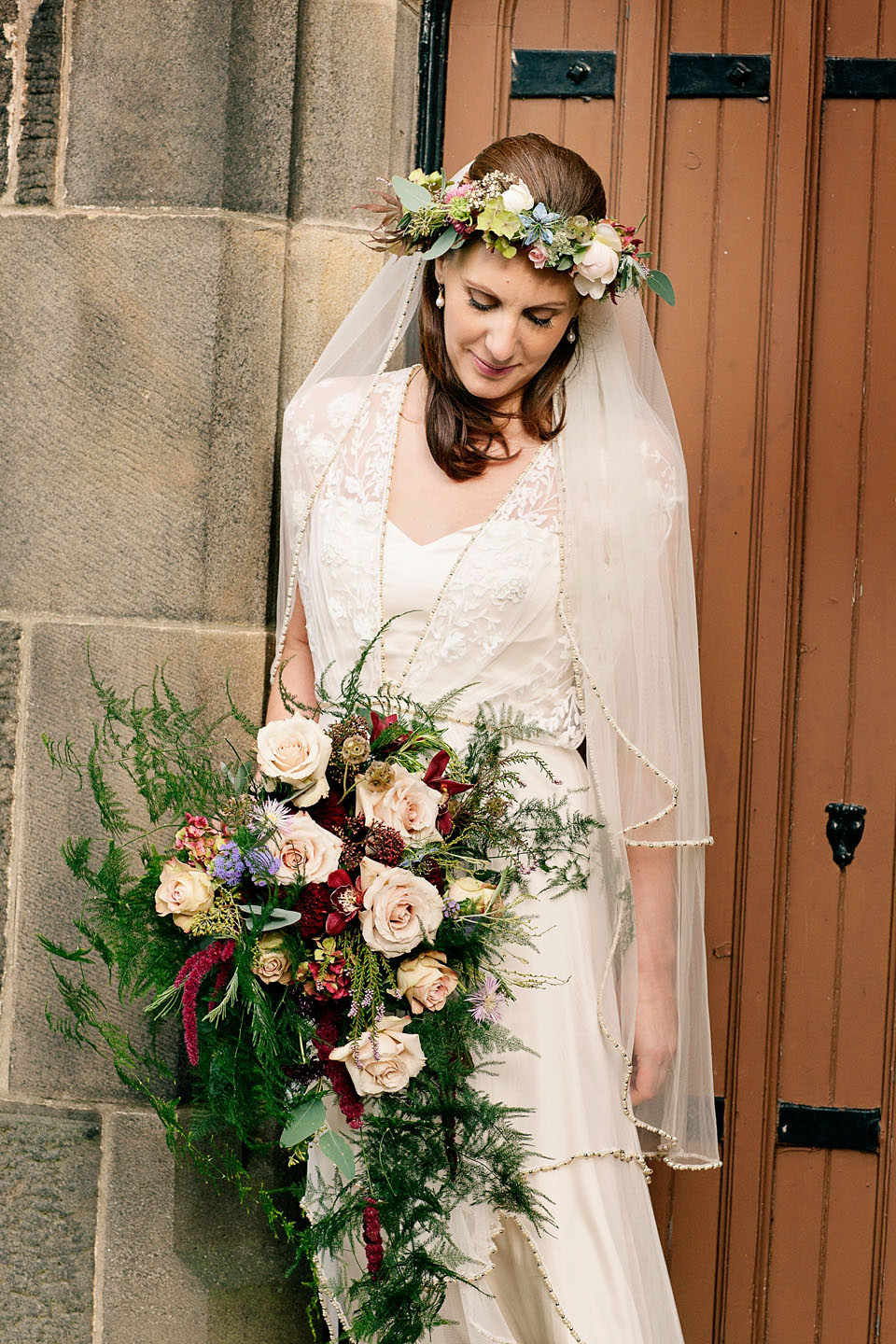 "We had a Brownie and Rainbow Guard of Honour after the service, which was so very special."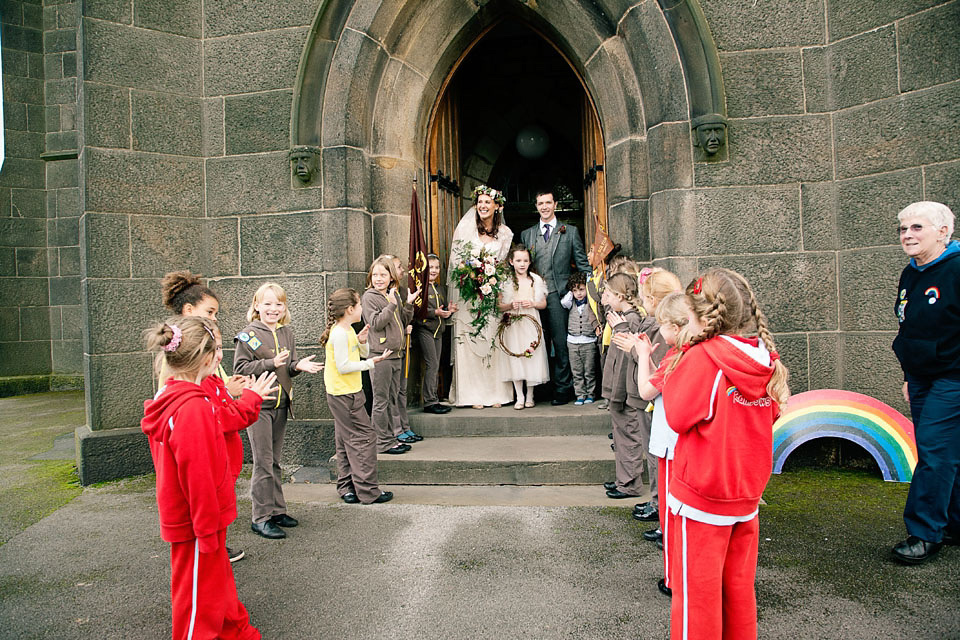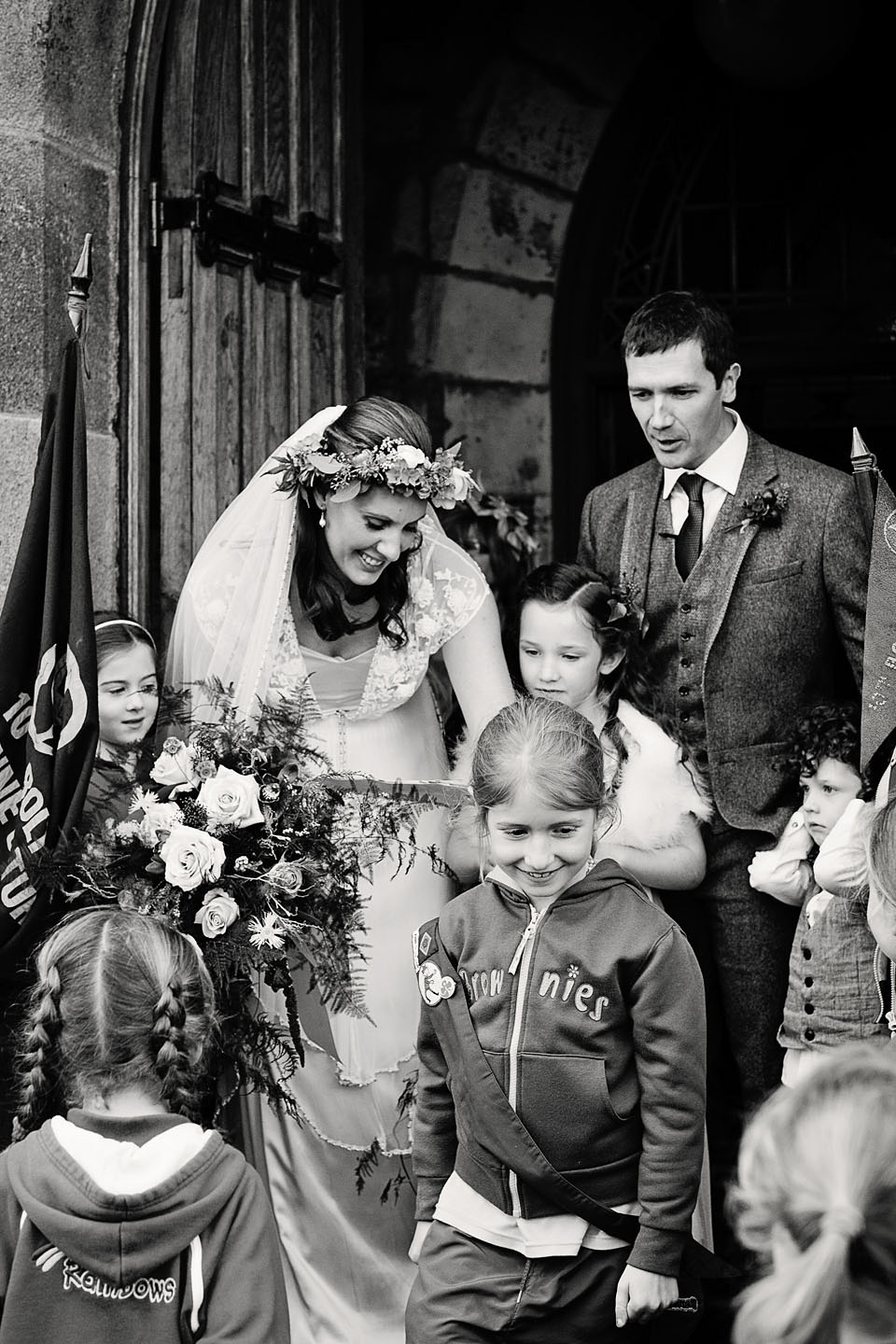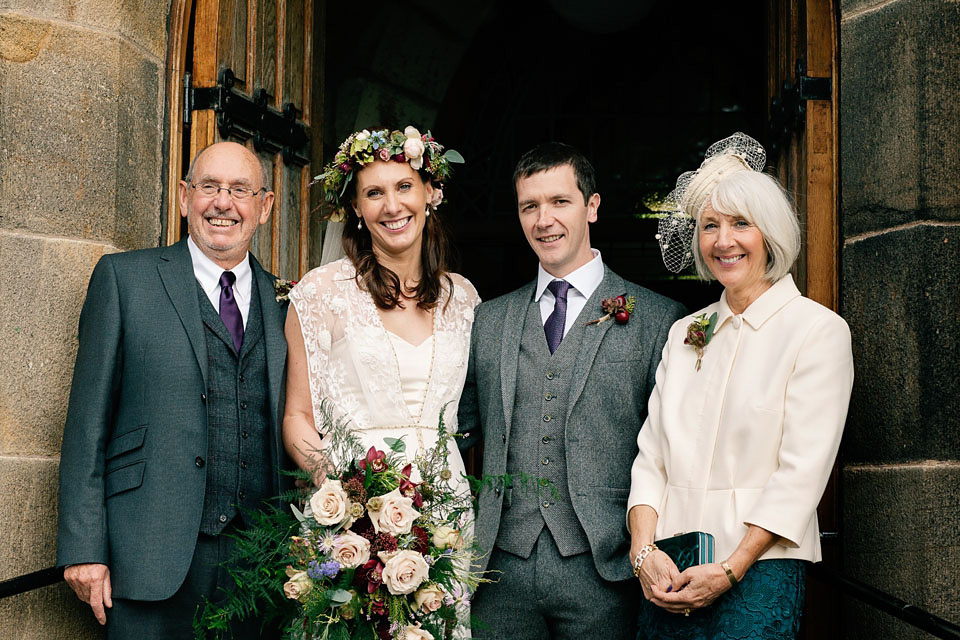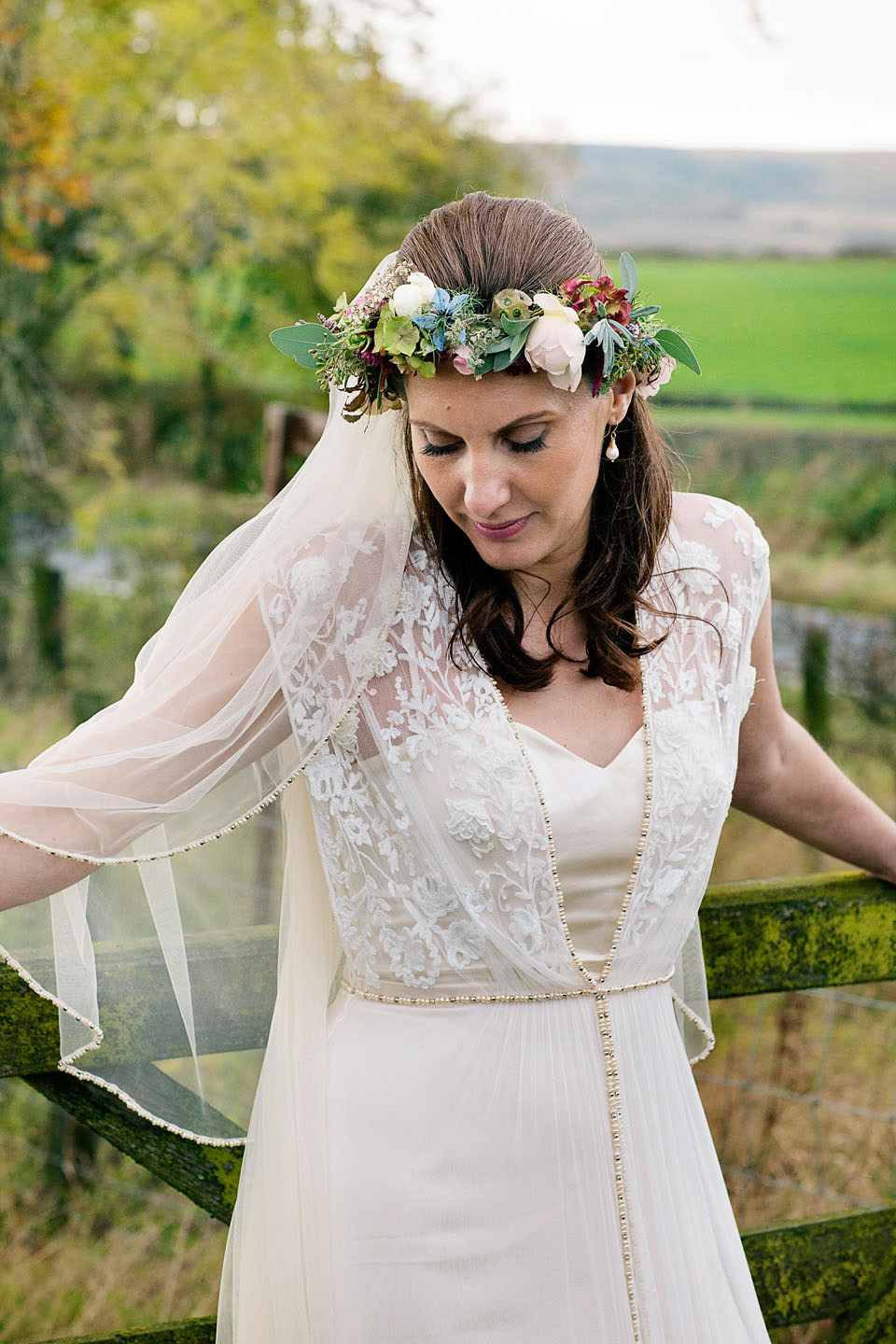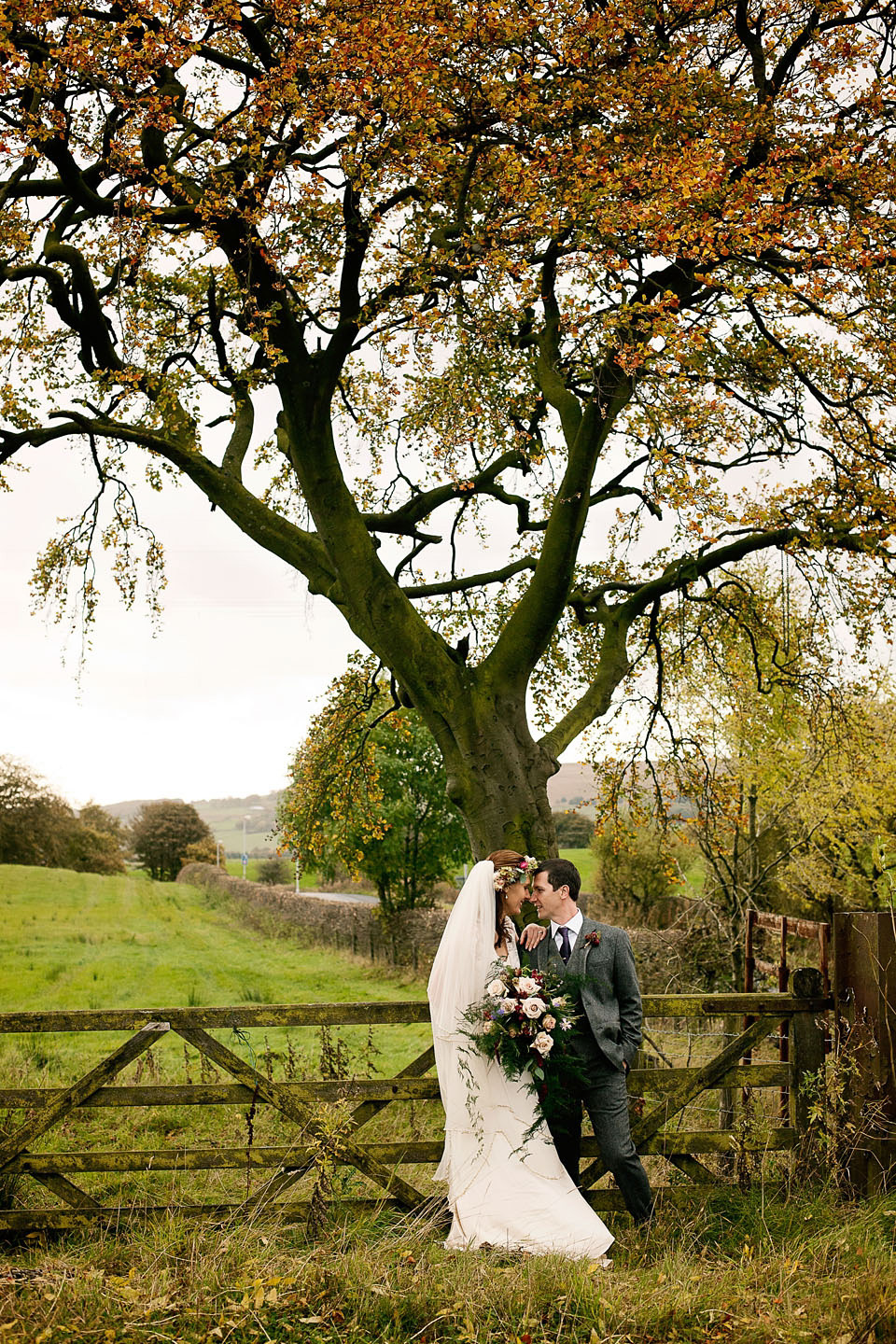 "I changed our reception venue eight weeks before the big day so I had my theme I just had to tweak it due to the venues being very different. I like a bit of pressure and working to tight deadlines so I enjoyed the challenge!   On my wedding day I felt relaxed and happy knowing that Celia and her fabulous team had everything in hand and I couldn't do anymore only to enjoy my day. We were able to stock the bar with local favourite's Flat cap from Bank Top Brewery in Bolton and Freddie's fruit lager. We also created welcome drinks and bride and groom signature drinks all in keeping with the theme.
In the evening, the tented ceiling came alive with hundreds of magical fairy lights. We had a fire pit outside with guests seated around on straws bales our guests loved this. The views from the barn are stunning overlooking the village of Edgworth and beyond. We had sole use of the farm so as a mother and also a bride you feel happy and relaxed knowing they are safe and happy the children loved the animals."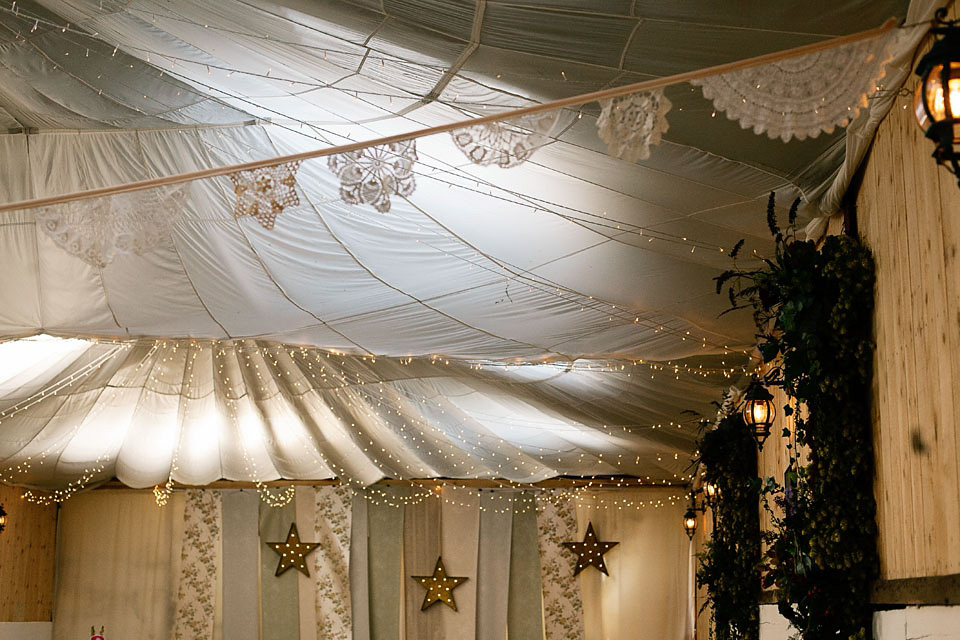 The decor was mostly rustic and natural with a touch of glamour and elegance thrown in for good measure. I also love how child friendly the couple made their day….
"We have a farm in the family on the North Pennine moors, and my Uncle has a wood business, 'Edgworth Logs'.  He has branched out into styling 'rustic inspired' weddings, so I foraged around the farm with the children at the weekends to collect branches, log slices, moss and dried hedgerow material.  We had handwritten signs, glitter dipped feather garlands, wallpaper lengths hung down as a backdrops with large LED star lights (also from G&B), foraged pheasant feathers and hedgerow material, hand stamped wood slices and a foraged wish tree."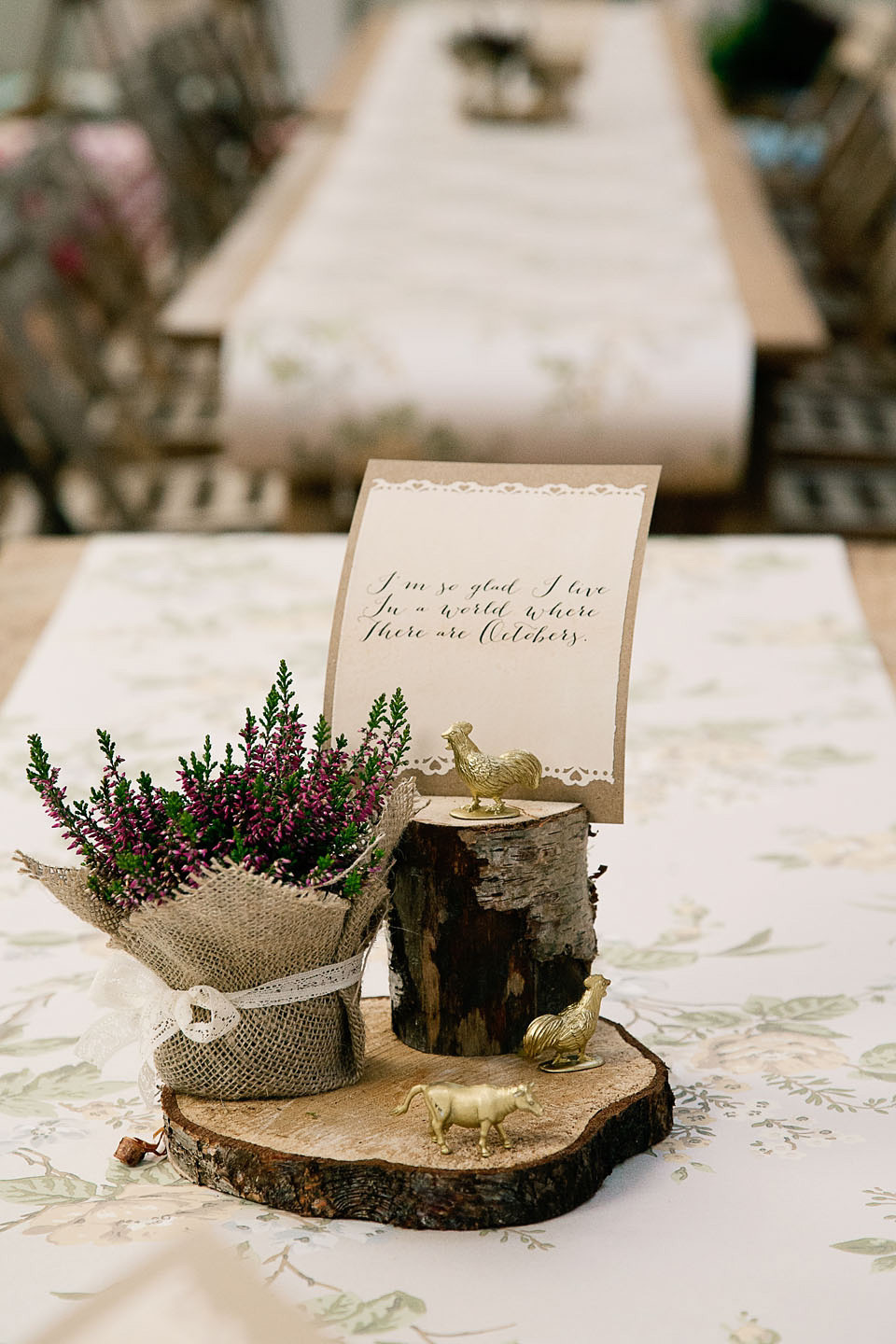 "On the tables, we had lengths of wallpaper with wooden slices, potted heathers, and farm animals sprayed in gold, including little pigs and hens (my grandfather was a farmer),  favourite quotes and glass jars filled with moss and battery operated fairy lights (taking in to accoun tthe 'no naked flame' policy of the farm).   There were so many more little details that I crafted and foraged for for weeks – I loved every second of it."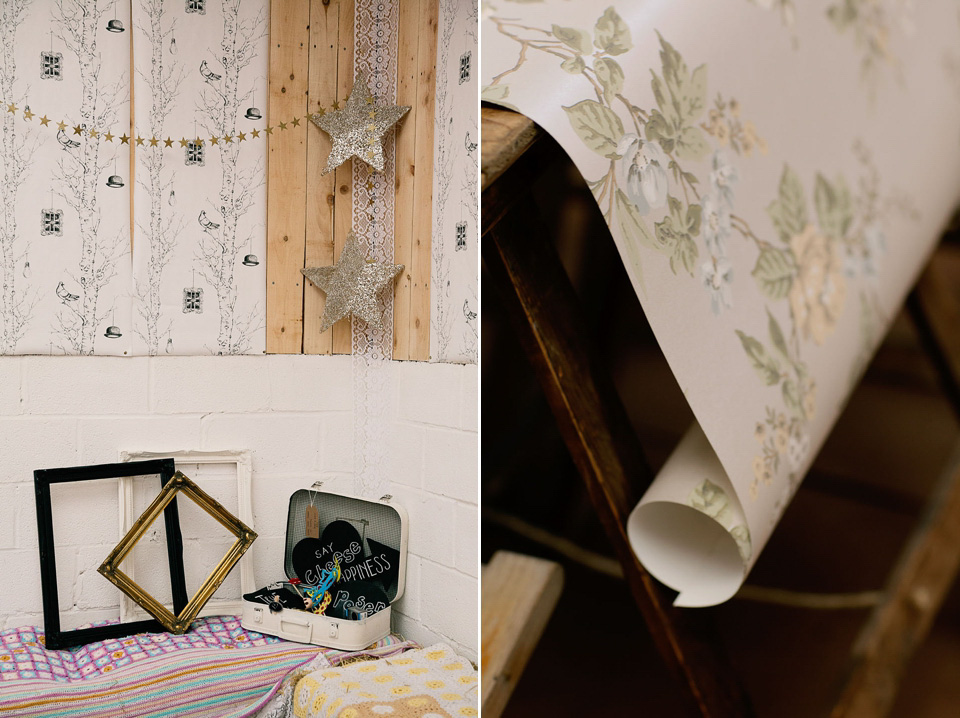 "Special thanks to Sara the wedding planner, Celia's nearest and dearest and Michael and his team for delivering an amazing feast, I highly recommend 'Whiteheads' sausages a must for the kids! Having your wedding reception at The Wellbeing Farm gives you the freedom to create your perfect day whilst being supported by an exceptional team all dedicated to making everything utterly enjoyable both for you and your guests.  I just wish I could do it all over again."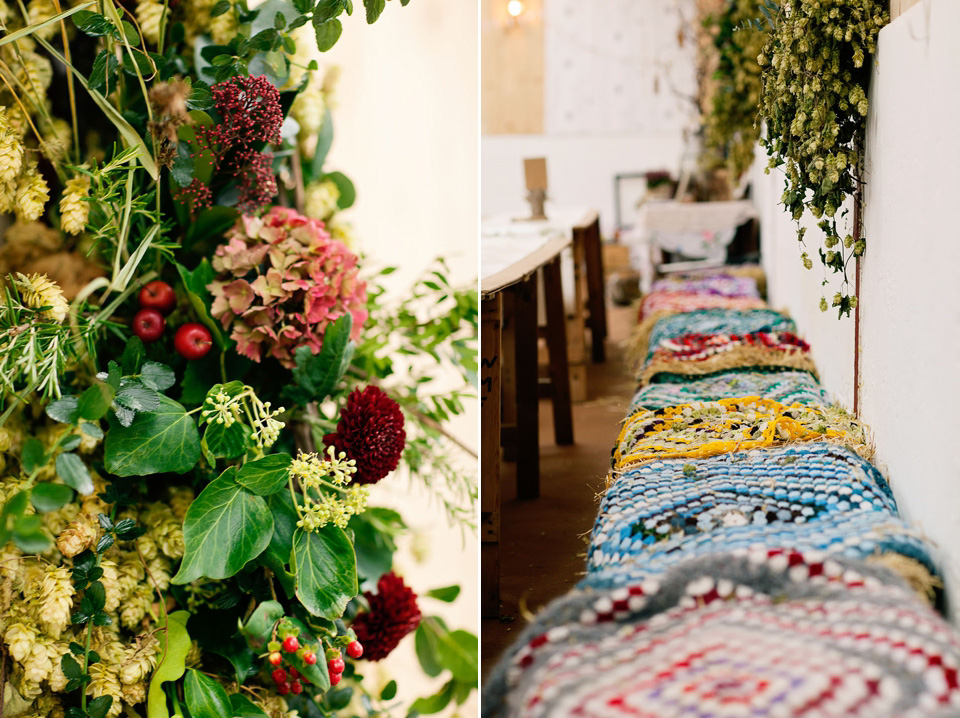 "I dreamt of straw bales to sit on with hand crochet blankets, hand dipped glitter feathers hanging from the ceiling, long trestle tables covered in wallpaper (I'm a wallpaper designer), apple bobbing live music, and a celebration like no other we got our wish. Many venues you can only get into the day before or the morning of your wedding I had time to transform the barn with my friends into the wedding of my dreams.
This allows you to focus on the main event on the day, your wedding vows to each other and being surrounded by all your favourite people in the world."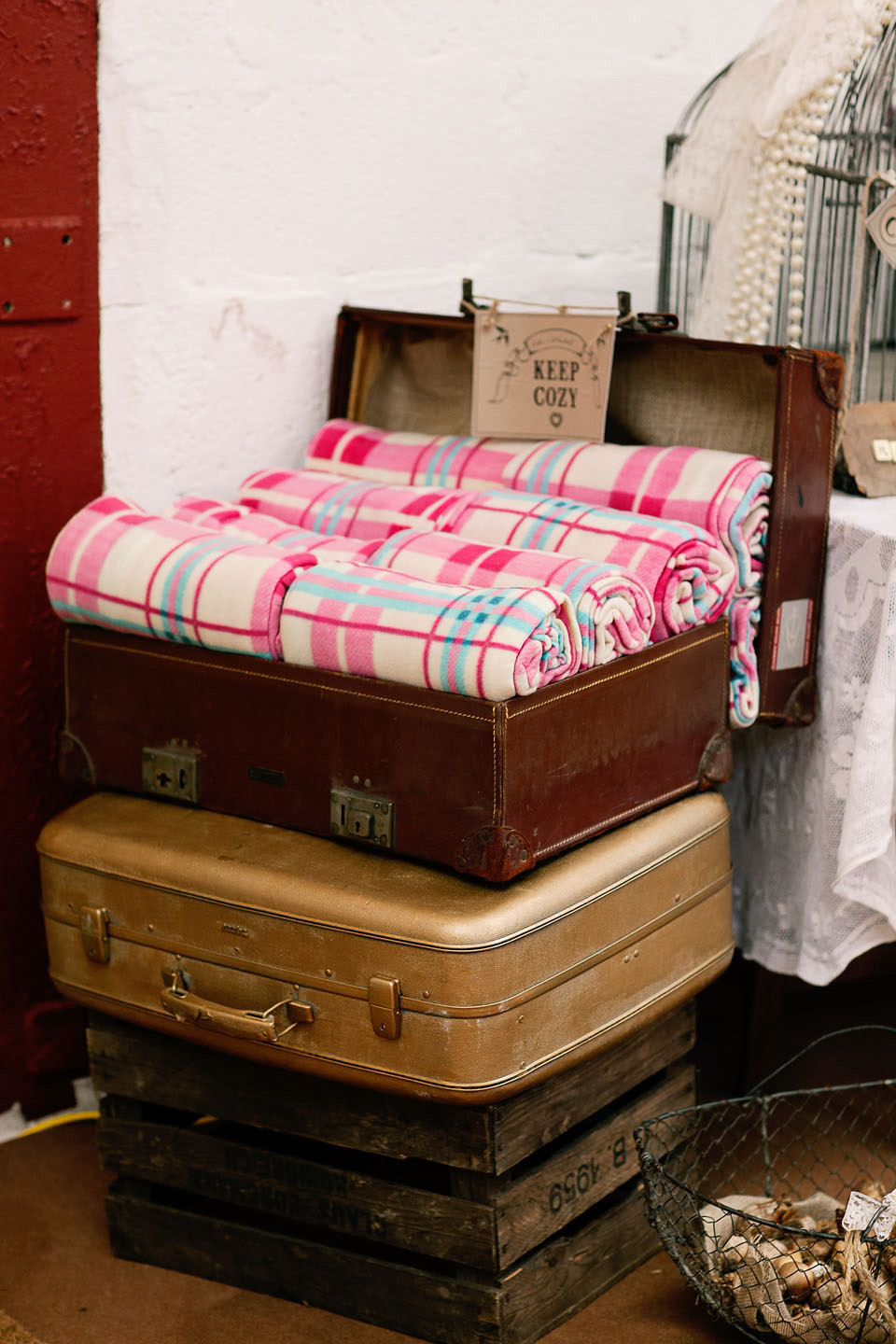 "The top table was the kids table dressed with frames wallpaper by Graham & Brown.  There were crayons in jars and sprayed gold farm animals,  picnic baskets filled with goodies (sweets, I-spy games etc) and later, the children had a piñata donkey (sprayed gold) filled with goodies and bobbing apples in a huge galvanised bucket."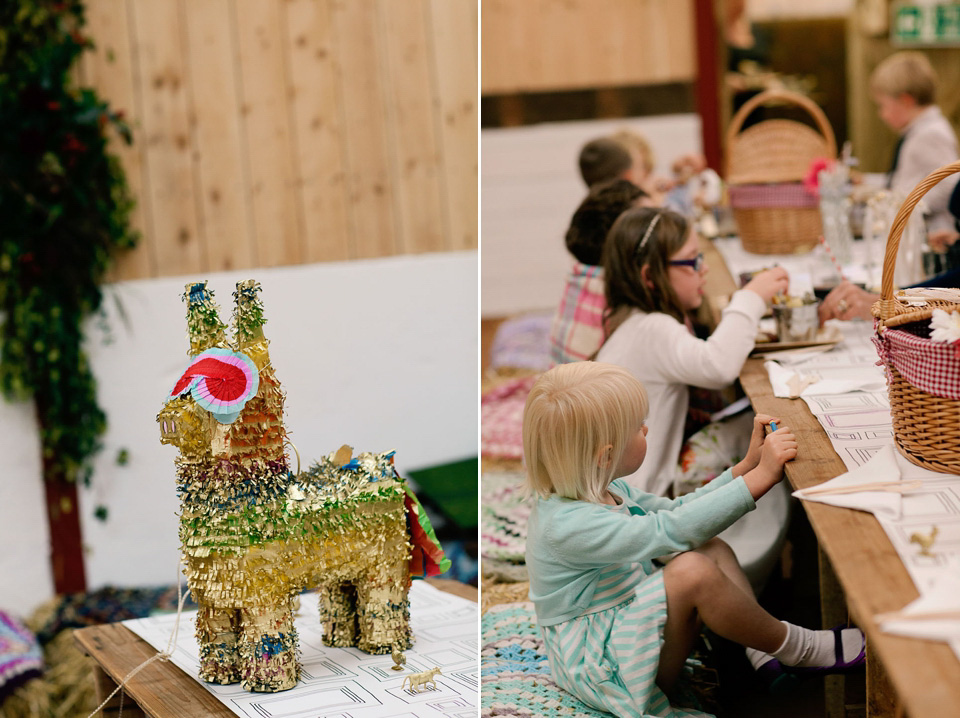 "I grew herbs over the summer in little pots, with quotes on sticks like 'love grows'.  Our florist, Angela Coulton of Petal & Twig, dressed the barn with lots of seasonal materials, including dried hop garlands, ivy, bay, crab apples, chrysants and berries to create huge swags to decorate the walls We decided to do this rather than have table arrangements as the trestle tables were quite narrow."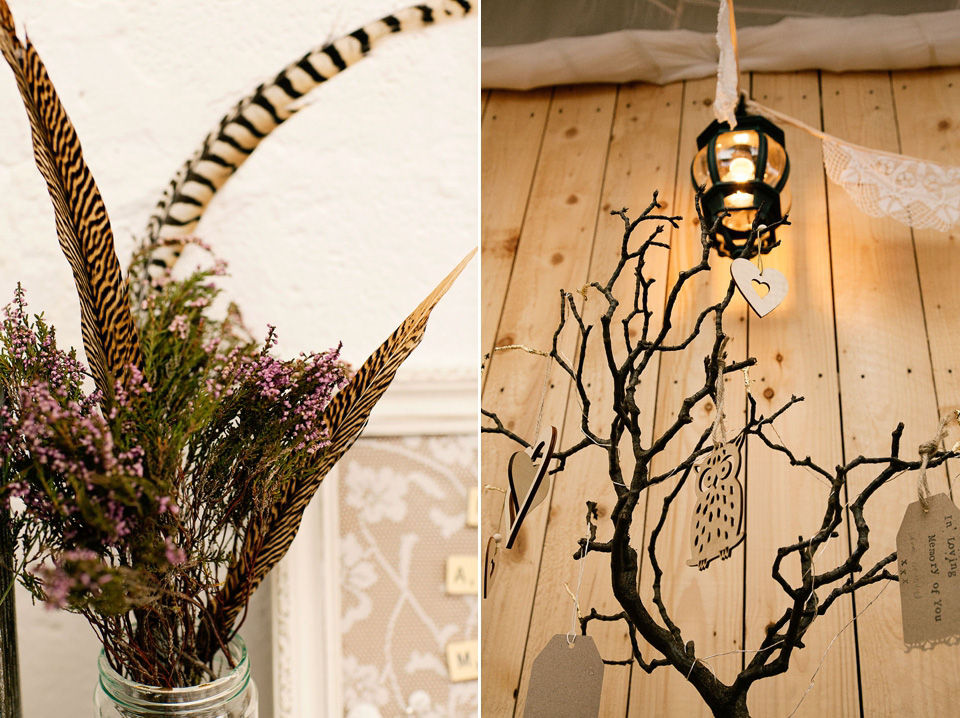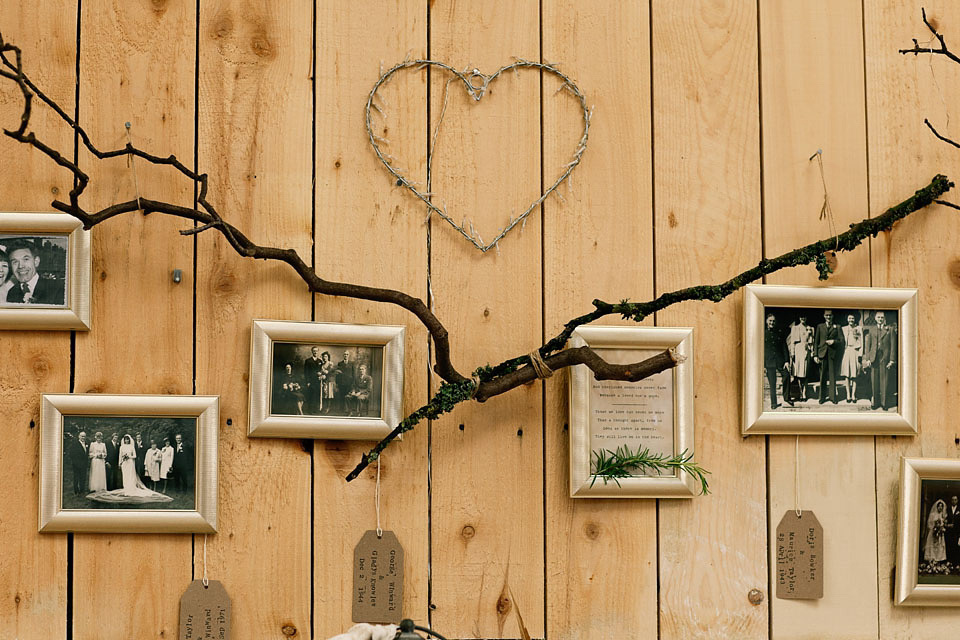 "I held a raffle after the speeches everyone had two raffle tickets attached to a little note printed on handmade paper. We gave away a bottle of pink champagne and two books 'A lovely love story' by Edward Monkton – it was one of our three readings read out in church – we also made a cash donation to Bury Hospice in memory of Paul's dad Stephen."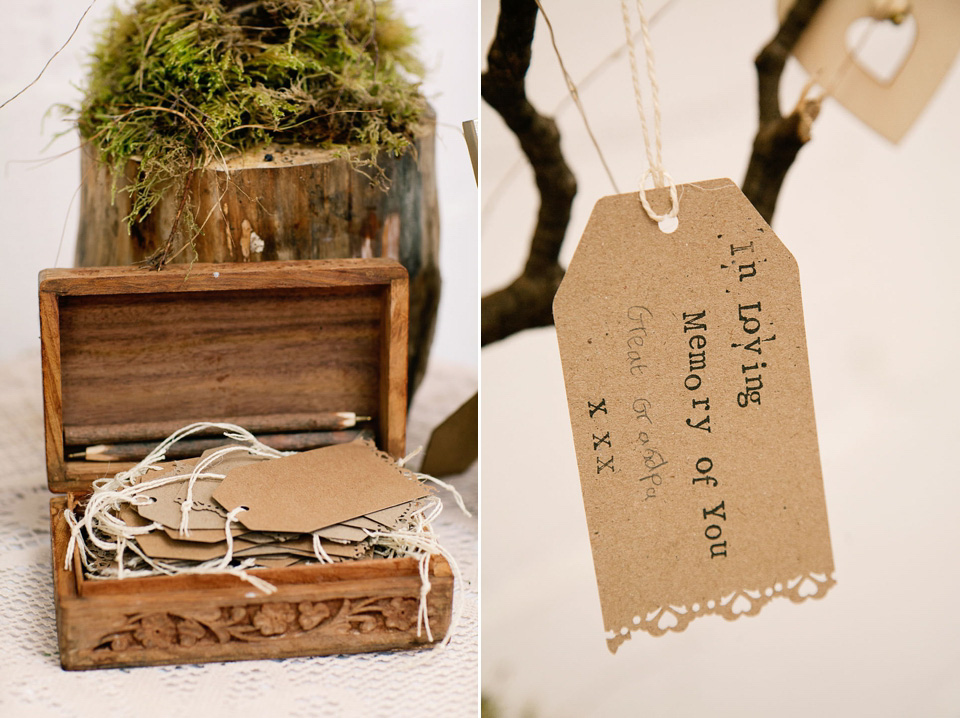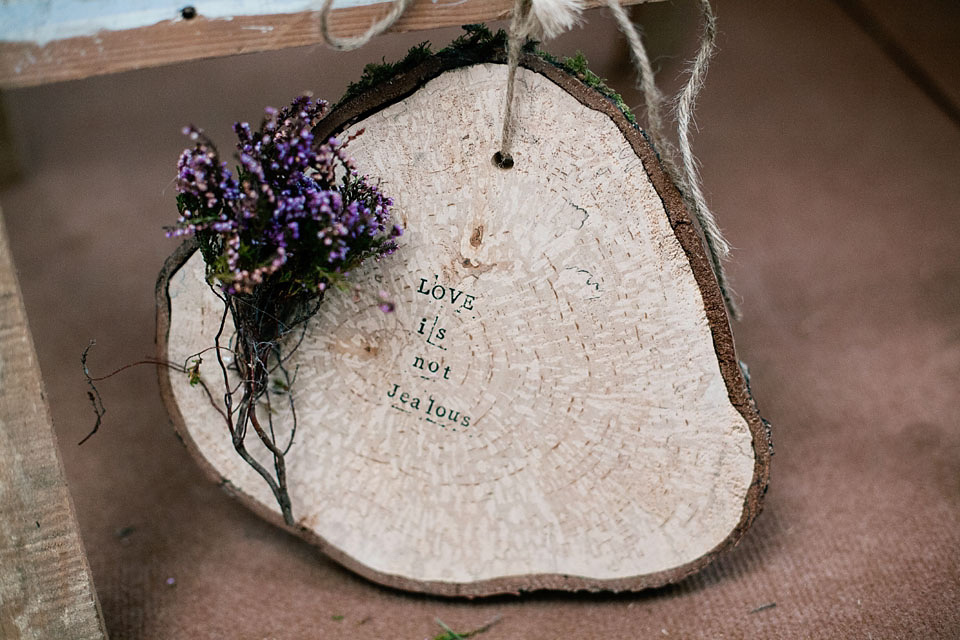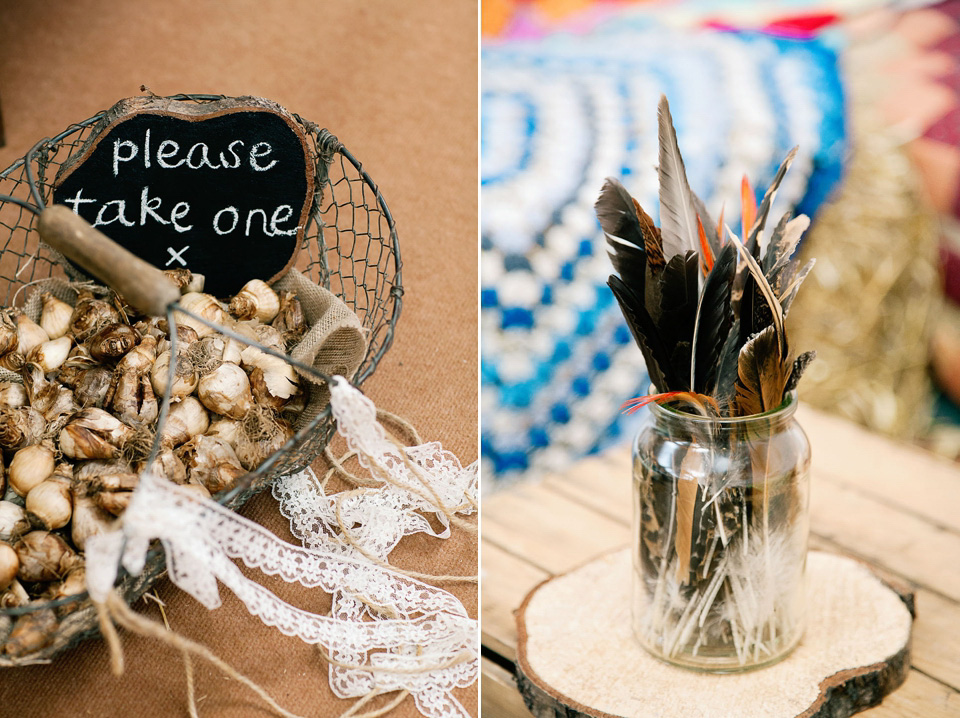 "I filled an old suitcases with props and chalkboard bubbles.  We used old frames for a 'photobooth' and had a chill out area.  We even had a tattoo bar which was great fun for all!"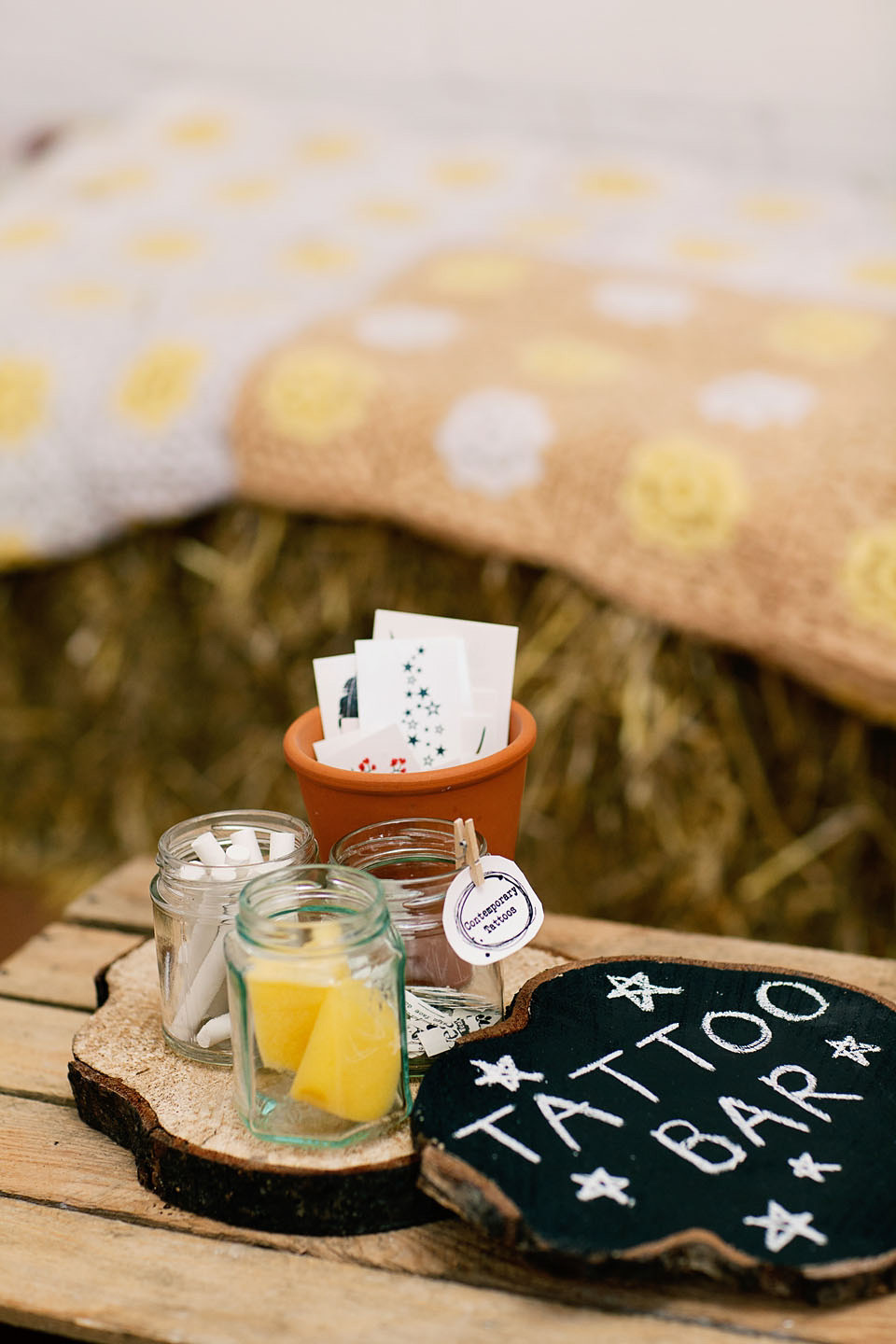 "Music is very important to us both, so I spent hours on the internet finding the bands for our wedding.  They were all so eclectic and amazing – the dancefloor was packed all night!  We hired It's a Windup! aka, Matt and Annabel, the vintage 78 shellac playing DJs – they played as our guests arrived through cocktail hour until 6pm."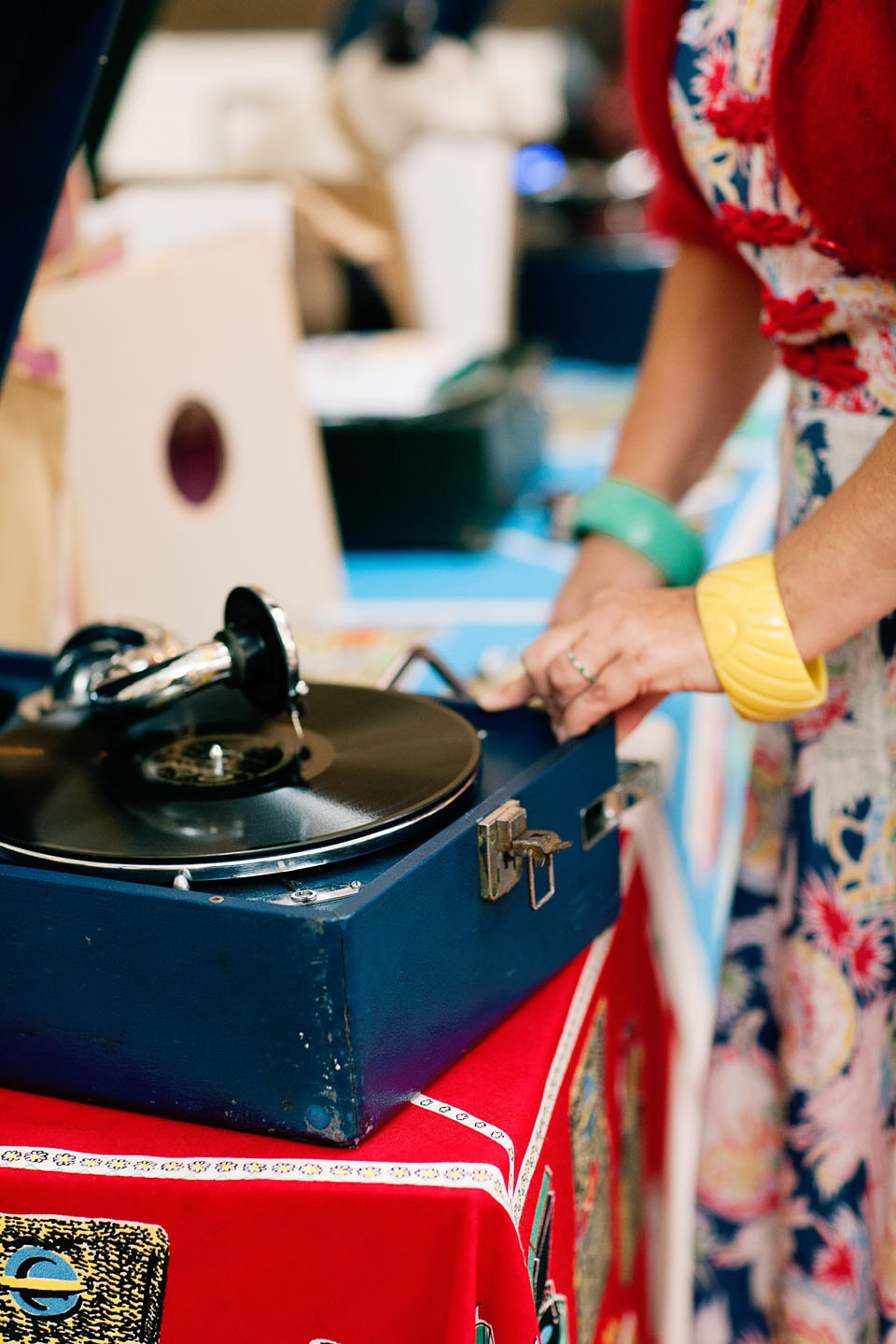 "We also hired Nanukes of the North, a ukelele band, who played an acoustic set – I went to Ramsbottom Festival for my hen party and discovered them there. I loved them so much, I booked them and didn't tell a soul – It was a surprise for everyone!"
In the evening we had the Jackson Kay band – they also DJ'd between LIVE sets – wow our guests loved them!"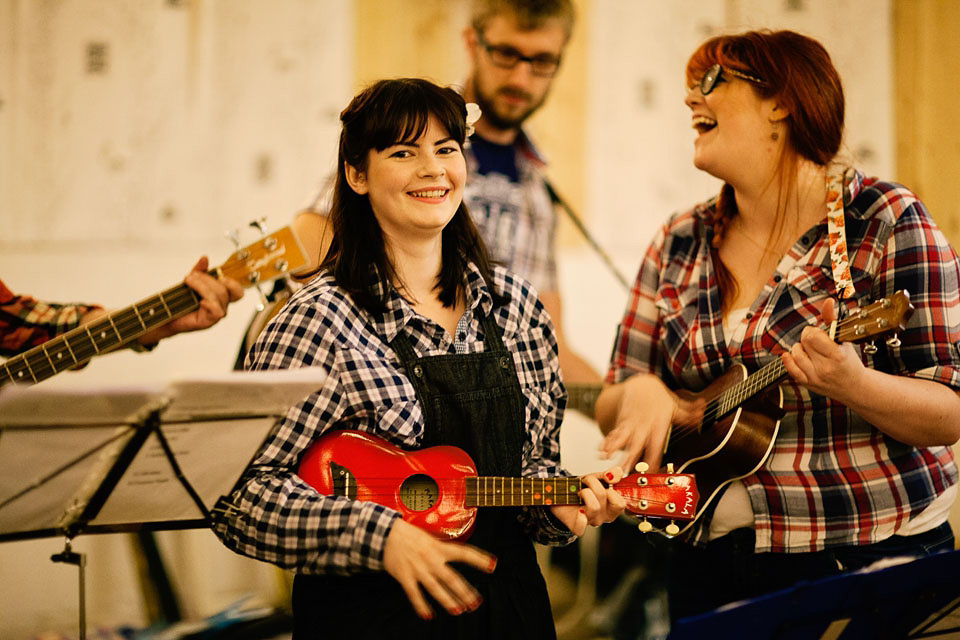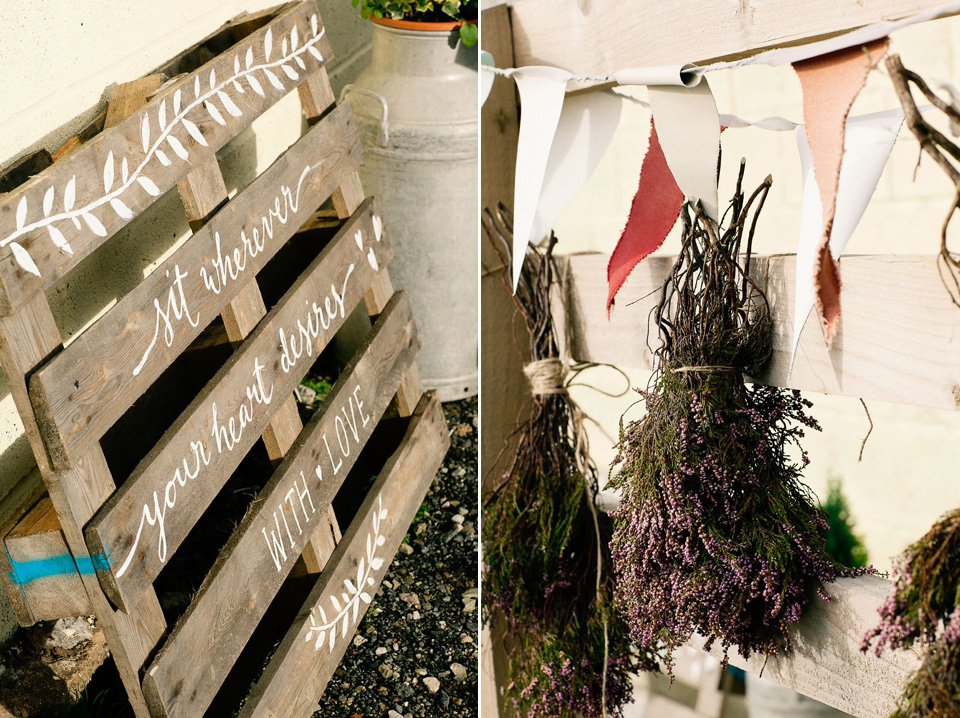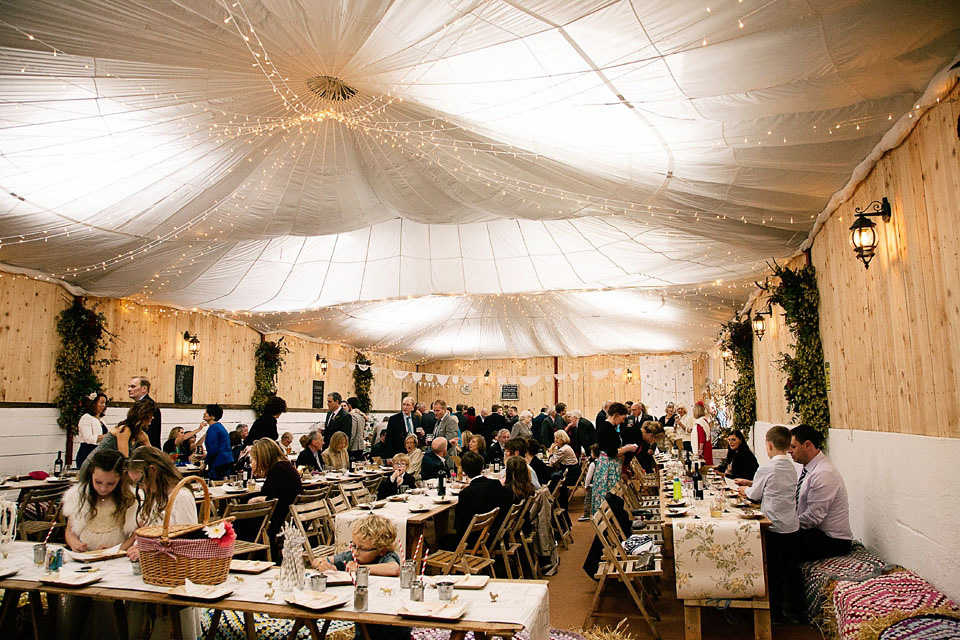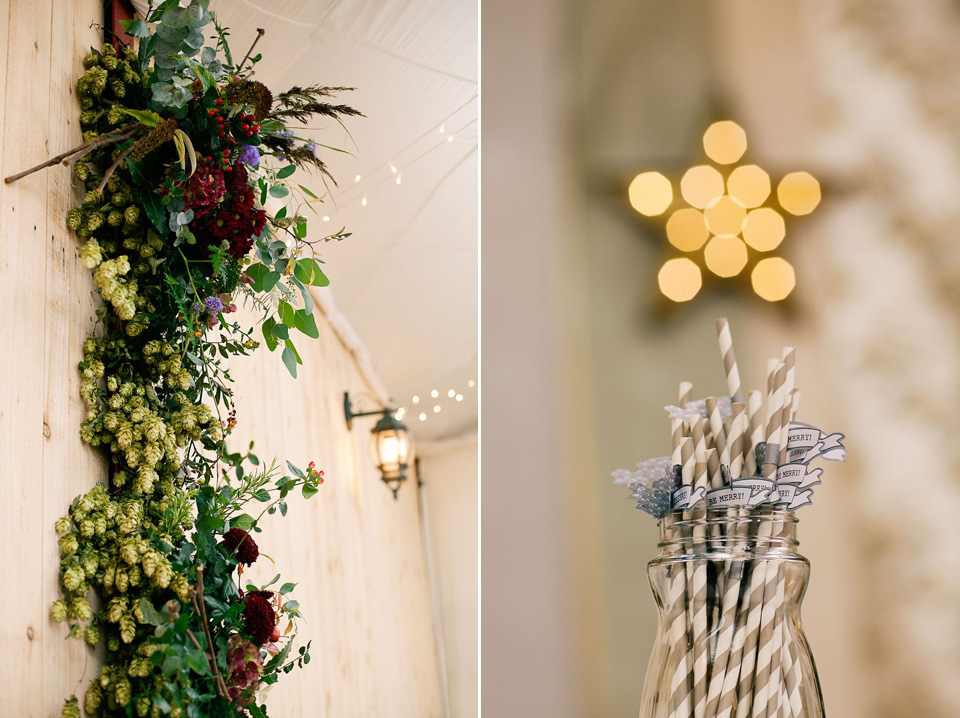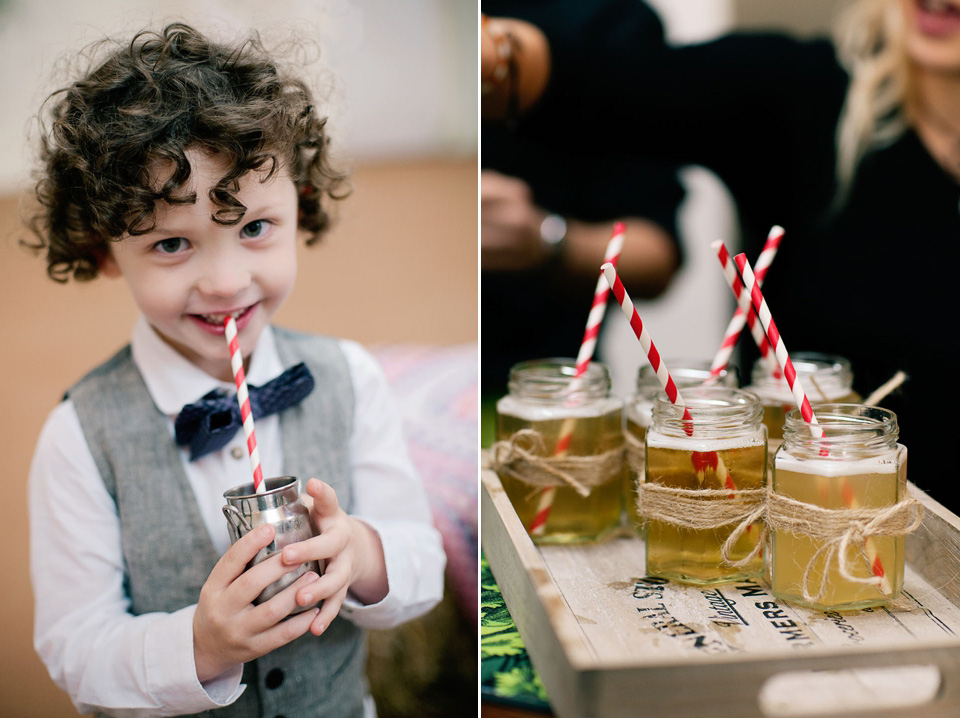 "The bar menu , signature drink sign & 'Sit wherever your heart desires' pallets were handwritten by a wonderful creative friend. 
I had blankets in suitcase to keep you cosy and a brew table – at any time of the day or night you could make yourself a cup of tea or coffee.  Our guests loved this!"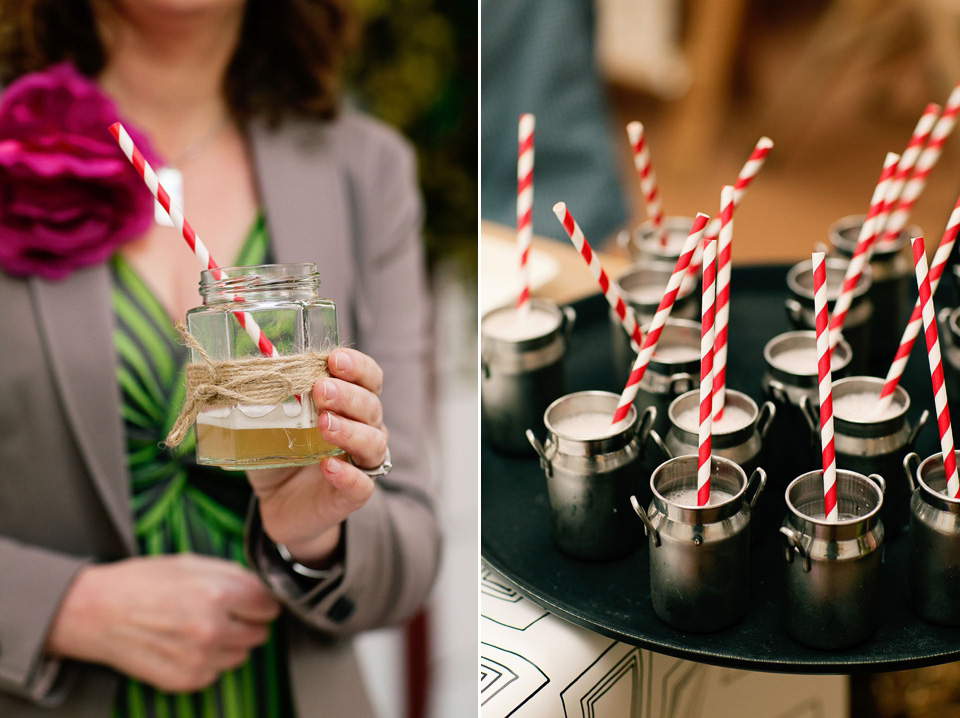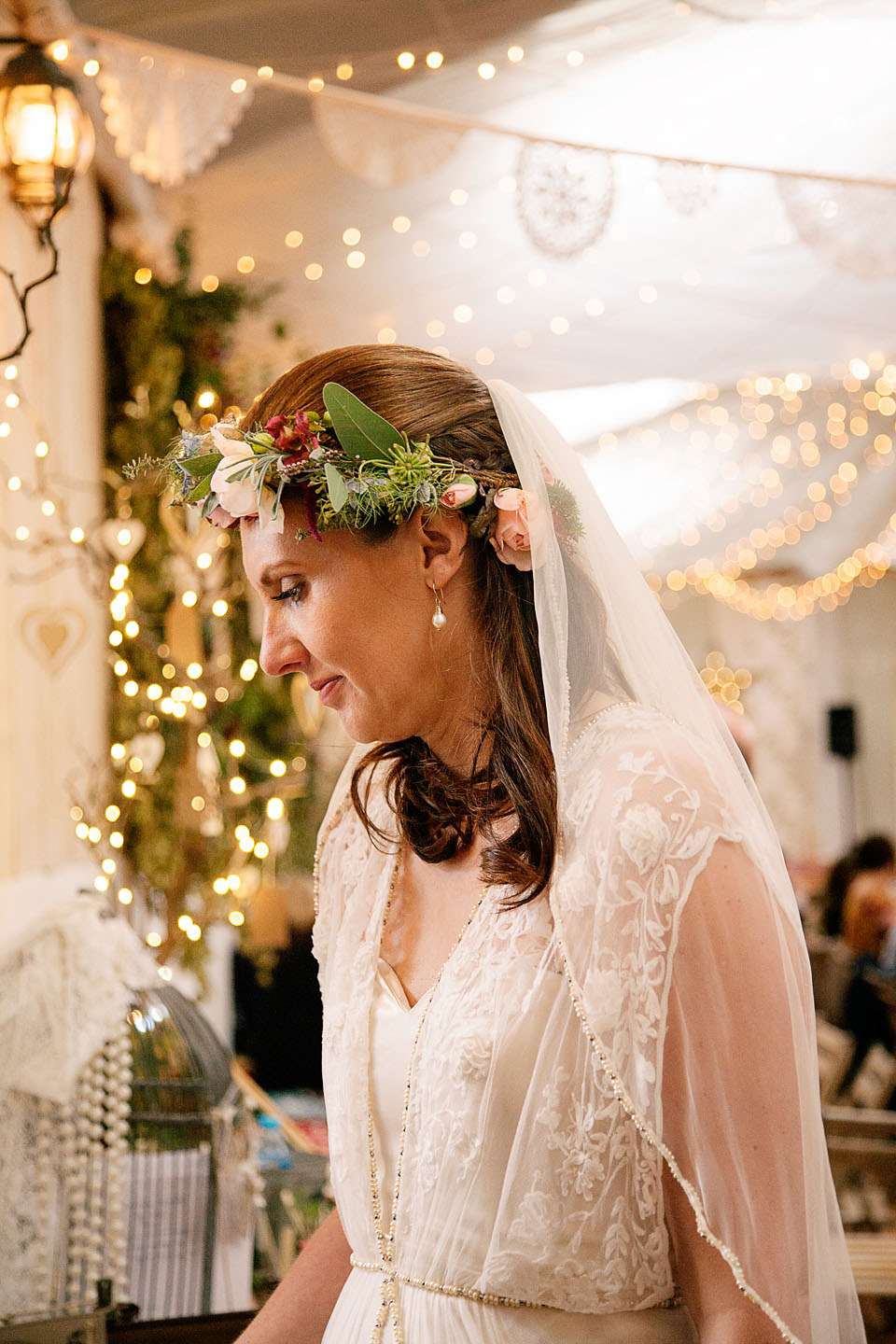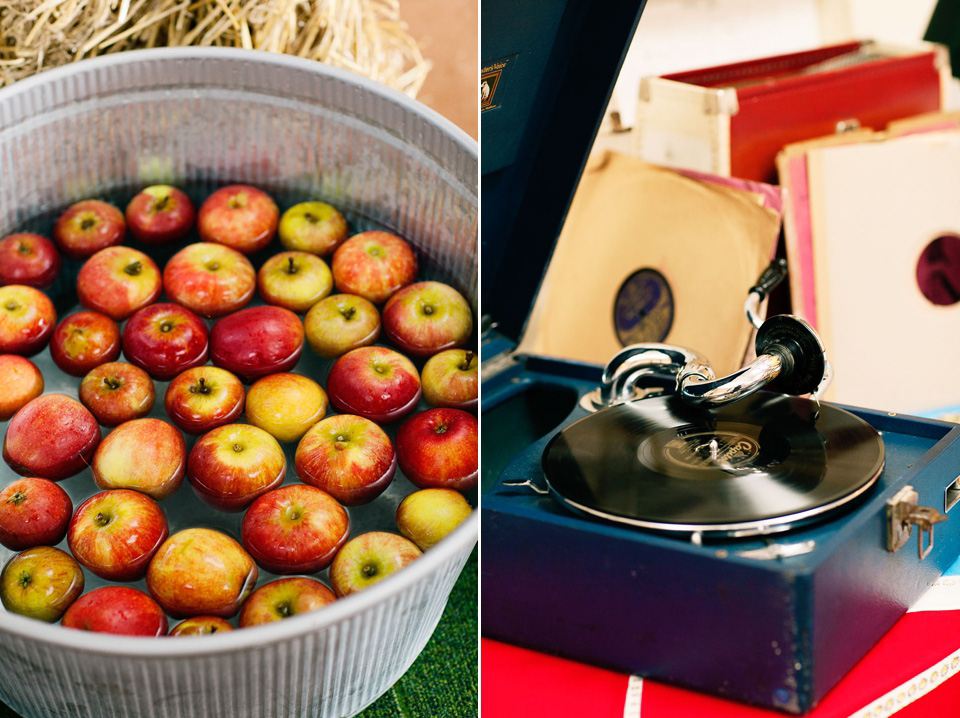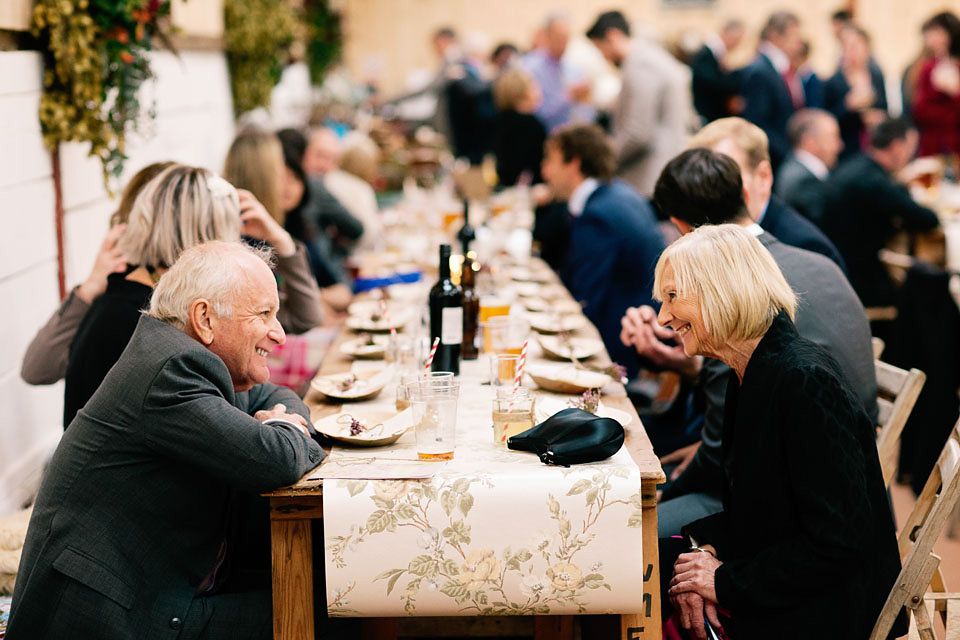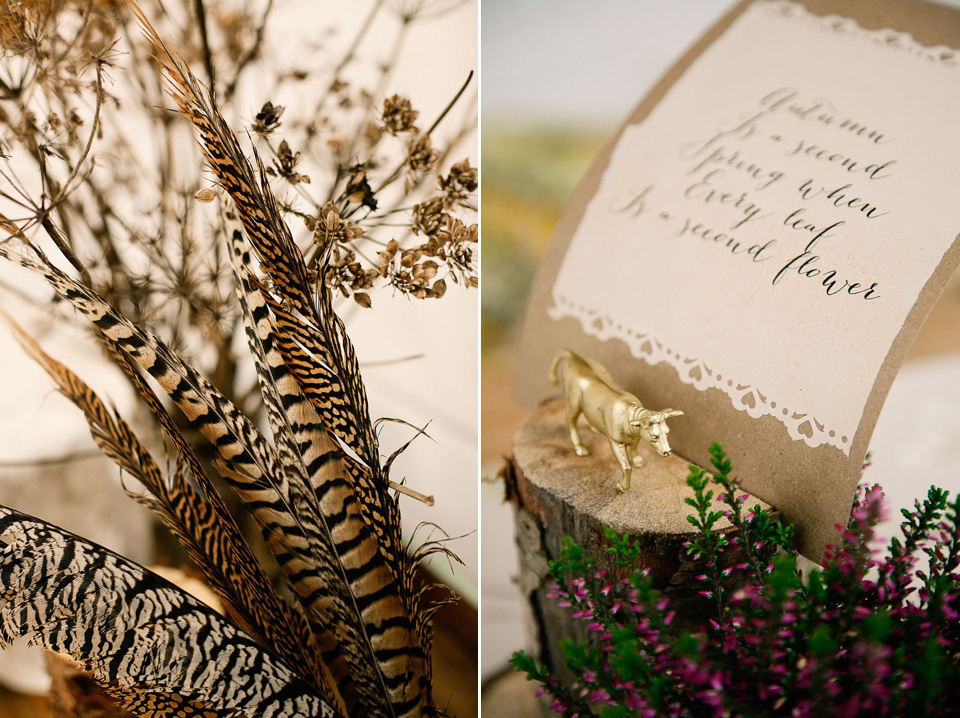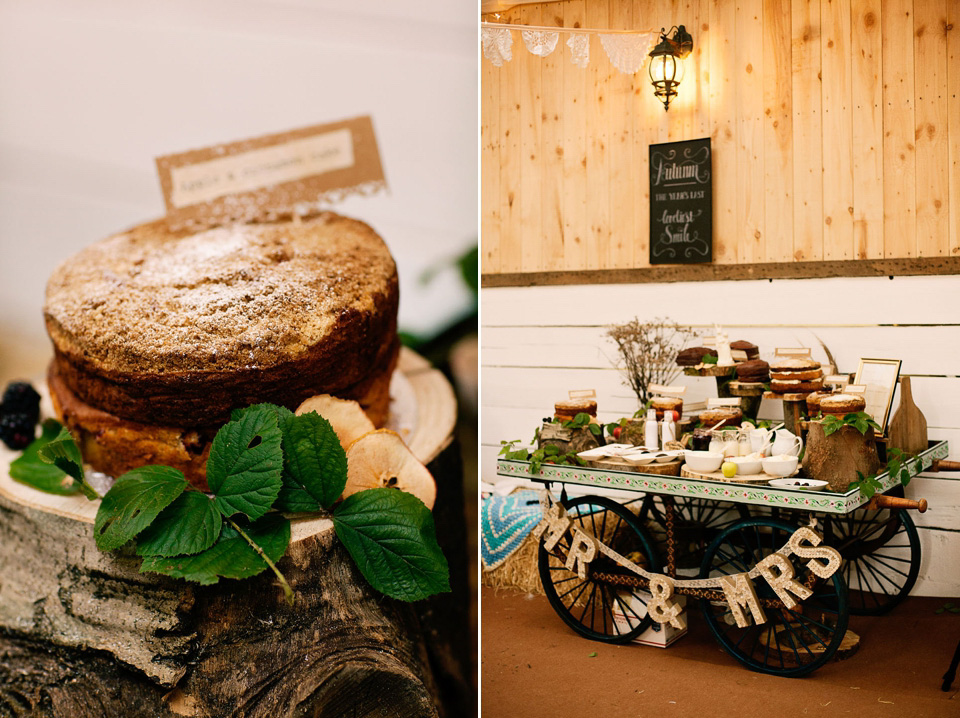 "The cake table created by a wonderful member of my family.  We had lots of handmade cakes with various fillings which you could add yourself to create your favourite dessert – foraged blackberries and greenery.  
Our cake topper was from Pea Green Boat – I love it."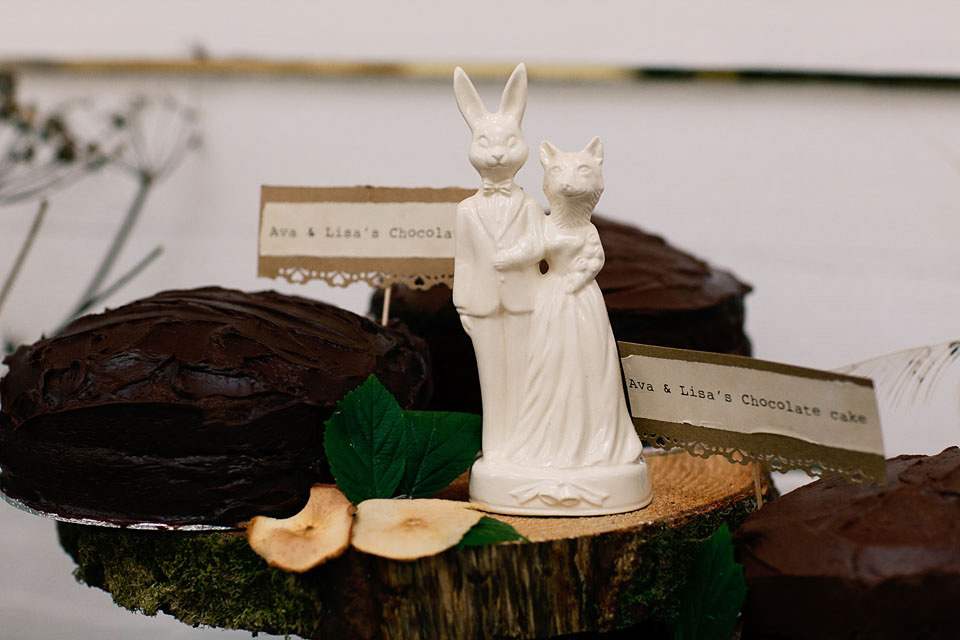 "Later we had a cake made of locally sourced cheeses."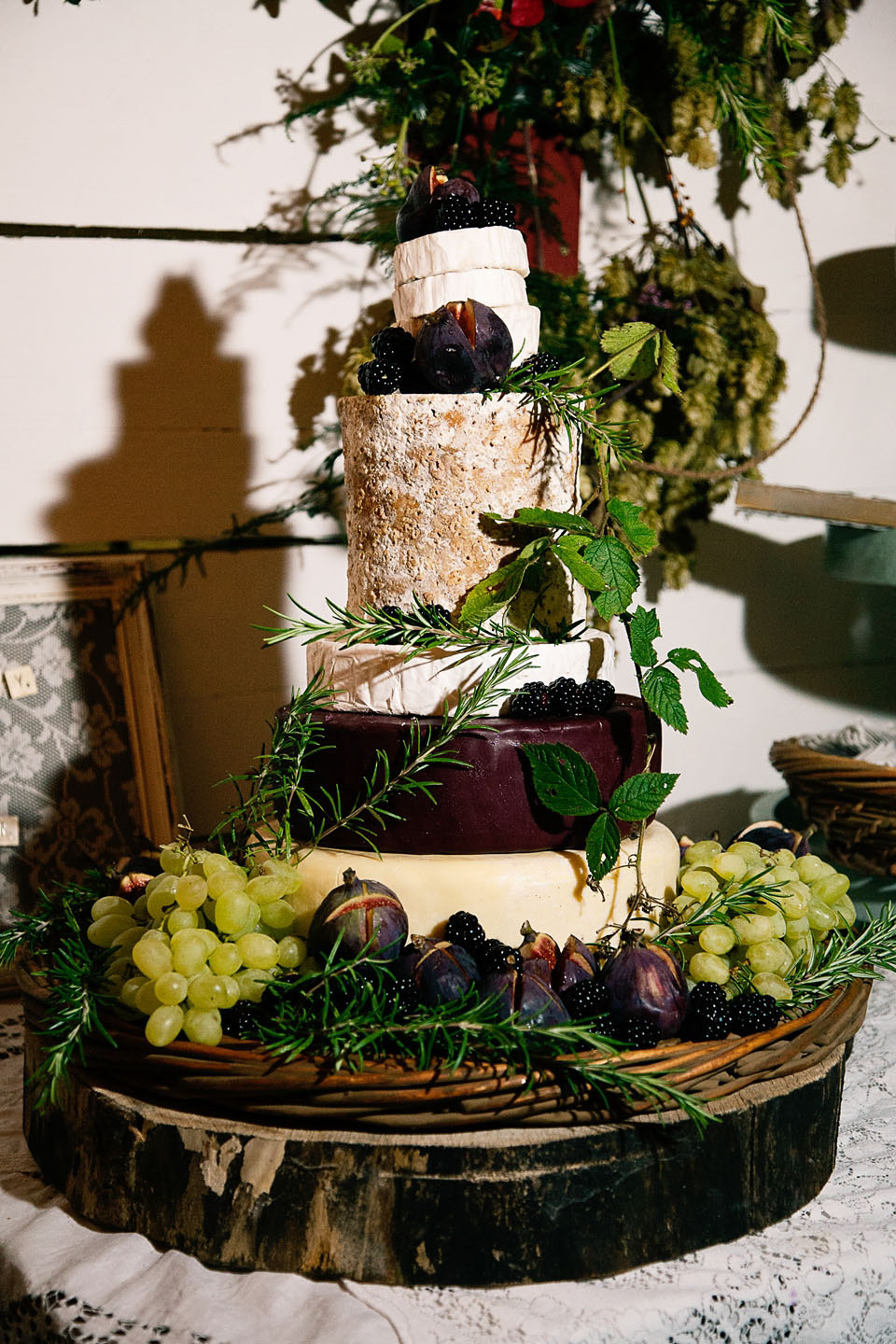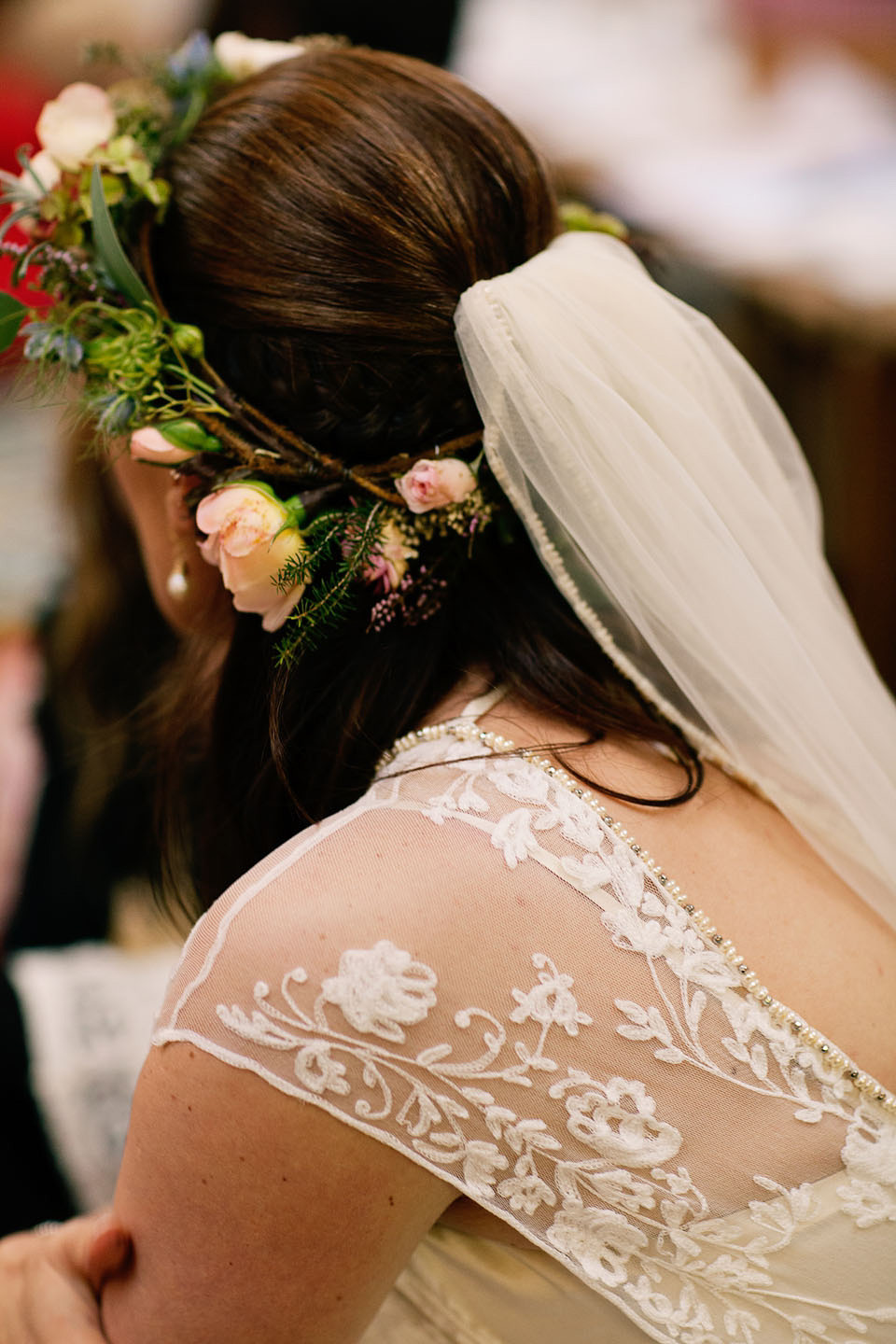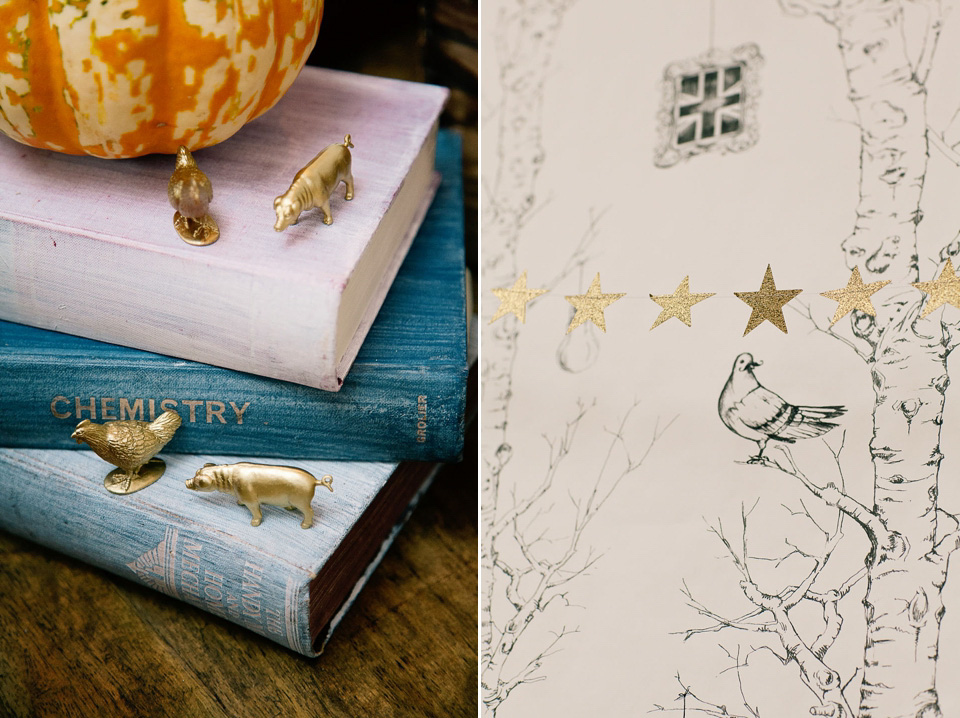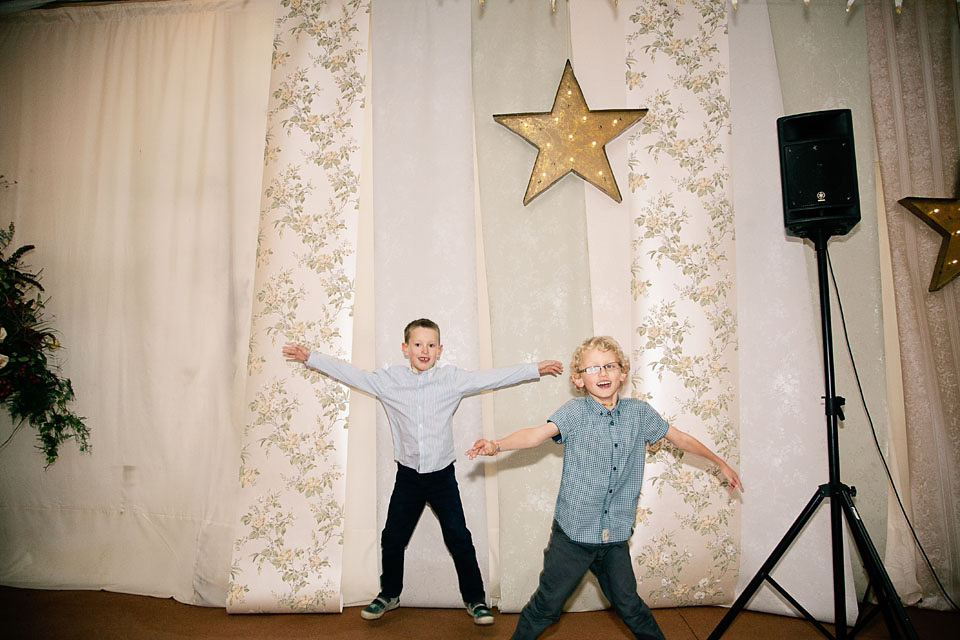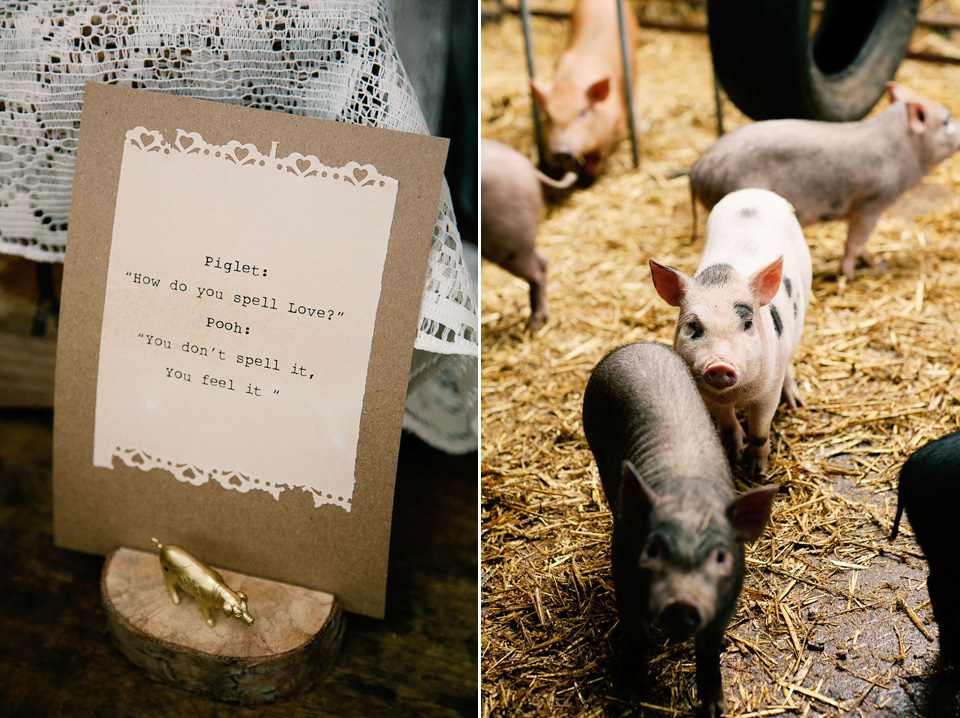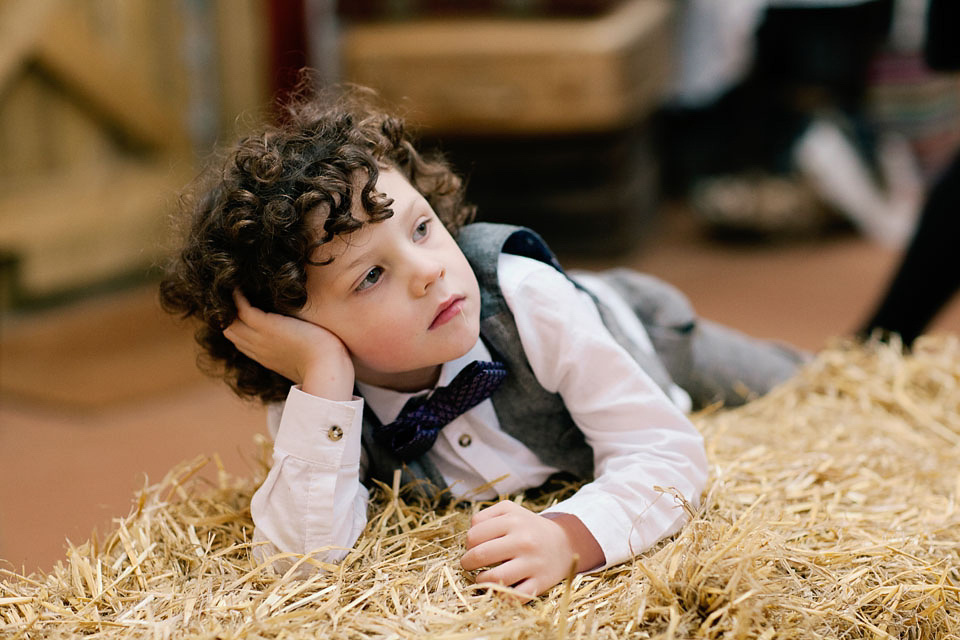 The couple chose not to have a first dance, but embraced the dance floor instead with their children, friends and family.
"The perfectionist in me wishes I had strung more of my Hand dipped gold feathers garlands above the dance floor – silly really – but apart from that, I'd not have changed a thing."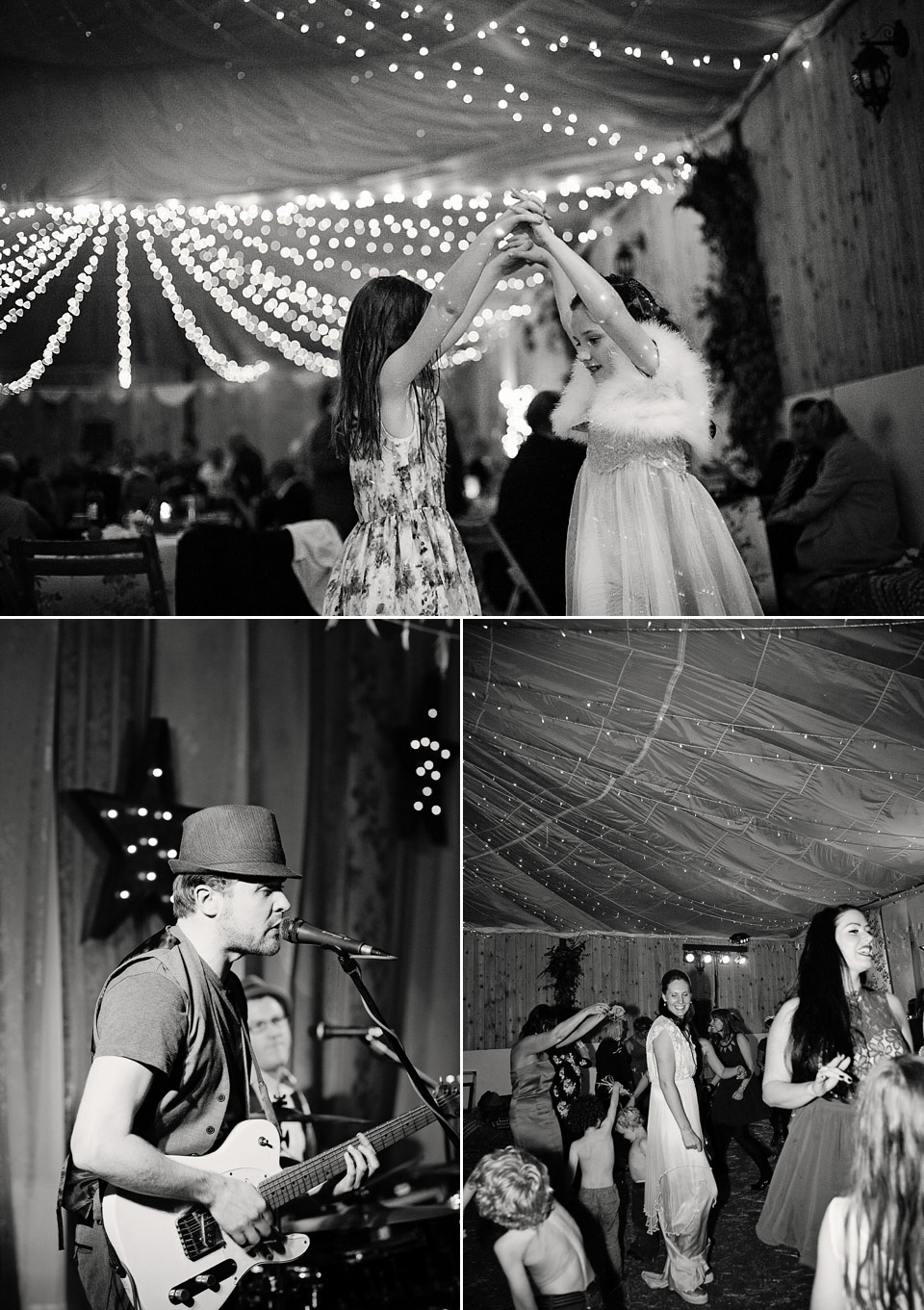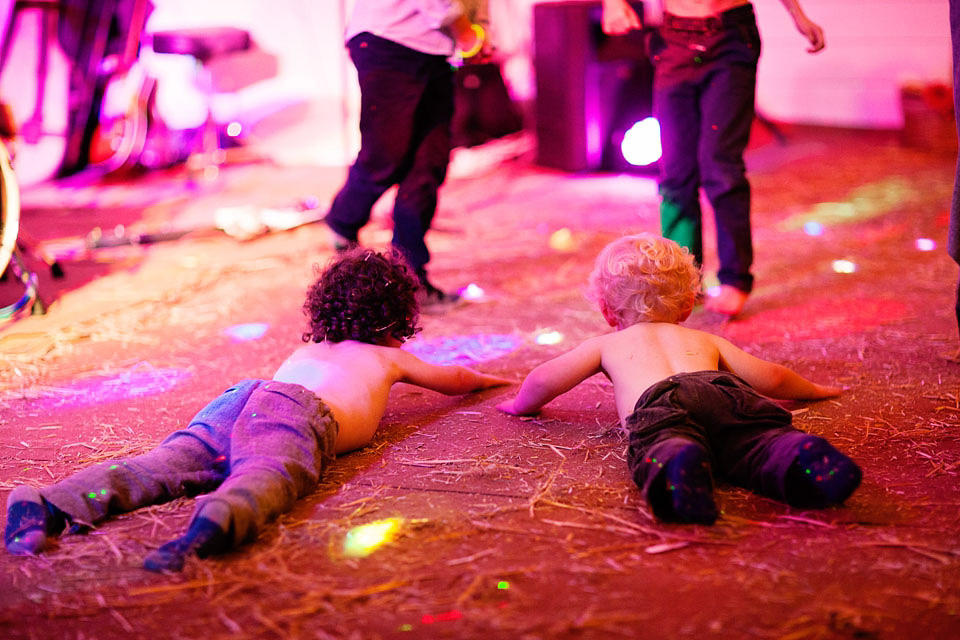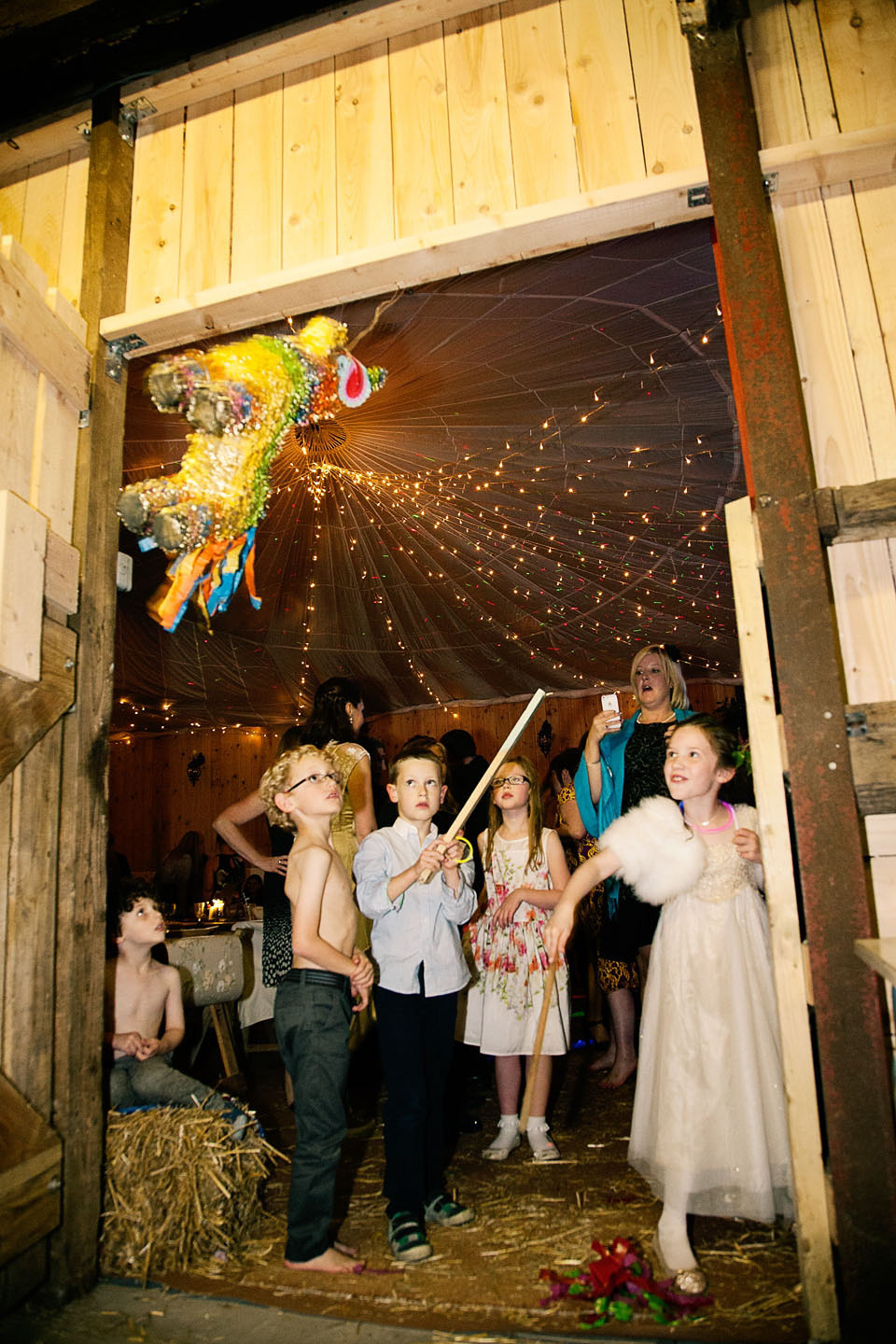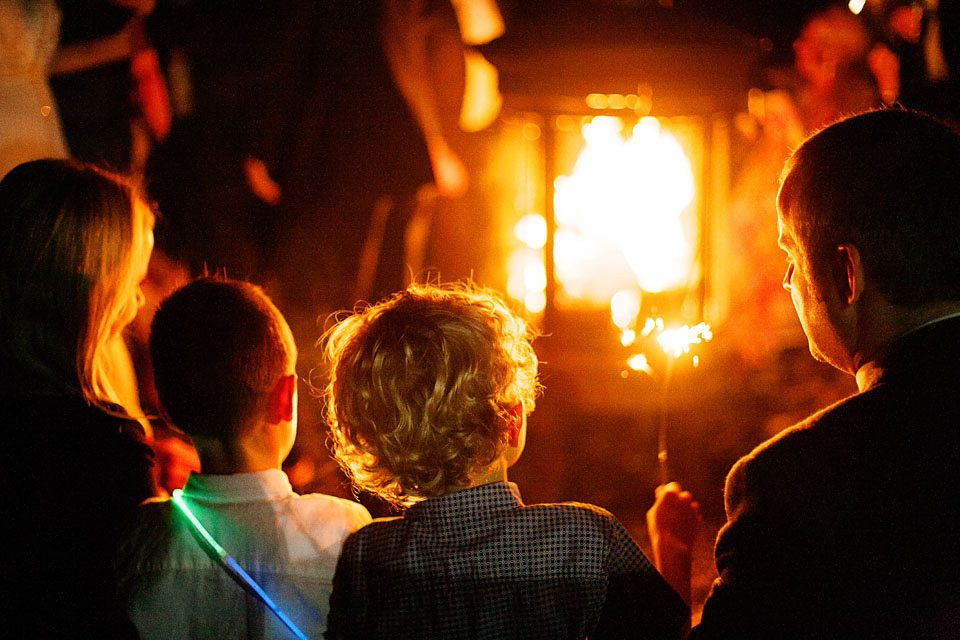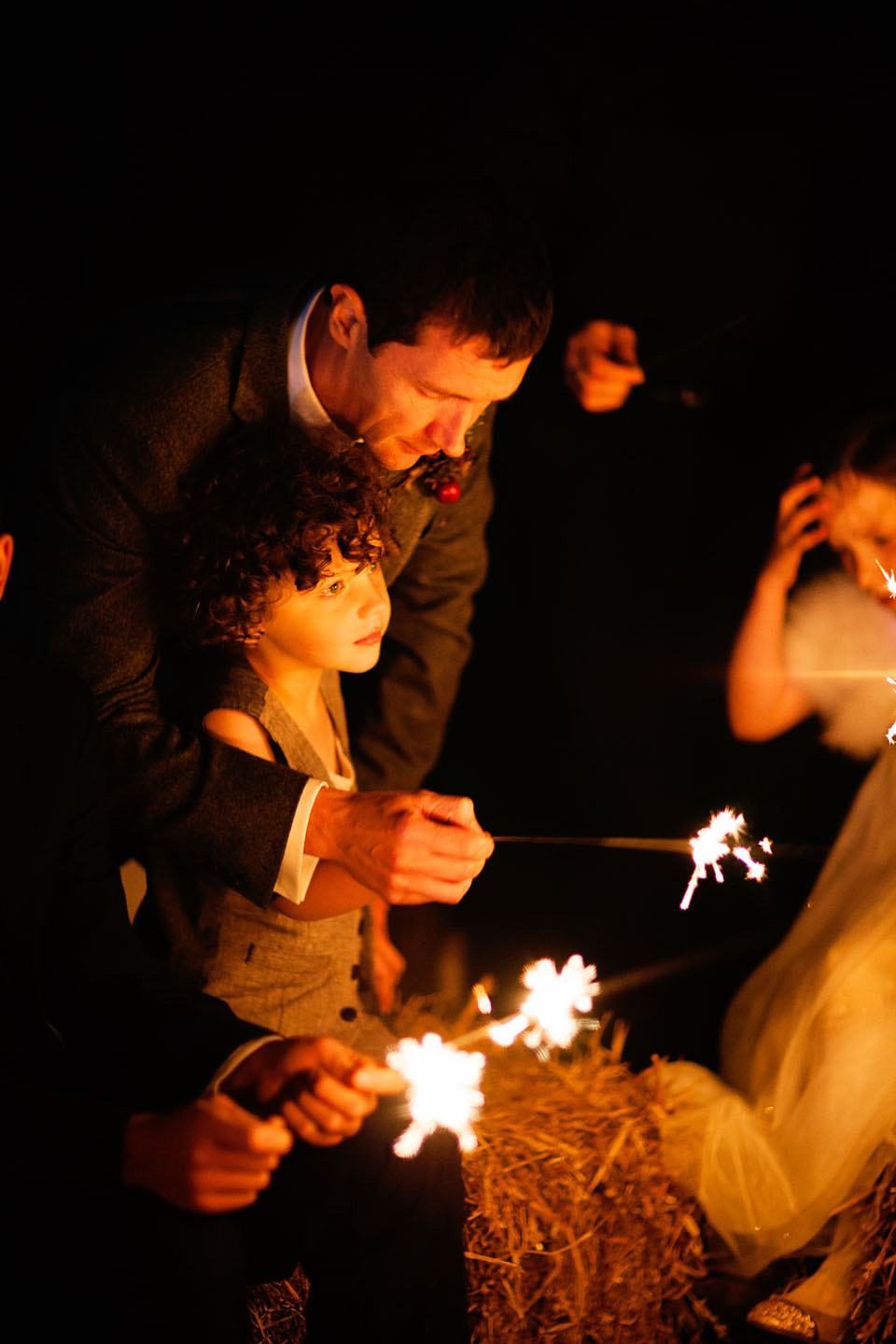 Words of Wedded Wisdom…
"I love this quote; 'A wedding is a party and a celebration, not a performance'.  On the day you can't do anymore – just stop, breathe, reflect, relax and enjoy every second it goes so fast. If things don't go to plan it just makes the day more real and you will have something to laugh about together for years to come.
I loved the experience of planning our wedding so much, that using the skills I have as a wallpaper stylist/designer and the feedback I have received from my suppliers, I have decided to start my own wedding styling business in 2015, 'Nina Marika' – exciting times ahead!"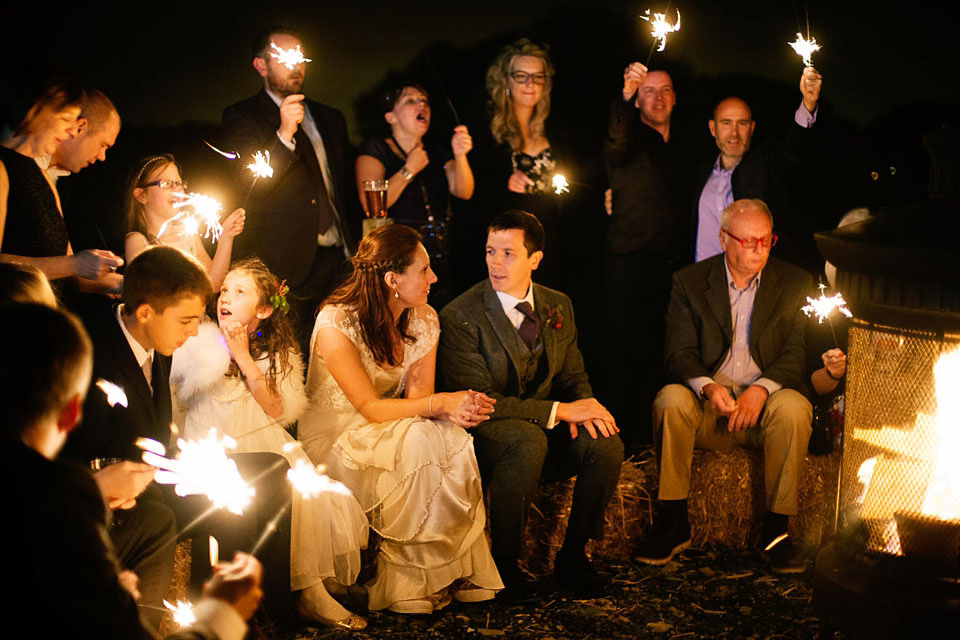 What an incredibly beautiful day – absolutely everything about this wedding is so heartfelt and honest – it's been such a joy to prepare this feature to share with you today.
My huge thanks to Nina and Paul for allowing me the privilege of sharing this most precious of days – and huge thanks too to photographer Jo Bradbury for sharing her beautiful photographs.
You can use the tags at the end of this feature to link to weddings with similar style (Autumn weddings, farm weddings, locally sourced weddings etc).  And I'd love to hear from – what do you love most about this wedding?  Are you planning a similar style celebration? What is your own favourite season to be married in and why have you chosen that season to tie the knot? Which elements of Nina and Paul's elegant rustic wedding might you just have to steal for your own wedding day 🙂
Have the most wonderful of Saturday's all.
Love Annabel x
Photographer – Jo Bradbury
Film – Silver Sixpence Films
Planner/Stylist – The bride
Venue – The Wellbeing Farm in Edgworth
Dress – 'Lita' by Catherine Deane
Veil – Catherine Deane
Flower crown + Florist – Petal & Twig
Bride's Shoes – Isabel by Jimmy Choo
Perfume – Jo Malone's 'English Pear and Freesia'
Grooms Suit – Ted Baker
Flowergirls – Estella Sparkle dress from Monsoon
Page Boys – Next waistcoat + Baker Boys bow tie + grey Converse pumps
Cake – handmade by family + friends + Pea Green Boat cake topper
Entertainment – It's a Windup! + Nanukes of the North + Jackson Kay band
Rings – Kirsty Stewart
Catering  – Chef To Go – head chef of The Wellbeing Farm
Stationery – DIY, the bride
Hair – Christina from Royle reflection , Edgworth
Makeup – Xanthe