Hello Sunday readers – I hope this finds you snuggled up in your bed or curled up in a blanket on your sofa with a cup of tea nearby.  This is the last 'lazy day' before 2015 kicks back in to work-mode for me – and I suspect it is too for many of you out there.  I say 'lazy' day – I've actually been working here and there these past few days, catching up in preparation for returning to my desk tomorrow.  Tell the truth, I'm itching to get back to work.  Gone are the days of me truly dreading the return to the awful morning commute.  It is a true joy to go to work these days, not least when my 'commute' involves nothing more than a trip downstairs to the office and my job involves getting to inspire so many of you.  But I digress…
I had to share this wedding today.  I just had to.  Another blogger might have avoided doing the same – especially when there are next to no suppliers to promote and barely any photographs to share (and some of those were taken on an iPhone).  In that respect, this feature doesn't really align with my commitment to promote great suppliers in the wedding industry.   However, the lovely bride has some really valuable messages to share – they focus on creating a wedding for you, not anyone else, and more importantly, this wedding reminds us all that really,  all that matters in any wedding is the couple and the love they share.  Everything else really is just trimmings – and as much as we love the 'extras' and sharing lots of beautiful styling ideas with you – none of that matters as much as the vows and commitment being made on the day.  I think we all need reminding of this as often as possible.
This is the wedding of Graphic Designer Leah of Golden Apple Designs to IT Developer Joe.  The couple tied the knot with a no frills style, private and intimate wedding on 31st October 2014.
Photography Copyright (c) 2014, Ali Lovegrove
"There was no styling or inspiration whatsoever! Details were completely unimportant to us. We wanted to get married but didn't want a 'wedding!' There were so many parts of a traditional day that we would have been really unhappy with but knew we would have been talked into doing had there been any involvement from others.  Plus, we really struggled to compile a small enough guest list that we were happy with, so decided that we had to go for either all or nothing.
We went for the private, small option and it was perfect."
"If you are planning to elope or get married in private like we did, then my advice is to think about how you're going to break the news to people.  I created a very simple wedding announcement that we posted out to all our friends, family and colleagues on the day. This linked to our wedding website and guestbook, which explained to people in a little more detail what we did and why we did it. You can see the site here."
"There was no engagement – we got together five years ago, and our official anniversary is 1st November. We wanted to do something fun and awesome to celebrate five years together and decided that getting married would be it! There was no availability at the registry office on 1st November,  so we went for the Friday instead, which was fine for us as it meant that there was no chance of being spotted walking around the town centre!"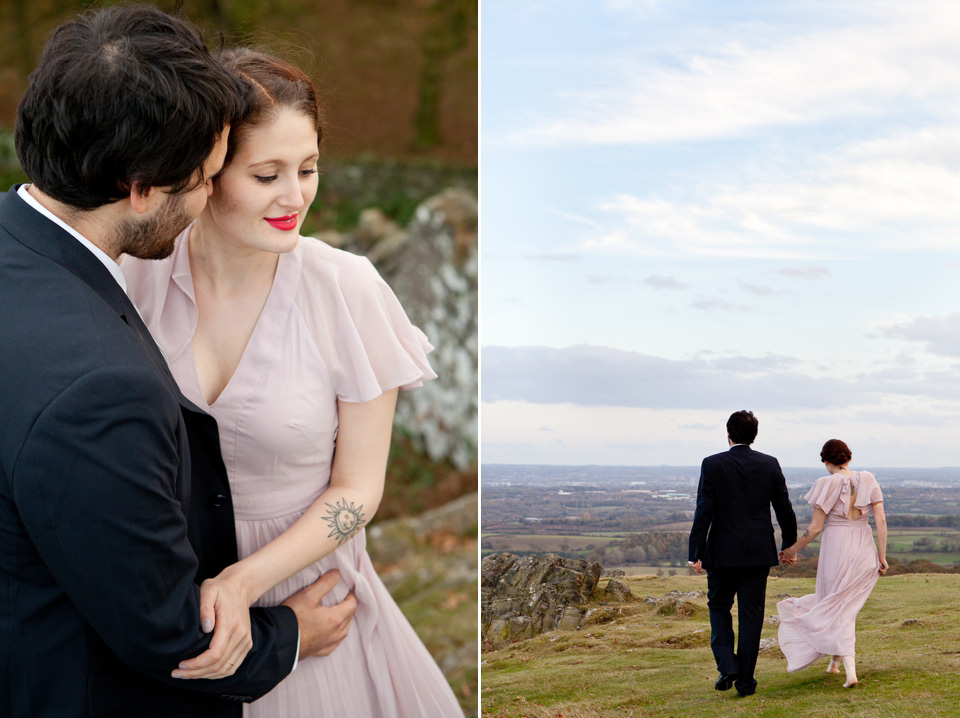 Leah's fabulous dress was a purchase from ASOS , that she made just two days before her wedding…
"I chose the dress on the Wednesday, it arrived on the Thursday and we were married on Friday.  I just chose a dress that I liked, it was as simple as that. Had I been choosing solely for my own tastes I would have chosen something with a bit more of a sixties feel but I know that Joe likes long elegant skirts so I chose a shape that I knew that he would love and that I would feel confident in."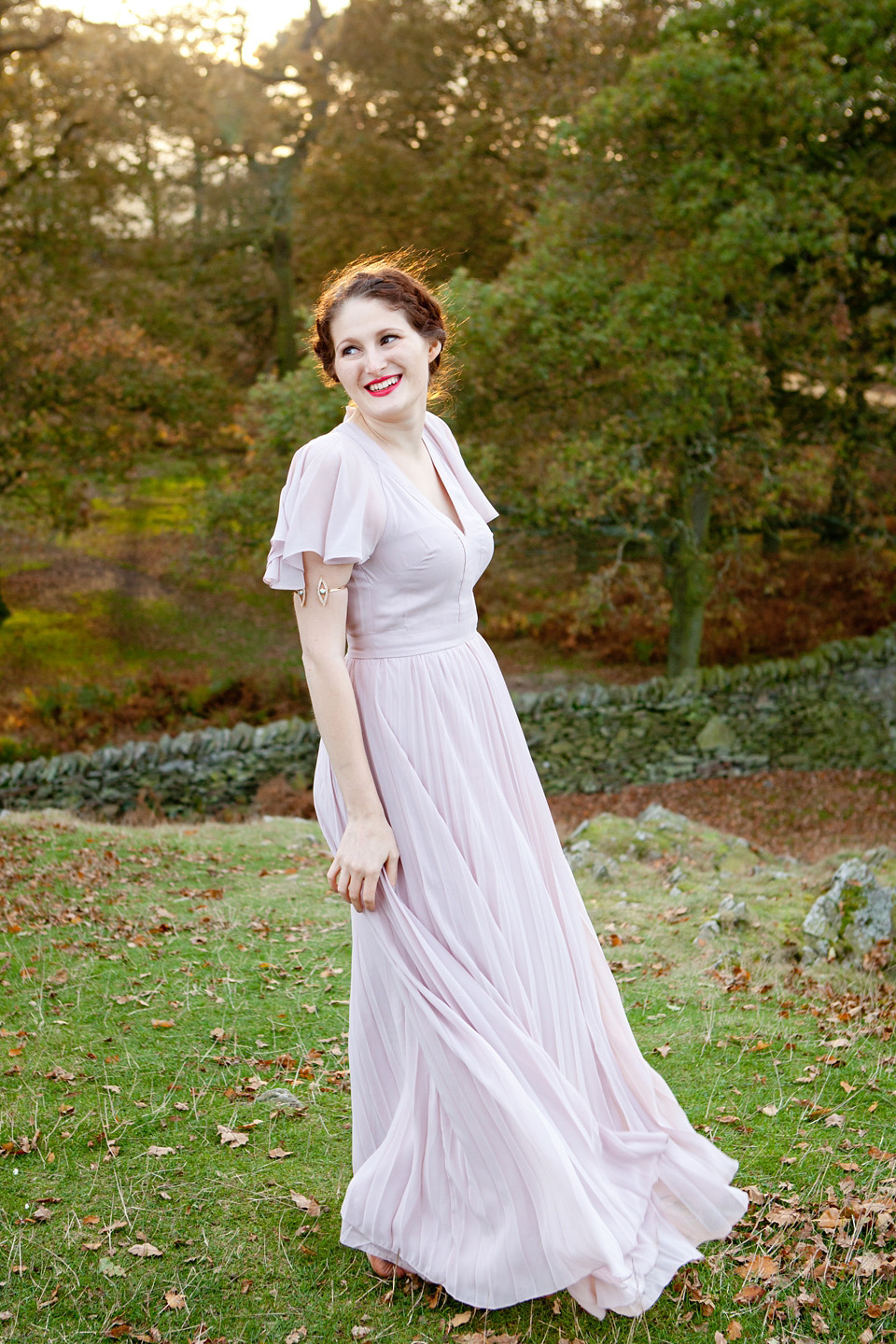 "The only thing I really cared about was that it had to have an open back to show off my back tattoo which I love and don't get to show off very often."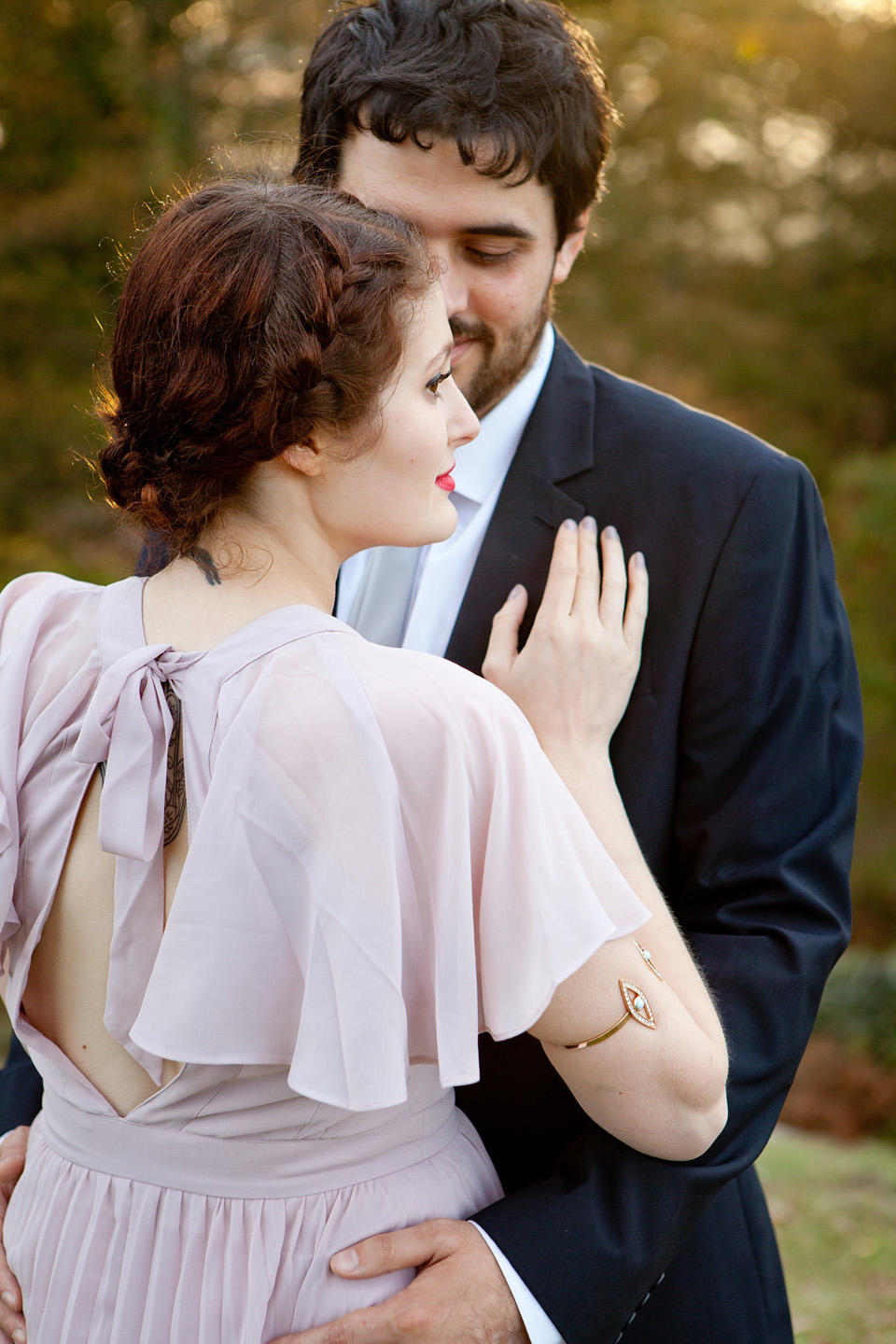 "Walking into town together in the morning seeing all of the people on their way to work and knowing that we were off to get married was so much fun! We even stopped for McDonald's breakfast on the way as I'm a sucker for their hash browns – just like we would have done on any other day."
*Images below taken on Lean's iPhone*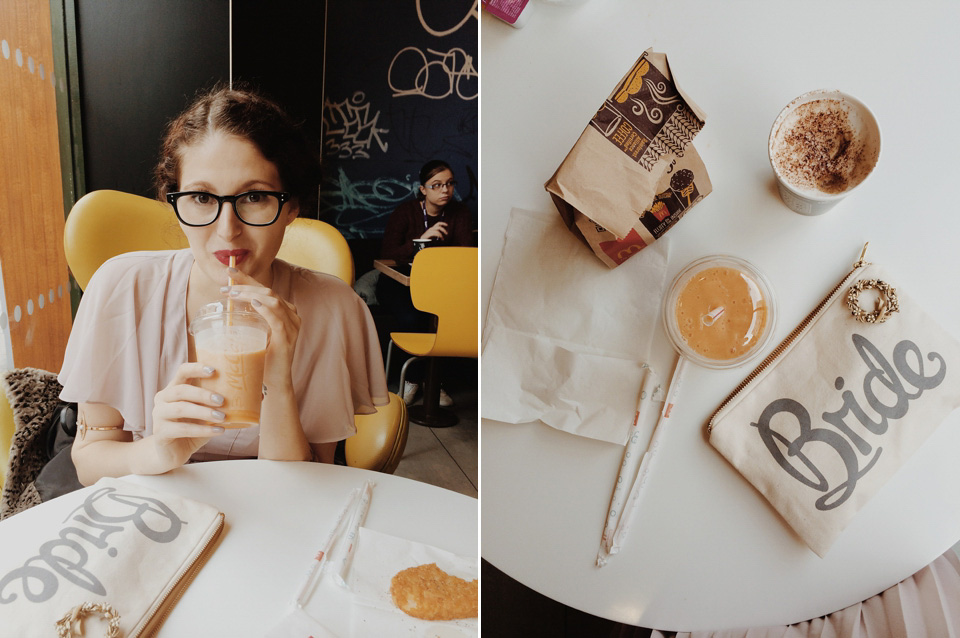 "We got married at Leicester Town Hall, because it was within walking distance and the easiest venue for practical reasons.  We didn't really care where we got married to be honest! We didn't make any plans for after our ceremony either,  as we thought we'd just see how we felt on the day.
We walked into the room together – there was no grand entrance. My Dad is a bit of a cool customer (a punk in his youth and now a biker!) and I know he would have hated to be the centre of attention, so to give me away really wouldn't have been his style – my parents aren't even married themselves. After the wedding he said that he was so glad we did it in private so that he didn't have to make a speech! So I know that we made the right choice."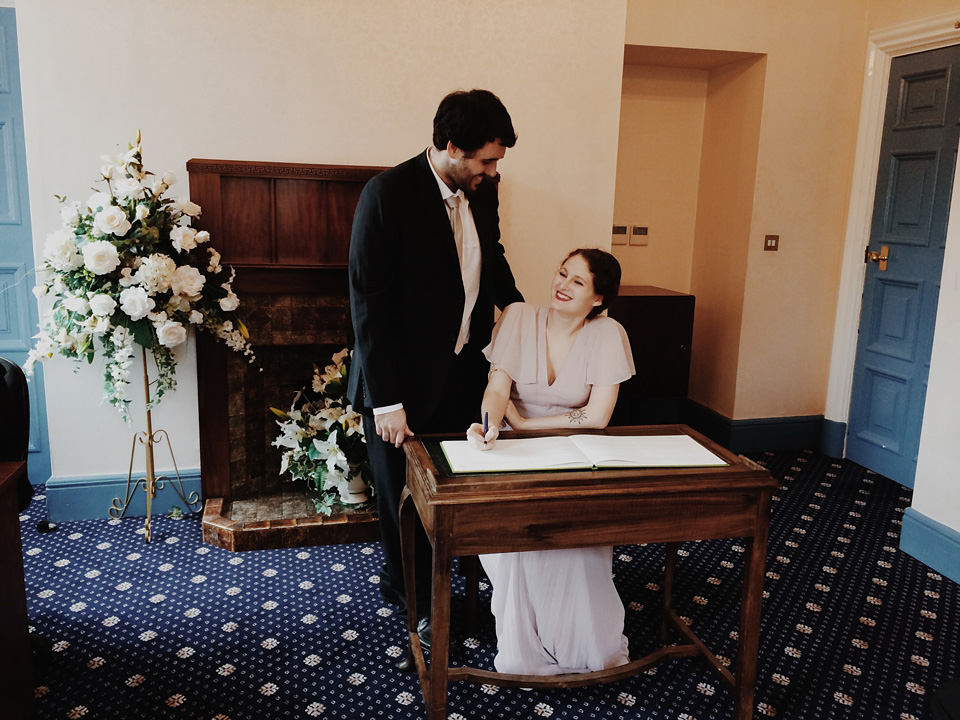 "We chose not to have a photographer on the day of the ceremony. There were only the two of us, our two witnesses and their baby, so the thought of using a photographer didn't seem appropriate for us. The marriage ceremony was only 15 minutes long and we didn't even have any plans for after, we just decided what to do once we'd finished at the town hall, so there was no structure whatsoever and we didn't think that booking a photographer would fit with this – there aren't many photographers that you can just book for one hour."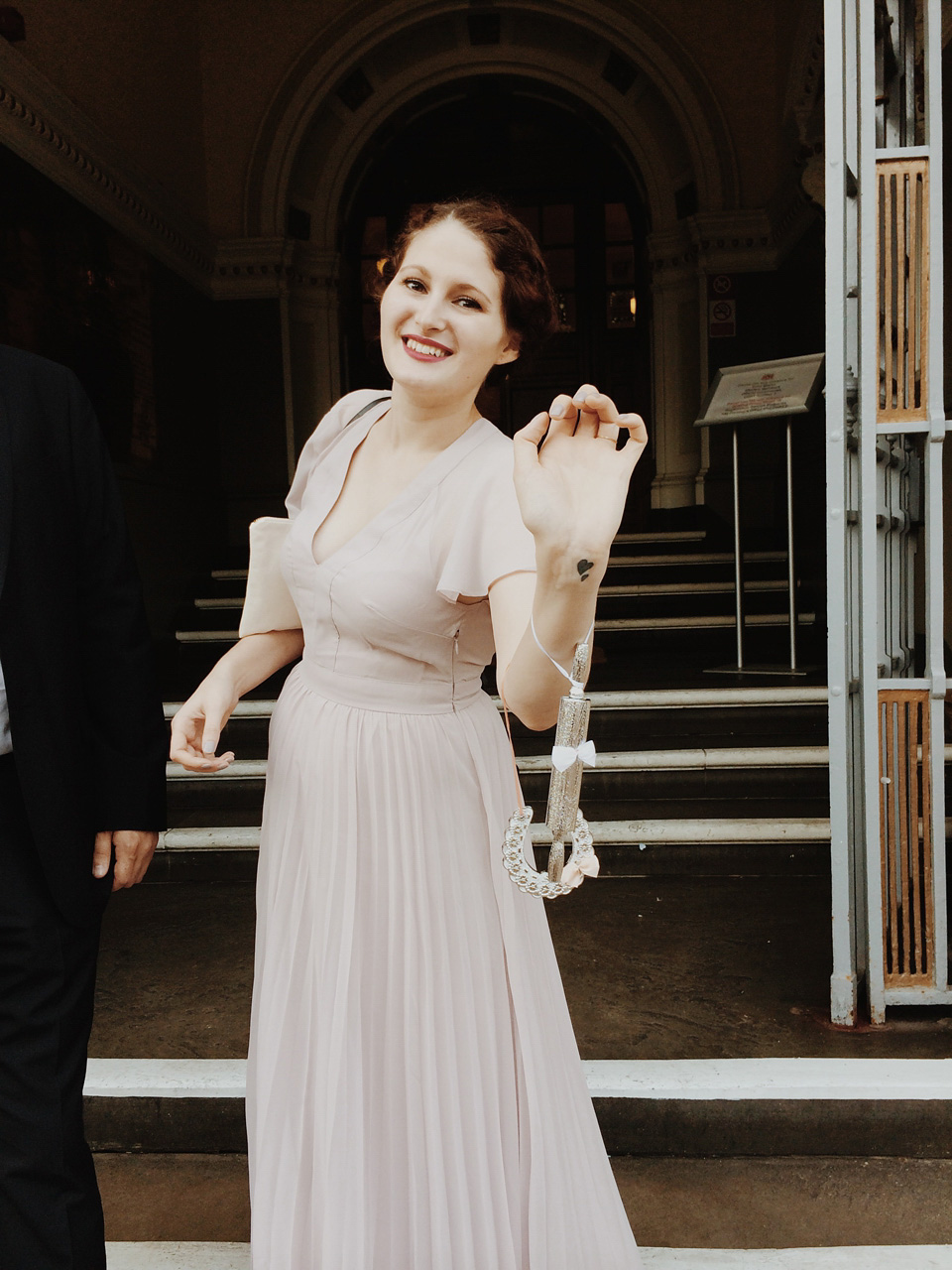 "We also didn't want our friends to have to stand around and wait whilst we went off for portraits – it just isn't the same as a standard wedding when you have a larger number of guests to talk amongst themselves and entertain each other, so for this part of the day we just used VSCO cam on my iPhone which I think fit well with the informal, fun and relaxed nature of the day.
Joe doesn't wear a ring, and I purchased a very simple rose gold band from Nikki Stark Jewellery on Etsy."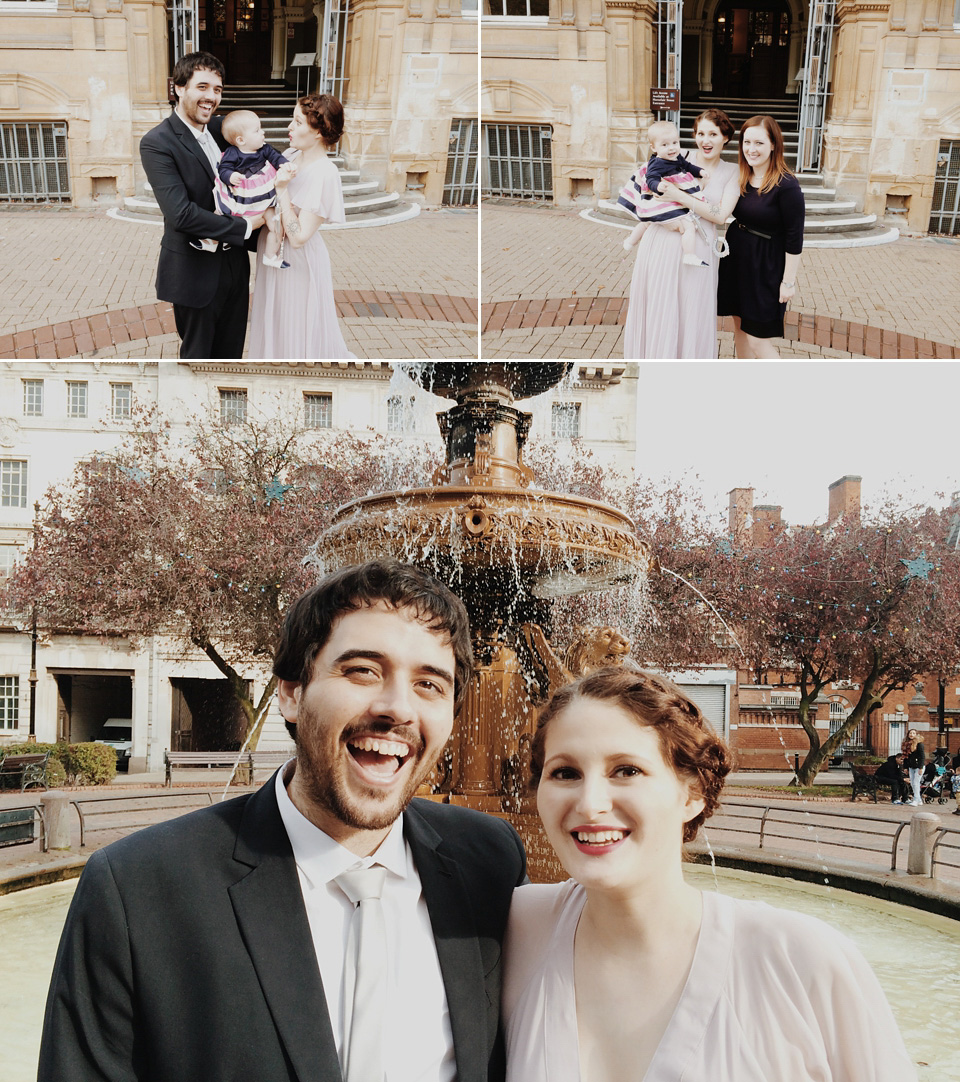 "We opted for afternoon tea after our ceremony, with macaroons at Mrs Bridges Tea Rooms, followed by board games and champagne at The Globe, which is one of Leicester's oldest pubs."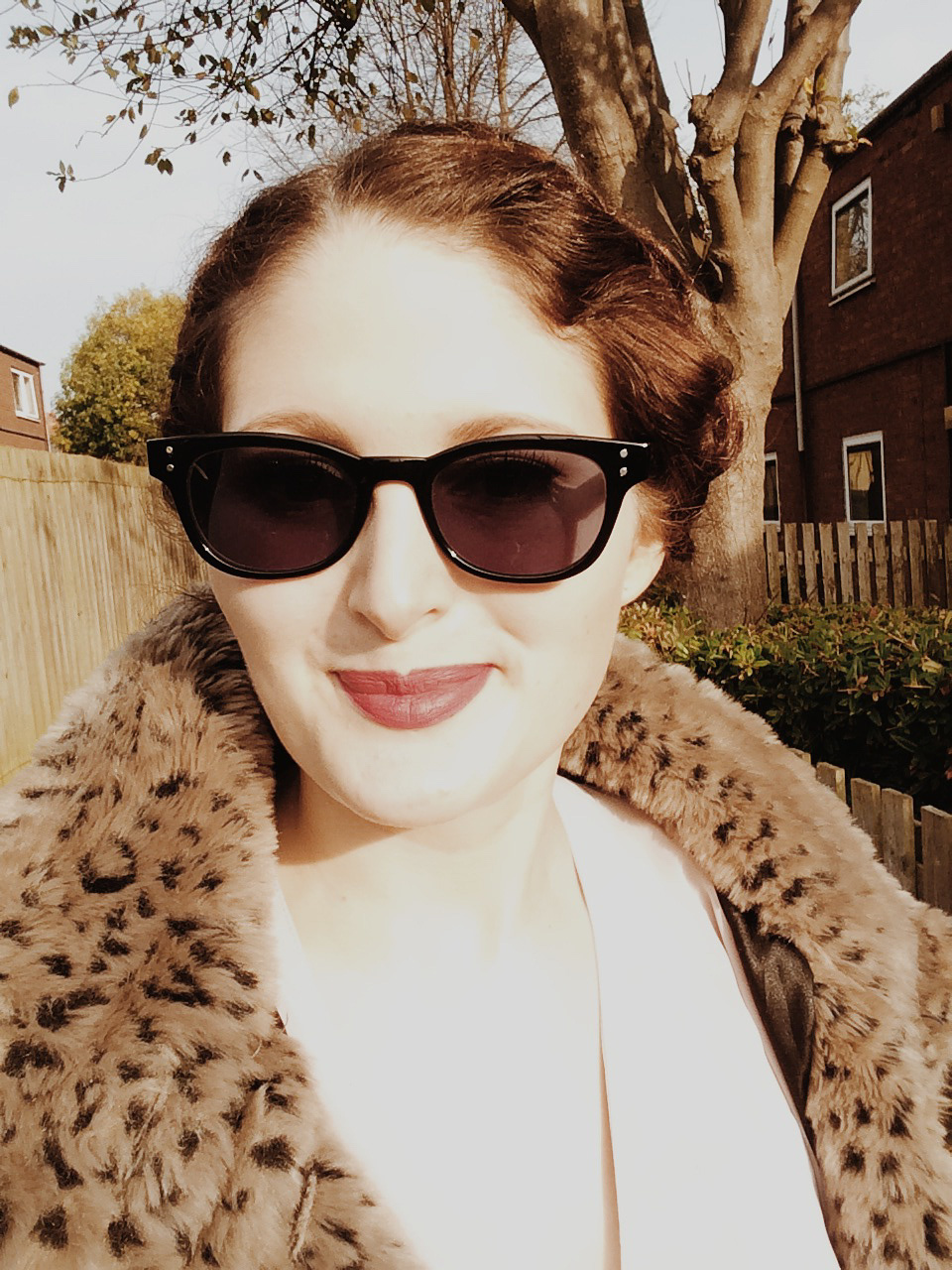 *Images above taken on Lean's iPhone*
"Although we chose not to have a photographer at the ceremony, I do think it's really important to have some official photographs to mark the occasion so we chose to do these separately with our friend and professional photographer, Ali Lovegrove, at Bradgate Country Park the next day, simply because we like the scenery there!
 I've been friends with Ali for many years now through working in the wedding industry and she never fails to make me feel completely at ease in front of the camera."
"We're so thrilled with the images that Ali created for us – whilst my iphone pics from the day are fun and captured the essence of the day, they're not really good enough to print and frame so I'm so pleased that we have a lasting memento that we can treasure. We'll also be gifting printed books using the images to our parents so that they can have a little piece of our day to look through and enjoy."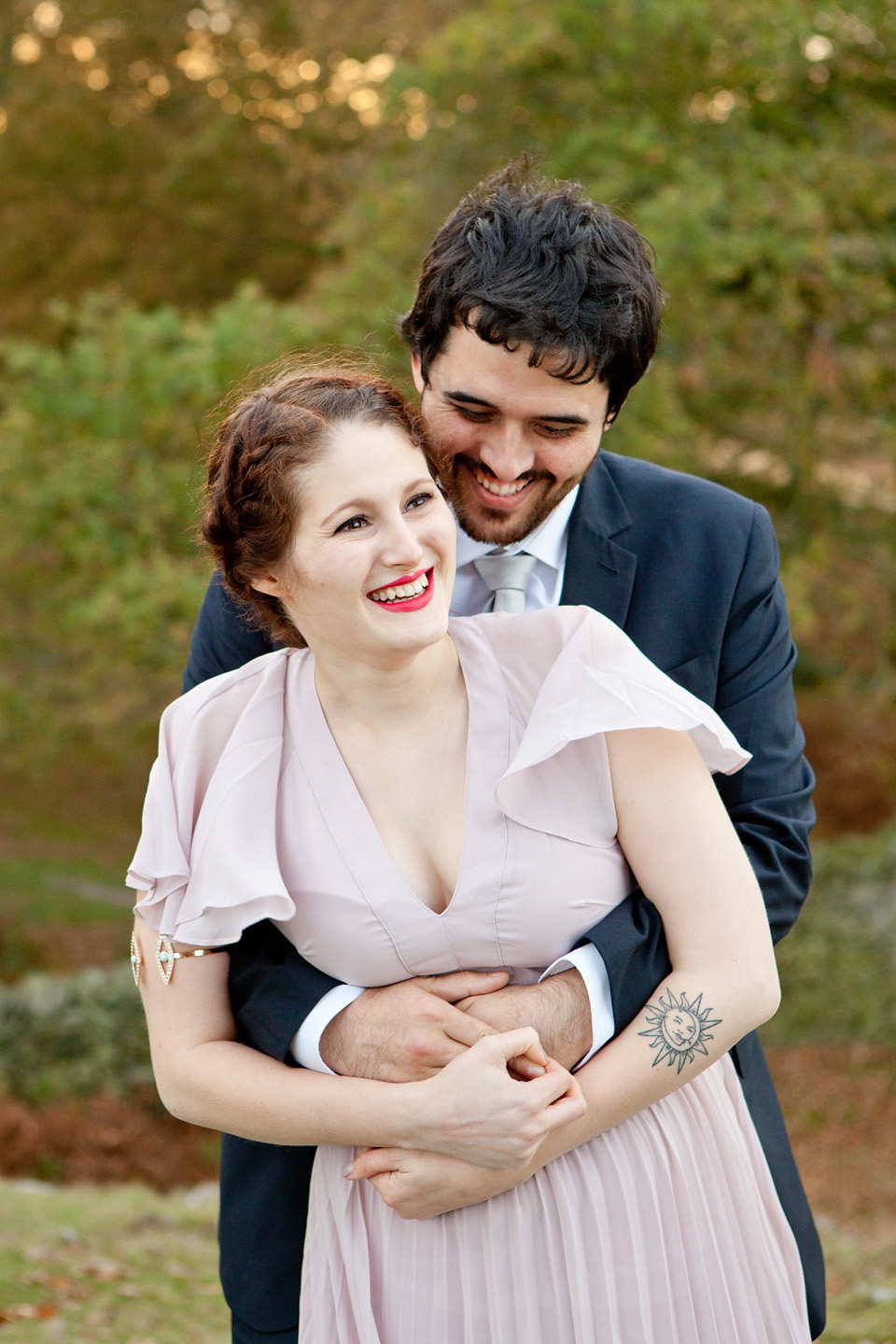 "I used a 'BRIDE' pouch from Alphabet Bags at Miss Bush Bridal as my bag for the day, and I pinned a vintage brooch to it that my great grandmother wore on her wedding day. The only other accessory I wore was a simple armlet around my upper arm."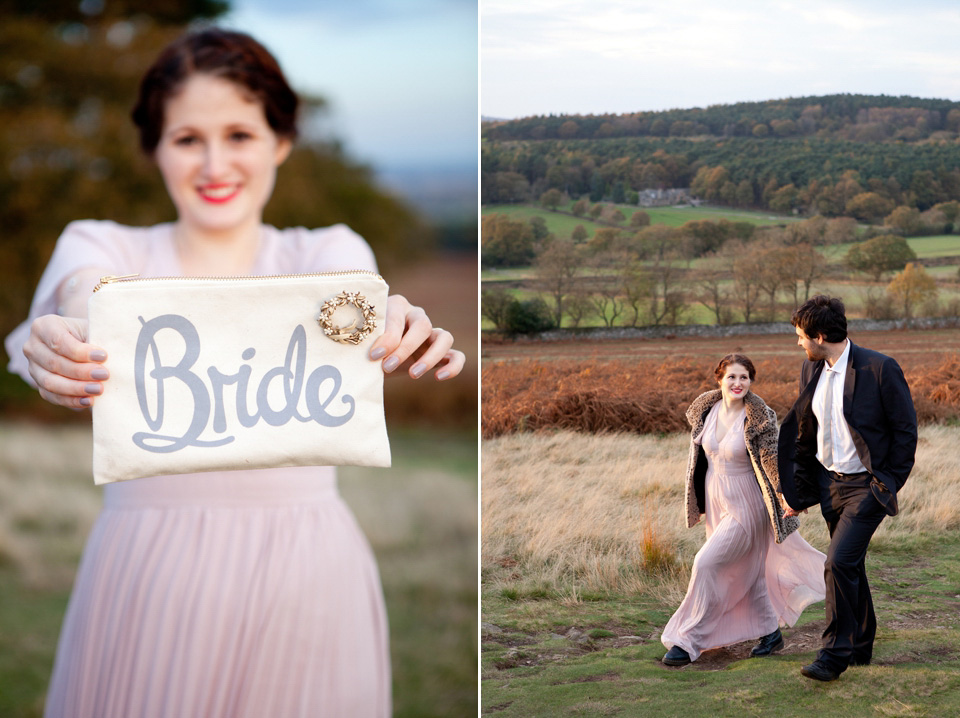 "I also wore my Dr Martens for our portraits and my faux fur leopard print coat from Marks & Spencer. These are things that I wear all the time – I didn't want to look like a different person on the day, I wanted to look how I always look."
"When we got home we danced around the dining room to our favourite song, 'The You and Me Song' by the 'Wannadies' – there was nobody else there but the two of us. It was silly and lovely. For us, this was a lot more special and intimate than an awkward shuffle around a dancefloor with 50 people watching!"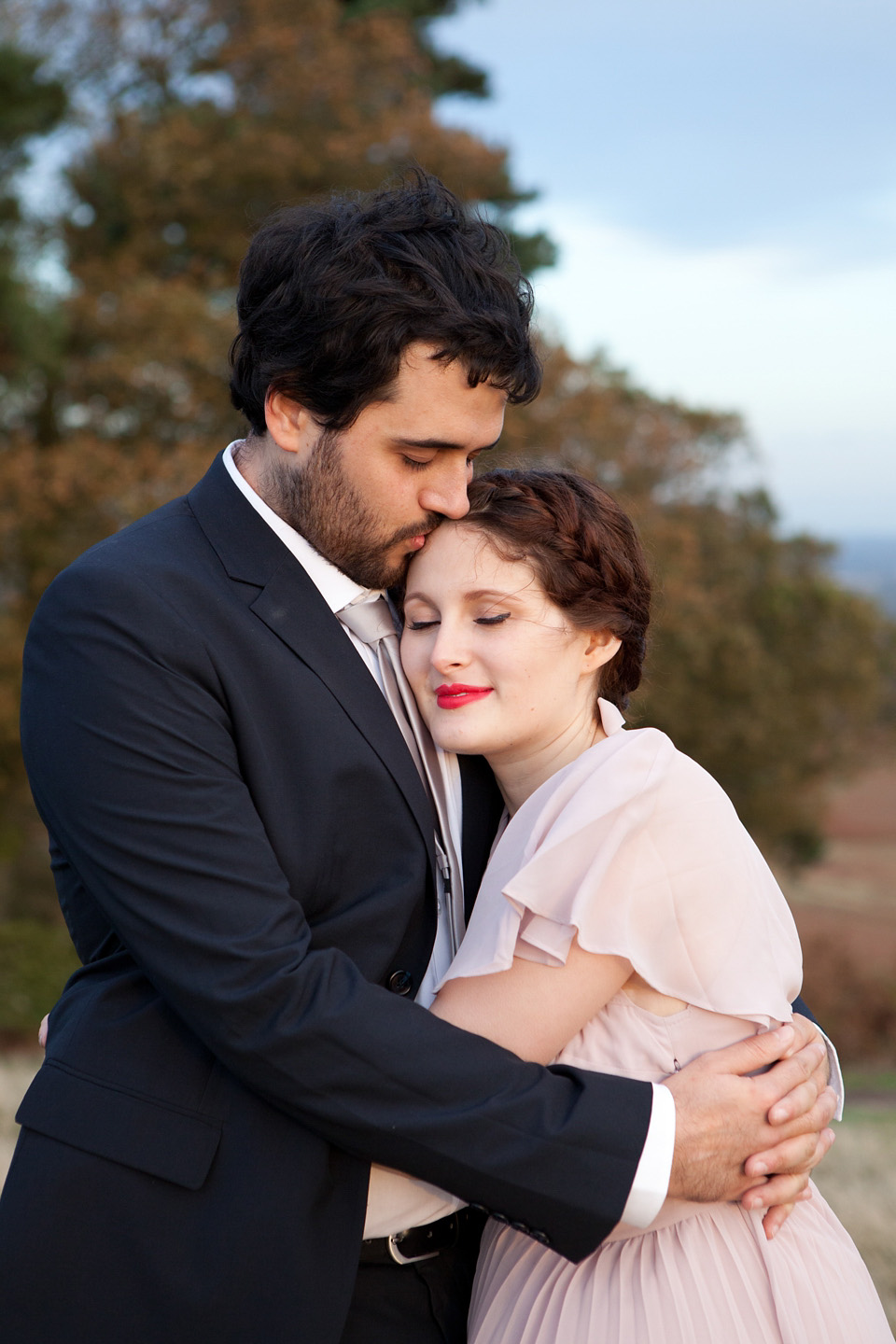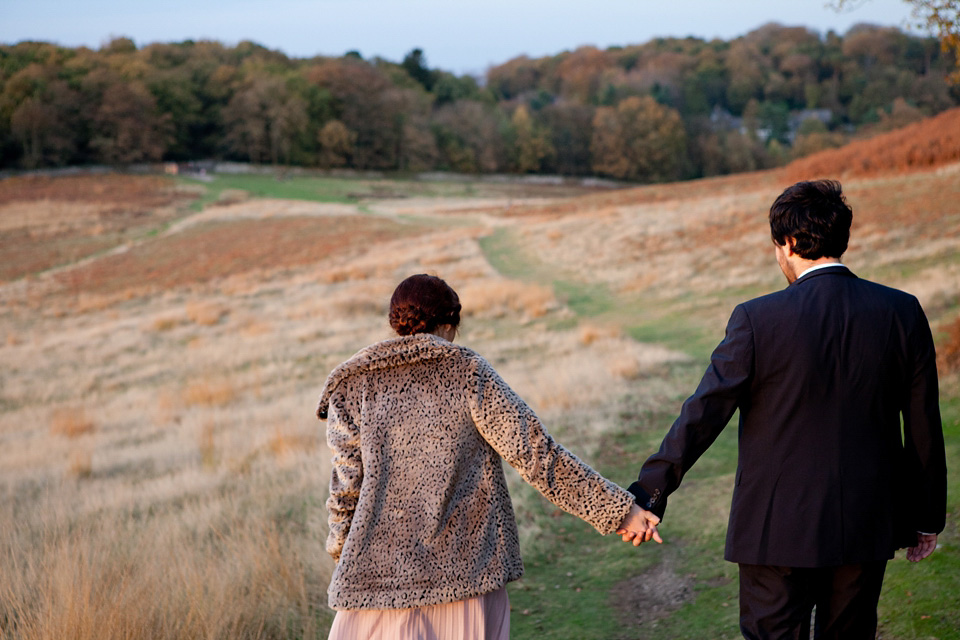 Words of Wedded Wisdom
"My advice is never to feel pressured by what others want.  You should only do what feels right for you. If your family and friends love you, then they shouldn't mind what you do.
You also don't need to spend tonnes of money to get married – we spent around £450 in total, which included the ceremony, afternoon tea, going out for a meal together in the evening, buying gifts for our witnesses, stamps for the announcements and both of our outfits. So many people are put off getting married because they think it's too expensive, but it really isn't.  If you're not really into tradition and fluff, then I don't think there is any need for all of the usual trimmings.  I was so happy on the day, and we both had so much fun. that I can honestly say that I didn't miss any of the traditional 'extras'.  
I wouldn't have changed a thing."
So you see why I shared this wedding? The bride looks incredible (I'm such a sucker for a bride in red lipstick) and her message to you about doing your wedding the way you want to do it, is sincere. And I love that. I love how Leah and Joe stuck to their guns.
Congratulations Leah and Joe – you look so very happy on your wedding day and I'm so thrilled I'm able to share your story with our readers.
Readers, I'd love to know what you think? Leave a comment below or join in the conversation on our social media channels.
Love Annabel xx
Photographer – Ali Lovegrove
Venue – Leicester Town Hall
Wedding Dress – ASOS
Clutch bag – Alphabet Bags at Miss Bush Bridal
Shoes – Dr Martens + pre-owned sandals
Perfume/Scent – Chanel Chance
Groom's suit, shirt + tie – ASOS