Good morning lovely ones.  In typical British fashion I have seen both snow and bright sunshine from my window today, but it's still more than a bit cold outside!  This sunny summer wedding will certainly make you feel a little warmer and have you longing for summer and flowers in abundance- it's so pretty, I can't wait to share.
Meet Laura, a paralegal and her new husband John, a solicitor, who married on the 15th of August 2015 at the gorgeous Eshott Hall in Northumberland.  The most northern county in England is my homeland, and I have a huge soft spot for it, so it's always an especial pleasure to write up a wedding which was based there.
"I wanted to keep things simple with a vintage feel.  The venue and surrounding countryside are so beautiful that not much decoration was needed.  I chose a pale grey for the colour scheme as it is a colour that I love, it did make it quite difficult to match things and so I ended up making some decoration elements myself.  I also have a crafty family so it was fun making elements of the day ourselves."
Photography by Sarah Jane Ethan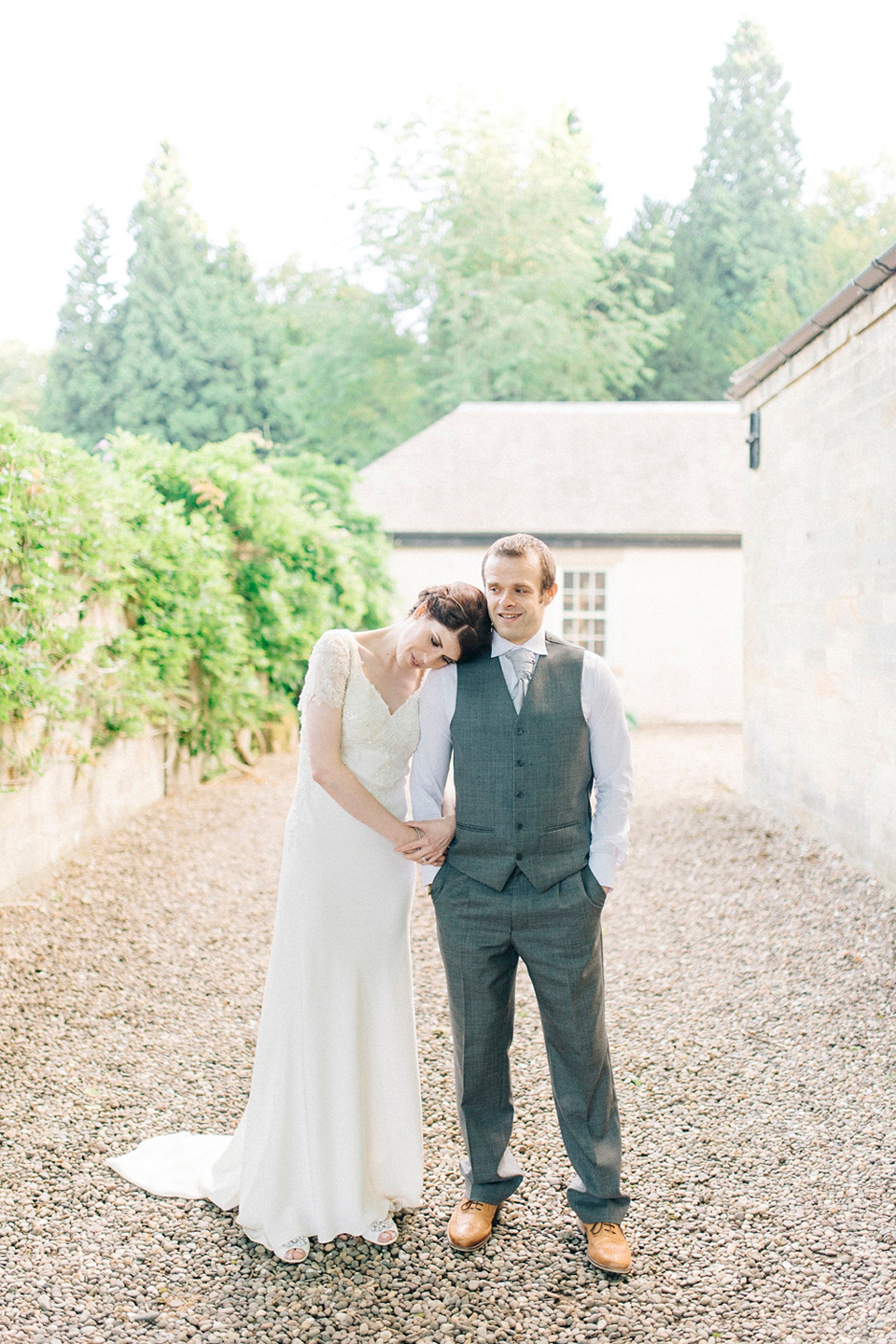 The bridesmaids looked fresh in pale full length dresses with pretty pleating on the front panel and wore their hair down in loose waves- perfect for the summer.
"The bridesmaid dresses were from Debenhams and initially I didn't like the look of them in pictures but when they were on they looked fab- I couldn't believe the difference."
Laura wore the very beautiful Evelyn by Anoushka G, purchased from YAP in Newcastle. I just love the elegant simplicity of this gown, as well as the delicate beading and the cute little sleeves.
"When I started to think about dresses I knew the sort of style I wanted.  I didn't want anything strapless and wanted something with a vintage feel.  I saw a picture of the dress and was determined that 'Evelyn' was going to be the one before I had even tried it on.  Luckily it was stocked in a shop nearby and I loved it as soon as I put it on."
"My shoes were Jenny Packham No.1 from Debenhams.  They were the first thing I bought after getting engaged, even before the date and venue!  I knew I wanted flat shoes as I am quite tall and I seen them by chance and loved them."
 "I wanted to keep it simple in terms of jewellery as the top of my dress was very detailed.  My Dad bought me a bracelet from Pandora that I loved with little heart details all the way round and my Mum bought me some earrings which matched my engagement ring.  My mother in law also bought me a lovely pearl bracelet from China with a jade stone for good luck."
In her hair Laura wore fresh Lily of the Valley on a comb which was put together by florist Sue.  She finished with a spray of Flowerbomb by Viktor and Rolf.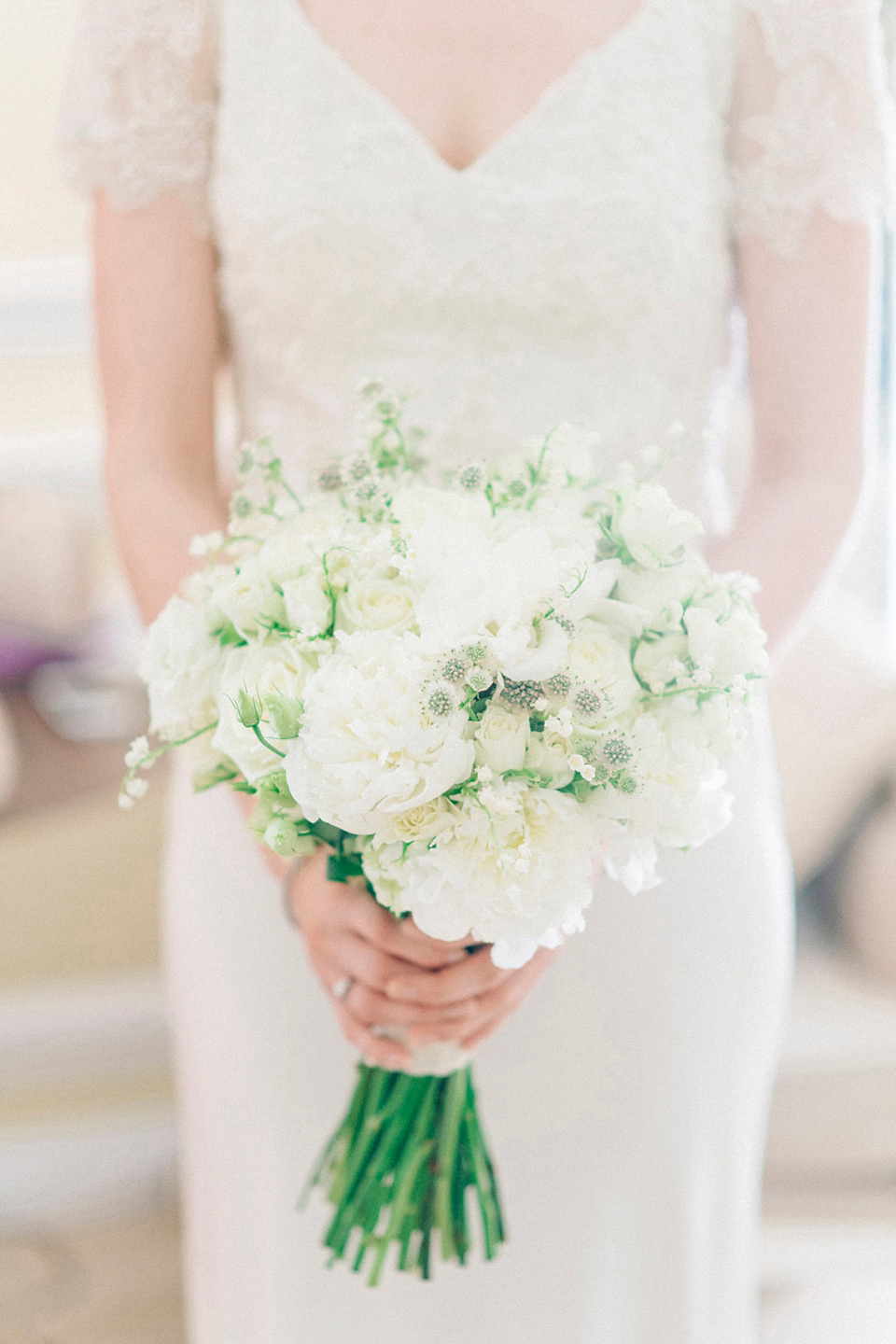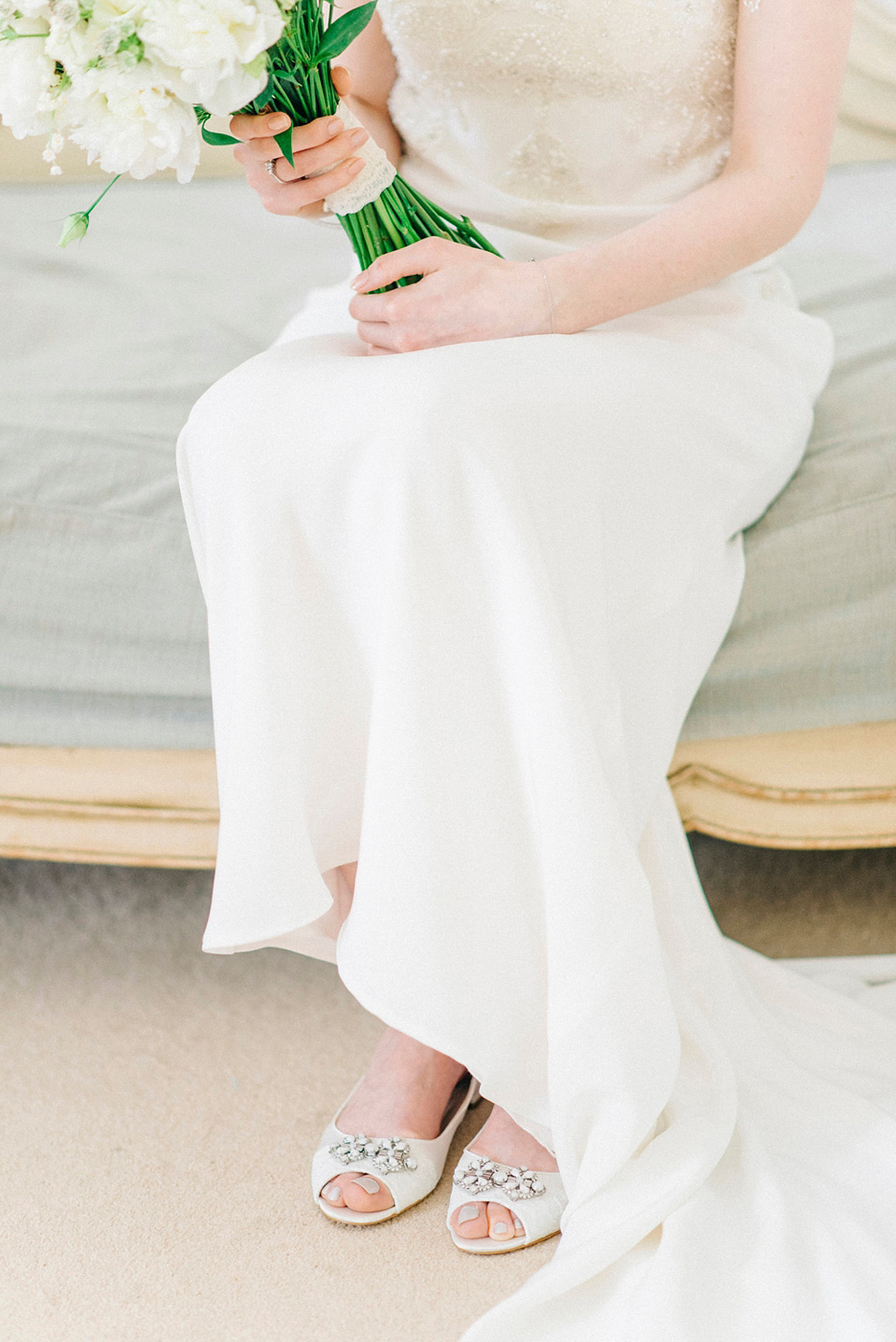 Laura walked down the aisle with her father to the 'Glasgow love theme'.  I absolutely adore the floral arch at the door of the church- so incredibly romantic and absolutely perfect for a sunny summer wedding.
"It's a lovely piece of music which features in the file Love Actually. We had to have a practice the night before to get all the timings right!"
John's mum read 'A lovely love story' by Edward Monkton during the ceremony- one of my very favourite readings (although I am biased as I had it myself) and bound to make guests smile.
"It's about dinosaurs so not traditional but she tailored it to make it personal to us.  A lot of the weddings I have been to have similar readings and poems and this one was a bit different."
John's suit, along with those worn by the ushers, was from Slaters menswear in Newcastle.
"I bought John some cufflinks from Not on the High Street and personalised them with our initials and wedding date. They are a nice memento of the day and there's no excuse to forget our anniversary!"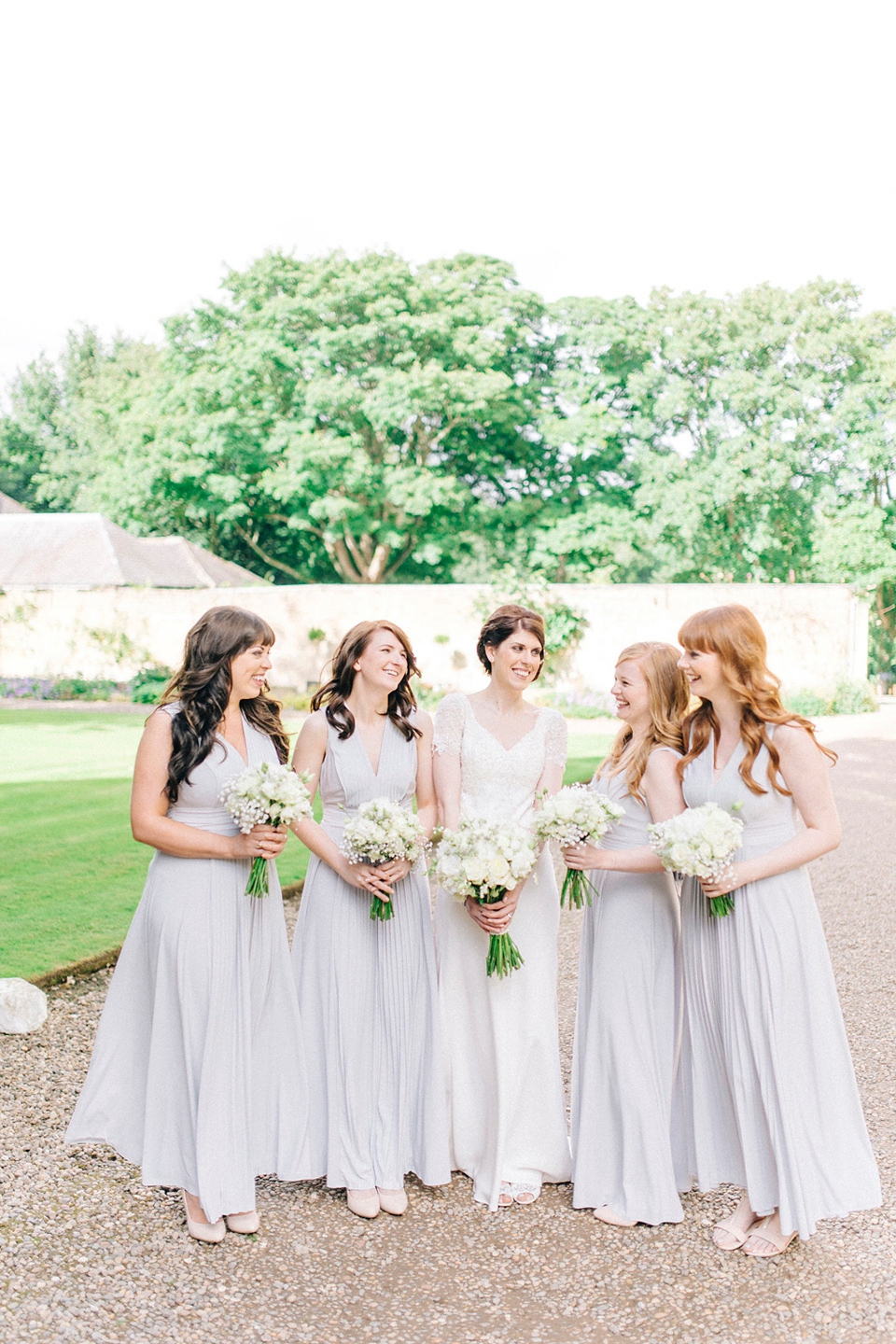 "We used Cosmic Flower Shop who were recommend by one of my bridesmaids.  Sue and Fleming were amazing.  They are so passionate about what they do and my flowers were one of my favourite parts of the day.
I gave Sue a colour scheme and only specified that I would like to incorporate Lily of the Valley as it was a grandma's favourite flower. She told me there may be some problems in getting it due to the time of year but she put in so much effort into sourcing it and ended up getting fresh Lily of the Valley from the Netherlands! I would recommend them to anyone."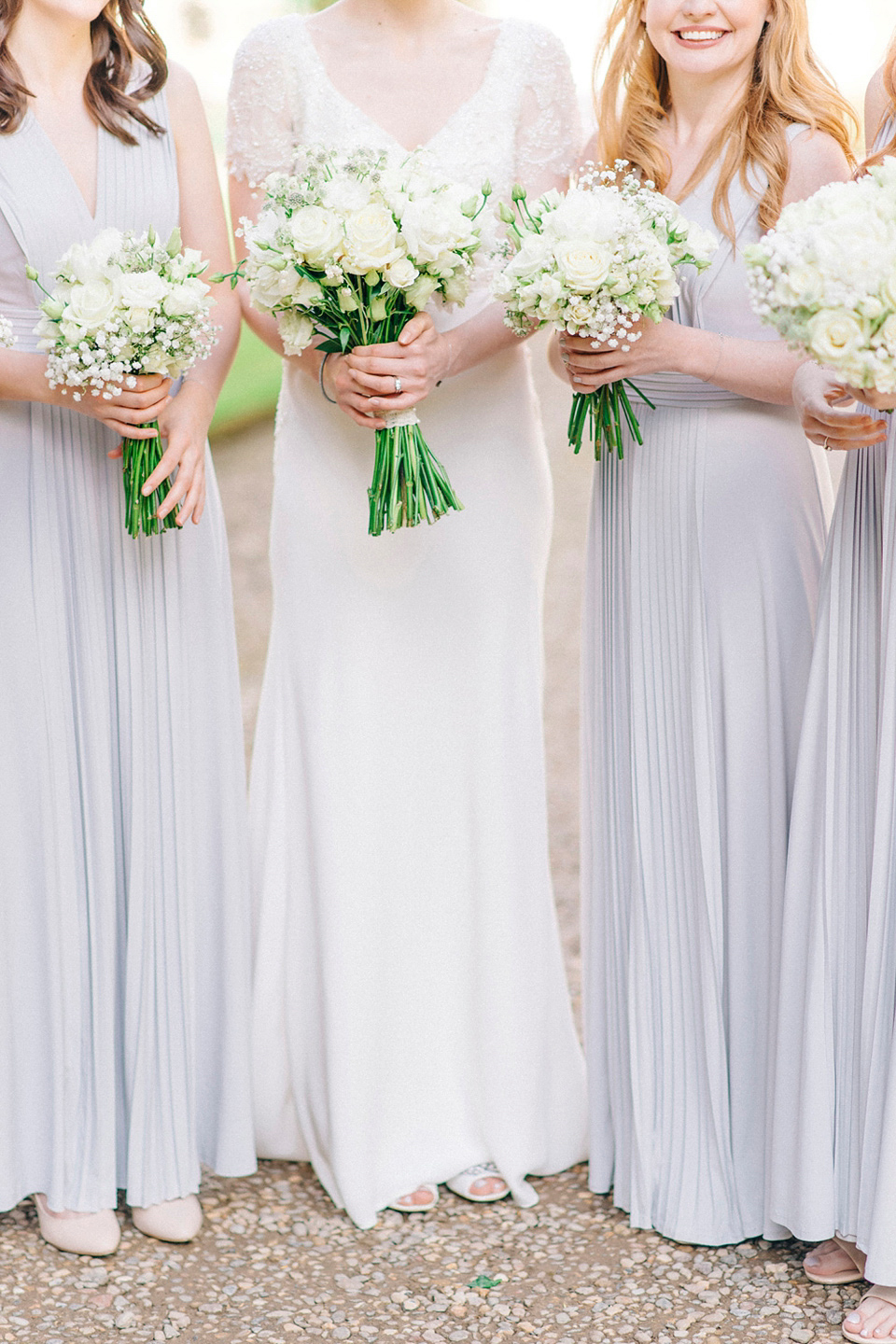 The couple chose Eshott Hall, Northumberland as the venue for their nuptials and who can blame them?  What a completely stunning venue- and theirs for the whole weekend as well.
"We chose Eshott as we love Northumberland, visit regularly and have family who live there so there are lots of happy memories. It is a beautiful part of the country and we are lucky to live so close. We chose an exclusive weekend package which meant we had the entire venue from Friday to Sunday." 
The couple chose photographer Sarah Jane Ethan to photograph their big day- what a perfect choice.  Sarah's work is light, bright and full of detail and is always popular with Love My Dress brides.
"I loved her work and how natural the photos were. By the time the wedding day came around we felt like we knew her and it felt that she was a guest rather than the photographer. Everyone commented on how nice she was and how amazing the pictures are! I will always recommend her as an amazing photographer."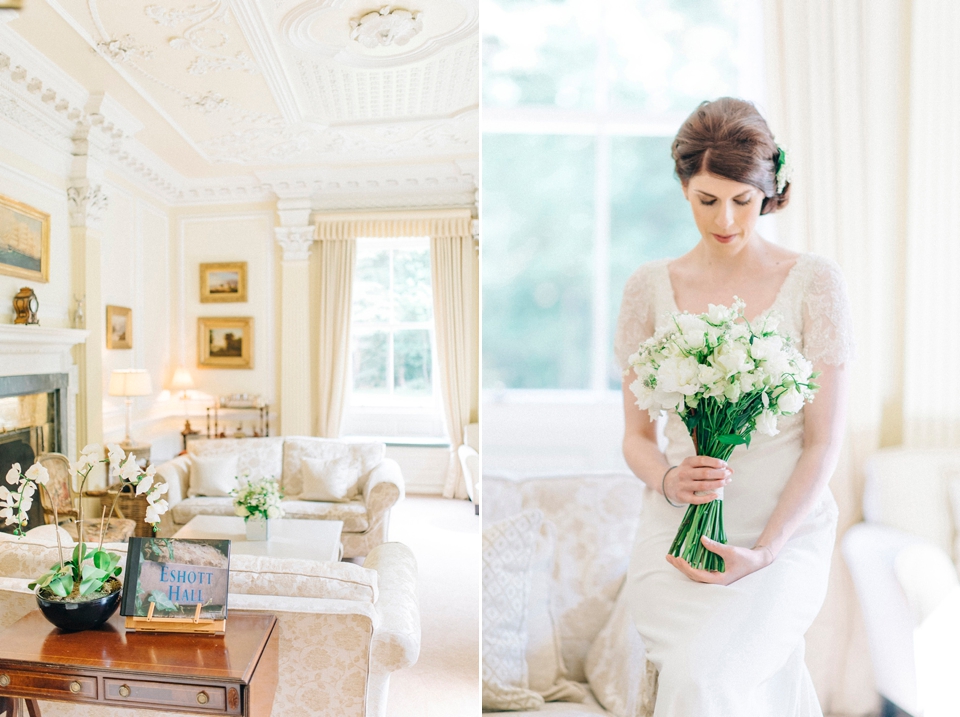 "Decor wise I kept things simple and had marmalade jars and light grey lace.  We wanted specific jars as they had a nice floral pattern on which meant my family and friends had to eat a lot of marmalade in the run up to the wedding."
"My favourite part of the day was being with all my friends and family and not having to worry about everything going to plan. Being with everyone dressed up in lovely surroundings on a sunny day celebrating our wedding was just fantastic."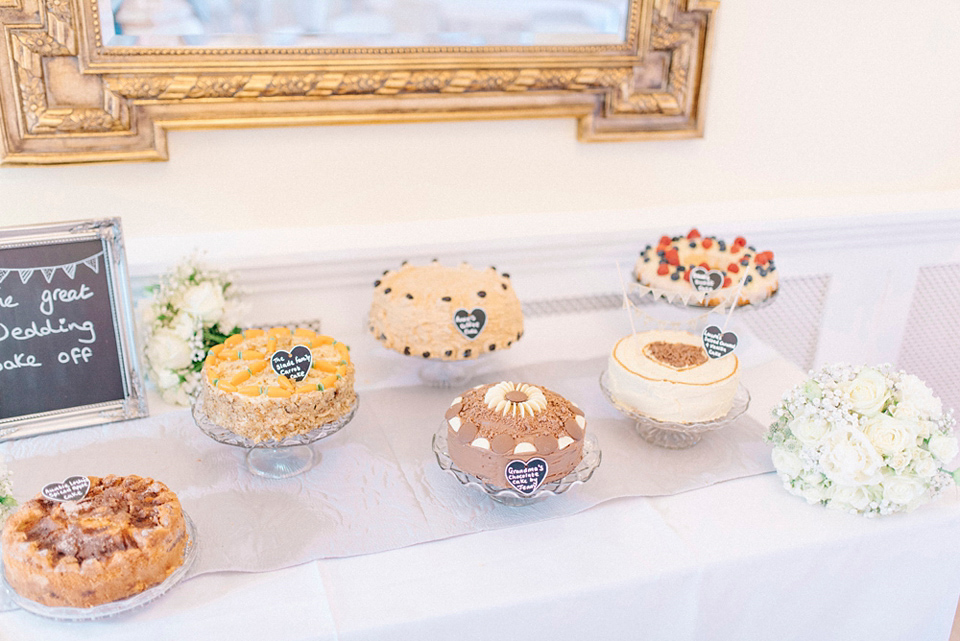 "We decided to ask family and friends to make different cakes and have a cake table as I don't like traditional fruit cake.  We all thought we were in the 'Bake Off' and took it very seriously!  I made a salted caramel and vanilla cake which was the one we cut.  Everyone loved the idea and it meant people could have a bit of what they liked."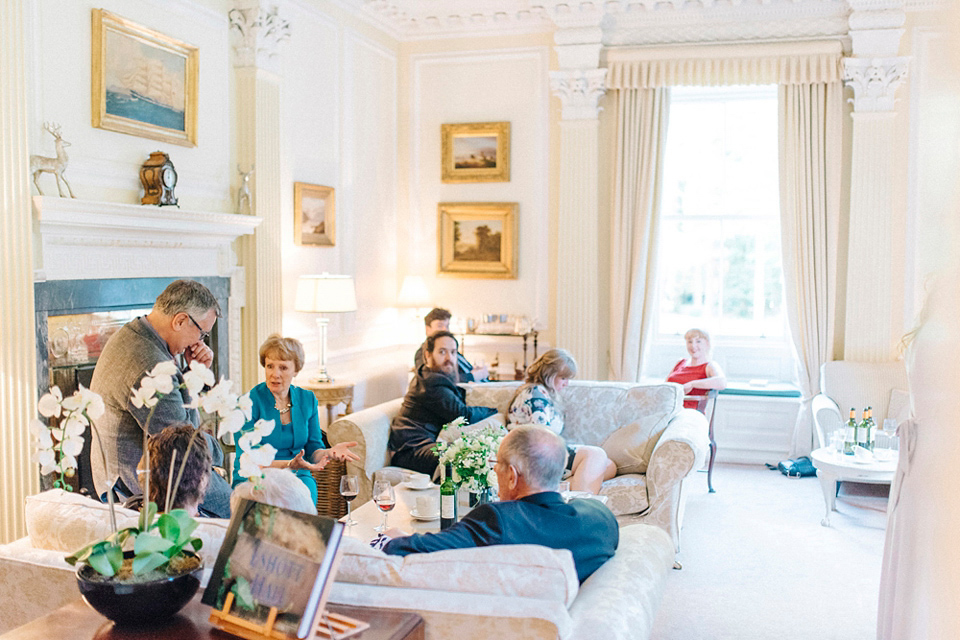 Words of Wedded Wisdom
"My advice to brides planning their big day is to make it as personal as possible as the small things make the day and are the things people remember. Don't be worried about doing something a bit different and don't stress yourself out. You can only plan so much and you won't care if little things go wrong on the day."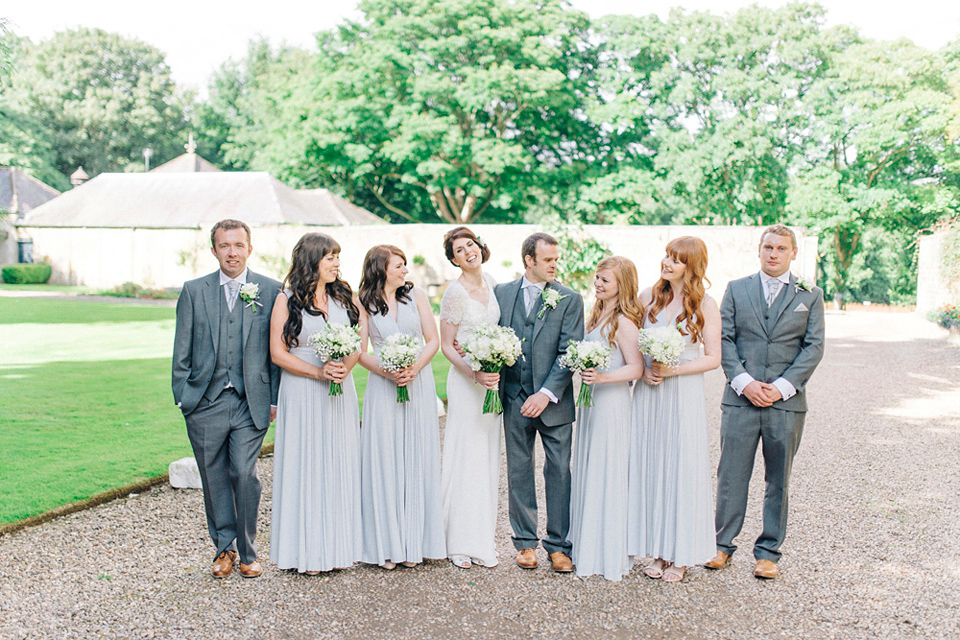 Thank you so much to Laura and John for sharing their beautiful day with our readers, and of course to Sarah Jane for the wonderful images.  Are you planning a Northumberland wedding?  If so (or even if not- they're such gorgeous ones!) take a look here for some inspiration. My own is in among them if you look hard….
Much love,
Shona x 
Photographer – Sarah Jane Ethan
Venue –Eshott Hall, Northumberland
Wedding dress – Evelyn by Anoushka G, purchased from YAP in Newcastle.
Shoes – Jenny Packham No.1 from Debenhams
Accessories – Gifted jewellery
Perfume – Flowerbomb by Viktor and Rolf
Bridesmaid Dresses – Debenhams
Groom – Suit, Slaters; Cufflinks, Not on the High Street
Hair and Makeup – Lisa Jones
Flowers – Cosmic Flower Shop
Cake – Family and friends
Rings – Newcastle Jewellery
Favours – Percy Piglets from Marks and Spencer
Entertainment – Grace Under Pressure