We've made it to the end of the week lovely readers! I've got a very sweet and quirky wedding to share with you all to set you up for the weekend. The bride wore a very stylish fishtail Ellis Bridals gown, and just you wait until you see her bouquet! Cass from Cassandra Lane Photography expertly captured our lovely couple's summer wedding.
Oliver, a freelance director, animator and illustrator, and Lucy, who works in finance, married on the 18th of June 2015 at The Kingscote Barn in Gloucestershire.
"We wanted an eclectic feel to the day, combining a love for vintage elements and quirky design, very much like our home which is full of strange things! Each little piece we added was like adding a part of us to share with our wonderful guests. Nothing was taken too seriously; we just wanted to have fun in making everything look how we envisioned it."
Photography by Cassandra Lane Photography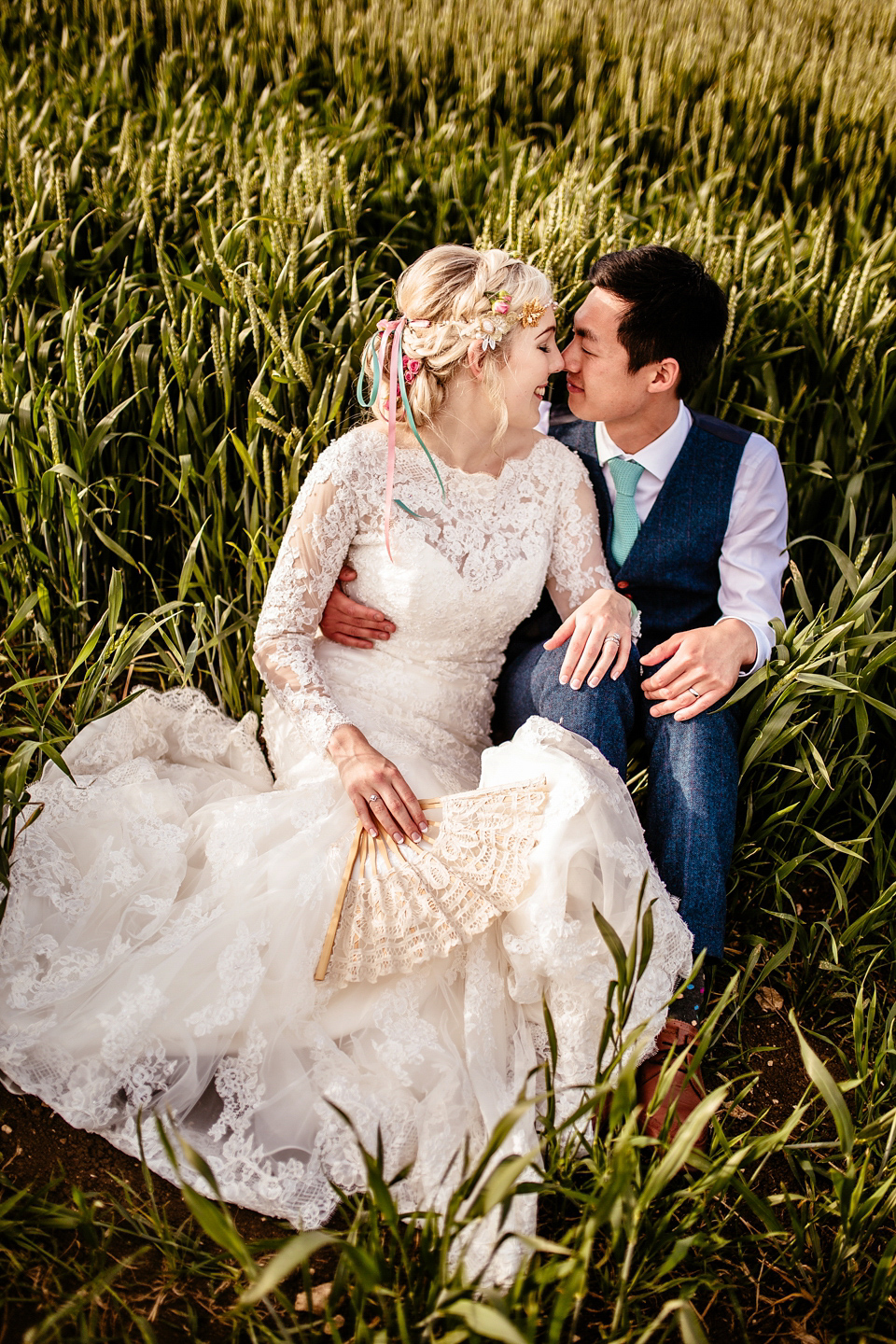 To capture the vintage feel of the day and add vibrant colour, Lucy and Ollie chose a beautiful selection of roses ranging from pale pink to coral hues, and matched them with stunning coral charm peonies. Their florals were created by Bumblebeez and Jacaranda Flowers and simply breathtaking – Lucy's bouquet is one of the most stunning floral displays I've ever seen! The peonies were included as the couple wished to pay homage to Ollie's Chinese roots and the trailing amaranthus was a reminder of past holidays.
"Peonies are symbolic in Chinese culture for many positive things. This was important, as we wanted subtle Chinese elements on the day in homage to Ollie's heritage."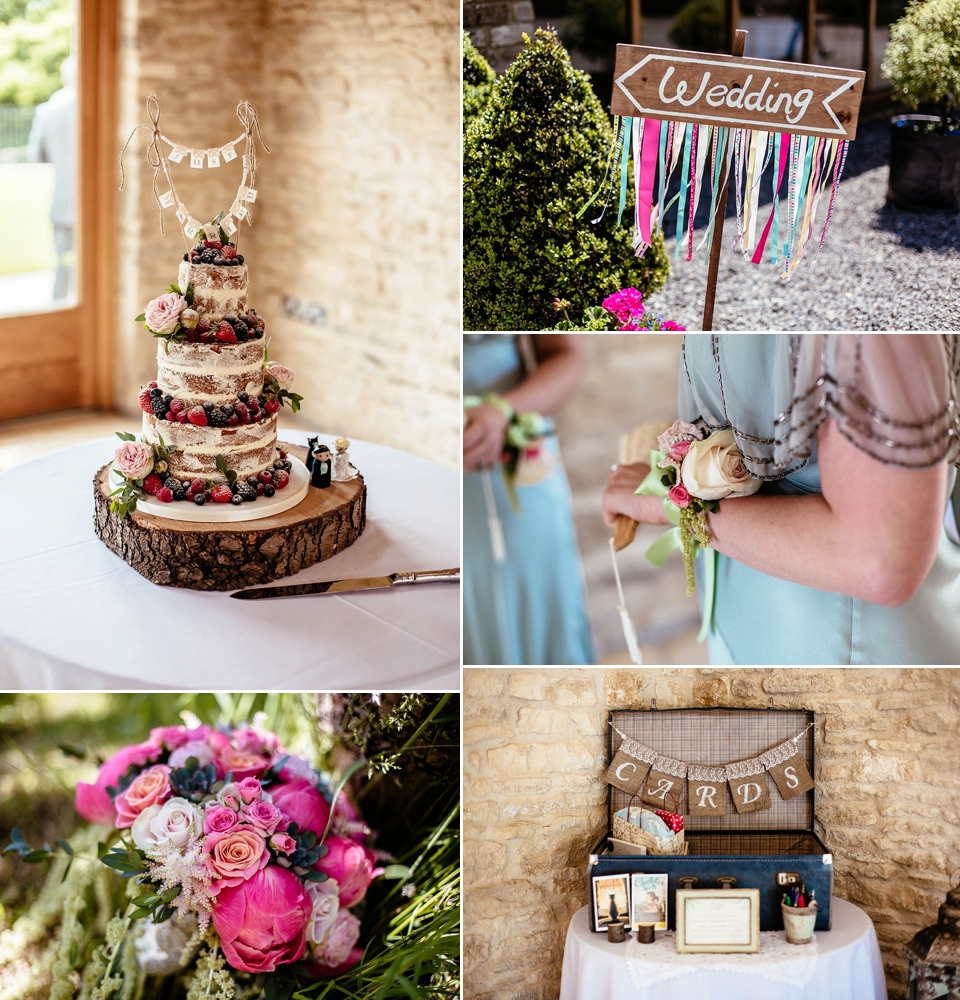 "We also chose to have jade green succulents to be a bit less traditional. Glasses and jars were filled with sweet peas, eucalyptus, astillbe and trailing amaranthus. The trailing amaranthus reminded us of trips to the Mediterranean where you see it elegantly hang from fountains and beautiful buildings."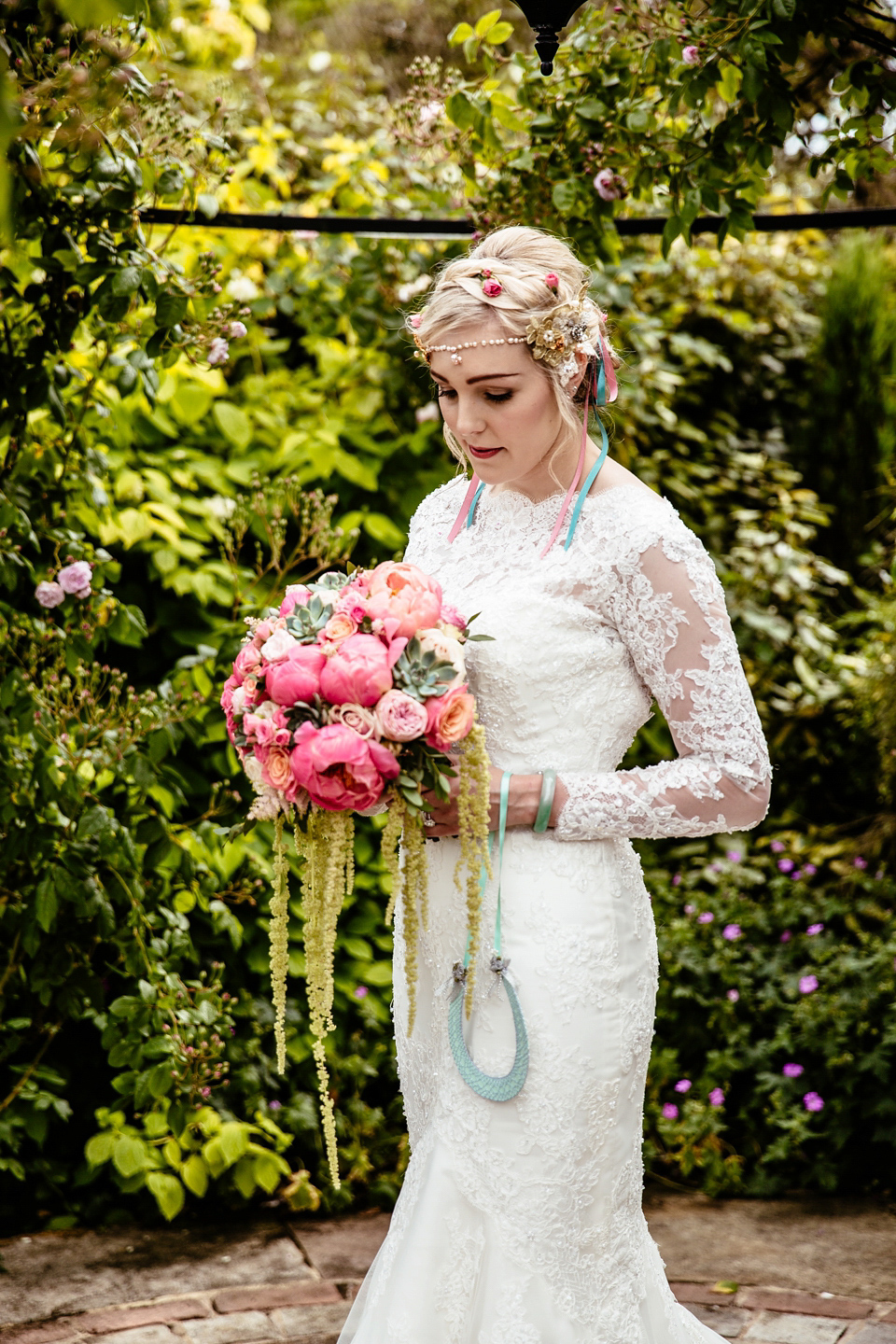 "We have known Cass from Cassandra Lane Photography personally from our days at our Art Foundation course.  When we saw her wedding photography, we knew there was no better person to choose to shoot our special day. She has an incredible eye for detail and captures the moment so naturally and genuinely. Cass has such a warm and welcoming personality and made us feel so much at ease."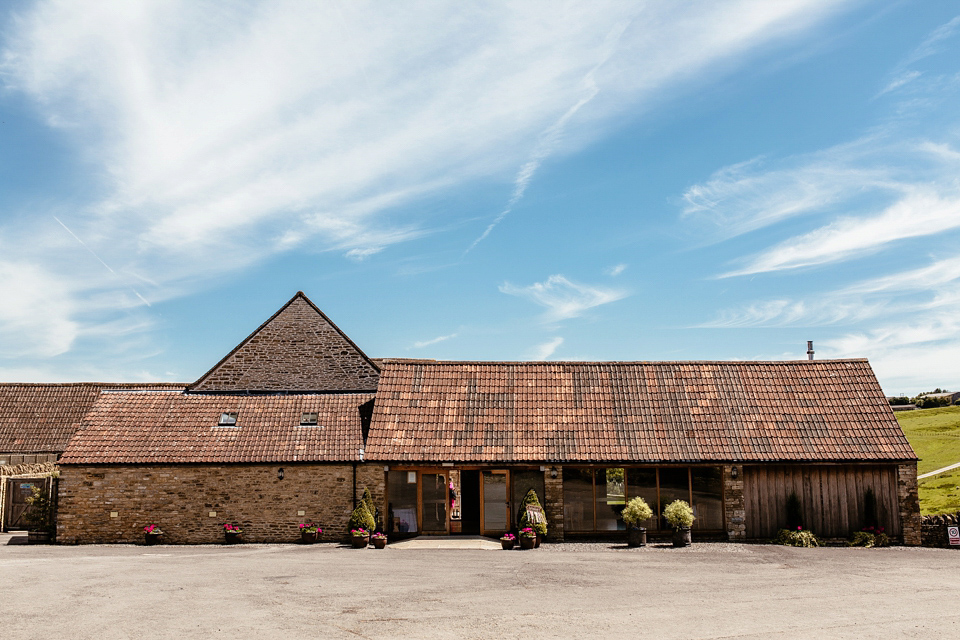 "We are both creative people and Ollie has experience in graphic design already, so who better to design our stationery than ourselves. It meant that we knew exactly what we wanted to the very smallest detail and was a great way to save money. It was so much fun to add our own touch to the stationery and make things that extra bit special and personal to us."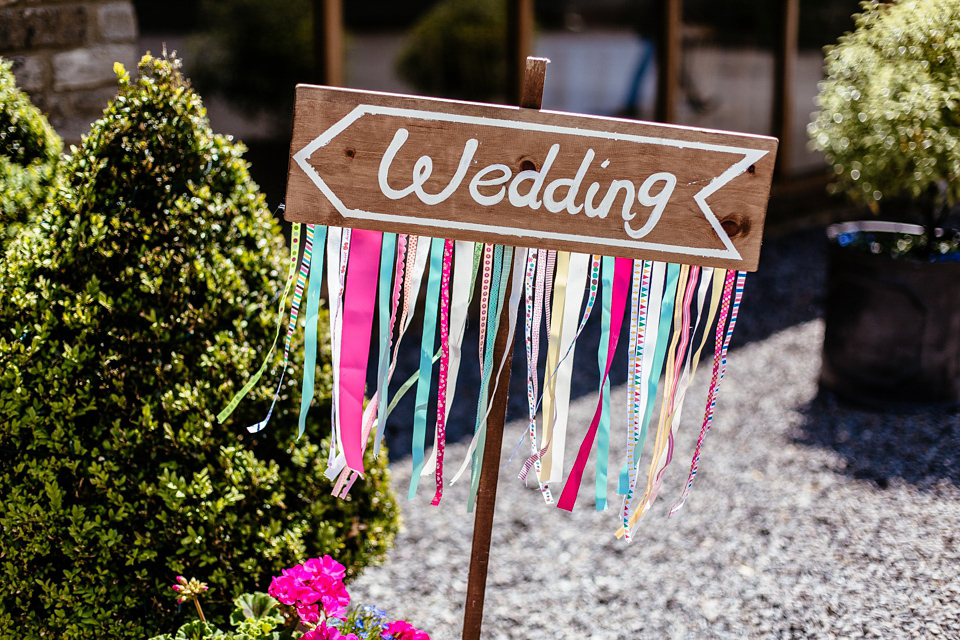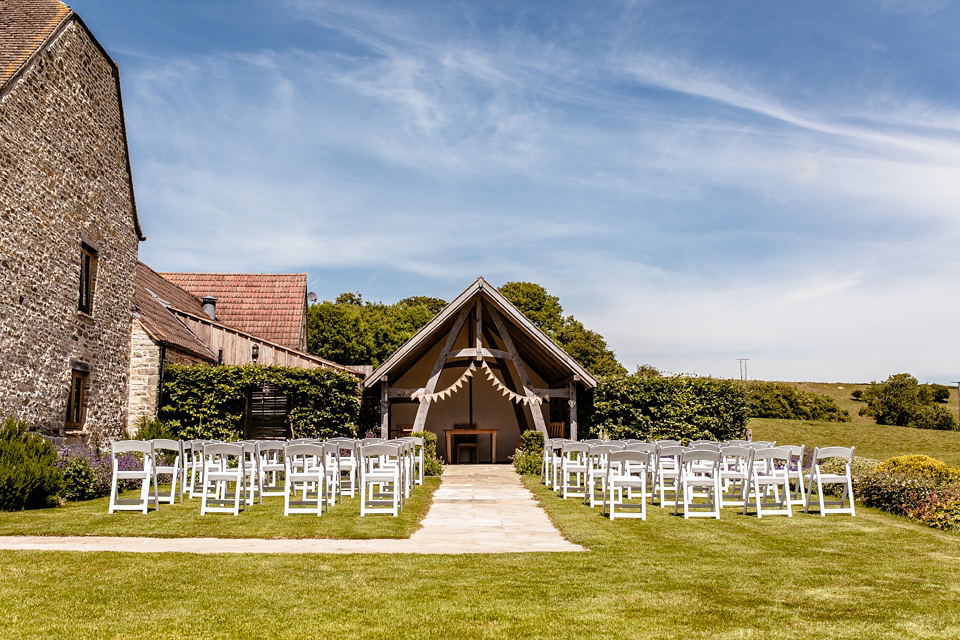 Lucy's beautiful fishtail Ellis Bridals dress, with long lacy sleeves, was bought from the Chanticleer showroom in Cheltenham. She paired the lace gown with quirky Irregular Choice heels and made her own incredible headpiece – what a creative bride!
"I originally saw the dress in the window whilst walking past with Ollie and it stopped me in my tracks. Before Ollie could look at it I ordered him to keep walking, just in case it was the one! As soon as I put it on I knew it was the right one. The shape was perfect for my figure and it was more unusual than a lot of dresses that I had previously tried on."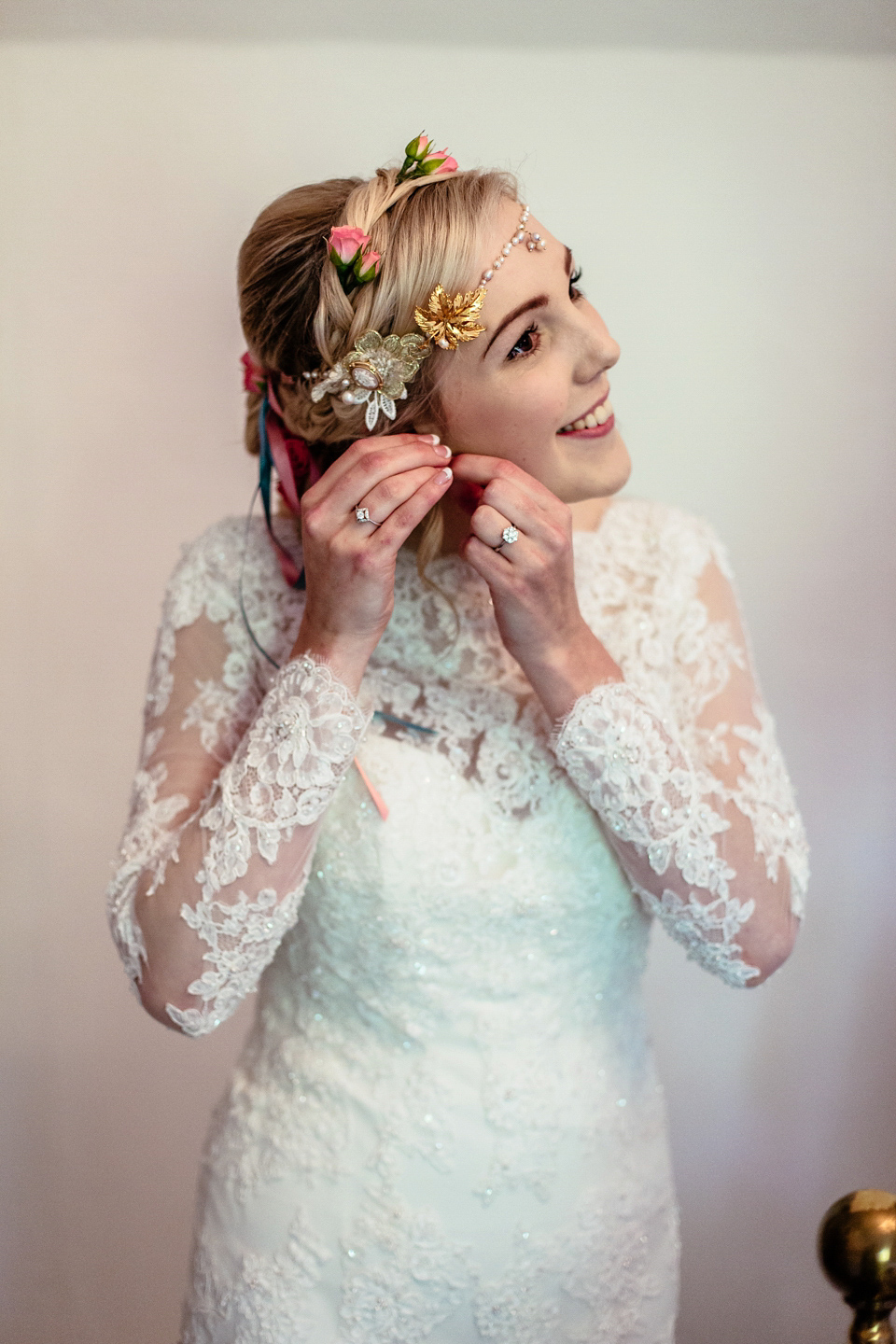 "I chose to design and craft my own headpiece using vintage brooches, freshwater pearls, ribbon and lace. My hair was decorated with small pink roses to match my bouquet."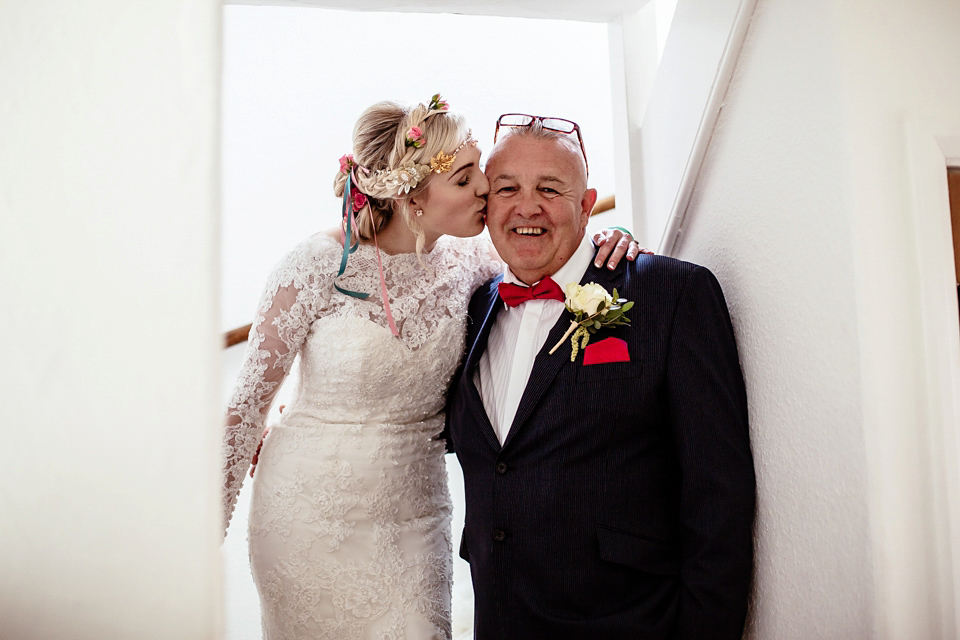 The maids wore silky Ghost gowns in a dusky pale blue hue, fabulous Irregular Choice heels, simple pearl earring studs and for their hair, fresh flowers and a jewelled headband.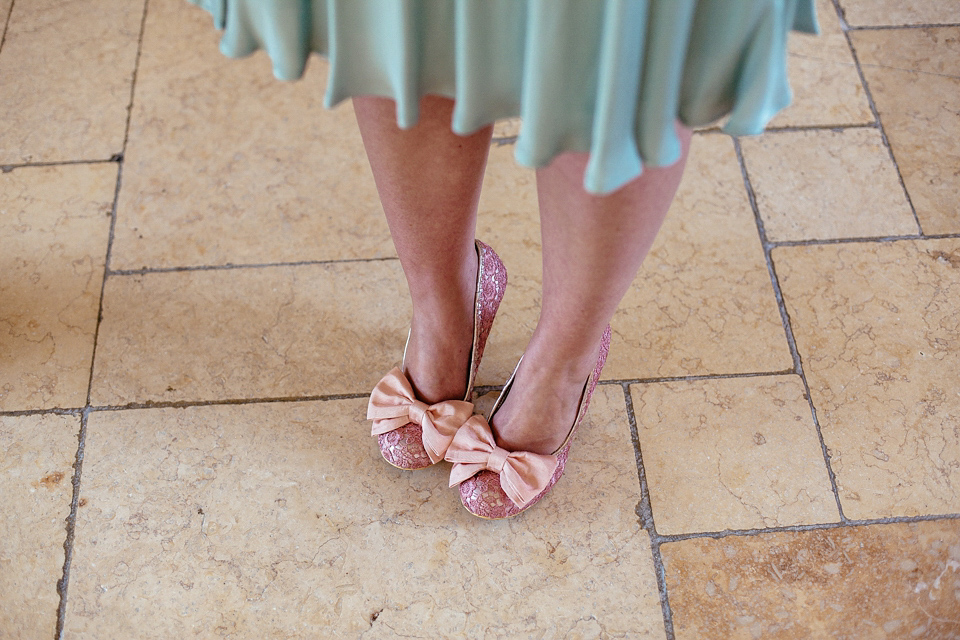 They also carried pretty lacy fans to keep cool. And to finish off, the maids added beautiful wrist corsages, instead of bouquets – such a stylish look! Have you thought about a wrist corsage for yourself or your bridesmaids? See here for more corsage inspo we've previously featured on this beautiful blog.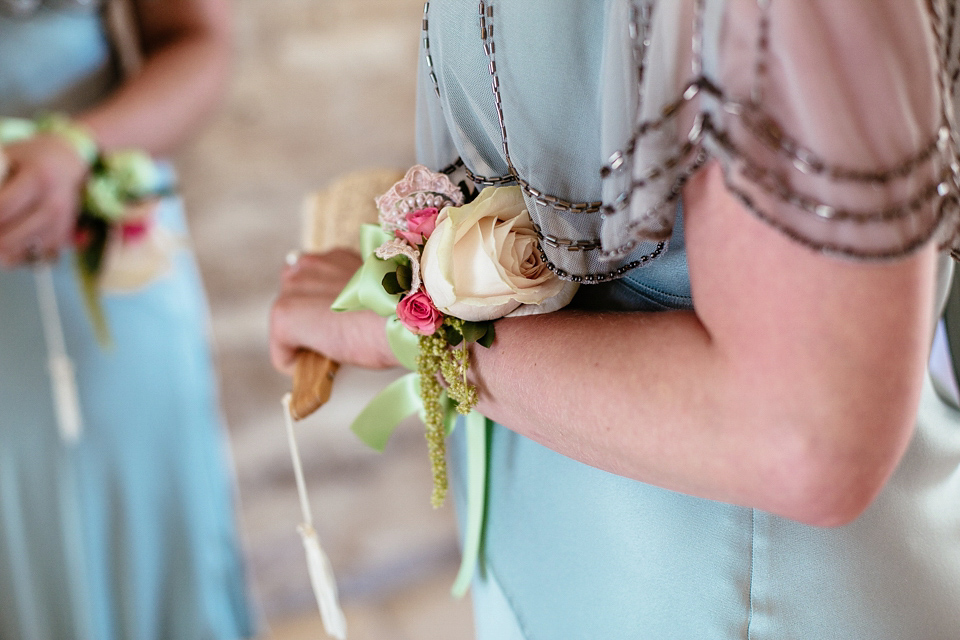 Ollie cut a handsome figure in a Victor Valentine suit in blue herringbone tweed, adding a pair of Hudson shoes, a Costelloe & Sons shirt, knitted tie from Reiss, and a Woodford pocket watch. The groomsman wore a complimentary suit in the same tweed from Victor Valentine.
Lucy completed her eclectic look with a delicate, floral fragrance that matched the mood of the day, 'Chloé' by Chloé, and pretty jewellery – Shaun Leane enamel and rhodonite cherry blossom earrings, a jade bangle and vintage-style diamond ring worn on her right hand, both gifts from her mother-in-law. And I'm a huge fan of the beautiful bride's cute white parasol!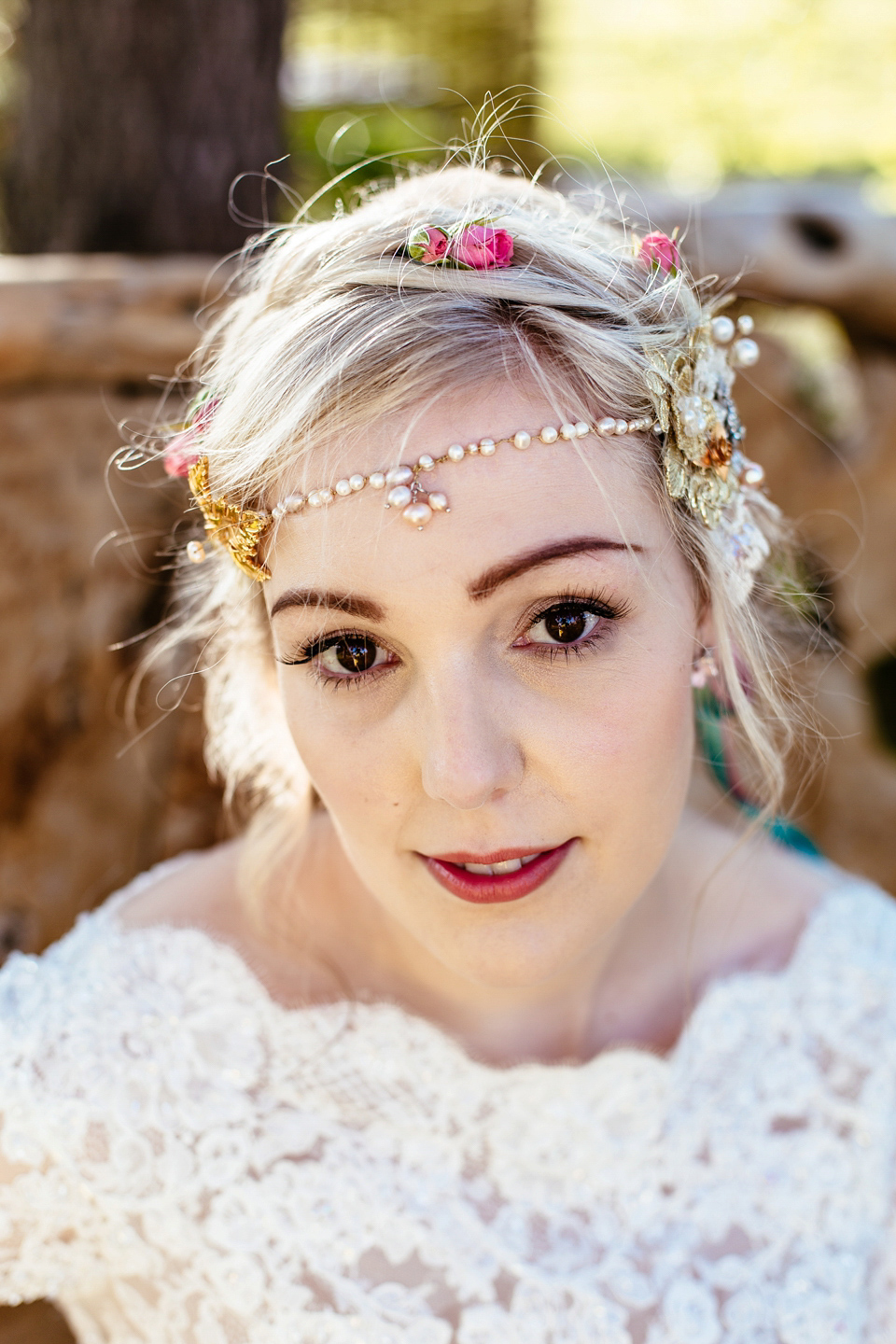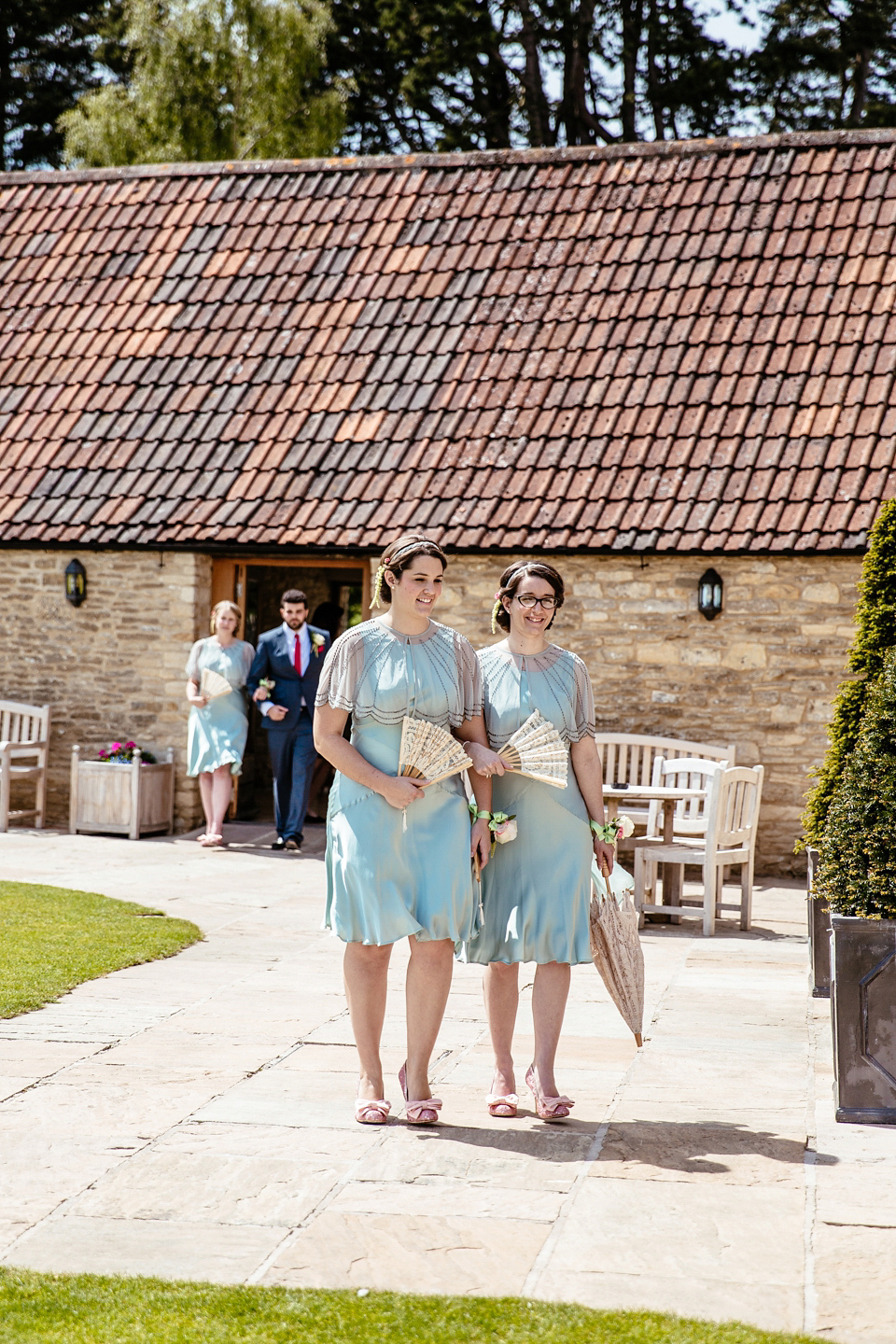 Lucy's father Reid walked her down the aisle to the haunting tune 'Hoppípolla' by Sigur Rós. The reading was an extract from 'Cosmos: A Personal Voyage' by Carl Sagan. I love how the couple included something so personal to them.
"We felt that this reading matched our personalities perfectly. The reading aims to make people aware of the true reality of things around us."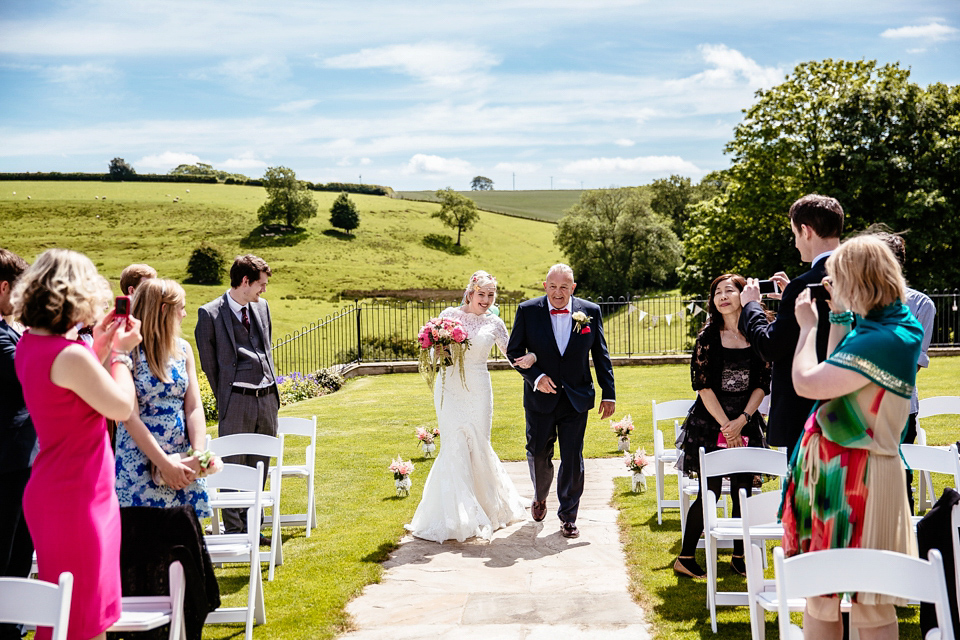 "We met each other in 2006 when studying an Art Foundation course. We met through friends and got to know each other better when we found out we had a lot in common. We talked about getting engaged and both agreed we would like to at some point soon. I found my perfect engagement ring in the jeweller's in which I worked at the time. Ollie kept hold of the ring for months, leaving me wondering when he would actually ask me!
We became officially engaged on our five-year anniversary in 2013 and decided to marry in summer 2015 to give us time to plan and save."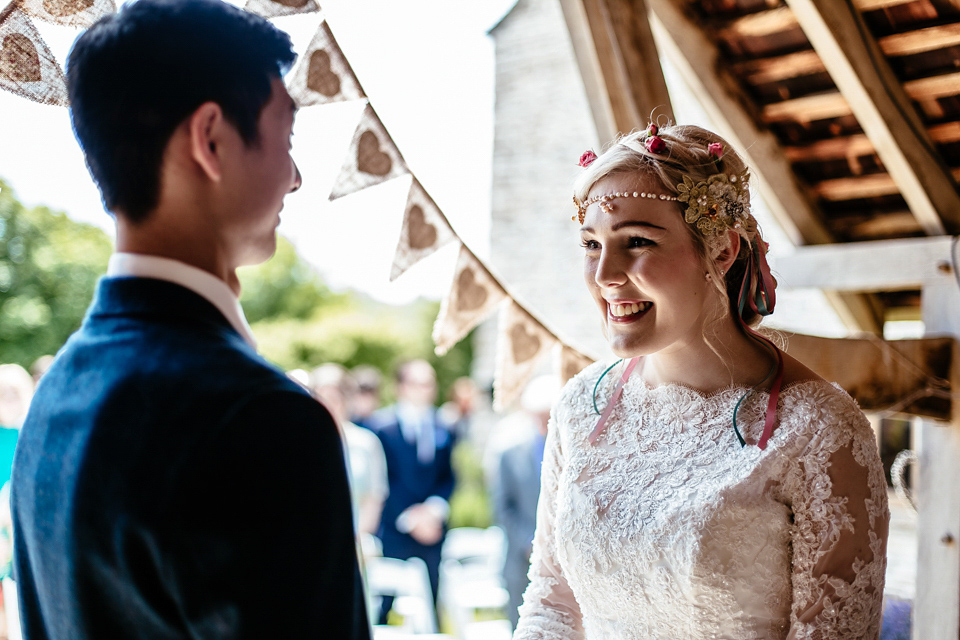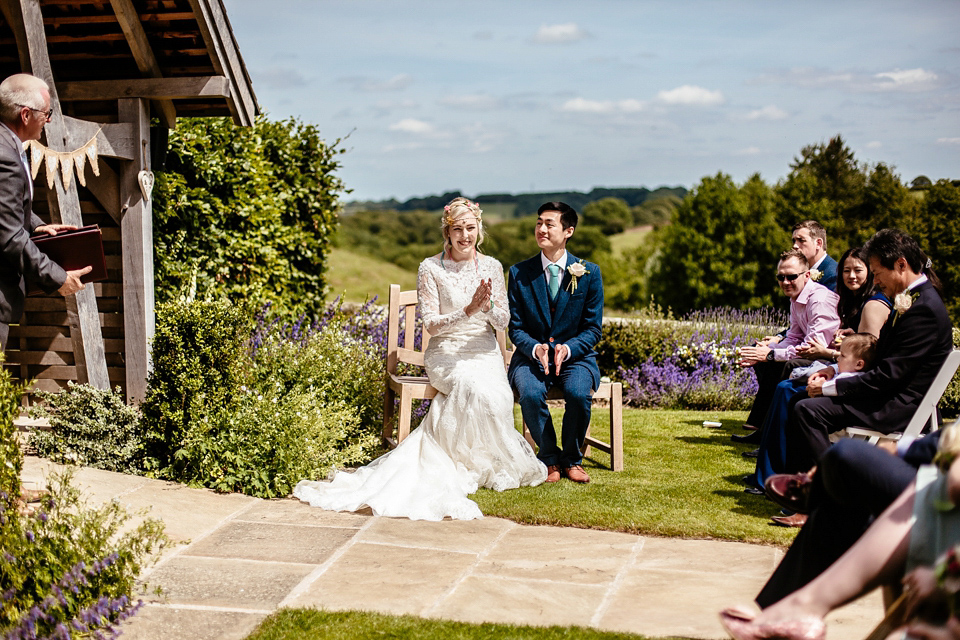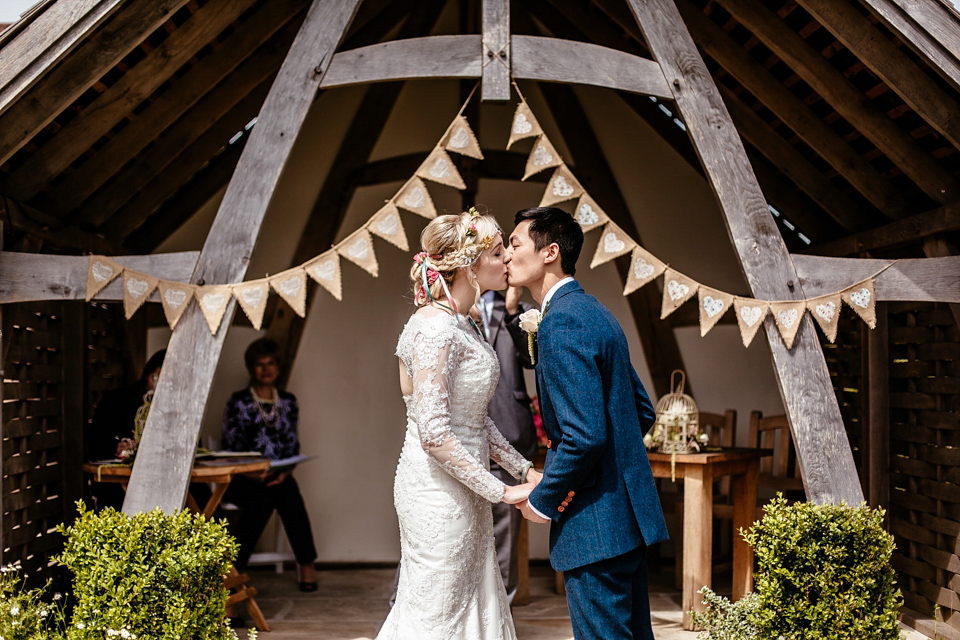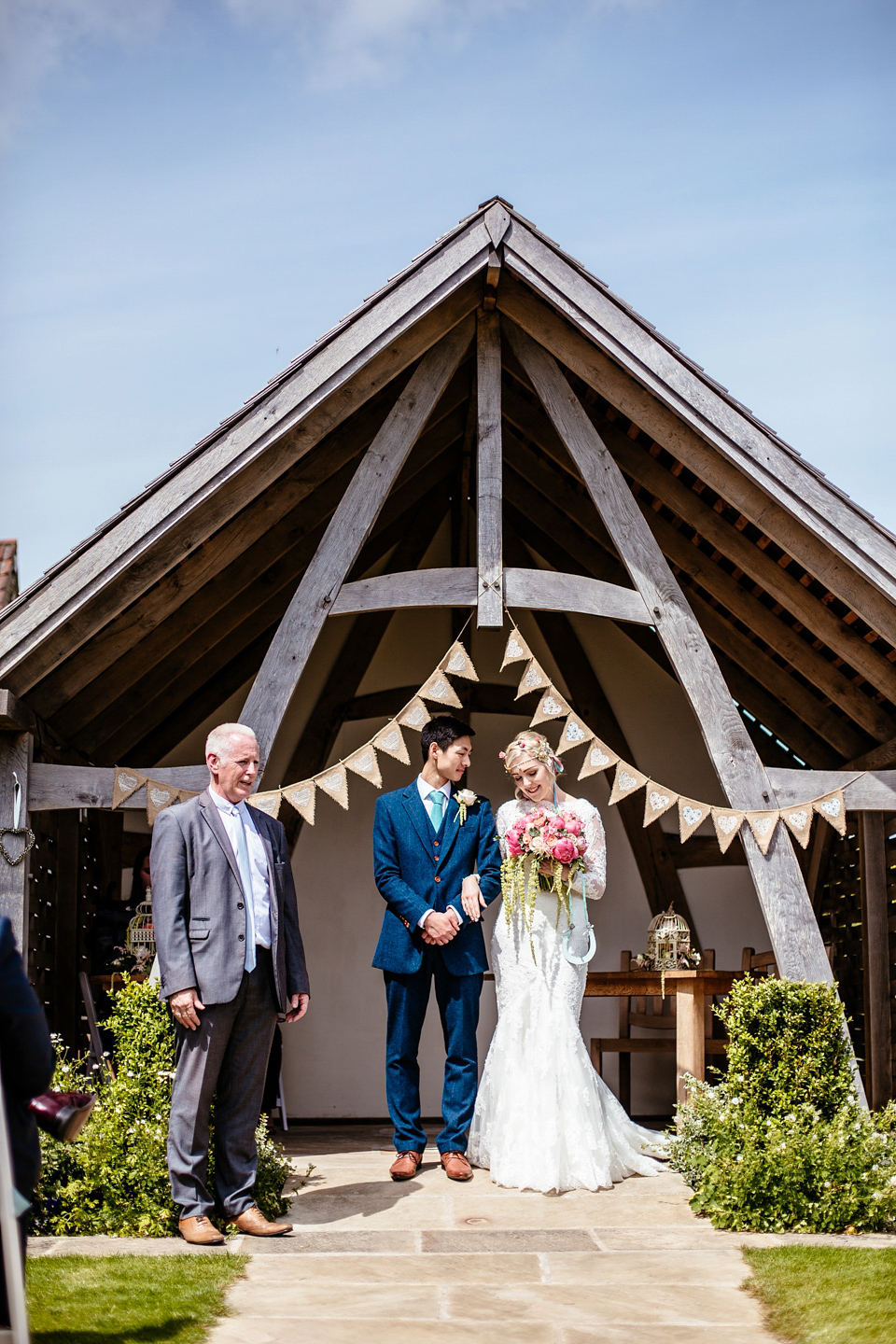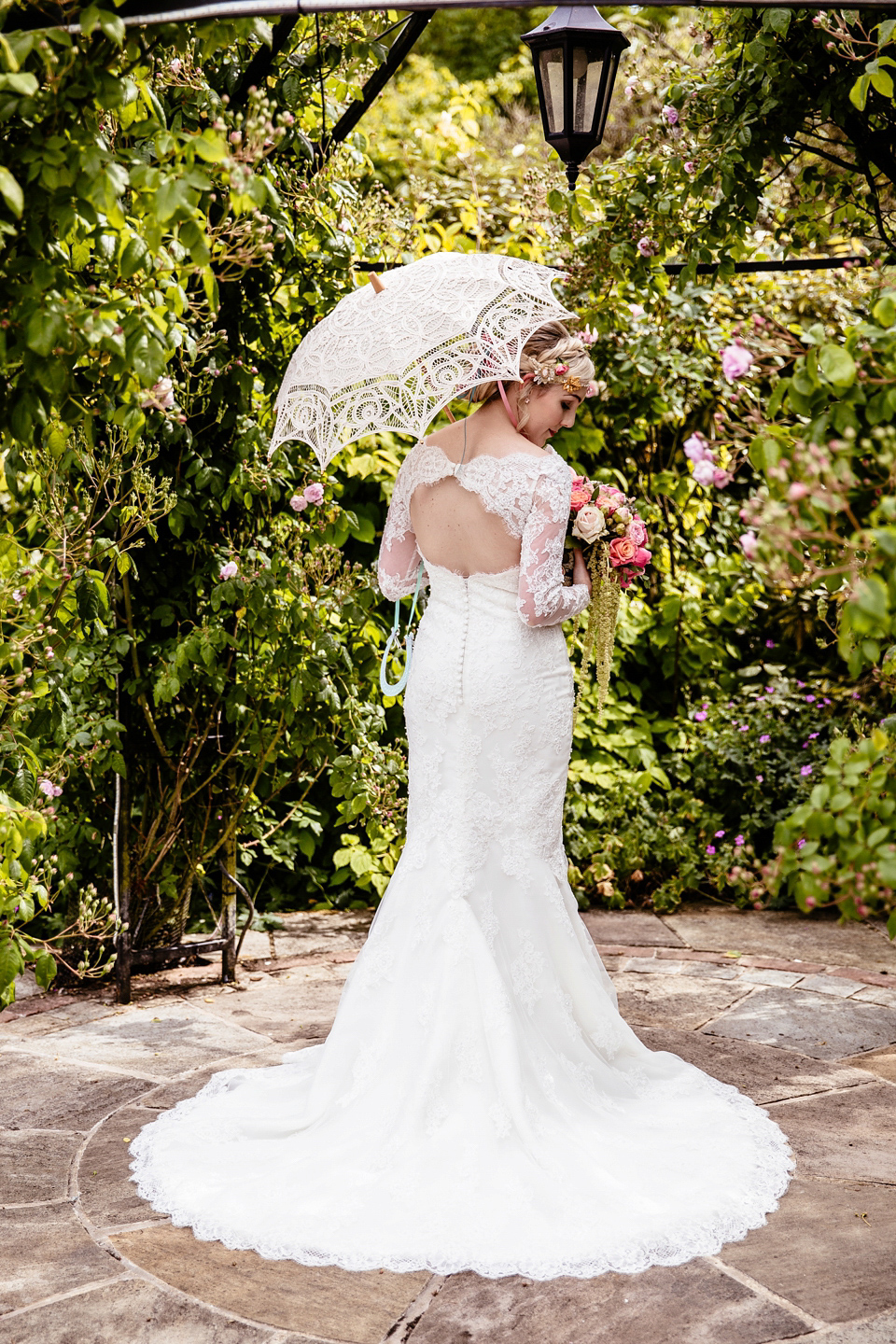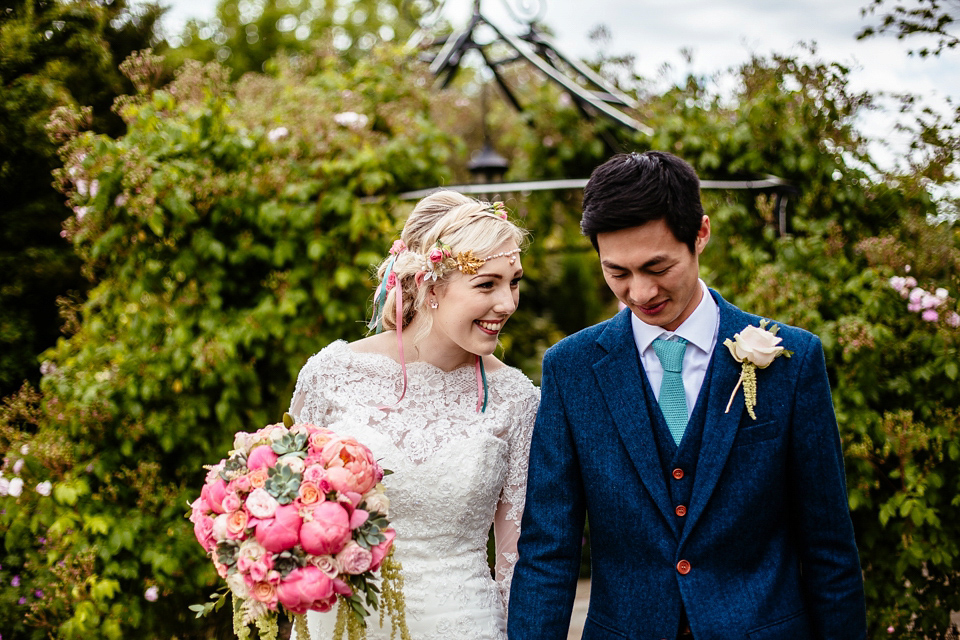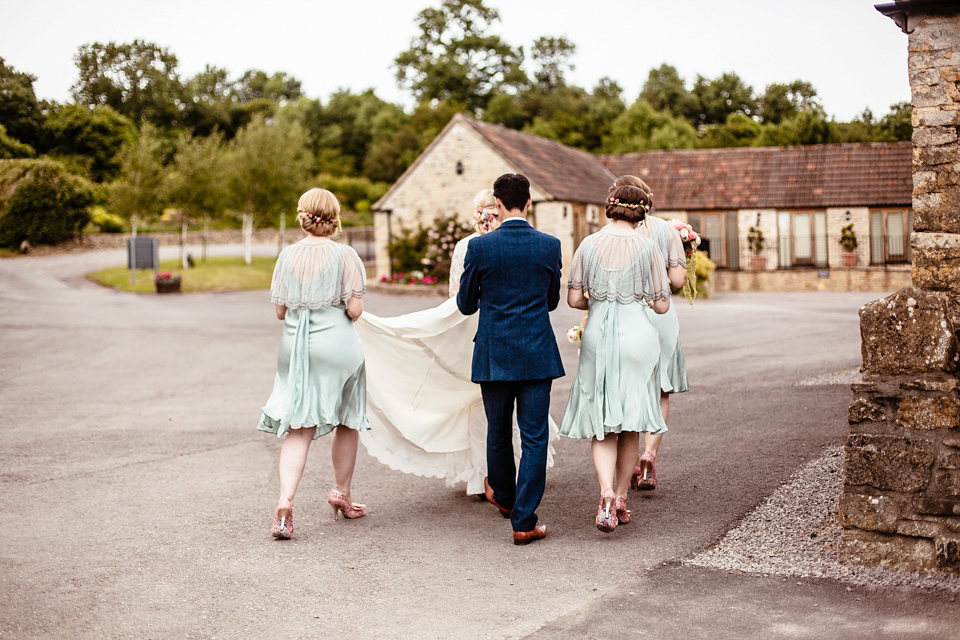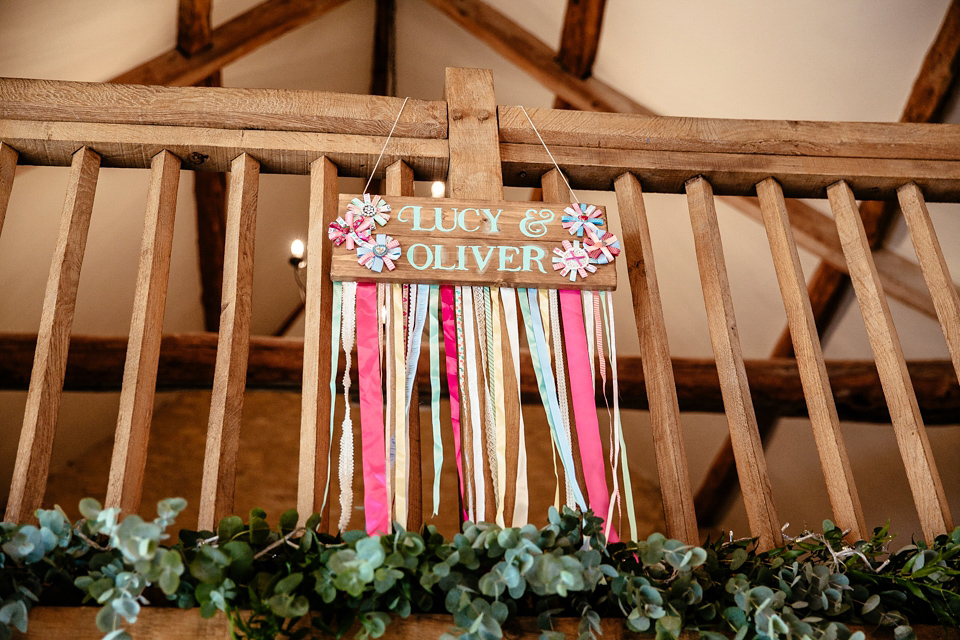 "We let our guests help themselves to a sweets buffet as our favours. We had sweetie bags printed with our names and date of the day, ordered through Ebay. We chose to have personalised iced cookies made by a friend. They were so pretty that I didn't want to eat them!"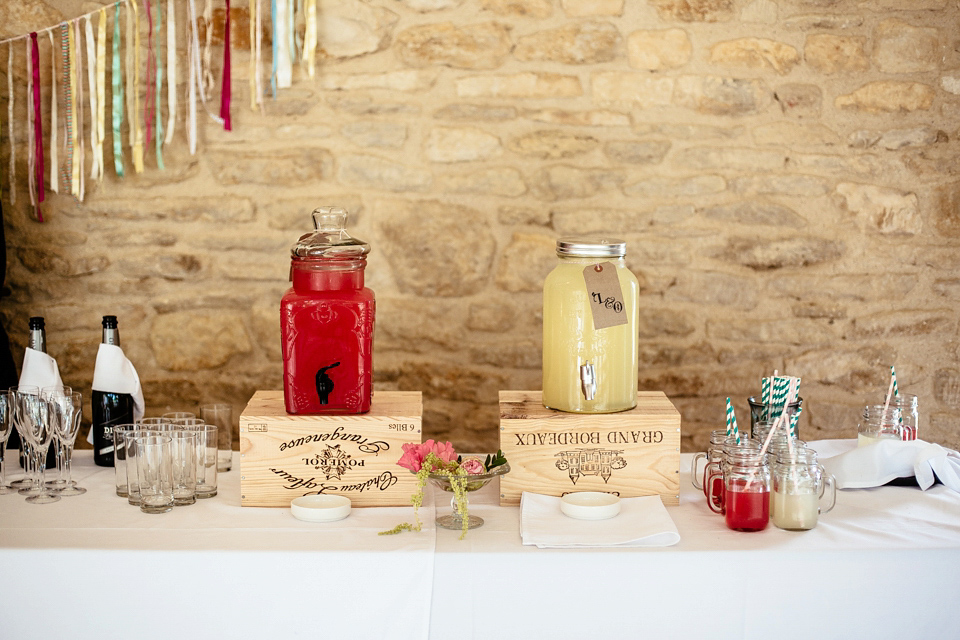 I'm quite tempted to take a little tea and biscuit break now, as I view these pictures of very scrumptious-looking bikkies the couple had as their favours. Anyone fancy joining me?
"A lot of the décor was handmade or customised by ourselves. We bought many different sized jars and cups, which we decorated with different laces and ribbons, to make everything mismatched. I loved using vintage teacups on the tables to hold flowers and these were teamed with mismatched birdcages with flowers."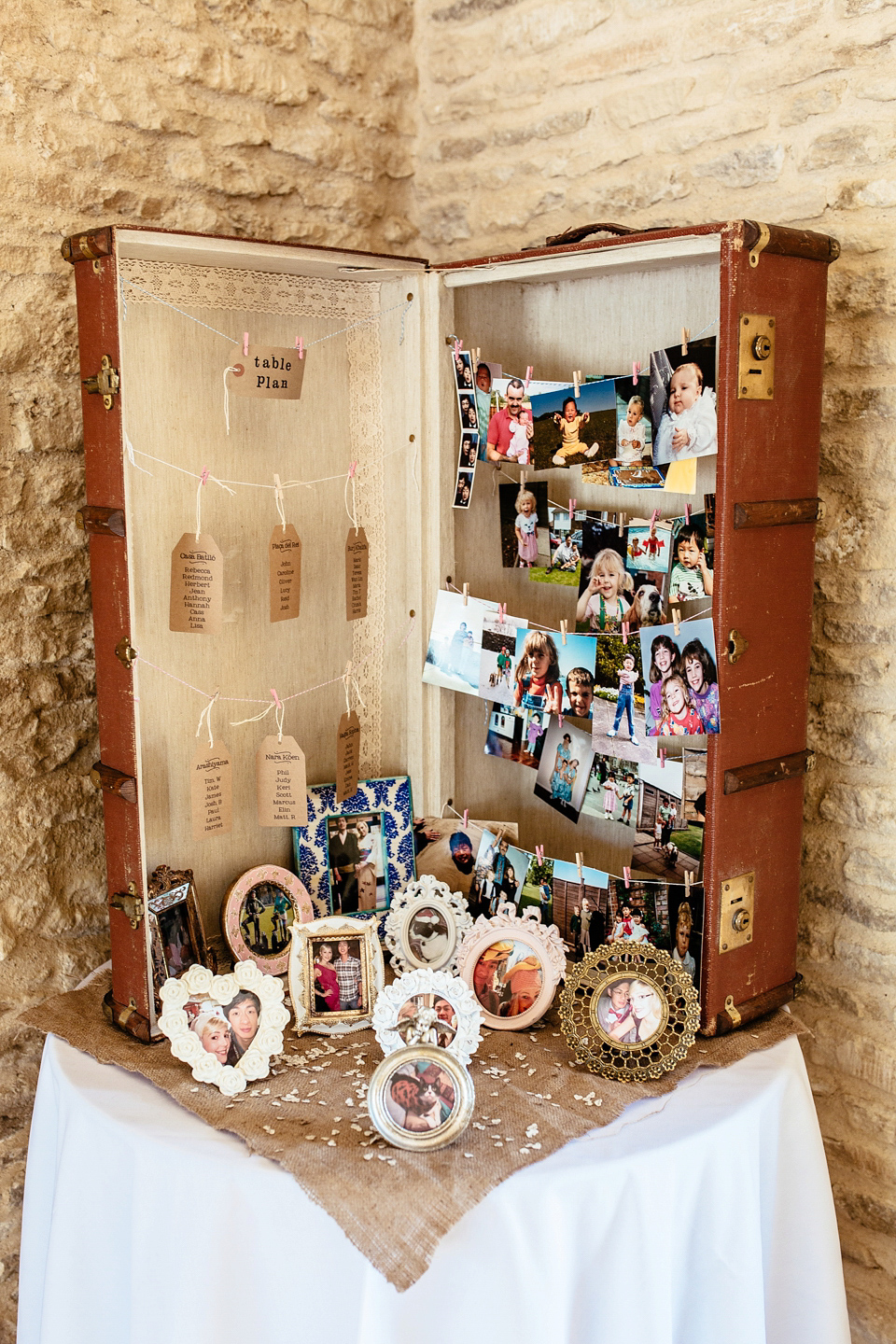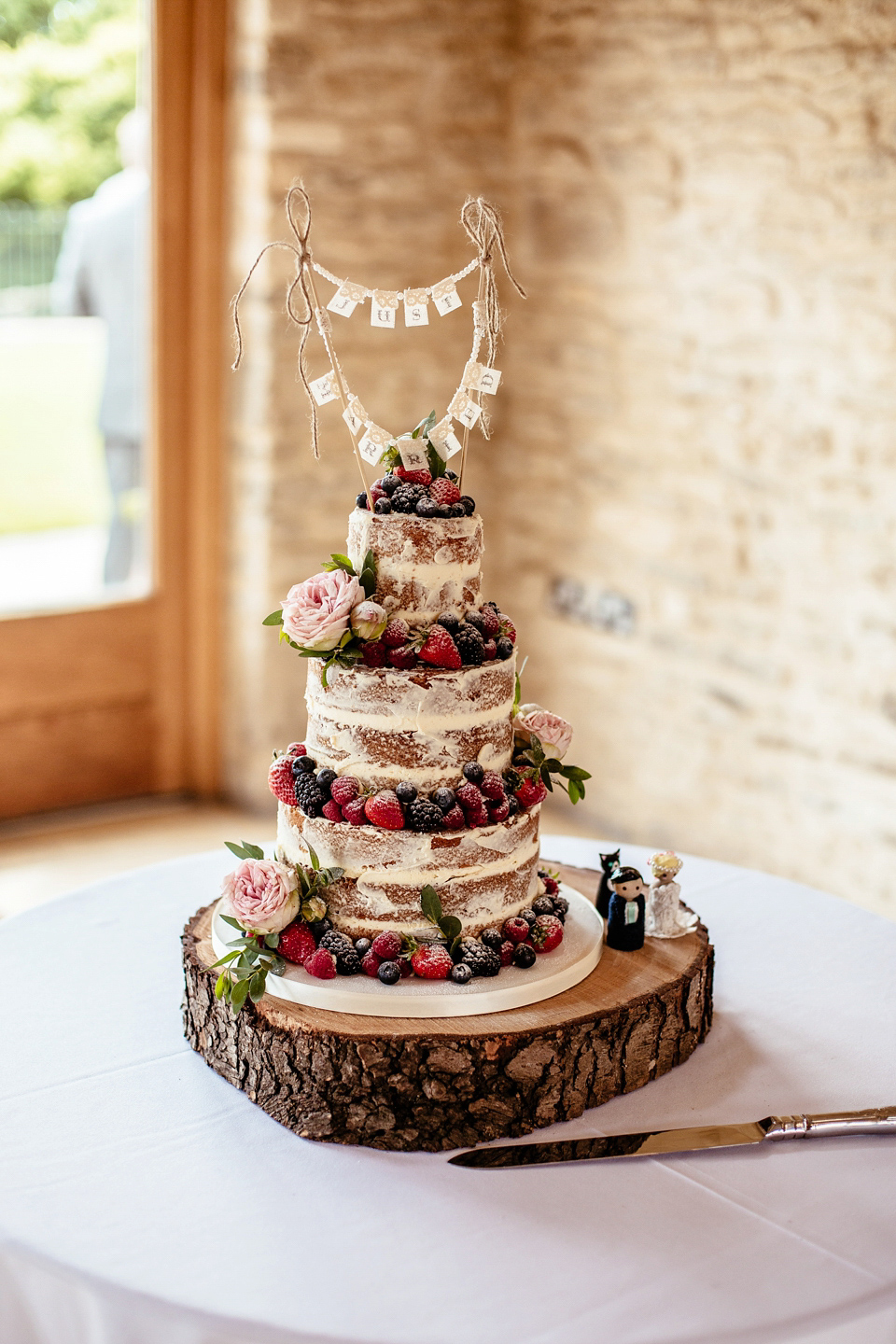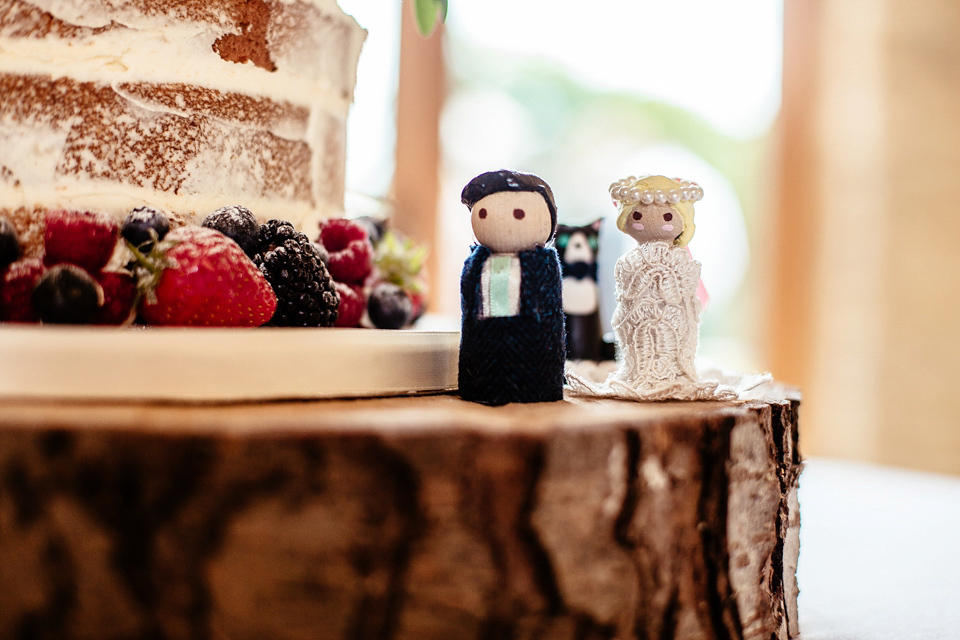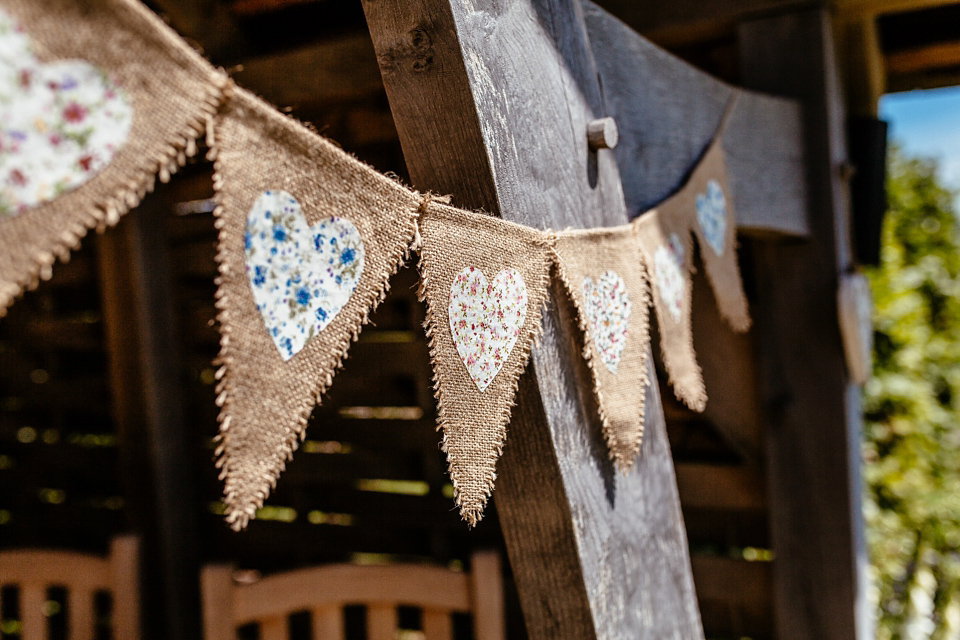 "We chose a three-tiered cake from Vanilla Pod. The bottom layer was lemon drizzle and the top two layers were Victoria sponge. We're not fans of fruitcake or icing! We chose our own flavours that we loved and wanted that rustic feel to our cake. The cake was decorated with fresh flowers and berries. We made our own little peg dolls and cake bunting to put our own stamp on it."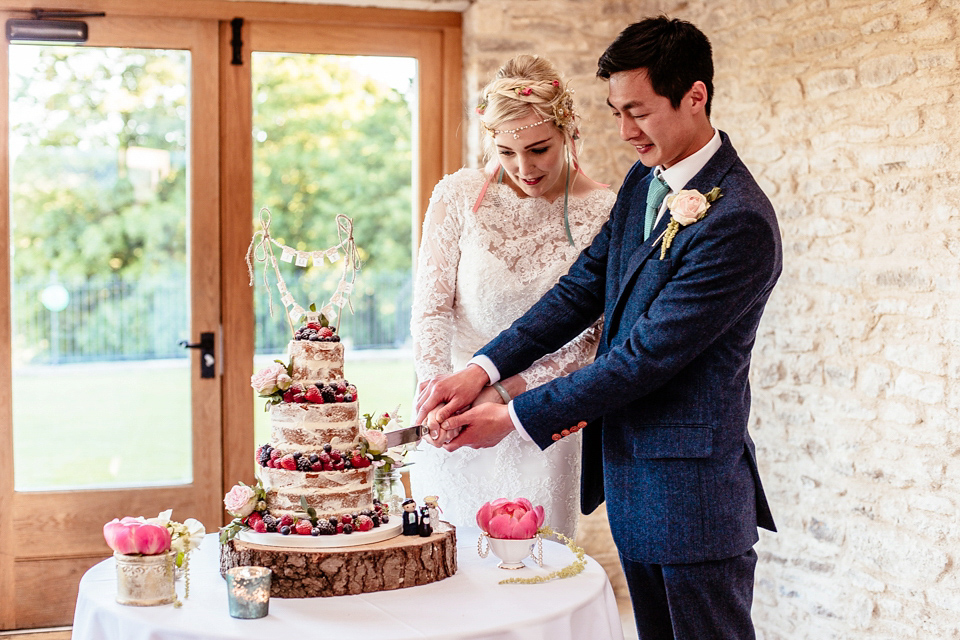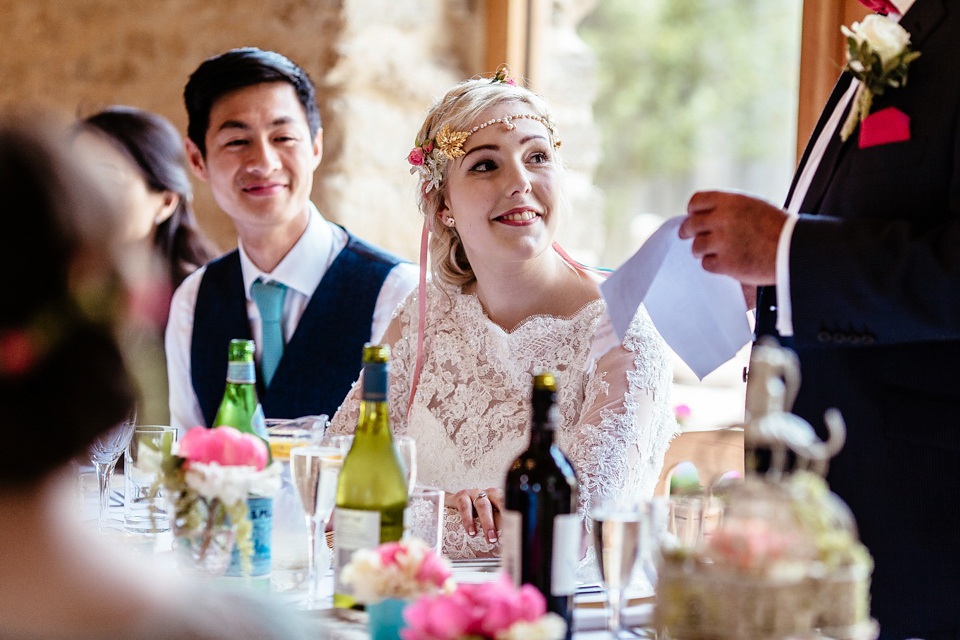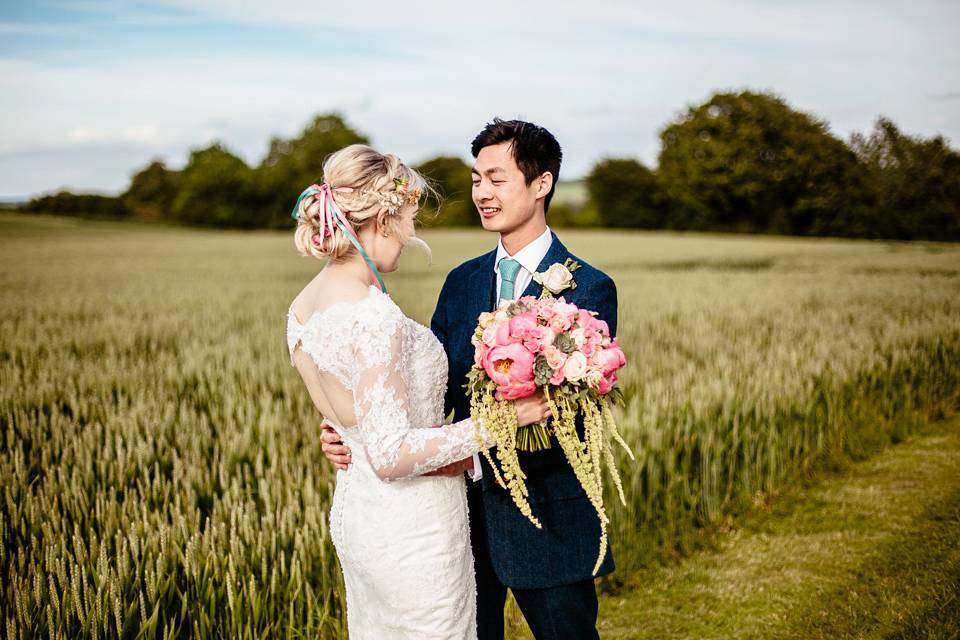 "Undoubtedly my favourite part of the day was the evening when Ollie and I took a stroll through the gardens together. It was so quiet; the sky was filled with stars, it was so nice just to talk to each other without anyone watching and to soak in the reality of the atmosphere and all that had happened."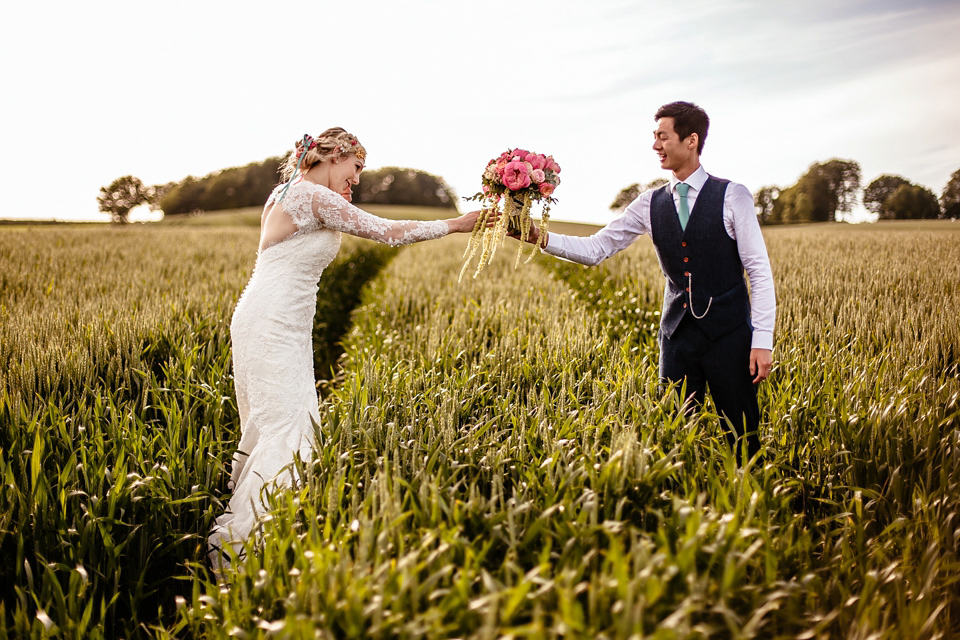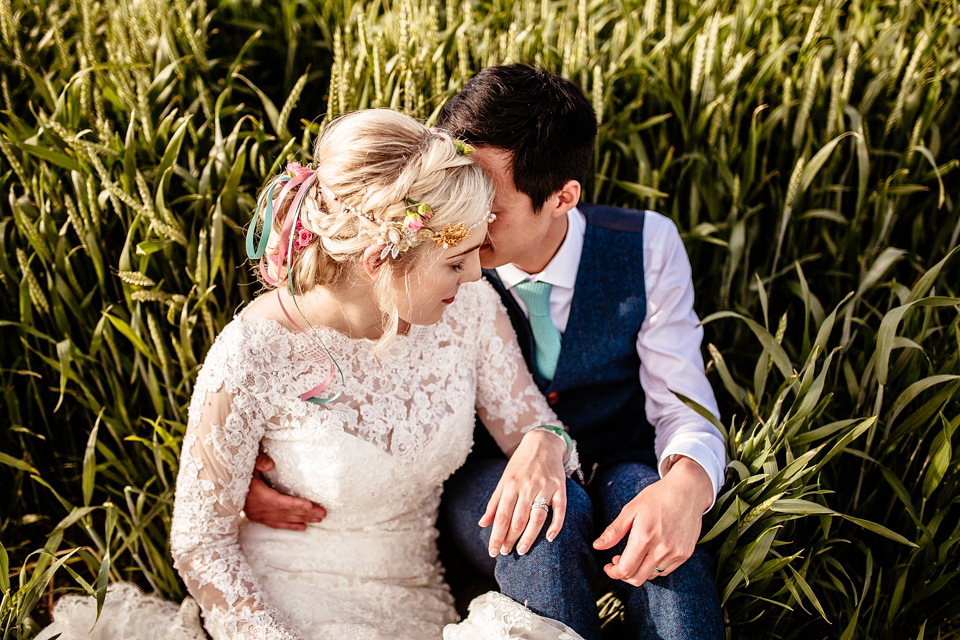 Lucy wore a spectacular Ungar & Ungar floral band ring in white gold and diamonds, bought from Hooper Bolton Fine Jewellery in Cheltenham, whilst Ollie sported an engraved palladium court ring from Dot Jewellery; the two rings representing the bride and groom's difference in styles.
"I was never into the whole traditional style wedding ring, I was always the type of person who loved something a bit more spectacular, whereas Ollie prefers simple designs. It's quite a lovely contrast between us two."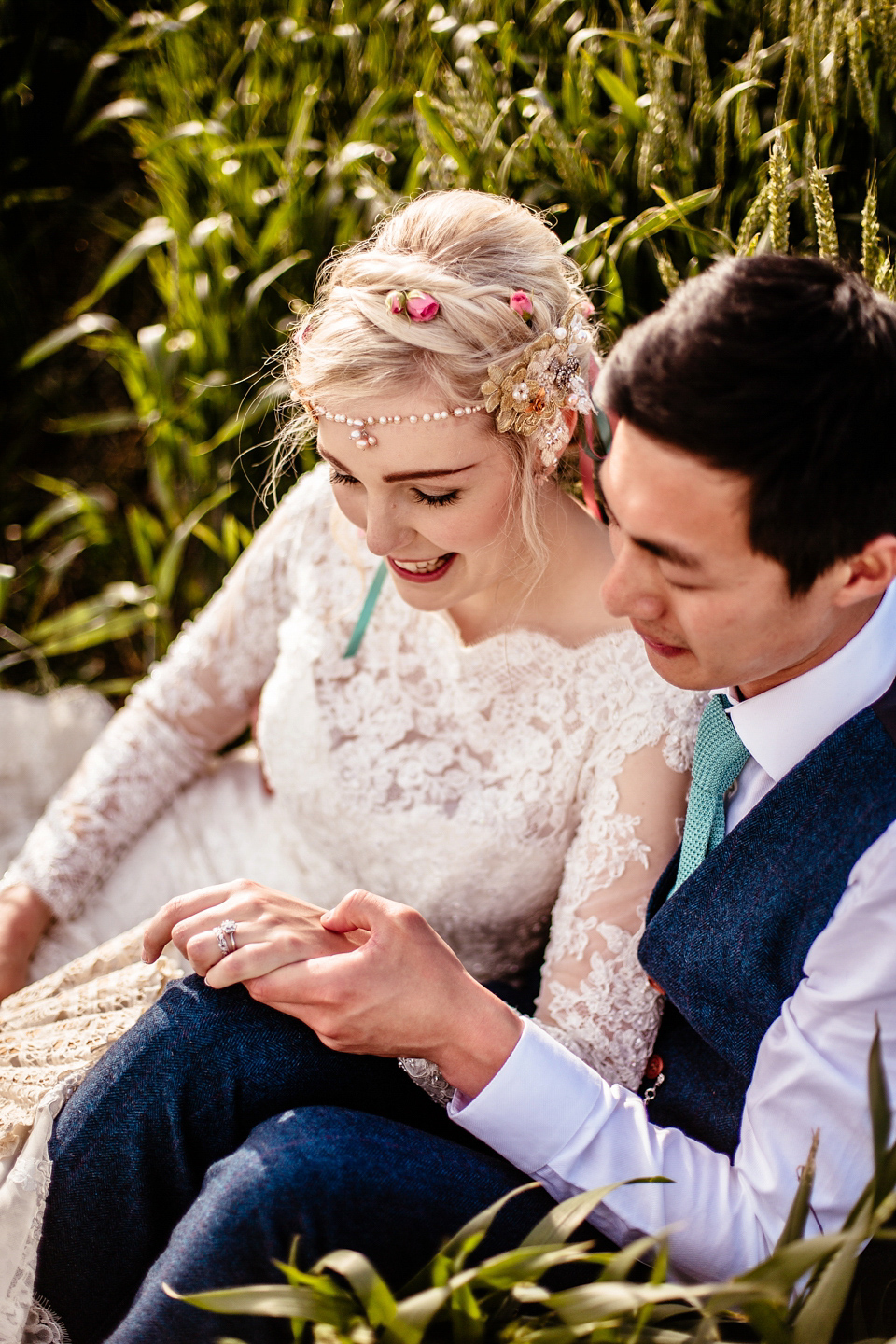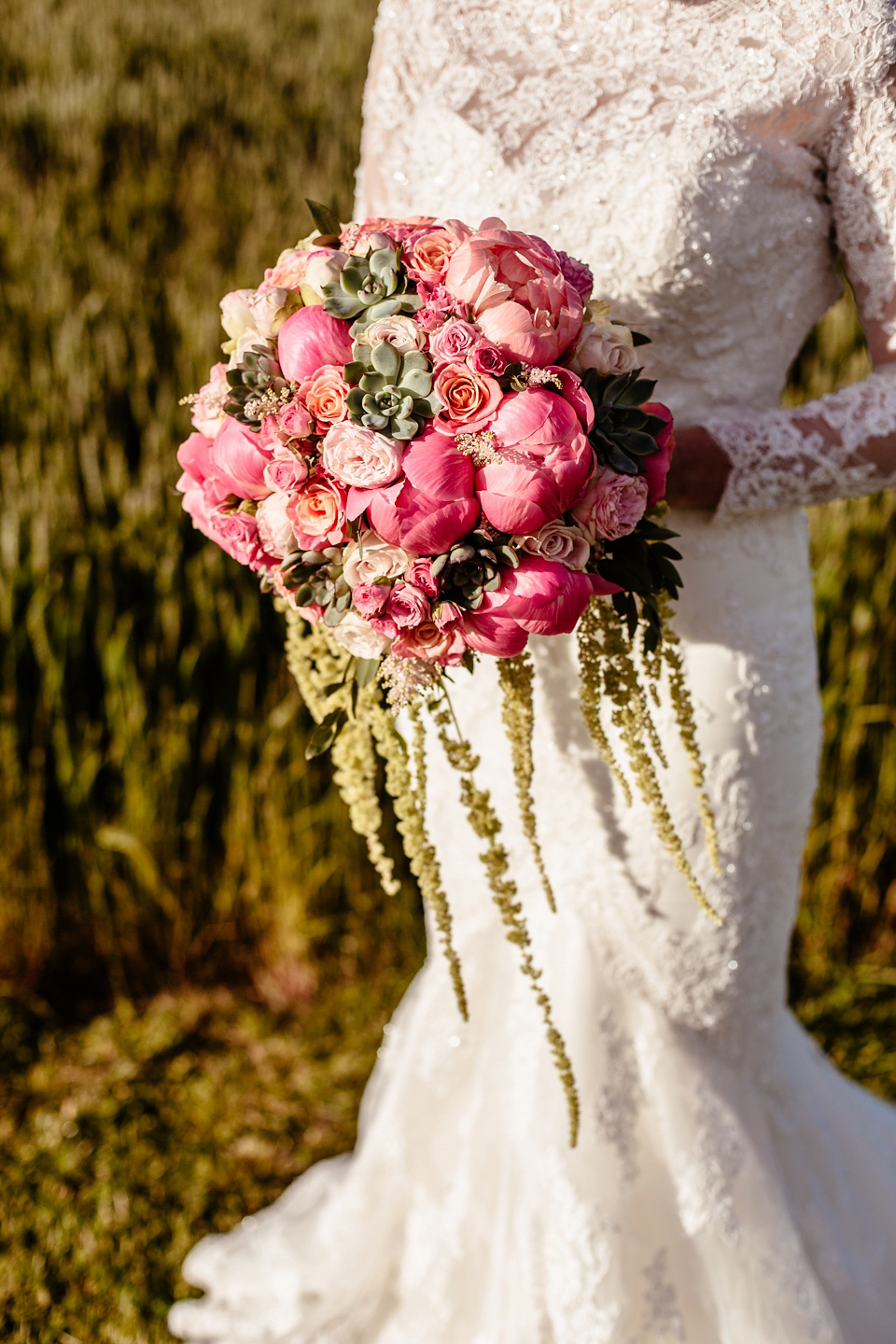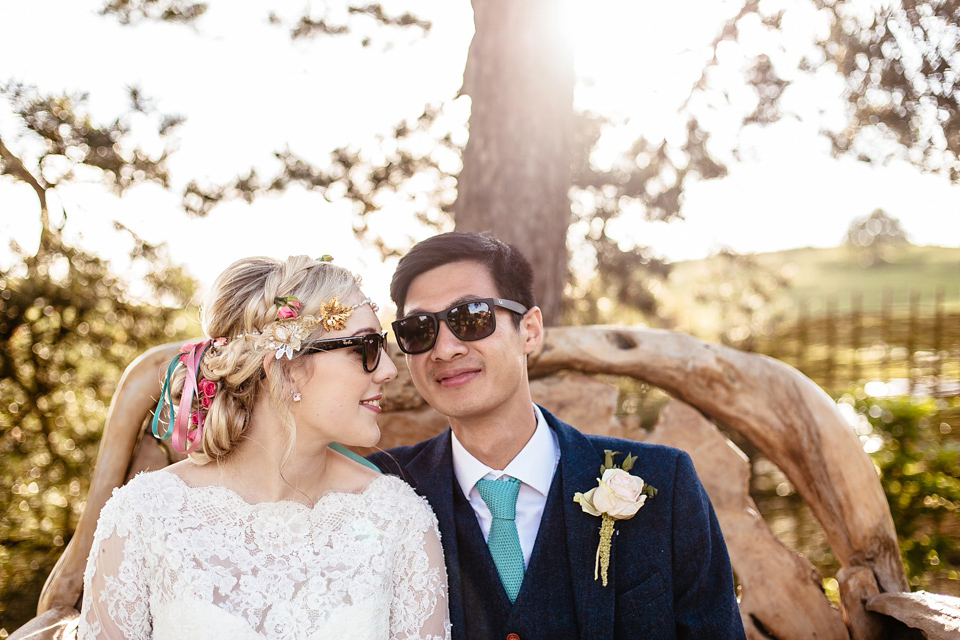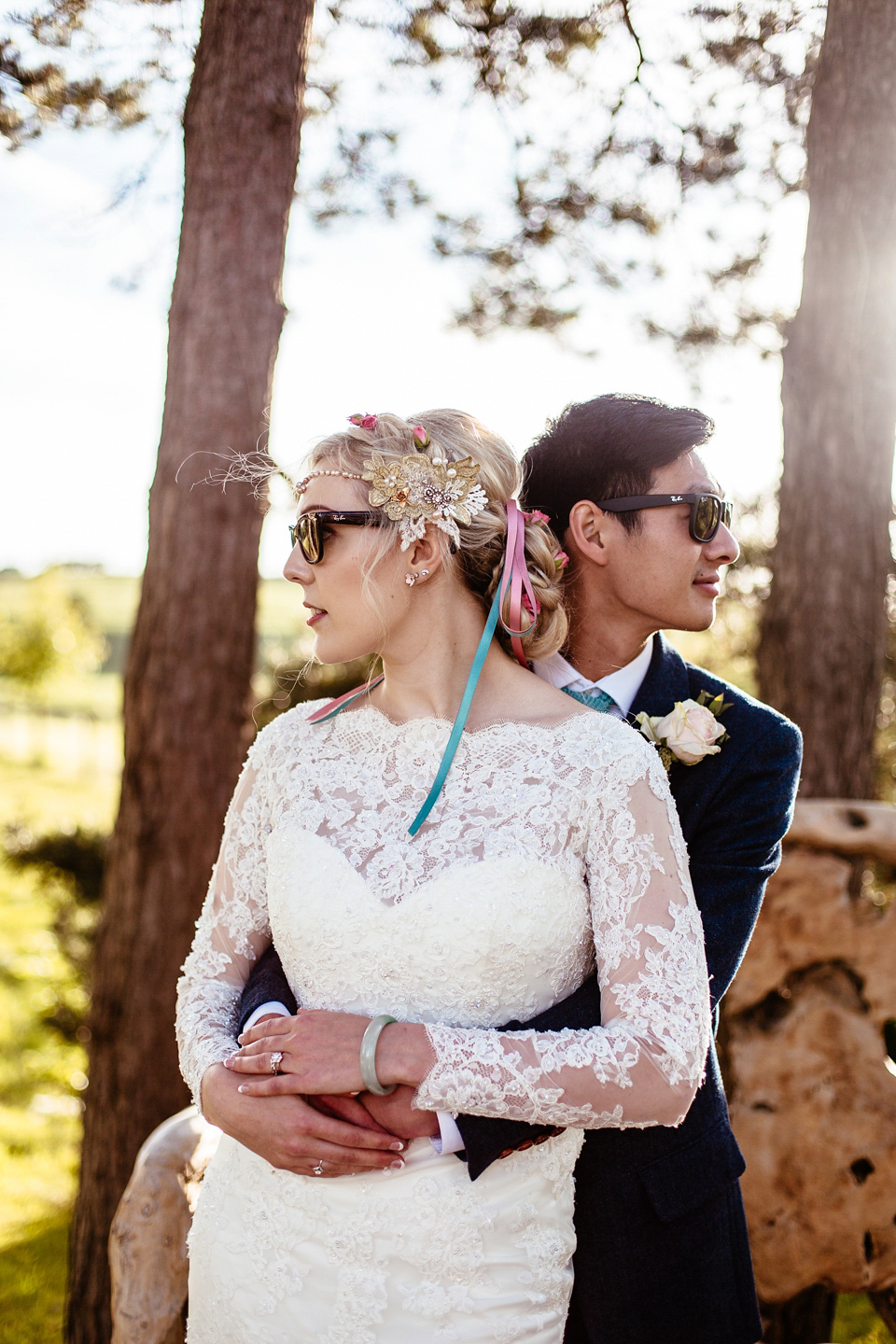 Dizzy Feet played funky tunes to entertain the guests into the night and the couple's first dance song was 'Sea of Love' by Phil Phillips.
"This song was a bit of an older style song, which not many of our guests had heard before. The lyrics were simple and thoughtful which encapsulated the feel of the day without feeling overly dramatic."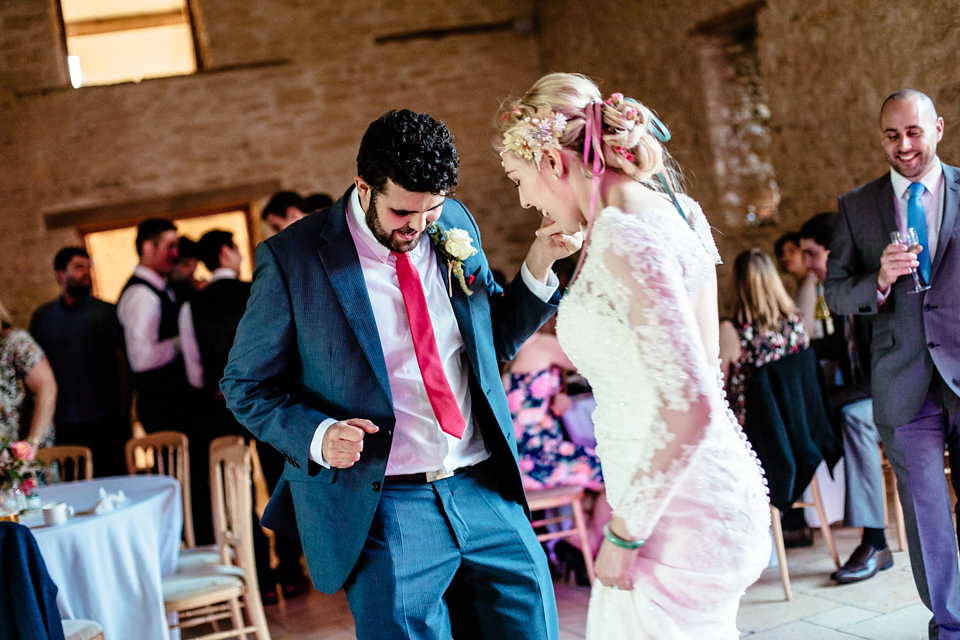 Words of Wedded Wisdom
"I would say don't get upset when things don't go exactly to plan. Whatever happens will be perfect on the day and you will love it all the more. Do what you want, not what others want. It is your day after all! If people don't respect that fact then they probably shouldn't be on the guest list."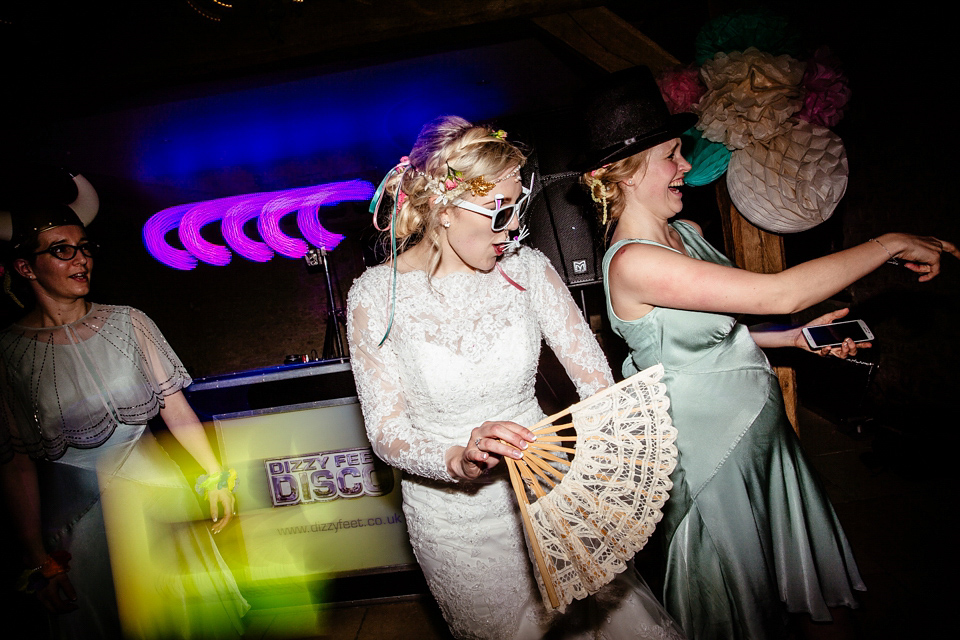 Ohhh, I so love it when a bride and groom completely personalise their special day! Thank you to Lucy and Ollie for allowing us to share your wedding with our readers and I wish you both loads of wonderful adventures ahead together. Thank you so very much to Cass for sharing such delightful images of the couple's big day and capturing very sweet moments.
If you've fallen in love with Lucy's bouquet like I have, be sure to see here for more pretty peony-filled weddings we've highlighted on the blog.
Have a jolly weekend everyone and brides-to-be, go forth and conquer lots of things on your to-do list!
Love Jo -x-
Photographer – Cassandra Lane Photography
Venue – The Kingscote Barn, Gloucestershire
Wedding Dress – Ellis via Chanticleer showroom in Cheltenham
Shoes – Irregular Choice
Perfume – 'Chloé' by Chloé
Jewellery – Shaun Leane earrings + jade bangle + vintage style diamond ring
Bridesmaid Dresses – Ghost
Bridesmaid Shoes – Irregular Choice
Bridesmaid Accessories – Fresh flowers and jewelled headbands in hair + wrist corsages + pearl earring studs
Groom – Victor Valentine suit + Hudson shoes + Costelloe & Sons shirt + Reiss knitted tie + Woodford pocket watch
Florist – Bumblebeez + Jacaranda Flowers
Rings – Hooper Bolton Fine Jewellery + Dot Jewellery
Stationery + Decor – By the bride and groom
Favours – Cookies handmade by a friend
Cake – Vanilla Pod
Catering – Fosters Event Catering
Entertainment – Dizzy Feet
Hair + Makeup – Clare Bryce