Hello lovelies and a very happy Tuesday to you. I have a very beautiful wedding to share with you today that is filled with loads of utterly divine florals. Now, one thing that's come up already in our brand new private/closed Facebook group that we've set up for brides to be and newlyweds only (no suppliers, no other bloggers, strictly a place brides can share in a confidential environment), is a request for more 'affordable' weddings. We completely appreciate that not everyone has a big wedding budget and will be looking at ways to save money on their wedding.  I really hope this feature might inspire you if that is the case.  The lovely couple kept their budget in mind throughout the planning, but without any compromise on style, so if you too are budget conscious, be sure to read on for tips, tricks and some serious floral inspiration.
Helen, a product manager, and surveyor Ed wed on 15th August 2015 at Our Lady of Compassion Church, an architecturally beautiful building in Saffron Walden, and then hosted their reception at The Garden Barn in Little Bradley, Suffolk. This picturesque venue was the main source of inspiration for Helen and Ed, coupled with the peppering of a delightfully quirky cloud theme in amongst many elements of their day.
"The Garden Barn was the starting point – as it's such a beautiful space it really didn't need much decoration. The concept of a classic English country garden party, complete with cucumber sandwiches and croquet, seemed to fit the bill nicely. However, with anything quintessentially English I also wanted a slightly eccentric, homemade twist. I fell in love with a Michel Gondry-esque cloud backdrop on Pinterest and decided that it would be fun to make as a backdrop for our homemade photo-booth and then I found the cloud-theme creeping in elsewhere to draw different the elements together."
Photography by Red on Blonde Photography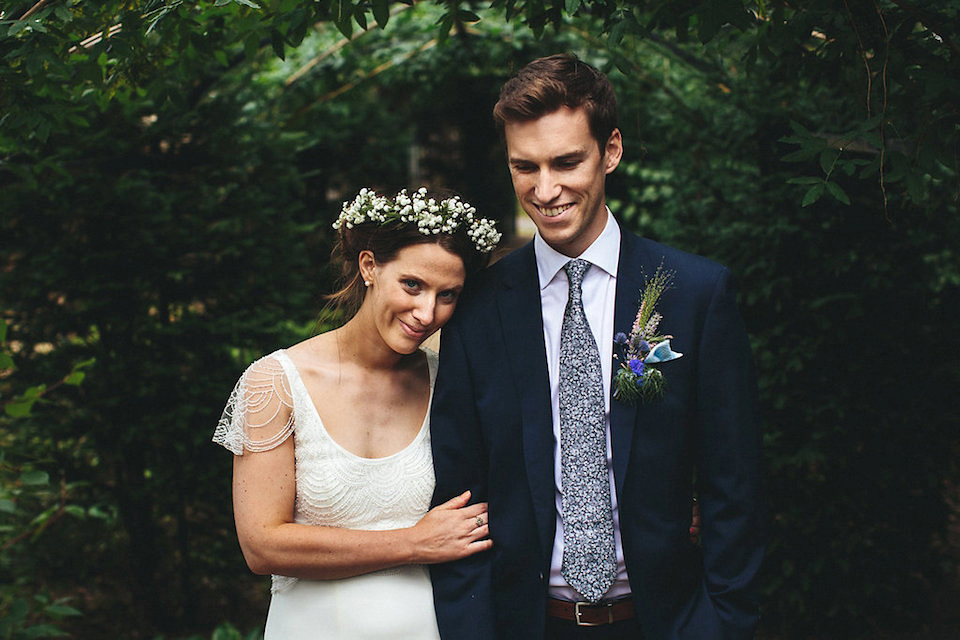 Helen chose two dresses: a long one for the ceremony and daytime, then a shorter one with incredible bell-sleeves (sleeve envy!) for the evening activities, all whilst being aware of the budget. Take a look at the back of her daytime dress – it's absolutely exquisite and proof beyond doubt that investing in a wedding dress from popular high street brand Monsoon is a fabulous choice for brides with a more limited budget.
"I wanted a long dress for the ceremony and went to Monsoon in Marble Arch to try on lots of their different styles. I really loved the 'Marianne' dress, but unfortunately they didn't have any of the style in the right size in stock. I eventually managed to find it online after a couple of nail-biting weeks!
"I set myself a really strict budget for my dress, because as great as you want to feel in your dress I couldn't shake the idea that you do only get to enjoy it for a day! I didn't want to lose perspective and kept my wedding budget in mind. Consequently, I had a look at what the high street had to offer and found two great dresses for around £400. I really loved the 'Marianne', as it was so comfortable and the beading on the back was so beautiful.
The cloud inspiration for the wedding continued here, as my bridesmaid pointed out that the fan-shaped design on the back matched my wedding invites perfectly. As much as that makes me a total bridezilla and I get that it does, I knew then that it was meant to be!"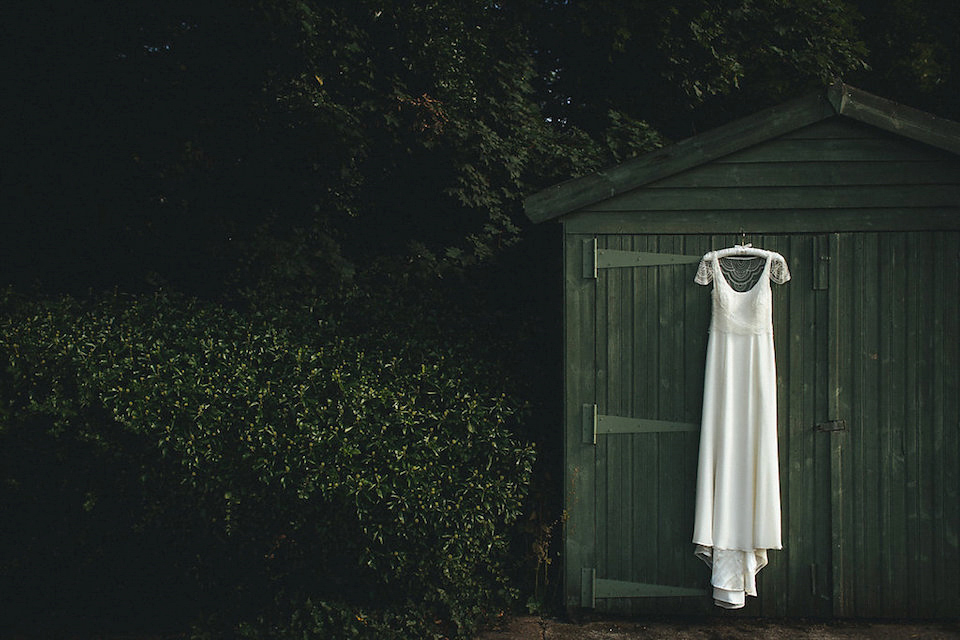 "I didn't want to wear a veil, as I felt it was a bit too traditional for me and the laid-back atmosphere for the day that I had in mind. Instead, I got my florist to make me a really beautiful flower crown made from rosemary and gypsophila that also smelt great."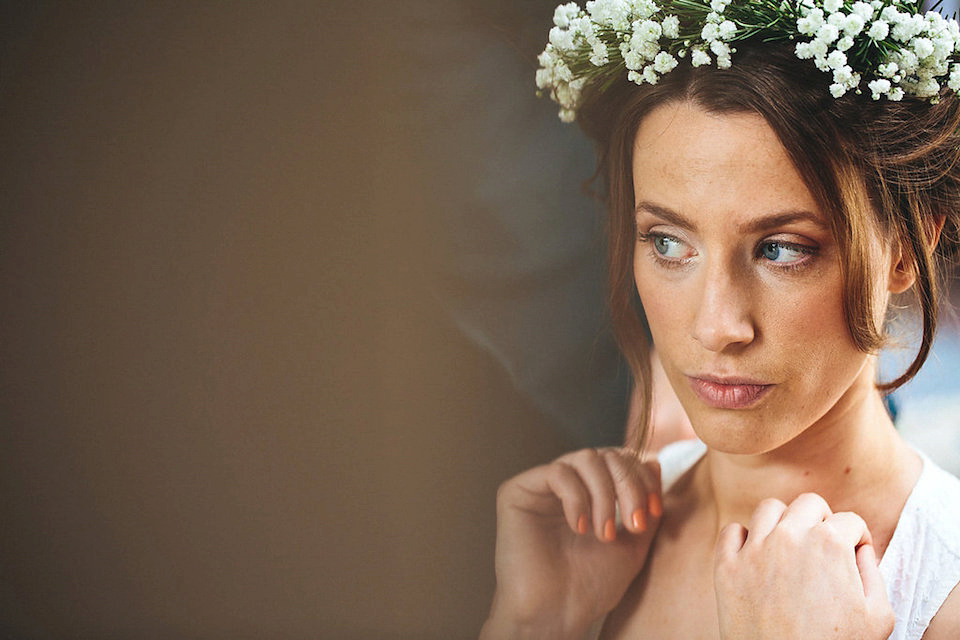 "I found my shoes whilst out on my lunch break in John Lewis, from Carvela. I knew I wanted some gold sparkly shoes to make me smile. 
I added a spray of Agua Allegoria: Limon Verde' by Guerlain, which I got as a birthday present. It smells so fresh, almost like cut grass and every time I wear it now it brings back all those lovely summer memories."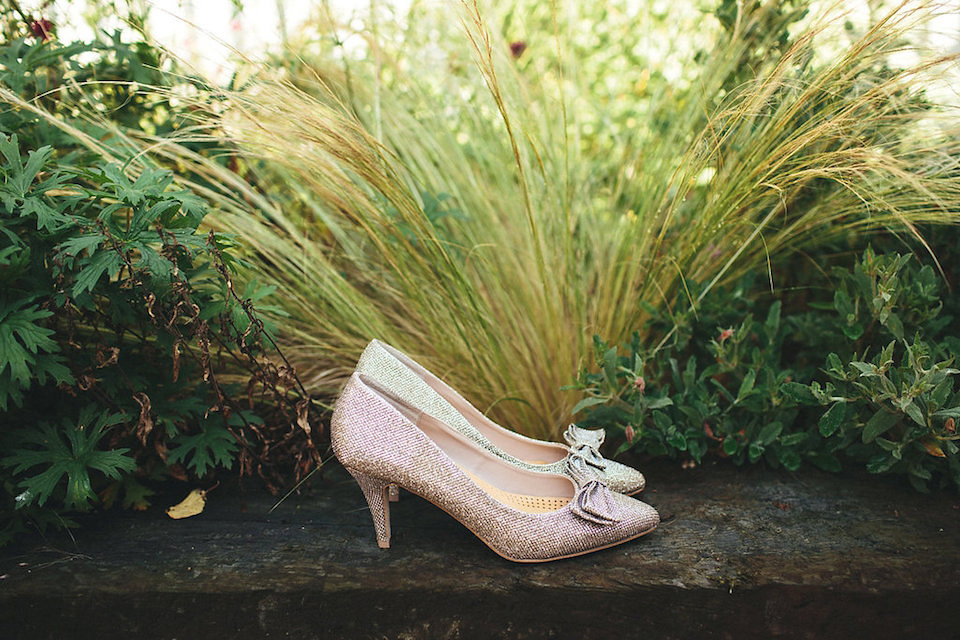 "My hair and make-up was done by Rachel Mannix, who was someone I knew beforehand and I wanted someone familiar. For a long time I thought that I was going to do it myself, as I felt that I was going to be a bit of a control freak about my hair and make-up, but actually I really didn't need to worry. Even had I not known Rachel, she was so relaxed and calming on the day I didn't have to worry about anything and it was so lovely getting to sit back and be made up!
I wore some pearl earrings from my Mum and a beautiful topaz ring as my 'borrowed' and 'blue' elements. My something 'old' was an antique pearl bracelet my bridesmaid Grace gave me as a gift for my 18th birthday."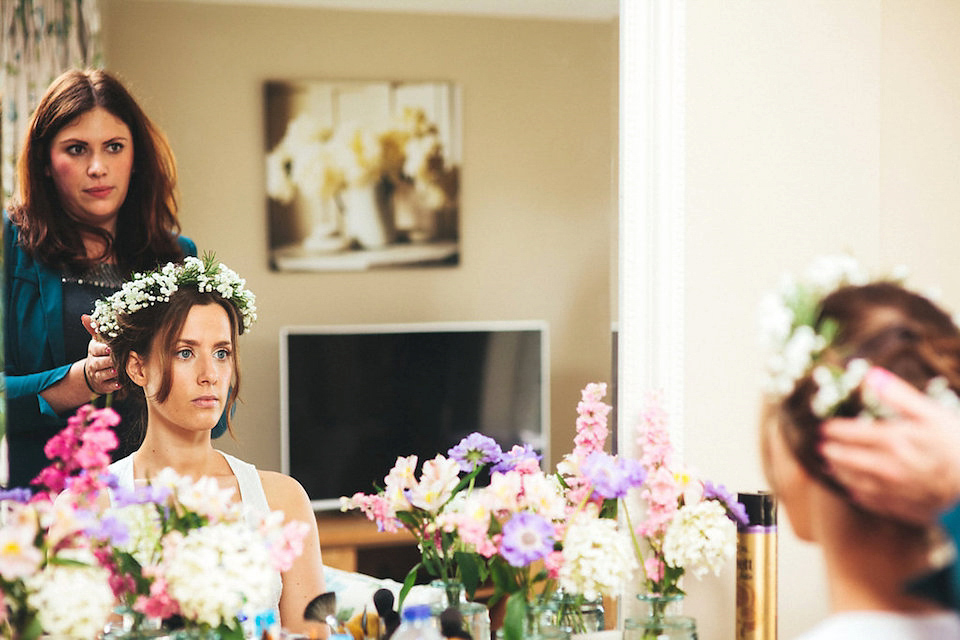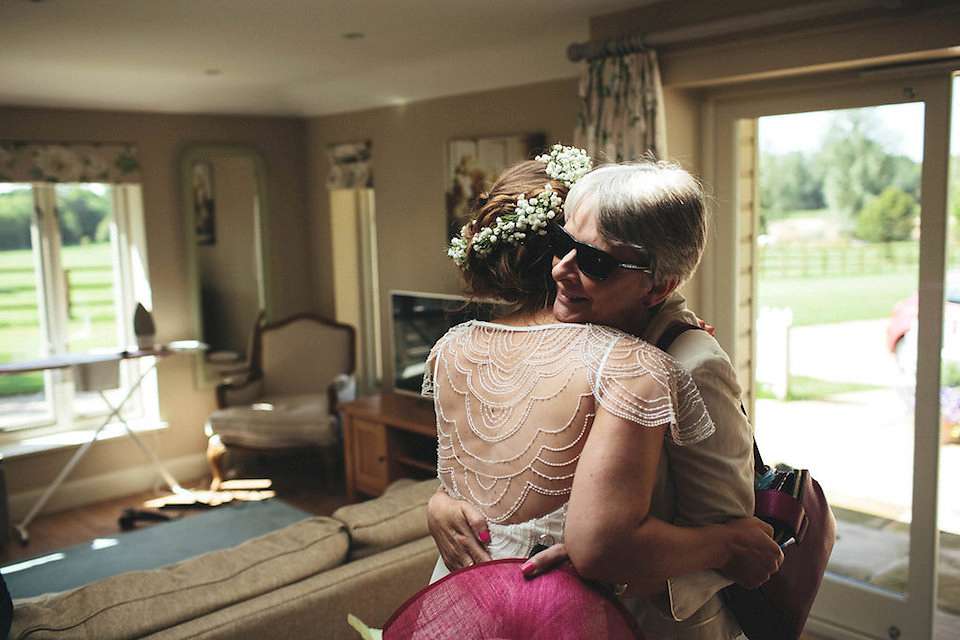 The couple chose to see each other on the morning of the wedding with a first look – a moment that was so special for both Helen and Ed.
"There were so many great moments. It was lovely to see one another for our first look in the morning and have some time to see the venue for the first time before all our guests arrived."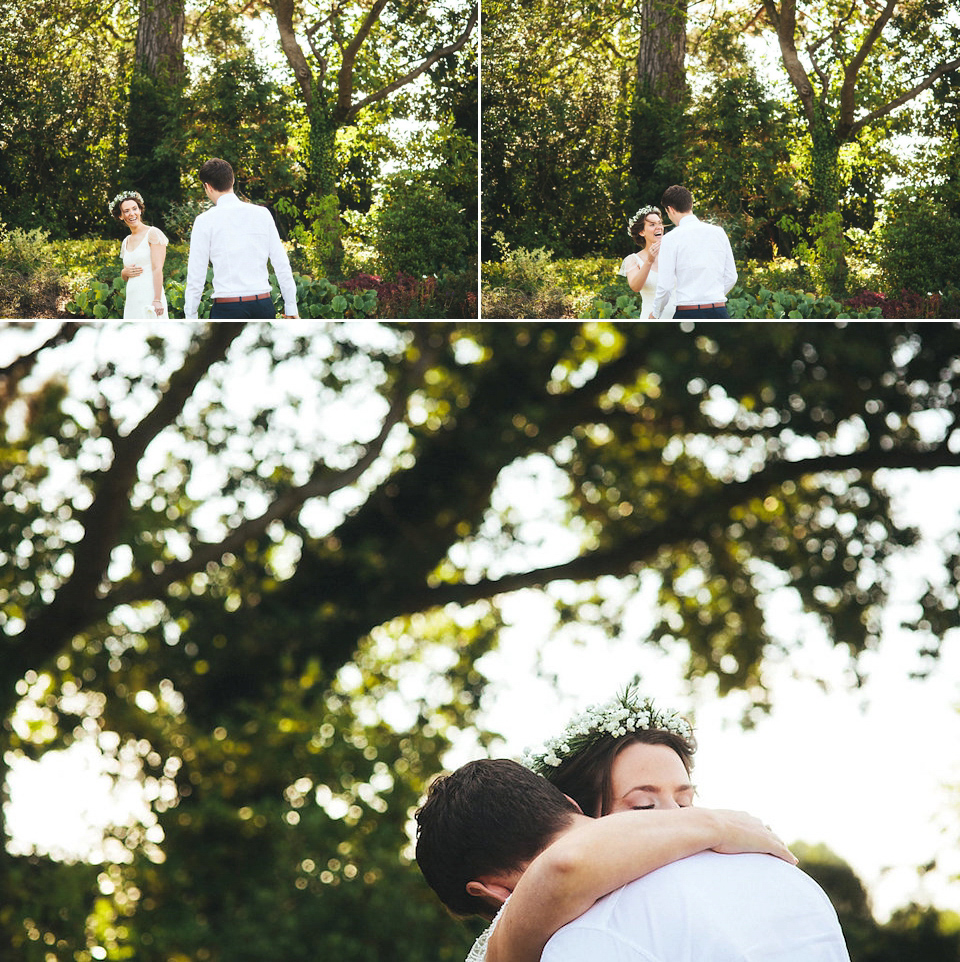 Helen's two lovely maids wore gorgeous navy blue dresses, plus pretty earrings gifted by the bride.
"I knew that I would never get both of my bridesmaids in the same place, at the same time and to agree on the same dress. Consequently, I got a short navy dress from Phase Eight and a long navy dress from ASOS, which suited each of them perfectly.     
As a thank-you gift, I got pearl earrings for both of them from Kings Hill Jewellery."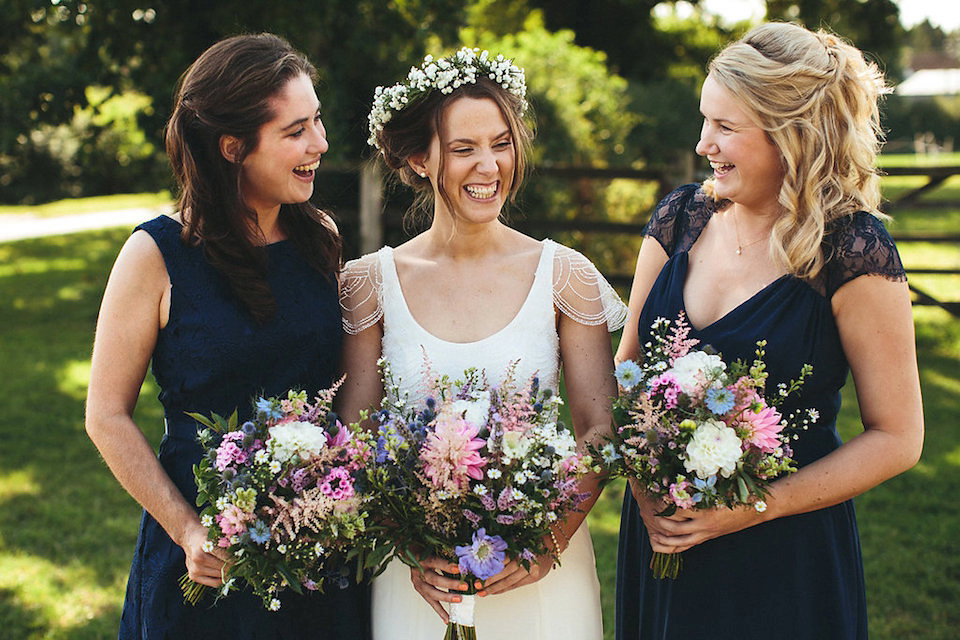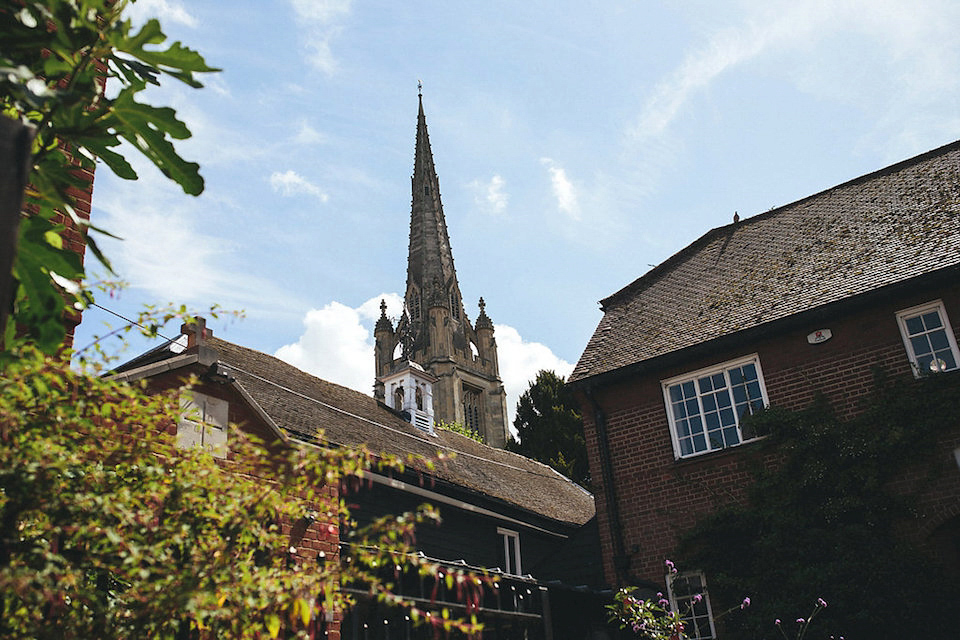 "We got our wedding invitations from Minted and were so happy with the end product. They were incredibly good value for a beautifully designed product. Ed designed the order of service and we spent an evening assembling them."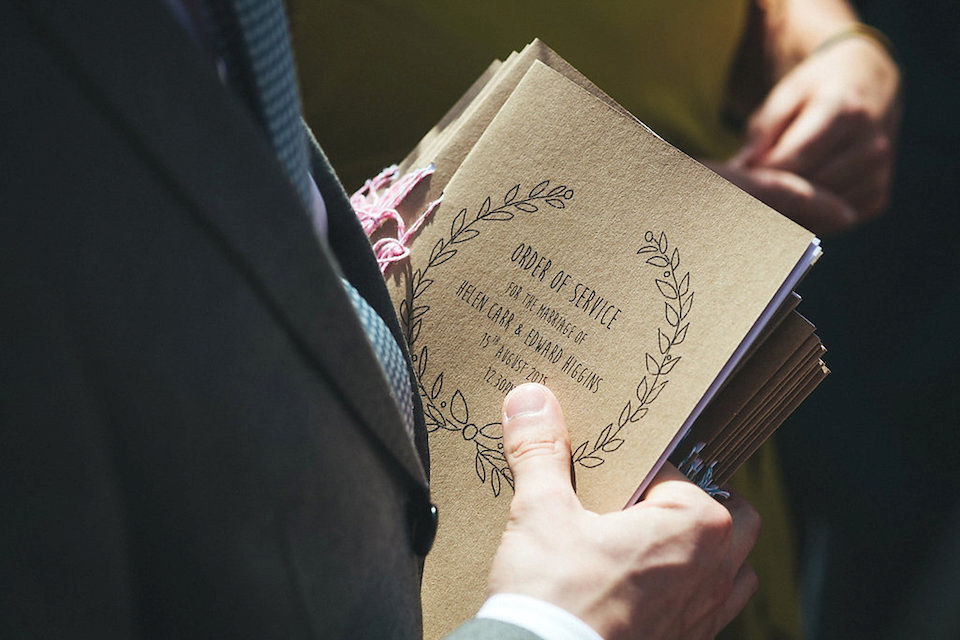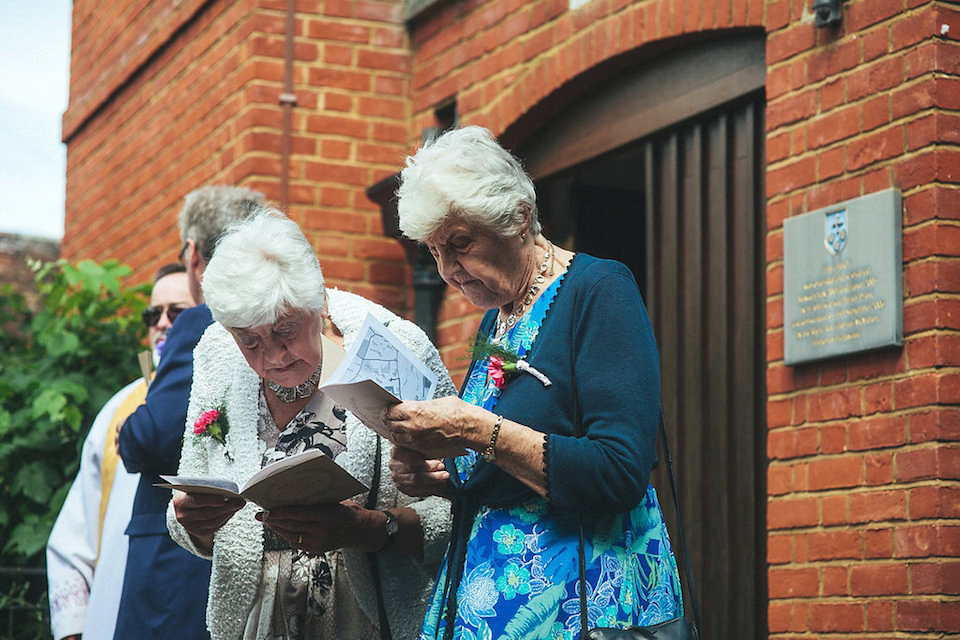 Ed also kept the budget in check with his attire, and the groomsmen wore mismatched suits with matching accessories, resulting in a very stylish ensemble.
"Continuing with the prudent budgeting (!), Ed got his suit from Moss Bros in the sale and a really smart shirt from Reiss, with the bonus that he still gets to enjoy it now. My mum got Ed his tie from Laura Ashley.
It wasn't important to us to have our groomsmen in matching suits, so we got them accessories of ties, socks, pocket-squares and a buttonhole to tie their look together. And Ed wore a pocket square to match his groomsmen from Reiss."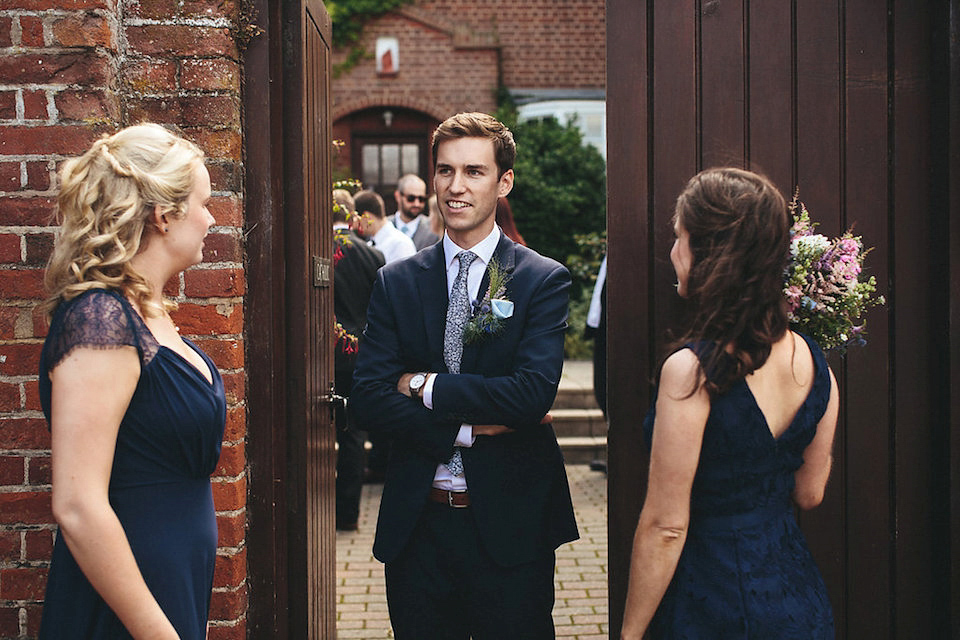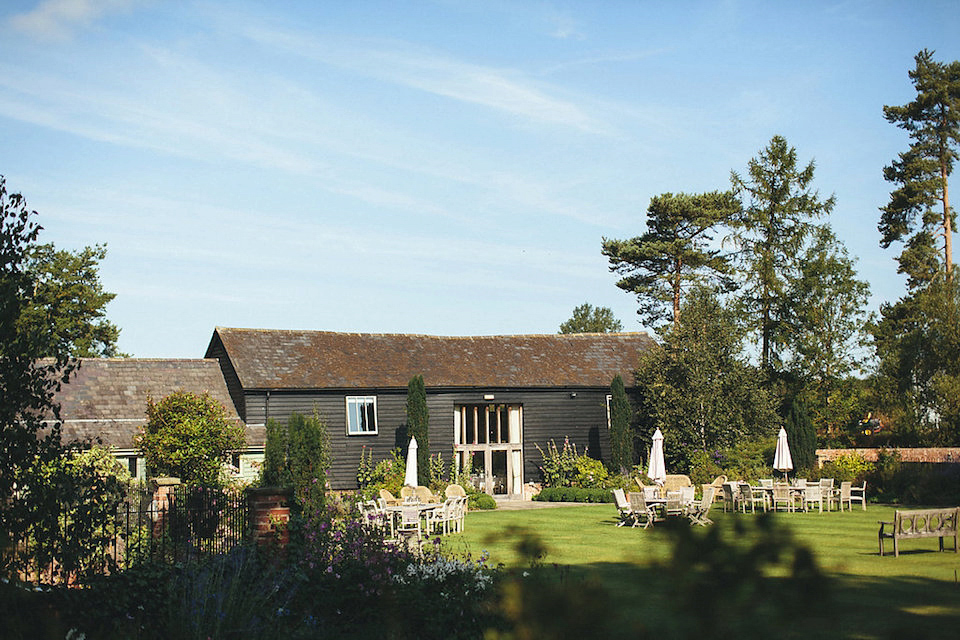 "We met in first year at university in Sheffield in 2004. We lived in the same halls and on the same corridor! We got engaged in April 2013 and married two and a half years later." 
For the ceremony, Helen kept one main tradition in; the aisle walk with her supportive Dad. I just love the chosen song, which was a complete surprise for him!
"As much as I think so many wedding traditions aren't to my taste, I knew it would mean a lot to my Dad to walk me down the aisle. He has always been such a wonderful support to me that I wanted him there standing by my side."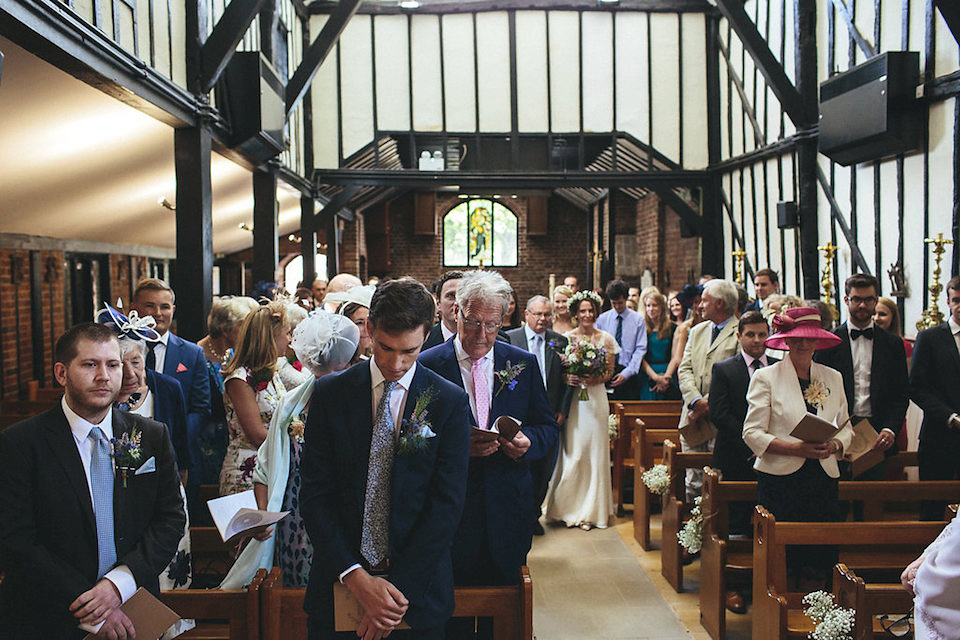 "We walked down the aisle to 'Maria's Theme' from The Sound of Music – it's what Julie Andrews walks down the aisle to in the movie! It seems quite cheesy, but it's a film that has a lot of meaning for Dad and I and I kept it as a surprise for him to make him smile."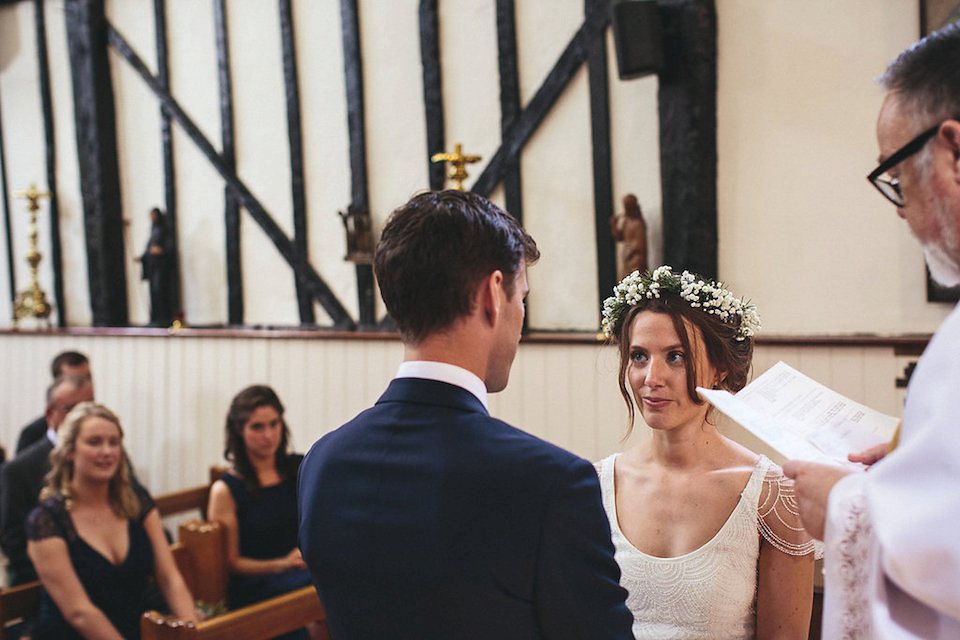 "We went with traditional vows for the traditional Catholic ceremony and we asked my Mum and Ed's Dad to do the readings for us from the bible. My brother also played piano in the church, which helped to bring our families in the day and the ceremony as much as possible."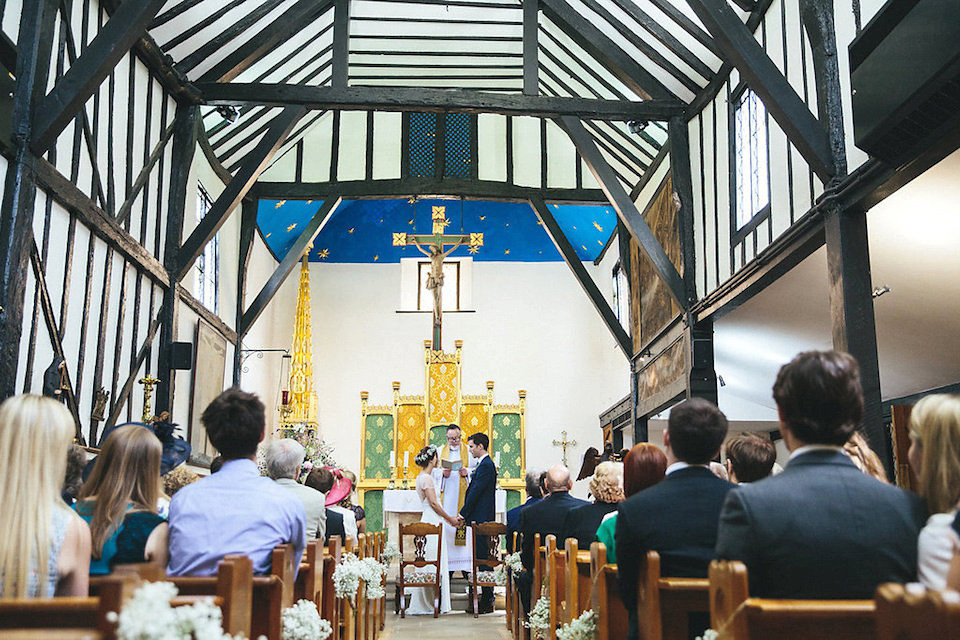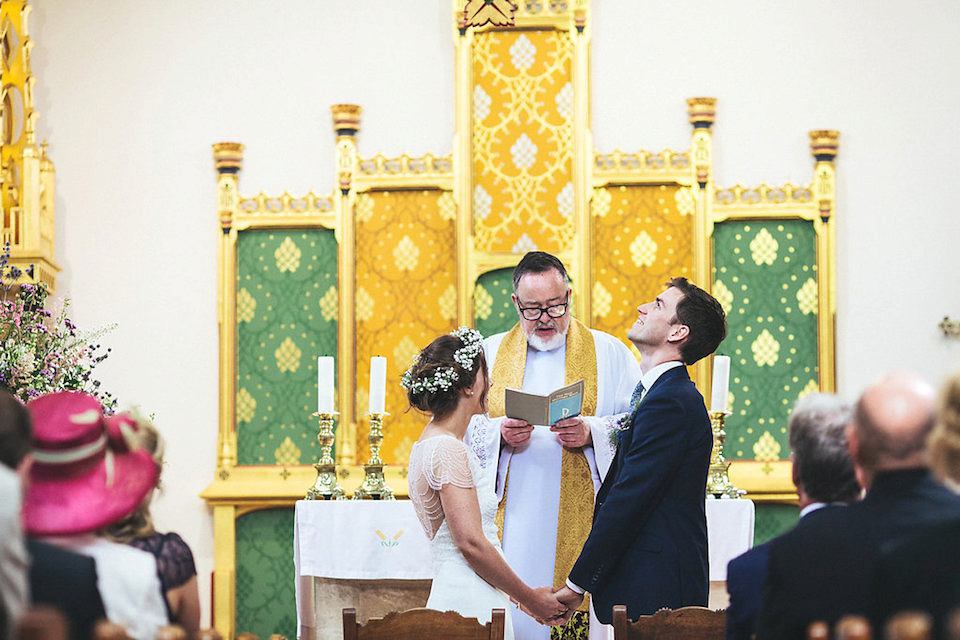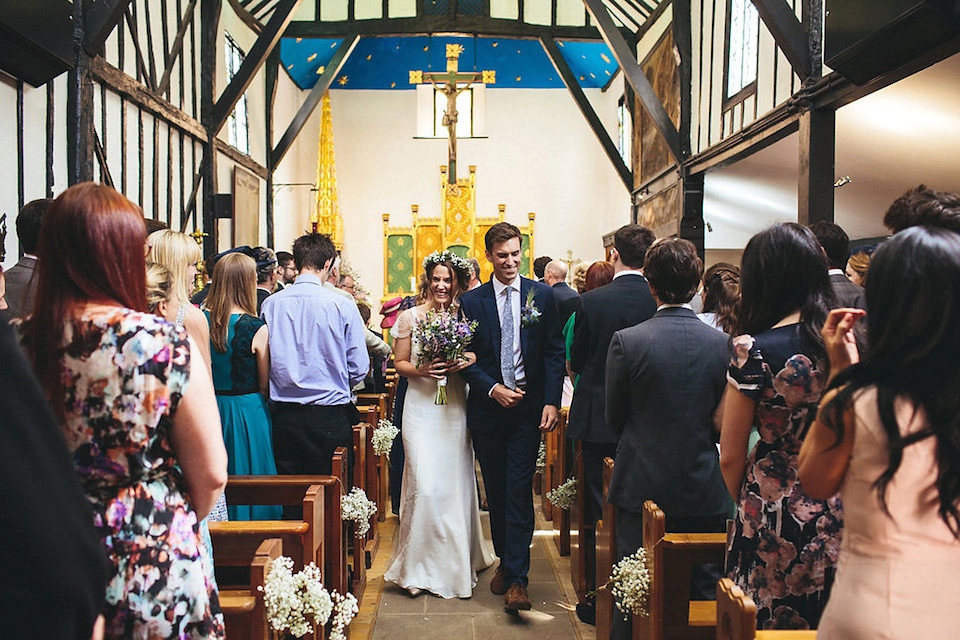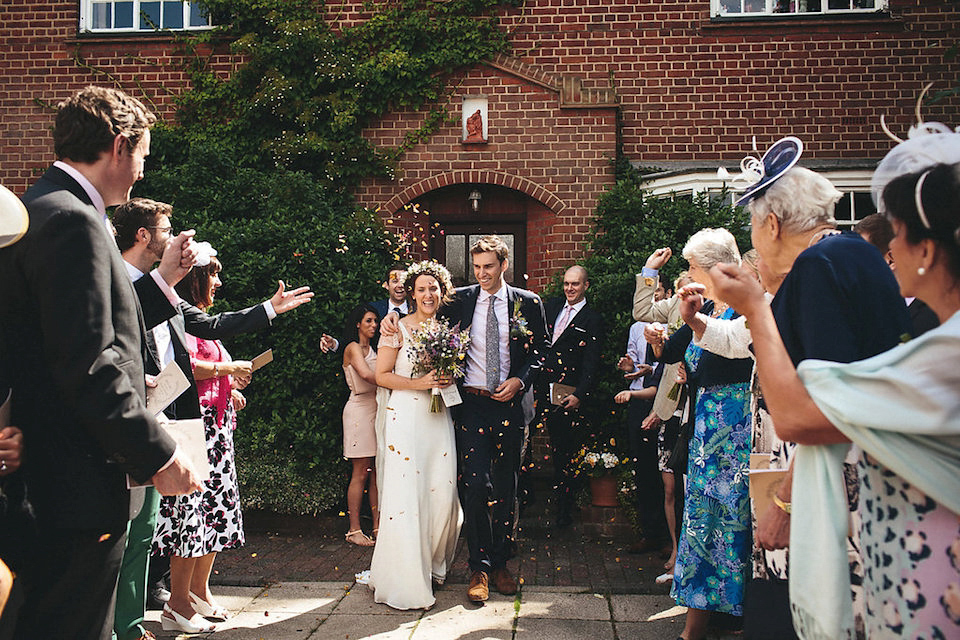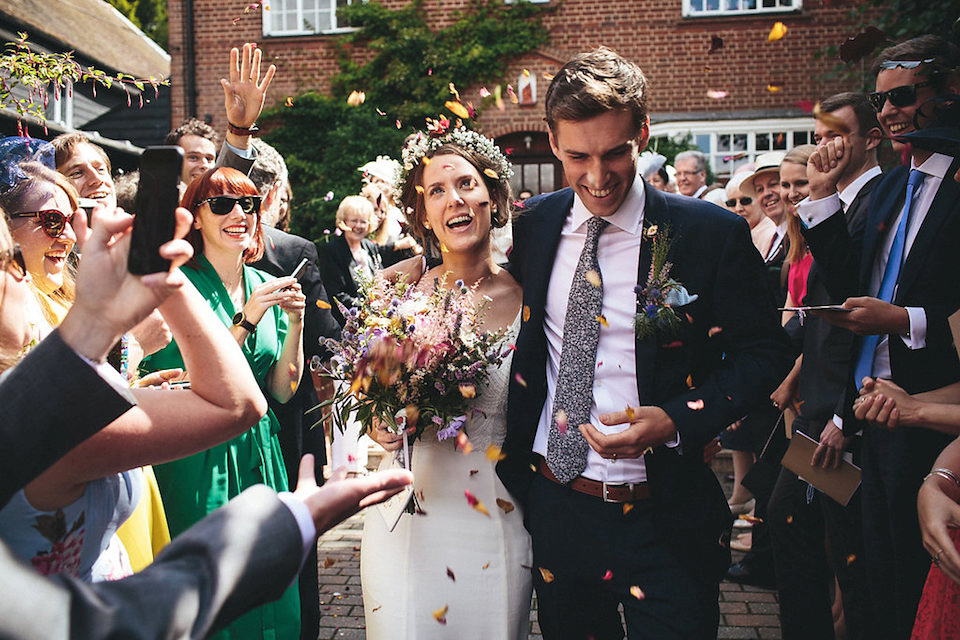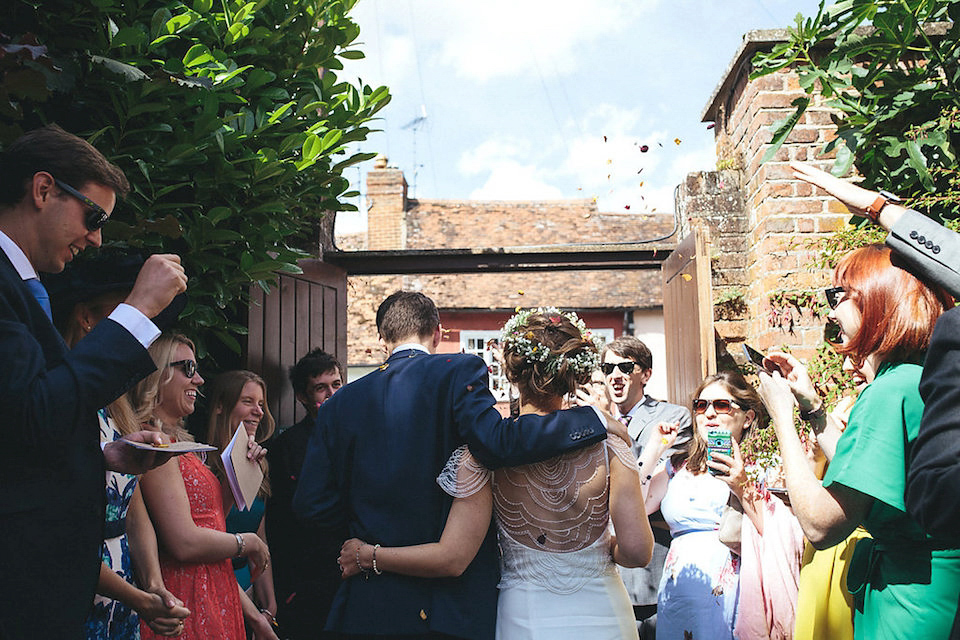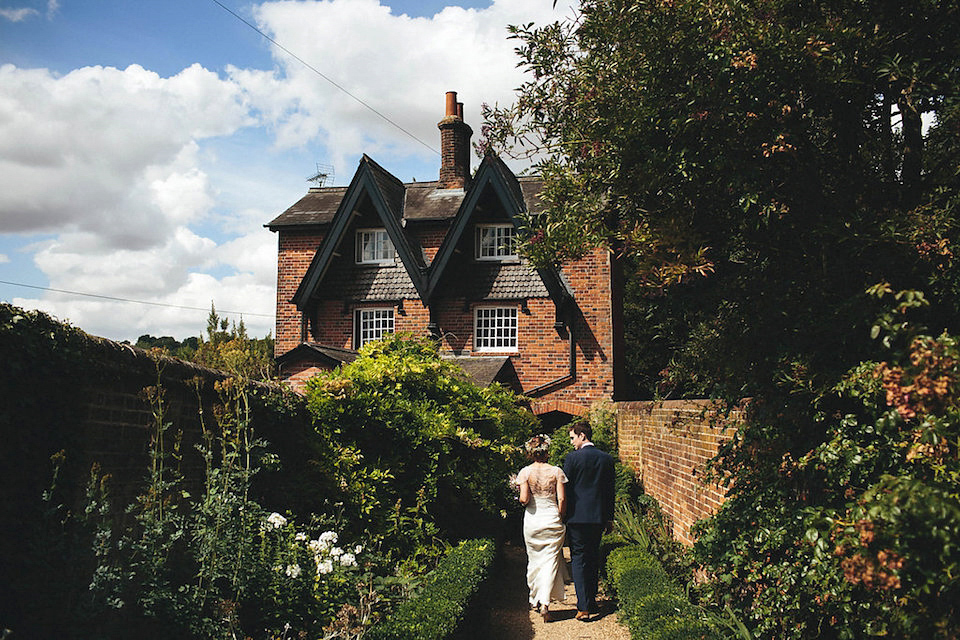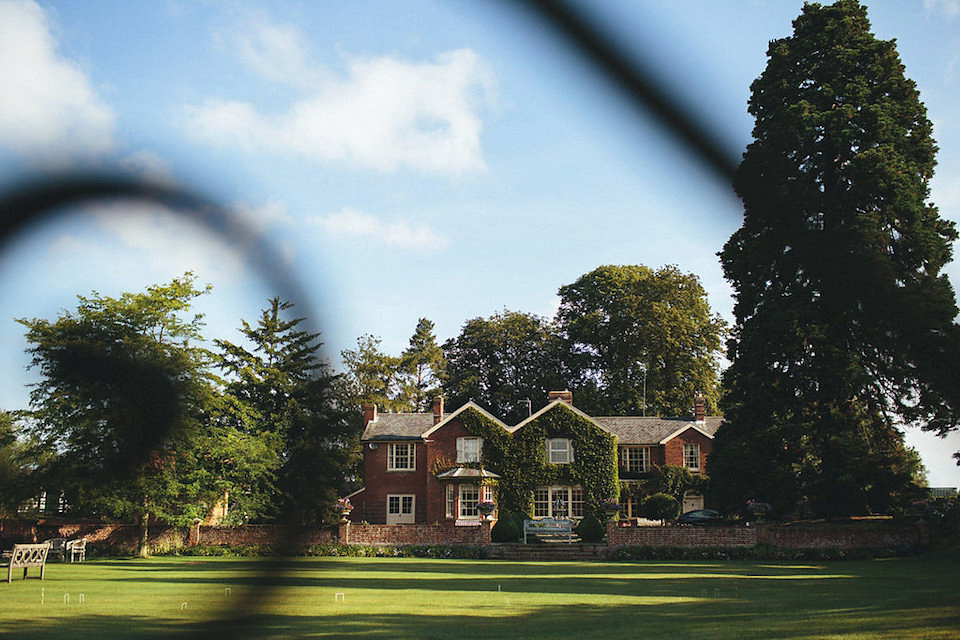 "Our photographers were Hannah and Toby from Red on Blonde Photography. I knew how great they were, as I had been following them on social media, having known Hannah beforehand. We were so happy with every aspect of what they did and they worked so hard on the day to produce photos that we will treasure forever."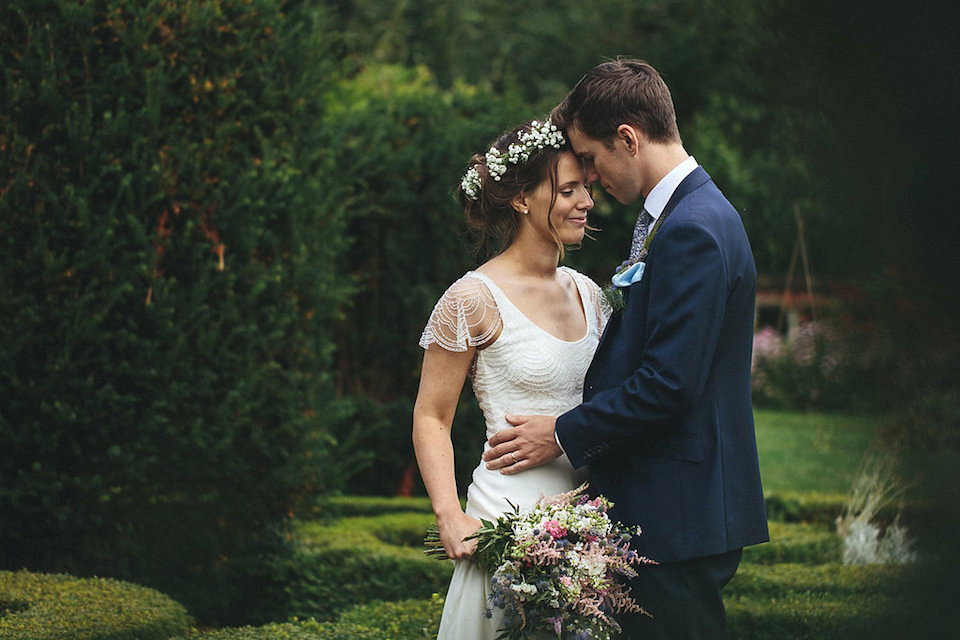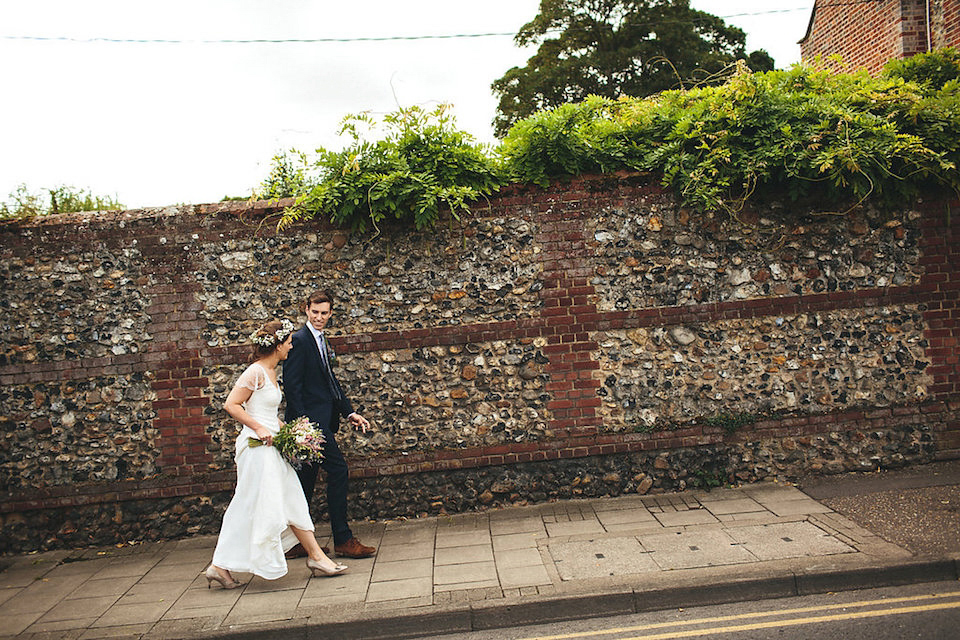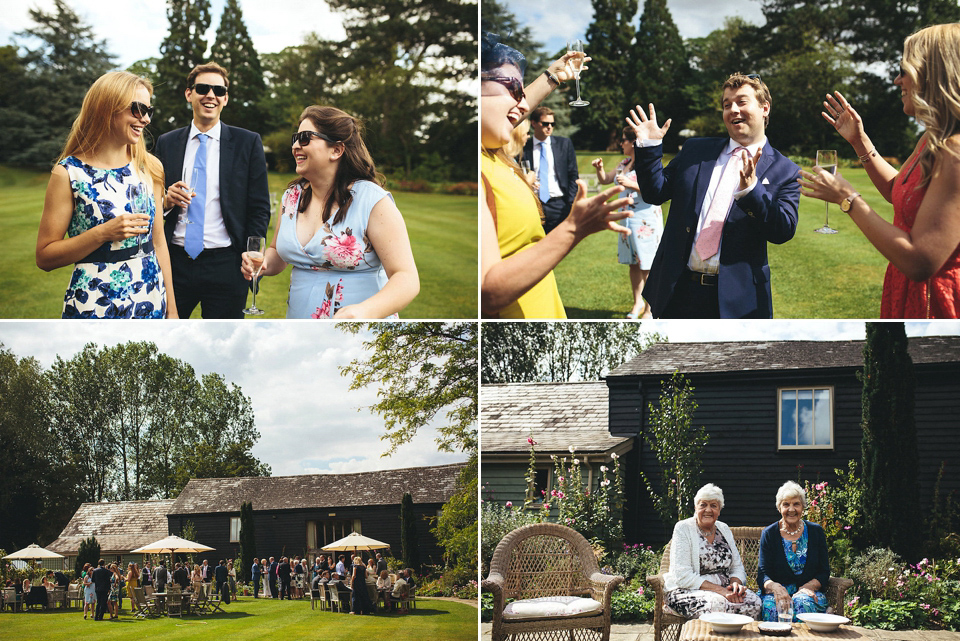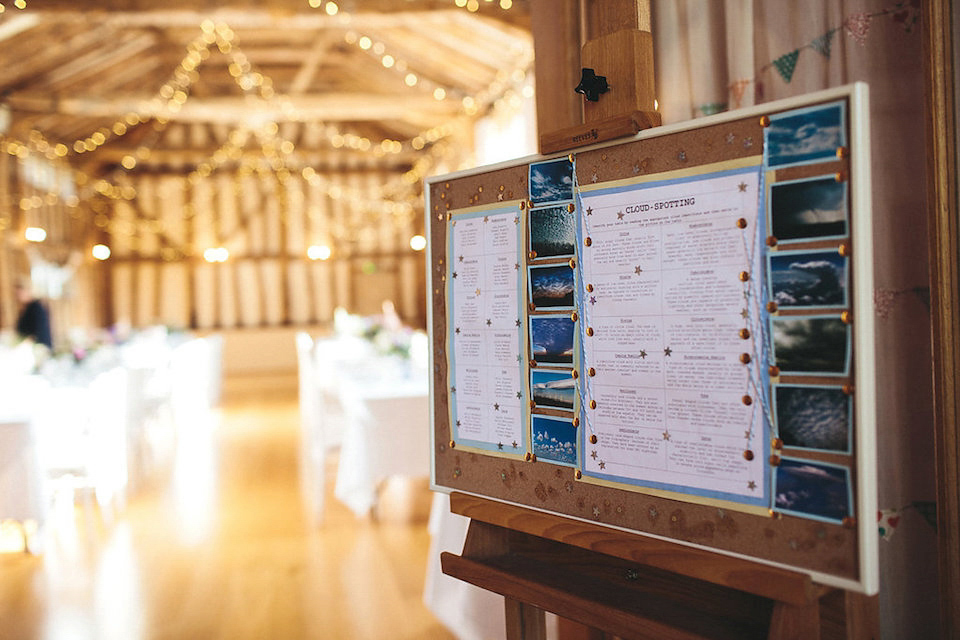 "Crown Catering, who are based in Dullingham, Suffolk, helped us to prepare for the day and did everything we wanted to perfection. The food and drink they provided was amazing and they also let us supply our own alcohol, as The Garden Barn is a dry venue that doesn't charge corkage. 
When we arrived after the ceremony, it was great getting to have a homemade sloe gin and tonic handed to you and walking out into a beautiful garden filled with all your friends and family. I collected a lot of vintage china from charity shops and antique shops, which we used to serve the afternoon tea. I love an afternoon tea – I think it's the chance of getting to eat so many different types of cake and calling it a meal, so it was always what I had in mind. In the evening we also had a BBQ, although everyone was pretty stuffed!"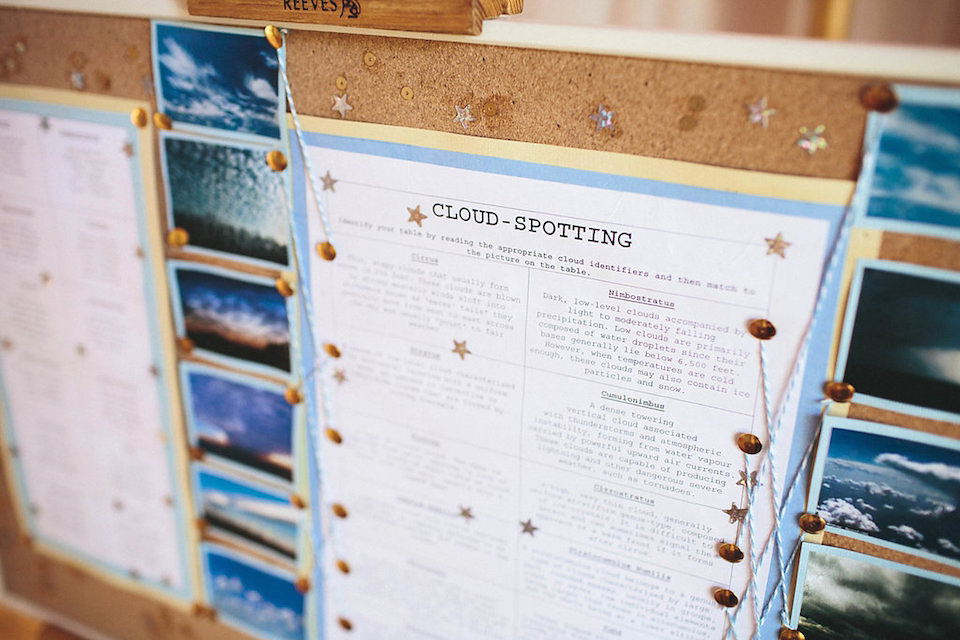 The wonderfully quirky cloud theme continued in the handmade hanging decor, table plan, table names and place cards. I just love it when couples incorporate a touch of something so personal to them in their day.
"I continued the cloud theme with the table plan, the tables were all different types of clouds and I wrote out the cloud-shaped place cards."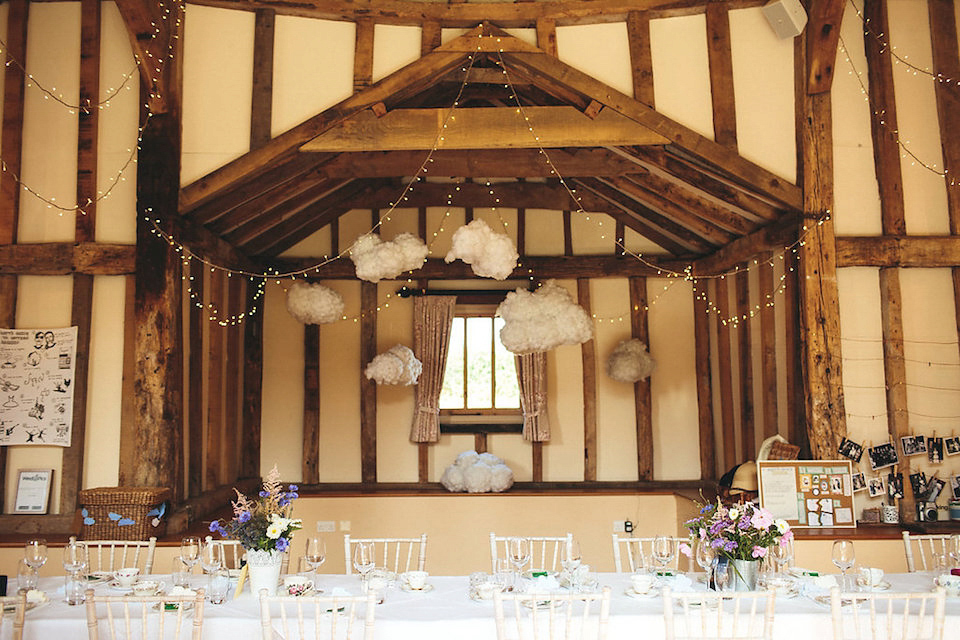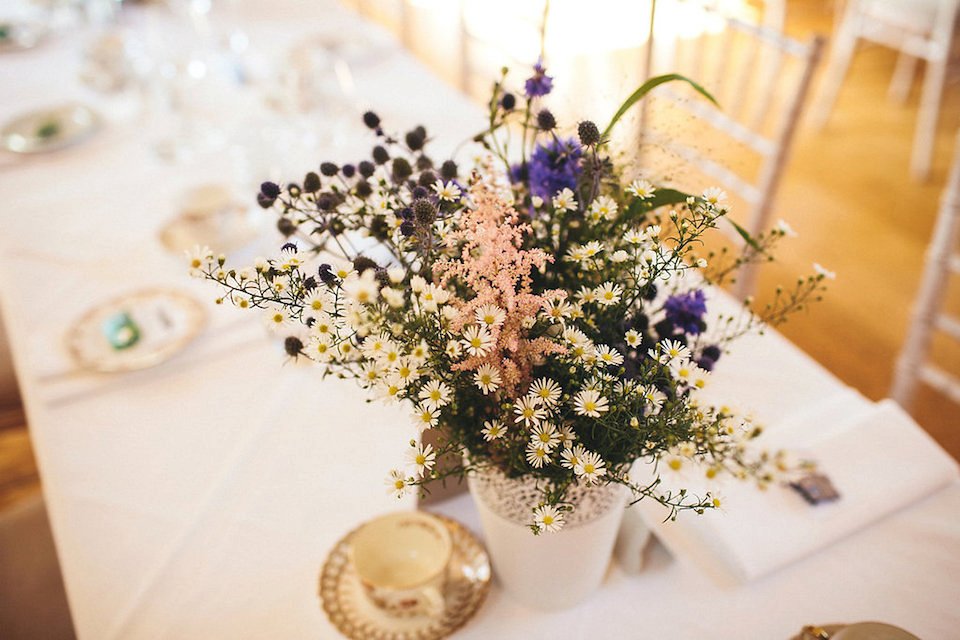 Helen raves about the florist, The Suffolk Flower Farm, who created the most stunning florals to capture the country garden feel she was aiming for.
"Our florists are a very small local company, operating from deepest darkest Suffolk. They ticked all the boxes for me as I wanted local, country garden flowers, as well as wholesale flowers that I could arrange, and last but not least arrangements for bouquets, boutonnières, buttonholes, my flower crown and a spectacular stand for the church. They delivered all of this and everyone was blown away how beautiful and fresh everything was."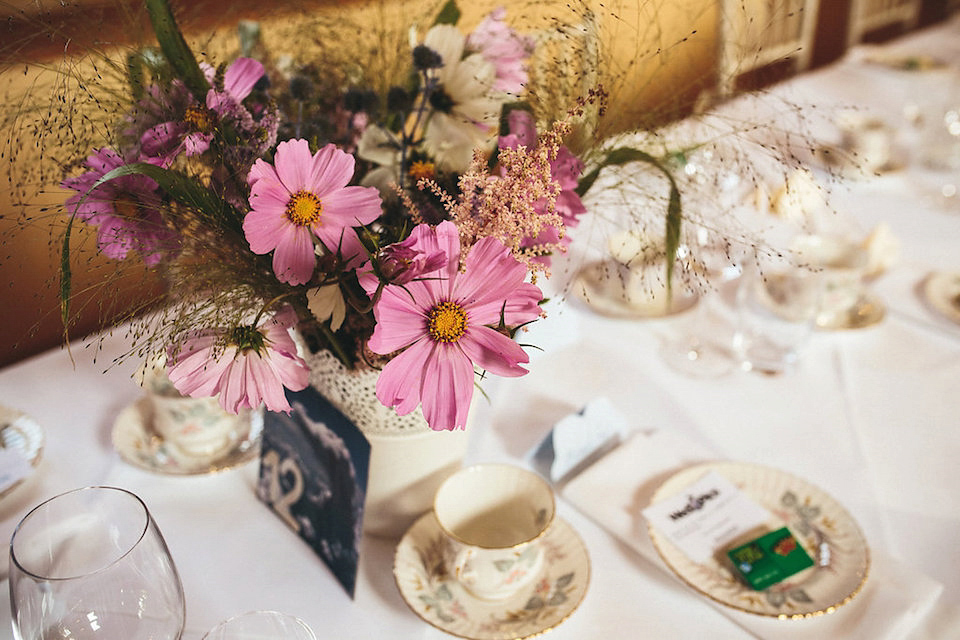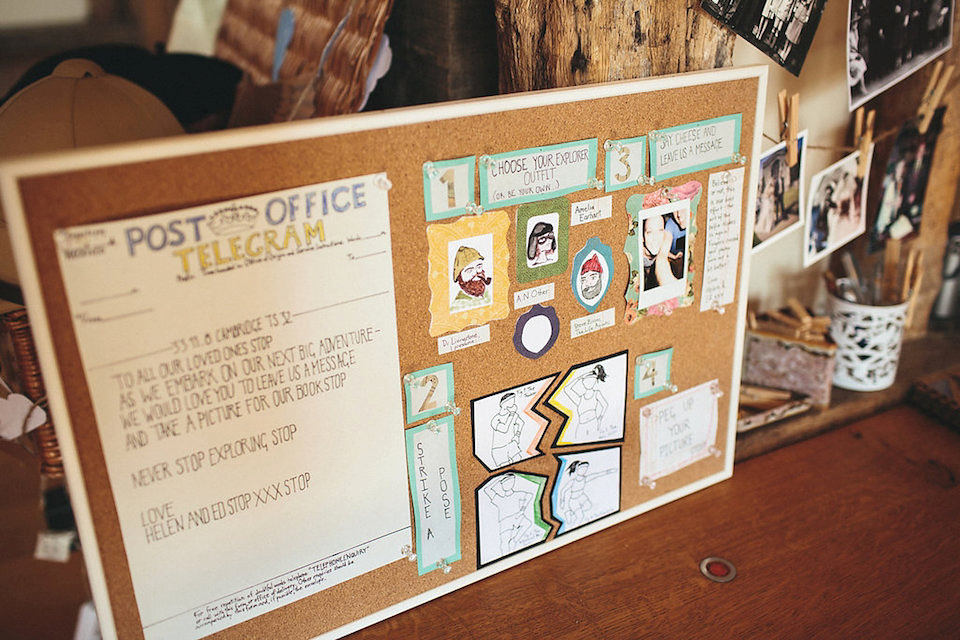 "Our wedding favours were RSPB badges. I loved them, as it was a chance to donate to a great charity and give our guests a fun little memento of our day. I also tried to match the animals to the guests, which people had fun guessing!"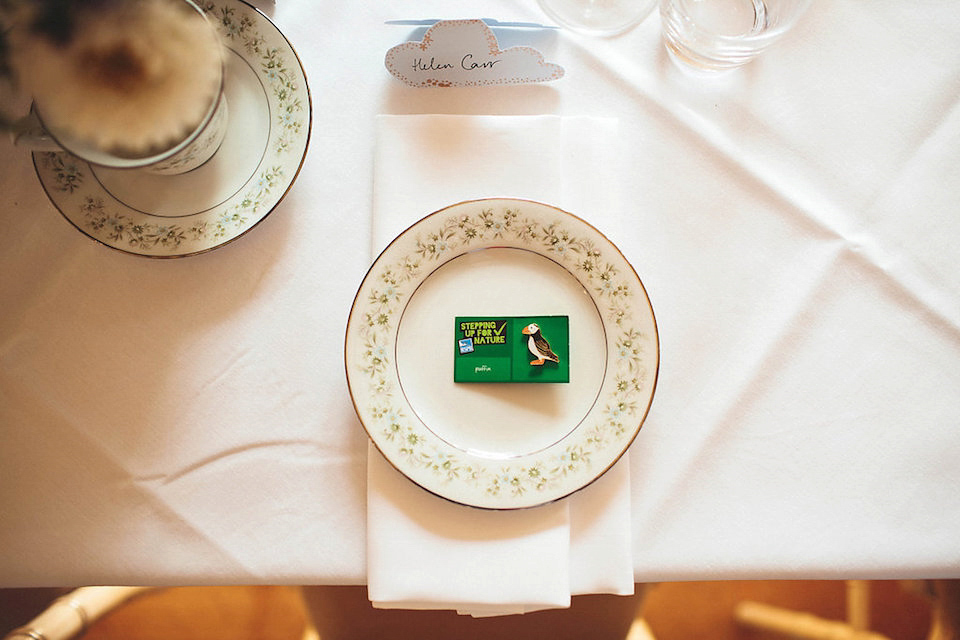 Loads of very yummy-looking cakes were made by family and decorated with sweet little cake-toppers with stories relating to Helen and Ed – what a lovely touch. Ironically, the cake-loving bride didn't manage to eat any at all!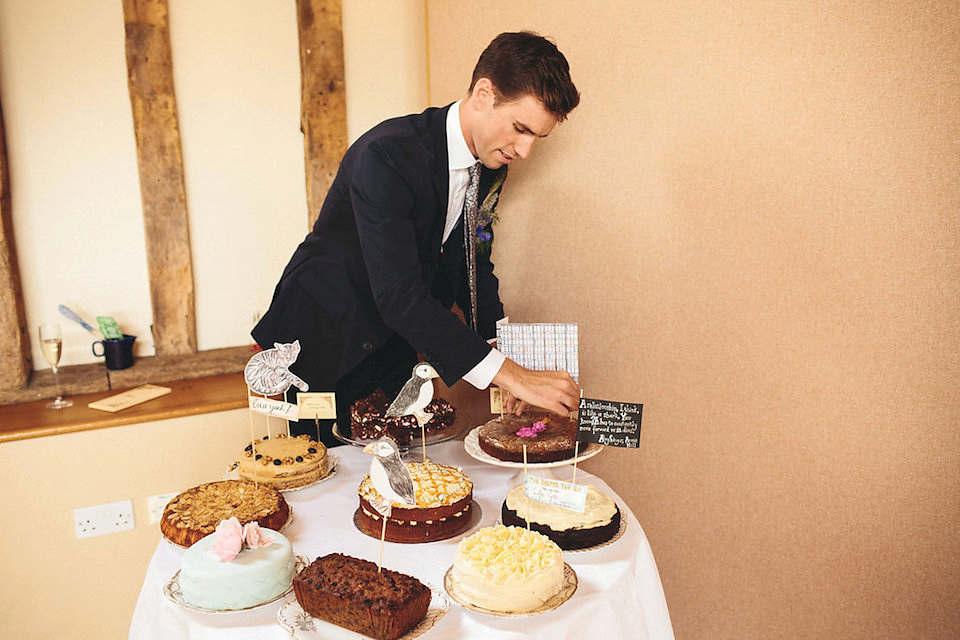 "I love cake but I really, really love homemade cake and had a hard time in persuading any of my friends and family to take on the, admittedly, slightly intimidating task of making a wedding cake for us. I had to compromise in asking lots of family members to bring cakes for us as well as making one myself! I decorated the cakes with homemade cake-toppers of things, which have significance for Ed and I and they looked great. One major regret is that I didn't get to eat any of it!"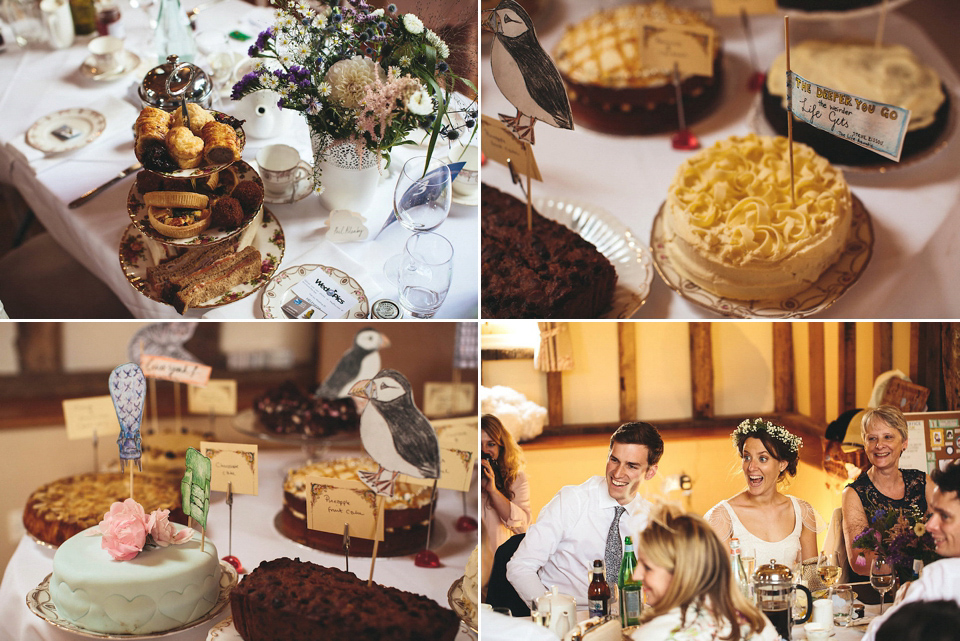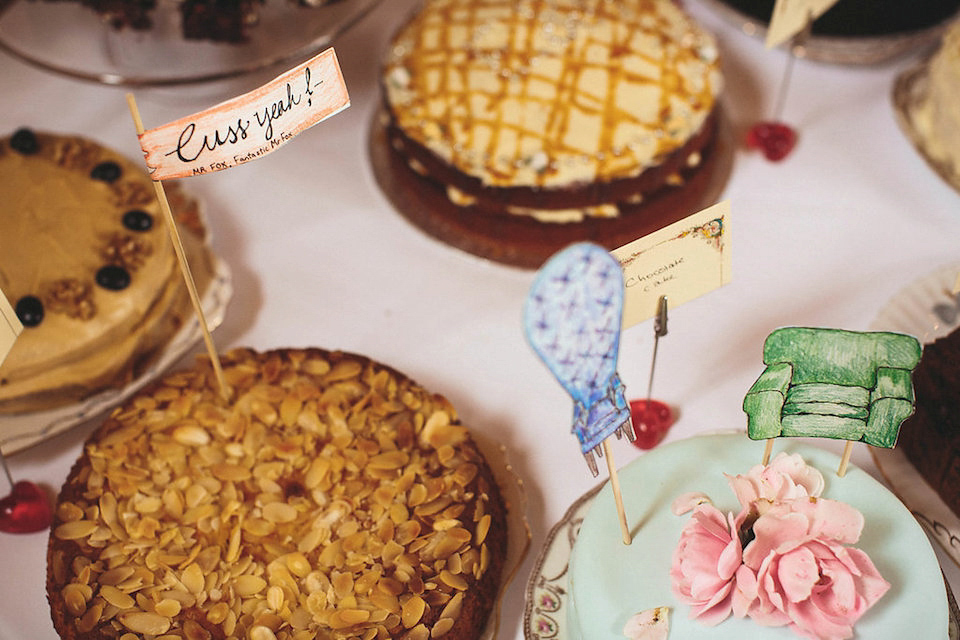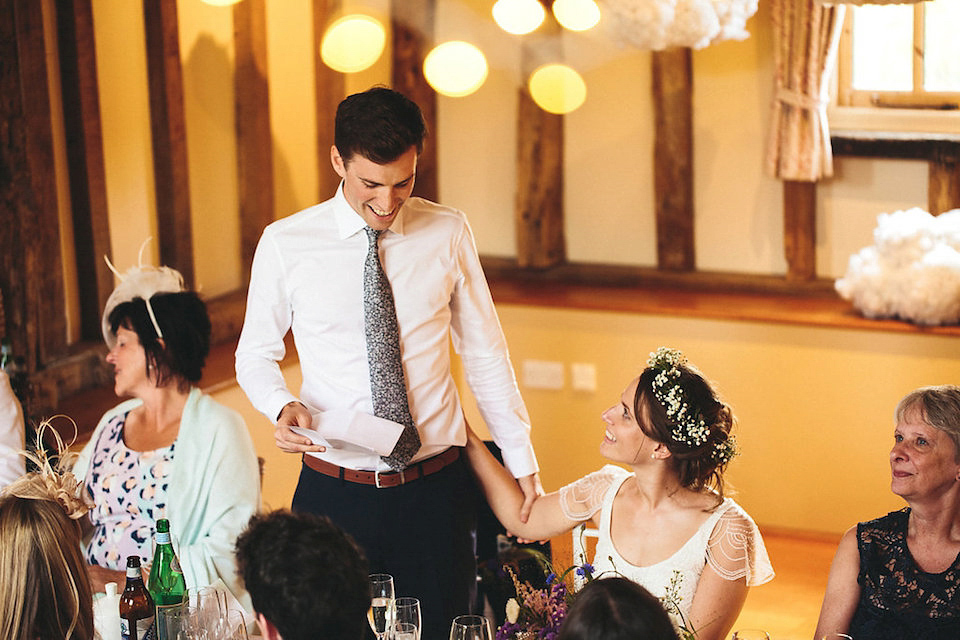 "All of our guests went wild for the variety of garden games that we put out for them and it wasn't until it got dark and cold that they came inside to enjoy Discowed's epic tunes. We also had a fun, homemade 'explorer-themed' photo-booth, in front of the clouds, for them to enjoy and peg up their pictures."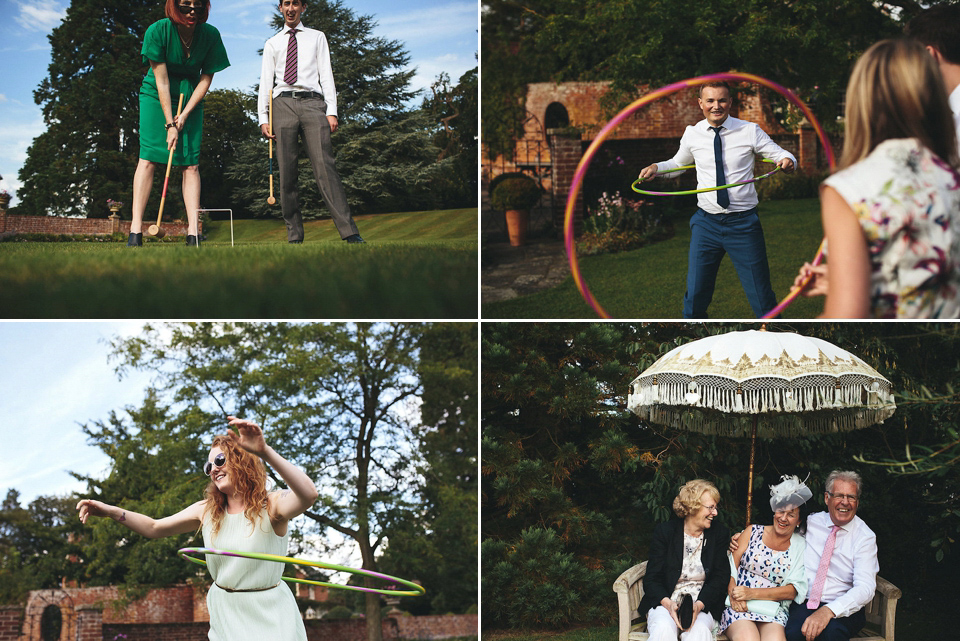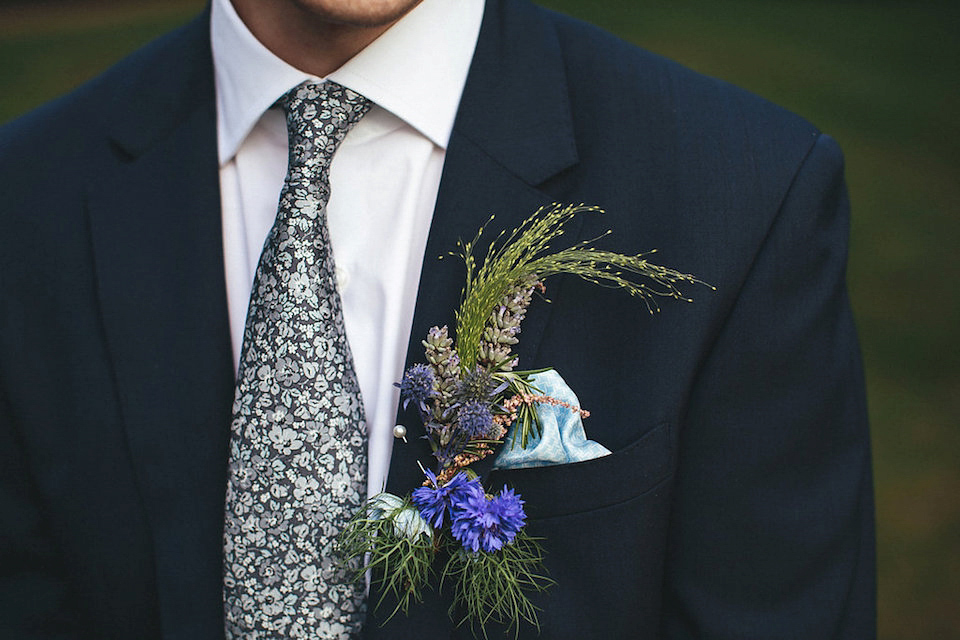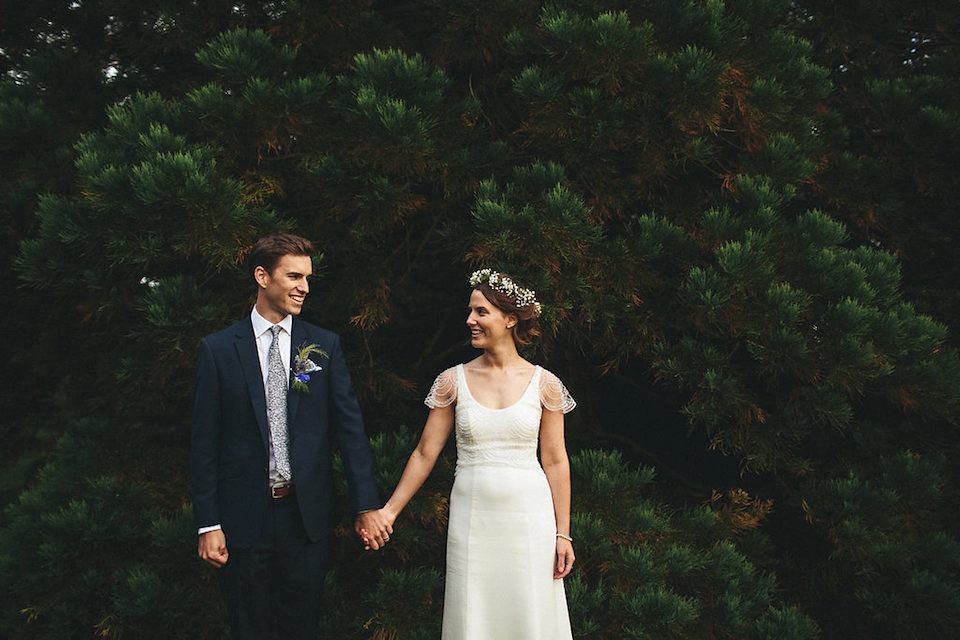 "I got the 'Nightingale' dress from Free People in the sale online – I loved the bell-shape sleeves and it was a lot of fun to dance in."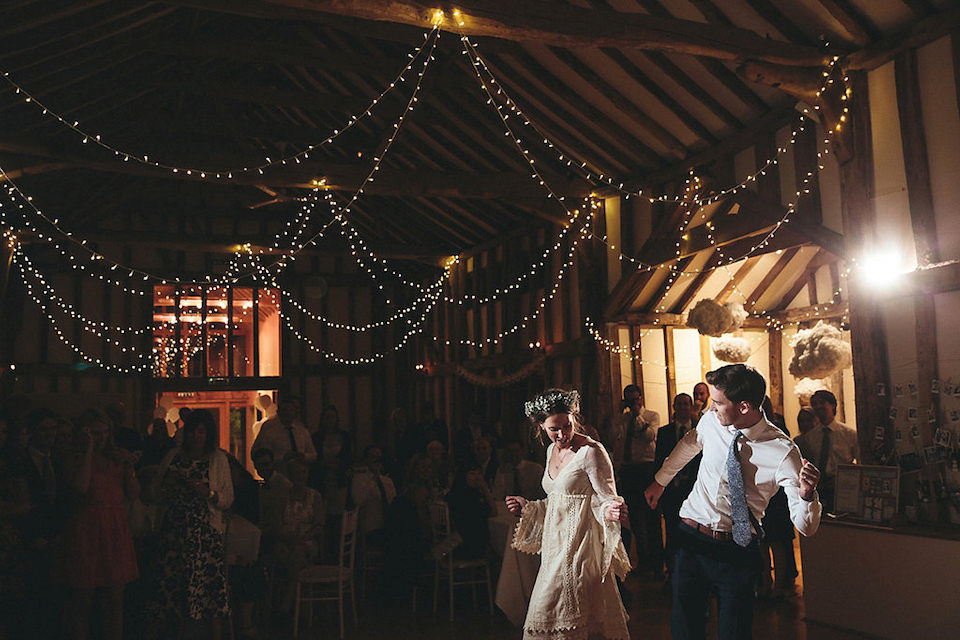 "We had our first dance to Stevie Wonder's 'Signed, Sealed, Delivered' – it's a great tune and mercifully short! It was another favourite part of our day; having all of our friends and family pile onto the dance floor after our first dance and staying on for all the great Motown tunes!"
Words of Wedded Wisdom
"I think when you plan something for so long it's very easy to think that things should have gone differently. In the end though, we were both so happy with the way everything turned out and wouldn't have changed a thing.
There are so many traditions and expectations surrounding weddings. You should choose the ones you want and that mean something to you. Ultimately you need to be able to make the choice to enjoy your day and sometimes the traditions and expectations don't help you to do this. Don't feel bad, just do it your way. People might question your choices, but ultimately if you do what you want you won't regret it! 
Love My Dress has such a great range of different wedding inspiration. I really like your innovation with The Lovettes and I still enjoy reading the blog, now that I have wedding planning withdrawal!"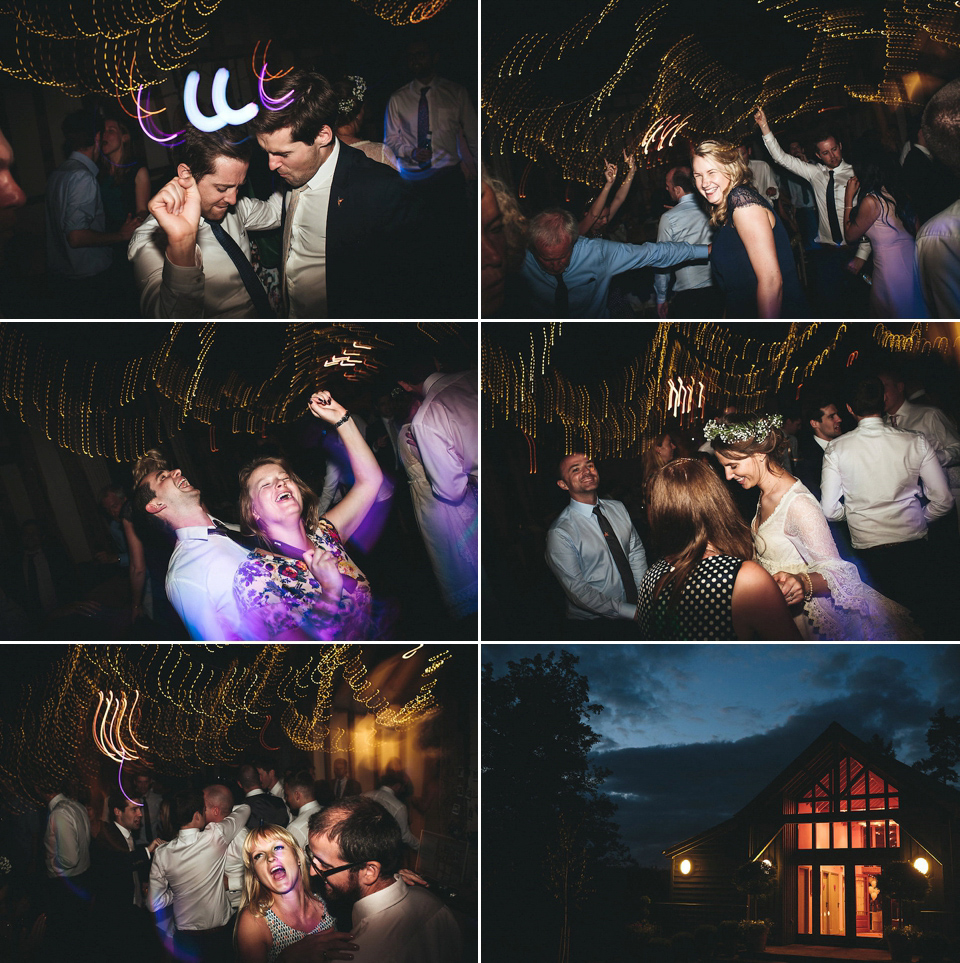 We *love* to hear that newlyweds still love reading this beautiful blog! I can totally understand that – all those months and years of planning that you've done suddenly comes to an end makes one want to keep the warm and fuzzy feelings alive just that little bit longer.
Thank you so much to the photographers Hannah and Toby from Red on Blonde Photography for sharing the grinning couple's simply gorgeous day – you can see more of their brilliant work we've previously featured here. And to Helen and Ed, your day oozed with such style and flair, all whilst keeping the pennies in check, and it's been such a pleasure to share with our lovely readers.
Wishing everyone a jolly rest of week!
Love Jo -x-
Photographer – Red on Blonde Photography
Venue – The Garden Barn, Suffolk
Wedding Dress – Monsoon + Free People
Shoes – Carvela via John Lewis
Floral crown – The Suffolk Flower Farm
Jewellery – Pearl earrings + topaz ring + pearl bracelet
Perfume – Agua Allegoria: Limon Verde' by Guerlain
Bride's Scent – 'Agua Allegoria: Limon Verde' by Guerlain
Bridesmaid Dresses – Phase Eight + ASOS
Bridesmaid's Accessories – Pearl earrings via Kings Hill Jewellery
Groom – Moss Bros + Reiss shirt + Laura Ashley tie
Florist – The Suffolk Flower Farm
Rings – Goldsmiths + Kings Hill Jewellery
Catering – Crown Catering
Cake – Homemade by the bride and wedding guests
Stationery – Minted
Hair + Makeup – Rachel Mannix
Entertainment – Discowed