Hello lovelies! I'm sharing the most delightful wedding today that features a divine long-sleeved and backless Stella McCartney gown, with images beautifully captured by Kellieanne Photographer for our lovely couple's Autumn inspired day. Meet Rach, a regional manager, and Gareth, a brain injury support worker, who married on the 23rd of October 2015 at Styal Lodge in the beautiful Cheshire countryside.
When it came to dress shopping, the bride experienced a problem that us tomboys often experience; the seemingly straightforward issue of actually wearing a dress! (I hear you loud and clear Rach – my wedding dress was the girliest thing I've ever worn, as my childhood was mostly spent climbing trees with my boy cousins and pictures of me in dresses are rare!). Rach was very keen then to find the right dress for her – and boy did she find a beauty!
"I was really excited when we got engaged, but I also panicked, as I am not a girly girl and seldom wear dresses. I find myself feeling very awkward, so I knew I needed to find the right dress and this would be pretty specific. I'm fairly decisive, I know what I like and I know what I don't like. One thing I wanted was to still feel like me and look like me on the day, just a little more polished perhaps! After looking at some dresses in bridal shops I found they were beautiful, but just not right for me."
Photography by Kellianne Photographer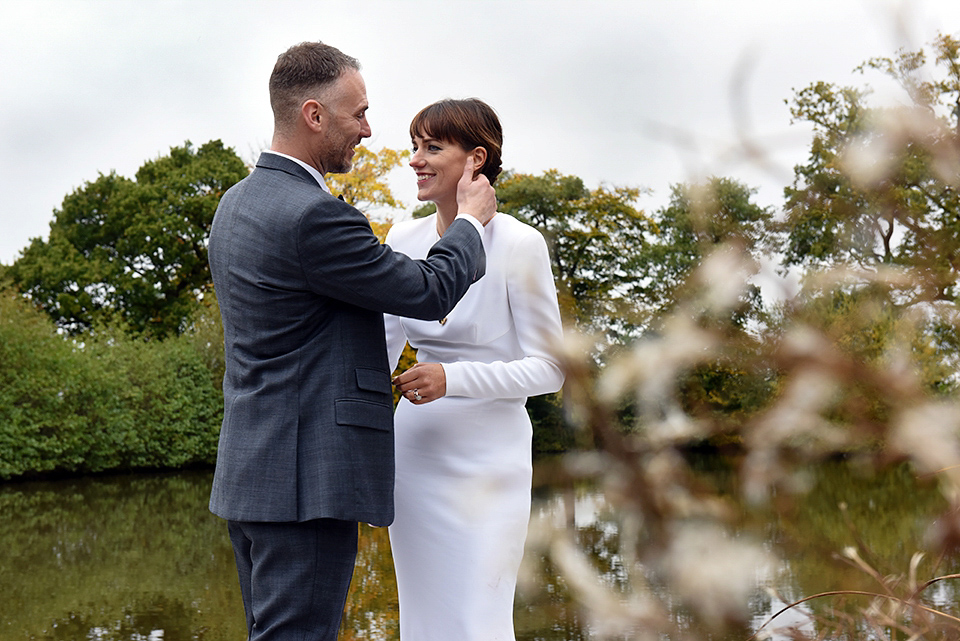 "My sister-in-law Kirsty suggested I look at Harvey Nichols, so I went online, saw this Stella McCartney dress and knew instantly it was the one. I went and tried it on with my friend Beth the next day and fell in love and bought it. I loved the elegance of it; the dress is very simple, however the low back adds a little drama. I felt great on the day and loved every minute of wearing it!"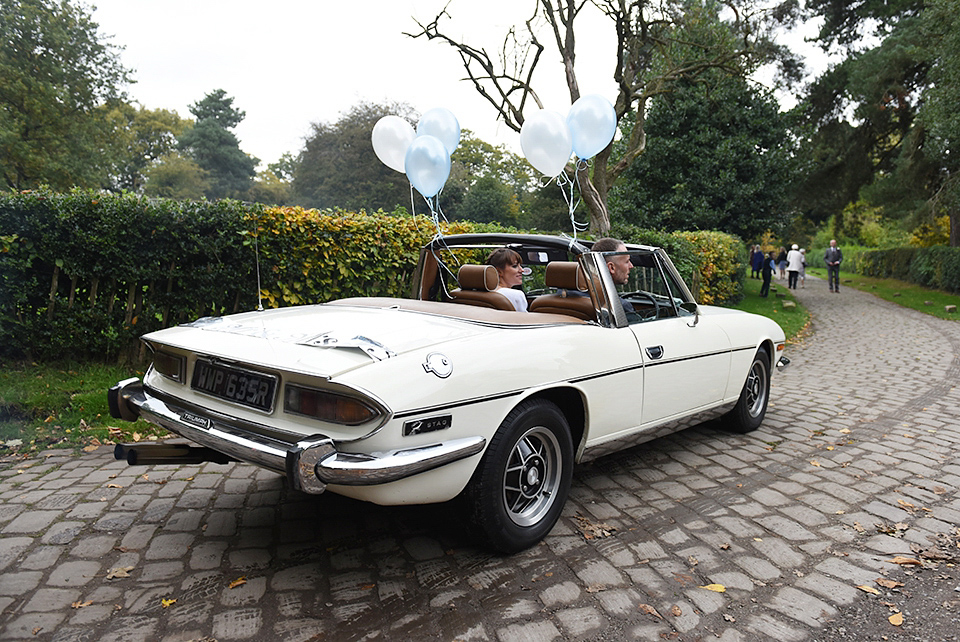 "When I bought my dress, the personal shopper picked out gold sparkly sequin Jimmy Choo shoes for me to try with the dress and they matched so well. You would rarely get me in a pair of heels, but they were so comfortable and pretty I couldn't resist!"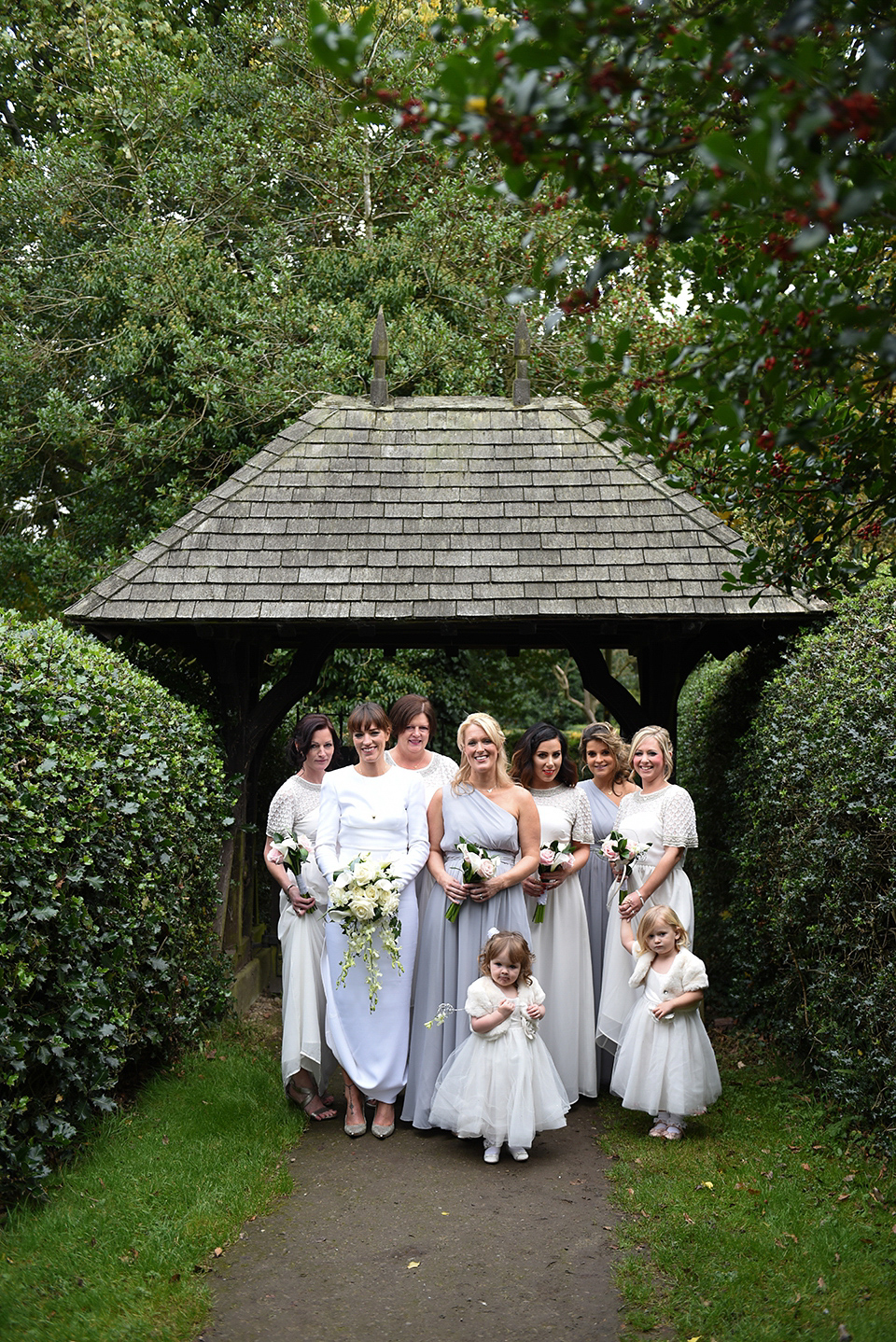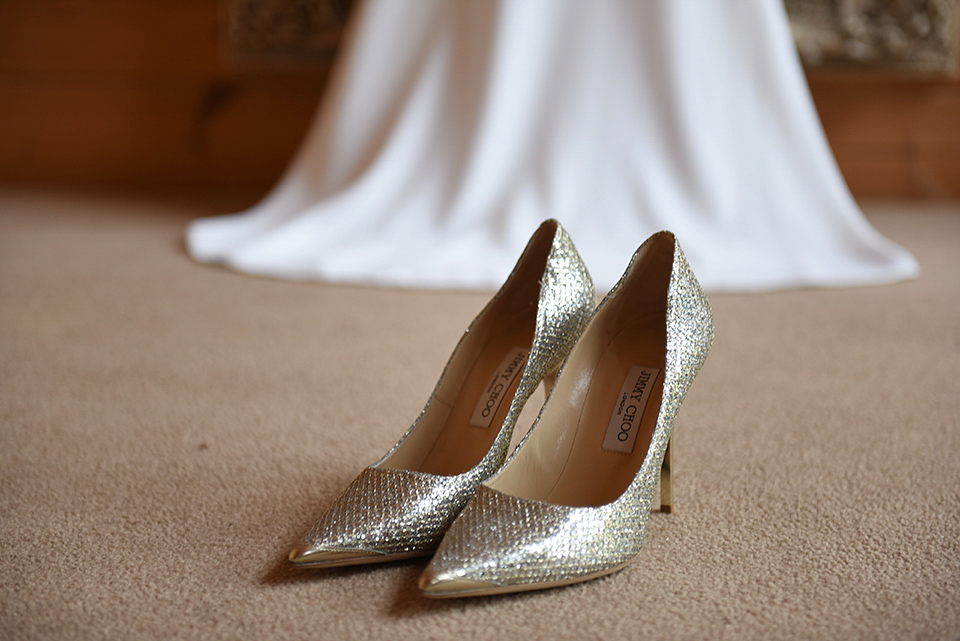 Rach's very sweet fiancé arranged the most amazing present and this moment was her favourite memory of the day. And Rach's mother-in-law gave her a bracelet as her 'something borrowed.' 
"One of my best friends and Gareth's usher Glyn turned up whilst I was getting ready with a present from Gareth. It was a gold acorn necklace with a poem inside, the same poem that is on my father's grave – it was the most beautiful gift I have ever had. I was incredibly touched by how thoughtful Gareth was and it made me even more excited to be marrying him. The necklace couldn't have been more perfect for the dress as well.
My mother-in-law Brenda also gave me her bracelet to wear as my something borrowed; it was beautiful and meant so much."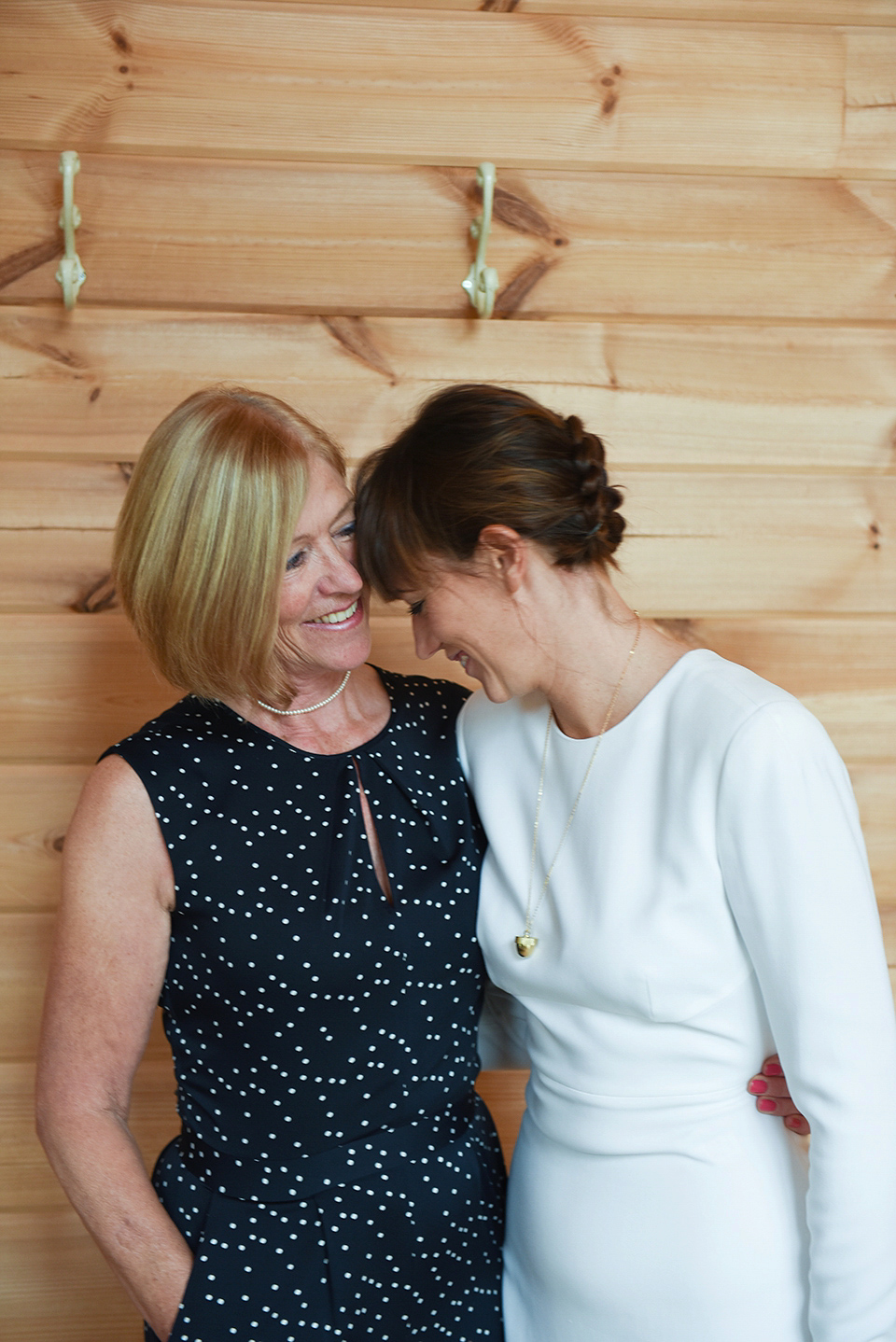 "I wore a spritz of 'Stella' by Stella McCartney – it's my favourite perfume ever. And I bought some beautiful hair clips but promptly forgot them on the day – my hair dresser and friend Ali despair of me!"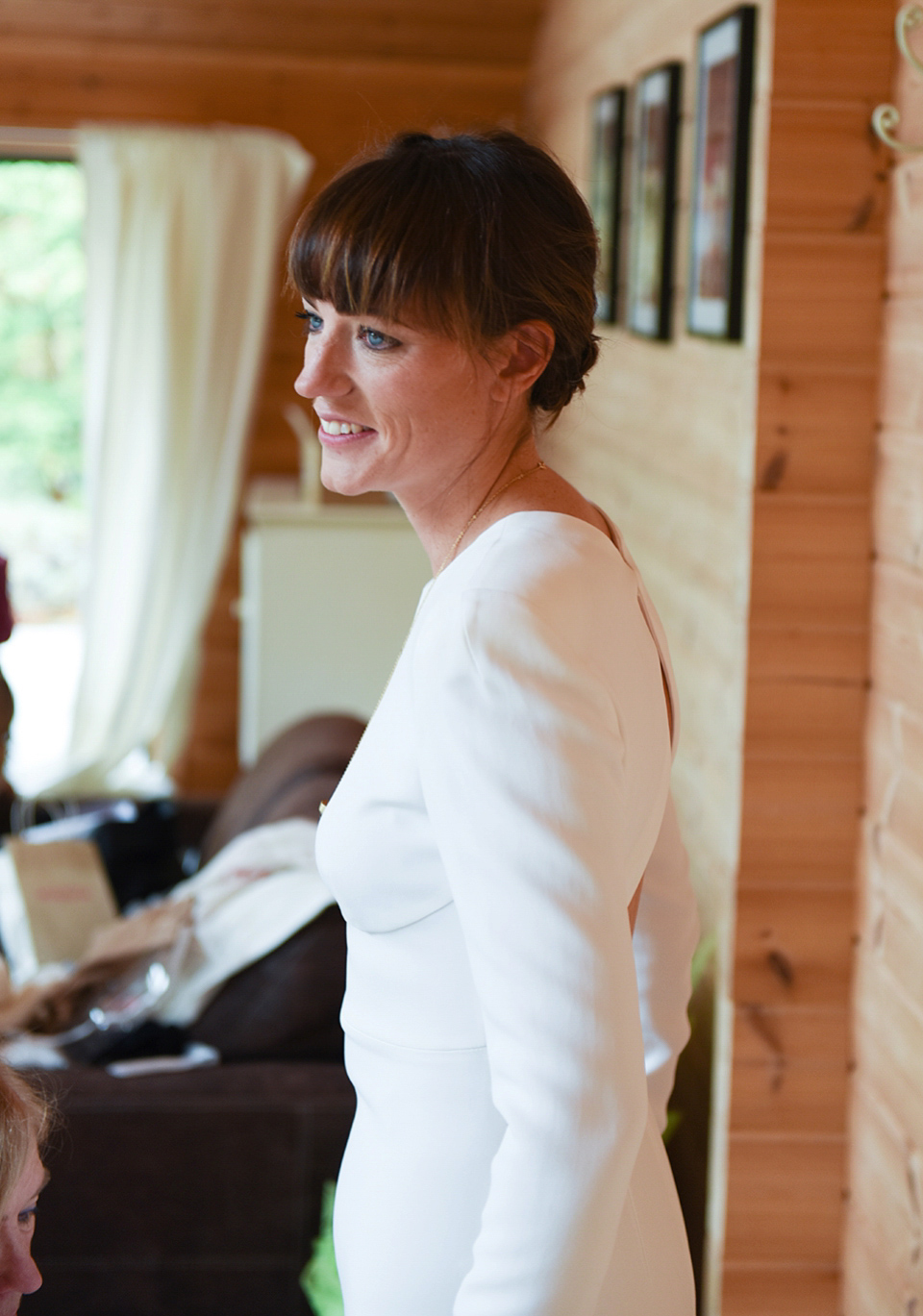 "My two flower girls, my nieces Isabelle and Millie, looked so pretty in white dresses and white shoes, I think they were the stars of the wedding! They also had silver wands with a flower in it."
Rach had six beautiful bridesmaids – her sisters, sisters-in-law and best friend – and I do love this little story about what happens in life when you're busy making other plans!
"I found the perfect dresses on ASOS, they were long and white with silver beading at the top. I bought them and then three of my bridesmaids fell pregnant! So I found three maternity dresses that were silvery grey and very beautiful. My sister then gave birth six weeks early (to beautiful baby Charlie), so I had to send her dress back again and I got her one of the original dresses. They looked stunning!
 All the bridesmaids chose their own shoes and had their hair done in their own personal styles."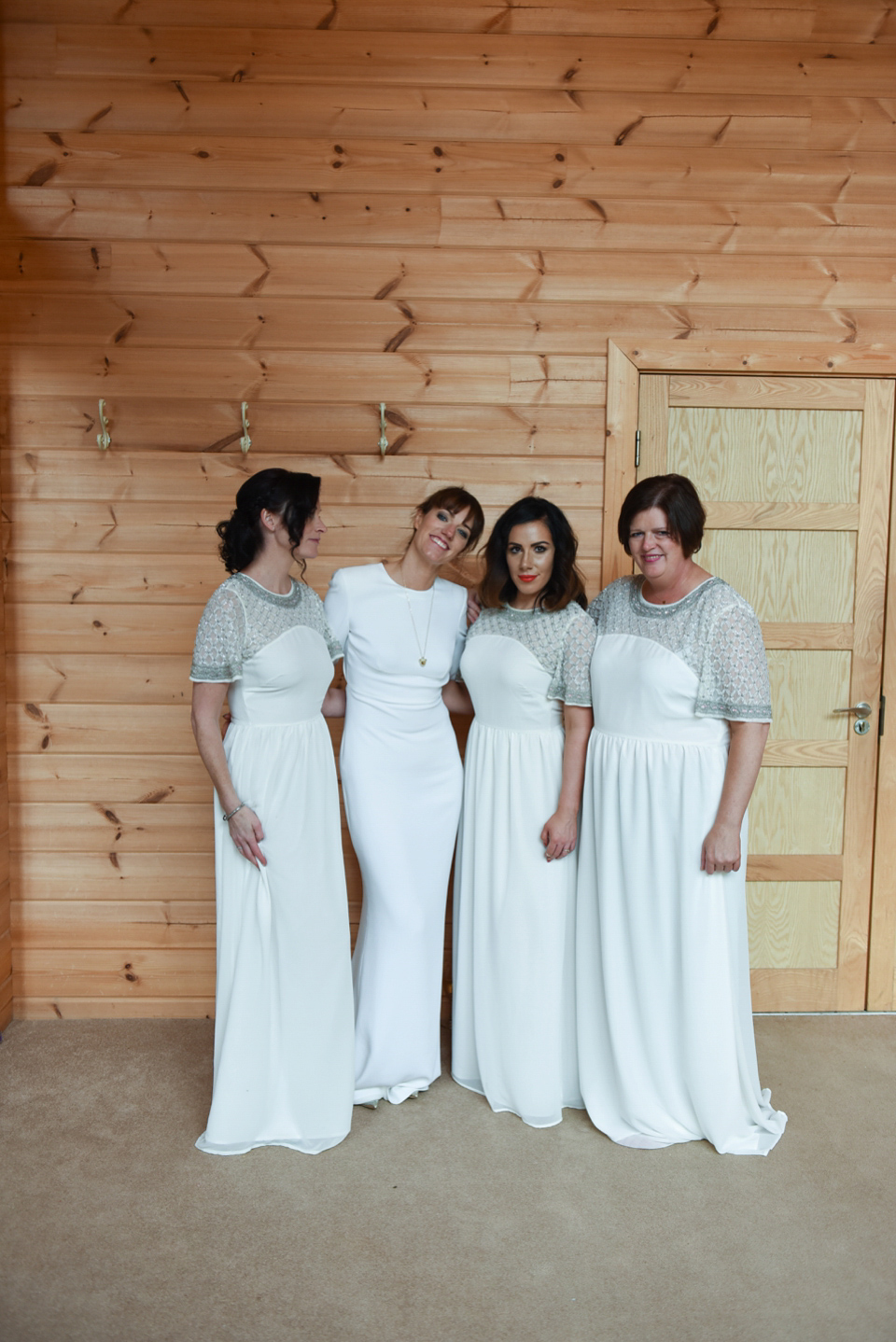 "Gareth and the groomsmen had bespoke suits made at King and Allen in Wilmslow. He looked gorgeous as I knew he would and the groomsmen made a handsome bunch!"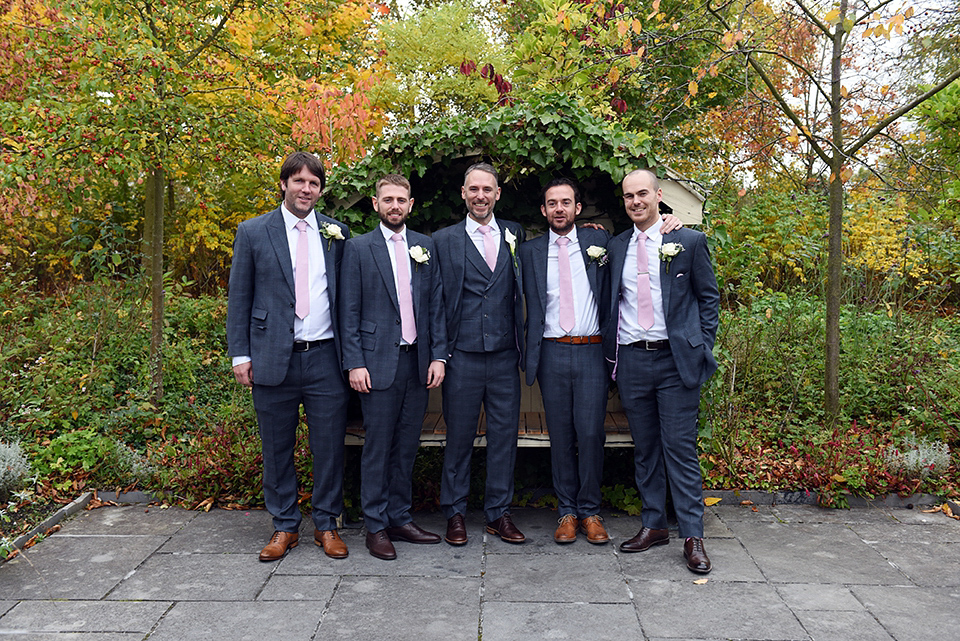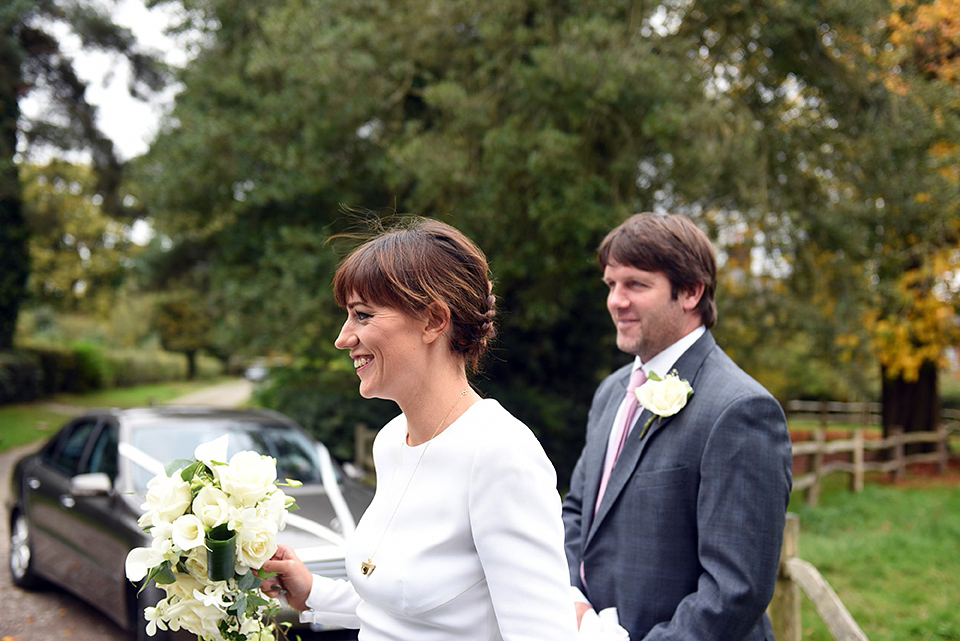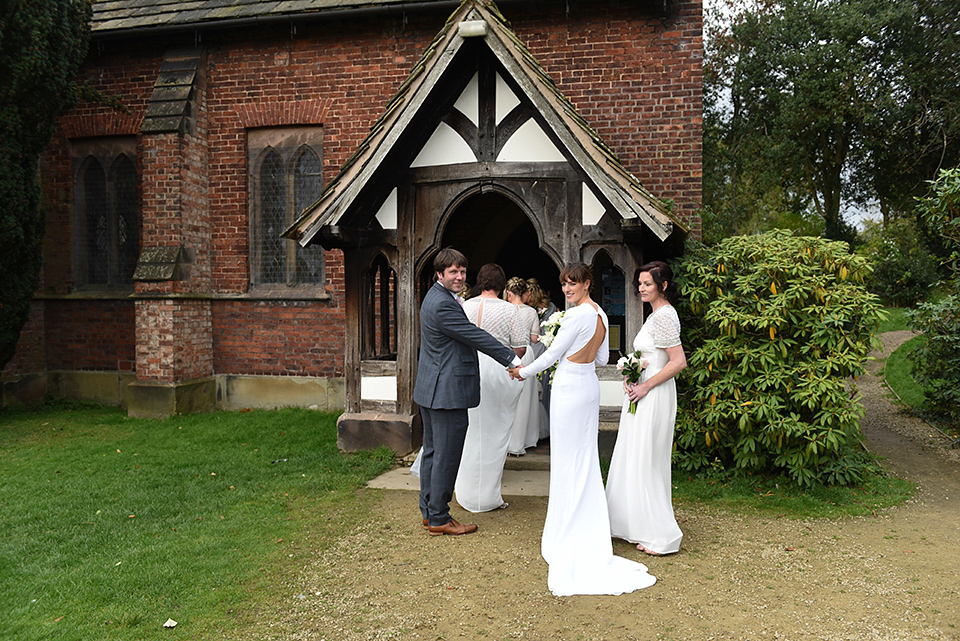 "My one-year-old son Gabriel had the same suit made as his father and the ushers. He had a little waistcoat and trousers and he looked amazing. I was so proud of him – the first time I saw him all dressed up was when I walked down the aisle."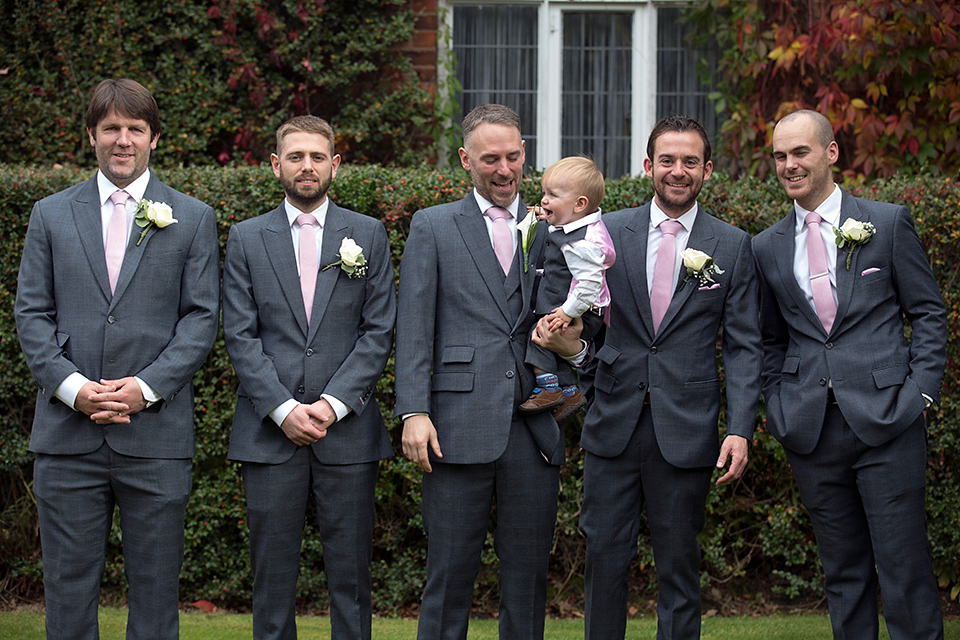 "We picked this church because it was so beautiful and peaceful. When we attended the services we found everyone so friendly and welcoming and we liked the ethos and ideas of the Unitarians. 
My brother gave me away; my father passed away ten years ago so he was sadly not there. Martin was perfect; he made this moment incredibly special. I walked down the aisle to The Cinematic Orchestra's 'To Build a Home'."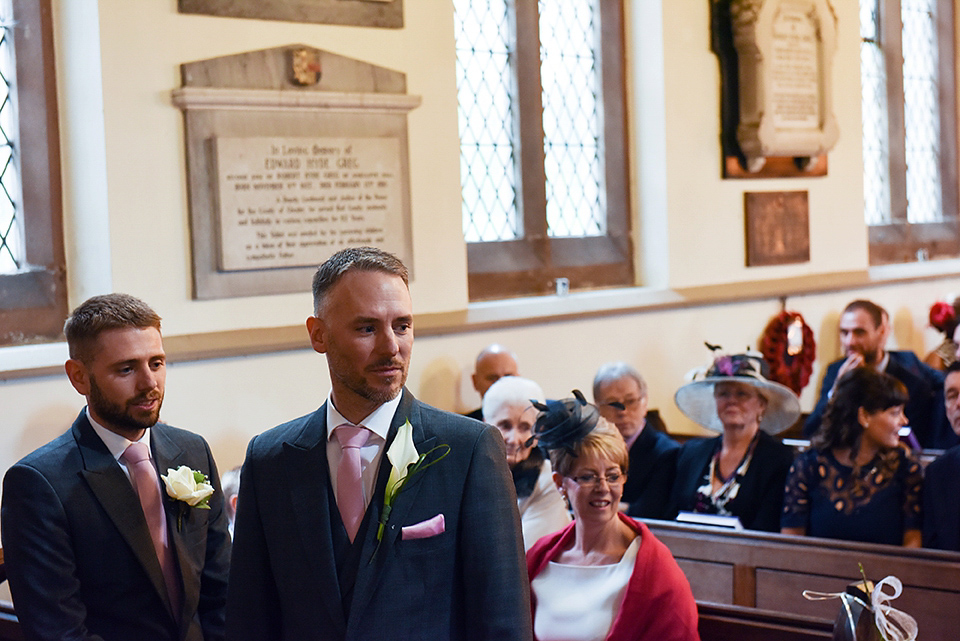 "Our florist was Michelle who owns Flowers by Majong in Wythenshaw town centre. The bouquets were made up of roses and calla lily, the groomsman had roses and the groom had a calla lily buttonhole. Michelle dressed the church with gypsophila. The flowers were absolutely beautiful!"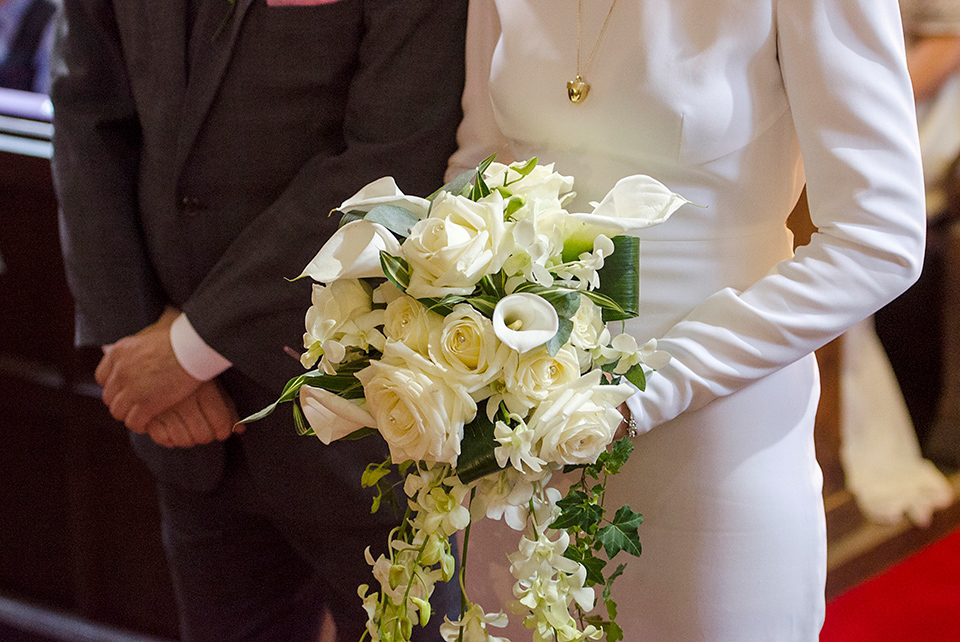 "My two best friends Sarah and Molly did our readings in the church, which I asked them to choose. Molly read 'A Wedding Message' by Amanda Bradley, whilst Sarah read 'Rings' by Carol Ann Duffy. They were amazing, I was so proud."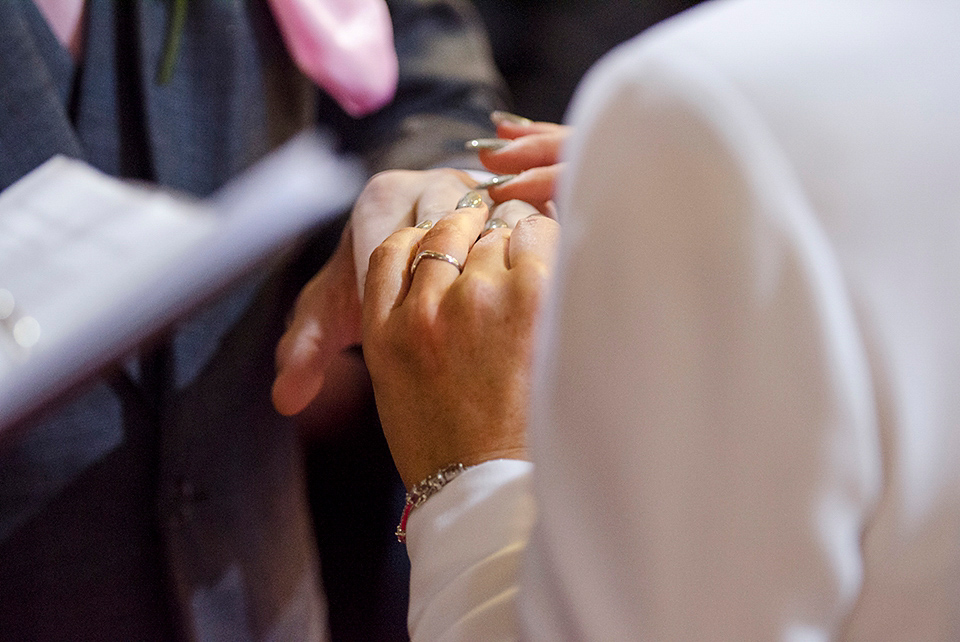 "For our rings we wanted simple and classic and the rings we chose reflected this. They were white gold bands from Fraser Hart."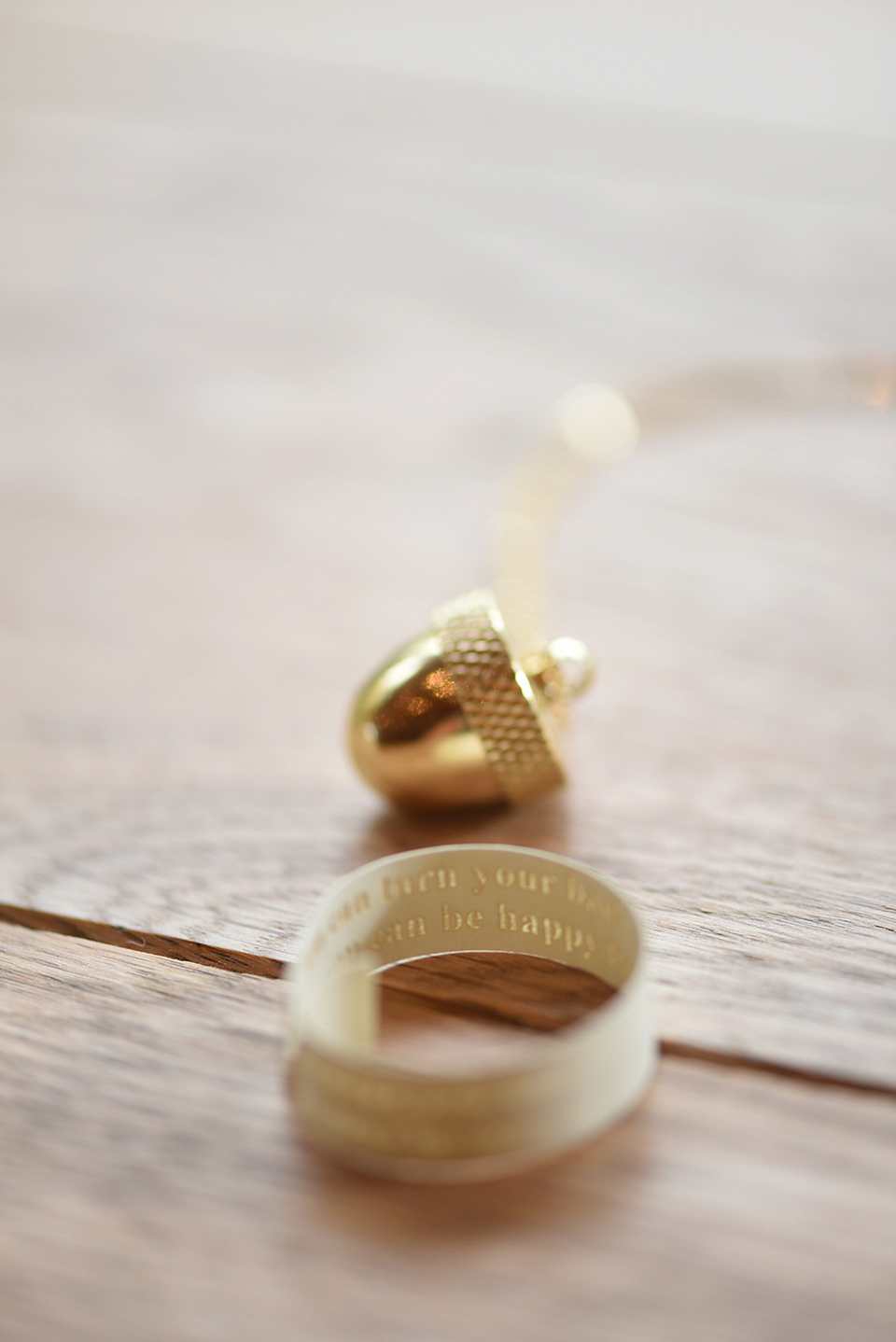 "Gareth and I met in the pub when I was on a date with someone else! We got engaged after the birth of our son Gabriel and had been together for six years at the time. Gareth asked me to marry him on my birthday on New Year's Day in 2015."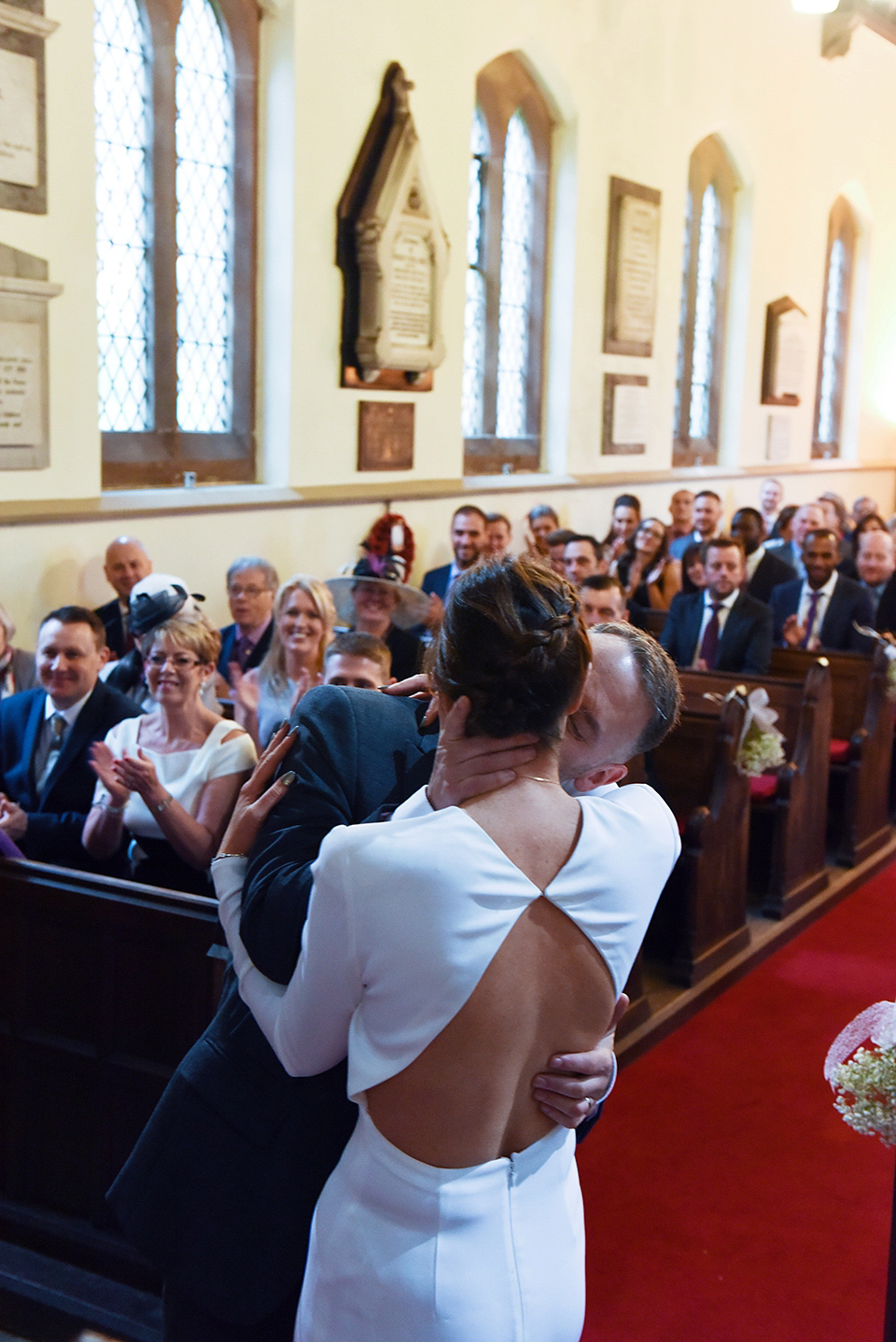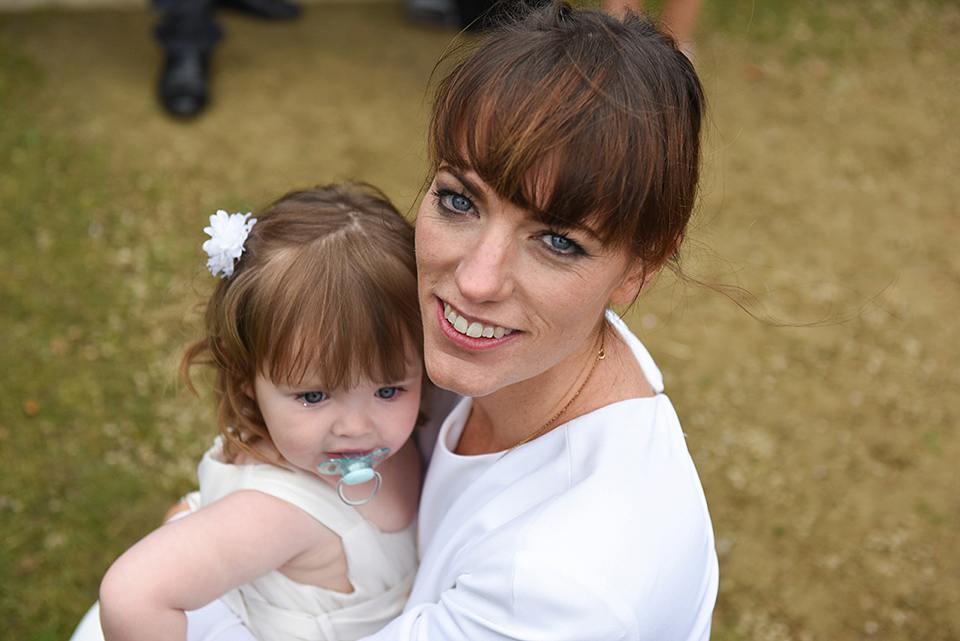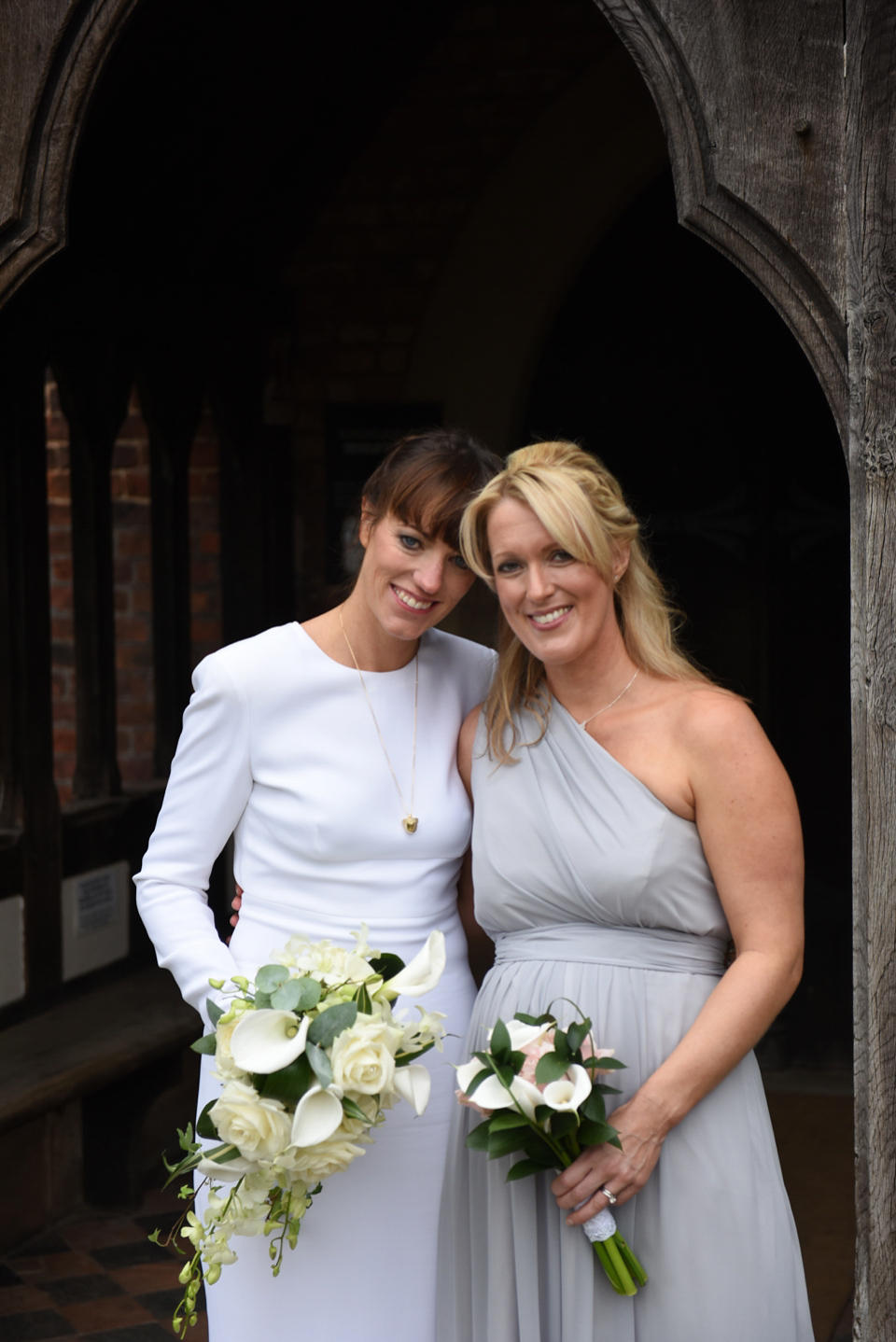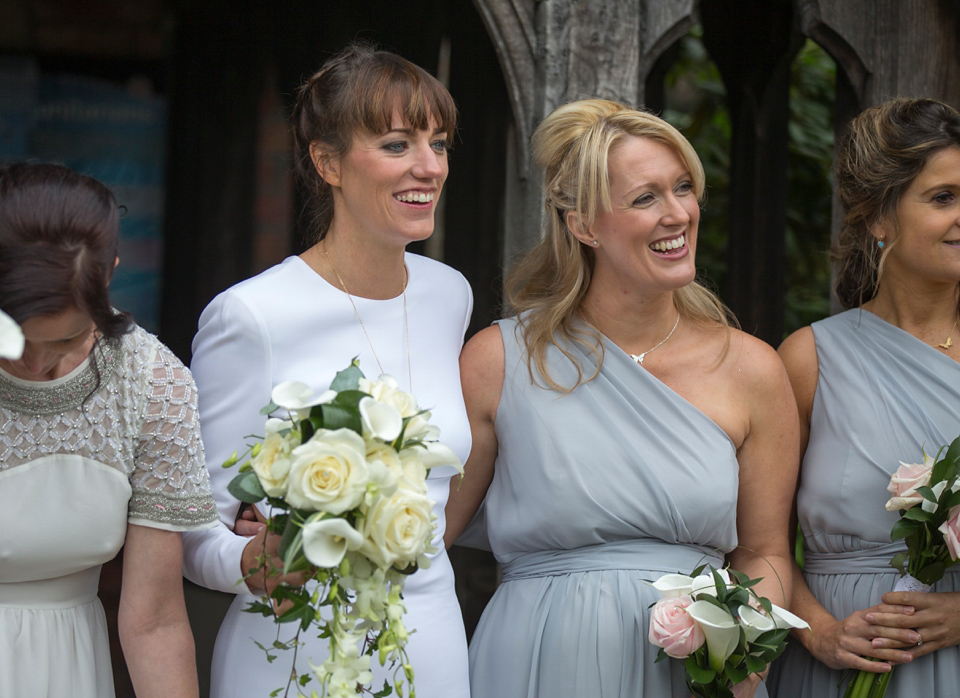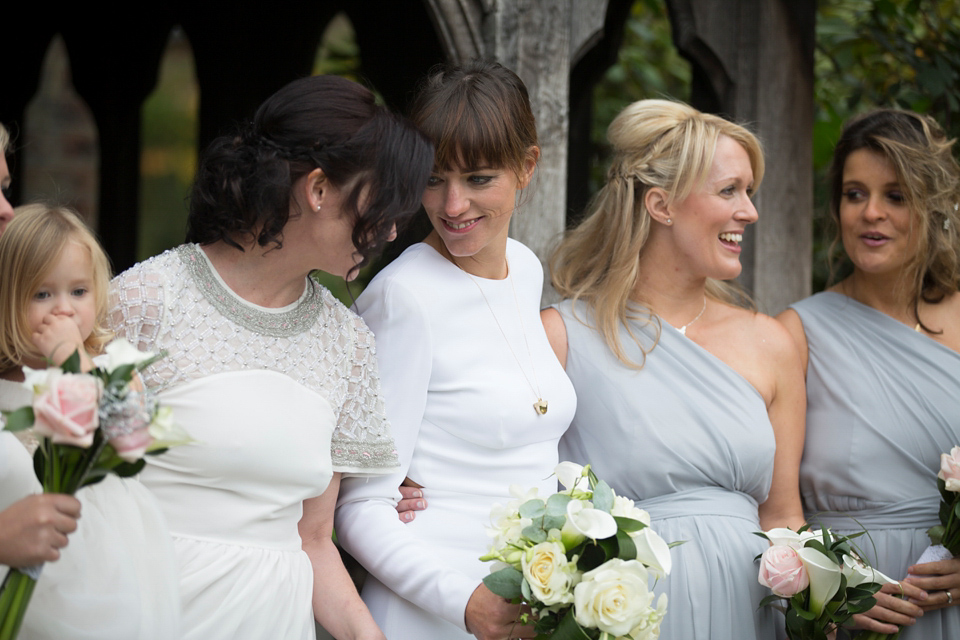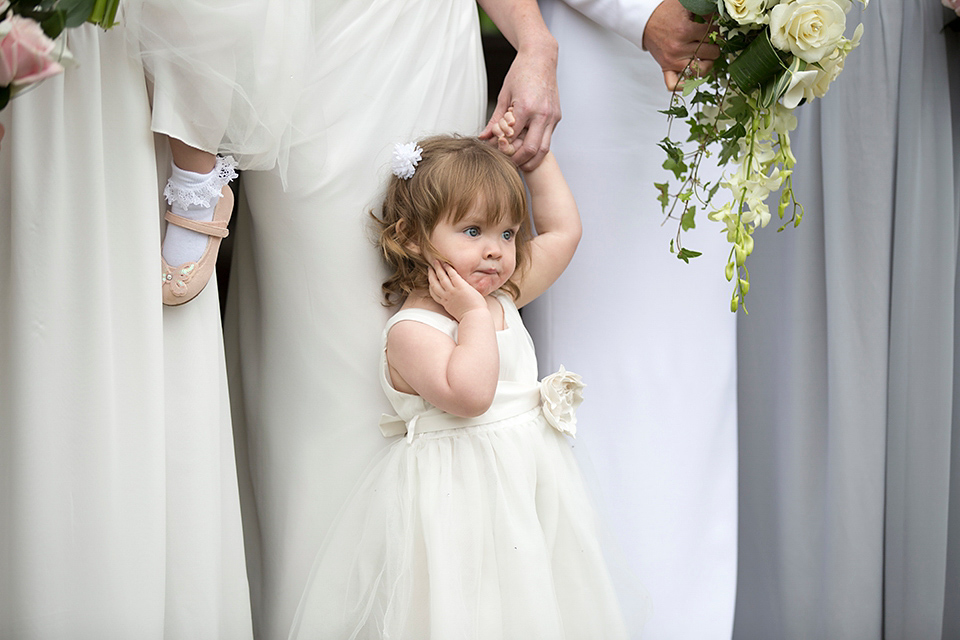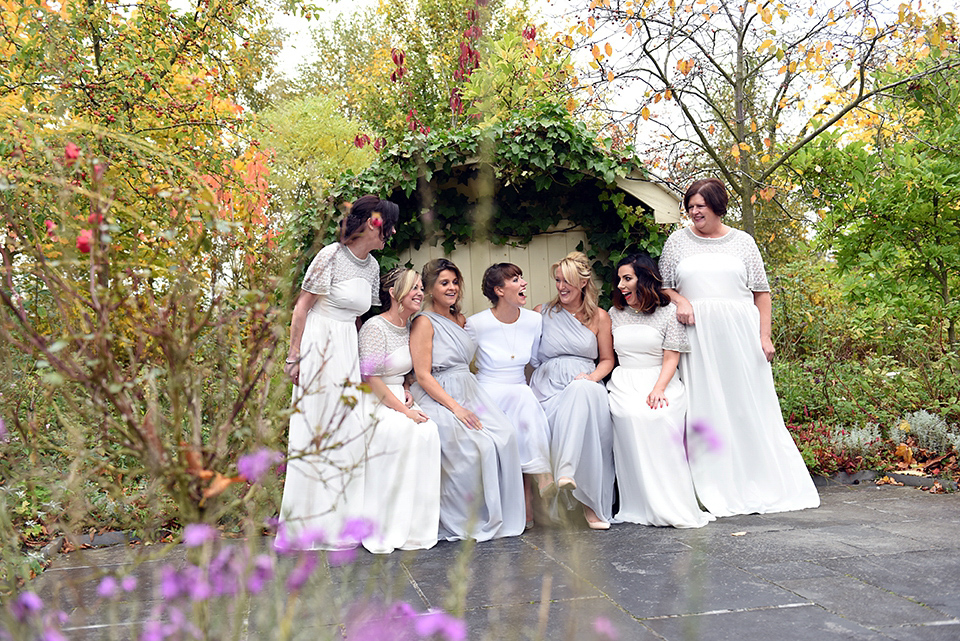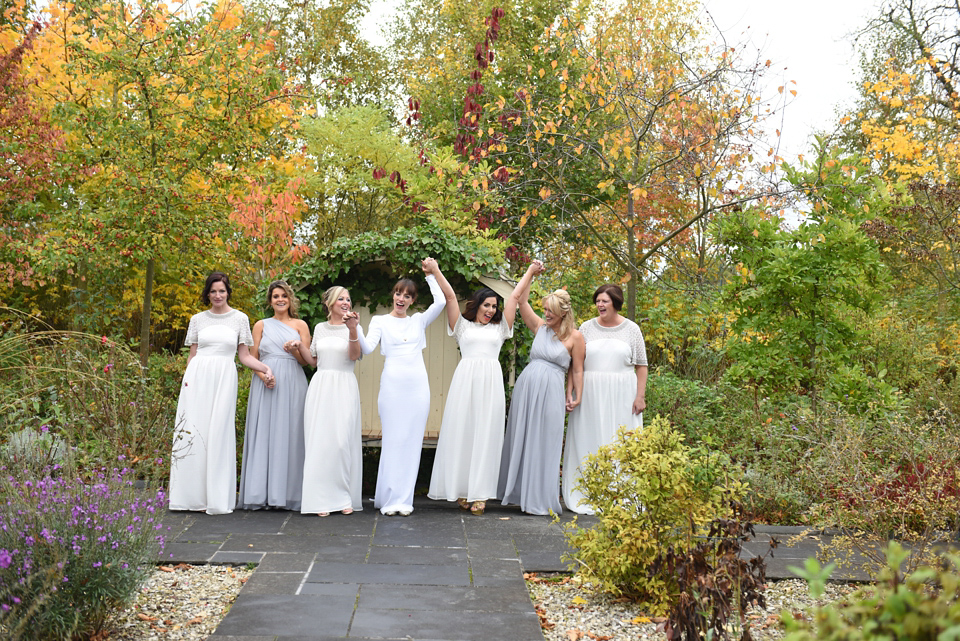 Rach and Gareth's photographer was Kellianne from Kellianne Photographer, with help from second shooter and assistant Gemma Parker.
"I tend to get embarrassed by having my picture taken, but Kel made me and everyone else feel so at ease and comfortable. She totally got what we wanted without me even really having to explain. Now that I've had the chance to look back on the day and share the pictures with my friends and family, everyone has said how beautiful they all are. Kellianne has given us memories forever."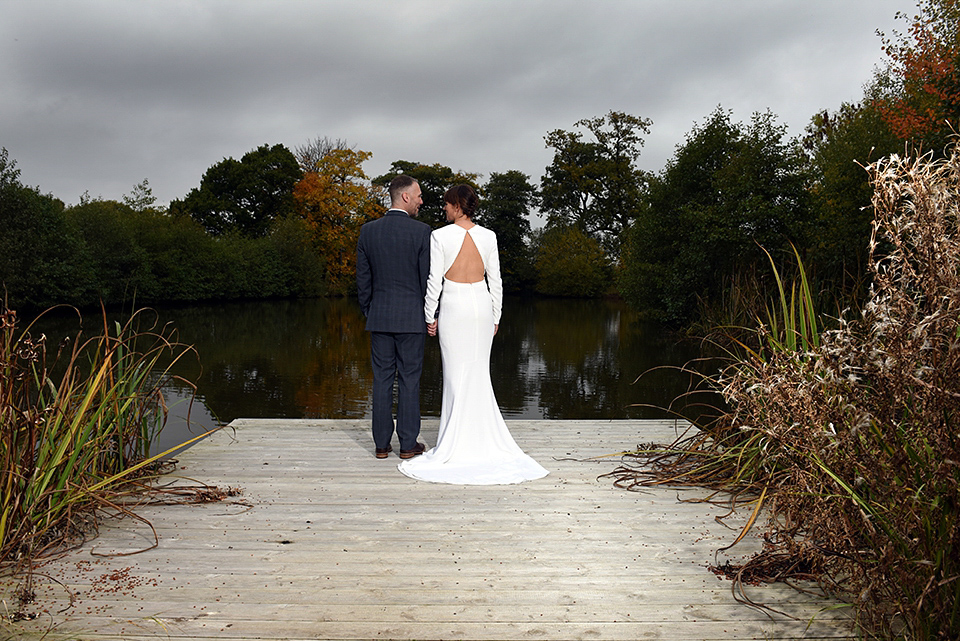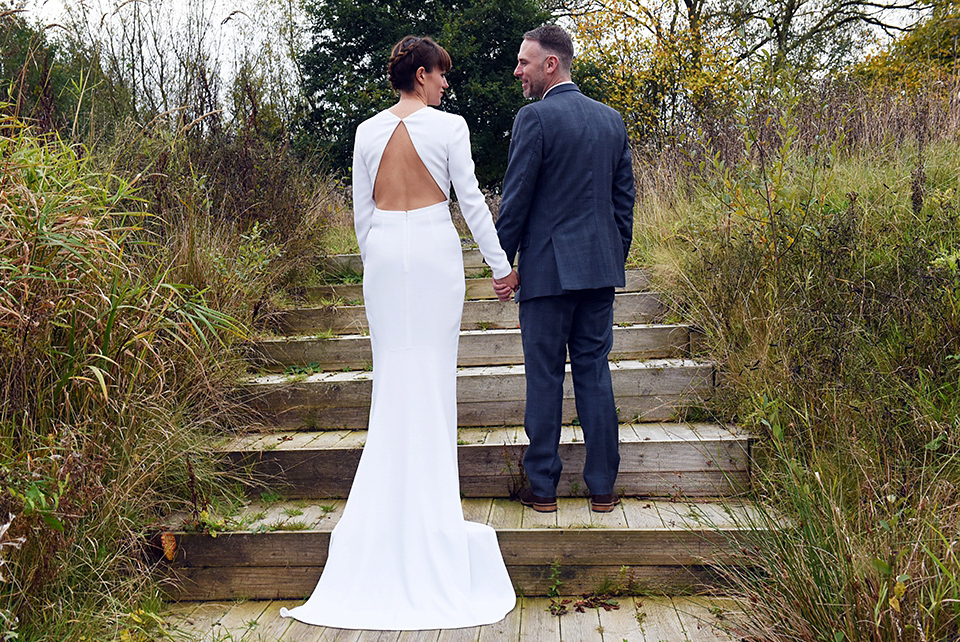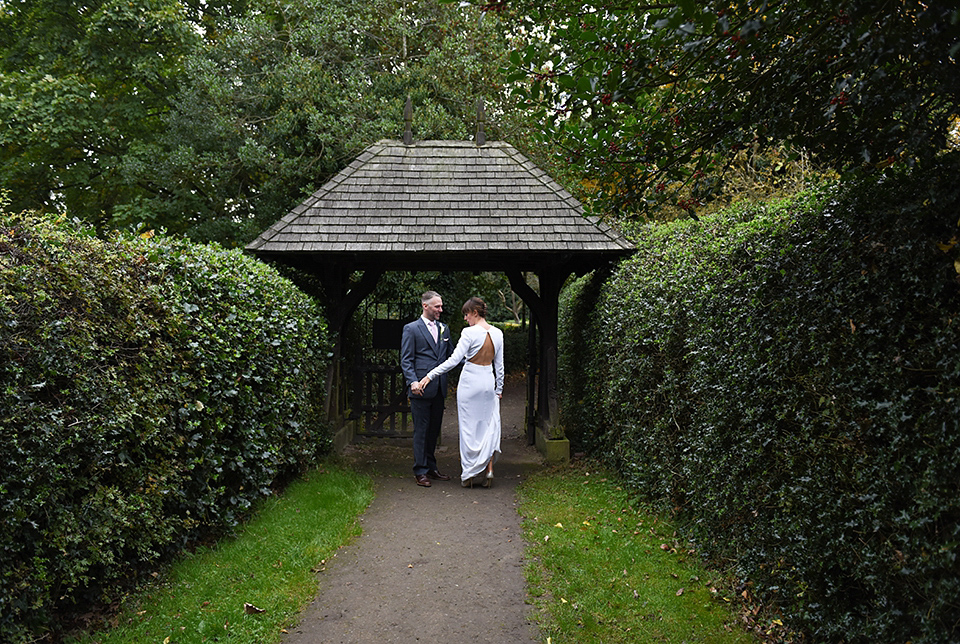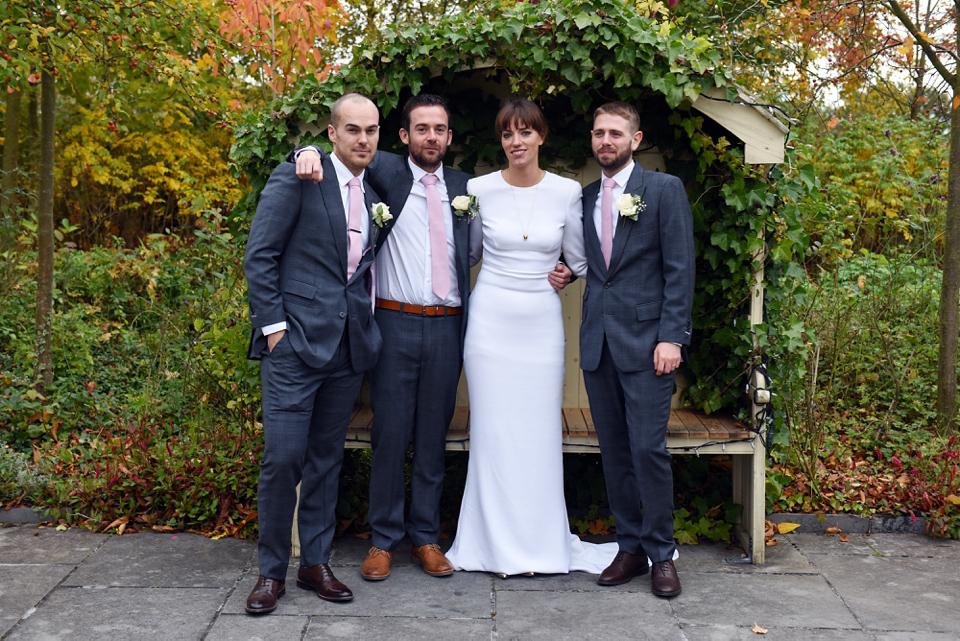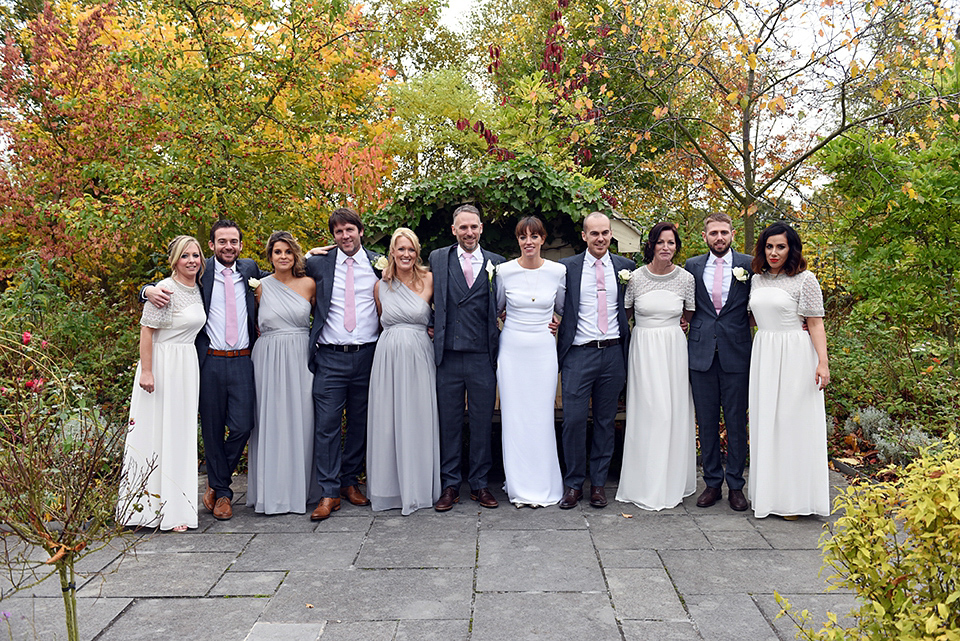 Gareth hired a groovy white Triumph Stag and drove the ushers to the church – Norcliffe Chapel in Styal, which boasts stunning 'Gothic Revival' architecture – and then drove his new bride to the venue after the service. Rach's brother gave her away, which was a very special moment, and the readings were by her two best friends.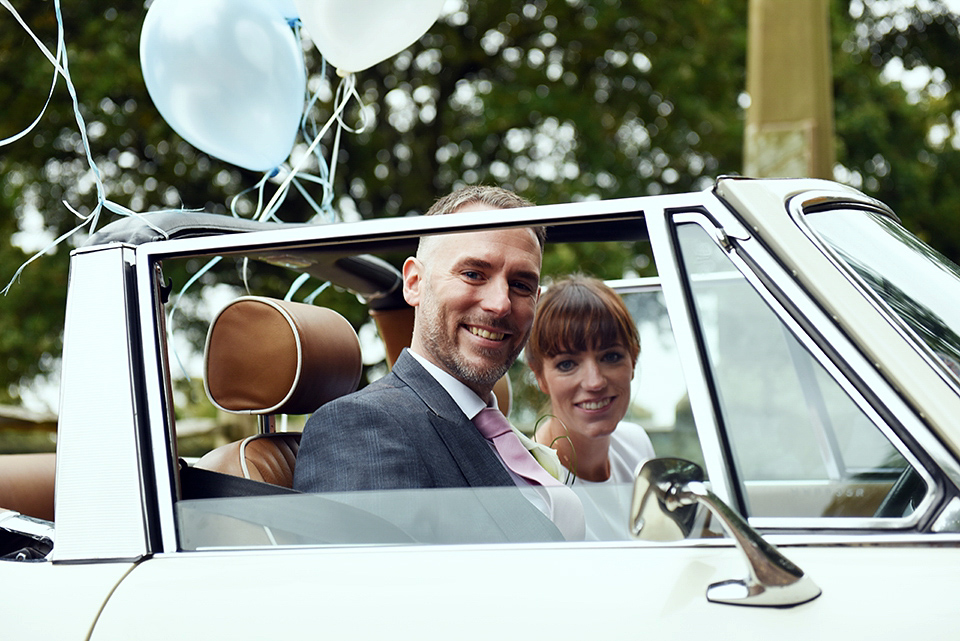 "The venue was styled by Emma from Special Days. The lodge looked perfect – I loved the soft lighting from the fairy lights and the paper lanterns decor. My mother made the centrepieces; she bought glass fish bowls and put pink flowers floating in them. This added some colour to the tables, whilst everything else was white. When we met with Georgie at Styal Lodge, she made everything seem relaxed, so we knew we had the right place. Throughout the planning and the actual day we didn't have to worry about a thing. They made the day perfect and so effortless.
Sarah and Neil from Pink Pepper Catering were amazing support from the moment we met them and throughout the planning. Sarah fielded many calls from me, not even to do with the catering. Everyone I have spoken to since raved about the food and I couldn't recommend them highly enough."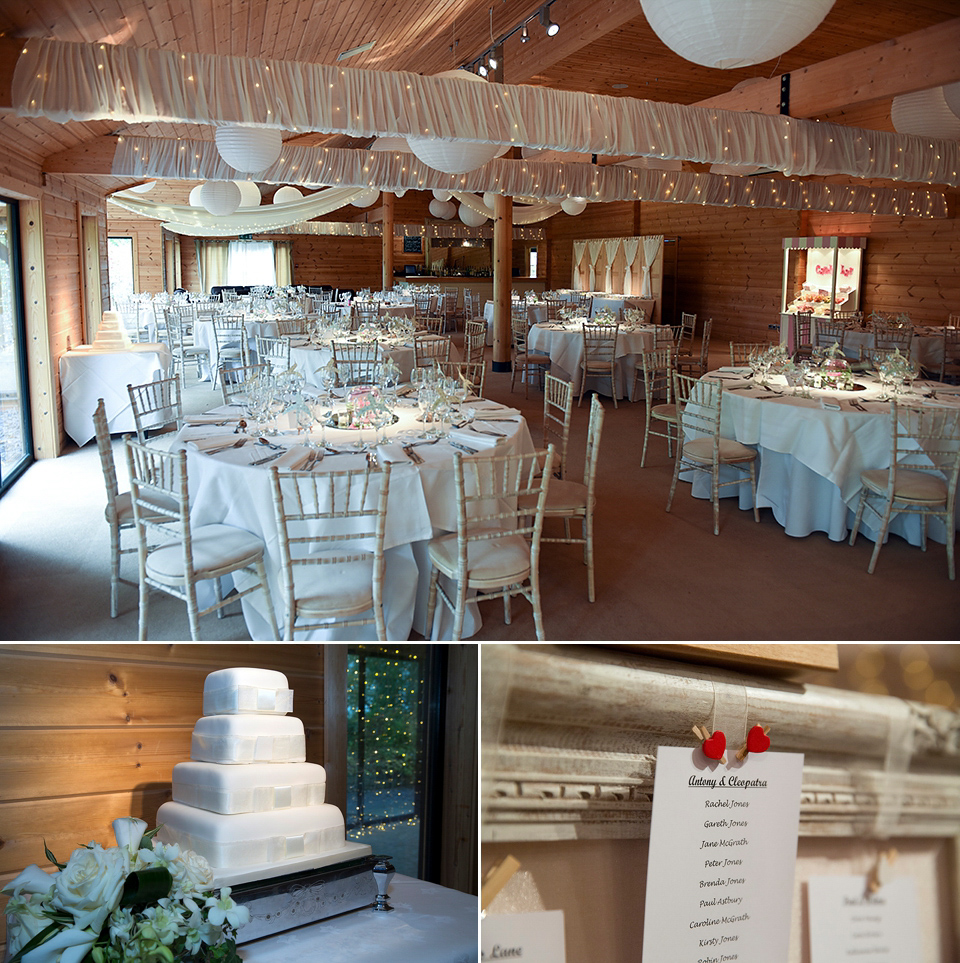 In keeping with their theme of simplicity, Rach and Gareth's cake was a beautiful, classic and elegant three-tiered white cake from Marks and Spencer.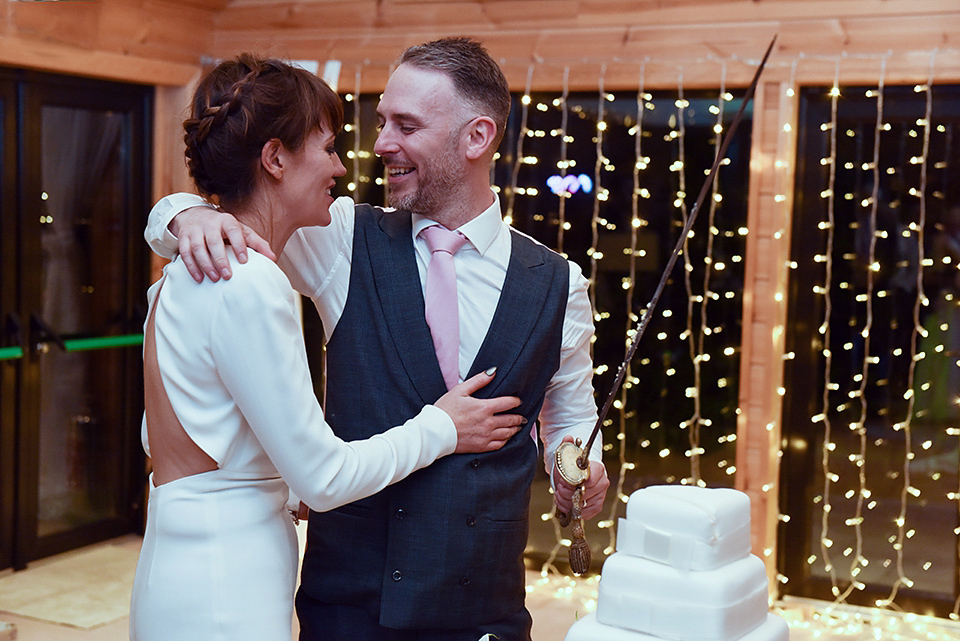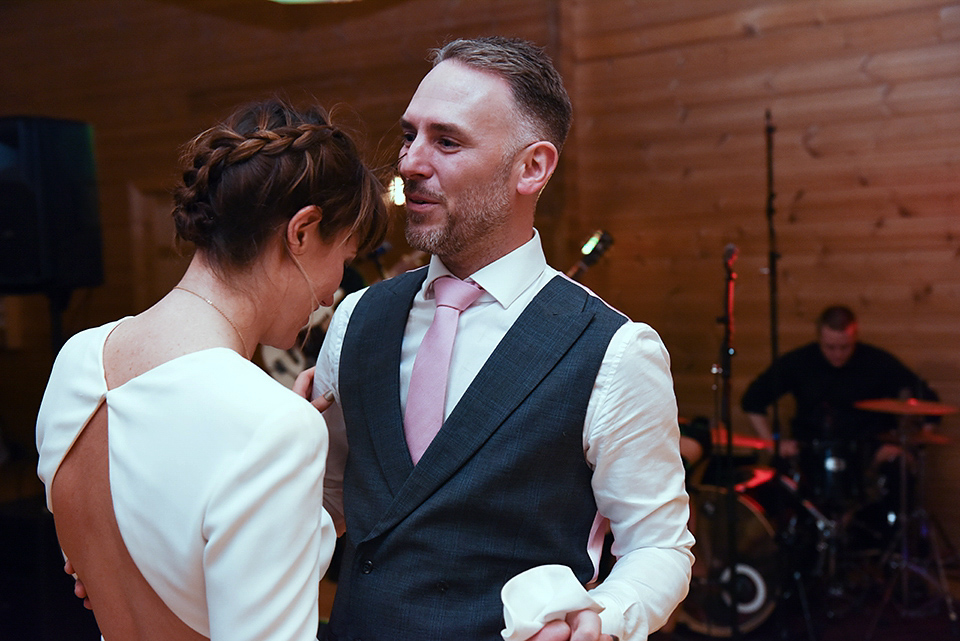 The couple chose The Fanatics as their band, and they entertained the guests brilliantly. And as music lovers, Rach and Gareth chose an all-time favourite song of theirs as their first dance song.
"Music is really important to both Gareth and I and the wedding gave us the chance to express this. Our first dance was 'Vanderlyle Crybaby Geeks' by The National. This song means so much to Gareth and I as we absolutely love this band!"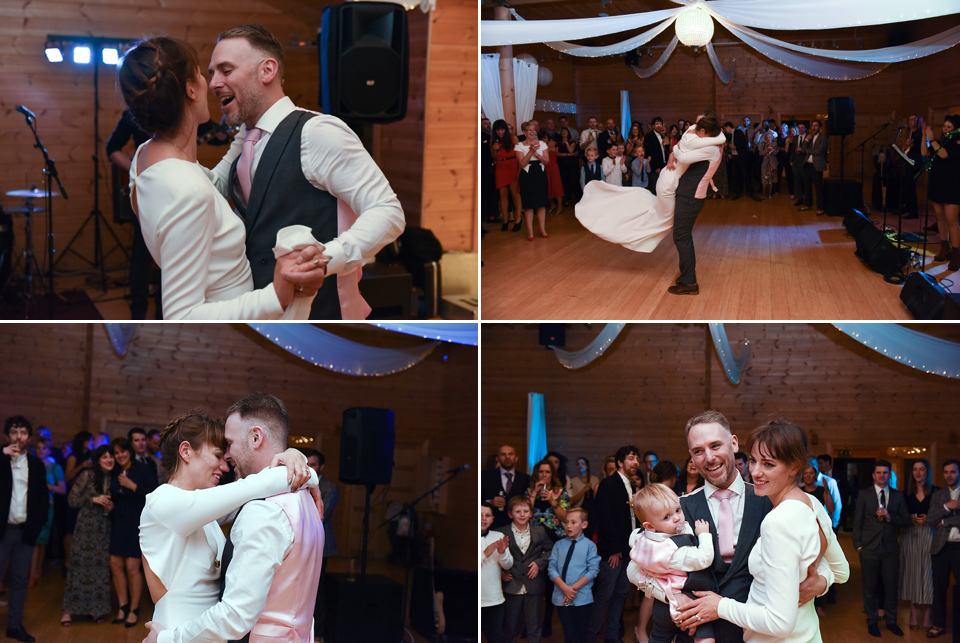 Words of Wedded Wisdom
"Don't give yourself too many options. I didn't stress, as I kept it pretty simple and when I saw something I liked I went with it!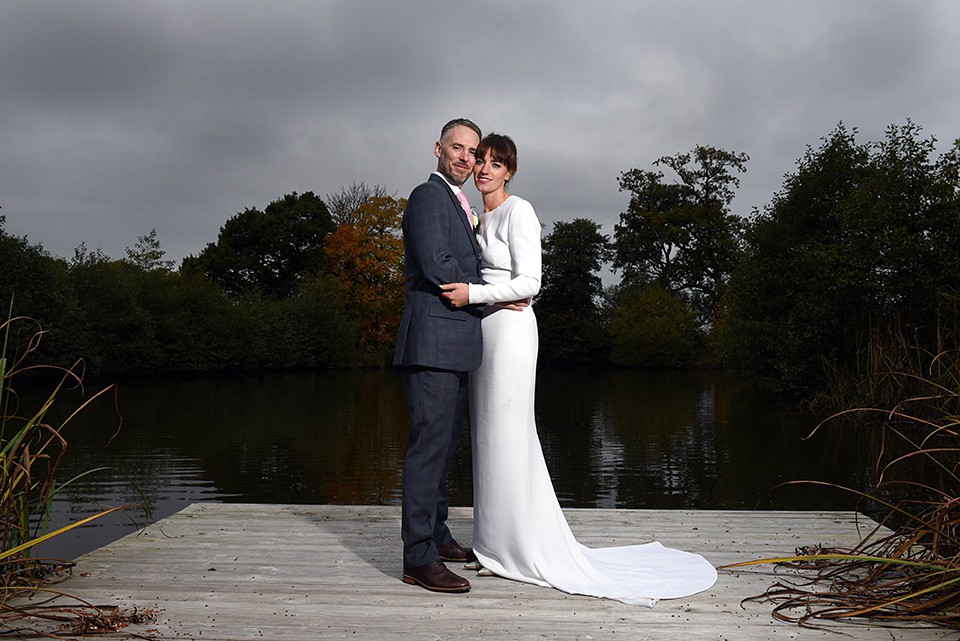 Simple, yet stunning. Thank you so very much to Kellianne for sharing such wonderful snaps of Rach and Gareth's special day and very heartfelt congratulations again to the happy couple.
If you've been inspired by Rach's incredible dress, there's plenty of previous features on this beautiful blog to browse – see here for more backless styles and here for long-sleeved inspo. Happy hunting!
Enjoy the rest of the week lovely ones.
Love Jo -x-
Photographer – Kellianne Photographer
Ceremony – , Cheshire
Venue – Styal Lodge, Cheshire
Wedding Stylist – Emma from Special Days
Wedding Dress – Stella McCartney via Harvey Nichols
Shoes – Jimmy Choo
Perfume – 'Stella' by Stella McCartney
Bridesmaid Dresses – ASOS
Groom + Groomsmen – King and Allen
Florist – Flowers by Majong (no website)
Rings – Fraser Hart
Catering – Pink Pepper Catering
Cake – Marks and Spencer
Entertainment – The Fanatics
Hair – Ali Brocklehurst from Peter Marcus Hairdressing
Transport – Triumph Stag (supplier unknown)