When I was madly dress hunting for my own wedding in 2014, I discovered Jenny Packham via this very beautiful blog, falling in love with the designer's exquisite, romantic styles of gowns. Ever since, I am still in complete awe and gasp in delight when Annabel shares the latest Jenny Packham designs – see here for Jenny's 2016 collection, inspired by the characters of A Midsummer Night's Dream. You are in for a treat right now lovelies, as our beautiful bride today wears one of my favourite styles, the very glamorous 'Odessa'.
Lawyer Anna and her groom Andy, who works as a Digital Media Trading Director, tied the knot on 4th September 2015 in Gloucestershire, where Anna is originally from, at the magnificent Elmore Court. Let's begin with a sweet video that brought a tear to the eyes of the couple upon their first viewing whilst on their honeymoon.
Video by Velvet Wedding Studios
In her search for her wedding dress, Anna almost jumped on the Eurostar to hotfoot it to Paris after finding a boho style online, but then discovered Jenny Packham; ultimately choosing the incredibly glamorous 'Odessa' design.
"I knew I didn't want a traditional big structured white dress, as I really wouldn't have felt myself. Very early on I found a dress online by a Paris designer that makes stunningly simple boho inspired dresses. The dress was only available through her Paris shop where all of the fittings would have to be done. I was ready to impulsively jump on the Eurostar when my Mum suggested I should at least look at some dresses in England first.
Photography by Eve Dunlop Photography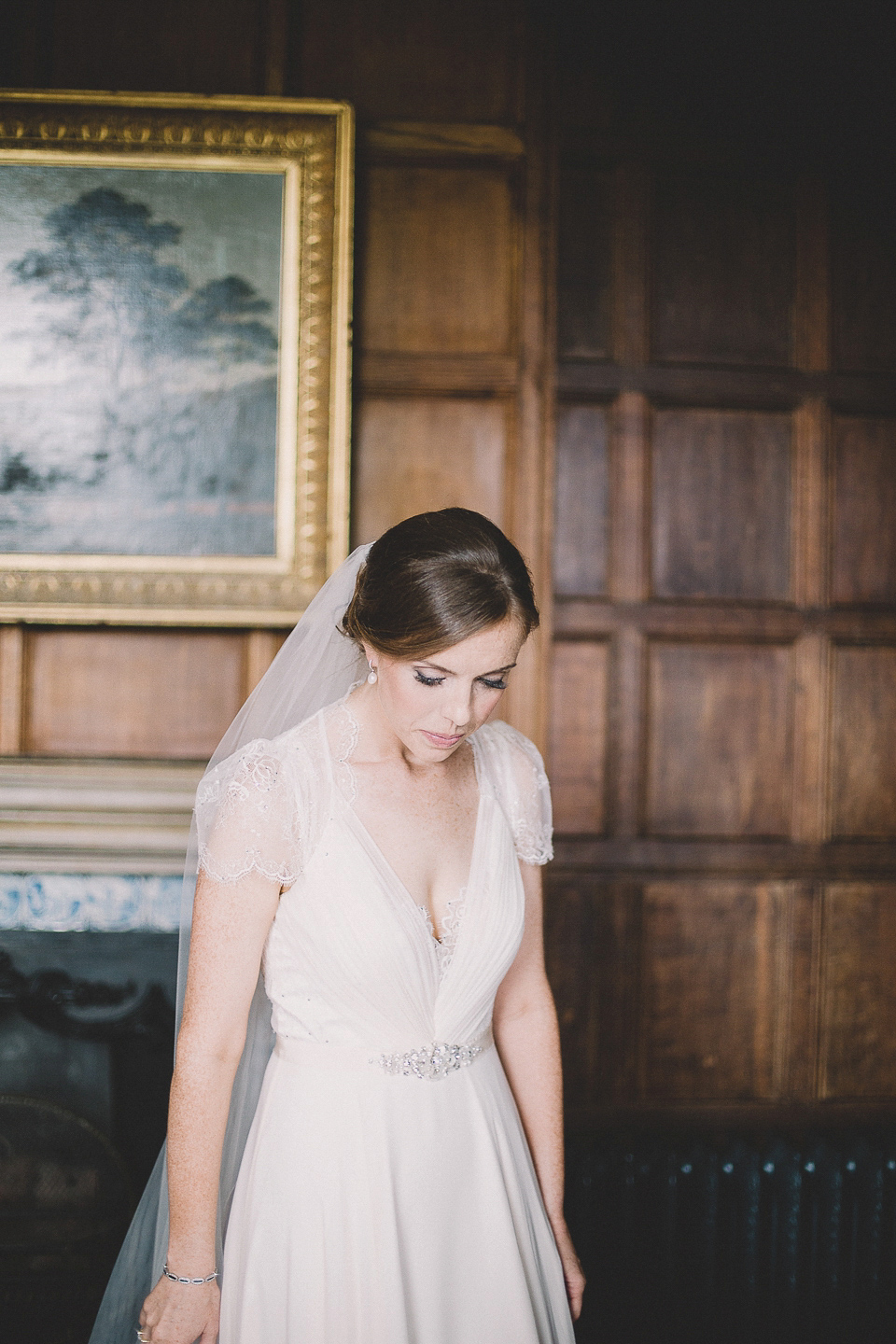 "We went to a couple of shops over a weekend but nothing felt quite right until the last dress I tried on – the 'Dentelle' dress by Jenny Packham which was very similar to the Paris dress, but slightly more fitted and with a bit more bling."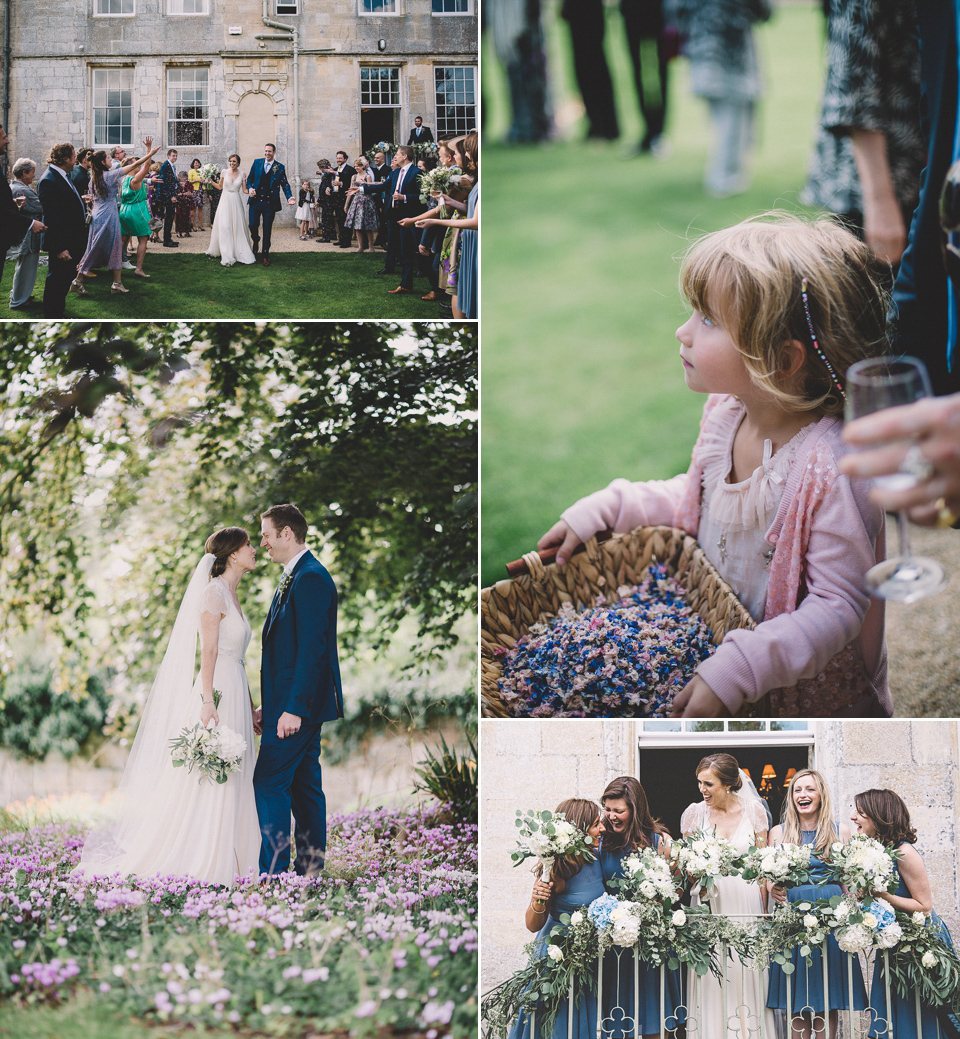 "Andy and I met at a wedding in Edinburgh. He proposed in New York, his favourite city, in May 2014 with his grandmother's engagement ring, which I now always wear on my right hand. We wanted the reception to have the feel of a decadent party in a woodland setting, but above all else we wanted it to reflect us, our personalities and some of the adventures we have shared together."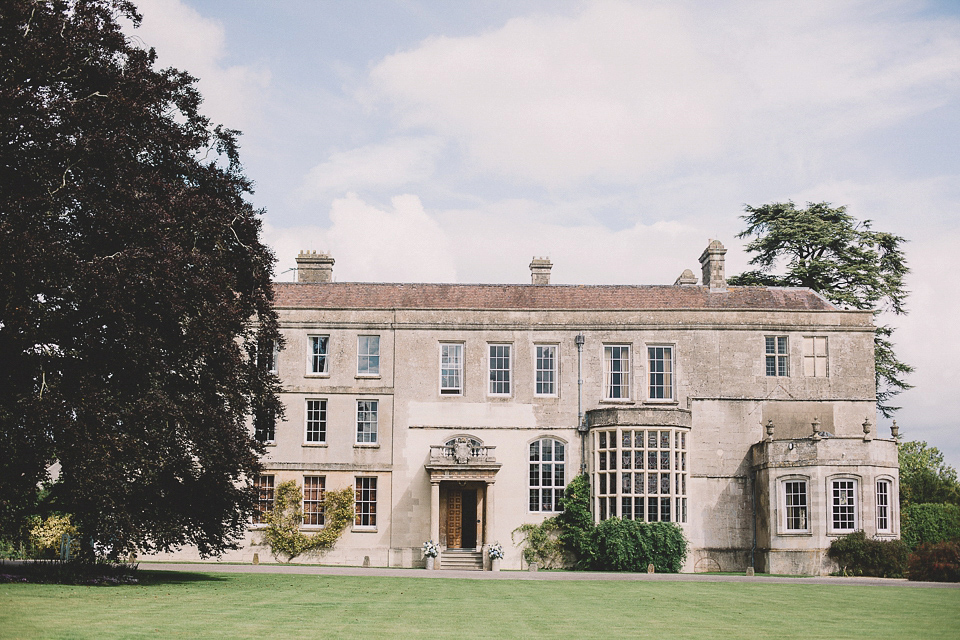 "The only aspect of the dress that I slightly worried about was the plunging neckline, but when I came to try it on again some months later I was able to try on the 'Odessa' dress, which is a more modest version and made me feel both relaxed and glamorous. Very importantly I also felt that I would be comfortable in the dress and able to dance the night away in the evening."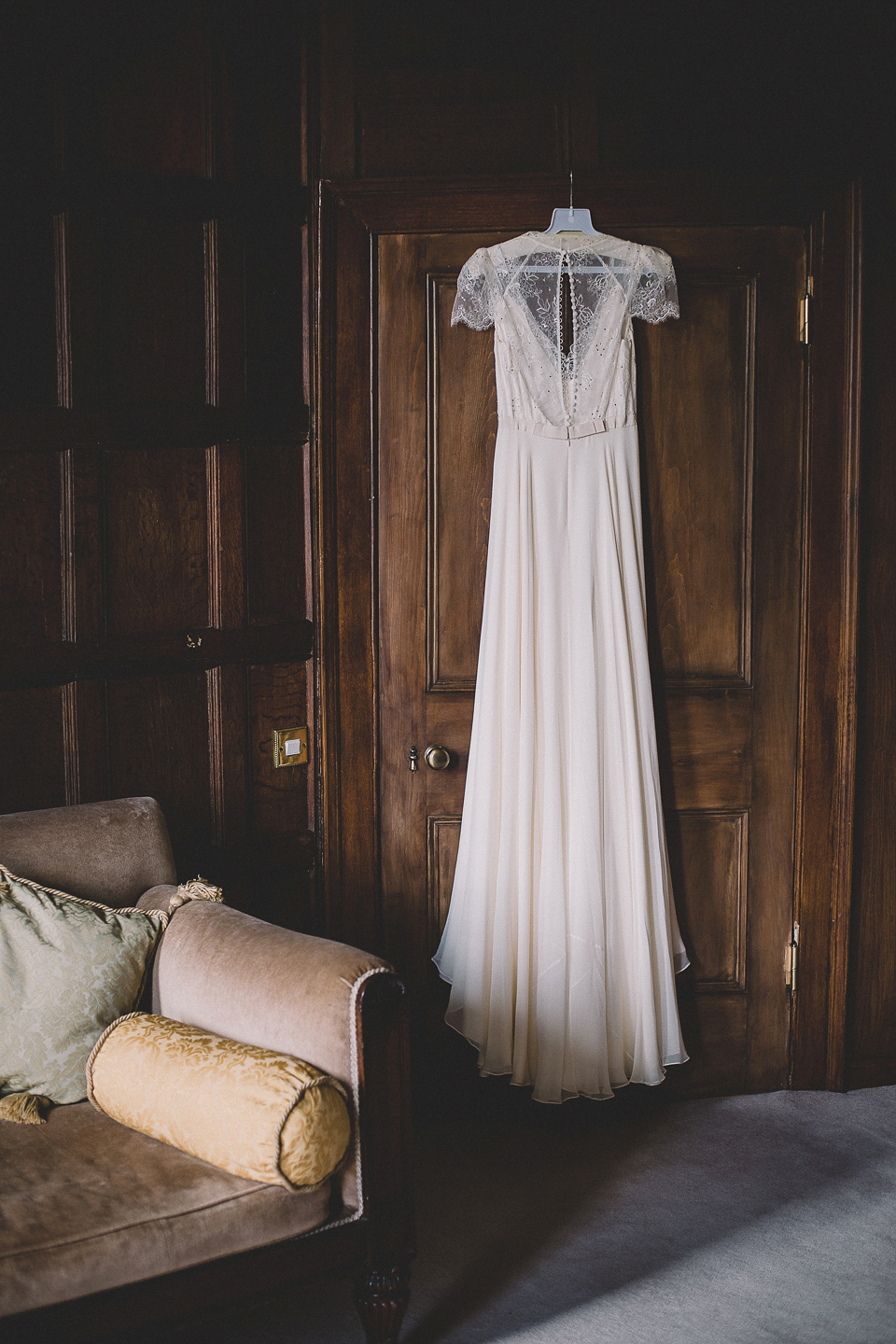 "We saw pictures online of another wedding that Jenny Fleur, our florist, had done at Elmore Court, and we could see that she was very skilled at achieving the natural look that we were after. Jenny really took the time to find out exactly what we wanted and we could tell from our first meeting that she was passionate about flowers and bringing our ideas to life."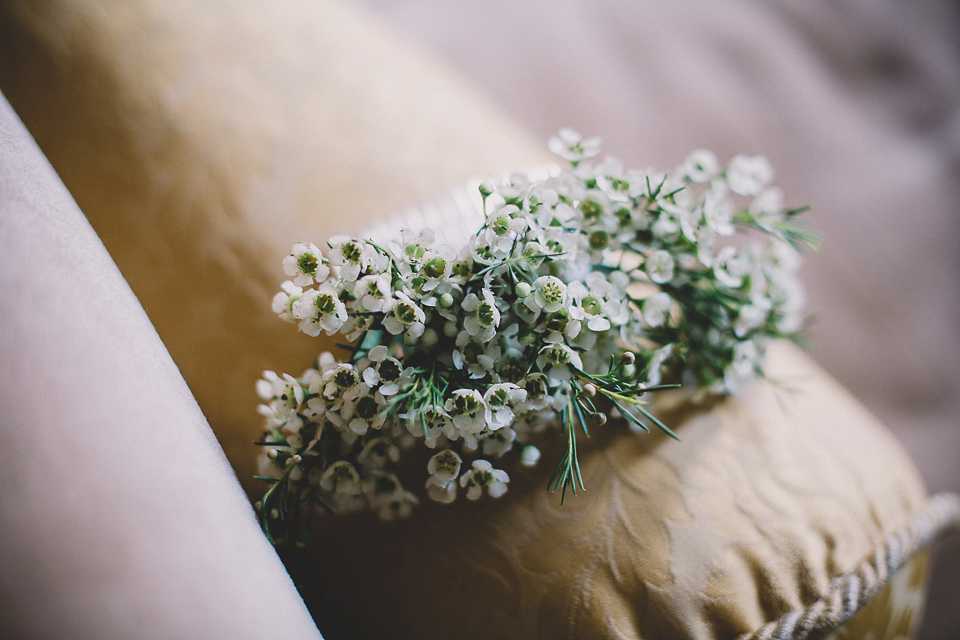 "I found Pinterest to be an excellent way of showing Jenny the things I liked and on the day I was overwhelmed by the way she had so perfectly brought my ideas to life. I loved my bouquet so much I could hardly put it down!"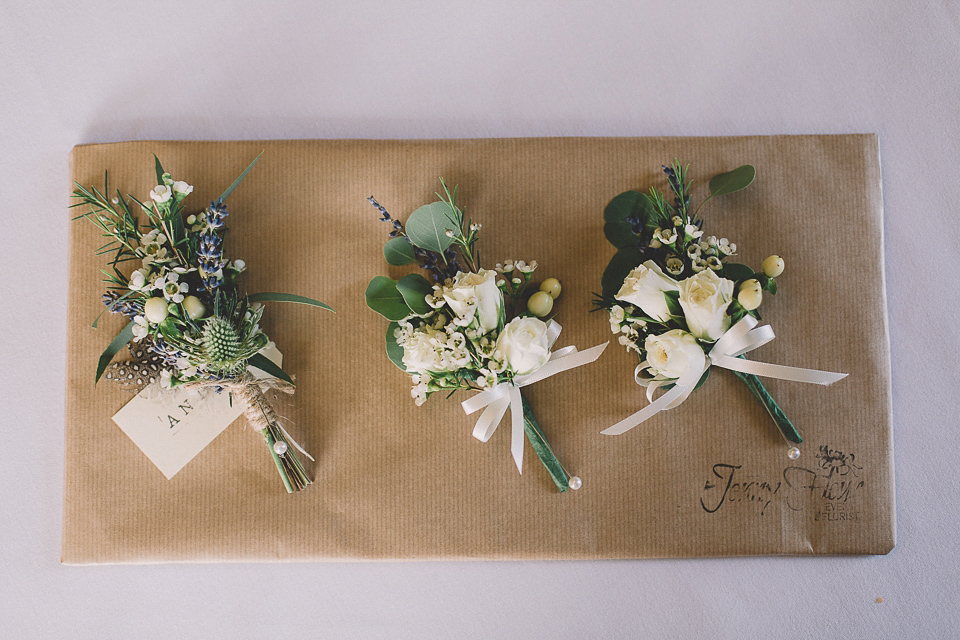 The pretty bride added L.K. Bennett heels, 'English Pear and Freesia' perfume by Jo Malone and beautiful jewellery pieces – Astley Clarke diamond and white gold drop earrings, which were a wedding present from her mum, and a sapphire and diamond bracelet, a present from her very romantic fiancé.
"I love jewellery, so Andy wanted to buy me something special for the wedding. On a bit of a whim Andy and I went to Grays Antiques in London, which is where we first saw the bracelet. I tried it on and fell in love with it but we agreed it was too expensive and we didn't speak about it again. The week before the wedding Andy booked us a table at Beast, a crab restaurant in London that I had been desperate to go to for some time. He surprised me with the bracelet over a glass of fizz. I was shocked and incredibly touched that he had secretly gone back to track down the bracelet."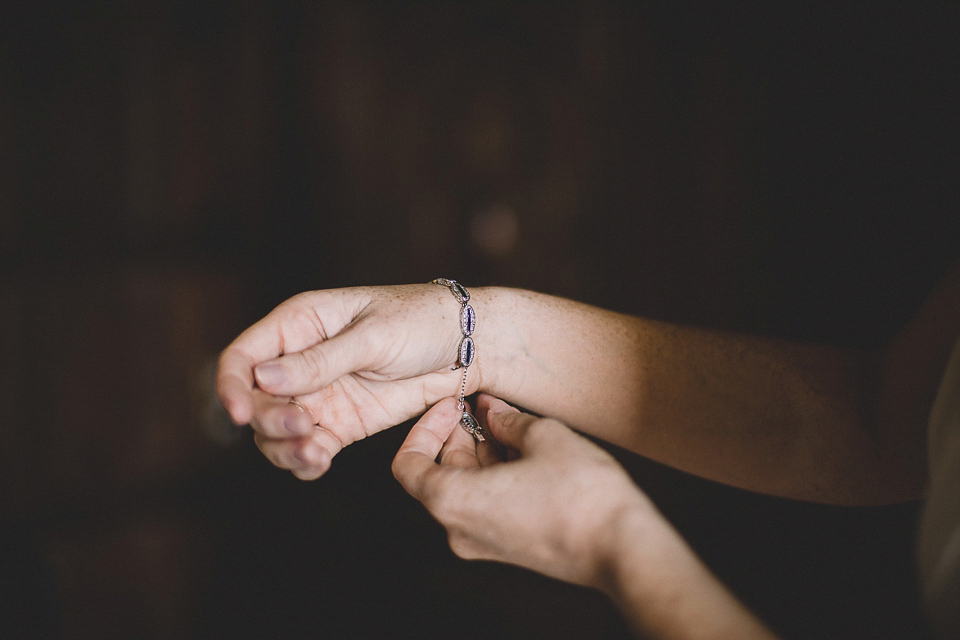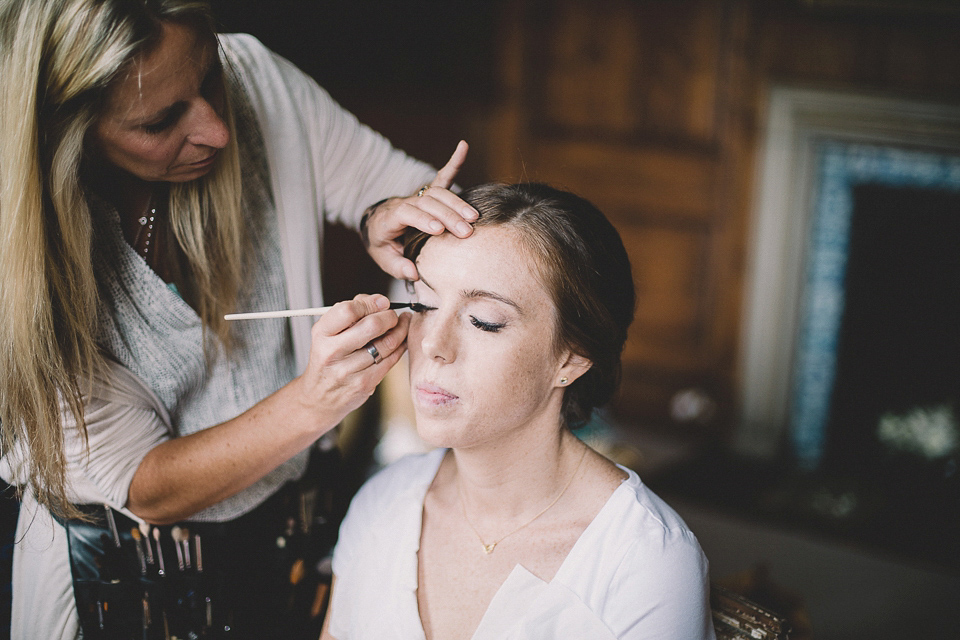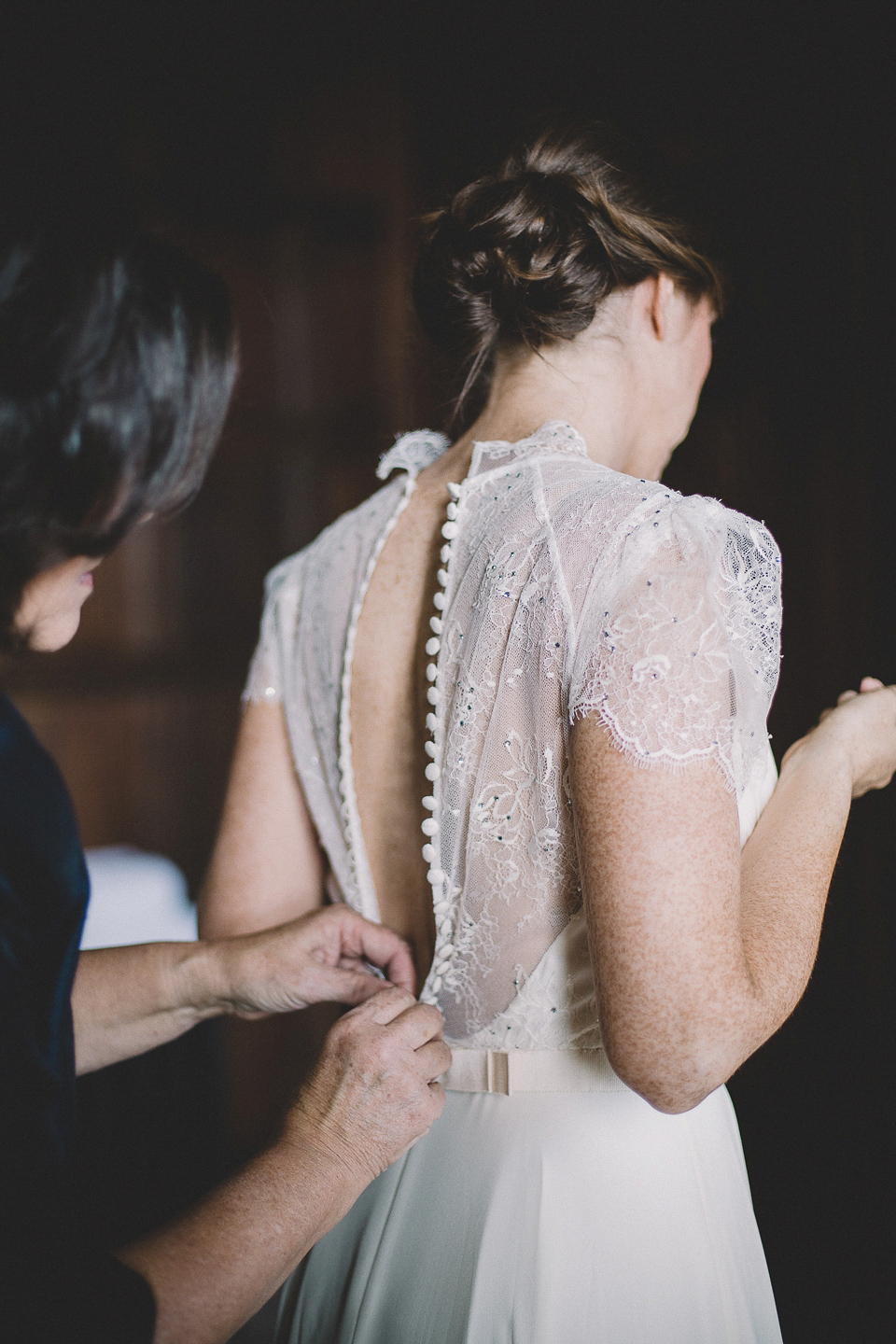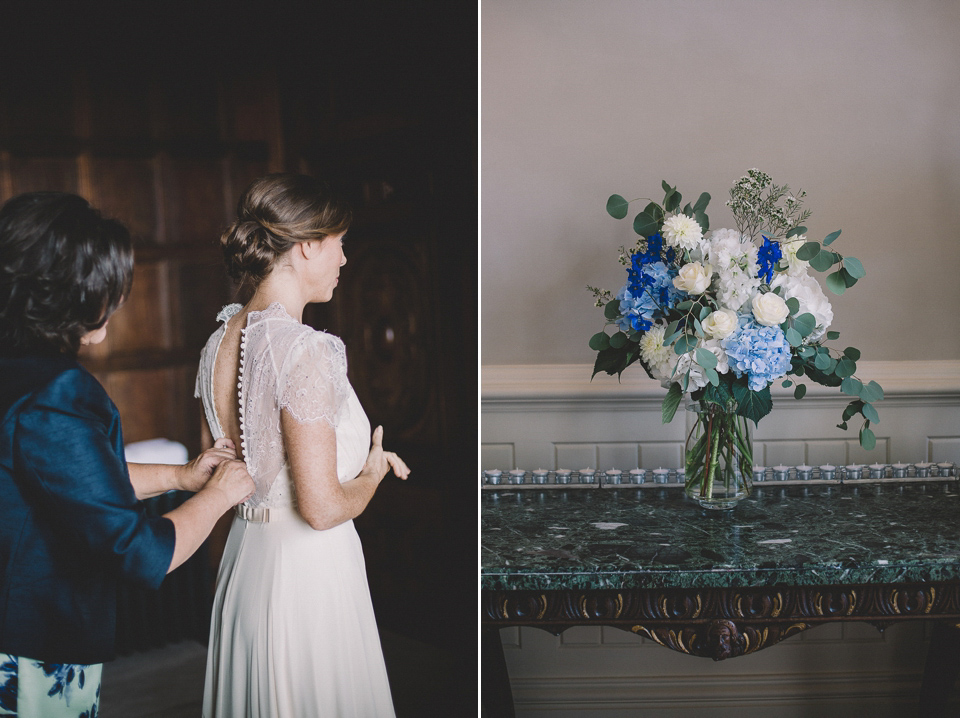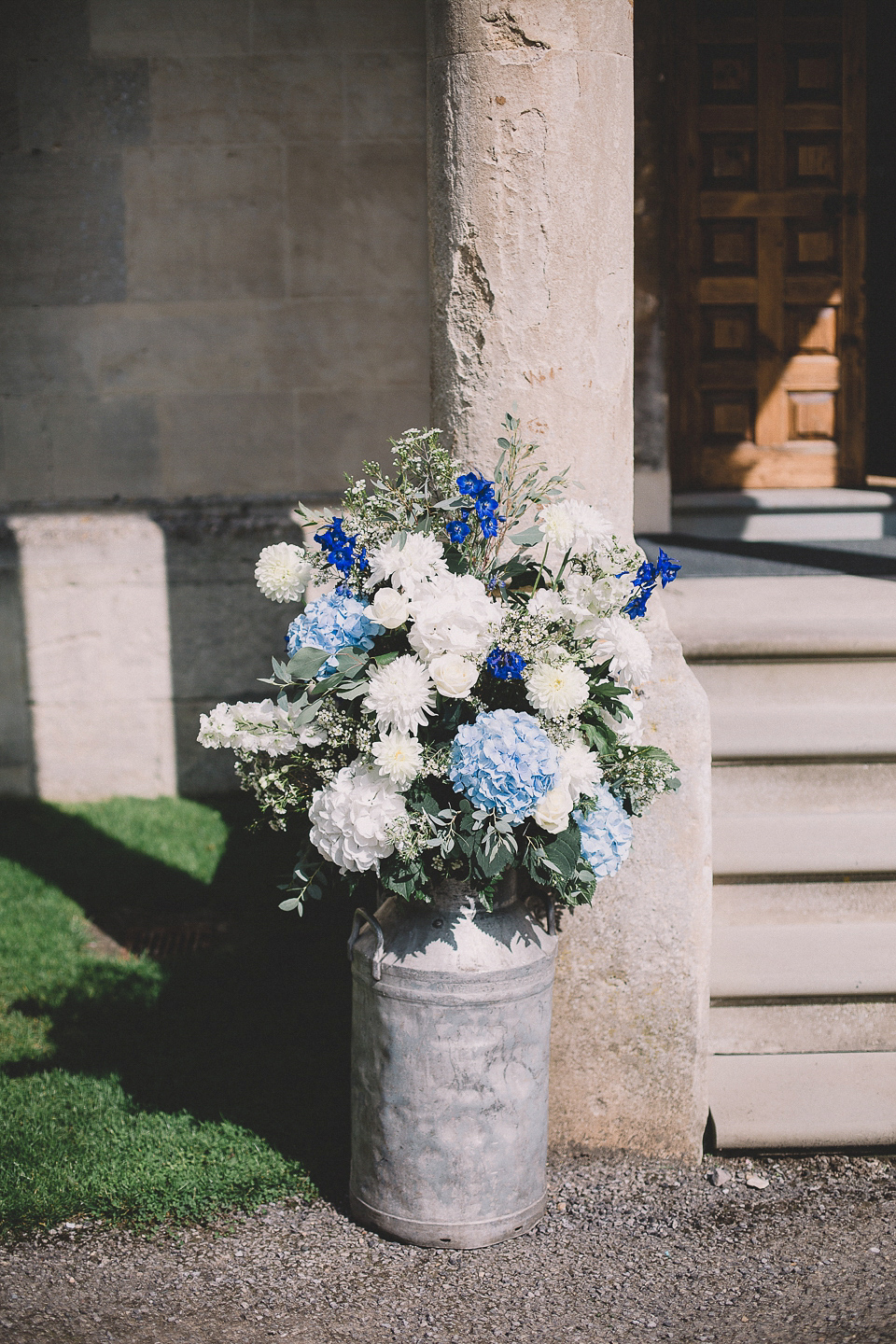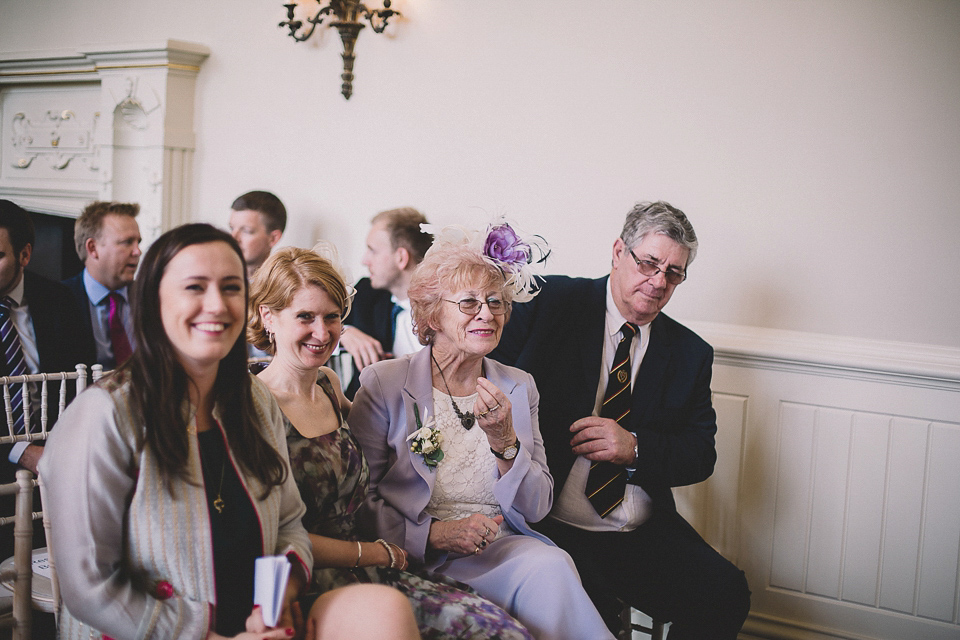 Andy sported a suit by Moss Bros, found online and altered by London Fashion Workrooms, stylishly accessorising with cufflinks and a special watch.
"I gave the cufflinks to Andy as a birthday present years earlier, and a Brietling Transocean Day and Date watch, bought just before the engagement which has the date and GPS location of where Andy proposed."
My heart did a little leap when I discovered that the beautiful bride walked down the aisle to the same tune that I did – you've got great taste Anna and Andy and I completely understand why you love the song so much! It still brings tears to my eyes every time I hear it, as it evokes the aisle walk memory in an instant.
"Before I came in, one of my extremely talented friends from university, Lucy, played the saxophone. Lucy is so passionate about music and we were so honoured to have her play at the wedding. I walked down the aisle with my dad to 'Now We Are Free' by Hans Zimmer. It's a special song to us both and it's so evocative and atmospheric that we very quickly decided that it was the perfect piece for me to walk down the aisle to.
We walked out to Florence and the Machine's 'You've Got the Love', as I love her music and we wanted something fun and energising to walk out to."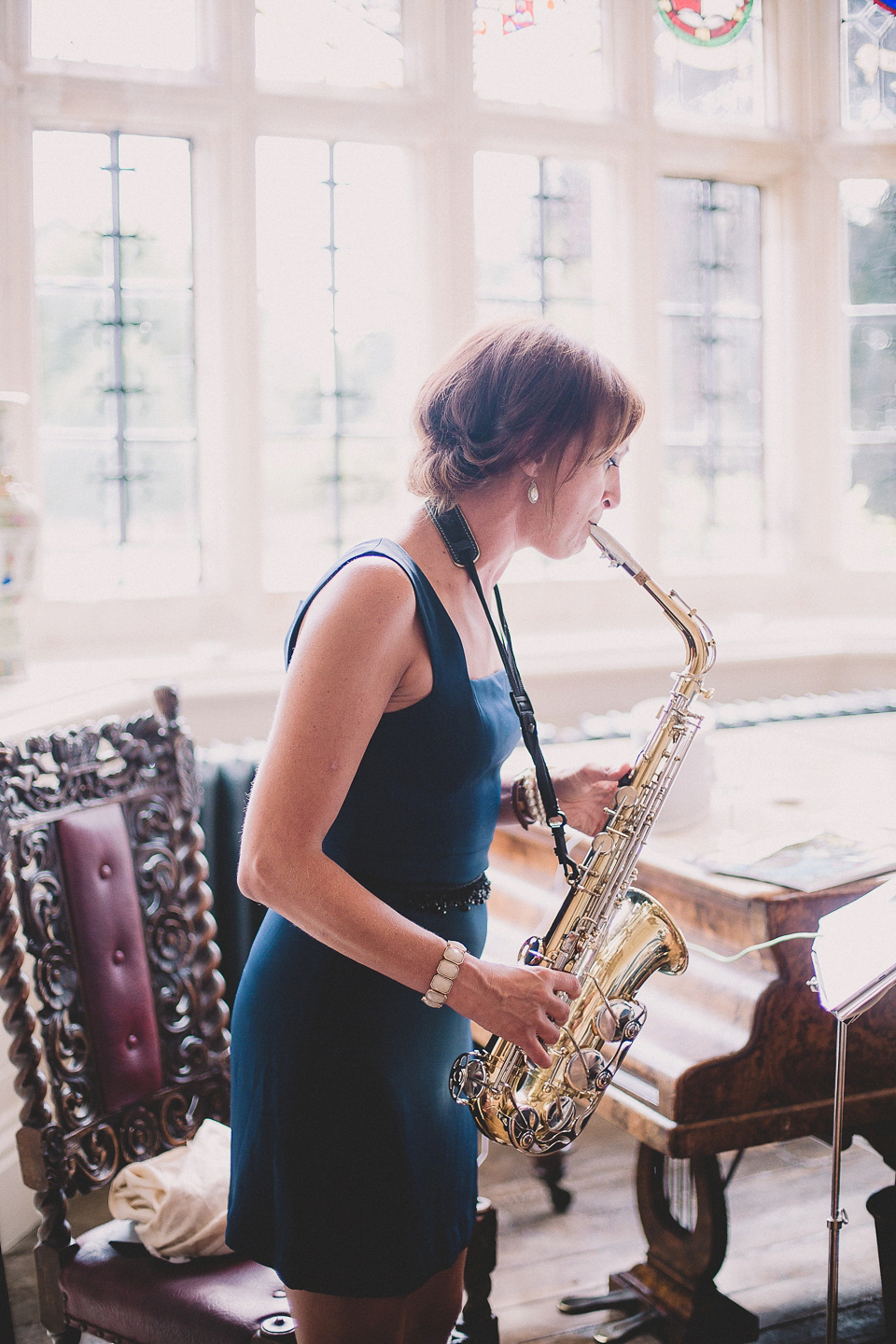 Anna's maids donned the 'Abigail' design from Hobbs that was in the most stunning shade – delphinium blue. Hair was by Laura Leigh, with makeup by Emily Tarrant.
"I saw the dresses online and impulsively just bought them, as I loved the colour and thought that the girls would feel comfortable in them. Just as I wanted to be able to dance freely in my wedding dress, I wanted the bridesmaids to be able to do the same and the dresses really came alive on the dance floor. 
I bought the bridesmaids Jenny Packham hairclips, which matched the detail around the waist of my dress, but unfortunately in the excitement of getting ready I totally forgot to give them to the girls until later in the day!"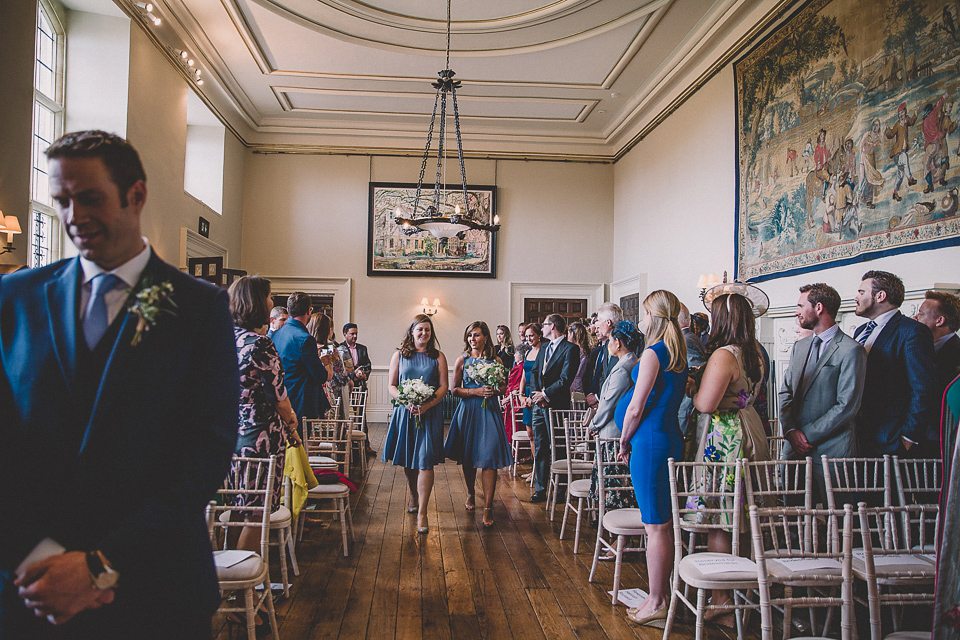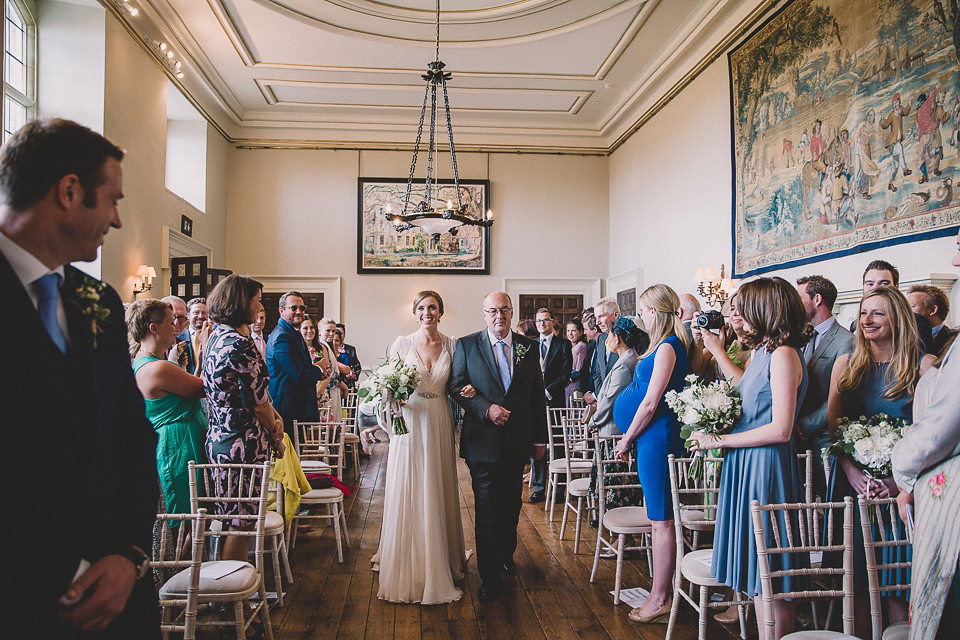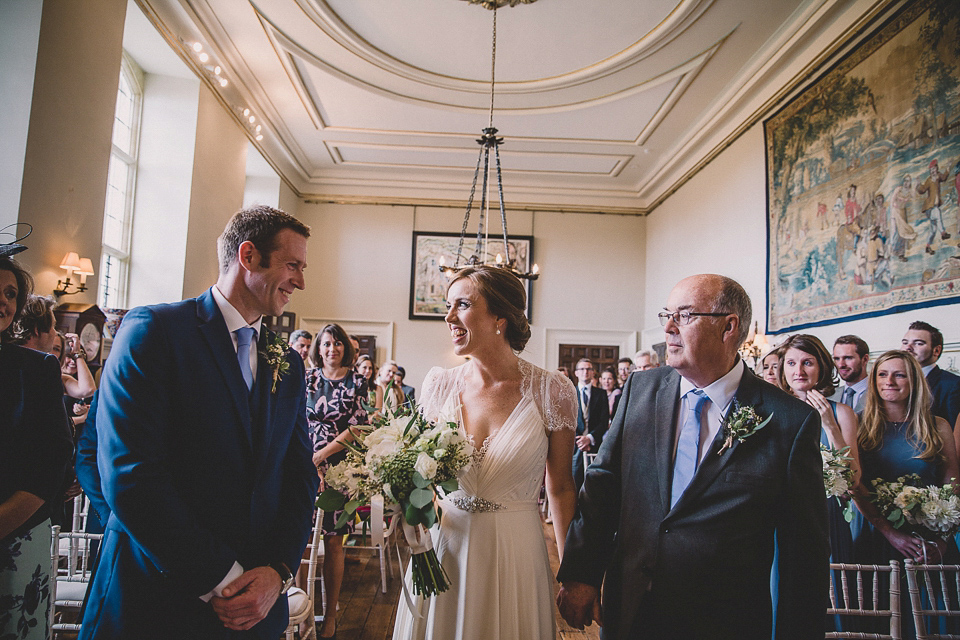 I love this little tale Anna's shares about her veil!
"Andy felt strongly that he didn't want me to wear a veil. He was worried that it would look too formal and serious which wouldn't fit with my personality or the relaxed vision we had for the day. I hadn't intended to buy one but tried one on at a dress fitting and found that a simple veil went well with the dress. On the day, I didn't secure the veil properly and it fell out just as I started to come down the aisle. I didn't notice that it was gone until half way thought the ceremony. When I realised it had gone it actually made me smile and it was probably meant to be that when Andy first saw me I was without the veil. The staff at Elmore later discreetly reattached the veil as we were signing the register!"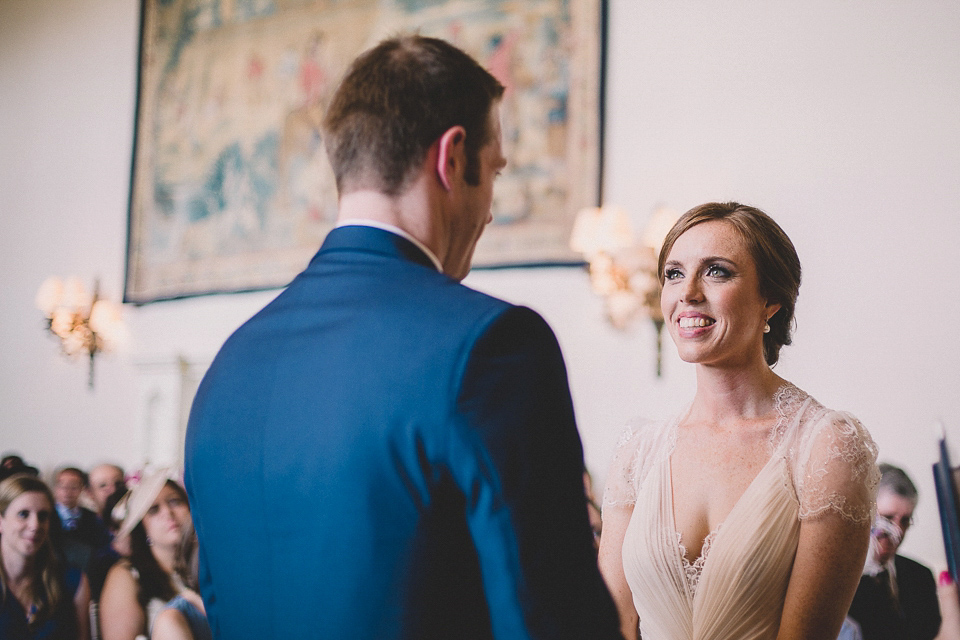 "Hilary, who has known me since I was 3 years old, conducted the ceremony as she is a registrar with Gloucestershire Register Office. It was so very special and meaningful that it was someone that had known me as a child conducting the ceremony. Hilary gave us a beautiful fountain pen engraved with our names and the date of the wedding. It wasn't until we were given the pen that we realised we had also signed the register with it. We were totally overwhelmed by such a special gift that we will treasure forever. 
 We didn't write our own vows but carefully chose promises that reflected the continued respect and support that we wanted to covey to each other.
I work near Hatton Gardens and we used a jeweller – Arlington & Co. – to set the diamonds for my engagement ring. They had given us such good service that we used them again for both wedding rings.
I love poetry, so we took some time deciding on the readings and in the end went for 4: First Poems by Rainer Maria Rilke, a quote by Bob Marley, Sonnet 116 by William Shakespeare and The Apache Wedding Blessing by Elliott Arnold. My sister read the Bob Marley quote and without being cheesy it perfectly describes love and the excitement of sharing your life with someone special:
'Only once in your life, I truly believe, you find someone who can completely turn your world around. You tell them things that you've never shared with another soul and they absorb everything you say and actually want to hear more. You share hopes for the future, dreams that will never come true, goals that were never achieved and the many disappointments life has thrown at you. When something wonderful happens, you can't wait to tell them about it, knowing they will share in your excitement…….'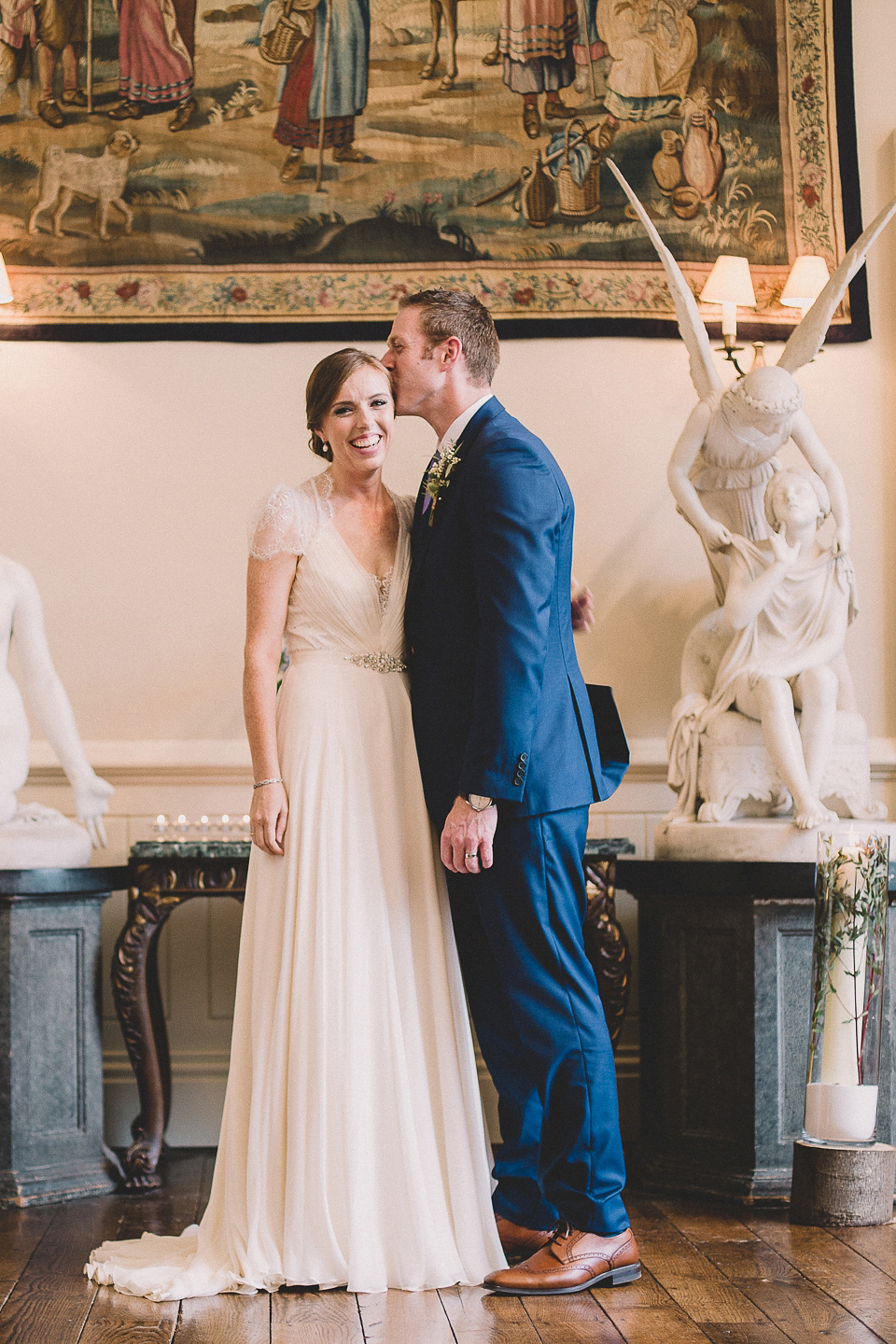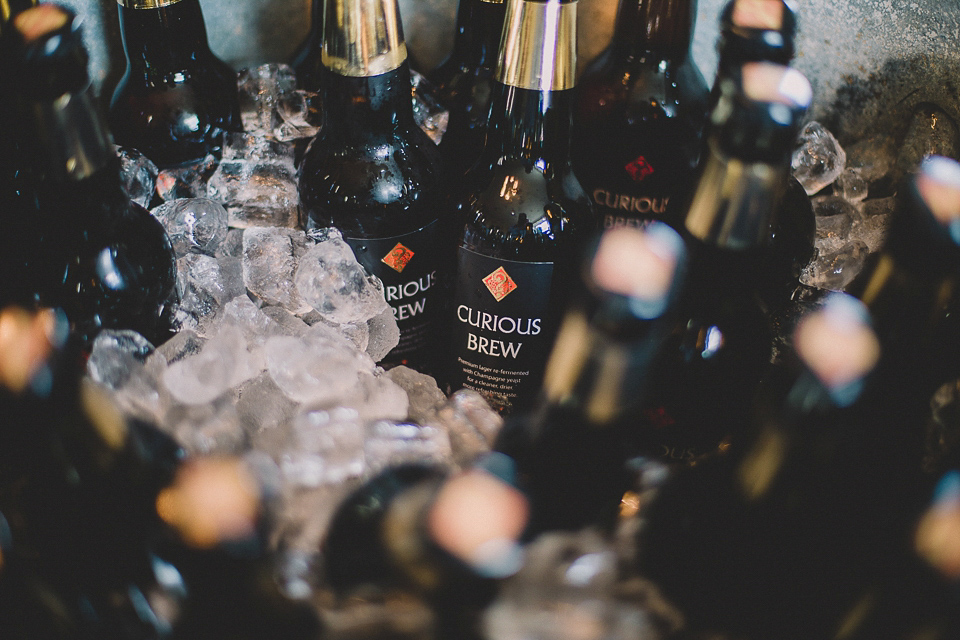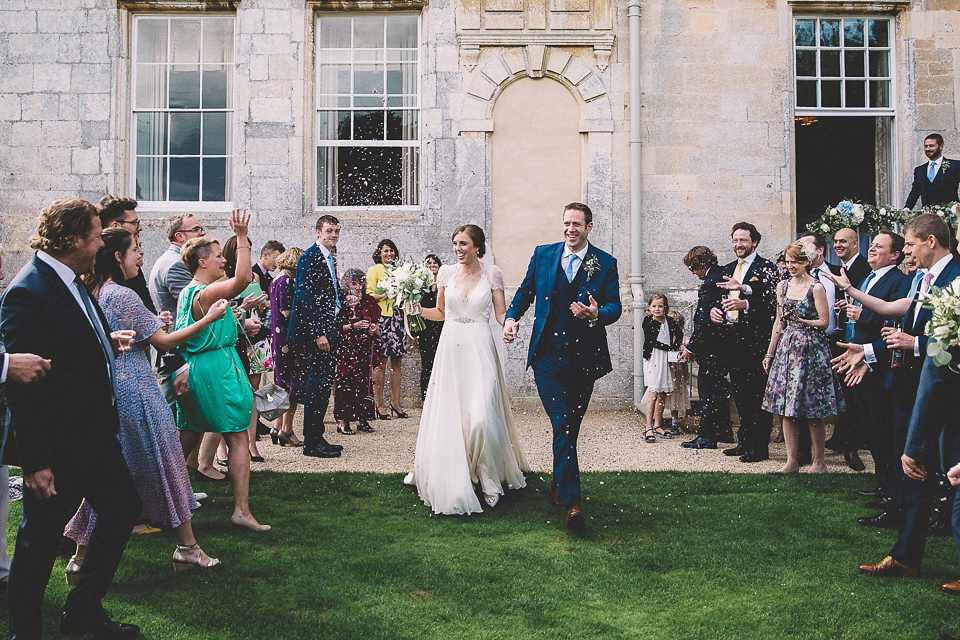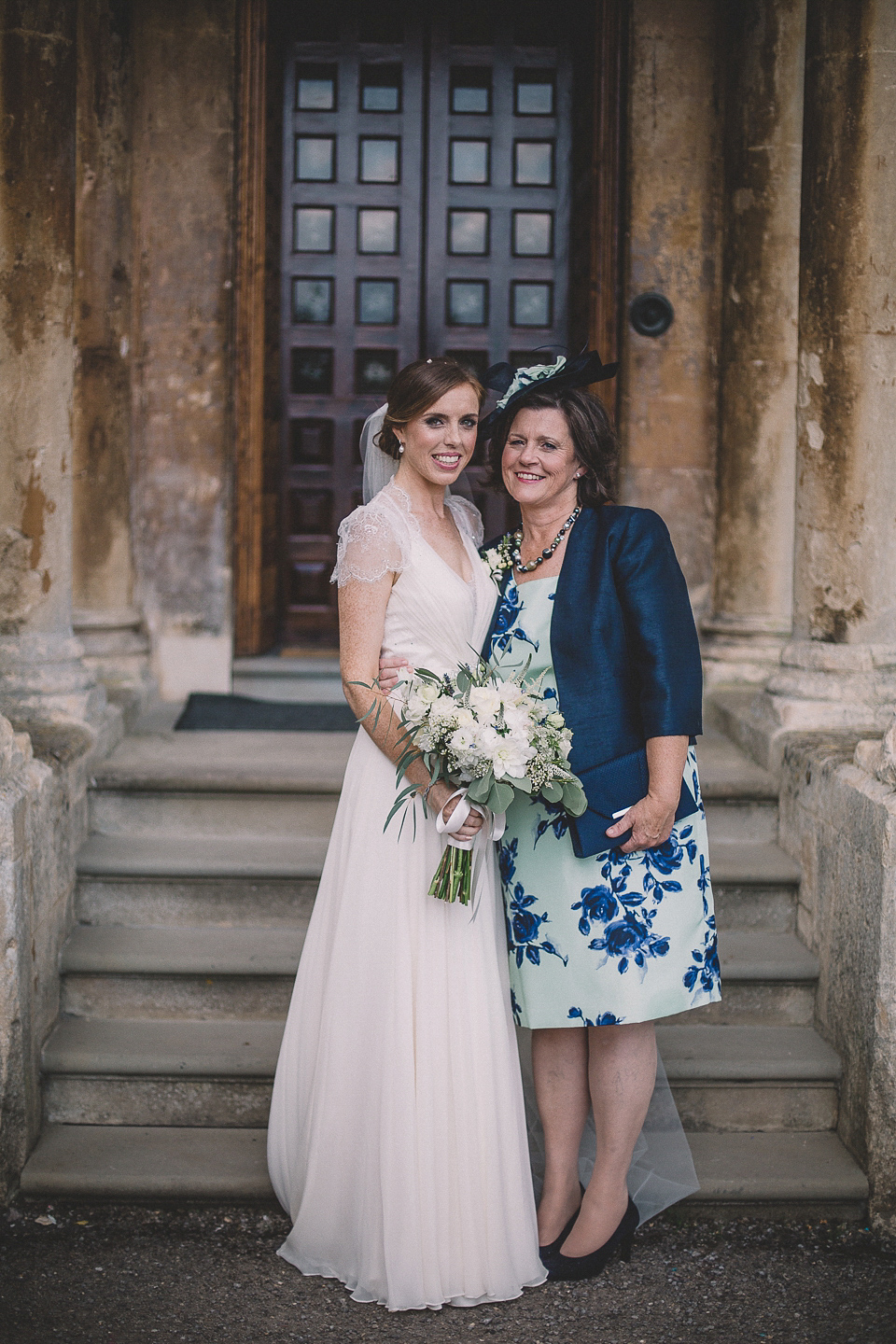 Eve Dunlop photographed the couple's day, capturing their personalities so beautifully. Eve is a valued member of our Little Book for Brides (see her listing here and more of her wonderful work here that's previously featured on the blog). Anna and Andy had a pre-wedding shoot with Eve, which is such a great way to get to know your photographer.
 "We felt that choosing the right photographer was one of the most important decisions and spent a lot of time looking through examples of various photographers work online. We didn't want lots of posed photos but did want a photographer that would document the atmosphere and feel of the day. Andy was also particularly drawn to the vibrant colours in Eve's photography.  Eve has an excellent blog that we used to get an idea of her style."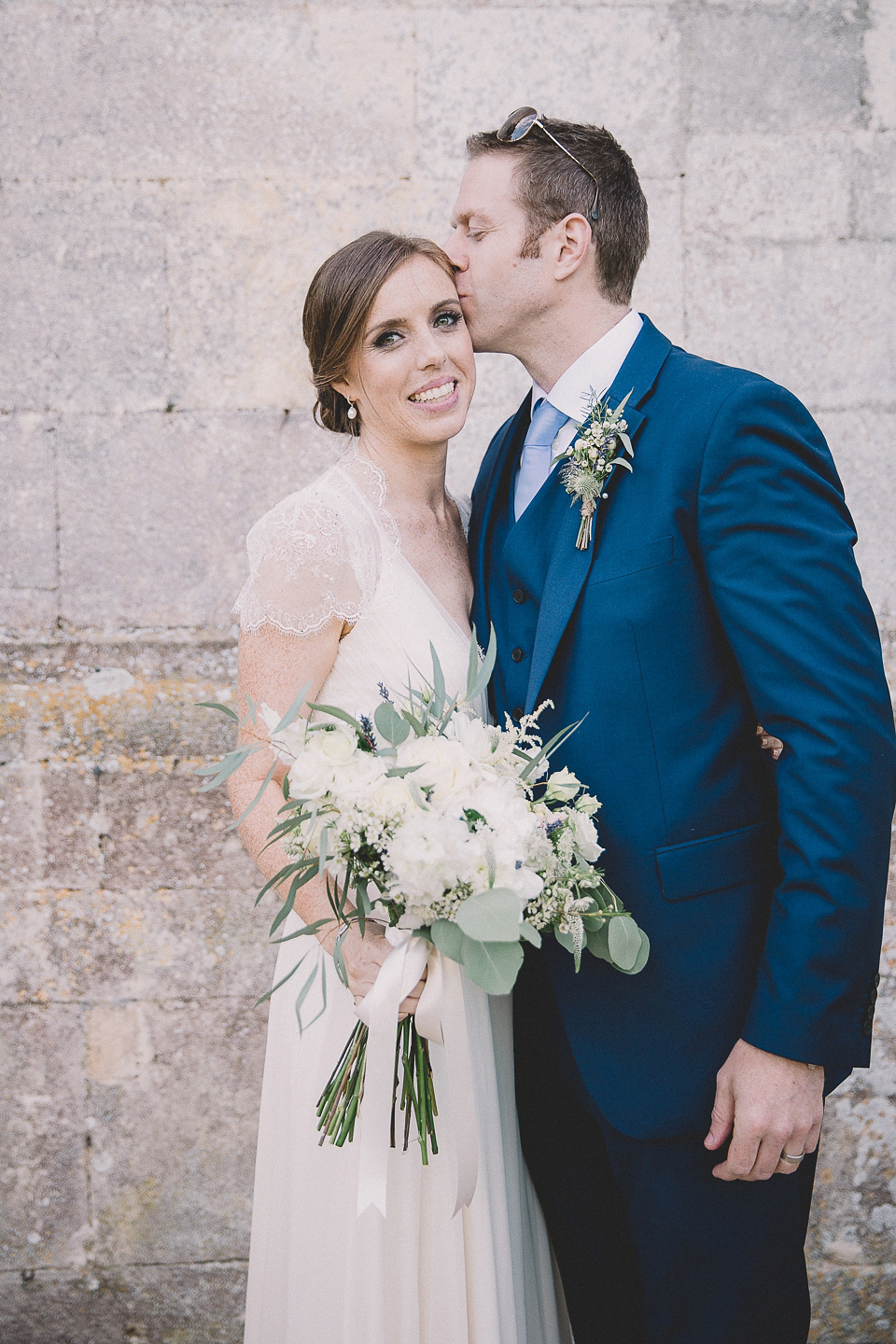 "We met Eve in London for a pre-wedding shoot and we very quickly felt comfortable around her. On that day Eve mentioned how privileged she feels to be capturing photographs that will be cherished by generations to come, we feel so lucky that it was someone as creative and talented as Eve that took the photographs that we shall treasure for a lifetime."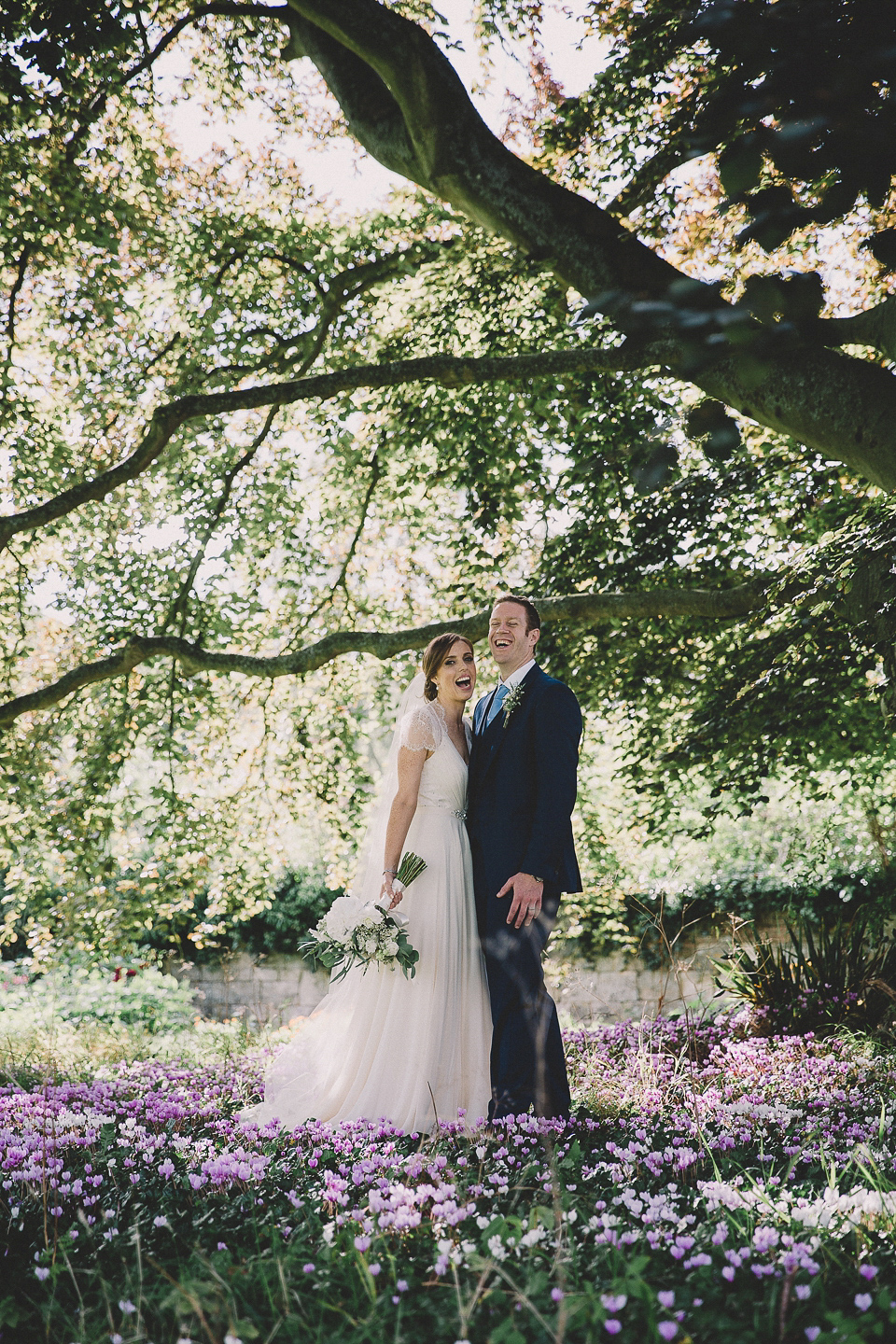 On the day of the wedding she was unobtrusive but also incredibly supportive, for example, when I suddenly realised I wasn't really sure where to start with the process of getting me and the bridesmaids ready she was there to gently point us all in the right direction. We were still on the dance floor when Eve sent us a couple of photos from the day which was a really nice touch, as we enjoyed showing them to friends and family over lunch the next day."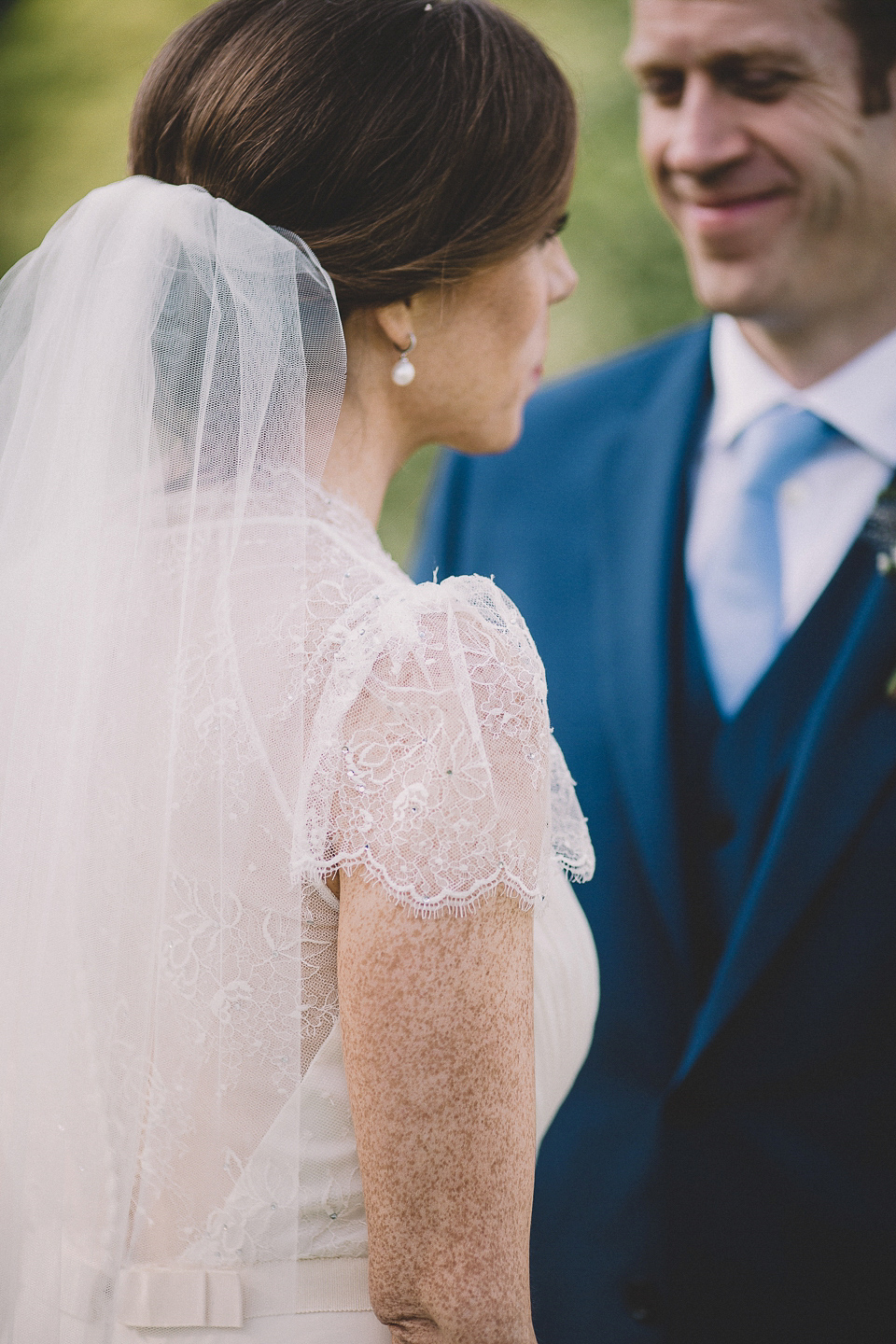 "It also put our minds at rest that we had made a great decision in picking Eve, as we immediately loved the photos that she sent us. We are still in awe of Eve's talent; we cannot recommend her highly enough."
"Elmore Court's catering team did the food and we found the staff's passion for the venue, energy and sense of fun really appealed. The fact that lots of them have backgrounds in organising festivals shone through and they were totally without the pretence or bland corporate attitudes that we were keen to avoid."
"It was very important to us that everyone felt relaxed and inclusive which was one of the reasons we didn't want a top table. We opted for three long tables which gave the dinner an intimate, communal feel. We did the trek to Everest base camp together a few years ago and we have a shared love of skiing so we named the tables after mountains. We also wanted to incorporate a reference to Brixton, a part of London that we love and which has been our home for many years. Andy selflessly drank several bottles of Brixton beer which have labels with vivid colours and patterns that we filled with foliage and displayed at the bar."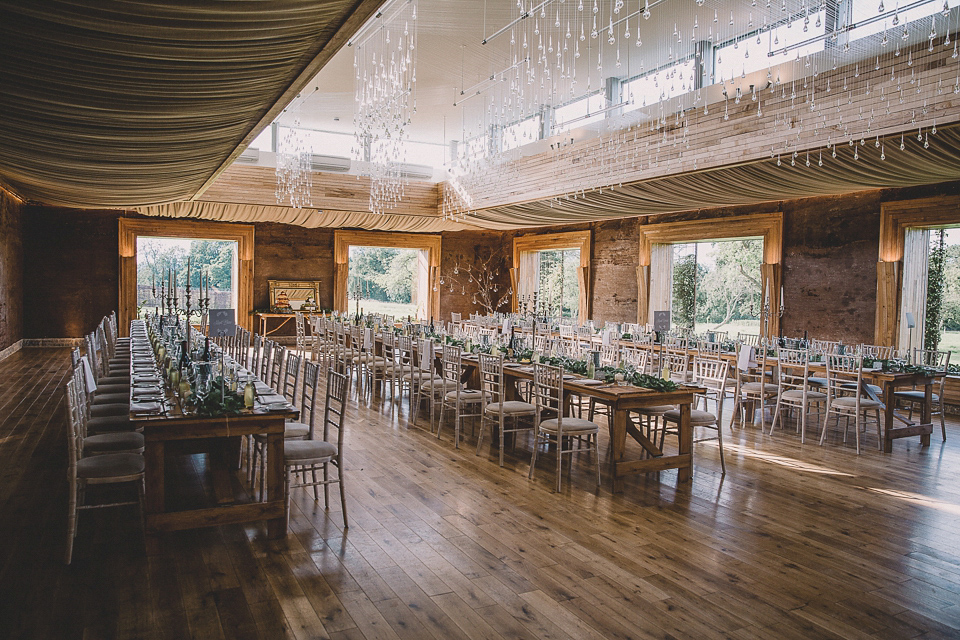 The bride and groom loved the venue's contrasting historic building with a new sustainably built area where the reception was held. Tables were named after mountains to pay homage to their shared trek to Mt Everest base camp, they decorated with loads of candles and green foliage to give a woodland feel and also included references to their home in Brixton, London.
"We instantly loved the contrast of the historic and formal setting of the house for the ceremony with the 'Gillyflower', a contemporary and sustainably built venue at the back of the house with views across fields which was perfect for a party. It is such an unusual and special place. We loved the fact that the 'Gillyflower' felt quite rustic with its rammed earth walls, but it was also a bit of a blank canvas."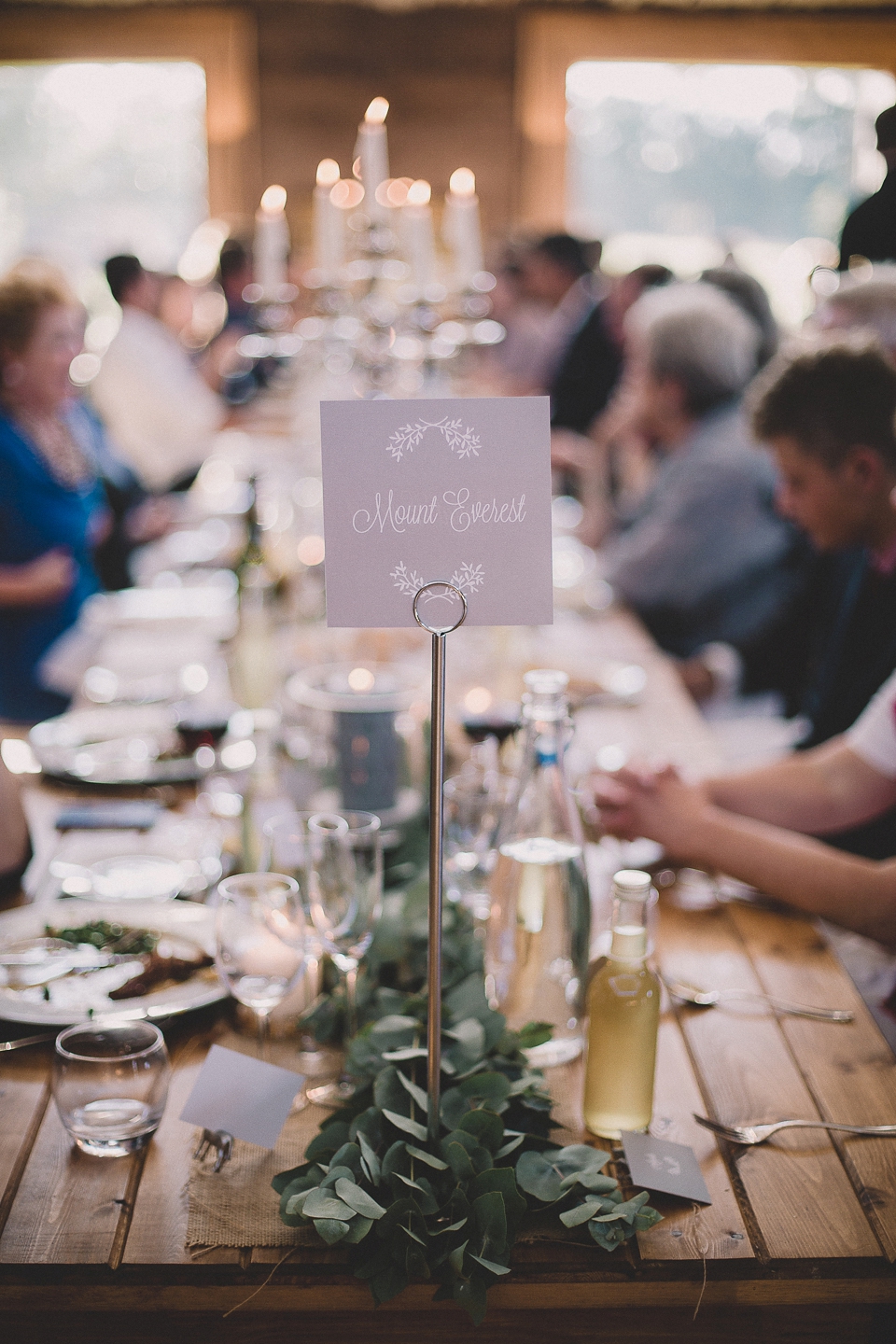 "Whilst we had flowers in the ceremony room and in large milk churns outside the house, we decorated the 'Gillyflower' with foliage. Along the middle of the tables we laid eucalyptus leaves, and across the windowsills and around the cake table. The candle-holders were in silvers and golds which looked beautiful against the rustic wood tables and foliage. I also talked Andy into spraying 100 plastic animals gold to use as the name holders – an idea which he had initially dismissed as ridiculous but he was very proud of the end result."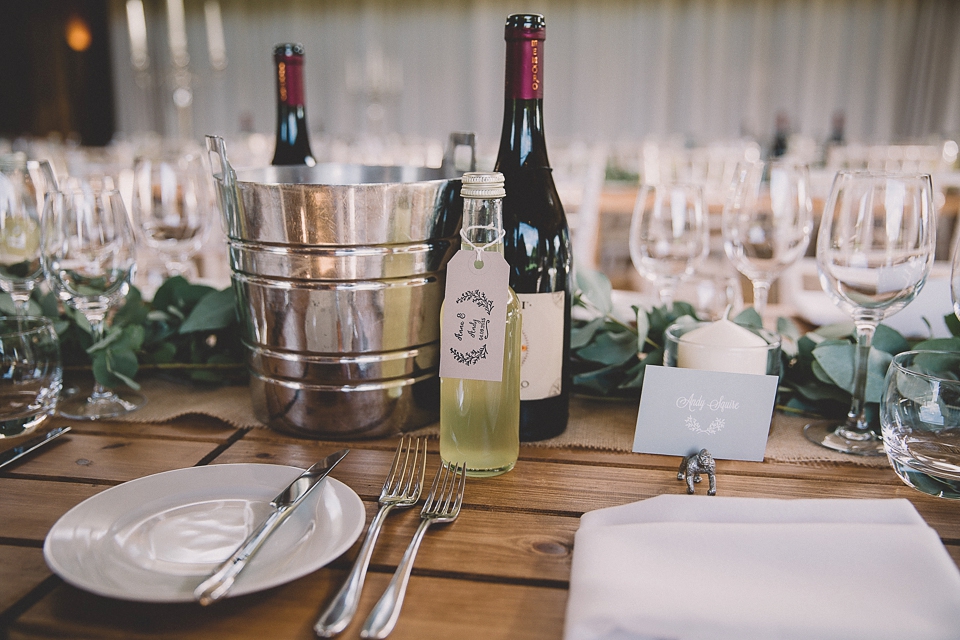 "My 19-year-old brother Alister made bottles of elderflower cordial as the favours. Alister and my mum picked the elderflower from the hedgerows of Gloucestershire and Alister turned my mum's kitchen into a cordial production factory!" 
"I love candles and the magical atmosphere they create, and at one point it was a bit of a running joke that whilst Andy was running round doing all the practical things, the only contribution I had made was ordering vast quantities of candles! We filled the tables with candles in hurricane holders and candelabras. We also hung tea lights in glass holders from branches in the corners of the room. All of the candles increasingly reflected into the large windows of the 'Gillyflower' overlooking the countryside as the sun went down."
Isn't this the sweetest story about Anna's amazing mum, who made the scrumptious cake?
"I vividly remember as a child the excitement I felt when mum would let me choose what I wanted for my birthday cake that year.  Even whilst I was at university, Mum would send me cakes in the post. There was never any question that she would make the cake. The only thing that concerned her was the prospect of having to ice a cake, but I'm not a big fan of icing and love the rustic look of a naked cake, so it worked perfectly. 
We also decided to have a cheesecake, which mum locally sourced all the cheeses for. We served the cheese in the evening with bread, crackers, quince, chutneys etc. We also served the cake and the venue put slices in boxes for people to take home as they left the wedding, which I would highly recommend to make sure all the cake gets eaten."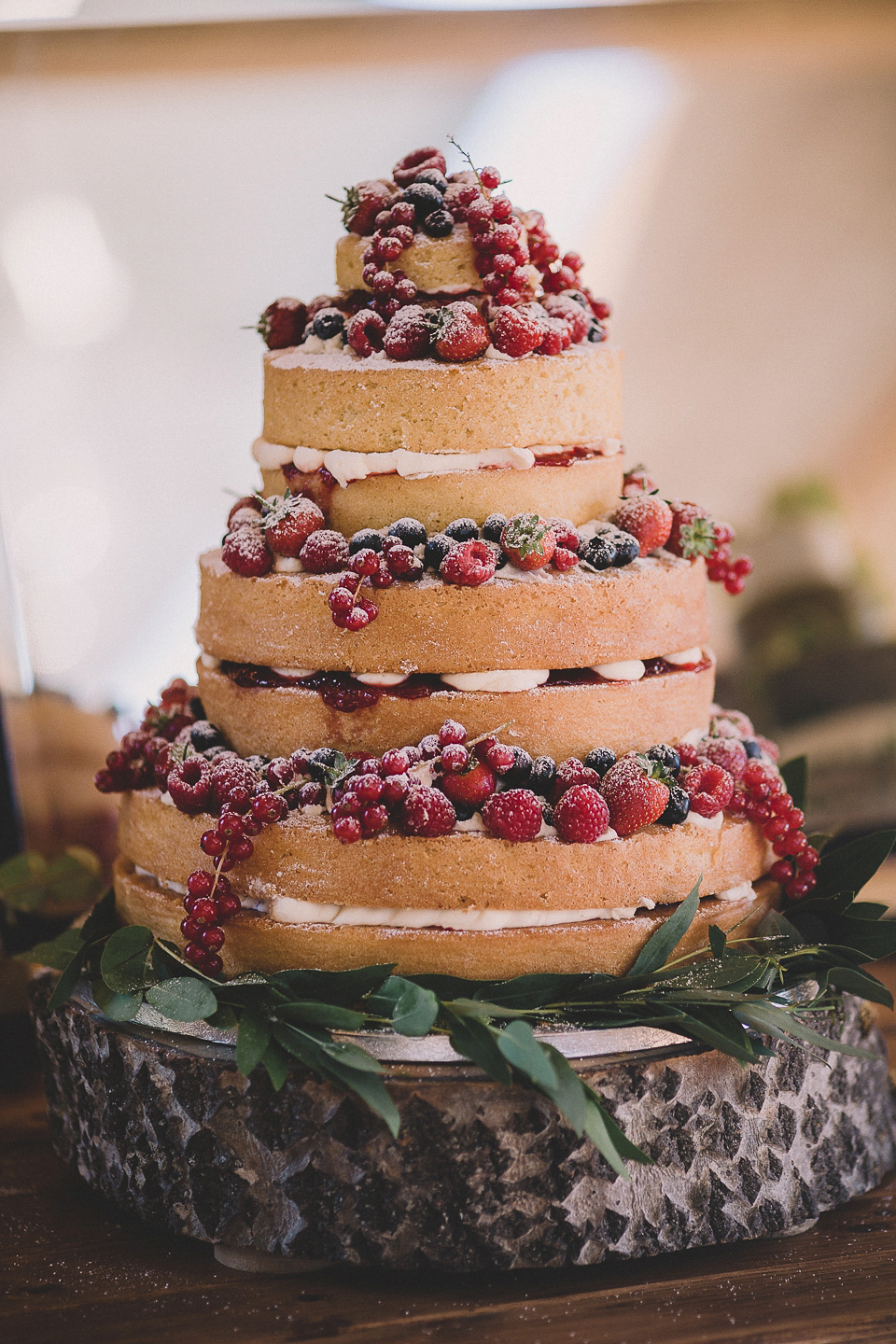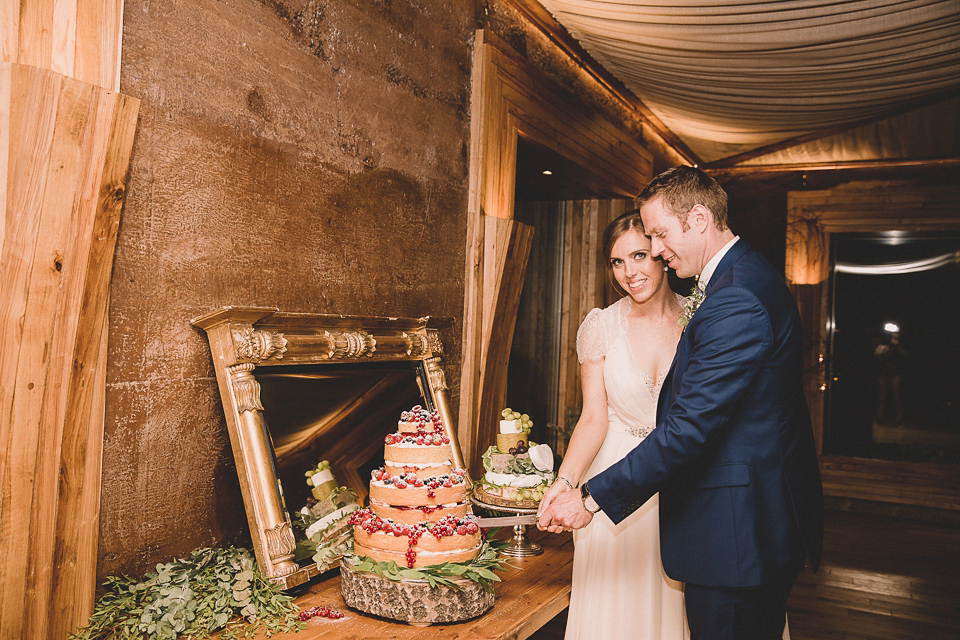 "Andy and I spent a Saturday in our garden during the summer listing to loads of demos of cover bands. Live Wires really impressed us as they seemed to have a real energy as a band and the lead singer's voice is really powerful.
We chose 'A Day Like This' by Elbow for our first dance, mainly because we wanted something uplifting to set the scene for the rest of the night, rather than something slow and a bit soppy."
 Words of Wedded Wisdom 
"Andy really enjoyed playing an active role in organising the wedding and it was very much a joint project. Lots of the suppliers commented that the groom is rarely as involved as Andy was which seems a shame. It's so much less stressful to do it together and it felt like a fitting way to prepare for married life as a partnership of equals. That's not to say there weren't some arguments along the way!
 Relax and enjoy the day and have a sense of humour about the small things that might not quite go to plan. Keep everything in perspective and never lose sight of what the day is about, marrying someone you love.
We genuinely wouldn't change a thing about the day and still feel so lucky that we had such a fun and relaxed day surrounded by our favourite people."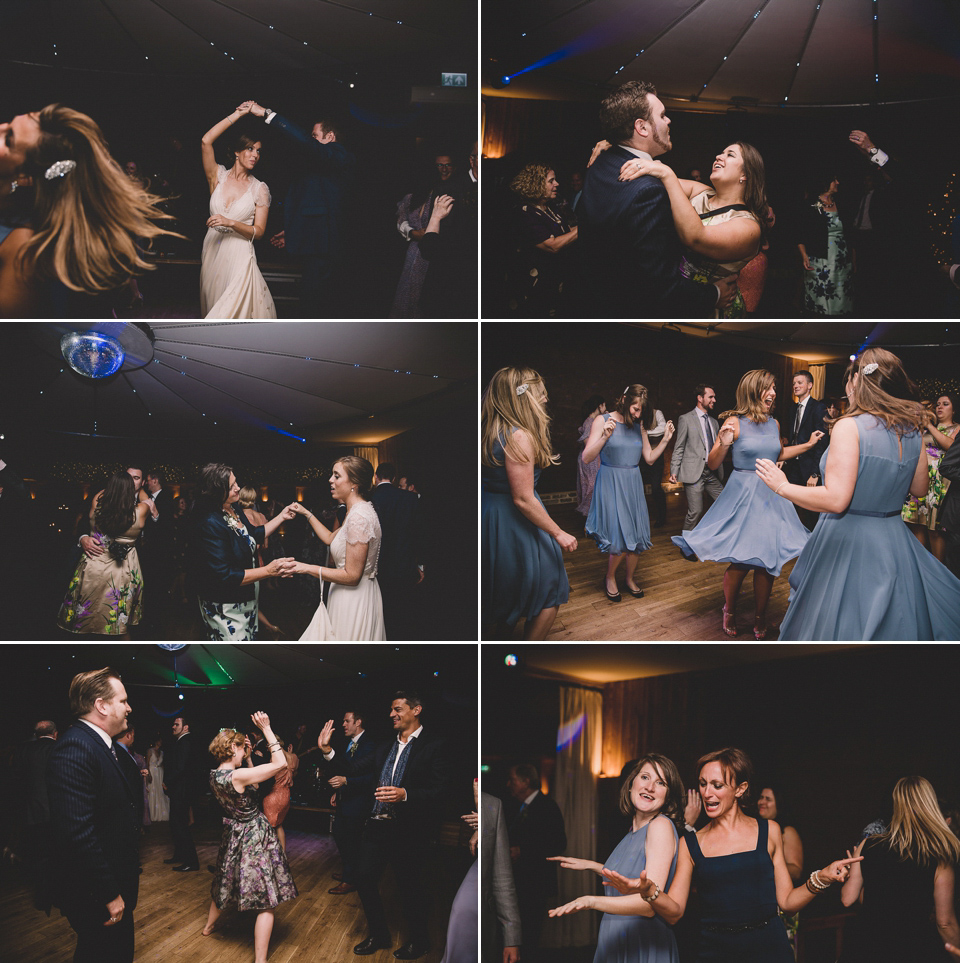 I do love to hear about it when the groom gets heavily involved in the wedding planning. It's always better to share the load and stress! Big congrats to Anna and Andy and I've just loved sharing your day with our readers. Also a very big thank you to Eve – the love between the couple completely comes across in these delightful images.
If you've been inspired by Anna's divine dress, be sure to see here for loads more Jenny Packham elegance that we've highlighted on this beautiful blog.
Love Jo -x-
Photographer – Eve Dunlop Photography
Videographer – Velvet Wedding Studios
Venue – Elmore Court, Gloucestershire
Wedding Dress – 'Odessa' by Jenny Packham via London flagship store
Veil – Britten Weddings
Shoes – L.K. Bennett
Perfume – 'English Pear and Freesia' by Jo Malone
Jewellery – Astley Clarke diamond and white gold drop earrings + sapphire and diamond bracelet from Grays Antiques
Bridesmaid Dresses – Hobbs
Bridesmaid Accessories – Jenny Packham
Groom – Moss Bros, altered by London Fashion Workrooms
Florist – Jenny Fleur
Rings – Arlington & Co.
Cake – Homemade by mother of the bride
Entertainment – Live Wires
Hair – Laura Leigh
Make-up – Emily Tarrant