Well hello again dear readers and welcome to my midweek feature. Today, I have the great pleasure of introducing you to a truly wonderful boutique in the gorgeous town of Harrogate. In fact, it doesn't actually feel right calling this delightful spot a boutique. It is, as owner Hayley so rightly says 'a luxury shopping haven'. So, if the thought of breath-taking designer collections and tip-top service in a magnificent Grade II Listed building makes your heart beat a little faster than it's time to say hello to The Bridal Collection Harrogate.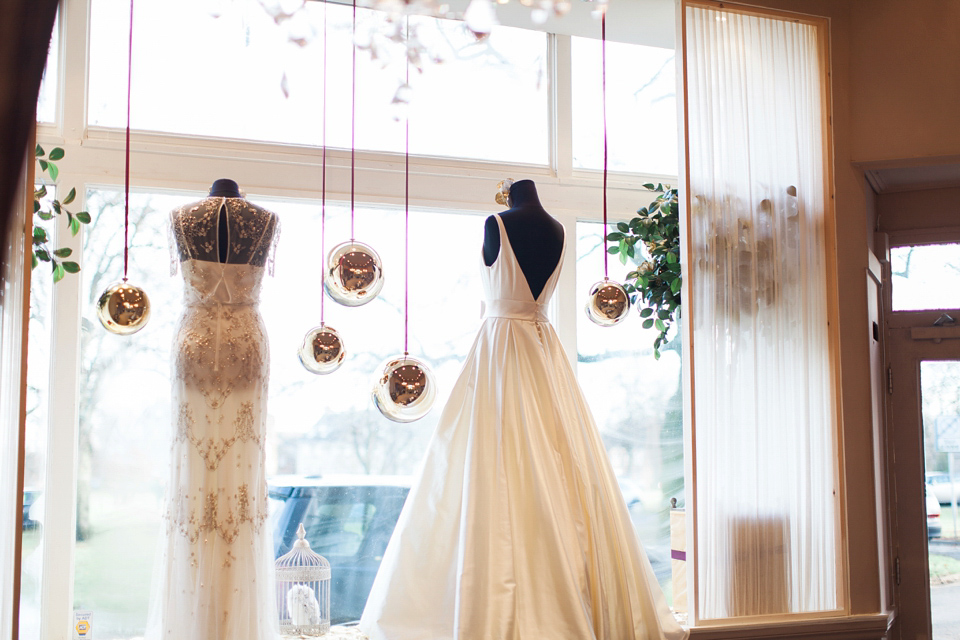 Home to some of the best UK designers and handpicked guest collections from the US and Europe, you'll find the most remarkable selection of wedding dresses waiting for you when you visit The Bridal Collection Harrogate. Ian Stuart, Suzanne Neville, Caroline Castigliano, Claire Pettibone, Sassi Holford, Stewart Parvin, Jenny Packham and Badgely Mischka gowns are all complimented by delightful personal service in a rather romantic setting.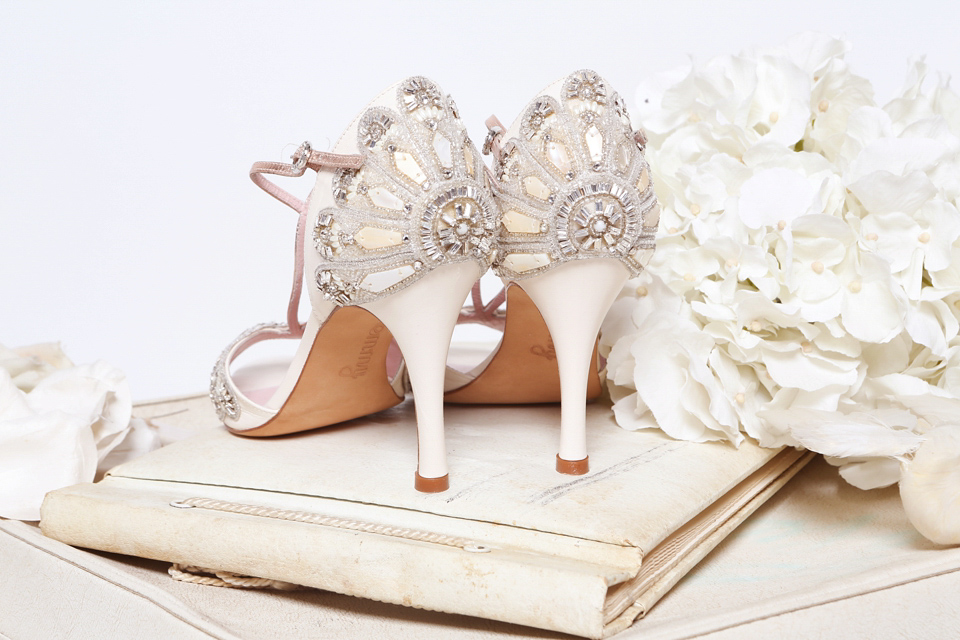 Beautiful Emmy London shoes available at
The Bridal Collection Harrogate
"We seek to offer luxury in every detail from the delectable treats, indulgent coffees, plush sofas and sparkling soft furnishings to the gorgeous gowns and accessories you'll find in the boutique, " says Hayley (pictured below centre). "Choosing your bridal gown is a very special time and we have worked hard to create an experience that we believe it very special and unforgettable."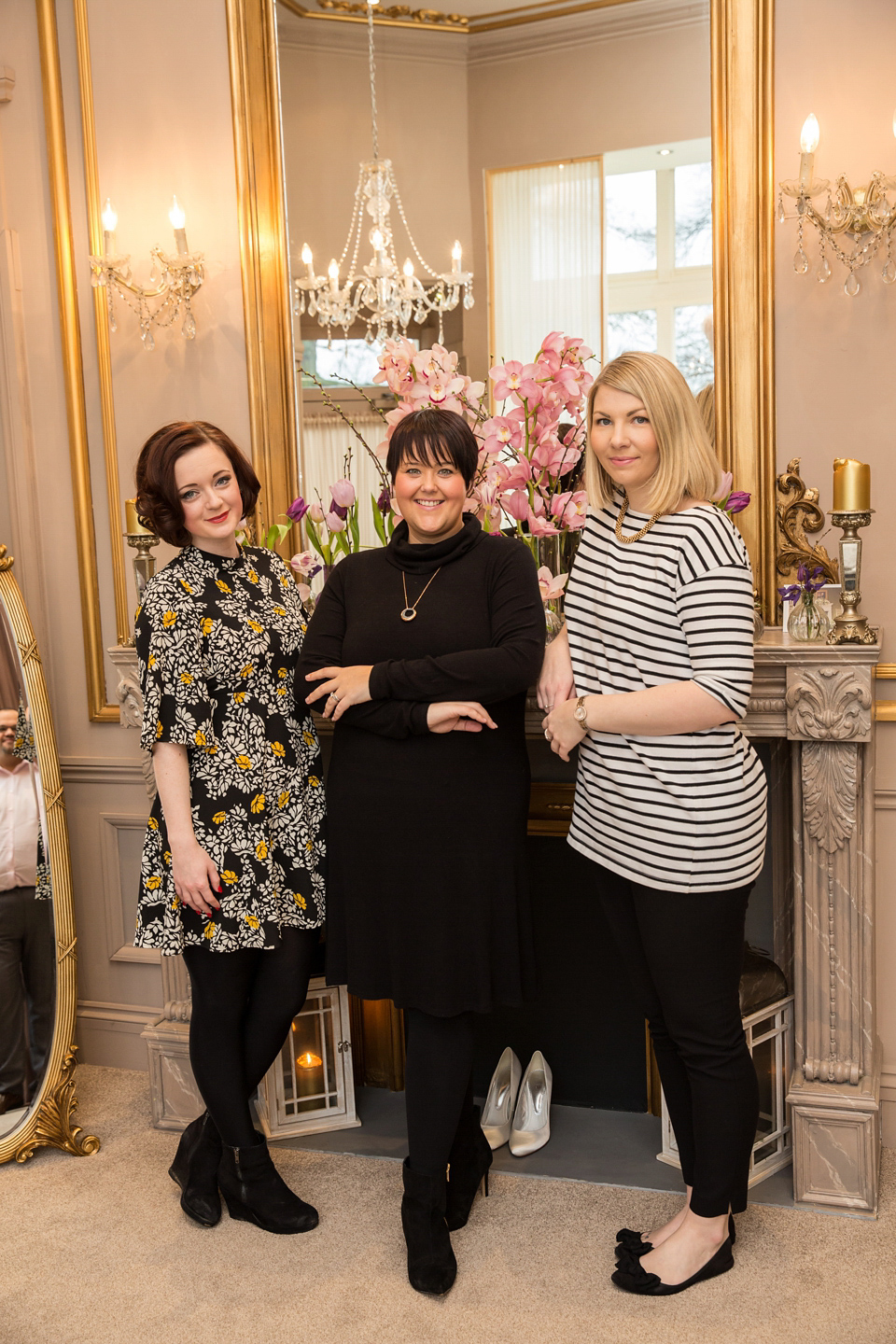 The Bridal Collection Harrogate evolved thanks to the success of the The Harrogate Wedding Lounge, Hayley's original boutique in Harrogate and now The Bridal Collection Harrogate offers a unique shopping experience, and a collection of gowns that offer a delightfully classic look.
"The boutiques work perfectly together, allowing us to house collections from world leading design houses. The Bridal Collection Harrogate is genuinely thrilled to stock gowns from the very best British designers that appeal to the discerning bride. From the moment our brides contact us for an appointment; their experience is tailored to suit them from various luxury appointment options to exclusive events and designer days."
I love the fact that Hayley and her team at The Bridal Collection Harrogate have worked so hard to understand what we all want in a bridal boutique and they offer an experience that stands out for all the right reasons. Knowledgeable staff who are so committed to making every moment that you spend with them exceptional and, of course, designer dress collections that make you swoon and smile with joy combine in the most glorious way and oh my goodness, it's simply fabulous.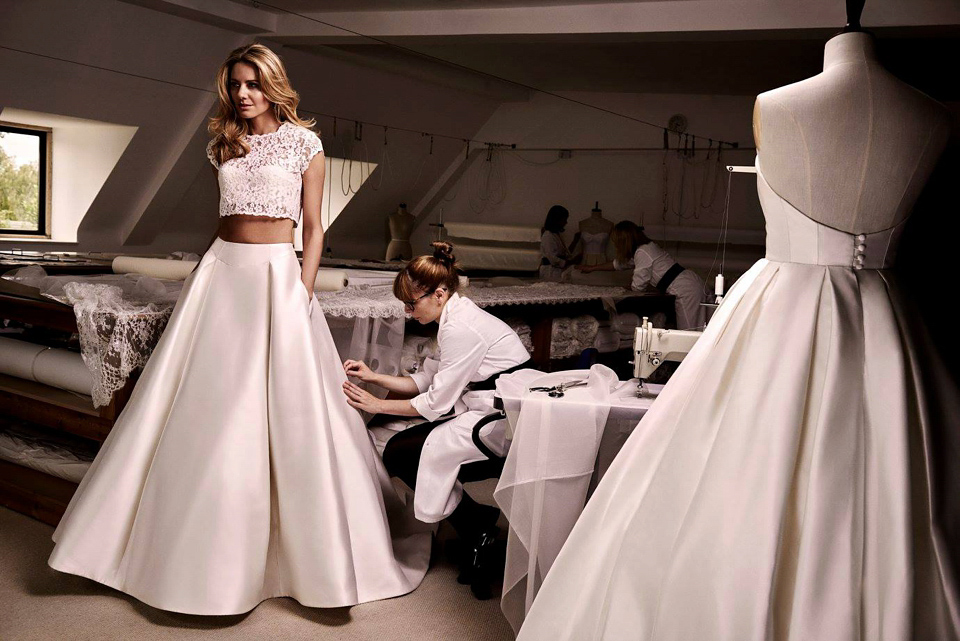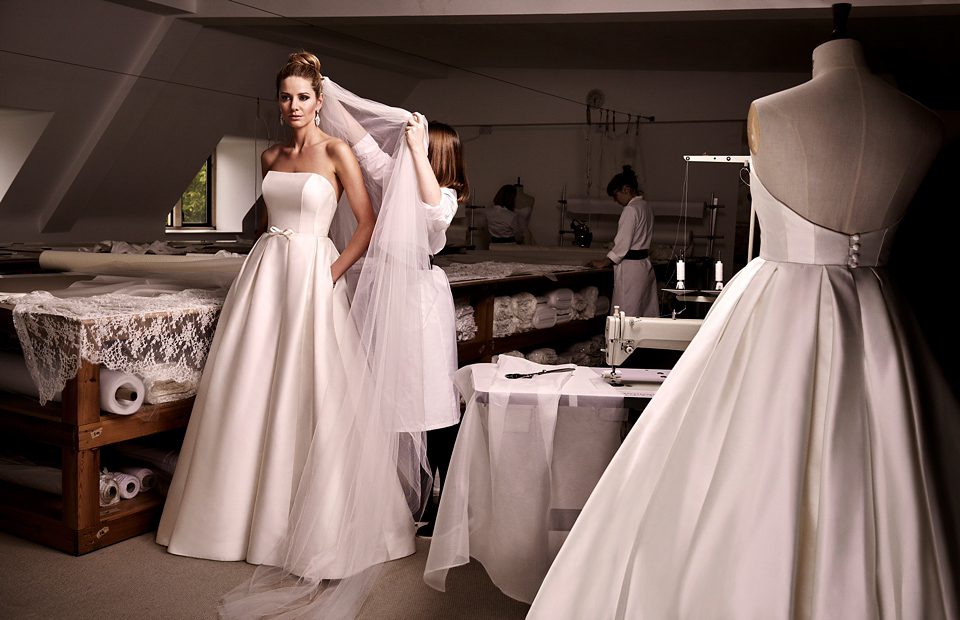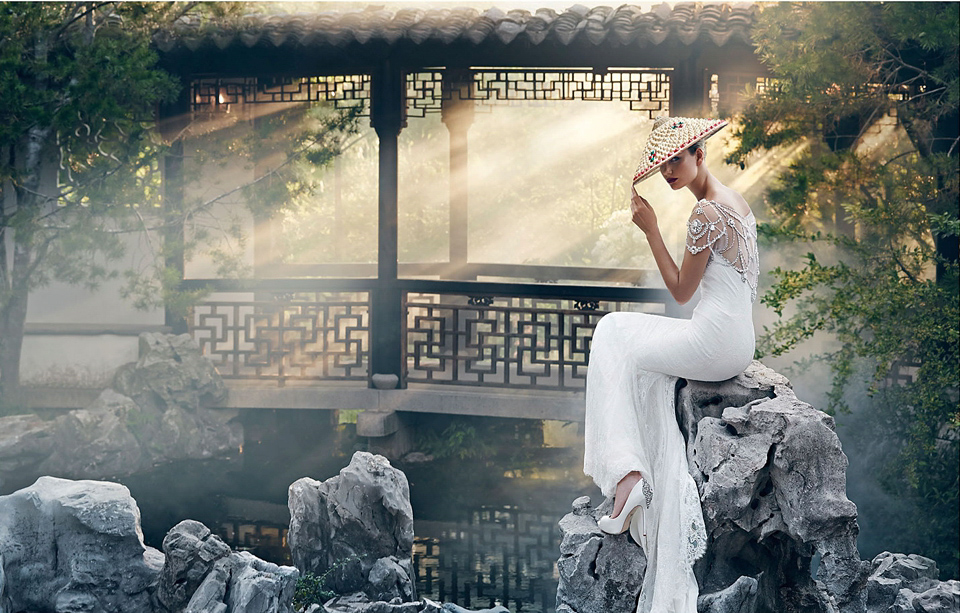 "We are always amazed by the incredible creations that our designers bring to life in every collection and we're inspired by the interpretation of trends within the bridal industry. Out team come from varying backgrounds from entrepreneurs and fashion graduates to personal shoppers and super talented West End seamstresses. We each have our own inspirations and together we help brides to create their individual bridal look. No bridal look is ever the same and this is our ultimate inspiration."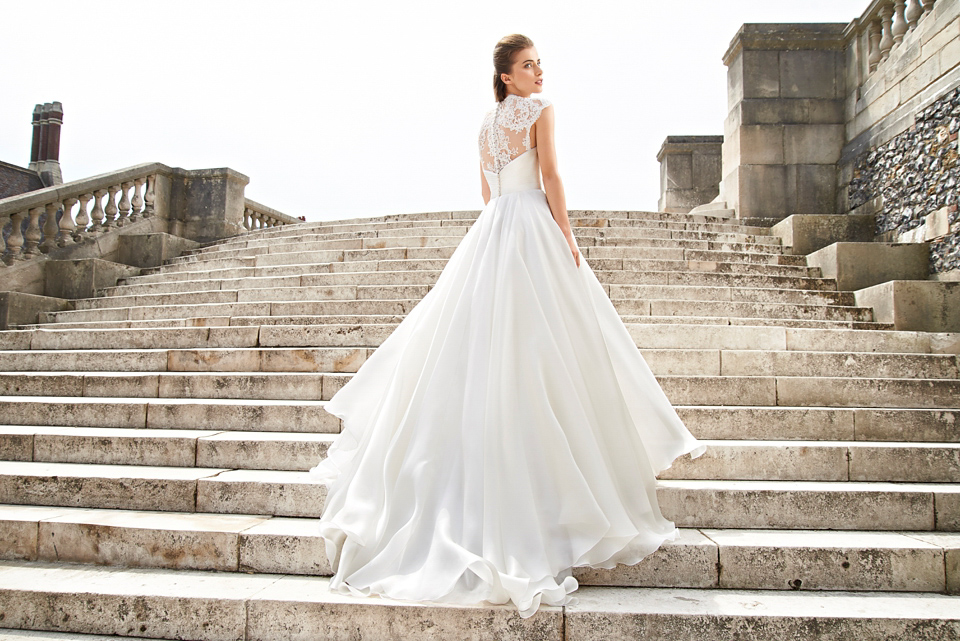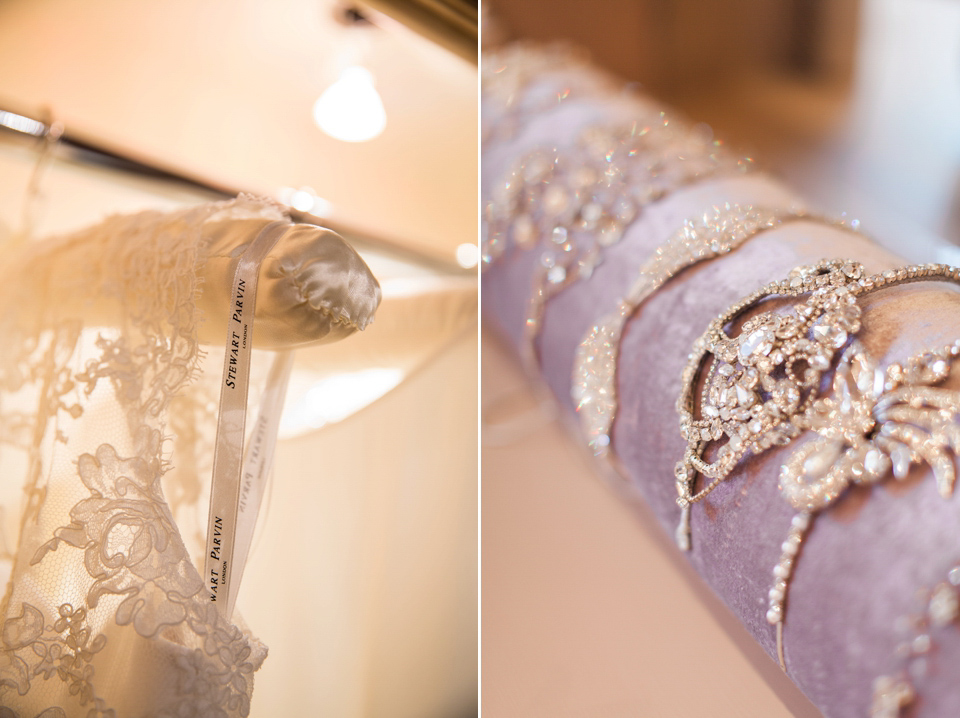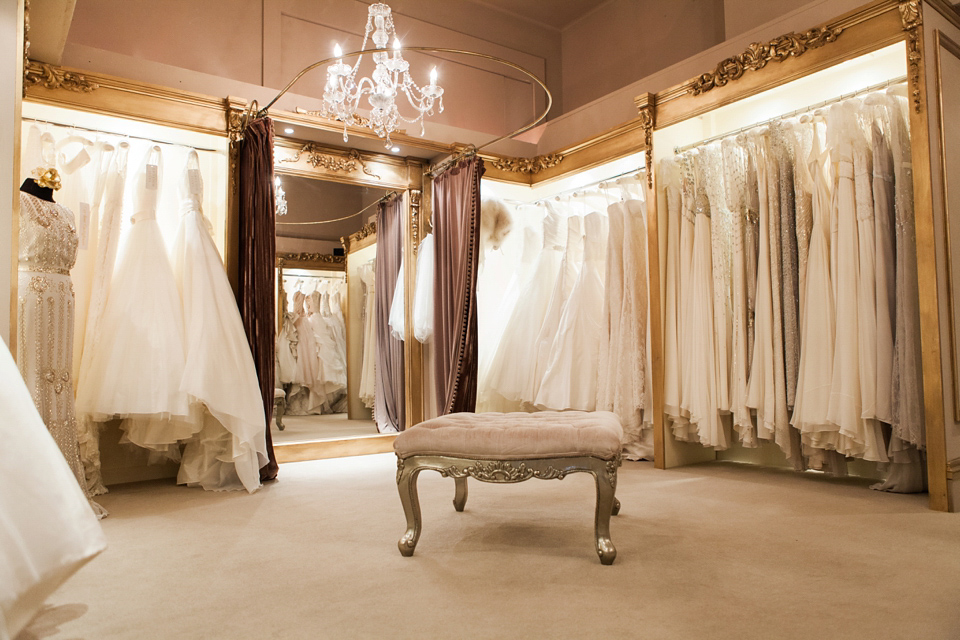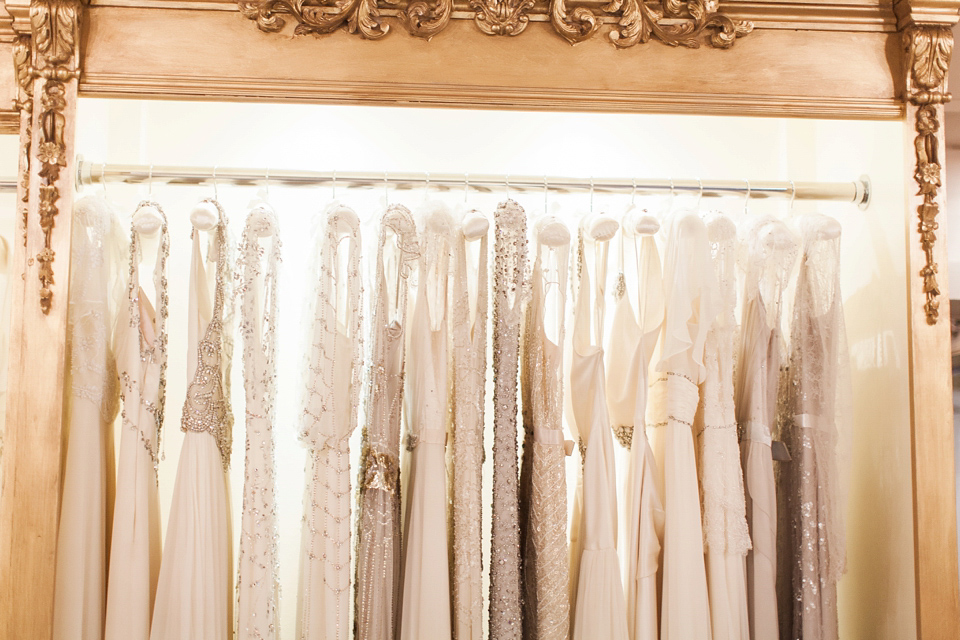 The Bridal Collection Harrogate is incredibly proud to represent the very best in British bridal fashion and their luxury collections range from £2,000 to £7,000. Accessories and a full in-house alteration service is also available.
To book an appointment at The Bridal Collection Harrogate, simply contact the boutique on 01423 202029 or email [email protected]. The boutique is open 10am-5pm, Monday to Saturday by appointment only.
For more information on the designer collections, accessories, events, real brides and much more, do take a look at The Bridal Collection Harrogate's website. You'll also find the latest news and glimpses behind the scenes on The Bridal Collection Harrogate's social channels so connect with them on Facebook, Instagram, Twitter and Pinterest for all the latest.
Love,
Tamryn x
The Bridal Collection Harrogate are a sponsor of Love My Dress.