I'm a hopeless romantic and so love to hear all the little details about how couples meet. I get extra tingly when I discover that the couples featured on this wonderful blog have met online, as I too was lucky enough to find my hubby via this method. Did you catch Annabel's recent blog post where she shared fascinating data about the ever-increasing numbers of couples who meet online, then marry? I have another wonderful wedding to share with you today to add to this statistic!
Doctor Amy and English teacher David married at Amy's mum and stepdad's home in Kelso, Scottish Borders, on the 25th of July 2015. The bride had quite an experience with her dress search, trying many gowns on before discovering 'Ophelia' by Belle & Bunty.  With its silky satin underskirt overlaid with delicate lace, it truly was worth the wait. Amy, your gown is absolutely exquisite and suited you to a tee!
"It was not a straightforward process as I tried on easily 100 dresses; fun at first, but I eventually ended up thoroughly confused and a bit stressed out by it all. I definitely didn't have 'the one' moment that people talk about – I think there is such a pressure for the clouds to part and cherubs to start singing, but to be honest, there are so many gorgeous dresses out there that it's not that simple."
"I knew I wanted something that was comfortable and unstructured so that I could dance and most importantly eat. I didn't want anything big or princess-ey and I liked lace. The 'Ophelia' felt great from the second I put it on – the layers of silk are so comfortable and move beautifully, and I fell in love with the champagne/blush colour, the lace and the classic feel and look of the dress."
Dress by Belle & Bunty
See Belle & Bunty in Little Book For Brides
Follow Belle & Bunty on Instagram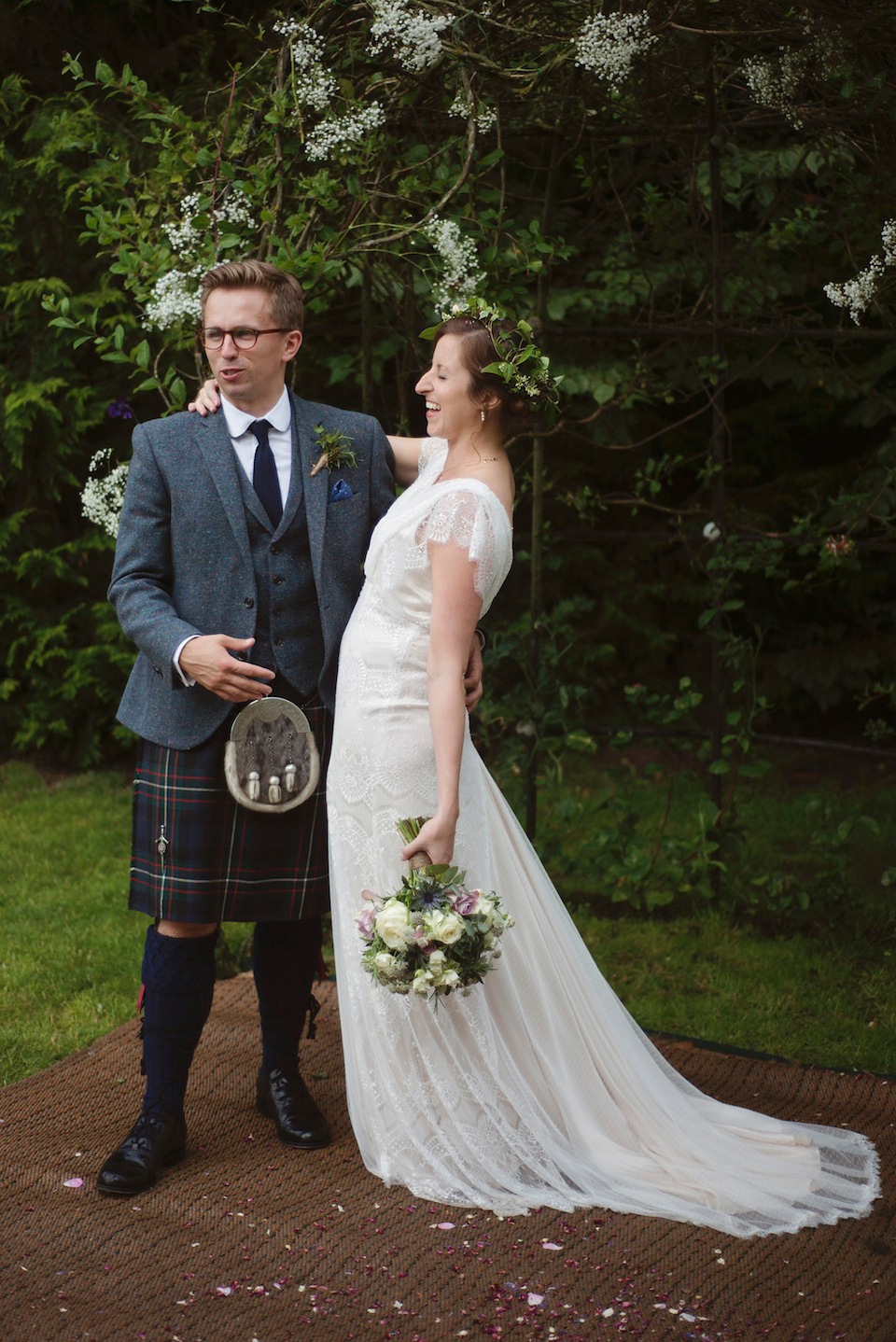 "We both wanted a homemade, rustic flavour, with a dash of glamour. In the build up to the wedding we joked that the theme of the wedding was twine, as we got through so much of it!"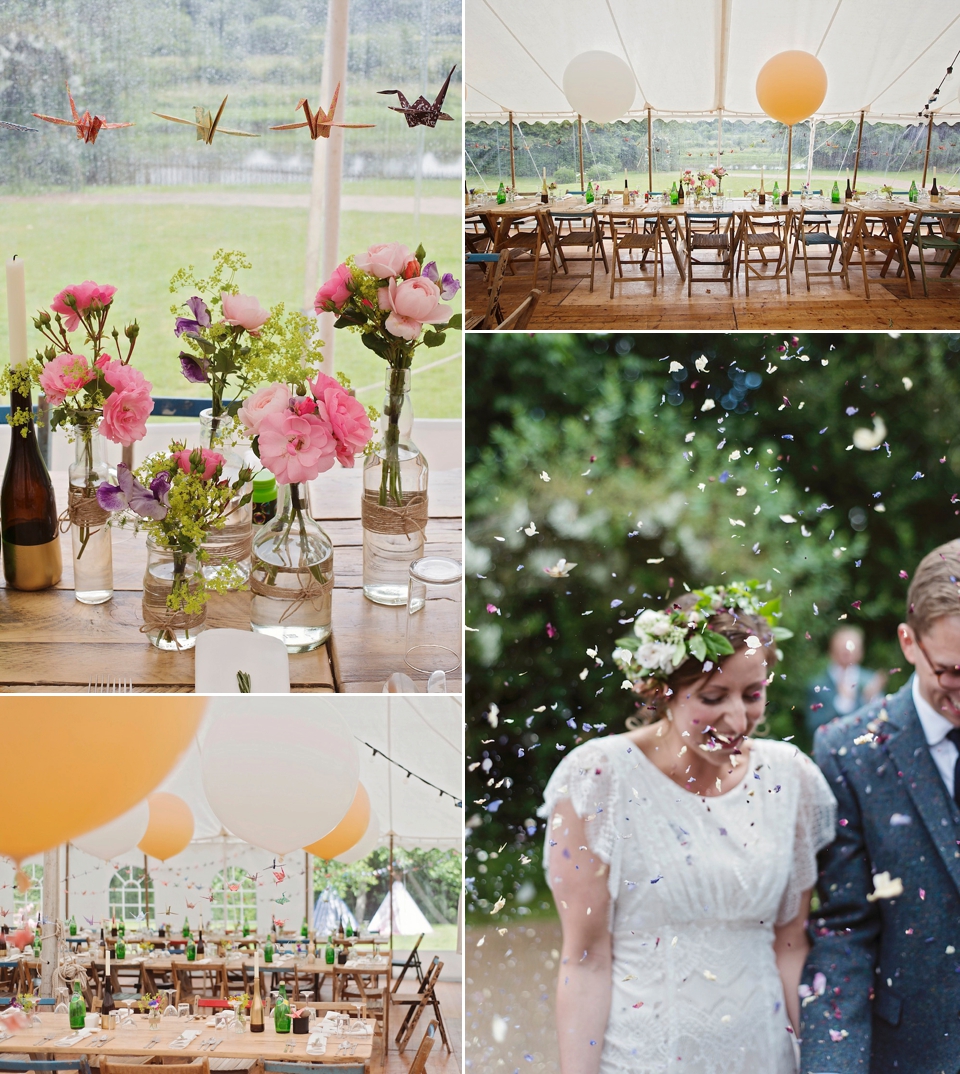 "My Monica Vinader necklace was a wedding gift from Dave and the pearl drop earrings and bracelet were my 'something borrowed' from my bridesmaid Emily."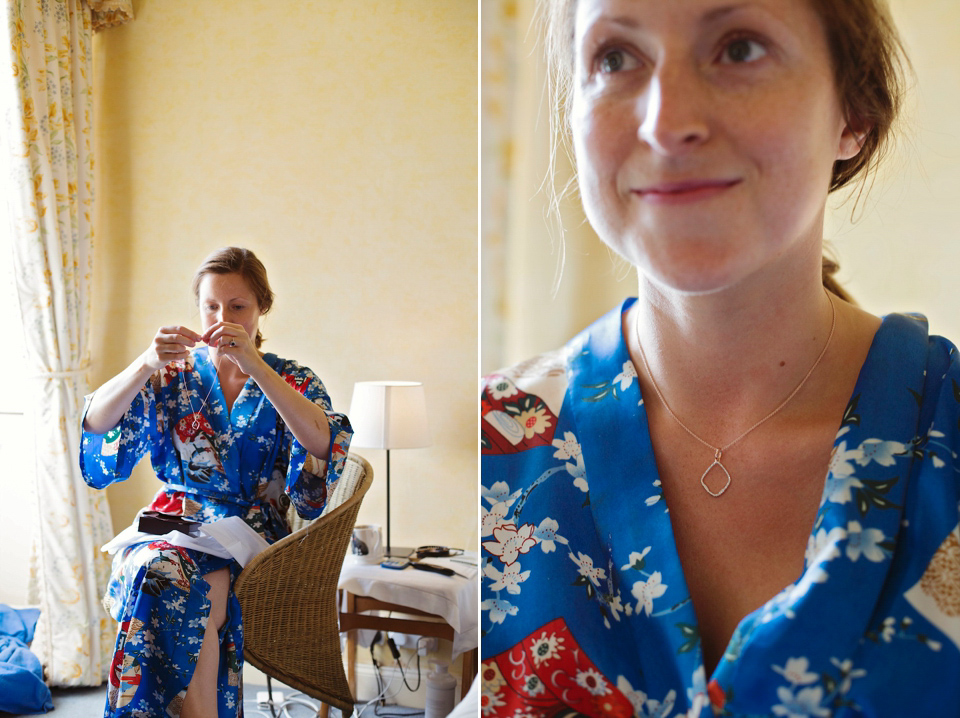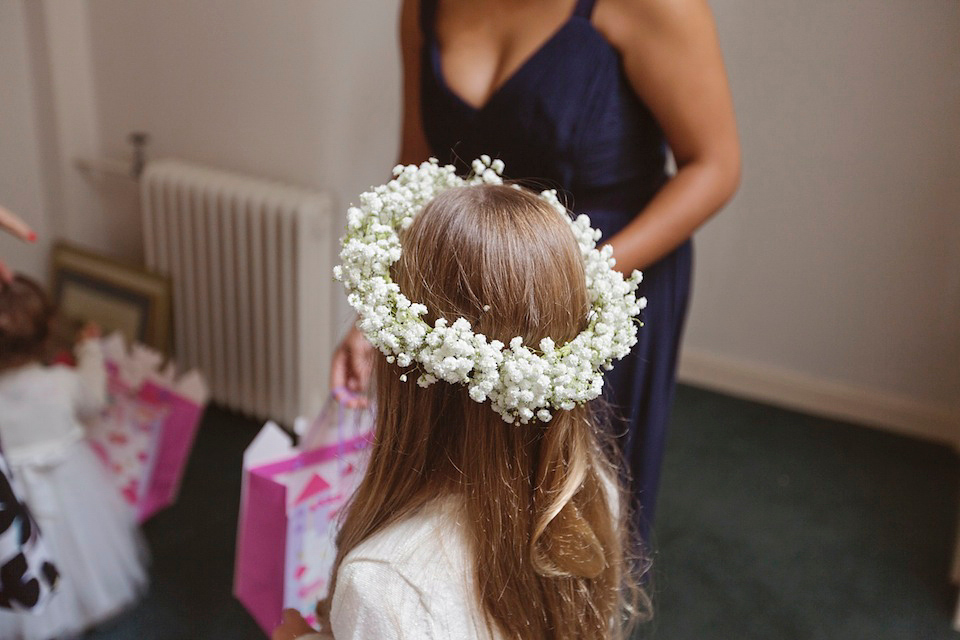 Amy's maids wore lovely navy blue silk-chiffon gowns from the Boden bridesmaid range, a steal at £40 each, and pretty accessories.
"The bridesmaids wore their own choice of shoes and jewellery. We made their gypsophila flower crowns ourselves the day before the wedding and I gave them all scarves from Whistles to keep warm on the day."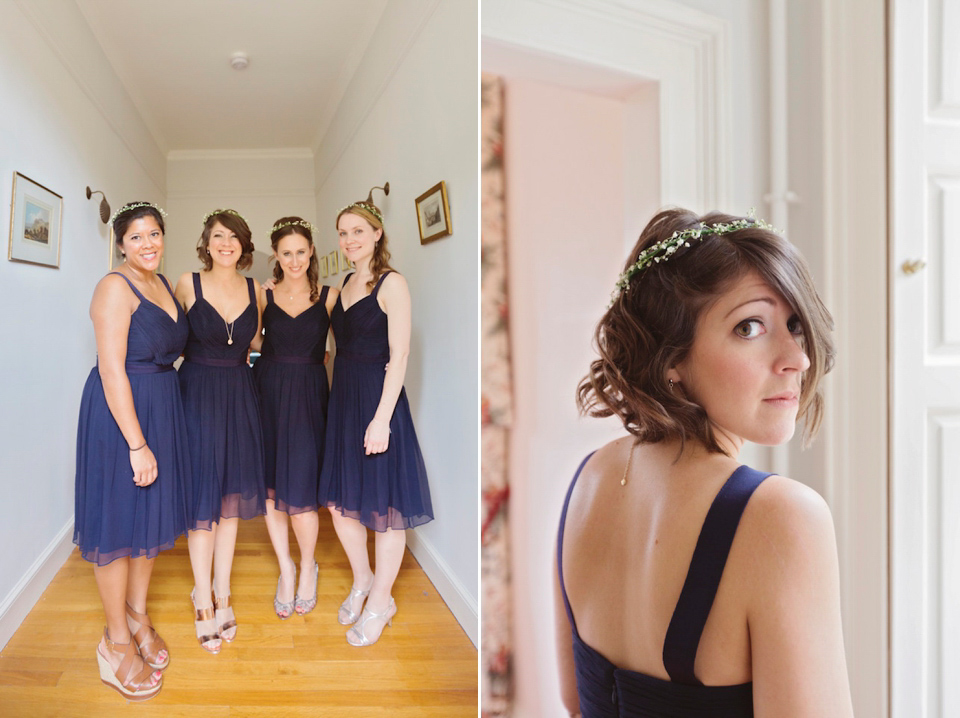 Hair and makeup was by the fabulous Lipstick Lashes and Locks in Edinburgh. Amy added a floral crown, gold heels found for a right bargain, her everyday perfume narcisso rodriguez for her, and special jewellery pieces. I don't know about you, but Amy reminds me of a character from 'A Midsummer Night's Dream' emerging from the woods, with her lacy boho dress and delicate crown. 
"Lyndsey from Get Knotted made my floral crown, which was so pretty! She really cleverly incorporated honeysuckle in the crown, as the pergola we got married under is covered in honeysuckle. I found the 'Drenda' style by Bertie in gold for £30 in the sale! I'm really glad I didn't give into temptation and splash out on some expensive shoes, as I totally ruined them on the day in the garden."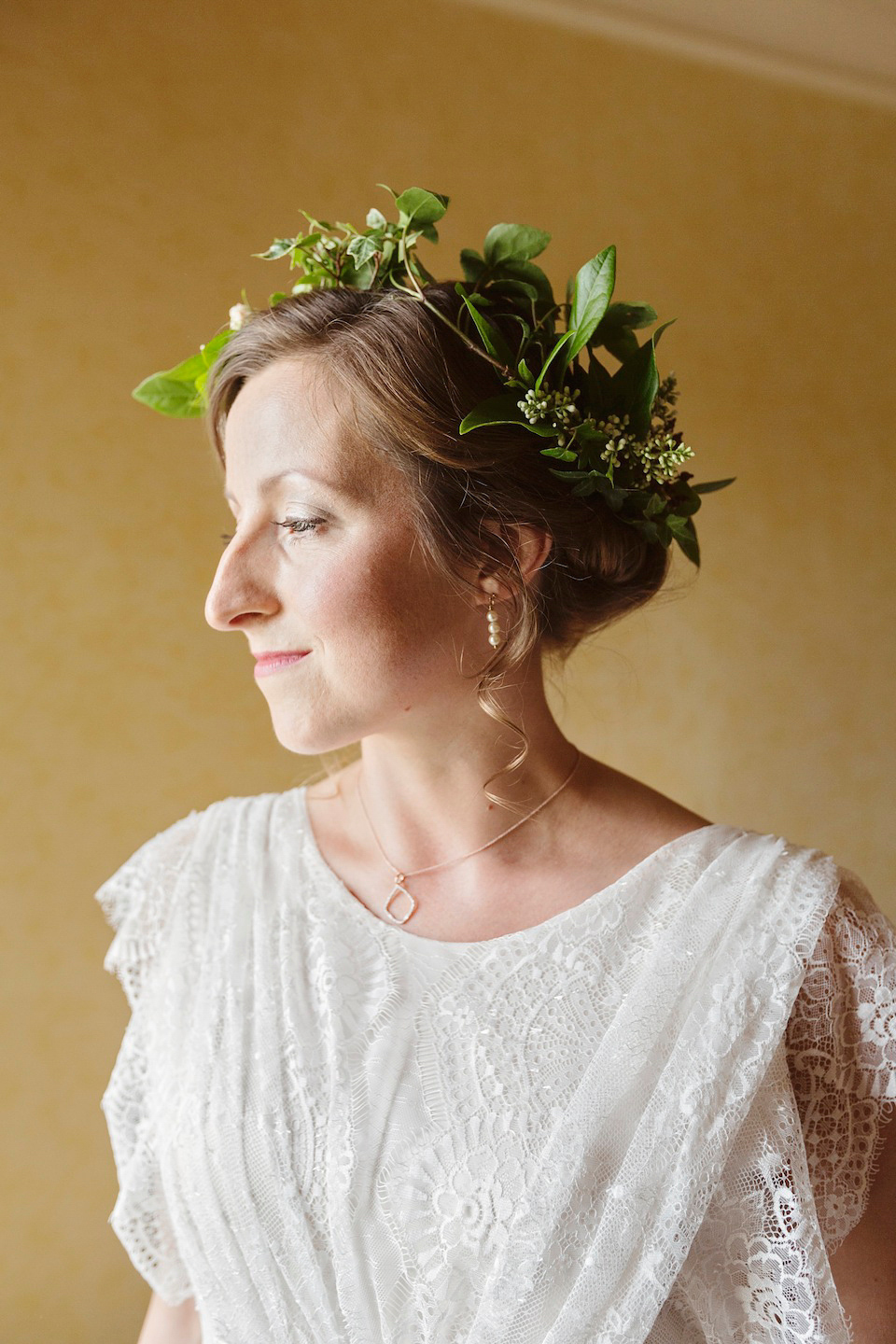 Amy gives such brilliant feedback about how we tackle more 'meaty' issues (see here to read some of our popular discussion posts) and feature a diverse range of brides, grooms and wedding styles on this blog. Thank you Amy for these words of support and yes, you've totally hit the nail on the head!
"Love My Dress is my absolute favourite wedding blog, without question. You feature such a great variety of weddings and really avoid the 'cookie cutter' weddings that obviously have huge budgets and make already stressed brides feel inadequate. You get really amazing quirky and different ideas from other brides and grooms that have been featured. I mentioned above, I also really appreciate the articles written about feminism, budget, and the realities of dress shopping. I think that you treat your readers like the smart, grown-ass women they are, rather than fairy princesses, which is often the default style of bridal blogging."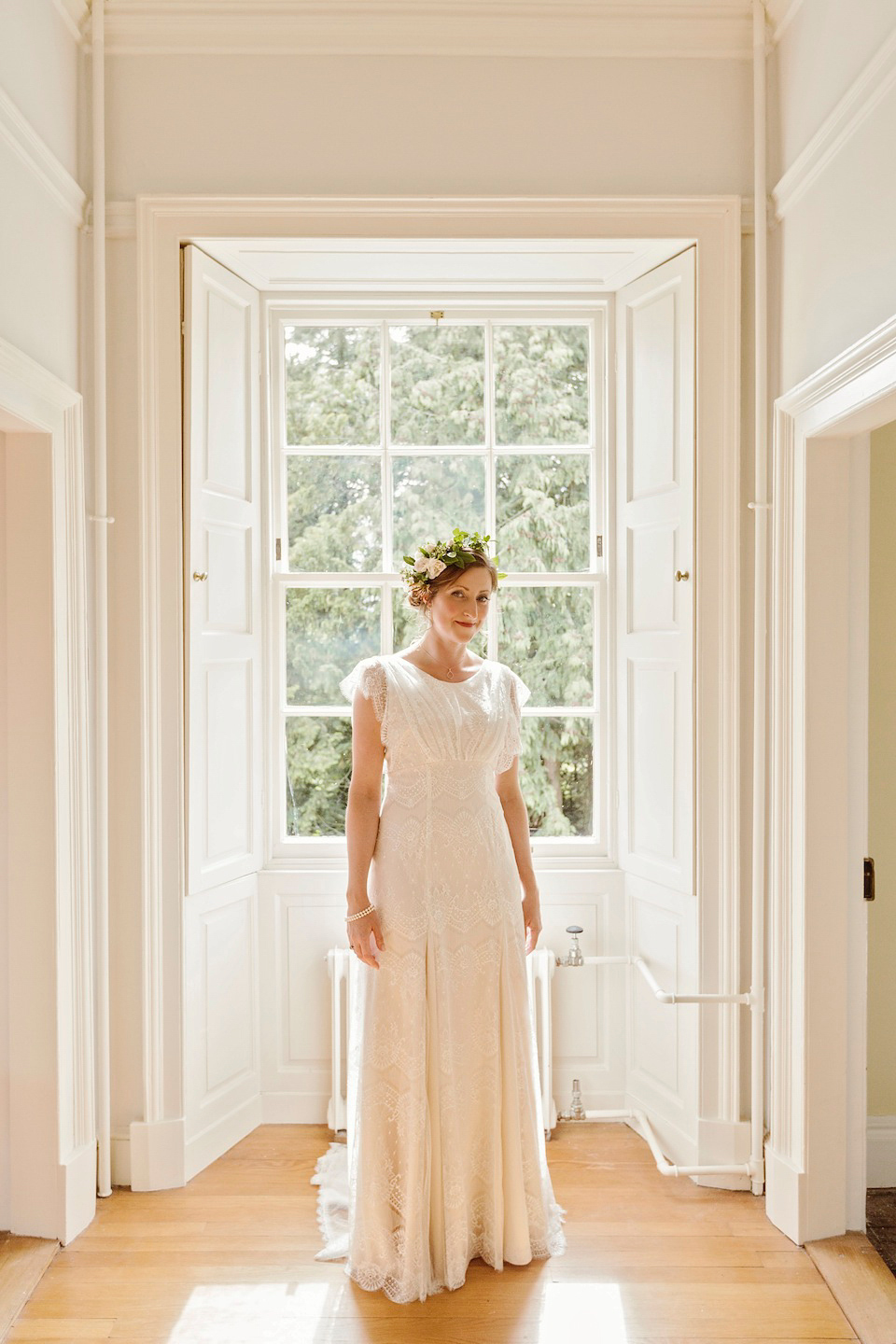 "Dave's kilt is his own in his family tartan (Ferguson) – I'm afraid he can't remember where it's from! His jacket and waistcoat are part of a bespoke 3-piece suit he had made by Tweed Addict in Hackney in Blue Donegal tweed. Nathan did a great job of cutting the jacket so that it fit with the kilt and sporran, but also looks great as part of a 3-piece suit. Dave's shirt is bespoke from Thomas Pink, the navy silk knitted tie from Suit Supply, the pocket square from Reiss, 'Ghillie' brogues by Cheaney Shoes and his granddad's cufflinks. Can you tell I've married a bit of a peacock? Dave planned his outfit almost as meticulously as I did!
The groomsmen wore either their own kilts or hired them from McCalls Highlandwear in Edinburgh. They paired them with Harris Tweed waistcoats from Next and pocket squares and knitted ties from Reiss."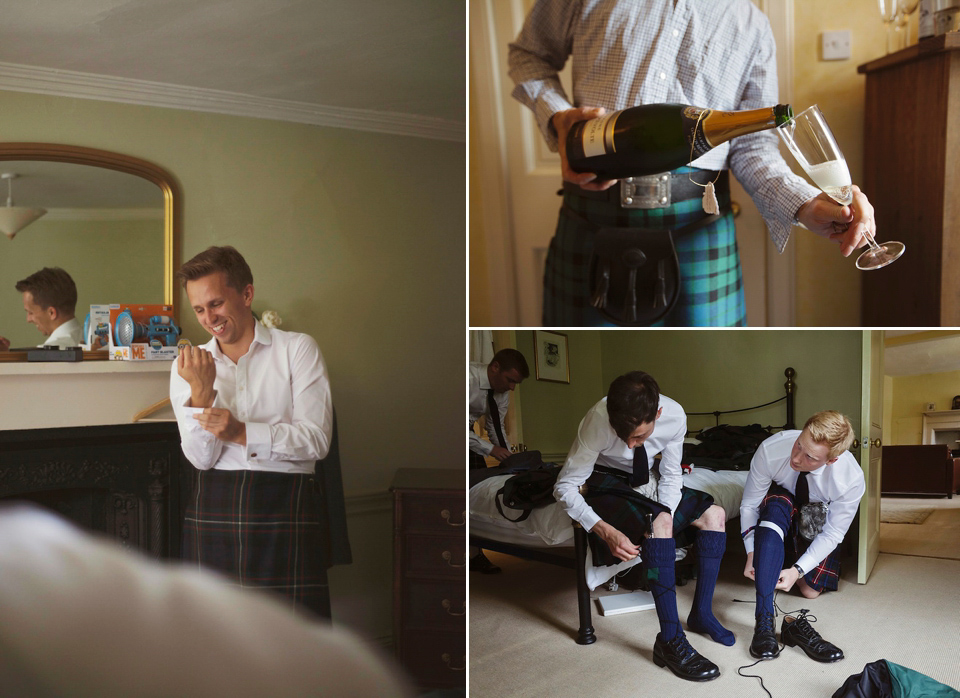 I just adore the picture of the tiny tot in his little red tartan kilt and sporran – too cute! The flower girl donned a pretty Monsoon frock and Amy adds a note explaining the reason for the frown on her sweet little face.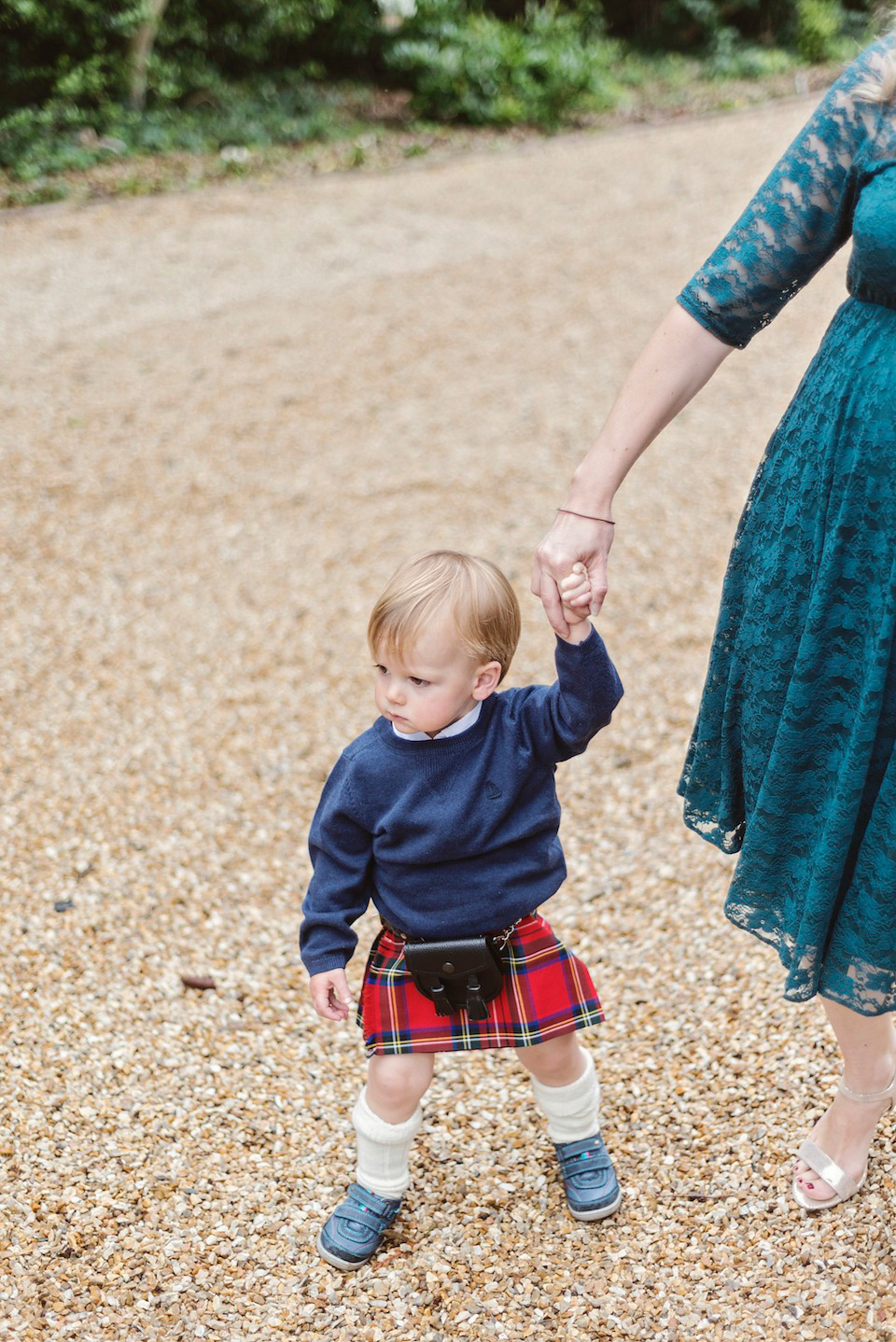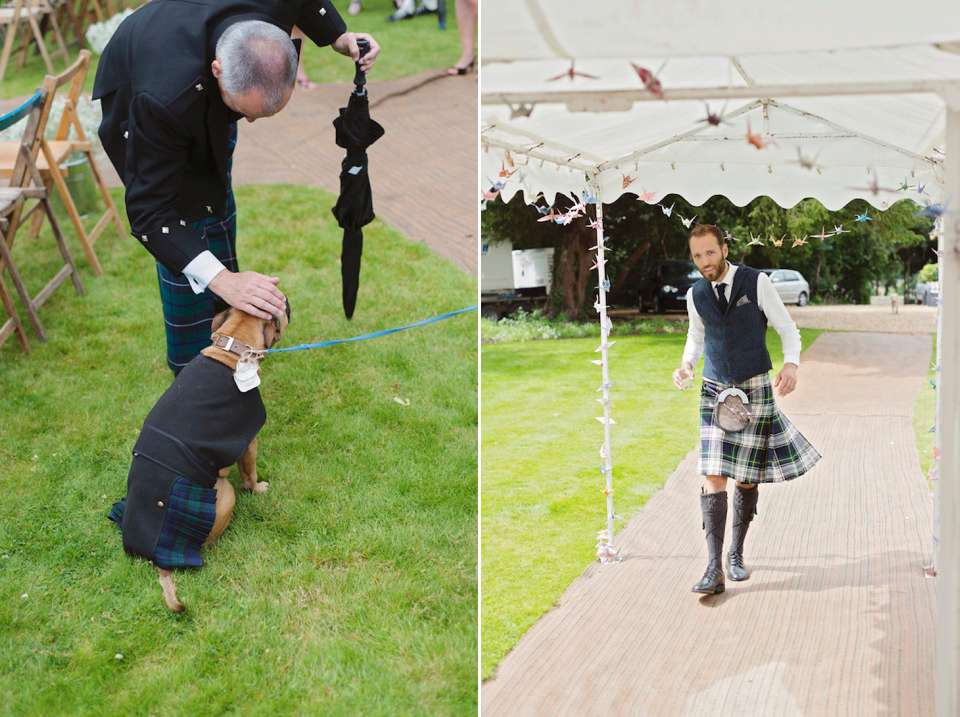 "Dave and I met via the Guardian Soulmates website in 2010. We had both had a few dates that had ranged from average to borderline disastrous and were a bit weary of the process, but gave things another go and found ourselves getting on surprisingly well. Things took off from there and three and a half years later Dave proposed whilst we were on a trip to the Lakes District celebrating our joint 30th birthdays. 
He suggested that we go for a walk around the Lakes, which I was somewhat unenthusiastic about on a grey and drizzly day. He was rather insistent about it, and so off we went. We finally reached a pretty viewpoint, but a lone Japanese tourist hampered Dave's plans with a giant camera that had 80's guitar solos blaring out from his phone! When he eventually wandered on, I asked Dave if he had any water in his backpack, and he knelt down to look in his bag, and turned back to me with ring in hand, and said 'I don't have any water, but I do have this!'"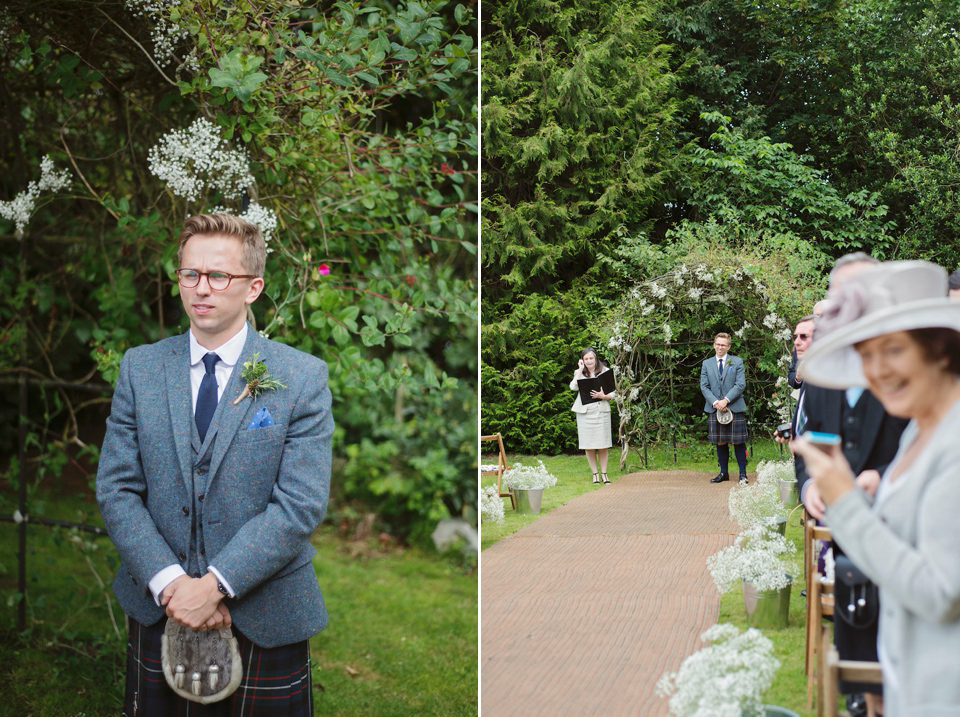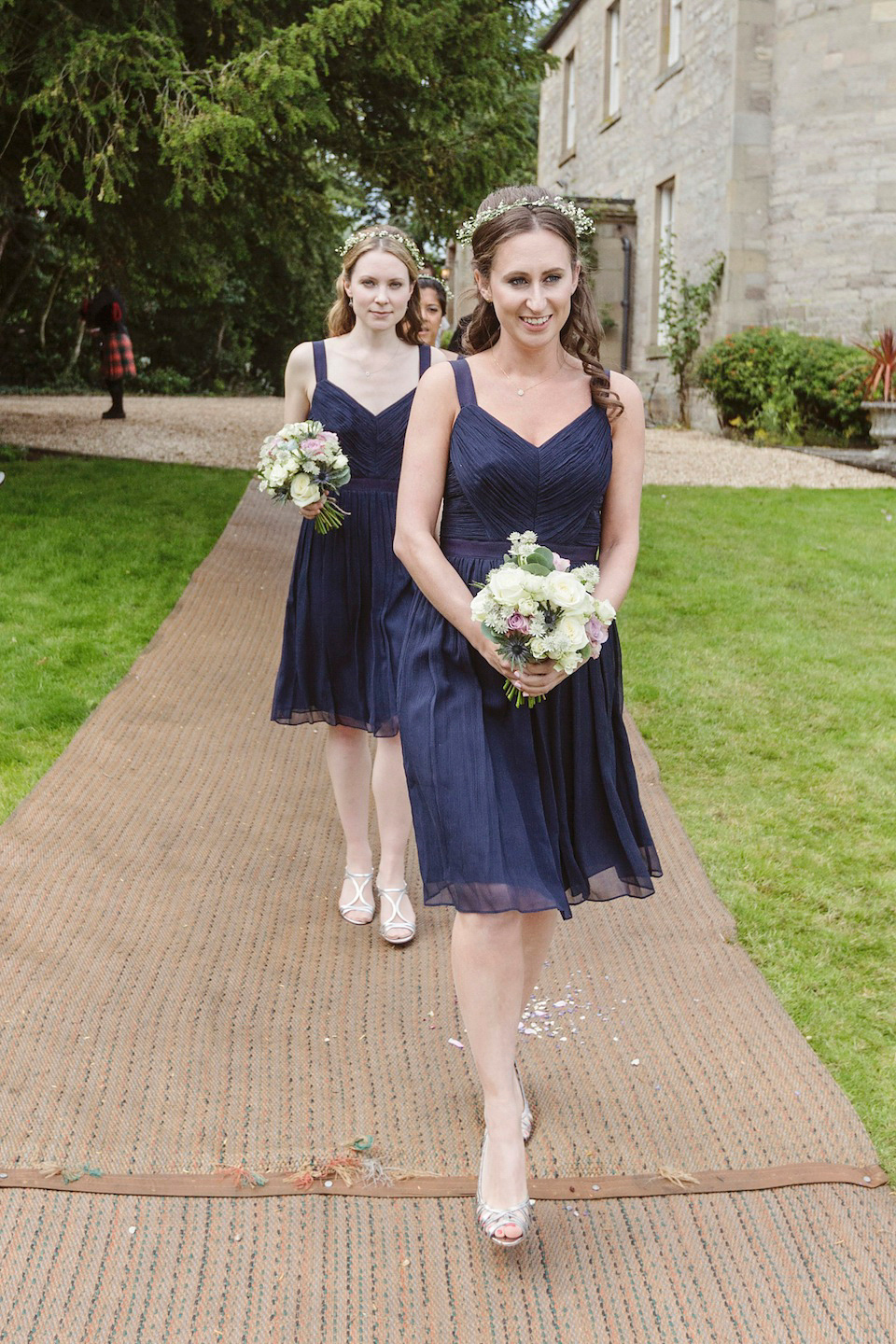 "My Dad walked me down the aisle. We had a minor scuffle at the end of the aisle when he tried to properly 'give me away' by putting my hand into David's, which I wasn't at all prepared for and I told him off! I thought that I had been very clear that I didn't want to be 'given' but we obviously had different ideas about what that meant.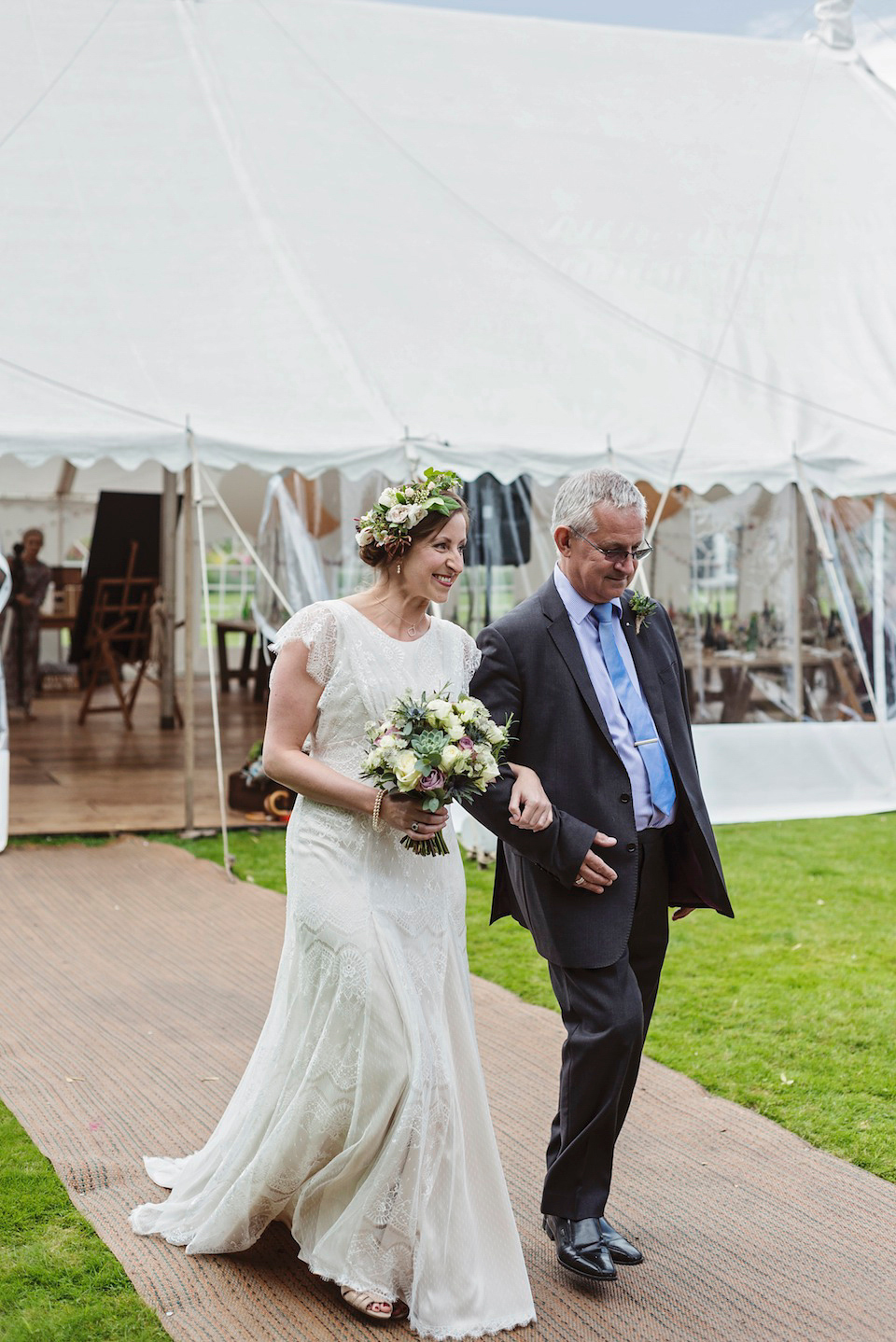 "The quartet played 'J'y suis jamais alle' from the Amelie soundtrack. I had kept it a secret from Dave as a surprise, as it's his favourite film. However, in his anxious state, he mistook it for the theme tune from Game of Thrones (so romantic) for the first few bars!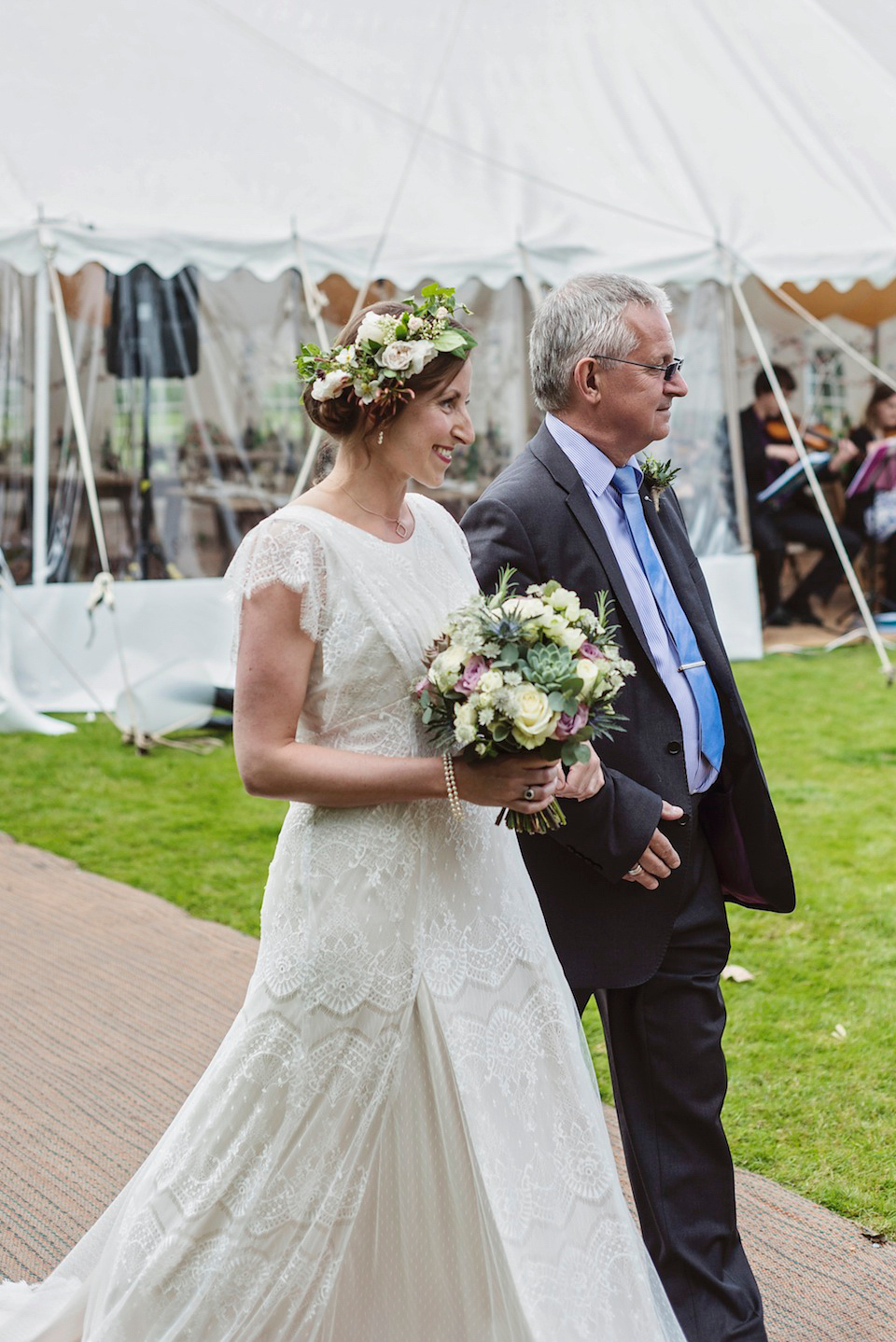 "The flower girl, David's niece Charlie, was poorly on the day of the wedding – she was a real trooper and managed to do her duties but was definitely not going to smile … resulting in hilarious pictures!"
"My engagement ring was David's grandmother's – it's a beautiful 1940's sapphire surrounded by diamonds and I'm in love with it! Our wedding rings were from Anthony Gray. They were very accommodating and went the extra mile for us, particularly as I needed my ring shaped to fit around my engagement ring."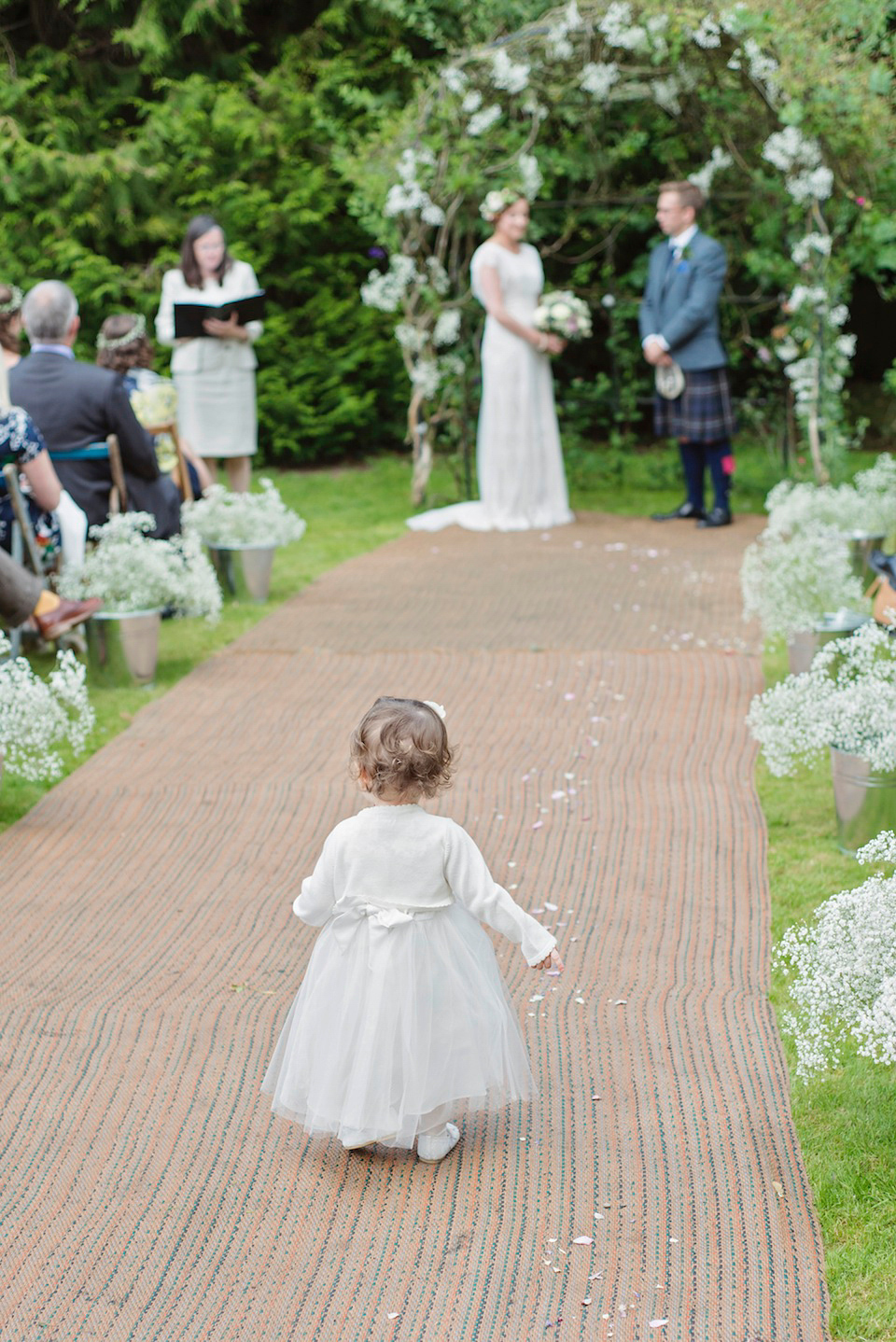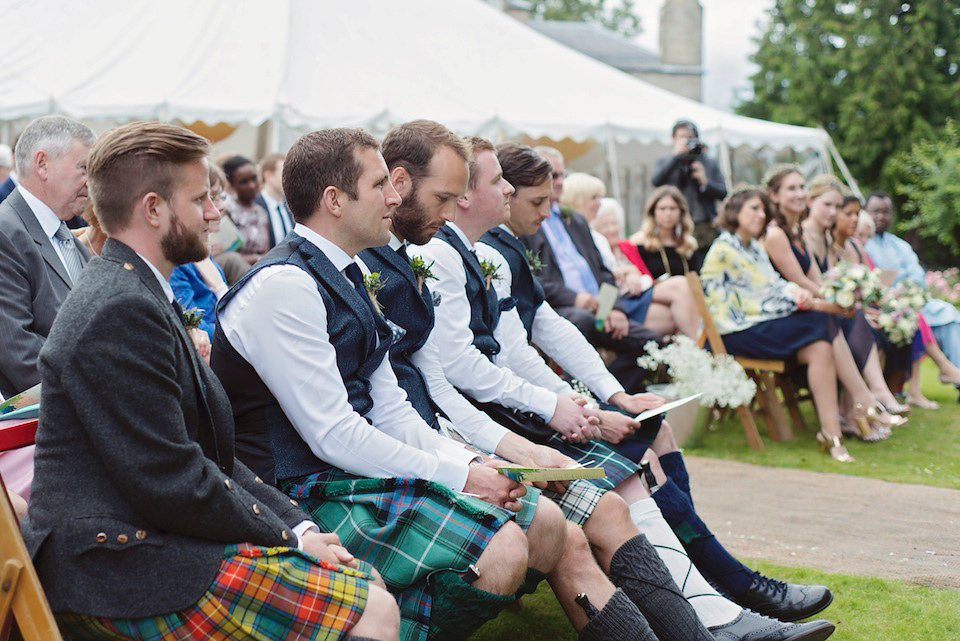 "Neither of us is religious at all, so a humanist ceremony was perfect for us. Because the ceremony is so personal, we actually kept our vows quite simple and traditional, and I quite liked saying words that I knew had been said by millions of people who have made the same commitment… there is a bit of gravitas to it, I suppose.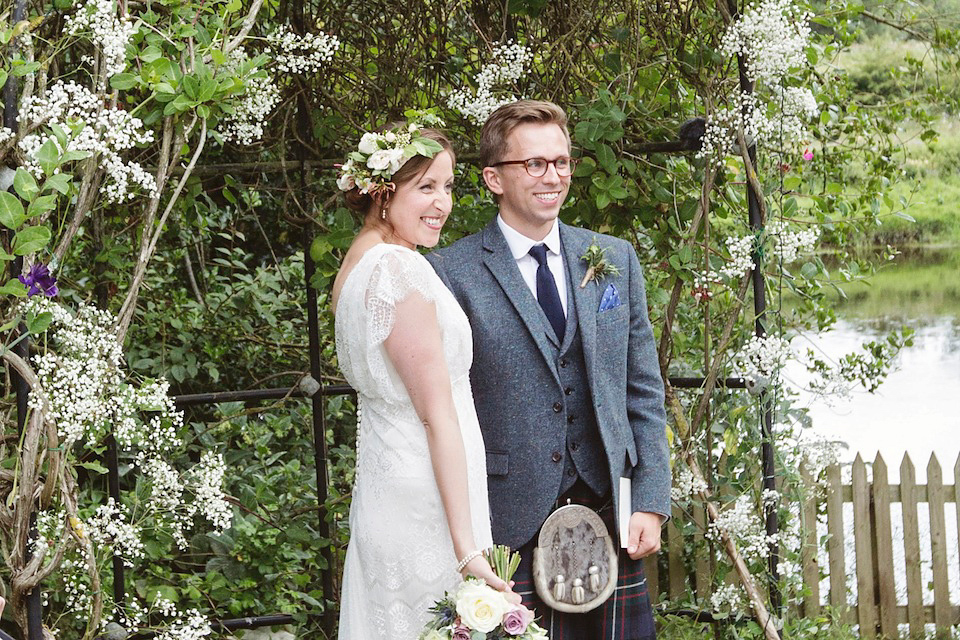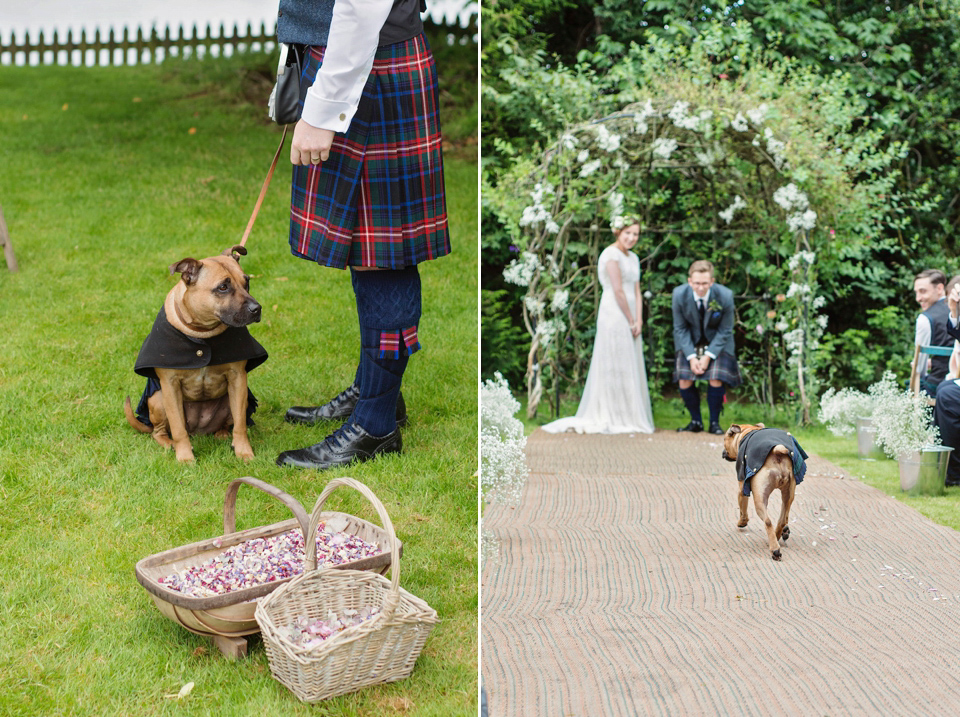 "Outside of the vows, Laura, our brilliant celebrant from the Humanist Fellowship of Scotland, did an amazing job of telling 'Our Story' – we had a long Skype chat with her when she just asked us about how we met and she told it like an old friend. We also each told Laura three things that we loved about each other in secret, which she read out on the day. I would highly recommend doing this – it's a really wonderful surprise on the day and was very emotional."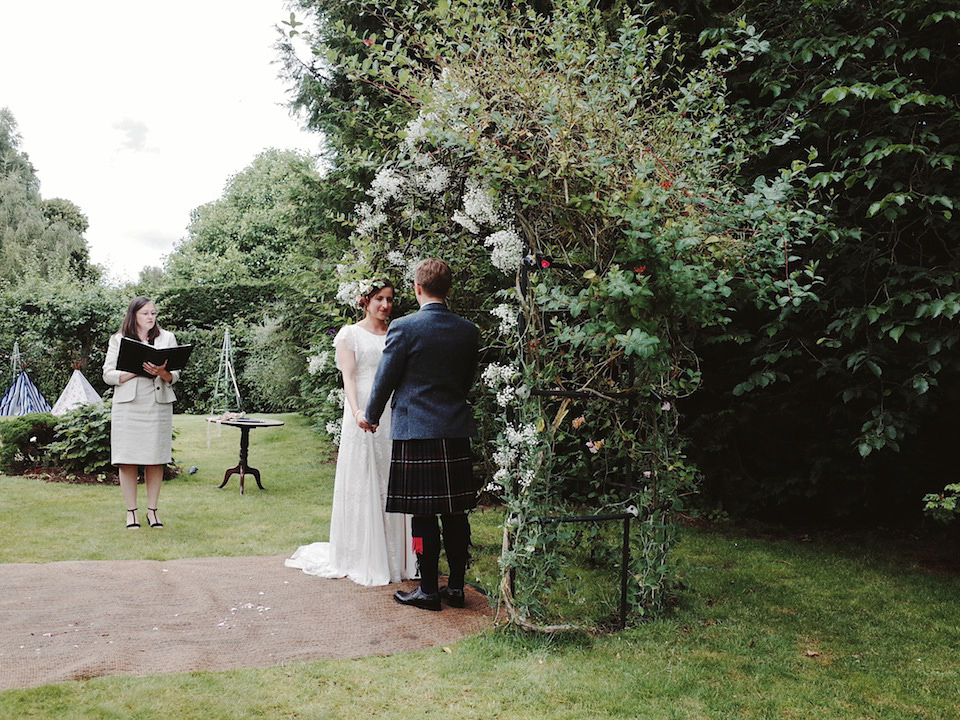 "We got a bit carried away and had 4 readings: 'I Wanna Be Yours' by John Cooper Clark, it's so quirky and a bit tongue in cheek, and 'The Confirmation' by Edwin Muir – David picked this one out for me and it really gets me. We also had an extract from 'The Velveteen Rabbit' by Margery Williams, and 'The Blessing of the Hands', which was read by Dave's dad and my stepdad as we had our hand fasting.
I first saw this on Love My Dress, and it's such an amazing sentiment, and it was great for my stepdad and the father of the groom to have a role in the ceremony."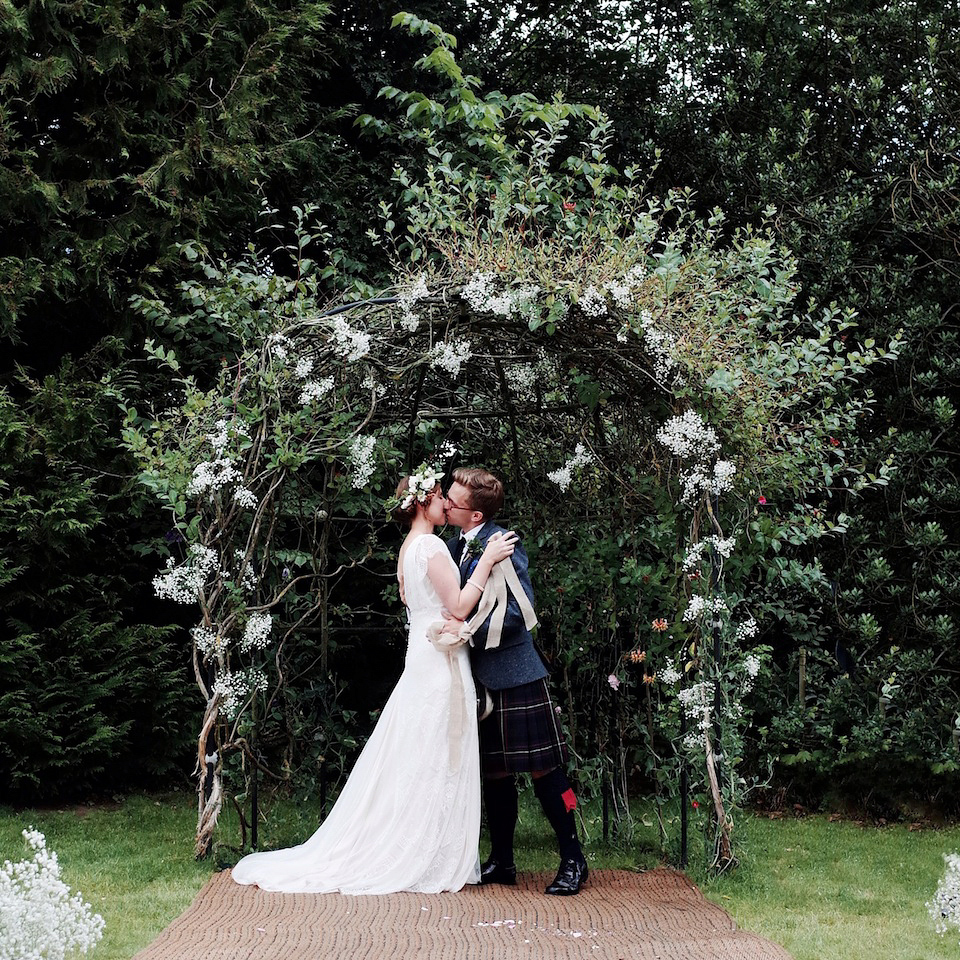 "And then we sang a song! We had a big old sing-a-long to 'Bring Me Sunshine' (otherwise known as the Morecambe and Wise theme song). It was brilliant – I was terrified no-one would sing but everyone really went for it and it sounded great."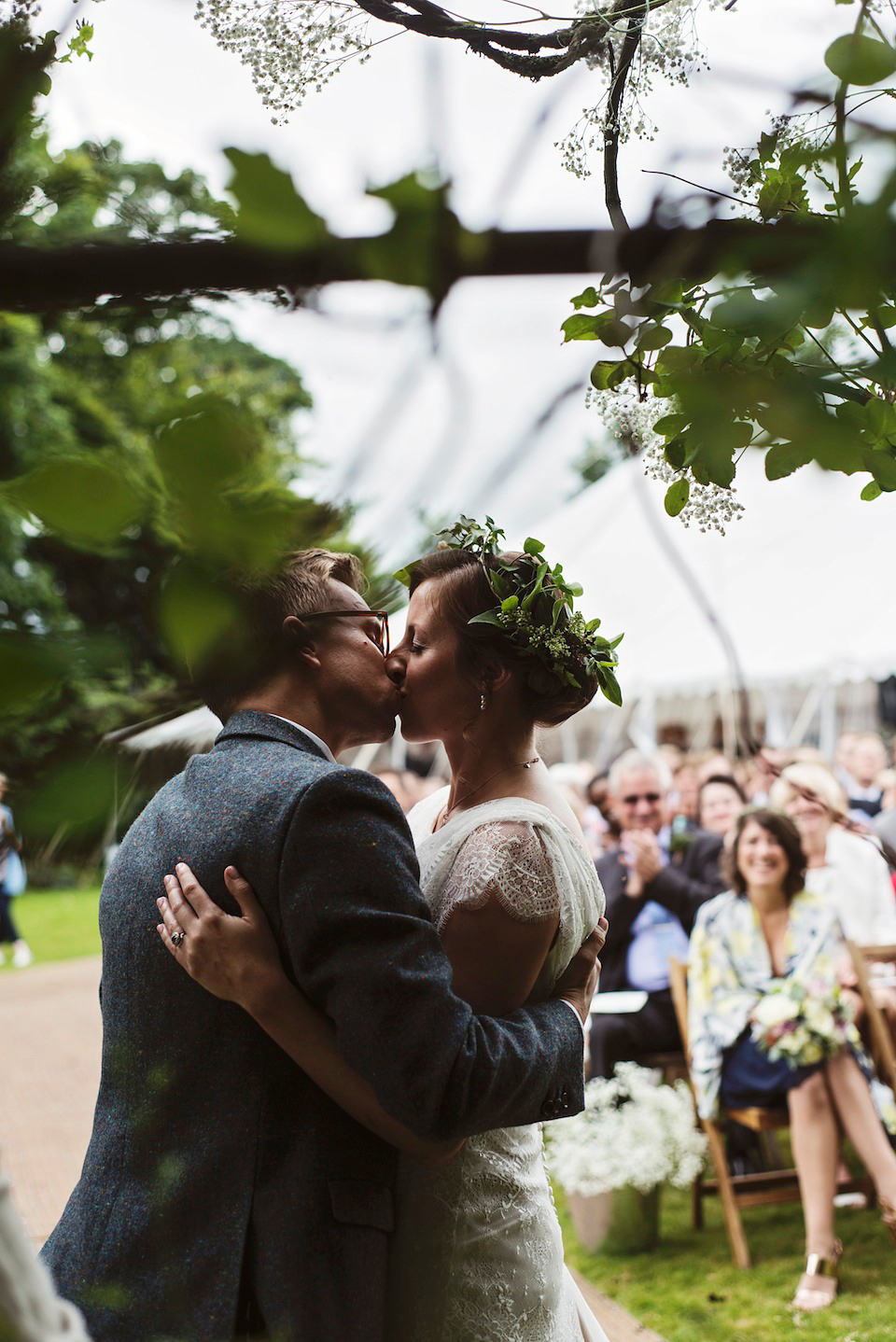 "Also, it had rained almost all morning, and we had taken a massive chance having the ceremony outside – the weather held through the whole ceremony but right towards the end of the song there were a few splashes of rain and then about a minute afterwards the heavens opened!"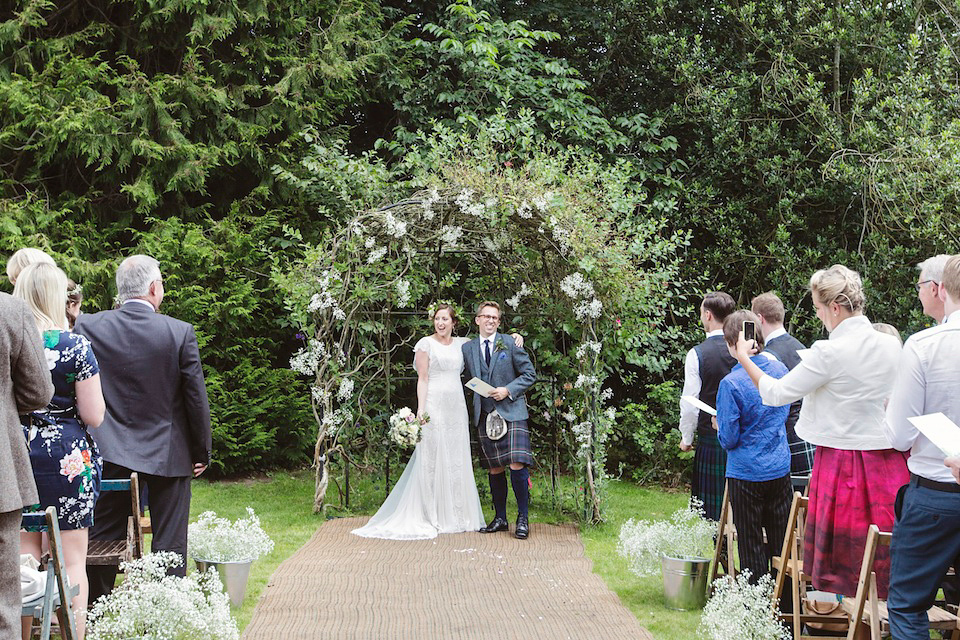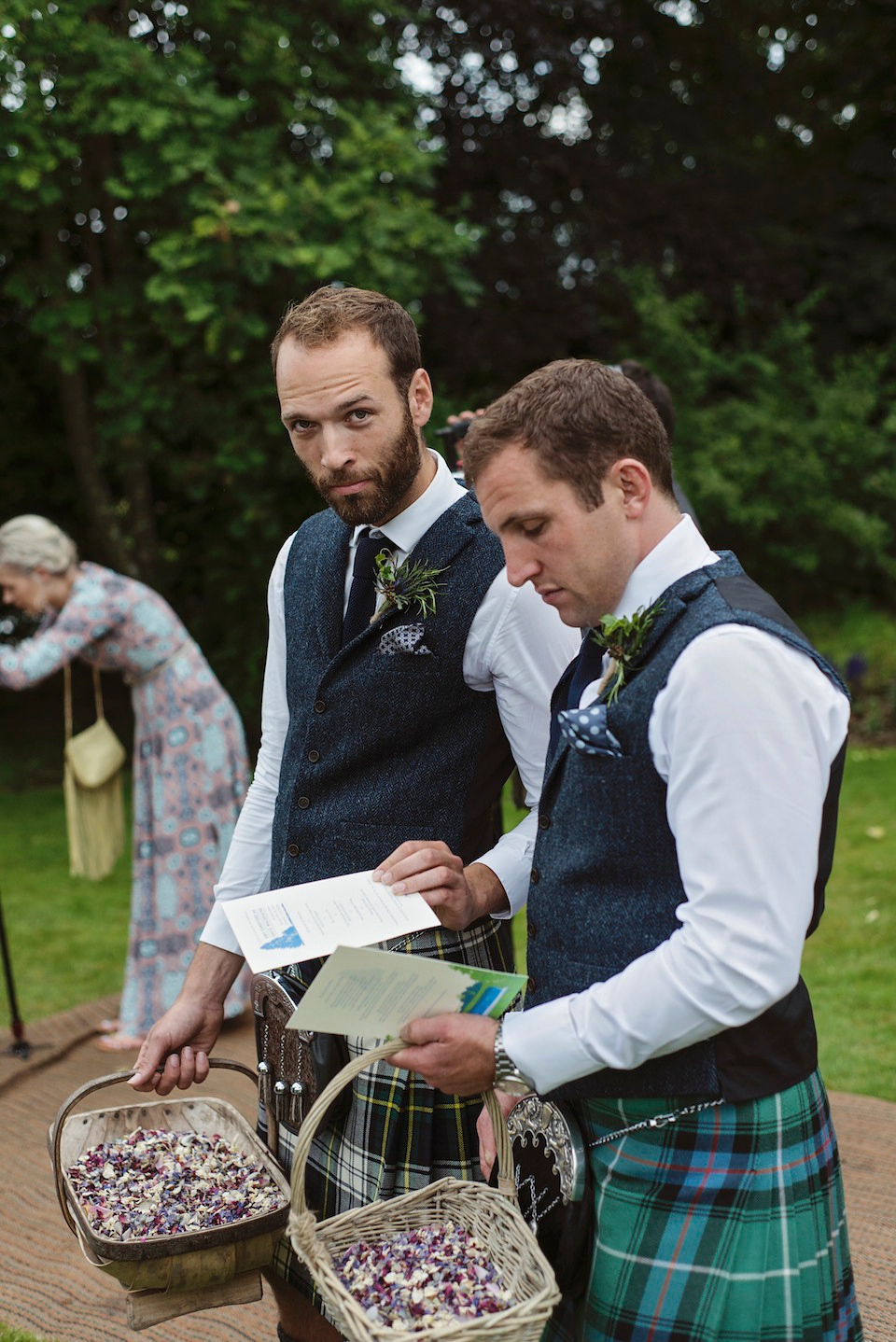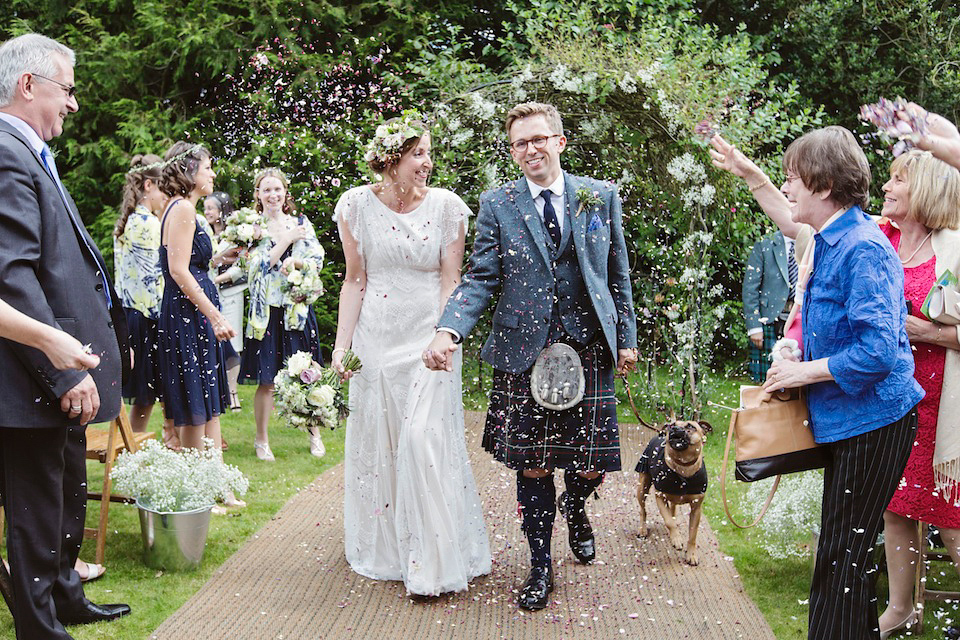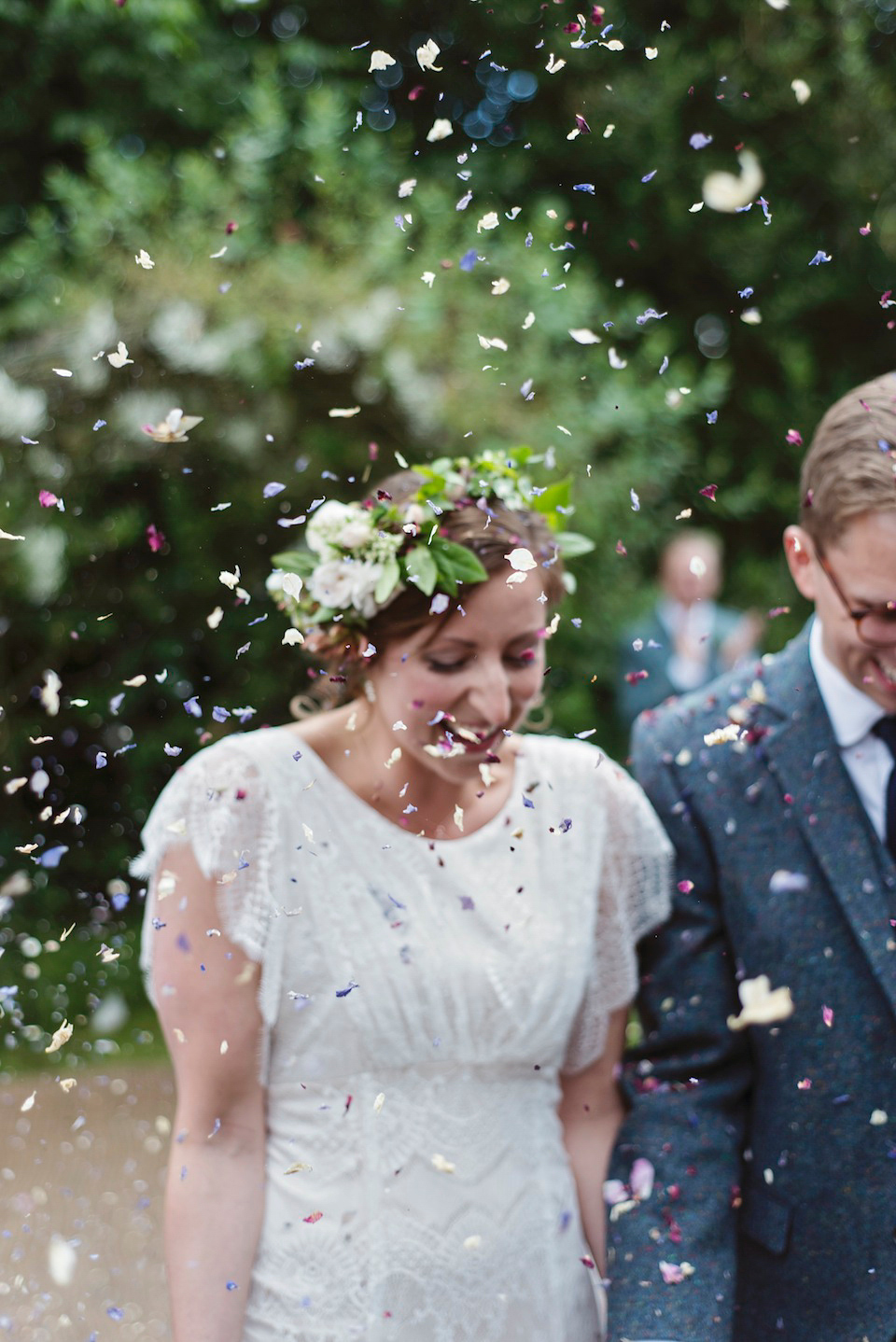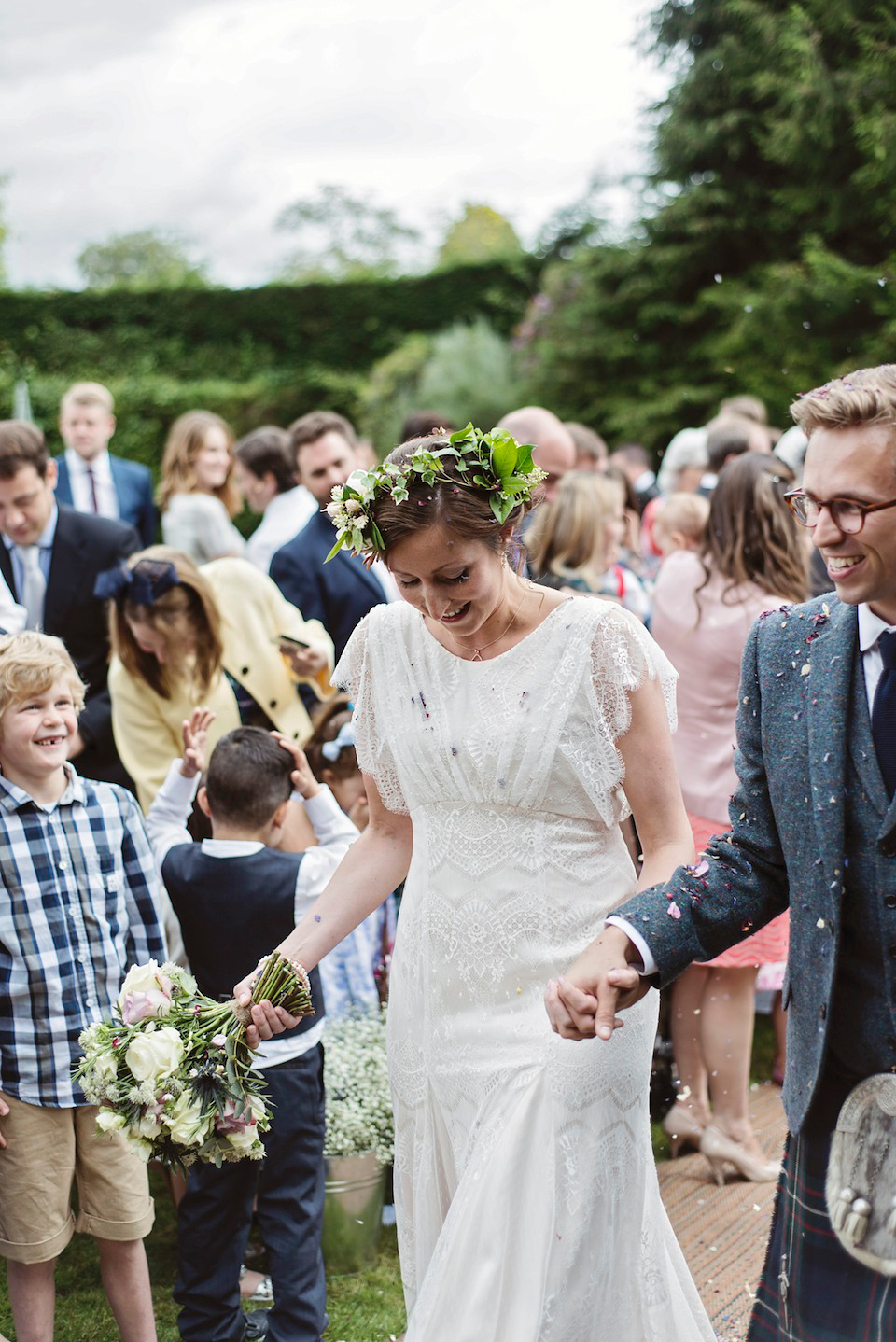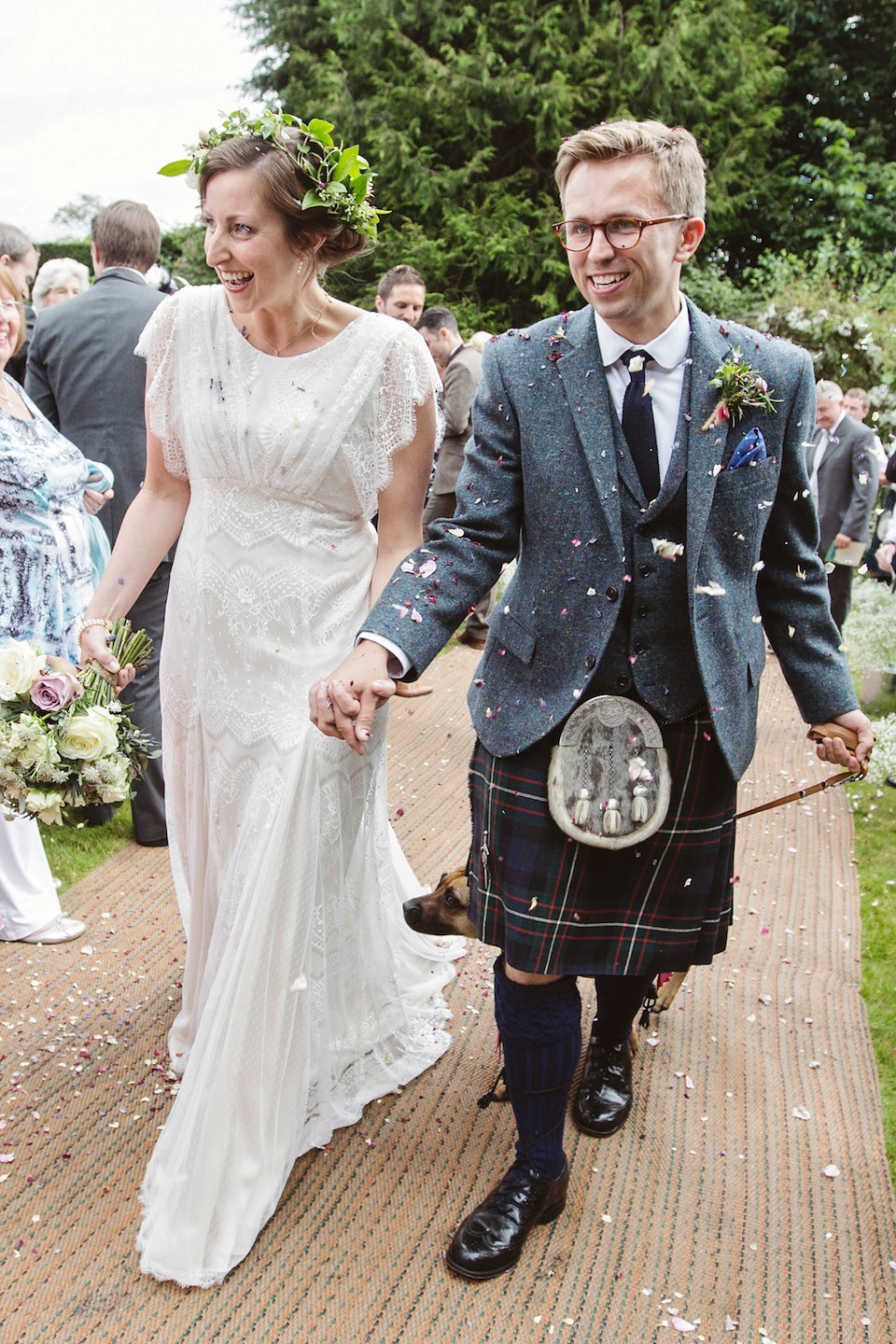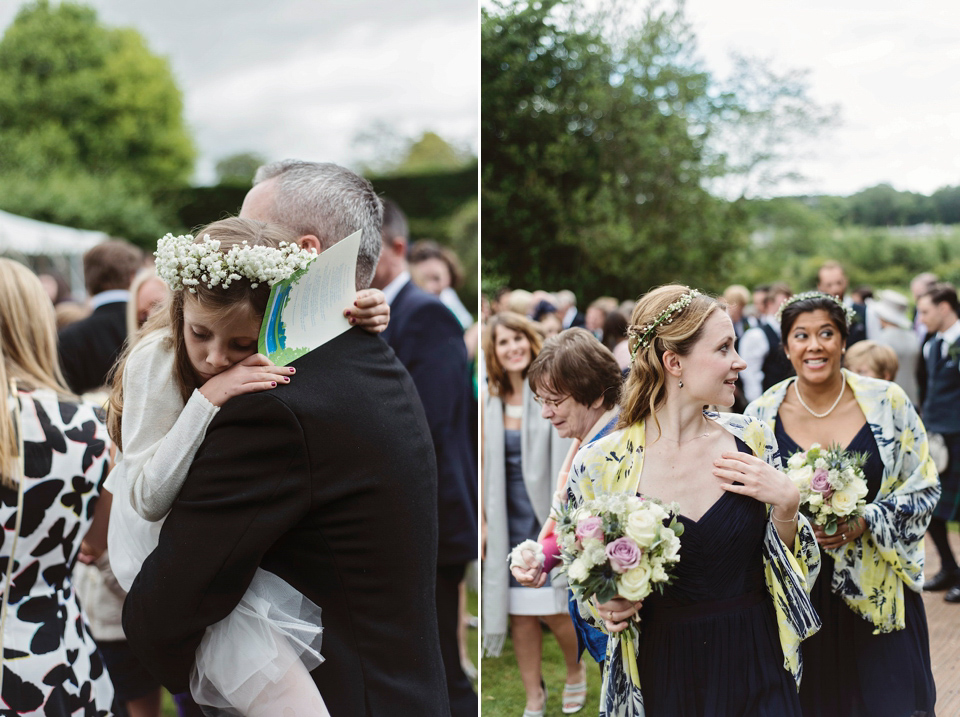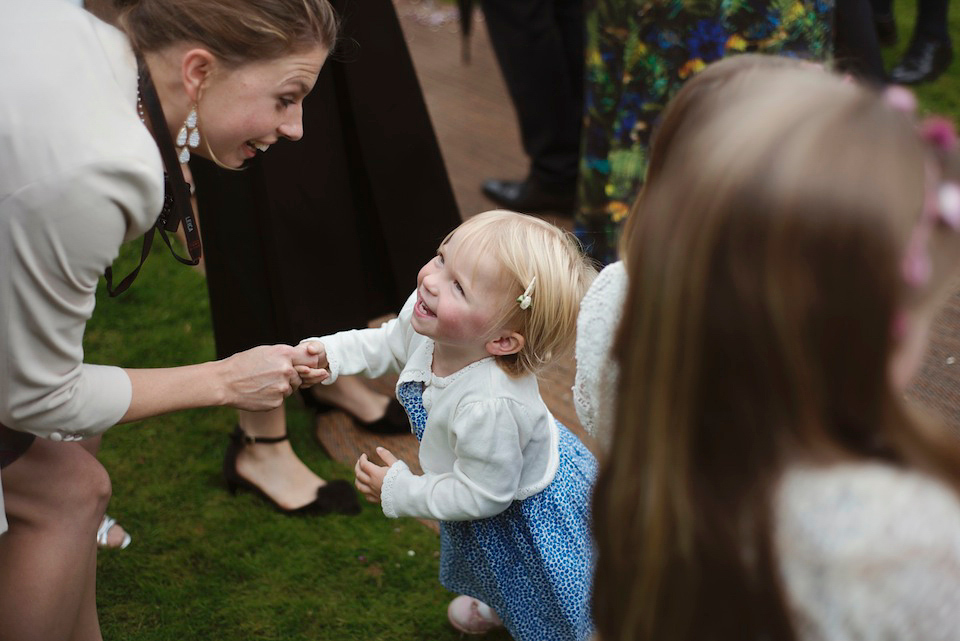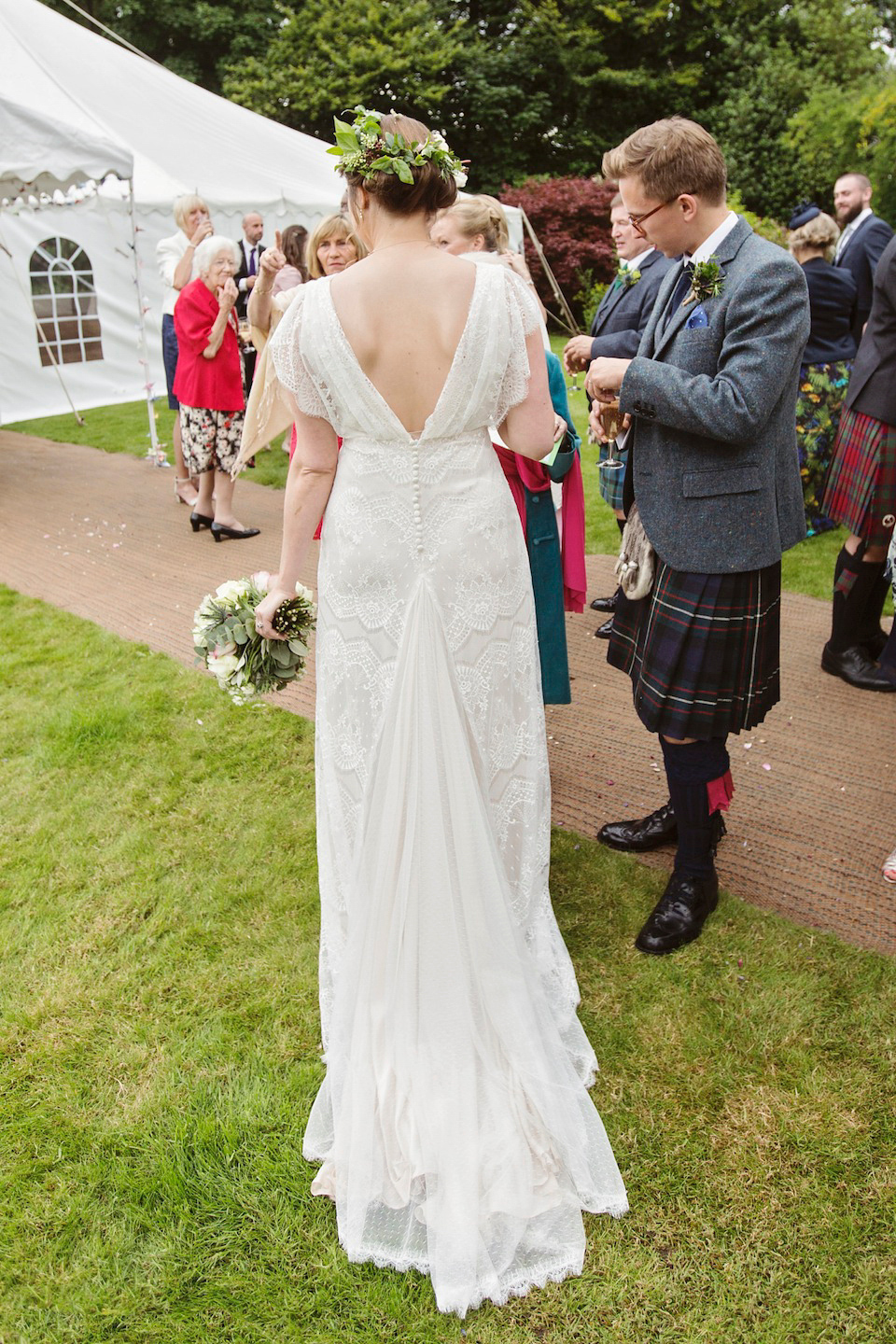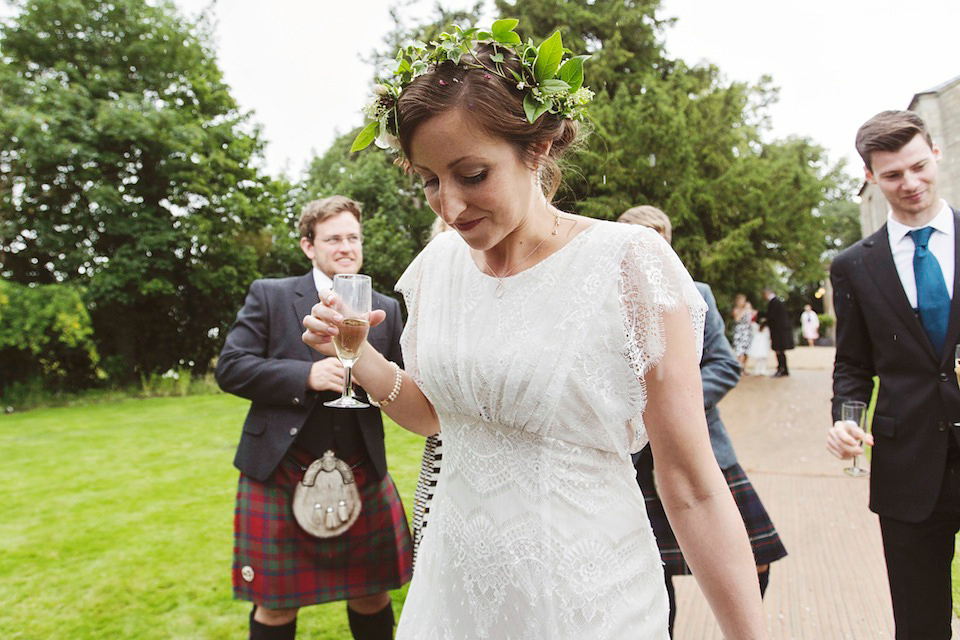 "Our pictures were taken by my gorgeous step-sister Agnes Lloyd-Platt and her handsome man partner Jack Davison, who are both incredibly talented photographers. Hannah and Dan of Dan Dolan Films were also amazing – they captured our day so perfectly without being at all intrusive and are so lovely and easy to be around. I still cry when I watch the video (even after about 50 views)!"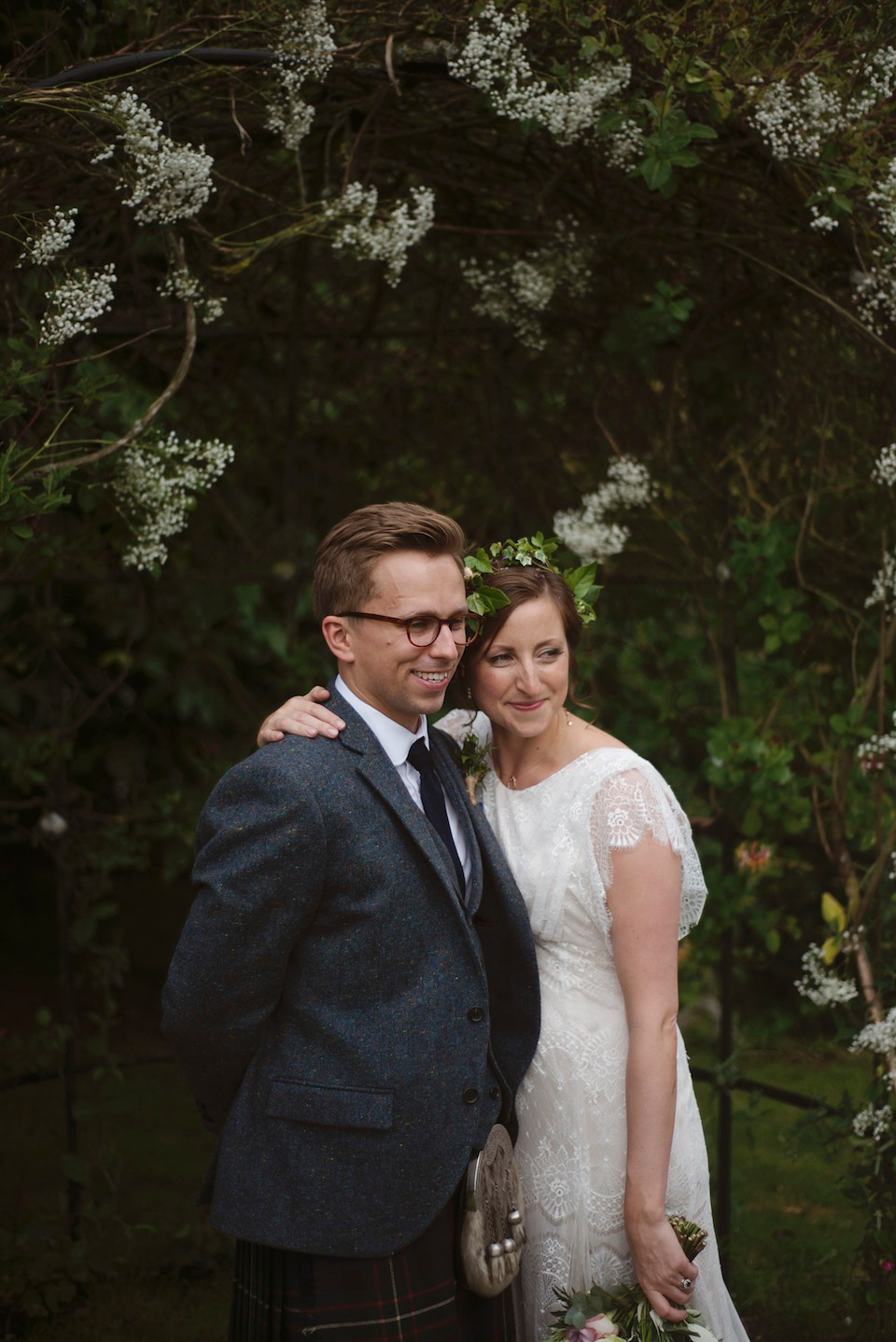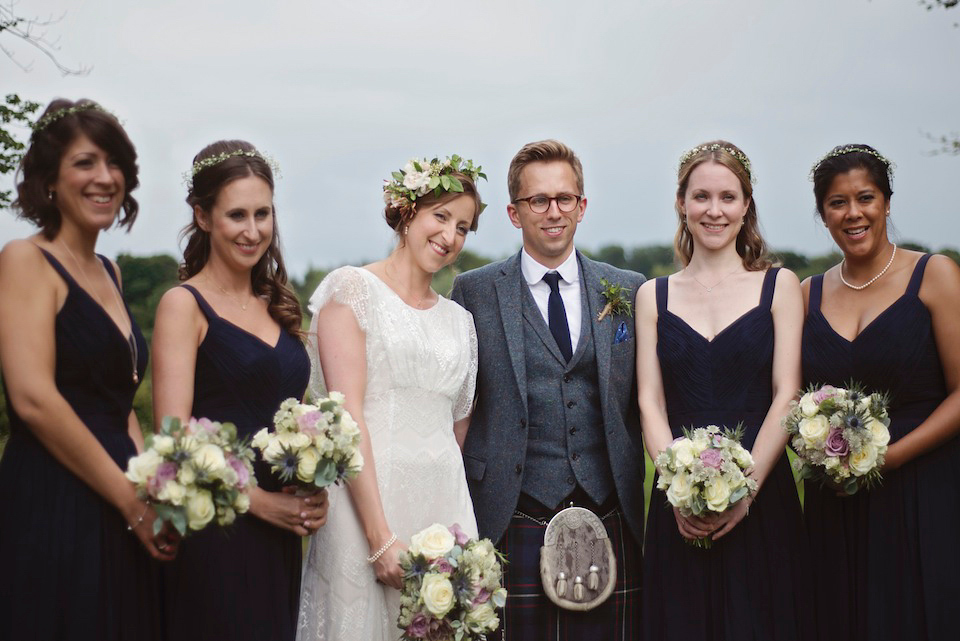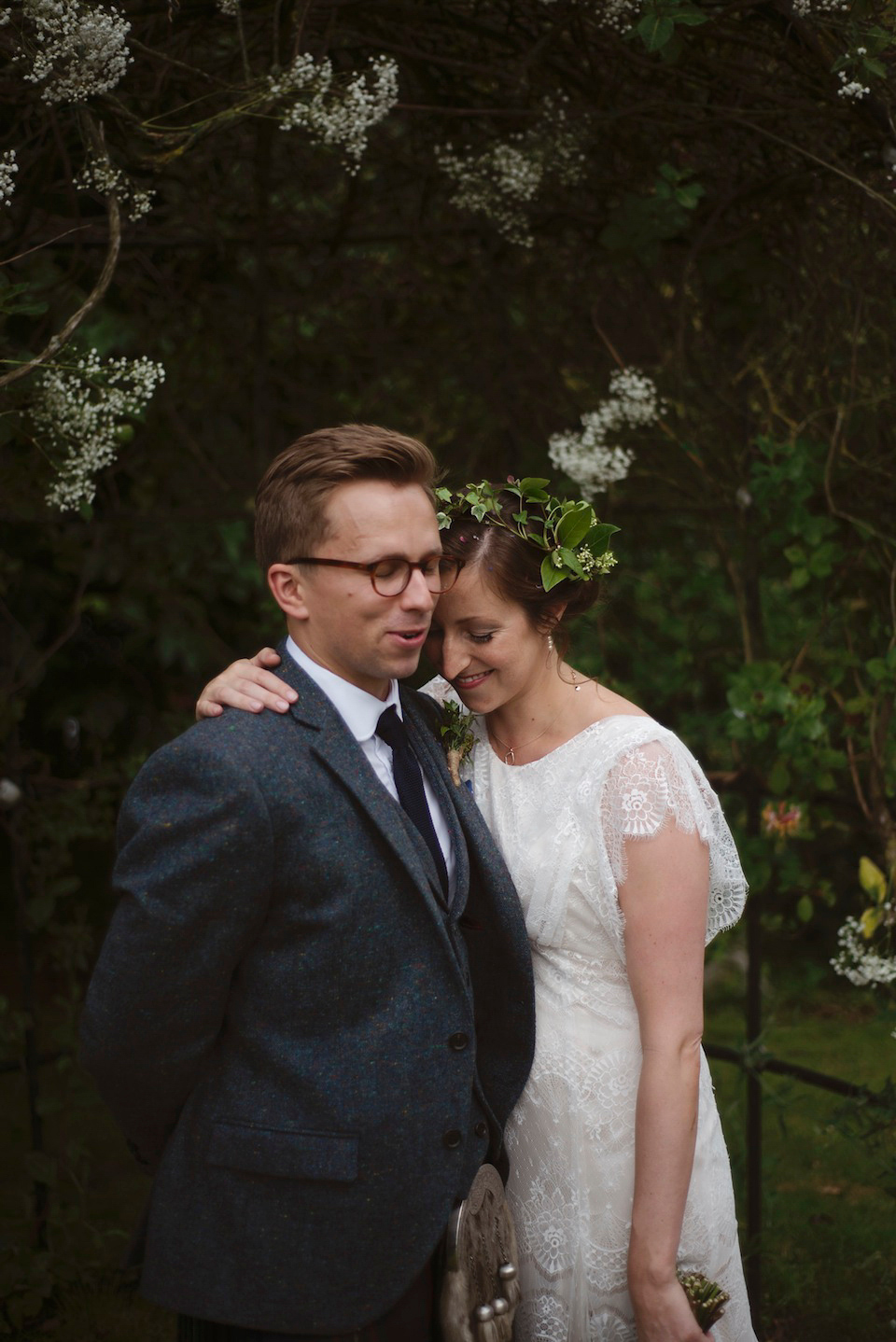 The sensational blooms were a combination of the work of a florist and homegrown flowers from the garden.
"Lyndsey from Get Knotted did my floral crown, bouquets and buttonholes. She got my very vague brief for muted soft colours, roses, thistles and some succulents perfectly.
My mum did all the flowers for the marquee – grown from seed in the back garden!"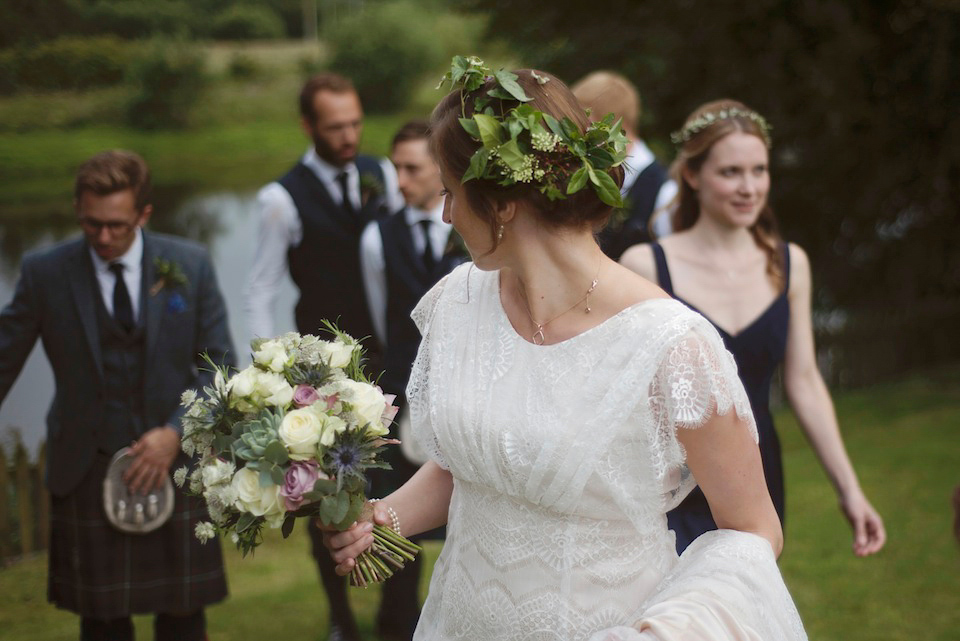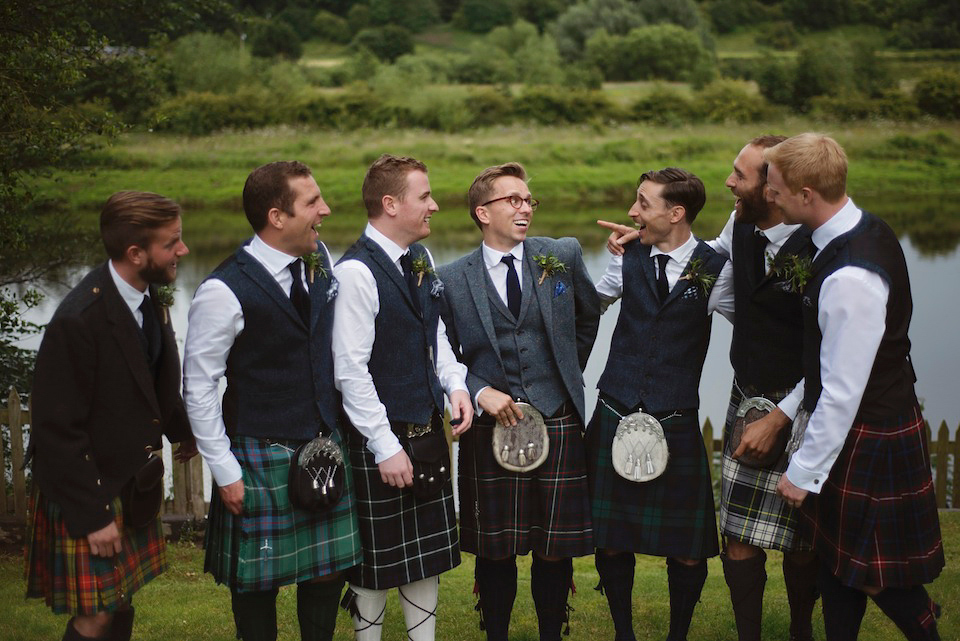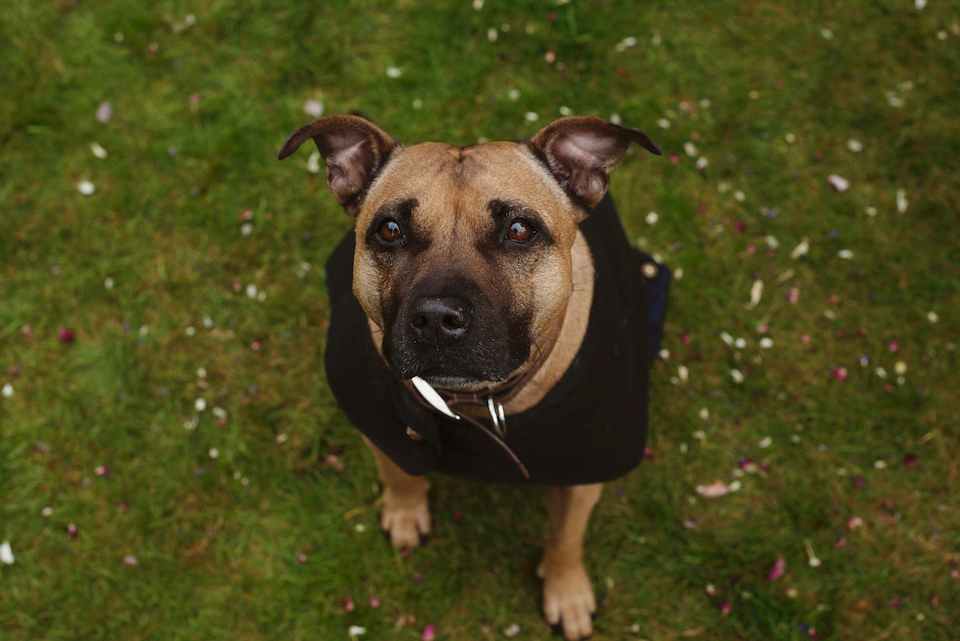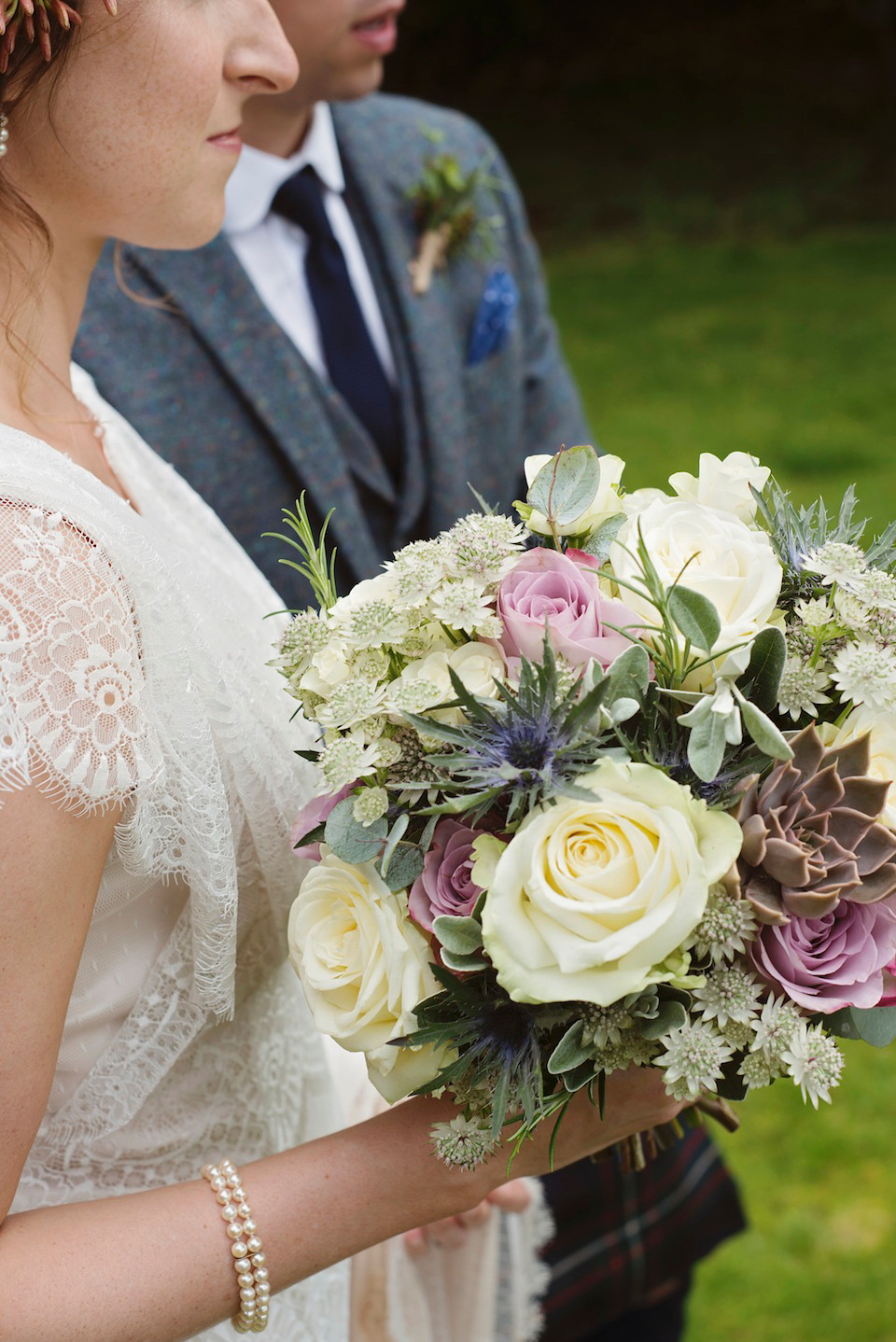 "For the ceremony and drinks reception, we had Erskine String Quartet and in the evening we had the amazing Corra, who did a brilliant mix between ceilidh and just absolutely banging tunes. The dancehall was packed at all times and so many people have commented on how brilliant they were since. I can't recommend them enough – they are total pros."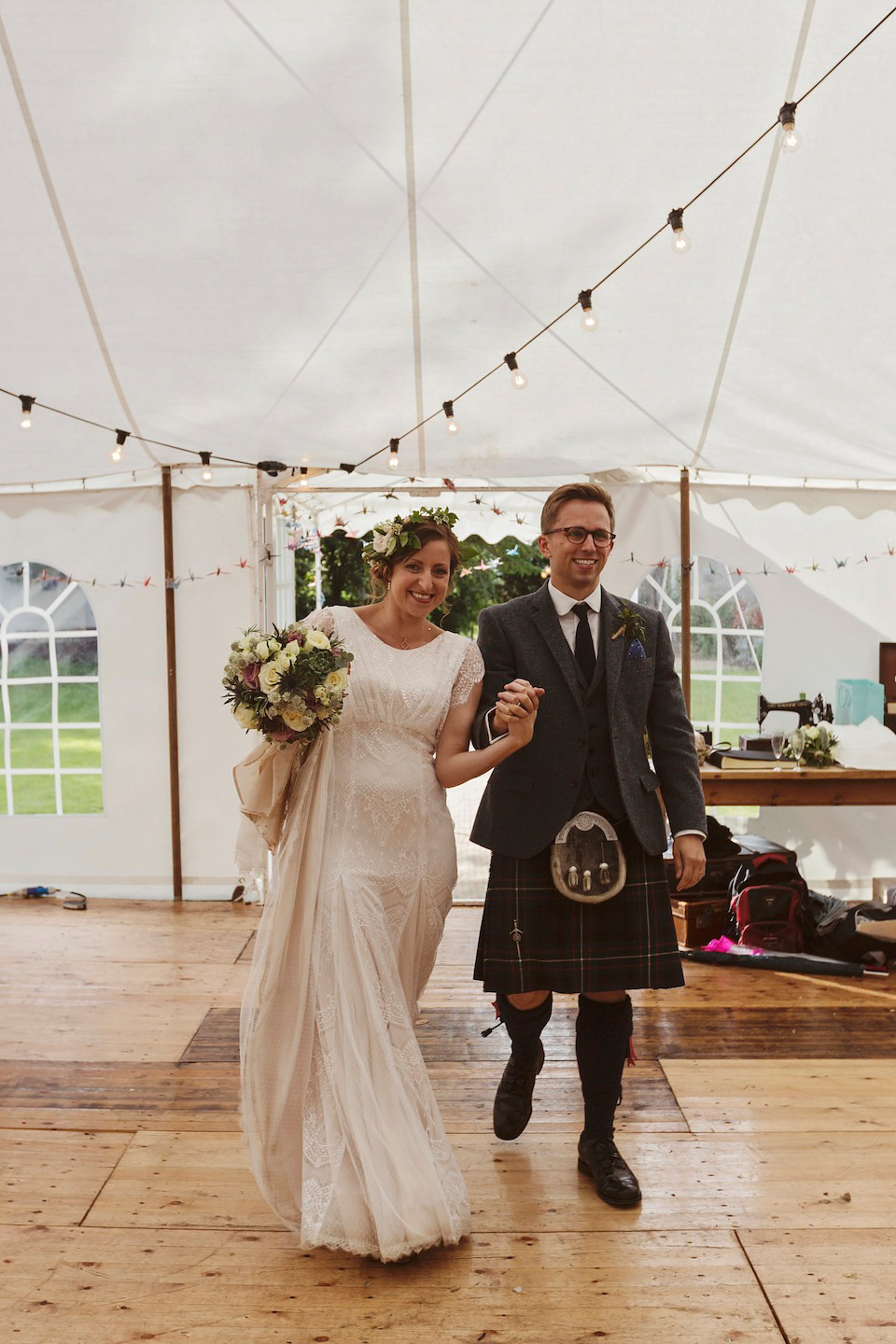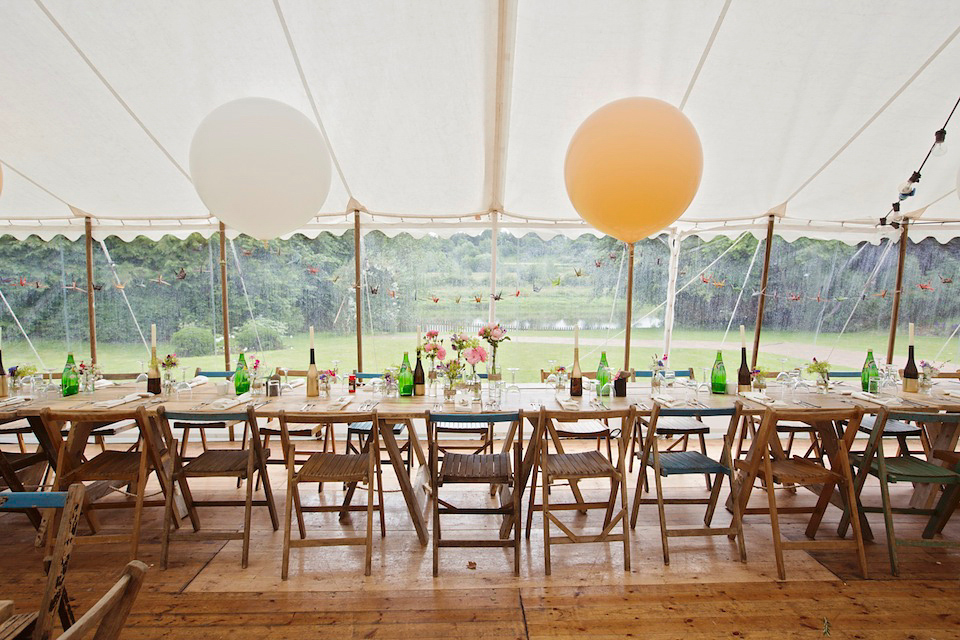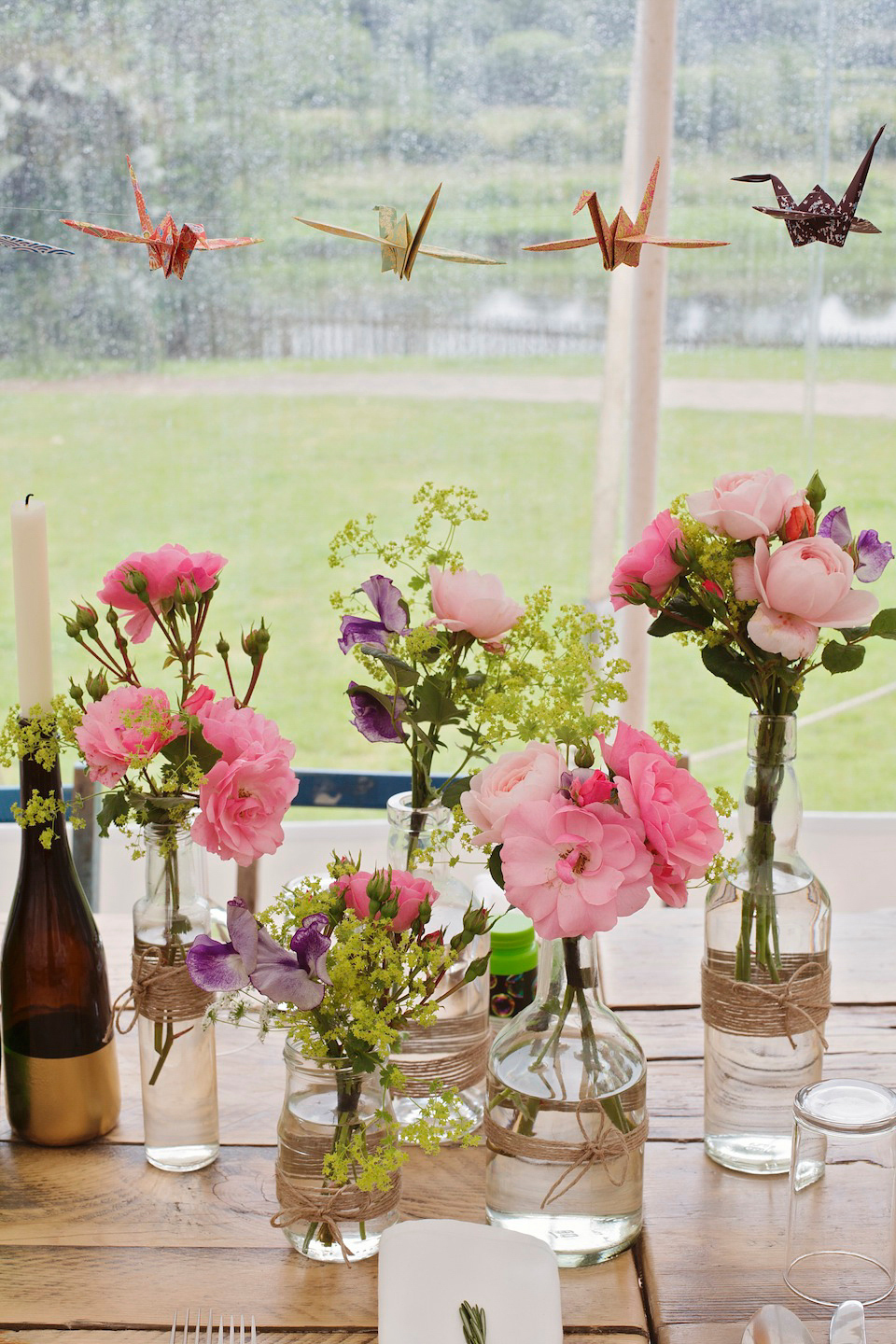 "My 95-year-old granny was horrified that we hadn't planned on giving out favours, and secretly made a massive quantity of tablet (insanely sweet Scottish sweetie, a bit like fudge, except if you eat more than 5 pieces your teeth start to hurt) which she boxed up for us and produced the day before!"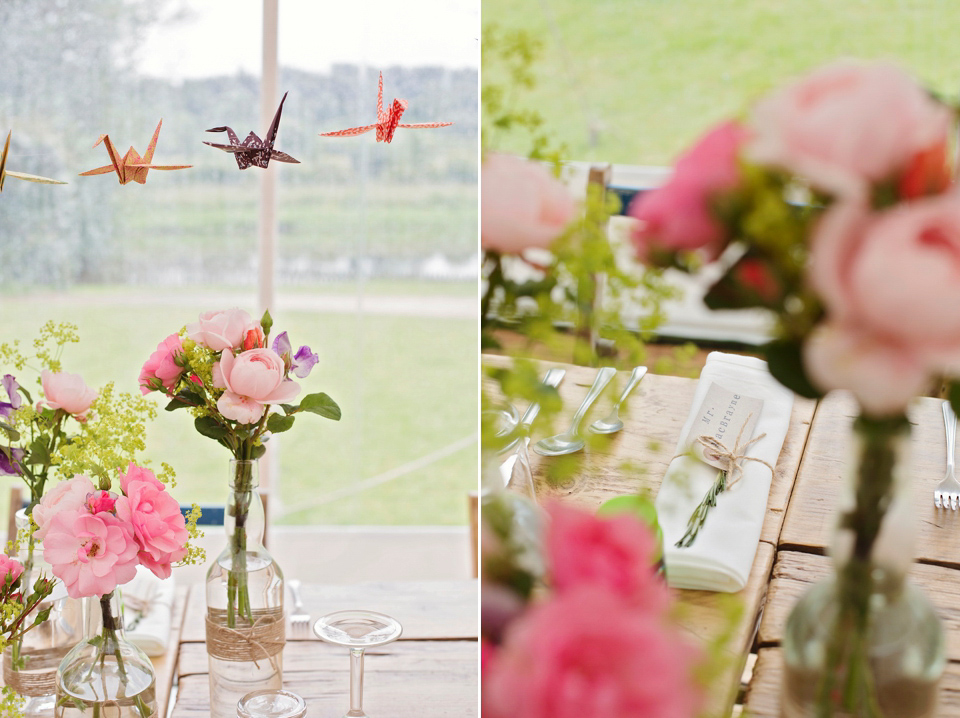 Amy's godfather, who works for a brewery, provided the beer and made personalised labels, so the couple gave 'Hoppily Ever After' wedding brew as favours – and her granny also got crafty making treats for the guests, what a sweetheart!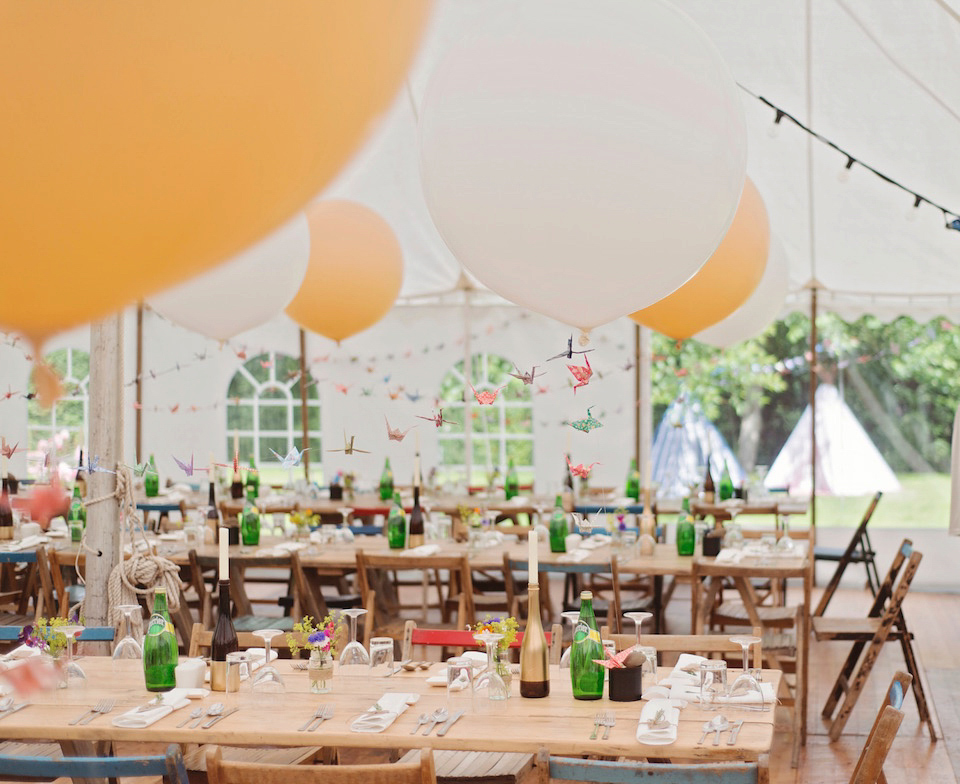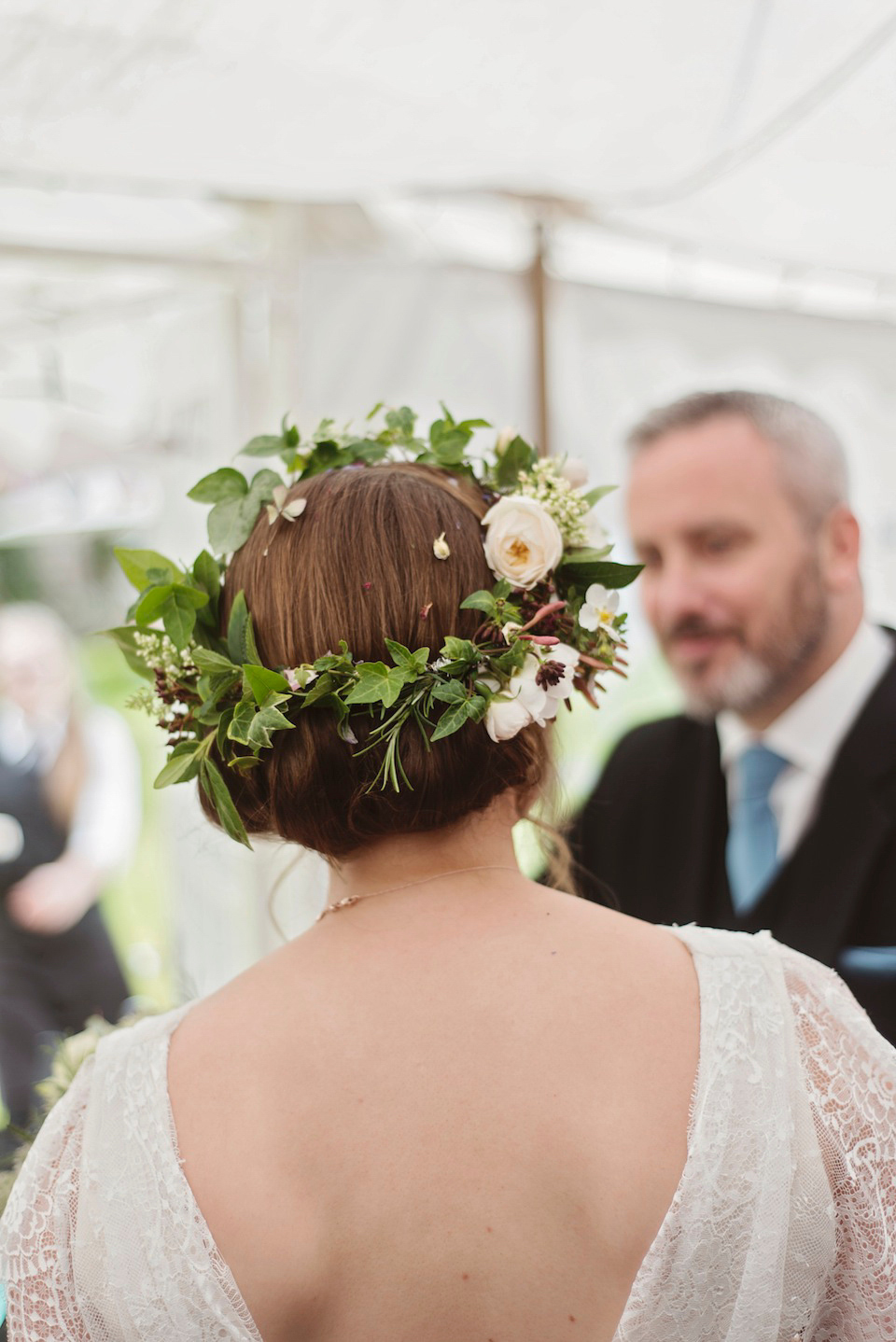 "The Orde Food Company catered and I cannot rate Justin and his team highly enough. Justin went way above the call of duty to make sure the food was exactly what we wanted and it was delicious.
We had a big ol' cake o' cheese from The Cheese Shed. Their website is great – it allows you to 'build' the cake so you can see exactly how it looks and we really enjoyed testing all the samples of cheese to decide what we were going to have!"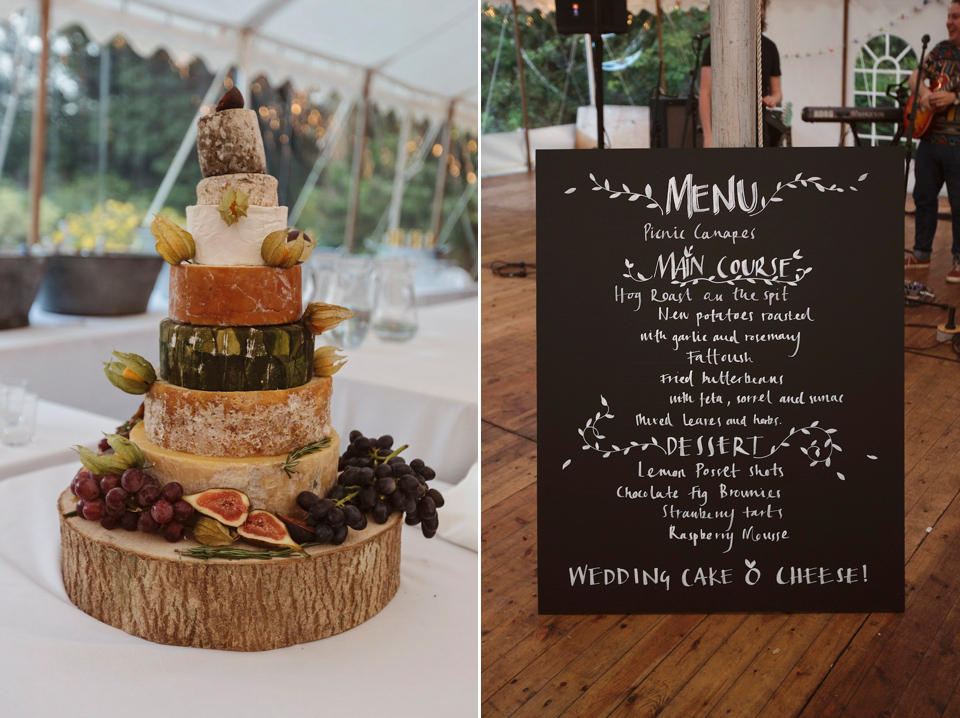 The decor was an eclectic mix of homemade and hired, with old cider bottles spray painted gold as candle holders, jam jars wrapped with the infamous twine to hold the homegrown flowers on the tables, giant balloons in white and blush, festoon lights from Arkwright Generators, banquet tables, chairs and easels from Virginia's Vintage Hire, plus loads of family heirlooms, such as old suitcases and sewing machine dotted around the marquee from Dave's granny. And the pièce de résistance – 1000 paper cranes.
"I made 1000 origami cranes out of loads of different patterned paper. I actually quite enjoyed folding the cranes – I just did it whenever we were sat in front of the telly and it was genuinely quite relaxing. Stringing them up, however, was not. It was incredibly boring and difficult and drove me, and all the people I made help me, completely bonkers!"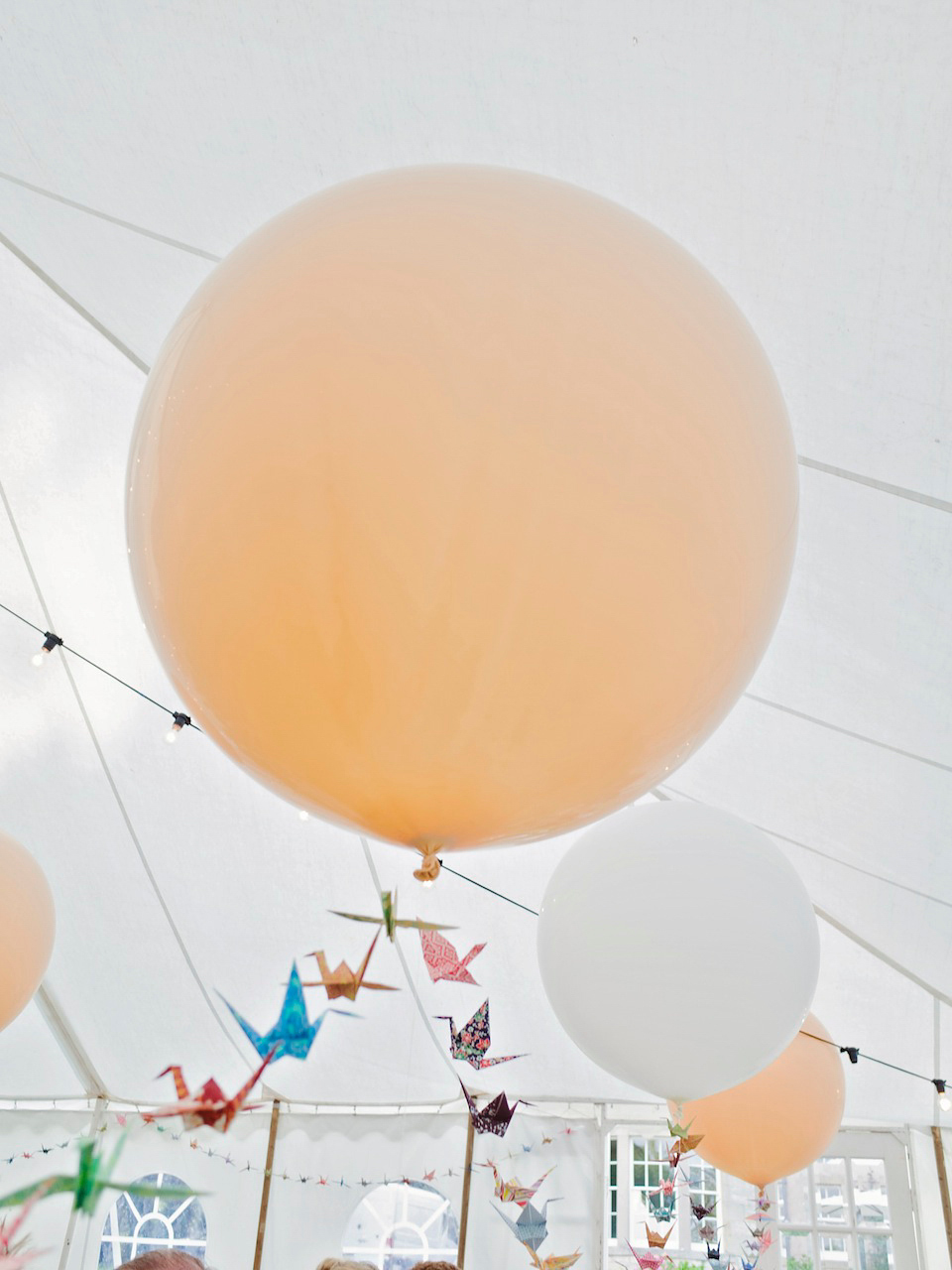 "It was important to me that there weren't only male voices being heard on the day, so I decided to do a speech. I actually really enjoyed the speech and it's one of my favourite memories from the day. I would really recommend doing one if you're thinking about it."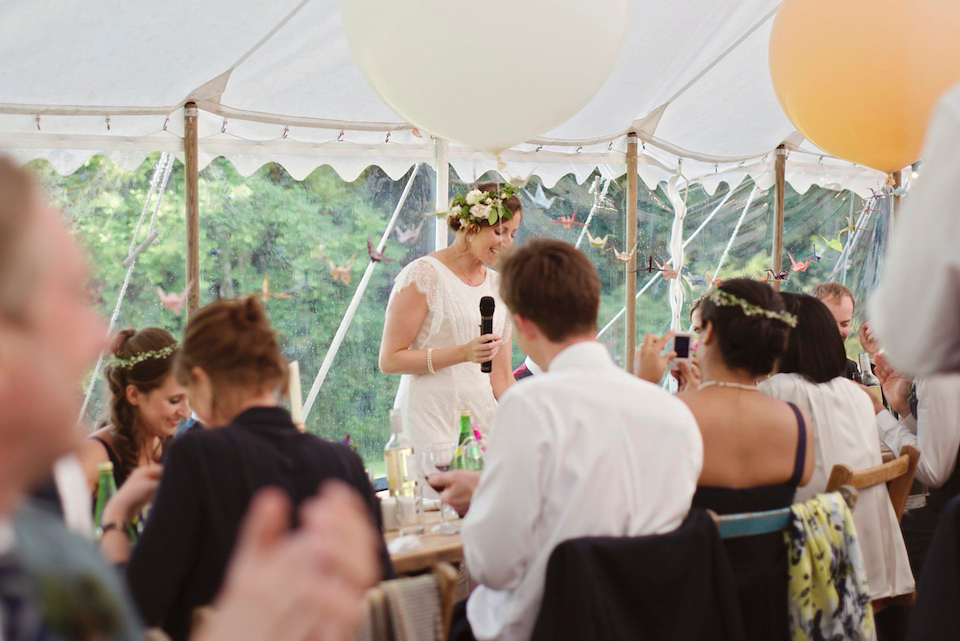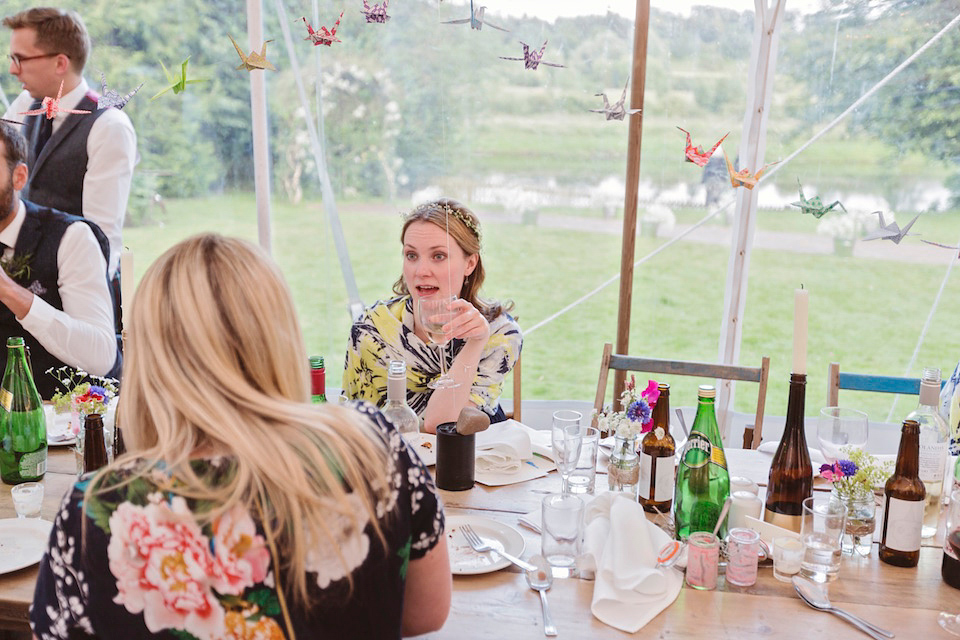 "It was all so overwhelming and amazing. There was a moment after we'd had our post-ceremony downpour when the clouds all cleared and we were suddenly in bright sunshine. We were having our photos taken by the river, surrounded by everyone we loved, with the dogs running around the garden, and it was just perfect."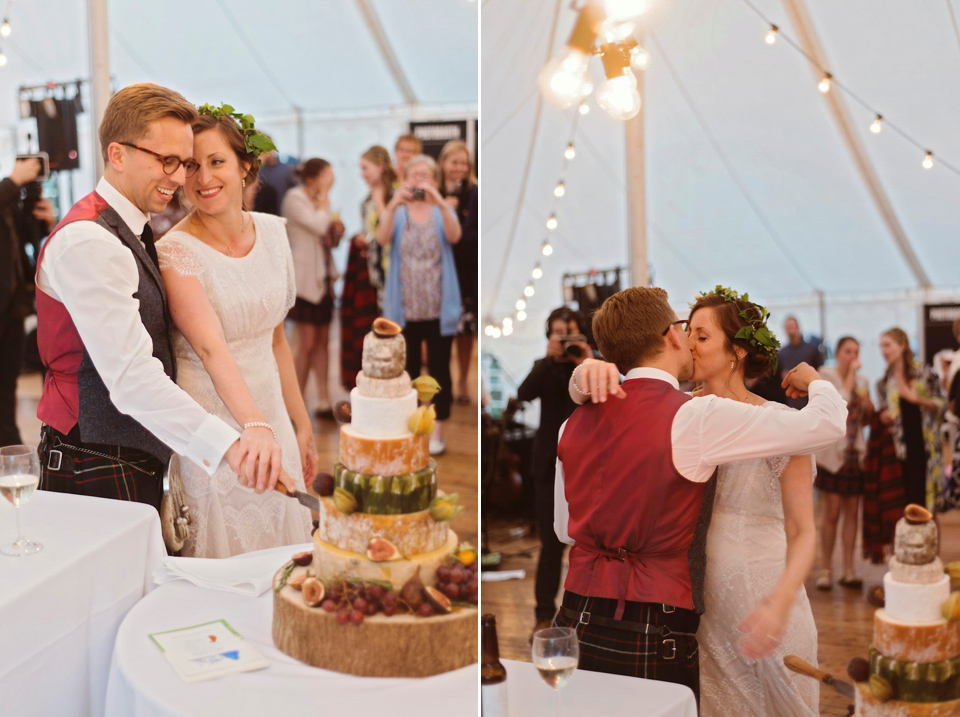 Amy and David danced to George Harrison's version of 'If Not For You' for their first dance, narrowing this song down from a long list of prospects.
"We started off with about 40 potential songs, having never had 'our song' and both being quite into music! Realising that we weren't professional dancers able to pull off a big choreographed routine narrowed it down, and this song just shone through. It's a really pretty tune that you can have a nice little sway and a chat to, and the sentiment is just right. It was perfect for our wedding day."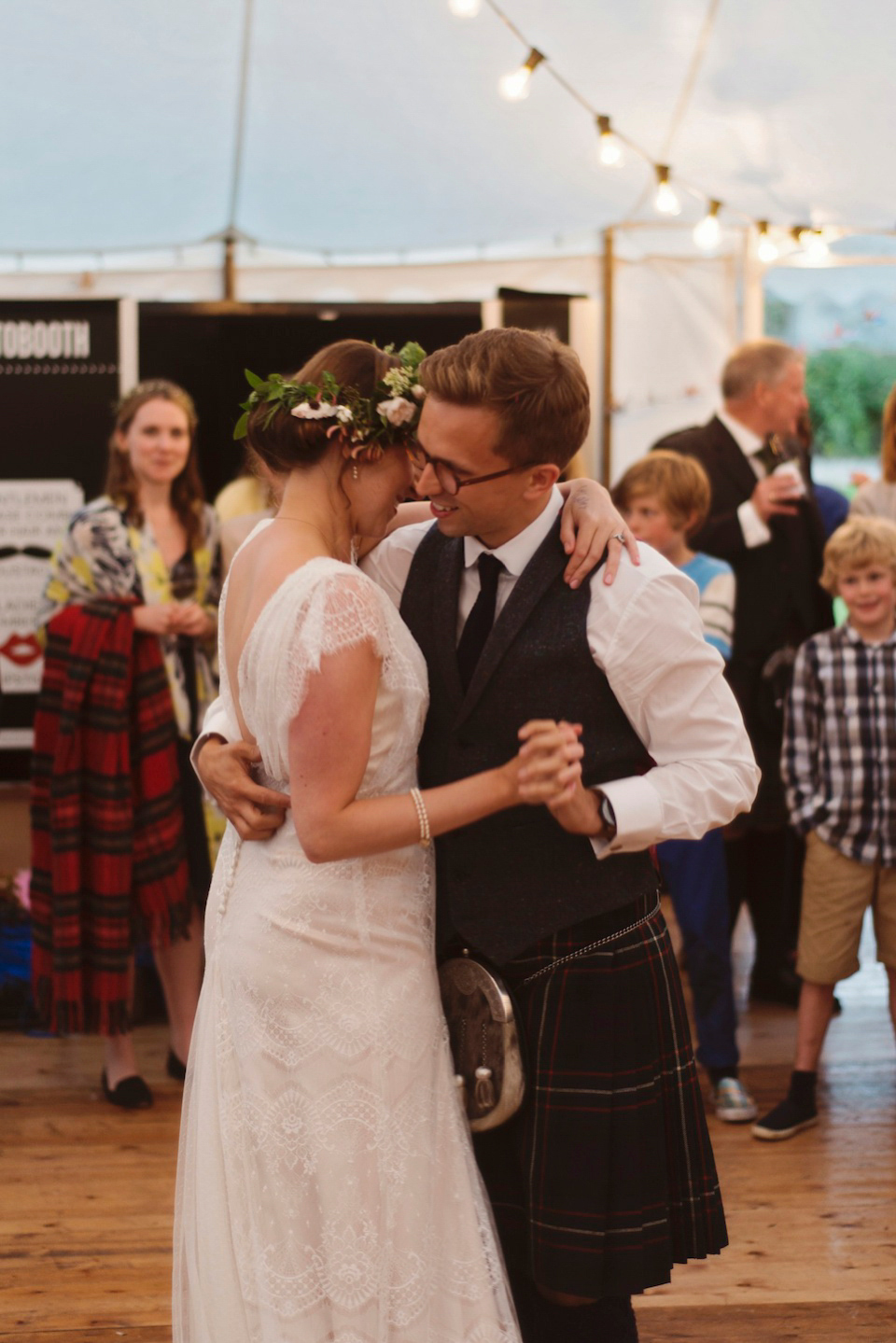 Words of Wedded Wisdom
"Do it your way. Try and get a clear vision of how you want the day to be and stick by it. If you don't feel comfortable with a tradition, then you don't have to do it. Though people around you may have very strong ideas of what they think 'should' be done, the day is a celebration of the two of you as a couple and it should reflect that. Having said that, do try and keep perspective on the things that are really important to you and what you are prepared to compromise on, so that you don't completely ostracize people.
Organisation is key! I was so lucky that David is a fiend with a spreadsheet and had every aspect of the wedding worked out on there. It made my life 100 times easier.
Oh, and get a video! We weren't sure about it at all but it's some of the best-spent money from the wedding budget. You will watch it and treasure it. It seems like a big pay-out but it's totally worth it."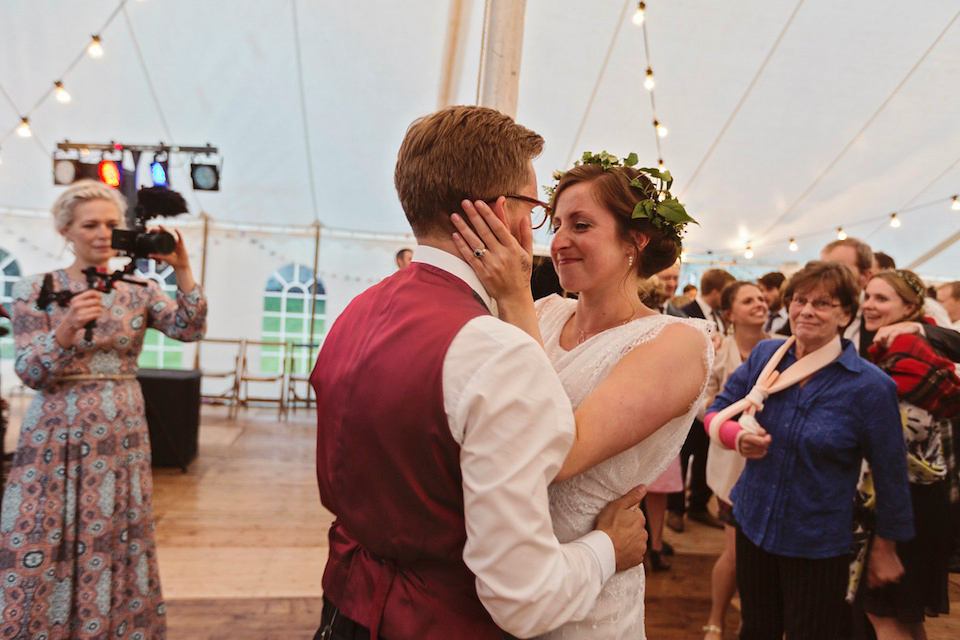 I'd like to send a big thanks to the lovely couple for sharing these pearls of wisdom and I've truly loved hearing all about your big day. High five to internet dating and being a success story! And also thank you to Agnes and Jack for these fabulous shots of Amy and David's happy day.
If you've completely fallen in love with Amy's dress, you can see more Belle & Bunty beauty here.
Did you meet your fiancé or fiancée via the interwebs? I'd love for you to share your experience below!
Have a jolly rest of week you lovely lot.
Love Jo -x-
Photographer – Agnes Lloyd-Platt + Jack Davison
Videographer – Dan Dolan Films
Venue – The bride's mum and stepdad's home
Celebrant – Laura via the Humanist Fellowship of Scotland
Wedding Dress – Belle & Bunty
Shoes – 'Drenda' by Bertie
Perfume – Narcisso Rodriguez For Her
Accessories – Monica Vinader necklace and pearl drop earrings and bracelet
Bridesmaid Dresses – Boden
Bridesmaid Accessories – Own jewellery + scarves from Whistles
Flower girl – Monsoon
Groom – Own family tartan kilt + suit by Tweed Addict + bespoke shirt from Thomas Pink + navy silk knitted tie from Suit Supply + pocket square from Reiss + 'Ghillie' brogues by Cheaney Shoes + granddad's cufflinks
Groomsmen – Own kilts or hired from McCalls Highlandwear + tweed waistcoats from Next + pocket squares and knitted ties from Reiss
Florist – Floral crown, bouquets and buttonholes via Get Knotted + homegrown flowers for the marquee
Rings – Anthony Gray
Catering – The Orde Food Company
Cake – The Cheese Shed
Entertainment – Erskine String Quartet + Corra
Stationery  – Pirri Press
Decor – Festoon Lighting from Arkwright Generators + tables, chairs and easels from
Hair + Makeup – Lipstick Lashes and Locks