Happy lunch time all, it's a beautiful sunny, but very blustery day here and it seems to have blown all the cobwebs away and really got me thinking about this lovely world of weddings, and the whole process of dreaming, planning and creating that we go through in order to create the day that is ideal for us.
As a long-time devotee of Love My Dress, I have always loved the real weddings featured; the inspiring photos, the beautiful detail, the captured moments of intense love and emotion and the lovely things up for grabs in the offers and competitions, but possibly most of all, I enjoyed the discussion posts which focussed on more serious issues- everything from the under representation of black brides in the wedding industry and the decision to change your name after marriage (or not) to Annabel's very personal post about her previous money issues.  There have been some very thought-provoking posts over the years and I am delighted to be writing my first contribution to this archive today.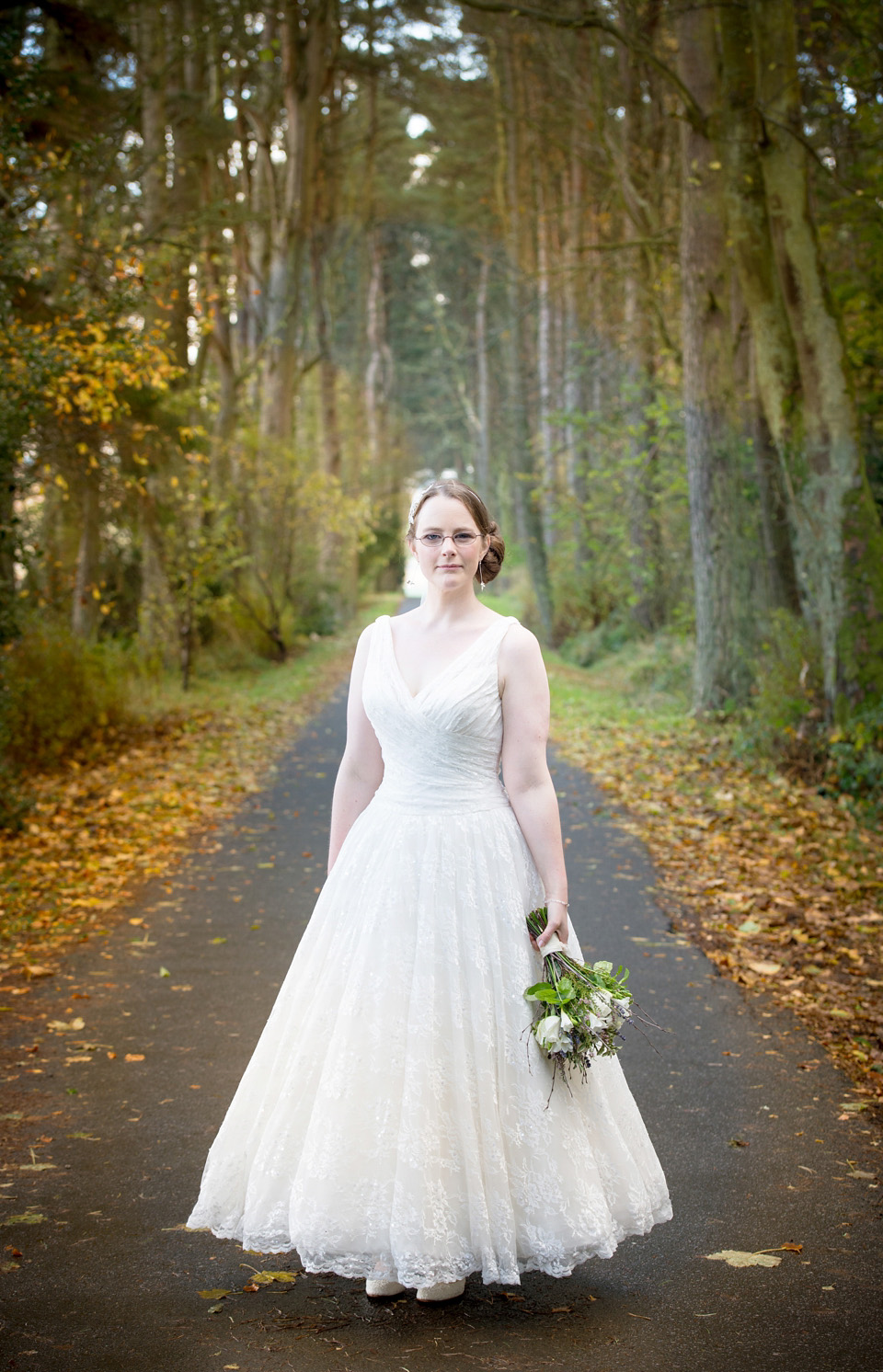 Wedding dress shopping.  Billed as one of the most exciting parts of being engaged; the shopping trip you've been looking forward to forever.  Its the most enjoyable part of the planning process, yes?  There will be champagne and giggling friends and admiring shop assistants right?  You'll feel like a princess!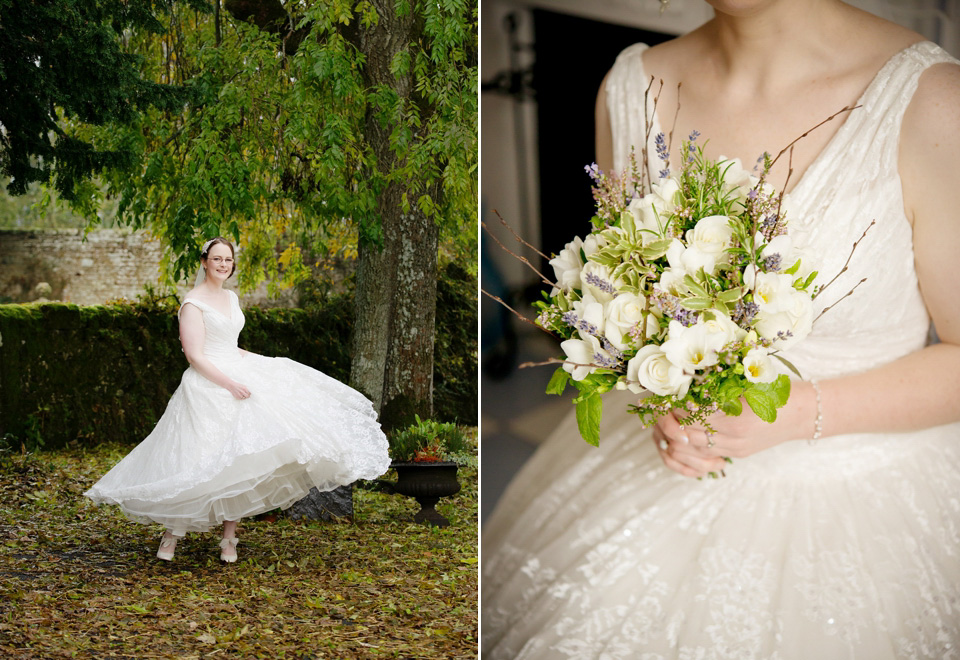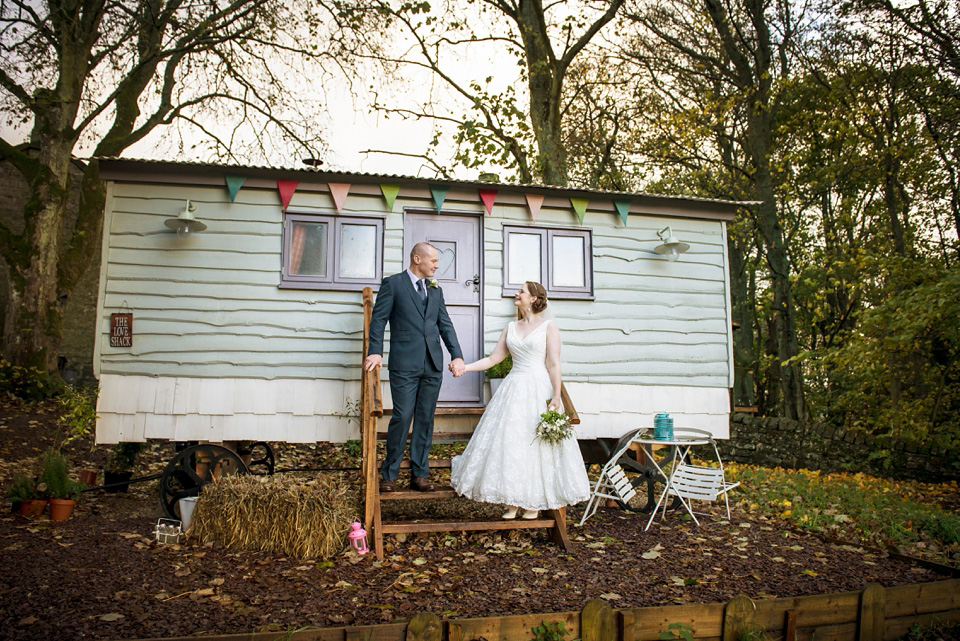 Shona in her wedding dress (see her full wedding here on Love My Dress)
Photography by Karen McGowran
Well, quite possibly, yes, it might be this way, I certainly absolutely loved elements of dress shopping, and had some wonderful experiences, but unfortunately it isn't the case for many women, and for many different reasons – size worries, weight concerns, budgetary considerations, or perhaps you've even already bought your dress and aren't sure about your choice?  Or perhaps, like many brides, you have put a lot of emotional investment into your dress, and although the shopping was great fun at first, it's getting more and more stressful with every puff of chiffon and slide of silk you pull on in the changing room and the dress you walk out to show your friends or family just seems, well, like another dress.
"Oh you'll cry when you know it's the one!" we're told.
"You'll go all shaky at the knees"
"You'll just know!"
But what if you just, don't?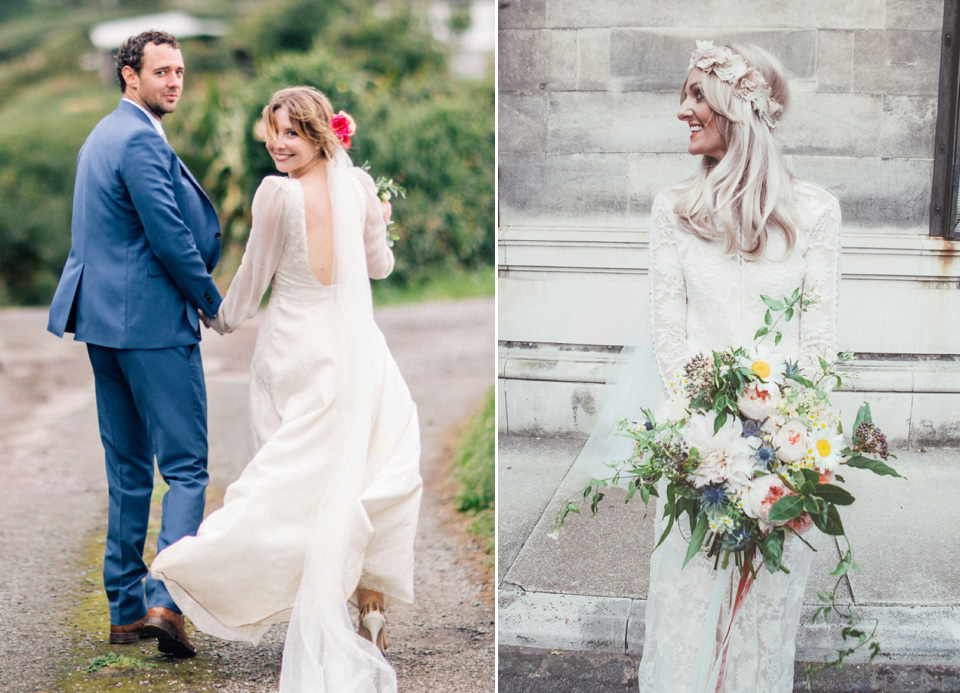 Elizabeth Avey 1940's Vintage wedding dress (photographed by Rachel Hayton)
Rue de Seine wedding dress (photographed by Philippa James)
Perhaps this is an odd topic to broach, given the name of this blog and the industry we work in on a daily basis.  Furthermore, isn't the wedding dress a massive part of any wedding?  Should I be suggesting that the idea of 'the one' has perhaps gone too far?
Unarguably a bride's dress is a very visual part of the day at many weddings, but I feel quite strongly that for many women, there is so much pressure to find 'the one' that instead of being a fun and light hearted experience, dress shopping becomes incredibly stressful, and no longer enjoyable, and when it becomes more of a chore than a pleasure, it's time to take a step back and consider why.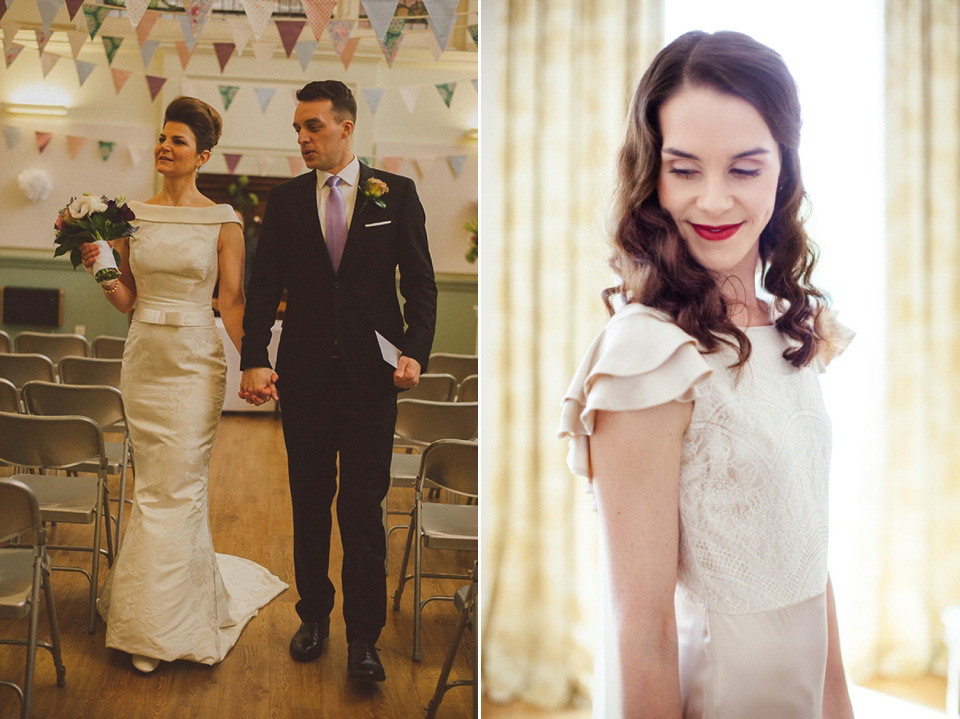 Alan Hannah wedding dress (photographed by Nabeel Khan)
Belle & Bunty Wedding dress (photographed by Christopher Currie)
As I said earlier, I loved wedding dress shopping, certainly at first.  I was lucky and never dealt with anything but the most friendly assistants and my closest friends and lovely Mum were all very happy to come with me (several times) and sit patiently while watching me parade around the dressing room, trying on an enormous range of dresses, as I had no idea what I wanted.
I tried on big dresses, sparkly dresses, very understated dresses, even a striped dress (beautiful!), A line, princess, straight and mermaid cuts (until I was finally persuaded that it really didn't suit me – thank you bridesmaids!).  But then the realisation hit that actually, I really did have to make a choice eventually, and so far, none of them had given me the shivery, teary feeling I had been told I would feel when I found the right one.  I liked plenty of them, and really loved a couple, but I moved on, in search of that elusive feeling.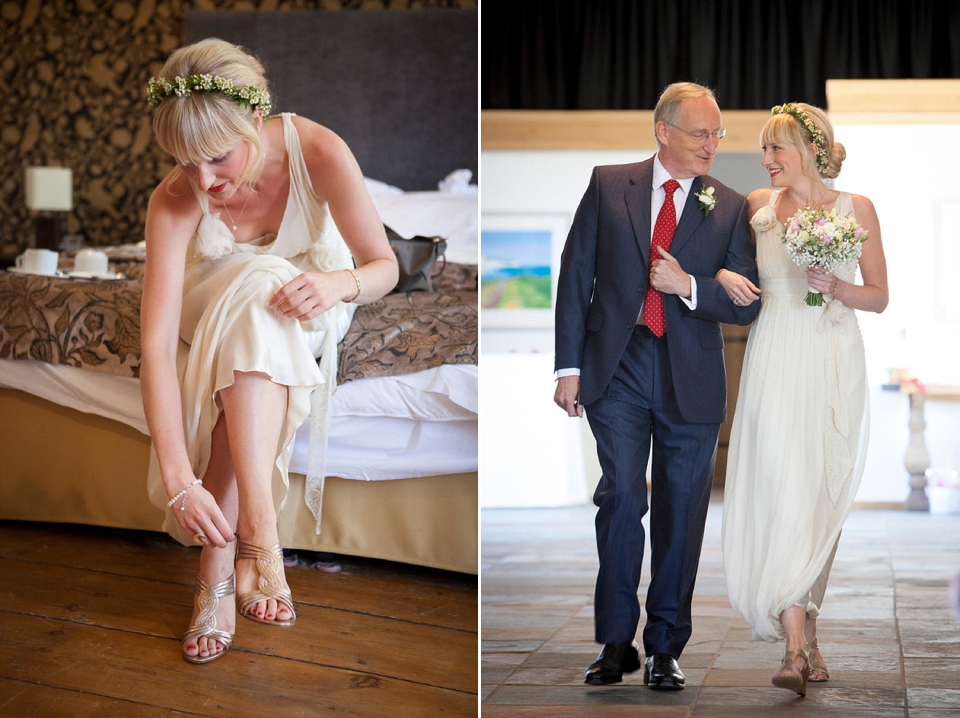 Dress by Sally Lacock wedding dress (photographed by Free-Range Wedding Photography)
I have no idea how many dresses the 'average' bride tries on during her dress hunt, but I suspect I exceeded it by quite a few.  Months went past, and many a Saturday afternoon was spent in boutiques across the country, with my ever patient mum and bridesmaids.  Yes, I exaggerate a little.  I didn't eat, breathe and sleep wedding dresses, although I know many people do, but I was very aware that I had been looking for a long time, and hadn't been completely convinced by anything I had tried on- everything was just not quite right.  It wasn't 'me', or didn't give the impression I wanted to give, or was 'too bridey' (I have no idea what I meant by that one).
Dana Bolton bespoke wedding dress (photographed by Caro Hutchings)
Katya Katya Shehurina wedding dress (photographed by Rebecca Goddard)
I considered having a dress made – a wonderful idea if you know what you want (I didn't have a clue), but dismissed it, as to be sure I'd found 'the one' – I wanted to be able to try 'the one' on beforehand.  And then, one afternoon, walking back through York City Centre, I had one of those long chats – the like of which you only have with your closest friends, and I realised that I was looking for a dress that represented me, in all my many guises and in every state of mind, and that one dress simply can't do all these things.  Moreover, I had so bought into the idea that I would 'know' when I had found the right dress, that just because I hadn't cried, or made my mum cry, I had dismissed some really wonderful dresses, that might just have been perfect, had I been trying them on with a different mind-set.
A couple of weeks later I started dress shopping again, with a clear head.  All I wanted was a dress that made me smile, suited me perfectly and that I felt great in – a dress I could imagine myself walking down the aisle in and feeling happy.  It didn't have to represent 'me', it didn't have to be the culmination of every dress that had gone before, all I had to do was love it.
On that trip, thanks to the new open mind and clear head, I tried a dress on I would never have considered previously.  It was ballet length (I didn't want short) and had a layer of lace over the top (I didn't want lace) and a row of beautiful pearl buttons right down the back (I didn't want pearls).  I didn't cry, my Mum didn't cry, and I didn't feel as though all my problems would be sorted by this dress.  But I did feel great.  I did feel comfortable, and when I looked in the mirror it suited me beautifully.
Elizabeth Stuart sequin gown (photographed by SOSAC Photography)
Halfpenny London wedding dress (photographed by Barney Walters)
The full skirt and little sequins made me want to twirl and I had the biggest smile.  The decision was made by an elderly lady knocking on the window with her walking stick and nodding enthusiastically at me – who was I to argue?
The moral of the story?  There are hundreds and thousands of absolutely stunning dresses out there, many of which will look fantastic on you (ok, so many will look dreadful too, but that's all part of the fun!) but really, what you are looking for is just a beautiful dress to wear on an important occasion; it isn't a symbol of your marriage or the most important part of your wedding day, and therefore the level of stress and pressure that a lot of us feel while shopping to find 'the one', something which makes us weak at the knees, is really unnecessary.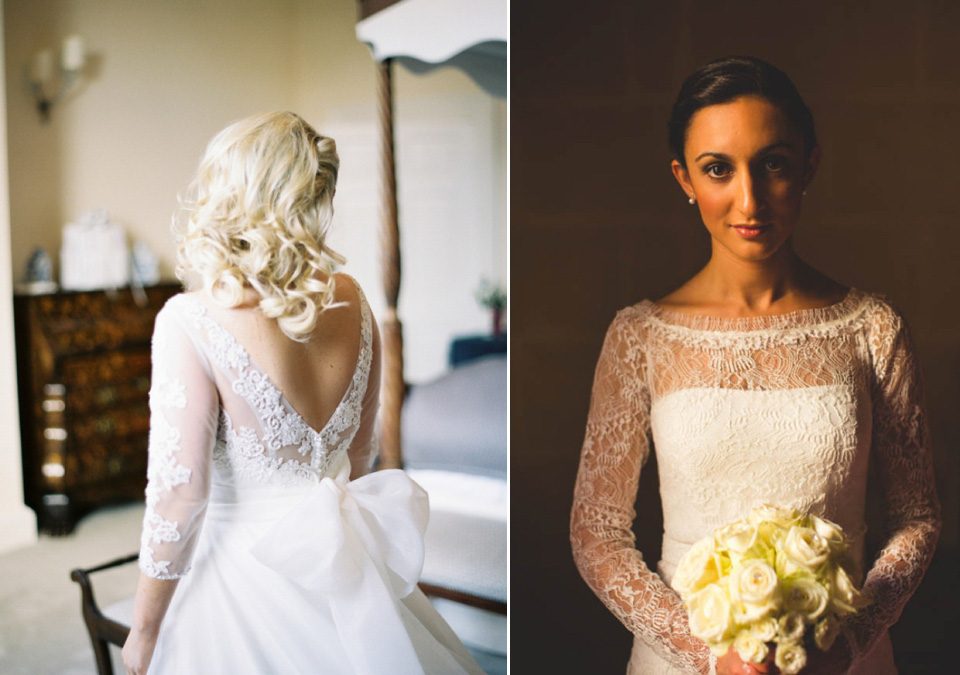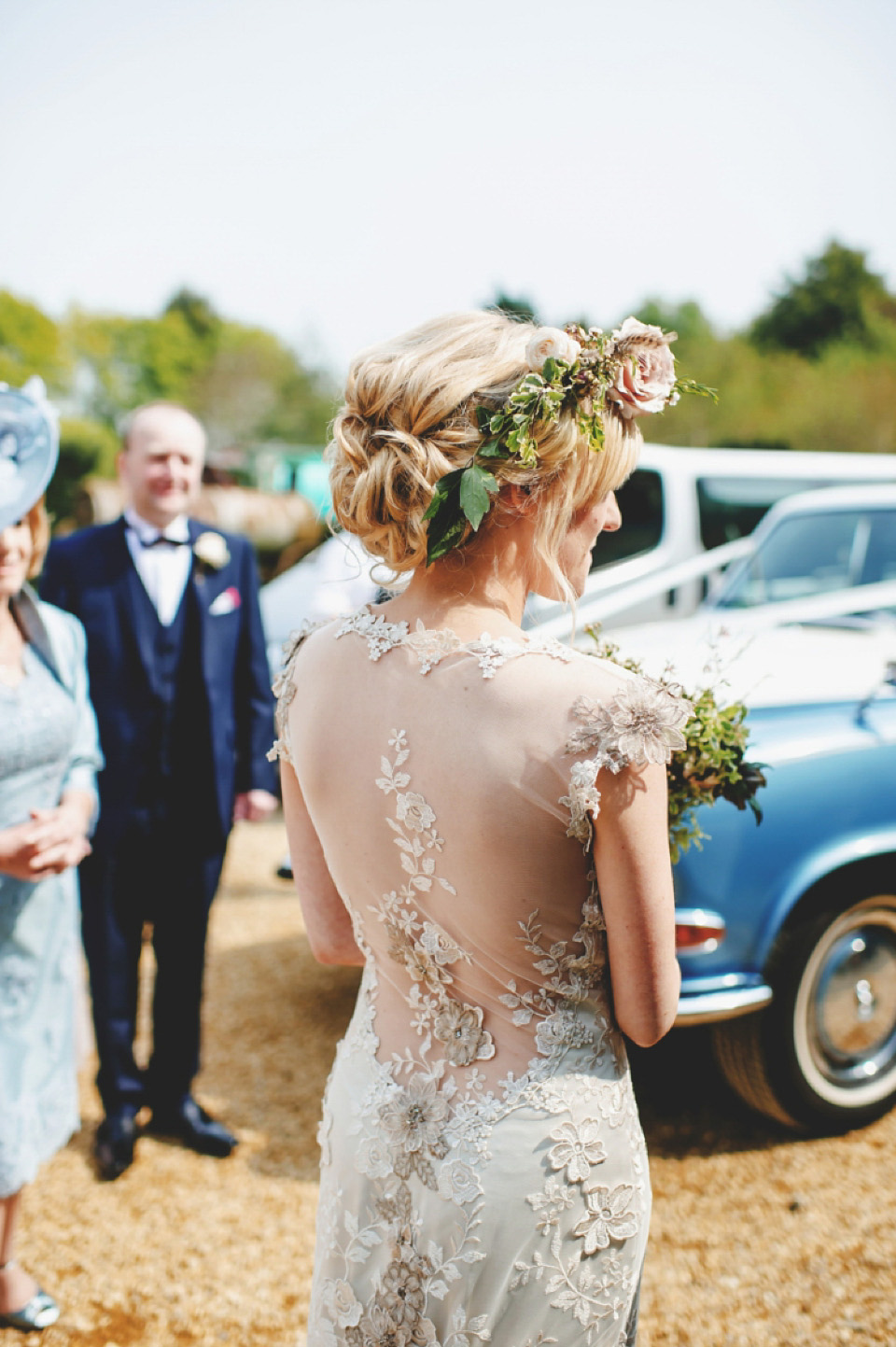 Charlotte Balbier the designer in her own design wedding dress (photographed by Polly Alexandre)
Jesus Peiro wedding dress photographed by S6 Photography)
Claire Pettibone wedding dress (photographed by Ross Harvey)
I'm not for one moment suggesting you shouldn't feel and look fantastic on your wedding day- when I did finally find my dress I loved it to bits (still do!) and adored wearing it on our wedding day- I felt fabulous, confident and happy- that's the power of a dress you love, but at the end of the day, it is just a dress.  Open your eyes and don't restrict yourself.  Most importantly, don't go into the shopping process feeling that you have to find the most important dress of your life. 
Relax, go into it with an open mind, find something you really like, but don't necessarily expect starbursts and tears from everyone involved, or for you to feel anything other than perfectly happy when you do find a dress you like.  Most of all, enjoy every moment.
I'd love to encourage you to leave a comment below about your own experiences and expectations.  Did you find your dress straight away or wasn't it as straight forward as that? How many dresses did you try on? What advice might you leave for other brides starting out in their journey to find the perfect wedding dress?
With love, Shona x
P.S.  you might also want to read this popular 'Don't Love My Dress' feature.  Also, if you're looking for a shop or a designer to buy a dress from, we highly recommend several – you can learn more on this page!