Apologies that our usual blogging schedule is a little out of whack this week ladies and gents (this explains it), however, this one was well worth the wait. Mareesa and Evan tied the knot on 25th October last year at St Marys Cathedral followed by a reception at The Malton Hotel – both in Killarney, Co. Kerry, Ireland.
I simply adore this wedding – it is the epitome of Love My Dress® glamour and elegance. Mareesa looks so chic in her 'Amabelle' gown by Elizabeth Stuart (did you see this feature we ran recently on this exciting designer whose designs I've fallen rather in love with).
"We wanted to keep a lot of the wedding very simple and muted. We didn't really have a particular style or theme we were just guided by our own personal taste, which in the main is contemporary, clean and white with splashes of old world charm thrown in."
Film Production Copyright (c) 2014, SOSAC Photography
"Evan and I met on a blind date in 2006 after our mutual friend Aileen had put us in touch. We remained very good friends for about a year and then decided to give it a go. This all happened in 2006 when we were both studying at the University of Limerick. Following my father's blessing, Evan completely surprised me by getting down on bended knee in October 2012 when we were on a surfing holiday in Ericera, Portugal.
We were engaged for about 1 year before tying the knot!"
"I wore the Amabelle dress by Elizabeth Stuart, that I purchased from Little White Dress in Castleknock, Dublin, Ireland.  When I walked into Janet's fabulous bridal boutique Little White Dress, I knew I would find 'the dress'. However, I didn't quite realise that it would be the most perfect dress, I really do think this dress was made for me."
"Anyone who knows me knows I love a little bit of sparkle, and The Amabelle most definitely delivered on that.  The beading in the top of the dress was a work of art – so consistently perfect, the way in which the light reflected off the beading was really amazing, sort of mesmerising. This dress was exquisite – it was so simple but yet so interesting.
I loved the skirt, it felt amazing to wear, and it was so much fun. I had the time of my life in that dress and deep down, that's why I love it most."
"One thing we knew we wanted was big bouquets with a woodland feel. This was inspired by the place in which we were getting married – Killarney, a town that is situated in a national park, the nature is wonderful there. We also used an oak tree emblem on our stationery. We are still not entirely sure why we did, it just kind of happened but maybe we were subliminally thinking 'old, reliant and deep-rooted'. But who knows!?"
"Tie the Knot Weddings, Abbeyfeale, Co. Limerick, Ireland supplied all of the flowers. We chose the flowers because we wanted to create a woodland feel; lots of greens, twigs, heathers – a bit wild and rugged looking I suppose. Danielle at Tie the Knot Weddings totally understood what we meant. When we thought about the flowers we wanted to match them to the groomsmen suits rather than the bridesmaids, which was an unusual approach but they tied in really well with the white shirts and green ties.
We also wanted to create big bouquets, that weren't perfectly shaped – we wanted them to look like we had just been out and picked them from a field and tied them together with twine."
Mareesa's bridesmaids wore the Lela Rose dress by Dessy in the shade 'suede rose' and shoes by Dune, Bertie and Nine West.
"Our photographer was Shane O'Sullivan of SOSAC Photography who was supported by his wife Adele on the day.  Still not a day goes by without me having a little thought about how amazingly wonderful and talented they are! They have a very special way with the lens! – it's fair to say that the photographs speak for themselves! On the day, Shane and Adele put us, our families, our bridal party and all of our guests at ease.
They are discreet yet highly attentive to detail (I reckon they work some magic to capture the moments they do!). All that aside, they are wonderful people to be around – we couldn't have asked for anymore."
"The engagement ring was chosen by Evan! It is a halo diamond ring which has a vintage feel to it and was supplied by Appleby Jewellers in Dublin. The very plain wedding bands were also purchased from Applebys."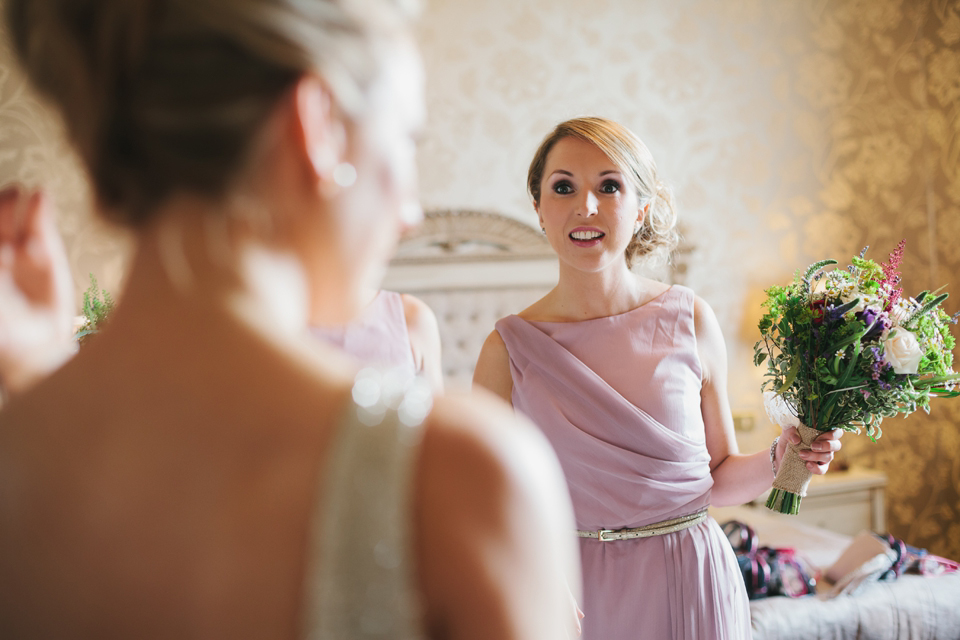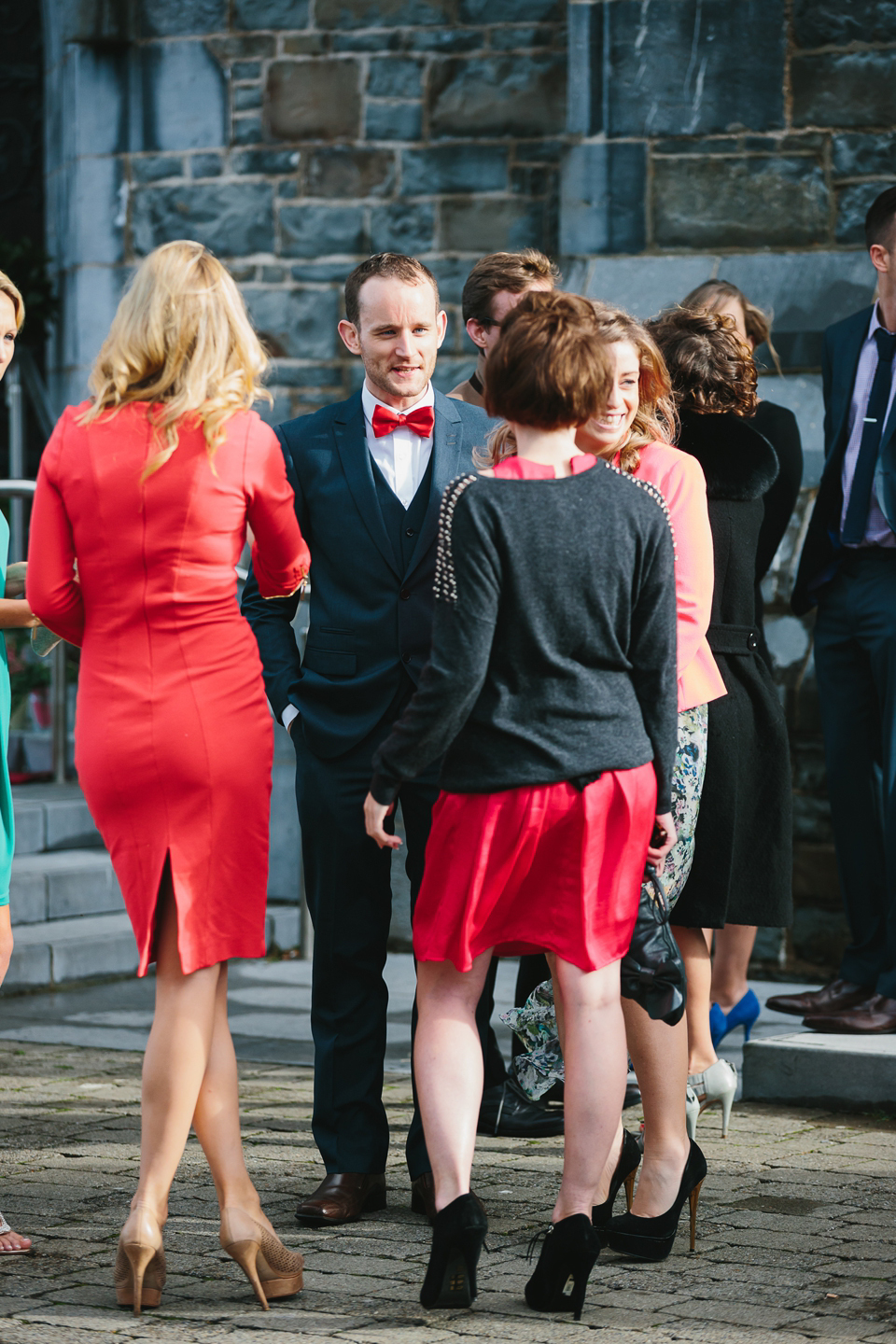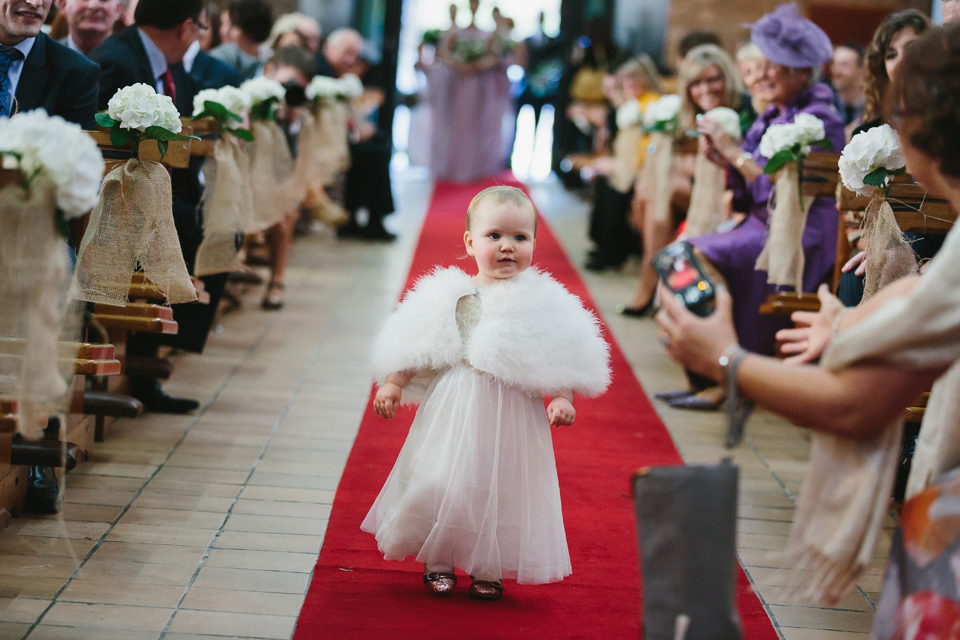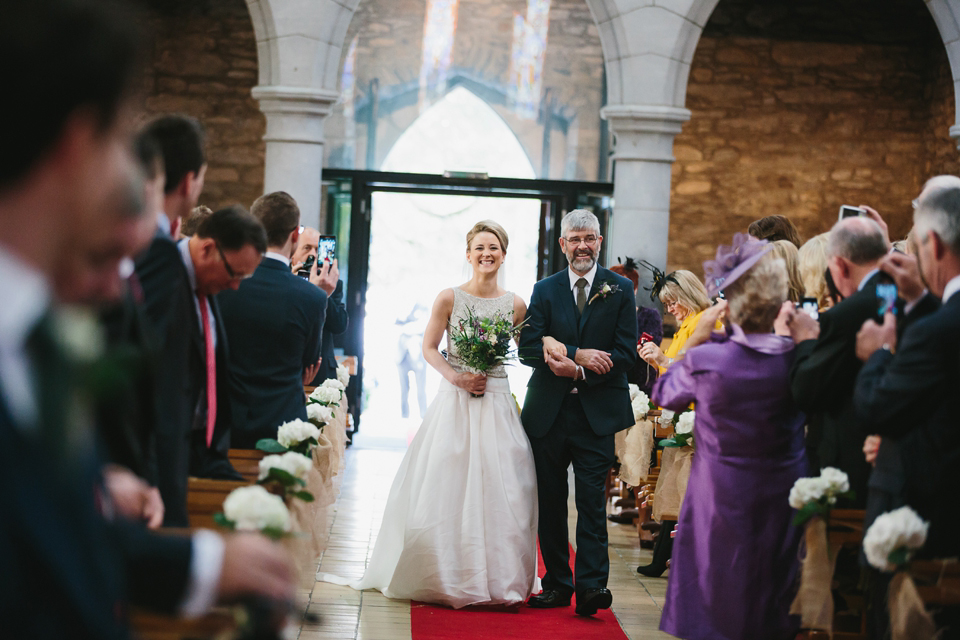 "We chose readings from the old and new testament as well as some personalised prayers of the faithful. However our favourite reading was the communion reflection, one of our best friends read the piece so meaningfully. It was written by Louis de Bernières. We choose this piece because it resonated with our values around relationships."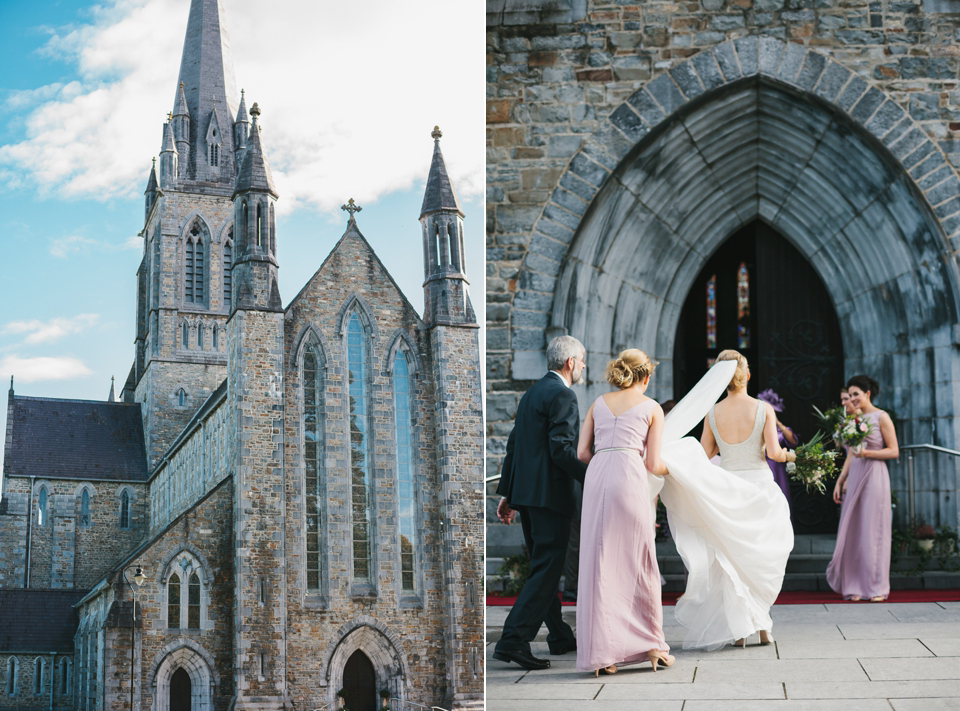 "Our favourite part of the day was meeting all of our friends and family, it's the type of gathering that will probably never happen again so it was important to make the most of it. We also loved how relaxed we both were on the day.  There truly was nothing we would like to change, we were both really happy with how the day went."
"In terms of decor, we hung some old photographs of friends and family over the fireplace.  We also used gold frames to present our table numbers.  We had bunches of hydrangea flowers and silver candelabras on the centre of each table. Each place setting had a little bunch of lavender also. We  provided a polaroid camera and some props so that guests could take some fun photos and stick them in our guest book along with a message.
Lastly, we provided lots of props for the dance floor – we found that these were really good fun – everyone embraced their inner playful self!"
"All catering was supplied by The Malton Hotel where our reception was held but we took a road trip to France for wine and bubbly!
Aunt Marianne and Uncle Tom supplied our cake – it came from Marguerites Bakery in Newcastle West, Co. Limerick. My mam also made one tier of the cake. Again, the cake was really simple. There was some green ribbon around it to match the groomsmen ties and the florist placed a posie of flowers on the top, which worked really well."
"We chose Chuck Berry's 'You never can tell' as our first dance as it is a song that is upbeat, fun and easy to dance to."
"The Best Men were our wedding band for the night.  We wanted to do something different with the 'traditional' wedding DJ focus for our nuptials. We'd both spent a lot of time socialising in bars of Liverpool where I had lived for three years, this is where we met Jimmy and Dash.
They seemed the perfect choice to come over to our wedding and do what they do for us. It was inspired, the music was familiar without being obvious and they somehow managed to maintain energy levels at the wedding well into the early hours. Music has always been such a big part of our relationship and we wanted a mixture of genres that was never trying too hard to be cool but at the same time felt different to what we'd heard elsewhere; Jimmy and Dash completely nailed it."
Words of Wedded Wisdom…
"The day is quite busy and fast-paced, hours can pass like minutes. Our piece of advice would be to take some time out during the day. We did on a couple of occasions, nothing too long, 5-10 minutes just allows you both to take things in, an opportunity for some down time.
What a beautiful day – huge congratualations to you Mareesa and Evan – thank you so so much for sharing your beautiful day.
Bride's, if you're lusting after Mareesa's sparkly gown, you might want to visit the Elizabeth Stuart website at elizabeth-stuart.com.
Love Annabel
Photographer – SOSAC Photography
Venue + Catering – The Malton Hotel, Ireland
Brides Dress – The Amabelle by Elizabeth Stuart via Little White Dress
Brides Veil – Spellbinder by Joyce Jackson
Brides Shoes – Grandiose by Carvela Kurt Keiger
Accessories – Bracelet + pearl earrings by Appleby Jewellers
Grooms Suit – Duke by Reiss + shoes by Kurt Keiger + antique silver Waltham pocket watch
Groomsmen – Scanlans Menswear
Bridesmaids Dresses – Lela Rose in suede rose by Dessy + shoes by Dune, Bertie + Nine West
Flowergirl Dresses – Monsoon
Flowers – Tie the Knot Weddings
Cake – Marguerites Bakery
Transport – J O'Callaghan & Son's
Entertainment - Marina Cassidy +  An Oilean (band) + The Best Men + Beatbox Agency DJs
Favours – donation to the Irish Heart Foundation
Rings – Appleby Jewellers in Dublin
Stationery – 'A Visual Concept' on Etsy
Hair Stylist – Trionas Hair Care, Killarney (tel +353 64 – 6637469)
Make-up Artist – Kathryn O'Neill
Follow Love My Dress® on Google+