I've been a little bit excited about sharing this wedding for a few weeks now – there is something about these wedding photographs, they are just so wonderful.  I was first alerted to these beautiful images by my friend Elizabeth Avey – purveyor of the most gorgeous vintage wedding dresses collected from all over the globe and the lady who supplied this beautiful original 40's vintage gown to bride Sally.
Sally, a buyer in womenswear tied the knot with her beau Josh, an officer in the British Army, on 7th September last year.  The couple chose a field next to Josh's parents home (kindly provided by a neighbour) to set up a tent and tipi mini-village (using Glampit and All About ME Marquees and Events), so that all their friends and family could stay on site and celebrate their wedding all weekend.
"Whilst, there was no 'theme' as such (the thought of sticking to a colour scheme and having everything matchy-matchy is not my style),  I wanted our wedding to have a relaxed, natural and whimsical feel and, most of all, for it to be full of colourful blooms and home made touches. I did touch on some vintage aspects with the bunting and vintage china, but ultimately there was no set theme, just an eclectic bohemian mix of everything!"
Photography Copyright (c) 2014, Rachel Hayton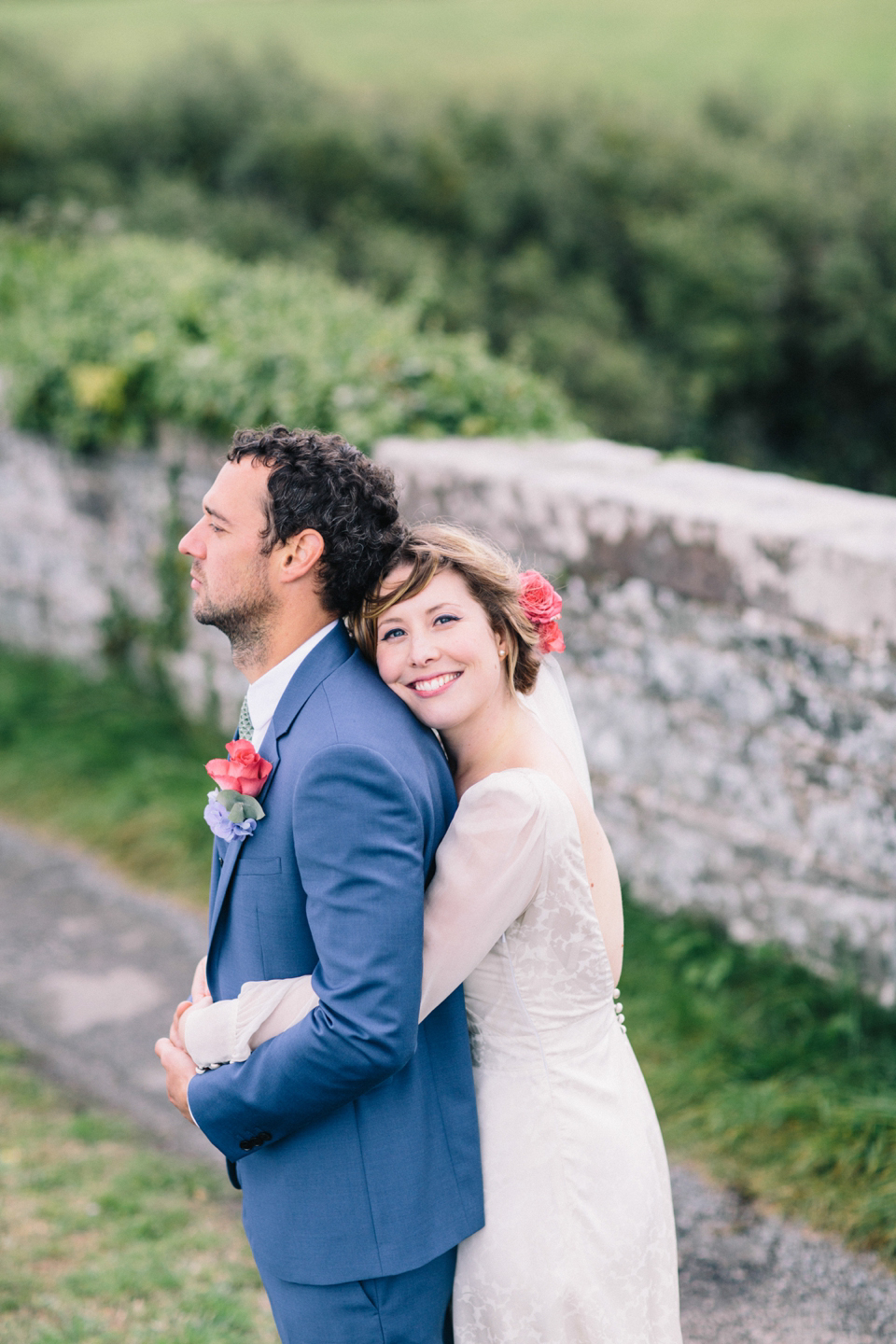 "Josh and I met at university in Manchester in 2004. We lived in the same university halls and got together after a few months. We decided to take a year out following university to travel together and had the most amazing year; back packing in South East Asia, Australasia and Central America.
We moved to London together on our return and the rest is history really. We got engaged on holiday in Sicily in April 2012. Sicily is definitely up there with being one of the most beautiful places we have ever travelled. We stayed in Syracuse, which is where Josh proposed."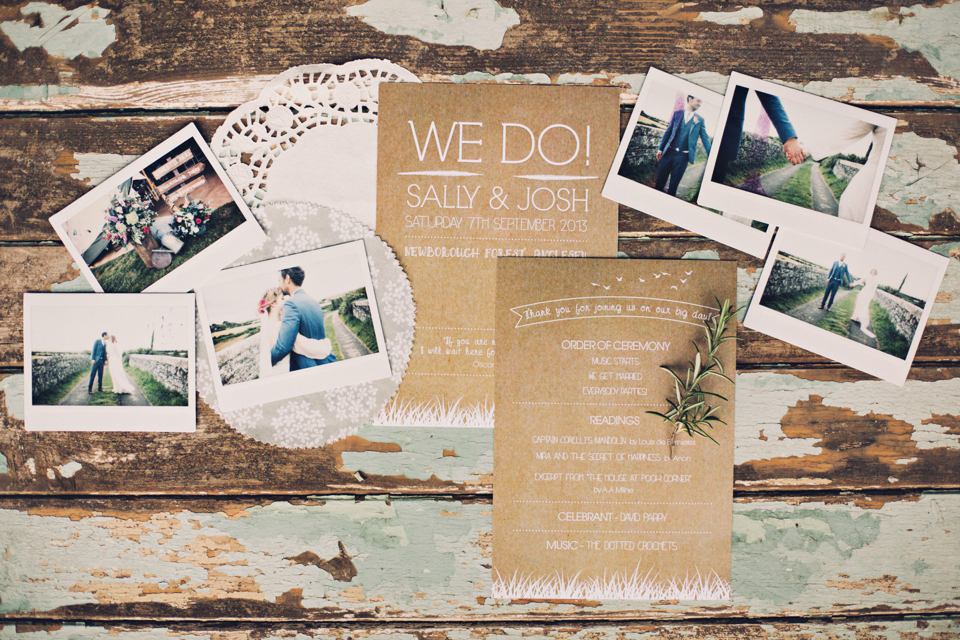 "We both agreed that we wanted our wedding to be a relaxed, informal affair, nothing traditional or stuffy, essentially a massive party for all of our favourite people. I was in love with the idea of having a huge tent in the middle of a field, something totally natural and rustic with a few hay bales, deck chairs and huge blooms of flowers.
So we were delighted when Josh's parent's came to us with the idea of having the wedding at their beautiful home on the Isle of Anglesey, especially since their neighbours had generously offered up the land next to their house.  It was completely perfect and the views down to the sea from this spot are utterly stunning."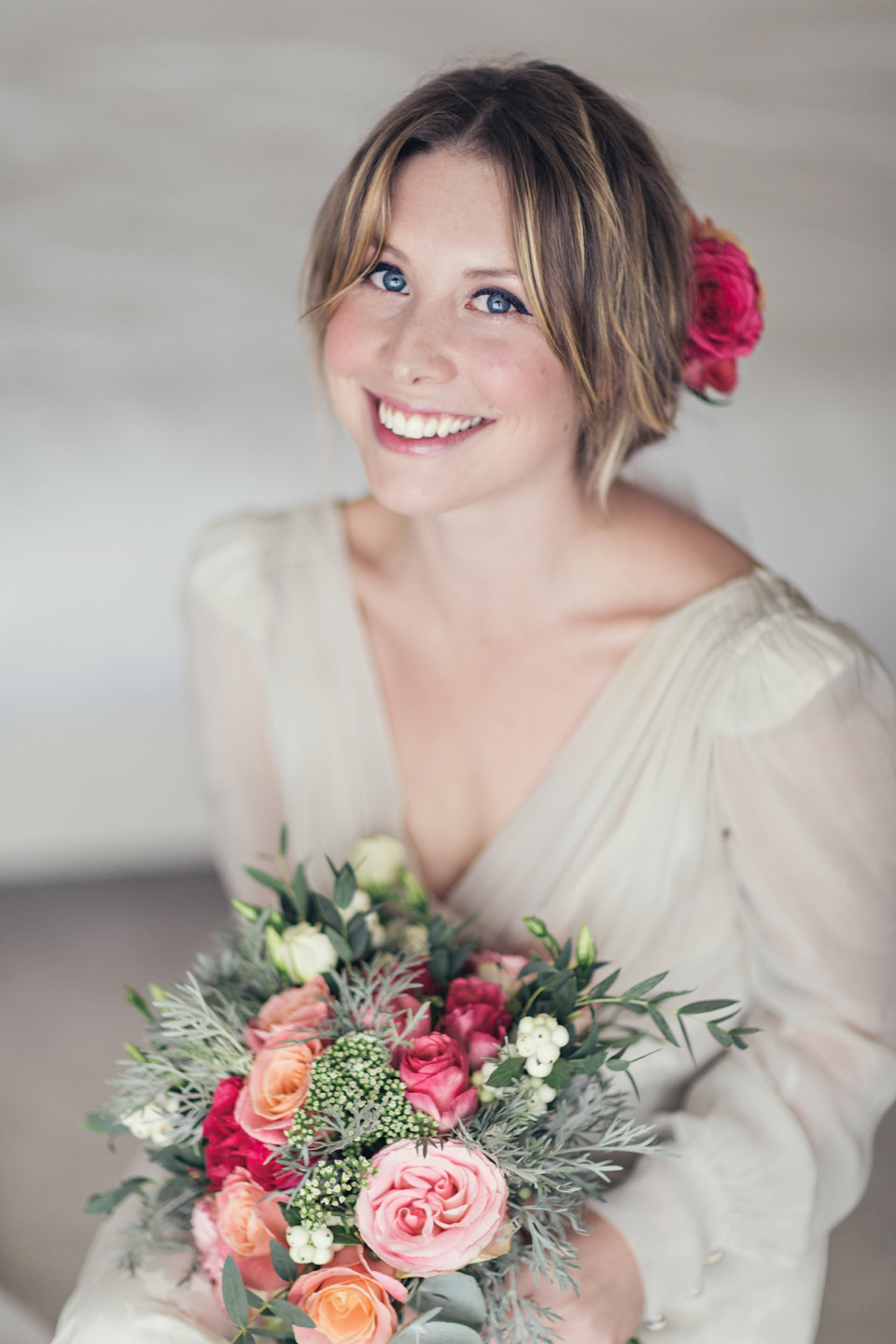 "We made arrangements with Glampit, a glamorous camping company, to set up a camping village on site so guests could stay with us for the weekend, and booked our tipi with All About ME Marquees and Events, who were fantastic and really competitively priced; I can't recommend them enough. We knew we didn't want a church wedding and couldn't find a local hotel or registry office that was right, so we decided on a Humanist Ceremony."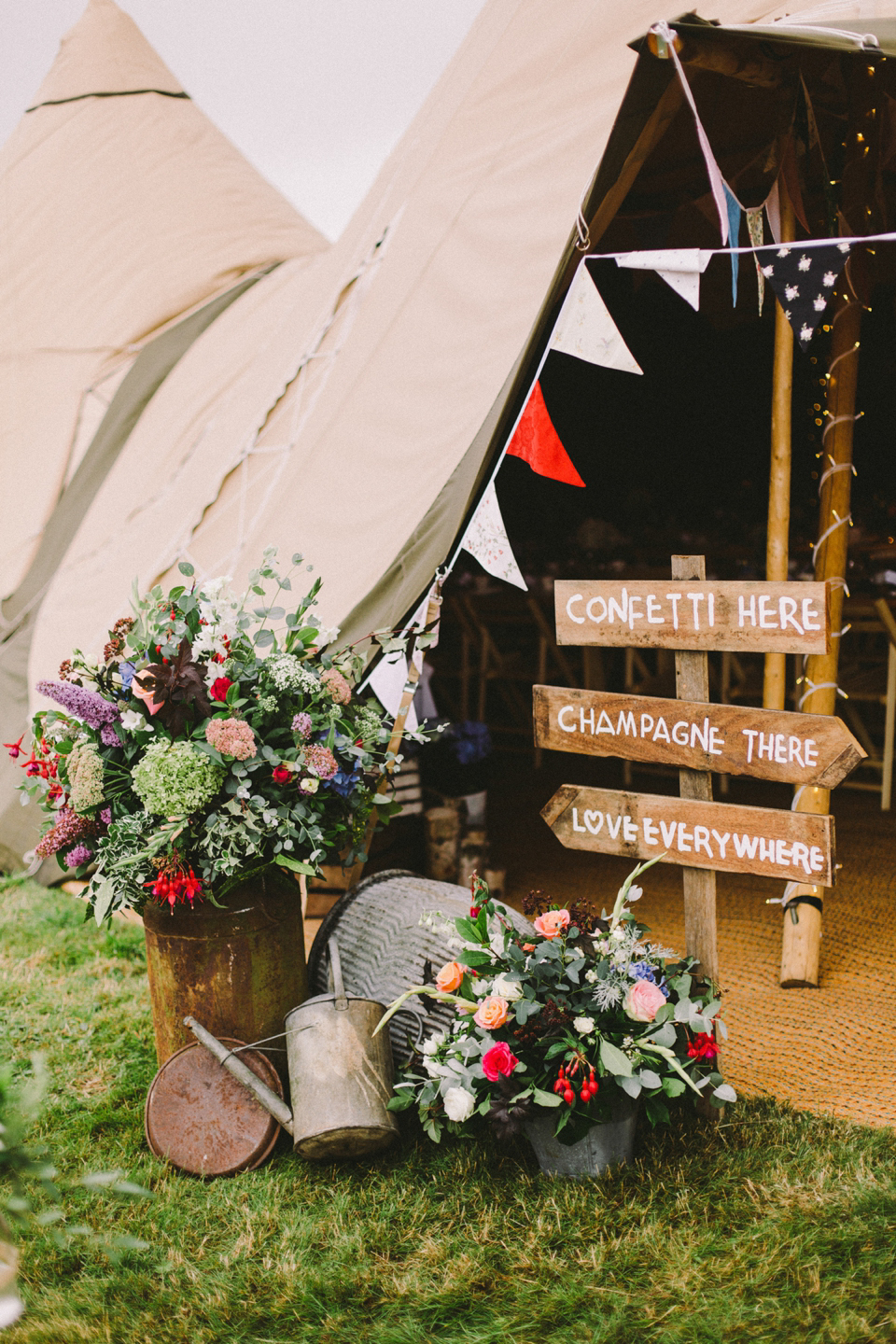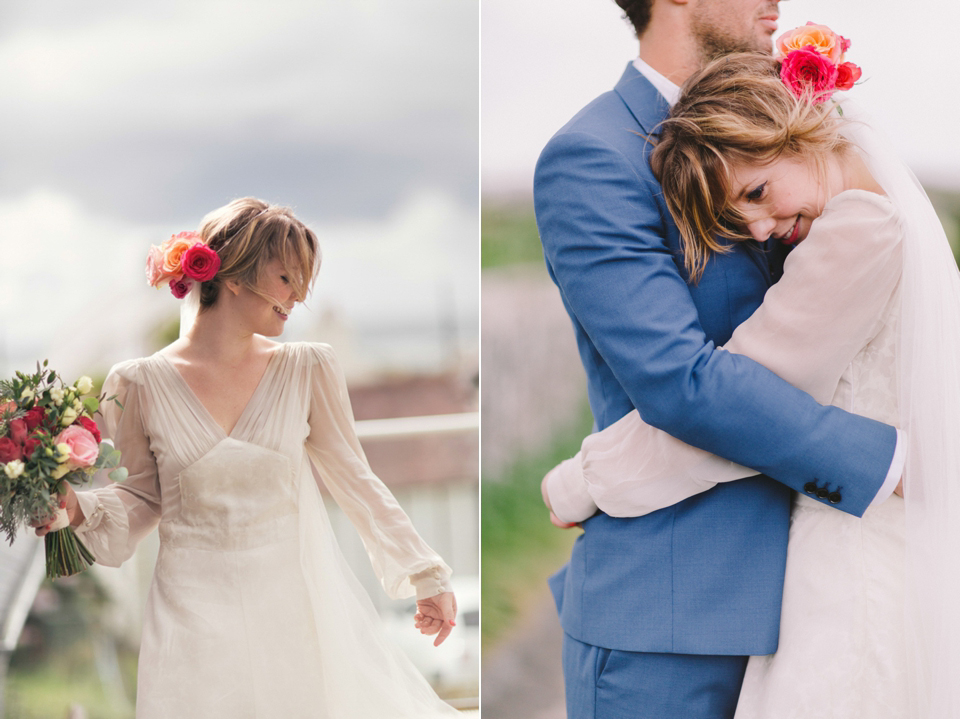 We asked an old family friend to marry us and planned our ceremony in Newborough Forest, a beautiful forest of pine trees that leads to the beach on the south coast of the island. We both love Newborough; the Forest and Llanddwyn Island make up a stunning nature reserve and the island is named after St Dwynwen, the Welsh patron saint of lovers, so it really was the perfect setting. All we needed was for the weather to hold.  We picked the first week in September and kept our fingers crossed, but unfortunately, the weather was not kind!
The day before our big day, during our ceremony rehearsal at the forest, the heavens opened; rain, hail, gale force winds; you name it, we got it, so we made the decision to cancel the outdoor ceremony at Newborough and have the ceremony in the tipi instead.  While we had plenty of blankets at the ready for guests, I hadn't even thought about keeping myself warm and ended up wearing my leather jacket for most of the day. Not that it mattered, everyone wrapped up against the wind and it added to the fun of the day."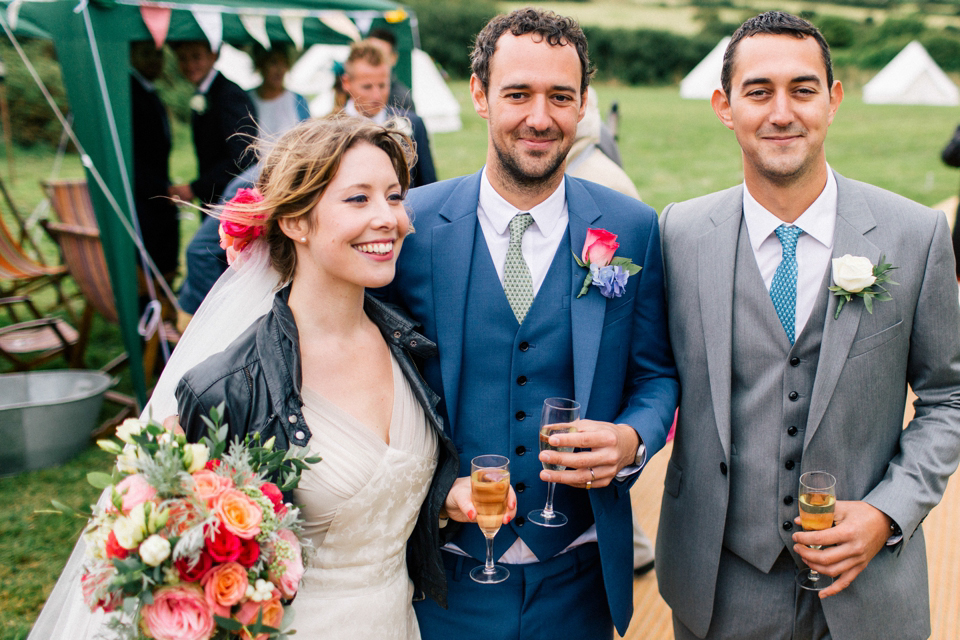 "My wedding dress was a stunning and rare, British 1940's original vintage wedding gown with silver brocade over print and silk chiffon bodice from Elizabeth Avey. Elizabeth's showroom is a treasure trove of beautifulness! She has the most versatile collection of stunning vintage dresses!
I absolutely loved my visits to the studio; Elizabeth and her team were just fabulous and I was always made to feel comfortable. There was never any pressure from the girls too, which is really important."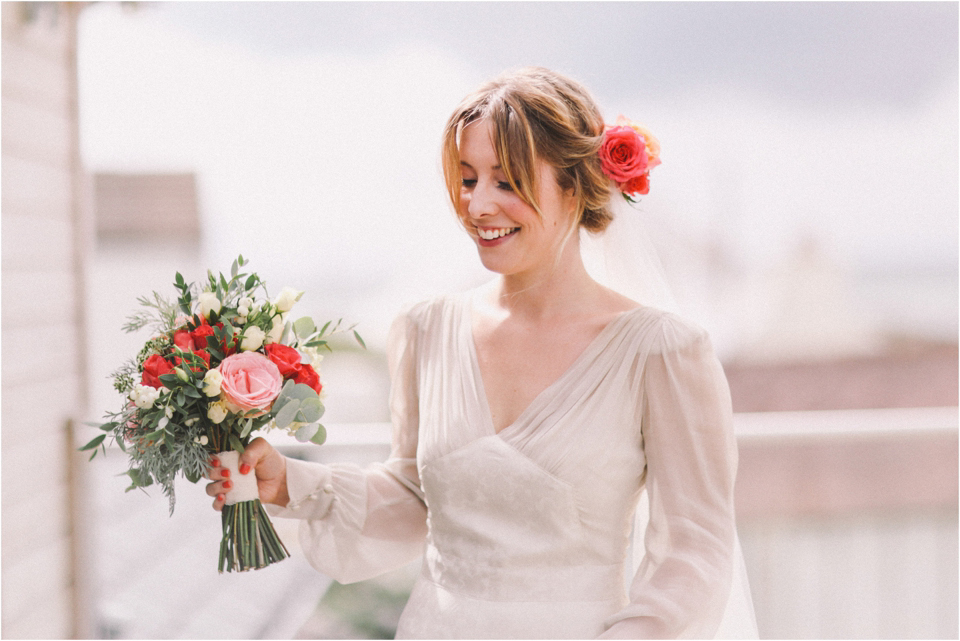 "I really wanted my dress to be an extension of me and my wardrobe; the thought of wearing a massive corseted princess dress was not my thing. I always knew I wanted an original vintage dress as I love the history behind vintage pieces and the wonder of who wore it before you. I had envisioned something quite relaxed and bohemian, yet with a hint of glamour.
I have to say I never had a giddy 'it's the one' moment, it just didn't happen for me, but there was something about the Elizabeth Avey 1940's Silk and Chiffon Embossed dress. It was unlike anything I'd seen before and when I tried it on I didn't want to take it off.
I loved the silver ivory tone of the fabric and the unusual combination of the chiffon and embossed silk fabrics. The lovely girls at Gold Needle did my alterations (they were recommended by Elizabeth). I decided to open up the back of the dress and add some button detailing."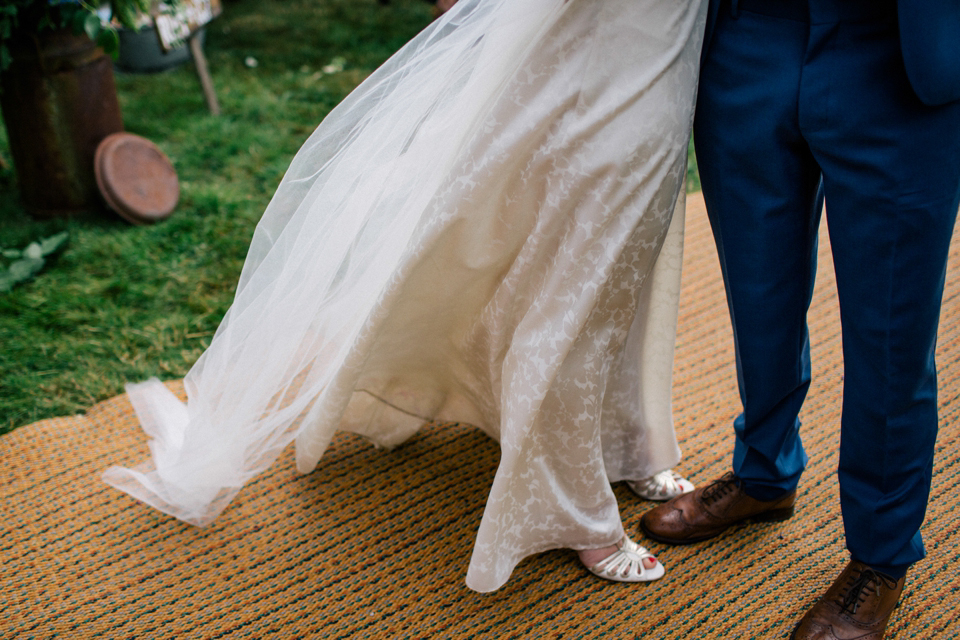 "We knew from the outset we wanted beautifully designed, bespoke wedding stationery and Victoria Stott Design proved to be just this. From the first conversation with Victoria, we knew she was the one for the job; she has such artistic flare and innovation and instantly understood our vision and brief.
The finished article was beautiful and carefully reflected our vision for the wedding – a rustic feel with hand drawn illustrations and handwritten typefaces."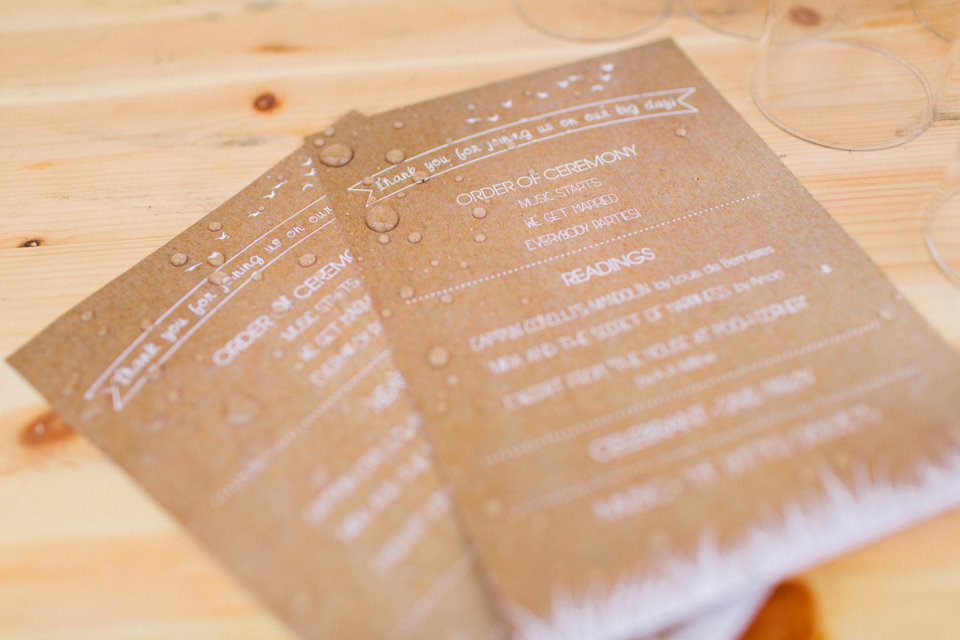 "Our gorgeous and super talented friend, Kate Heritage, was responsible for creating our stunning wedding flowers. The flowers were central to the overall look of the day and it was so important they were right. I have to admit, if I was ever going to have a brideszilla moment, it was probably going to be about the flowers, but Kate was totally cool and knew exactly what I wanted before I even wanted it!
I really love peonies, but September is not peony season, so we used various large roses in an array of pinks and peach tones together with gorgeous periwinkle blue hydrangeas with smaller mixer flowers and fantastic greenery and foliage including baby eucalyptus, which I love.  I adored my bouquet, and my headdress was out of this world. It was actually really heavy and took some serious pinning to get it to stay in place!"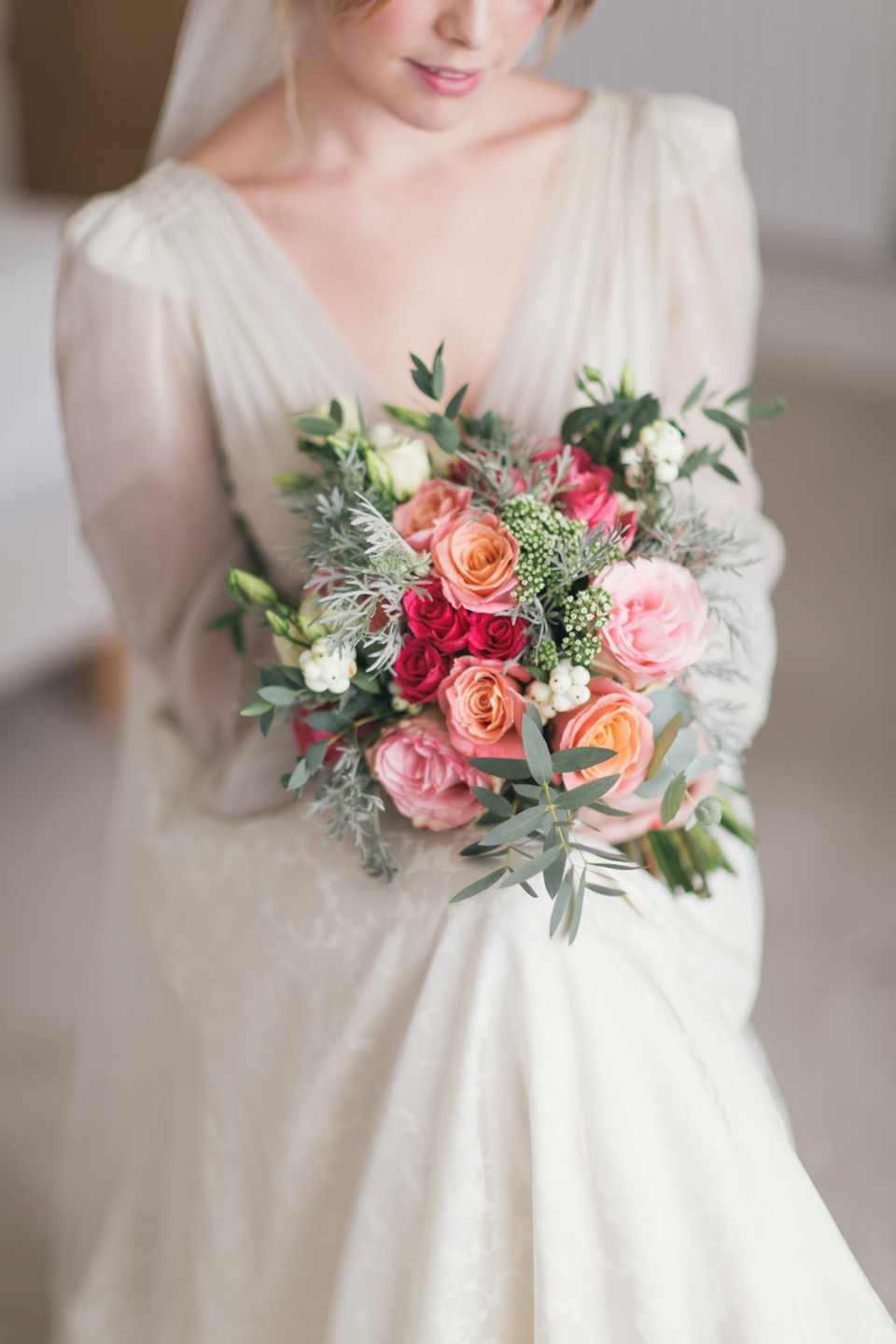 "As well as the beautiful bouquets, Kate did all the larger arrangements in the tipi, including the huge churns – ahh the churns – and worked with a team of helpers to decorate the tables with individual jars of flowers. I am in awe of Kate, she is just too clever and I always do a little swoon when I think back to how beautiful our wedding flowers looked."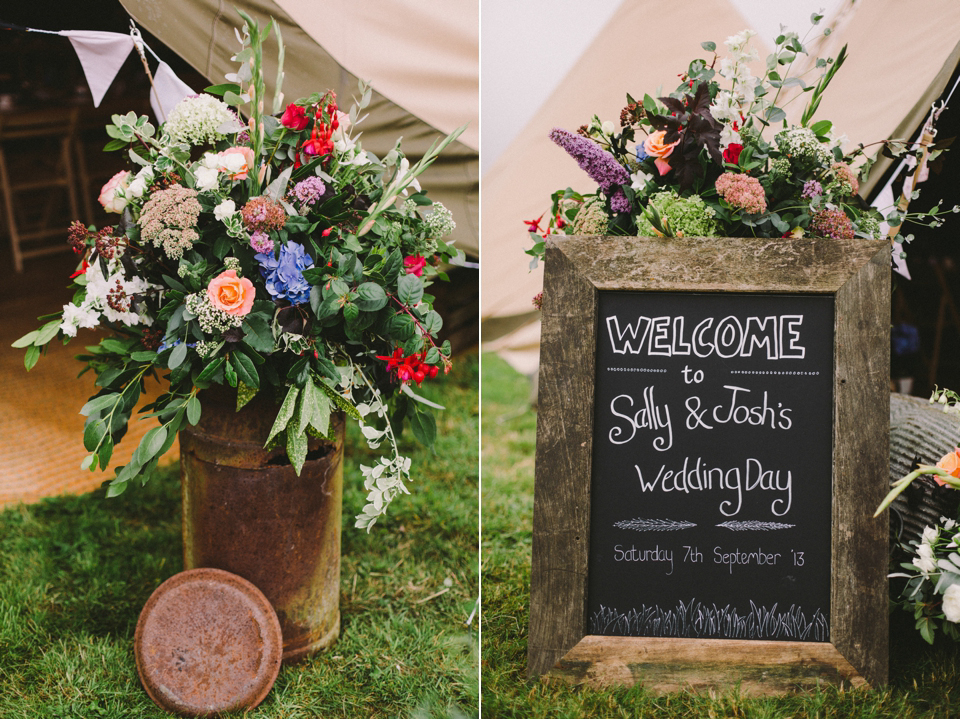 "I wanted the tipi to be bursting with colour and, while I knew the large blooms and foliage would cover this, I was keen to add detail and personal touches – nearly everything in the tipi was sourced or created by a friend or family member. We hung simple white paper poms poms and lace paper doilies alongside my Grandma's homemade fabric bunting. Each triangle was made from fabrics from our childhood and my Mum's before us – my auntie's trousers from the seventies, our bedroom curtains when we were growing up, bed sheets, cushions and old dresses etc.
We had a production line of 'fluffers' in place for the poms, who were brilliant. My step-mum, Helen, is really creative and made our fantastic seating plan from mirrors and garden trellis panels and painted our fab wedding signage, which were put together by our Best Man Tobes/"
"We spent months collecting jars for the tables, and sourcing the churns and vases. While we all worked really hard to dress the tipi, my Mum's friend, Sara ,was amazing when it came to delivering the final touches. I used Pinterest to create boards for all my inspiration and table ideas, which I shared with Sara before the wedding. She created stunning arrangements of old books and vintage knick-knacks scattered around the tent and she fashioned the most amazing photo booth area.
There wasn't a huge amount of room on the trestle tables, but Sara cleverly managed to squeeze some old books and assorted jars of flowers down the middle, and used the vintage teacups for the tea and coffee as decoration too"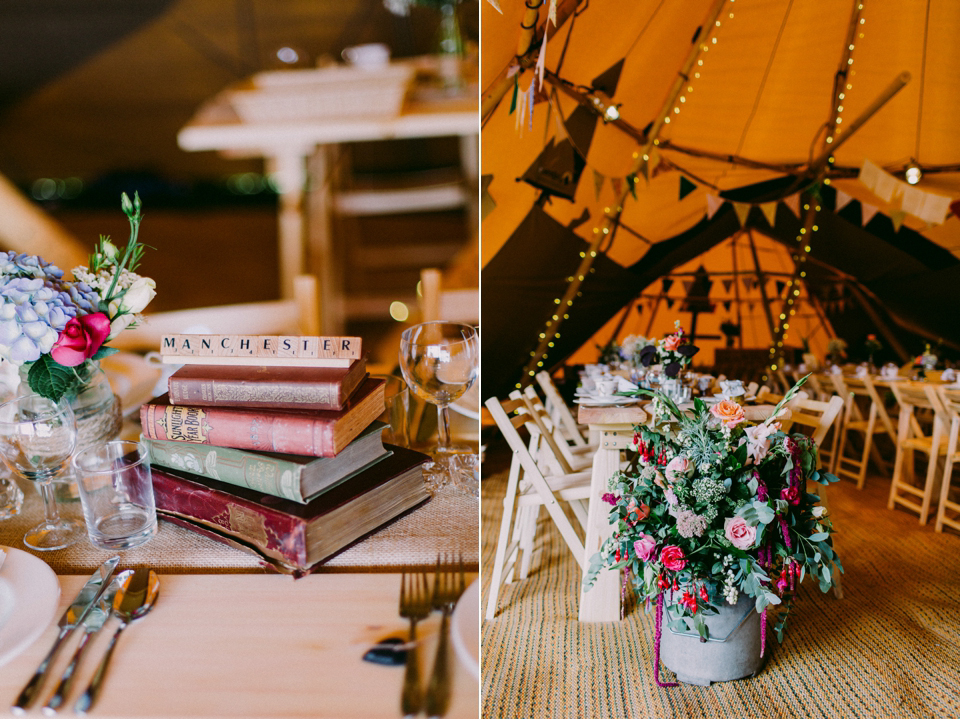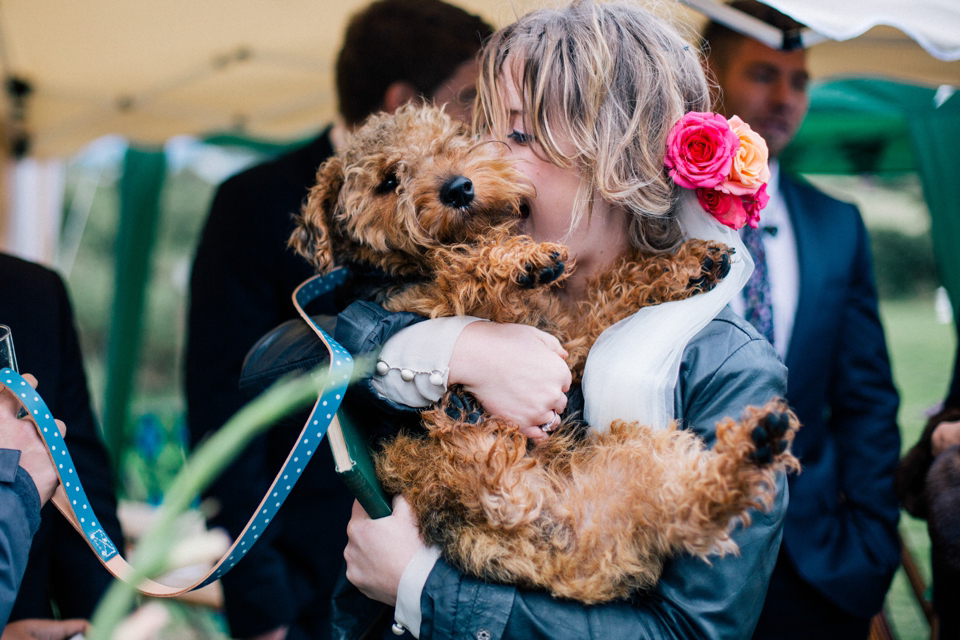 I love how a table plan has been created by hanging old and vintage mirrors on to a frame and them writing on them – fabulous!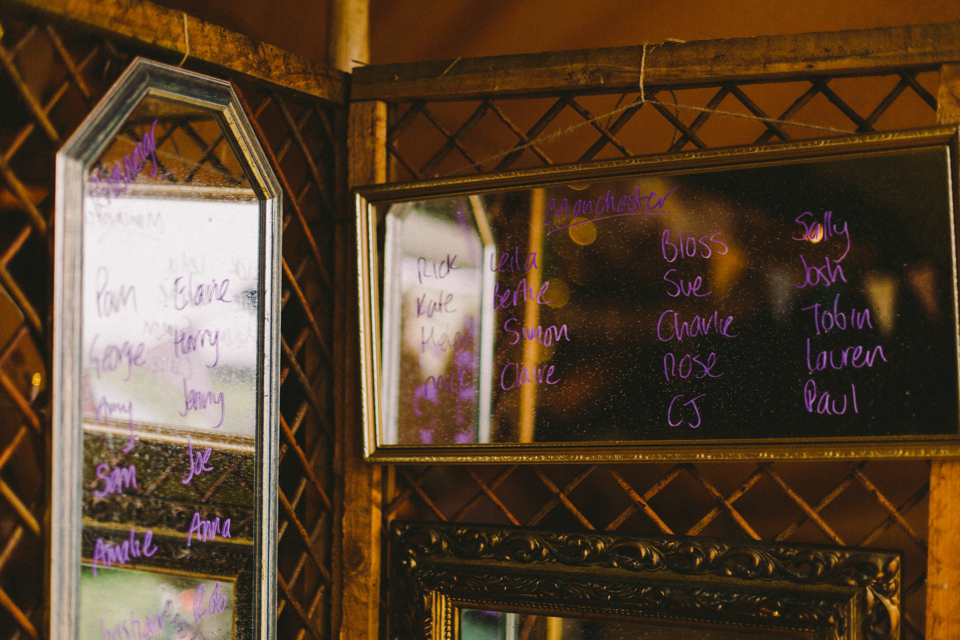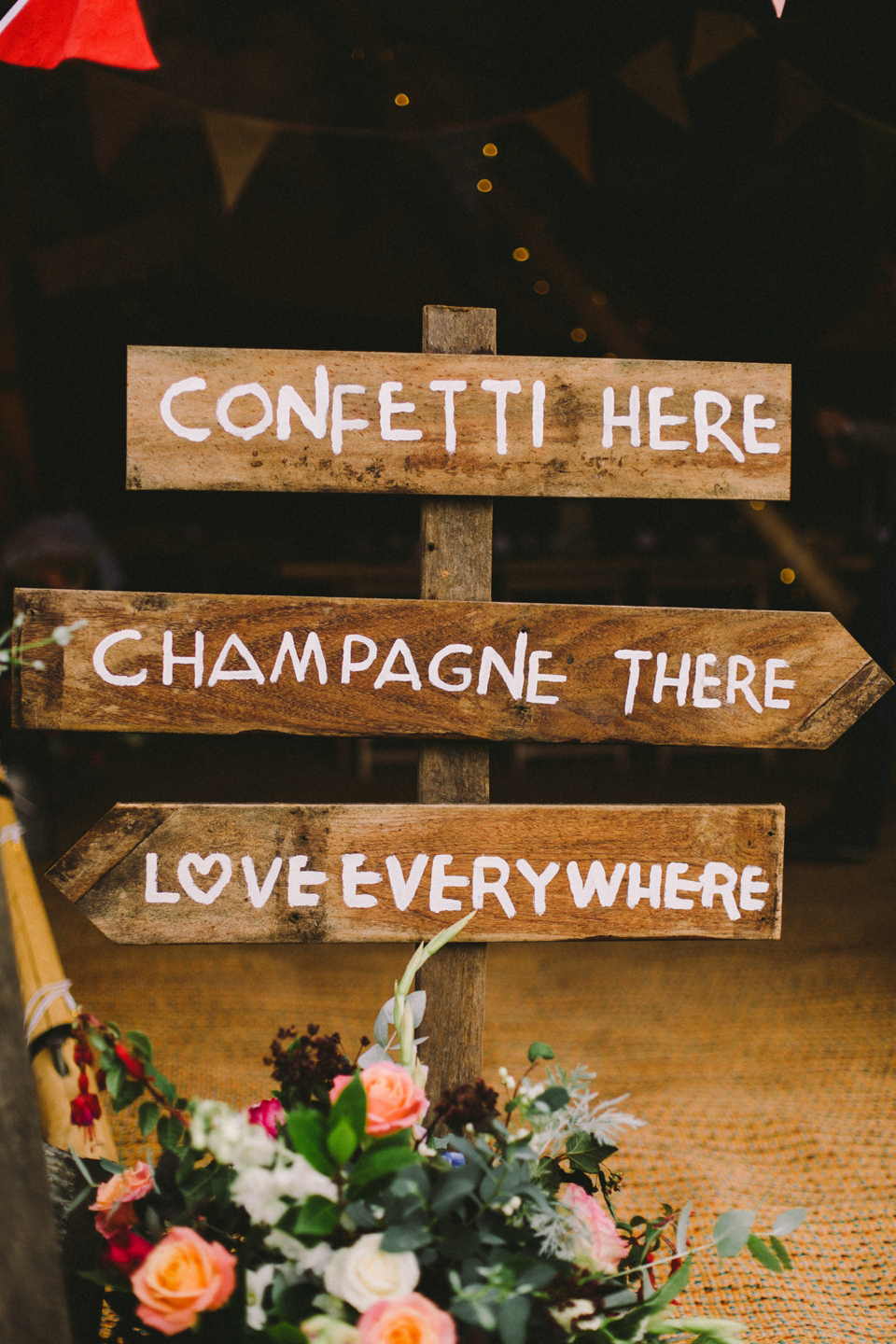 "I hadn't wanted a veil initially, but the more I explored Love My Dress and Pinterest, the more I wanted one. As my dress didn't have a train, adding a cathedral length veil gave the effect of a train without the hassle of having to bustle or pin up your dress.
I loved the idea of having huge fresh flowers in my hair and had pretty much decided on the floral headdress before I'd even thought about my dress! I am a little bit in love with Stone Fox Bride too – an insanely cool and alternative bridal showroom in downtown New York – and had spied their floor-length veils adorned with floral halos on Pinterest and their website."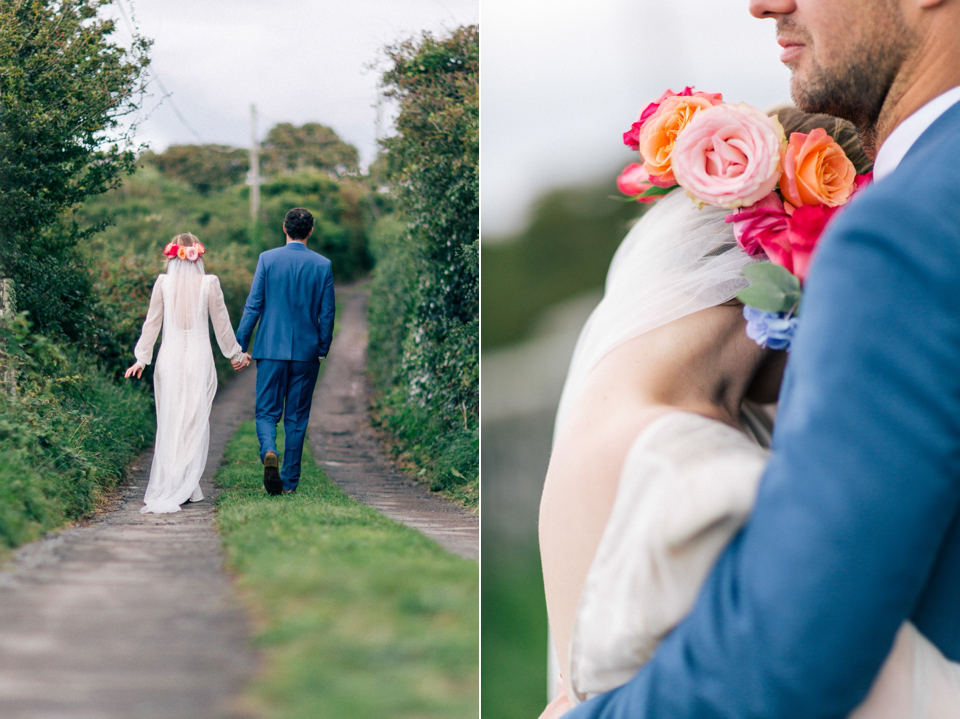 "Our day was captured beautifully by Rachel Hayton. I don't even know where to begin with this lady.  2013 saw her begin her journey as a wedding photographer and we were one of her first weddings, not that you would have known. From the first time we spoke, Rachel and I clicked straight away, it felt like I had known her for years.
Rachel is an extremely talented individual and instantly shared our passion for the day. Her creative approach and attention to detail is incredible and we have so many amazing shots from the day. The photography was so important to us and I am so so happy that we found Rachel!"

"I wore the Leila shoes by Emmy. I had heard great things about Emmy via bridal blogs like Love My Dress and had been purring over the vintage styling and glamour of Leila ever since I spied them on a wedding blog. While the Emmy collection was over my original budget, I convinced myself they were an investment.  The vintage inspired shapes are timeless and I spent some time perusing the website before making the commitment to buy. I was especially sold on the idea of dyeing the shoes after my wedding so they could be worn again. If you can't invest on your wedding day, when can you?!"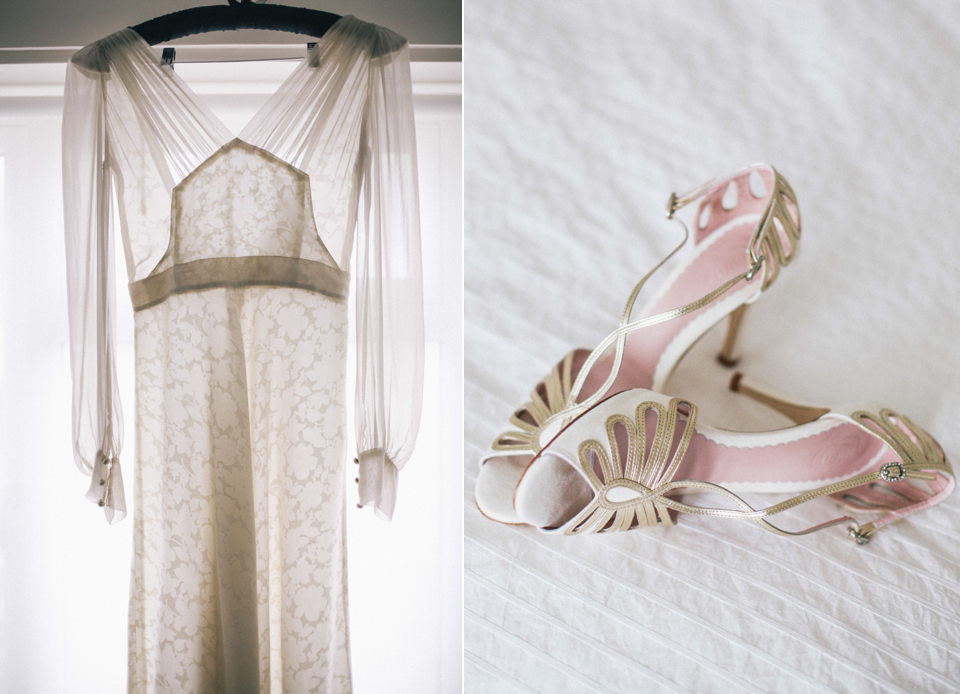 "I decided to do my own makeup as I wanted a natural look and figured no one knows my skin and tone better than I do. I enjoy experimenting with my make up and am quite confident when it comes to applying it plus, I had this hideous vision of professional make up going terribly wrong and looking ridiculously over the top on the day. I booked myself in for a trial with a Laura Mercier make up artist at Space NK. She gave me some great tips and I came away with lots of lovely new make up, which I get to use post wedding!
I ended up doing my own hair too, for similar reasons, but also due to the location of our wedding. I didn't want to use just anyone and I would have had to cover travel costs for my hairdresser. I wanted my hair to have that effortless look to it. As I have quite fine hair, I'm fortunate that I can just throw it up with a few pins and it tends to look okay."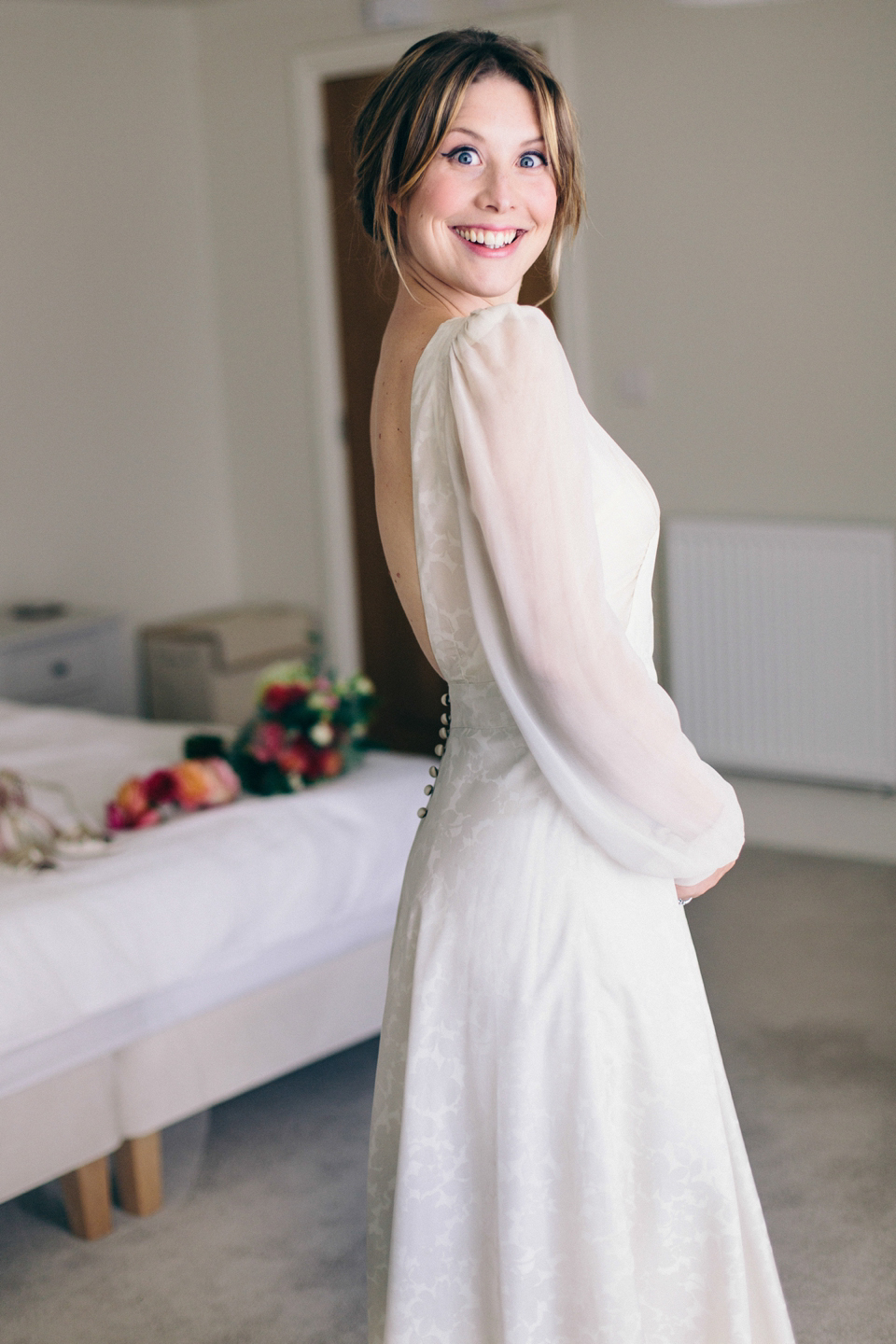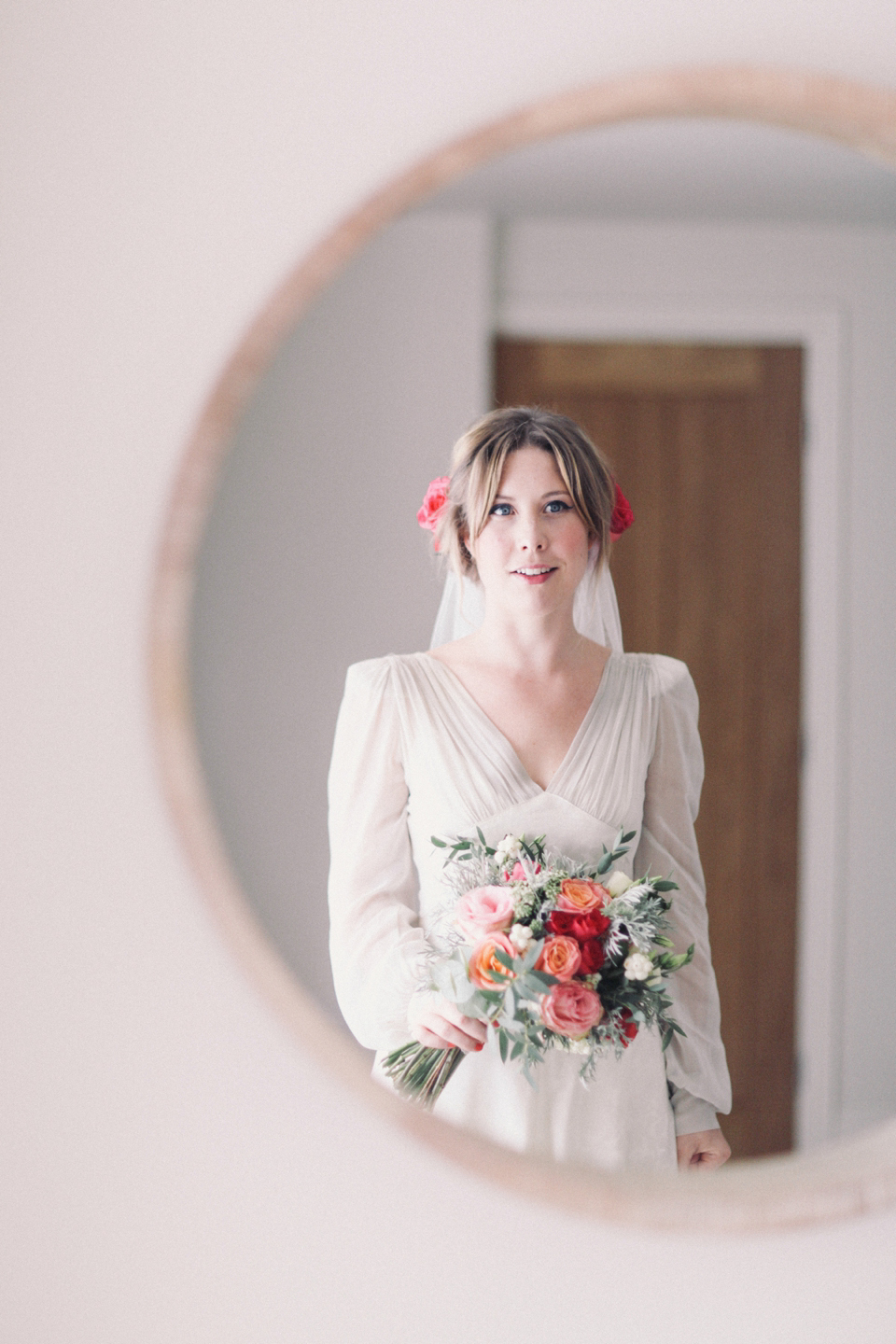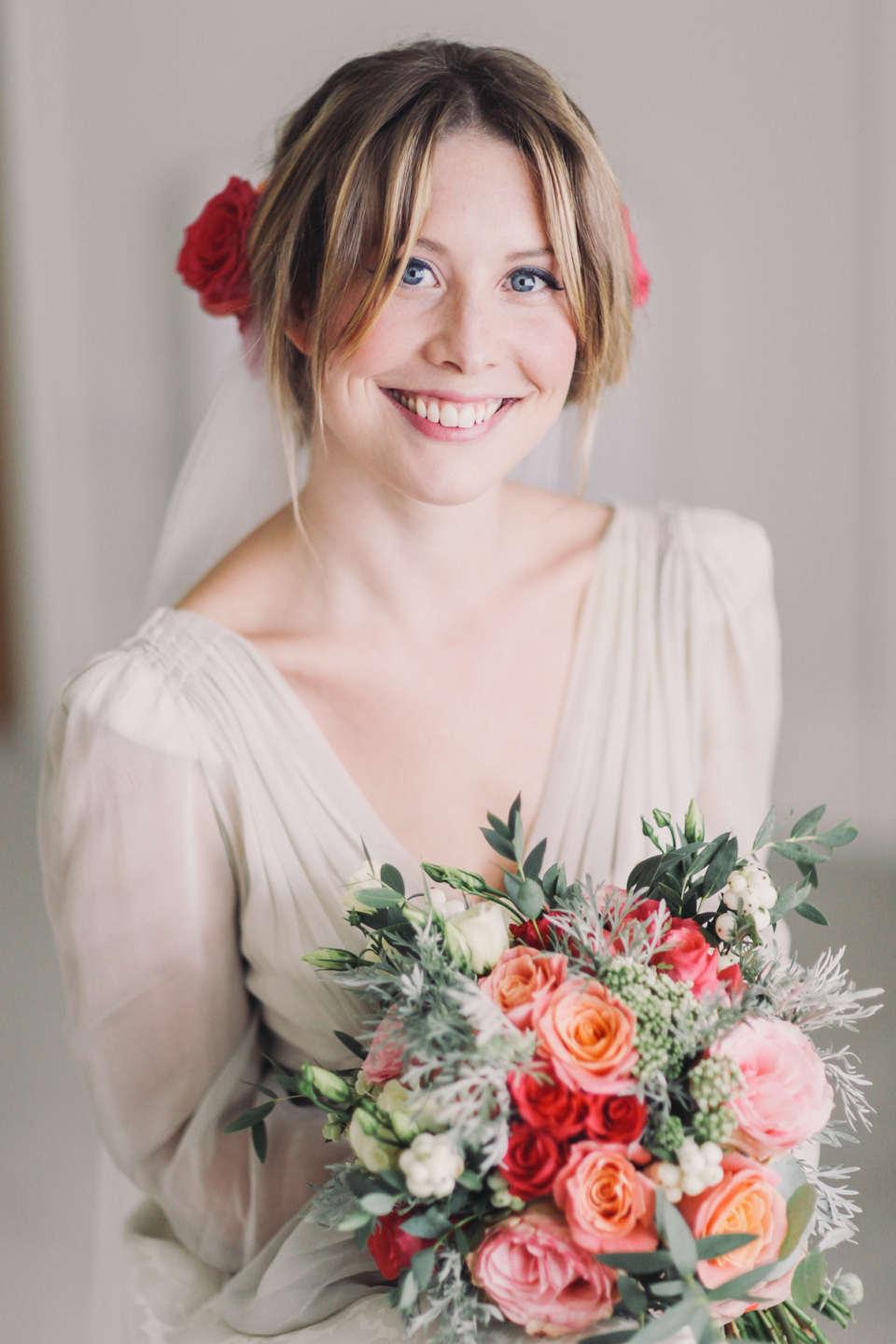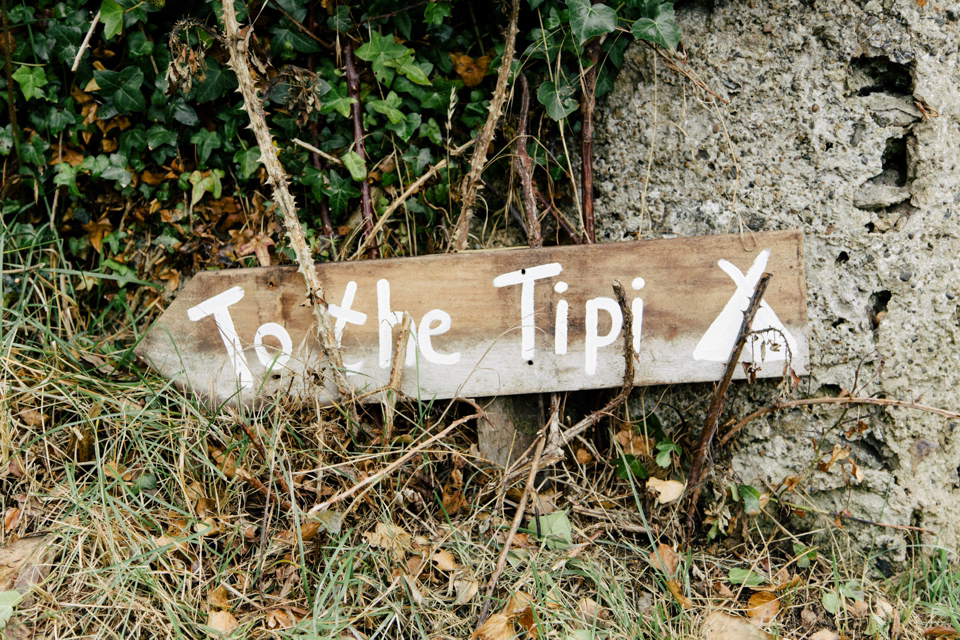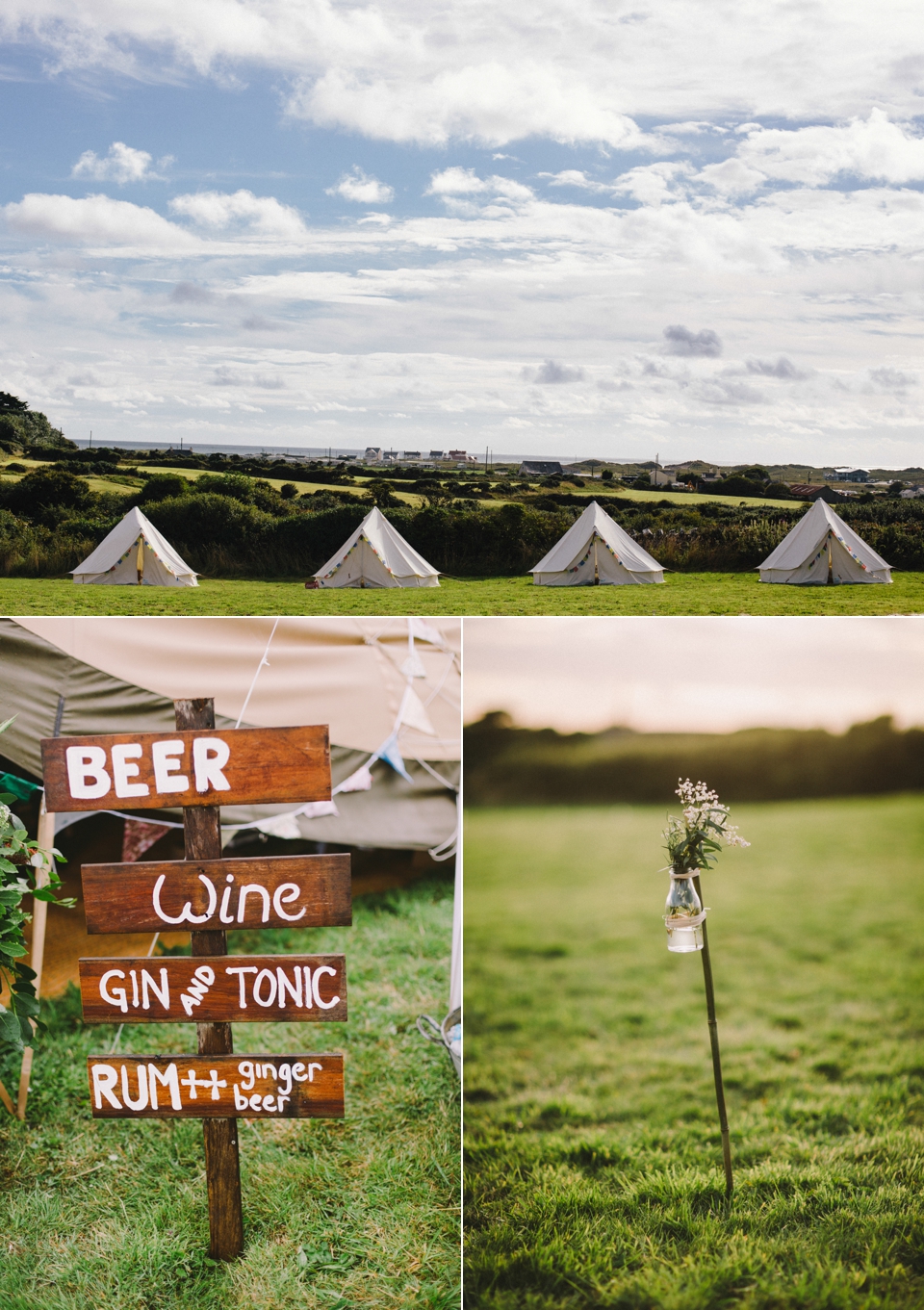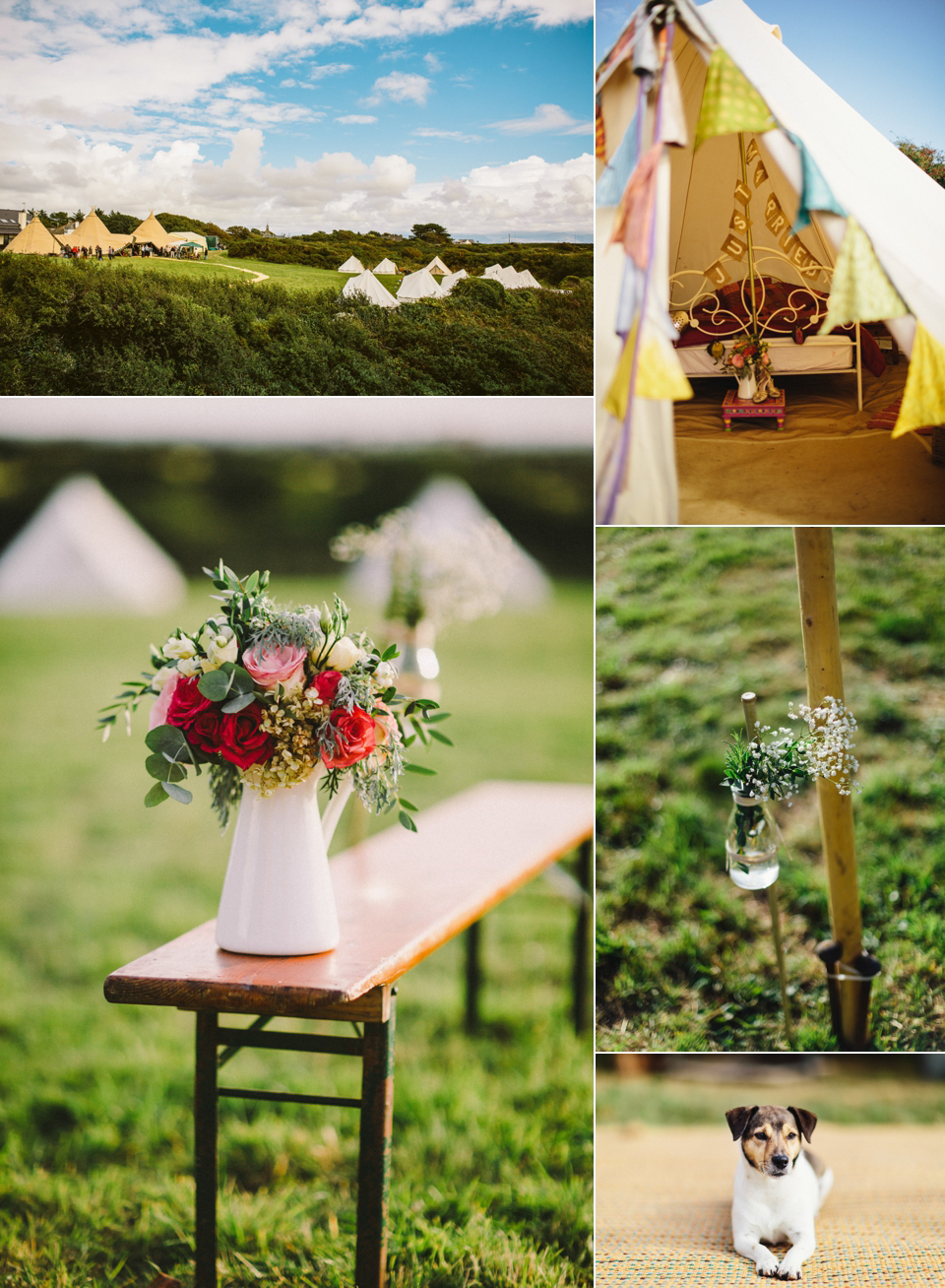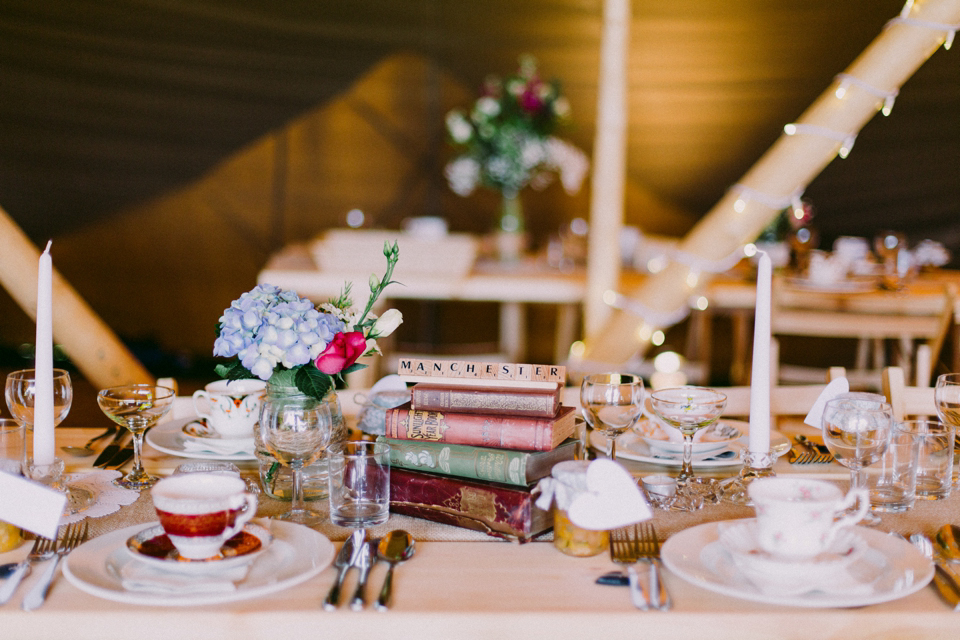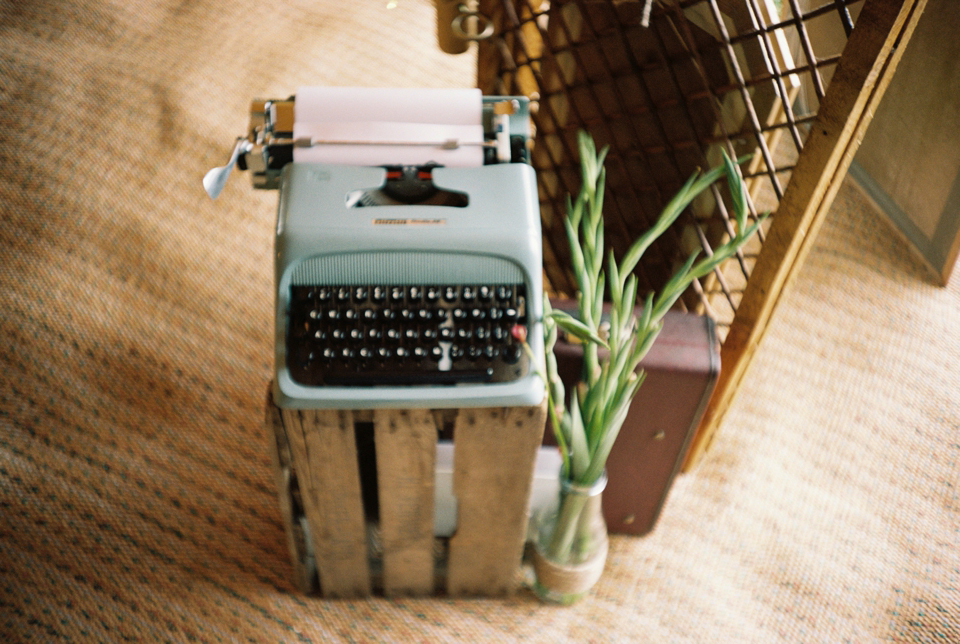 As favours we gave my Mum's homemade courgette and apricot chutney. As well as cooking up enough chutney for 120 guests, she made all the jar covers from scraps of pretty fabrics and tied a luggage tag on each one with brown gardening string.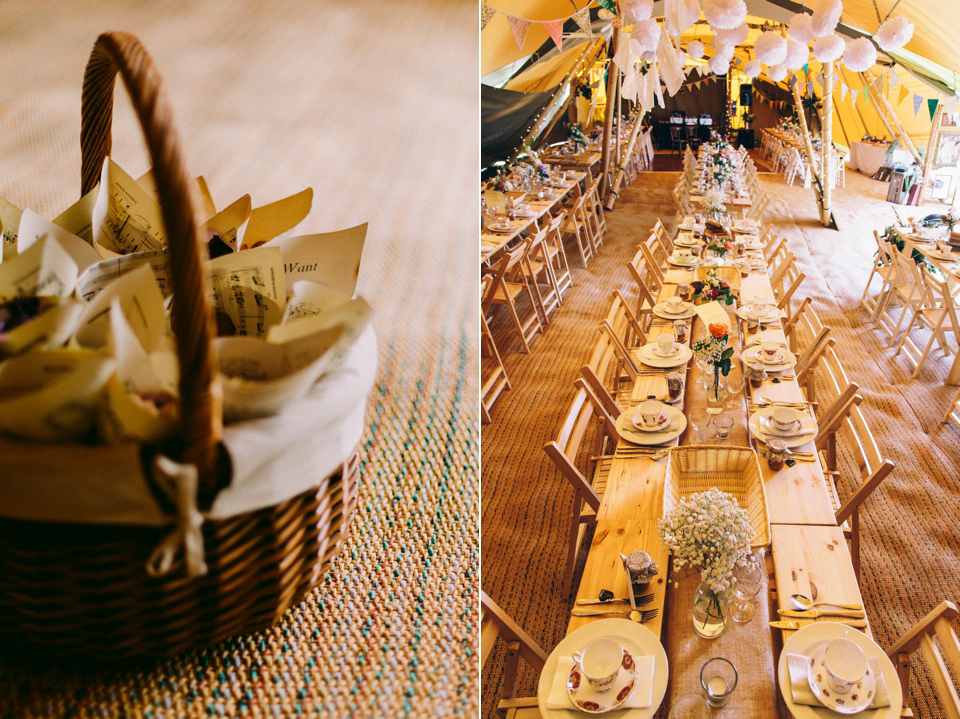 "Josh wore the Garth three-piece suit by Reiss. It was the first suit he tried – that's my boy – and the guys in Reiss were really helpful and relaxed.  His tie was also Reiss and he bought his shirt from Cos."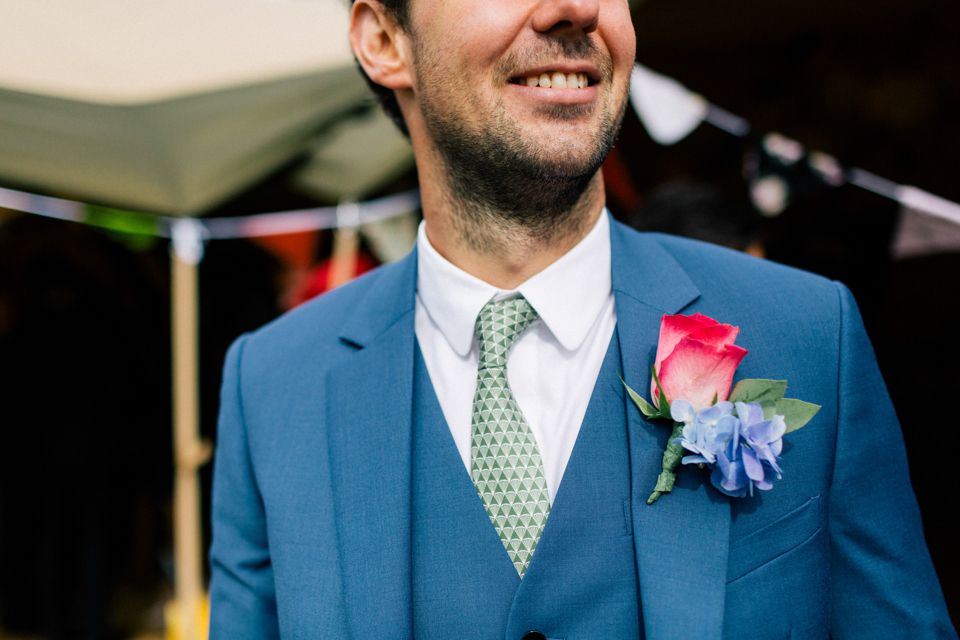 "I love our wedding rings. Josh's parents generously offered us the wedding rings that belonged to his Grandfather and Grandmother. They are both very simple wedding bands and the beautiful sentiment makes them all the more special."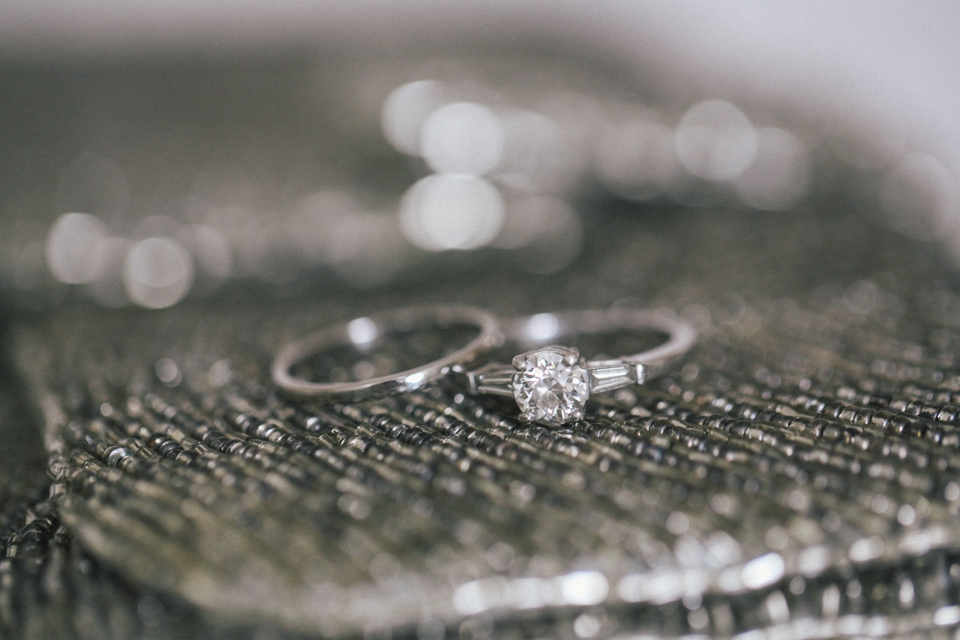 "My dad, Mick, walked me down the aisle.  We hired Manchester based 'The Dotted Crotchets', a string quartet who played a selection of music as our guests arrived and during the drinks reception. I walked down the aisle to an acoustic version of 'Hysteric' by the Yeah Yeah Yeahs, which sounded amazing on strings."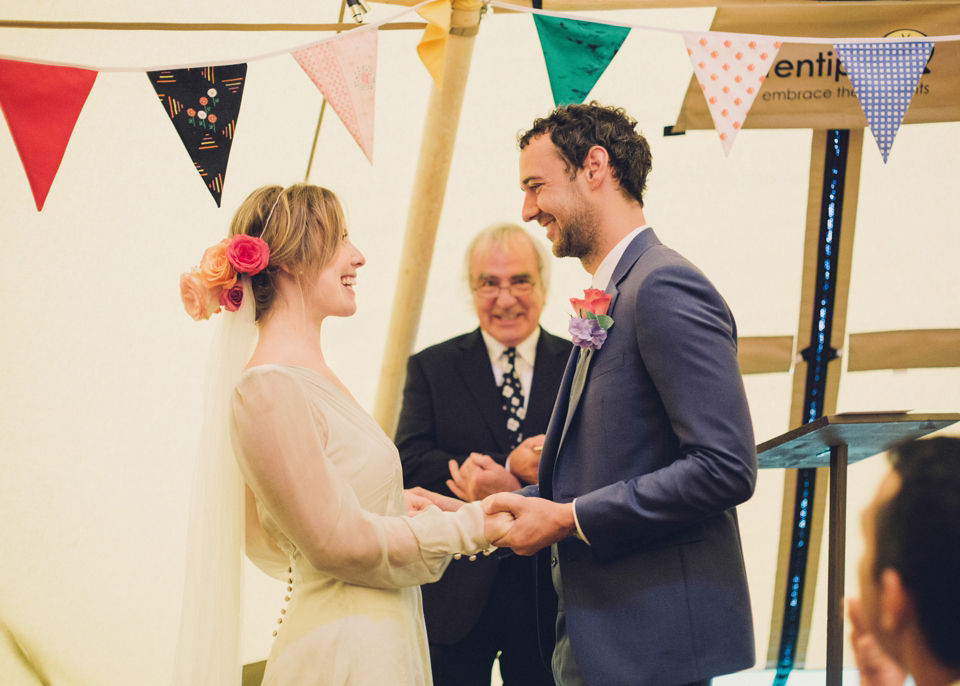 "The great thing about a Humanist Wedding ceremony is that you can tailor it to you. We worked with David, our celebrant, to design the whole thing and wrote our own vows too. I loved the personal feel to our ceremony and would recommend a humanist wedding ceremony to anyone.  We chose three readings for the ceremony; 'Love is a temporary madness" from Captain Corelli's Mandolin by Louis de Bernieres, an excerpt from 'The House at Pooh Corner' By A.A. Milne and an anonymous reading I found online called Mira And The Secret Of Happiness.
I love the words of Captain Corelli's Mandolin; it is such a heartfelt and honest narrative. The House at Pooh Corner and Mira and the Secret of Happiness readings were more personal and quirky and added a touch of humour, which better reflects our relationship than a soppy, serious reading."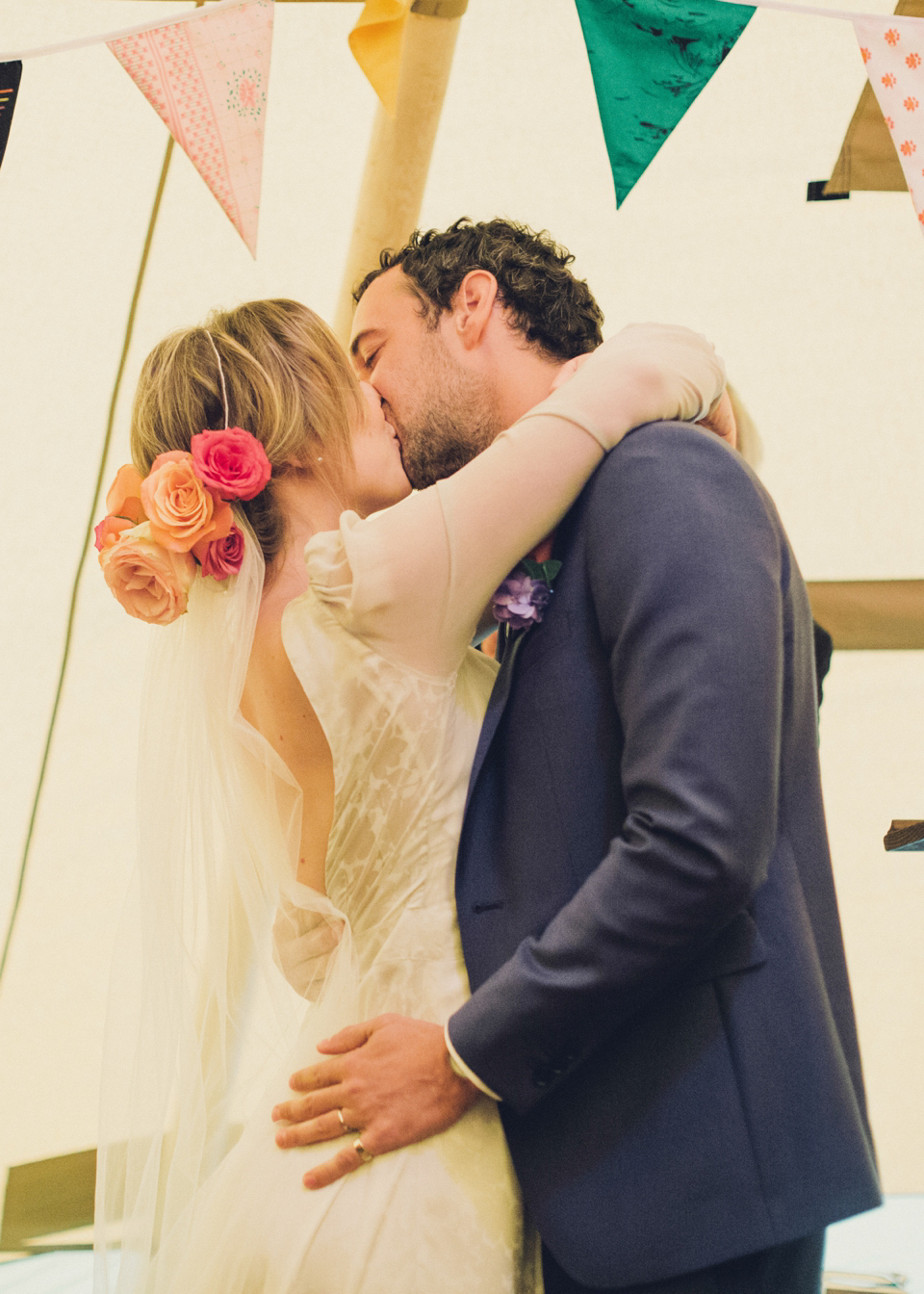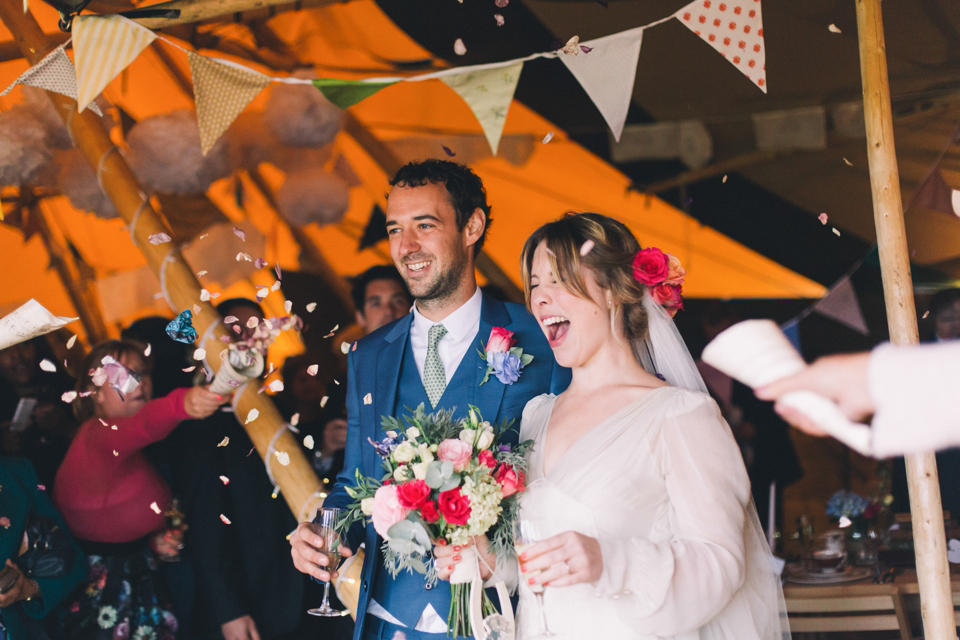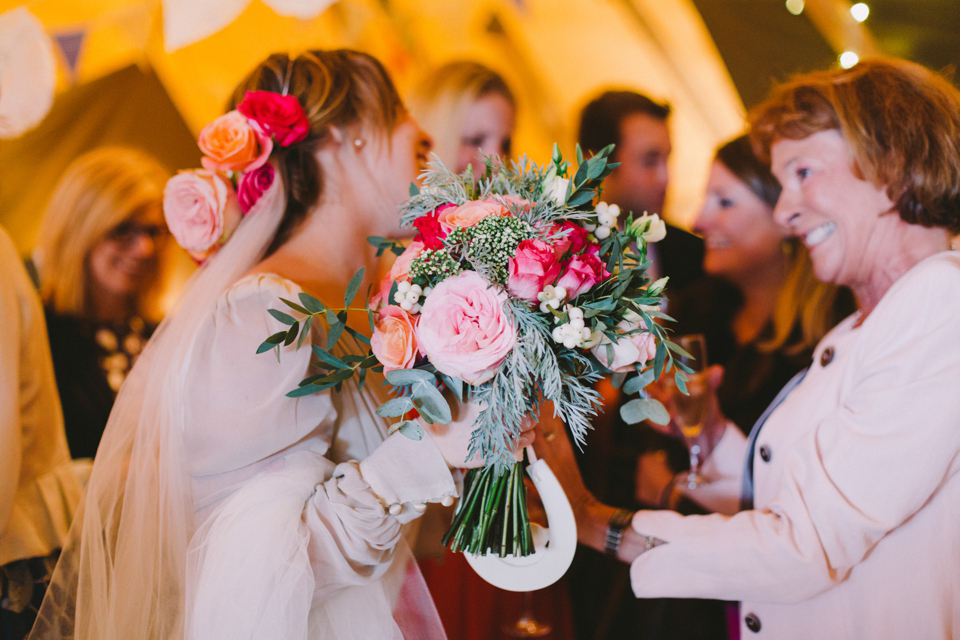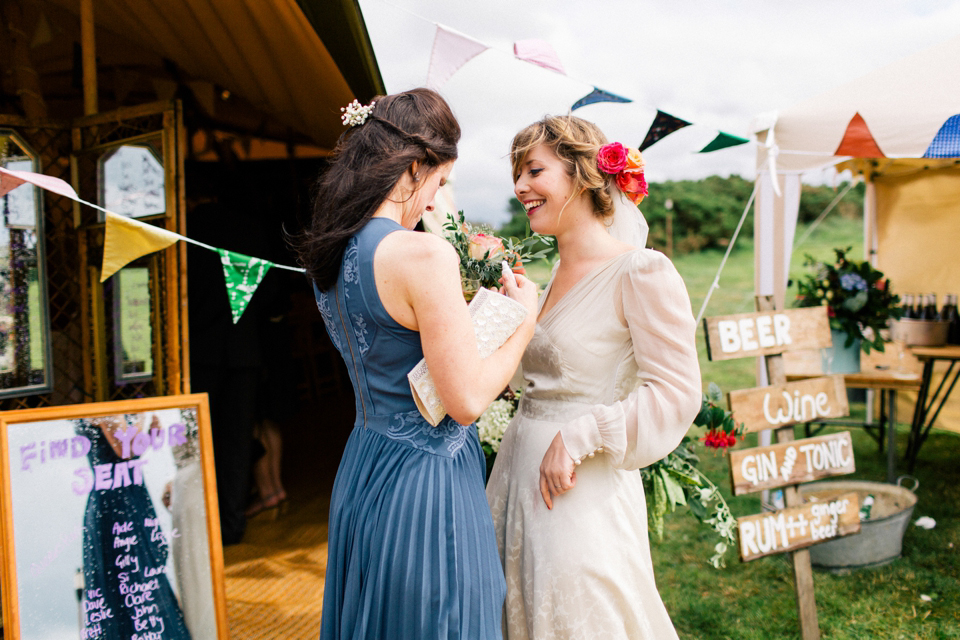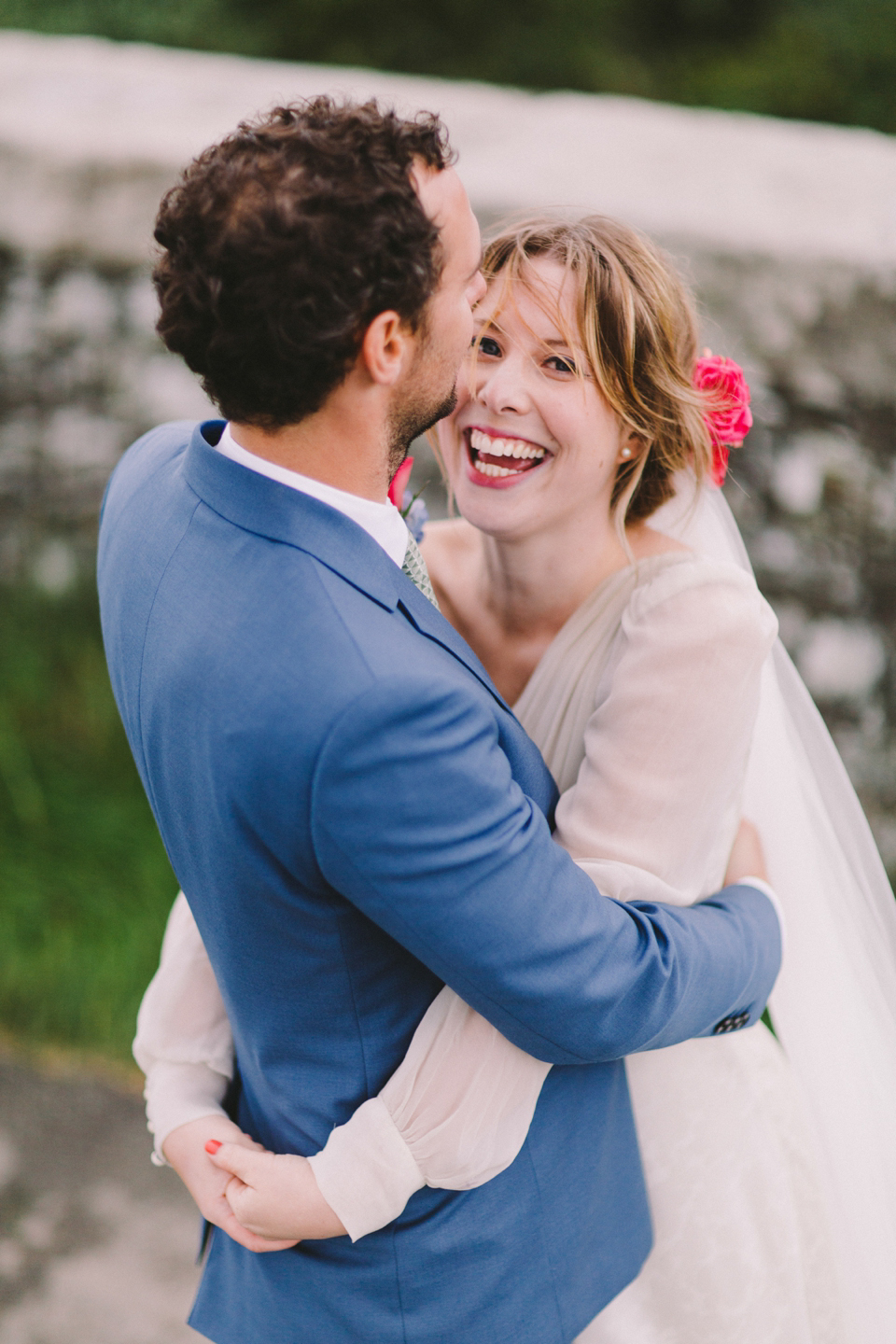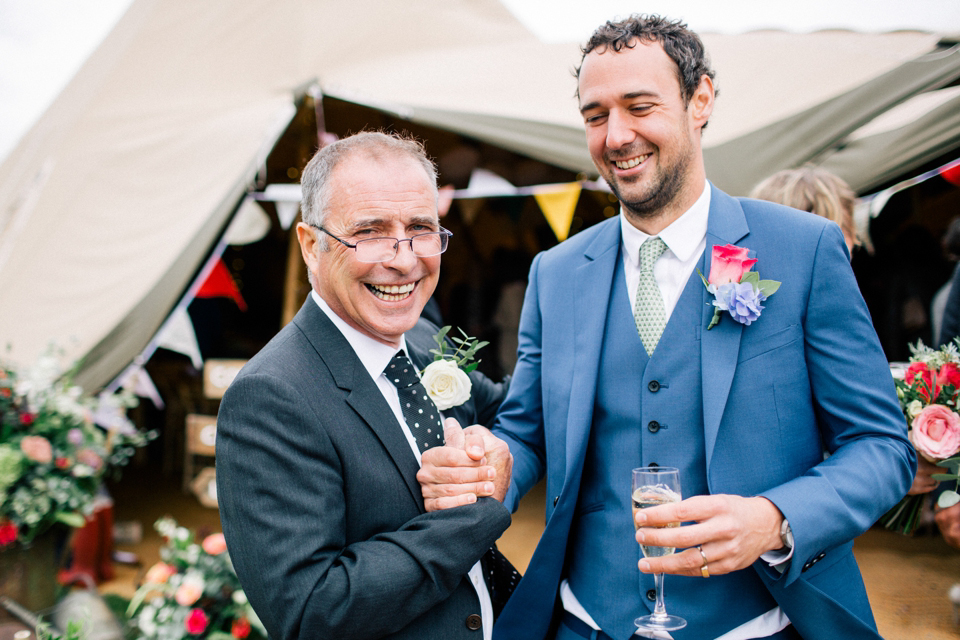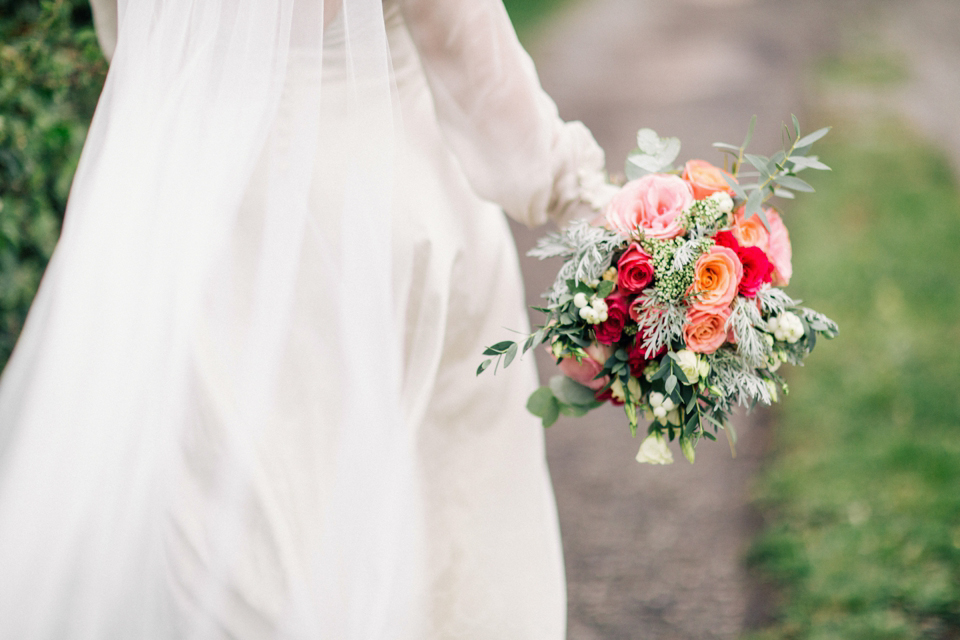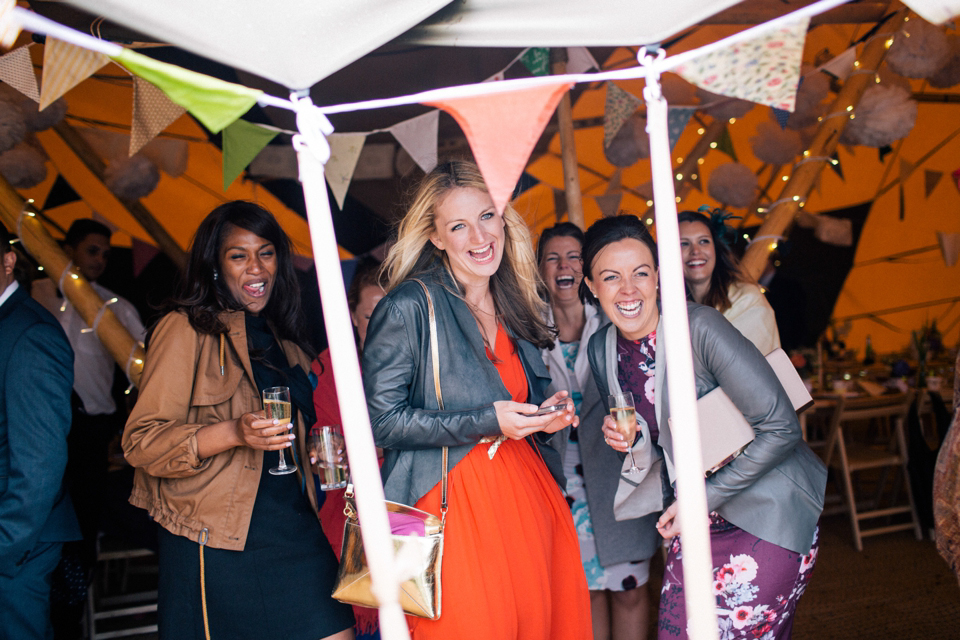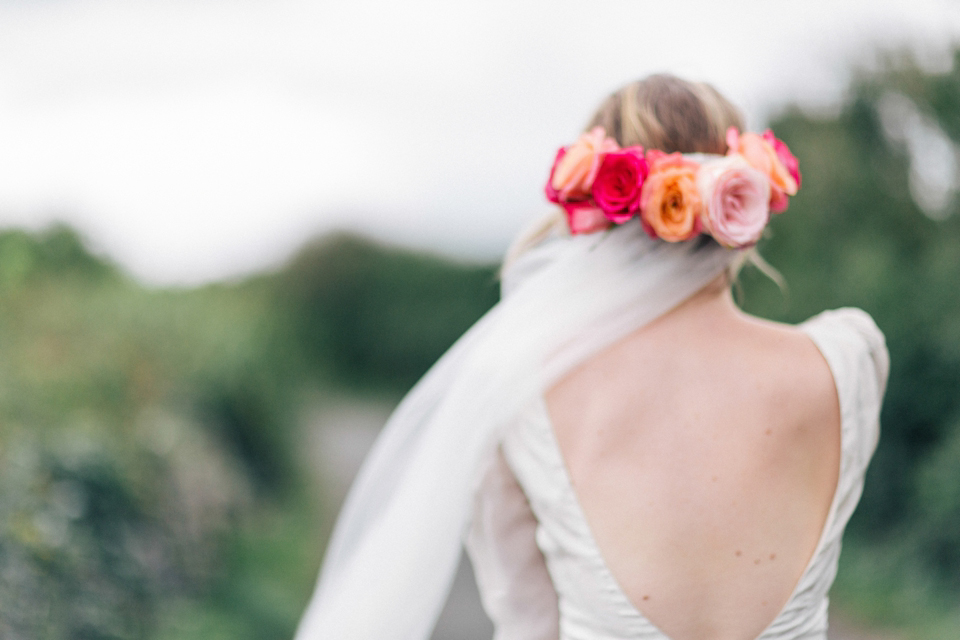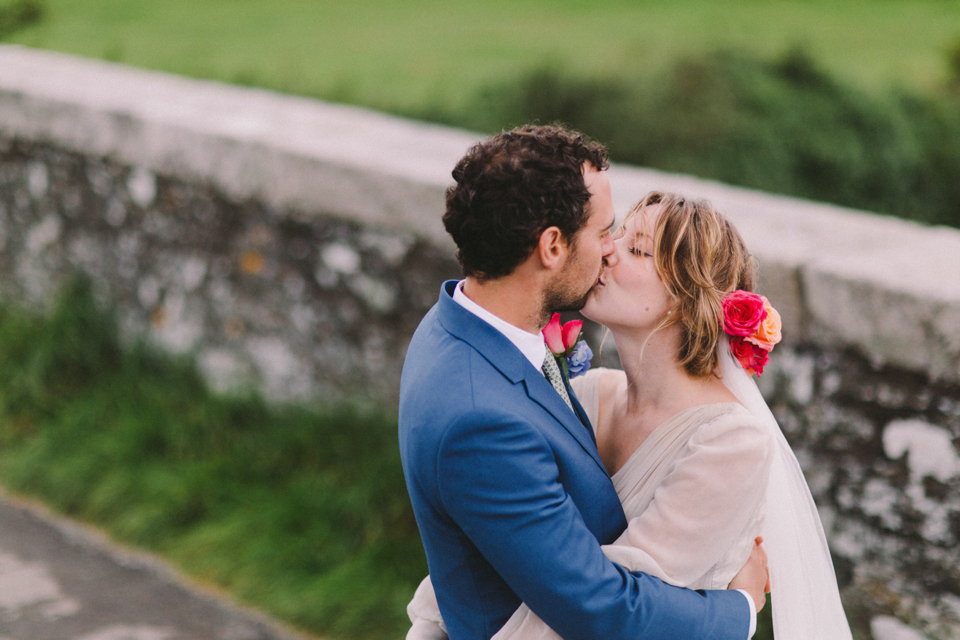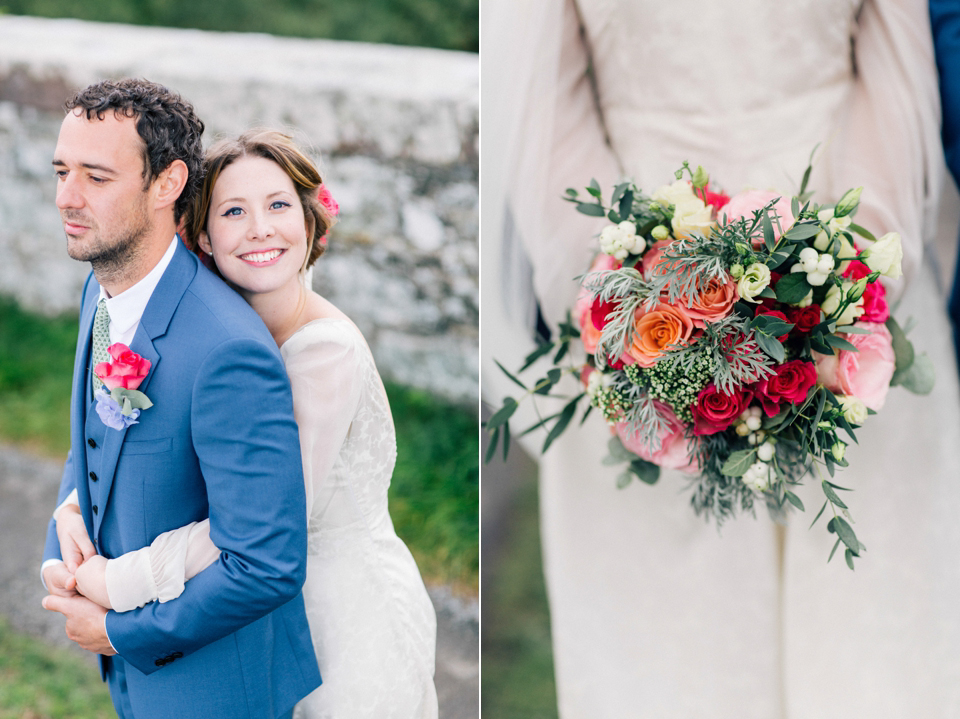 "My sister wore the beautiful Whistles Harper Lace Dress. As she was my sole bridesmaid or, as we preferred to deem it, 'Best Woman', I wanted Claire to wear something with impact. The Harper Dress was perfect; all pleats, lace and semi-sheer panelling. On the morning of the wedding my Mum gave me a pair of her pearl earrings, which were perfect, and they doubled as my something borrowed!"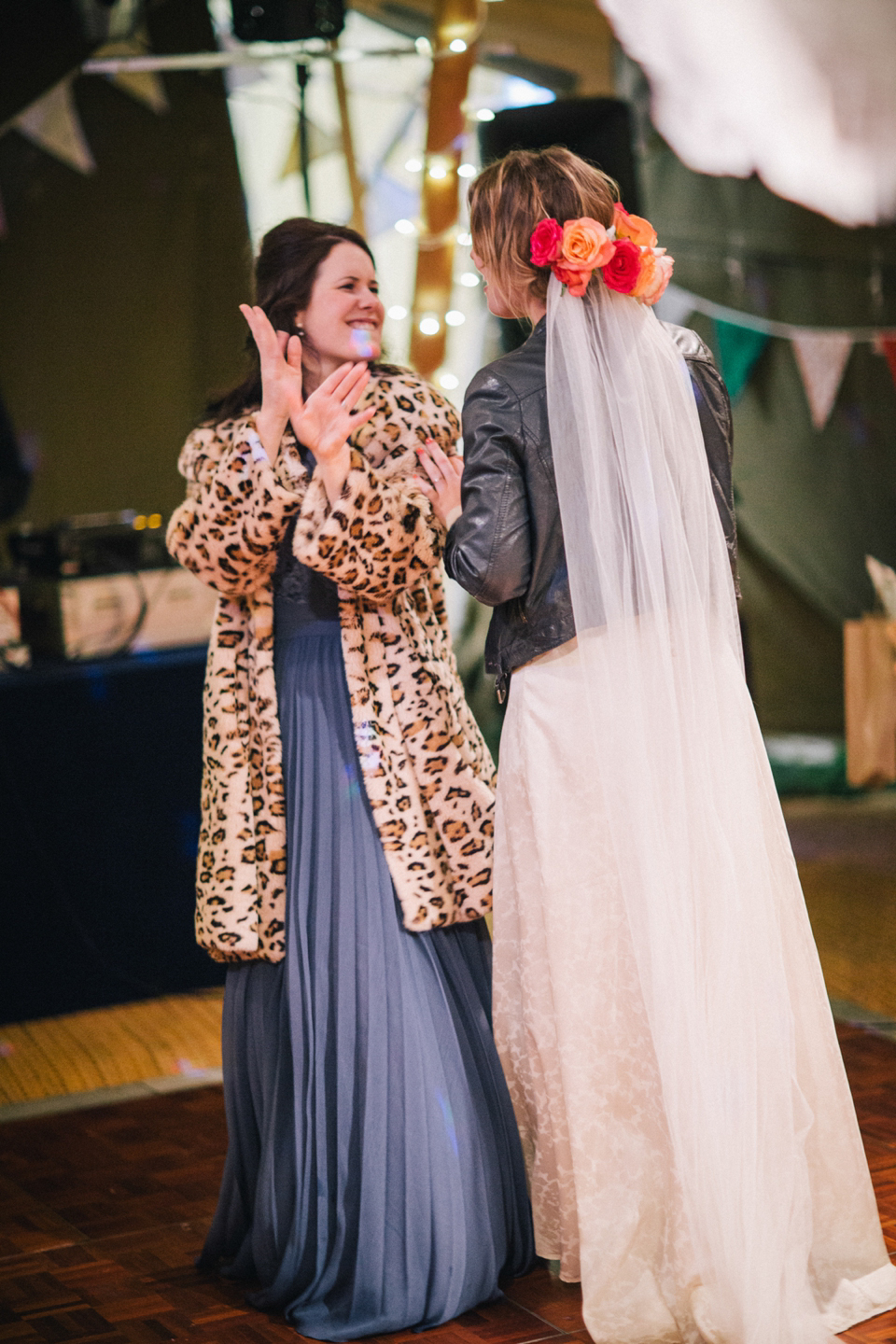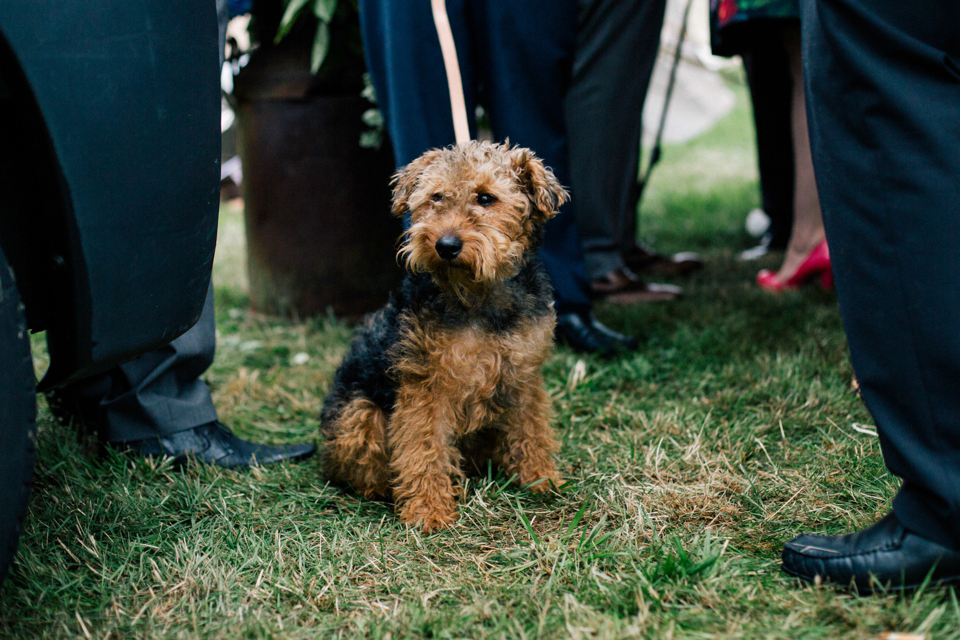 "I don't think I can pick a favourite part of the day, although I have to say walking in and seeing all your favourite people in one room with huge smiles on their faces is a pretty memorable experience, especially when I rounded the corner and there was Josh beaming at the front. I almost melted when I saw him and I think it is pretty difficult to compete with that. Dancing all night to some insanely good music comes a close second though!"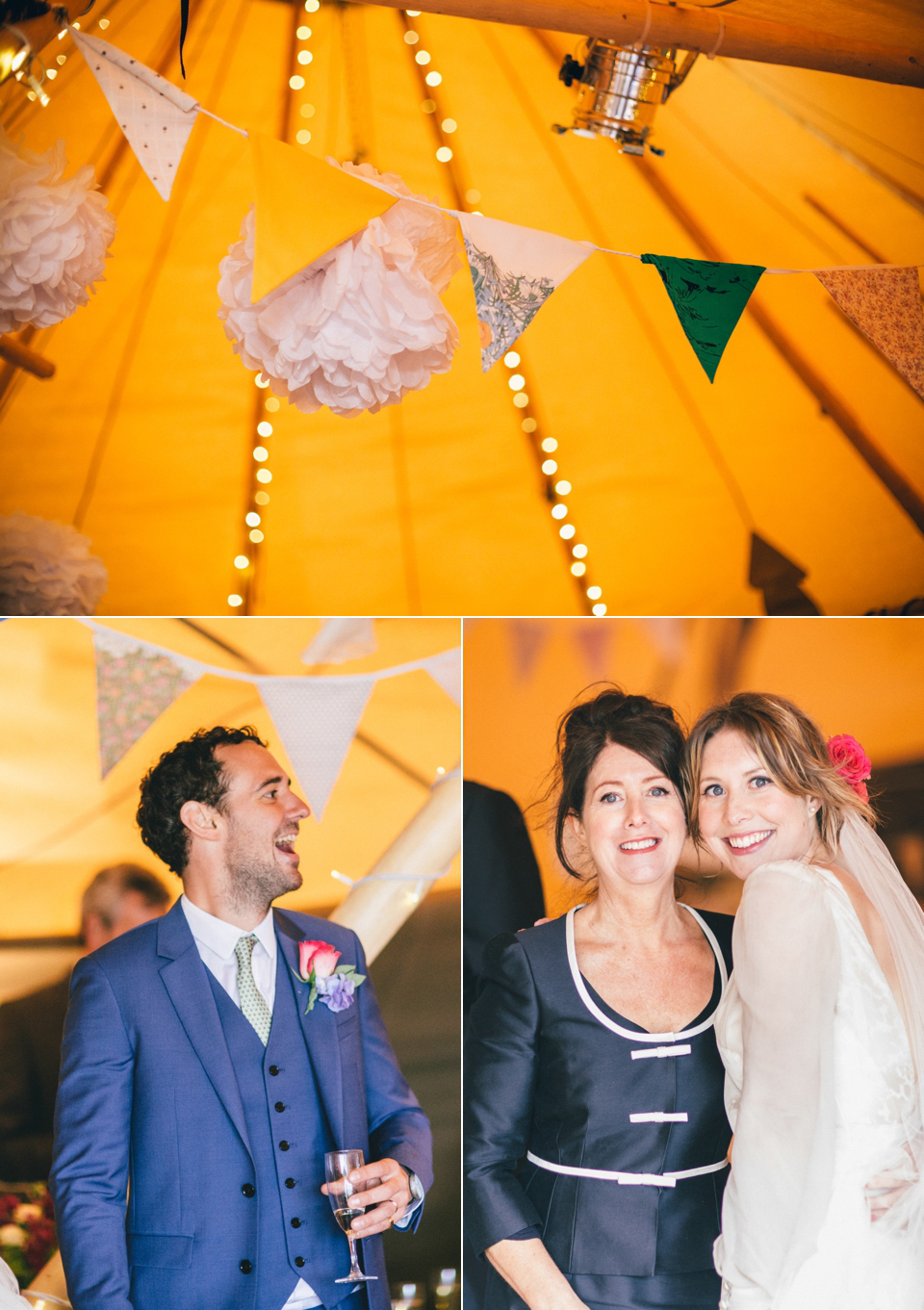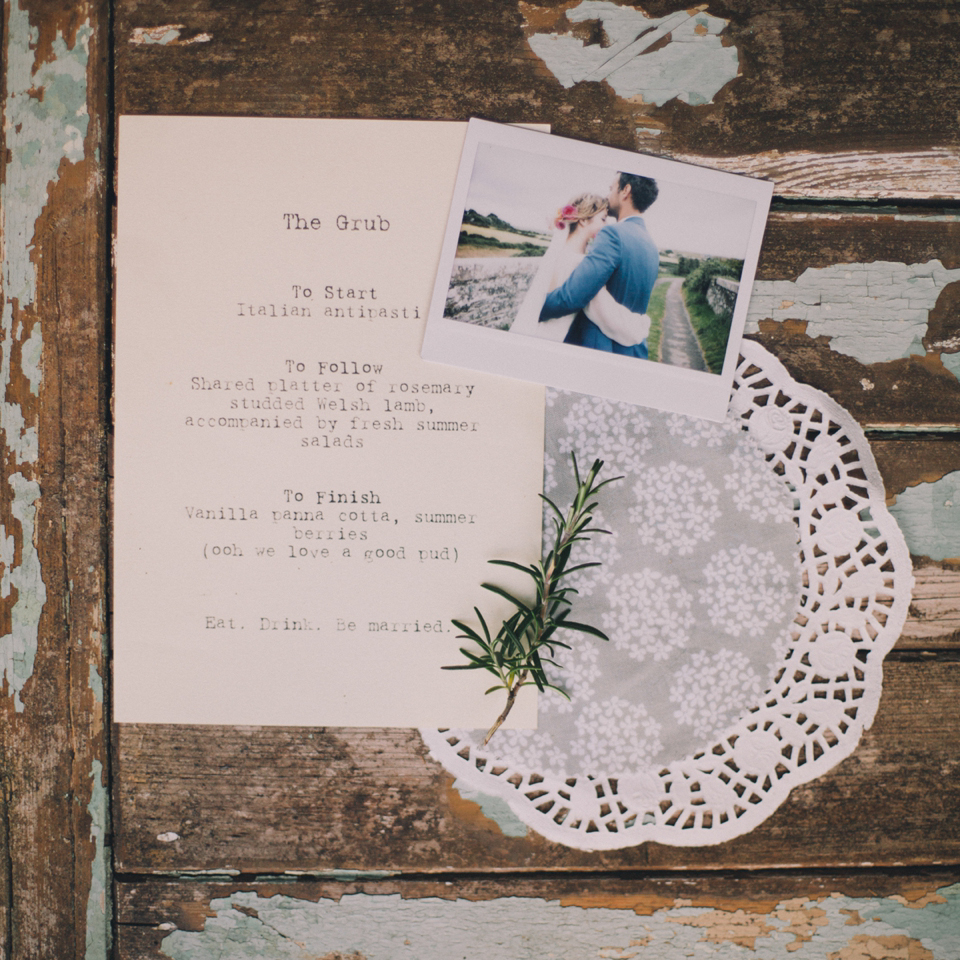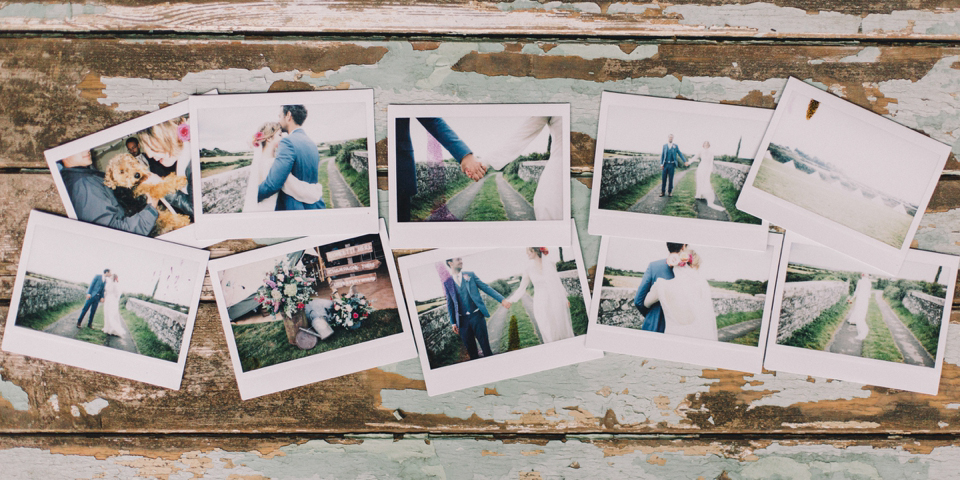 "Josh and I are both really into our grub, so the food at the wedding was really important to both of us. Outside Food are a family-run company who focus on creating delicious food using locally sourced ingredients. Joanna and her team came highly recommended and definitely lived up to our expectations. We worked with Joanna to create a bespoke menu of delicious Italian antipasti, followed by roasted Welsh lamb with yummy pannacotta to finish. Outside also ran our bar and Joanna was a great host, making sure everything ran according to schedule. Instead of canapés at the drinks reception, we did cream tea (minus the tea) and made the scones ourselves, which was a cost effective way of sustaining our guests prior to the wedding breakfast.
My extremely talented Mum made our wedding cake. She is really creative and has always been a dab hand when it comes to baking. I didn't want anything polished or perfect. We opted for a stacked victoria sponge with fresh cream and summer berries, which had a beautiful home made feel to it and was totally nom. It was absolutely HUGE and we very nearly lost it during the cutting of the cake!"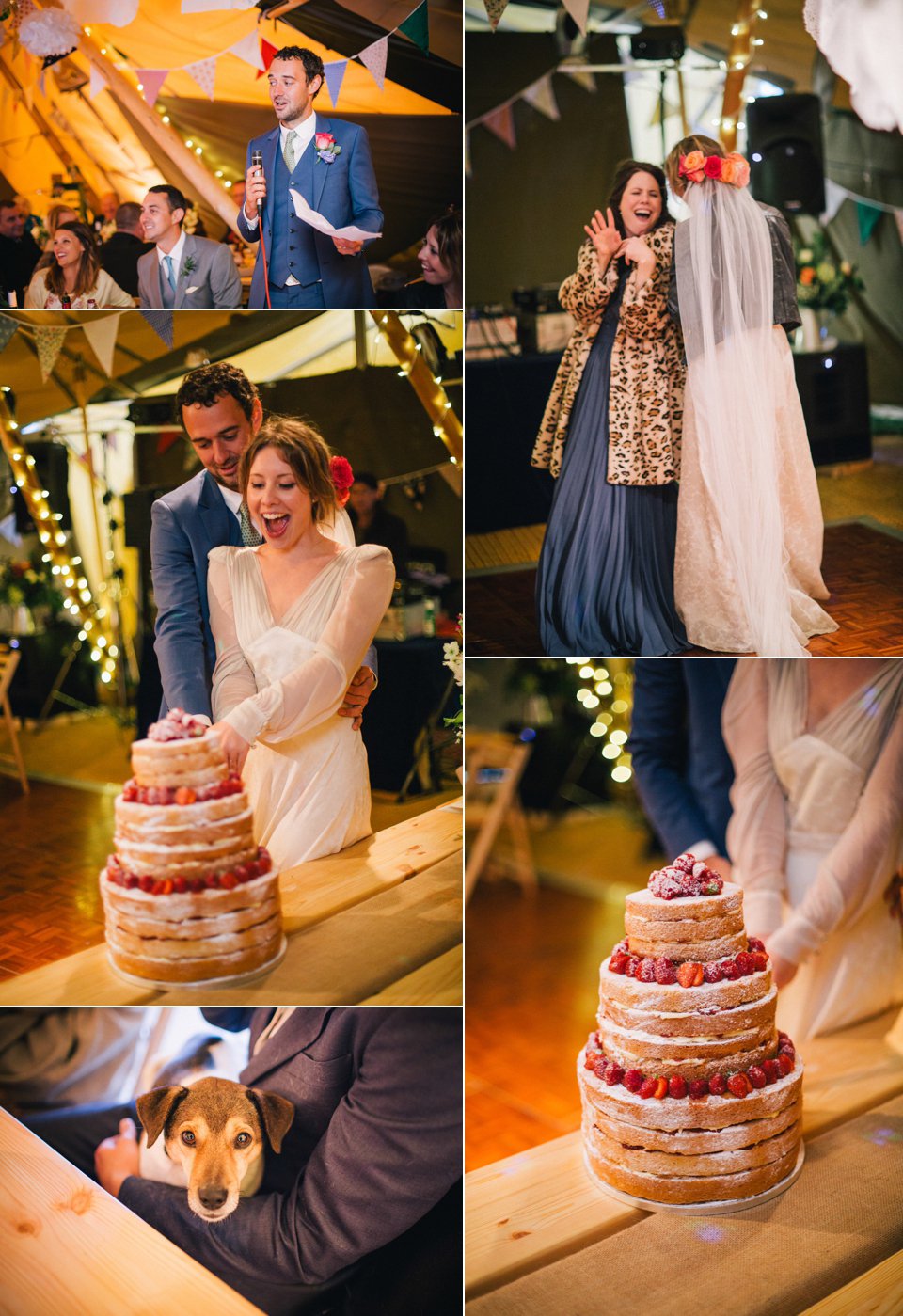 "I am fortunate to have some super clever people in my family. My Uncle (dad's brother) is a very talented DJ and spent weeks with my Dad compiling the music for the wedding. We sent them quite a list of our favourite songs and that was it.  John and Dad have impeccable taste so we trusted they would do a great job. The dance floor was packed until the early hours. There is the most wonderful photo of the two of them behind the decks, which I adore.
Our first dance was the Al Green's cover of 'Light my Fire' by The Doors; we both love the original version.  I had listened to The Doors growing up – my Dad was keen to teach us the good stuff!"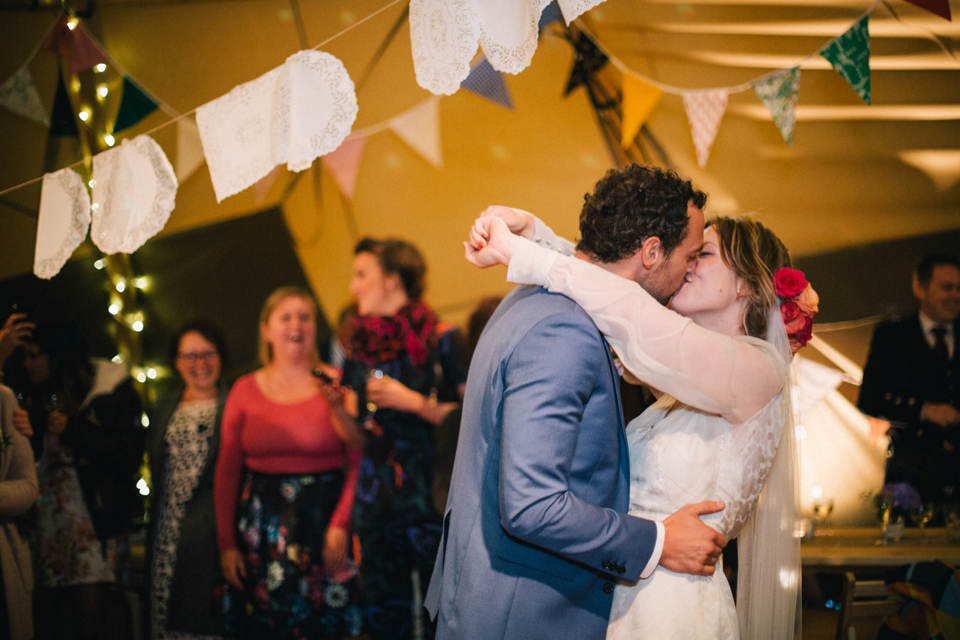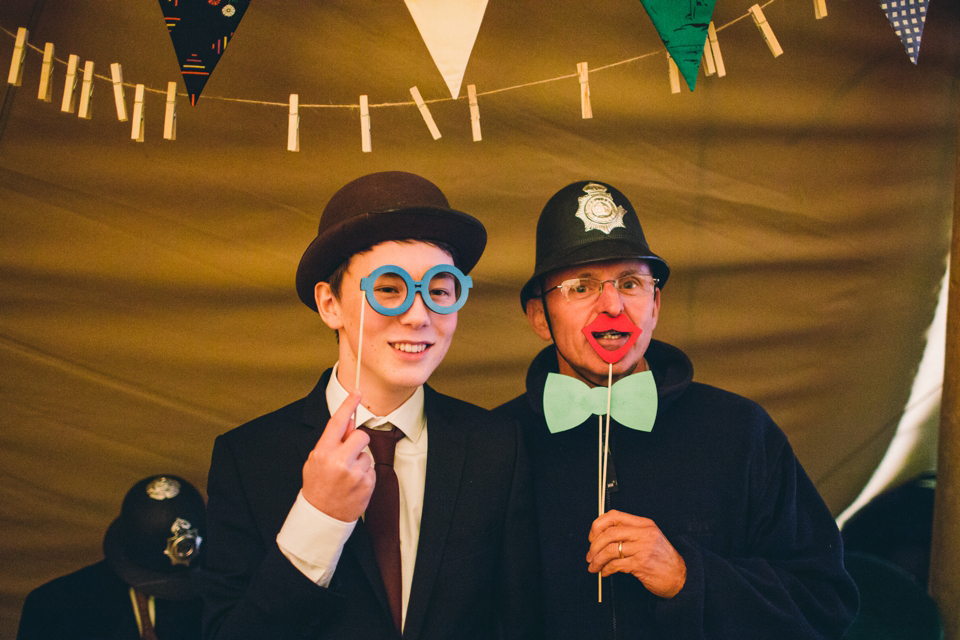 Words of Wedded Wisdom…
"I do also wish I had paused to take a breath; it is the most incredible day, but it is such a whirlwind and it's surreal how quickly the time goes. If I could do it again I would definitely just stop and remind myself to take it all in. Oh and I might have planned a little for the horrendous weather!
If you are planning a wedding in a field you will need a lot of support! We were lucky to have so many incredible family members and friends who were willing to help us out, as there is so much to consider and organise. My sister was amazing and advised me to write a programme for each set up day, which she managed on my behalf. It was great to have a timeline to work to and even better to know I had my best woman on the job as it took the pressure off.
Also, don't sweat the small stuff. I tried to organise everything to the finest detail when, in the grand scheme of things, it doesn't matter.  What actually matters is that you get married and share the best day of your life with the people you love. A lot of our plans had to be rearranged at the last minute because of the hideous weather and, while it is disappointing to learn that you can't have an outdoor bar or a fire pit for toasting marshmallows, you just have to roll with it; it made for a cosier dance floor!"
"I regularly scoured the internet for inspiration and visited lots of wedding blogs, including Love My Dress. I love the way Love My Dress provides coverage of less well known wedding dress designers i.e. Katya Katya Shehurina. There is so much coverage of the obvious dress designers and suppliers; so it is refreshing to see you exposing (and supporting) the newcomers.
I also found Pinterest to be incredibly useful too, as I stored all my images and ideas together on boards, which I could print out and give to people involved in the wedding. I also frequently perused the Stone Fox Bride website and Pinterest page, which have lots of mouth-watering wedding fodder for you to purr over."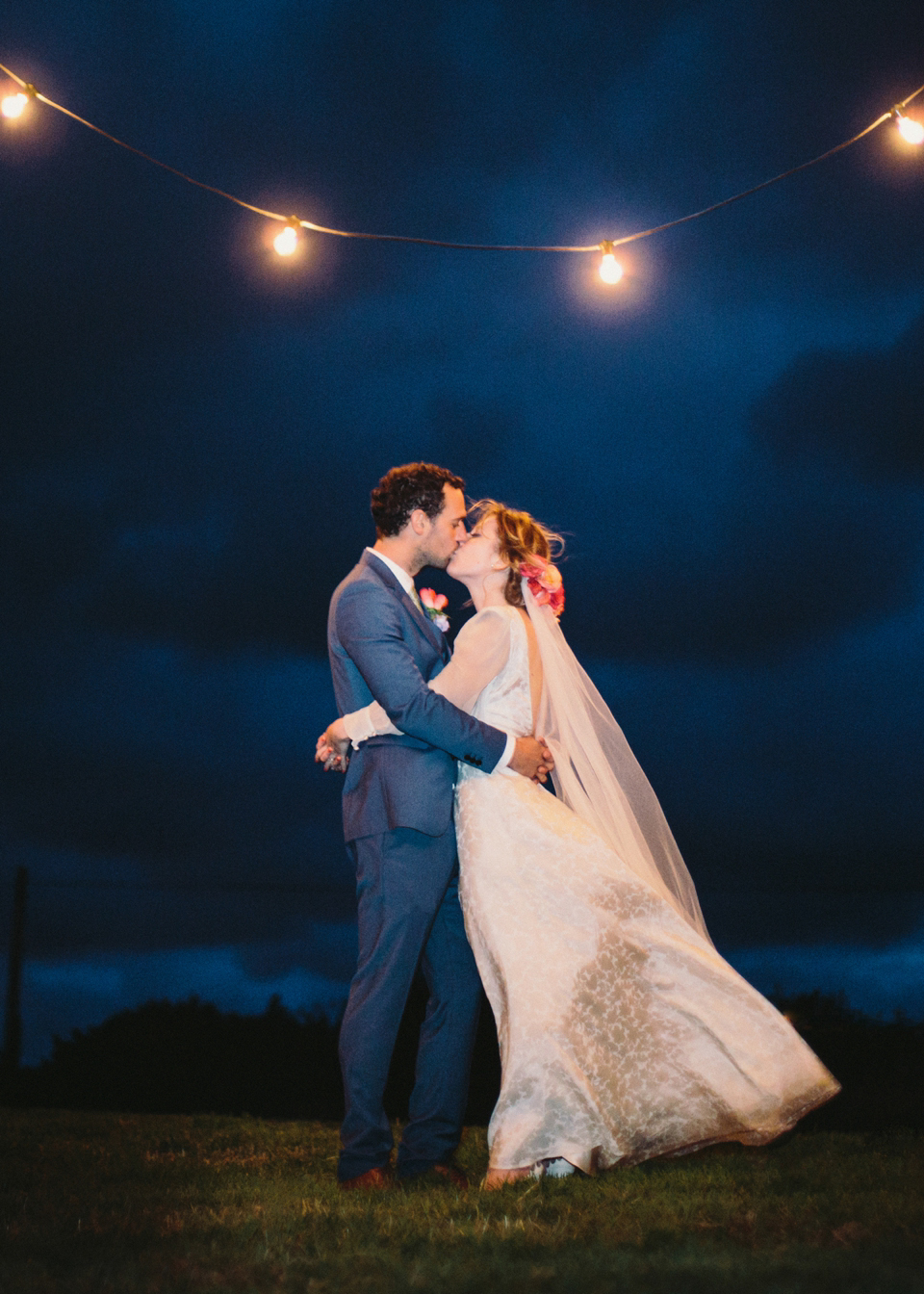 So, so in love with these exceptionally beautiful wedding photographs, though I have to admit, I think it's Sally's beautiful smile as well as her dress that steals the show.
Big congratulations to you Sally and Josh – thank you so very much for sharing your wonderful wedding with our readers, who I know will be hugely inspired by it all.  And thanks also to the brilliant up and coming photographer Rachel Hayton (one to watch ladies and gentleman, and based on these images alone, a photographer to look into if you have not yet booked your wedding photography).
I love the festival wedding vibe of this whole day – you can see more similar style here; festival style weddings, bohemian brides, rustic, tents and tipis, brides wearing Elizabeth Avey gowns and brides wearing leather jackets.
Please take a moment to show your appreciation of this wedding below, or ask bride Sally any questions.
Love Annabel