Good morning lovelies, I hope you've slept well and are ready for the day ahead – may this sweet little wedding help you on your way.  Becky, a Recruitment Manager married James, an Investment Banker on 25th May last year, with a ceremony at St Marys Church in Shipton under Wychwood, followed by a reception at Merriscourt in Sarsden.
This is a beautifully relaxed wedding in English country fete style, and the bride wears one of the loveliest light silk and delicate lace designs by London designer duo, Belle & Bunty.
"Given our venue was in the middle of the beautiful Cotswolds we felt we just really wanted to enhance what was already there and went for an English country garden theme. James and I both wanted a relaxed and fun day that was very English, like a country fete which complimented our surroundings."
Photography Copyright (c) 2014, Mckinley Rodgers
"James and I met in 'Paradise' the nightclub Paradise in Kensal Rise. We had no prior connections, and after having a silly dance off with my friends, James caught my eye. James challenged me to play how low can you go. This inevitably ended with me winning, being the 6 ft. 5" giant he is.
James and I clicked on so many levels.  We are both originally from the north of England, have a mutual love for festivals, dance music, travel and food and it all seemed very natural."
"Within a year of knowing each other we moved in together and in April 2012, on my 30th birthday in Venice, James proposed on top of Ponte dell'Accademia overlooking the Grand Canel which was followed by lots of tears and pro,secco to celebrate.
James and I knew we were keen to get married quite quickly, however most venues were booked up for the summer of 2012 so we decided to go for late spring in May 2013, which meant we had just over 12 months to plan the wedding."
"I am not a big 'meringue' girl, although they look lovely on other people they don't really suit my style. I knew I wanted something with lace, but not all over, and that was fitted but allowed me to dance the day away. I tried on so many dresses and found the whole process the most stressful part of the wedding, until I tried on the willow lace design by Belle & Bunty - I knew it was the one."
It was unique, beautiful and I felt so special. The lace and silk were exquisite. I didn't believe others when I was told you would get goose bumps and feel all teary, but when I put this dress on that's exactly what happened. The girls at Belle & Bunty were so accommodating and lovely and made the whole process very easy and lots of fun.
Belle & Bunty have a fabulous shop in Kentish Town which is a treasure trove of beautiful things. It's also so lovely to be having your fittings with the dress designers as they understood how the dress should fit, and you really felt like you were having a very personable treatment, a real treat which I know some of my friends have found not to be the case with other places they have bought there dress from."
Becky's sparkly bow shoes are by Lucy Choi…
"Our florist was Wild Lily Flowers. We wanted a couple of things when it came to our flowers. First it was to work with our blue colours.  We were then keen to keep our colour scheme seasonal flowers, and luckily those we wanted were in season, such as nigellas, hydrangeas, sweet peas, stocks etc. Also we wanted something that looked like it had been picked fresh from the garden, and  we wanted them everywhere.
From our bouquets, tables, table plan on the canopy tray etc. Stacey is fantastic she listens and interprets your ideas perfectly and came up with lots of cost effective ways of reusing our flowers from the church ie the pew ends to hang up in the stone barn. She is incredibly flexible and always there at the end of the line to listen to my new ideas. She was so fantastic and I recommended her to my best friend who used her for her wedding this summer too."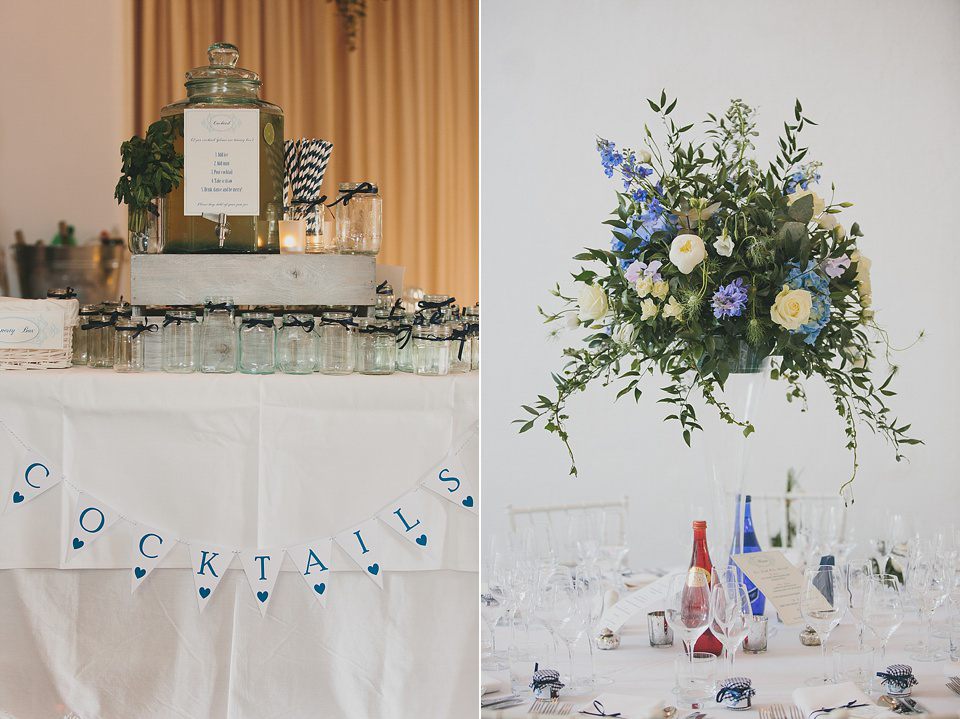 "Our photographers were Mckinley Rodgers.  They are fantastic.  Not only are they creative geniuses they are also a fantastic duo. They made all our guests feel at ease, did a good reccy of the venue so understood where the best places for the photos would be, and they just slotted in, and when we needed direction they were there.
It felt like having your best friends with you all day and I would highly recommend anybody to use them as not only put you at ease on your wedding day but they also produce fantastic results."
"The church we married in is in the most beautiful location surrounded by amazing countryside, you have the whole venue to yourself and it's a blank canvas for you to make it into whatever you want. Additionally we were looking for a venue that would allow us full usage from Friday to Sunday, and Merriscourt provided this service.
All the other venues we visited felt like a wedding factory, whereas Merriscourt really made us feel special and were incredibly accommodating and allowed us access all weekend."
"Sadly my father past away when I was 13 so I asked my brother to give me away.  Our first reading during the ceremony was from the first letter of St Paul to the Corinthians, 12:31 – 13:8 and our second reading was an Extract from Captain Corelli's Mandolin by Louis de Bernieres."
"We had my engagement ring designed and made by jewellers in Hatton Garden. When James proposed we both fell in love with a beautiful ring in Venice however were too scared to buy it there so came back to London with the design and met with a number of people before finding a coloured stone specialist - then we designed the ring together."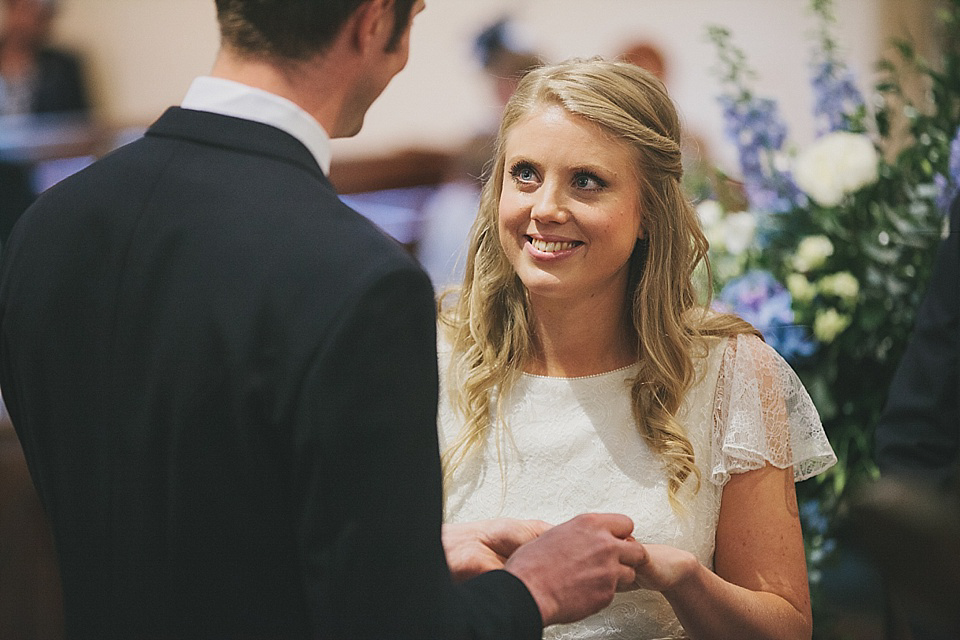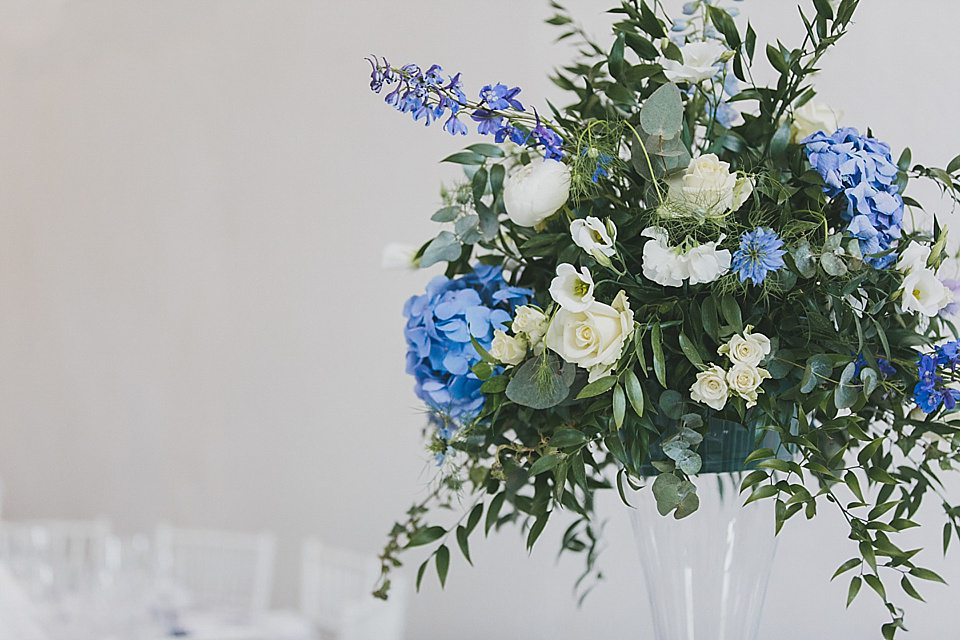 "Our cake was by Cake by Rachel.  We actually had two wedding cakes as James and I both wanted slightly different things. We wanted something pretty to tie in with our English garden theme (which they both actually did) and opted for a beautiful Victoria sponge in a heart shape like what you get at country fete, but a 1000 times nicer, and James wanted a more traditional style cake.
For this we had a 3 tier cake - bottom tier red velvet our favourite cake which reminds of us our first trip to New York, the middle layer was a traditional fruit cake and the top was a lemon drizzle."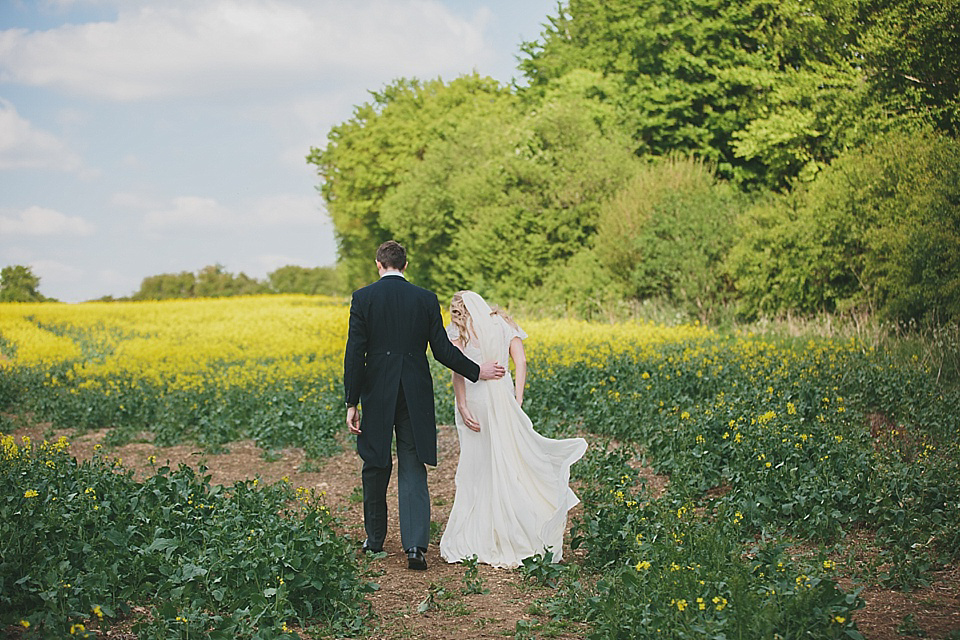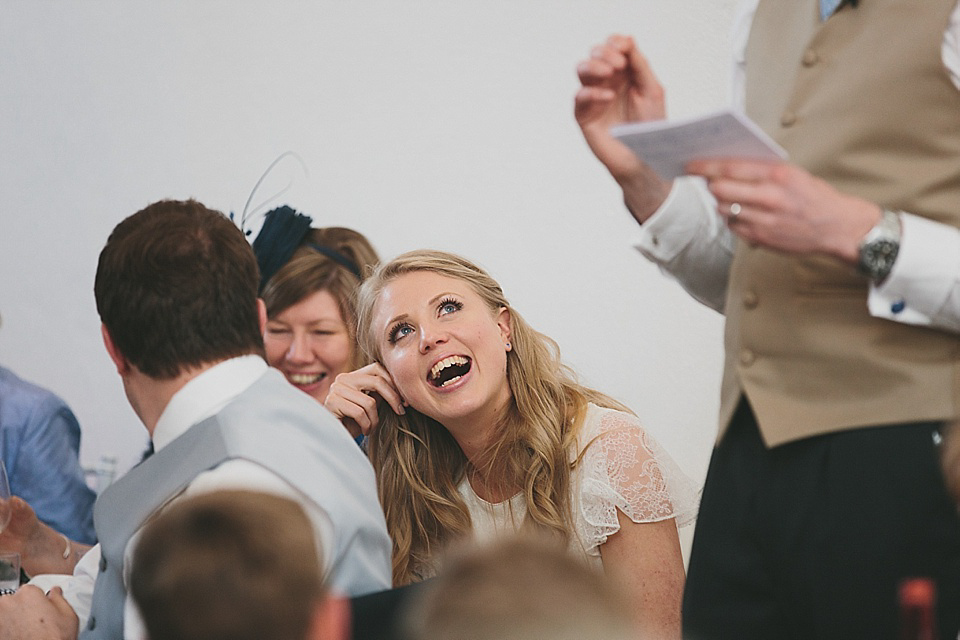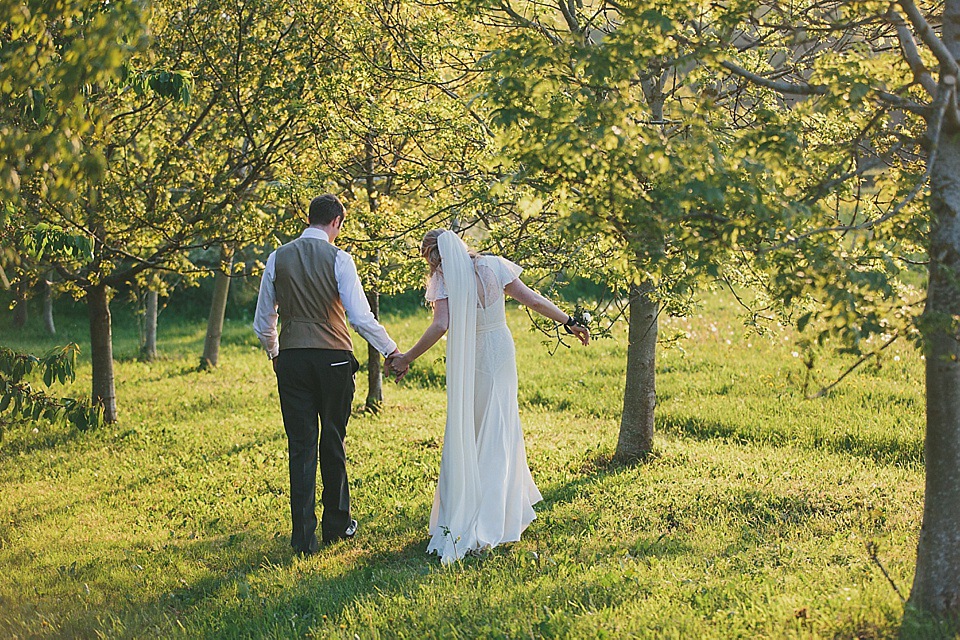 "When I think of what might have been my favourite part of the whole day, I think of all of it. Getting married to my best friend and being surrounded by all our family and friends it was just such a magical day.
From the initial waking up and getting ready with my family and bridesmaids, to going into the church and feeling like a princess, seeing everyones faces, getting married, my beautiful flowers, a dress that I never wanted to take off to dancing until the early hours to our great DJ and live band. Having quiet time with Pen and Cam, our photographers, having our romantic photo-shoot as the sun was setting over the beautiful Cotswold countryside. It was so lovely to see that everything that we had spent hours planning had finally come together, and was a huge relief that it all worked.
We felt like it was our perfect day which also extended into a weekend as we had a Hog roast on the Sunday so we could catch up with all our friends and family and catch up on the gossip from the day before.
I don't think there is anything we would have done differently it felt perfect, and we were so lucky to have the suppliers we used as they made it all a very easy painless process."
"Our first dance was to Paul Weller's 'You did something too me'.  James and I are both huge Paul Weller fans ( James even thinks he looks a little like him – he will kill me for writing that).  Also my dad was a huge Paul Weller fan so it felt like we were bringing a little bit of him to the day."
Words of Wedded Wisdom…
"It's your wedding so do it how you want.  Let others help so you don't take on the burden by yourself as it can be all too consuming, especially if you are working full time, and can take away from the specialness of the occasion. 
I should have started dress shopping a little earlier than I did, I left it to the last minute thinking I had plenty of time, but most dress designers will want you to order your dress at least 6 months before the wedding. Just bear in mind that it can take a couple of months to get Saturday appointments at the top designers.
If you are lucky enough to go on honeymoon, try and go away straight after the wedding as it just extends the specialness of the whole occasion. We flew out on Tuesday morning after our wedding.
Do make a wedding plan of how you want your day to run and give this to your bridal party and suppliers so that on your day you can just relax and not worry about anything. My friends will laugh at this as I am the biggest planner and some were really concerned I wouldn't be able to let go on the wedding, day but I felt I had done a proper handover and even gave my phone to one of my bridesmaids on my wedding day so I could relax and enjoy it."
"Do take some time out for yourselves, and make sure you stay together as much as possible. It's a busy day and I know everyone does say it, but the day goes so fast you don't want to forget anything, and you want to spend it and remember it with your new husband.
If you can I would strongly recommend doing something the day after your wedding – we had a hog roast for all our guests and it was a lovely way to catch up with all our friends who we hadn't caught up with, and eased the pressure on the day of seeing everyone as we knew we were having this on the Sunday. We got to catch up with everyone, see photos and have a giggle whilst nursing our hangovers.
And finally, I loved the real weddings on Love My Dress – looking at all the pictures and ideas other brides used and all there helpful tips. Sometimes it was just a comfort to feel I wasn't the only one dealing with the common stresses of getting married too." 
So much valuable information here brides, and so good to hear that Becky found support through in our community of readers!
If you love this wedding and would, you can see more wedding photography by McKinley Rodgers here and more from designers Belle & Bunty here - you might also want to explore our Spring wedding pages.
Have a great morning everyone,
Love Annabel
Photographers - Mckinley Rodgers
Venue - Merriscourt in Sarsden
Brides Dress – lace willow by Belle & Bunty
Veil - Belle & Bunty
Shoes - Lucy Choi's Champagne Glitter Venice shoe
Accessories - Anya Hindmarch's gold clutch
Groom – hired via Austin Reed
Bridesmaids - In One Clothing wrap dresses in navy
Flowergirl Dresses – John Lewis
Page Boys - Monsoon shirts and trowers and shoes from Zara
Florist - Wild Lily Flowers
Cake - Cake by Rachel
Transport - Banbury Wedding Cars
Entertainment - My Wedding Band and Disco Shed
Stationery – A friend
Hair Stylist - Jennifer Davies
Makeup Artist - Vanessa Smith
Favours – Jams via Twyning
Follow Love My Dress® on Google+