Dear Annabel, I'm in the middle of a dilemma and it might make a helpful feature for anyone else suffering with the same. I'm getting married in August and found my dress in February at a wedding fair. However since then I've lost 2.5 stone and my dress is not what I would choose now for my new shape so I am facing the option of wearing a dress I don't love or finding a new one 9 weeks before my wedding.    –Extract from a reader email, June 2014
Last week I received an email from a reader who had fallen out of love with her wedding dress – an extract from her email is quoted above, and as you can see, she  had only a few weeks to go until her wedding.  Keen to assist our troubled reader, I invited my colleague Emma Meek, Managing Director of Miss Bush Bridal to respond.  Emma has managed a bridal boutique for 20 years, supporting thousands of brides in the process.  She knows more than a thing or two about such wedding dress wobbles and has some very sensible advice for all who may be considering 'I don't love my dress!'.
Over to you Emma…
I often tell friends that I will be available for this social event or that party as long as there isn't a 'bridal emergency.' Friends of mine that have worked in the NHS or Local Authorities have disaster training to cope with what happens if a train of plutonium derails, for example. My teenage boys, inspired by Sean of The Dead and a million gaming hours, plot their escape in case of Zombie apocalypse. Brides too can insure their wedding against disaster, financial failure and death by bunting.
A bridal emergency is not about radiation, monsters and fatal styling touches. It is not about life or death. It is, in the words of Bill Shankly, more important than that.
The wedding dress has such an iconic position in society that the V & A will exhibit them. The image of Miss Haversham sitting in her rotting silk and the 'needs a good iron' reaction to Princess Diana's dress are powerful enduring images which, in truth, were fictional and fleeting. Delvigne versus Kardahsian? Was Olivia Palermo's 'dress' a wedding dress at all? You spent what? Meringue or minimal? Four Weddings, Don't Tell The Bride, Say Yes to the Dress. A modern bride must not only face the photographic legacy of weddings from the past, but an ever present and judgemental media, so vocal about other peoples' dresses, she knows she will be judged in turn.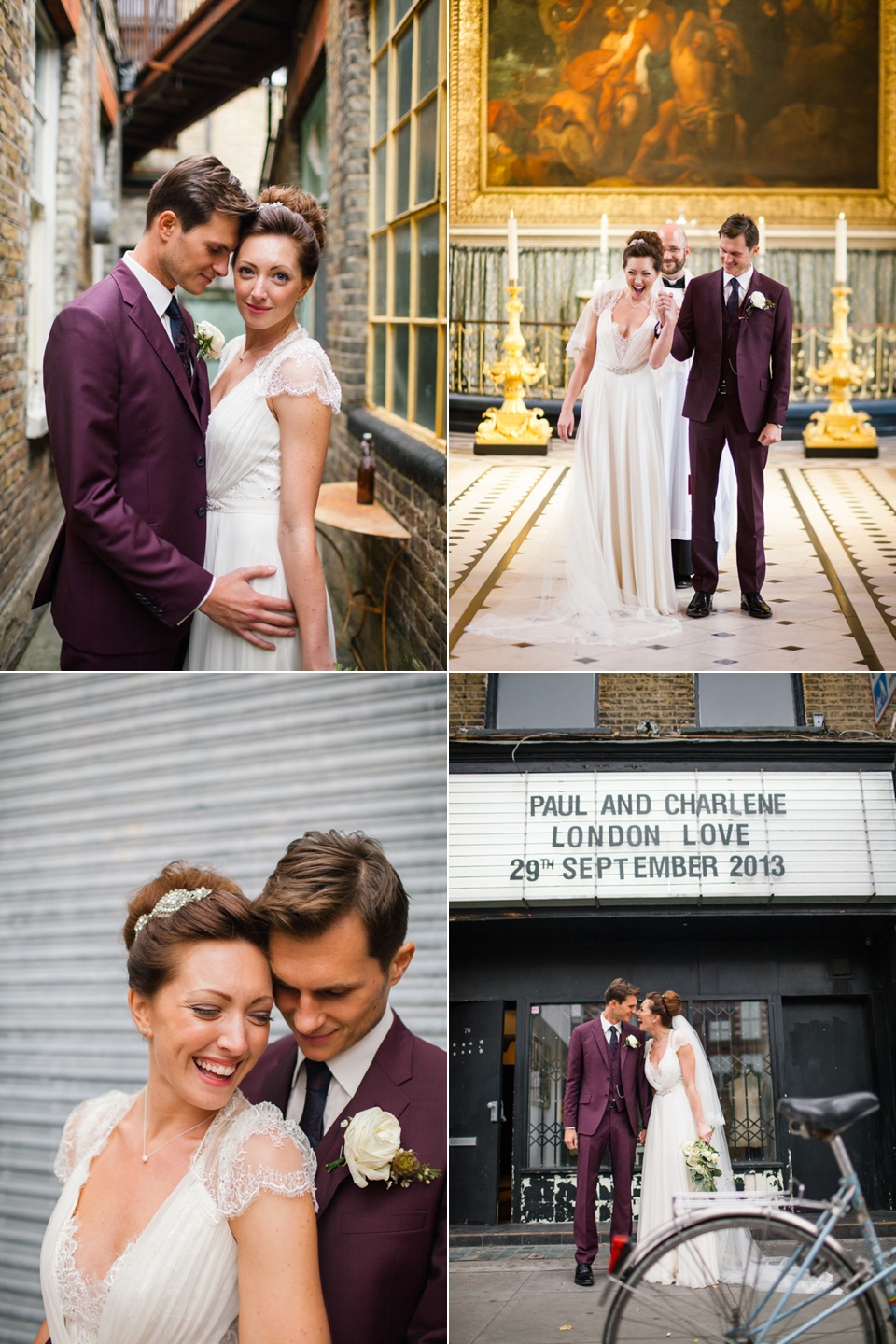 Real bride Charlene who purchased her Jenny Packham gown from Miss Bush Bridal
See the full wedding here, Photography by Emma Case
I judge, just not on people's taste and style. I am happy that Game of Thrones' Goths, Steampunks and inked brides have found a spiritual home on Rock n Roll bride. I love that Rock My Wedding showcases pretty classics and that Annabel's blog has become the destination for the dress obsessed. I judge on fit, quality and provenance; elements of your wedding dress that will endure long after your groom's beard has gone.
A bridal emergency is a late night email or a plaintive tweet that says 'I don't love my dress.' The weight of that statement, the practical and financial implications, the fact that many non brides-to-be or family members may not see the enormity of the emotional burden of this revelation, only adds to the distress.
What should you do if you find yourself in a similar predicament?
Firstly, own up. Say 'I don't like it, let alone love it.' Take responsibility for the situation. Tell your partner, tell your family. Undoubtedly there will be an element of protest that you just need to see it again, but stand firm.
I would advise a bride to contact her boutique and level with them. Don't try any stealth tactics. No 'you forced me into the purchase,' or 'I didn't know what the contract was'. You want to get your retailer on side? Be reasonable.
If I, as a retailer, ordered a dress with a supplier in February, depending on the make, I would expect delivery in June. It would be unlikely that I could prevent the dress being delivered, so it may be that it arrives and a bride is contractually obliged to pay for it. This is the point at which you cannot invoke your bride 'get out of jail card'.
You are in a business transaction and you need to behave in a businesslike manner.
Firstly, establish whether the dress has been cut and/or made.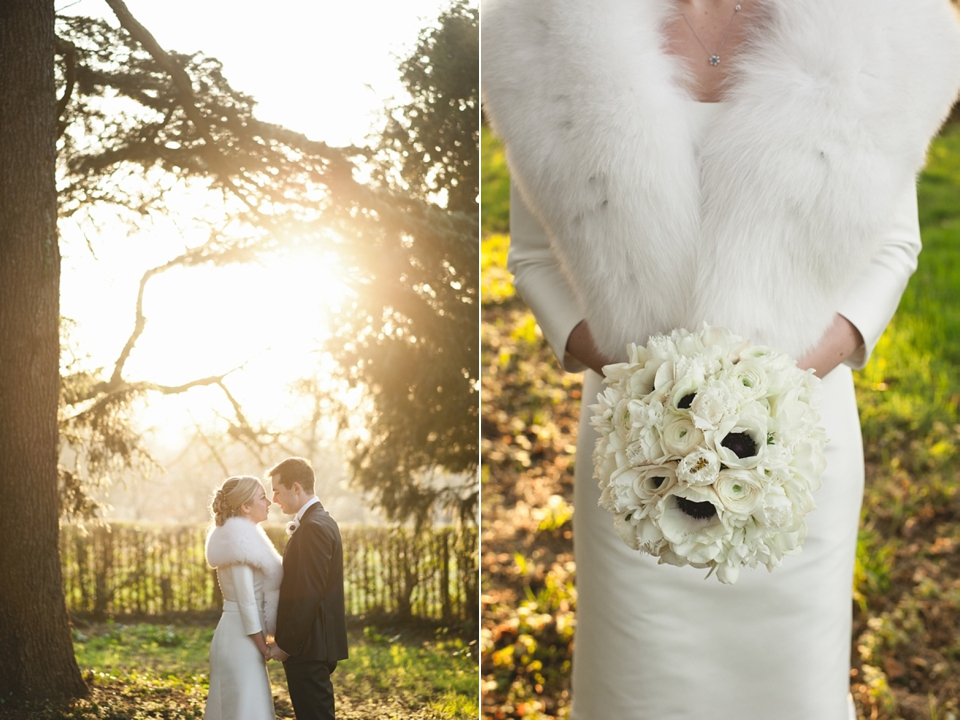 Real bride Charlie who purchased her dress Jesús Peiró, gown from Miss Bush Bridal
See the full wedding here, Photography by Rik Pennington
If the dress has been cut and/or made then the shop will generally have to take delivery of the dress and will be obliged to pay for it. As the client, this means you also have to take delivery and pay the balance. You are the proud owner of a dress you don't love!
Option 1:  Try the dress and have it carefully pinned by a fitter. Will it actually work if resized or modified? This is by far the best bet if you are on a tight budget and simply cannot afford to change dresses.
Option 2:  Take the dress to a trusted reseller – swoonbridalgowns.co.uk for example – and get them to sell your dress at a reduced price to recover some of your outlay.
Option 3: Ask the bridal shop if they can hold the dress, reallocate to a future client, and refund you if and when this happens.
If the dress has not been cut or made:
Option 1: Ask the shop if the designer or manufacturer will switch dress styles for you. This will be dependent on who the designer is and where the dress is being made. Generally the most reasonably priced dresses are made overseas and the delivery times are longer, but, because of the size of the companies, they sometimes have spare stock.
UK based designers, like Suzanne Neville would be able to change the order to a completely different style , fabric permitting.
Option 2: Ask if the order can be cancelled and surrender your deposit. This is clean end of transaction. Non-refundable part payments are fundamental to the operation of bridal boutiques. With the greatest respect, if a bride's ability to change her mind is not something giant insurance underwriters are prepared to accept, neither can small businesses.
Unless you are a WAG or marrying a Russian oligarch, there are now some financial and practical implications to take on board.
A Jenny Packham Gown and Gypsophila In Her Hair for a Relaxed and Rustic English Country Garden Wedding
Money No Object?
Take your budget and your butt to a British designer that cuts, makes and finishes all their dresses in the UK. They will be able to get a dress made perfectly for you in a short time frame and accommodate any further weight loss as per the 'Dear Annabel' letter that I quoted at the beginning of this feature.
Ordinarily, I would include Spanish made dresses in this advice too, but Spain still closes for August. If you find yourself reading this at some other time of year, designers like Jesus Peiro can turn dresses around in weeks if need be.
Budget Busted?
Samples and once worn dresses often offer the best value replacement. Summer is sample selling season as shops are about to get their new year's dresses. Here's where you can negotiate hard if falling out of love with your dress has left you broke!
If someone was to walk into my shop, make a reasonable offer for a sample dress and leave with it in its current condition at that very moment, I would strike a very good deal. If you are bold enough to try this, make sure you have a brilliant dry cleaner and fitter lined up – you don't want to be jumping out of one bridal frying pan into a matrimonial fire!
This will give you much better value for money than a worrying, online-import dress where arrival is uncertain and the quality indeterminable.
If your budget can run to a shop handling your sample purchase, they will often have a cleaning and fitting service included or available as an optional extra.
High Street retailers will, of course, have stock, but we are talking about 'falling in love' with a new dress. The internet can shout at me all it likes – I would rather marry in a good suit than a wedding dress from BHS.
A selection of very happy Miss Bush Bridal brides
See the full weddings here: top left, top right, bottom right, bottom left
Prevention is Better Than Cure
Reading between the lines of the letter above, I suspect Annabel's reader's decision to buy a dress at a wedding fair may have been fuelled by the excitement of a day out with friends.
Before you commit to a made-to-order dress ask the following questions:-

What happens if I change my mind?
What is the cooling off period for a deposit?
When does a deposit become non-refundable?
What happens if I lose/gain weight?
What happens if I cancel or postpone the wedding?

If you are planning to change shape through diet or exercise consider buying from a designer, either directly or via a boutique, that will offer a late measuring appointment. This means you are securing the delivery of the dress and the time allocated to make it. You can then often leave it as late as six weeks prior to your wedding for your measurements to be taken. This allows weight loss to be factored into both the size and design.
Shop with experts. A great stylist can see your shape better than you can! Whilst losing a couple of stone is an immense and empowering achievement, your bone structure, frame, colouring and personality should influence your decision more than your spare tyre. I have more tyres than Kwik-Fit right now so this is a subject close to my heart. My favourite dress shapes suit me as a 14 as much as an 18. Getting your wedding dress style right is more about self esteem than sizing; the right stylist can work on both.
As a final thought, I have huge empathy for today's bride. Never has there been so much choice, so many microscopic ways for your wedding to be examined, and so many mixed messages. It was easier twenty-six years ago to walk into your local shop and get the dress that your Mum thought went best with your perm.
Almost immediately after I got married twenty-one years ago, flower crowns gave way to tiaras and long-sleeved, full dresses to strapless A-lines. The dress I loved didn't seem so loveable after all. Now I love it again. Fickle. Your relationship with and towards your dress is as changeable as an evolving marriage or maturing figure, and as greatly impacted by your self-esteem. Over think it or don't over think it; spend wildly or barely at all, but start by loving it madly. Regardless of changing fashion and fortune, however frivolous or indulgent your choice, the dress will be your enduring symbol of youth and love.
Emma
Emma Meek is the Managing Director of the award winning Miss Bush Bridal in Surrey