I guess it's back to work for so many of you today after what has hopefully been a lovely and leisurely bank holiday rest.  Let us ease you back into the routine of things with the second of our real wedding features this week.  Fashion Merchandiser for Dorothy Perkins, Isobel, married her fiance, Edward, on 7th September last year.  The couple had actually tied the knot via a legal ceremony at Marylebone Registry Office the weekend before with just their close family present, but to celebrate their nuptials with wider family and friends, they held a ceremony and reception at Isobel's parents house, near Chobham in Surrey that was officiated by One Life Ceremonies.
"We had a marquee garden wedding and really wanted a English Country Garden feel to the day with relaxed and pretty rustic styling.  We didn't have any particular set colour scheme, though our colour pallette ended up working around the shades of pink, cream and grey.  Ultimately, we wanted our wedding celebration to feel like a big party and for everyone to have a great time.  We love hosting for our friends, and wanted our wedding to reflect this."
Photographer Copyright (c) 2014, Love Katie & Sarah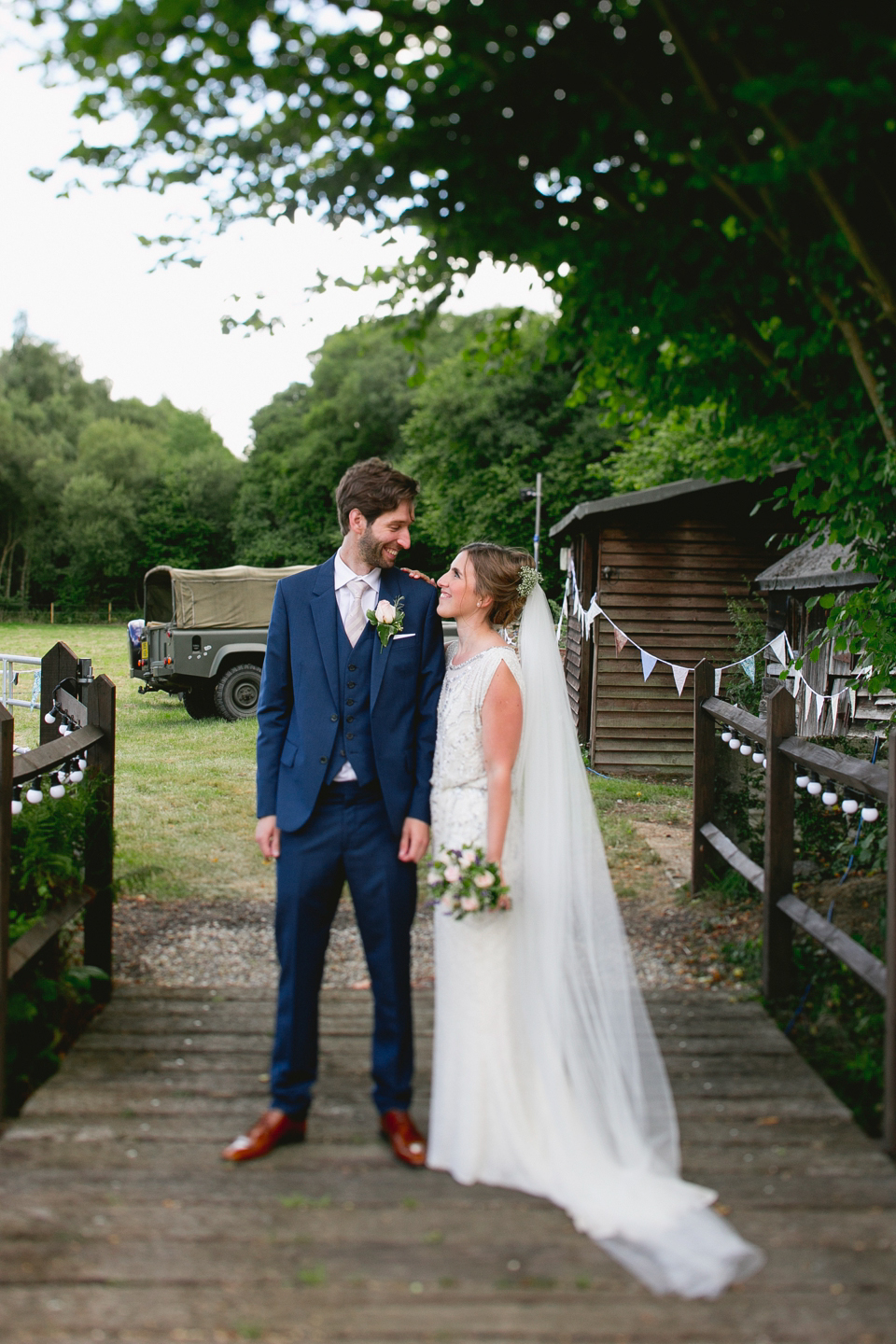 "We met while working at Arcadia Group who own Dorothy Perkins in 2008.  We both work in retail head office, so styling for the day was always going to be important to us.  Edward proposed on the August bank holiday weekend in 2012, at the Boundary Hotel in Shoreditch.  He'd decided on this venue as, since we met, we have both lived in East London, and our lives are very much based in this part of the city. 
We decided we wanted to start planning the wedding straight away, so once we'd decided on the venue of my parents house, we set the date of 7th September, as this gave us a year to plan the day!"
"We had our legal wedding at Marylebone Registry Office the weekend before, just with close family.  For our main wedding  day on 7th Sept, we had a 'wedding blessing' ceremony, due to there not being a wedding license at my parents house!  It was important to us to still say our vows in front of all our family and friends. One life ceremonies wrote and conducted our ceremony and  Christabel, who conducted our ceremony, was brilliant.  We met up with her a few months prior, to discuss what we wanted from the ceremony and our day overall, and she translated this into the perfect ceremony for us.
My parents house was my childhood home growing up, and we were lucky enough to have the space to hold our wedding there.  It was particularly special that we got married there too because my parents also held their wedding reception there back in 1978!"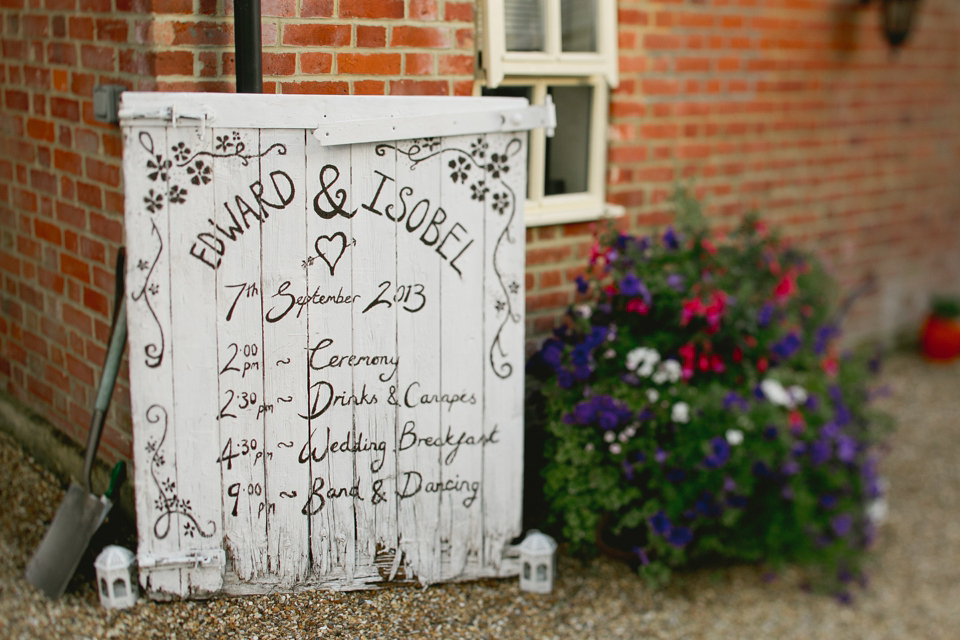 "I wore Esme by Jenny Packham that I purchased from Miss Bush Bridal in Surrey.  I loved how the dress felt relaxed, yet elegant, perfect for the relaxed garden wedding we wanted, with the beading detail making it feel very special and beautiful.  I loved the feel of it and as soon as I tried it on it felt very 'me',  so different from all the more structured classic wedding dresses, which was all I seemed to have found before my visit to Miss Bush Bridal."
I love the way that Isobel wore gypsophila in her hair.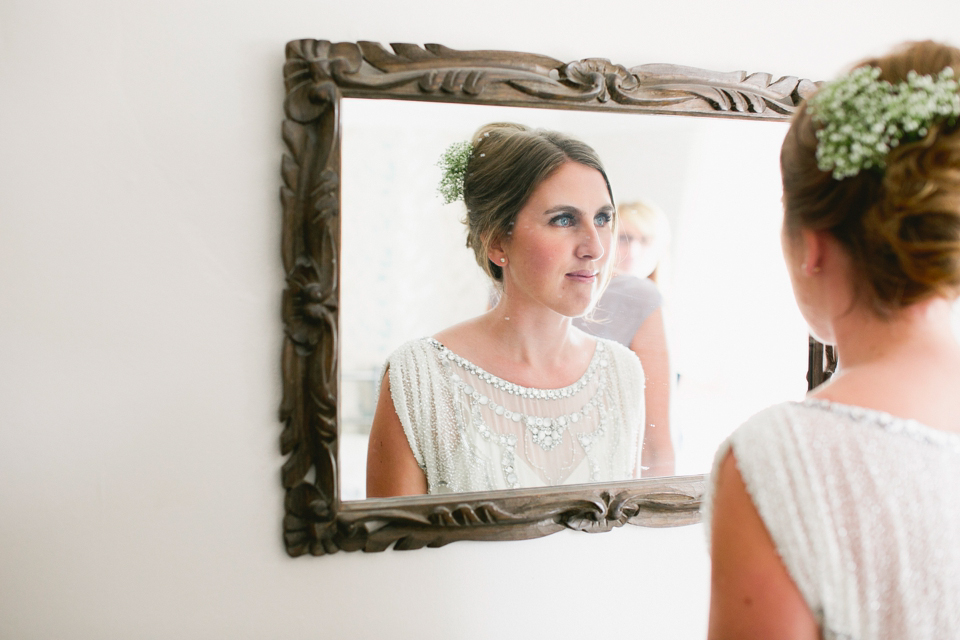 "Our florist was Celia Keenan who is based in Horsell near the venue, but who doesn't have a website unfortunately.  We wanted soft colours, featuring rose, gypsophila and lavender, to create a garden party feel."
Isobel's bridesmaids wore elegant lilac gowns from Coast.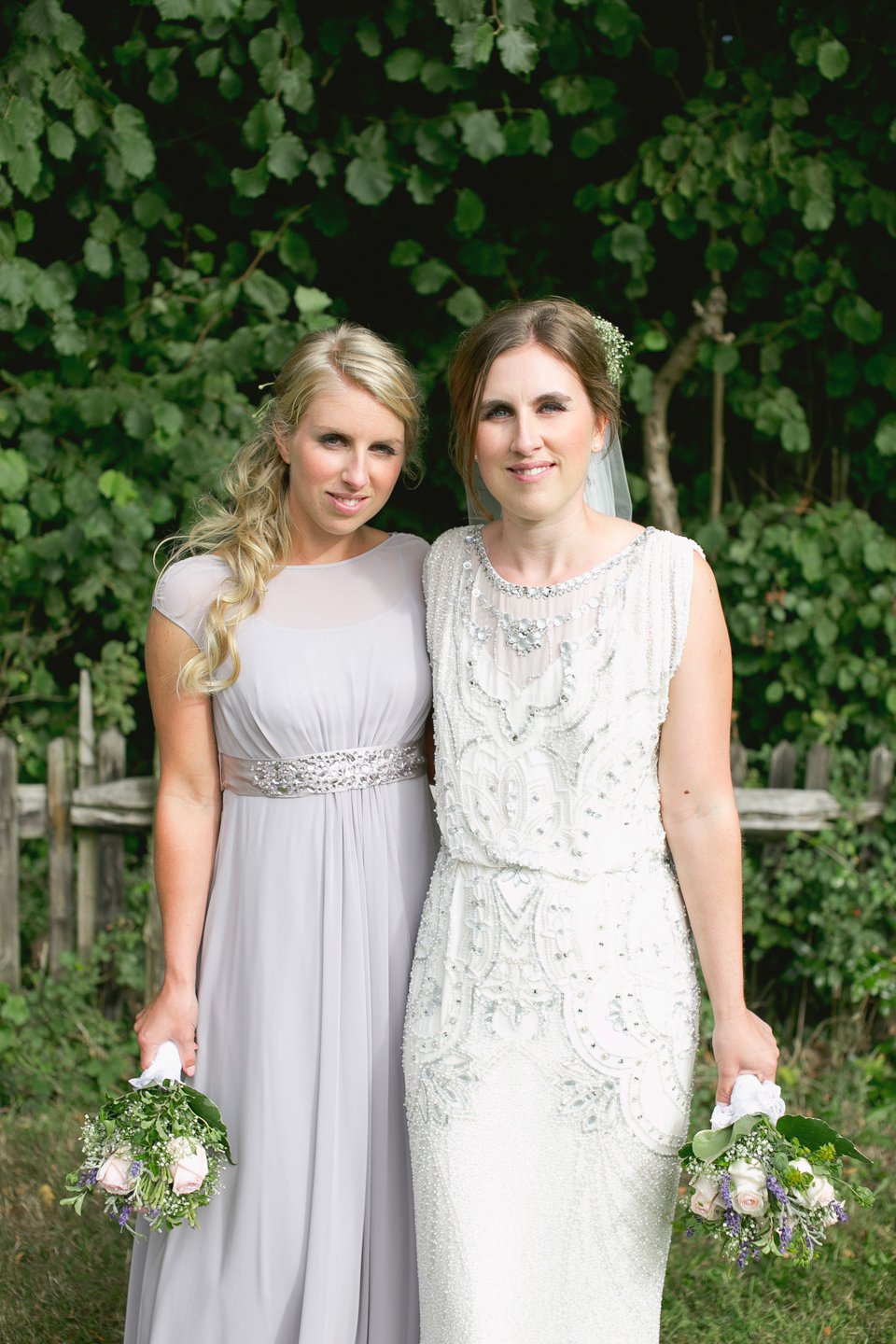 "My school friend, Lucy Readman, who is an amazing baker made our wedding cake as a gift for us.  We wanted a 'naked cake', it was lemon drizzle decorated with flowers.  The wooden base which the cake was displayed on, was part of the trunk from a tree which had fallen down in my parents garden the previous winter."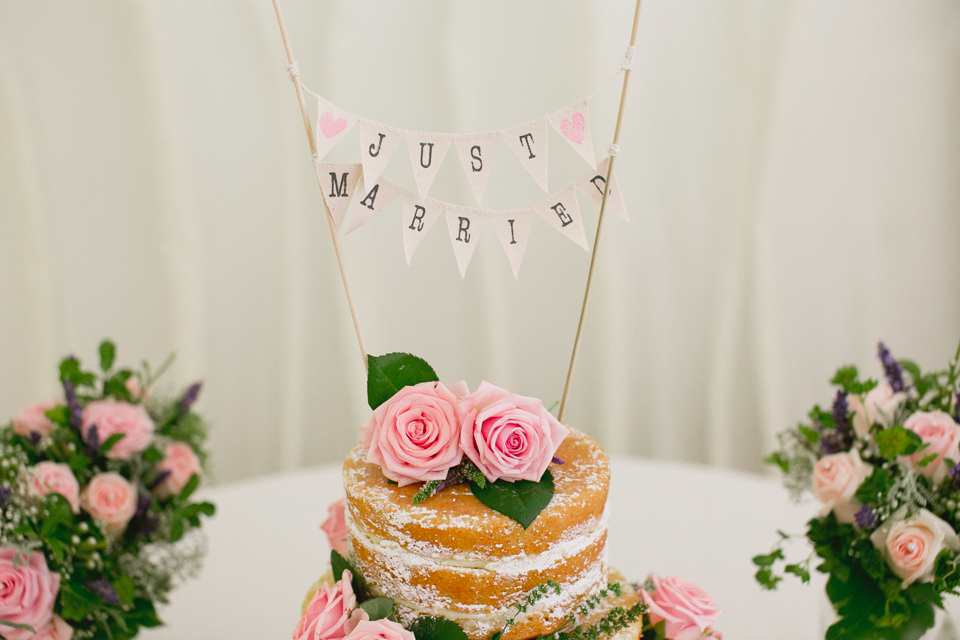 "Edward's father is a graphic designer who designed our invites, menus, and order of the day cards.  We made our own table plan, using a large vintage photo frame."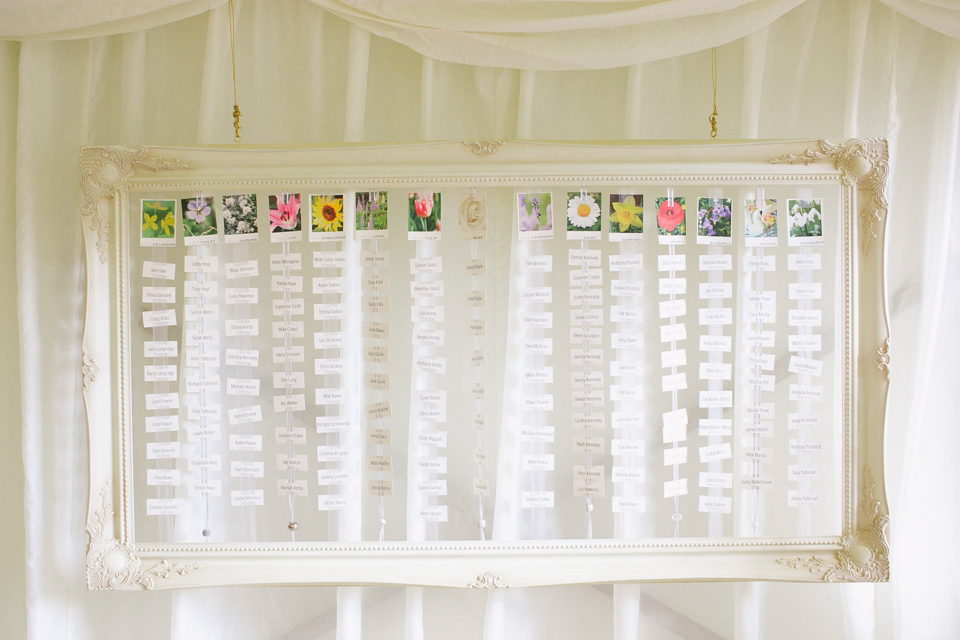 "We also made our wedding favours, a selection of home made raspberry jam and mango chutneys in mini jars.  We added a mini luggage tag onto each decorated jar, and these doubled as place settings."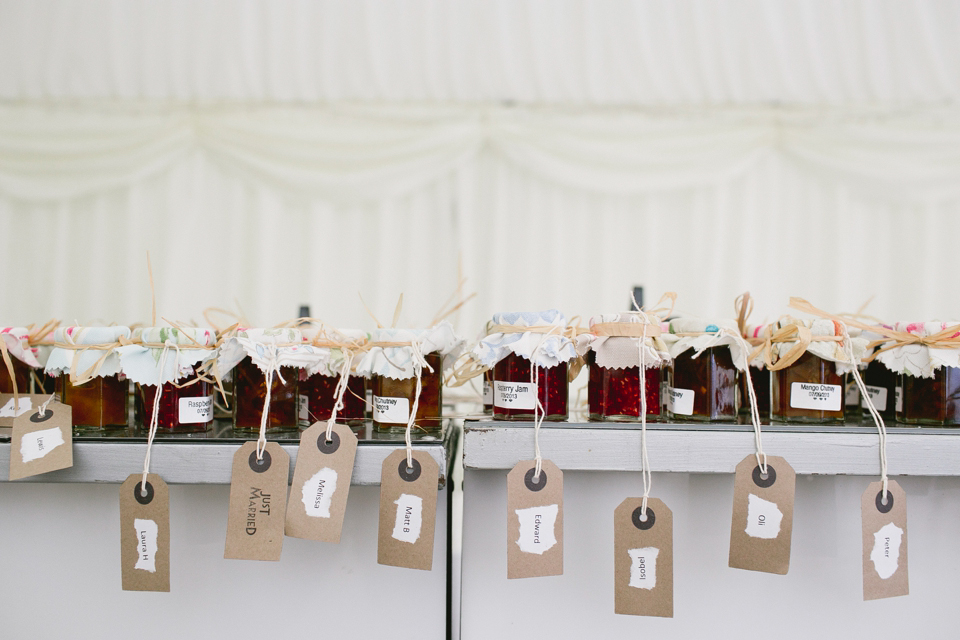 "My cousin in law, Sarah Collins, who is a wedding photographer based in Australia shot our wedding.  I couldn't recommend her enough. Sarah did our wedding, but there's normally her and her business partner Katie.  So could be of interest to your readers in Australia, or they do travel, this year they're doing weddings in New York and Santorini.  They may be of special interest for UK summer weddings too as that's their quiet time in Australia. Sarah instantly picked up on the feeling of our day, and everyone loved her, which meant we were all at ease and were so pleased with the end result photos.  We loved the natural, soft photos, and felt they completely captured our day."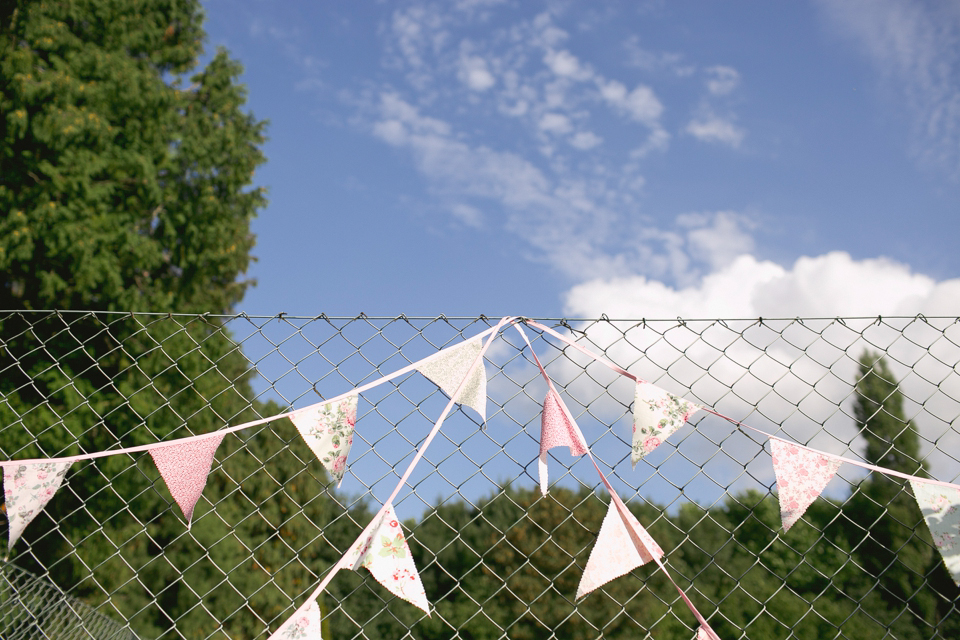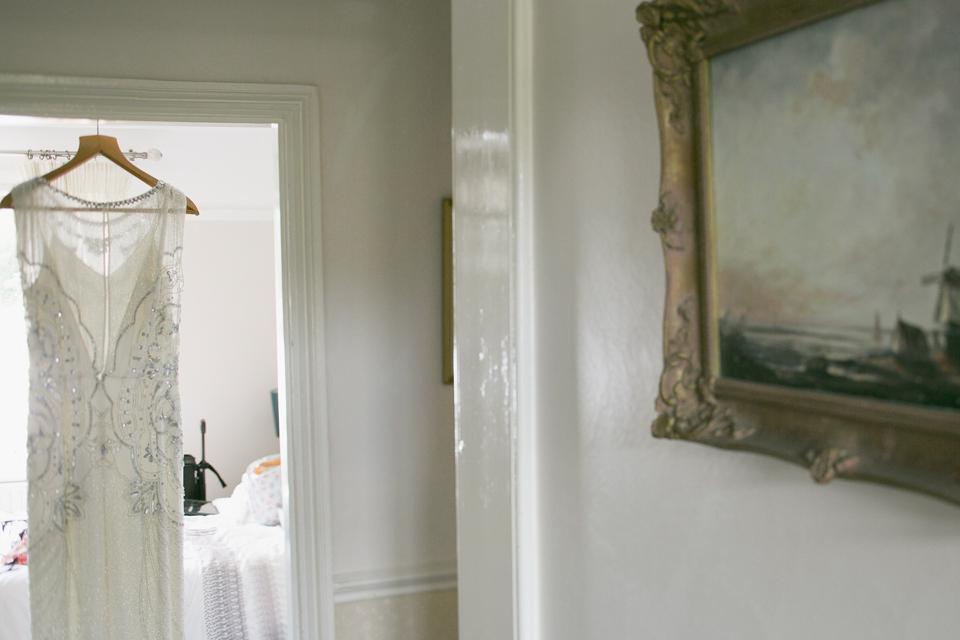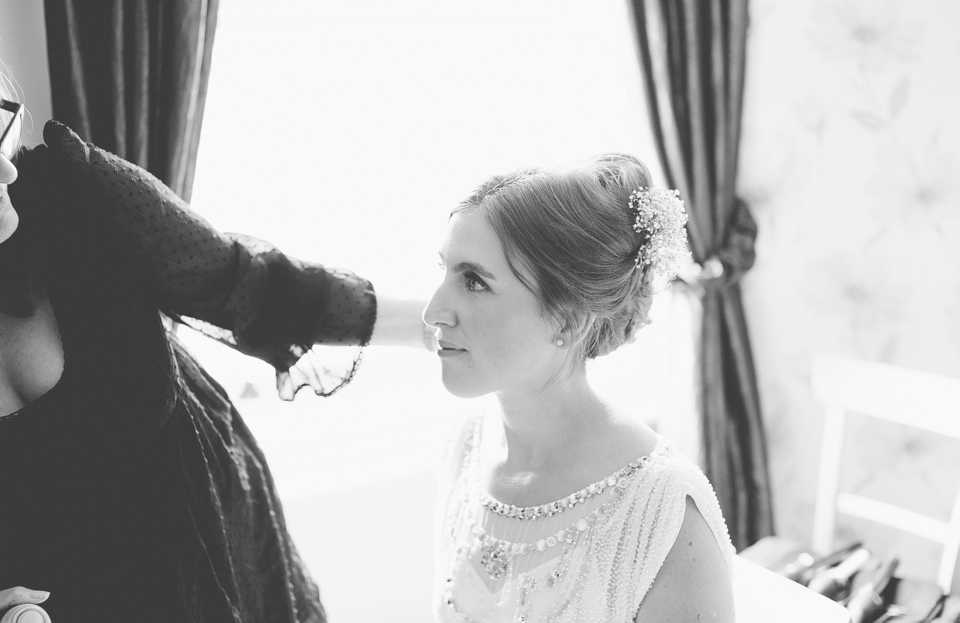 "My Father, Anthony, walked me down the aisle to the sound of Pachelbel's Canon.
We didn't have any particular favourite part – the whole day was wonderful, but especially walking down the aisle felt very special, and then following the ceremony walking into the main marquee reception, with all our family and friends cheering, was a great moment."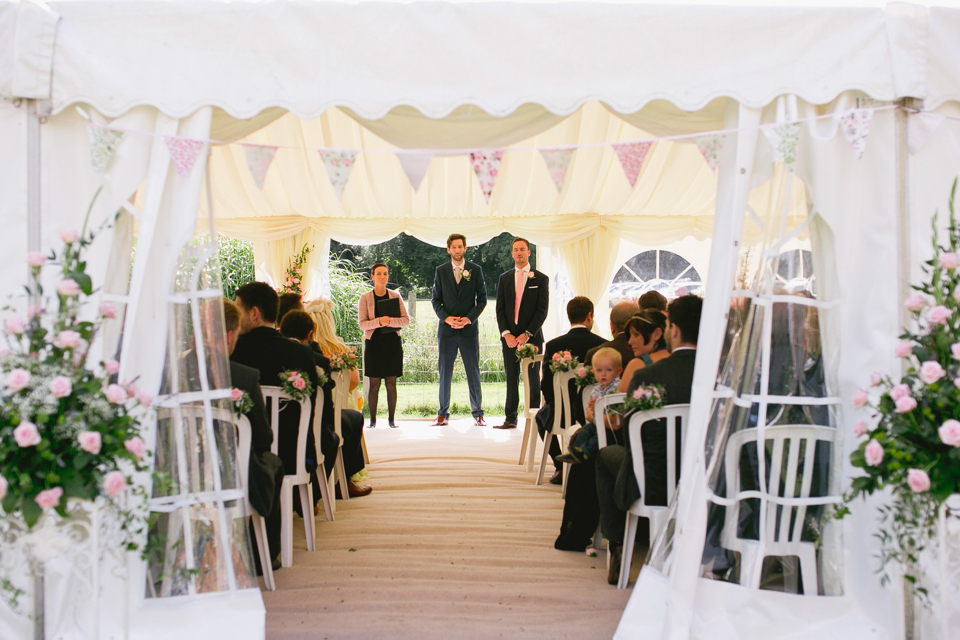 "During our ceremony, we had two readings and a song.  Readings were the lyrics to Starling by Elbow, read by Edward's sister, Zoe.  We both love Elbow, and have seen them live at Glastonbury and particularly like this segment."
'The violets explode inside me
When I meet your eyes
Then I'm spinning and I'm diving
Like a cloud of starlings
Darling is this love?'
"My Cousin, Jacinta, read her own words, which she'd written, especially for our day.  And also read a poem called 'The One'.  When the one whose hand you're holding is the One who holds your heart.  When the one whose eyes you gaze into gives your hopes and dreams their start, when the one you think of first and last is the one who holds you tight, and the things you plan together make the whole world seem just right.  When the one whom you believe in puts their faith and trust in you, You've found the one and only love you'll share your whole life through.'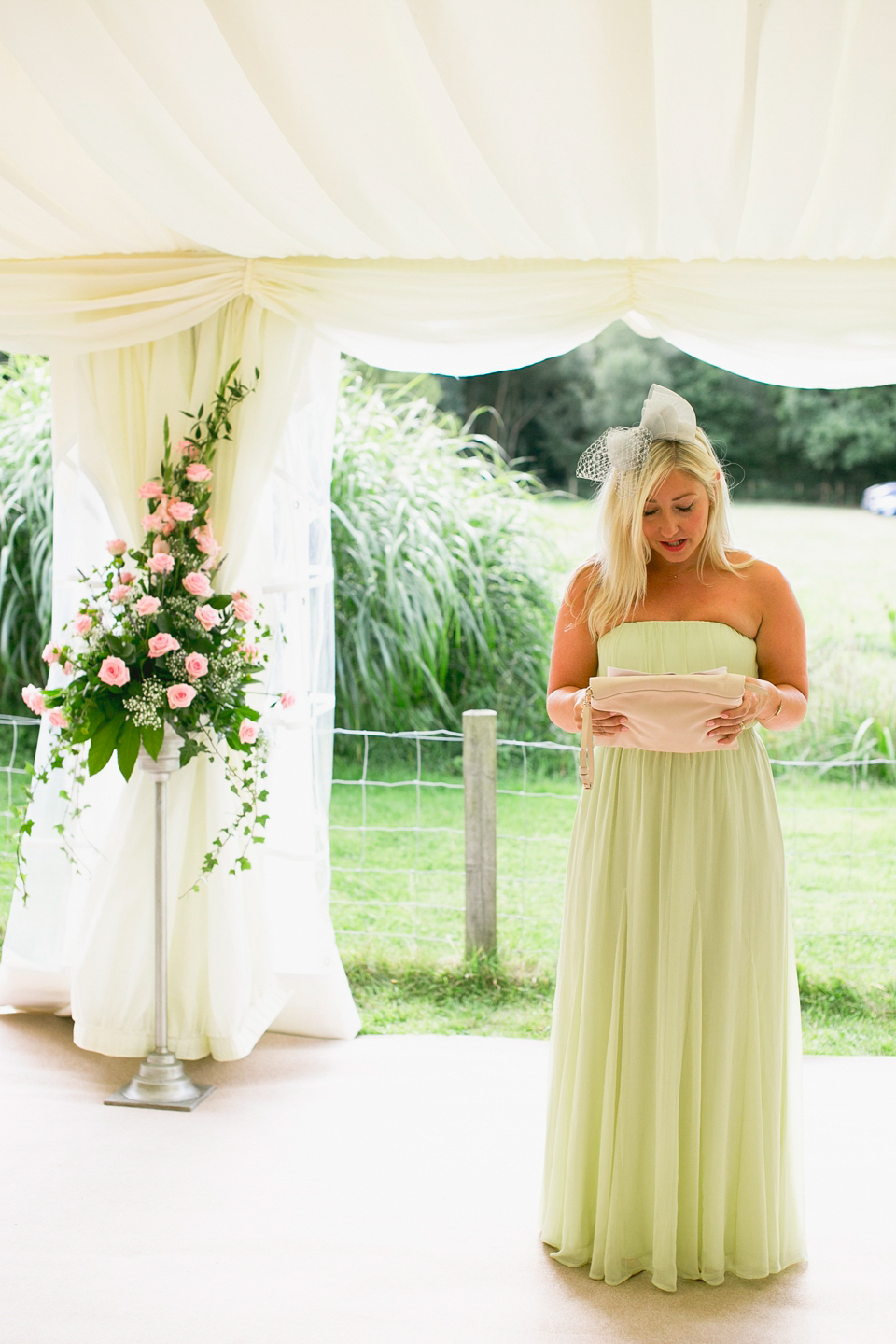 "The song we had played during our ceremony was 'Silent Noon' – our family friend Anna, sang and recommended this song.  It is about two lovers sitting in a field, which fitted our day perfectly, as where the ceremony took place had a view out onto country fields. We also loved the lyrics."
'Silent Noon
Your hands lie open in the long fresh grass, —
The finger-points look through like rosy blooms:
Your eyes smile peace. The pasture gleams and glooms
'Neath billowing skies that scatter and amass.
All round our nest, far as the eye can pass,
Are golden kingcup-fields with silver edge
Where the cow-parsley skirts the hawthorn-hedge.
'Tis visible silence, still as the hour-glass.
Deep in the sun-searched growths the dragon-fly
Hangs like a blue thread loosened from the sky: —
So this wing'd hour is dropt to us from above.
Oh! clasp we to our hearts, for deathless dower,
This close-companioned inarticulate hour
When twofold silence was the song of love.'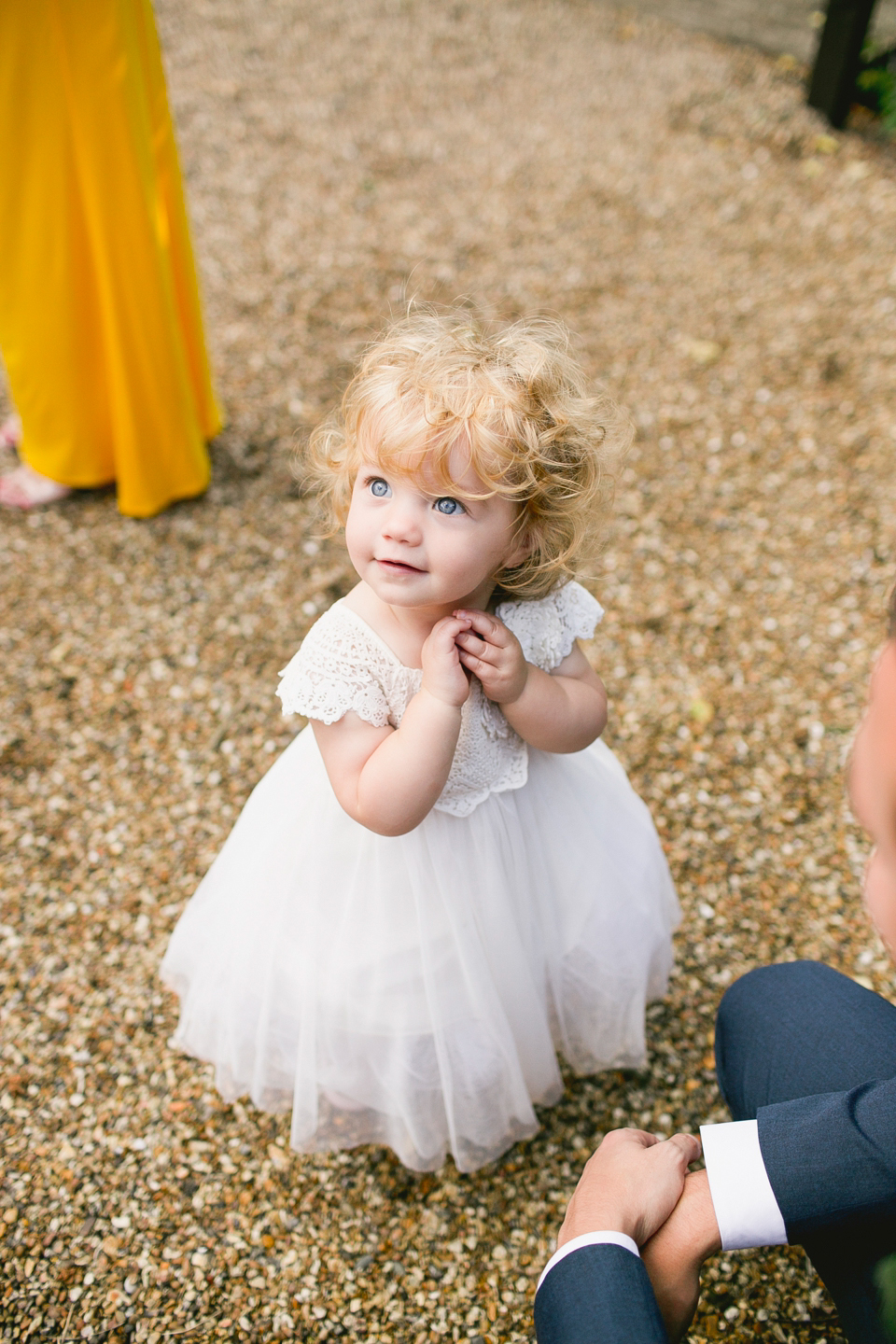 'Another school friend of mine, Richard, was fantastic, building us a 'celebration arch' in the garden, he also made all the signage, which made up a big part of the outside décor.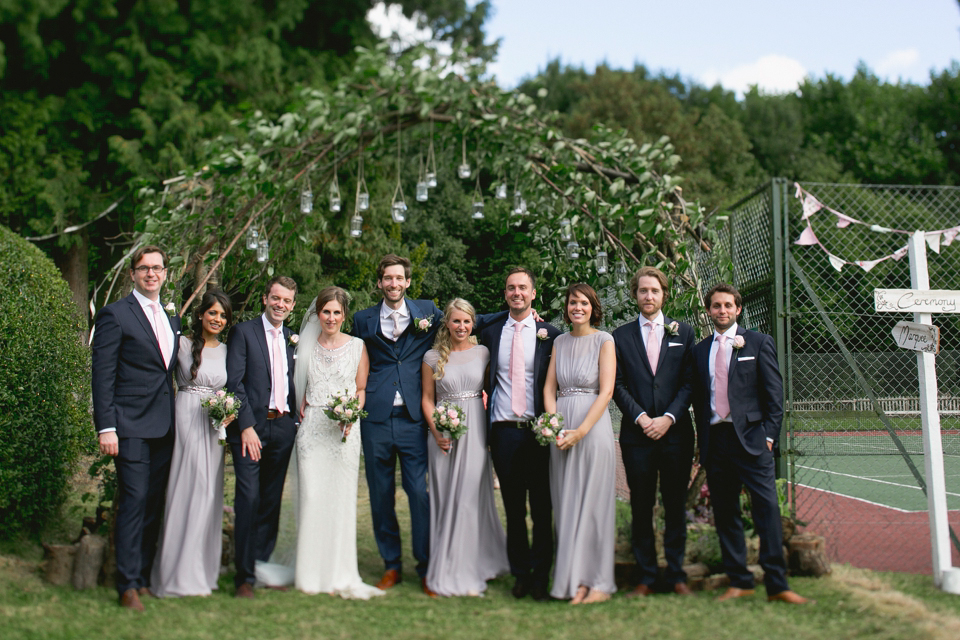 "The bunting had been made by all my friends on my vintage themed hen weekend in Cheltenham, where bunting making was one of the activities."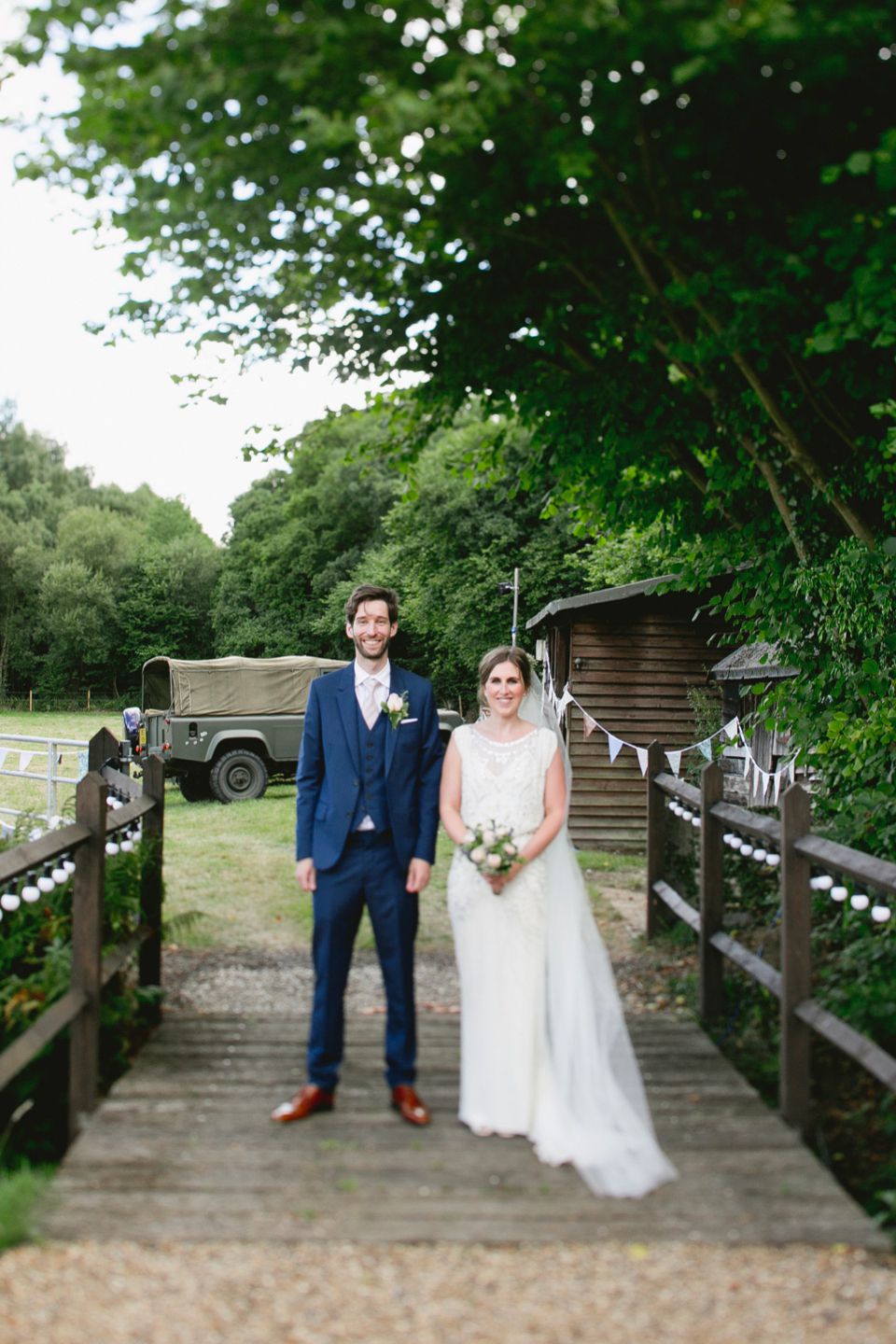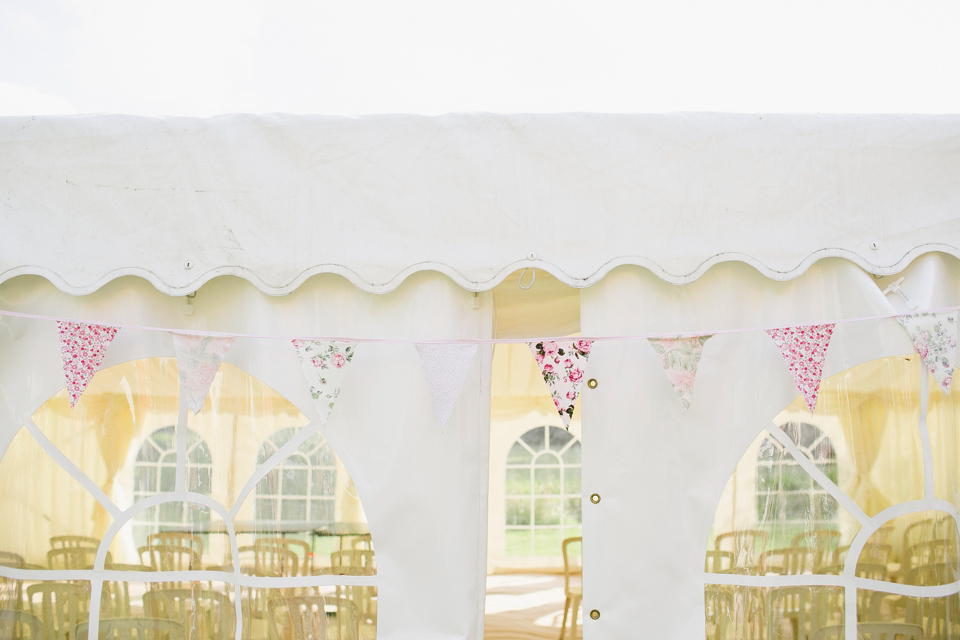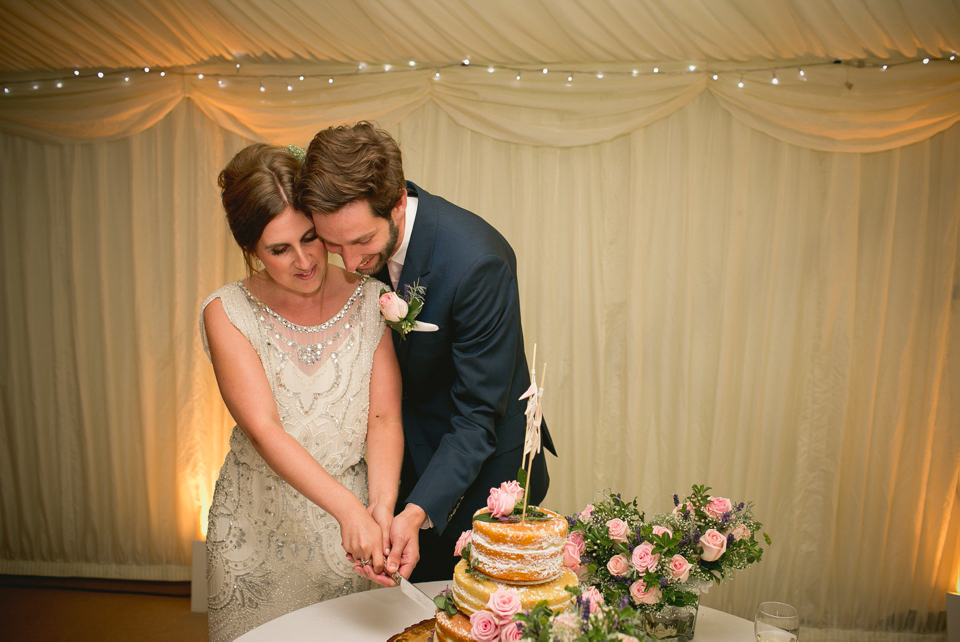 "Our first dance was to Elbow's 'A day like this'.  The band were fantastic, and joined in the track half way through, which signified the start of the evening party!"
Words of Wedded Wisdom…
"I'm sure everyone says this but appreciate every second of your day!   As our wedding had a very 'homemade' feel to it, this was great, as all the time spent on the preparations, with family and friends, elongates the celebrations.
The day goes so quickly, that the weeks/days leading up to the main event were a very special time too and I can honestly say it was perfect for us.  Just to appreciate every moment of it even more than I did.  It all went past so fast in a big happy blur."

Yet another beautiful Jenny Packham bride, and satisfied Miss Bush Bridal client – and it's so lovely to hear how so many of Isobel's friends helped her and Edward style their pretty English country garden wedding day.
Are you pulling in support from friends for your wedding?
Love Annabel
Photographer – Love Katie & Sarah
Venue – The bride's parents garden
Brides Dress – Jenny Packham, Esme Dress via Purchased from Miss Bush Bridal
Brides' shoes – Rachel Simpson
Grooms Suit – Alexander McQueen + Paul Smith shoes + Charles Tyrwhitt tie
Bridesmaids – Coast
Flowergirl Dresses – Monsoon
Florist – Celia Keenan who is based in Horsell (no website)
Entertainment – E2 Band + string quartet
Catering Company – Superevents, provided catering & marquees
Stationery – The bride and groom
Hair Stylist – Sharon Roberts
Make-up & lashes – Tania Stephenson Oliver
Love My Dress® on Google+