Hello lovely people! Now weddings are generally family affairs, but this one takes it to a whole new level as it appears that almost every member of the family played an important part in creating this rustic, magical day. This is one talented bunch, with not only the bride, but also groom, mums, dads, and friends taking part too. (Little mascara warning for the bit about dad later!)
Caitlin and Paul married in Spring this year on 15 March at Colzium House in Kilsyth, near Glasgow, and they truly created a wedding to be proud of. There are so many things to love about this day that I'm struggling to highlight my favourite bits. But I do know that it must be amazing to look back at these gorgeous Andi Watson photos and smugly think, 'we did all that!'
"I've always loved vintage, shabby chic style and pastel colours and I knew immediately this was the look I wanted to go for on our wedding day. Luckily Paul liked the idea of things being rustic, homemade and pretty as well."
Photography Copyright (c) 2014, Andi Watson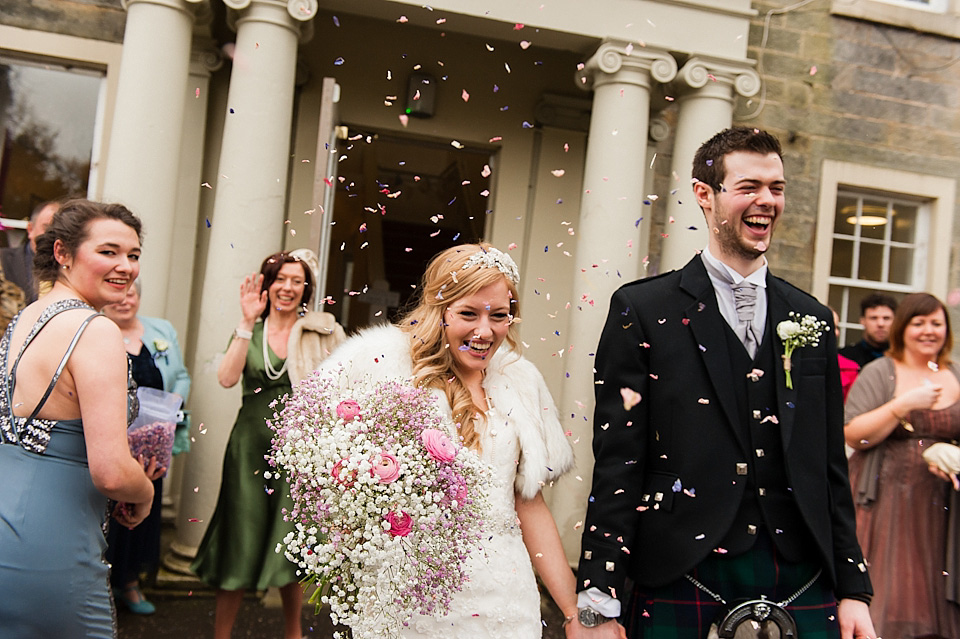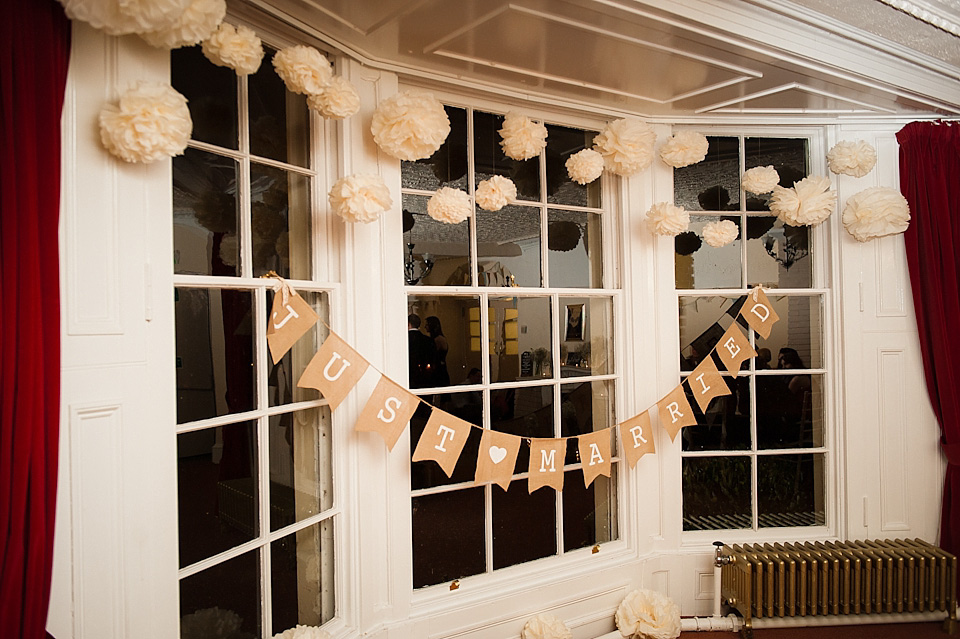 "My dress was a Benjamin Roberts dress from Gwennes Bridal Services. I absolutely wanted a lace dress from the beginning. And when I found this dress, I knew it was the one the minute I put it on. The lace sleeves, the tiny pearls all over, the beautiful lace train, the buttons, it was everything I had been looking for!
Those sequin bridesmaids gowns were from Reiss.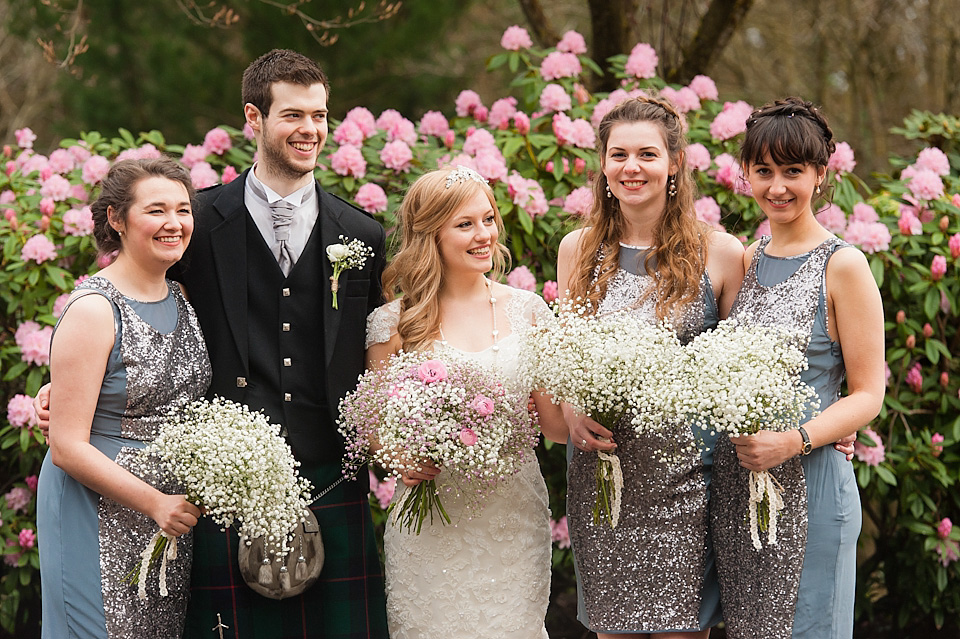 On top of all this, the two mums did ALL of the flowers. "We bought them from a local florist and mine and Paul's mum spent hours arranging them in birdcages, vintage buckets and jam jars that we had been collecting for over a year! My mum also made all the bouquets and buttonholes. Perfectly rustic!
Our photographer Andi Watson was amazing! He totally 'got' our wedding and the kind of photographs we were looking for. On our engagement shoot he made us feel so relaxed and had fun with us and after that we were so glad we had asked him to photograph our wedding! On the day he was brilliant, quick, efficient and so discreet! Our guests didn't even know they were being photograph. I would highly recommend him to any future brides, he's just lovely!"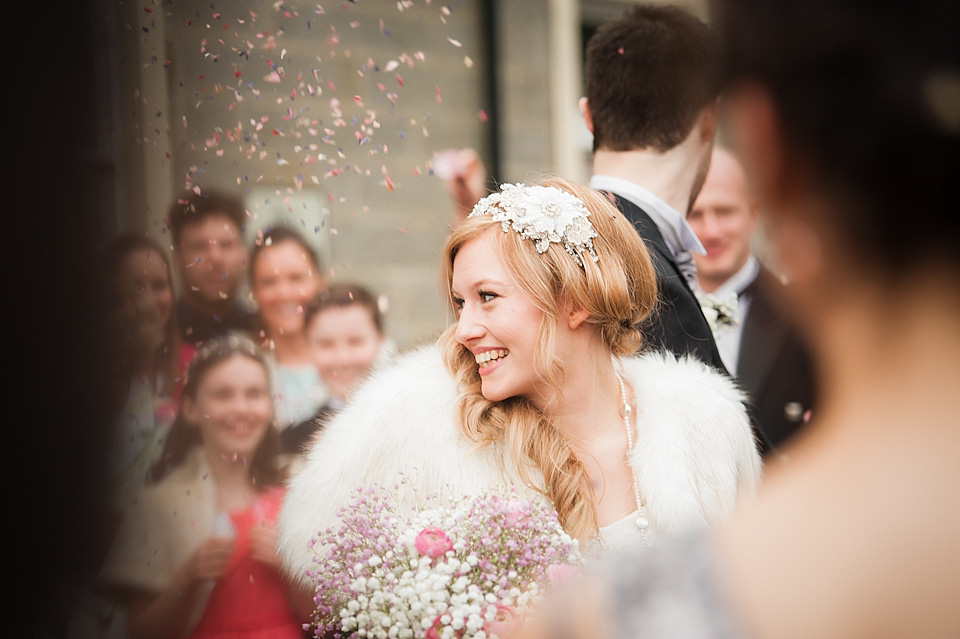 "We chose Colzium House because we felt it was a blank canvas. We really wanted a DIY venue that we could get creative with, choose all our own suppliers and just really have control over the whole day! The building is also so beautiful, inside and out, and was exactly what we had been looking for. And of course the grounds! We wanted to feel like we were in our own wee world, but without being too far from Glasgow, which is exactly what we got!"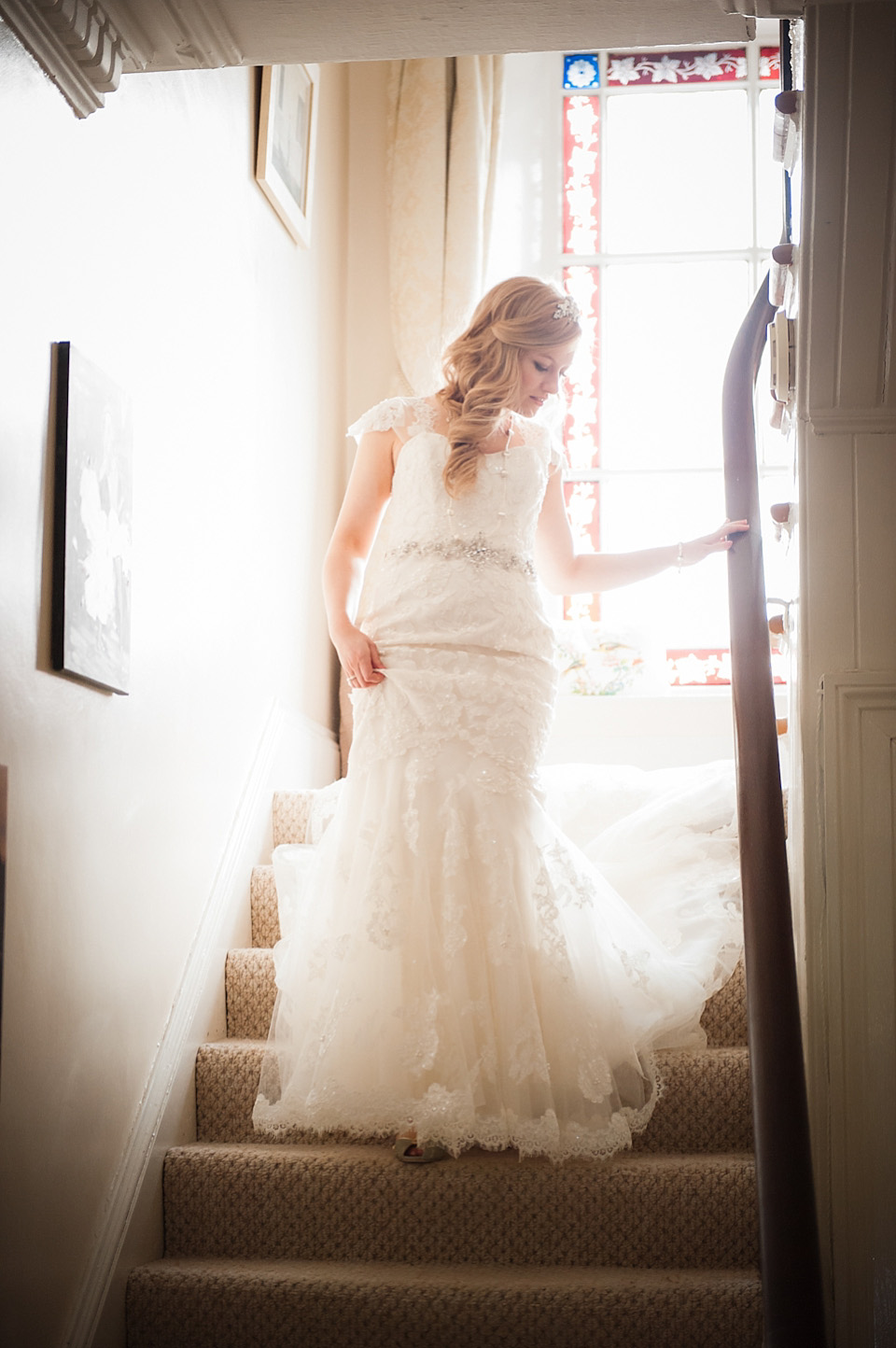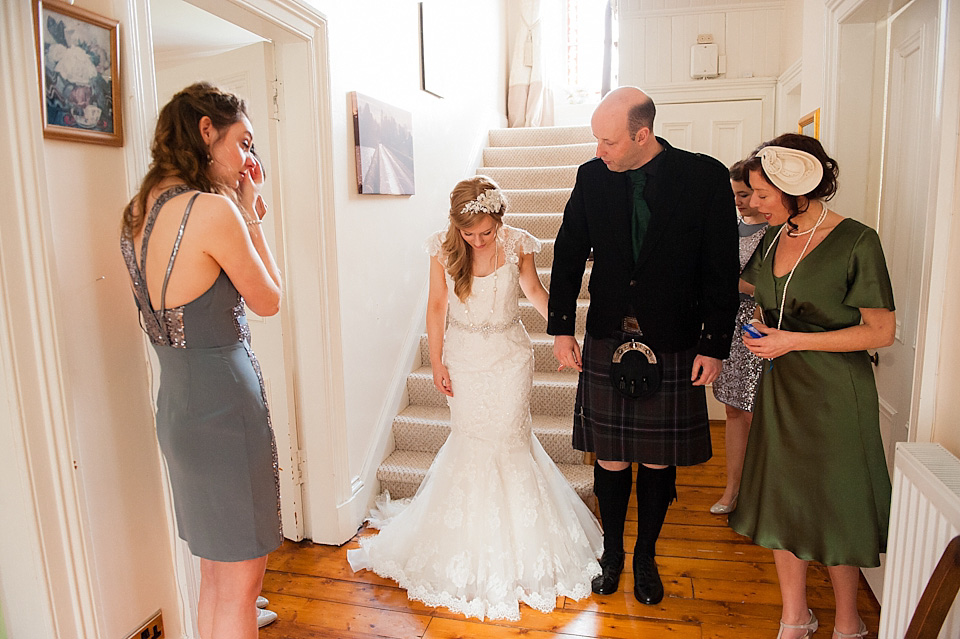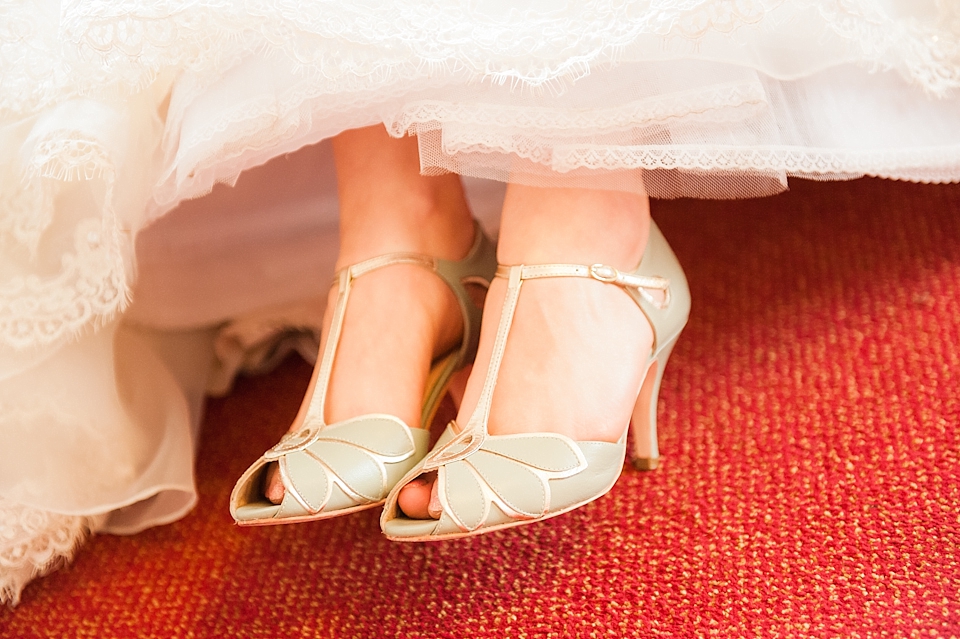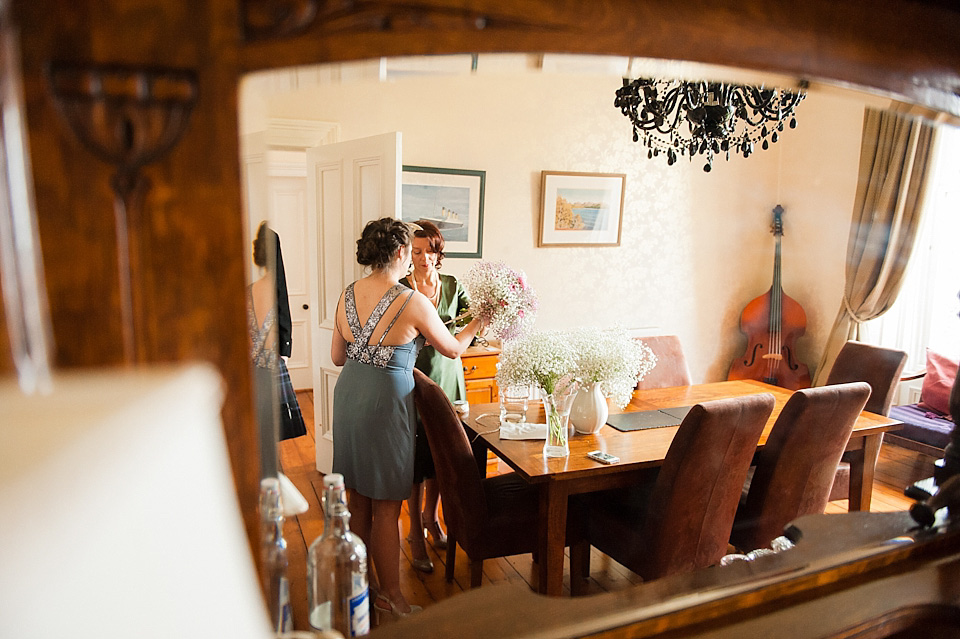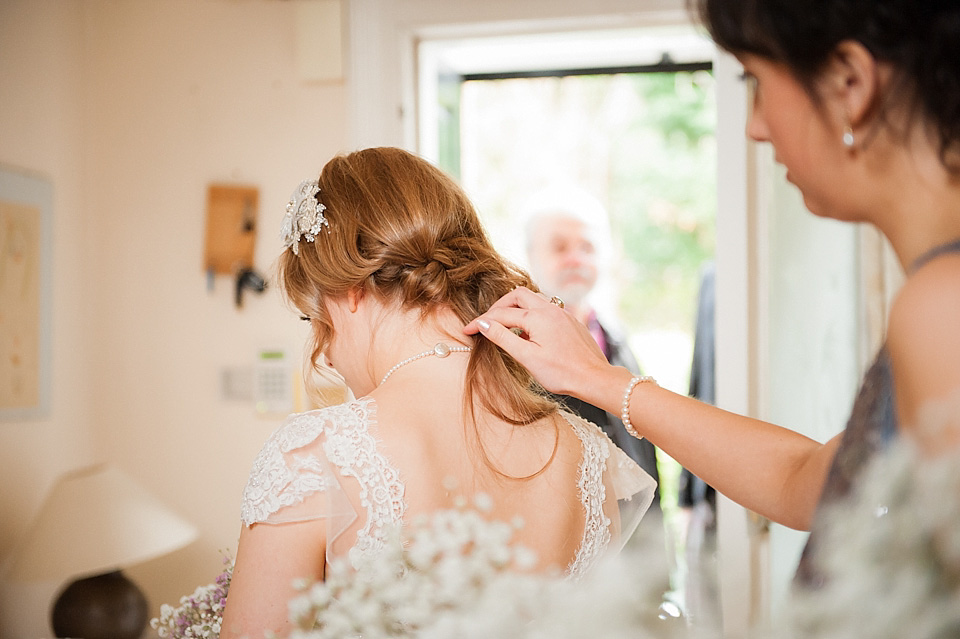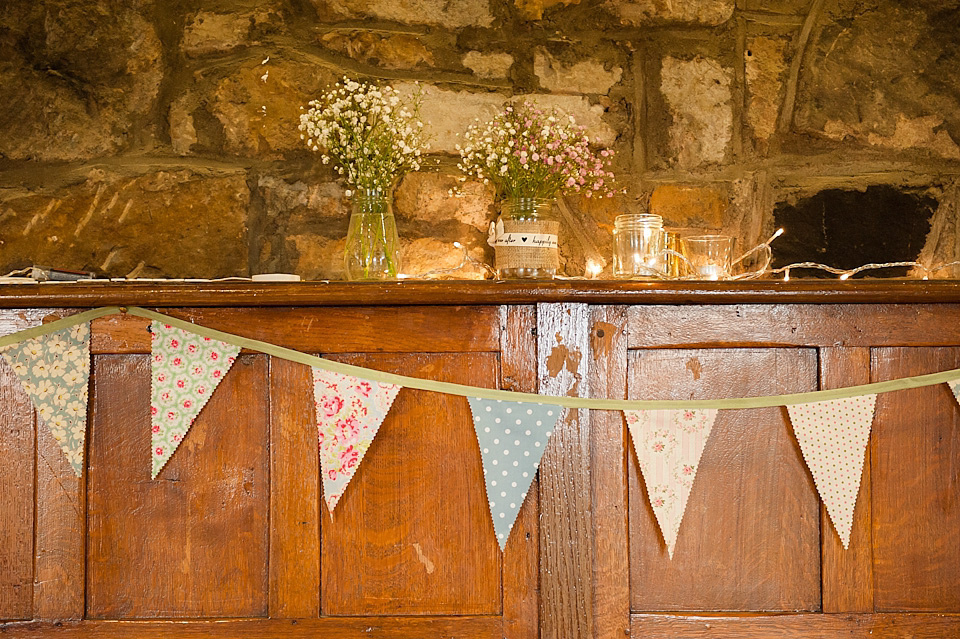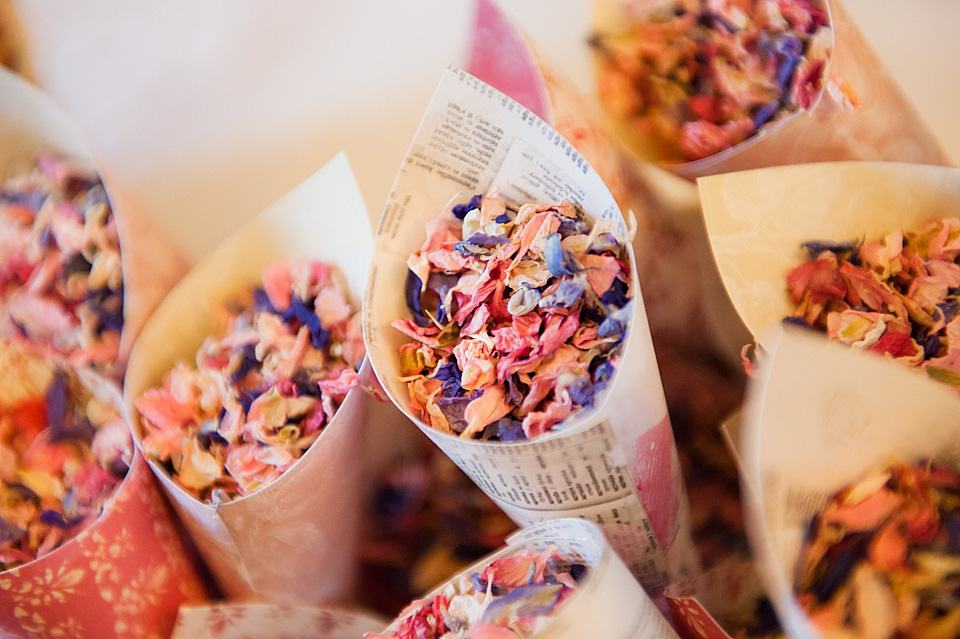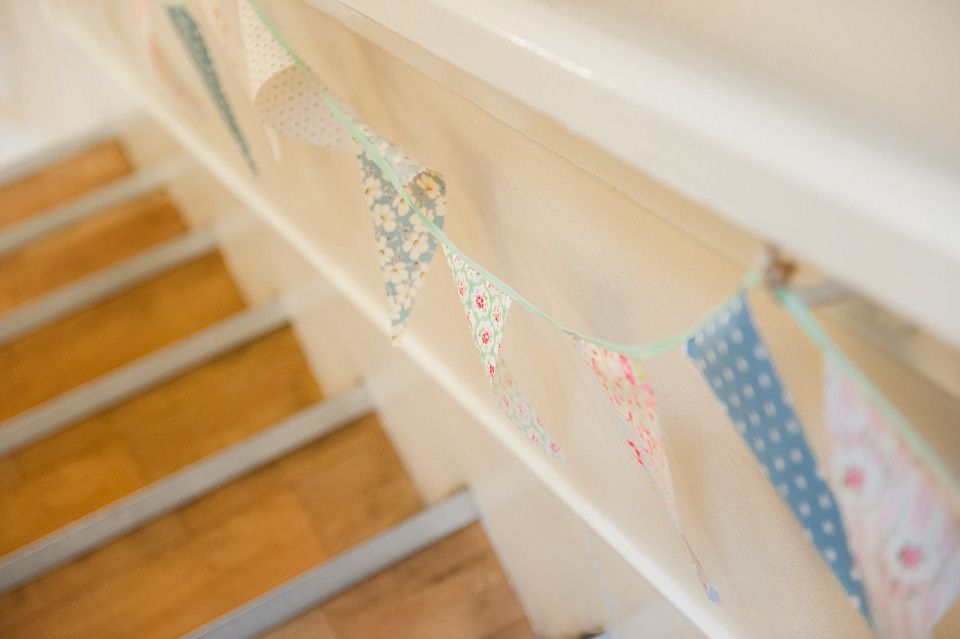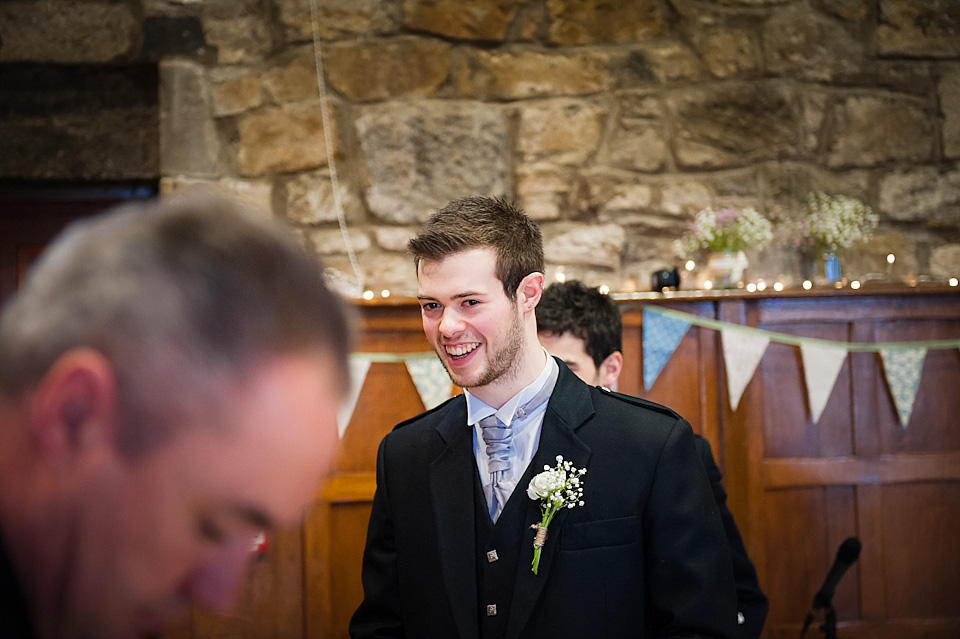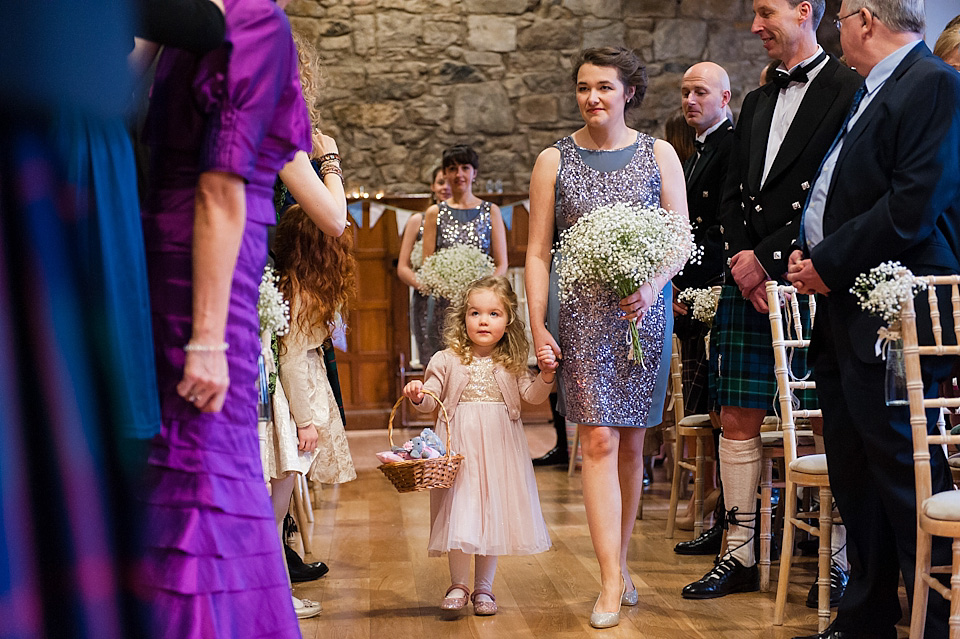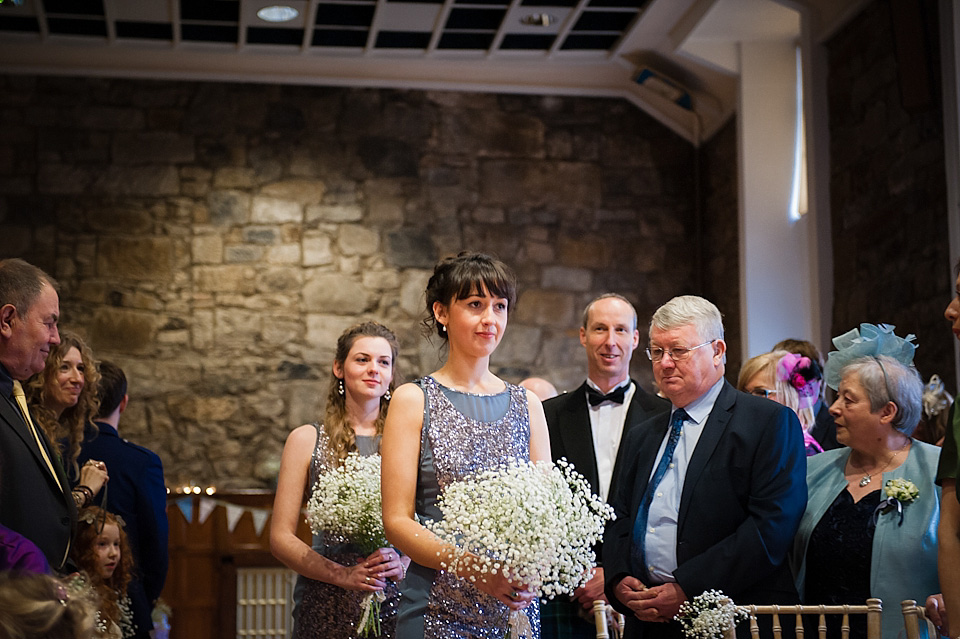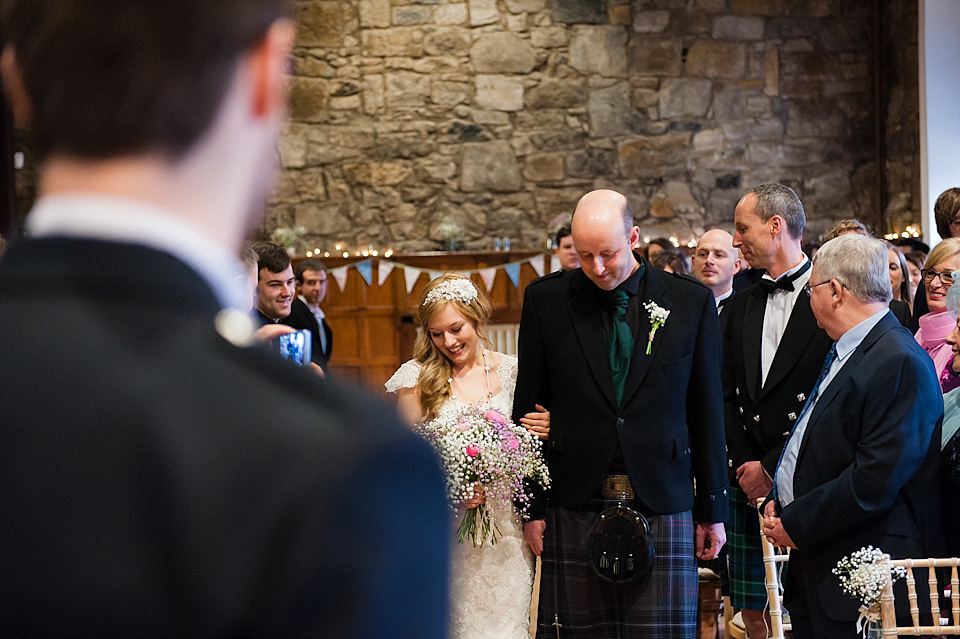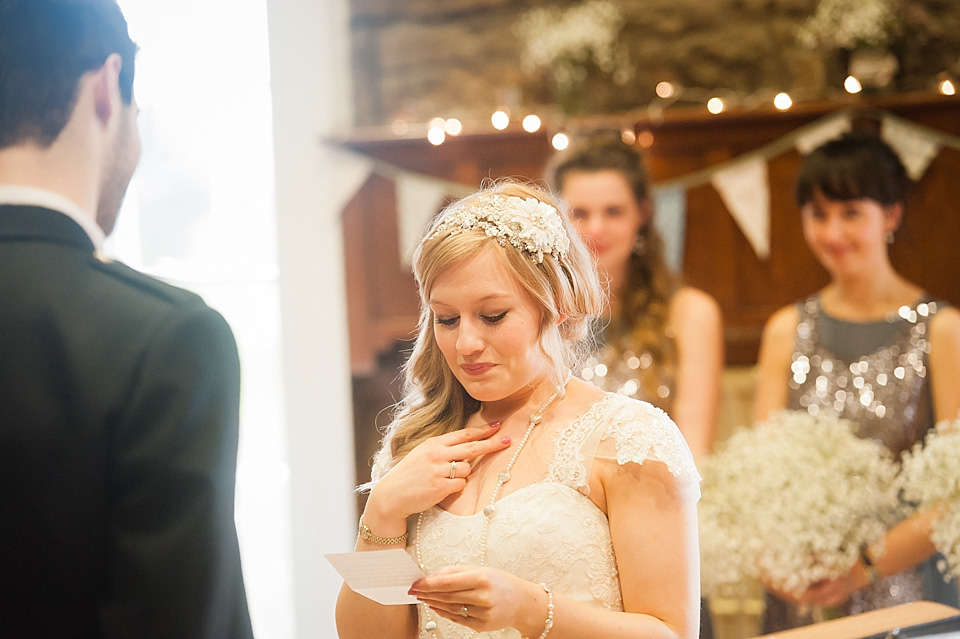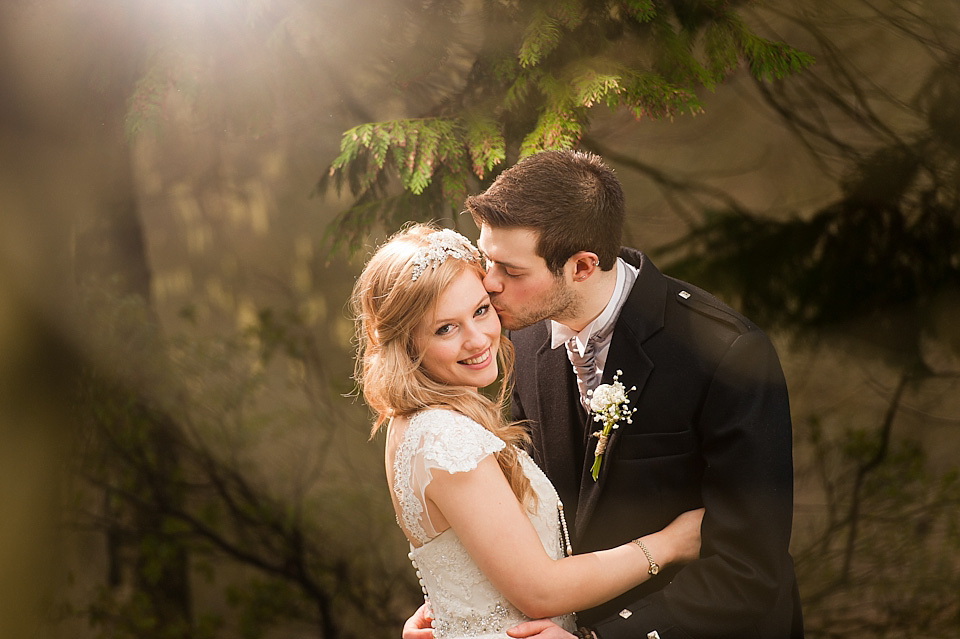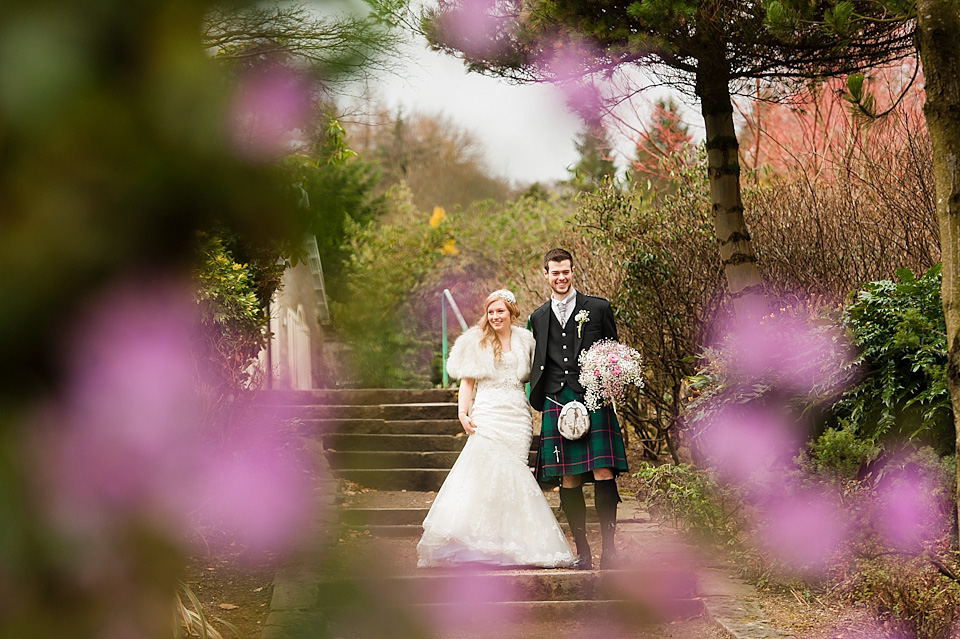 "Perfect Parties were our bar company for the day and they were lovely too! They made elderflower, berry and Prosecco cocktails in our jam jars as the after ceremony drink. They were delicious!"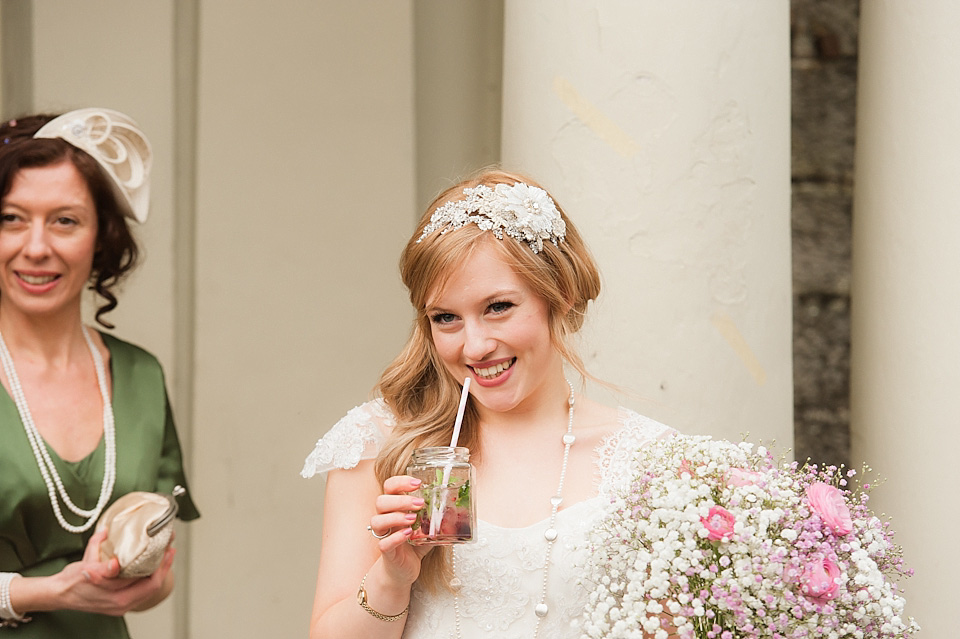 With the help from a few friends along the way, Caitlin also hand wrote and printed all of their stationery including invitations, menus, place cards and table plan and along with (now husband) Paul, she made the favours one rainy Sunday. "They were cones of hot chocolate powder topped with marshmallows, tied with ribbon and a homemade tag that said 'Here's a sweet treat to say thank you for being part of our special day'"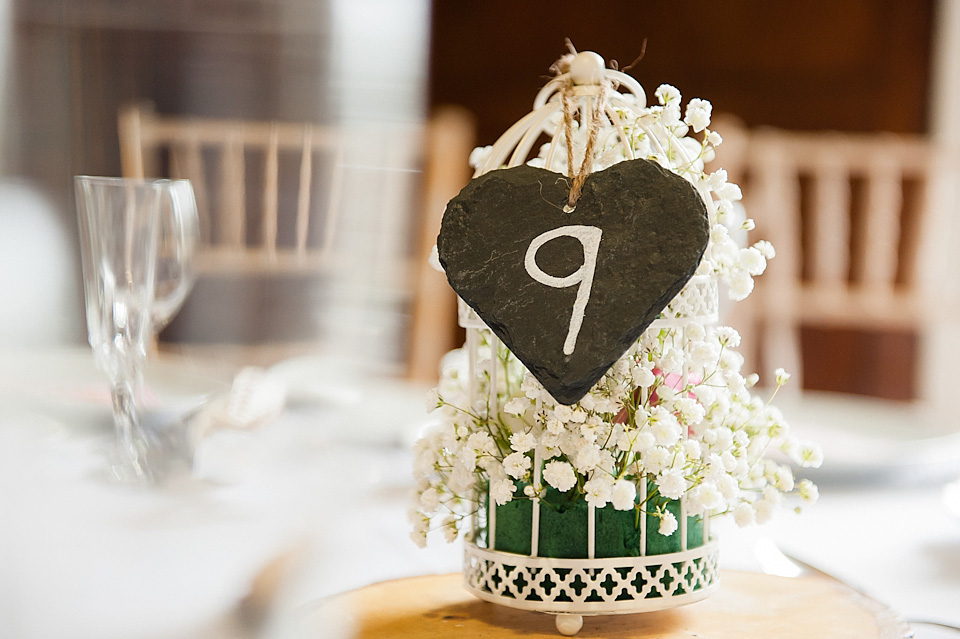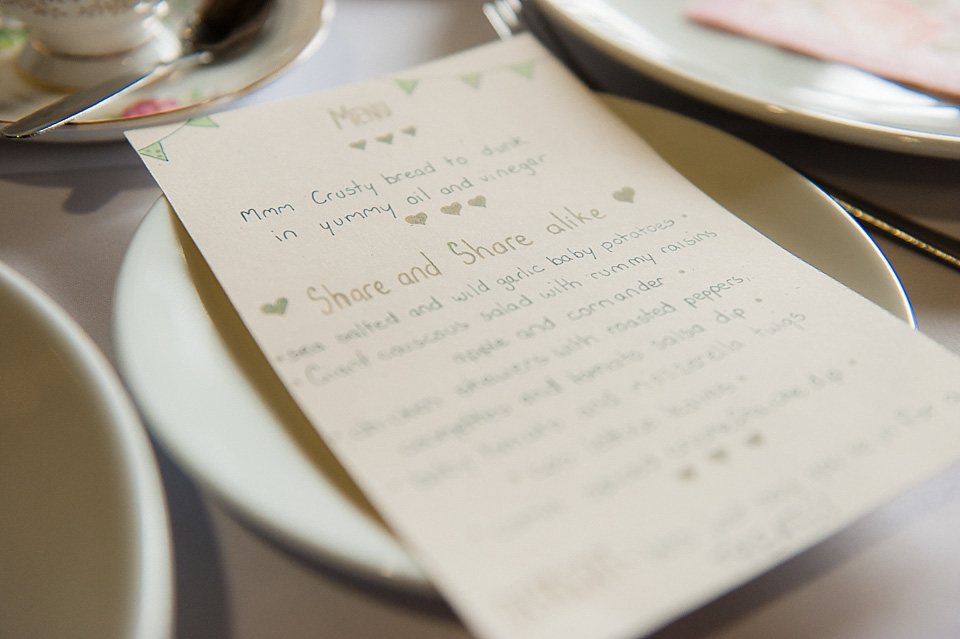 "All the venue décor was either made by me, or sourced by me! I made 65m of fabric bunting. I bought (and stole from mum!) slate placemats and used liquid chalk to write our favourite song lyrics on them. We had tissue paper pompoms, vintage tin baskets filled with homemade confetti cones and jam jars that everyone had been collecting tied with hessian and ribbons.
There were lots of fairy lights, ribbons that we tied onto the back of our chairs and wooden crates to display flowers. The day before the wedding, our families and closest friends helped us decorate the venue, which I can't thank them enough for. It took 4 hours, and they were all just amazing, we couldn't have done it without them! It was truly a homemade wedding."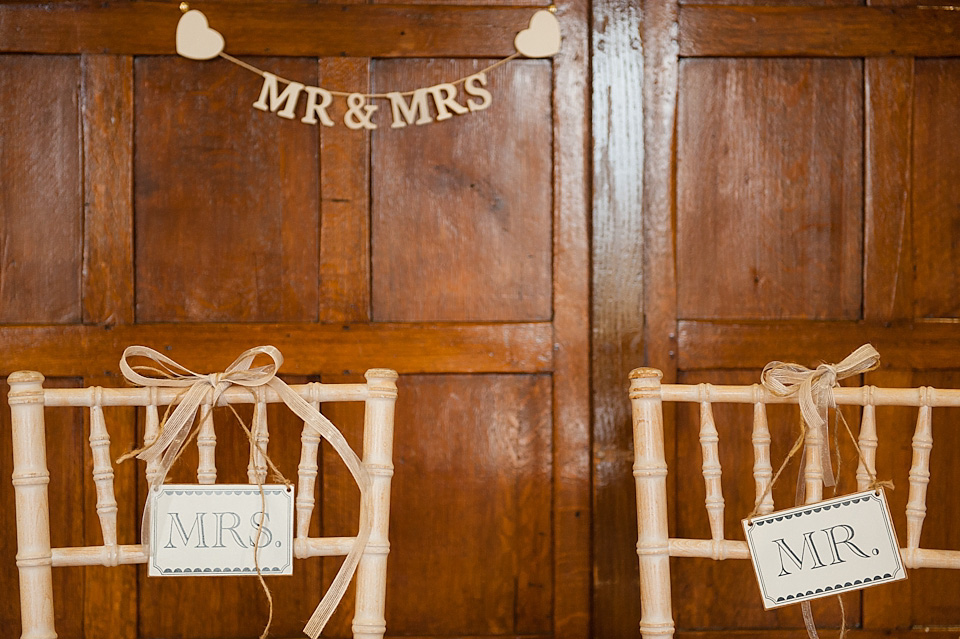 Caitlin and Paul chose to use the Lazy Sunday catering company who are based in Fife. Owner Carole, has a real passion for creating relaxed, WOW factor, locally sourced food. As I write this I'm drooling over the delicious menu, and only wish I could have been a guest to sample some of it! "Carole was a dream right from the beginning, her style of relaxed, uncomplicated food was exactly what we wanted to go with our wedding theme. We had AMAZING huge canapés after the ceremony of halloumi apple skewers, shots of soup and mini steak pies to name a few! Then we had big platters at each table of bread and oils, grilled chicken and courgette skewers, mozzarella and tomato twigs and all sorts of other tasty food."
Caitlin also made ALL of the cakes on offer, and there were LOTS! "I love buttercream and although it meant I had to make the cake just two days before the wedding, I knew I couldn't compromise on that! The top tier was lemon drizzle filled with white chocolate buttercream, and the bottom tier was a chocolate Baileys cake filled with the same cream. The whole cake was then covered in vanilla buttercream. We also had a dessert table that the guests were free to nibble from all night long and take treats home if they wished! I made most of the cakes on the table myself. There were 12 different types from cupcakes to brownies, meringues to macaroons, along with a couple of contributions from the mums again!"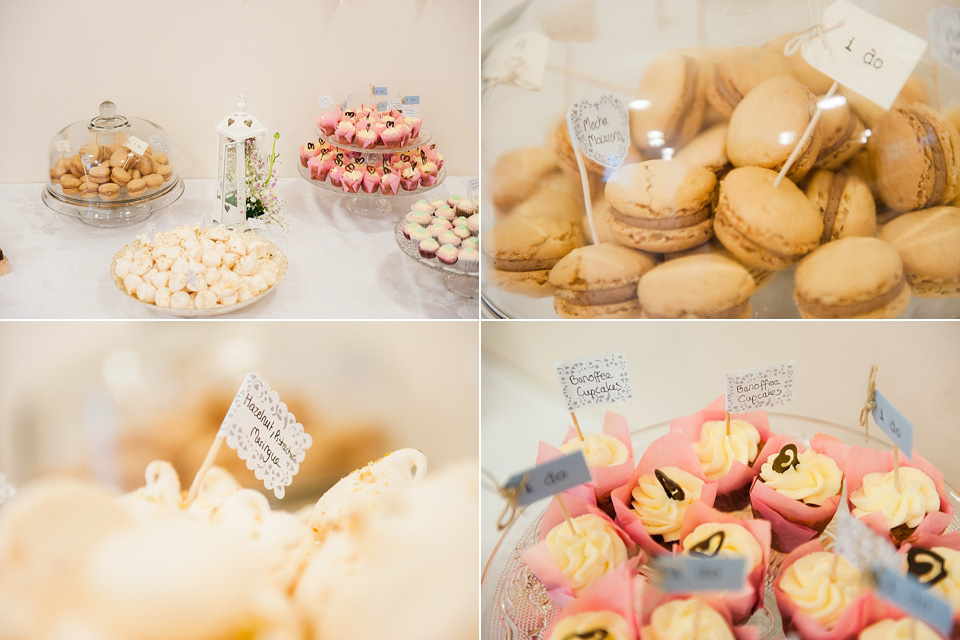 "Before the first dance, we came into the room to find everyone facing a huge projector screen with a picture of me and Paul on it. Then a song started playing, and I realised it was my Dad singing. He had written a song about me, and about me and Paul getting married. It was so unbelievably beautiful there wasn't a dry eye in the room! It was moments like that that just made our day feel so special and personal."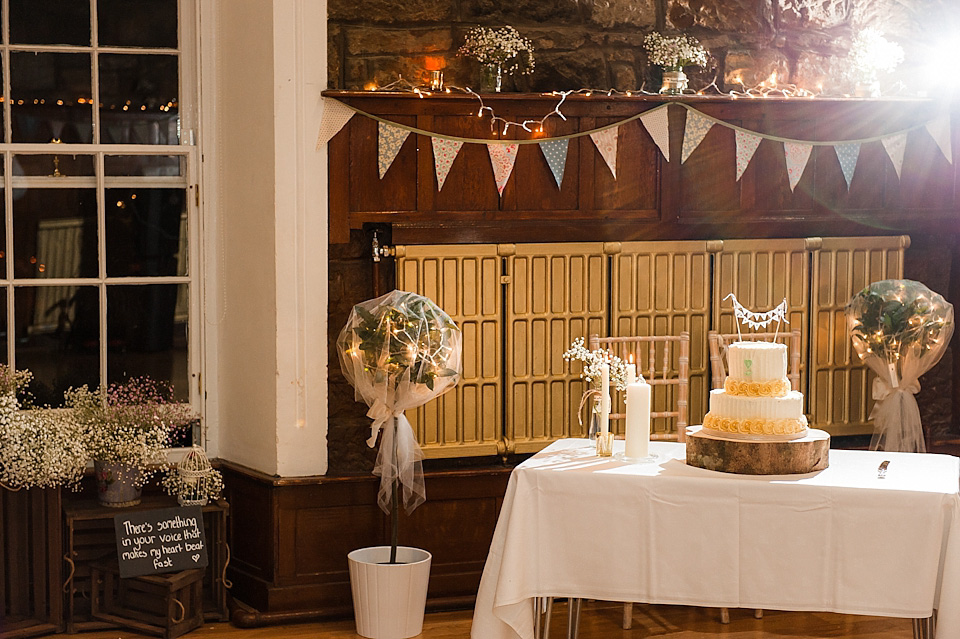 "I honestly couldn't choose a favourite part of our day. The whole thing was absolutely magical. It was perfect from start to finish and there isn't a single thing I would change. If I really had to pick perhaps it would be the moment I saw Paul for the first time as I walked up the aisle. All of a sudden the nerves disappeared and I felt calm, there was my best friend, smiling and waiting for me."
Words of wedded wisdom
"The day is about you and your fiancé, so do exactly what you both want. Everybody has ideas and opinions about your wedding and, what will and won't work, but just make sure you remember you are doing this for the two of you. This is your day."
Well I think we would all agree that Caitlin and Paul very much made it their day and I would like to thank them for sharing their wedding and their ideas with us, and to Andi Watson for capturing so much of it so beautifully in his photography.
We know there is always a lot of love out there for a handcrafted wedding and I personally admire the talent, time and patience that you clever lot dedicate to creating individual and personal touches for your special day. Are there any great ideas that you would like to share with us from your own I-do day? Or do you have any ideas for projects that you would love the DIY experts at Love My Dress to help you with?
Plenty more Scottish wedding inspiration can be found here.
Big 'Do It Yourself' hugs!
Katie xx
Photographer: Andi Watson
Venue: Colzium House,Kilsyth
Dress: Benjamin Roberts from Gwenne Wedding Services
Headpiece: Melle Cloche
Shoes: Rachel Simpson from Melle Cloche
Groom: Own kilt
Bridesmaids: Reiss
Flowergirl: Monsoon
Cakes: Caitlin's Cupcakery
Band: The Copyrights
Catering: Lazy Sunday
Bar company: Perfect Parties
Follow Love My Dress® on Google+