A lovely wedding for you to enjoy this afternoon, where ever you are.  Shona, an Outreach Coordinator for an Educational Charity and Jack, a Research Chemist, tied the knot on 2 November 2013 at Woodhill Hall in Otterburn, Northumberland.   This is such a sweet wedding – I love that it was inspired by the woodland and childhood stories like Brambly Hedge. I love the way Shona's dresses swishes and swirls and how she and Jack remained very true to their own personal sense of style and taste.  And of course, I always love to see a bride in glasses.
"Odd as it sounds, I have always wanted a wedding a bit like Bilbo Baggins' eleventy-first birthday party in The Lord of the Rings – all fireworks, twinkly lights, dancing, food, drink and an amazing atmosphere (but no hairy feet!).  We wanted something fairly relaxed and while we wanted to keep some of the traditional elements we wanted to only use those which we really wanted, in order to make it as much 'our day' as possible.  Most of all we wanted it to reflect us and our personalities and be great fun for everyone."
Photography Copyright (c) 2014, Karen McGowran
"Jack and I met in a ruined castle! We both do medieval re-enactment as a hobby and met around a campfire one evening at an event.  We got engaged in March 2012 in the Lake District when Jack proposed at one of my very favourite spots – Surprise View, which overlooks Derwent Water.  We ate fish and chips and then wandered over to the edge to have a look at the view and just as we were about to head back to the B&B, Jack got down on one knee!  I said yes (of course!) and we drank bubbly and ate cake that he'd had stashed in the boot of the car.  We didn't tell anyone for another 24 hours though as we had no mobile phone signal."
"On the day of our wedding, coming into the ceremony room and seeing all our friends and family smiling back at me, and Jack grinning, was the best part of the day for me.  The feeling of support and happiness in the room was almost tangible and I felt on top of the world.  I had worried I'd cry, but just had the most enormous grin on my face the entire time. 
Making our vows was an amazing experience.  I was really nervous about saying such personal things in front of everyone, but when it came down to it I didn't notice anyone except Jack."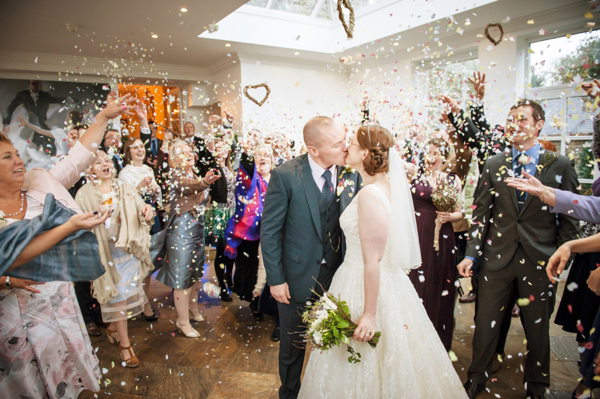 "I am from Northumberland and have a huge attachment to my beautiful home county, so really wanted to get married up north.  Luckily Jack didn't mind that at all and so we spent several weekends over a period of three months driving from our home in Yorkshire to search.  Ideally we wanted somewhere where we could stay with friends and family, in order to make a weekend of the celebrations and where we could have the place to ourselves. 
It also had to be beautiful, rural and flexible, so we didn't want much!  Woodhill fit all these criteria, and we ended up visiting on a very wet evening in June 2012 and booked quickly afterwards.  Oddly enough, after all that hunting, it was less than 2 miles from the primary school my Dad taught at for 15 years!"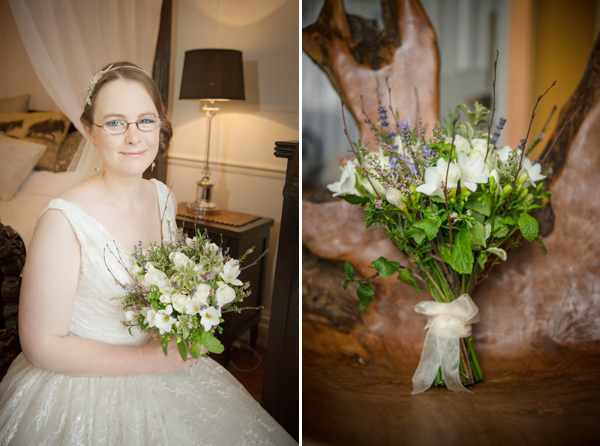 "My dress was called 'Cadillac', by Ian Stuart and was bought from Bridal Rogue Gallery in York – a lovely shop and the staff are great, especially Katie, who was fantastic and so helpful.  It was always a pleasure to visit and they were very patient with my endless twirling in front of the mirror!
I spent a very long time dress shopping, trying well over 50 dresses in total and found it a wonderful, but very confusing experience, as I really had no idea what I was after, just that I knew I wanted it to be a little bit different to the norm.  My mum and bridesmaids were very patient!  I knew what I didn't want, or so I thought, but not what I did."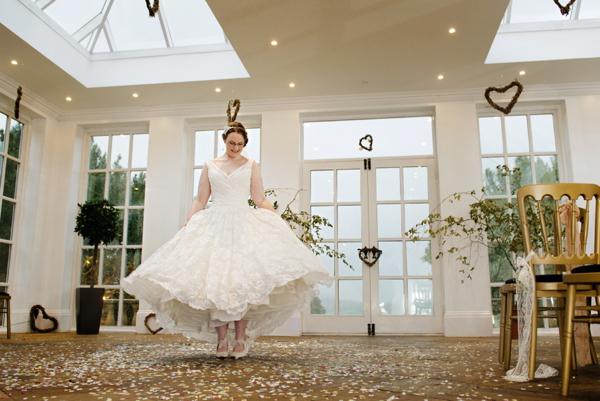 "I actually didn't want to try on 'my' dress initially!  I was visiting Bridal Rogue Gallery in York for a second try of a different Ian Stuart dress (Libertine, in pale blue stripe…) with my Mum when she saw it hanging up across the room.  I had seen it online and thought it was pretty, but dismissed it because I didn't want lace, I didn't particularly want a short dress and I didn't want pearls (it had beautiful pearl buttons on the back) but she persuaded me just to see what it looked like and as soon as I put it on I was smitten!
It was so comfortable, such beautiful fabric (silk and French lace) and a joy to walk in- the slightly shorter length made movement so easy, but as it was only just off the floor it still had the feel of a full skirt.  It felt different and pretty and just made me want to twirl around the shop.  The decision was firmly made when a little old lady banged on the window with her walking stick from outside and told me I should definitely go for it!"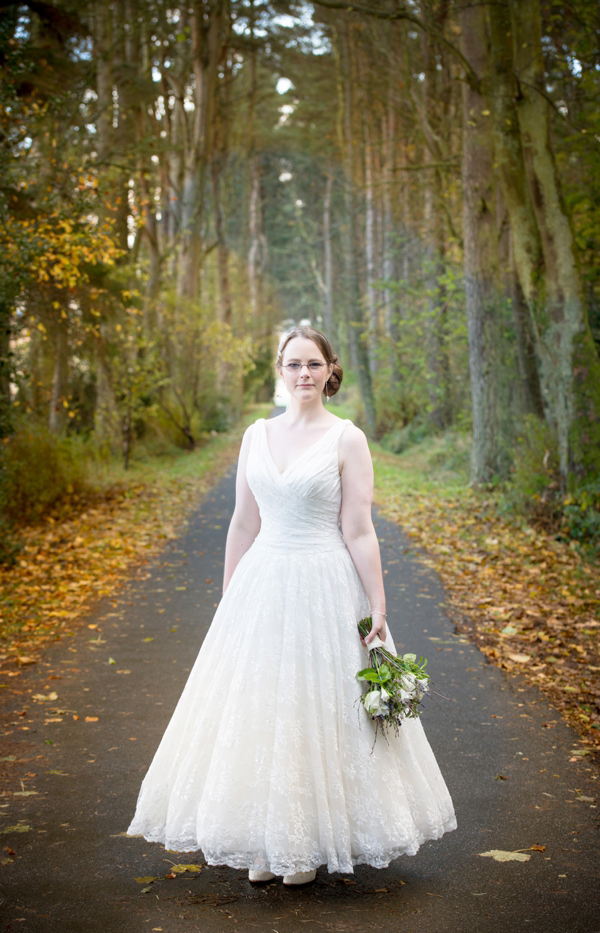 "The bridesmaids dresses were from Debut at Debenhams, in an Aubergine purple colour and looked fantastic on them both.  Contrary to my expectations, finding the dresses was such a simple process and we bought them way ahead of time.  We did have a bit of a drama closer to the day however, as both bridesmaids were pregnant and there was a bit of concern as to whether their dresses would fit!
  In the end we had to find Katy a new dress two weeks before the wedding but she was an absolute star and bought an almost identical one which looked fantastic, before telling me about the issue, so everything worked out fine."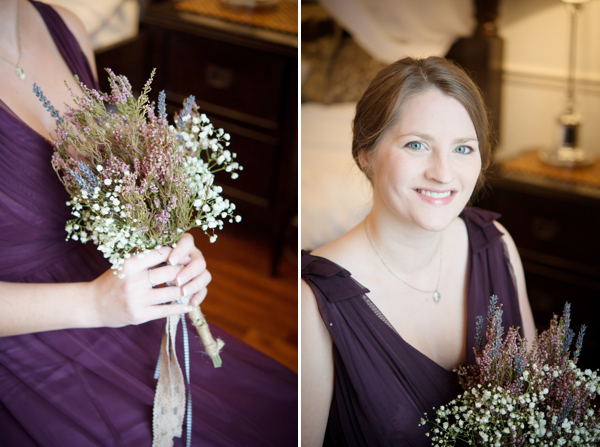 "I had really wanted to get married outdoors so to make it feel as though we were standing in a wood my Mum and stepdad arranged two huge terracotta pots, filled with pine cones, holding two enormous tree branches, which we stood at the top of the aisle so that we could make our vows under a tree bower (almost!) It wasn't until we got to the venue to set up on the Friday night that I realised they had ordered the pots especially and they were personalised with 'Shona and Jack, 2nd November 2013' which was so beautiful and a really lovely surprise."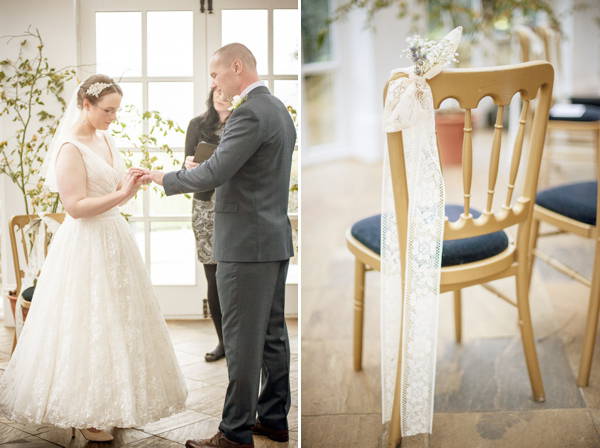 We decided early on that as we had opted for a late autumn wedding, we would rely more on candles and dried heather and lavender than we would on fresh flowers.  I did want a fragrant bouquet though and Jack wanted a buttonhole with a white rose for Yorkshire, so we contacted Christine of Lavenders Blue.  From the very start she was extremely helpful and knowledgeable, which was fantastic as neither of us know much about flowers!"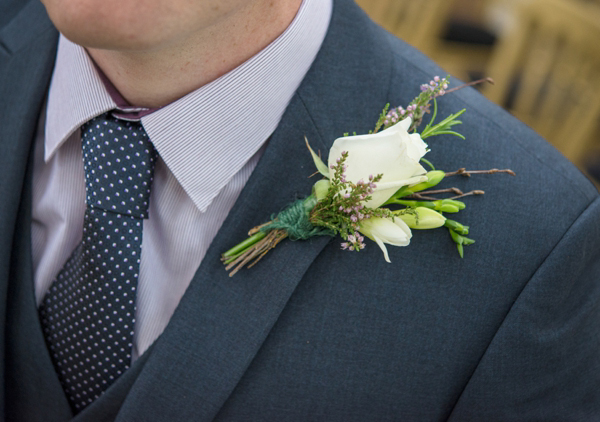 "My final bouquet comprised of avalanche roses, willow twists, heather, dried lavender, mint and ivory freesia and smelt amazing.  Jack's buttonhole was an avalanche rose with heather, rosemary and willow, and the other men had the same without the rose.  My bridesmaids carried a bouquet of dried heather and gypsophila."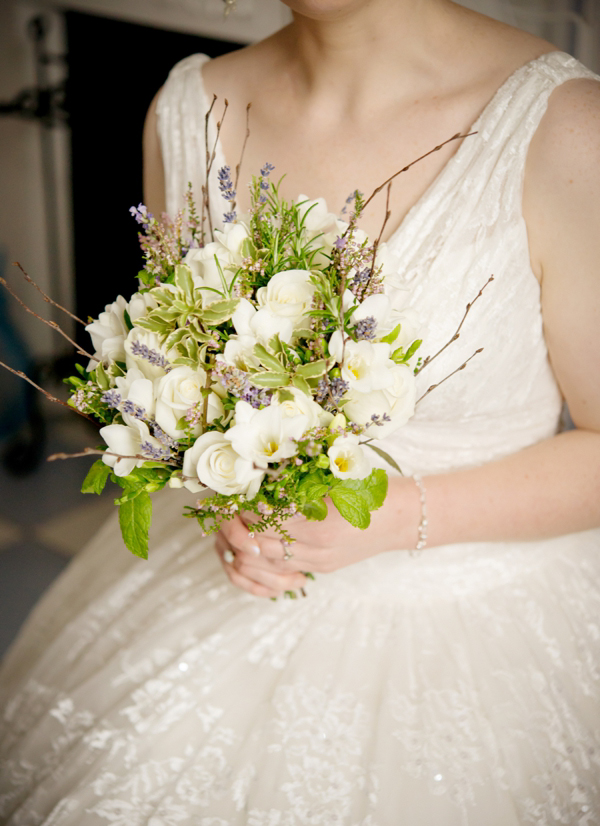 "Woodhill Hall has a very eccentric and bold style and some rooms didn't need much in the way of decor, but the orangery, where the ceremony would be held was by its nature quite empty, so we focused most of our attentions on there.  A very talented friend made us about twenty willow hearts, which we strung up on fishing wire from the ceiling and laid against the walls, which really added colour and texture to the space.  We were aiming for a woodsy/rustic feel and used a lot of wicker, hessian and wood in our decor.  The main colours were purples, greens and browns and I was delighted with how it all looked in the end."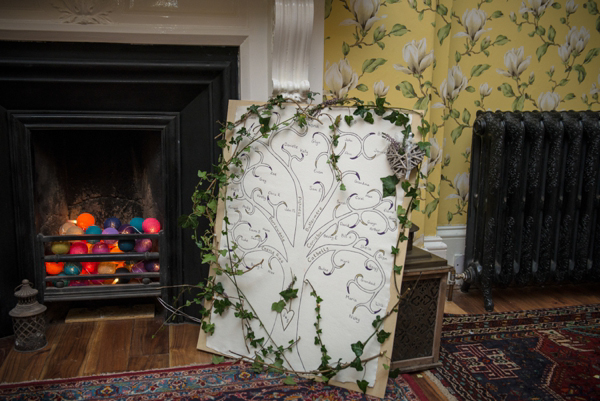 "It all took a lot of setting up on the Friday night, but it was well worth it as we got so many compliments on how everything looked.  My Mum was invaluable in all this as she has so many ideas and so much enthusiasm- we couldn't possibly have done it without her (and it certainly wouldn't have looked as good!)."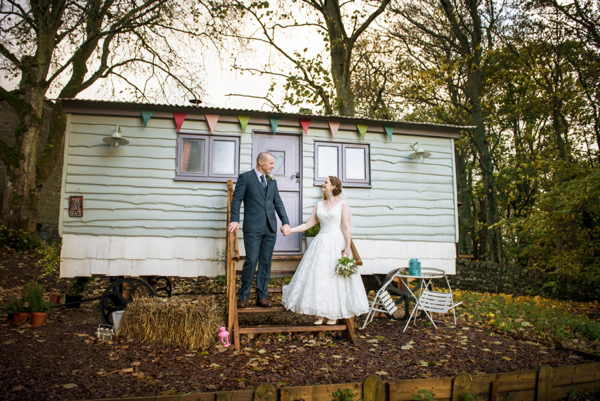 "Karen McGowran and her husband Neil – our photographers, are an absolute delight to work with.  We booked Karen on some glowing recommendations and we couldn't have made a better choice.  Her work spoke for itself, and when we actually met them for our pre wedding photoshoot a couple of months before the wedding, we got on so well!  The first attempt at the shoot had to be abandoned as it was raining so hard and we spent a couple of hours sat in front of the fire chatting about the wedding and going through our plans, laughing the whole time.
Luckily a couple of days later the weather had done a complete turnaround and it was beautiful, so we got our shoot after all!  On the day they were friendly, professional and managed to get everyone into groups with very little hassle and we absolutely loved working with them.  We're now trying to find excuses to book them again."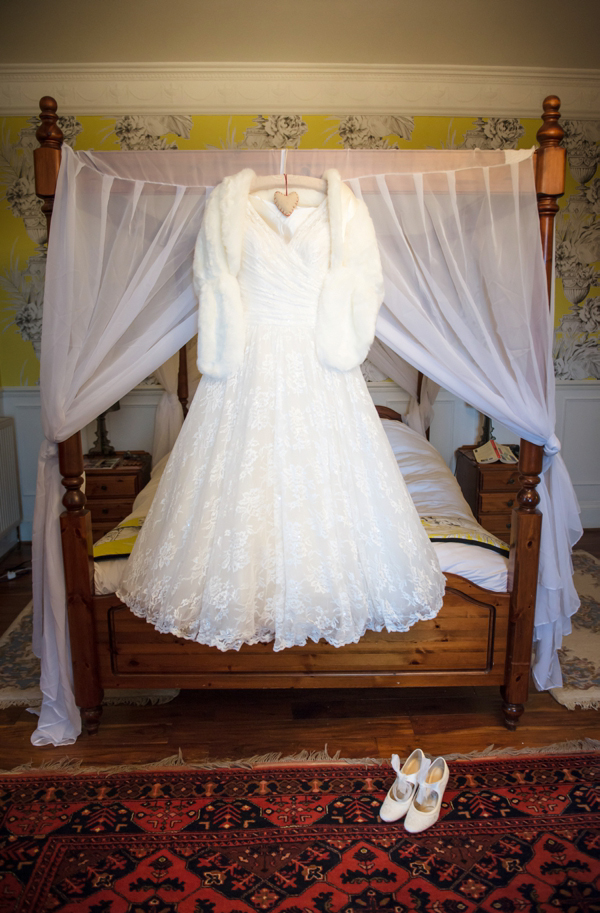 "My shoes were called Buttercup and by Diane Hassall – I got them in a sample sale so half price!  They were fairly comfortable considering the height of the heels and I loved the chiffon bow to tie them on as it made them very easy to walk in.   The slightly vintage style made them very elegant.
My perfume was Jo Malone's English Pear and Freesia.  I decided I wanted to wear a new scent for our wedding so whenever I wore it again afterwards it would remind me of the day- now every time I spray it I am thrown back to 10 minutes before the ceremony when I put it on, and the nerves, excitement and happiness that moment was full of."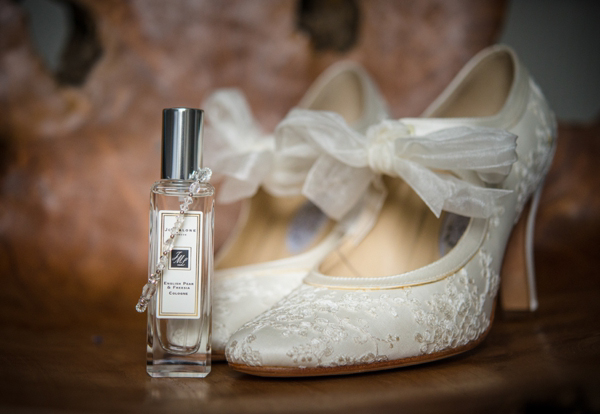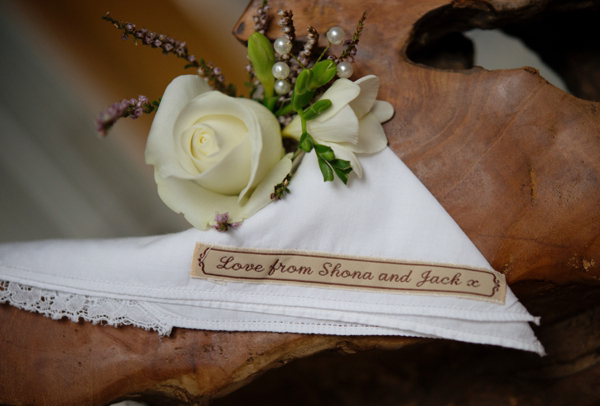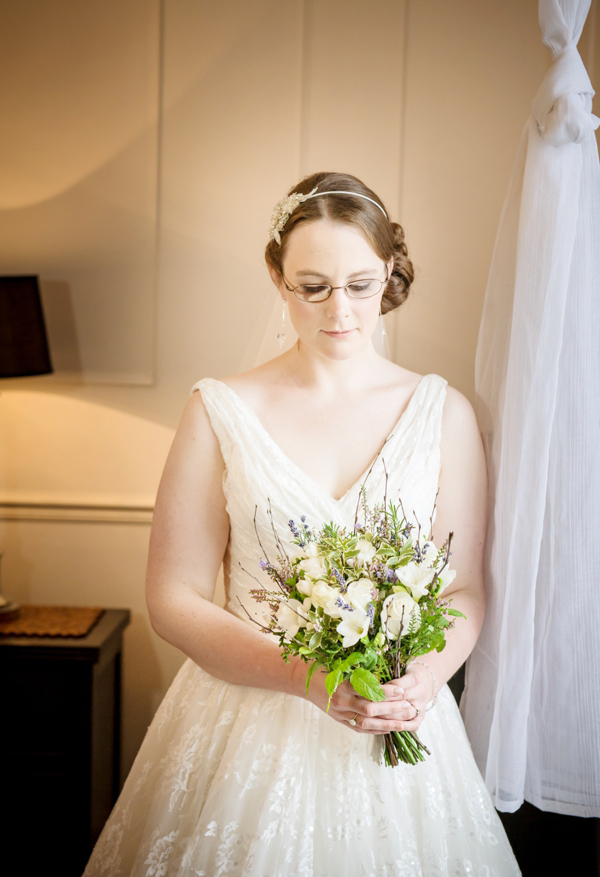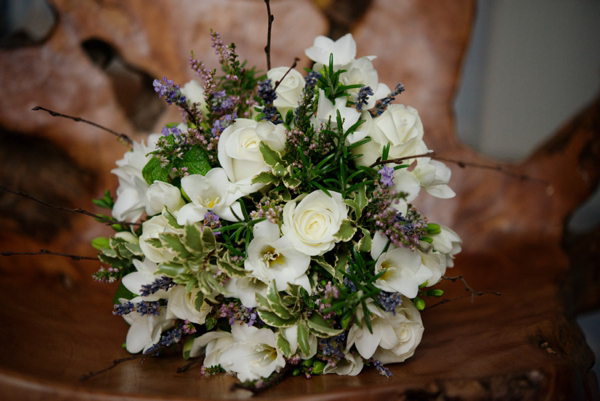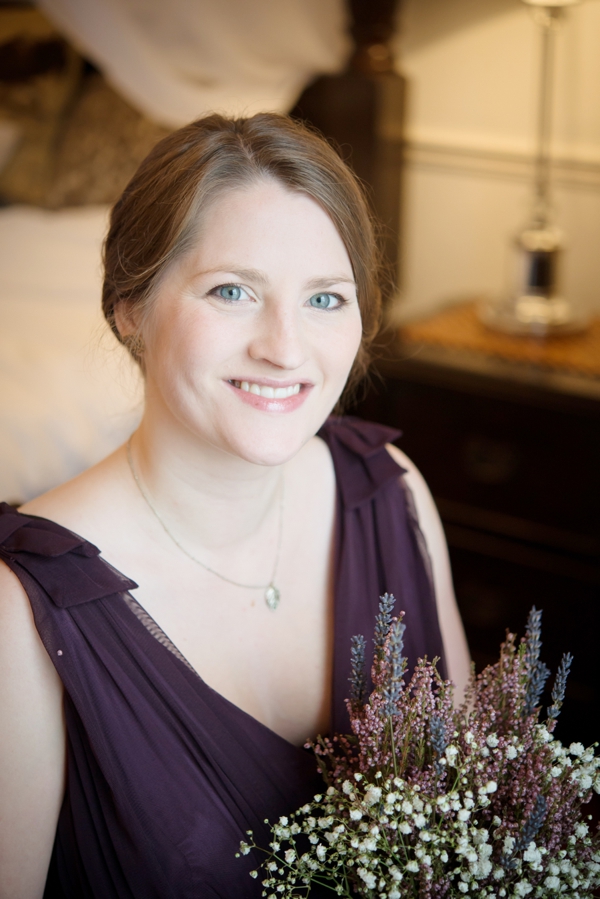 "The bridesmaids each bought their own shoes as I wanted them to choose something they could wear again, I just requested gold, in any style.  I also bought the girls a necklace and earring set as a thank you gift and gave it to them on the morning of the wedding as we were getting ready.  They were small leaves in gold and both ladies decided to wear them on the day which was really nice.  They went with the dresses beautifully and also went nicely with my own leaf – themed earrings!
Both bridesmaids wore gyp in their hair, which was very simple but looked lovely."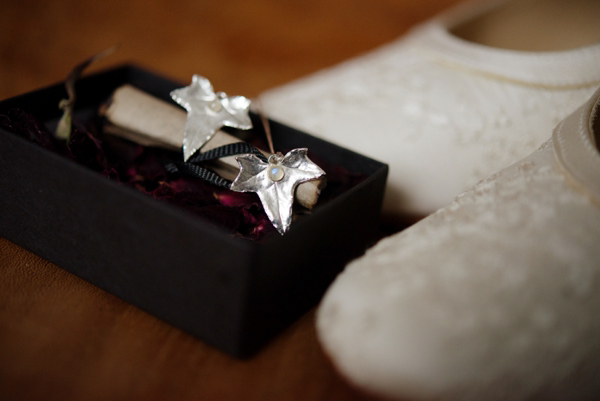 "I wore the 'Elder' headband, by Rainbow Club, which I actually won on a competition on Love My Dress shortly after we got engaged!  I loved how it sparkled in the light and subtly echoed the sequins in the under layer of my dress.
My earrings were a commission from Where the Wild Roses Grow.  Claire makes all the jewellery herself and is such a lovely person (she was very patient with my indecisiveness over the design!)  They were silver ivy leaves with a moonstone on the leaf and very delicate. I absolutely loved them and have already worn them again for a friend's wedding.  I also wore an opal ring as my something old, which used to belong to my Mum and in the evening, once I'd removed my veil, I put on a necklace given to me by my Grandma.
I also wore a crystal bracelet which was borrowed from my bridesmaid Danielle, as my something borrowed.  It is so delicate and beautiful and I was delighted she let me borrow it for the day as she wore it at her own wedding where I was a bridesmaid, two years ago."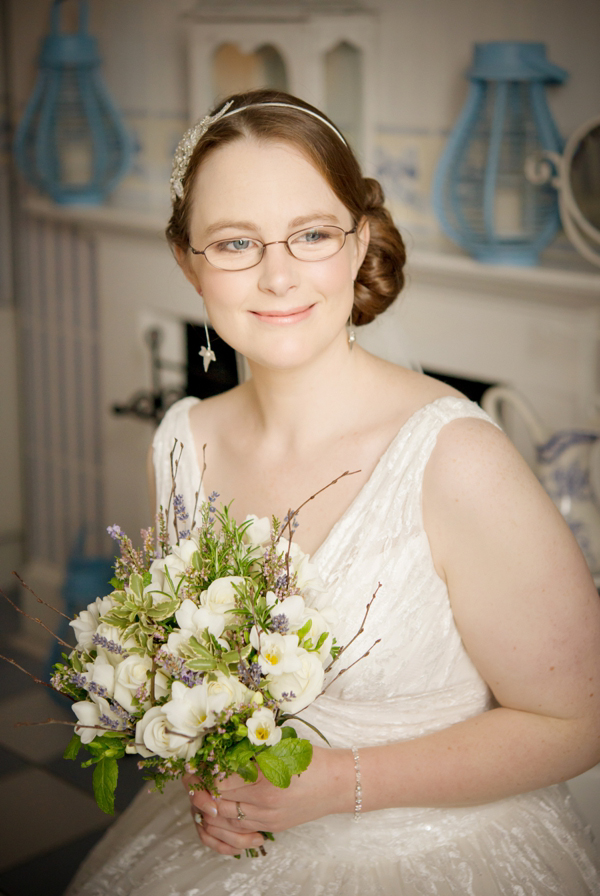 "Jack wanted to wear a suit he could wear again, and to treat himself to a really nicely fitting three piece.  Originally he planned to have one made, but time became tight and he ended up buying a suit off the peg in a beautiful dusty navy- it couldn't have fit better if it had been made to measure though, and he had lots of compliments.  He also wore a pocket watch which was a gift from his parents on his 21st birthday.  It keeps terrible time, but looks very dashing!"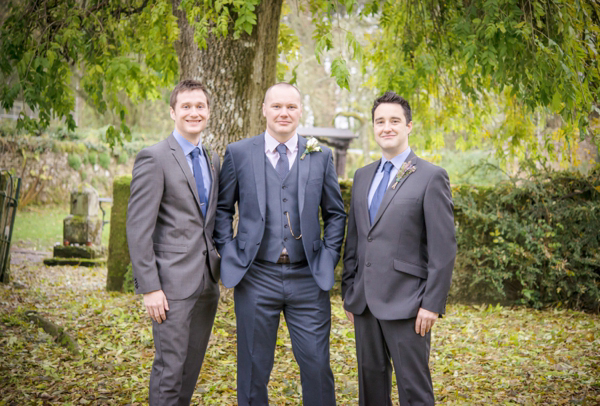 "Jack had two best men, his two brothers, as they have all been best men for each other at their weddings.  Being his brothers they've known him forever, so there was a wealth of stories to draw from for their joint best man speech!  We asked them both to wear a suit of their own, with a blue shirt and provided them with a navy tie."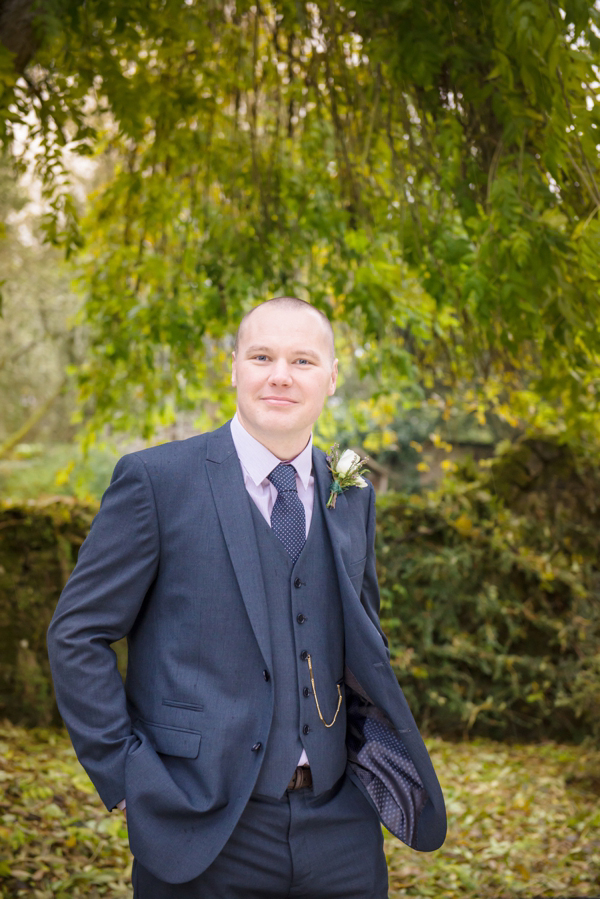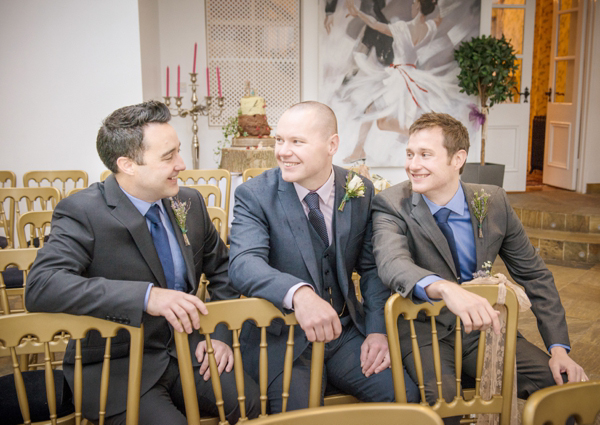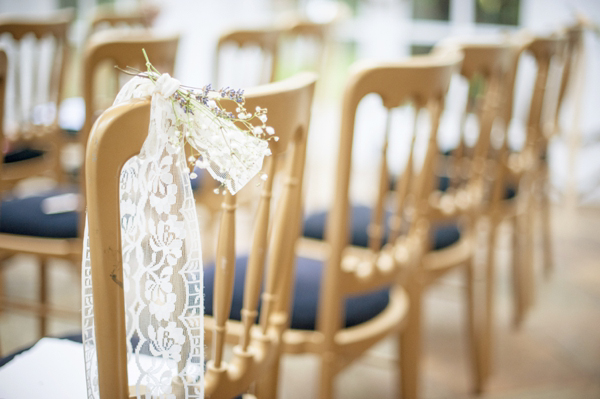 "I hadn't planned to have a veil but loved how a shorter style looked with the shape of the back of the dress.  Deity Bridal were brilliant – the service was quick and they were able to make to a specific length for me.  The colour matched perfectly too!"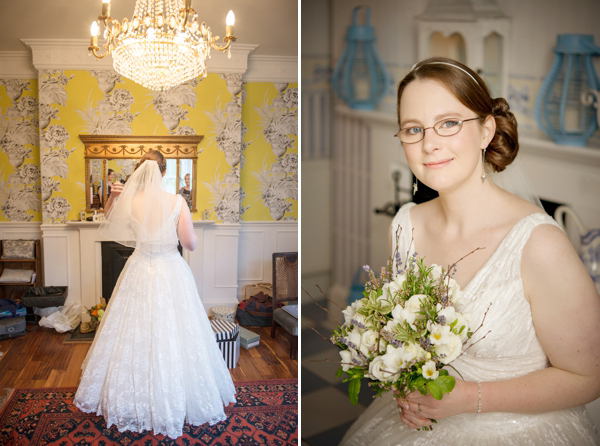 "We crafted our own stationery as we really wanted a handmade feel to our day.  We sent out Save the Date cards, which were hand stamped luggage tags with lace tied around them, a year before the wedding, then made matching invitations which went out four or five months before the big day, using the same stamp and lace.  I loved doing the first few, but we ended up having some very pretty evening invitations printed by Vistaprint as we couldn't face making another thirty for the evening!  I would strongly recommend getting friends and family to help if you decide to do your own stationery- it's worth it in the end but takes a long time! 
Our place cards were strips of wood which Jack then burnt the name of each guest into. Our tables were named after places in the Lake District, where we got engaged and have spent many happy holidays and weekends."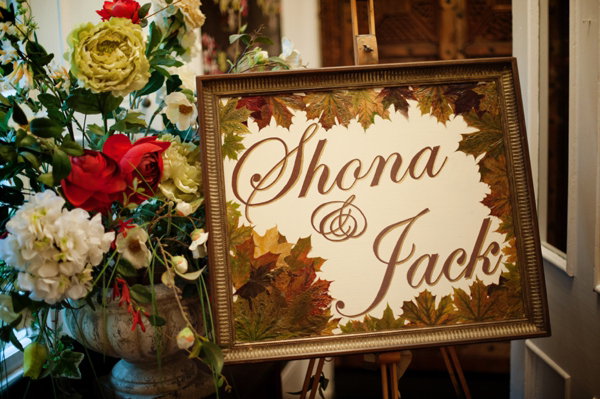 After a huge amount of thought, I decided that I really wanted to walk myself down the aisle.  Luckily my Dad was very supportive of my decision and understood entirely that it felt more 'me' to do it this way.  I was so nervous beforehand but I absolutely loved the experience.   I walked down the aisle to 'Concerning Hobbits', by Howard Shore.  This is such a cheerful and beautiful piece of classical music and it never fails to make us smile whenever we hear it, it was also a subtle nod to my joke about having a hobbit wedding!
We wrote our own vows as we wanted the ceremony to be as personal as possible.  We were both quite nervous about reading them out, but loved the experience and were really proud we'd been brave enough in the end!  I promised to make Jack smile every day, not worry about his mad schemes and always call him to the window when its snows, while Jack vowed I would always come first in his life, above everything, even his martial arts training!  We tried to make them heartfelt but humorous and I think we achieved that balance."
"Our readings included 'A Lovely Love Story', by Edward Monkton, an extract from 'Summer Story' – one of the Brambly Hedge stories by Jill Barklem and 'Roads Go Ever Ever On', by J RR Tolkien.  I found 'A Lovely Love Story' somewhere online and emailed it to Jack who loved it!  It was a bit different to other readings we'd seen and made us laugh, although the end paragraph also makes me cry as it's so lovely; 
'Now the Dinosaur and the Lovely Other Dinosaur are old.
Together they stand on the hill telling each other stories
and feeling the warmth of the sun on their backs.
And that, my friends, is how it is with love.
Let us all be Dinosaurs and Lovely Other Dinosaurs together.
For the sun is warm.
And the world is a beautiful place'."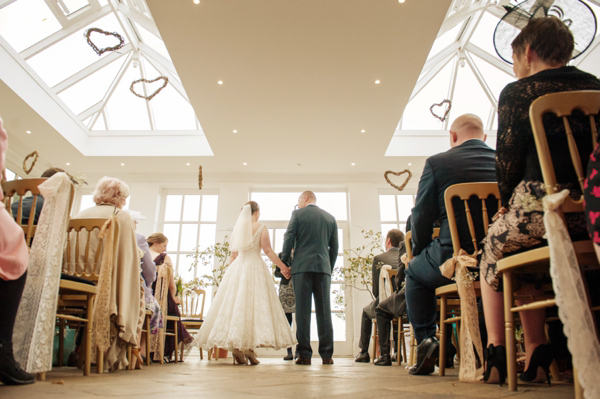 "My younger brother Euan and friend Hana, read it together and did an absolutely magnificent job- considering they'd never even met until the night before they worked as a perfect double act!  Our friend Will read 'Roads go Ever On' from The Hobbit, and my Mum read the extract from 'Summer Story'.  This is a book I loved as a child – it has the most beautiful illustrations and the two mice on the top of our wedding cake are Poppy and Dusty, the two mice in the book.  Unbeknown to me, Mum had actually written to Jill Barklem, the author, to ask her permission to use the extract and Jill wrote back with a lovely card, saying how delighted she was and that she would love us to use her work as part of our wedding!"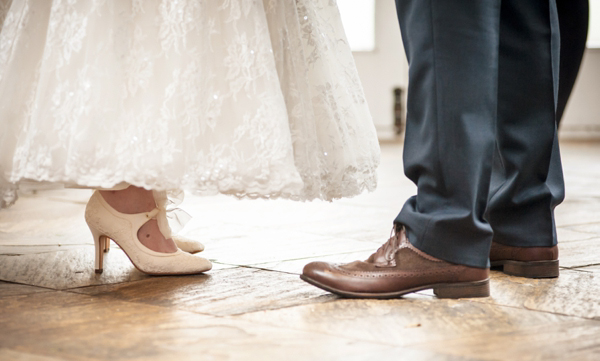 My ring was from a designer based at Kirkharle Courtyard in Northumberland, as I wanted to use a local jeweller and was just a very plain white gold 2mm band.  My engagement ring is an unusual design and I wanted something simple to work with that.
Jack doesn't usually wear jewellery at all, so decided he wanted a chunky piece and chose a 9mm silver ring, inlaid with oak which was taken from a 18th century ship, by Justin Duance.  Justin is based in the fishing village of Newlyn in Cornwall and we visited him while we were holidaying there in September this year.  Jack enjoys woodworking in his spare time and his Dad used to work as a joiner, so it seems appropriate to choose a ring that incorporated his love for wood as material.  He made a perfect choice and I love seeing him wearing it now!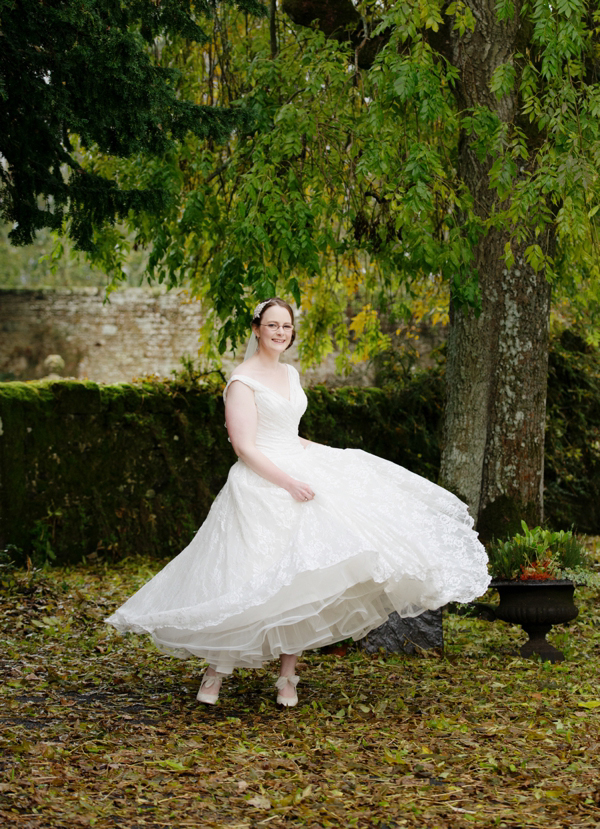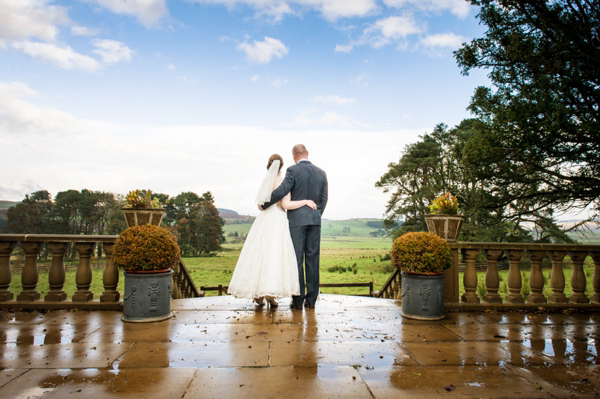 "As favours, we gave half our guests National Trust Badges, to whom we made a donation as we both love the outdoors, and the other half Alzheimers Association badges in memory of two of my Grandparents.  It was really lovely to give something back to charity as part of our celebrations."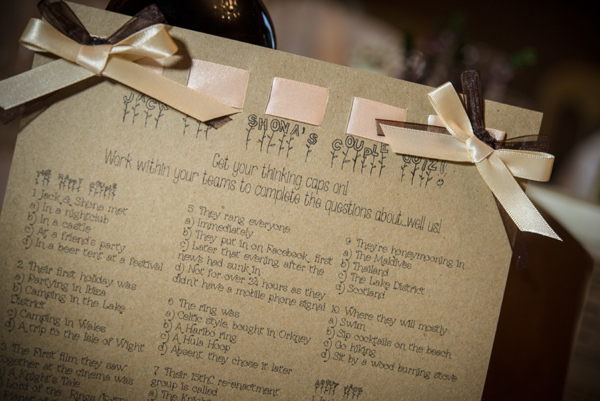 "My Mum did all the flowers for the tables and the ceremony room, mainly using dried lavender, purple heather, gyp and small white roses.  The flowers for the table were put in jam jars, which we had wrapped with lace and hessian and decorated with bark hearts and wooden buttons.  We tied big bows of antique lace to the chairs on the ends of the rows and threaded lavender and gyp through these and created a beautiful flower arrangement in a bark vase for the registrar's table.  We put tealights in yet more jam jars all down the steps outside (which unfortunately got drowned in the pouring rain!) and put fairy lights and festoon lighting, borrowed from a friend in the trees outside which looked beautiful (and helped evening guests find their way to the entrance in the pitch black on a dark November night!).
Our table centrepieces were wooden rounds with jam jars filled with tea lights or heather, gyp and lavender placed around and we also had some hessian, tweed and lace bunting round the top table, as well as in the trees and round the banisters.  Another surprise was the collection of vintage lace hankies which my Mum had collected, pressed and starched and then sewn a label onto each which said 'with love from Shona and Jack'.  Each lady was handed one by our youngest guest Maria, when they arrived and they helped blot up a lot of tears during the ceremony!"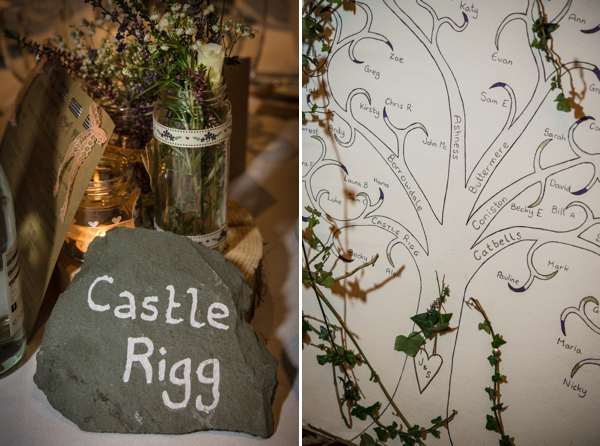 "Our cake was made by my Mum.  She offered to do it very early on and then put hours of research into the structure of wedding cakes, icing types, recipe research and tasting (everyone liked that bit!) until we had a final plan.  It had four tiers; the first was fruit cake (with ginger and pineapple), the second a gluten free chocolate brownie cake, the third pistachio and orange blossom and the fourth was a surprise until the day- a rainbow sponge!  She covered each layer with a different type of chocolate ganache and covered it with edible rose petals.  It looked stunning and tasted fantastic too.  I suspect it caused more than one sleepless night but it was fabulous."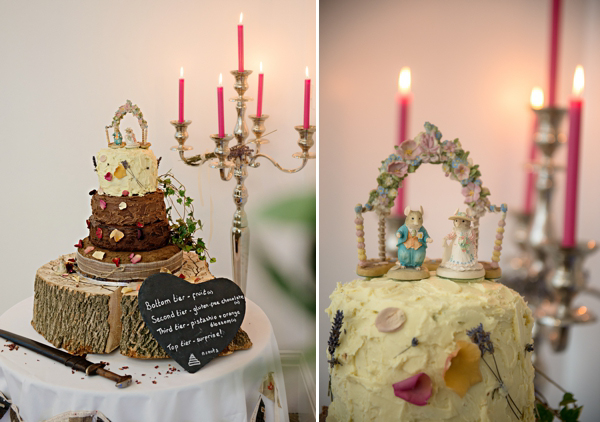 "We danced to 'It Must Be Love' by Madness, who are a favourite band of Jack's.  It was a perfect choice as it isn't too slow and has the perfect timing for a lot of swirling around if you wish!
We chose to have a celidhi in the evening as we had really enjoyed previous weddings we had been to with this type of band, and we thought it would create a really inclusive experience- it certainly did!  The floor was full all night and the band even played an extra couple of hours longer than we'd agreed as everyone was so enthusiastic!  They were a lovely bunch of people and fabulous musicians- particularly memorable was a surprise saxophone solo during their break while everyone was at the buffet- it echoed around the whole house and was so incredibly beautiful and atmospheric.
Gillian played while guests arrived and during the drinks reception.  Unfortunately we barely got to hear her as we were so busy with photos and greeting guests but I'm reliably informed that she was fantastic!  It was lovely to know our guests were arriving to all the folk tunes I've known since I was little."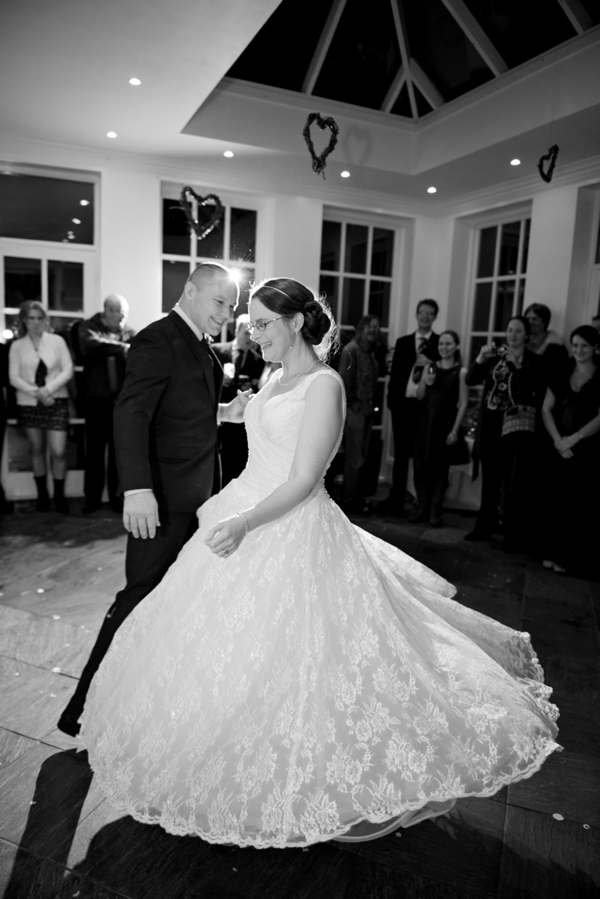 Words of Wedded Wisdom…
"Make it your day, surround yourself only with the most important people and just enjoy it.  Try not to stress (impossible but worth a try!) as it'll be perfect no matter how it turns out, and don't put pressure on yourself to have the 'perfect day'.  It will be just right however you have it, because it's yours, and it represents you both as a couple.  Personal touches are worth it, as they are noticed and really make it feel like your day.
Accept help! I'm notorious for doing things myself 'to make sure they're done right!' but don't try and do everything- let trusted friends and family take jobs off you- they may surprise you and end up doing it better than you ever could anyway!  Take time out on the day, it really does go so quickly and don't worry about the weather- it rained really heavily on and off on our day (especially during guests arriving and the ceremony!) but it didn't spoil a thing.  Most of all, enjoy it, it's the culmination of months of thought and planning and its unlikely you'll have all the most important people in your life in a room together again so savour it!"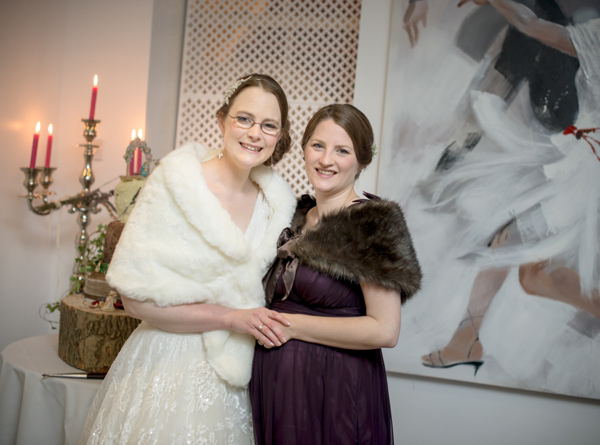 "Something we were really pleased we did, as we had booked the venue from Friday until Monday morning, was invite everyone back for tea and cake the next day!  Some guests had travelled a very long way to join us for our big day and we wanted to see them for as long as possible, so this seemed the perfect solution.  We asked for cake donations if possible and were absolutely astonished my how many were produced!  I even wore my dress again, this time with pumps and a cardie (and wellies for outside) and we planted a tree in the grounds of Woodhill, which everyone joined us in doing.
It was a lovely, relaxed way to see everyone for a little longer and it was fantastic to get to wear my dress again."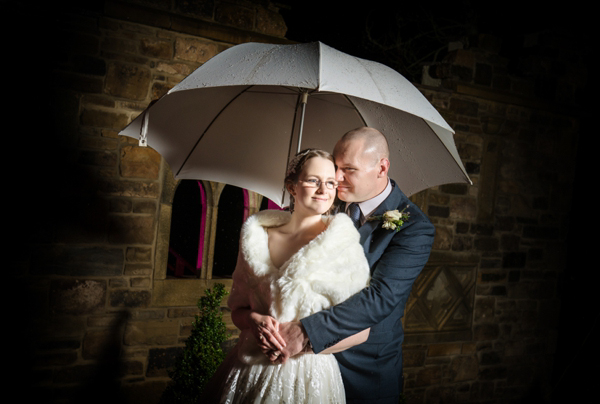 "My Mum's outfit is definitely worth a special mention!  She spent so much time looking for the perfect outfit, as she was having great trouble finding something suitable but a bit different.  Eventually she decided to have something made by Kathryn Trueman Bridal and Occasions in the nearby town of Morpeth and the end result was spectacular!  She wore a three quarter length pencil dress made from blue silk, which shimmered brown in the right light and a jacket to go over in brown silk, which shimmered blue."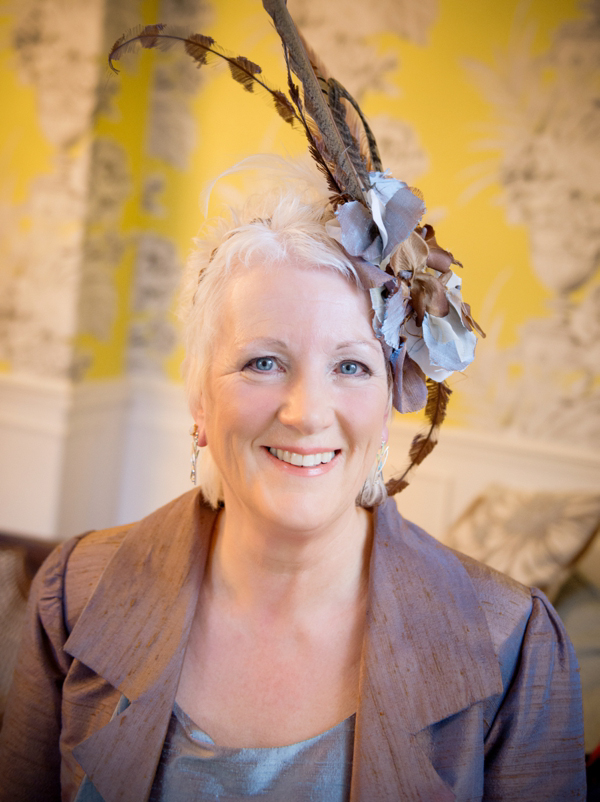 "The jacket had tails, with silk and lace corsages on the back in place of buttons and best of all was the creation known as 'The Hat' which was a confection of feathers, silk flowers, net and goodness knows what else.  It looked amazing and was certainly something a little bit different!"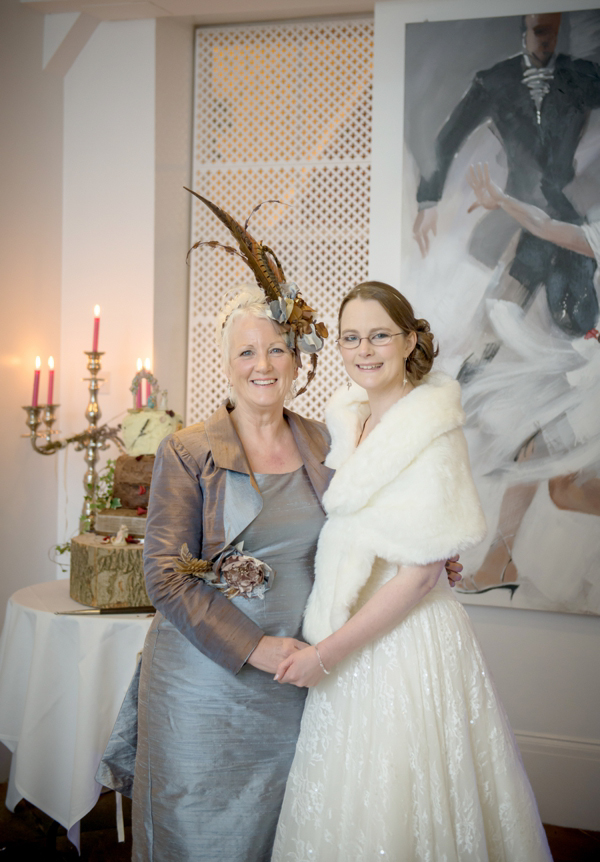 "I would highly recommend booking a pre wedding photo shoot if it doesn't already come as part of your package- bit makes such a difference to how relaxed you feel on the day and means your wedding couple shots can be done that little bit quicker, allowing you to get back to your guests and socialise some more!)"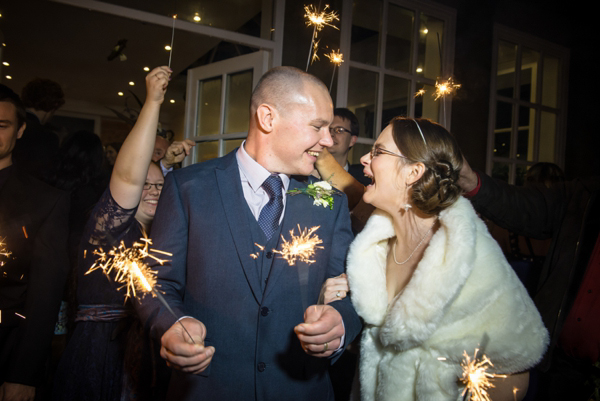 "Love my Dress was my 'go to' blog – I visited most days on the run up to the wedding, mostly for the pretty, but also for the sense of community that I never quite found replicated anywhere else.  There is always a sense that whatever you choose its right, because it's your choice and that makes it a lovely place to visit.  Certainly it was the blog I most identified with and found most inspiration on.  I love the mix of real weddings, suppliers (all of whom Annabel and Frankie have something to say about, it's not just an advertisement) and discussion posts, which I really enjoyed reading, I'd love to see more of them.  My Mum would like to say that articles for Mother of the Bride (or Groom) would be fab too, as she was also a bit of a Love My Dress fan!
Finally, the only thing I would change would be not to worry so much about the little details and the running order of things, as it all went absolutely fine on the day and wasn't worth the stress!  If it were possible I would have liked to have had a more relaxed Friday evening, as it was spent dashing around dressing the venue and unloading drinks and decorations out of cars, but being so involved with creating the day did make us both feel like we really made it ours, so it has its positives too.  I might have slept better if I'd have had an evening of wine with the girls and a bubble bath though!"
Love Annabel

Photographer – Karen McGowran
Venue – Woodhill Hall in Otterburn, Northumberland
Brides Dress – Cadillac by Ian Stuart, via Bridal Rogue Gallery in York
Brides Veil – Deity Bridal
Brides Shoes – Diane Hassall, Buttercup via Bridal Rogue Gallery
Accessories – the Elder headband by Rainbow Club + earrings by Where the Wild Roses Grow
Bridesmaids – Debut at Debenhams
Florist – Lavenders Blue
Flowers – Lavenders Blue
Cake – The brides Mum
Entertainment – Heads On The Block (ceilidh band, no website)
Additional Styling –
Rings – Frederick Alan Designs (Shona), Tel 01830 540390 + Justin Duance (Jack)
Hair Stylist – Lisa Cameron
Make-up Artist – Beautique at Kathryn Trueman in Morpeth (no website)
Mother of the Bride Outfit – Kathryn Trueman Bridal and Occasions
Follow Love My Dress® on Google+