Morning all! Welcome to another week on Love My Dress – we're pretty confident you're going to love what we have in store over the next 7 days.  Did you stop by our Facebook page yesterday? We linked to the top 5 real wedding features ever to grace our pages since the blog came to be back in 2009.  If you missed those links, you can see them here, here, here, here and here.
This morning, we are celebrating the fun and completely fabulous nuptials of Grace and Ed (also affectionately referred to in a 'joined at the hip' style as 'GRED' – ha!).  The couple's wedding took place on 7th sept 2013 at The Prince Albert pub in Camden, London.  This is such a fun wedding to kick start the week – much laughter and merriment is present in the photographs, I get the impression there was a firm focus on fun with this wedding.  I'm also a little smitten with Grace's pretty polka dot, and 1950's inspired gown – a dress lovingly created by Birmingham's The Couture Company.
"Ed and I wanted something relaxed and fun with a great atmosphere and brilliant food, but most importantly we wanted everyone to have a bloody good knees up! We also needed somewhere neutral as I am from the north west, with family there and also in Shropshire and Ed's family are from Cambridge and Plymouth."
Photography Copyright (c) 2014, Assassynation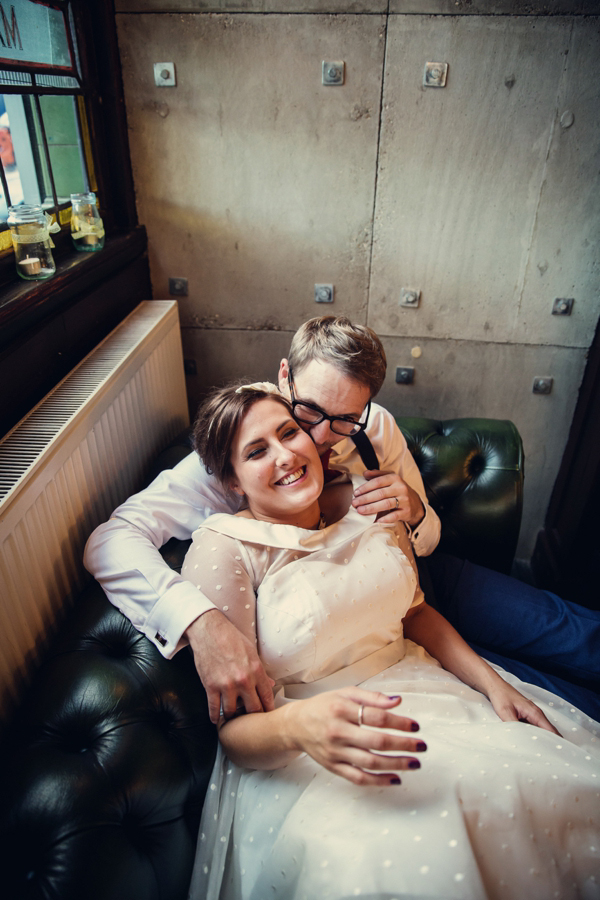 "Ed had said from the start that he didn't want a religious wedding, Islington Town Hall could not have been more perfect, it was around the corner from where we met and so stunning inside. We loved it from the moment we got into the room. I have always loved the 40's, 50's and 60's era, everything about that time was so stylish. I knew I needed a dress to reflect that – and I wanted a dress I could dance in and not worry about a train, or have too many layers, or spending the day hoisting up a strapless dress with larger boobs also the last thing I was to be too hot."
"Once we had decided on London because of how sentimental it was to us, I knew we needed transport and the double-deckers just didn't reflect us enough, so when I found Lodges Coaches, I was ecstatic.
I really loved the bus ride from Islington to Camden in the busses, everyone waving and taking pictures, some people jumping in front of the busses to stop to take pictures. I also really loved riding down the street on the boris bikes"
"I had tried on a number of dresses, and was struggling as I had such a clear idea of what I wanted it to look like and none lived up to the dream, I knew then that I needed a bespoke dress and found Jo at The Couture Company and booked an appointment. She was just amazing, I tried a few that they had designed similar to what I had described and talked through my ideas, she brought all kinds of fabric out.  Initially I wanted lace, but saw this beautiful polka dot silk and fell in love. Just as we had settled on a style there was a doodle of a dress on their mood boards and we changed it to that. It was everything I had wanted.
Ed's amazing mum did our flowers – Daryl used to be a florist and we couldn't think of anyone else we would have wanted to do our flowers. They were perfect."
"I loved every part of this dress, from the collar to the tiny buttons on the arms and back. My favourite part of the dress, was the ombre bow belt we designed to match the colours that my girls wore. The colours were just perfect and it was a nice surprise for Ed after we had said our vows, and our guests as I walked down the aisle."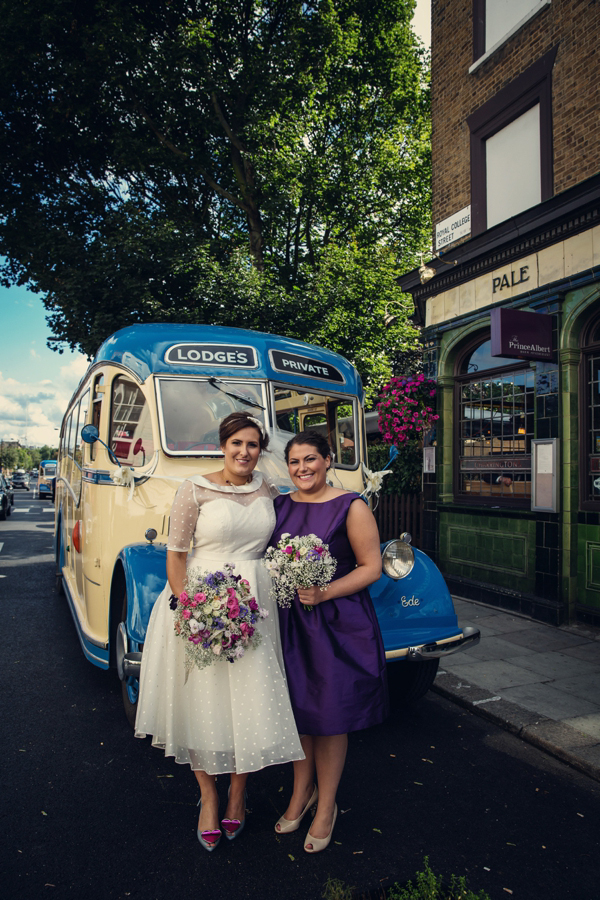 "My bridesmaids dresses were by Alfred Sung – it was important to me that the girls all had dresses that they may consider wearing again."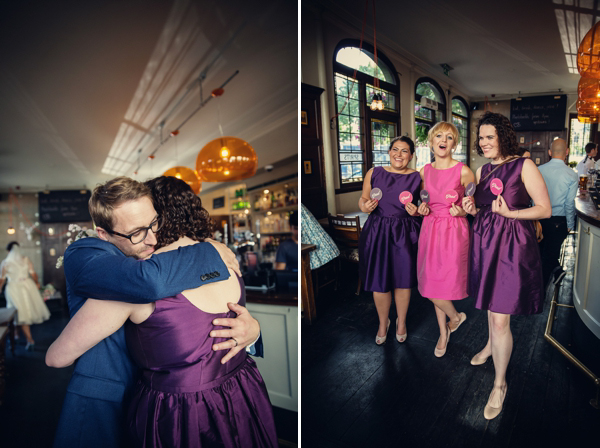 "Our photographer was Sarah Lafford of Assassynation.  I had been stalking Sassy for months from when I first spotted her photos on the blogs, I knew I wanted Sass straight away. I just needed to get Ed to agree to pay ☺ From our first email when through to now she had made everything as easy and relaxed as possible. Her confidence and ease was just want Ed and I needed. We only had a few ideas of what we wanted and left it all down to Sass and the results have been outstanding!"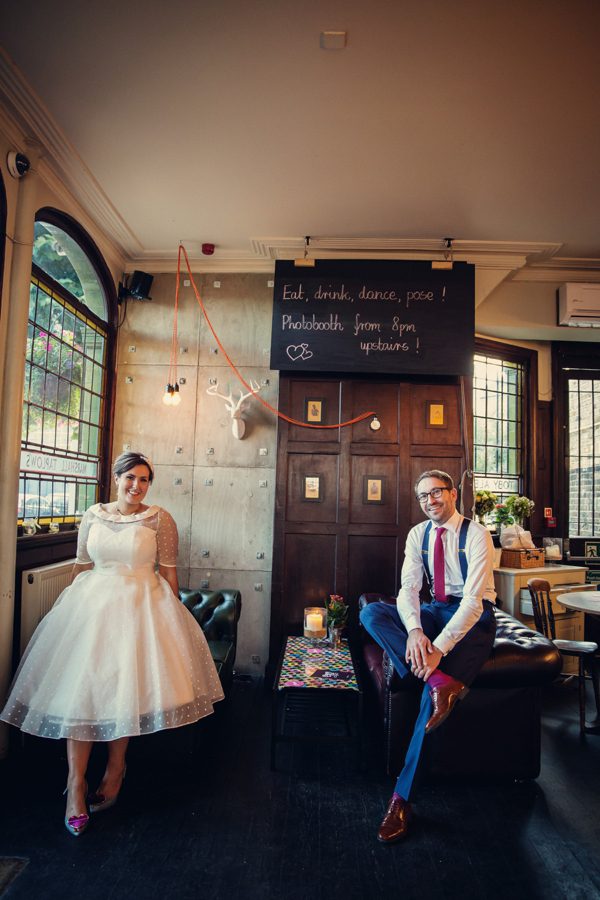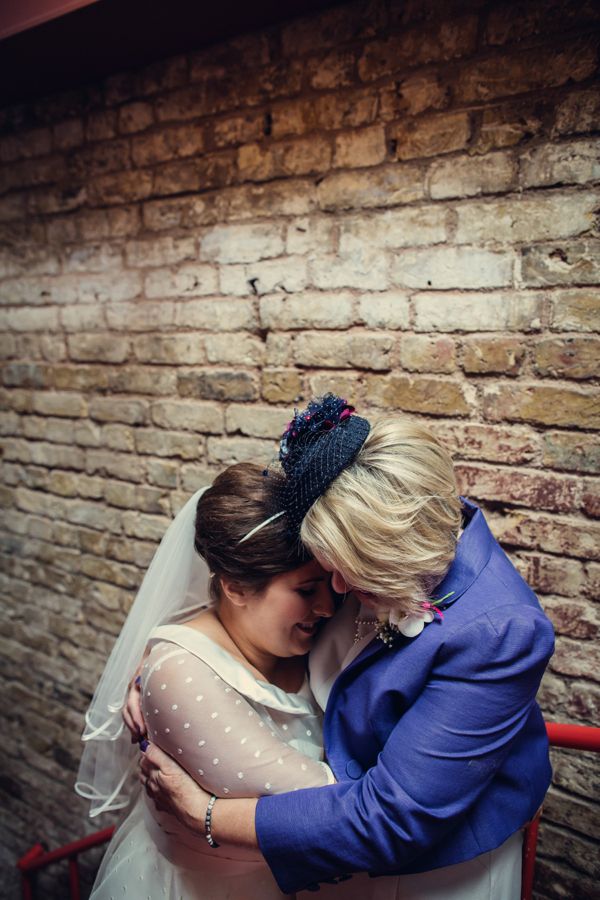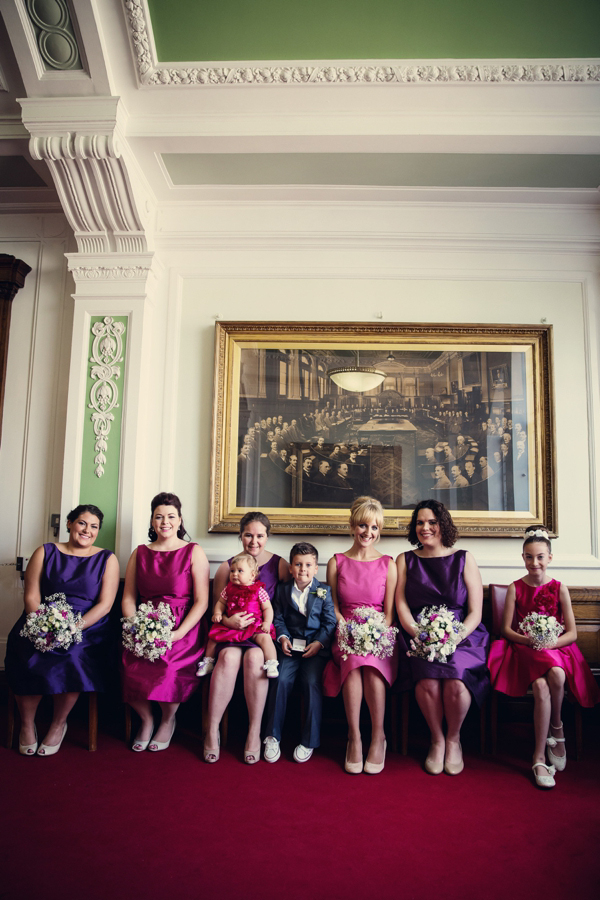 The story of how the couple got engaged is sweet…
"Ed and I met on a night out for a mutual friend's birthday in Islington.  We hit it off when Ed accidently sat on my dress! I fancied Ed immediately (even if he looked like he belonged in a boy band then) and what followed were weeks of long phone calls and repetitive strain injury from constant texting.  I eventually moved to London to live with my friend in Hackney and Ed and became inseparable.
The following year I moved in with Ed and our best man Vinny and we were like a little family. Ed and I moved up north in 2010 and got engaged on my birthday in 2011. Ed had been planning the whole day for months, from secretly booking the day off work to arranging an evening meal for 50! We woke up on my birthday which happens to be the 1st April with Ed playing an April fools about booking the day off, eventually he confessed up and said he actually had booked the day off for me I was told to get dressed into scruffs because we were off out for breakfast and having and 'outdoorsy' day. I had no clue what was going on, though when Ed started singing Beyonce's 'All The Single Ladies', I should have taken that as a clue!"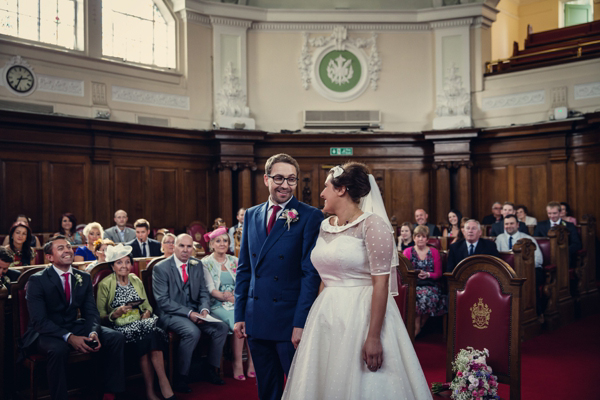 "After breakfast we were off for my 'surprise' -  I was told not to read road signs and keep eyes down, when we arrived at a QUAD BIKING trail centre, I was surprised and a little disappointed, it seemed much more like a day for Ed than my birthday. Never had I expressed any interest in quad biking, but thought, oh well, let's give it a go! I was asked to put on some very unattractive, ill-fitting waterproofs and told it was just the pair of us biking and off we went.
To my surprise I loved it. I was so into it, that when the instructor pulled over in a lovely picturesque little area, with a stream and ducks, I was disappointed and wanted to carry on. He told me that Ed and I could have some time there before we carried on, and, well, off he shot."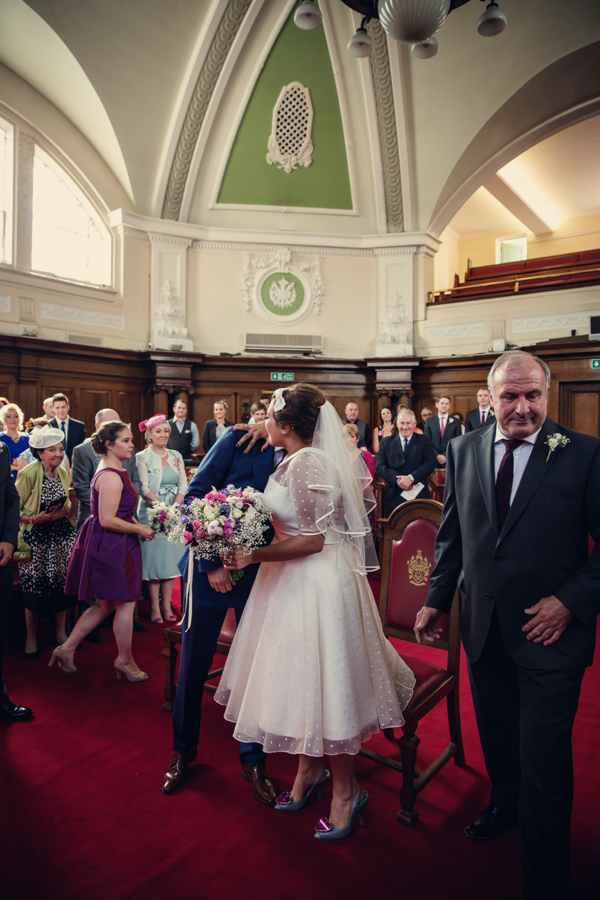 "When Ed got off his bike and came over, I still had no clue what was going on and just sat there with my helmet on confused, I mean you would never think you would get engaged dressed on ill-fitting waterproofs and one wet foot! Once I eventually got the helmet off, Ed proposed – and it was absolutely amazing. I just burst into tears and jumped on him before saying yes, so Ed had to ask me what my answer was! It couldn't have been more perfect, the scenery, biking, the way Ed went about it, how he knew all along that I would love quad biking and then THE RING. This stunning, antique emerald and diamond beauty. It was the best thing I had ever seen."
"I cried all the way back to the centre where I was told they had been in on it the whole time. Mum had packed Ed off with miniature champagne and glasses for us to drink and off home we went, with me still in tears of joy and shock! I thought that was it, all my surprises until I read a text from Ed's mum telling him they had set off and were on their way up. Ed then explained we weren't going for dinner with our friends as promised, but a family night now that we had got engaged. When we got home we had calls and visitors all afternoon!
Ed's parents arrived and give us our card which his mum had made; she had put loads of effort into it, but had forgotten that I didn't know about the surprise meal in the evening, which was mentioned on the front of the card. Haha! Having said that, I was still under the impression that it was just family, so turning up to the restaurant which was filled to the brim with our family and friends was just so overwhelming, and finally finished me off! This is where 'GRED' (Grace and Ed) first started – our friends Sarah and her husband Alistair had 'GRED 2011' t-shirts made for us which has stuck with us ever since. That was over two years ago.
We did nothing for a while, but then I became obsessed with wedding blogs and started to plan our day."
"Our rings were from Christopher Evans Jewellers. Because my ring is an antique we needed something bespoke to fit around it. We did go with another company however they were unable to produce what we wanted in time for the wedding, only informing us 3 days before our wedding. Evans gave me a ring to wear on the day and have produced a beautiful bespoke ring/ They have been amazing, and we wish we had used them from the start. Ed did get his ring made by the other company but we do not want to add them to stockists."
"My Dad gave me away – we walked in to the ceremony room to the sound of 'Hey Ho' by The Lumineers.  Our best man who is very talented cut the song so that I walked down the aisle 'I belong to you, you belong to me, you're my sweetheart' looped.
We both wrote our own vows, and didn't discuss what we were going to say so that it was a surprise to each other on the day – which they definitely were in the end, as we both added funny extracts – I promised to put lids on things, and try and remember to put them away afterwards!
We also had two readings during our ceremony – choosing one each.  We both knew we wanted a funny and fairly serious one, so Ed chose the funny one, 'He Never Leaves The Seat Up',  and I chose 'Marriage Is'. We chose he never leaves the seat up because it made us laugh a lot and marriage is a really nice piece and made me cry when I read it!"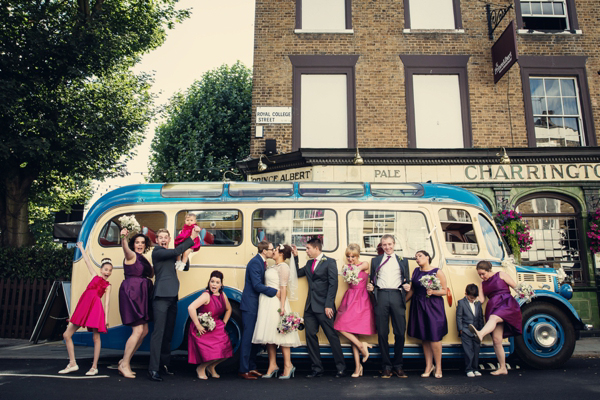 "All of the stationary from invites to beer mats were designed by our friend Liam. He is a graphic designer and offered his amazing talent to us.
One of the most important things we wanted was the theme of 'GRED' (see the proposal story above!) to feature on our wedding day.  It was used in all of the stationery, our favours (little ceramic jars) and was even secretly embroidered in to the seams of my dress.
I teach pottery and got the girls and family round to teach them how to make the pots and ceramic jars that we gave away as wedding favours – so they were handmade by myself, Ed, the mums, the sisters and friends over a few weekends. All were stamped with 'GRED' and the wedding date. We asked all the guests to take them with them at the end of the night."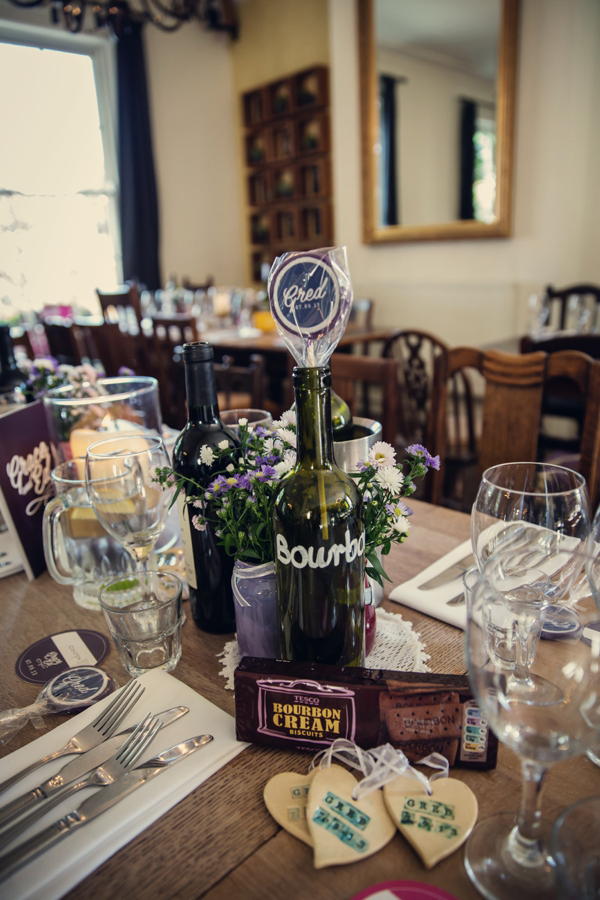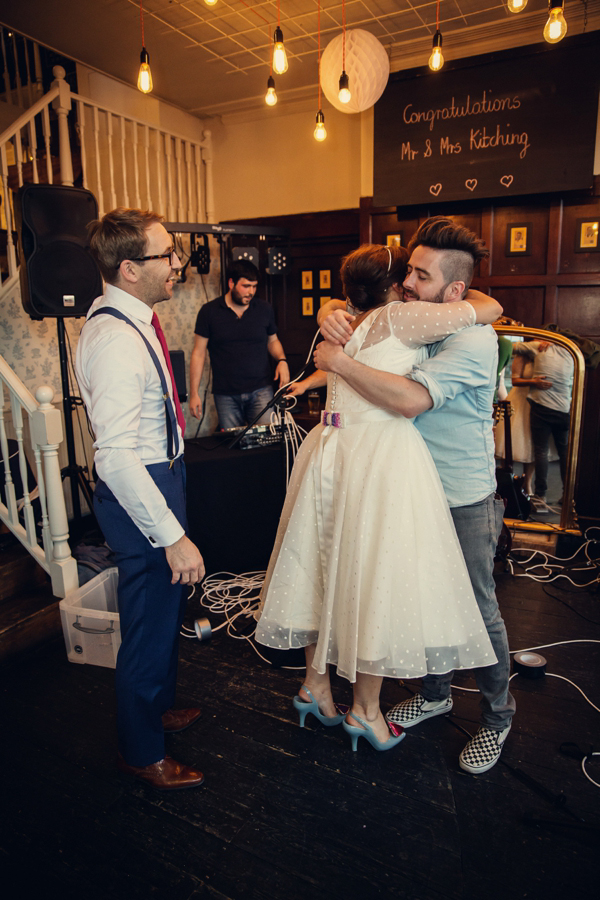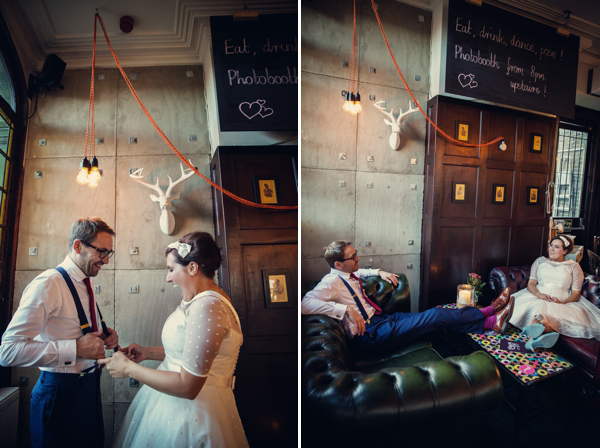 "My amazing mum Liz made our wedding cake – she makes the best cakes! We told her our ideas and she just ran with them and produced three for us, the record player, record stacks and a gluten free stack. They were just delicious!"
"We were struggling to find a band, then came across a review of The Rebel Party Band online, and loved them immediately.  We asked the band to perform 'Caravan of Love' by the House Martins, and they did such a great job – we were wowed!
They were fantastic from start to finish, we added new songs to their set list and they also dj'd a playlist we gave them, based on what our guest had requested in their RSVP's. It worked really well and kept the dance floor full all night! I would recommend these to anyone who want a good party! I am planning on booking them for my 30th!"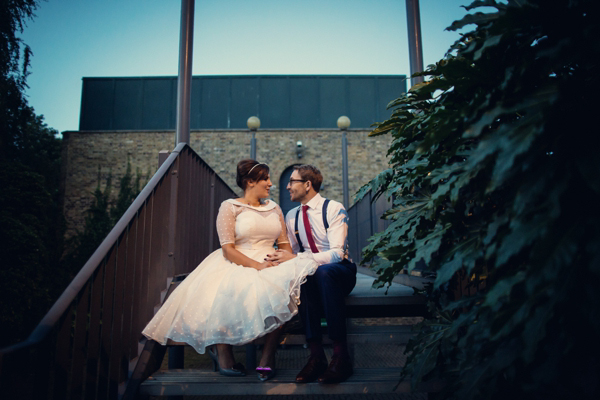 Words of Wedded Wisdom…
"Don't stress about the little stuff! In the final weeks before our wedding, lots of things change, but on the day none of it matters, and you don't even think about it.  I would also invest in a fantastic photographer who will capture everything you want!
I think I would choose to get married earlier in the day, so that we could have spent more time with our guests – we didn't feel like we had proper conversations with people. Oh and have a weekend wedding! It went too fast for our liking.
I loved visiting Love My Dress – the daily weddings, with stockists and the amazing photography is the best thing. I would never have found Jo at The Couture Company, Sass at Assassynation or Greg and Pete from The Rebel Party Band. Also my mum would never have gotten her head piece if it wasn't for finding out the EWE events!"
So much fun, just what the Dr ordered for a Monday morning!  Congratulations to you Grace and Ed, I mean GRED! 😉 Thank you for sharing your lovely uplifting wedding day with us, and huge thanks to you too Assassynation.  Readers – you can see more from Assassynation Photography on Love My Dress here.
So is anyone else planning on incorporating pretty polka dots in to their wedding celebrations, or maybe a touch of 50's or 60s vintage styling? I'd love to hear from you.
Love Annabel
Photographer – Assassynation
Venue – The Prince Albert pub in Camden, London
Brides Dress + Veil + Bow Hair Accessory – The Couture Company
Brides Shoes – Vivieanne Westwood, Melissa
Brides Accessories – Swank Jewellery
Bridesmaids Dresses – Alfred Sung
Flowergirl Dresses – Ted Baker at Debenhams
Young males – Jasper Conran at Debenhams
Grooms Suit – Reiss suit + Amy Lawrence tie + Paul Smith shoes
Groomsmen – Ted Baker suits + ties by Amy Lawrencencedesigns.co.uk/
Florist – The Grooms Mum
Cake – The Brides Mum
Cars/Transport – Lodges Coaches
Entertainment – The Rebel Party Band
Rings – Christopher Evans Jewellers
Stationery – A friend
Hair Stylist – The Wedding Hair Company + Emily Kent
Make-Up – Ed's Amazing Cousin, Claire at Pink Rose Beauty Boutique
Lollies – Picture Pops
Follow Love My Dress® on Google+