What does a talented wedding videographer do when she's planning a wedding? Why, find herself the very best film maker, and indeed photographer that she can to document her own nuptials of course.  This is the wedding of Leanne and Dave who tied the knot on 21st April this year at South Farm in Cambridgeshire.  Safe to say, I'm rather smitten with all of it!
The couple embraced the fact they were marrying on Easter Monday and so their day was full of sweet little seasonal touches including an Easter egg hunt for the younger guests.  I am quite bowled over with how master wedding film maker Jeff Wood has documented this wedding – it's a reminder for me how very far wedding films have come in the past few years – and as always, the images by award winning wedding photographer Ross Harvey are difficult to take your eyes off.
Film Copyright (c) 2014, Jeff Wood Visuals
"I'm a wedding videographer and my business is Blooming Lovely Films, and Dave runs his own distribution company.  When I found out that film maker Jeff Wood was available to film our wedding my heart skipped a beat. Being a wedding videographer myself I am slightly biased when it comes to rating how high wedding videos should be on the priority list!
I have been a fan of Jeff's work since I began working in the industry, the effort and passion that he showed on the day justifies why he's got the reputation he carries. After watching the trailer alone, we were completely overwhelmed and we both feel very genuinely honoured to have had Jeff film our wedding.  We will cherish our film for years to come."
Photography Copyright (c) 2014, Ross Harvey
"Our photographer was the incredible Ross Harvey. I still pinch myself now when I think of how lucky we were to have him. Beside from the fact he is insanely talented and has won many industry awards, he is just an absolute delight to have around on the day. His warmth and energy is infectious and my guests are still talking about him now. We are beyond over the moon with our photos, he gave us so much more than we expected.
Ross captures moments in a way only Ross can, I would recommend him in a heartbeat."
"Dave and I met on a night out in my home town Solihull, in a bar that is now a strip club. Classy start 😉 I liked his hair and he was making everyone around him laugh so before we had even spoken I told my friends 'That's the man I'm going to marry'.
Dave proposed six years later during a December trip to Reykjavik at Gullfoss Falls. He had carried the ring around with him for three days in the hope of seeing the Northern Lights, but during our stay it was the cloudiest it had ever been in Iceland! So he took his chance at Gulfoss. We were then engaged for sixteen months before the wedding."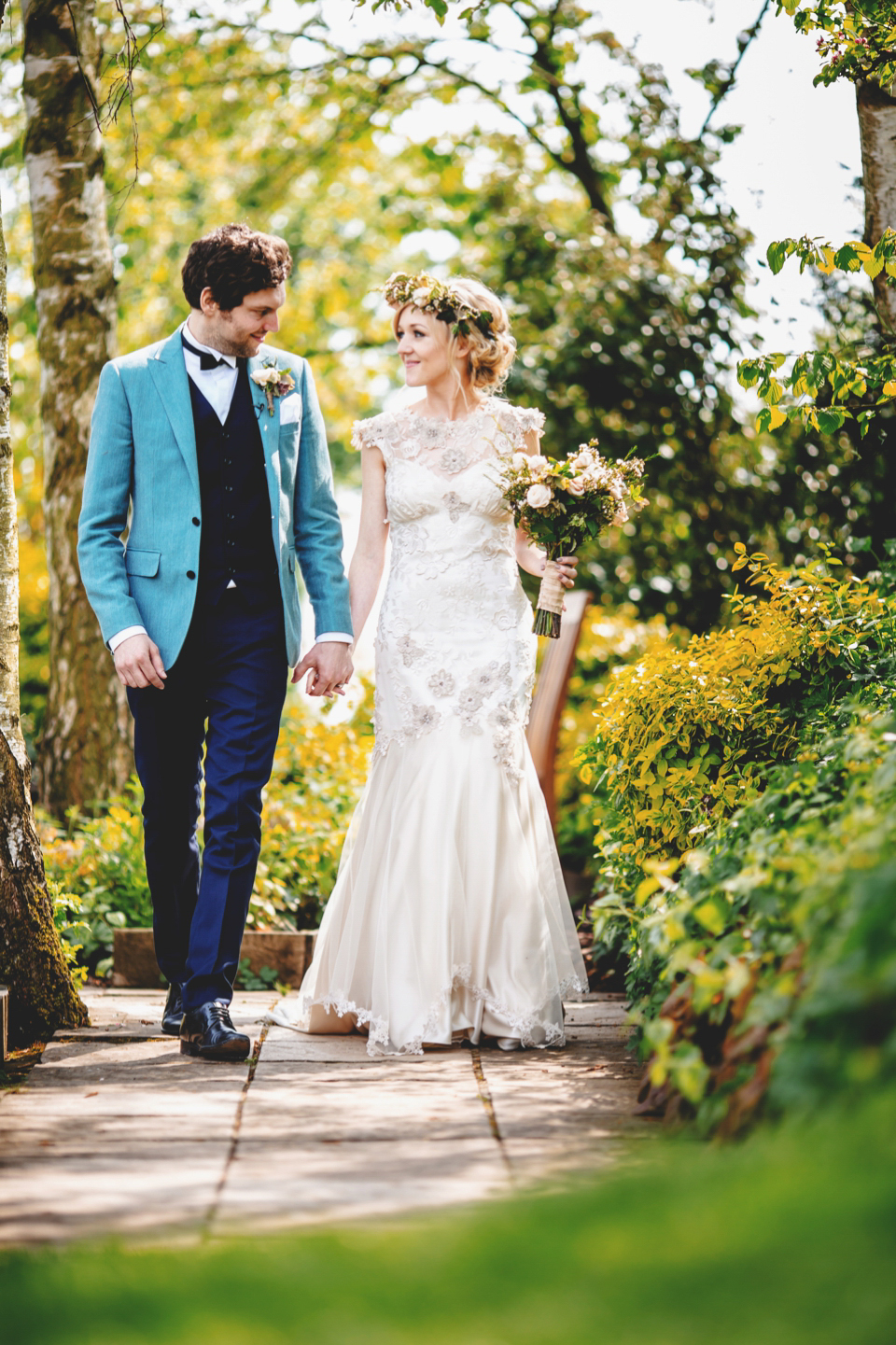 "Despite having a religious upbringing I always imagined I'd get married outdoors. I used to play 'weddings' with my sisters at an early age -my older sister would always have us carrying the bed sheet that was attached to her head. We'd all walk down the 'aisle' (our hallway) and sing the traditional wedding march. Whereas when I got 'married' it was always us prancing around in the garden, picking mums flowers with the outdoor breeze!
With the wedding being on Easter Monday, it already set a warm spring tone to the style of the day. We wanted to enhance this with the flowers, the music and the Easter egg hunt for the children."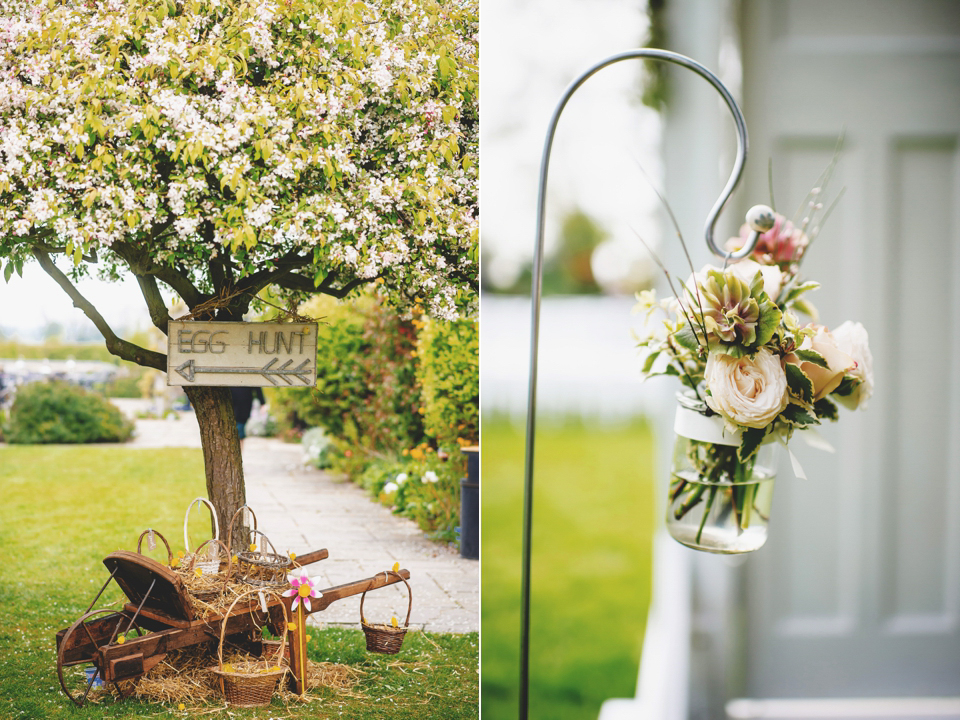 "Our venue was the beautiful South Farm in Cambridgeshire. It was the first Wedding venue we visited and we instantly fell in love with it. I had no idea where to start when looking, having worked at many wedding venues before, I only really knew what I didn't want. We felt South Farm had everything.   The promise of an outdoor ceremony come rain or shine, beautiful well kept colourful grounds, a secret fishing lake reachable by tuk tuk, a family run team (who are the friendliest bunch known to man) and a fully functioning farm with piglets running around. Yes piglets!
South Farm have a dedicated wedding planning team who are always on the end of the phone, plus an on-the-day wedding co-ordinator to ensure everything ran smoothly."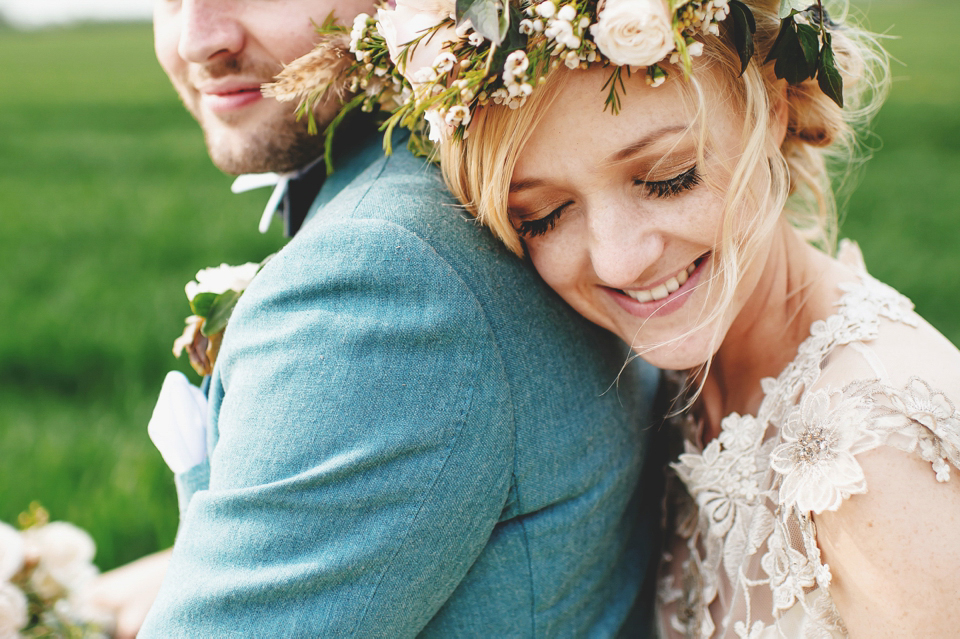 "Along with the help of a local carpenter, Dave built the free-standing doors we had at the end of the aisle, and Karen from Passion for Flowers provided so many gorgeous items we used to style the wedding; such as the wooden cart to hold the Easter egg hunt baskets, the crates containing flowers for the ceremony and all of the glasses, candle holders and cake stands we used to dress our tables."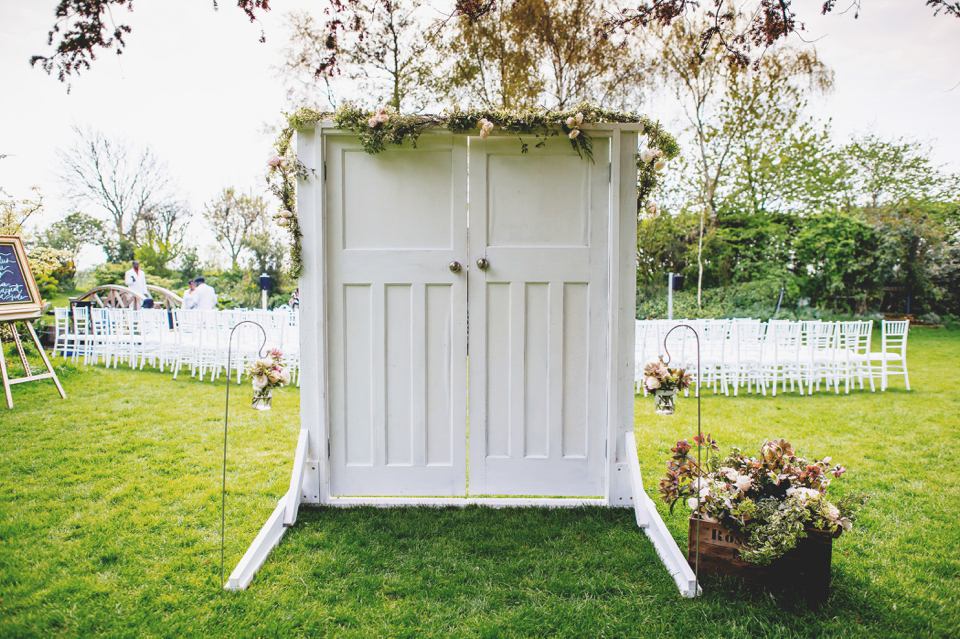 "We were lucky to have the amazing Karen from Passion for Flowers help style the wedding. From the mini bouquets hanging from shepherd hooks framing the aisle, to the wreaths wrapped around the freestanding doors and summer house –Karen had it covered. I was blown away by the flower crown and the bouquets, they were just perfect. Karen went above and beyond our expectations, nothing was too much of a task for her, and she listened to us and embraced every single idea I had and made it happen."
"My dress was 'Viola' by Claire Pettibone bought from Chloe at White Room Bridal in Sheffield. This was the second wedding dress I tried on and I just didn't want to take it off. I absolutely adored the sheer back detail and felt it really suited the relaxed, boho style I had hoped to achieve."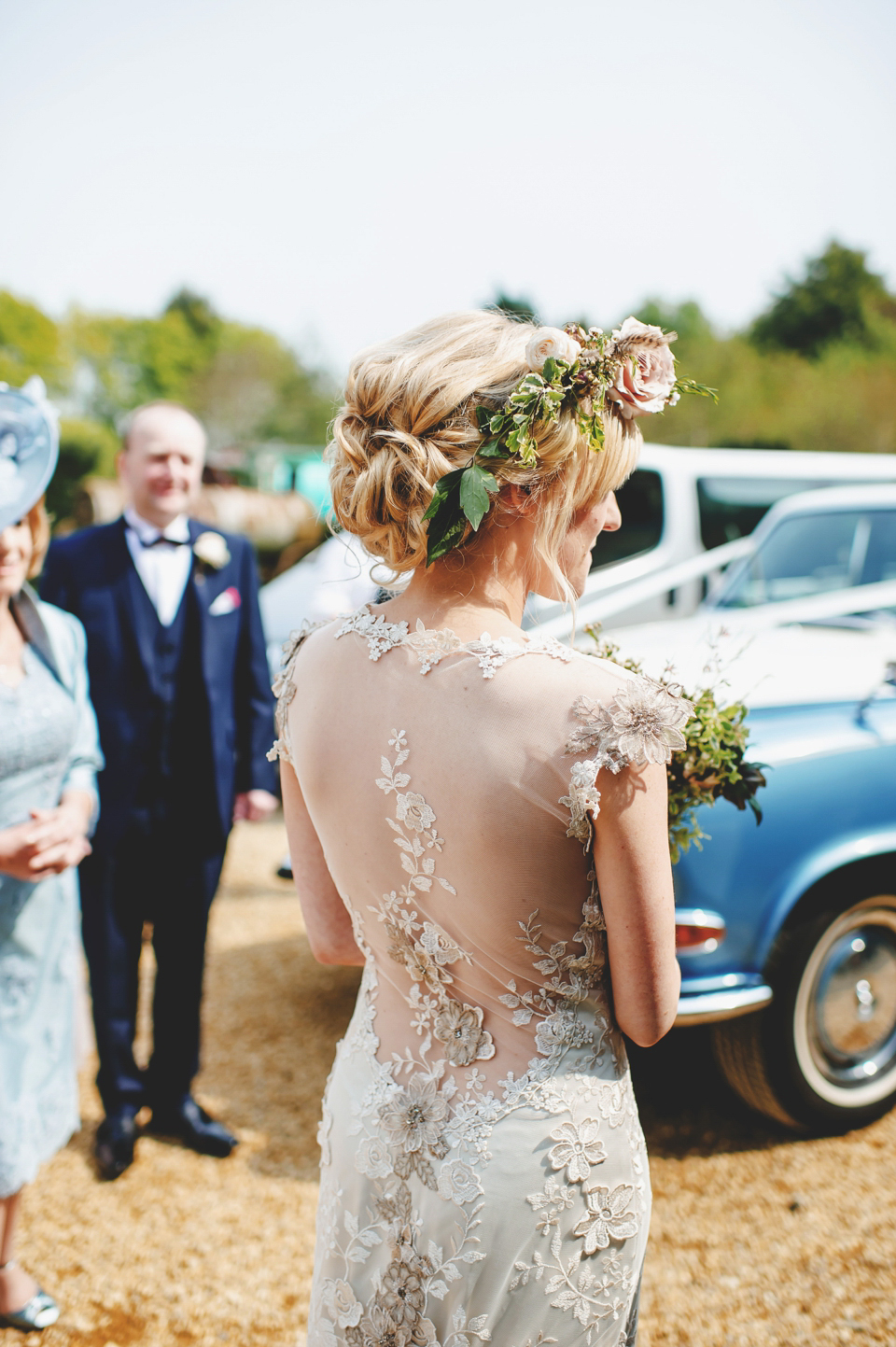 "Not only is The White Room a beautiful flawless Bridal boutique, Chloe and Georgia made me feel so comfortable and at ease throughout the whole process. Nothing was ever a problem for them, they are true professionals and it is clear they absolutely love what they do. They are a great team and Amy the seamstress is an actual miracle worker! She added an underskirt from scratch to ensure the dress didn't blow between my legs and lose it's shape when I walked. Can't thank them enough."
"Rather than a veil, I asked Karen at Passion for Flowers to create a beautiful flower crown to wear in my hair.  It included feathers and flowers from my bouquet."
"The amazing Thomasin Gautier from Paper and Things got her scrawl on for us and provided the calligraphy for the ceremony signage, the (awesome!) table plan and the place card tags on the bottles and baskets."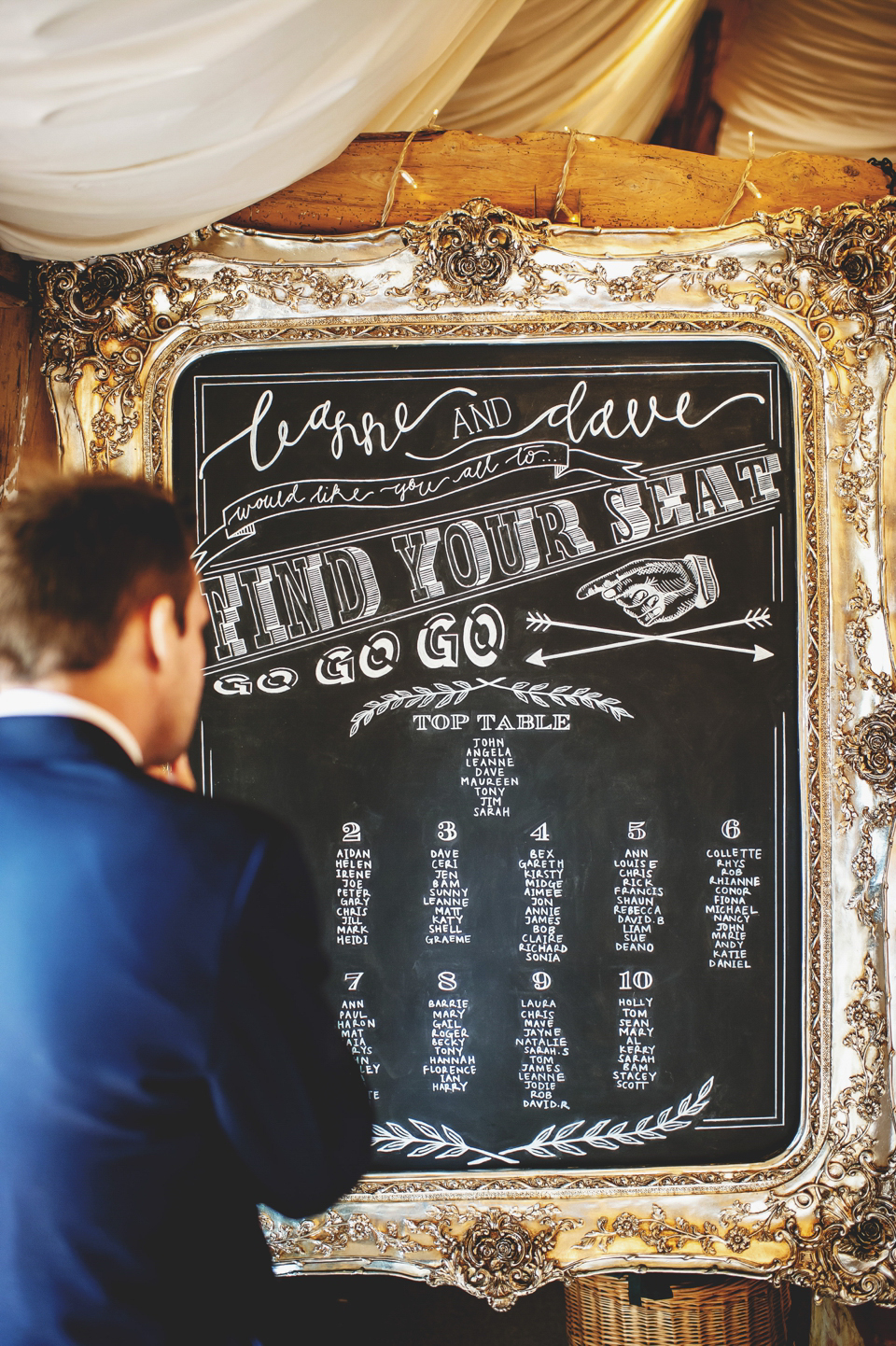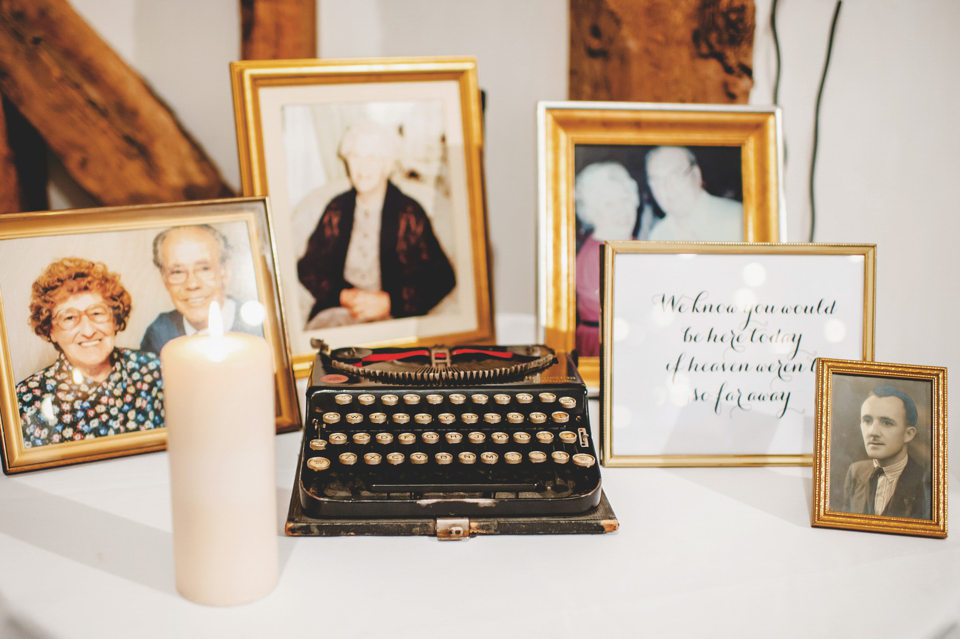 "Our favours were our favourite task throughout the whole of the planning. We were torn between having mini vinyl CD's or personalised drinks favours so we decided to have both and have them match. Dave is very passionate about music and set about creating a super strong playlist of all of our favourite songs and those featured on the day. These went down so well with guests, especially those that had a drive home the next day. The matching drinks favours were a mixture of Port and Scotch that resembled 'Lea and Perrins' bottles. (Since I have married a 'Perrins' this gives me the fortunate name of a Worcester sauce!)"
The artwork for the bottles was by the very talented graphic designer Howard at 'Studio Able' and bottles from the 'Bristol Bottle Company'.  The artwork for the CD's was also by Howard at Studio Able with disk production by Wizbit."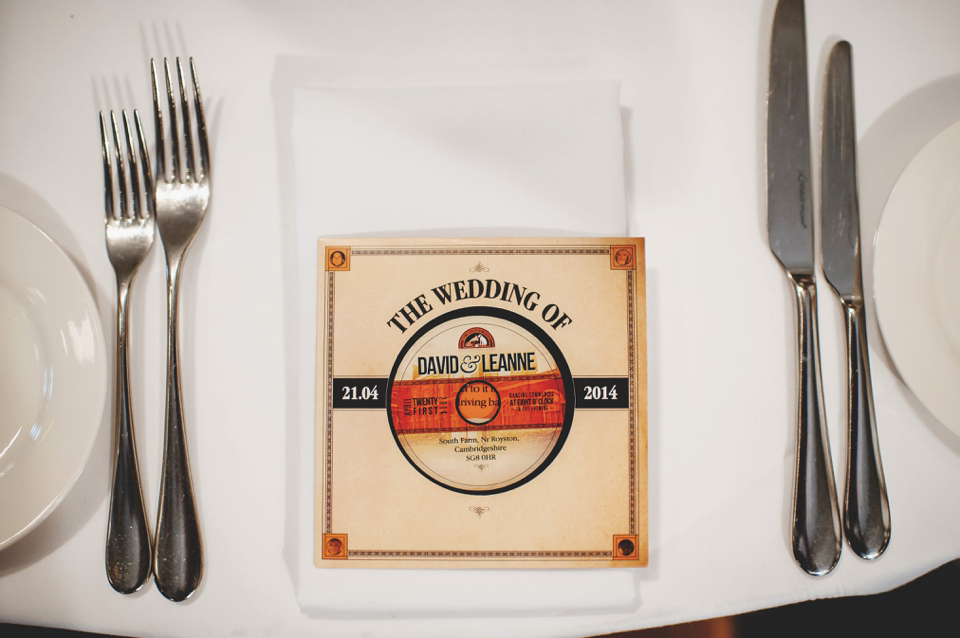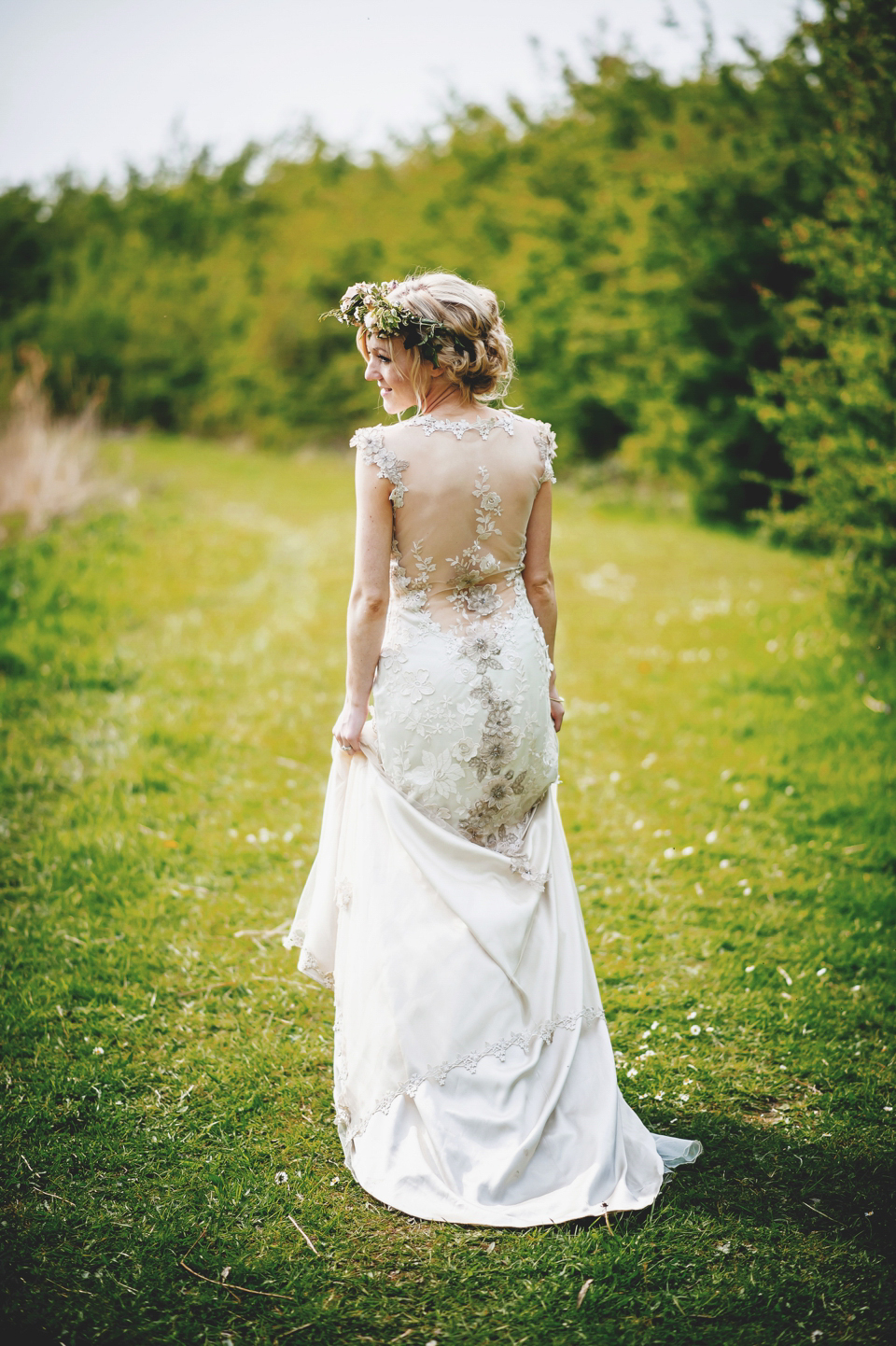 "The bridesmaid dresses were from Coast, bought 3 weeks before the wedding(!) and I felt matched my dress perfectly.  The girls all wore different nude shoes, I wanted them to pick their own so they would be comfortable. They picked a selection from Next to Kurt Geiger, all shoes they can wear again.  They also wore single flowers in their hair that matched my floral crown.
Also, a week before the wedding, one of my best friends gave me a gold bangle with a knot, which was just perfect for the day as I wasn't going to wear any jewellery at all. I loved it so much I went out and bought 6 of them in silver for all of the bridesmaids to match."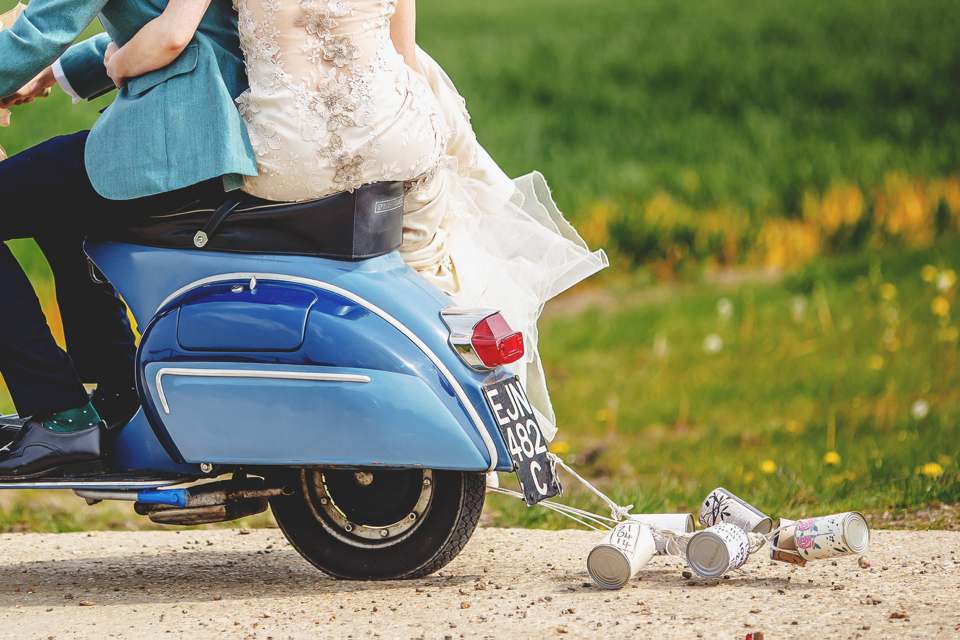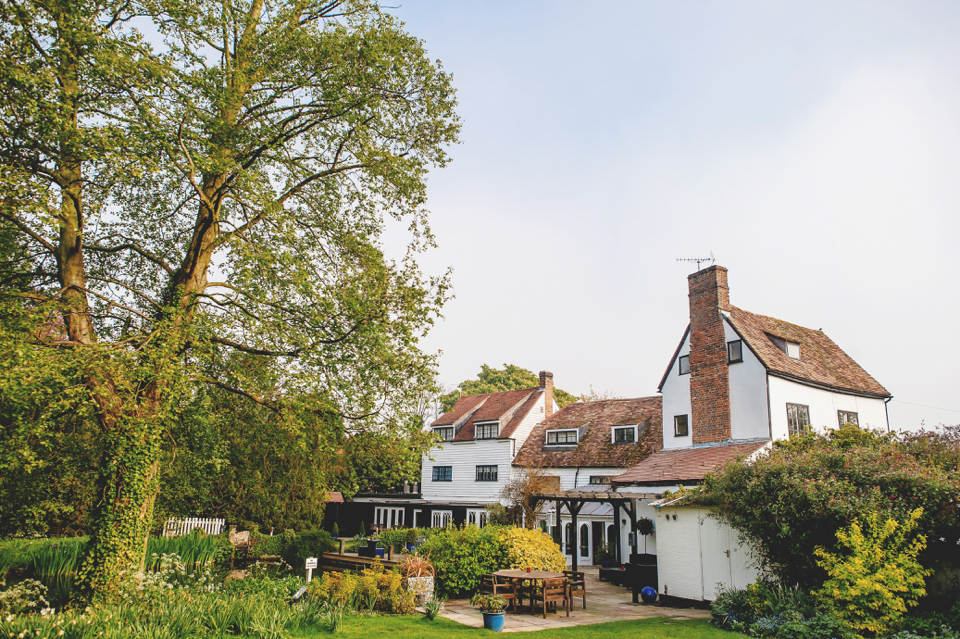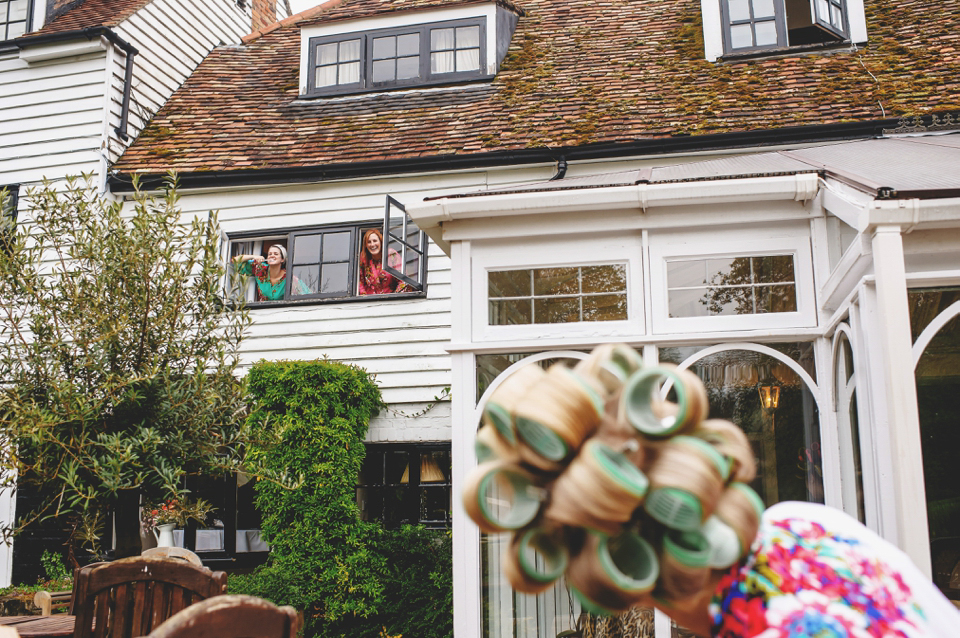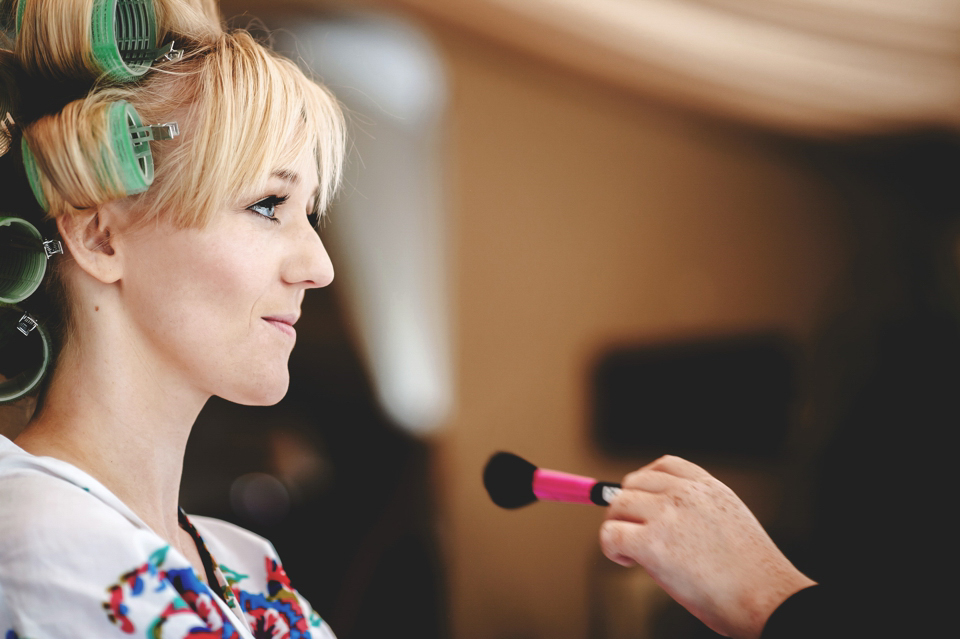 "Helena Sinclair who styled my hair is an amazing hairdresser, she knew instinctively what I wanted and created the most relaxed gorgeous hair up despite the array of completely different styles I had pinned on my unhelpful pinterest board! She somehow managed to incorporate everything I loved into one style and it lasted until the end.
Nikki of Hair by Nikki B is an absolute gem who worked her socks off all morning creating beautiful flattering twists for the bridesmaid and glamorous blow dry's for the mums. Again, these all lasted all day, and were so in line with the whole relaxed style of the wedding. Helena and Nikki made the perfect combo!
I am very lucky to know Make-up Artist Jodie Hazlewood, not just as my wedding make up artist but as beautiful friend too. Jodie has an incredible reputation for wedding make up and it's easy to see why. She was bursting with ideas for different looks, ways to accentuate my eyes, cheekbones …but the one thing that was important to Jodie was that I still looked like 'me'. She is a master in her trade and I just knew I was in safe hands."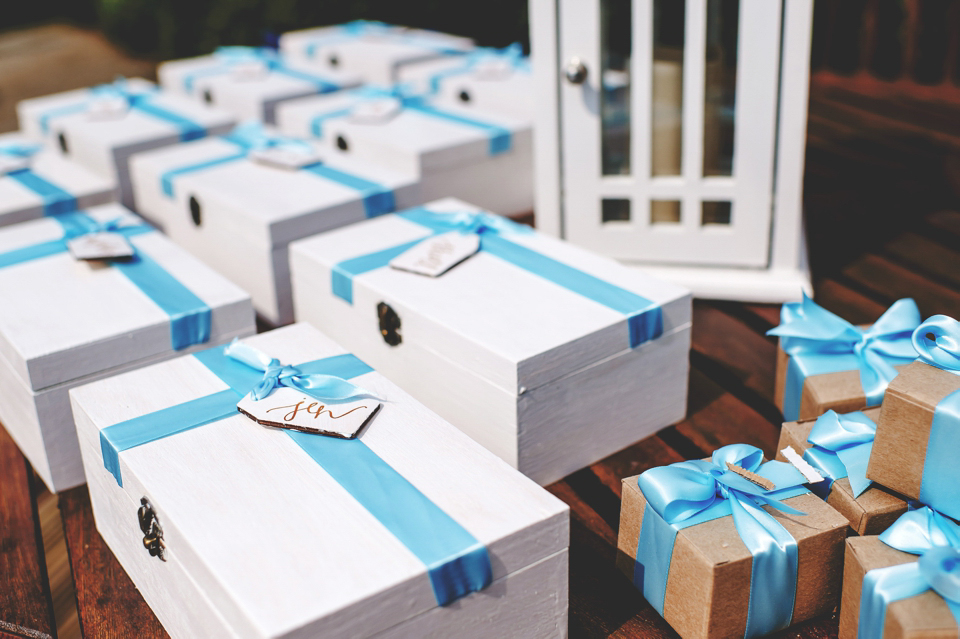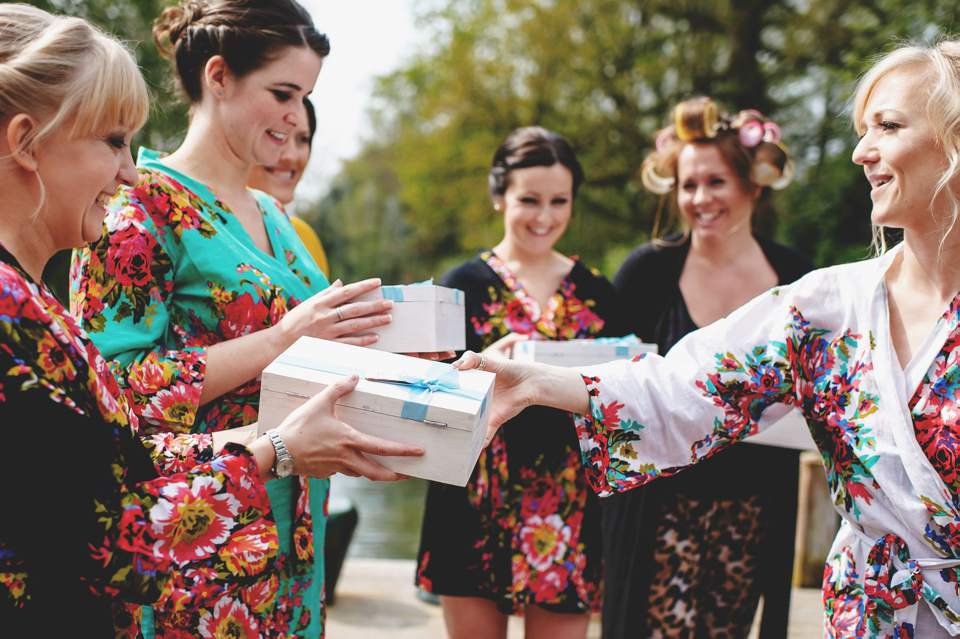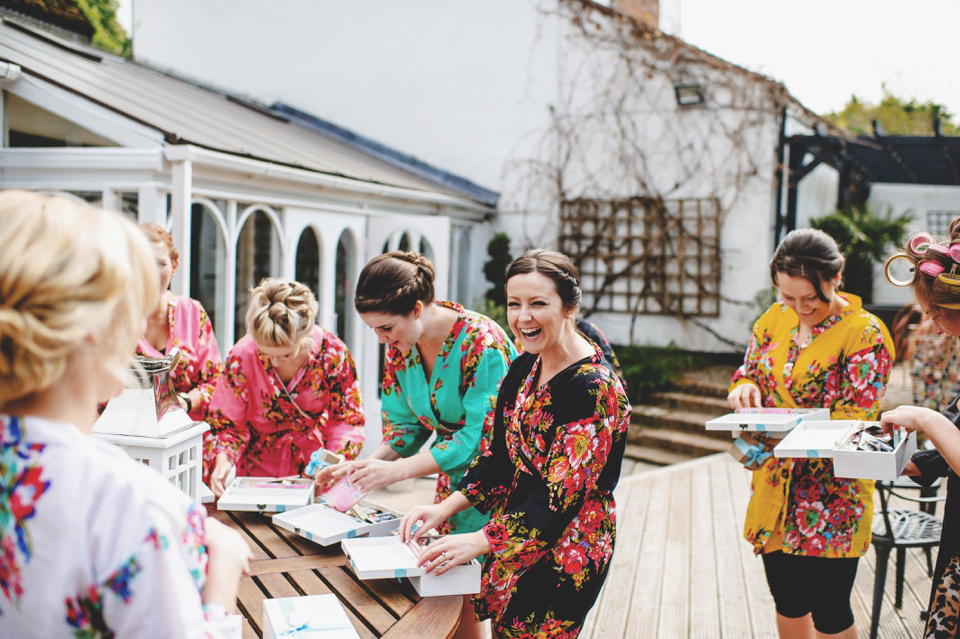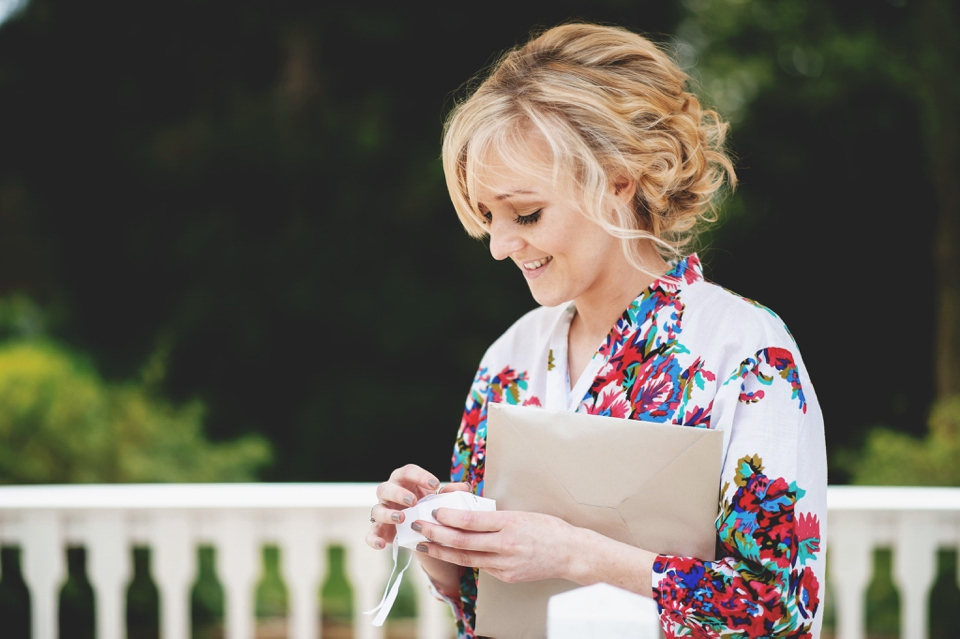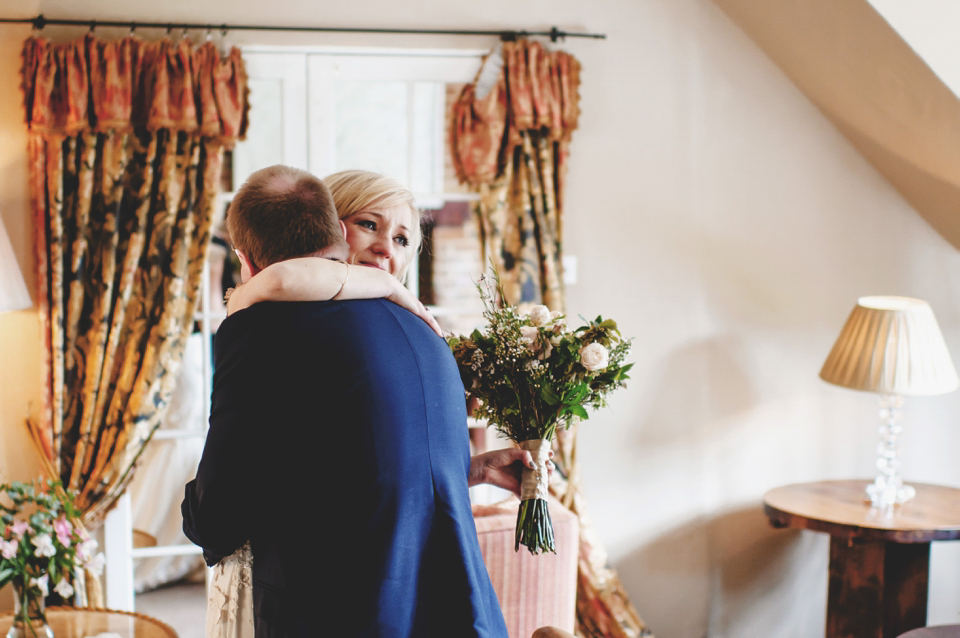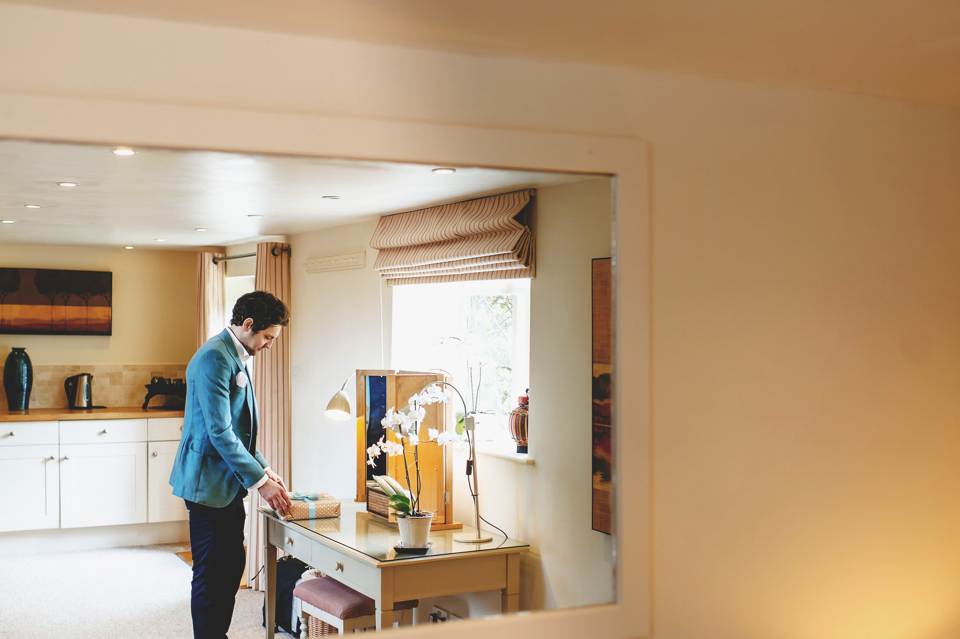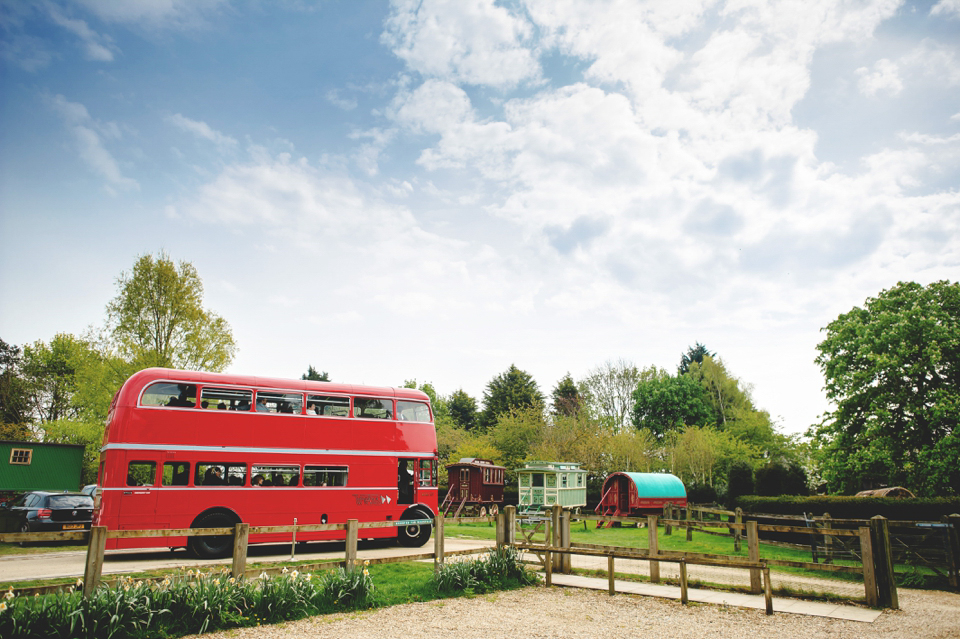 "We hired various singing acts for our wedding day, they included 'Joyful Soundz' Gospel Singers for the ceremony, they really created the perfect atmosphere for when our guests were being seated, and set the tone for the rest of the day with their uplifting and soulful music.
We also had two singers Nicola and Abbey Morris who sang two songs during the ceremony. Their beautiful harmonies of The Staves 'Mexico' and Leonard Cohen's 'Hallelujah' (which was dedicated to my mum) even had some of the men in tears. From 'Here, There and Everywhere' by the Beatles, to walking back down the aisle to 'You've got the Love' – the live music absolutely made our ceremony complete.  I spotted singer Rosie Moore busking in Brighton whilst on my hen weekend, she stopped us in our tracks with her incredible voice. I had a brief chat with her there and then, and gave her no choice but to sing at our wedding! She has a beautiful, chilled out tone to her voice that provided the perfect acoustic soundtrack to our garden drinks reception."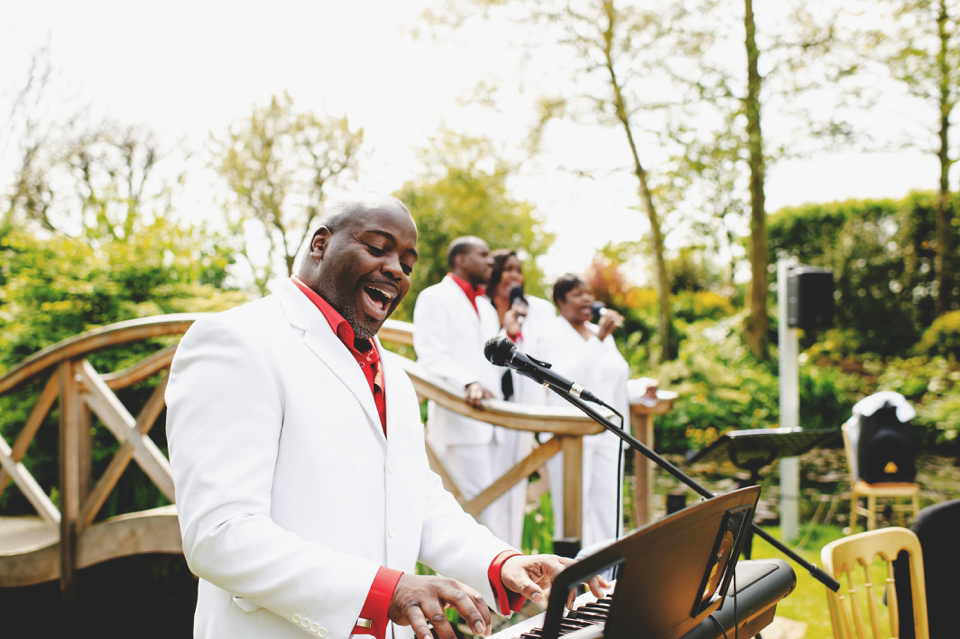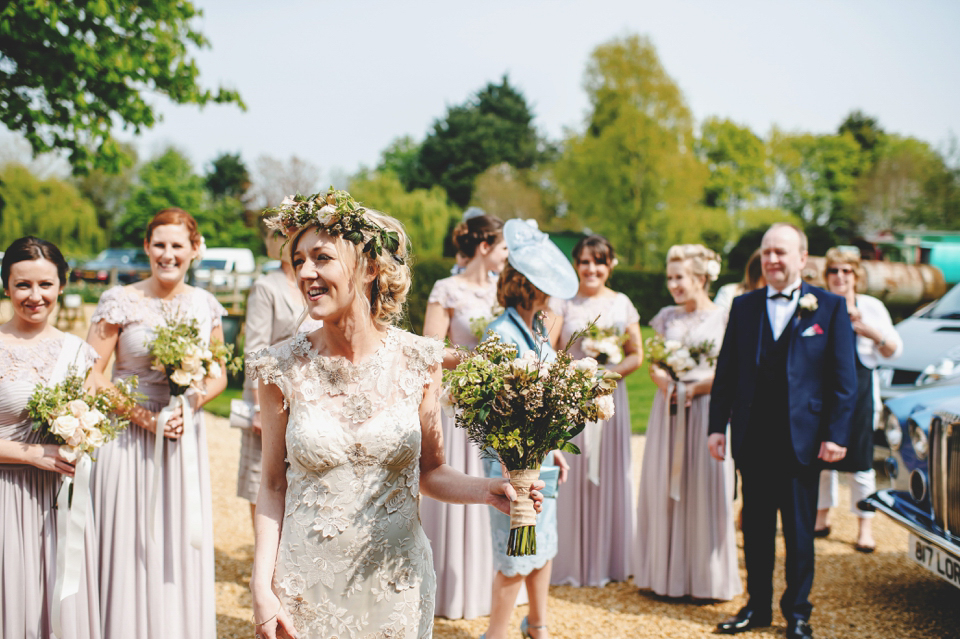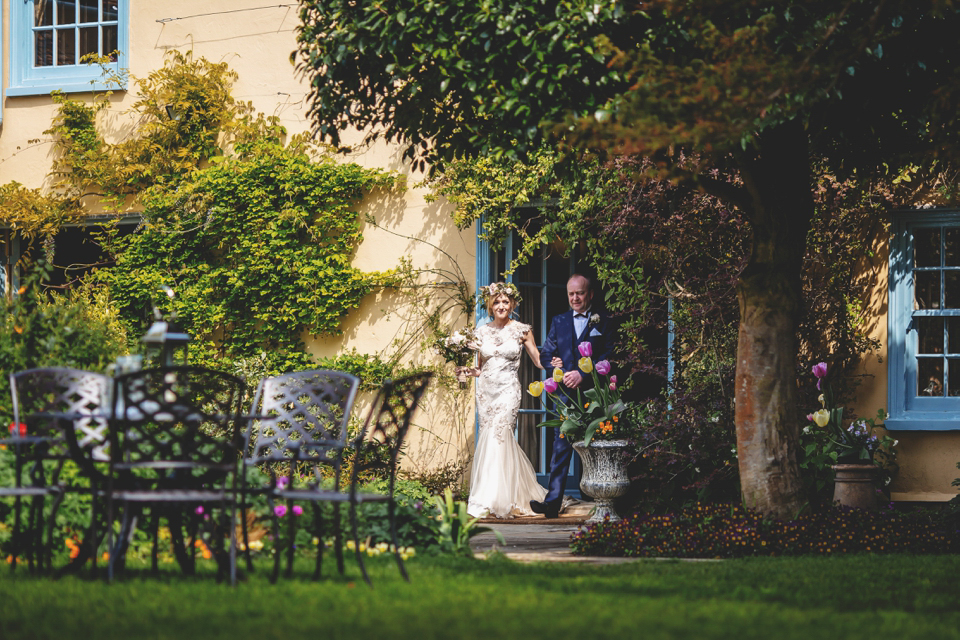 "My dad walked me down the grassy aisle to 'The Wedding Song' by Agnes and Julia Stone.   As it was a humanist marriage our whole ceremony was personalised and tailored to us. Ros, our celebrant, skyped us a month before the wedding and asked us to tell her all about our relationship, including how we met and what we love most about one another. She then freely spoke about us like she had known us for years.  The actual vows we tried to keep quite traditional with the 'to have and to hold' and 'till death do us part' but everything else was completely personal."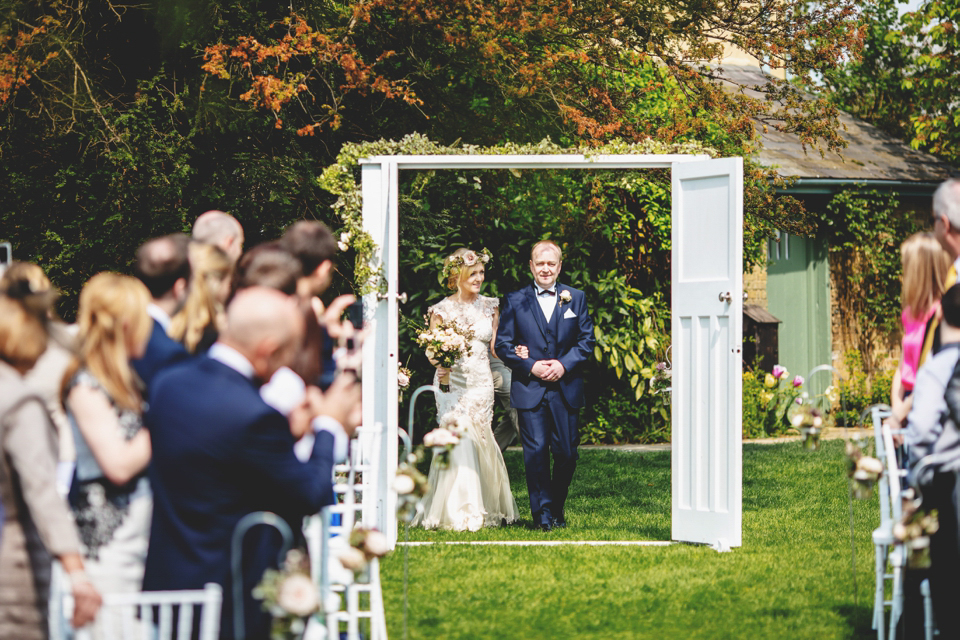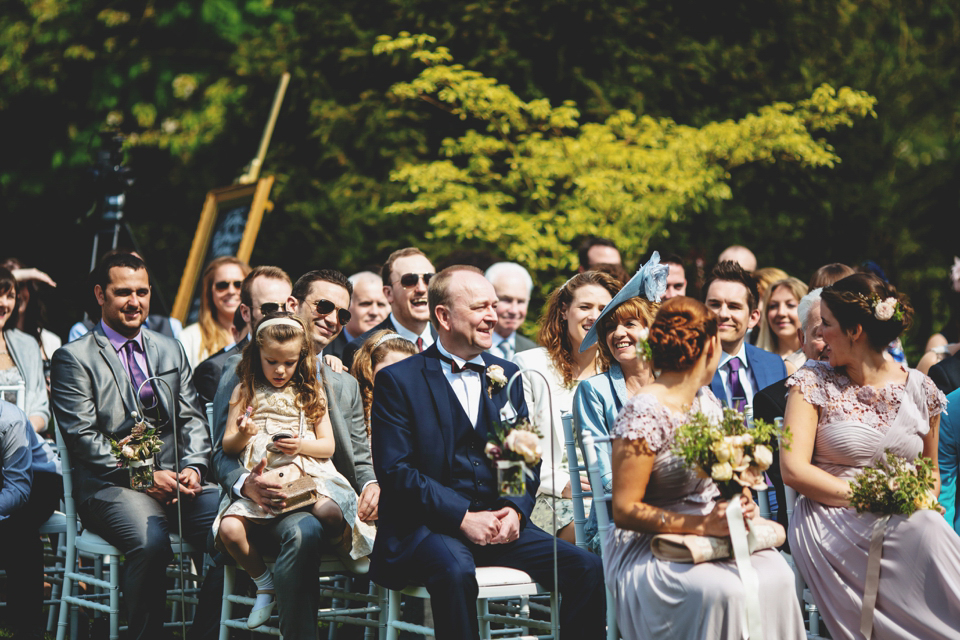 We had two readings read by our friends Jayne and Maria. They were from Captain Corelli's Mandolin;
'Love is a temporary madness; it erupts like volcanoes and then subsides. And when it subsides you have to make a decision. You have to work out whether your roots have so entwined together that it is inconceivable that you should ever part. Because this is what love is. Love is not breathlessness, it is not excitement, it is not the promulgation of eternal passion. That is just being ''in love'', which any fool can do. Love itself is what is left over when being in love has burned away, and this is both an art and a fortunate accident. Those that truly love have roots that grow towards each other underground, and when all the pretty blossoms have fallen from their branches, they find that they are one tree and not two.'
"We also had The Blessing of Hands;
'These are the hands of your best friend, young and strong and full of love for you, that are holding yours on your wedding day, as you promise to love each other today, tomorrow, and forever.
These are the hands that will work alongside yours, as together you build your future.
These are the hands that will passionately love you and cherish you through the years, and with the slightest touch will comfort you like no other.
These are the hands that will hold you when fear or grief temporarily comes to you
These are the hands that will countless times wipe the tears from your eyes – tears of sorrow, and tears of joy.
These are the hands that will tenderly hold your children, the ones that will join your family as one.
These are the hands that will give you strength when you need it, support and encouragement to pursue your dreams and comfort through difficult times.
And lastly, these are the hands that even when wrinkled and aged, will still be reaching for yours, still giving you the same unspoken tenderness with just a touch.'"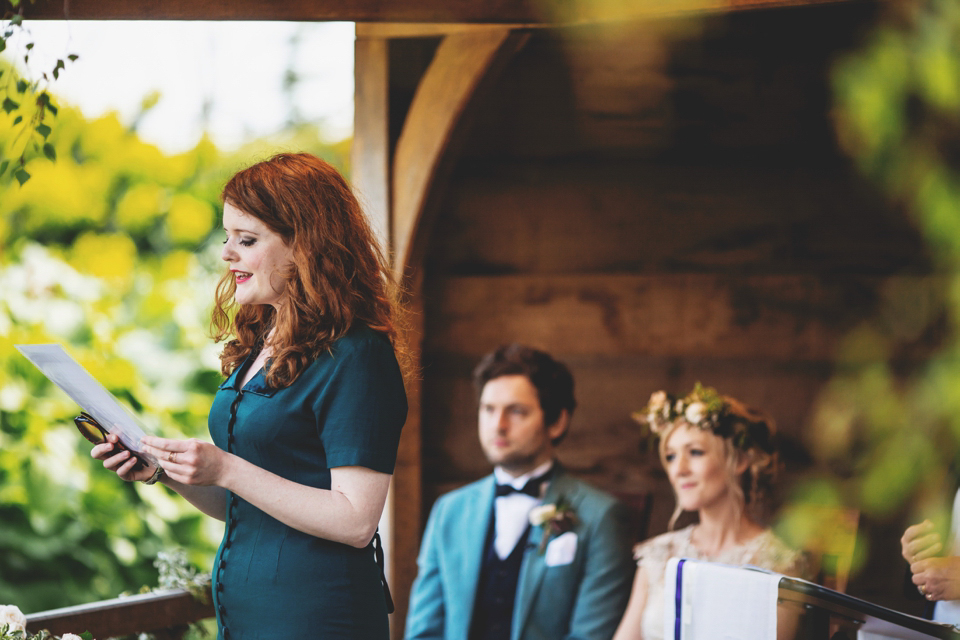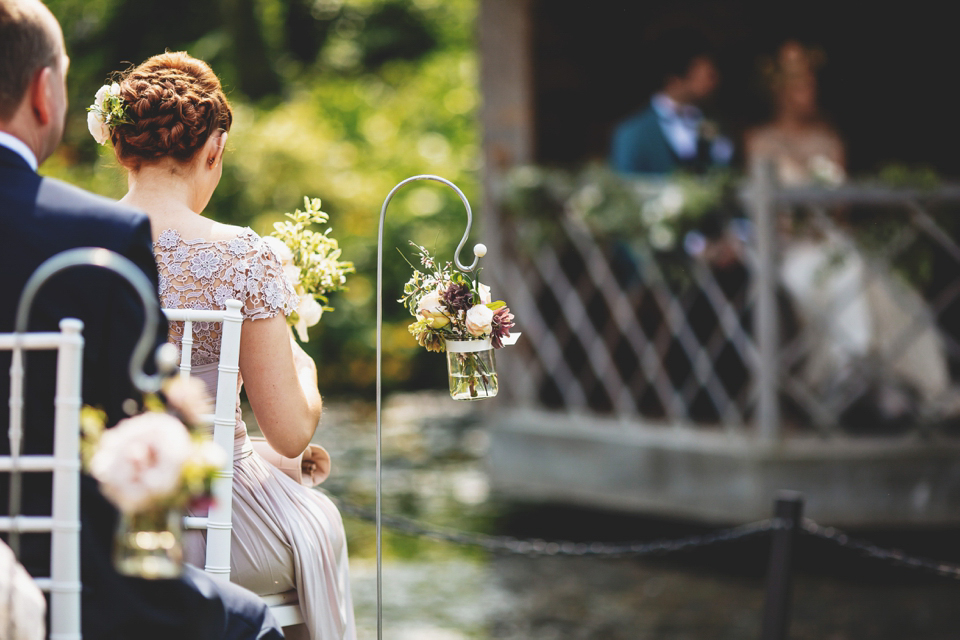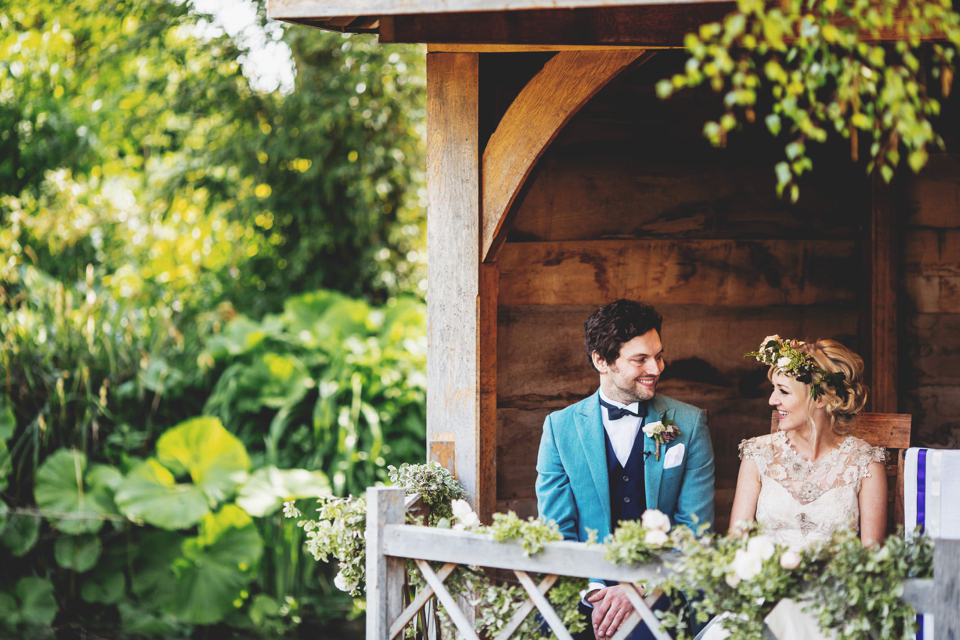 "Dave had my engagement ring made by 'Element'.  The wedding bands were from 'Samson Gold' both from the Jewellery Quarter in Birmingham."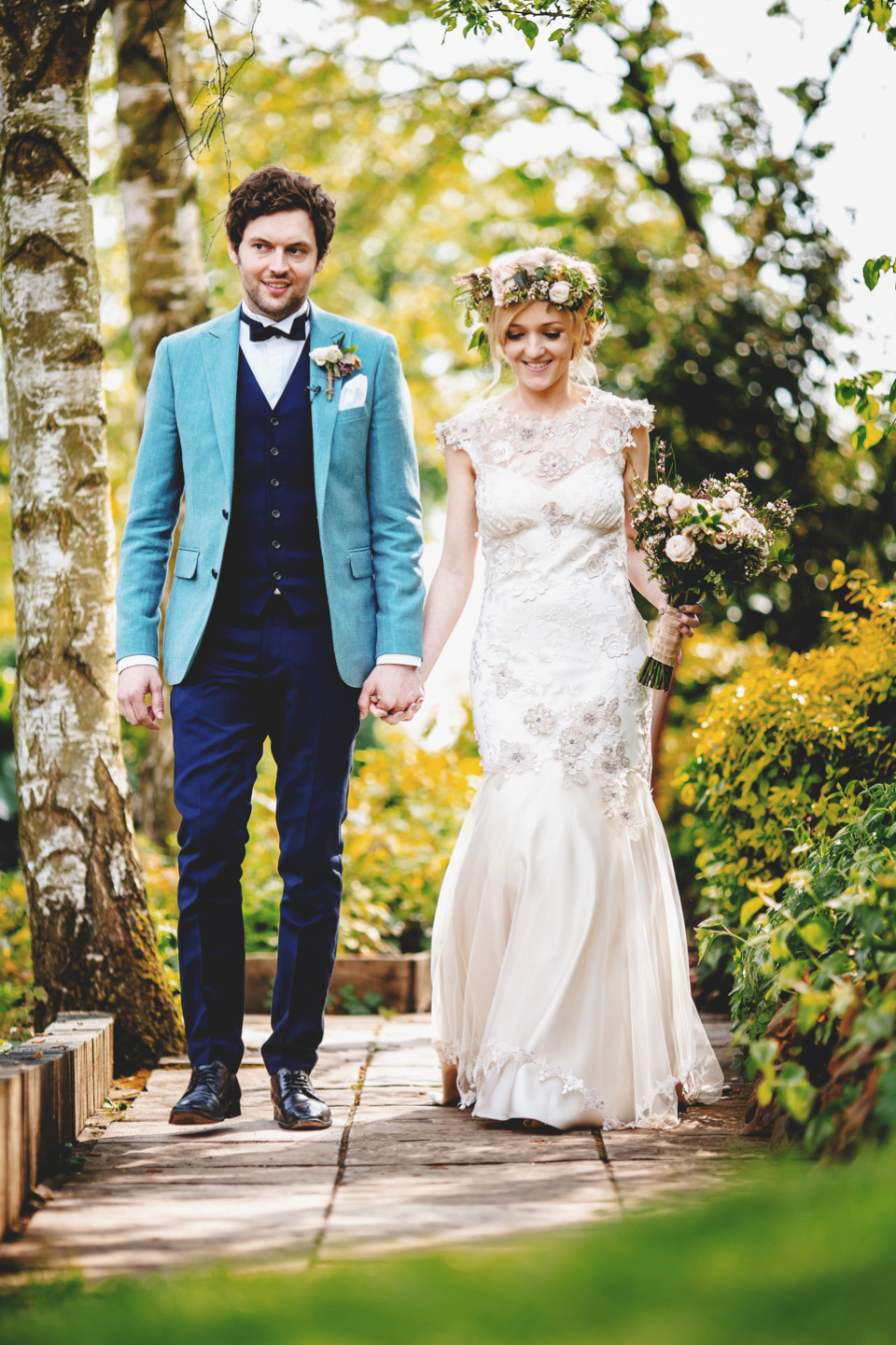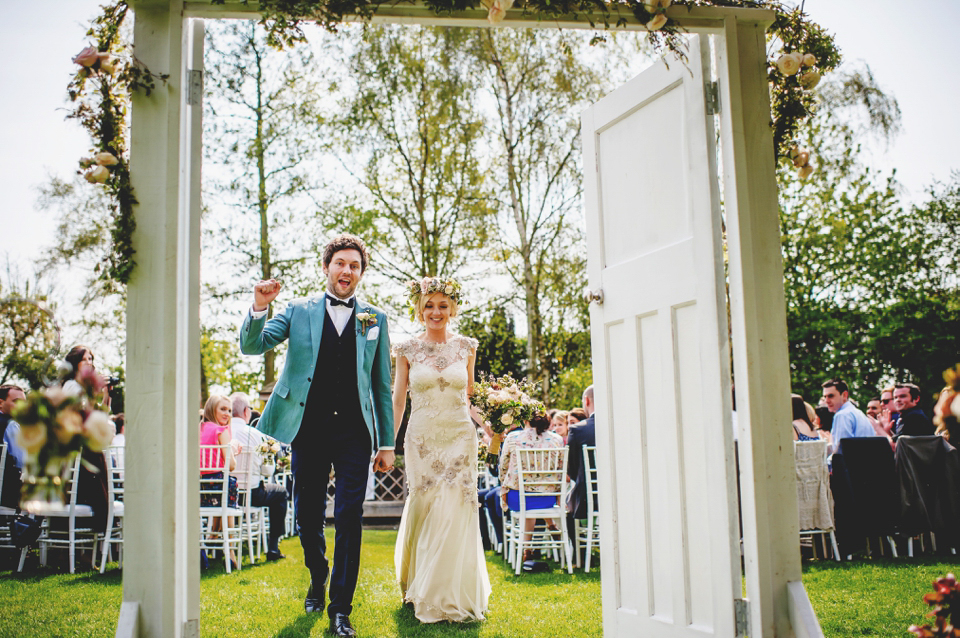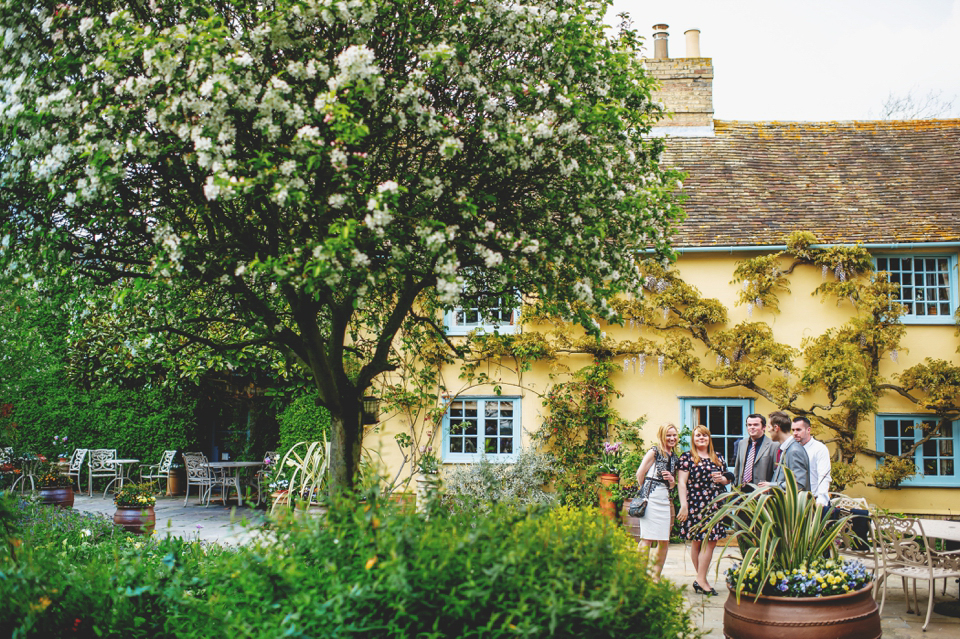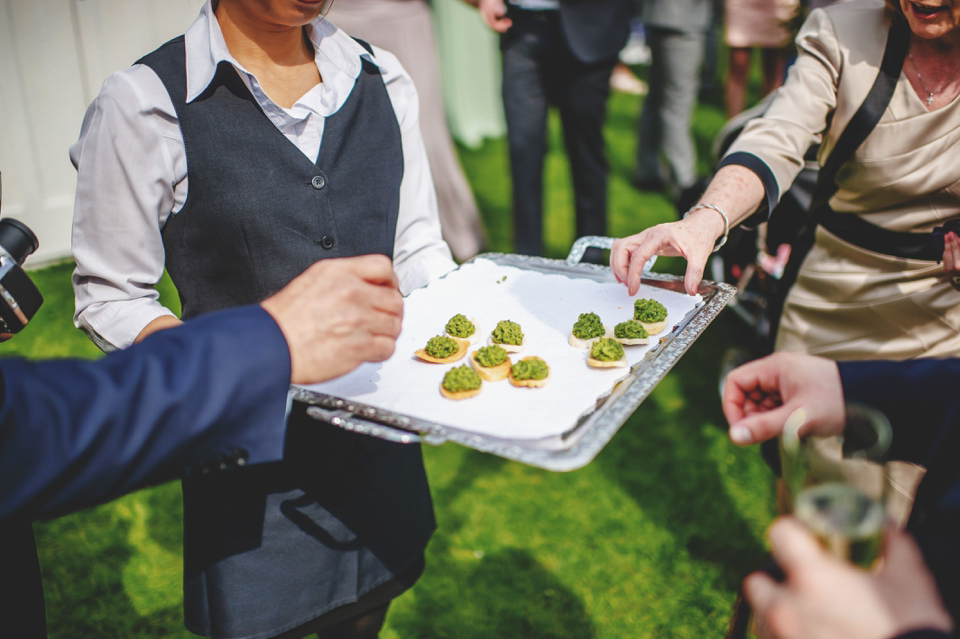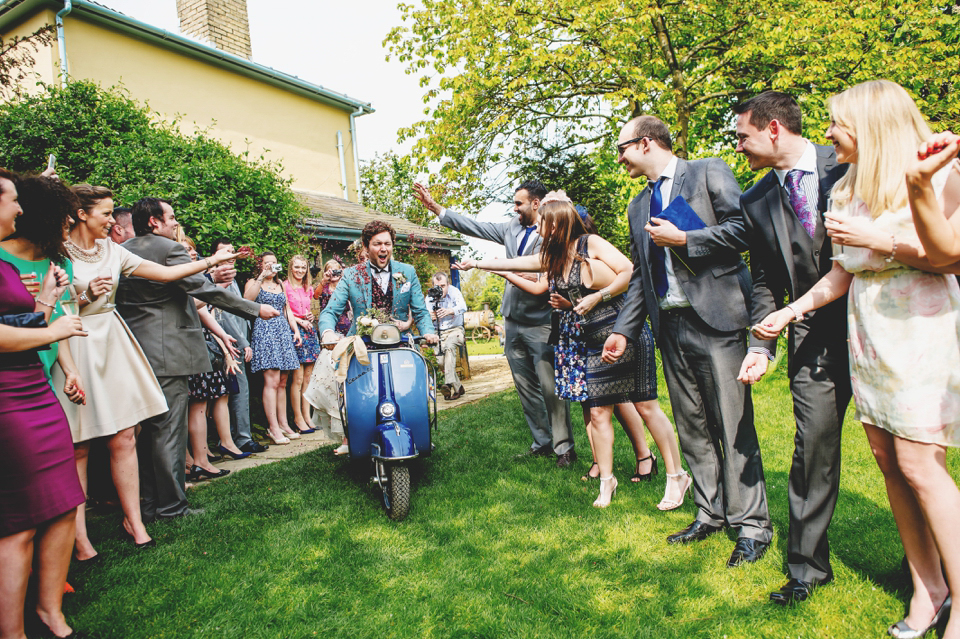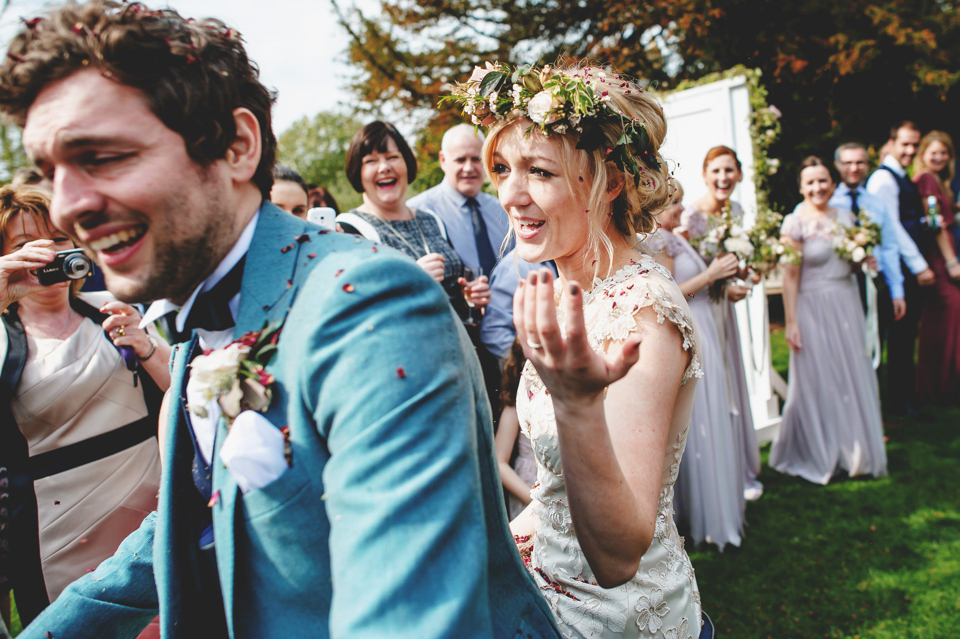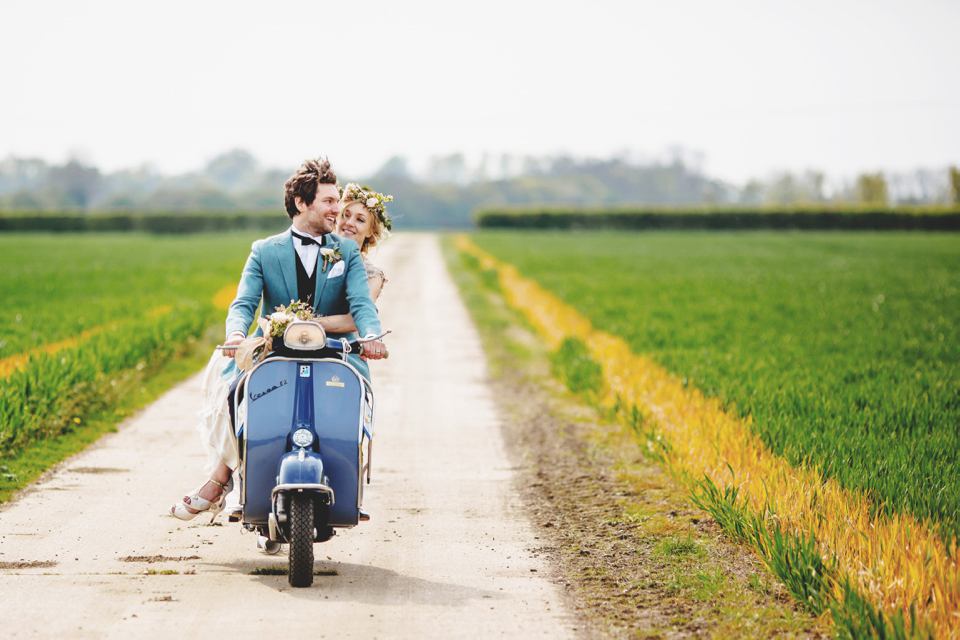 "My shoes were 20's inspired 'Carmen' by Rachel Simpson. They were so comfortable and didn't look and feel too formal which is what I wanted as I can wear them again."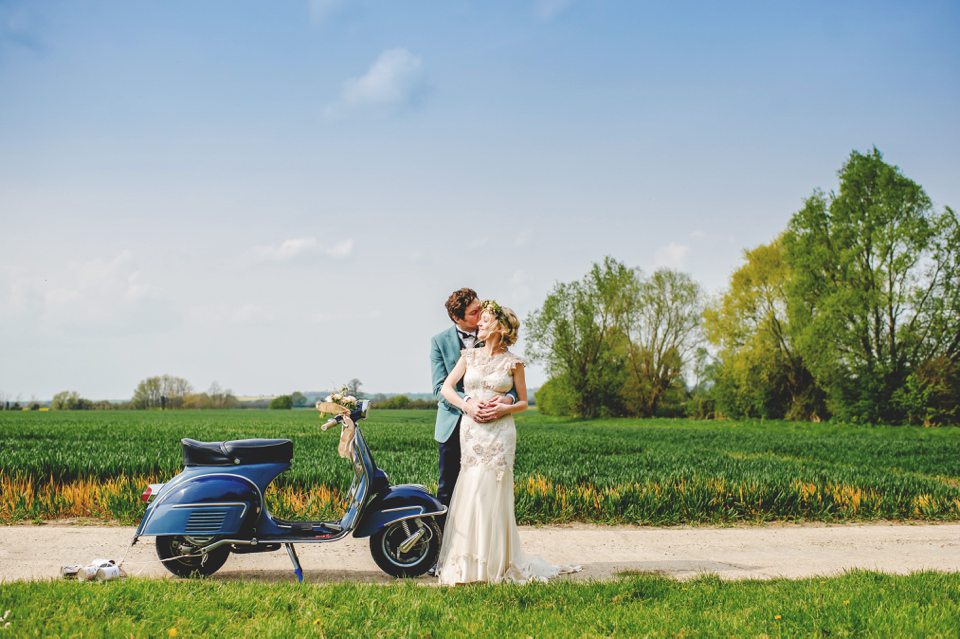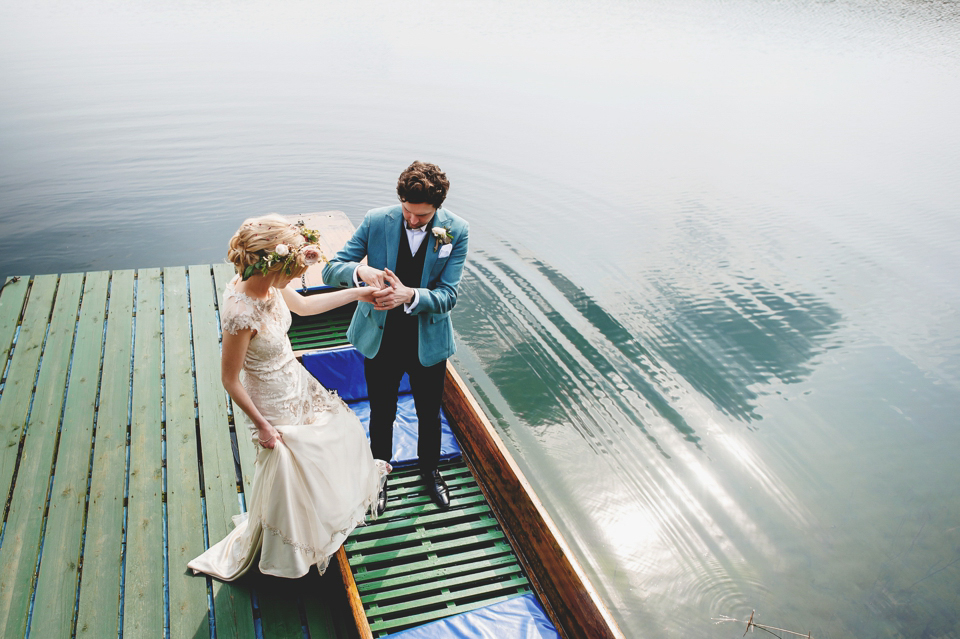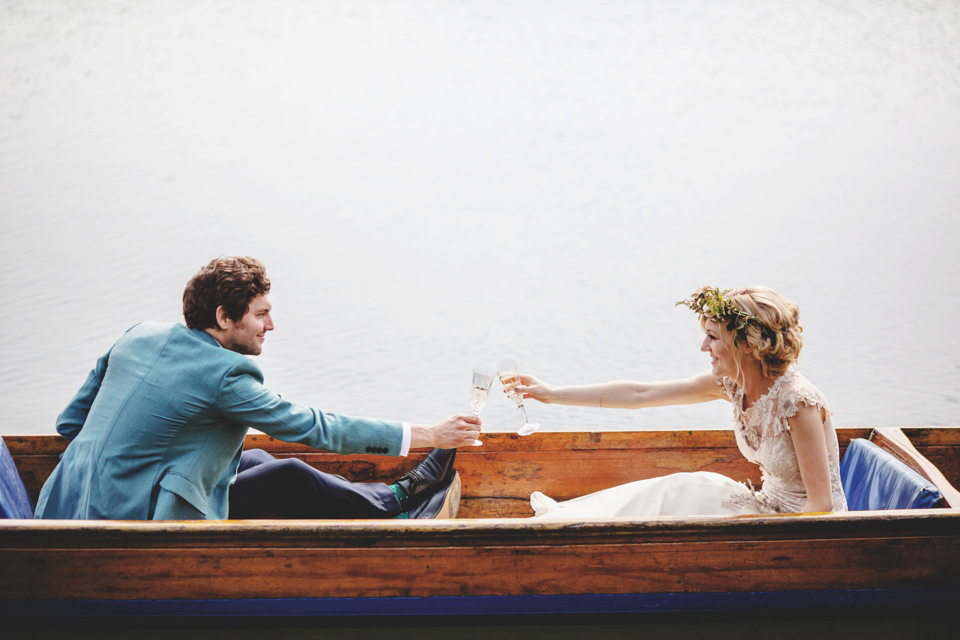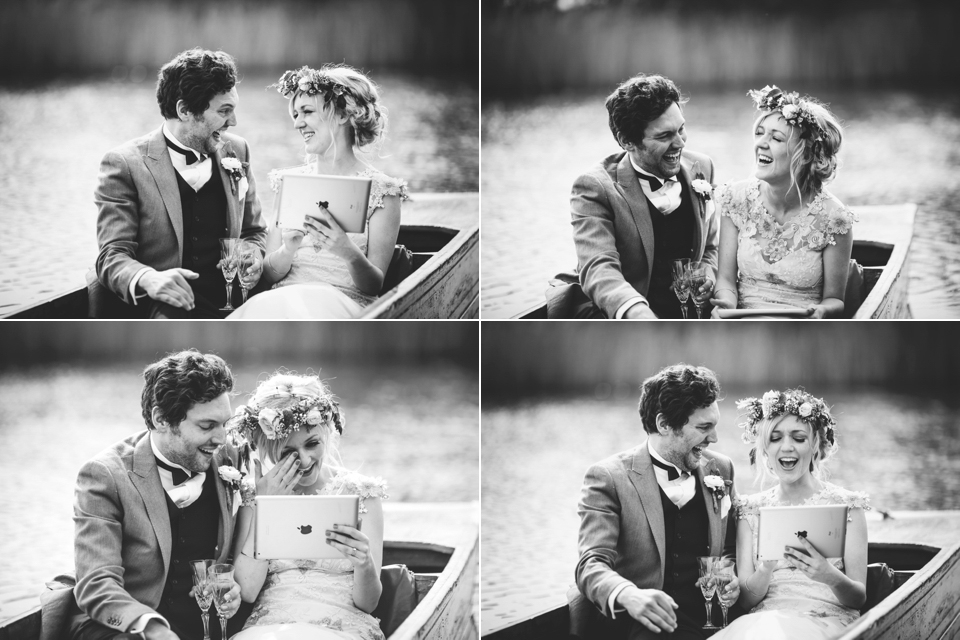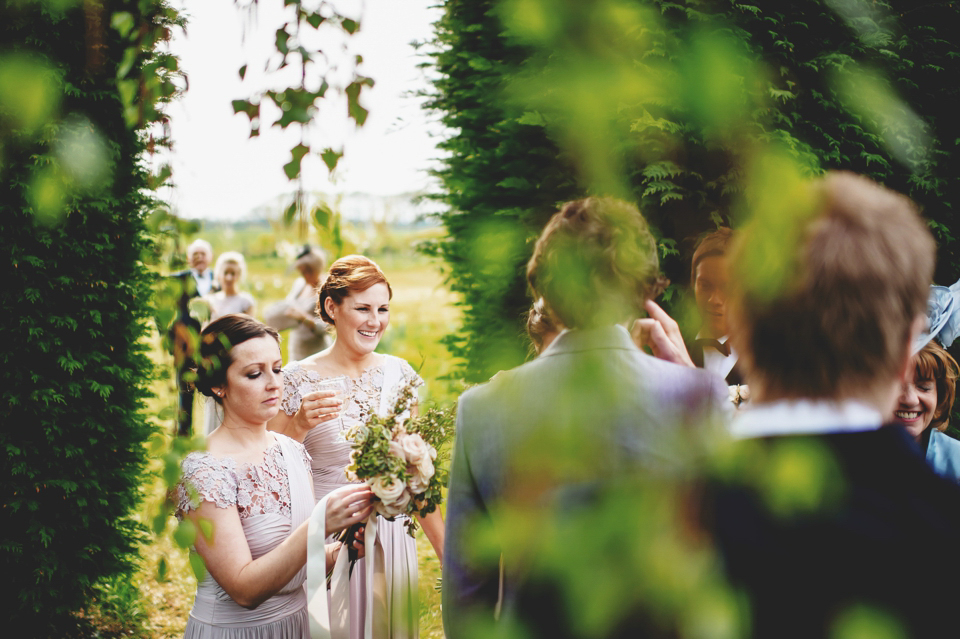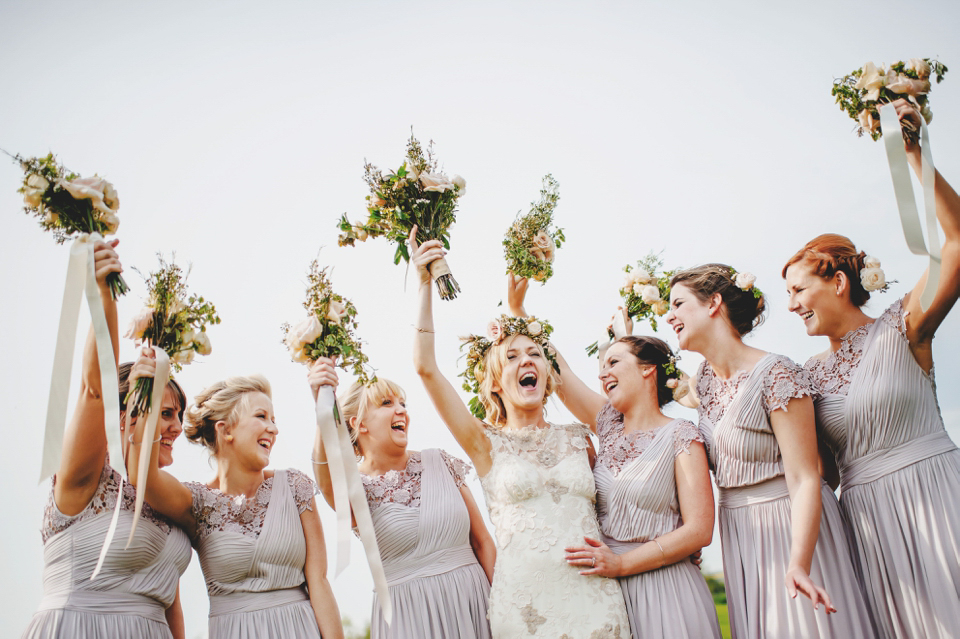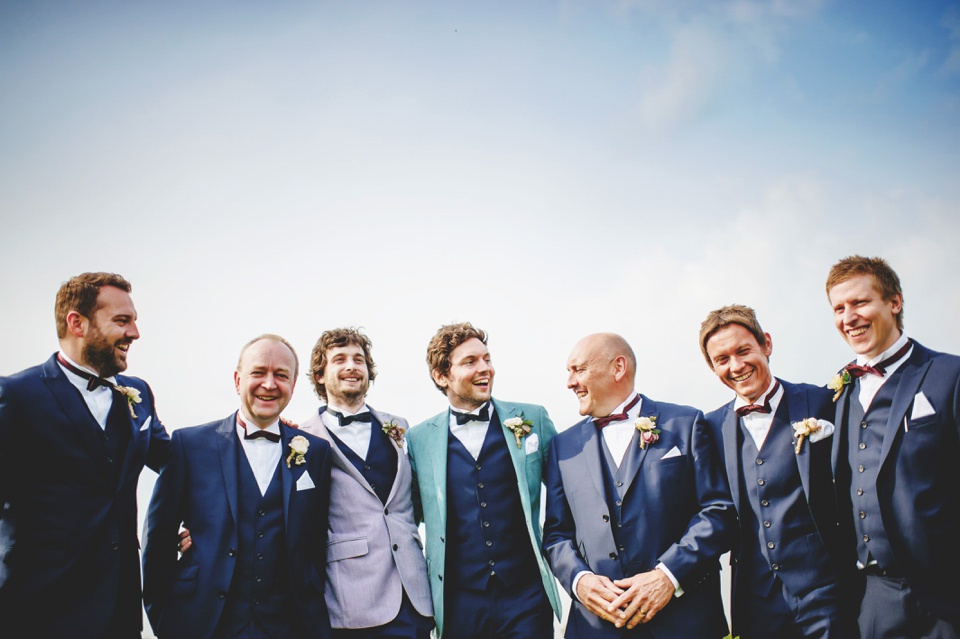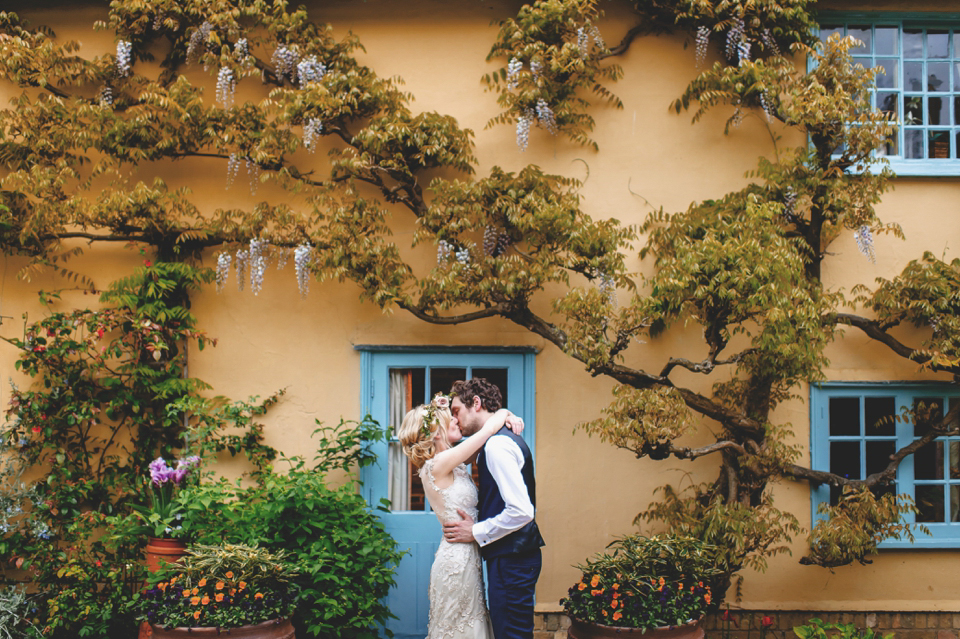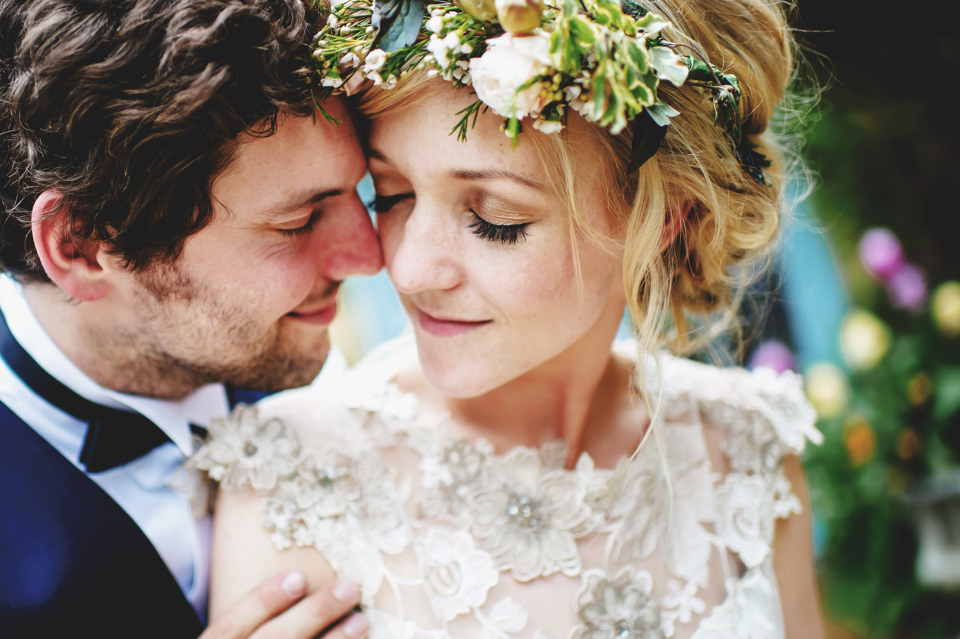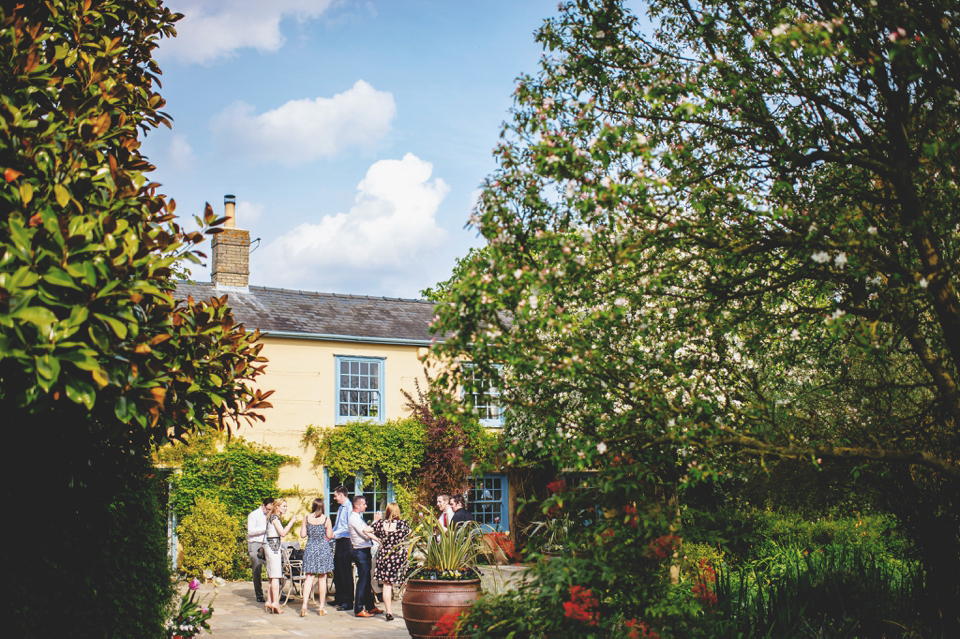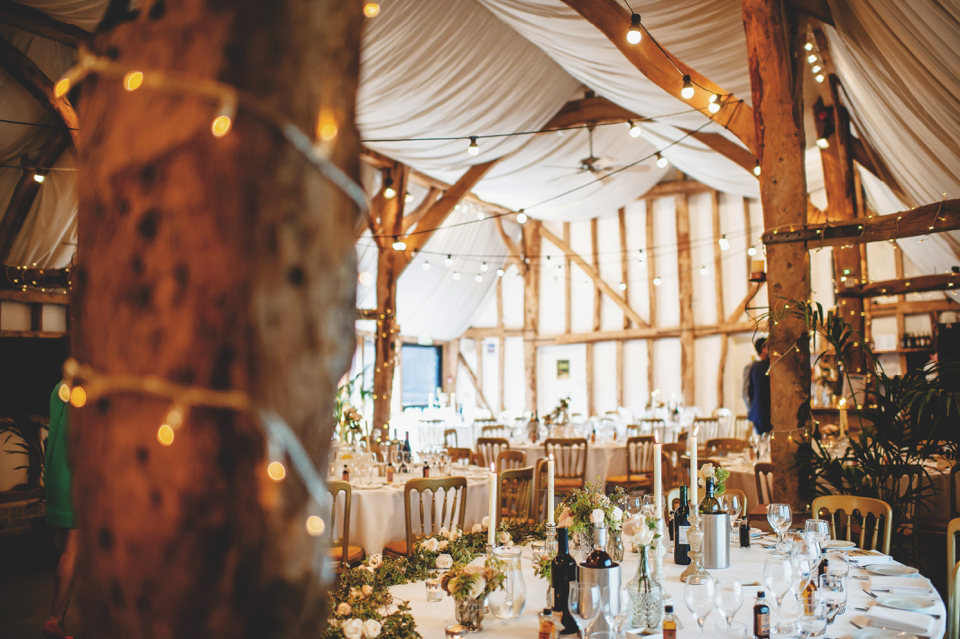 "I witnessed Howard Wing in all his glory at a wedding I filmed 6 months before my own. I immediately knew that this was the man who would absolutely make our day. I've never seen anything like him before; words just don't do this man justice. He provided entertainment all throughout the wedding breakfast which tasteful and frankly just good fun. Everyone was involved, singing, dancing and standing on their chairs. The atmosphere was electric; Howard had everyone doing the Love Train around the room before the main course – 121 people including my Nan and Grandad! This is what he does, with ease.  It is original, entertaining, and there's no doubt that he completely enhanced our wedding. Our guests were blown away by what happened in that room and Howard Wing created it!
"Ben the Cake Man is a dream to work with! The cake was a complete surprise, I trusted Ben and wanted to give him complete free reign as I love every one of his creations and knew he would have a better understanding of what I would want than I did. I was right, he produced a cake so personal and beautiful I didn't want to cut into it. Unbeknown to me he matched it to my dress, making each individual flower separately out of sugar. He even went the extra mile (literally!) by delivering it 2.5 hours away on bank holiday Monday after I offered to take it myself. He is a true professional and wanted it to look perfect. It did look perfect and we are so thrilled we chose him."
"We chose The Duplicates for our evening band, they performed a mix of 60s covers, 90s indie classics which was exactly what we wanted. They travelled all the way from Wales to Cambridge and worked their socks off with barely a breath between songs. The created a great buzz in the room and the dance floor was full from their first song to the last.
Our first dance was by Burning Benches by Morning Runner.  It was so hard to pick just one song for the first dance, but we both just really loved this song and liked how it builds so everyone could join in for the final chorus!"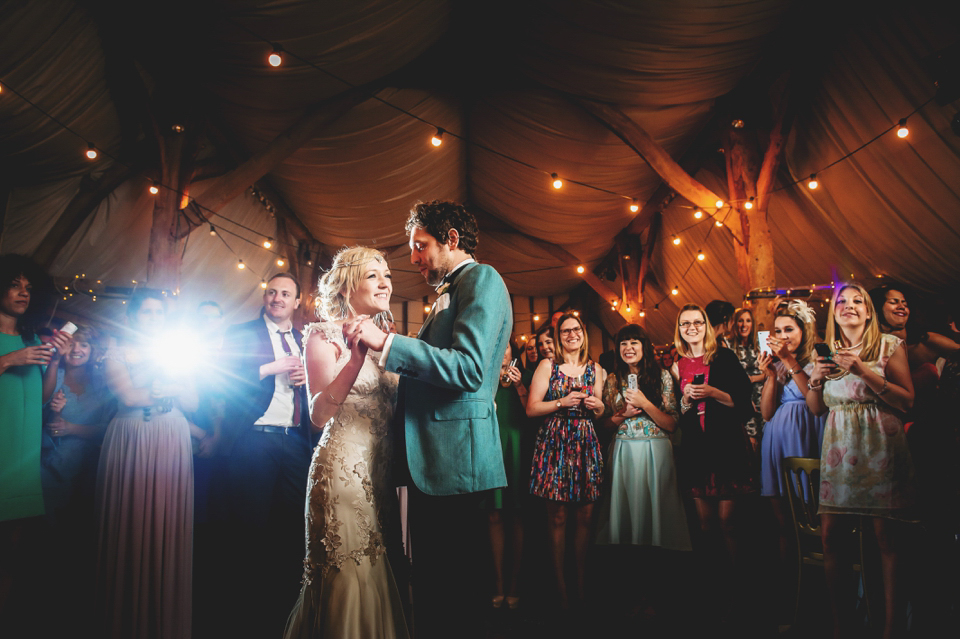 "I have so many incredible fond memories of the day, from the excitement in the morning with the girls, seeing Dave's face for the first time in the summer house, and watching all of our guests standing on their chairs and holding hands, singing during the wedding breakfast!
I really cherish the time we spent on our own; Dave surprised me on the lake with a video he made of my sisters and best friends singing and performing 'The Wedding Song' (the one we walked down the aisle to) It was absolutely hilarious and something I knew nothing about!"
Words of Wedded Wisdom…
"My little nugget of wisdom is to make sure you and your new husband take a few moments away from everyone and take it all in. Dave and I spent more time away than we had accounted for, but those words spoken whilst in the boat will stay with me forever so it was worth it.
Enjoy all aspects of the planning, if it starts to get stressful, delegate. Friends and family are itching to help!"
Leanne + Dave's Wedding Booth SLO MO Style! from Leanne Dodds on Vimeo.
Have you ever seen anything so lovely? What a beautiful day, executed to perfection and yet it all seem so incredibly relaxed and wonderful.
Huge congratulations to you Leanne and Dave and thank you so much for letting me share your most beautiful wedding day.
That just leaves me to encourage you to go and visit Leanne's own wedding videography website at Blooming Lovely Films.
Love Annabel
Photographer – Ross Harvey
Film Producer – Jeff Wood
Venue + Catering – South Farm in Cambridgeshire
Wedding Dress – Viola' by Claire Pettibone via White Room Bridal (Sheffield)
Shoes – Carmen by Rachel Simpson
Grooms Suit – Reiss Jacket + Trousers/Waistcoat from Next + Shoes by Rachel Simpson
Bridesmaids – Coast dresses + shoes by Next, Kurt Geiger
Florist + Floral Crown – Passion for Flowers
Cake – Ben the Cake Man
Transport – Buses from Timebus Travel + Wedding Car from Lords Cars + Vespa the Groom's own
Daytime Entertainment – Joyful Soundz + Nicola and Abbey Morris (singers) + Rosie Moore (singer) + Howard Wing
Evening Entertainment – Duplicates
Rings – Jewellery Quarter in Birmingham
Stationery – Paper and Things
Make-up Artist – Jodie Hazlewood
Bridal Hair – Helena Sinclair
Bridesmaid's Hair – Hair by Nikki B
Follow Love My Dress® on Google+