Good morning folks! What better way to start the week than with a relaxed and sunny Autumn barn wedding, filled with lots of lovely homespun touches and a bride wearing the most stunning Dana Bolton gown? Leila and Ed tied the knot on the 26th of September, 2015, in the gardens of Ashton Farm, followed by a reception in the farm's gorgeous Georgian barn, set in a peaceful and secluded valley near Dorchester, Dorset.
"We just wanted our wedding to feel a bit like a boozy dinner party with lots of good music and dancing to follow! We spent a lot of time browsing Pinterest for barn wedding inspiration, but in the end it was the venue itself which went a long way in establishing the simple, laid back feel we were after."
Dress by Dana Bolton
Find Dana Bolton in Little Book for Brides
Follow Dana Bolton on Instagram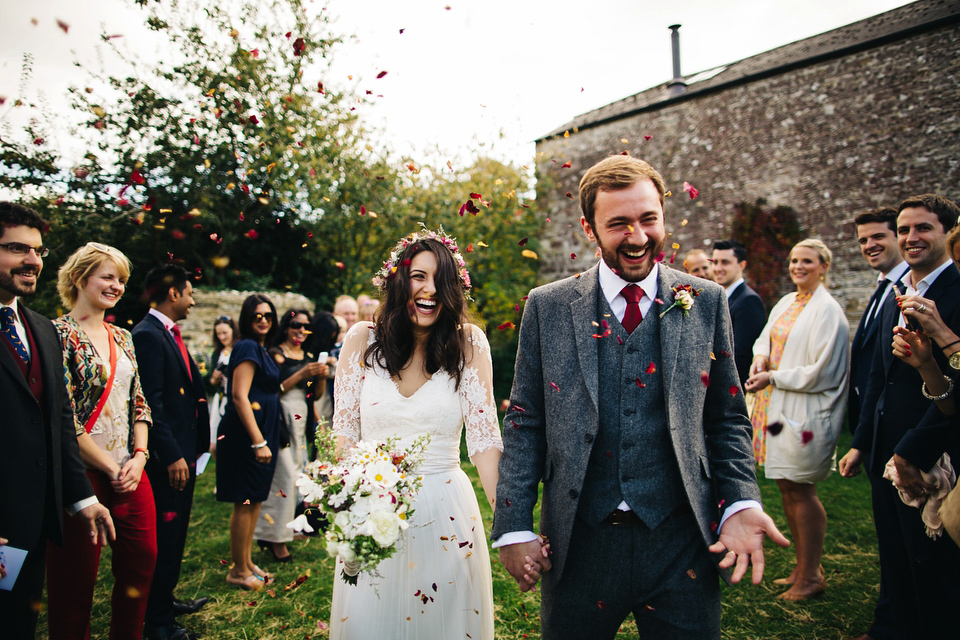 Leila wore her long flowing locks in loose curls, crowned with a vibrant fresh flower circlet created by The Real Cut Flower Garden, another member of our Little Book For Brides.
"I loved how dainty the flower circlet looked and the gorgeous colours of the flowers. It's also dried really nicely as a keepsake."
Leila's beautiful gown, with lace bodice and silk sash, was created by bespoke bridalwear designer Dana Bolton. You can find Dana Bolton in our Little Book for Brides, a beautifully curated directory of wonderful, hardworking wedding suppliers. Dana uses the finest French laces and silks in order to create delicate and floaty designs sure to make you swoon…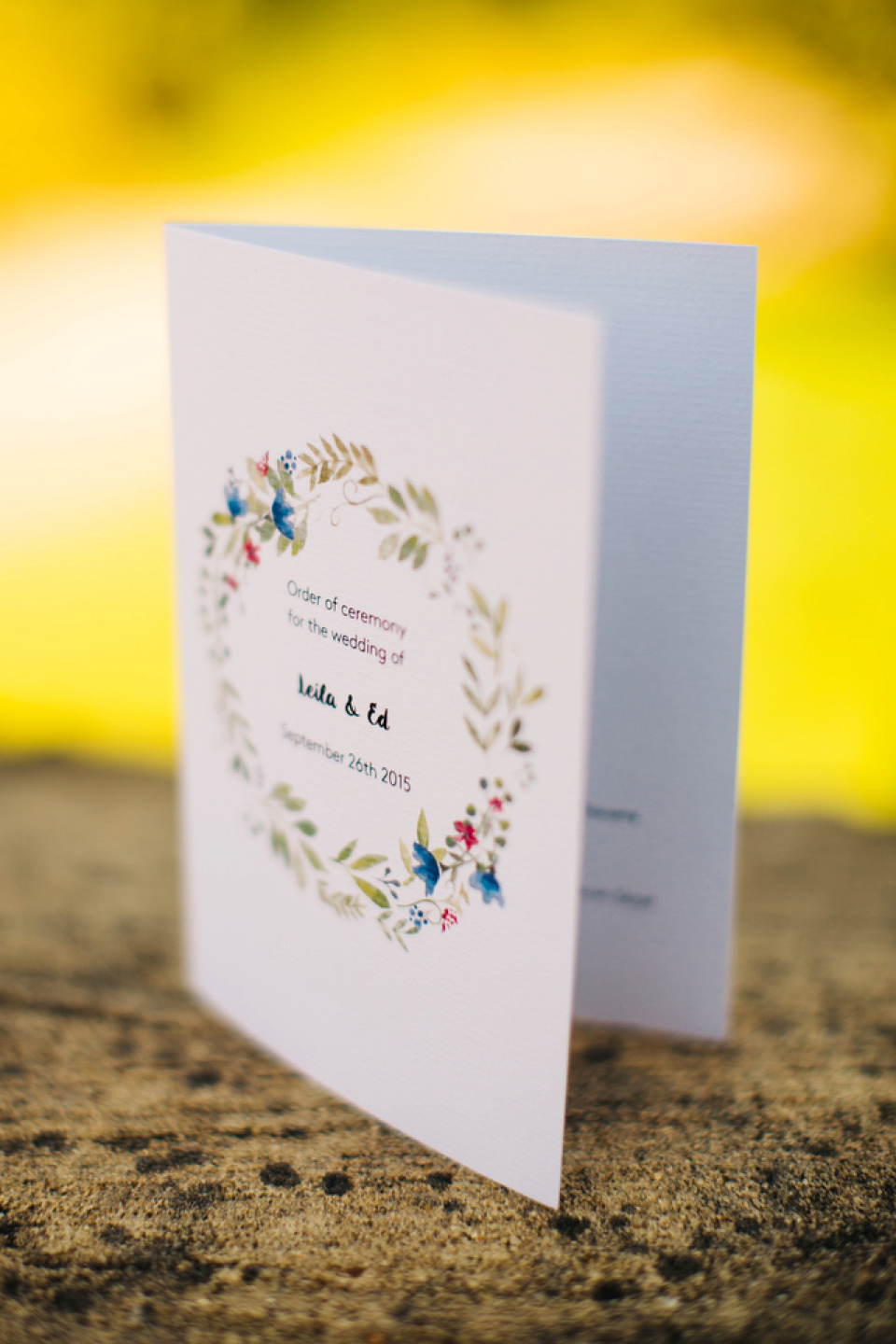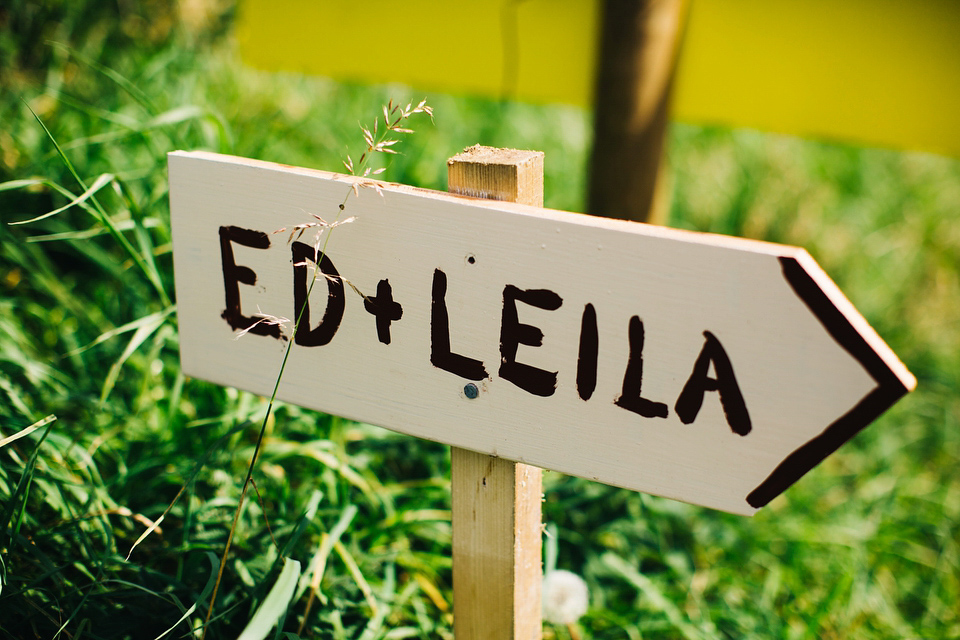 "We had originally looked for venues in London (where we live) but struggled to find anywhere available (and affordable!) that gave us scope to personalise the day the way we wanted. Ed grew up in Dorset and we go back regularly so it was the obvious place to look next. We were lucky to stumble across Ashton Farm after lots of internet scouring – a relatively new wedding venue which ticked all the boxes."
Our bride accessorised simply and elegantly with a pair of pearl earrings that belonged to her grandmother and an Astley Clarke bracelet. After much deliberation, Leila opted for a pair of silver, mid – heel sandals which she purchased from ASOS for just £18 as well as some lace flats from New Look, bought for the even more bargainous price of £8!
"My pearl earrings belonged to my grandmother who passed away a few years ago – she, more than anyone, would have been very excited at the idea of her granddaughter getting married, so I knew I wanted to wear something of hers on the day.
I struggled to know what to do for shoes – a lot of the 'bridal' ones seemed a bit too formal for what I was after and were not something I'd likely ever wear again. As we hoped to get married outside, and the setting was quite rural, anything very high was ruled out. My ASOS sandals were so comfy I didn't end up wearing the flats in the end."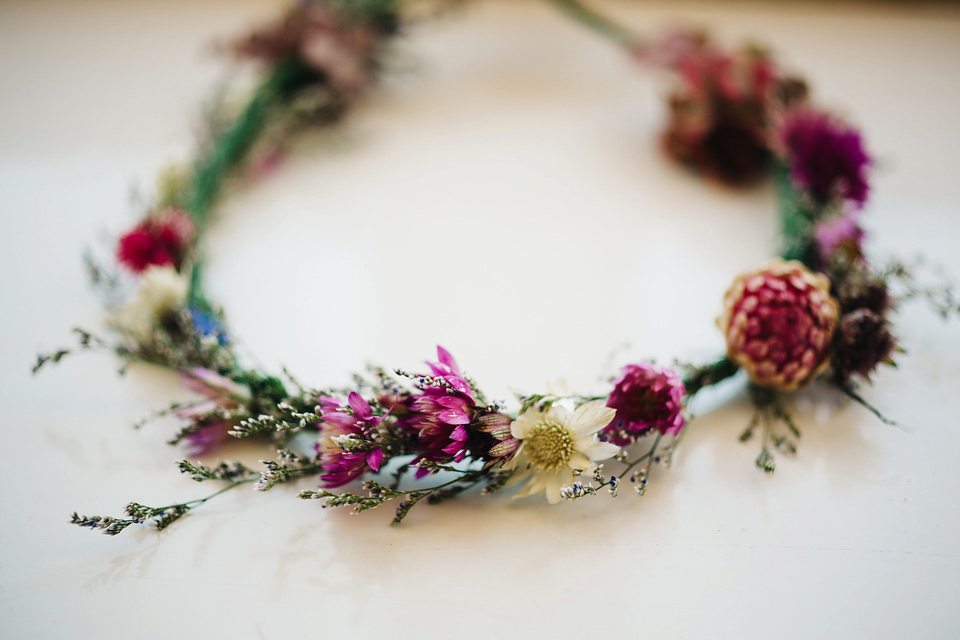 "I knew I wanted to wear something quite soft and unstructured, and I had quite a strict budget in mind. I initially looked at vintage wedding dresses and antique lace, but couldn't quite find what I was after. I started looking at second hand wedding dresses and came across a Dana Bolton design."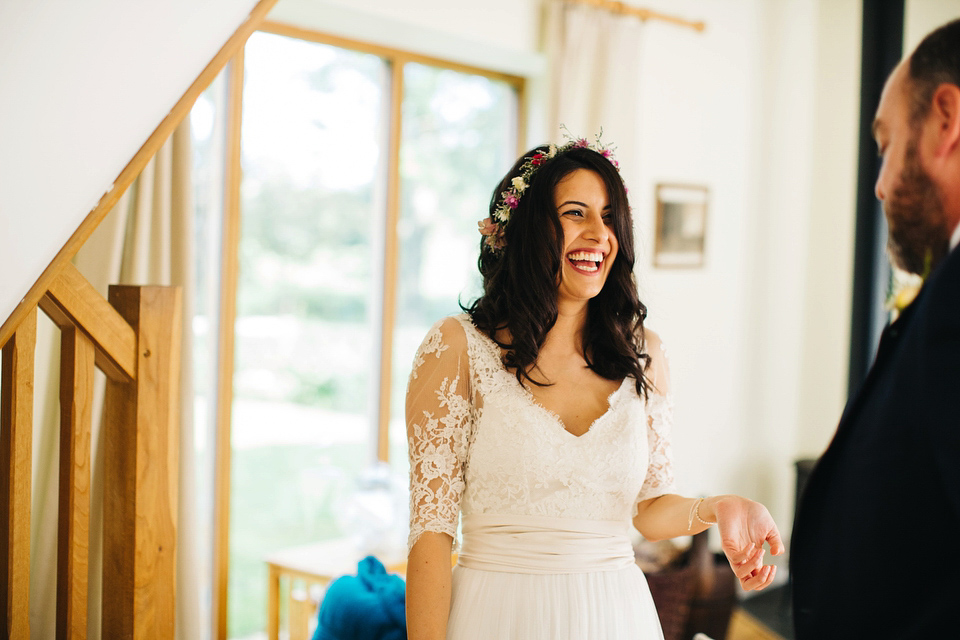 "Dana's very talented and makes the most beautiful dresses. Luckily she had a sample dress she was willing to sell which fit me pretty perfectly and was exactly what I imagined! It was floaty and understated, but with gorgeous lace which was really showcased by the low back.
Dana kindly agreed to change the cap sleeves to 3/4 length which was nice for an Autumn wedding, and I also bought a silk satin sash which I wore during the day around my waist. The dress was so comfortable to wear – perfect for dancing too!"
Our couple's beautiful blooms were both grown and arranged by Charlie Ryrie of  The Real Cut Flower Garden…
"Charlie is based in Bridport and the flowers she provides come from her own gardens. Charlie was great at explaining our options and really receptive when I sent over some mood boards showing the kinds of colours I liked and what we'd all be wearing. I was thrilled when I saw the flowers the day before the wedding – they were delicate and vibrant and fit the venue perfectly."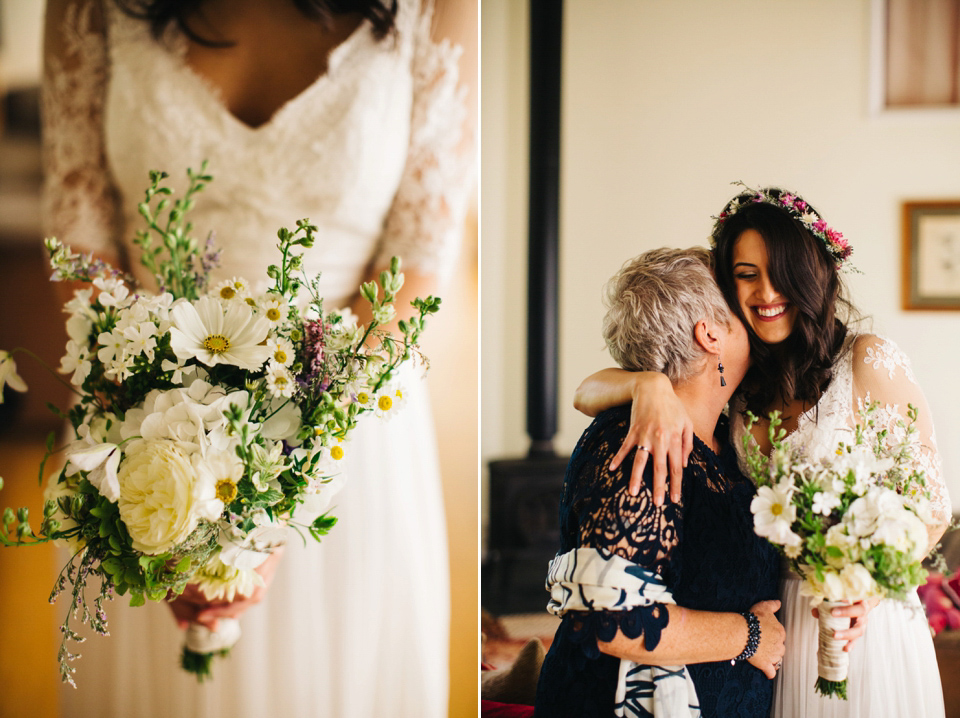 "Some family friends bought some extra flowers to tie in with those provided by Charlie and they created gorgeous displays in milk churns borrowed from a farmer friend of Ed's family. We also used the extra foliage to complete the table settings – we included a sprig of green with the napkins, tied together with twine."
Meanwhile, Ed looked very handsome in a grey, three piece, tweed suit from Walker Slater, burgundy tie and brown brogues from Aldo.
"Ed and I met in the first few weeks of university, and got together soon after. Following a whirlwind nine-year romance(!), Ed proposed on a sunny October walk in Dorset. We were engaged for just under a year, and our wedding day was pretty much ten years, to the day, after we first met."
Leila's bridesmaids wore navy lace Kaliko skirts, paired with scoop neck tops from H&M and Astley Clarke bracelets; a gift from the bride.
Leila's step dad walked her up the aisle to Louis Armstrong's rendition of 'La vie en rose'…
"My dad sadly passed away when I was seven, and my lovely step-dad walked me down the aisle. We walked into 'La vie en rose' by Louis Armstrong, who had been one of my dad's favourite singers – it was nice to have something that felt like a part of him with me."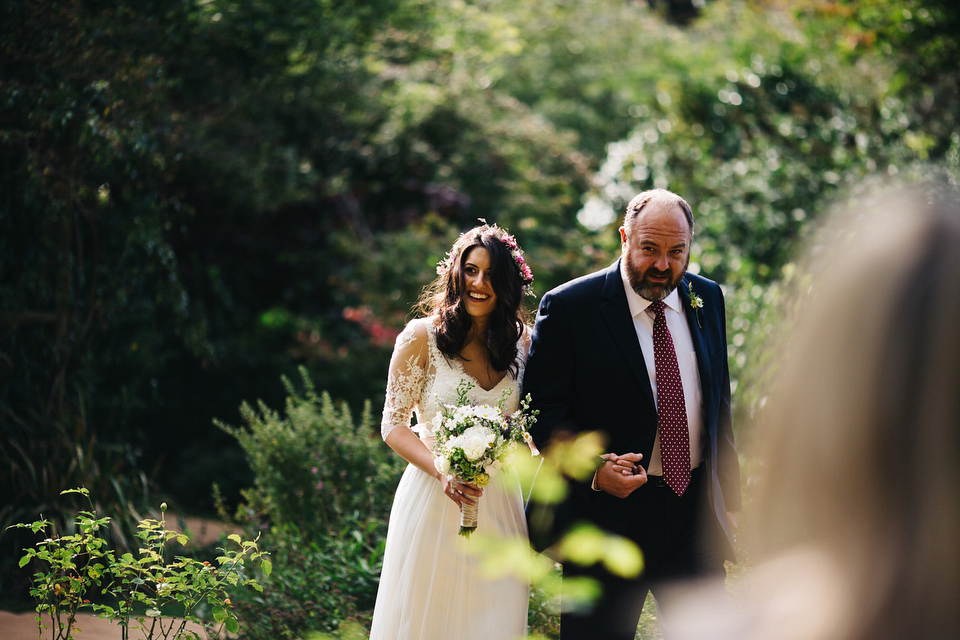 "I think it's hard to know what you'll feel on your wedding day after the loss of a parent. My amazing mum did a really lovely 'father of the bride' speech – she started it off by saying 'As once you were a twinkle in his eyes, today he is a twinkle in yours' – and, for me, that sums up how it felt pretty perfectly."
Readers, we have a number of features that discuss the subject of the absence of a much loved family member at weddings – you'll find those features here and here.
Our couple opted for two readings: 'Love Listen', by Ann Gray, and an extract from Walt Whitman's 'Song of the Open Road'.
"It took us a while to decide on readings as we wanted something that wasn't too cheesy, but it was worth the hunt. The words of the two readings we chose really struck a chord with us and how we see each other and hope to continue our lives together."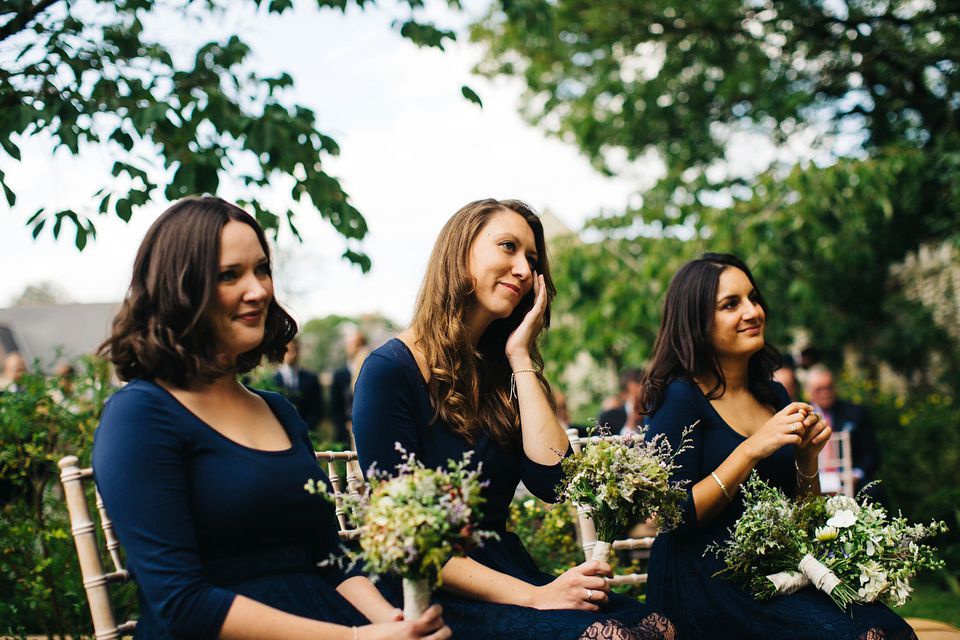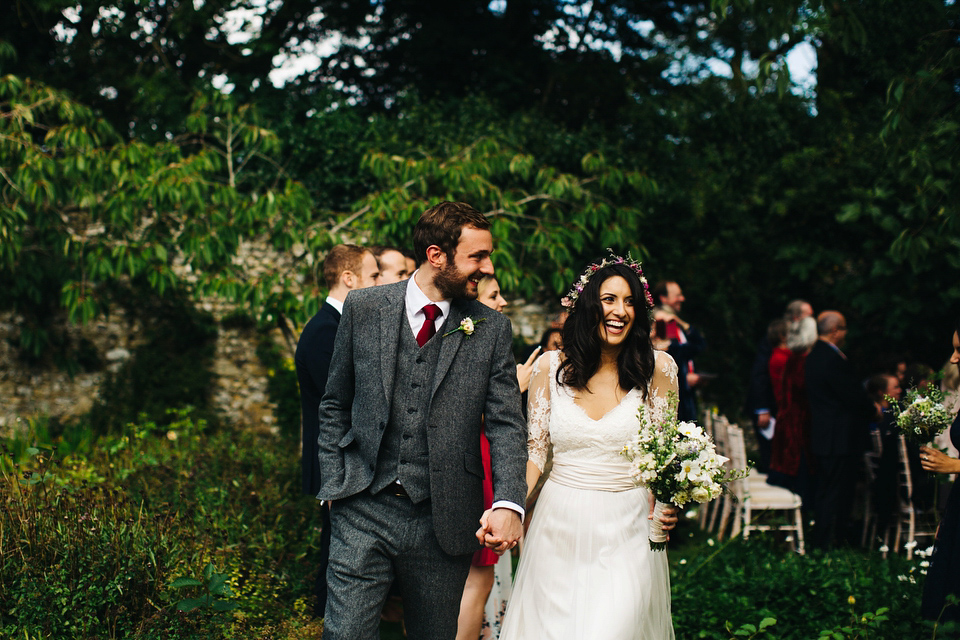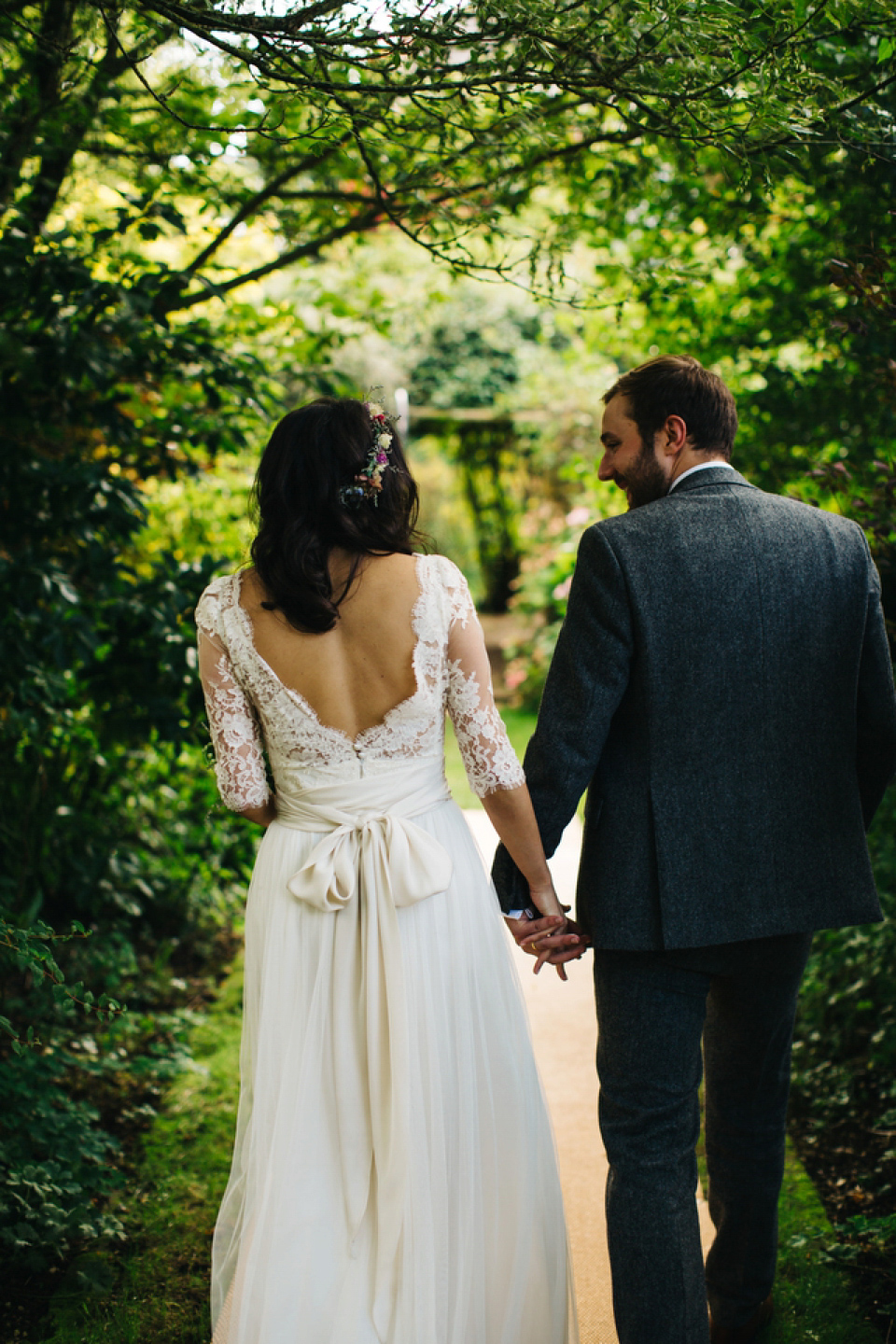 Leila and Ed knew that Richard Skins was the photographer for them, after spotting his work on Love My Dress! I couldn't stop smiling when I first looked through these lovely pics – Richard has a gift for capturing emotions and there is a real sense of joy exuding from these images…
"Choosing Richard to be our photographer was one of the easiest and best decisions we made. We actually found him after seeing photos of another Dorset wedding he had shot which was featured on Love My Dress! Richard is truly talented at capturing all the love and laughter that goes into making a wedding day special, and does so with the gentlest touch. He blended in seamlessly with our guests, and made sure we were never away from the party for long without sacrificing any of the quality. Highly, highly recommended!"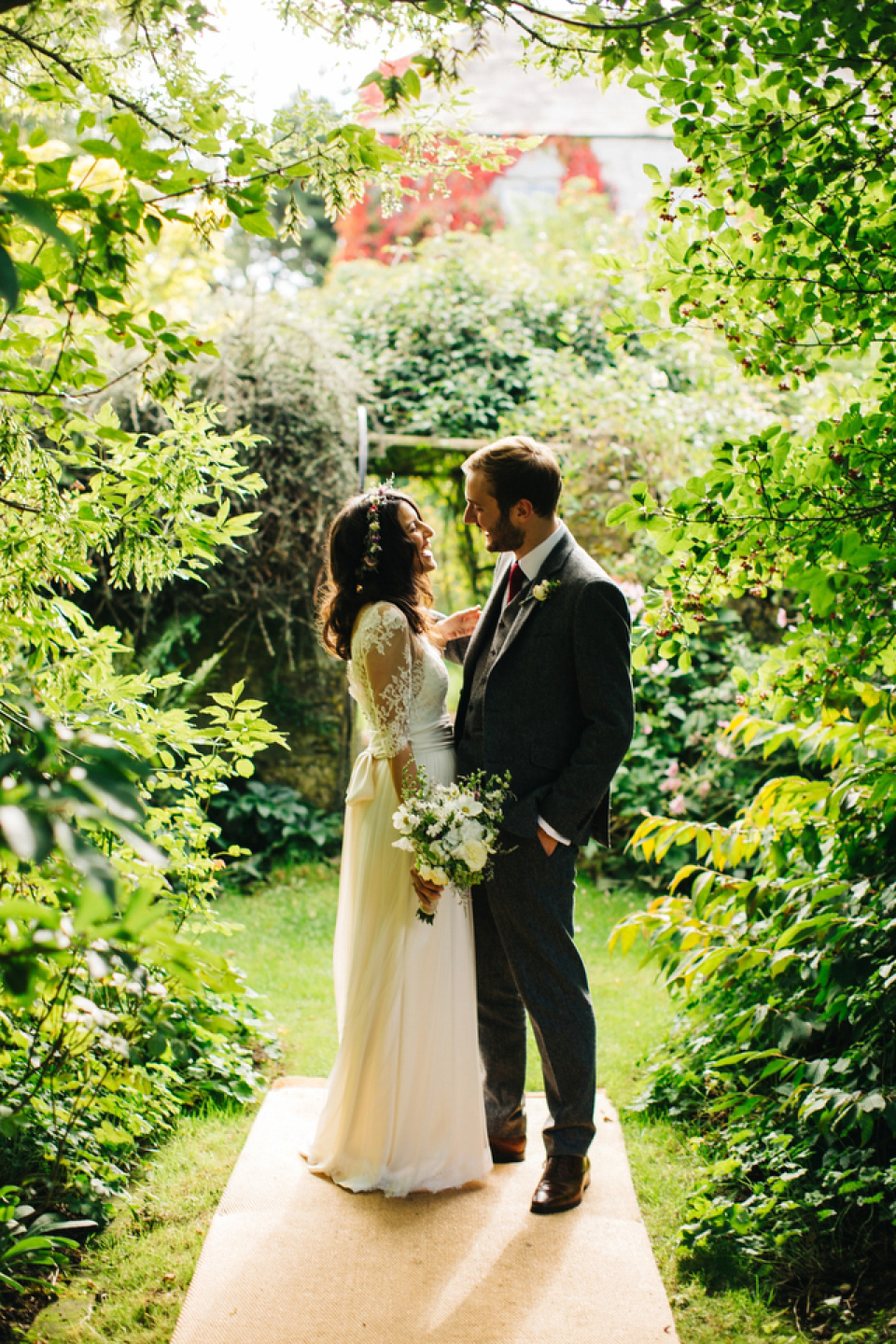 "Our favourite part of the day was the ceremony. After everything else that came before, both in the run up to the wedding but also all the years before it, we were both a bit giddy and giggly, surrounded by the love of our family and friends and, in some freak stroke of luck, bathed in sunshine on a late September day."
"I think we squeezed each other's' hands 'til we couldn't feel our fingers, and I enjoyed a particularly snotty first kiss from my slightly emotional husband. As everyone always says, the most important thing about your wedding is that you are getting married and the moment that happened was fantastic."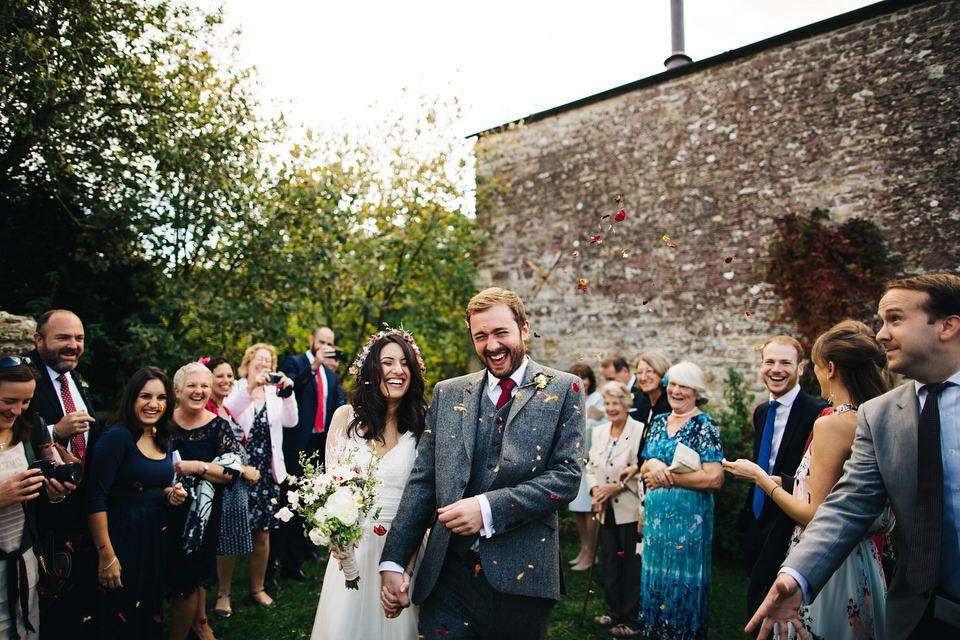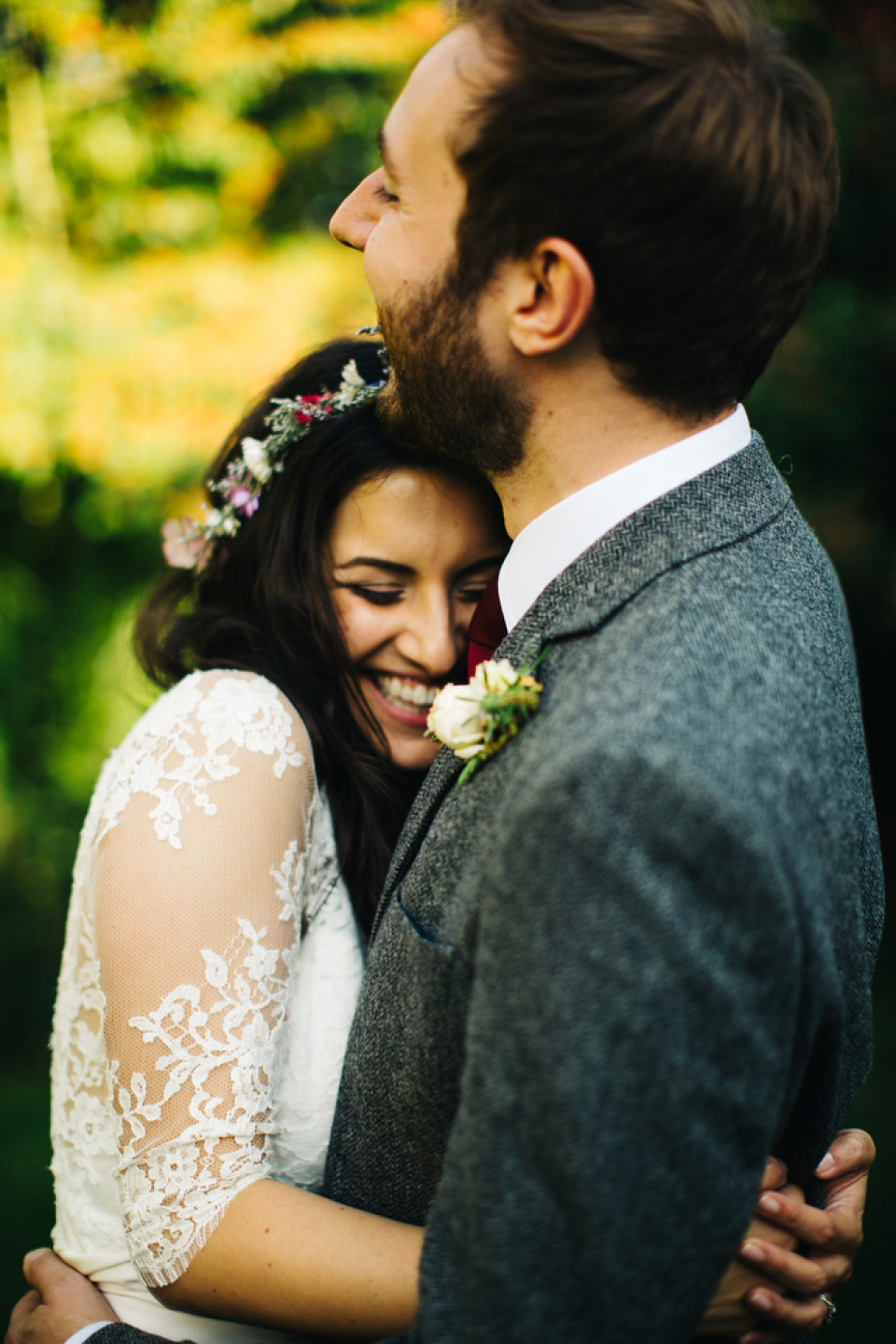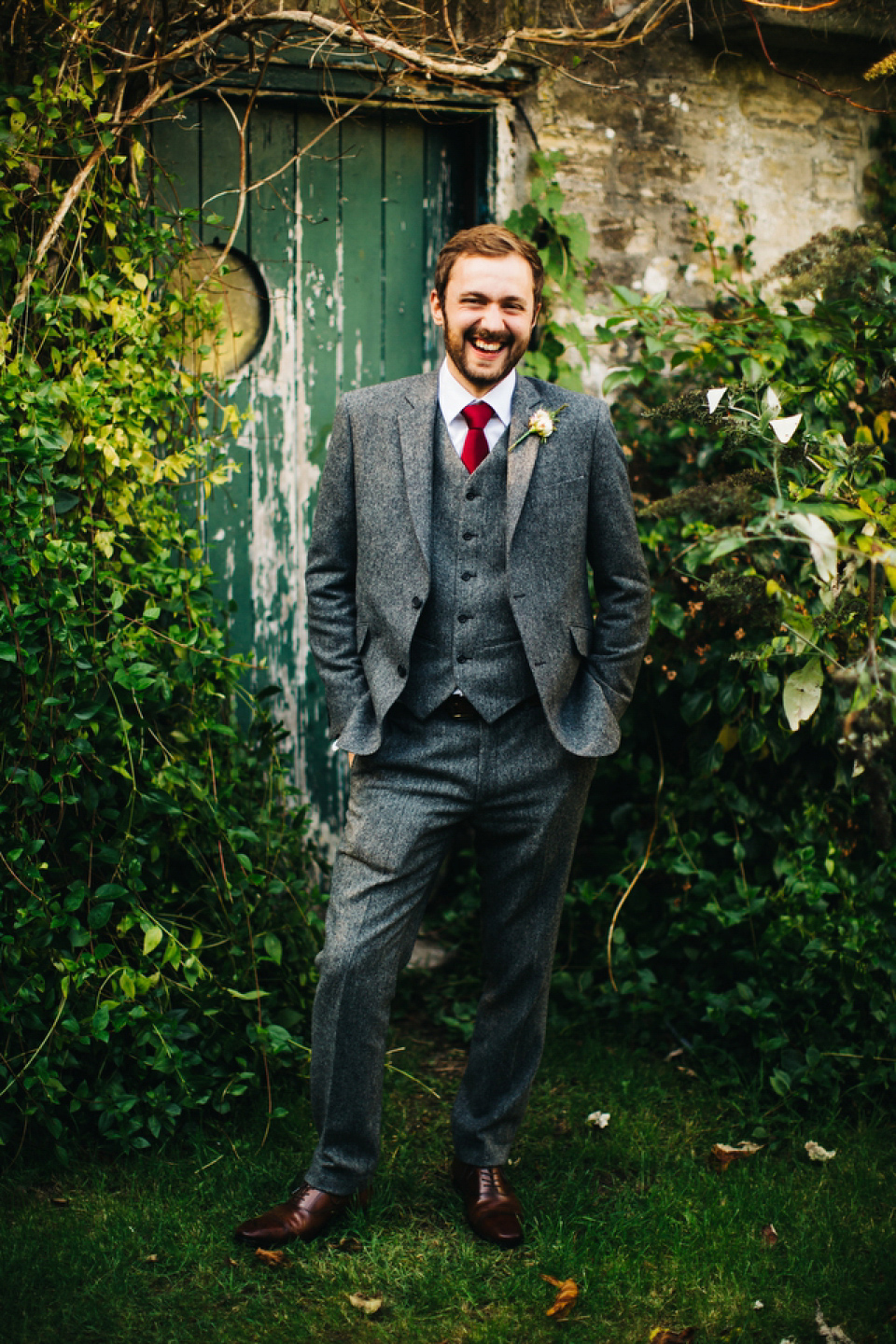 Ed and Leila's wedding breakfast was catered by Nick Holt of Dorset Fine Dining…
"Nick and his team are amazing, and I'd wholeheartedly recommend them. We are both quite big foodies and knew it was going to be an important part of our planning. The food itself was incredible and received a big thumbs up from our guests. My only regret is with the adrenaline on the day, I didn't manage to eat any of the canapés!"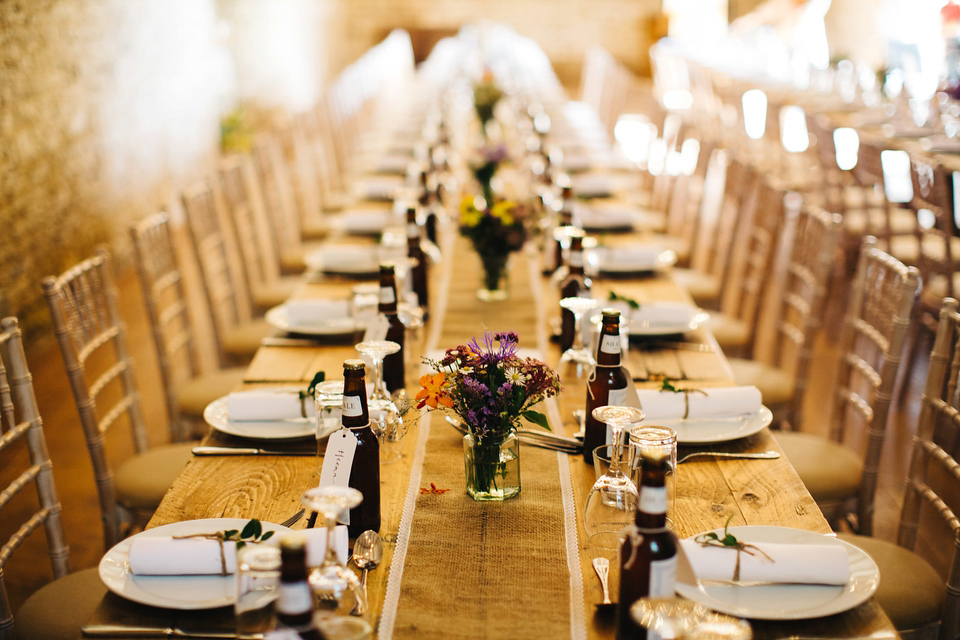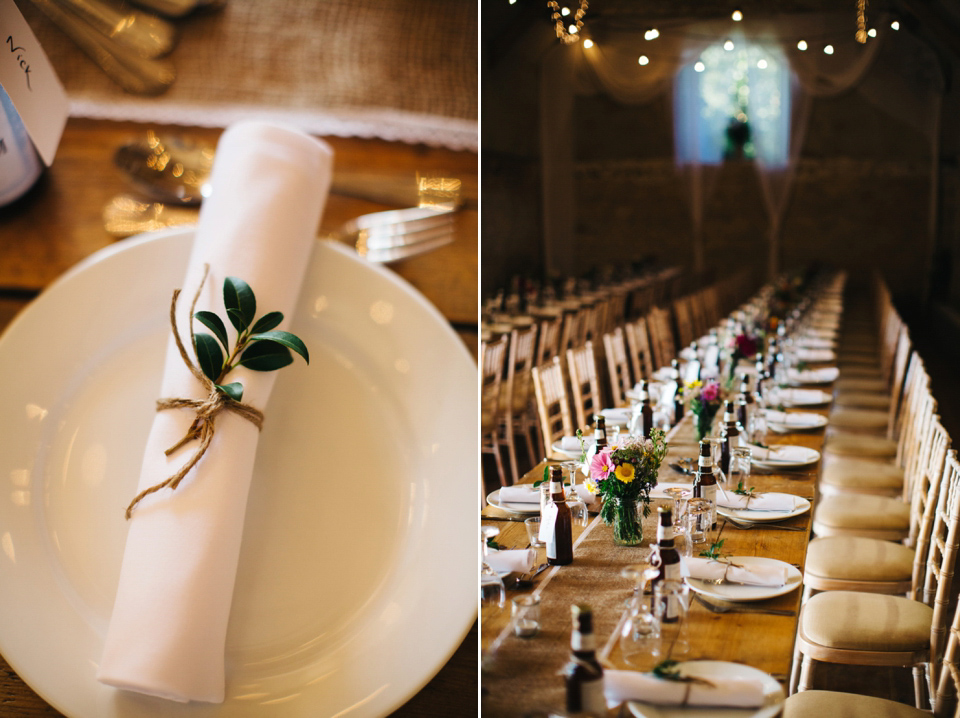 With help from their family and friends, Leila and Ed decorated Ashton Farm Barn with lots of little handcrafted rustic touches, including meters of bunting, hessian table runners and origami wreaths…
"We can't thank our families enough for bringing all the décor together. Ed's mum made all the bunting and my mum made some narrow hessian table runners with a lace trim (The hessian was actually bought in rolls normally used to wrap around trees in winter – very budget friendly!)."
"Ed is a keen home-brewer, and we both like a good ale, so we decided to brew up 100 bottles of pale ale to give our guests as their favours. The first three letters of my maiden name, and the first three letters of Ed's surname put together are 'Shazam' so it was named 'Shazam Ale' and we used the company GrogTag to create labels. The bottles of ale also became place name holders as we tied the name tags round them. The bottle is also a nice memento for us to keep!"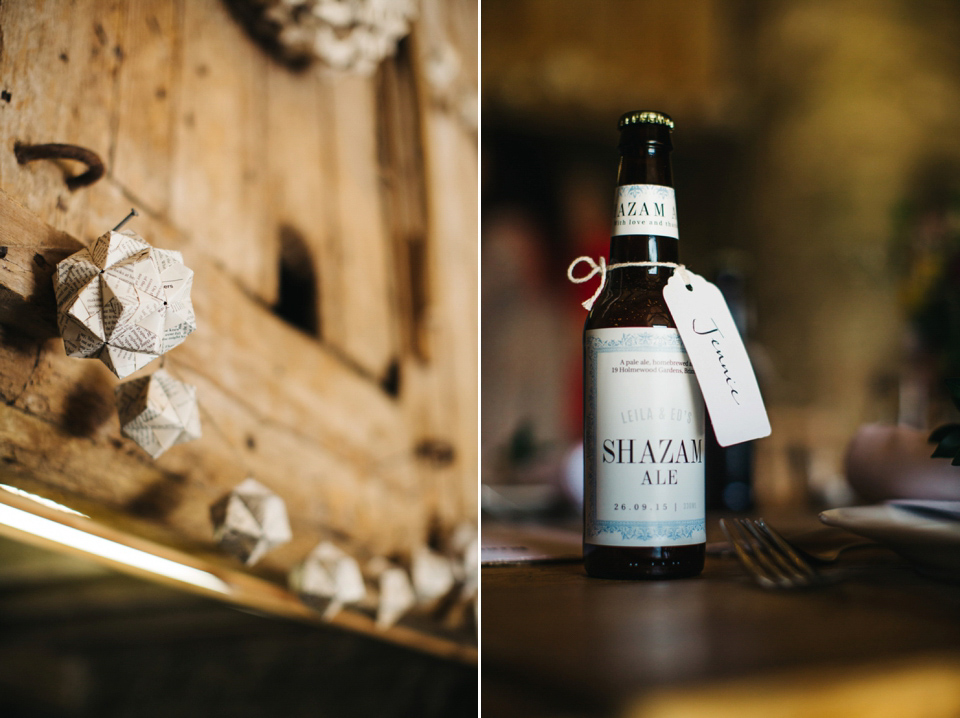 "Ed's brother, Nick, is amazing at origami and we were so lucky to have him make us some incredible origami wreaths to hang over the bar area and the barn door. He also made some garlands for over the dance floor – it was all created from old books bought at charity shops."
"My lovely step-grandmother, Sue, made the cake and did a really amazing job. We said we liked the idea of a 'naked' fruit cake, and that three tiers would be good and Sue came up with the rest! All of the little icing details were so beautiful and it was really delicious."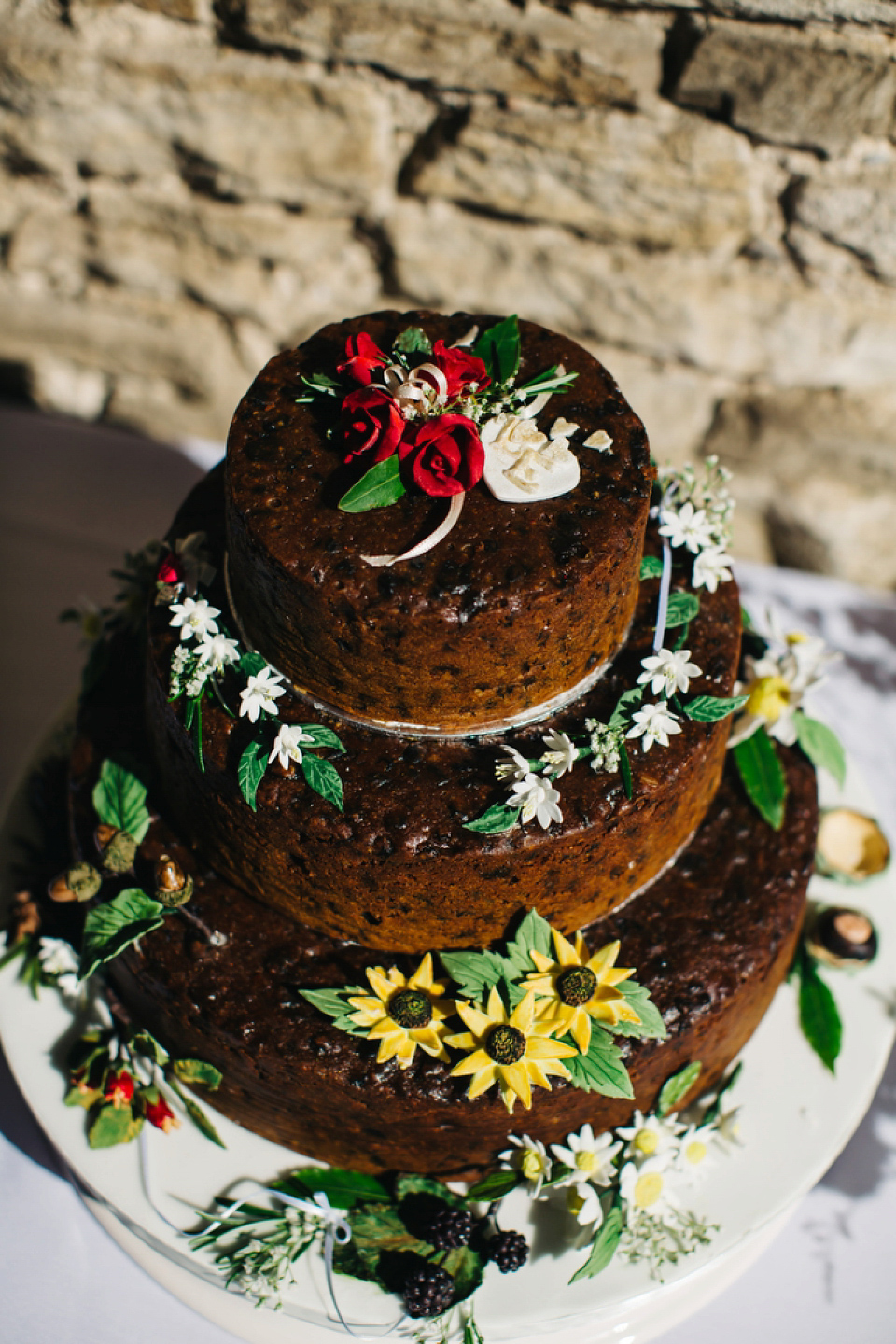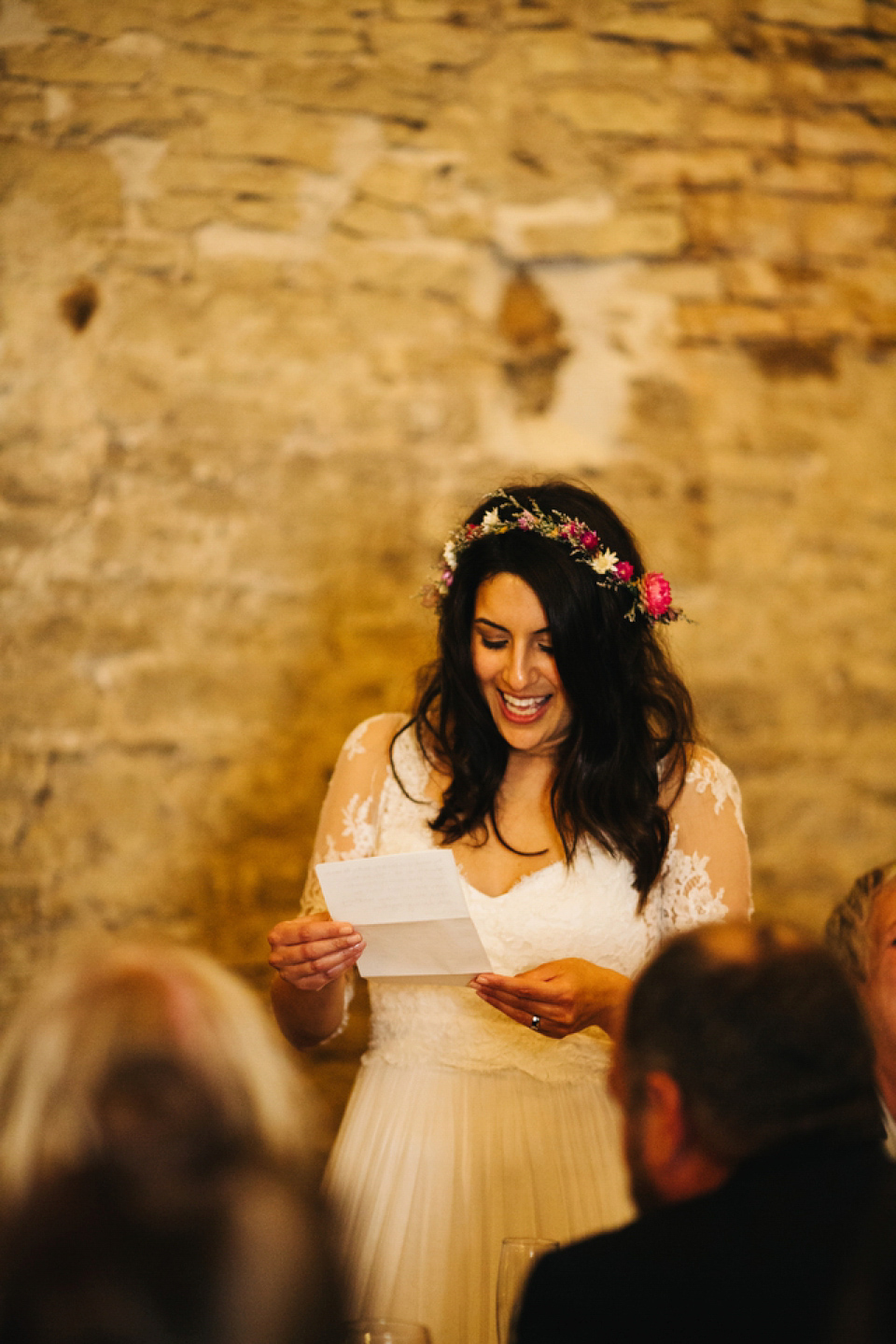 Our couple's evening entertainment was provided by a five-piece rock/punk/chow covers band from east London called Manchow.
"Some of my sister's oldest school friends are in a band called Manchow and we felt so lucky when they agreed to perform at our wedding."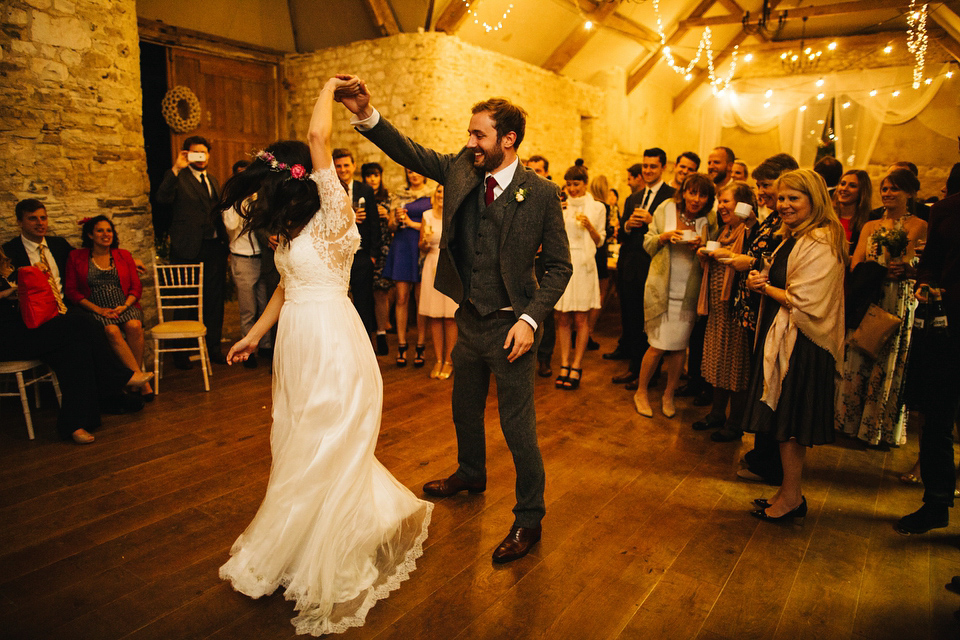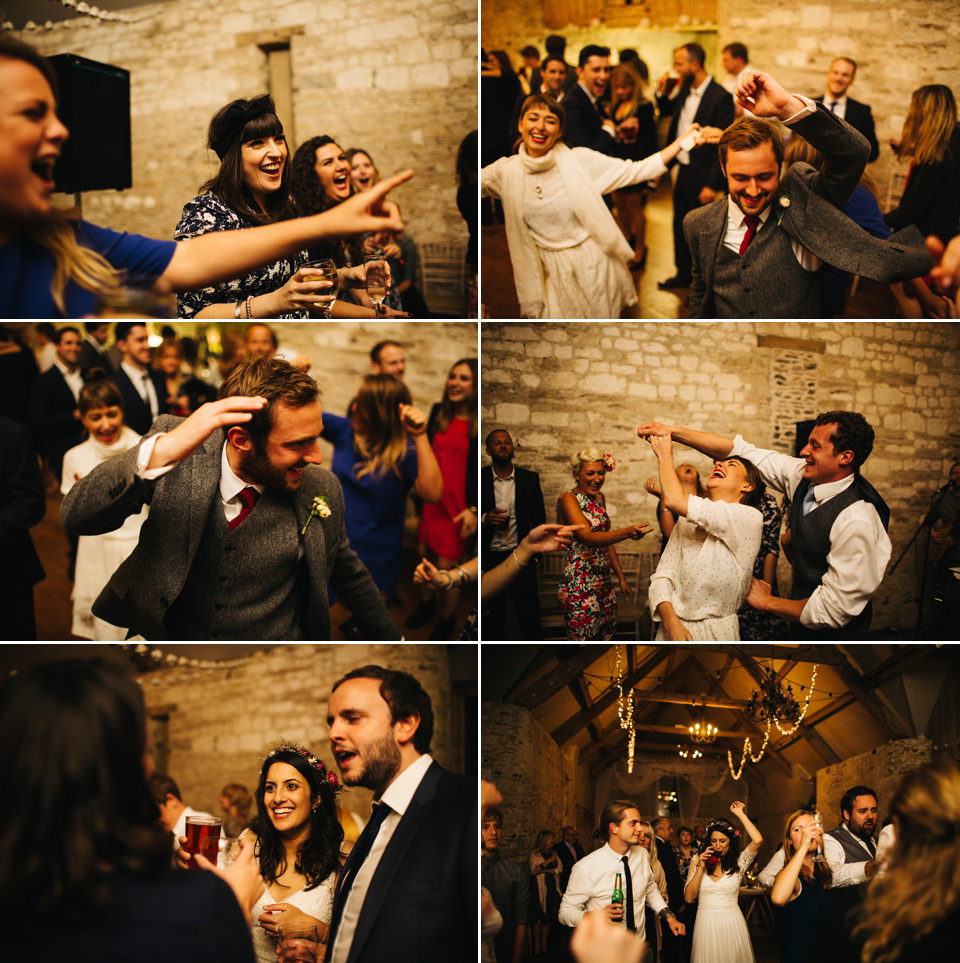 Words of Wedded Wisdom
"Have confidence in your decisions and trust your instincts. I'm a natural worrier and was preoccupied during some of the wedding planning with making choices that everyone would agree with. People are always going to have their own ideas/opinions on ways in which things could be done but that doesn't necessarily mean they are any less on board with how you want to do things.  Also we found wedding planning in the pub made decision making a lot easier!"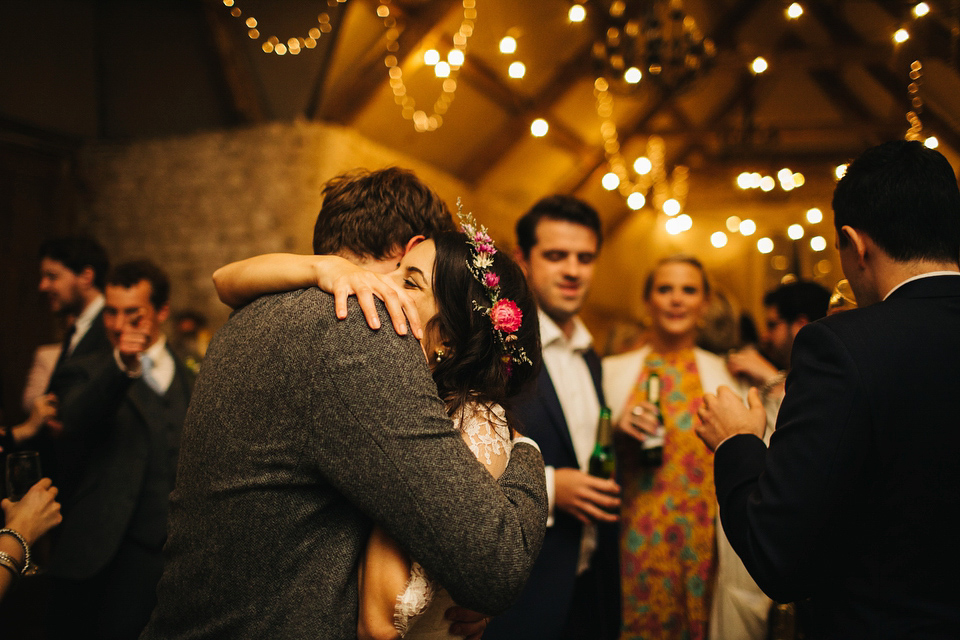 A huge thank you to our happy couple and to photographer Richard Skins. If you'd like to see other stylish Autumn weddings, do take a look at our extensive archives. For more barn wedding inspo, take a peek here.
Wishing you a great week!
Annora x
Photographer – Richard Skins
Venue – Ashton Farm Barn
Wedding Dress – Dana Bolton
Flowers + Headpiece – The Real Cut Flower Garden
Shoes – ASOS sandals
Accessories – Astley Clarke bracelet
Groom – Walker Slater suit + Aldo brogues
Bridesmaids – Kaliko skirts + H&M skirts + Astley Clarke bracelets
Florist – Charlie Ryrie of The Real Cut Flower Garden
Cake – Created by a family member
Entertainment – Manchow band
Rings – Engagement ring purchased from Gray's Antique Market + wedding bands from SWAG
Catering – Nick Holt of Dorset Fine Dining
Décor –  Tables, festoon lighting, oak barrels and planks, all hired from Taddle Farm Tents
Makeup Artist – Emer