Hello, well we have finally made it to the end of the week, made all the more sweeter with the Easter break just around the corner and that fabulous weather we have been having of late. Not only that but we have an absolute corker of a wedding to show you.
Meet Fiona and Steve, both planners in Aberdeen Oil and Gas. They tied the knot in a humanist ceremony on the 20th of June last year at Coo Cathedral in the beautiful Scottish Highlands. It was important for them to incorporate their love of Scotland and its traditions with a relaxed, organic feel using a green colour palette. Shot by The Curries, this wedding is a feast for the eyes, the gorgeous backdrops only enhance the love that radiates from the images.
"We wanted somewhere we could be creative and put our own personal stamp on. Both being passionate about where we're from, we fell in love with Coo Cathedral. We loved the huge high ceilings, open space and countless options for decoration – my head was spinning with ideas! The cow heads on the walls as well as cows in the fields were an added bonus and made quite a talking point for the day. We got ready at the Lodge on the Loch in Aboyne which was such a beautiful back drop in the heart of Royal Deeside, we are truly blessed to have had our special day in such a beautiful country."
Photography by  The Curries
Fiona made an absolutely beautiful bride in her David Fielden gown…
"At just over 5 foot and petite, I found it really difficult to find a dress that didn't look too heavy on me. I loved how the dress was simple yet different, how clean and soft it was. The straps with the floral appliqués drew me to the design as it was just so different and once I put it on, I could finally see the vision I was going for.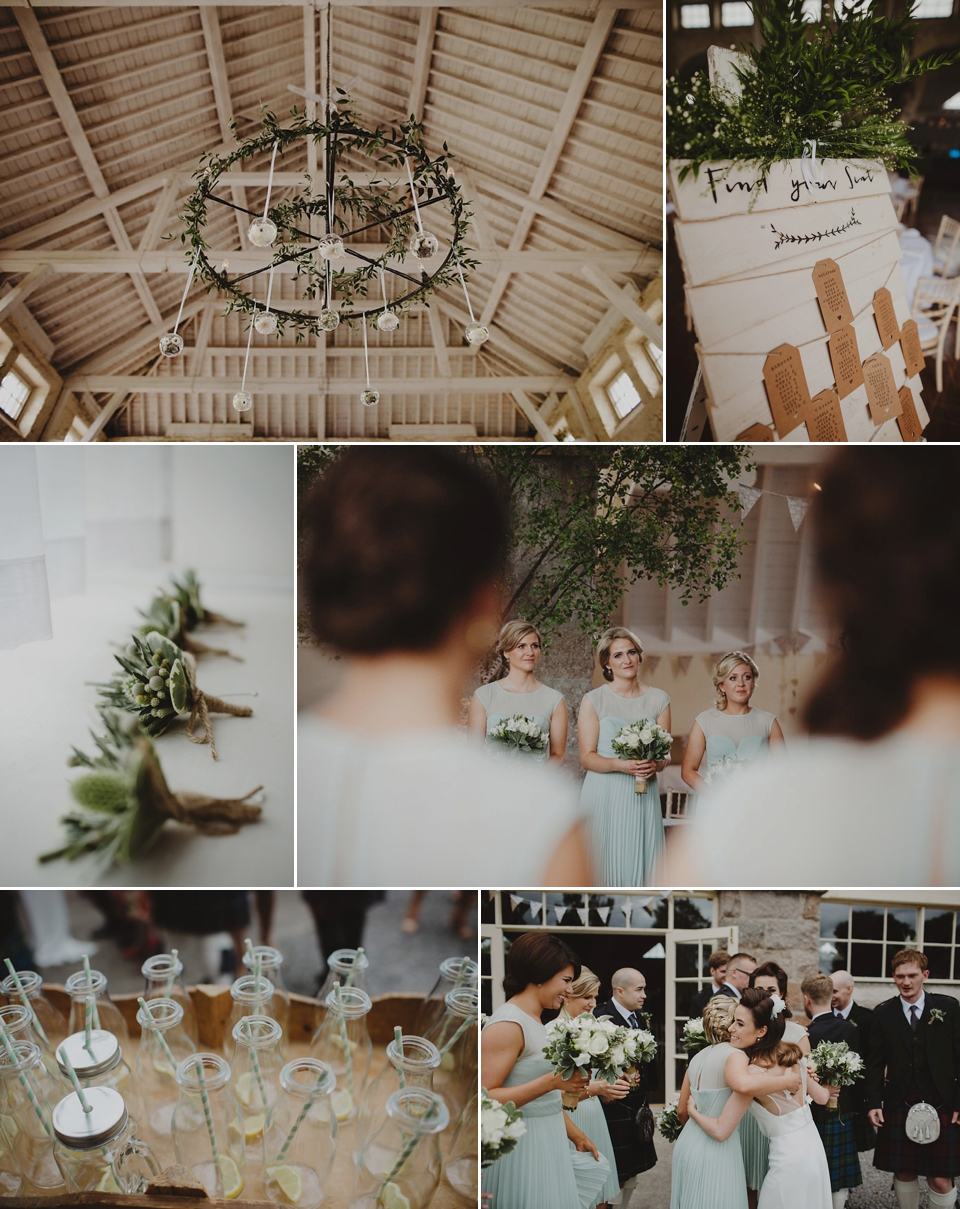 "It was an expensive but worthwhile gamble going all the way to London for a dress I had only seen online, not knowing if I would like it!"
The couple met back in 2008 at a bowling night organised by friends. They got together a year later after a night out and have barely been apart since…
"Steve has truly been my rock throughout many ups and downs and never fails to make me laugh."
"We went to Ullapool on our first anniversary and had a walk up Broom Hill. At the top we carved our initials in a bench to remember our first time away together. Steve took me back there on Hogmanay in 2013 and dragged me back up the hill in the freezing cold, but as he sat me down on the bench again, he got down on one knee and proposed."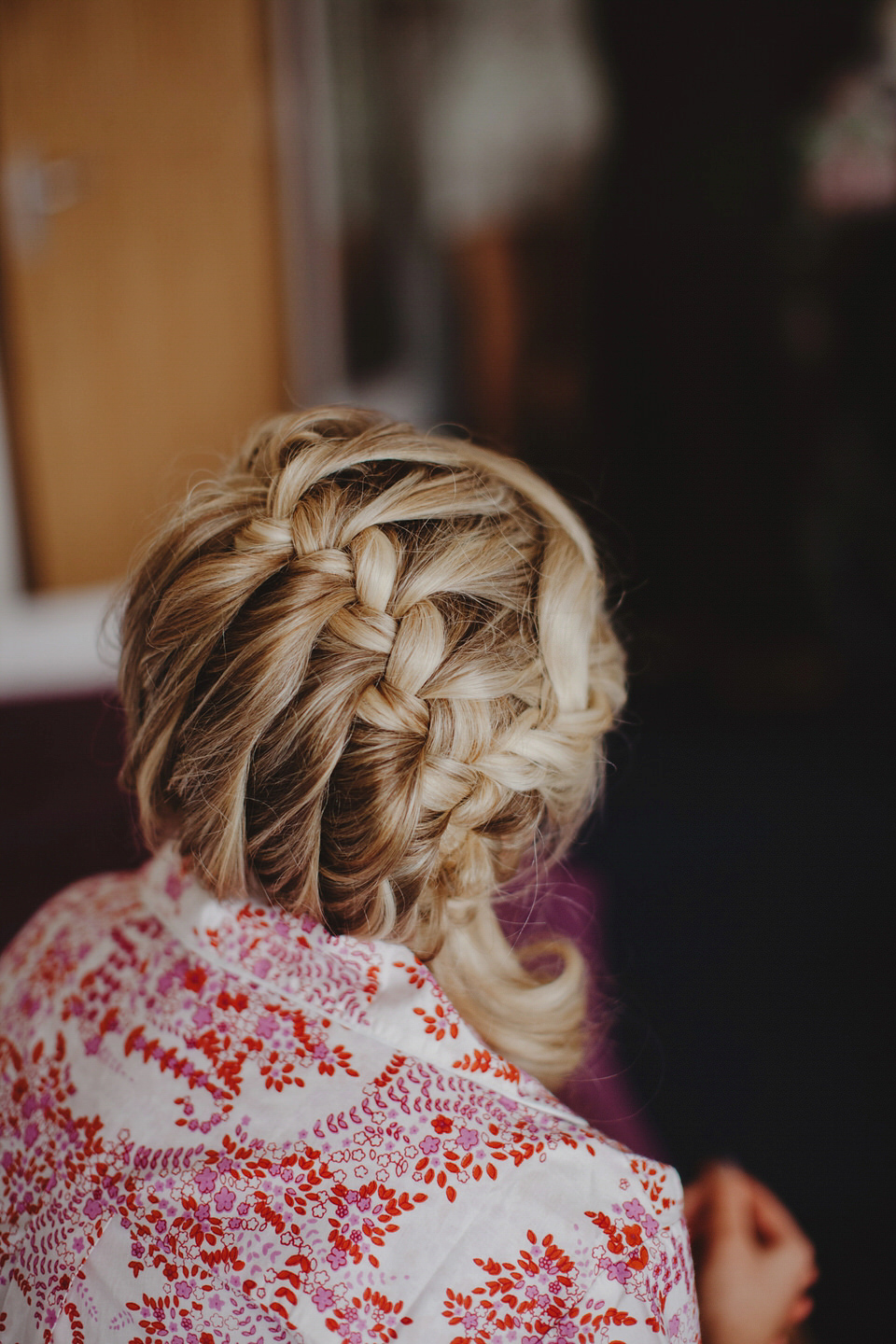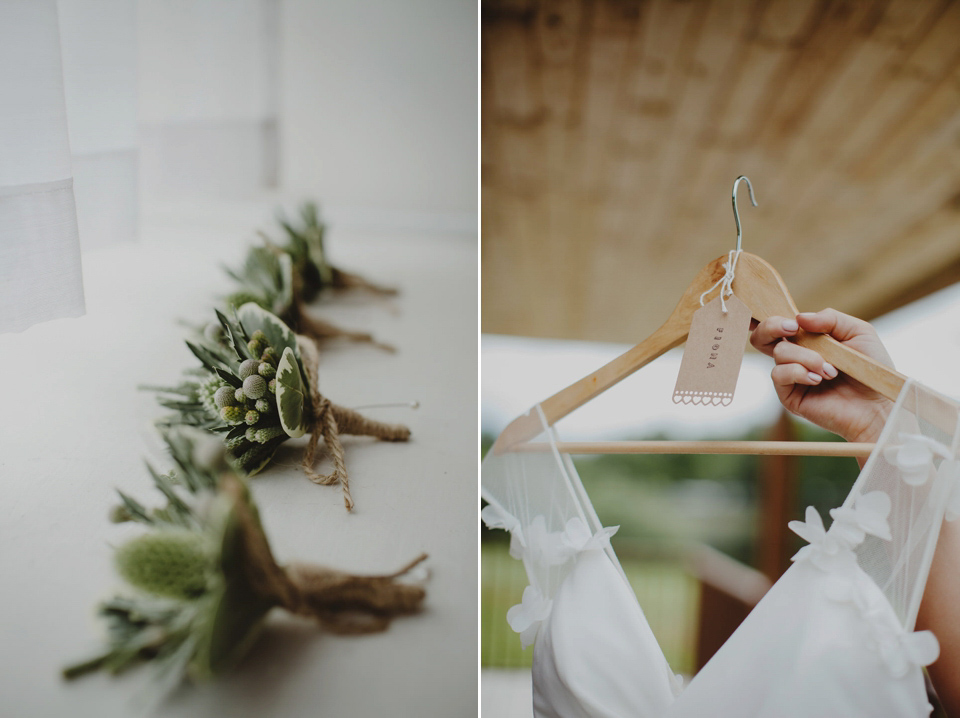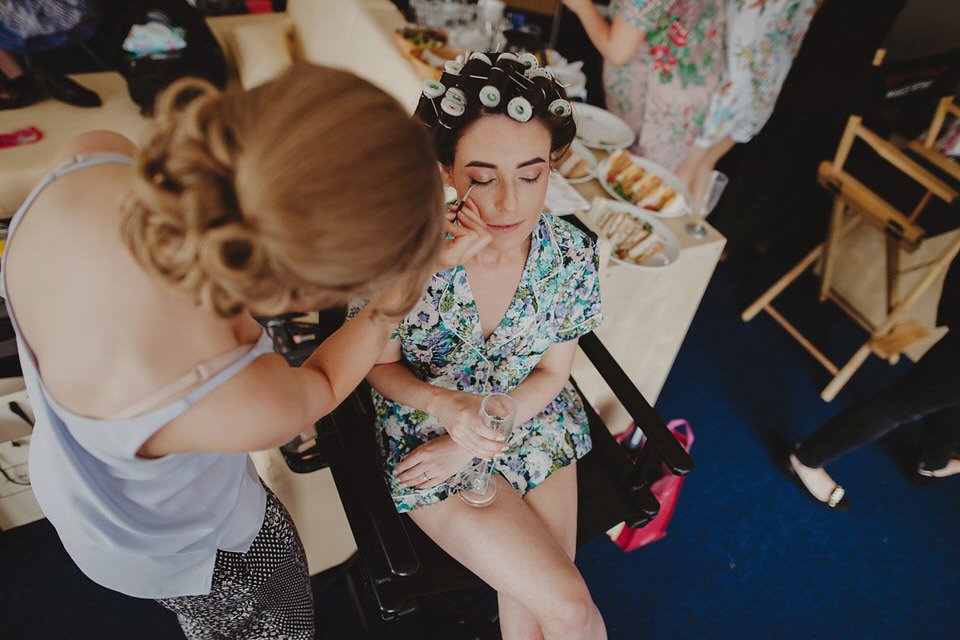 "Steve's McEwan Tartan kilt was from Philip King in Aberdeen. He wore a grey tweed tie, jacket and waistcoat with lovely wooden buttons."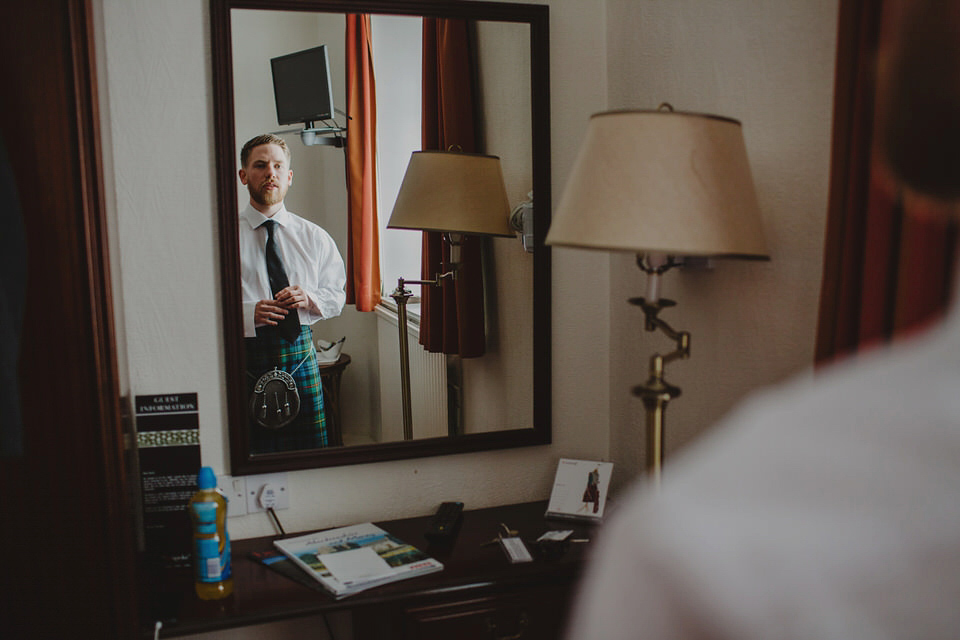 "My close friend Chloe Marie did my make up. I trusted her completely and I was comfortable in telling her what I wanted. She did an amazing job and all the girls looked gorgeous!"
Fiona's beautiful bridesmaids all wore a mint coloured Karen Millen dress with earrings from Stella & Dot and their own choice of nude shoes.
"I wanted the girls to feel like themselves on the day so they all chose their own hairstyles, I loved how they looked on the day and showed their different personalities."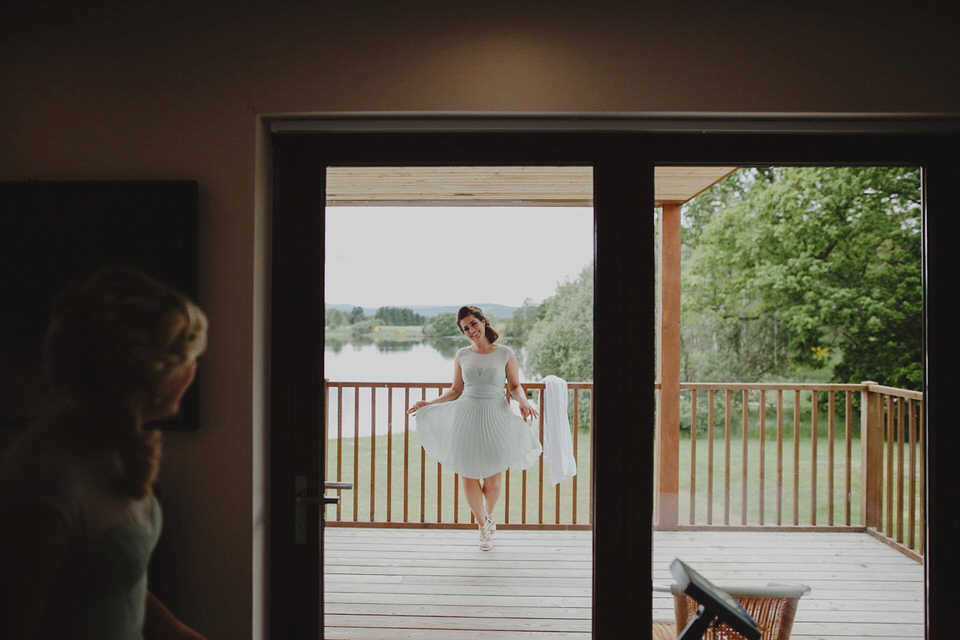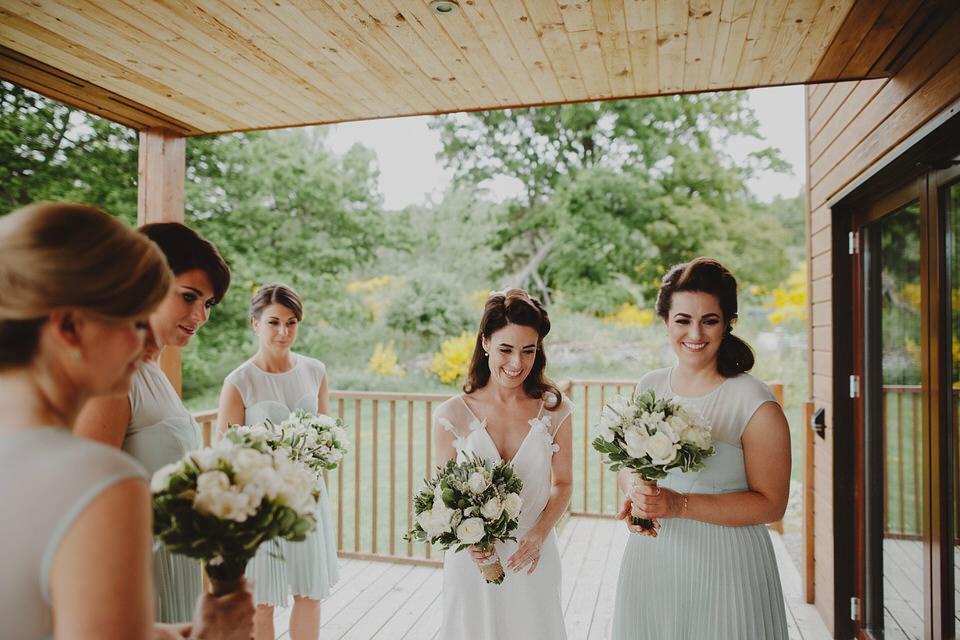 The Secret Garden made Fiona's stunning succulent bouquet, along with the bridesmaids posies and buttonholes for the guys. The rest of the flowers were bought from a wholesaler and everyone pitched in to decorate the venue.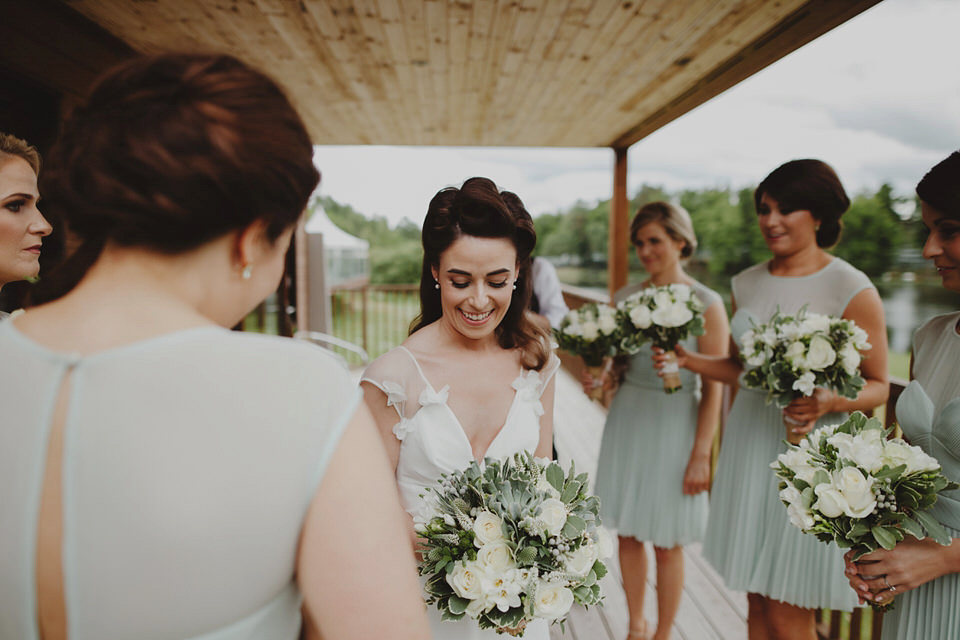 "I had some of the floral appliqués from my dress made into a headpiece by Covet Bespoke Milliner. I felt it gave an extension to the dress without taking away the full effect."
"His mountains and river wooden cufflinks from Etsy were also given to the Groomsmen to remember all their camping trips up and down the west coast of Scotland. His Sgian Dubh was a wedding present from his best man's wedding two years earlier."
"We travelled in a Vintage Diamler Limo. I wanted a vintage car that would also be able to fit my 6 bridesmaids in."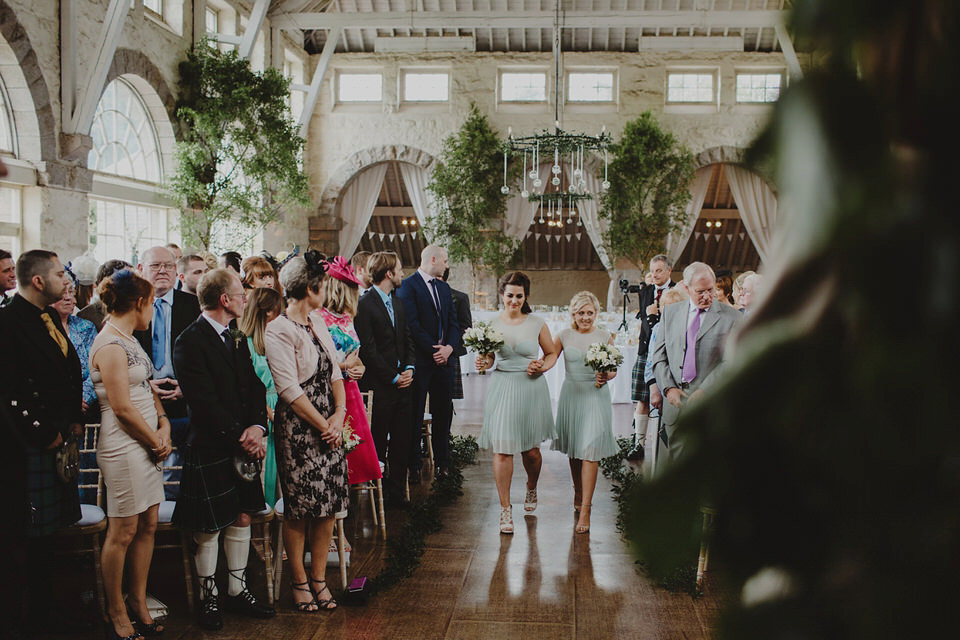 "My cousin Callum played me down the aisle, to a song he wrote especially for us, while I walked with my lovely father. He is so talented and it meant a lot to us as he lives in Chicago. He makes such a great effort for his family and having our own song will be the perfect reminder of the day."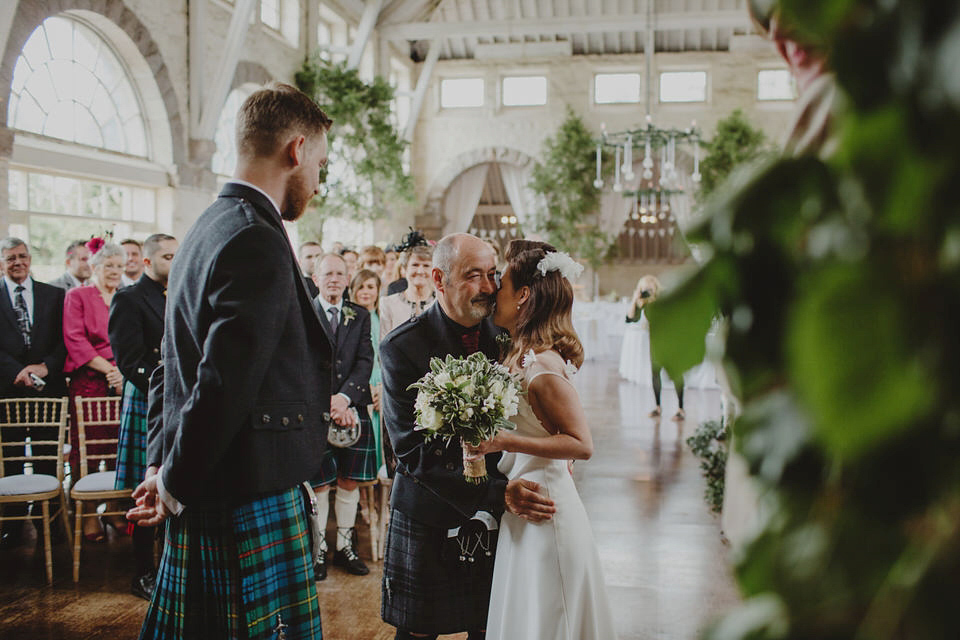 "We loved our Humanist ceremony. It was important that we could truly say how we felt about one another whilst incorporating Scottish tradition. We struggled to hold in the tears! We also had a handfast which to us is such a lovely tradition of two families becoming one. Our wedding rings were passed around the guests for warming and to make a well wish for our future and to round things off, we drank our favourite craft beer from the Quaich."
"I was so nervous about standing up there speaking in front of everyone, but Steve was amazing, and the night before the wedding I came back to a note sitting on the TV to press play – he had recorded and edited the most amazing video. He had travelled all over the west coast of Scotland to all the places we had visited together and recorded a wee message outside each place with jokes and reasons why he loves me, edited to the most beautiful song. At the end, he said he had booked for us to go to New York in January! I was just so desperate to see him on the day that my nerves just disappeared. It felt amazing to be standing there, telling Steve how I felt about him and celebrating our future."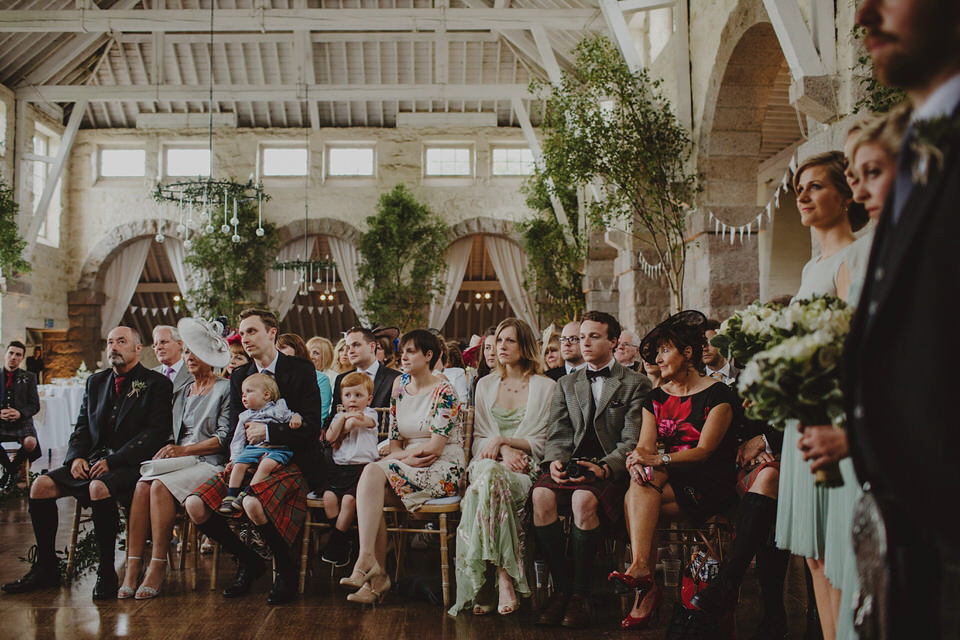 "Gina, one of the bridesmaids read 'The Lovely Lovestory' by Edward Monkton. We chose this reading as we wanted something light hearted and a bit different, we thought it summed us up pretty well too!"
"My wedding ring was from Jamieson & Carry in Aberdeen to match my engagement ring and Steve got his ring from jewelrybyjohan on Etsy. He didn't want a conventional wedding ring so his silver ring has wood on the inside, making it light and serves as a reminder of the rustic theme of the day."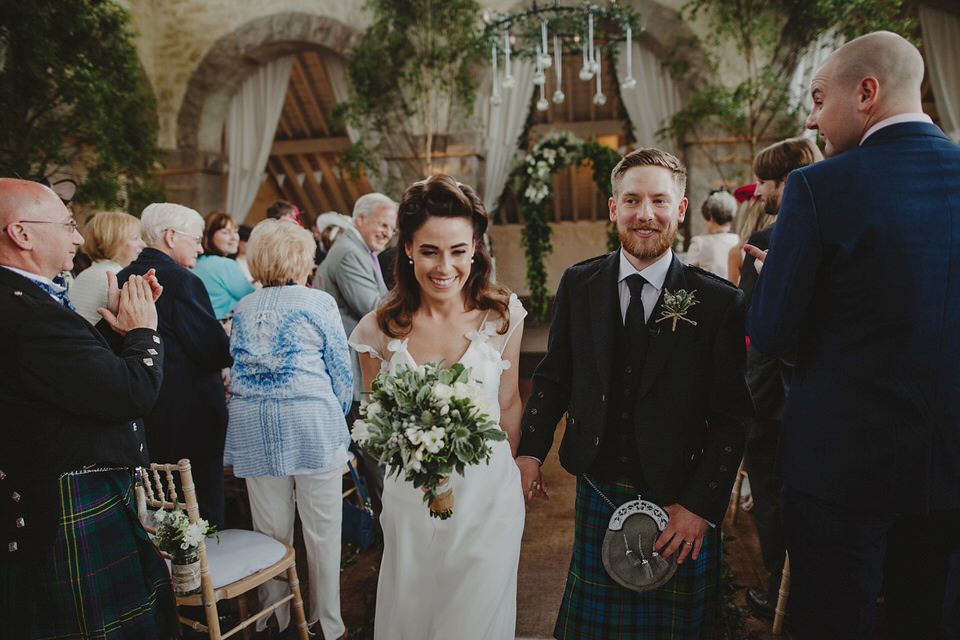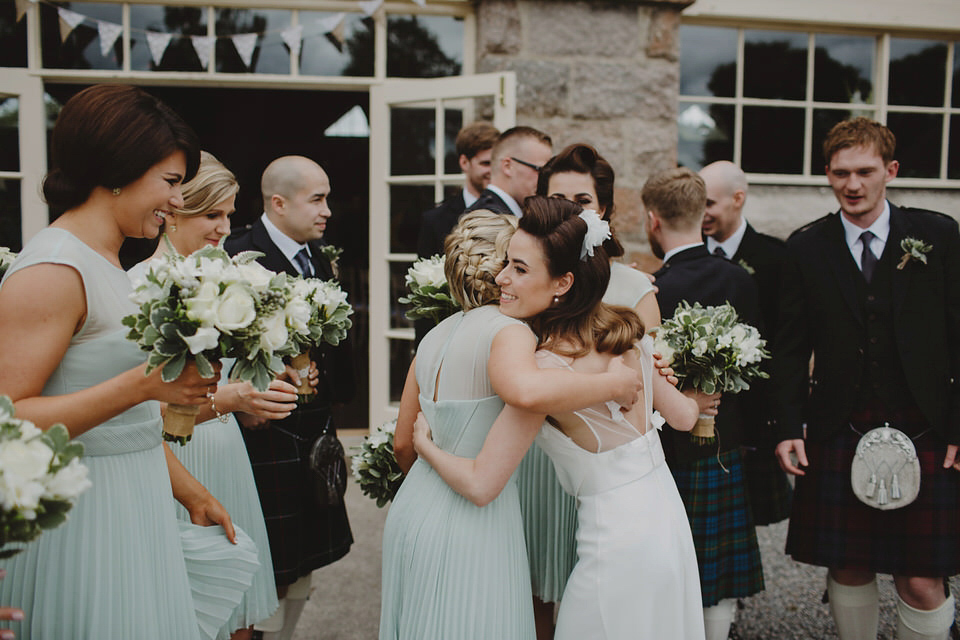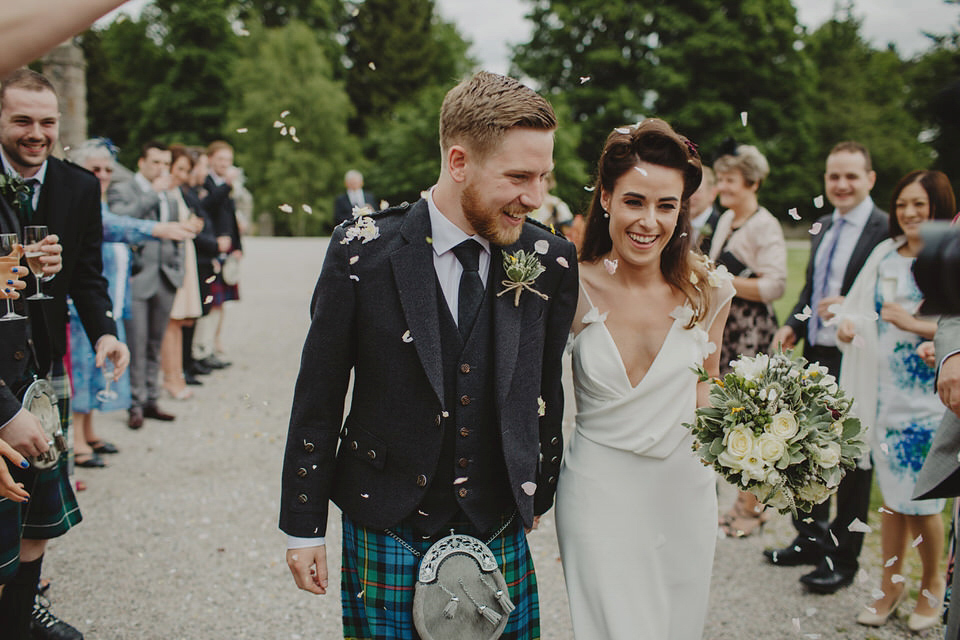 The Curries were one of Fiona and Steve's first bookings for the wedding, knowing they were exactly what they were looking for. The images are both breathtakingly stunning and beautifully relaxed.
"We absolutely fell in love with Christopher and Gillian and the style of their photography, they made us feel like old friends and so relaxed. We're just over the moon with how the photos turned out. We wanted candid and relaxed photos to show how comfortable we are with each other instead of posed shots. They caught every little moment on the day without us even noticing, and when we look back at the photos we remember exactly how we felt at that moment. Because they weren't pushy about posing for pictures, they were able to capture amazing pictures of the two of us and you can tell how natural we felt and how much fun we were having with it all."
Steve reflects on his favourite part of the day…
"My favourite part of the day was the photography shoot in the woods. Despite how amazing the ceremony was, I was so happy to get away, a chance to talk and be excited about being married. I was so happy to be able to spend time with my new beautiful wife in her stunning dress. I also loved my wedding present of a signed 'Idlewild' guitar and was welling up when my now brother in law presented me with it. I'm so grateful to my lovely wife for an amazingly thoughtful gift."
"We had some help from family, friends and vendors such as Hazel from A Vintage Tea Party to pull everything together and when it came to the run up to the day, couldn't have done it without them. My bridesmaids were saviours and helped make a gorgeous flower archway as well as bagging up marshmallows and setting tables! The Groomsmen hung bunting, helped put up trees and mopped floors. Our parents were very important on the day, they helped in so many ways. It's amazing how everyone pulls together."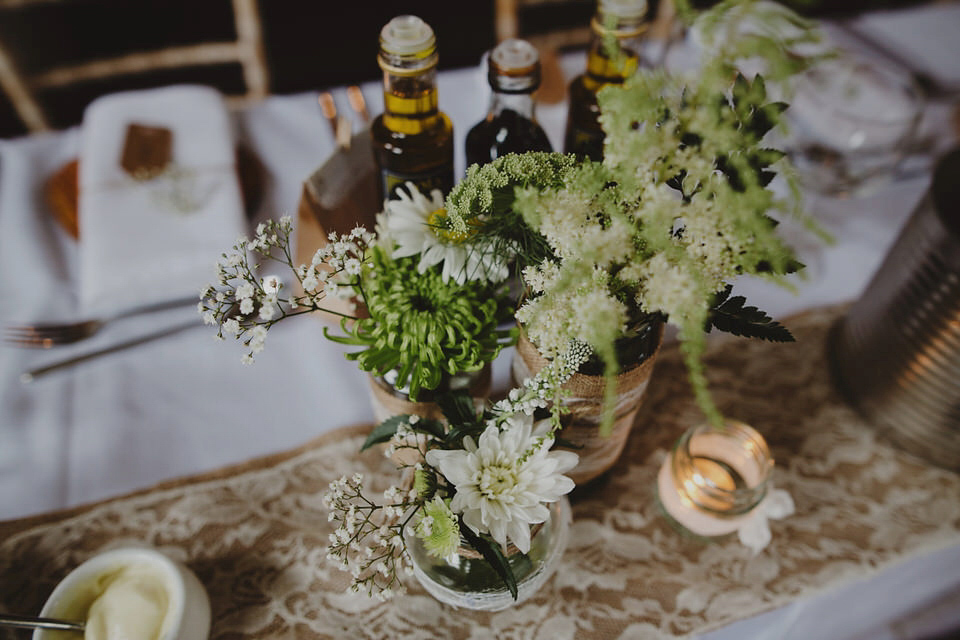 "My good friend Lydia Willets made our cake, it was delicious! We put heart shaped wooden cake topper carved with S+F as is carved on our bench in Ullapool on top."
"We loved Chris from Eat Beetroot's enthusiasm and creativity. We wanted something that would make the guests feel homey so went for an Antipasto platter of cheese, olives, cured meats and smoked salmon with oils served on wooden plates that my Dad cut from trees in the garden for the starter.
We had a steak pie per table with a cute S & F on the top, and a tea towel with 'Pie Server' at a nominated person's place to go around and serve the pie to each person on their table – it was a great ice breaker and worked really well with our round tables. For dessert we had an Apple and Custard Slice with Sloe Gin sorbet – I wanted to incorporate my love for gin in the menu somewhere!"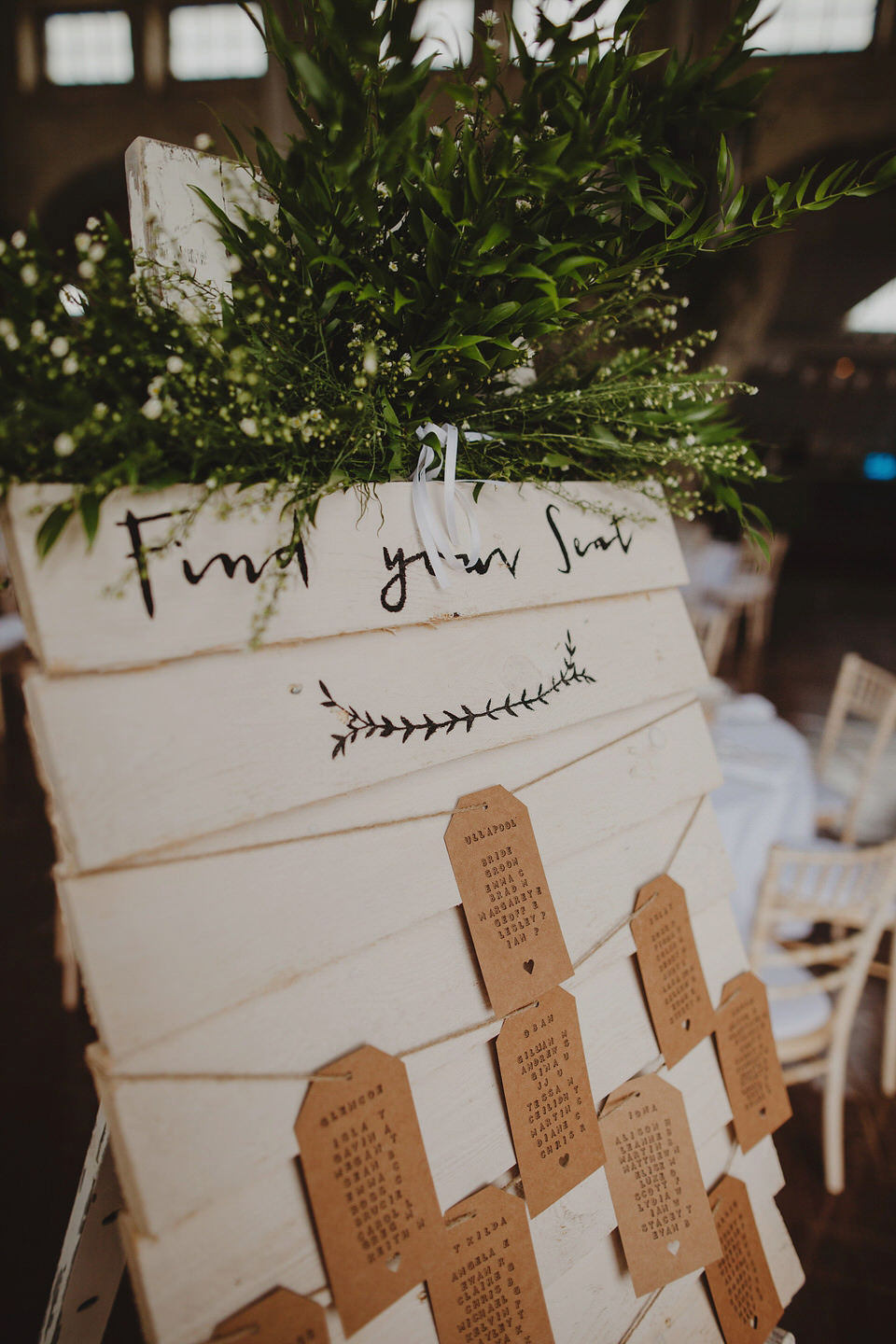 "Steve's mum made hessian and lace bunting and my mum and friends made cushions for the hay bale area. We sourced tall birch trees to put all around the venue and borrowed wooden hearts from my brother's wedding to hang. It was so nice to have something from their special day."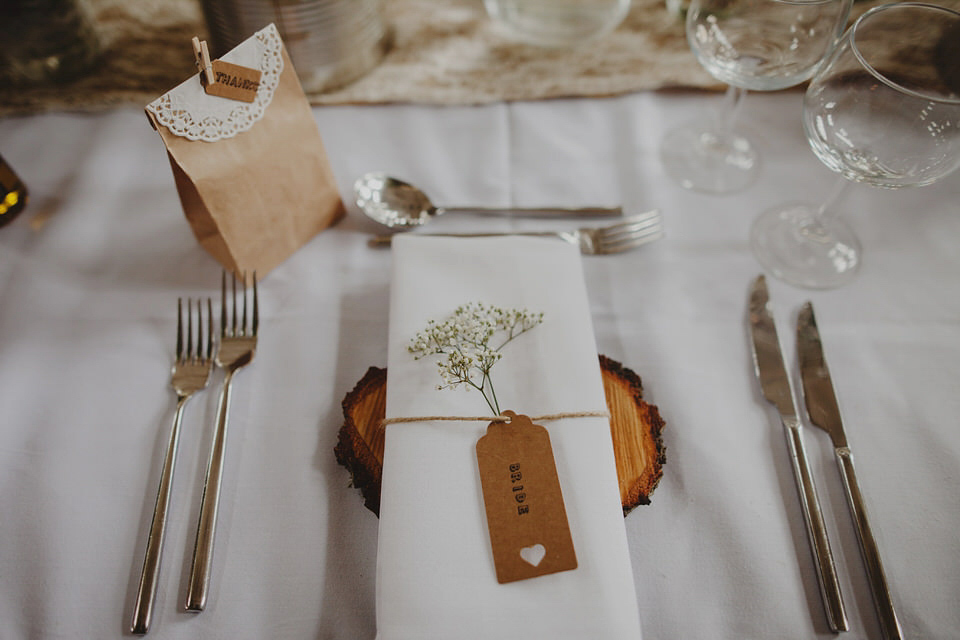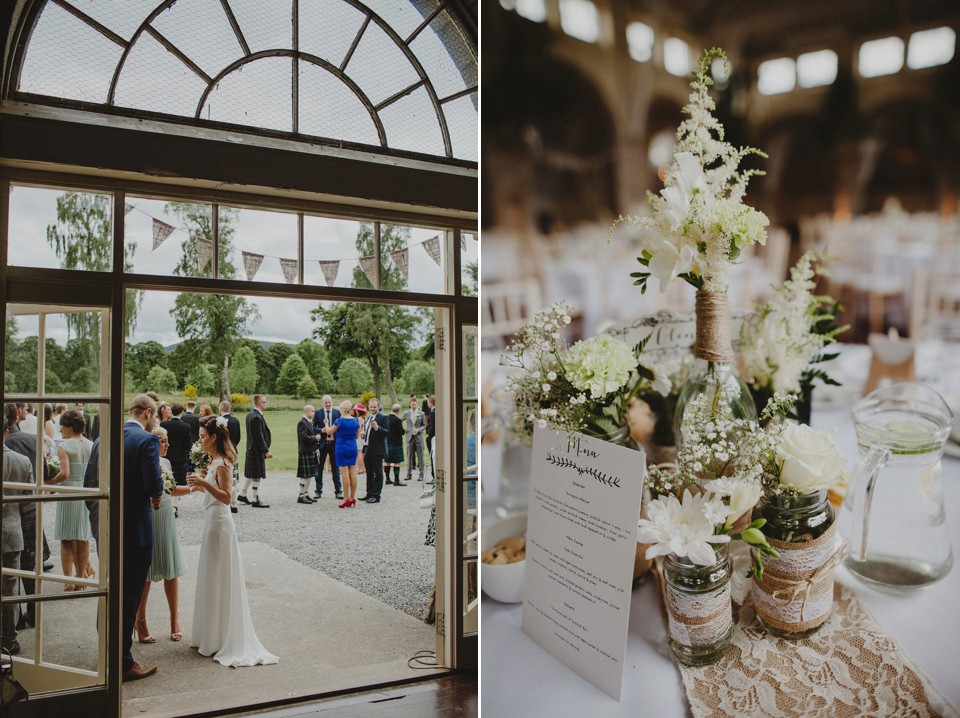 "I will always remember my Dad's beautiful speech, he quoted Bob Dylan which I have grown up listening to,
May god bless and keep you always, may your wishes all come true,
may you always do for others, and let others do for you,
may you build a ladder to the skies, and climb on every rung,
may you stay…forever young.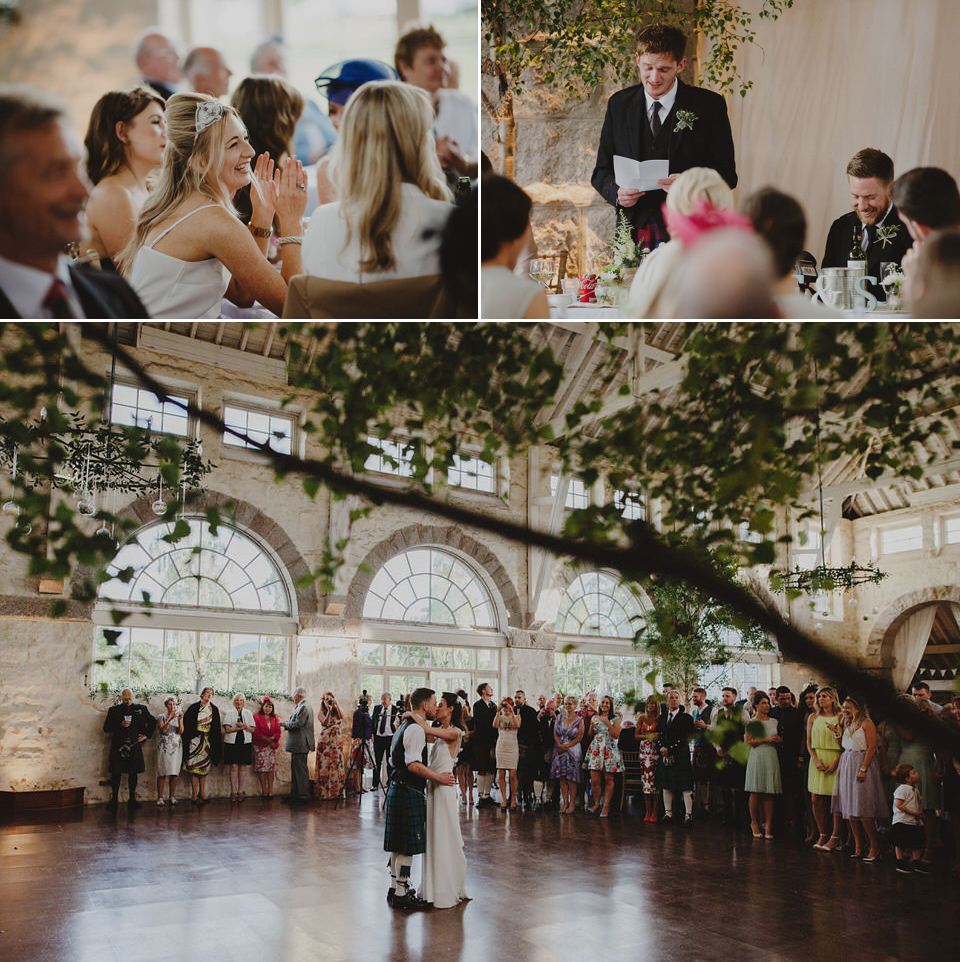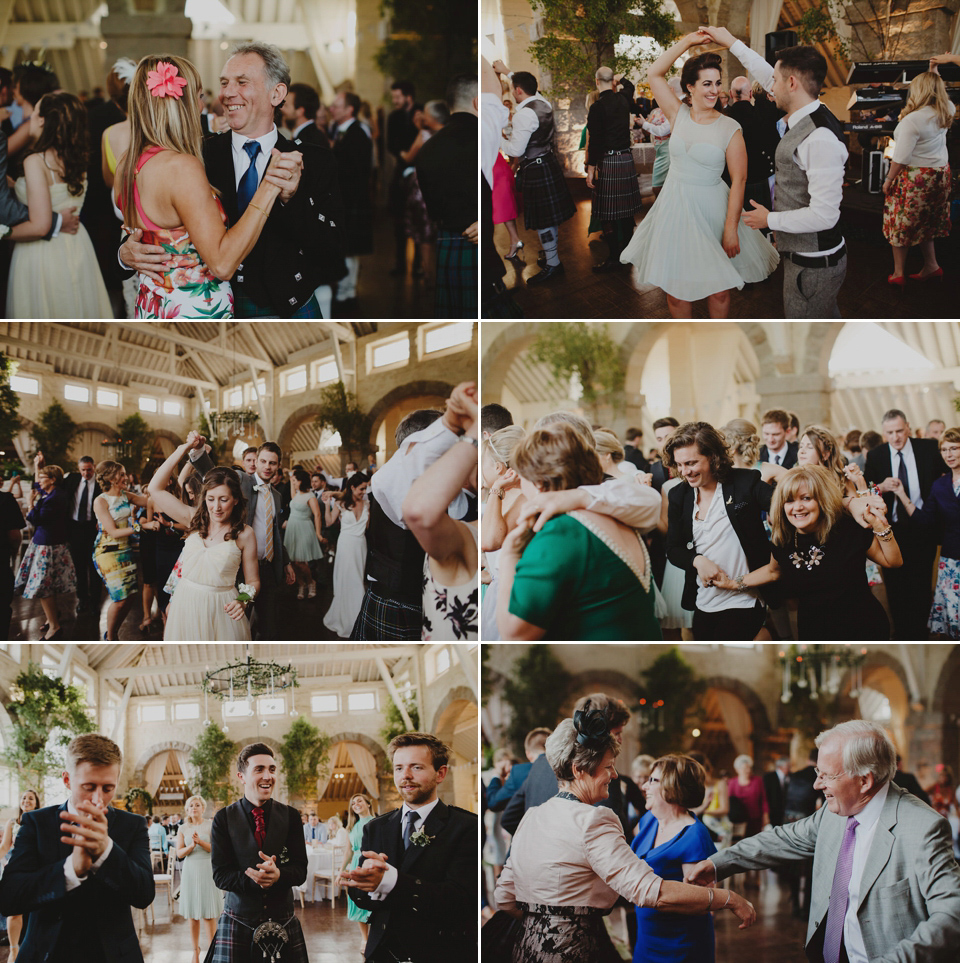 "Our friend Davy Shanks played 'Lift' by Zerbin on the guitar for our first dance. The lyrics said something to us and we thought it was perfect for our wedding day. He also played during the drinks reception. Our good friend Blair McLeod played a set as well, then we had Ceilidh Stomp play. It was important to us to make sure everyone had fun and got up ceilidh dancing!"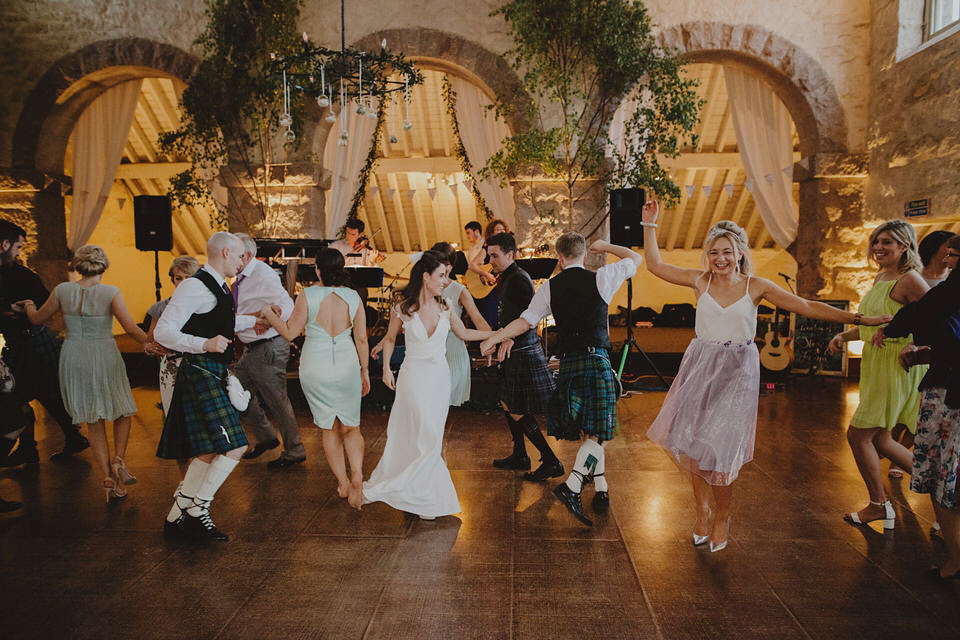 Words of Wedded Wisdom
"Weddings nowadays don't have to be normal. You can take in any tradition, any style and any personality and truly make it a reflection of you both as a couple. Try not to get overwhelmed with a glue gun and scissors, ask for help from your family and friends and it helps add to the true sense of the day, having all your family and friends coming together in one place. It doesn't matter if it rains, or your stationery is spelled wrong, you will still have the same outcome at the end of the day – a marriage to your best friend and an exciting future ahead."
Thank you so very much to Fiona and Steve for sharing your beautiful wedding with our readers, and to the wonderful photographers The Curries. We have featured many more Scottish weddings if you are looking for further inspiration.
Love Caoimhe xx
Photographer – The Curries
Film – Gryffe Wedding Videography
Venue – Coo Cathedral, Aboyne, Aberdeenshire
Wedding Dress – David Fielden
Headpiece – Covet Bespoke Milliner
Shoes – JJ's House
Accessories – Zara
Bride's Scent/perfume – Jo Malone
Groom – Philip King Kilt + Etsy
Bridesmaids – Karen Millen
Florist – The Secret Garden
Cake – Lydia Willets (a friend)
Transport – Silver City Wedding Cars
Entertainment – Callum's Whisky Tales + Davy Shanks + Ceilidh Stomp + Blair McLeod
Rings – Jamieson & Carry + Etsy
Catering – Eat Beetroot Catering
Stationery – By a Friend
Hair Stylist – Fabulous Hairdressing + Alexandra Main
Makeup Artist – Chloe Marie + Natalie Fearnley + Preen Beauty
Favours – Burgh Bakes